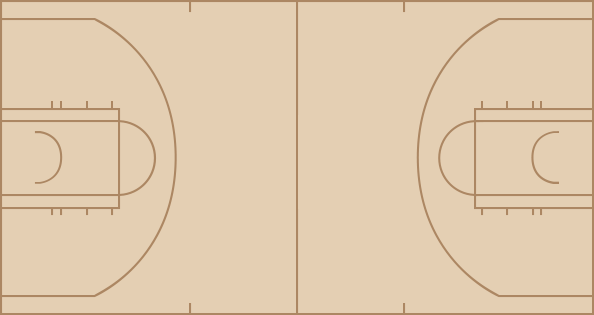 Trail Blazers
time
TEAM
PLAY
SCORE
12:00
Start of the 1st Quarter.
0 - 0
12:00
Jumpball. Rasheed Wallace vs. Greg Ostertag. John Stockton gains possession.
0 - 0
11:45
Matt Harpring made 17 ft Jumper. Assisted by Calbert Cheaney.
0 - 2
11:30
Rasheed Wallace missed Layup.
0 - 2
11:29
Greg Ostertag Defensive Rebound.
0 - 2
11:18
Matt Harpring made Layup. Assisted by Karl Malone.
0 - 4
11:07
Dale Davis Offensive Foul
0 - 4
11:07
Dale Davis Foul
0 - 4
10:48
Calbert Cheaney made 19 ft Jumper. Assisted by John Stockton.
0 - 6
10:26
Damon Stoudamire Bad Pass
0 - 6
10:11
John Stockton made 19 ft Jumper. Assisted by Greg Ostertag.
0 - 8
10:03
Portland Full Timeout.
0 - 8
9:51
Rasheed Wallace made 9 ft Jumper.
2 - 8
9:32
Calbert Cheaney made 20 ft Jumper. Assisted by John Stockton.
2 - 10
9:25
Damon Stoudamire Bad Pass
2 - 10
9:15
Calbert Cheaney Offensive Foul
2 - 10
9:15
Calbert Cheaney Foul
2 - 10
8:56
Rasheed Wallace made 8 ft Jumper.
4 - 10
8:41
Calbert Cheaney missed 18 ft Jumper.
4 - 10
8:41
Rasheed Wallace Defensive Rebound.
4 - 10
8:21
Damon Stoudamire made Two Point Shot.
6 - 10
8:04
Karl Malone made Layup. Assisted by John Stockton.
6 - 12
7:48
Portland 20 Sec. Timeout.
6 - 12
7:43
Bonzi Wells Bad Pass. Stolen by Matt Harpring.
6 - 12
7:33
John Stockton made 19 ft Jumper. Assisted by Karl Malone.
6 - 14
7:16
Dale Davis made Dunk. Assisted by Rasheed Wallace.
8 - 14
6:52
Calbert Cheaney missed 19 ft Jumper.
8 - 14
6:50
Dale Davis Defensive Rebound.
8 - 14
6:45
Damon Stoudamire made 19 ft Jumper.
10 - 14
6:26
Karl Malone made 18 ft Jumper. Assisted by John Stockton.
10 - 16
6:05
Damon Stoudamire missed 25 ft Three Point Jumper.
10 - 16
6:03
Calbert Cheaney Defensive Rebound.
10 - 16
5:54
Greg Ostertag made Two Point Shot. Assisted by John Stockton.
10 - 18
5:35
Rasheed Wallace Bad Pass. Stolen by Greg Ostertag.
10 - 18
5:11
Karl Malone made 18 ft Jumper. Assisted by Matt Harpring.
10 - 20
4:54
Bonzi Wells missed 25 ft Three Point Jumper.
10 - 20
4:52
Portland Defensive Rebound.
10 - 20
4:52
Mark Jackson enters the game for John Stockton.
10 - 20
4:31
Derek Anderson Shooting Foul
10 - 20
4:31
Calbert Cheaney made Free Throw 1 of 2.
10 - 21
4:31
Calbert Cheaney missed Free Throw 2 of 2.
10 - 21
4:31
Dale Davis Defensive Rebound.
10 - 21
4:13
Derek Anderson missed 24 ft Three Point Jumper.
10 - 21
4:09
Calbert Cheaney Defensive Rebound.
10 - 21
4:07
Karl Malone made Slam Dunk. Assisted by Calbert Cheaney.
10 - 23
4:01
Portland Full Timeout.
10 - 23
3:46
Rasheed Wallace made 16 ft Jumper.
12 - 23
3:17
Greg Ostertag missed 9 ft Two Point Shot.
12 - 23
3:16
Calbert Cheaney Offensive Rebound.
12 - 23
2:56
Matt Harpring missed 21 ft Jumper.
12 - 23
2:54
Derek Anderson Defensive Rebound.
12 - 23
2:40
Rasheed Wallace Lost Ball. Stolen by Karl Malone.
12 - 23
2:32
Karl Malone missed 21 ft Jumper.
12 - 23
2:31
Damon Stoudamire Defensive Rebound.
12 - 23
2:27
Bonzi Wells Offensive Foul
12 - 23
2:27
Bonzi Wells Foul
12 - 23
2:27
Andrei Kirilenko enters the game for Calbert Cheaney.
12 - 23
2:27
Ruben Patterson enters the game for Bonzi Wells.
12 - 23
2:08
Karl Malone Lost Ball. Stolen by Damon Stoudamire.
12 - 23
2:02
Ruben Patterson Offensive Foul
12 - 23
2:02
Ruben Patterson Foul
12 - 23
1:50
Matt Harpring made Layup. Assisted by Karl Malone.
12 - 25
1:37
Karl Malone Shooting Foul
12 - 25
1:37
Rasheed Wallace made Free Throw 1 of 2.
13 - 25
1:37
Antonio Daniels enters the game for Derek Anderson.
13 - 25
1:37
Rasheed Wallace made Free Throw 2 of 2.
14 - 25
1:21
Karl Malone missed 18 ft Jumper.
14 - 25
1:19
Rasheed Wallace Defensive Rebound.
14 - 25
1:04
Rasheed Wallace made 15 ft Two Point Shot. Assisted by Damon Stoudamire.
16 - 25
0:59
Karl Malone Bad Pass
16 - 25
0:40
Rasheed Wallace missed 12 ft Two Point Shot.
16 - 25
0:38
Karl Malone Defensive Rebound.
16 - 25
0:30
Mark Jackson made 7 ft Two Point Shot.
16 - 27
0:09
Damon Stoudamire made 10 ft Two Point Shot.
18 - 27
0:01
Andrei Kirilenko missed 19 ft Jumper.
18 - 27
0:00
Dale Davis Defensive Rebound.
18 - 27
0:00
End of the 1st Quarter.
18 - 27

time
TEAM
PLAY
SCORE
12:00
Start of the 2nd Quarter.
18 - 27
11:40
Antonio Daniels missed 23 ft Jumper.
18 - 27
11:37
Rasheed Wallace Offensive Rebound.
18 - 27
11:30
Rasheed Wallace missed 18 ft Two Point Shot.
18 - 27
11:29
Greg Ostertag Defensive Rebound.
18 - 27
11:08
Mark Jackson Bad Pass. Stolen by Dale Davis.
18 - 27
11:03
Damon Stoudamire Bad Pass. Stolen by Mark Jackson.
18 - 27
10:41
Scott Padgett missed 26 ft Three Point Jumper.
18 - 27
10:38
Andrei Kirilenko Offensive Rebound.
18 - 27
10:33
Rasheed Wallace Shooting Foul
18 - 27
10:33
Arvydas Sabonis enters the game for Dale Davis.
18 - 27
10:33
Zachary Randolph enters the game for Rasheed Wallace.
18 - 27
10:33
Calbert Cheaney missed Free Throw 1 of 2.
18 - 27
10:33
Utah Offensive Rebound.
18 - 27
10:33
Jeff McInnis enters the game for Damon Stoudamire.
18 - 27
10:33
Calbert Cheaney made Free Throw 2 of 2.
18 - 28
10:21
Antonio Daniels Traveling
18 - 28
10:02
Andrei Kirilenko missed 17 ft Jumper.
18 - 28
10:00
Zachary Randolph Defensive Rebound.
18 - 28
9:38
Ruben Patterson missed Layup. Blocked by Andrei Kirilenko.
18 - 28
9:37
Greg Ostertag Defensive Rebound.
18 - 28
9:19
Andrei Kirilenko made 21 ft Jumper. Assisted by Mark Jackson.
18 - 30
9:04
Antonio Daniels missed 25 ft Three Point Jumper.
18 - 30
9:03
Scott Padgett Defensive Rebound.
18 - 30
8:59
Andrei Kirilenko Offensive Foul
18 - 30
8:59
Andrei Kirilenko Foul
18 - 30
8:59
Official Timeout.
18 - 30
8:48
Arvydas Sabonis Bad Pass. Stolen by Andrei Kirilenko.
18 - 30
8:44
Jeff McInnis Shooting Foul
18 - 30
8:44
Greg Ostertag made Free Throw 1 of 2.
18 - 31
8:44
Greg Ostertag made Free Throw 2 of 2.
18 - 32
8:32
Arvydas Sabonis made 19 ft Jumper. Assisted by Jeff McInnis.
20 - 32
8:12
Andrei Kirilenko made 20 ft Jumper.
20 - 34
7:52
Scott Padgett Shooting Foul
20 - 34
7:52
John Stockton enters the game for Mark Jackson.
20 - 34
7:52
Derek Anderson enters the game for Antonio Daniels.
20 - 34
7:52
Zachary Randolph made Free Throw 1 of 2.
21 - 34
7:52
Zachary Randolph made Free Throw 2 of 2.
22 - 34
7:33
Greg Ostertag missed 10 ft Two Point Shot.
22 - 34
7:31
Ruben Patterson Defensive Rebound.
22 - 34
7:13
Jeff McInnis missed 20 ft Jumper.
22 - 34
7:13
Portland Defensive Rebound.
22 - 34
7:13
Zachary Randolph Loose Ball Foul
22 - 34
6:54
John Stockton missed 19 ft Jumper.
22 - 34
6:52
Ruben Patterson Defensive Rebound.
22 - 34
6:35
Zachary Randolph missed 8 ft Jumper. Blocked by Andrei Kirilenko.
22 - 34
6:33
Greg Ostertag Defensive Rebound.
22 - 34
6:24
Kicked Ball
22 - 34
6:24
Karl Malone enters the game for Greg Ostertag.
22 - 34
6:24
Rasheed Wallace enters the game for Zachary Randolph.
22 - 34
6:11
Scott Padgett missed 22 ft Jumper.
22 - 34
6:07
Ruben Patterson Defensive Rebound.
22 - 34
5:54
Rasheed Wallace missed 14 ft Jumper.
22 - 34
5:50
Scott Padgett Defensive Rebound.
22 - 34
5:50
Utah Full Timeout.
22 - 34
5:50
Bonzi Wells enters the game for Ruben Patterson.
22 - 34
5:31
Andrei Kirilenko made Two Point Shot. Assisted by John Stockton.
22 - 36
5:11
Arvydas Sabonis missed 2 ft Hook Shot.
22 - 36
5:09
John Stockton Defensive Rebound.
22 - 36
4:56
Scott Padgett made 21 ft Jumper. Assisted by Karl Malone.
22 - 38
4:35
Jeff McInnis made 20 ft Jumper. Assisted by Bonzi Wells.
24 - 38
4:16
Karl Malone missed 22 ft Jumper.
24 - 38
4:13
Rasheed Wallace Defensive Rebound.
24 - 38
3:58
Rasheed Wallace made 24 ft Three Point Jumper. Assisted by Arvydas Sabonis.
27 - 38
3:38
Karl Malone missed Layup.
27 - 38
3:35
Rasheed Wallace Defensive Rebound.
27 - 38
3:26
John Stockton Shooting Foul
27 - 38
3:26
Dale Davis enters the game for Arvydas Sabonis.
27 - 38
3:26
Matt Harpring enters the game for Scott Padgett.
27 - 38
3:26
Jeff McInnis made Free Throw 1 of 2.
28 - 38
3:26
Jeff McInnis made Free Throw 2 of 2.
29 - 38
3:06
Karl Malone missed 18 ft Jumper.
29 - 38
3:04
Karl Malone Offensive Rebound.
29 - 38
3:04
Bonzi Wells Shooting Foul
29 - 38
3:04
Karl Malone made Free Throw 1 of 2.
29 - 39
3:04
Karl Malone made Free Throw 2 of 2.
29 - 40
2:51
Dale Davis made Two Point Shot.
31 - 40
2:38
Karl Malone missed 18 ft Jumper.
31 - 40
2:35
Derek Anderson Defensive Rebound.
31 - 40
2:31
Bonzi Wells Traveling
31 - 40
2:31
Portland Full Timeout.
31 - 40
2:31
Greg Ostertag enters the game for Andrei Kirilenko.
31 - 40
2:16
Matt Harpring made 15 ft Jumper. Assisted by Calbert Cheaney.
31 - 42
1:54
Jeff McInnis missed 19 ft Jumper.
31 - 42
1:53
Greg Ostertag Defensive Rebound.
31 - 42
1:42
Calbert Cheaney made Jumper. Assisted by Matt Harpring.
31 - 44
1:29
Rasheed Wallace missed 16 ft Jumper.
31 - 44
1:28
Greg Ostertag Defensive Rebound.
31 - 44
1:22
John Stockton made 16 ft Jumper. Assisted by Greg Ostertag.
31 - 46
1:02
Rasheed Wallace made 13 ft Jumper. Assisted by Bonzi Wells.
33 - 46
0:43
Karl Malone made 6 ft Two Point Shot. Assisted by John Stockton.
33 - 48
0:33
Bonzi Wells made 23 ft Three Point Jumper. Assisted by Jeff McInnis.
36 - 48
0:12
Greg Ostertag missed 9 ft Jumper.
36 - 48
0:12
Utah Offensive Rebound.
36 - 48
0:12
Zachary Randolph enters the game for Bonzi Wells.
36 - 48
0:00
Karl Malone missed 9 ft Jumper.
36 - 48
0:00
Matt Harpring Offensive Rebound.
36 - 48
0:00
End of the 2nd Quarter.
36 - 48

time
TEAM
PLAY
SCORE
12:00
Start of the 3rd Quarter.
36 - 48
11:41
Rasheed Wallace missed 17 ft Jumper.
36 - 48
11:41
Dale Davis Offensive Rebound.
36 - 48
11:36
Derek Anderson missed 16 ft Jumper.
36 - 48
11:34
Karl Malone Defensive Rebound.
36 - 48
11:18
Calbert Cheaney missed 18 ft Jumper.
36 - 48
11:17
Damon Stoudamire Defensive Rebound.
36 - 48
11:07
Dale Davis missed 11 ft Jumper.
36 - 48
11:06
Karl Malone Defensive Rebound.
36 - 48
11:06
Dale Davis Personal Foul
36 - 48
10:44
Greg Ostertag 3 second
36 - 48
10:27
Rasheed Wallace missed 17 ft Jumper.
36 - 48
10:25
Matt Harpring Defensive Rebound.
36 - 48
10:11
Karl Malone made 17 ft Two Point Shot. Assisted by John Stockton.
36 - 50
9:47
Derek Anderson missed 17 ft Jumper.
36 - 50
9:45
Matt Harpring Defensive Rebound.
36 - 50
9:21
Matt Harpring missed 14 ft Jumper.
36 - 50
9:18
Greg Ostertag Offensive Rebound.
36 - 50
9:08
Rasheed Wallace Shooting Foul
36 - 50
9:08
Karl Malone made Free Throw 1 of 2.
36 - 51
9:08
Karl Malone made Free Throw 2 of 2.
36 - 52
8:48
Rasheed Wallace missed 18 ft Jumper.
36 - 52
8:45
Karl Malone Defensive Rebound.
36 - 52
8:40
Karl Malone Offensive Foul
36 - 52
8:40
Karl Malone Foul
36 - 52
8:25
Damon Stoudamire Bad Pass. Stolen by Greg Ostertag.
36 - 52
8:17
Derek Anderson Shooting Foul
36 - 52
8:17
Matt Harpring made Free Throw 1 of 2.
36 - 53
8:17
Matt Harpring made Free Throw 2 of 2.
36 - 54
8:17
Portland Full Timeout.
36 - 54
7:56
Rasheed Wallace made 3 ft Two Point Shot. Assisted by Bonzi Wells.
38 - 54
7:37
Greg Ostertag Lost Ball
38 - 54
7:37
Jeff McInnis enters the game for Damon Stoudamire.
38 - 54
7:37
Antonio Daniels enters the game for Derek Anderson.
38 - 54
7:20
Rasheed Wallace made 17 ft Jumper.
40 - 54
6:54
Greg Ostertag Lost Ball. Stolen by Dale Davis.
40 - 54
6:39
Rasheed Wallace made 20 ft Jumper.
42 - 54
6:31
John Stockton Lost Ball
42 - 54
6:18
Matt Harpring Personal Foul
42 - 54
6:05
Bonzi Wells Bad Pass. Stolen by Greg Ostertag.
42 - 54
6:03
Jeff McInnis Personal Foul
42 - 54
6:03
Ruben Patterson enters the game for Bonzi Wells.
42 - 54
5:50
Karl Malone missed 20 ft Jumper.
42 - 54
5:50
Greg Ostertag Offensive Rebound.
42 - 54
5:50
Greg Ostertag missed Layup.
42 - 54
5:50
Matt Harpring Offensive Rebound.
42 - 54
5:50
Matt Harpring missed Layup.
42 - 54
5:50
Utah Offensive Rebound.
42 - 54
5:50
Ruben Patterson Loose Ball Foul
42 - 54
5:50
Matt Harpring made Free Throw 1 of 2.
42 - 55
5:50
Matt Harpring made Free Throw 2 of 2.
42 - 56
5:28
Jeff McInnis missed 25 ft Three Point Jumper.
42 - 56
5:26
Matt Harpring Defensive Rebound.
42 - 56
5:13
Greg Ostertag made Dunk. Assisted by John Stockton.
42 - 58
4:52
Antonio Daniels missed Jumper. Blocked by Greg Ostertag.
42 - 58
4:50
Jeff McInnis Offensive Rebound.
42 - 58
4:46
Rasheed Wallace missed 25 ft Three Point Jumper.
42 - 58
4:43
John Stockton Defensive Rebound.
42 - 58
4:37
Matt Harpring missed Layup. Blocked by Rasheed Wallace.
42 - 58
4:35
Rasheed Wallace Defensive Rebound.
42 - 58
4:31
Zachary Randolph enters the game for Dale Davis.
42 - 58
4:31
Mark Jackson enters the game for John Stockton.
42 - 58
4:20
Ruben Patterson made 18 ft Jumper. Assisted by Jeff McInnis.
44 - 58
4:01
Karl Malone made 21 ft Jumper. Assisted by Mark Jackson.
44 - 60
3:43
Zachary Randolph missed Jumper.
44 - 60
3:41
Antonio Daniels Offensive Rebound.
44 - 60
3:36
Rasheed Wallace missed Three Point Jumper.
44 - 60
3:33
Matt Harpring Defensive Rebound.
44 - 60
3:27
Matt Harpring made 25 ft Three Point Jumper. Assisted by Mark Jackson.
44 - 63
3:09
Antonio Daniels missed 25 ft Three Point Jumper.
44 - 63
3:06
Matt Harpring Defensive Rebound.
44 - 63
3:00
Andrei Kirilenko enters the game for Calbert Cheaney.
44 - 63
3:00
Arvydas Sabonis enters the game for Rasheed Wallace.
44 - 63
2:45
Matt Harpring made 23 ft Three Point Jumper. Assisted by Greg Ostertag.
44 - 66
2:30
Ruben Patterson Offensive Foul
44 - 66
2:30
Ruben Patterson Foul
44 - 66
2:30
Utah Full Timeout.
44 - 66
2:18
Matt Harpring missed 20 ft Jumper.
44 - 66
2:17
Ruben Patterson Defensive Rebound.
44 - 66
2:02
Jeff McInnis missed 13 ft Jumper.
44 - 66
2:01
Matt Harpring Defensive Rebound.
44 - 66
1:47
Karl Malone made Layup. Assisted by Andrei Kirilenko.
44 - 68
1:24
Antonio Daniels missed Two Point Shot.
44 - 68
1:23
Matt Harpring Defensive Rebound.
44 - 68
1:15
Matt Harpring missed Layup. Blocked by Ruben Patterson.
44 - 68
1:13
Zachary Randolph Defensive Rebound.
44 - 68
1:08
Antonio Daniels missed Layup. Blocked by Greg Ostertag.
44 - 68
1:08
Portland Offensive Rebound.
44 - 68
1:07
Ruben Patterson Bad Pass. Stolen by Andrei Kirilenko.
44 - 68
1:01
Andrei Kirilenko missed Layup.
44 - 68
1:00
Jeff McInnis Defensive Rebound.
44 - 68
0:52
Ruben Patterson made 18 ft Jumper. Assisted by Arvydas Sabonis.
46 - 68
0:32
Greg Ostertag Bad Pass
46 - 68
0:19
Jeff McInnis made 25 ft Three Point Jumper. Assisted by Arvydas Sabonis.
49 - 68
0:00
Andrei Kirilenko made 17 ft Jumper. Assisted by Karl Malone.
49 - 70
0:00
End of the 3rd Quarter.
49 - 70

time
TEAM
PLAY
SCORE
12:00
Start of the 4th Quarter.
49 - 70
11:45
Greg Ostertag made Jumper.
49 - 72
11:26
Scott Padgett Shooting Foul
49 - 72
11:26
Qyntel Woods enters the game for Ruben Patterson.
49 - 72
11:26
Zachary Randolph made Free Throw 1 of 2.
50 - 72
11:26
Zachary Randolph made Free Throw 2 of 2.
51 - 72
11:14
Scott Padgett Offensive Foul
51 - 72
11:14
Scott Padgett Foul
51 - 72
10:55
Jeff McInnis Bad Pass. Stolen by Andrei Kirilenko.
51 - 72
10:48
Mark Jackson missed Two Point Shot.
51 - 72
10:45
Calbert Cheaney Offensive Rebound.
51 - 72
10:45
Calbert Cheaney missed 10 ft Jumper.
51 - 72
10:42
Qyntel Woods Defensive Rebound.
51 - 72
10:30
Jeff McInnis made 23 ft Three Point Jumper. Assisted by Qyntel Woods.
54 - 72
10:03
Scott Padgett made 22 ft Jumper.
54 - 74
9:36
24 second
54 - 74
9:22
Jeff McInnis Personal Foul
54 - 74
9:11
Andrei Kirilenko made 25 ft Three Point Jumper. Assisted by Mark Jackson.
54 - 77
8:53
Qyntel Woods missed 13 ft Jumper. Blocked by Andrei Kirilenko.
54 - 77
8:51
Calbert Cheaney Defensive Rebound.
54 - 77
8:48
Scott Padgett made Two Point Shot. Assisted by Mark Jackson.
54 - 79
8:23
Jeff McInnis made 24 ft Three Point Jumper. Assisted by Antonio Daniels.
57 - 79
8:07
Official Timeout.
57 - 79
8:07
Charles Smith enters the game for Antonio Daniels.
57 - 79
7:56
Mark Jackson missed 25 ft Three Point Jumper.
57 - 79
7:54
Jeff McInnis Defensive Rebound.
57 - 79
7:43
Qyntel Woods missed Jumper.
57 - 79
7:39
Greg Ostertag Defensive Rebound.
57 - 79
7:26
Zachary Randolph Personal Foul
57 - 79
7:24
Rasheed Wallace Technical Foul
57 - 79
7:24
Andrei Kirilenko made Technical Free Throw.
57 - 80
7:16
Greg Ostertag Bad Pass. Stolen by Charles Smith.
57 - 80
7:13
Qyntel Woods made Two Point Shot.
59 - 80
7:13
Calbert Cheaney Shooting Foul
59 - 80
7:13
Qyntel Woods missed Free Throw 1 of 1.
59 - 80
7:09
Arvydas Sabonis Offensive Rebound.
59 - 80
7:01
Qyntel Woods Bad Pass. Stolen by Andrei Kirilenko.
59 - 80
6:54
Calbert Cheaney missed 11 ft Jumper.
59 - 80
6:52
Jeff McInnis Defensive Rebound.
59 - 80
6:50
Jeff McInnis made Two Point Shot.
61 - 80
6:35
Charles Smith Shooting Foul
61 - 80
6:35
John Stockton enters the game for Mark Jackson.
61 - 80
6:35
Karl Malone enters the game for Scott Padgett.
61 - 80
6:35
Greg Ostertag missed Free Throw 1 of 2.
61 - 80
6:35
Utah Offensive Rebound.
61 - 80
6:35
Greg Ostertag made Free Throw 2 of 2.
61 - 81
6:26
Zachary Randolph made 16 ft Jumper. Assisted by Jeff McInnis.
63 - 81
6:11
Calbert Cheaney made Layup. Assisted by Karl Malone.
63 - 83
5:56
Qyntel Woods missed Layup. Blocked by Greg Ostertag.
63 - 83
5:52
Qyntel Woods Offensive Rebound.
63 - 83
5:50
Qyntel Woods missed 17 ft Jumper.
63 - 83
5:47
Zachary Randolph Offensive Rebound.
63 - 83
5:47
Zachary Randolph missed Layup. Blocked by Andrei Kirilenko.
63 - 83
5:43
Zachary Randolph Offensive Rebound.
63 - 83
5:43
Zachary Randolph missed Layup.
63 - 83
5:41
John Stockton Defensive Rebound.
63 - 83
5:39
Jeff McInnis Shooting Foul
63 - 83
5:39
Utah Full Timeout.
63 - 83
5:39
Tony Massenburg enters the game for Greg Ostertag.
63 - 83
5:39
Karl Malone made Free Throw 1 of 2.
63 - 84
5:39
Karl Malone made Free Throw 2 of 2.
63 - 85
5:22
Charles Smith missed 12 ft Jumper.
63 - 85
5:20
Qyntel Woods Offensive Rebound.
63 - 85
5:16
Tony Massenburg Shooting Foul
63 - 85
5:16
Zachary Randolph made Layup.
65 - 85
5:16
Defensive Goaltending
65 - 85
5:16
Zachary Randolph made Free Throw 1 of 1.
66 - 85
5:05
Andrei Kirilenko missed 25 ft Three Point Jumper.
66 - 85
5:01
Arvydas Sabonis Defensive Rebound.
66 - 85
4:54
Karl Malone Shooting Foul
66 - 85
4:54
Charles Smith made Free Throw 1 of 2.
67 - 85
4:54
Charles Smith made Free Throw 2 of 2.
68 - 85
4:41
Tony Massenburg made Two Point Shot. Assisted by Karl Malone.
68 - 87
4:28
Jeff McInnis missed 24 ft Three Point Jumper.
68 - 87
4:24
Karl Malone Defensive Rebound.
68 - 87
4:22
Jeff McInnis Shooting Foul
68 - 87
4:22
Andrei Kirilenko made Free Throw 1 of 2.
68 - 88
4:22
Andrei Kirilenko missed Free Throw 2 of 2.
68 - 88
4:20
Zachary Randolph Defensive Rebound.
68 - 88
3:59
Charles Smith missed 23 ft Jumper.
68 - 88
3:57
Tony Massenburg Defensive Rebound.
68 - 88
3:55
Karl Malone made Dunk. Assisted by John Stockton.
68 - 90
3:34
Zachary Randolph made 12 ft Jumper.
70 - 90
3:06
John Stockton Bad Pass. Stolen by Qyntel Woods.
70 - 90
3:02
Charles Smith made Two Point Shot. Assisted by Qyntel Woods.
72 - 90
2:47
Jeff McInnis Personal Foul
72 - 90
2:47
Portland Full Timeout.
72 - 90
2:47
DeShawn Stevenson enters the game for Calbert Cheaney.
72 - 90
2:47
Scott Padgett enters the game for Karl Malone.
72 - 90
2:47
Antonio Daniels enters the game for Jeff McInnis.
72 - 90
2:47
John Stockton made Free Throw 1 of 2.
72 - 91
2:47
John Stockton made Free Throw 2 of 2.
72 - 92
2:46
John Stockton Personal Foul
72 - 92
2:46
Carlos Arroyo enters the game for John Stockton.
72 - 92
2:46
Antonio Daniels made Free Throw 1 of 2.
73 - 92
2:46
Antonio Daniels made Free Throw 2 of 2.
74 - 92
2:23
DeShawn Stevenson missed 25 ft Three Point Jumper.
74 - 92
2:20
Zachary Randolph Defensive Rebound.
74 - 92
2:14
Zachary Randolph Lost Ball
74 - 92
2:03
Andrei Kirilenko Bad Pass. Stolen by Arvydas Sabonis.
74 - 92
2:00
Antonio Daniels made Dunk. Assisted by Charles Smith.
76 - 92
1:42
Andrei Kirilenko missed 24 ft Three Point Jumper.
76 - 92
1:39
Zachary Randolph Defensive Rebound.
76 - 92
1:23
Arvydas Sabonis made 19 ft Jumper. Assisted by Qyntel Woods.
78 - 92
1:01
DeShawn Stevenson missed 9 ft Two Point Shot.
78 - 92
1:00
Arvydas Sabonis Defensive Rebound.
78 - 92
0:58
Antonio Daniels made Two Point Shot.
80 - 92
0:58
DeShawn Stevenson Shooting Foul
80 - 92
0:58
Antonio Daniels made Free Throw 1 of 1.
81 - 92
0:36
Charles Smith Personal Foul
81 - 92
0:36
Scott Padgett made Free Throw 1 of 2.
81 - 93
0:36
Scott Padgett made Free Throw 2 of 2.
81 - 94
0:26
DeShawn Stevenson Shooting Foul
81 - 94
0:26
Arvydas Sabonis missed Free Throw 1 of 3.
81 - 94
0:26
Portland Offensive Rebound.
81 - 94
0:26
Arvydas Sabonis made Free Throw 2 of 3.
82 - 94
0:26
Arvydas Sabonis made Free Throw 3 of 3.
83 - 94
0:08
Carlos Arroyo Bad Pass. Stolen by Arvydas Sabonis.
83 - 94
0:02
Qyntel Woods made Slam Dunk. Assisted by Antonio Daniels.
85 - 94
0:00
End of the 4th Quarter.
85 - 94
0:00
End Game
85 - 94
Jeff Goodman explains how close the Bulls came to trading Jimmy Butler and what has to happen for Butler to co-exist with coach Fred Hoiberg.

Who are the best NBA prospects in the 2017 draft class? Chad Ford gives his top five and previews the big storylines to watch for next year.

John Salley says on Mike & Mike that Len Bias would have won five championships with the Celtics and would have been the greatest basketball player who ever played.
Regular Season Series
UTAH wins series 3-1
2015-2016 Pacific Standings