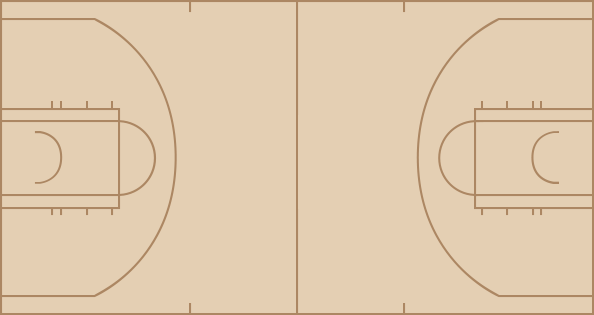 Pacers
time
TEAM
PLAY
SCORE
12:00
Start of the 1st Quarter.
0 - 0
12:00
Jumpball. Jermaine O'Neal vs. Ben Wallace. Clifford Robinson gains possession.
0 - 0
11:41
Richard Hamilton missed 16 ft Jumper.
0 - 0
11:40
Brad Miller Defensive Rebound.
0 - 0
11:25
Jamaal Tinsley made 27 ft Three Point Jumper. Assisted by Ron Artest.
3 - 0
11:00
Chauncey Billups made Three Point Jumper. Assisted by Clifford Robinson.
3 - 3
10:47
Reggie Miller missed 16 ft Jumper.
3 - 3
10:45
Richard Hamilton Defensive Rebound.
3 - 3
10:33
Clifford Robinson missed Jumper.
3 - 3
10:33
Brad Miller Defensive Rebound.
3 - 3
10:29
Richard Hamilton Personal Foul
3 - 3
10:23
Reggie Miller made 19 ft Jumper. Assisted by Jamaal Tinsley.
5 - 3
9:56
Michael Curry missed 15 ft Jumper.
5 - 3
9:55
Jamaal Tinsley Defensive Rebound.
5 - 3
9:37
Brad Miller missed 18 ft Jumper.
5 - 3
9:34
Richard Hamilton Defensive Rebound.
5 - 3
9:29
Chauncey Billups Bad Pass. Stolen by Jermaine O'Neal.
5 - 3
9:21
Reggie Miller made Three Point Jumper. Assisted by Jamaal Tinsley.
8 - 3
9:00
Brad Miller Personal Foul
8 - 3
8:55
Ron Artest Personal Foul
8 - 3
8:47
Ron Artest Personal Foul
8 - 3
8:47
Al Harrington enters the game for Ron Artest.
8 - 3
8:37
Chauncey Billups made 25 ft Three Point Jumper. Assisted by Clifford Robinson.
8 - 6
8:27
Clifford Robinson Personal Foul
8 - 6
8:18
Reggie Miller missed 12 ft Two Point Shot.
8 - 6
8:15
Ben Wallace Defensive Rebound.
8 - 6
8:11
Chauncey Billups missed 26 ft Three Point Jumper.
8 - 6
8:08
Jermaine O'Neal Defensive Rebound.
8 - 6
8:02
Jermaine O'Neal made 21 ft Jumper. Assisted by Jamaal Tinsley.
10 - 6
7:43
Richard Hamilton made Layup. Assisted by Clifford Robinson.
10 - 8
7:33
Chauncey Billups Personal Foul
10 - 8
7:30
Reggie Miller missed 16 ft Two Point Shot.
10 - 8
7:28
Indiana Defensive Rebound.
10 - 8
7:16
Reggie Miller Technical Foul
10 - 8
7:16
Richard Hamilton missed Technical Free Throw.
10 - 8
7:16
Detroit Offensive Rebound.
10 - 8
7:16
Jamaal Tinsley Shooting Foul
10 - 8
7:16
Chauncey Billups made Free Throw 1 of 2.
10 - 9
7:16
Chauncey Billups made Free Throw 2 of 2.
10 - 10
7:03
Jamaal Tinsley Bad Pass. Stolen by Michael Curry.
10 - 10
6:56
Richard Hamilton Lost Ball. Stolen by Jamaal Tinsley.
10 - 10
6:52
Reggie Miller made 22 ft Jumper. Assisted by Jamaal Tinsley.
12 - 10
6:41
Reggie Miller Personal Foul
12 - 10
6:41
Richard Hamilton made Free Throw 1 of 2.
12 - 11
6:41
Richard Hamilton made Free Throw 2 of 2.
12 - 12
6:30
Richard Hamilton Personal Foul
12 - 12
6:30
Jon Barry enters the game for Richard Hamilton.
12 - 12
6:24
Jon Barry Personal Foul
12 - 12
6:24
Reggie Miller made Free Throw 1 of 2.
13 - 12
6:24
Reggie Miller made Free Throw 2 of 2.
14 - 12
6:07
Chauncey Billups made 19 ft Jumper. Assisted by Clifford Robinson.
14 - 14
6:01
Indiana Full Timeout.
14 - 14
5:52
Reggie Miller made 26 ft Three Point Jumper. Assisted by Jamaal Tinsley.
17 - 14
5:35
Jon Barry made 20 ft Jumper. Assisted by Ben Wallace.
17 - 16
5:15
Al Harrington made 17 ft Jumper. Assisted by Jamaal Tinsley.
19 - 16
4:56
Clifford Robinson Lost Ball
19 - 16
4:48
Jamaal Tinsley Bad Pass. Stolen by Jon Barry.
19 - 16
4:41
Chauncey Billups made 23 ft Three Point Jumper. Assisted by Jon Barry.
19 - 19
4:24
Al Harrington made Layup.
21 - 19
4:09
Michael Curry missed Dunk. Blocked by Jermaine O'Neal.
21 - 19
4:05
Brad Miller Defensive Rebound.
21 - 19
4:01
Jamaal Tinsley made Two Point Shot.
23 - 19
4:01
Defensive Goaltending
23 - 19
3:44
Al Harrington Personal Foul
23 - 19
3:44
Corliss Williamson enters the game for Michael Curry.
23 - 19
3:44
Clifford Robinson made Free Throw 1 of 2.
23 - 20
3:44
Clifford Robinson made Free Throw 2 of 2.
23 - 21
3:31
Reggie Miller missed 27 ft Three Point Jumper.
23 - 21
3:30
Indiana Defensive Rebound.
23 - 21
3:20
Clifford Robinson made Two Point Shot.
23 - 23
3:20
Jermaine O'Neal Shooting Foul
23 - 23
3:20
Clifford Robinson missed Free Throw 1 of 1.
23 - 23
3:19
Brad Miller Defensive Rebound.
23 - 23
3:04
Jamaal Tinsley missed 27 ft Three Point Jumper.
23 - 23
3:02
Ben Wallace Defensive Rebound.
23 - 23
2:49
Corliss Williamson made Layup. Assisted by Chauncey Billups.
23 - 25
2:31
Reggie Miller missed 20 ft Jumper.
23 - 25
2:31
Ben Wallace Defensive Rebound.
23 - 25
2:26
Chauncey Billups missed Layup.
23 - 25
2:24
Ben Wallace Offensive Rebound.
23 - 25
2:21
Ben Wallace missed Tip Shot.
23 - 25
2:18
Al Harrington Defensive Rebound.
23 - 25
2:14
Reggie Miller missed 20 ft Jumper.
23 - 25
2:12
Jon Barry Defensive Rebound.
23 - 25
2:08
Brad Miller Personal Foul
23 - 25
2:08
Detroit Full Timeout.
23 - 25
2:08
Tim Hardaway enters the game for Jamaal Tinsley.
23 - 25
2:08
Jonathan Bender enters the game for Reggie Miller.
23 - 25
2:08
Chauncey Billups made Free Throw 1 of 2.
23 - 26
2:08
Chauncey Billups made Free Throw 2 of 2.
23 - 27
1:54
Kicked Ball
23 - 27
1:42
Jermaine O'Neal made 11 ft Two Point Shot. Assisted by Tim Hardaway.
25 - 27
1:20
Jon Barry missed 24 ft Three Point Jumper.
25 - 27
1:19
Jermaine O'Neal Defensive Rebound.
25 - 27
1:07
Al Harrington Lost Ball. Stolen by Chauncey Billups.
25 - 27
1:01
Clifford Robinson missed 19 ft Jumper.
25 - 27
1:00
Jermaine O'Neal Defensive Rebound.
25 - 27
0:49
Tim Hardaway Bad Pass. Stolen by Chauncey Billups.
25 - 27
0:45
Tim Hardaway Shooting Foul
25 - 27
0:45
Hubert Davis enters the game for Chauncey Billups.
25 - 27
0:45
Mehmet Okur enters the game for Clifford Robinson.
25 - 27
0:45
Jon Barry made Free Throw 1 of 2.
25 - 28
0:45
Jon Barry made Free Throw 2 of 2.
25 - 29
0:25
Jermaine O'Neal missed 8 ft Jumper.
25 - 29
0:23
Ben Wallace Defensive Rebound.
25 - 29
0:04
Corliss Williamson missed 6 ft Hook Shot.
25 - 29
0:03
Ben Wallace Offensive Rebound.
25 - 29
0:02
Ben Wallace made Dunk.
25 - 31
0:01
Tim Hardaway missed 42 ft Three Point Jumper.
25 - 31
0:00
Indiana Offensive Rebound.
25 - 31
0:00
End of the 1st Quarter.
25 - 31

time
TEAM
PLAY
SCORE
12:00
Start of the 2nd Quarter.
25 - 31
11:45
Al Harrington missed Jumper.
25 - 31
11:42
Erick Strickland Offensive Rebound.
25 - 31
11:38
Mehmet Okur Shooting Foul
25 - 31
11:38
Jermaine O'Neal missed Free Throw 1 of 2.
25 - 31
11:38
Indiana Offensive Rebound.
25 - 31
11:38
Jermaine O'Neal missed Free Throw 2 of 2.
25 - 31
11:37
Mehmet Okur Defensive Rebound.
25 - 31
11:14
Mehmet Okur missed Jumper.
25 - 31
11:11
Al Harrington Defensive Rebound.
25 - 31
11:02
Jermaine O'Neal made 4 ft Jumper. Assisted by Tim Hardaway.
27 - 31
10:47
Ben Wallace missed Two Point Shot.
27 - 31
10:44
Jermaine O'Neal Defensive Rebound.
27 - 31
10:33
Al Harrington missed 11 ft Two Point Shot.
27 - 31
10:30
Hubert Davis Defensive Rebound.
27 - 31
10:19
Al Harrington Personal Foul
27 - 31
10:19
Ron Artest enters the game for Tim Hardaway.
27 - 31
10:07
Corliss Williamson missed 12 ft Jumper. Blocked by Al Harrington.
27 - 31
10:03
Jermaine O'Neal Defensive Rebound.
27 - 31
10:00
Jonathan Bender made Two Point Shot. Assisted by Ron Artest.
29 - 31
9:41
Hubert Davis made Three Point Jumper. Assisted by Jon Barry.
29 - 34
9:17
Jermaine O'Neal missed 6 ft Hook Shot.
29 - 34
9:14
Ben Wallace Defensive Rebound.
29 - 34
9:03
Mehmet Okur missed Hook Shot.
29 - 34
9:03
Detroit Defensive Rebound.
29 - 34
9:03
Mehmet Okur Loose Ball Foul
29 - 34
8:48
Ron Artest missed Layup.
29 - 34
8:48
Ben Wallace Defensive Rebound.
29 - 34
8:42
Jon Barry made 27 ft Three Point Jumper.
29 - 37
8:33
Indiana Full Timeout.
29 - 37
8:26
Ron Artest missed 4 ft Hook Shot.
29 - 37
8:22
Jon Barry Defensive Rebound.
29 - 37
8:11
Jonathan Bender Shooting Foul
29 - 37
8:11
Mehmet Okur made Free Throw 1 of 2.
29 - 38
8:11
Jamaal Tinsley enters the game for Erick Strickland.
29 - 38
8:11
Mehmet Okur missed Free Throw 2 of 2.
29 - 38
8:11
Jermaine O'Neal Defensive Rebound.
29 - 38
7:56
Jamaal Tinsley missed 20 ft Jumper.
29 - 38
7:54
Mehmet Okur Defensive Rebound.
29 - 38
7:52
Mehmet Okur Lost Ball. Stolen by Ron Artest.
29 - 38
7:50
Ron Artest Offensive Foul
29 - 38
7:50
Ron Artest Foul
29 - 38
7:50
Clifford Robinson enters the game for Ben Wallace.
29 - 38
7:50
Reggie Miller enters the game for Ron Artest.
29 - 38
7:26
24 second
29 - 38
7:26
Brad Miller enters the game for Jonathan Bender.
29 - 38
7:13
Reggie Miller missed 11 ft Two Point Shot.
29 - 38
7:09
Jon Barry Defensive Rebound.
29 - 38
6:54
Jon Barry Bad Pass. Stolen by Jamaal Tinsley.
29 - 38
6:45
Clifford Robinson Personal Foul
29 - 38
6:45
Indiana Full Timeout.
29 - 38
6:45
Chauncey Billups enters the game for Hubert Davis.
29 - 38
6:45
Richard Hamilton enters the game for Jon Barry.
29 - 38
6:33
Jermaine O'Neal made 27 ft Three Point Jumper. Assisted by Reggie Miller.
32 - 38
6:13
Corliss Williamson made 5 ft Hook Shot. Assisted by Clifford Robinson.
32 - 40
6:01
Jermaine O'Neal made 8 ft Two Point Shot. Assisted by Jamaal Tinsley.
34 - 40
5:37
Chauncey Billups Bad Pass
34 - 40
5:26
Brad Miller missed Layup. Blocked by Corliss Williamson.
34 - 40
5:24
Clifford Robinson Defensive Rebound.
34 - 40
5:20
Richard Hamilton missed Layup.
34 - 40
5:18
Richard Hamilton Offensive Rebound.
34 - 40
5:13
Richard Hamilton made 20 ft Jumper.
34 - 42
5:00
Jamaal Tinsley made 27 ft Three Point Jumper. Assisted by Brad Miller.
37 - 42
4:43
Clifford Robinson Offensive Foul
37 - 42
4:43
Clifford Robinson Foul
37 - 42
4:43
Ben Wallace enters the game for Clifford Robinson.
37 - 42
4:43
Austin Croshere enters the game for Brad Miller.
37 - 42
4:31
Mehmet Okur Shooting Foul
37 - 42
4:31
Jermaine O'Neal made Free Throw 1 of 2.
38 - 42
4:31
Jon Barry enters the game for Mehmet Okur.
38 - 42
4:31
Jermaine O'Neal made Free Throw 2 of 2.
39 - 42
4:22
Chauncey Billups made Two Point Shot.
39 - 44
4:01
Jermaine O'Neal missed 10 ft Two Point Shot.
39 - 44
3:59
Austin Croshere Offensive Rebound.
39 - 44
3:50
Jamaal Tinsley Bad Pass. Stolen by Ben Wallace.
39 - 44
3:31
Corliss Williamson made Layup. Assisted by Jon Barry.
39 - 46
3:31
Austin Croshere Shooting Foul
39 - 46
3:31
Corliss Williamson missed Free Throw 1 of 1.
39 - 46
3:31
Jermaine O'Neal Defensive Rebound.
39 - 46
3:12
Richard Hamilton Illegal Defense Foul
39 - 46
3:12
Reggie Miller made Technical Free Throw.
40 - 46
3:02
Austin Croshere missed 13 ft Two Point Shot.
40 - 46
3:01
Jermaine O'Neal Offensive Rebound.
40 - 46
3:00
Jermaine O'Neal missed Tip Shot.
40 - 46
3:00
Jermaine O'Neal Offensive Rebound.
40 - 46
3:00
Corliss Williamson Shooting Foul
40 - 46
3:00
Jermaine O'Neal made Free Throw 1 of 2.
41 - 46
3:00
Jermaine O'Neal made Free Throw 2 of 2.
42 - 46
2:47
Chauncey Billups made Two Point Shot.
42 - 48
2:34
Jermaine O'Neal made 12 ft Two Point Shot. Assisted by Reggie Miller.
44 - 48
2:28
Official Timeout.
44 - 48
2:16
Richard Hamilton made 17 ft Jumper.
44 - 50
1:54
Austin Croshere Lost Ball. Stolen by Jon Barry.
44 - 50
1:32
Ben Wallace missed 12 ft Jumper.
44 - 50
1:31
Richard Hamilton Offensive Rebound.
44 - 50
1:30
Richard Hamilton made 13 ft Jumper.
44 - 52
1:06
Jermaine O'Neal missed 11 ft Jumper.
44 - 52
1:04
Ben Wallace Defensive Rebound.
44 - 52
0:56
Chauncey Billups missed 26 ft Three Point Jumper.
44 - 52
0:54
Jermaine O'Neal Defensive Rebound.
44 - 52
0:50
Indiana 20 Sec. Timeout.
44 - 52
0:50
Brad Miller enters the game for Austin Croshere.
44 - 52
0:36
Al Harrington missed Layup.
44 - 52
0:35
Jamaal Tinsley Offensive Rebound.
44 - 52
0:20
Jermaine O'Neal made 5 ft Hook Shot. Assisted by Jamaal Tinsley.
46 - 52
0:03
Al Harrington Shooting Foul
46 - 52
0:03
Corliss Williamson made Free Throw 1 of 2.
46 - 53
0:03
Hubert Davis enters the game for Richard Hamilton.
46 - 52
0:03
Austin Croshere enters the game for Brad Miller.
46 - 52
0:03
Jonathan Bender enters the game for Al Harrington.
46 - 52
0:03
Corliss Williamson made Free Throw 2 of 2.
46 - 53
0:01
Jamaal Tinsley missed 44 ft Three Point Jumper.
46 - 53
0:00
Indiana Offensive Rebound.
46 - 53
0:00
End of the 2nd Quarter.
46 - 53

time
TEAM
PLAY
SCORE
12:00
Start of the 3rd Quarter.
46 - 53
11:48
Ron Artest missed 14 ft Jumper.
46 - 53
11:45
Chauncey Billups Defensive Rebound.
46 - 53
11:27
Ben Wallace missed Dunk.
46 - 53
11:25
Ben Wallace Offensive Rebound.
46 - 53
11:23
Ben Wallace Lost Ball. Stolen by Ron Artest.
46 - 53
11:15
Ron Artest made Two Point Shot.
48 - 53
11:15
Defensive Goaltending
48 - 53
11:03
Clifford Robinson missed 17 ft Jumper.
48 - 53
11:00
Ron Artest Defensive Rebound.
48 - 53
10:55
Reggie Miller made 19 ft Jumper. Assisted by Jamaal Tinsley.
50 - 53
10:40
Richard Hamilton Offensive Foul
50 - 53
10:40
Richard Hamilton Foul
50 - 53
10:27
Reggie Miller made 18 ft Jumper. Assisted by Brad Miller.
52 - 53
10:26
Detroit Full Timeout.
52 - 53
10:07
Clifford Robinson missed 19 ft Jumper.
52 - 53
10:07
Detroit Offensive Rebound.
52 - 53
10:07
Brad Miller Loose Ball Foul
52 - 53
9:59
Michael Curry missed Layup.
52 - 53
9:57
Brad Miller Defensive Rebound.
52 - 53
9:56
Michael Curry Loose Ball Foul
52 - 53
9:42
Michael Curry Shooting Foul
52 - 53
9:42
Ron Artest made Free Throw 1 of 2.
53 - 53
9:42
Ron Artest made Free Throw 2 of 2.
54 - 53
9:25
Richard Hamilton made 19 ft Jumper. Assisted by Clifford Robinson.
54 - 55
9:00
Ron Artest made 27 ft Three Point Jumper.
57 - 55
8:44
Brad Miller Shooting Foul
57 - 55
8:44
Clifford Robinson made Free Throw 1 of 2.
57 - 56
8:44
Austin Croshere enters the game for Brad Miller.
57 - 55
8:44
Clifford Robinson made Free Throw 2 of 2.
57 - 56
8:26
Jermaine O'Neal made Layup. Assisted by Jamaal Tinsley.
59 - 56
8:26
Ben Wallace Shooting Foul
59 - 56
8:26
Jermaine O'Neal missed Free Throw 1 of 1.
59 - 56
8:26
Ben Wallace Defensive Rebound.
59 - 56
8:06
Reggie Miller Shooting Foul
59 - 56
8:06
Richard Hamilton made Free Throw 1 of 2.
59 - 57
8:06
Richard Hamilton made Free Throw 2 of 2.
59 - 58
7:54
Jamaal Tinsley missed 18 ft Jumper.
59 - 58
7:52
Chauncey Billups Defensive Rebound.
59 - 58
7:37
Ben Wallace made 15 ft Two Point Shot.
59 - 60
7:24
Jermaine O'Neal made 7 ft Jumper. Assisted by Jamaal Tinsley.
61 - 60
7:11
Chauncey Billups missed 21 ft Jumper.
61 - 60
7:07
Reggie Miller Defensive Rebound.
61 - 60
6:54
Jermaine O'Neal missed 13 ft Jumper.
61 - 60
6:52
Chauncey Billups Defensive Rebound.
61 - 60
6:50
Jamaal Tinsley Shooting Foul
61 - 60
6:50
Chauncey Billups made Free Throw 1 of 2.
61 - 61
6:50
Chauncey Billups made Free Throw 2 of 2.
61 - 62
6:37
Jamaal Tinsley made 25 ft Three Point Jumper. Assisted by Reggie Miller.
64 - 62
6:20
Chauncey Billups made 23 ft Three Point Jumper.
64 - 65
5:54
Austin Croshere missed 15 ft Jumper. Blocked by Ben Wallace.
64 - 65
5:52
Richard Hamilton Defensive Rebound.
64 - 65
5:48
Richard Hamilton missed Layup. Blocked by Ron Artest.
64 - 65
5:45
Reggie Miller Defensive Rebound.
64 - 65
5:43
Chauncey Billups Shooting Foul
64 - 65
5:43
Reggie Miller made Free Throw 1 of 3.
65 - 65
5:43
Reggie Miller made Free Throw 2 of 3.
66 - 65
5:43
Reggie Miller made Free Throw 3 of 3.
67 - 65
5:33
Chauncey Billups missed 28 ft Three Point Jumper.
67 - 65
5:31
Jamaal Tinsley Defensive Rebound.
67 - 65
5:20
Jermaine O'Neal made Two Point Shot.
69 - 65
5:16
Detroit Full Timeout.
69 - 65
5:01
Clifford Robinson made 10 ft Hook Shot. Assisted by Michael Curry.
69 - 67
4:41
Reggie Miller missed 26 ft Three Point Jumper.
69 - 67
4:39
Richard Hamilton Defensive Rebound.
69 - 67
4:28
Ben Wallace Offensive Foul
69 - 67
4:28
Ben Wallace Foul
69 - 67
4:07
Jermaine O'Neal missed Jumper.
69 - 67
4:05
Ben Wallace Defensive Rebound.
69 - 67
3:47
Richard Hamilton missed Layup. Blocked by Jermaine O'Neal.
69 - 67
3:45
Austin Croshere Defensive Rebound.
69 - 67
3:39
Ron Artest missed 18 ft Jumper.
69 - 67
3:38
Ron Artest Offensive Rebound.
69 - 67
3:35
Ron Artest made Layup.
71 - 67
3:08
Reggie Miller Personal Foul
71 - 67
3:08
Richard Hamilton made Free Throw 1 of 2.
71 - 68
3:08
Richard Hamilton missed Free Throw 2 of 2.
71 - 68
3:08
Corliss Williamson enters the game for Michael Curry.
71 - 68
3:08
Richard Hamilton made Free Throw 2 of 2.
71 - 69
2:50
Ron Artest made Two Point Shot.
73 - 69
2:29
Corliss Williamson made 13 ft Two Point Shot.
73 - 71
2:15
Ron Artest missed Layup. Blocked by Ben Wallace.
73 - 71
2:14
Indiana Offensive Rebound.
73 - 71
2:14
Al Harrington enters the game for Reggie Miller.
73 - 71
2:14
Jon Barry enters the game for Richard Hamilton.
73 - 71
2:02
24 second
73 - 71
1:52
Chauncey Billups made 20 ft Jumper.
73 - 73
1:31
Corliss Williamson Personal Foul
73 - 73
1:31
Ron Artest made Free Throw 1 of 2.
74 - 73
1:31
Erick Strickland enters the game for Jamaal Tinsley.
74 - 73
1:31
Ron Artest made Free Throw 2 of 2.
75 - 73
1:20
Al Harrington Personal Foul
75 - 73
1:20
Chauncey Billups missed Free Throw 1 of 2.
75 - 73
1:20
Detroit Offensive Rebound.
75 - 73
1:20
Mehmet Okur enters the game for Clifford Robinson.
75 - 73
1:20
Chauncey Billups made Free Throw 2 of 2.
75 - 74
1:07
Ron Artest missed 26 ft Three Point Jumper.
75 - 74
1:05
Chauncey Billups Defensive Rebound.
75 - 74
0:55
Corliss Williamson missed Layup.
75 - 74
0:52
Ben Wallace Offensive Rebound.
75 - 74
0:50
Jermaine O'Neal Personal Foul
75 - 74
0:50
Corliss Williamson made Free Throw 1 of 2.
75 - 75
0:50
Corliss Williamson made Free Throw 2 of 2.
75 - 76
0:32
Al Harrington missed Layup. Blocked by Corliss Williamson.
75 - 76
0:30
Austin Croshere Offensive Rebound.
75 - 76
0:24
Erick Strickland made 14 ft Jumper. Assisted by Ron Artest.
77 - 76
0:05
Mehmet Okur Bad Pass. Stolen by Ron Artest.
77 - 76
0:02
Ron Artest made Layup.
79 - 76
0:02
Mehmet Okur Shooting Foul
79 - 76
0:02
Ron Artest missed Free Throw 1 of 1.
79 - 76
0:02
Jeff Foster enters the game for Jermaine O'Neal.
79 - 76
0:02
Ron Artest made Free Throw 1 of 1.
80 - 76
0:00
End of the 3rd Quarter.
80 - 76

time
TEAM
PLAY
SCORE
12:00
Start of the 4th Quarter.
80 - 76
11:41
Ben Wallace missed 18 ft Jumper.
80 - 76
11:40
Jermaine O'Neal Defensive Rebound.
80 - 76
11:22
Ron Artest made 18 ft Jumper.
82 - 76
11:00
Corliss Williamson Lost Ball. Stolen by Al Harrington.
82 - 76
10:42
Al Harrington made Dunk.
84 - 76
10:40
Detroit Full Timeout.
84 - 76
10:40
Clifford Robinson enters the game for Mehmet Okur.
84 - 76
10:22
Hubert Davis missed 21 ft Jumper.
84 - 76
10:21
Ron Artest Defensive Rebound.
84 - 76
10:00
Al Harrington missed 5 ft Hook Shot.
84 - 76
9:57
Hubert Davis Defensive Rebound.
84 - 76
9:45
Jermaine O'Neal Personal Foul
84 - 76
9:45
Chauncey Billups enters the game for Hubert Davis.
84 - 76
9:34
Jon Barry made 21 ft Jumper. Assisted by Chauncey Billups.
84 - 78
9:08
Al Harrington made 16 ft Two Point Shot.
86 - 78
8:47
Jermaine O'Neal Personal Foul
86 - 78
8:34
Chauncey Billups missed 27 ft Three Point Jumper.
86 - 78
8:33
Jon Barry Offensive Rebound.
86 - 78
8:32
Jon Barry Bad Pass. Stolen by Ron Artest.
86 - 78
8:30
Chauncey Billups Personal Foul
86 - 78
8:07
Ron Artest made 19 ft Jumper. Assisted by Erick Strickland.
88 - 78
7:58
Clifford Robinson missed 9 ft Hook Shot.
88 - 78
7:56
Detroit Defensive Rebound.
88 - 78
7:35
Jermaine O'Neal missed 18 ft Jumper.
88 - 78
7:33
Clifford Robinson Defensive Rebound.
88 - 78
7:26
Clifford Robinson missed 25 ft Three Point Jumper.
88 - 78
7:24
Corliss Williamson Offensive Rebound.
88 - 78
7:24
Corliss Williamson made 6 ft Hook Shot.
88 - 80
7:01
Al Harrington made 19 ft Jumper.
90 - 80
6:35
Chauncey Billups missed 28 ft Three Point Jumper.
90 - 80
6:33
Al Harrington Defensive Rebound.
90 - 80
6:20
Erick Strickland missed 18 ft Jumper.
90 - 80
6:16
Ben Wallace Defensive Rebound.
90 - 80
6:09
Clifford Robinson missed 18 ft Jumper.
90 - 80
6:07
Jermaine O'Neal Defensive Rebound.
90 - 80
6:01
Indiana Full Timeout.
90 - 80
6:01
Richard Hamilton enters the game for Jon Barry.
90 - 80
5:46
Jermaine O'Neal missed 27 ft Three Point Jumper.
90 - 80
5:45
Indiana Defensive Rebound.
90 - 80
5:45
Brad Miller Loose Ball Foul
90 - 80
5:45
Jeff Foster enters the game for Brad Miller.
90 - 80
5:24
Ben Wallace missed 19 ft Jumper.
90 - 80
5:22
Al Harrington Defensive Rebound.
90 - 80
5:05
Ron Artest missed 11 ft Jumper.
90 - 80
5:03
Indiana Offensive Rebound.
90 - 80
5:01
Jamaal Tinsley enters the game for Erick Strickland.
90 - 80
5:01
Jermaine O'Neal missed Layup. Blocked by Ben Wallace.
90 - 80
4:58
Clifford Robinson Defensive Rebound.
90 - 80
4:56
Clifford Robinson Bad Pass
90 - 80
4:43
Richard Hamilton Personal Foul
90 - 80
4:43
Reggie Miller enters the game for Ron Artest.
90 - 80
4:43
Brad Miller enters the game for Jeff Foster.
90 - 80
4:30
Jamaal Tinsley missed 18 ft Jumper.
90 - 80
4:28
Chauncey Billups Defensive Rebound.
90 - 80
4:07
Corliss Williamson missed Layup.
90 - 80
4:05
Brad Miller Defensive Rebound.
90 - 80
3:47
Al Harrington missed 18 ft Jumper.
90 - 80
3:45
Ben Wallace Defensive Rebound.
90 - 80
3:28
Jamaal Tinsley Personal Foul
90 - 80
3:28
Ron Artest enters the game for Reggie Miller.
90 - 80
3:15
Chauncey Billups missed 26 ft Three Point Jumper.
90 - 80
3:14
Jermaine O'Neal Defensive Rebound.
90 - 80
3:06
Richard Hamilton Shooting Foul
90 - 80
3:06
Jermaine O'Neal made Free Throw 1 of 2.
91 - 80
3:06
Jermaine O'Neal made Free Throw 2 of 2.
92 - 80
2:49
Richard Hamilton missed 13 ft Jumper.
92 - 80
2:45
Corliss Williamson Offensive Rebound.
92 - 80
2:43
Richard Hamilton made 17 ft Jumper. Assisted by Clifford Robinson.
92 - 82
2:15
Al Harrington missed Layup. Blocked by Ben Wallace.
92 - 82
2:14
Richard Hamilton Defensive Rebound.
92 - 82
2:12
Richard Hamilton made Two Point Shot.
92 - 84
2:12
Indiana 20 Sec. Timeout.
92 - 84
2:12
Official Timeout.
92 - 84
1:50
Jermaine O'Neal made 6 ft Hook Shot.
94 - 84
1:28
Corliss Williamson missed 19 ft Jumper.
94 - 84
1:25
Detroit Offensive Rebound.
94 - 84
1:25
24 second
94 - 84
1:05
Corliss Williamson Shooting Foul
94 - 84
1:05
Al Harrington made Free Throw 1 of 2.
95 - 84
1:05
Al Harrington made Free Throw 2 of 2.
96 - 84
1:05
Detroit Full Timeout.
96 - 84
1:05
Jon Barry enters the game for Ben Wallace.
96 - 84
1:05
Reggie Miller enters the game for Brad Miller.
96 - 84
0:59
Richard Hamilton made Layup. Assisted by Clifford Robinson.
96 - 86
0:38
Ron Artest Traveling
96 - 86
0:38
Detroit 20 Sec. Timeout.
96 - 86
0:31
Jermaine O'Neal Shooting Foul
96 - 86
0:31
Jon Barry made Free Throw 1 of 2.
96 - 87
0:31
Jon Barry made Free Throw 2 of 2.
96 - 88
0:26
Corliss Williamson Personal Foul
96 - 88
0:26
Al Harrington missed Free Throw 1 of 2.
96 - 88
0:26
Indiana Offensive Rebound.
96 - 88
0:26
Al Harrington made Free Throw 2 of 2.
97 - 88
0:17
Corliss Williamson missed 17 ft Jumper.
97 - 88
0:15
Jamaal Tinsley Defensive Rebound.
97 - 88
0:15
Clifford Robinson Personal Foul
97 - 88
0:15
Jamaal Tinsley made Free Throw 1 of 2.
98 - 88
0:15
Jamaal Tinsley missed Free Throw 2 of 2.
98 - 88
0:14
Clifford Robinson Defensive Rebound.
98 - 88
0:10
Indiana Full Timeout.
98 - 88
0:08
Corliss Williamson made Dunk. Assisted by Jon Barry.
98 - 90
0:00
End of the 4th Quarter.
98 - 90
0:00
End Game
98 - 90
0:00
End Game
98 - 90
Draymond Green's kick was the talk of the night after the Thunder's Game 3 win over the Warriors. Everyone weighs in on whether or not it was intentional.

LeBron James says he'll pay Cleveland teammate Dahntay Jones' $80 fine, which was part of Jones' punishment for punching Toronto's Bismack Biyombo in the groin.

Rob Wicall, a member of the Spurs organization since 1999, has decided to step down as the Spurs Coyote after nearly two decades. Take a look at some of his most memorable moments.
Regular Season Series
Series tied 2-2