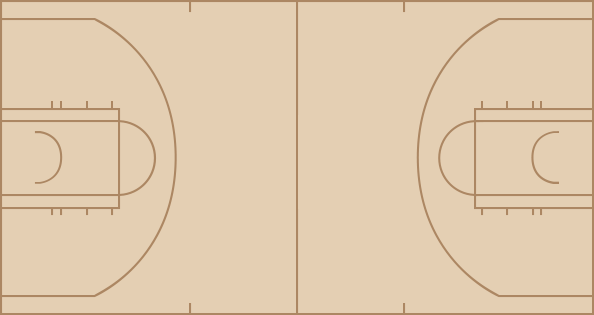 Jazz
time
TEAM
PLAY
SCORE
12:00
Start of the 1st Quarter.
0 - 0
12:00
Jumpball. Greg Ostertag vs. Erick Dampier. Matt Harpring gains possession.
0 - 0
11:41
Troy Murphy Shooting Foul
0 - 0
11:41
Matt Harpring missed Free Throw 1 of 2.
0 - 0
11:41
Utah Offensive Rebound.
0 - 0
11:41
Matt Harpring made Free Throw 2 of 2.
1 - 0
11:27
Antawn Jamison made 10 ft Two Point Shot.
1 - 2
11:07
Karl Malone made 16 ft Jumper.
3 - 2
10:56
Erick Dampier 3 second
3 - 2
10:44
John Stockton made 18 ft Jumper. Assisted by Karl Malone.
5 - 2
10:32
Jason Richardson missed 4 ft Jumper.
5 - 2
10:29
Calbert Cheaney Defensive Rebound.
5 - 2
10:22
Matt Harpring missed 2 ft Two Point Shot.
5 - 2
10:21
Karl Malone Offensive Rebound.
5 - 2
10:21
Karl Malone missed Tip Shot.
5 - 2
10:18
John Stockton Offensive Rebound.
5 - 2
10:03
Calbert Cheaney missed 19 ft Jumper.
5 - 2
10:00
Jason Richardson Defensive Rebound.
5 - 2
9:56
Calbert Cheaney Shooting Foul
5 - 2
9:56
Antawn Jamison missed Free Throw 1 of 2.
5 - 2
9:56
Golden State Offensive Rebound.
5 - 2
9:56
Antawn Jamison made Free Throw 2 of 2.
5 - 3
9:44
John Stockton Bad Pass. Stolen by Jason Richardson.
5 - 3
9:40
Troy Murphy made Slam Dunk. Assisted by Gilbert Arenas.
5 - 5
9:25
Calbert Cheaney made Two Point Shot.
7 - 5
9:14
Greg Ostertag Shooting Foul
7 - 5
9:14
Erick Dampier made Free Throw 1 of 2.
7 - 6
9:14
Erick Dampier made Free Throw 2 of 2.
7 - 7
8:52
Calbert Cheaney missed 12 ft Two Point Shot.
7 - 7
8:49
Jason Richardson Defensive Rebound.
7 - 7
8:42
Troy Murphy Traveling
7 - 7
8:22
John Stockton missed 5 ft Two Point Shot. Blocked by Erick Dampier.
7 - 7
8:21
Gilbert Arenas Defensive Rebound.
7 - 7
8:10
Erick Dampier missed Layup. Blocked by Greg Ostertag.
7 - 7
8:07
Matt Harpring Defensive Rebound.
7 - 7
7:56
Greg Ostertag Lost Ball. Stolen by Antawn Jamison.
7 - 7
7:54
Gilbert Arenas Bad Pass. Stolen by Karl Malone.
7 - 7
7:50
Greg Ostertag missed 4 ft Jumper.
7 - 7
7:50
Utah Defensive Rebound.
7 - 7
7:45
Greg Ostertag Shooting Foul
7 - 7
7:45
Tony Massenburg enters the game for Greg Ostertag.
7 - 7
7:45
Erick Dampier made Free Throw 1 of 2.
7 - 8
7:45
Erick Dampier made Free Throw 2 of 2.
7 - 9
7:28
Matt Harpring made Two Point Shot. Assisted by John Stockton.
9 - 9
7:13
Erick Dampier made Layup.
9 - 11
6:54
Karl Malone made 18 ft Jumper. Assisted by John Stockton.
11 - 11
6:31
Gilbert Arenas made Two Point Shot.
11 - 13
6:16
Jason Richardson Personal Foul
11 - 13
6:07
Gilbert Arenas Personal Foul
11 - 13
5:52
Karl Malone made 17 ft Jumper. Assisted by John Stockton.
13 - 13
5:41
Gilbert Arenas made 25 ft Three Point Jumper.
13 - 16
5:28
Karl Malone made 7 ft Two Point Shot. Assisted by Calbert Cheaney.
15 - 16
5:22
Gilbert Arenas missed 25 ft Three Point Jumper.
15 - 16
5:20
Karl Malone Defensive Rebound.
15 - 16
5:00
Calbert Cheaney made Two Point Shot.
17 - 16
4:43
Golden State Full Timeout.
17 - 16
4:43
Mark Jackson enters the game for John Stockton.
17 - 16
4:37
Troy Murphy made 20 ft Jumper. Assisted by Gilbert Arenas.
17 - 18
4:24
Mark Jackson missed 20 ft Jumper.
17 - 18
4:22
Troy Murphy Defensive Rebound.
17 - 18
4:16
Jason Richardson missed Two Point Shot.
17 - 18
4:13
Karl Malone Defensive Rebound.
17 - 18
3:48
Tony Massenburg missed 5 ft Two Point Shot.
17 - 18
3:47
Erick Dampier Defensive Rebound.
17 - 18
3:38
Gilbert Arenas made 26 ft Three Point Jumper.
17 - 21
3:09
Tony Massenburg missed 4 ft Two Point Shot.
17 - 21
3:06
Troy Murphy Defensive Rebound.
17 - 21
3:00
Jason Richardson Lost Ball. Stolen by Mark Jackson.
17 - 21
2:56
Tony Massenburg made Layup. Assisted by Mark Jackson.
19 - 21
2:48
Erick Dampier missed 14 ft Jumper.
19 - 21
2:47
Mark Jackson Defensive Rebound.
19 - 21
2:42
Erick Dampier Personal Foul
19 - 21
2:42
Utah Full Timeout.
19 - 21
2:42
Andrei Kirilenko enters the game for Calbert Cheaney.
19 - 21
2:24
Tony Massenburg made 8 ft Two Point Shot. Assisted by Mark Jackson.
21 - 21
2:13
Tony Massenburg Shooting Foul
21 - 21
2:13
Gilbert Arenas made Free Throw 1 of 2.
21 - 22
2:13
Gilbert Arenas made Free Throw 2 of 2.
21 - 23
2:00
Matt Harpring made 25 ft Three Point Jumper. Assisted by Tony Massenburg.
24 - 23
1:47
Gilbert Arenas made 23 ft Jumper.
24 - 25
1:32
Mark Jackson missed 24 ft Three Point Jumper.
24 - 25
1:31
Matt Harpring Offensive Rebound.
24 - 25
1:24
Andrei Kirilenko missed 17 ft Jumper.
24 - 25
1:23
Matt Harpring Offensive Rebound.
24 - 25
1:09
Tony Massenburg missed 18 ft Jumper.
24 - 25
1:07
Jason Richardson Defensive Rebound.
24 - 25
1:02
Antawn Jamison missed 19 ft Jumper.
24 - 25
1:00
Troy Murphy Offensive Rebound.
24 - 25
0:57
Gilbert Arenas made 26 ft Three Point Jumper. Assisted by Jason Richardson.
24 - 28
0:36
Tony Massenburg made 4 ft Two Point Shot. Assisted by Karl Malone.
26 - 28
0:17
Jason Richardson made 5 ft Two Point Shot.
26 - 30
0:05
Mark Jackson Bad Pass
26 - 30
0:05
Mike Dunleavy enters the game for Erick Dampier.
26 - 30
0:00
End of the 1st Quarter.
26 - 30

time
TEAM
PLAY
SCORE
12:00
Start of the 2nd Quarter.
26 - 30
11:48
Jason Richardson Bad Pass
26 - 30
11:26
Andrei Kirilenko missed Layup. Blocked by Erick Dampier.
26 - 30
11:25
Erick Dampier Defensive Rebound.
26 - 30
11:21
Mike Dunleavy Traveling
26 - 30
11:15
Delay of Game
26 - 30
11:11
Kicked Ball
26 - 30
10:57
Tony Massenburg made 8 ft Two Point Shot. Assisted by Mark Jackson.
28 - 30
10:44
DeShawn Stevenson Shooting Foul
28 - 30
10:44
Jason Richardson made Free Throw 1 of 2.
28 - 31
10:44
Adonal Foyle enters the game for Erick Dampier.
28 - 31
10:44
Jason Richardson made Free Throw 2 of 2.
28 - 32
10:26
Andrei Kirilenko missed 14 ft Jumper.
28 - 32
10:23
Tony Massenburg Offensive Rebound.
28 - 32
10:23
Tony Massenburg missed Tip Shot.
28 - 32
10:22
Gilbert Arenas Defensive Rebound.
28 - 32
10:18
Gilbert Arenas missed Two Point Shot.
28 - 32
10:15
Mike Dunleavy Offensive Rebound.
28 - 32
10:11
Jason Richardson missed 7 ft Jumper.
28 - 32
10:08
Calbert Cheaney Defensive Rebound.
28 - 32
10:03
Andrei Kirilenko missed 6 ft Jumper.
28 - 32
10:03
Adonal Foyle Defensive Rebound.
28 - 32
10:03
Tony Massenburg Loose Ball Foul
28 - 32
10:03
Bob Sura enters the game for Jason Richardson.
28 - 32
9:51
Gilbert Arenas made Two Point Shot.
28 - 34
9:33
DeShawn Stevenson made 19 ft Jumper. Assisted by Calbert Cheaney.
30 - 34
9:21
Mark Jackson Personal Foul
30 - 34
9:21
Antawn Jamison enters the game for Troy Murphy.
30 - 34
9:17
Gilbert Arenas made 26 ft Three Point Jumper. Assisted by Mike Dunleavy.
30 - 37
8:57
DeShawn Stevenson made Slam Dunk. Assisted by Mark Jackson.
32 - 37
8:41
Antawn Jamison made Two Point Shot. Assisted by Mike Dunleavy.
32 - 39
8:18
Andrei Kirilenko missed Jumper.
32 - 39
8:17
Antawn Jamison Defensive Rebound.
32 - 39
8:11
DeShawn Stevenson Shooting Foul
32 - 39
8:11
Official Timeout.
32 - 39
8:11
John Stockton enters the game for Mark Jackson.
32 - 39
8:11
Scott Padgett enters the game for Tony Massenburg.
32 - 39
8:11
Bob Sura missed Free Throw 1 of 2.
32 - 39
8:11
Golden State Offensive Rebound.
32 - 39
8:11
Earl Boykins enters the game for Gilbert Arenas.
32 - 39
8:11
Bob Sura made Free Throw 2 of 2.
32 - 40
7:52
John Stockton made 26 ft Three Point Jumper. Assisted by Andrei Kirilenko.
35 - 40
7:39
Adonal Foyle made Two Point Shot. Assisted by Bob Sura.
35 - 42
7:28
Scott Padgett missed 12 ft Two Point Shot.
35 - 42
7:26
Mike Dunleavy Defensive Rebound.
35 - 42
7:22
Earl Boykins made 16 ft Jumper. Assisted by Mike Dunleavy.
35 - 44
7:03
John Stockton missed 17 ft Jumper.
35 - 44
7:01
Calbert Cheaney Offensive Rebound.
35 - 44
6:58
Calbert Cheaney missed 6 ft Jumper. Blocked by Adonal Foyle.
35 - 44
6:56
Calbert Cheaney Offensive Rebound.
35 - 44
6:54
Calbert Cheaney Bad Pass
35 - 44
6:47
Mike Dunleavy Bad Pass. Stolen by DeShawn Stevenson.
35 - 44
6:41
Scott Padgett Traveling
35 - 44
6:28
Antawn Jamison missed 17 ft Two Point Shot.
35 - 44
6:26
Mike Dunleavy Offensive Rebound.
35 - 44
6:26
Mike Dunleavy made Layup.
35 - 46
6:07
Calbert Cheaney missed 6 ft Jumper.
35 - 46
6:05
Scott Padgett Offensive Rebound.
35 - 46
6:05
Scott Padgett missed Layup.
35 - 46
6:05
Andrei Kirilenko Offensive Rebound.
35 - 46
6:03
Andrei Kirilenko missed Layup. Blocked by Adonal Foyle.
35 - 46
6:03
Utah Offensive Rebound.
35 - 46
5:58
Scott Padgett made 26 ft Three Point Jumper. Assisted by John Stockton.
38 - 46
5:48
John Stockton Personal Foul
38 - 46
5:48
Golden State Full Timeout.
38 - 46
5:48
Karl Malone enters the game for Andrei Kirilenko.
38 - 46
5:48
Antawn Jamison made Free Throw 1 of 2.
38 - 47
5:48
Antawn Jamison made Free Throw 2 of 2.
38 - 48
5:33
DeShawn Stevenson made Slam Dunk. Assisted by Karl Malone.
40 - 48
5:16
DeShawn Stevenson Shooting Foul
40 - 48
5:16
Antawn Jamison made Free Throw 1 of 2.
40 - 49
5:16
Matt Harpring enters the game for DeShawn Stevenson.
40 - 49
5:16
Antawn Jamison made Free Throw 2 of 2.
40 - 50
5:05
Karl Malone missed 17 ft Jumper.
40 - 50
5:03
Earl Boykins Defensive Rebound.
40 - 50
4:56
Adonal Foyle made Layup. Assisted by Bob Sura.
40 - 52
4:41
Scott Padgett missed 19 ft Jumper.
40 - 52
4:39
Antawn Jamison Defensive Rebound.
40 - 52
4:33
Mike Dunleavy made Two Point Shot. Assisted by Antawn Jamison.
40 - 54
4:11
Calbert Cheaney made 16 ft Jumper. Assisted by Matt Harpring.
42 - 54
4:01
Mike Dunleavy missed Three Point Jumper.
42 - 54
4:00
Karl Malone Defensive Rebound.
42 - 54
4:00
Adonal Foyle Loose Ball Foul
42 - 54
3:48
Matt Harpring missed 26 ft Three Point Jumper.
42 - 54
3:47
Adonal Foyle Defensive Rebound.
42 - 54
3:36
Antawn Jamison missed 7 ft Two Point Shot.
42 - 54
3:34
Karl Malone Defensive Rebound.
42 - 54
3:29
Matt Harpring made Layup. Assisted by John Stockton.
44 - 54
3:17
Mike Dunleavy made Slam Dunk. Assisted by Earl Boykins.
44 - 56
3:00
Scott Padgett made 19 ft Jumper. Assisted by John Stockton.
46 - 56
2:40
Matt Harpring Shooting Foul
46 - 56
2:40
Utah Full Timeout.
46 - 56
2:40
Carlos Arroyo enters the game for John Stockton.
46 - 56
2:40
Gilbert Arenas enters the game for Earl Boykins.
46 - 56
2:40
Antawn Jamison made Free Throw 1 of 2.
46 - 57
2:40
Antawn Jamison made Free Throw 2 of 2.
46 - 58
2:19
Carlos Arroyo missed 17 ft Jumper.
46 - 58
2:17
Adonal Foyle Defensive Rebound.
46 - 58
2:14
Antawn Jamison made Slam Dunk. Assisted by Bob Sura.
46 - 60
1:46
Calbert Cheaney made 19 ft Jumper. Assisted by Carlos Arroyo.
48 - 60
1:20
Mike Dunleavy made 9 ft Two Point Shot. Assisted by Gilbert Arenas.
48 - 62
1:01
Carlos Arroyo made 23 ft Three Point Jumper. Assisted by Calbert Cheaney.
51 - 62
0:56
Bob Sura made Layup. Assisted by Gilbert Arenas.
51 - 64
0:40
Karl Malone made Jumper. Assisted by Scott Padgett.
53 - 64
0:30
Gilbert Arenas made 25 ft Three Point Jumper. Assisted by Bob Sura.
53 - 67
0:09
Calbert Cheaney made 9 ft Two Point Shot. Assisted by Scott Padgett.
55 - 67
0:00
End of the 2nd Quarter.
55 - 67

time
TEAM
PLAY
SCORE
12:00
Start of the 3rd Quarter.
55 - 67
11:37
Gilbert Arenas made 25 ft Three Point Jumper. Assisted by Jason Richardson.
55 - 70
11:26
Erick Dampier Shooting Foul
55 - 70
11:26
Karl Malone missed Free Throw 1 of 2.
55 - 70
11:26
Utah Offensive Rebound.
55 - 70
11:26
Karl Malone missed Free Throw 2 of 2.
55 - 70
11:26
Greg Ostertag Offensive Rebound.
55 - 70
11:08
Calbert Cheaney missed Jumper.
55 - 70
11:07
Utah Defensive Rebound.
55 - 70
10:53
Troy Murphy missed 19 ft Jumper.
55 - 70
10:52
Calbert Cheaney Defensive Rebound.
55 - 70
10:48
Karl Malone missed Layup.
55 - 70
10:47
Matt Harpring Offensive Rebound.
55 - 70
10:33
Calbert Cheaney made 13 ft Two Point Shot. Assisted by Matt Harpring.
57 - 70
10:15
Troy Murphy made Jumper. Assisted by Erick Dampier.
57 - 72
10:03
John Stockton made Two Point Shot. Assisted by Karl Malone.
59 - 72
9:53
Antawn Jamison missed 12 ft Two Point Shot.
59 - 72
9:52
Greg Ostertag Defensive Rebound.
59 - 72
9:44
Matt Harpring missed 18 ft Jumper.
59 - 72
9:41
Karl Malone Offensive Rebound.
59 - 72
9:40
Karl Malone missed 4 ft Jumper. Blocked by Troy Murphy.
59 - 72
9:37
Troy Murphy Defensive Rebound.
59 - 72
9:27
Jason Richardson made 25 ft Three Point Jumper. Assisted by Gilbert Arenas.
59 - 75
9:11
Erick Dampier Shooting Foul
59 - 75
9:11
Karl Malone missed Free Throw 1 of 2.
59 - 75
9:11
Utah Offensive Rebound.
59 - 75
9:11
Karl Malone made Free Throw 2 of 2.
60 - 75
8:52
Karl Malone Shooting Foul
60 - 75
8:52
Troy Murphy made Free Throw 1 of 2.
60 - 76
8:52
Troy Murphy missed Free Throw 2 of 2.
60 - 76
8:52
Greg Ostertag Defensive Rebound.
60 - 76
8:41
Karl Malone Bad Pass. Stolen by Gilbert Arenas.
60 - 76
8:38
Matt Harpring Personal Foul
60 - 76
8:30
Antawn Jamison missed 16 ft Two Point Shot.
60 - 76
8:27
Calbert Cheaney Defensive Rebound.
60 - 76
8:18
Greg Ostertag missed Jumper.
60 - 76
8:15
Karl Malone Offensive Rebound.
62 - 76
8:15
Karl Malone made Tip Shot.
62 - 76
8:06
Troy Murphy missed 17 ft Jumper.
62 - 76
8:03
Greg Ostertag Defensive Rebound.
62 - 76
8:00
Karl Malone made Layup. Assisted by John Stockton.
64 - 76
7:45
Greg Ostertag Shooting Foul
64 - 76
7:45
Troy Murphy made Free Throw 1 of 2.
64 - 77
7:45
Troy Murphy made Free Throw 2 of 2.
64 - 78
7:33
Karl Malone missed 13 ft Jumper.
64 - 78
7:31
Matt Harpring Offensive Rebound.
64 - 78
7:31
Erick Dampier Shooting Foul
64 - 78
7:31
Matt Harpring made Free Throw 1 of 2.
65 - 78
7:31
Matt Harpring made Free Throw 2 of 2.
66 - 78
7:20
Gilbert Arenas made 15 ft Two Point Shot.
66 - 80
7:03
Matt Harpring missed 17 ft Jumper.
66 - 80
7:03
Karl Malone Offensive Rebound.
66 - 80
7:03
Karl Malone missed Tip Shot.
66 - 80
7:01
Karl Malone Offensive Rebound.
66 - 80
7:01
Karl Malone missed Layup. Blocked by Erick Dampier.
66 - 80
7:01
Utah Defensive Rebound.
66 - 80
6:35
Antawn Jamison missed 21 ft Two Point Shot.
66 - 80
6:31
Antawn Jamison Offensive Rebound.
66 - 80
6:31
Erick Dampier made Slam Dunk. Assisted by Antawn Jamison.
66 - 82
6:13
Matt Harpring Traveling
66 - 82
6:01
Gilbert Arenas missed 24 ft Three Point Jumper.
66 - 82
5:58
Matt Harpring Defensive Rebound.
66 - 82
5:52
Karl Malone made Layup. Assisted by John Stockton.
68 - 82
5:41
Gilbert Arenas missed Jumper.
68 - 82
5:39
Gilbert Arenas Offensive Rebound.
68 - 82
5:39
Gilbert Arenas missed Layup.
68 - 82
5:37
Troy Murphy Offensive Rebound.
68 - 82
5:35
Jason Richardson missed 25 ft Three Point Jumper.
68 - 82
5:33
Karl Malone Defensive Rebound.
68 - 82
5:33
Troy Murphy Personal Foul
68 - 82
5:33
Golden State Full Timeout.
68 - 82
5:33
Carlos Arroyo enters the game for John Stockton.
68 - 82
5:18
Jason Richardson Shooting Foul
68 - 82
5:18
Matt Harpring made Free Throw 1 of 2.
69 - 82
5:18
Matt Harpring made Free Throw 2 of 2.
70 - 82
4:54
Troy Murphy Lost Ball. Stolen by Calbert Cheaney.
70 - 82
4:35
Calbert Cheaney Traveling
70 - 82
4:28
Jason Richardson missed 1 ft Two Point Shot.
70 - 82
4:26
Gilbert Arenas Offensive Rebound.
70 - 82
4:26
Gilbert Arenas missed Tip Shot.
70 - 82
4:26
Troy Murphy Offensive Rebound.
70 - 82
4:24
Troy Murphy missed Layup.
70 - 82
4:24
Greg Ostertag Defensive Rebound.
70 - 82
4:11
Karl Malone Offensive Foul
70 - 82
4:11
Karl Malone Foul
70 - 82
4:11
John Amaechi enters the game for Greg Ostertag.
70 - 82
4:11
Andrei Kirilenko enters the game for Matt Harpring.
70 - 82
4:00
Jason Richardson missed Two Point Shot.
70 - 82
3:58
Andrei Kirilenko Defensive Rebound.
70 - 82
3:53
Carlos Arroyo made Two Point Shot.
72 - 82
3:47
Gilbert Arenas made Two Point Shot. Assisted by Jason Richardson.
72 - 84
3:29
Andrei Kirilenko missed 24 ft Three Point Jumper.
72 - 84
3:27
Jason Richardson Defensive Rebound.
72 - 84
3:19
Carlos Arroyo Personal Foul
72 - 84
3:14
Gilbert Arenas missed 3 ft Two Point Shot. Blocked by Andrei Kirilenko.
72 - 84
3:13
Golden State Offensive Rebound.
72 - 84
3:13
DeShawn Stevenson enters the game for Calbert Cheaney.
72 - 84
3:04
Karl Malone Personal Foul
72 - 84
3:04
Gilbert Arenas made Free Throw 1 of 2.
72 - 85
3:04
Gilbert Arenas made Free Throw 2 of 2.
72 - 86
2:49
Utah Full Timeout.
72 - 86
2:47
Carlos Arroyo missed 17 ft Jumper.
72 - 86
2:46
Troy Murphy Defensive Rebound.
72 - 86
2:33
Troy Murphy Lost Ball. Stolen by Karl Malone.
72 - 86
2:17
John Amaechi made 3 ft Two Point Shot. Assisted by Karl Malone.
74 - 86
2:17
Troy Murphy Shooting Foul
74 - 86
2:17
John Amaechi missed Free Throw 1 of 1.
74 - 86
2:16
Erick Dampier Defensive Rebound.
74 - 86
1:57
Antawn Jamison made 23 ft Three Point Jumper. Assisted by Jason Richardson.
74 - 89
1:38
Erick Dampier Illegal Defense Foul
74 - 89
1:38
Andrei Kirilenko made Technical Free Throw.
75 - 89
1:38
Scott Padgett enters the game for Karl Malone.
75 - 89
1:23
DeShawn Stevenson missed Two Point Shot.
75 - 89
1:22
Troy Murphy Defensive Rebound.
75 - 89
1:15
Erick Dampier made 12 ft Jumper. Assisted by Antawn Jamison.
75 - 91
1:05
Carlos Arroyo missed 5 ft Jumper.
75 - 91
1:02
Erick Dampier Defensive Rebound.
75 - 91
0:55
Antawn Jamison missed 5 ft Two Point Shot.
75 - 91
0:53
Scott Padgett Defensive Rebound.
75 - 91
0:48
Andrei Kirilenko made 15 ft Two Point Shot. Assisted by Carlos Arroyo.
77 - 91
0:41
Carlos Arroyo Personal Foul
77 - 91
0:41
Gilbert Arenas made Free Throw 1 of 2.
77 - 92
0:41
Gilbert Arenas made Free Throw 2 of 2.
77 - 93
0:35
Gilbert Arenas Shooting Foul
77 - 93
0:35
Carlos Arroyo made Free Throw 1 of 2.
78 - 93
0:35
Carlos Arroyo made Free Throw 2 of 2.
79 - 93
0:31
Gilbert Arenas missed 5 ft Jumper. Blocked by Andrei Kirilenko.
79 - 93
0:31
Golden State Offensive Rebound.
79 - 93
0:28
Gilbert Arenas missed 20 ft Jumper.
79 - 93
0:27
Troy Murphy Offensive Rebound.
79 - 93
0:27
Scott Padgett Loose Ball Foul
79 - 93
0:27
Troy Murphy made Free Throw 1 of 2.
79 - 94
0:27
Troy Murphy made Free Throw 2 of 2.
79 - 95
0:10
Carlos Arroyo Bad Pass
79 - 95
0:10
Mike Dunleavy enters the game for Erick Dampier.
79 - 95
0:00
Gilbert Arenas missed 23 ft Three Point Jumper.
79 - 95
0:00
Jason Richardson Offensive Rebound.
79 - 95
0:00
End of the 3rd Quarter.
79 - 95

time
TEAM
PLAY
SCORE
12:00
Start of the 4th Quarter.
79 - 95
11:45
DeShawn Stevenson missed 18 ft Two Point Shot.
79 - 95
11:44
Adonal Foyle Defensive Rebound.
79 - 95
11:26
Jason Richardson made 16 ft Two Point Shot.
79 - 97
10:55
24 second
79 - 97
10:37
Troy Murphy Lost Ball
79 - 97
10:17
John Amaechi missed 4 ft Jumper. Blocked by Troy Murphy.
79 - 97
10:15
Troy Murphy Defensive Rebound.
79 - 97
10:07
Mike Dunleavy missed 26 ft Three Point Jumper.
79 - 97
10:06
Golden State Defensive Rebound.
79 - 97
9:49
Scott Padgett missed 5 ft Hook Shot.
79 - 97
9:45
Scott Padgett Offensive Rebound.
79 - 97
9:42
Andrei Kirilenko missed 25 ft Three Point Jumper.
79 - 97
9:41
Scott Padgett Offensive Rebound.
79 - 97
9:40
Scott Padgett Lost Ball. Stolen by Gilbert Arenas.
79 - 97
9:33
Jason Richardson made Two Point Shot.
79 - 99
9:07
Carlos Arroyo missed Jumper.
79 - 99
9:06
Troy Murphy Defensive Rebound.
79 - 99
8:55
Adonal Foyle missed 4 ft Jumper.
79 - 99
8:52
Mike Dunleavy Offensive Rebound.
79 - 99
8:52
Mike Dunleavy missed Tip Shot.
79 - 99
8:52
Adonal Foyle Offensive Rebound.
79 - 99
8:48
Carlos Arroyo Personal Foul
79 - 99
8:48
Official Timeout.
79 - 99
8:48
Bob Sura enters the game for Jason Richardson.
79 - 99
8:41
Troy Murphy 3 second
79 - 99
8:27
DeShawn Stevenson made 16 ft Jumper. Assisted by Andrei Kirilenko.
81 - 99
8:11
Scott Padgett Personal Foul
81 - 99
8:11
Troy Murphy made Free Throw 1 of 2.
81 - 100
8:11
Troy Murphy made Free Throw 2 of 2.
81 - 101
8:00
Andrei Kirilenko missed 16 ft Jumper.
81 - 101
7:56
Scott Padgett Offensive Rebound.
81 - 101
7:56
Scott Padgett missed 4 ft Jumper. Blocked by Adonal Foyle.
81 - 101
7:52
Carlos Arroyo Offensive Rebound.
81 - 101
7:52
Carlos Arroyo made 6 ft Two Point Shot.
83 - 101
7:47
Gilbert Arenas Lost Ball
83 - 101
7:41
Gilbert Arenas Personal Foul
83 - 101
7:41
Earl Boykins enters the game for Gilbert Arenas.
83 - 101
7:30
Scott Padgett missed 4 ft Jumper.
83 - 101
7:28
Adonal Foyle Defensive Rebound.
83 - 101
7:24
Bob Sura made Two Point Shot. Assisted by Mike Dunleavy.
83 - 103
7:01
John Amaechi made 15 ft Two Point Shot. Assisted by Carlos Arroyo.
85 - 103
6:48
Adonal Foyle made Layup. Assisted by Bob Sura.
85 - 105
6:26
DeShawn Stevenson made Two Point Shot. Assisted by John Amaechi.
87 - 105
6:13
DeShawn Stevenson Shooting Foul
87 - 105
6:13
Bob Sura made Free Throw 1 of 2.
87 - 106
6:13
Bob Sura made Free Throw 2 of 2.
87 - 107
6:01
Scott Padgett missed 23 ft Three Point Jumper.
87 - 107
5:58
Troy Murphy Defensive Rebound.
87 - 107
5:56
Bob Sura missed Layup.
87 - 107
5:54
Mike Dunleavy Offensive Rebound.
87 - 109
5:54
Mike Dunleavy made Two Point Shot.
87 - 109
5:31
Carlos Arroyo made Layup.
89 - 109
5:24
Kicked Ball
89 - 109
5:24
Golden State Full Timeout.
89 - 109
5:24
Jiri Welsch enters the game for Troy Murphy.
89 - 109
5:20
Bob Sura missed 1 ft Two Point Shot. Blocked by DeShawn Stevenson.
89 - 109
5:18
DeShawn Stevenson Defensive Rebound.
89 - 109
5:00
DeShawn Stevenson missed 17 ft Jumper.
89 - 109
4:58
Mike Dunleavy Defensive Rebound.
89 - 109
4:43
Adonal Foyle made 5 ft Two Point Shot. Assisted by Mike Dunleavy.
89 - 111
4:22
Andrei Kirilenko missed Jumper.
89 - 111
4:20
Utah Offensive Rebound.
89 - 111
4:18
DeShawn Stevenson missed 17 ft Jumper.
89 - 111
4:16
John Amaechi Offensive Rebound.
89 - 111
4:16
John Amaechi missed Tip Shot.
89 - 111
4:15
Adonal Foyle Defensive Rebound.
89 - 111
4:15
Scott Padgett Loose Ball Foul
89 - 111
4:07
Mike Dunleavy made Three Point Jumper. Assisted by Earl Boykins.
89 - 114
3:44
Adonal Foyle Shooting Foul
89 - 114
3:44
DeShawn Stevenson missed Free Throw 1 of 2.
89 - 114
3:44
Utah Offensive Rebound.
89 - 114
3:44
DeShawn Stevenson made Free Throw 2 of 2.
90 - 114
3:34
Mike Dunleavy Bad Pass. Stolen by DeShawn Stevenson.
90 - 114
3:23
DeShawn Stevenson made 3 ft Two Point Shot.
92 - 114
3:11
Adonal Foyle made 16 ft Jumper. Assisted by Jiri Welsch.
92 - 116
2:50
Carlos Arroyo made Two Point Shot.
94 - 116
2:40
John Amaechi Shooting Foul
94 - 116
2:40
Utah Full Timeout.
94 - 116
2:40
Mike Dunleavy made Free Throw 1 of 2.
94 - 117
2:40
Mike Dunleavy made Free Throw 2 of 2.
94 - 118
2:25
Andrei Kirilenko made 17 ft Jumper. Assisted by DeShawn Stevenson.
96 - 118
2:11
Jiri Welsch missed 18 ft Jumper.
96 - 118
2:09
Bob Sura Offensive Rebound.
96 - 118
1:59
Bob Sura made Two Point Shot.
96 - 120
1:59
John Amaechi Shooting Foul
96 - 120
1:59
Bob Sura missed Free Throw 1 of 1.
96 - 120
1:58
Adonal Foyle Offensive Rebound.
96 - 120
1:57
Adonal Foyle made 5 ft Two Point Shot.
96 - 122
1:43
Adonal Foyle Shooting Foul
96 - 122
1:43
Carlos Arroyo made Free Throw 1 of 2.
97 - 122
1:43
Carlos Arroyo missed Free Throw 2 of 2.
97 - 122
1:42
Scott Padgett Offensive Rebound.
97 - 122
1:40
Scott Padgett missed Layup. Blocked by Adonal Foyle.
97 - 122
1:39
John Amaechi Offensive Rebound.
97 - 122
1:38
John Amaechi missed 5 ft Jumper. Blocked by Adonal Foyle.
97 - 122
1:36
Carlos Arroyo Offensive Rebound.
97 - 122
1:35
Carlos Arroyo made 9 ft Jumper.
99 - 122
1:22
Scott Padgett Personal Foul
99 - 122
1:22
Mike Dunleavy made Free Throw 1 of 2.
99 - 123
1:22
Mike Dunleavy made Free Throw 2 of 2.
99 - 124
1:12
Bob Sura Personal Foul
99 - 124
1:12
Andrei Kirilenko missed Free Throw 1 of 2.
99 - 124
1:12
Utah Offensive Rebound.
99 - 124
1:12
Andrei Kirilenko made Free Throw 2 of 2.
100 - 124
0:56
Jiri Welsch missed 4 ft Jumper.
100 - 124
0:55
Jiri Welsch Offensive Rebound.
100 - 124
0:55
Jiri Welsch missed 4 ft Jumper. Blocked by Andrei Kirilenko.
100 - 124
0:55
Golden State Offensive Rebound.
100 - 124
0:52
Jiri Welsch missed Jumper.
100 - 124
0:50
John Amaechi Defensive Rebound.
100 - 124
0:46
Andrei Kirilenko made Layup. Assisted by Scott Padgett.
102 - 124
0:29
John Amaechi Shooting Foul
102 - 124
0:29
Jiri Welsch made Free Throw 1 of 2.
102 - 125
0:29
Jiri Welsch made Free Throw 2 of 2.
102 - 126
0:10
Andrei Kirilenko missed 24 ft Three Point Jumper.
102 - 126
0:07
Adonal Foyle Defensive Rebound.
102 - 126
0:03
Bob Sura made Two Point Shot. Assisted by Jiri Welsch.
102 - 128
0:00
End of the 4th Quarter.
102 - 128
0:00
End Game
102 - 128
0:00
End Game
102 - 128
How does our NBA Summer Forecast compare with statistical projections for every West team? Bradford Doolittle breaks down the most underrated and overrated team win totals.

Mike & Mike react to Tyler Johnson saying he threw up a couple of times after the Nets offered him a restricted free agent contract worth $50 million.

The latest notes, updates and analysis on the Warriors from around the web.
Regular Season Series
Series tied 2-2
2015-2016 Pacific Standings