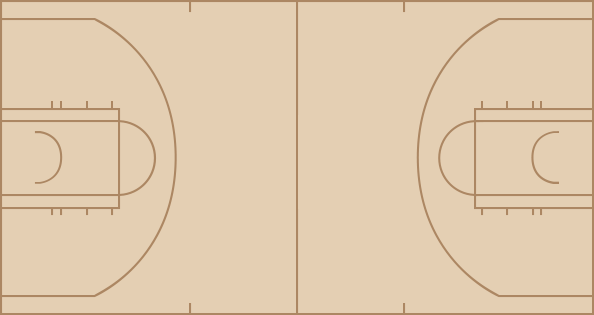 Pistons
time
TEAM
PLAY
SCORE
12:00
Start of the 1st Quarter.
0 - 0
12:00
Jumpball. Clifford Robinson vs. Kenny Thomas. Chauncey Billups gains possession.
0 - 0
11:41
Allen Iverson Shooting Foul
0 - 0
11:41
Chauncey Billups made Free Throw 1 of 2.
1 - 0
11:41
Chauncey Billups made Free Throw 2 of 2.
2 - 0
11:30
Greg Buckner made 19 ft Jumper. Assisted by Allen Iverson.
2 - 2
11:14
Richard Hamilton missed 16 ft Jumper.
2 - 2
11:11
Greg Buckner Defensive Rebound.
2 - 2
10:48
Allen Iverson missed 27 ft Three Point Jumper.
2 - 2
10:45
Mehmet Okur Defensive Rebound.
2 - 2
10:33
Chauncey Billups made 24 ft Three Point Jumper. Assisted by Clifford Robinson.
5 - 2
10:15
Greg Buckner missed 17 ft Jumper.
5 - 2
10:14
Chauncey Billups Defensive Rebound.
5 - 2
9:52
Michael Curry made 16 ft Two Point Shot. Assisted by Chauncey Billups.
7 - 2
9:34
Kenny Thomas missed Jumper.
7 - 2
9:33
Philadelphia Defensive Rebound.
7 - 2
9:10
Michael Curry missed 24 ft Three Point Jumper.
7 - 2
9:07
Detroit Defensive Rebound.
7 - 2
8:52
Derrick Coleman made 4 ft Two Point Shot. Assisted by Eric Snow.
7 - 4
8:33
Richard Hamilton missed 8 ft Jumper.
7 - 4
8:32
Eric Snow Defensive Rebound.
7 - 4
8:17
Kenny Thomas made Two Point Shot. Assisted by Eric Snow.
7 - 6
8:00
Clifford Robinson made 11 ft Jumper. Assisted by Chauncey Billups.
9 - 6
7:41
Greg Buckner made Layup. Assisted by Allen Iverson.
9 - 8
7:22
Mehmet Okur made Two Point Shot. Assisted by Chauncey Billups.
11 - 8
7:05
Greg Buckner made Two Point Shot. Assisted by Derrick Coleman.
11 - 10
6:45
Eric Snow Personal Foul
11 - 10
6:35
Richard Hamilton Traveling
11 - 10
6:33
Philadelphia Full Timeout.
11 - 10
6:28
Allen Iverson missed 17 ft Jumper.
11 - 10
6:26
Clifford Robinson Defensive Rebound.
11 - 10
6:20
Mehmet Okur missed Layup.
11 - 10
6:18
Kenny Thomas Defensive Rebound.
11 - 10
6:15
Clifford Robinson Shooting Foul
11 - 10
6:15
Allen Iverson made Free Throw 1 of 2.
11 - 11
6:15
Allen Iverson made Free Throw 2 of 2.
11 - 12
5:58
Clifford Robinson made 13 ft Jumper. Assisted by Richard Hamilton.
13 - 12
5:35
Greg Buckner missed 13 ft Jumper.
13 - 12
5:31
Kenny Thomas Offensive Rebound.
13 - 12
5:26
Clifford Robinson Shooting Foul
13 - 12
5:26
Kenny Thomas made Free Throw 1 of 2.
13 - 13
5:26
Zeljko Rebraca enters the game for Clifford Robinson.
13 - 13
5:26
Kenny Thomas made Free Throw 2 of 2.
13 - 14
5:05
Mehmet Okur Lost Ball. Stolen by Derrick Coleman.
13 - 14
4:58
Eric Snow made 13 ft Jumper. Assisted by Greg Buckner.
13 - 16
4:50
Detroit 20 Sec. Timeout.
13 - 16
4:39
Richard Hamilton made Jumper. Assisted by Chauncey Billups.
15 - 16
4:26
Derrick Coleman missed Jumper.
15 - 16
4:24
Philadelphia Defensive Rebound.
15 - 16
4:07
Richard Hamilton missed Layup.
15 - 16
4:07
Mehmet Okur Offensive Rebound.
15 - 16
4:07
Kenny Thomas Shooting Foul
15 - 16
4:07
Mehmet Okur made Free Throw 1 of 2.
16 - 16
4:07
Mehmet Okur missed Free Throw 2 of 2.
16 - 16
3:59
Kenny Thomas Defensive Rebound.
16 - 16
3:50
Allen Iverson Out of Bounds
16 - 16
3:39
Chauncey Billups made 15 ft Jumper.
18 - 16
3:18
Allen Iverson missed 18 ft Jumper.
18 - 16
3:17
Philadelphia Offensive Rebound.
18 - 16
3:17
Mehmet Okur Loose Ball Foul
18 - 16
3:09
Richard Hamilton Shooting Foul
18 - 16
3:09
Allen Iverson missed Free Throw 1 of 2.
18 - 16
3:09
Philadelphia Offensive Rebound.
18 - 16
3:09
Tyrone Hill enters the game for Derrick Coleman.
18 - 16
3:09
Allen Iverson made Free Throw 2 of 2.
18 - 17
3:01
Detroit Full Timeout.
18 - 17
2:46
Greg Buckner Shooting Foul
18 - 17
2:46
Zeljko Rebraca made Free Throw 1 of 2.
19 - 17
2:46
Zeljko Rebraca made Free Throw 2 of 2.
20 - 17
2:32
Kenny Thomas made Slam Dunk. Assisted by Allen Iverson.
20 - 19
2:05
Mehmet Okur missed Layup.
20 - 19
2:04
Zeljko Rebraca Offensive Rebound.
20 - 19
2:04
Zeljko Rebraca missed Layup.
20 - 19
2:02
Kenny Thomas Defensive Rebound.
20 - 19
1:54
Allen Iverson made 20 ft Jumper. Assisted by Eric Snow.
20 - 21
1:31
Richard Hamilton missed 8 ft Jumper.
20 - 21
1:31
Kenny Thomas Defensive Rebound.
20 - 21
1:23
Allen Iverson missed 7 ft Jumper. Blocked by Zeljko Rebraca.
20 - 21
1:22
Chauncey Billups Defensive Rebound.
20 - 21
1:19
Michael Curry made Dunk. Assisted by Chauncey Billups.
22 - 21
0:49
Kenny Thomas missed 4 ft Jumper.
22 - 21
0:48
Tyrone Hill Offensive Rebound.
22 - 23
0:48
Tyrone Hill made Tip Shot.
22 - 23
0:24
Michael Curry missed 22 ft Jumper.
22 - 23
0:22
Kenny Thomas Defensive Rebound.
22 - 23
0:01
Allen Iverson made Two Point Shot.
22 - 25
0:00
End of the 1st Quarter.
22 - 25

time
TEAM
PLAY
SCORE
12:00
Start of the 2nd Quarter.
22 - 25
11:45
Allen Iverson missed 19 ft Jumper.
22 - 25
11:44
Mehmet Okur Defensive Rebound.
22 - 25
11:29
Zeljko Rebraca made 6 ft Two Point Shot. Assisted by Chauncey Billups.
24 - 25
11:11
Aaron McKie made 14 ft Jumper. Assisted by Allen Iverson.
24 - 27
10:52
Jon Barry missed 18 ft Jumper.
24 - 27
10:49
Brian Skinner Defensive Rebound.
24 - 27
10:47
Zeljko Rebraca Shooting Foul
24 - 27
10:47
Tayshaun Prince enters the game for Chauncey Billups.
24 - 27
10:47
Allen Iverson made Free Throw 1 of 2.
24 - 28
10:47
Clifford Robinson enters the game for Zeljko Rebraca.
24 - 28
10:47
Allen Iverson made Free Throw 2 of 2.
24 - 29
10:32
Mehmet Okur missed 26 ft Three Point Jumper.
24 - 29
10:30
Tyrone Hill Defensive Rebound.
24 - 29
10:22
Brian Skinner missed 3 ft Jumper. Blocked by Mehmet Okur.
24 - 29
10:19
Greg Buckner Offensive Rebound.
24 - 29
10:11
Greg Buckner missed 10 ft Jumper.
24 - 29
10:10
Jon Barry Defensive Rebound.
24 - 29
9:57
Brian Skinner Personal Foul
24 - 29
9:57
John Salmons enters the game for Greg Buckner.
24 - 29
9:48
Clifford Robinson made Layup. Assisted by Mehmet Okur.
26 - 29
9:30
Tyrone Hill missed Dunk. Blocked by Mehmet Okur.
26 - 29
9:29
Tyrone Hill Offensive Rebound.
26 - 29
9:29
Tyrone Hill missed Layup.
26 - 29
9:27
Philadelphia Defensive Rebound.
26 - 29
9:27
John Salmons Loose Ball Foul
26 - 29
9:14
Jon Barry made 25 ft Three Point Jumper. Assisted by Tayshaun Prince.
29 - 29
8:56
Allen Iverson made Two Point Shot.
29 - 31
8:56
Jon Barry Shooting Foul
29 - 31
8:56
Official Timeout.
29 - 31
8:56
Richard Hamilton enters the game for Mehmet Okur.
29 - 31
8:56
Allen Iverson made Free Throw 1 of 1.
29 - 32
8:34
Brian Skinner Shooting Foul
29 - 32
8:34
Clifford Robinson made Free Throw 1 of 2.
30 - 32
8:34
Clifford Robinson made Free Throw 2 of 2.
31 - 32
8:21
Corliss Williamson Shooting Foul
31 - 32
8:21
Brian Skinner made Free Throw 1 of 2.
31 - 33
8:21
Brian Skinner missed Free Throw 2 of 2.
31 - 33
8:21
Clifford Robinson Defensive Rebound.
31 - 33
8:06
Tayshaun Prince Bad Pass
31 - 33
7:58
Allen Iverson made Two Point Shot.
31 - 35
7:37
Corliss Williamson missed 8 ft Jumper.
31 - 35
7:35
Brian Skinner Defensive Rebound.
31 - 35
7:31
John Salmons made Two Point Shot. Assisted by Allen Iverson.
31 - 37
7:20
Detroit Full Timeout.
31 - 37
7:20
Chauncey Billups enters the game for Tayshaun Prince.
31 - 37
7:03
Chauncey Billups missed 26 ft Three Point Jumper.
31 - 37
7:01
Corliss Williamson Offensive Rebound.
31 - 37
6:54
Clifford Robinson missed 28 ft Three Point Jumper.
31 - 37
6:52
Aaron McKie Defensive Rebound.
31 - 37
6:47
Brian Skinner Offensive Foul
31 - 37
6:47
Brian Skinner Foul
31 - 37
6:47
Derrick Coleman enters the game for Brian Skinner.
31 - 37
6:26
Clifford Robinson Bad Pass. Stolen by Aaron McKie.
31 - 37
6:22
Allen Iverson made Dunk. Assisted by Aaron McKie.
31 - 39
6:01
Richard Hamilton missed 11 ft Jumper.
31 - 39
5:58
Derrick Coleman Defensive Rebound.
31 - 39
5:52
Aaron McKie made Two Point Shot. Assisted by Allen Iverson.
31 - 41
5:43
Detroit Full Timeout.
31 - 41
5:43
Mehmet Okur enters the game for Jon Barry.
31 - 41
5:43
Kenny Thomas enters the game for Tyrone Hill.
31 - 41
5:39
Corliss Williamson missed 5 ft Jumper.
31 - 41
5:37
Allen Iverson Defensive Rebound.
31 - 41
5:30
Allen Iverson Bad Pass. Stolen by Richard Hamilton.
31 - 41
5:18
Aaron McKie Illegal Defense Foul
31 - 41
5:18
Chauncey Billups made Technical Free Throw.
32 - 41
5:05
Richard Hamilton missed 20 ft Jumper.
32 - 41
5:03
Mehmet Okur Offensive Rebound.
32 - 41
4:58
Clifford Robinson made 5 ft Two Point Shot. Assisted by Chauncey Billups.
34 - 41
4:31
Derrick Coleman made 4 ft Two Point Shot.
34 - 43
4:13
Clifford Robinson missed 18 ft Jumper.
34 - 43
4:11
Clifford Robinson Offensive Rebound.
34 - 43
4:01
Richard Hamilton missed 16 ft Jumper.
34 - 43
4:00
Allen Iverson Defensive Rebound.
34 - 43
3:53
Allen Iverson missed Layup.
34 - 43
3:50
Aaron McKie Offensive Rebound.
34 - 45
3:50
Aaron McKie made Layup.
34 - 45
3:26
Richard Hamilton made 17 ft Jumper. Assisted by Chauncey Billups.
36 - 45
3:06
Aaron McKie made 15 ft Jumper. Assisted by Allen Iverson.
36 - 47
2:42
Corliss Williamson missed Layup.
36 - 47
2:41
Mehmet Okur Offensive Rebound.
38 - 47
2:41
Mehmet Okur made Tip Shot.
38 - 47
2:23
Allen Iverson Bad Pass
38 - 47
2:23
Tyrone Hill enters the game for Derrick Coleman.
38 - 47
2:23
Tayshaun Prince enters the game for Corliss Williamson.
38 - 47
2:11
Clifford Robinson Bad Pass. Stolen by Aaron McKie.
38 - 47
2:04
Aaron McKie made 6 ft Two Point Shot.
38 - 49
1:47
Tayshaun Prince made 25 ft Three Point Jumper. Assisted by Clifford Robinson.
41 - 49
1:34
Richard Hamilton Shooting Foul
41 - 49
1:34
Zeljko Rebraca enters the game for Clifford Robinson.
41 - 49
1:34
Eric Snow enters the game for Aaron McKie.
41 - 49
1:34
Allen Iverson made Free Throw 1 of 2.
41 - 50
1:34
Jon Barry enters the game for Richard Hamilton.
41 - 50
1:34
Allen Iverson made Free Throw 2 of 2.
41 - 51
1:15
Aaron McKie enters the game for John Salmons.
41 - 51
1:12
Mehmet Okur missed 8 ft Jumper.
41 - 51
1:08
Kenny Thomas Defensive Rebound.
41 - 51
0:59
Aaron McKie missed 25 ft Three Point Jumper.
41 - 51
0:58
Kenny Thomas Offensive Rebound.
41 - 51
0:56
Philadelphia Full Timeout.
41 - 51
0:50
Allen Iverson Bad Pass
41 - 51
0:32
Tayshaun Prince missed 7 ft Jumper.
41 - 51
0:30
Mehmet Okur Offensive Rebound.
41 - 51
0:29
Tyrone Hill Shooting Foul
41 - 51
0:29
Mehmet Okur made Free Throw 1 of 2.
42 - 51
0:29
Mehmet Okur made Free Throw 2 of 2.
43 - 51
0:10
Philadelphia 20 Sec. Timeout.
43 - 51
0:10
Derrick Coleman enters the game for Tyrone Hill.
43 - 51
0:07
Derrick Coleman Bad Pass
43 - 51
0:01
Chauncey Billups Offensive Foul
43 - 51
0:01
Chauncey Billups Foul
43 - 51
0:00
Eric Snow made 39 ft Three Point Jumper. Assisted by Aaron McKie.
43 - 54
0:00
End of the 2nd Quarter.
43 - 54

time
TEAM
PLAY
SCORE
12:00
Start of the 3rd Quarter.
43 - 54
11:41
Kenny Thomas made 15 ft Jumper. Assisted by Eric Snow.
43 - 56
11:21
Clifford Robinson missed 14 ft Jumper.
43 - 56
11:18
Kenny Thomas Defensive Rebound.
43 - 56
11:07
Allen Iverson made Two Point Shot.
43 - 58
10:49
Clifford Robinson made 10 ft Jumper. Assisted by Chauncey Billups.
45 - 58
10:25
Eric Snow missed Layup. Blocked by Clifford Robinson.
45 - 58
10:22
Chauncey Billups Defensive Rebound.
45 - 58
10:12
Richard Hamilton missed 17 ft Jumper.
45 - 58
10:11
Allen Iverson Defensive Rebound.
45 - 58
10:04
Allen Iverson made Two Point Shot.
45 - 60
9:45
Mehmet Okur missed 17 ft Jumper.
45 - 60
9:42
Kenny Thomas Defensive Rebound.
45 - 60
9:37
Richard Hamilton Shooting Foul
45 - 60
9:37
Allen Iverson missed Free Throw 1 of 2.
45 - 60
9:37
Philadelphia Offensive Rebound.
45 - 60
9:37
Allen Iverson made Free Throw 2 of 2.
45 - 61
9:33
Detroit Full Timeout.
45 - 61
9:15
Eric Snow Personal Foul
45 - 61
9:07
Richard Hamilton Offensive Foul
45 - 61
9:07
Richard Hamilton Foul
45 - 61
9:07
Jon Barry enters the game for Richard Hamilton.
45 - 61
8:51
Jumpball. Clifford Robinson vs. Kenny Thomas. Jon Barry gains possession.
45 - 61
8:51
Kenny Thomas Lost Ball. Stolen by Clifford Robinson.
45 - 61
8:27
Clifford Robinson missed 18 ft Jumper.
45 - 61
8:26
Greg Buckner Defensive Rebound.
45 - 61
8:07
Kenny Thomas made Dunk. Assisted by Eric Snow.
45 - 63
7:52
Chauncey Billups Offensive Foul
45 - 63
7:52
Chauncey Billups Foul
45 - 63
7:52
Delay of Game
45 - 63
7:52
Tayshaun Prince enters the game for Michael Curry.
45 - 63
7:33
Greg Buckner Offensive Foul
45 - 63
7:33
Greg Buckner Foul
45 - 63
7:20
Tayshaun Prince made 10 ft Two Point Shot. Assisted by Chauncey Billups.
47 - 63
6:58
Kenny Thomas Lost Ball. Stolen by Tayshaun Prince.
47 - 63
6:48
Clifford Robinson Bad Pass. Stolen by Derrick Coleman.
47 - 63
6:41
Eric Snow Bad Pass. Stolen by Chauncey Billups.
47 - 63
6:37
Derrick Coleman Shooting Foul
47 - 63
6:37
Chauncey Billups made Free Throw 1 of 2.
48 - 63
6:37
Aaron McKie enters the game for Greg Buckner.
48 - 63
6:37
Chauncey Billups made Free Throw 2 of 2.
49 - 63
6:26
Clifford Robinson Shooting Foul
49 - 63
6:26
Allen Iverson made Free Throw 1 of 2.
49 - 64
6:26
Allen Iverson made Free Throw 2 of 2.
49 - 65
6:13
Chauncey Billups made 20 ft Jumper.
51 - 65
5:56
Allen Iverson Bad Pass. Stolen by Jon Barry.
51 - 65
5:52
Chauncey Billups missed 28 ft Three Point Jumper.
51 - 65
5:50
Eric Snow Defensive Rebound.
51 - 65
5:35
Kenny Thomas made 8 ft Two Point Shot. Assisted by Aaron McKie.
51 - 67
5:13
Mehmet Okur Lost Ball. Stolen by Aaron McKie.
51 - 67
4:58
Derrick Coleman made 4 ft Jumper. Assisted by Allen Iverson.
51 - 69
4:54
Detroit Full Timeout.
51 - 69
4:54
Tyrone Hill enters the game for Derrick Coleman.
51 - 69
4:54
John Salmons enters the game for Eric Snow.
51 - 69
4:41
Tayshaun Prince Traveling
51 - 69
4:28
Tyrone Hill Lost Ball. Stolen by Jon Barry.
51 - 69
4:24
Jon Barry missed 28 ft Three Point Jumper.
51 - 69
4:22
Kenny Thomas Defensive Rebound.
51 - 69
4:22
Mehmet Okur Loose Ball Foul
51 - 69
4:09
Allen Iverson made 3 ft Two Point Shot.
51 - 71
3:53
Tyrone Hill Personal Foul
51 - 71
3:41
Tyrone Hill Personal Foul
51 - 71
3:38
Kenny Thomas Shooting Foul
51 - 71
3:38
Jon Barry made Free Throw 1 of 2.
52 - 71
3:38
Jon Barry made Free Throw 2 of 2.
53 - 71
3:21
John Salmons missed 24 ft Three Point Jumper.
53 - 71
3:19
Tayshaun Prince Defensive Rebound.
53 - 71
3:09
Jon Barry Bad Pass
53 - 71
2:57
Kenny Thomas missed 20 ft Jumper.
53 - 71
2:57
Philadelphia Defensive Rebound.
53 - 71
2:43
Jon Barry Lost Ball
53 - 71
2:43
Eric Snow enters the game for Allen Iverson.
53 - 71
2:27
Eric Snow Bad Pass. Stolen by Jon Barry.
53 - 71
2:19
Tayshaun Prince Bad Pass. Stolen by Aaron McKie.
53 - 71
2:08
Philadelphia Full Timeout.
53 - 71
2:08
Corliss Williamson enters the game for Jon Barry.
53 - 71
2:00
John Salmons made 18 ft Jumper. Assisted by Aaron McKie.
53 - 73
1:37
Clifford Robinson made 11 ft Two Point Shot. Assisted by Tayshaun Prince.
55 - 73
1:19
Aaron McKie missed Jumper.
55 - 73
1:16
Mehmet Okur Defensive Rebound.
55 - 73
1:02
Tayshaun Prince missed Layup.
55 - 73
1:00
Kenny Thomas Defensive Rebound.
55 - 73
0:53
Kenny Thomas made Layup. Assisted by Eric Snow.
55 - 75
0:38
Tyrone Hill Shooting Foul
55 - 75
0:38
Mehmet Okur made Free Throw 1 of 2.
56 - 75
0:38
Allen Iverson enters the game for Aaron McKie.
56 - 75
0:38
Derrick Coleman enters the game for Tyrone Hill.
56 - 75
0:38
Mehmet Okur missed Free Throw 2 of 2.
56 - 75
0:37
Derrick Coleman Defensive Rebound.
56 - 75
0:26
Kenny Thomas Lost Ball. Stolen by Clifford Robinson.
56 - 75
0:07
Derrick Coleman Personal Foul
56 - 75
0:07
Clifford Robinson made Free Throw 1 of 2.
57 - 75
0:07
Clifford Robinson made Free Throw 2 of 2.
58 - 75
0:04
Tayshaun Prince Personal Foul
58 - 75
0:00
Allen Iverson missed 21 ft Jumper.
58 - 75
0:00
Mehmet Okur Defensive Rebound.
58 - 75
0:00
End of the 3rd Quarter.
58 - 75

time
TEAM
PLAY
SCORE
12:00
Start of the 4th Quarter.
58 - 75
11:45
Tayshaun Prince made Two Point Shot.
60 - 75
11:23
Allen Iverson missed Layup.
60 - 75
11:19
Kenny Thomas Offensive Rebound.
60 - 75
11:15
Allen Iverson made Two Point Shot. Assisted by Eric Snow.
60 - 77
10:52
John Salmons Personal Foul
60 - 77
10:40
Zeljko Rebraca missed 14 ft Jumper.
60 - 77
10:38
Derrick Coleman Defensive Rebound.
60 - 77
10:32
Allen Iverson made 16 ft Two Point Shot.
60 - 79
10:06
Tayshaun Prince missed 30 ft Three Point Jumper.
60 - 79
10:03
John Salmons Defensive Rebound.
60 - 79
9:55
Allen Iverson missed 18 ft Jumper.
60 - 79
9:53
Philadelphia Defensive Rebound.
60 - 79
9:53
Derrick Coleman Loose Ball Foul
60 - 79
9:53
Aaron McKie enters the game for Eric Snow.
60 - 79
9:37
Richard Hamilton missed Layup.
60 - 79
9:37
Kenny Thomas Defensive Rebound.
60 - 79
9:18
Derrick Coleman made Jumper. Assisted by John Salmons.
60 - 81
9:15
Detroit Full Timeout.
60 - 81
9:03
Corliss Williamson Bad Pass. Stolen by Derrick Coleman.
60 - 81
8:45
Kenny Thomas made 16 ft Jumper.
60 - 83
8:25
Zeljko Rebraca missed 7 ft Jumper.
60 - 83
8:22
John Salmons Defensive Rebound.
60 - 83
8:18
John Salmons missed 17 ft Jumper.
60 - 83
8:15
Mehmet Okur Defensive Rebound.
60 - 83
8:03
Richard Hamilton made 6 ft Two Point Shot. Assisted by Tayshaun Prince.
62 - 83
7:43
Jon Barry enters the game for Mehmet Okur.
62 - 83
7:43
Eric Snow enters the game for John Salmons.
62 - 83
7:41
Allen Iverson missed Jumper.
62 - 83
7:39
Kenny Thomas Offensive Rebound.
62 - 83
7:39
Kenny Thomas missed Layup.
62 - 83
7:39
Jon Barry Defensive Rebound.
62 - 83
7:28
Tayshaun Prince missed 26 ft Three Point Jumper.
62 - 83
7:26
Allen Iverson Defensive Rebound.
62 - 83
7:13
Corliss Williamson Personal Foul
62 - 83
7:13
Tyrone Hill enters the game for Kenny Thomas.
62 - 83
7:07
Aaron McKie missed Layup.
62 - 83
7:05
Zeljko Rebraca Defensive Rebound.
62 - 83
6:50
Tayshaun Prince Lost Ball. Stolen by Allen Iverson.
62 - 83
6:37
Derrick Coleman missed Layup.
62 - 83
6:35
Richard Hamilton Defensive Rebound.
62 - 83
6:30
Richard Hamilton made 18 ft Jumper.
64 - 83
6:09
Allen Iverson made 18 ft Jumper. Assisted by Eric Snow.
64 - 85
5:48
Derrick Coleman Shooting Foul
64 - 85
5:48
Zeljko Rebraca made Free Throw 1 of 2.
65 - 85
5:48
Zeljko Rebraca made Free Throw 2 of 2.
66 - 85
5:37
Allen Iverson made Two Point Shot. Assisted by Eric Snow.
66 - 87
5:37
Defensive Goaltending
66 - 87
5:18
Zeljko Rebraca made 13 ft Two Point Shot. Assisted by Jon Barry.
68 - 87
5:01
Eric Snow missed Jumper.
68 - 87
4:58
Derrick Coleman Offensive Rebound.
68 - 87
4:48
Corliss Williamson Personal Foul
68 - 87
4:48
Kenny Thomas enters the game for Derrick Coleman.
68 - 87
4:43
Allen Iverson made 21 ft Jumper.
68 - 89
4:41
Detroit 20 Sec. Timeout.
68 - 89
4:22
Corliss Williamson missed 14 ft Jumper.
68 - 89
4:20
Detroit Offensive Rebound.
68 - 89
4:03
Richard Hamilton missed 16 ft Jumper.
68 - 89
4:01
Tyrone Hill Defensive Rebound.
68 - 89
3:40
Aaron McKie missed 14 ft Jumper.
68 - 89
3:38
Philadelphia Defensive Rebound.
68 - 89
3:24
Richard Hamilton made 18 ft Jumper.
70 - 89
2:57
Tyrone Hill missed 13 ft Jumper.
70 - 89
2:56
Corliss Williamson Defensive Rebound.
70 - 89
2:51
Allen Iverson Personal Foul
70 - 89
2:51
John Salmons enters the game for Allen Iverson.
70 - 89
2:51
Official Timeout.
70 - 89
2:51
Hubert Davis enters the game for Zeljko Rebraca.
70 - 89
2:51
Brian Skinner enters the game for Eric Snow.
70 - 89
2:51
Greg Buckner enters the game for Tyrone Hill.
70 - 89
2:49
Jon Barry Backcourt
70 - 89
2:49
Efthimios Rentzias enters the game for Kenny Thomas.
70 - 89
2:42
Greg Buckner Bad Pass
70 - 89
2:20
Corliss Williamson Lost Ball. Stolen by Brian Skinner.
70 - 89
2:00
Greg Buckner missed 18 ft Jumper.
70 - 89
2:00
Tayshaun Prince Defensive Rebound.
70 - 89
1:59
Michael Curry enters the game for Corliss Williamson.
70 - 89
1:49
Richard Hamilton missed 12 ft Jumper.
70 - 89
1:47
Efthimios Rentzias Defensive Rebound.
70 - 89
1:34
Efthimios Rentzias missed 22 ft Jumper.
70 - 89
1:32
Greg Buckner Offensive Rebound.
70 - 91
1:32
Greg Buckner made Tip Shot.
70 - 91
1:15
Hubert Davis missed 16 ft Jumper.
70 - 91
1:10
Richard Hamilton Offensive Rebound.
72 - 91
1:10
Richard Hamilton made 13 ft Jumper.
72 - 91
0:55
Aaron McKie missed 15 ft Jumper.
72 - 91
0:53
Tayshaun Prince Defensive Rebound.
72 - 91
0:40
Tayshaun Prince missed 18 ft Jumper.
72 - 91
0:39
Brian Skinner Defensive Rebound.
72 - 91
0:33
Efthimios Rentzias missed 16 ft Jumper.
72 - 91
0:29
Aaron McKie Offensive Rebound.
72 - 91
0:14
Aaron McKie missed 19 ft Jumper.
72 - 91
0:13
Richard Hamilton Defensive Rebound.
72 - 91
0:07
Brian Skinner Shooting Foul
72 - 91
0:07
Richard Hamilton made Free Throw 1 of 2.
73 - 91
0:07
Richard Hamilton made Free Throw 2 of 2.
74 - 91
0:00
End of the 4th Quarter.
74 - 91
0:00
End Game
74 - 91
The ever-more-confident Cavaliers are now 6-0 in the postseason after raining 3-pointers -- 25, to be exact -- on the Hawks and into the record books.

After watching the Cleveland Cavaliers bomb them for 25 3-pointers in a Game 2 rout, the Atlanta Hawks are left bewildered and searching for answers.

LeBron James reacts to the Cavs setting the NBA record for threes made in a game, but believes the Cavs have work to do, saying, "We've got to be better in Game 3."
Playoff Series
DET wins series 4-2
2015-2016 Central Standings
2015-2016 Atlantic Standings