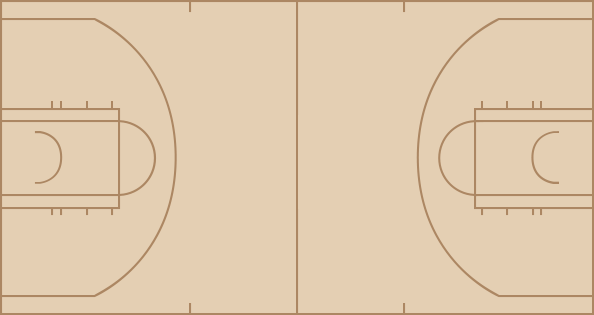 Mavericks
time
TEAM
PLAY
SCORE
12:00
Start of the 1st Quarter.
0 - 0
12:00
Jumpball. Raef LaFrentz vs. Bo Outlaw. Dirk Nowitzki gains possession.
0 - 0
11:37
Dirk Nowitzki missed 16 ft Jumper.
0 - 0
11:36
Stephon Marbury Defensive Rebound.
0 - 0
11:32
Stephon Marbury made 16 ft Jumper.
0 - 2
11:14
Adrian Griffin made 17 ft Jumper. Assisted by Steve Nash.
2 - 2
10:45
Bo Outlaw made 17 ft Jumper. Assisted by Stephon Marbury.
2 - 4
10:37
Adrian Griffin missed 19 ft Jumper.
2 - 4
10:34
Shawn Marion Defensive Rebound.
2 - 4
10:26
Bo Outlaw made Dunk. Assisted by Amare Stoudemire.
2 - 6
10:06
Steve Nash missed Layup. Blocked by Bo Outlaw.
2 - 6
10:03
Amare Stoudemire Defensive Rebound.
2 - 6
9:53
Stephon Marbury missed 16 ft Jumper.
2 - 6
9:53
Phoenix Defensive Rebound.
2 - 6
9:53
Amare Stoudemire Loose Ball Foul
2 - 6
9:33
Adrian Griffin missed 10 ft Jumper. Blocked by Anfernee Hardaway.
2 - 6
9:29
Stephon Marbury Defensive Rebound.
2 - 6
9:26
Shawn Marion missed 17 ft Jumper.
2 - 6
9:23
Amare Stoudemire Offensive Rebound.
2 - 6
9:22
Amare Stoudemire missed Jumper.
2 - 6
9:18
Amare Stoudemire Offensive Rebound.
2 - 6
9:17
Amare Stoudemire missed Layup. Blocked by Raef LaFrentz.
2 - 6
9:17
Bo Outlaw Offensive Rebound.
2 - 6
9:17
Adrian Griffin Shooting Foul
2 - 6
9:17
Bo Outlaw missed Free Throw 1 of 2.
2 - 6
9:17
Phoenix Offensive Rebound.
2 - 6
9:17
Nick Van Exel enters the game for Adrian Griffin.
2 - 6
9:17
Lane Violation
2 - 6
9:17
Bo Outlaw made Free Throw 2 of 2.
2 - 7
9:03
Dirk Nowitzki made 9 ft Two Point Shot. Assisted by Steve Nash.
4 - 7
8:44
Anfernee Hardaway Lost Ball
4 - 7
8:37
Dallas 20 Sec. Timeout.
4 - 7
8:33
Steve Nash made Layup. Assisted by Dirk Nowitzki.
6 - 7
8:11
Dirk Nowitzki Illegal Defense Foul
6 - 7
8:11
Shawn Marion missed Technical Free Throw.
6 - 7
8:11
Phoenix Offensive Rebound.
6 - 7
7:58
Amare Stoudemire made 7 ft Jumper. Assisted by Stephon Marbury.
6 - 9
7:50
Raef LaFrentz missed 25 ft Three Point Jumper.
6 - 9
7:47
Raja Bell Offensive Rebound.
6 - 9
7:45
Dirk Nowitzki missed 16 ft Jumper.
6 - 9
7:43
Shawn Marion Defensive Rebound.
6 - 9
7:33
Raja Bell Personal Foul
6 - 9
7:24
Shawn Bradley enters the game for Raef LaFrentz.
6 - 9
7:20
Bo Outlaw made 13 ft Jumper. Assisted by Stephon Marbury.
6 - 11
7:01
Raja Bell made 18 ft Jumper. Assisted by Steve Nash.
8 - 11
6:52
Amare Stoudemire missed 7 ft Jumper.
8 - 11
6:50
Shawn Bradley Defensive Rebound.
8 - 11
6:48
Shawn Bradley Bad Pass. Stolen by Anfernee Hardaway.
8 - 11
6:45
Shawn Marion made Two Point Shot. Assisted by Anfernee Hardaway.
8 - 13
6:26
Steve Nash missed 24 ft Three Point Jumper.
8 - 13
6:26
Dallas Offensive Rebound.
8 - 13
6:26
Bo Outlaw Loose Ball Foul
8 - 13
6:20
Dirk Nowitzki missed 12 ft Jumper. Blocked by Shawn Marion.
8 - 13
6:18
Anfernee Hardaway Defensive Rebound.
8 - 13
6:13
Shawn Marion missed 10 ft Jumper.
8 - 13
6:11
Shawn Bradley Defensive Rebound.
8 - 13
6:01
Dirk Nowitzki made 24 ft Three Point Jumper. Assisted by Nick Van Exel.
11 - 13
5:45
Amare Stoudemire made Two Point Shot. Assisted by Anfernee Hardaway.
11 - 15
5:24
Dirk Nowitzki made 16 ft Jumper.
13 - 15
5:07
Shawn Marion missed 25 ft Three Point Jumper.
13 - 15
5:05
Anfernee Hardaway Offensive Rebound.
13 - 15
4:50
Shawn Marion made Layup. Assisted by Bo Outlaw.
13 - 17
4:39
Steve Nash missed Layup. Blocked by Amare Stoudemire.
13 - 17
4:37
Shawn Bradley Offensive Rebound.
15 - 17
4:37
Shawn Bradley made Tip Shot.
15 - 17
4:33
Stephon Marbury Lost Ball. Stolen by Raja Bell.
15 - 17
4:28
Nick Van Exel Bad Pass. Stolen by Shawn Marion.
15 - 17
4:24
Shawn Marion made Layup.
15 - 19
4:24
Shawn Bradley Shooting Foul
15 - 19
4:24
Phoenix Full Timeout.
15 - 19
4:24
Joe Johnson enters the game for Anfernee Hardaway.
15 - 19
4:24
Eduardo Najera enters the game for Shawn Bradley.
15 - 19
4:24
Shawn Marion made Free Throw 1 of 1.
15 - 20
4:11
Dirk Nowitzki missed 16 ft Jumper.
15 - 20
4:09
Amare Stoudemire Defensive Rebound.
15 - 20
3:57
Raja Bell Personal Foul
15 - 20
3:45
Shawn Marion made 18 ft Jumper.
15 - 22
3:31
Bo Outlaw Illegal Defense Foul
15 - 22
3:31
Steve Nash made Technical Free Throw.
16 - 22
3:31
Shawn Bradley enters the game for Raja Bell.
16 - 22
3:20
Steve Nash made 23 ft Three Point Jumper. Assisted by Eduardo Najera.
19 - 22
3:04
Amare Stoudemire made Dunk. Assisted by Shawn Marion.
19 - 24
2:51
Shawn Bradley 3 second
19 - 24
2:51
Dallas Full Timeout.
19 - 24
2:51
Raef LaFrentz enters the game for Shawn Bradley.
19 - 24
2:28
Shawn Marion made 17 ft Jumper. Assisted by Stephon Marbury.
19 - 26
2:15
Shawn Marion Shooting Foul
19 - 26
2:15
Dirk Nowitzki made Free Throw 1 of 2.
20 - 26
2:15
Dirk Nowitzki made Free Throw 2 of 2.
21 - 26
2:00
Amare Stoudemire made Two Point Shot.
21 - 28
1:42
Shawn Marion Shooting Foul
21 - 28
1:42
Dirk Nowitzki made Free Throw 1 of 2.
22 - 28
1:42
Tariq Abdul-Wahad enters the game for Steve Nash.
22 - 28
1:42
Anfernee Hardaway enters the game for Shawn Marion.
22 - 28
1:42
Dirk Nowitzki missed Free Throw 2 of 2.
22 - 28
1:39
Anfernee Hardaway Defensive Rebound.
22 - 28
1:29
Tariq Abdul-Wahad Shooting Foul
22 - 28
1:29
Joe Johnson made Free Throw 1 of 2.
22 - 29
1:29
Jake Voskuhl enters the game for Amare Stoudemire.
22 - 29
1:29
Joe Johnson made Free Throw 2 of 2.
22 - 30
1:10
Eduardo Najera missed 13 ft Jumper.
22 - 30
1:08
Tariq Abdul-Wahad Offensive Rebound.
24 - 30
1:08
Tariq Abdul-Wahad made Layup.
24 - 30
0:50
Joe Johnson made Two Point Shot.
24 - 32
0:50
Dirk Nowitzki Shooting Foul
24 - 32
0:50
Joe Johnson made Free Throw 1 of 1.
24 - 33
0:39
Jake Voskuhl Personal Foul
24 - 33
0:39
Nick Van Exel made Free Throw 1 of 2.
25 - 33
0:39
Nick Van Exel missed Free Throw 2 of 2.
25 - 33
0:38
Joe Johnson Defensive Rebound.
25 - 33
0:32
Joe Johnson missed 18 ft Jumper.
25 - 33
0:31
Anfernee Hardaway Offensive Rebound.
25 - 33
0:12
Stephon Marbury made 25 ft Three Point Jumper.
25 - 36
0:01
Nick Van Exel Traveling
25 - 36
0:00
Stephon Marbury missed 31 ft Three Point Jumper.
25 - 36
0:00
Phoenix Offensive Rebound.
25 - 36
0:00
End of the 1st Quarter.
25 - 36

time
TEAM
PLAY
SCORE
12:00
Start of the 2nd Quarter.
25 - 36
11:47
Joe Johnson made 17 ft Jumper.
25 - 38
11:30
Eduardo Najera missed 9 ft Jumper. Blocked by Jake Voskuhl.
25 - 38
11:30
Dallas Offensive Rebound.
25 - 38
11:27
Raef LaFrentz made 16 ft Jumper. Assisted by Nick Van Exel.
27 - 38
11:03
Jake Voskuhl missed Layup. Blocked by Raef LaFrentz.
27 - 38
11:00
Dirk Nowitzki Defensive Rebound.
27 - 38
10:52
Jake Voskuhl Shooting Foul
27 - 38
10:52
Dirk Nowitzki made Free Throw 1 of 2.
28 - 38
10:52
Dirk Nowitzki made Free Throw 2 of 2.
29 - 38
10:37
Raef LaFrentz Shooting Foul
29 - 38
10:37
Amare Stoudemire missed Free Throw 1 of 2.
29 - 38
10:37
Phoenix Offensive Rebound.
29 - 38
10:37
Shawn Marion enters the game for Stephon Marbury.
29 - 38
10:37
Shawn Bradley enters the game for Raef LaFrentz.
29 - 38
10:37
Amare Stoudemire missed Free Throw 2 of 2.
29 - 38
10:36
Dirk Nowitzki Defensive Rebound.
29 - 38
10:22
Nick Van Exel Lost Ball. Stolen by Jake Voskuhl.
29 - 38
10:07
Anfernee Hardaway made 17 ft Jumper. Assisted by Shawn Marion.
29 - 40
9:52
Nick Van Exel made 25 ft Three Point Jumper. Assisted by Dirk Nowitzki.
32 - 40
9:37
Anfernee Hardaway missed 24 ft Three Point Jumper.
32 - 40
9:36
Phoenix Defensive Rebound.
32 - 40
9:23
Nick Van Exel missed 16 ft Jumper.
32 - 40
9:22
Shawn Marion Defensive Rebound.
32 - 40
9:06
Amare Stoudemire made 9 ft Two Point Shot. Assisted by Anfernee Hardaway.
32 - 42
9:06
Shawn Bradley Shooting Foul
32 - 42
9:06
Amare Stoudemire made Free Throw 1 of 1.
32 - 43
8:52
Shawn Bradley missed 7 ft Jumper.
32 - 43
8:51
Shawn Marion Defensive Rebound.
32 - 43
8:47
Shawn Marion Bad Pass. Stolen by Shawn Bradley.
32 - 43
8:41
Dirk Nowitzki made 25 ft Three Point Jumper. Assisted by Eduardo Najera.
35 - 43
8:32
Phoenix Full Timeout.
35 - 43
8:32
Steve Nash enters the game for Dirk Nowitzki.
35 - 43
8:32
Bo Outlaw enters the game for Jake Voskuhl.
35 - 43
8:18
Amare Stoudemire missed 9 ft Jumper.
35 - 43
8:15
Steve Nash Defensive Rebound.
35 - 43
8:03
Nick Van Exel Bad Pass. Stolen by Amare Stoudemire.
35 - 43
7:58
Joe Johnson Traveling
35 - 43
7:58
Stephon Marbury enters the game for Joe Johnson.
35 - 43
7:43
Eduardo Najera missed 10 ft Jumper.
35 - 43
7:41
Bo Outlaw Defensive Rebound.
35 - 43
7:33
Anfernee Hardaway missed 18 ft Jumper.
35 - 43
7:31
Nick Van Exel Defensive Rebound.
35 - 43
7:16
Nick Van Exel made 12 ft Two Point Shot. Assisted by Steve Nash.
37 - 43
6:48
24 second
37 - 43
6:37
Nick Van Exel made 19 ft Jumper.
39 - 43
6:18
Shawn Bradley Personal Foul
39 - 43
6:18
Raef LaFrentz enters the game for Eduardo Najera.
39 - 43
6:11
Anfernee Hardaway made Jumper.
39 - 45
5:58
Nick Van Exel missed 24 ft Three Point Jumper.
39 - 45
5:56
Shawn Bradley Offensive Rebound.
39 - 45
5:54
Nick Van Exel missed Layup.
39 - 45
5:52
Nick Van Exel Offensive Rebound.
39 - 45
5:50
Nick Van Exel made Jumper.
41 - 45
5:45
Amare Stoudemire made Dunk. Assisted by Stephon Marbury.
41 - 47
5:33
Steve Nash missed 25 ft Three Point Jumper.
41 - 47
5:31
Amare Stoudemire Defensive Rebound.
41 - 47
5:18
Amare Stoudemire missed 12 ft Jumper.
41 - 47
5:16
Shawn Bradley Defensive Rebound.
41 - 47
5:09
Nick Van Exel missed Layup.
41 - 47
5:09
Shawn Marion Defensive Rebound.
41 - 47
5:03
Raef LaFrentz Shooting Foul
41 - 47
5:03
Official Timeout.
41 - 47
5:03
Stephon Marbury made Free Throw 1 of 2.
41 - 48
5:03
Stephon Marbury made Free Throw 2 of 2.
41 - 49
4:46
Steve Nash missed 13 ft Jumper. Blocked by Stephon Marbury.
41 - 49
4:43
Shawn Marion Defensive Rebound.
41 - 49
4:43
Steve Nash Technical Foul
41 - 49
4:43
Shawn Marion made Technical Free Throw.
41 - 50
4:43
Evan Eschmeyer enters the game for Shawn Bradley.
41 - 50
4:22
Amare Stoudemire Bad Pass. Stolen by Evan Eschmeyer.
41 - 50
4:15
Anfernee Hardaway Personal Foul
41 - 50
4:15
Dirk Nowitzki enters the game for Tariq Abdul-Wahad.
41 - 50
4:01
Raef LaFrentz missed 26 ft Three Point Jumper.
41 - 50
4:00
Dallas Defensive Rebound.
41 - 50
3:46
Bo Outlaw made Layup. Assisted by Shawn Marion.
41 - 52
3:46
Evan Eschmeyer Shooting Foul
41 - 52
3:46
Stephon Marbury Lane Violation
41 - 52
3:35
Amare Stoudemire Personal Foul
41 - 52
3:32
Stephon Marbury Personal Foul
41 - 52
3:18
Steve Nash Lost Ball. Stolen by Anfernee Hardaway.
41 - 52
3:14
Shawn Marion missed 9 ft Jumper.
41 - 52
3:13
Dirk Nowitzki Defensive Rebound.
41 - 52
3:13
Amare Stoudemire Personal Foul
41 - 52
3:13
Jake Voskuhl enters the game for Amare Stoudemire.
41 - 52
3:13
Dirk Nowitzki made Free Throw 1 of 2.
42 - 52
3:13
Dirk Nowitzki made Free Throw 2 of 2.
43 - 52
2:56
Stephon Marbury missed 25 ft Three Point Jumper.
43 - 52
2:54
Evan Eschmeyer Defensive Rebound.
43 - 52
2:45
Jake Voskuhl Illegal Defense Foul
43 - 52
2:45
Dallas Full Timeout.
43 - 52
2:45
Steve Nash made Technical Free Throw.
44 - 52
2:40
Dirk Nowitzki missed 16 ft Jumper.
44 - 52
2:38
Jake Voskuhl Defensive Rebound.
44 - 52
2:23
Stephon Marbury made 17 ft Jumper. Assisted by Anfernee Hardaway.
44 - 54
1:57
Dirk Nowitzki missed 14 ft Jumper. Blocked by Anfernee Hardaway.
44 - 54
1:54
Dirk Nowitzki Offensive Rebound.
44 - 54
1:52
Dirk Nowitzki missed 15 ft Jumper.
44 - 54
1:50
Raef LaFrentz Offensive Rebound.
44 - 54
1:50
Raef LaFrentz missed 6 ft Jumper.
44 - 54
1:50
Dallas Defensive Rebound.
44 - 54
1:50
Joe Johnson enters the game for Shawn Marion.
44 - 54
1:50
Avery Johnson enters the game for Nick Van Exel.
44 - 54
1:37
Jake Voskuhl Bad Pass. Stolen by Avery Johnson.
44 - 54
1:15
Raef LaFrentz missed Jumper.
44 - 54
1:15
Bo Outlaw Defensive Rebound.
44 - 54
1:06
Evan Eschmeyer Shooting Foul
44 - 54
1:06
Stephon Marbury made Free Throw 1 of 2.
44 - 55
1:06
Stephon Marbury made Free Throw 2 of 2.
44 - 56
0:54
Steve Nash Bad Pass. Stolen by Stephon Marbury.
44 - 56
0:53
Dirk Nowitzki Personal Foul
44 - 56
0:53
Stephon Marbury missed Free Throw 1 of 2.
44 - 56
0:53
Phoenix Offensive Rebound.
44 - 56
0:53
Stephon Marbury made Free Throw 2 of 2.
44 - 57
0:39
Raef LaFrentz missed 23 ft Three Point Jumper.
44 - 57
0:36
Anfernee Hardaway Defensive Rebound.
44 - 57
0:30
Joe Johnson missed 15 ft Jumper.
44 - 57
0:28
Joe Johnson Offensive Rebound.
44 - 57
0:05
Stephon Marbury missed 20 ft Jumper.
44 - 57
0:02
Anfernee Hardaway Offensive Rebound.
44 - 57
0:02
Anfernee Hardaway missed 16 ft Jumper.
44 - 57
0:01
Raef LaFrentz Defensive Rebound.
44 - 57
0:00
Avery Johnson missed 45 ft Three Point Jumper.
44 - 57
0:00
Dallas Offensive Rebound.
44 - 57
0:00
End of the 2nd Quarter.
44 - 57

time
TEAM
PLAY
SCORE
12:00
Start of the 3rd Quarter.
44 - 57
11:38
Stephon Marbury missed 10 ft Jumper.
44 - 57
11:37
Raef LaFrentz Defensive Rebound.
44 - 57
11:26
Dirk Nowitzki made 18 ft Jumper.
46 - 57
11:07
Bo Outlaw missed Layup.
46 - 57
11:06
Shawn Marion Offensive Rebound.
46 - 59
11:06
Shawn Marion made Tip Shot.
46 - 59
10:52
Raja Bell missed Jumper.
46 - 59
10:49
Shawn Marion Defensive Rebound.
46 - 59
10:36
Raja Bell Shooting Foul
46 - 59
10:36
Bo Outlaw made Free Throw 1 of 2.
46 - 60
10:36
Bo Outlaw made Free Throw 2 of 2.
46 - 61
10:18
Steve Nash missed 26 ft Three Point Jumper.
46 - 61
10:15
Eduardo Najera Offensive Rebound.
46 - 61
10:12
Dirk Nowitzki missed 19 ft Jumper.
46 - 61
10:11
Stephon Marbury Defensive Rebound.
46 - 61
9:59
Amare Stoudemire missed 7 ft Jumper.
46 - 61
9:56
Dirk Nowitzki Defensive Rebound.
46 - 61
9:56
Dirk Nowitzki Lost Ball. Stolen by Amare Stoudemire.
46 - 61
9:48
Stephon Marbury made 18 ft Jumper. Assisted by Anfernee Hardaway.
46 - 63
9:32
Eduardo Najera made 18 ft Jumper.
48 - 63
9:03
Stephon Marbury missed 25 ft Three Point Jumper.
48 - 63
9:00
Eduardo Najera Defensive Rebound.
48 - 63
8:51
Eduardo Najera missed Jumper.
48 - 63
8:49
Shawn Marion Defensive Rebound.
48 - 63
8:36
Anfernee Hardaway made 23 ft Jumper. Assisted by Stephon Marbury.
48 - 65
8:25
Steve Nash Lost Ball. Stolen by Anfernee Hardaway.
48 - 65
8:18
Shawn Marion missed Layup. Blocked by Raef LaFrentz.
48 - 65
8:18
Dirk Nowitzki Defensive Rebound.
48 - 65
8:18
Amare Stoudemire Personal Foul
48 - 65
8:18
Jake Voskuhl enters the game for Amare Stoudemire.
48 - 65
8:18
Avery Johnson enters the game for Steve Nash.
48 - 65
8:14
Raef LaFrentz made Dunk. Assisted by Avery Johnson.
50 - 65
7:54
Stephon Marbury missed 19 ft Jumper.
50 - 65
7:50
Dirk Nowitzki Defensive Rebound.
50 - 65
7:39
Raja Bell missed 24 ft Three Point Jumper.
50 - 65
7:35
Shawn Marion Defensive Rebound.
50 - 65
7:24
Anfernee Hardaway missed 25 ft Three Point Jumper.
50 - 65
7:22
Dirk Nowitzki Defensive Rebound.
50 - 65
7:20
Dirk Nowitzki Bad Pass. Stolen by Shawn Marion.
50 - 65
7:18
Shawn Marion made 4 ft Jumper.
50 - 67
7:01
Raef LaFrentz made Dunk. Assisted by Raja Bell.
52 - 67
7:01
Bo Outlaw Shooting Foul
52 - 67
7:01
Phoenix Full Timeout.
52 - 67
7:01
Joe Johnson enters the game for Bo Outlaw.
52 - 67
7:01
Raef LaFrentz missed Free Throw 1 of 1.
52 - 67
7:01
Shawn Marion Defensive Rebound.
52 - 67
6:48
Stephon Marbury Lost Ball
52 - 67
6:41
Dirk Nowitzki missed 24 ft Three Point Jumper.
52 - 67
6:39
Shawn Marion Defensive Rebound.
52 - 67
6:24
Shawn Marion made 15 ft Jumper. Assisted by Anfernee Hardaway.
52 - 69
6:11
Jake Voskuhl Personal Foul
52 - 69
6:11
Nick Van Exel enters the game for Raja Bell.
52 - 69
6:03
Nick Van Exel made 24 ft Three Point Jumper. Assisted by Dirk Nowitzki.
55 - 69
5:56
Phoenix 20 Sec. Timeout.
55 - 69
5:35
Shawn Marion missed Jumper.
55 - 69
5:33
Eduardo Najera Defensive Rebound.
55 - 69
5:26
Nick Van Exel made 25 ft Three Point Jumper.
58 - 69
5:03
Stephon Marbury missed Layup. Blocked by Raef LaFrentz.
58 - 69
5:03
Phoenix Offensive Rebound.
58 - 69
4:58
Joe Johnson missed 23 ft Jumper.
58 - 69
4:56
Anfernee Hardaway Offensive Rebound.
58 - 71
4:56
Anfernee Hardaway made Layup.
58 - 71
4:41
Dirk Nowitzki Bad Pass. Stolen by Shawn Marion.
58 - 71
4:39
Avery Johnson Shooting Foul
58 - 71
4:39
Stephon Marbury made Free Throw 1 of 2.
58 - 72
4:39
Steve Nash enters the game for Dirk Nowitzki.
58 - 72
4:39
Stephon Marbury missed Free Throw 2 of 2.
58 - 72
4:35
Steve Nash Defensive Rebound.
58 - 72
4:28
Nick Van Exel made 8 ft Two Point Shot.
60 - 72
4:16
Joe Johnson made 16 ft Jumper. Assisted by Anfernee Hardaway.
60 - 74
4:11
Anfernee Hardaway Personal Foul
60 - 74
4:00
Stephon Marbury Shooting Foul
60 - 74
4:00
Nick Van Exel made Free Throw 1 of 2.
61 - 74
4:00
Nick Van Exel made Free Throw 2 of 2.
62 - 74
3:43
Stephon Marbury missed Layup.
62 - 74
3:41
Phoenix Offensive Rebound.
62 - 74
3:31
Anfernee Hardaway made Two Point Shot.
62 - 76
3:25
Avery Johnson made Layup. Assisted by Steve Nash.
64 - 76
3:12
Joe Johnson missed Layup. Blocked by Eduardo Najera.
64 - 76
3:12
Phoenix Offensive Rebound.
64 - 76
3:02
Jake Voskuhl made 10 ft Hook Shot. Assisted by Joe Johnson.
64 - 78
2:40
Raef LaFrentz missed 23 ft Three Point Jumper.
64 - 78
2:38
Anfernee Hardaway Defensive Rebound.
64 - 78
2:25
Joe Johnson missed 24 ft Three Point Jumper.
64 - 78
2:23
Nick Van Exel Defensive Rebound.
64 - 78
2:23
Nick Van Exel Out of Bounds
64 - 78
2:23
Dallas Full Timeout.
64 - 78
2:23
Dirk Nowitzki enters the game for Raef LaFrentz.
64 - 78
2:08
Shawn Marion made 23 ft Three Point Jumper. Assisted by Anfernee Hardaway.
64 - 81
1:44
Avery Johnson made Layup.
66 - 81
1:23
Shawn Marion made Two Point Shot. Assisted by Anfernee Hardaway.
66 - 83
1:07
Stephon Marbury Personal Foul
66 - 83
1:07
Dirk Nowitzki made Free Throw 1 of 2.
67 - 83
1:07
Shawn Bradley enters the game for Eduardo Najera.
67 - 83
1:07
Dirk Nowitzki made Free Throw 2 of 2.
68 - 83
0:47
Anfernee Hardaway missed 17 ft Jumper.
68 - 83
0:44
Shawn Bradley Defensive Rebound.
68 - 83
0:39
Anfernee Hardaway Shooting Foul
68 - 83
0:39
Nick Van Exel made Free Throw 1 of 3.
69 - 83
0:39
Nick Van Exel made Free Throw 2 of 3.
70 - 83
0:39
Nick Van Exel missed Free Throw 3 of 3.
70 - 83
0:38
Shawn Marion Defensive Rebound.
70 - 83
0:19
Stephon Marbury made 25 ft Three Point Jumper. Assisted by Joe Johnson.
70 - 86
0:01
Dirk Nowitzki missed 17 ft Jumper.
70 - 86
0:00
Shawn Marion Defensive Rebound.
70 - 86
0:00
End of the 3rd Quarter.
70 - 86

time
TEAM
PLAY
SCORE
12:00
Start of the 4th Quarter.
70 - 86
11:33
Dirk Nowitzki made 25 ft Three Point Jumper. Assisted by Nick Van Exel.
73 - 86
11:06
Shawn Marion made 17 ft Jumper. Assisted by Joe Johnson.
73 - 88
10:55
Avery Johnson missed Layup.
73 - 88
10:53
Stephon Marbury Defensive Rebound.
73 - 88
10:47
Anfernee Hardaway missed 14 ft Jumper.
73 - 88
10:45
Shawn Bradley Defensive Rebound.
73 - 88
10:34
Dirk Nowitzki made Layup. Assisted by Avery Johnson.
75 - 88
10:15
Stephon Marbury made 19 ft Jumper.
75 - 90
10:00
Raja Bell missed 24 ft Three Point Jumper.
75 - 90
9:59
Anfernee Hardaway Defensive Rebound.
75 - 90
9:49
Joe Johnson made 24 ft Three Point Jumper. Assisted by Stephon Marbury.
75 - 93
9:47
Dallas Full Timeout.
75 - 93
9:47
Tariq Abdul-Wahad enters the game for Dirk Nowitzki.
75 - 93
9:32
Stephon Marbury Personal Foul
75 - 93
9:25
Nick Van Exel Bad Pass. Stolen by Stephon Marbury.
75 - 93
9:15
Amare Stoudemire made Dunk. Assisted by Shawn Marion.
75 - 95
8:55
Tariq Abdul-Wahad missed Layup. Blocked by Amare Stoudemire.
75 - 95
8:52
Amare Stoudemire Defensive Rebound.
75 - 95
8:36
Stephon Marbury missed 23 ft Jumper.
75 - 95
8:33
Raja Bell Defensive Rebound.
75 - 95
8:17
Nick Van Exel missed Layup.
75 - 95
8:15
Shawn Marion Defensive Rebound.
75 - 95
8:02
Amare Stoudemire made Layup. Assisted by Anfernee Hardaway.
75 - 97
8:02
Shawn Bradley Shooting Foul
75 - 97
8:02
Popeye Jones enters the game for Nick Van Exel.
75 - 97
8:02
Evan Eschmeyer enters the game for Shawn Bradley.
75 - 97
8:02
Casey Jacobsen enters the game for Stephon Marbury.
75 - 97
8:02
Amare Stoudemire missed Free Throw 1 of 1.
75 - 97
8:00
Tariq Abdul-Wahad Defensive Rebound.
75 - 97
7:54
Avery Johnson made Two Point Shot.
77 - 97
7:54
Casey Jacobsen Shooting Foul
77 - 97
7:54
Avery Johnson made Free Throw 1 of 1.
78 - 97
7:41
Amare Stoudemire Lost Ball. Stolen by Raja Bell.
78 - 97
7:28
Tariq Abdul-Wahad missed 17 ft Jumper.
78 - 97
7:28
Dallas Defensive Rebound.
78 - 97
7:28
Popeye Jones Loose Ball Foul
78 - 97
7:18
Popeye Jones Personal Foul
78 - 97
7:03
Anfernee Hardaway missed Jumper.
78 - 97
7:01
Raja Bell Defensive Rebound.
78 - 97
6:52
Tariq Abdul-Wahad made 17 ft Jumper. Assisted by Raja Bell.
80 - 97
6:37
Shawn Marion made Three Point Jumper. Assisted by Joe Johnson.
80 - 100
6:26
Avery Johnson missed Layup.
80 - 100
6:24
Casey Jacobsen Defensive Rebound.
80 - 100
6:09
Joe Johnson made Two Point Shot.
80 - 102
5:43
Raja Bell missed 15 ft Jumper.
80 - 102
5:41
Popeye Jones Offensive Rebound.
80 - 102
5:39
Popeye Jones missed Layup. Blocked by Amare Stoudemire.
80 - 102
5:37
Popeye Jones Offensive Rebound.
82 - 102
5:37
Popeye Jones made Layup.
82 - 102
5:37
Defensive Goaltending
82 - 102
5:26
Shawn Marion made 25 ft Three Point Jumper. Assisted by Joe Johnson.
82 - 105
5:11
Avery Johnson made 16 ft Jumper. Assisted by Tariq Abdul-Wahad.
84 - 105
5:03
Phoenix Full Timeout.
84 - 105
5:03
Dan Langhi enters the game for Shawn Marion.
84 - 105
5:03
Tom Gugliotta enters the game for Amare Stoudemire.
84 - 105
4:47
Dan Langhi missed Layup.
84 - 105
4:46
Anfernee Hardaway Offensive Rebound.
84 - 105
4:39
Jake Voskuhl enters the game for Anfernee Hardaway.
84 - 105
4:28
Dan Langhi missed 16 ft Jumper.
84 - 105
4:26
Evan Eschmeyer Defensive Rebound.
84 - 105
4:07
Evan Eschmeyer Lost Ball. Stolen by Casey Jacobsen.
84 - 105
4:05
Dan Langhi made Dunk.
84 - 107
3:47
Popeye Jones made 19 ft Jumper. Assisted by Avery Johnson.
86 - 107
3:32
Joe Johnson missed 26 ft Three Point Jumper.
86 - 107
3:30
Evan Eschmeyer Defensive Rebound.
86 - 107
3:21
Tariq Abdul-Wahad missed 12 ft Jumper.
86 - 107
3:18
Jake Voskuhl Defensive Rebound.
86 - 107
3:12
Dan Langhi Traveling
86 - 107
3:00
Avery Johnson missed 16 ft Jumper.
86 - 107
2:59
Joe Johnson Defensive Rebound.
86 - 107
2:50
Tom Gugliotta missed 15 ft Jumper.
86 - 107
2:48
Raja Bell Defensive Rebound.
86 - 107
2:39
Avery Johnson missed Layup.
86 - 107
2:36
Popeye Jones Offensive Rebound.
86 - 107
2:36
Popeye Jones missed Tip Shot.
86 - 107
2:35
Popeye Jones Offensive Rebound.
88 - 107
2:35
Popeye Jones made Tip Shot.
88 - 107
2:24
Casey Jacobsen made 25 ft Three Point Jumper. Assisted by Joe Johnson.
88 - 110
2:04
Casey Jacobsen Shooting Foul
88 - 110
2:04
Official Timeout.
88 - 110
2:04
Tariq Abdul-Wahad missed Free Throw 1 of 2.
88 - 110
2:04
Dallas Offensive Rebound.
88 - 110
2:04
Tariq Abdul-Wahad made Free Throw 2 of 2.
89 - 110
1:52
Tom Gugliotta missed 9 ft Jumper.
89 - 110
1:49
Popeye Jones Defensive Rebound.
89 - 110
1:39
Tariq Abdul-Wahad Bad Pass. Stolen by Casey Jacobsen.
89 - 110
1:34
Casey Jacobsen missed Layup. Blocked by Avery Johnson.
89 - 110
1:34
Phoenix Offensive Rebound.
89 - 110
1:31
Dan Langhi Bad Pass. Stolen by Raja Bell.
89 - 110
1:15
Tariq Abdul-Wahad Lost Ball. Stolen by Joe Johnson.
89 - 110
1:08
Joe Johnson missed 16 ft Jumper.
89 - 110
1:07
Raja Bell Defensive Rebound.
89 - 110
0:49
Popeye Jones Offensive Foul
89 - 110
0:49
Popeye Jones Foul
89 - 110
0:36
Tom Gugliotta made 16 ft Jumper. Assisted by Casey Jacobsen.
89 - 112
0:23
Jumpball. Popeye Jones vs. Joe Johnson. Dan Langhi gains possession.
89 - 112
0:23
Raja Bell Lost Ball. Stolen by Joe Johnson.
89 - 112
0:00
End of the 4th Quarter.
89 - 112
0:00
End Game
89 - 112
0:00
End Game
89 - 112
D.J. Kennedy drops 18 points and nine rebounds to lead Overseas Elite passed Trained To Go and onto the semifinals of The Basketball Tournament.

Former Georgetown baller Chris Wright leads City of Gods to an 86-79 win over the University of Pittsburgh alumni team The Untouchables in The Basketball Tournament quarterfinals.

You can't help but smile watching this clip of LeBron James' son doing dazzling work on the court, and his dad's reaction.
Regular Season Series
Series tied 2-2
2015-2016 Pacific Standings