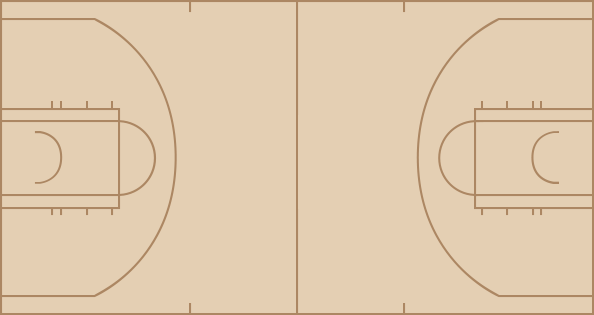 Spurs
time
TEAM
PLAY
SCORE
12:00
Start of the 1st Quarter.
0 - 0
12:00
Jumpball. David Robinson vs. Scott Williams. Anfernee Hardaway gains possession.
0 - 0
11:42
Amare Stoudemire missed Layup.
0 - 0
11:41
David Robinson Defensive Rebound.
0 - 0
11:26
Bruce Bowen missed Three Point Jumper.
0 - 0
11:23
Stephen Jackson Offensive Rebound.
0 - 0
11:15
Tony Parker Traveling
0 - 0
11:03
Tim Duncan Illegal Defense Foul
0 - 0
11:03
Shawn Marion missed Technical Free Throw.
0 - 0
11:03
Phoenix Offensive Rebound.
0 - 0
10:55
Anfernee Hardaway missed 19 ft Jumper.
0 - 0
10:53
Tony Parker Defensive Rebound.
0 - 0
10:41
Anfernee Hardaway Shooting Foul
0 - 0
10:41
Tony Parker made Free Throw 1 of 2.
1 - 0
10:41
Tony Parker made Free Throw 2 of 2.
2 - 0
10:30
Stephon Marbury missed 20 ft Jumper.
2 - 0
10:30
Amare Stoudemire Offensive Rebound.
2 - 0
10:23
Stephon Marbury made Two Point Shot. Assisted by Amare Stoudemire.
2 - 2
10:08
Stephen Jackson made 20 ft Jumper. Assisted by Bruce Bowen.
4 - 2
9:55
Stephon Marbury missed 23 ft Jumper.
4 - 2
9:52
Phoenix Offensive Rebound.
4 - 2
9:52
Amare Stoudemire missed Layup. Blocked by David Robinson.
4 - 2
9:48
Phoenix Offensive Rebound.
4 - 2
9:34
Shawn Marion missed 4 ft Jumper.
4 - 2
9:33
Scott Williams Offensive Rebound.
4 - 4
9:33
Scott Williams made Tip Shot.
4 - 4
9:22
David Robinson missed Layup. Blocked by Amare Stoudemire.
4 - 4
9:21
San Antonio Defensive Rebound.
4 - 4
9:15
Amare Stoudemire missed 5 ft Jumper.
4 - 4
9:15
Tim Duncan Defensive Rebound.
4 - 4
8:59
Tony Parker Lost Ball. Stolen by Amare Stoudemire.
4 - 4
8:55
Shawn Marion made Slam Dunk. Assisted by Stephon Marbury.
4 - 6
8:36
Bruce Bowen missed Layup. Blocked by Amare Stoudemire.
4 - 6
8:33
Shawn Marion Defensive Rebound.
4 - 6
8:30
Stephon Marbury Out of Bounds
4 - 6
8:11
David Robinson missed Layup.
4 - 6
8:11
David Robinson Offensive Rebound.
4 - 6
8:08
Amare Stoudemire Shooting Foul
4 - 6
8:08
David Robinson missed Free Throw 1 of 2.
4 - 6
8:08
San Antonio Offensive Rebound.
4 - 6
8:08
Lane Violation
4 - 6
8:08
David Robinson made Free Throw 2 of 2.
5 - 6
7:50
Anfernee Hardaway Bad Pass. Stolen by Bruce Bowen.
5 - 6
7:28
Tim Duncan made 14 ft Two Point Shot. Assisted by Tony Parker.
7 - 6
7:11
Amare Stoudemire Offensive Foul
7 - 6
7:11
Amare Stoudemire Foul
7 - 6
7:11
Bo Outlaw enters the game for Amare Stoudemire.
7 - 6
6:52
Bruce Bowen missed 26 ft Three Point Jumper.
7 - 6
6:48
Stephon Marbury Defensive Rebound.
7 - 6
6:48
Shawn Marion made Dunk. Assisted by Stephon Marbury.
7 - 8
6:30
Stephen Jackson made Layup. Assisted by Tim Duncan.
9 - 8
6:13
Stephon Marbury missed 19 ft Jumper.
9 - 8
6:11
David Robinson Defensive Rebound.
9 - 8
6:01
Stephen Jackson missed 25 ft Three Point Jumper.
9 - 8
6:00
Scott Williams Defensive Rebound.
9 - 8
5:48
Shawn Marion Bad Pass. Stolen by Tim Duncan.
9 - 8
5:41
David Robinson missed Layup. Blocked by Anfernee Hardaway.
9 - 8
5:37
Anfernee Hardaway Defensive Rebound.
9 - 8
5:30
Bo Outlaw missed Layup. Blocked by Tim Duncan.
9 - 8
5:28
David Robinson Defensive Rebound.
9 - 8
5:26
Scott Williams Personal Foul
9 - 8
5:26
Phoenix Full Timeout.
9 - 8
5:26
Speedy Claxton enters the game for David Robinson.
9 - 8
5:26
Malik Rose enters the game for Tony Parker.
9 - 8
5:11
Malik Rose made Two Point Shot. Assisted by Tim Duncan.
11 - 8
4:52
Anfernee Hardaway Bad Pass. Stolen by Speedy Claxton.
11 - 8
4:31
Malik Rose Bad Pass
11 - 8
4:31
Jake Voskuhl enters the game for Scott Williams.
11 - 8
4:31
Joe Johnson enters the game for Anfernee Hardaway.
11 - 8
4:18
Emanuel Ginobili enters the game for Bruce Bowen.
11 - 10
4:09
Bo Outlaw missed Layup.
11 - 8
4:07
Malik Rose Defensive Rebound.
11 - 8
3:51
Emanuel Ginobili missed Layup.
11 - 8
3:47
Stephon Marbury Defensive Rebound.
11 - 8
3:45
Stephon Marbury Bad Pass. Stolen by Emanuel Ginobili.
11 - 8
3:32
Tim Duncan missed Jumper.
11 - 8
3:31
Stephon Marbury Defensive Rebound.
11 - 8
3:15
Joe Johnson made Jumper. Assisted by Bo Outlaw.
11 - 10
2:58
Emanuel Ginobili Lost Ball
11 - 10
2:58
San Antonio Full Timeout.
11 - 10
2:46
Stephon Marbury missed 26 ft Three Point Jumper.
11 - 10
2:44
Speedy Claxton Defensive Rebound.
11 - 10
2:41
Speedy Claxton made Two Point Shot.
13 - 10
2:28
Joe Johnson missed 15 ft Jumper.
13 - 10
2:27
Tim Duncan Defensive Rebound.
13 - 10
2:18
Malik Rose made Layup. Assisted by Stephen Jackson.
15 - 10
1:59
Shawn Marion missed 15 ft Jumper.
15 - 10
1:58
Tim Duncan Defensive Rebound.
15 - 10
1:49
Malik Rose missed Layup. Blocked by Bo Outlaw.
15 - 10
1:47
Shawn Marion Defensive Rebound.
15 - 10
1:42
Shawn Marion made Dunk. Assisted by Joe Johnson.
15 - 12
1:20
Malik Rose Offensive Foul
15 - 12
1:20
Malik Rose Foul
15 - 12
1:20
Bruce Bowen enters the game for Stephen Jackson.
15 - 12
0:58
Stephon Marbury made 14 ft Jumper. Assisted by Joe Johnson.
15 - 14
0:42
Tim Duncan missed Jumper.
15 - 14
0:40
Malik Rose Offensive Rebound.
15 - 14
0:36
Emanuel Ginobili made 24 ft Three Point Jumper. Assisted by Malik Rose.
18 - 14
0:29
Joe Johnson Offensive Foul
18 - 14
0:29
Joe Johnson Foul
18 - 14
0:10
Emanuel Ginobili made 7 ft Two Point Shot.
20 - 14
0:01
Emanuel Ginobili Shooting Foul
20 - 14
0:01
Joe Johnson missed Free Throw 1 of 2.
20 - 14
0:01
Phoenix Offensive Rebound.
20 - 14
0:01
Joe Johnson made Free Throw 2 of 2.
20 - 15
0:00
Malik Rose missed Layup. Blocked by Shawn Marion.
20 - 15
0:00
San Antonio Offensive Rebound.
20 - 15
0:00
End of the 1st Quarter.
20 - 15

time
TEAM
PLAY
SCORE
12:00
Start of the 2nd Quarter.
20 - 15
11:44
Bruce Bowen Traveling
20 - 15
11:30
Shawn Marion missed 10 ft Jumper.
20 - 15
11:29
Emanuel Ginobili Defensive Rebound.
20 - 15
11:11
Emanuel Ginobili Lost Ball. Stolen by Joe Johnson.
20 - 15
11:07
Speedy Claxton Shooting Foul
20 - 15
11:07
Shawn Marion made Free Throw 1 of 2.
20 - 16
11:07
Shawn Marion made Free Throw 2 of 2.
20 - 17
10:51
Speedy Claxton made 20 ft Jumper. Assisted by Tim Duncan.
22 - 17
10:30
Stephon Marbury missed Layup. Blocked by Tim Duncan.
22 - 17
10:30
Tim Duncan Defensive Rebound.
22 - 17
10:22
Speedy Claxton missed Layup.
22 - 17
10:22
Bo Outlaw Defensive Rebound.
22 - 17
10:14
Shawn Marion made 23 ft Three Point Jumper. Assisted by Stephon Marbury.
22 - 20
9:49
Bruce Bowen Lost Ball
22 - 20
9:49
David Robinson enters the game for Tim Duncan.
22 - 20
9:34
Joe Johnson Lost Ball. Stolen by Emanuel Ginobili.
22 - 20
9:30
Emanuel Ginobili Lost Ball. Stolen by Shawn Marion.
22 - 20
9:25
Shawn Marion missed 10 ft Jumper.
22 - 20
9:22
David Robinson Defensive Rebound.
22 - 20
9:03
Malik Rose missed 14 ft Jumper.
22 - 20
9:02
Stephon Marbury Defensive Rebound.
22 - 20
8:52
Jake Voskuhl Bad Pass. Stolen by David Robinson.
22 - 20
8:41
Full Timeout.
22 - 20
8:41
Anfernee Hardaway enters the game for Bo Outlaw.
22 - 20
8:41
Amare Stoudemire enters the game for Jake Voskuhl.
22 - 20
8:41
Tony Parker enters the game for Speedy Claxton.
22 - 20
8:38
Shawn Marion Shooting Foul
22 - 20
8:38
San Antonio 20 Sec. Timeout.
22 - 20
8:38
Emanuel Ginobili missed Free Throw 1 of 2.
22 - 20
8:38
San Antonio Offensive Rebound.
22 - 20
8:38
Emanuel Ginobili missed Free Throw 2 of 2.
22 - 20
8:38
Amare Stoudemire Defensive Rebound.
22 - 20
8:36
Phoenix 20 Sec. Timeout.
22 - 20
8:23
Amare Stoudemire made 3 ft Jumper. Assisted by Anfernee Hardaway.
22 - 22
8:11
Joe Johnson Personal Foul
22 - 22
7:56
Bruce Bowen missed 9 ft Jumper.
22 - 22
7:54
David Robinson Offensive Rebound.
24 - 22
7:54
David Robinson made Two Point Shot.
24 - 22
7:43
Stephon Marbury made Two Point Shot.
24 - 24
7:43
Tony Parker Shooting Foul
24 - 24
7:43
Stephen Jackson enters the game for Emanuel Ginobili.
24 - 24
7:43
Stephon Marbury made Free Throw 1 of 1.
24 - 25
7:18
David Robinson 3 second
24 - 25
7:18
Amare Stoudemire Traveling
24 - 25
7:00
Bruce Bowen missed Jumper.
24 - 25
6:58
Stephen Jackson Offensive Rebound.
24 - 25
6:54
Tony Parker made 25 ft Three Point Jumper. Assisted by Stephen Jackson.
27 - 25
6:33
Amare Stoudemire made Dunk. Assisted by Shawn Marion.
27 - 27
6:31
Danny Ferry Technical Foul
27 - 27
6:31
Shawn Marion made Technical Free Throw.
27 - 28
6:31
Tim Duncan enters the game for Malik Rose.
27 - 28
6:16
Tony Parker missed 24 ft Three Point Jumper.
27 - 28
6:13
Joe Johnson Defensive Rebound.
27 - 28
6:05
Anfernee Hardaway made Two Point Shot.
27 - 30
5:56
Amare Stoudemire Personal Foul
27 - 30
5:56
Phoenix Full Timeout.
27 - 30
5:56
Scott Williams enters the game for Amare Stoudemire.
27 - 30
5:48
Bruce Bowen missed 24 ft Three Point Jumper.
27 - 30
5:45
Joe Johnson Defensive Rebound.
27 - 30
5:31
Anfernee Hardaway Lost Ball
27 - 30
5:20
Scott Williams Personal Foul
27 - 30
5:11
David Robinson made Dunk. Assisted by Tim Duncan.
29 - 30
4:48
Stephon Marbury Lost Ball. Stolen by Stephen Jackson.
29 - 30
4:37
Tony Parker missed 24 ft Three Point Jumper.
29 - 30
4:35
Shawn Marion Defensive Rebound.
29 - 30
4:26
Anfernee Hardaway made Jumper.
29 - 32
4:03
Tim Duncan made Two Point Shot. Assisted by Tony Parker.
31 - 32
3:42
Shawn Marion made 8 ft Two Point Shot. Assisted by Joe Johnson.
31 - 34
3:20
Stephon Marbury Shooting Foul
31 - 34
3:20
Jake Voskuhl enters the game for Scott Williams.
31 - 34
3:20
Tim Duncan made Free Throw 1 of 2.
32 - 34
3:20
Malik Rose enters the game for David Robinson.
32 - 34
3:20
Tim Duncan missed Free Throw 2 of 2.
32 - 34
3:19
Stephen Jackson Offensive Rebound.
32 - 34
3:08
Tim Duncan Traveling
32 - 34
2:50
Tim Duncan Shooting Foul
32 - 34
2:50
San Antonio Full Timeout.
32 - 34
2:50
Jake Voskuhl missed Free Throw 1 of 2.
32 - 34
2:50
Phoenix Offensive Rebound.
32 - 34
2:50
Emanuel Ginobili enters the game for Bruce Bowen.
32 - 34
2:50
Jake Voskuhl made Free Throw 2 of 2.
32 - 35
2:38
Malik Rose made Layup. Assisted by Emanuel Ginobili.
34 - 35
2:16
Shawn Marion made 13 ft Jumper. Assisted by Stephon Marbury.
34 - 37
2:00
Emanuel Ginobili missed 16 ft Jumper.
34 - 37
1:58
Tim Duncan Offensive Rebound.
34 - 37
1:57
Tim Duncan made Layup.
36 - 37
1:42
Joe Johnson made 22 ft Jumper. Assisted by Anfernee Hardaway.
36 - 39
1:25
Tim Duncan Lost Ball. Stolen by Jake Voskuhl.
36 - 39
1:14
Stephon Marbury made Two Point Shot.
36 - 41
0:50
Tim Duncan missed 9 ft Jumper.
36 - 41
0:48
Joe Johnson Defensive Rebound.
36 - 41
0:34
Joe Johnson made Two Point Shot.
36 - 43
0:25
Malik Rose missed Layup.
36 - 43
0:23
Malik Rose Offensive Rebound.
38 - 43
0:23
Malik Rose made Layup.
38 - 43
0:05
Emanuel Ginobili Personal Foul
38 - 43
0:01
Joe Johnson missed Layup.
38 - 43
0:00
Jake Voskuhl Offensive Rebound.
38 - 43
0:00
End of the 2nd Quarter.
38 - 43

time
TEAM
PLAY
SCORE
12:00
Start of the 3rd Quarter.
38 - 43
11:41
Stephen Jackson made 16 ft Jumper.
40 - 43
11:18
Scott Williams Lost Ball. Stolen by Tony Parker.
40 - 43
11:15
Stephen Jackson made Layup. Assisted by Tim Duncan.
42 - 43
10:56
Anfernee Hardaway missed Layup. Blocked by Bruce Bowen.
42 - 43
10:56
Phoenix Offensive Rebound.
42 - 43
10:51
Stephon Marbury missed 20 ft Jumper.
42 - 43
10:48
Phoenix Defensive Rebound.
42 - 43
10:48
Scott Williams Loose Ball Foul
42 - 43
10:37
Stephen Jackson missed Layup.
42 - 43
10:36
Amare Stoudemire Defensive Rebound.
42 - 43
10:26
Shawn Marion Lost Ball. Stolen by Bruce Bowen.
42 - 43
10:22
Bruce Bowen made Layup. Assisted by Tony Parker.
44 - 43
10:22
Defensive Goaltending
44 - 43
10:22
Phoenix 20 Sec. Timeout.
44 - 43
10:12
Shawn Marion missed 17 ft Jumper.
44 - 43
10:11
David Robinson Defensive Rebound.
44 - 43
9:51
Tony Parker Traveling
44 - 43
9:51
Tim Duncan Shooting Foul
44 - 43
9:51
Amare Stoudemire made Free Throw 1 of 2.
44 - 44
9:51
Amare Stoudemire made Free Throw 2 of 2.
44 - 45
9:37
David Robinson made Dunk. Assisted by Stephen Jackson.
46 - 45
9:25
Stephon Marbury Bad Pass. Stolen by Stephen Jackson.
46 - 45
9:21
Bruce Bowen made Dunk. Assisted by Stephen Jackson.
48 - 45
9:00
Stephon Marbury made 6 ft Two Point Shot.
48 - 47
8:48
Stephen Jackson missed 24 ft Three Point Jumper.
48 - 47
8:47
Amare Stoudemire Defensive Rebound.
48 - 47
8:42
Phoenix Full Timeout.
48 - 47
8:42
Joe Johnson enters the game for Scott Williams.
48 - 47
8:42
Casey Jacobsen enters the game for Stephon Marbury.
48 - 47
8:26
Anfernee Hardaway Bad Pass. Stolen by Stephen Jackson.
48 - 47
8:03
Tony Parker made 22 ft Jumper.
50 - 47
7:48
Amare Stoudemire missed Layup.
50 - 47
7:47
Stephen Jackson Defensive Rebound.
50 - 47
7:41
Stephen Jackson missed 6 ft Jumper.
50 - 47
7:39
Tim Duncan Offensive Rebound.
50 - 47
7:24
Anfernee Hardaway Personal Foul
50 - 47
7:24
Stephon Marbury enters the game for Casey Jacobsen.
50 - 47
7:18
Amare Stoudemire Shooting Foul
50 - 47
7:18
Jake Voskuhl enters the game for Amare Stoudemire.
50 - 47
7:18
Tim Duncan missed Free Throw 1 of 2.
50 - 47
7:18
San Antonio Offensive Rebound.
50 - 47
7:18
Tim Duncan made Free Throw 2 of 2.
51 - 47
7:07
David Robinson Personal Foul
51 - 47
6:54
Shawn Marion missed Jumper.
51 - 47
6:52
Tim Duncan Defensive Rebound.
51 - 47
6:39
Stephen Jackson missed 25 ft Three Point Jumper.
51 - 47
6:37
Anfernee Hardaway Defensive Rebound.
51 - 47
6:33
Shawn Marion missed Layup. Blocked by Stephen Jackson.
51 - 47
6:31
Phoenix Offensive Rebound.
51 - 47
6:22
Joe Johnson missed 9 ft Jumper. Blocked by David Robinson.
51 - 47
6:20
Phoenix Defensive Rebound.
51 - 47
6:20
Joe Johnson Loose Ball Foul
51 - 47
6:20
Malik Rose enters the game for David Robinson.
51 - 47
6:11
Stephen Jackson Bad Pass. Stolen by Joe Johnson.
51 - 47
6:05
Stephon Marbury missed 15 ft Jumper.
51 - 47
6:03
Bruce Bowen Defensive Rebound.
51 - 47
5:43
Anfernee Hardaway Shooting Foul
51 - 47
5:43
Malik Rose missed Free Throw 1 of 2.
51 - 47
5:43
San Antonio Offensive Rebound.
51 - 47
5:43
Lane Violation
51 - 47
5:43
Malik Rose missed Free Throw 2 of 2.
51 - 47
5:43
Shawn Marion Defensive Rebound.
51 - 47
5:31
Stephen Jackson Personal Foul
51 - 47
5:22
Joe Johnson made 24 ft Three Point Jumper. Assisted by Stephon Marbury.
51 - 50
5:01
Tim Duncan Bad Pass. Stolen by Shawn Marion.
51 - 50
4:52
Jake Voskuhl made Dunk. Assisted by Stephon Marbury.
51 - 52
4:48
San Antonio Full Timeout.
51 - 52
4:31
San Antonio 20 Sec. Timeout.
51 - 52
4:26
Tim Duncan made 13 ft Jumper. Assisted by Stephen Jackson.
53 - 52
4:09
Shawn Marion made Two Point Shot. Assisted by Stephon Marbury.
53 - 54
4:09
Stephen Jackson Shooting Foul
53 - 54
4:09
Emanuel Ginobili enters the game for Bruce Bowen.
53 - 54
4:09
Shawn Marion made Free Throw 1 of 1.
53 - 55
3:53
Stephen Jackson missed 19 ft Jumper.
53 - 55
3:53
San Antonio Offensive Rebound.
53 - 55
3:53
Jake Voskuhl Loose Ball Foul
53 - 55
3:53
Tim Duncan made Free Throw 1 of 2.
54 - 55
3:53
Tim Duncan made Free Throw 2 of 2.
55 - 55
3:31
Joe Johnson made 14 ft Jumper.
55 - 57
3:12
Stephen Jackson Bad Pass. Stolen by Anfernee Hardaway.
55 - 57
3:04
Joe Johnson made 23 ft Jumper. Assisted by Anfernee Hardaway.
55 - 59
2:45
Tony Parker missed Three Point Jumper.
55 - 59
2:44
San Antonio Defensive Rebound.
55 - 59
2:44
Casey Jacobsen enters the game for Anfernee Hardaway.
55 - 59
2:25
Stephen Jackson Shooting Foul
55 - 59
2:25
Joe Johnson made Free Throw 1 of 2.
55 - 60
2:25
Bruce Bowen enters the game for Stephen Jackson.
55 - 60
2:25
Stephen Jackson Technical Foul
55 - 60
2:25
Shawn Marion made Technical Free Throw.
55 - 61
2:25
Joe Johnson made Free Throw 2 of 2.
55 - 62
2:05
Malik Rose missed Layup. Blocked by Jake Voskuhl.
55 - 62
2:03
Stephon Marbury Defensive Rebound.
55 - 62
1:54
Jake Voskuhl Lost Ball. Stolen by Bruce Bowen.
55 - 62
1:36
Emanuel Ginobili made 24 ft Three Point Jumper. Assisted by Tony Parker.
58 - 62
1:15
Stephon Marbury made Two Point Shot.
58 - 64
0:56
Emanuel Ginobili made Three Point Jumper. Assisted by Bruce Bowen.
61 - 64
0:56
Jake Voskuhl Away From Ball Foul
61 - 64
0:56
Speedy Claxton enters the game for Tony Parker.
61 - 64
0:56
Tim Duncan made Free Throw 1 of 1.
62 - 64
0:48
Joe Johnson made Two Point Shot.
62 - 66
0:35
Malik Rose Bad Pass. Stolen by Jake Voskuhl.
62 - 66
0:24
Stephon Marbury made Two Point Shot.
62 - 68
0:04
Tim Duncan Lost Ball. Stolen by Joe Johnson.
62 - 68
0:00
Speedy Claxton Shooting Foul
62 - 68
0:00
Stephon Marbury made Free Throw 1 of 2.
62 - 69
0:00
Stephon Marbury made Free Throw 2 of 2.
62 - 70
0:00
End of the 3rd Quarter.
62 - 70

time
TEAM
PLAY
SCORE
12:00
Start of the 4th Quarter.
62 - 70
11:41
Stephon Marbury made 10 ft Jumper. Assisted by Shawn Marion.
62 - 72
11:26
Joe Johnson Personal Foul
62 - 72
11:21
Malik Rose made Layup. Assisted by Tim Duncan.
64 - 72
10:57
Casey Jacobsen missed 25 ft Three Point Jumper.
64 - 72
10:56
Emanuel Ginobili Defensive Rebound.
64 - 72
10:48
Jake Voskuhl Shooting Foul
64 - 72
10:48
David Robinson enters the game for Tim Duncan.
64 - 72
10:48
Malik Rose made Free Throw 1 of 2.
65 - 72
10:48
Amare Stoudemire enters the game for Jake Voskuhl.
65 - 72
10:48
Anfernee Hardaway enters the game for Casey Jacobsen.
65 - 72
10:48
Malik Rose made Free Throw 2 of 2.
66 - 72
10:25
Amare Stoudemire missed 9 ft Jumper.
66 - 72
10:22
Speedy Claxton Defensive Rebound.
66 - 72
10:00
Bruce Bowen Bad Pass. Stolen by Joe Johnson.
66 - 72
9:52
Stephon Marbury missed 24 ft Three Point Jumper.
66 - 72
9:49
Speedy Claxton Defensive Rebound.
66 - 72
9:44
Speedy Claxton Bad Pass. Stolen by Shawn Marion.
66 - 72
9:26
Stephon Marbury made Two Point Shot.
66 - 74
9:08
Speedy Claxton missed 21 ft Jumper.
66 - 74
9:07
Joe Johnson Defensive Rebound.
66 - 74
9:02
Stephon Marbury Bad Pass
66 - 74
8:47
Malik Rose missed 18 ft Jumper.
66 - 74
8:45
Anfernee Hardaway Defensive Rebound.
66 - 74
8:27
Stephon Marbury missed Layup.
66 - 74
8:26
Bruce Bowen Defensive Rebound.
66 - 74
8:15
Malik Rose made Layup. Assisted by David Robinson.
68 - 74
8:03
Phoenix Full Timeout.
68 - 74
7:50
Joe Johnson made 19 ft Jumper. Assisted by Anfernee Hardaway.
68 - 76
7:31
David Robinson made Layup. Assisted by Malik Rose.
70 - 76
7:05
Anfernee Hardaway made 24 ft Three Point Jumper. Assisted by Joe Johnson.
70 - 79
6:43
Emanuel Ginobili made 24 ft Three Point Jumper. Assisted by Bruce Bowen.
73 - 79
6:20
Shawn Marion missed 23 ft Three Point Jumper.
73 - 79
6:18
Emanuel Ginobili Defensive Rebound.
73 - 79
6:00
Emanuel Ginobili missed Jumper.
73 - 79
5:58
San Antonio Offensive Rebound.
73 - 79
5:58
Stephon Marbury Loose Ball Foul
73 - 79
5:58
Full Timeout.
73 - 79
5:47
Malik Rose made Two Point Shot.
75 - 79
5:28
Anfernee Hardaway made 23 ft Three Point Jumper. Assisted by Stephon Marbury.
75 - 82
5:03
Malik Rose Lost Ball
75 - 82
4:48
Shawn Marion made Jumper. Assisted by Stephon Marbury.
75 - 84
4:30
Emanuel Ginobili made Two Point Shot. Assisted by Malik Rose.
77 - 84
4:07
Shawn Marion made Two Point Shot. Assisted by Stephon Marbury.
77 - 86
3:47
Amare Stoudemire Illegal Defense Foul
77 - 86
3:47
Tim Duncan enters the game for David Robinson.
77 - 86
3:47
Stephen Jackson enters the game for Bruce Bowen.
77 - 86
3:47
Malik Rose made Technical Free Throw.
78 - 86
3:41
Speedy Claxton made 22 ft Jumper.
80 - 86
3:23
Speedy Claxton Personal Foul
80 - 86
3:11
Joe Johnson missed 19 ft Jumper.
80 - 86
3:10
Malik Rose Defensive Rebound.
80 - 86
2:51
Stephen Jackson missed 23 ft Three Point Jumper.
80 - 86
2:49
San Antonio Offensive Rebound.
80 - 86
2:49
Anfernee Hardaway Loose Ball Foul
80 - 86
2:49
San Antonio Full Timeout.
80 - 86
2:35
Anfernee Hardaway Shooting Foul
80 - 86
2:35
Malik Rose missed Free Throw 1 of 2.
80 - 86
2:35
San Antonio Offensive Rebound.
80 - 86
2:35
Malik Rose made Free Throw 2 of 2.
81 - 86
2:25
Joe Johnson missed Layup.
81 - 86
2:24
Amare Stoudemire Offensive Rebound.
81 - 86
2:20
Amare Stoudemire made 5 ft Two Point Shot.
81 - 88
1:57
Tim Duncan made Dunk. Assisted by Stephen Jackson.
83 - 88
1:46
Speedy Claxton Personal Foul
83 - 88
1:32
Stephon Marbury missed Layup. Blocked by Tim Duncan.
83 - 88
1:32
Phoenix Offensive Rebound.
83 - 88
1:32
24 second
83 - 88
1:22
Emanuel Ginobili missed 25 ft Three Point Jumper.
83 - 88
1:20
Joe Johnson Defensive Rebound.
83 - 88
1:01
Joe Johnson Lost Ball. Stolen by Speedy Claxton.
83 - 88
1:01
Joe Johnson Personal Foul
83 - 88
1:01
Speedy Claxton made Free Throw 1 of 2.
84 - 88
1:01
Speedy Claxton missed Free Throw 2 of 2.
84 - 88
0:59
Malik Rose Offensive Rebound.
84 - 88
0:38
Emanuel Ginobili missed 25 ft Three Point Jumper. Blocked by Amare Stoudemire.
84 - 88
0:35
Speedy Claxton Offensive Rebound.
84 - 88
0:35
San Antonio Offensive Rebound.
84 - 88
0:35
24 second
84 - 88
0:28
Phoenix Full Timeout.
84 - 88
0:25
Speedy Claxton Personal Foul
84 - 88
0:25
Stephon Marbury made Free Throw 1 of 2.
84 - 89
0:25
Stephon Marbury made Free Throw 2 of 2.
84 - 90
0:25
San Antonio Full Timeout.
84 - 90
0:18
Stephen Jackson missed 25 ft Three Point Jumper.
84 - 90
0:16
Speedy Claxton Offensive Rebound.
84 - 90
0:16
Stephon Marbury Personal Foul
84 - 90
0:16
Speedy Claxton made Free Throw 1 of 2.
85 - 90
0:16
Bo Outlaw enters the game for Anfernee Hardaway.
85 - 90
0:16
Speedy Claxton missed Free Throw 2 of 2.
85 - 90
0:15
Amare Stoudemire Defensive Rebound.
85 - 90
0:14
Tim Duncan Personal Foul
85 - 90
0:14
Amare Stoudemire made Free Throw 1 of 2.
85 - 91
0:14
Amare Stoudemire made Free Throw 2 of 2.
85 - 92
0:06
Malik Rose missed Jumper. Blocked by Bo Outlaw.
85 - 92
0:04
Amare Stoudemire Defensive Rebound.
85 - 92
0:00
End of the 4th Quarter.
85 - 92
0:00
End Game
85 - 92
0:00
End Game
85 - 92
With intel from NBA GMs, Chad Ford checks in with the draft tier rankings. See how all the top prospects shake out in the eyes of NBA teams.

In the aftermath of Ayesha Curry's Game 6 Tweets, Jalen Rose and David Jacoby defend the First Lady of the NBA.

Kings guard Darren Collison was charged Friday with one count of domestic violence causing injury and one count of domestic battery of a spouse in relation to a May incident.
Playoff Series
SA wins series 4-2
2015-2016 Pacific Standings