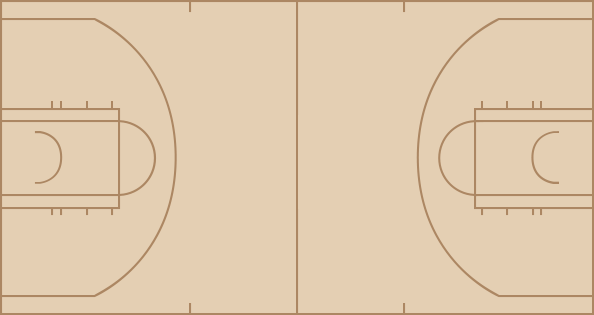 Lakers
time
TEAM
PLAY
SCORE
12:00
Start of the 1st Quarter.
0 - 0
12:00
Jumpball. Shaquille O'Neal vs. Erick Dampier . Gilbert Arenas gains possession.
0 - 0
11:48
Antawn Jamison missed 25 ft Three Point Jumper.
0 - 0
11:45
Shaquille O'Neal Defensive R.
0 - 0
11:29
Rick Fox missed 25 ft Three Point Jumper.
0 - 0
11:26
Antawn Jamison Defensive R.
0 - 0
11:18
Jason Richardson made 17 ft Jumper.
0 - 2
10:57
Shaquille O'Neal missed 6 ft Two Point Shot.
0 - 2
10:56
Erick Dampier Defensive R.
0 - 2
10:48
Shaquille O'Neal Shooting Foul
0 - 2
10:48
Erick Dampier missed Free Throw 1 of 2.
0 - 2
10:48
Golden State Offensive Rebound.
0 - 2
10:48
Erick Dampier missed Free Throw 2 of 2.
0 - 2
10:47
Rick Fox Defensive R.
0 - 2
10:34
Kobe Bryant made 13 ft Jumper. Assisted by Rick Fox .
2 - 2
10:25
Mike Dunleavy missed Layup. Blocked by Mark Madsen .
2 - 2
10:23
Golden State Offensive Rebound.
2 - 2
10:21
Gilbert Arenas missed 20 ft Jumper.
2 - 2
10:18
Mark Madsen Defensive R.
2 - 2
10:07
Antawn Jamison Personal Foul
2 - 2
10:07
Shaquille O'Neal missed Free Throw 1 of 2.
2 - 2
10:07
Los Angeles Offensive Rebound.
2 - 2
10:07
Shaquille O'Neal made Free Throw 2 of 2.
3 - 2
9:52
Antawn Jamison missed Two Point Shot.
3 - 2
9:49
Rick Fox Defensive R.
3 - 2
9:45
Rick Fox Bad Pass. Stolen by Jason Richardson .
3 - 2
9:27
Mark Madsen Personal Foul
3 - 2
9:19
Antawn Jamison missed 11 ft Jumper.
3 - 2
9:18
Rick Fox Defensive R.
3 - 2
9:12
Derek Fisher missed 21 ft Jumper.
3 - 2
9:11
Shaquille O'Neal Offensive R.
3 - 2
9:08
Shaquille O'Neal made Dunk.
5 - 2
8:57
Jason Richardson missed 17 ft Jumper.
5 - 2
8:56
Kobe Bryant Defensive R.
5 - 2
8:48
Jason Richardson Shooting Foul
5 - 2
8:48
Kobe Bryant made Free Throw 1 of 2.
6 - 2
8:48
Kobe Bryant made Free Throw 2 of 2.
7 - 2
8:30
Mark Madsen Personal Foul
7 - 2
8:26
Mike Dunleavy made 26 ft Three Point Jumper. Assisted by Antawn Jamison .
7 - 5
8:07
Kobe Bryant made 14 ft Jumper. Assisted by Shaquille O'Neal .
9 - 5
7:54
Mike Dunleavy missed 23 ft Three Point Jumper.
9 - 5
7:52
Erick Dampier Offensive R.
9 - 5
7:45
Jason Richardson missed 24 ft Three Point Jumper.
9 - 5
7:43
Mike Dunleavy Offensive R.
9 - 5
7:35
Mark Madsen Shooting Foul
9 - 5
7:35
Antawn Jamison missed Free Throw 1 of 2.
9 - 5
7:35
Golden State Offensive Rebound.
9 - 5
7:35
Antawn Jamison missed Free Throw 2 of 2.
9 - 5
7:33
Rick Fox Defensive R.
9 - 5
7:24
Kobe Bryant missed 16 ft Jumper.
9 - 5
7:22
Gilbert Arenas Defensive R.
9 - 5
7:15
Erick Dampier made 14 ft Jumper. Assisted by Gilbert Arenas .
9 - 7
6:58
Rick Fox made 8 ft Jumper. Assisted by Kobe Bryant .
11 - 7
6:41
Jason Richardson made 3 ft Two Point Shot.
11 - 9
6:20
Mike Dunleavy Shooting Foul
11 - 9
6:20
Robert Horry enters the game for Mark Madsen .
11 - 9
6:20
Shaquille O'Neal missed Free Throw 1 of 2.
11 - 9
6:20
Los Angeles Offensive Rebound.
11 - 9
6:20
Shaquille O'Neal made Free Throw 2 of 2.
12 - 9
6:09
Gilbert Arenas made Two Point Shot.
12 - 11
6:01
Los Angeles Full Timeout.
12 - 11
5:48
Kobe Bryant made 4 ft Two Point Shot.
14 - 11
5:28
Antawn Jamison missed 11 ft Two Point Shot.
14 - 11
5:26
Shaquille O'Neal Defensive R.
14 - 11
5:15
Derek Fisher missed 21 ft Jumper.
14 - 11
5:11
Erick Dampier Defensive R.
14 - 11
5:07
Jason Richardson made 18 ft Jumper.
14 - 13
4:45
Shaquille O'Neal made 8 ft Two Point Shot.
16 - 13
4:39
Erick Dampier made Two Point Shot. Assisted by Antawn Jamison .
16 - 15
4:13
Derek Fisher missed 5 ft Jumper. Blocked by Antawn Jamison .
16 - 15
4:11
Los Angeles Defensive Rebound.
16 - 15
4:03
Gilbert Arenas made Slam Dunk.
16 - 17
3:47
Shaquille O'Neal made Layup. Assisted by Robert Horry .
18 - 17
3:47
Erick Dampier Shooting Foul
18 - 17
3:47
Shaquille O'Neal missed Free Throw 1 of 1.
18 - 17
3:47
Mike Dunleavy Defensive R.
18 - 17
3:35
Antawn Jamison made 6 ft Two Point Shot. Assisted by Gilbert Arenas .
18 - 19
3:17
Robert Horry missed 21 ft Jumper.
18 - 19
3:15
Erick Dampier Defensive R.
18 - 19
3:04
Gilbert Arenas missed 18 ft Two Point Shot.
18 - 19
3:03
Golden State Defensive Rebound.
18 - 19
2:53
Kobe Bryant made 17 ft Two Point Shot. Assisted by Shaquille O'Neal .
20 - 19
2:32
Rick Fox Personal Foul
20 - 19
2:32
Golden State Full Timeout.
20 - 19
2:32
Adonal Foyle enters the game for Antawn Jamison .
20 - 19
2:32
Mike Dunleavy made Free Throw 1 of 2.
20 - 20
2:32
Mike Dunleavy made Free Throw 2 of 2.
20 - 21
2:18
Derek Fisher missed 22 ft Jumper.
20 - 21
2:15
Kobe Bryant Offensive R.
20 - 21
2:06
Robert Horry made Layup.
22 - 21
2:01
Derek Fisher Personal Foul
22 - 21
2:01
Gilbert Arenas made Free Throw 1 of 2.
22 - 22
2:01
Gilbert Arenas missed Free Throw 2 of 2.
22 - 22
2:00
Shaquille O'Neal Defensive R.
22 - 22
1:45
Shaquille O'Neal made Two Point Shot. Assisted by Robert Horry .
24 - 22
1:22
Jason Richardson missed 6 ft Jumper. Blocked by Shaquille O'Neal .
24 - 22
1:21
Golden State Offensive Rebound.
24 - 22
1:17
Mike Dunleavy made 17 ft Jumper. Assisted by Adonal Foyle .
24 - 24
1:08
Los Angeles 20 Sec. Timeout.
24 - 24
1:00
Rick Fox made 21 ft Jumper. Assisted by Robert Horry .
26 - 24
0:43
Erick Dampier missed Layup.
26 - 24
0:41
Derek Fisher Defensive R.
26 - 24
0:34
Shaquille O'Neal missed 4 ft Two Point Shot.
26 - 24
0:31
Robert Horry Offensive R.
26 - 24
0:30
Derek Fisher missed 25 ft Three Point Jumper.
26 - 24
0:28
Shaquille O'Neal Offensive R.
26 - 24
0:27
Shaquille O'Neal made Layup.
28 - 24
0:04
Mike Dunleavy missed 10 ft Jumper.
28 - 24
0:03
Erick Dampier Offensive R.
28 - 26
0:03
Erick Dampier made Two Point Shot.
28 - 26
0:00
End of the 1st Quarter.
28 - 26

time
TEAM
PLAY
SCORE
12:00
Start of the 2nd Quarter.
28 - 26
11:48
Kobe Bryant made Two Point Shot.
30 - 26
11:33
Jannero Pargo Shooting Foul
30 - 26
11:33
Bob Sura enters the game for Mike Dunleavy .
30 - 26
11:33
Gilbert Arenas made Free Throw 1 of 2.
30 - 27
11:33
Gilbert Arenas made Free Throw 2 of 2.
30 - 28
11:21
Kobe Bryant missed 14 ft Jumper. Blocked by Adonal Foyle .
30 - 28
11:18
Bob Sura Defensive R.
30 - 28
11:11
Gilbert Arenas missed 25 ft Three Point Jumper.
30 - 28
11:08
Jannero Pargo Defensive R.
30 - 28
11:03
Gilbert Arenas Shooting Foul
30 - 28
11:03
Robert Horry made Free Throw 1 of 2.
31 - 28
11:03
Earl Boykins enters the game for Gilbert Arenas .
31 - 28
11:03
Robert Horry made Free Throw 2 of 2.
32 - 28
10:38
Earl Boykins missed Two Point Shot.
32 - 28
10:36
Jiri Welsch Offensive R.
32 - 28
10:32
Antawn Jamison made Layup. Assisted by Jiri Welsch .
32 - 30
10:14
Jannero Pargo missed 21 ft Jumper.
32 - 30
10:11
Adonal Foyle Defensive R.
32 - 30
10:04
Adonal Foyle made Slam Dunk. Assisted by Bob Sura .
32 - 32
9:48
Kobe Bryant missed 4 ft Jumper.
32 - 32
9:48
Robert Horry Offensive R.
34 - 32
9:48
Robert Horry made Tip Shot.
34 - 32
9:33
Kareem Rush Personal Foul
34 - 32
9:27
Earl Boykins missed 10 ft Two Point Shot.
34 - 32
9:26
Robert Horry Defensive R.
34 - 32
9:19
Kobe Bryant made 21 ft Jumper.
36 - 32
9:02
Earl Boykins missed Three Point Jumper.
36 - 32
9:00
Robert Horry Defensive R.
36 - 32
8:56
Official Timeout.
36 - 32
8:56
Jason Richardson enters the game for Jiri Welsch .
36 - 32
8:51
Kobe Bryant missed 25 ft Three Point Jumper.
36 - 32
8:48
Antawn Jamison Defensive R.
36 - 32
8:41
Adonal Foyle missed 11 ft Jumper.
36 - 32
8:40
Jannero Pargo Defensive R.
36 - 32
8:34
Kareem Rush made 13 ft Jumper. Assisted by Jannero Pargo .
38 - 32
8:22
Bob Sura Bad Pass. Stolen by Devean George .
38 - 32
8:18
Jannero Pargo made Two Point Shot. Assisted by Devean George .
40 - 32
8:04
Jason Richardson made 25 ft Three Point Jumper. Assisted by Earl Boykins .
40 - 35
7:48
Jannero Pargo missed 20 ft Jumper.
40 - 35
7:47
Antawn Jamison Defensive R.
40 - 35
7:35
Jason Richardson Lost Ball. Stolen by Jannero Pargo .
40 - 35
7:31
Devean George made Two Point Shot. Assisted by Kobe Bryant .
42 - 35
7:05
Jason Richardson made 23 ft Jumper.
42 - 37
6:52
Adonal Foyle Shooting Foul
42 - 37
6:52
Kareem Rush made Free Throw 1 of 2.
43 - 37
6:52
Shaquille O'Neal enters the game for Robert Horry .
43 - 37
6:52
Kareem Rush made Free Throw 2 of 2.
44 - 37
6:37
Jason Richardson made 25 ft Three Point Jumper. Assisted by Earl Boykins .
44 - 40
6:20
Jannero Pargo missed 10 ft Jumper.
44 - 40
6:18
Shaquille O'Neal Offensive R.
44 - 40
6:16
Shaquille O'Neal missed 4 ft Jumper. Blocked by Jason Richardson .
44 - 40
6:15
Antawn Jamison Defensive R.
44 - 40
6:09
Antawn Jamison missed 25 ft Three Point Jumper.
44 - 40
6:07
Jannero Pargo Defensive R.
44 - 40
6:03
Jannero Pargo missed 5 ft Jumper. Blocked by Antawn Jamison .
44 - 40
6:01
Antawn Jamison Defensive R.
44 - 40
5:54
Antawn Jamison made 24 ft Three Point Jumper. Assisted by Bob Sura .
44 - 43
5:37
Bob Sura Personal Foul
44 - 43
5:37
Golden State Full Timeout.
44 - 43
5:37
Gilbert Arenas enters the game for Earl Boykins .
44 - 43
5:37
Erick Dampier enters the game for Adonal Foyle .
44 - 43
5:37
Brian Shaw enters the game for Kobe Bryant .
44 - 43
5:30
Jannero Pargo made 17 ft Jumper. Assisted by Shaquille O'Neal .
46 - 43
5:07
Bob Sura made 25 ft Three Point Jumper. Assisted by Erick Dampier .
46 - 46
4:48
Devean George made Two Point Shot. Assisted by Shaquille O'Neal .
48 - 46
4:30
Gilbert Arenas made 8 ft Two Point Shot.
48 - 48
4:18
Brian Shaw Bad Pass. Stolen by Erick Dampier .
48 - 48
4:13
Bob Sura made Two Point Shot.
48 - 50
3:59
Brian Shaw missed 20 ft Jumper.
48 - 50
3:57
Gilbert Arenas Defensive R.
48 - 50
3:47
Bob Sura missed 25 ft Three Point Jumper.
48 - 50
3:46
Shaquille O'Neal Defensive R.
48 - 50
3:40
Erick Dampier Personal Foul
48 - 50
3:40
Shaquille O'Neal Technical Foul
48 - 50
3:40
Gilbert Arenas made Technical Free Throw.
48 - 51
3:36
Jannero Pargo missed 22 ft Jumper.
48 - 51
3:34
Antawn Jamison Defensive R.
48 - 51
3:28
Jason Richardson missed 17 ft Jumper.
48 - 51
3:26
Brian Shaw Defensive R.
48 - 51
3:21
Jannero Pargo missed 4 ft Jumper. Blocked by Jason Richardson .
48 - 51
3:19
Bob Sura Defensive R.
48 - 51
3:14
Gilbert Arenas missed 12 ft Jumper.
48 - 51
3:12
Brian Shaw Defensive R.
48 - 51
3:03
Shaquille O'Neal made 7 ft Jumper. Assisted by Devean George .
50 - 51
3:03
Erick Dampier Shooting Foul
50 - 51
3:03
Adonal Foyle enters the game for Erick Dampier .
50 - 51
3:03
Shaquille O'Neal missed Free Throw 1 of 1.
50 - 51
3:02
Antawn Jamison Defensive R.
50 - 51
2:49
Antawn Jamison missed 20 ft Jumper.
50 - 51
2:47
Shaquille O'Neal Defensive R.
50 - 51
2:30
Shaquille O'Neal missed 9 ft Two Point Shot.
50 - 51
2:28
Jason Richardson Defensive R.
50 - 51
2:13
Bob Sura made 26 ft Three Point Jumper. Assisted by Gilbert Arenas .
50 - 54
1:53
Devean George missed 20 ft Jumper.
50 - 54
1:51
Brian Shaw Offensive R.
50 - 54
1:51
Brian Shaw missed 8 ft Jumper. Blocked by Jason Richardson .
50 - 54
1:51
Brian Shaw Offensive R.
50 - 54
1:51
Gilbert Arenas Personal Foul
50 - 54
1:51
Los Angeles Full Timeout.
50 - 54
1:51
Kobe Bryant enters the game for Jannero Pargo .
50 - 54
1:51
Brian Shaw made Free Throw 1 of 2.
51 - 54
1:51
Brian Shaw made Free Throw 2 of 2.
52 - 54
1:39
Bob Sura Lost Ball. Stolen by Brian Shaw .
52 - 54
1:32
Kobe Bryant made Two Point Shot. Assisted by Brian Shaw .
54 - 54
1:19
Gilbert Arenas made Two Point Shot.
54 - 56
1:01
Shaquille O'Neal made 6 ft Two Point Shot.
56 - 56
1:01
Adonal Foyle Shooting Foul
56 - 56
1:01
Shaquille O'Neal made Free Throw 1 of 1.
57 - 56
0:55
Gilbert Arenas missed 25 ft Three Point Jumper.
57 - 56
0:53
Bob Sura Offensive R.
57 - 56
0:40
Adonal Foyle missed 6 ft Jumper.
57 - 56
0:38
Jason Richardson Offensive R.
57 - 56
0:38
Jason Richardson missed Tip Shot.
57 - 56
0:37
Jason Richardson Offensive R.
57 - 56
0:37
Jason Richardson missed Tip Shot.
57 - 56
0:35
Bob Sura Offensive R.
57 - 56
0:29
Jason Richardson missed 24 ft Three Point Jumper.
57 - 56
0:27
Bob Sura Offensive R.
57 - 56
0:27
Devean George Personal Foul
57 - 56
0:06
Gilbert Arenas missed 18 ft Jumper.
57 - 56
0:04
Shaquille O'Neal Defensive R.
57 - 56
0:00
Kobe Bryant made 25 ft Three Point Jumper. Assisted by Brian Shaw .
60 - 56
0:00
End of the 2nd Quarter.
60 - 56

time
TEAM
PLAY
SCORE
12:00
Start of the 3rd Quarter.
60 - 56
11:41
Derek Fisher missed 23 ft Three Point Jumper.
60 - 56
11:40
Mike Dunleavy Defensive R.
60 - 56
11:26
Gilbert Arenas missed 20 ft Jumper.
60 - 56
11:23
Kobe Bryant Defensive R.
60 - 56
11:07
Mark Madsen made 6 ft Two Point Shot. Assisted by Derek Fisher .
62 - 56
10:52
Antawn Jamison made 17 ft Two Point Shot. Assisted by Mike Dunleavy .
62 - 58
10:33
Mark Madsen missed 11 ft Jumper.
62 - 58
10:32
Mark Madsen Offensive R.
62 - 58
10:32
Mark Madsen missed Tip Shot.
62 - 58
10:30
Erick Dampier Defensive R.
62 - 58
10:22
Antawn Jamison Bad Pass. Stolen by Shaquille O'Neal .
62 - 58
10:15
Rick Fox made 26 ft Three Point Jumper. Assisted by Derek Fisher .
65 - 58
9:52
Antawn Jamison missed 19 ft Jumper.
65 - 58
9:49
Shaquille O'Neal Defensive R.
65 - 58
9:41
Kobe Bryant Offensive Foul
65 - 58
9:41
Kobe Bryant Foul
65 - 58
9:37
Mike Dunleavy Traveling
65 - 58
9:22
Kobe Bryant made Jumper. Assisted by Rick Fox .
67 - 58
9:12
Gilbert Arenas missed Two Point Shot.
67 - 58
9:11
Antawn Jamison Offensive R.
67 - 58
9:11
Antawn Jamison made 4 ft Two Point Shot.
67 - 60
9:02
Mike Dunleavy Personal Foul
67 - 60
9:02
Mark Madsen made Free Throw 1 of 2.
68 - 60
9:02
Mark Madsen made Free Throw 2 of 2.
69 - 60
8:53
Antawn Jamison made Two Point Shot. Assisted by Gilbert Arenas .
69 - 62
8:41
Jason Richardson Personal Foul
69 - 62
8:30
Shaquille O'Neal made Two Point Shot.
71 - 62
8:23
Derek Fisher Personal Foul
71 - 62
8:18
Erick Dampier Offensive Foul
71 - 62
8:18
Erick Dampier Foul
71 - 62
8:18
Adonal Foyle enters the game for Erick Dampier .
71 - 62
8:00
Derek Fisher Double Dribble
71 - 62
7:52
Shaquille O'Neal Shooting Foul
71 - 62
7:52
Gilbert Arenas made Free Throw 1 of 2.
71 - 63
7:52
Gilbert Arenas made Free Throw 2 of 2.
71 - 64
7:30
Kobe Bryant Lost Ball. Stolen by Jason Richardson .
71 - 64
7:24
Jason Richardson missed 7 ft Two Point Shot.
71 - 64
7:24
Rick Fox Defensive R.
71 - 64
7:20
Kobe Bryant made Slam Dunk. Assisted by Rick Fox .
73 - 64
7:09
Gilbert Arenas missed 5 ft Two Point Shot.
73 - 64
7:09
Golden State Offensive Rebound.
73 - 64
7:05
Mike Dunleavy made 20 ft Jumper. Assisted by Adonal Foyle .
73 - 66
6:54
Kobe Bryant made Two Point Shot.
75 - 66
6:37
Adonal Foyle made 7 ft Two Point Shot. Assisted by Mike Dunleavy .
75 - 68
6:24
Rick Fox missed 26 ft Three Point Jumper.
75 - 68
6:22
Adonal Foyle Defensive R.
75 - 68
6:09
Antawn Jamison missed 26 ft Three Point Jumper.
75 - 68
6:09
Adonal Foyle Offensive R.
75 - 70
6:09
Adonal Foyle made Layup.
75 - 70
5:54
Antawn Jamison Personal Foul
75 - 70
5:54
Golden State Full Timeout.
75 - 70
5:47
Kobe Bryant missed Jumper.
75 - 70
5:45
Shaquille O'Neal Offensive R.
77 - 70
5:43
Shaquille O'Neal made Layup.
77 - 70
5:43
Mike Dunleavy Shooting Foul
77 - 70
5:43
Shaquille O'Neal made Free Throw 1 of 1.
78 - 70
5:30
Gilbert Arenas made 16 ft Two Point Shot.
78 - 72
5:13
Mark Madsen missed 6 ft Jumper. Blocked by Antawn Jamison .
78 - 72
5:11
Antawn Jamison Defensive R.
78 - 72
5:01
Jason Richardson made 25 ft Three Point Jumper. Assisted by Antawn Jamison .
78 - 75
4:47
Rick Fox made 24 ft Three Point Jumper. Assisted by Kobe Bryant .
81 - 75
4:31
Shaquille O'Neal Shooting Foul
81 - 75
4:31
Adonal Foyle made Free Throw 1 of 2.
81 - 76
4:31
Adonal Foyle made Free Throw 2 of 2.
81 - 77
4:18
Derek Fisher missed 16 ft Jumper.
81 - 77
4:16
Mike Dunleavy Defensive R.
81 - 77
4:07
Gilbert Arenas made 4 ft Two Point Shot.
81 - 79
3:57
Mark Madsen made Two Point Shot.
83 - 79
3:44
Derek Fisher Personal Foul
83 - 79
3:38
Rick Fox Shooting Foul
83 - 79
3:38
Gilbert Arenas missed Free Throw 1 of 2.
83 - 79
3:38
Golden State Offensive Rebound.
83 - 79
3:38
Los Angeles Full Timeout.
83 - 79
3:38
Devean George enters the game for Mark Madsen .
83 - 79
3:38
Robert Horry enters the game for Rick Fox .
83 - 79
3:38
Kareem Rush enters the game for Derek Fisher .
83 - 79
3:38
Gilbert Arenas made Free Throw 2 of 2.
83 - 80
3:27
Shaquille O'Neal made Two Point Shot. Assisted by Robert Horry .
85 - 80
3:03
Gilbert Arenas missed 4 ft Jumper. Blocked by Shaquille O'Neal .
85 - 80
3:02
Golden State Offensive Rebound.
85 - 80
2:58
Jason Richardson missed 25 ft Three Point Jumper.
85 - 80
2:55
Gilbert Arenas Offensive R.
85 - 80
2:53
Kareem Rush Shooting Foul
85 - 80
2:53
Mike Dunleavy made Free Throw 1 of 2.
85 - 81
2:53
Mike Dunleavy made Free Throw 2 of 2.
85 - 82
2:36
Shaquille O'Neal missed Two Point Shot.
85 - 82
2:35
Mike Dunleavy Defensive R.
85 - 82
2:19
Jason Richardson made Two Point Shot.
85 - 84
1:55
Robert Horry Lost Ball. Stolen by Jason Richardson .
85 - 84
1:52
Gilbert Arenas Lost Ball. Stolen by Robert Horry .
85 - 84
1:40
Adonal Foyle Shooting Foul
85 - 84
1:40
Shaquille O'Neal missed Free Throw 1 of 2.
85 - 84
1:40
Los Angeles Offensive Rebound.
85 - 84
1:40
Shaquille O'Neal made Free Throw 2 of 2.
86 - 84
1:28
Gilbert Arenas made 26 ft Three Point Jumper.
86 - 87
1:12
Kobe Bryant missed 21 ft Jumper.
86 - 87
1:07
Kareem Rush Offensive R.
86 - 87
1:05
Kareem Rush missed Layup. Blocked by Adonal Foyle .
86 - 87
1:02
Adonal Foyle Defensive R.
86 - 87
0:52
Gilbert Arenas missed 20 ft Jumper.
86 - 87
0:50
Devean George Defensive R.
86 - 87
0:38
Kobe Bryant made 23 ft Three Point Jumper.
89 - 87
0:33
Gilbert Arenas missed Layup. Blocked by Kareem Rush .
89 - 87
0:30
Kobe Bryant Defensive R.
89 - 87
0:26
Kobe Bryant made Two Point Shot.
91 - 87
0:06
Jason Richardson missed 11 ft Jumper.
91 - 87
0:04
Robert Horry Defensive R.
91 - 87
0:00
End of the 3rd Quarter.
91 - 87

time
TEAM
PLAY
SCORE
12:00
Start of the 4th Quarter.
91 - 87
11:48
Gilbert Arenas made 14 ft Jumper.
91 - 89
11:26
Kareem Rush missed 20 ft Jumper.
91 - 89
11:22
Robert Horry Offensive R.
91 - 89
11:08
Bob Sura Personal Foul
91 - 89
11:08
Kobe Bryant made Free Throw 1 of 2.
92 - 89
11:08
Kobe Bryant made Free Throw 2 of 2.
93 - 89
10:57
Gilbert Arenas missed Jumper. Blocked by Kareem Rush .
93 - 89
10:56
Jannero Pargo Defensive R.
93 - 89
10:45
Kobe Bryant missed 25 ft Three Point Jumper.
93 - 89
10:44
Gilbert Arenas Defensive R.
93 - 89
10:37
Mike Dunleavy made Two Point Shot. Assisted by Gilbert Arenas .
93 - 91
10:23
Devean George missed 25 ft Three Point Jumper.
93 - 91
10:22
Mike Dunleavy Defensive R.
93 - 91
10:10
Jannero Pargo Personal Foul
93 - 91
10:07
Mike Dunleavy Bad Pass. Stolen by Robert Horry .
93 - 91
10:07
Antawn Jamison Clear Path Foul
93 - 91
10:07
Robert Horry made Free Throw.
94 - 91
9:59
Devean George Bad Pass. Stolen by Adonal Foyle .
94 - 91
9:49
Kareem Rush Shooting Foul
94 - 91
9:49
Bob Sura missed Free Throw 1 of 2.
94 - 91
9:49
Golden State Offensive Rebound.
94 - 91
9:49
Bob Sura made Free Throw 2 of 2.
94 - 92
9:32
Kobe Bryant missed 17 ft Jumper.
94 - 92
9:30
Robert Horry Offensive R.
94 - 92
9:26
Devean George missed Layup.
94 - 92
9:23
Gilbert Arenas Defensive R.
94 - 92
9:19
Jannero Pargo Personal Foul
94 - 92
9:19
Gilbert Arenas made Free Throw 1 of 2.
94 - 93
9:19
Gilbert Arenas missed Free Throw 2 of 2.
94 - 93
9:18
Robert Horry Defensive R.
94 - 93
9:03
Kareem Rush made 25 ft Three Point Jumper. Assisted by Kobe Bryant .
97 - 93
8:45
Mike Dunleavy made 26 ft Three Point Jumper. Assisted by Antawn Jamison .
97 - 96
8:22
Kobe Bryant missed 24 ft Three Point Jumper.
97 - 96
8:21
Devean George Offensive R.
97 - 96
8:18
Kobe Bryant missed 10 ft Jumper. Blocked by Antawn Jamison .
97 - 96
8:15
Robert Horry Offensive R.
97 - 96
8:14
Kobe Bryant made 25 ft Three Point Jumper. Assisted by Robert Horry .
100 - 96
8:02
Jannero Pargo Personal Foul
100 - 96
8:02
Official Timeout.
100 - 96
8:02
Erick Dampier enters the game for Adonal Foyle .
100 - 96
8:02
Derek Fisher enters the game for Jannero Pargo .
100 - 96
7:48
Gilbert Arenas made Two Point Shot.
100 - 98
7:26
Derek Fisher missed 26 ft Three Point Jumper.
100 - 98
7:24
Bob Sura Defensive R.
100 - 98
7:13
Mike Dunleavy made 12 ft Two Point Shot.
100 - 100
7:00
Kobe Bryant made 23 ft Jumper.
102 - 100
6:46
Gilbert Arenas Out of Bounds
102 - 100
6:24
Kobe Bryant missed 25 ft Three Point Jumper.
102 - 100
6:22
Erick Dampier Defensive R.
102 - 100
6:11
Bob Sura missed 25 ft Three Point Jumper.
102 - 100
6:09
Antawn Jamison Offensive R.
102 - 102
6:09
Antawn Jamison made Layup.
102 - 102
5:56
Golden State Full Timeout.
102 - 102
5:56
Shaquille O'Neal enters the game for Kobe Bryant .
102 - 102
5:41
Devean George missed 21 ft Jumper.
102 - 102
5:39
Mike Dunleavy Defensive R.
102 - 102
5:22
Shaquille O'Neal Shooting Foul
102 - 102
5:22
Gilbert Arenas made Free Throw 1 of 2.
102 - 103
5:22
Gilbert Arenas made Free Throw 2 of 2.
102 - 104
5:09
Kareem Rush missed Jumper.
102 - 104
5:07
Erick Dampier Defensive R.
102 - 104
5:03
Erick Dampier Bad Pass
102 - 104
5:03
Jason Richardson enters the game for Bob Sura .
102 - 104
5:03
Kobe Bryant enters the game for Kareem Rush .
102 - 104
4:54
Derek Fisher made 22 ft Three Point Jumper. Assisted by Robert Horry .
105 - 104
4:39
Gilbert Arenas made Two Point Shot.
105 - 106
4:15
Kobe Bryant made 17 ft Jumper. Assisted by Derek Fisher .
107 - 106
4:03
Gilbert Arenas missed 27 ft Three Point Jumper.
107 - 106
4:03
Golden State Defensive Rebound.
107 - 106
3:54
Jason Richardson Shooting Foul
107 - 106
3:54
Kobe Bryant made Free Throw 1 of 2.
108 - 106
3:54
Bob Sura enters the game for Mike Dunleavy .
108 - 106
3:54
Kobe Bryant made Free Throw 2 of 2.
109 - 106
3:43
Antawn Jamison missed 20 ft Two Point Shot.
109 - 106
3:42
Derek Fisher Defensive R.
109 - 106
3:30
Erick Dampier Personal Foul
109 - 106
3:18
Derek Fisher made Three Point Jumper. Assisted by Shaquille O'Neal .
112 - 106
3:03
Erick Dampier Offensive Foul
112 - 106
3:03
Erick Dampier Foul
112 - 106
3:03
Adonal Foyle enters the game for Erick Dampier .
112 - 106
3:03
Mike Dunleavy enters the game for Jason Richardson .
112 - 106
2:50
Bob Sura Personal Foul
112 - 106
2:50
Los Angeles Full Timeout.
112 - 106
2:50
Kobe Bryant missed Free Throw 1 of 2.
112 - 106
2:50
Los Angeles Offensive Rebound.
112 - 106
2:50
Kobe Bryant made Free Throw 2 of 2.
113 - 106
2:34
Mike Dunleavy missed 23 ft Three Point Jumper.
113 - 106
2:32
Kobe Bryant Defensive R.
113 - 106
2:30
Kobe Bryant missed 11 ft Two Point Shot.
113 - 106
2:29
Gilbert Arenas Defensive R.
113 - 106
2:17
Gilbert Arenas Out of Bounds
113 - 106
2:04
Bob Sura Personal Foul
113 - 106
2:04
Kobe Bryant made Free Throw 1 of 2.
114 - 106
2:04
Kobe Bryant made Free Throw 2 of 2.
115 - 106
1:49
Mike Dunleavy missed 25 ft Three Point Jumper.
115 - 106
1:47
Mike Dunleavy Offensive R.
115 - 106
1:42
Antawn Jamison Lost Ball. Stolen by Derek Fisher .
115 - 106
1:29
Kobe Bryant Lost Ball. Stolen by Bob Sura .
115 - 106
1:23
Bob Sura missed 25 ft Three Point Jumper.
115 - 106
1:22
Kobe Bryant Defensive R.
115 - 106
1:08
Shaquille O'Neal missed Layup.
115 - 106
1:07
Shaquille O'Neal Offensive R.
115 - 106
1:07
Antawn Jamison Shooting Foul
115 - 106
1:07
Jason Richardson enters the game for Bob Sura .
115 - 106
1:07
Shaquille O'Neal made Free Throw 1 of 2.
116 - 106
1:07
Kareem Rush enters the game for Kobe Bryant .
116 - 106
1:07
Shaquille O'Neal made Free Throw 2 of 2.
117 - 106
0:59
Gilbert Arenas missed 3 ft Two Point Shot.
117 - 106
0:57
Robert Horry Defensive R.
117 - 106
0:52
Stanislav Medvedenko enters the game for Robert Horry .
117 - 106
0:52
Mark Madsen enters the game for Shaquille O'Neal .
117 - 106
0:43
Derek Fisher missed 24 ft Three Point Jumper.
117 - 106
0:41
Mike Dunleavy Defensive R.
117 - 106
0:32
Gilbert Arenas missed 9 ft Jumper. Blocked by Mark Madsen .
117 - 106
0:31
Gilbert Arenas Offensive R.
117 - 106
0:31
Mark Madsen Personal Foul
117 - 106
0:31
Gilbert Arenas made Free Throw 1 of 2.
117 - 107
0:31
Jiri Welsch enters the game for Antawn Jamison .
117 - 107
0:31
Gilbert Arenas made Free Throw 2 of 2.
117 - 108
0:21
Derek Fisher Bad Pass. Stolen by Mike Dunleavy .
117 - 108
0:18
Mike Dunleavy made Two Point Shot.
117 - 110
0:18
Devean George Shooting Foul
117 - 110
0:18
Antawn Jamison enters the game for Gilbert Arenas .
117 - 110
0:18
Mike Dunleavy made Free Throw 1 of 1.
117 - 111
0:01
Mark Madsen missed 9 ft Jumper. Blocked by Adonal Foyle .
117 - 111
0:00
Jason Richardson Defensive R.
117 - 111
0:00
End of the 4th Quarter.
117 - 111
0:00
End Game
117 - 111
0:00
End Game
117 - 111
0:00
End Game
117 - 111
Andrew Bogut calls the injury that ended his NBA Finals "frustrating" and is confident the Warriors can still get it done without him.

Andrew Bogut tells reporters it's not looking promising for him playing with Australia in the Rio Olympics.

Shelley Smith shares what it means to her to have Craig Sager working Game 6 of the NBA Finals for ESPN.
Regular Season Series
Series tied 2-2
2015-2016 Pacific Standings