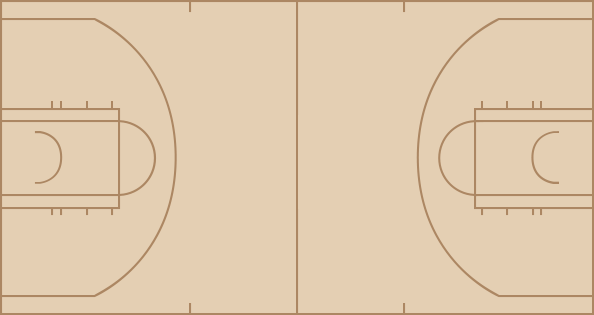 Magic
time
TEAM
PLAY
SCORE
12:00
Start of the 1st Quarter.
0 - 0
12:00
Jumpball. Drew Gooden vs. Ben Wallace. Chauncey Billups gains possession.
0 - 0
11:45
Michael Curry made 20 ft Jumper. Assisted by Chauncey Billups.
0 - 2
11:27
Tracy McGrady made Jumper. Assisted by Andrew DeClercq.
2 - 2
11:07
Chauncey Billups made 17 ft Jumper.
2 - 4
10:48
Jacque Vaughn missed 9 ft Two Point Shot.
2 - 4
10:48
Drew Gooden Offensive Rebound.
2 - 4
10:47
Drew Gooden missed Dunk.
2 - 4
10:47
Orlando Defensive Rebound.
2 - 4
10:26
Chauncey Billups Lost Ball. Stolen by Jacque Vaughn.
2 - 4
10:22
Jacque Vaughn missed Layup. Blocked by Michael Curry.
2 - 4
10:21
Clifford Robinson Defensive Rebound.
2 - 4
10:08
Chauncey Billups missed 16 ft Jumper.
2 - 4
10:07
Ben Wallace Offensive Rebound.
2 - 4
10:04
Ben Wallace made Dunk. Assisted by Michael Curry.
2 - 6
10:03
Michael Curry Personal Foul
2 - 6
10:00
Jacque Vaughn missed 17 ft Jumper.
2 - 6
9:59
Andrew DeClercq Offensive Rebound.
2 - 6
9:47
Drew Gooden missed 18 ft Jumper.
2 - 6
9:45
Ben Wallace Defensive Rebound.
2 - 6
9:30
Ben Wallace made Dunk.
2 - 8
8:53
Ben Wallace missed Layup.
2 - 8
8:52
Detroit Defensive Rebound.
2 - 8
8:41
Tracy McGrady missed 14 ft Jumper.
2 - 8
8:38
Ben Wallace Defensive Rebound.
2 - 8
8:33
Tracy McGrady Personal Foul
2 - 8
8:29
Clifford Robinson missed 19 ft Jumper.
2 - 8
8:26
Michael Curry Offensive Rebound.
2 - 8
8:23
Michael Curry missed 16 ft Jumper.
2 - 8
8:22
Ben Wallace Offensive Rebound.
2 - 8
8:17
Michael Curry missed 27 ft Three Point Jumper.
2 - 8
8:15
Detroit Offensive Rebound.
2 - 8
8:02
Jacque Vaughn Personal Foul
2 - 8
7:56
Richard Hamilton made Two Point Shot. Assisted by Clifford Robinson.
2 - 10
7:41
Drew Gooden missed 9 ft Jumper.
2 - 10
7:39
Orlando Defensive Rebound.
2 - 10
7:24
Richard Hamilton missed Layup.
2 - 10
7:24
Richard Hamilton Offensive Rebound.
2 - 10
7:22
Richard Hamilton missed 16 ft Jumper.
2 - 10
7:18
Drew Gooden Defensive Rebound.
2 - 10
7:09
Andrew DeClercq made Layup. Assisted by Tracy McGrady.
4 - 10
6:52
Chauncey Billups made 18 ft Jumper.
4 - 12
6:33
Drew Gooden Offensive Foul
4 - 12
6:33
Drew Gooden Foul
4 - 12
6:16
Chauncey Billups missed 16 ft Jumper.
4 - 12
6:15
Andrew DeClercq Defensive Rebound.
4 - 12
6:09
Michael Curry Personal Foul
4 - 12
6:01
Tracy McGrady missed 26 ft Three Point Jumper.
4 - 12
6:00
Andrew DeClercq Offensive Rebound.
4 - 12
5:58
Andrew DeClercq Lost Ball
4 - 12
5:58
Detroit Full Timeout.
4 - 12
5:39
Richard Hamilton made Two Point Shot.
4 - 14
5:20
Drew Gooden Offensive Foul
4 - 14
5:20
Drew Gooden Foul
4 - 14
5:20
Pat Garrity enters the game for Drew Gooden.
4 - 14
5:00
Ben Wallace made Dunk. Assisted by Michael Curry.
4 - 16
4:39
Jacque Vaughn missed 17 ft Jumper.
4 - 16
4:39
Ben Wallace Defensive Rebound.
4 - 16
4:37
Andrew DeClercq Loose Ball Foul
4 - 16
4:37
Darrell Armstrong enters the game for Jacque Vaughn.
4 - 16
4:37
Shawn Kemp enters the game for Andrew DeClercq.
4 - 16
4:28
Chauncey Billups made 17 ft Jumper.
4 - 18
4:03
Gordan Giricek made Two Point Shot.
6 - 18
3:42
Richard Hamilton made 12 ft Jumper. Assisted by Clifford Robinson.
6 - 20
3:30
Michael Curry Personal Foul
6 - 20
3:30
Tayshaun Prince enters the game for Michael Curry.
6 - 20
3:27
Clifford Robinson Personal Foul
6 - 20
3:14
Pat Garrity made 16 ft Jumper.
8 - 20
3:14
Chauncey Billups Shooting Foul
8 - 20
3:14
Pat Garrity made Free Throw 1 of 1.
9 - 20
2:56
Chauncey Billups missed 26 ft Three Point Jumper.
9 - 20
2:54
Ben Wallace Offensive Rebound.
9 - 20
2:40
Orlando Full Timeout.
9 - 20
2:40
Mehmet Okur enters the game for Clifford Robinson.
9 - 20
2:39
Pat Garrity Personal Foul
9 - 20
2:26
Gordan Giricek Shooting Foul
9 - 20
2:26
Richard Hamilton made Free Throw 1 of 2.
9 - 21
2:26
Richard Hamilton made Free Throw 2 of 2.
9 - 22
2:09
Gordan Giricek Offensive Foul
9 - 22
2:09
Gordan Giricek Foul
9 - 22
2:09
Chris Whitney enters the game for Gordan Giricek.
9 - 22
1:55
Richard Hamilton missed 16 ft Jumper.
9 - 22
1:54
Ben Wallace Offensive Rebound.
9 - 22
1:54
Ben Wallace missed Tip Shot.
9 - 22
1:52
Pat Garrity Defensive Rebound.
9 - 22
1:47
Tayshaun Prince Shooting Foul
9 - 22
1:47
Tracy McGrady missed Free Throw 1 of 3.
9 - 22
1:47
Orlando Offensive Rebound.
9 - 22
1:47
Tracy McGrady made Free Throw 2 of 3.
10 - 22
1:47
Tracy McGrady made Free Throw 3 of 3.
11 - 22
1:31
Shawn Kemp Shooting Foul
11 - 22
1:31
Richard Hamilton made Free Throw 1 of 2.
11 - 23
1:31
Richard Hamilton made Free Throw 2 of 2.
11 - 24
1:10
Darrell Armstrong Lost Ball
11 - 24
0:53
Chris Whitney Shooting Foul
11 - 24
0:53
Chauncey Billups missed Free Throw 1 of 2.
11 - 24
0:53
Orlando Full Timeout.
11 - 24
0:53
Chauncey Billups made Free Throw 1 of 2.
11 - 25
0:53
Chauncey Billups made Free Throw 2 of 2.
11 - 26
0:39
Pat Garrity missed 16 ft Jumper.
11 - 26
0:38
Richard Hamilton Defensive Rebound.
11 - 26
0:27
Mehmet Okur Illegal Pick
11 - 26
0:04
Shawn Kemp missed 20 ft Jumper. Blocked by Ben Wallace.
11 - 26
0:03
Orlando Offensive Rebound.
11 - 26
0:03
24 second
11 - 26
0:01
Chauncey Billups missed 34 ft Three Point Jumper.
11 - 26
0:00
Detroit Offensive Rebound.
11 - 26
0:00
End of the 1st Quarter.
11 - 26

time
TEAM
PLAY
SCORE
12:00
Start of the 2nd Quarter.
11 - 26
11:47
Pat Garrity missed Jumper.
11 - 26
11:45
Chauncey Billups Defensive Rebound.
11 - 26
11:33
Chauncey Billups missed Layup. Blocked by Chris Whitney.
11 - 26
11:32
Detroit Offensive Rebound.
11 - 26
11:32
Steven Hunter enters the game for Chris Whitney.
11 - 26
11:22
Richard Hamilton made 16 ft Two Point Shot. Assisted by Tayshaun Prince.
11 - 28
11:10
Tracy McGrady missed 12 ft Jumper.
11 - 28
11:08
Mehmet Okur Defensive Rebound.
11 - 28
11:04
Chauncey Billups made Layup.
11 - 30
10:49
Tracy McGrady made 16 ft Jumper. Assisted by Darrell Armstrong.
13 - 30
10:30
Steven Hunter Shooting Foul
13 - 30
10:30
Chucky Atkins enters the game for Chauncey Billups.
13 - 30
10:30
Mehmet Okur made Free Throw 1 of 2.
13 - 31
10:30
Mehmet Okur made Free Throw 2 of 2.
13 - 32
10:18
Tracy McGrady missed 26 ft Three Point Jumper.
13 - 32
10:17
Orlando Defensive Rebound.
13 - 32
10:17
Steven Hunter Loose Ball Foul
13 - 32
10:17
Pat Burke enters the game for Shawn Kemp.
13 - 32
9:56
Richard Hamilton made 15 ft Two Point Shot.
13 - 34
9:29
Steven Hunter missed Dunk. Blocked by Mehmet Okur.
13 - 34
9:26
Pat Burke Offensive Rebound.
13 - 34
9:26
24 second
13 - 34
9:15
Tayshaun Prince made 17 ft Jumper. Assisted by Chucky Atkins.
13 - 36
9:15
Pat Garrity Shooting Foul
13 - 36
9:15
Tayshaun Prince made Free Throw 1 of 1.
13 - 37
8:56
Ben Wallace Personal Foul
13 - 37
8:56
Official Timeout.
13 - 37
8:56
Drew Gooden enters the game for Pat Garrity.
13 - 37
8:56
Gordan Giricek enters the game for Steven Hunter.
13 - 37
8:56
Jacque Vaughn enters the game for Pat Burke.
13 - 37
8:48
Gordan Giricek made Two Point Shot.
15 - 37
8:23
Mehmet Okur missed 16 ft Jumper.
15 - 37
8:22
Tracy McGrady Defensive Rebound.
15 - 37
8:15
Darrell Armstrong made 27 ft Three Point Jumper. Assisted by Tracy McGrady.
18 - 37
7:56
Richard Hamilton missed 20 ft Jumper.
18 - 37
7:54
Drew Gooden Defensive Rebound.
18 - 37
7:45
Gordan Giricek missed 27 ft Three Point Jumper.
18 - 37
7:43
Tayshaun Prince Defensive Rebound.
18 - 37
7:33
Darrell Armstrong Personal Foul
18 - 37
7:33
Clifford Robinson enters the game for Ben Wallace.
18 - 37
7:33
Jon Barry enters the game for Richard Hamilton.
18 - 37
7:24
Clifford Robinson missed 9 ft Jumper.
18 - 37
7:22
Drew Gooden Defensive Rebound.
18 - 37
7:13
Gordan Giricek missed 14 ft Jumper.
18 - 37
7:11
Drew Gooden Offensive Rebound.
18 - 37
7:11
Drew Gooden made Tip Shot.
20 - 37
7:05
Detroit Full Timeout.
20 - 37
6:56
Tayshaun Prince made 9 ft Hook Shot. Assisted by Jon Barry.
20 - 39
6:43
Jacque Vaughn Offensive Foul
20 - 39
6:43
Jacque Vaughn Foul
20 - 39
6:31
Mehmet Okur made Layup. Assisted by Chucky Atkins.
20 - 41
6:15
Clifford Robinson Personal Foul
20 - 41
6:15
Chris Whitney enters the game for Jacque Vaughn.
20 - 41
6:05
Tracy McGrady missed 7 ft Two Point Shot.
20 - 41
6:03
Tracy McGrady missed Tip Shot.
20 - 41
6:03
Tracy McGrady Offensive Rebound.
20 - 41
6:03
Drew Gooden Offensive Rebound.
20 - 41
6:01
Drew Gooden made Layup.
22 - 41
6:01
Mehmet Okur Shooting Foul
22 - 41
6:01
Ben Wallace enters the game for Mehmet Okur.
22 - 41
6:01
Drew Gooden made Free Throw 1 of 1.
23 - 41
5:48
Chucky Atkins missed 19 ft Jumper.
23 - 41
5:45
Tracy McGrady Defensive Rebound.
23 - 41
5:35
Drew Gooden missed Layup. Blocked by Clifford Robinson.
23 - 41
5:35
Ben Wallace Defensive Rebound.
23 - 41
5:24
Chucky Atkins missed 24 ft Three Point Jumper.
23 - 41
5:22
Detroit Defensive Rebound.
23 - 41
5:20
Chauncey Billups enters the game for Chucky Atkins.
23 - 41
5:11
Darrell Armstrong missed 19 ft Jumper.
23 - 41
5:11
Clifford Robinson Defensive Rebound.
23 - 41
4:52
Clifford Robinson missed 13 ft Jumper.
23 - 41
4:50
Tracy McGrady Defensive Rebound.
23 - 41
4:41
Drew Gooden made 7 ft Hook Shot. Assisted by Tracy McGrady.
25 - 41
4:24
Tayshaun Prince missed 6 ft Hook Shot.
25 - 41
4:22
Drew Gooden Defensive Rebound.
25 - 41
4:11
Tracy McGrady Bad Pass. Stolen by Jon Barry.
25 - 41
4:07
Jon Barry missed 28 ft Three Point Jumper.
25 - 41
4:05
Darrell Armstrong Defensive Rebound.
25 - 41
4:01
Chris Whitney made 28 ft Three Point Jumper. Assisted by Darrell Armstrong.
28 - 41
3:39
Jon Barry made 26 ft Three Point Jumper. Assisted by Clifford Robinson.
28 - 44
3:24
Tracy McGrady missed 21 ft Jumper.
28 - 44
3:21
Jon Barry Defensive Rebound.
28 - 44
3:00
Jon Barry made 17 ft Jumper. Assisted by Clifford Robinson.
28 - 46
2:51
Orlando Full Timeout.
28 - 46
2:51
Richard Hamilton enters the game for Tayshaun Prince.
28 - 46
2:45
Gordan Giricek missed 27 ft Three Point Jumper.
28 - 46
2:43
Clifford Robinson Defensive Rebound.
28 - 46
2:31
Ben Wallace made 6 ft Hook Shot. Assisted by Chauncey Billups.
28 - 48
2:31
Drew Gooden Shooting Foul
28 - 48
2:31
Ben Wallace missed Free Throw 1 of 1.
28 - 48
2:31
Pat Garrity enters the game for Drew Gooden.
28 - 48
2:30
Tracy McGrady Defensive Rebound.
28 - 48
2:04
Ben Wallace Defensive Rebound.
28 - 48
1:58
Richard Hamilton Offensive Foul
28 - 48
1:58
Richard Hamilton Foul
28 - 48
1:45
Tracy McGrady made Two Point Shot.
30 - 48
1:27
Richard Hamilton missed 7 ft Jumper.
30 - 48
1:25
Chauncey Billups Offensive Rebound.
30 - 48
1:13
Chauncey Billups Bad Pass. Stolen by Pat Garrity.
30 - 48
1:08
Chris Whitney made 26 ft Three Point Jumper. Assisted by Darrell Armstrong.
33 - 48
1:00
Detroit 20 Sec. Timeout.
33 - 48
1:00
Tayshaun Prince enters the game for Clifford Robinson.
33 - 48
0:50
Richard Hamilton made 7 ft Two Point Shot. Assisted by Chauncey Billups.
33 - 50
0:36
Tayshaun Prince Personal Foul
33 - 50
0:28
Pat Garrity missed 19 ft Jumper.
33 - 50
0:26
Darrell Armstrong Offensive Rebound.
33 - 50
0:03
Gordan Giricek missed 25 ft Three Point Jumper.
33 - 50
0:02
Tracy McGrady Offensive Rebound.
33 - 50
0:01
Tracy McGrady missed Tip Shot.
33 - 50
0:01
Tracy McGrady Offensive Rebound.
33 - 50
0:00
Tracy McGrady made Tip Shot.
35 - 50
0:00
End of the 2nd Quarter.
35 - 50

time
TEAM
PLAY
SCORE
12:00
Start of the 3rd Quarter.
35 - 50
11:37
Gordan Giricek made 15 ft Jumper.
37 - 50
11:15
Andrew DeClercq Personal Foul
37 - 50
11:04
Andrew DeClercq Shooting Foul
37 - 50
11:04
Ben Wallace missed Free Throw 1 of 2.
37 - 50
11:04
Detroit Offensive Rebound.
37 - 50
11:04
Ben Wallace missed Free Throw 2 of 2.
37 - 50
11:03
Drew Gooden Defensive Rebound.
37 - 50
10:42
Jacque Vaughn missed 20 ft Jumper.
37 - 50
10:40
Ben Wallace Defensive Rebound.
37 - 50
10:25
Richard Hamilton made 17 ft Jumper.
37 - 52
10:11
Tracy McGrady made 28 ft Three Point Jumper. Assisted by Jacque Vaughn.
40 - 52
9:42
Clifford Robinson made 25 ft Three Point Jumper. Assisted by Chauncey Billups.
40 - 55
9:29
Jacque Vaughn Lost Ball. Stolen by Ben Wallace.
40 - 55
9:26
Tracy McGrady Personal Foul
40 - 55
9:26
Darrell Armstrong enters the game for Jacque Vaughn.
40 - 55
9:15
Ben Wallace missed Layup.
40 - 55
9:15
Ben Wallace Offensive Rebound.
40 - 55
9:11
Andrew DeClercq Shooting Foul
40 - 55
9:11
Pat Garrity enters the game for Andrew DeClercq.
40 - 55
9:11
Michael Curry missed Free Throw 1 of 3.
40 - 55
9:11
Detroit Offensive Rebound.
40 - 55
9:11
Michael Curry made Free Throw 2 of 3.
40 - 56
9:11
Michael Curry made Free Throw 3 of 3.
40 - 57
9:00
Tracy McGrady made 19 ft Jumper.
42 - 57
8:40
Pat Garrity Shooting Foul
42 - 57
8:40
Ben Wallace made Free Throw 1 of 2.
42 - 58
8:40
Ben Wallace made Free Throw 2 of 2.
42 - 59
8:27
Richard Hamilton Personal Foul
42 - 59
8:17
Tracy McGrady missed 21 ft Jumper.
42 - 59
8:15
Pat Garrity Offensive Rebound.
42 - 59
8:14
Pat Garrity made Layup.
44 - 59
7:50
Chauncey Billups missed 23 ft Three Point Jumper.
44 - 59
7:48
Gordan Giricek Defensive Rebound.
44 - 59
7:28
Gordan Giricek made 27 ft Three Point Jumper. Assisted by Tracy McGrady.
47 - 59
7:11
Richard Hamilton Bad Pass. Stolen by Tracy McGrady.
47 - 59
7:11
Ben Wallace Personal Foul
47 - 59
7:07
Michael Curry Personal Foul
47 - 59
7:03
Drew Gooden missed Layup.
47 - 59
7:01
Drew Gooden Offensive Rebound.
47 - 59
7:00
Drew Gooden made Dunk.
49 - 59
6:58
Detroit Full Timeout.
49 - 59
6:58
Tayshaun Prince enters the game for Michael Curry.
49 - 59
6:39
Drew Gooden Personal Foul
49 - 59
6:39
Clifford Robinson made Free Throw 1 of 2.
49 - 60
6:39
Pat Burke enters the game for Drew Gooden.
49 - 60
6:39
Clifford Robinson made Free Throw 2 of 2.
49 - 61
6:28
Tracy McGrady missed Jumper.
49 - 61
6:26
Ben Wallace Defensive Rebound.
49 - 61
6:18
Richard Hamilton made Two Point Shot.
49 - 63
6:03
Pat Burke Lost Ball
49 - 63
5:46
Clifford Robinson missed 17 ft Jumper.
49 - 63
5:45
Ben Wallace Offensive Rebound.
49 - 63
5:39
Pat Burke Shooting Foul
49 - 63
5:39
Tayshaun Prince made Free Throw 1 of 2.
49 - 64
5:39
Shawn Kemp enters the game for Pat Burke.
49 - 64
5:39
Tayshaun Prince made Free Throw 2 of 2.
49 - 65
5:35
Shawn Kemp Offensive Foul
49 - 65
5:35
Shawn Kemp Foul
49 - 65
5:30
Gordan Giricek Personal Foul
49 - 65
5:30
Richard Hamilton made Free Throw 1 of 2.
49 - 66
5:30
Richard Hamilton made Free Throw 2 of 2.
49 - 67
5:22
Chauncey Billups Personal Foul
49 - 67
5:07
Shawn Kemp missed Jumper.
49 - 67
5:05
Ben Wallace Defensive Rebound.
49 - 67
4:50
Clifford Robinson missed 27 ft Three Point Jumper.
49 - 67
4:48
Shawn Kemp Defensive Rebound.
49 - 67
4:41
Darrell Armstrong Bad Pass. Stolen by Ben Wallace.
49 - 67
4:37
Chauncey Billups missed 27 ft Three Point Jumper.
49 - 67
4:35
Richard Hamilton Offensive Rebound.
49 - 67
4:33
Richard Hamilton made Layup.
49 - 69
4:31
Orlando Full Timeout.
49 - 69
4:31
Chris Whitney enters the game for Gordan Giricek.
49 - 69
4:15
Tracy McGrady Offensive Foul
49 - 69
4:15
Tracy McGrady Foul
49 - 69
4:00
Chauncey Billups made Jumper.
49 - 71
3:45
Pat Garrity missed 23 ft Three Point Jumper.
49 - 71
3:43
Tayshaun Prince Defensive Rebound.
49 - 71
3:29
Chauncey Billups made 21 ft Jumper. Assisted by Richard Hamilton.
49 - 73
3:15
Tracy McGrady missed 27 ft Three Point Jumper.
49 - 73
3:14
Richard Hamilton Defensive Rebound.
49 - 73
2:50
24 second
49 - 73
2:50
Jeryl Sasser enters the game for Tracy McGrady.
49 - 73
2:50
Pat Burke enters the game for Darrell Armstrong.
49 - 73
2:39
Richard Hamilton Personal Foul
49 - 73
2:39
Pat Burke made Free Throw 1 of 2.
50 - 73
2:39
Pat Burke made Free Throw 2 of 2.
51 - 73
2:21
Tayshaun Prince missed 25 ft Three Point Jumper.
51 - 73
2:20
Chris Whitney Defensive Rebound.
51 - 73
2:15
Chris Whitney Bad Pass
51 - 73
1:50
Richard Hamilton missed Layup.
51 - 73
1:49
Jeryl Sasser Defensive Rebound.
51 - 73
1:39
Chauncey Billups Personal Foul
51 - 73
1:39
Chris Whitney made Free Throw 1 of 2.
52 - 73
1:39
Chris Whitney made Free Throw 2 of 2.
53 - 73
1:23
Clifford Robinson missed 21 ft Jumper.
53 - 73
1:21
Tayshaun Prince Offensive Rebound.
53 - 73
1:09
Chauncey Billups missed 27 ft Three Point Jumper.
53 - 73
1:07
Ben Wallace Offensive Rebound.
53 - 73
1:02
Clifford Robinson missed 23 ft Three Point Jumper.
53 - 73
1:01
Jeryl Sasser Defensive Rebound.
53 - 73
0:45
Jeryl Sasser missed Layup.
53 - 73
0:43
Chauncey Billups Defensive Rebound.
53 - 73
0:31
Richard Hamilton missed 16 ft Jumper.
53 - 73
0:29
Richard Hamilton Offensive Rebound.
53 - 73
0:12
Clifford Robinson Bad Pass
53 - 73
0:12
Darrell Armstrong enters the game for Pat Burke.
53 - 73
0:12
Jacque Vaughn enters the game for Shawn Kemp.
53 - 73
0:12
Chucky Atkins enters the game for Ben Wallace.
53 - 73
0:12
Tracy McGrady enters the game for Jeryl Sasser.
53 - 73
0:03
Tayshaun Prince Shooting Foul
53 - 73
0:03
Jacque Vaughn made Free Throw 1 of 2.
54 - 73
0:03
Jeryl Sasser enters the game for Tracy McGrady.
54 - 73
0:03
Ben Wallace enters the game for Chucky Atkins.
54 - 73
0:03
Jacque Vaughn made Free Throw 2 of 2.
55 - 73
0:00
End of the 3rd Quarter.
55 - 73

time
TEAM
PLAY
SCORE
12:00
Start of the 4th Quarter.
55 - 73
11:37
Tayshaun Prince missed 15 ft Jumper.
55 - 73
11:33
Ben Wallace Offensive Rebound.
55 - 73
11:33
Ben Wallace made Tip Shot.
55 - 75
11:15
Jacque Vaughn missed Layup. Blocked by Tayshaun Prince.
55 - 75
11:11
Ben Wallace Defensive Rebound.
55 - 75
11:00
Tayshaun Prince made Layup. Assisted by Richard Hamilton.
55 - 77
10:47
Chris Whitney missed 25 ft Three Point Jumper.
55 - 77
10:45
Ben Wallace Defensive Rebound.
55 - 77
10:34
Darrell Armstrong Personal Foul
55 - 77
10:34
Gordan Giricek enters the game for Pat Garrity.
55 - 77
10:34
Drew Gooden enters the game for Jacque Vaughn.
55 - 77
10:29
Chauncey Billups Bad Pass
55 - 77
10:17
Darrell Armstrong missed Three Point Jumper.
55 - 77
10:15
Tayshaun Prince Defensive Rebound.
55 - 77
10:02
Mehmet Okur Bad Pass. Stolen by Tracy McGrady.
55 - 77
9:55
Tracy McGrady missed 26 ft Three Point Jumper.
55 - 77
9:52
Tayshaun Prince Defensive Rebound.
55 - 77
9:41
Chris Whitney Personal Foul
55 - 77
9:41
Jon Barry enters the game for Richard Hamilton.
55 - 77
9:41
Andrew DeClercq enters the game for Chris Whitney.
55 - 77
9:29
Tayshaun Prince made 27 ft Three Point Jumper. Assisted by Mehmet Okur.
55 - 80
9:22
Ben Wallace Double Technical Foul. Andrew DeClercq gains possession.
55 - 80
9:22
Pat Garrity Technical Foul
55 - 80
9:22
Chauncey Billups made Technical Free Throw.
55 - 81
9:17
Darrell Armstrong missed 18 ft Jumper.
55 - 81
9:15
Drew Gooden Offensive Rebound.
55 - 81
9:06
Jon Barry Shooting Foul
55 - 81
9:06
Gordan Giricek missed Free Throw 1 of 2.
55 - 81
9:06
Orlando Offensive Rebound.
55 - 81
9:06
Gordan Giricek made Free Throw 2 of 2.
56 - 81
8:42
Chauncey Billups missed 26 ft Three Point Jumper.
56 - 81
8:41
Drew Gooden Defensive Rebound.
56 - 81
8:33
Gordan Giricek Lost Ball. Stolen by Ben Wallace.
56 - 81
8:32
Drew Gooden Personal Foul
56 - 81
8:32
Official Timeout.
56 - 81
8:32
Chucky Atkins enters the game for Chauncey Billups.
56 - 81
8:15
Mehmet Okur Lost Ball. Stolen by Tracy McGrady.
56 - 81
8:07
Tracy McGrady Bad Pass. Stolen by Tayshaun Prince.
56 - 81
8:04
Tracy McGrady Shooting Foul
56 - 81
8:04
Tayshaun Prince made Free Throw 1 of 2.
56 - 82
8:04
Tayshaun Prince missed Free Throw 2 of 2.
56 - 82
8:04
Andrew DeClercq Defensive Rebound.
56 - 82
7:46
Darrell Armstrong Bad Pass. Stolen by Ben Wallace.
56 - 82
7:33
Mehmet Okur missed 25 ft Three Point Jumper.
56 - 82
7:30
Andrew DeClercq Defensive Rebound.
56 - 82
7:26
Gordan Giricek Lost Ball. Stolen by Chucky Atkins.
56 - 82
7:09
Tayshaun Prince missed 23 ft Three Point Jumper.
56 - 82
7:07
Drew Gooden Defensive Rebound.
56 - 82
6:50
Andrew DeClercq missed 10 ft Jumper.
56 - 82
6:50
Tracy McGrady Offensive Rebound.
56 - 82
6:48
Tracy McGrady made Tip Shot.
58 - 82
6:35
Jon Barry missed 29 ft Three Point Jumper.
58 - 82
6:33
Darrell Armstrong Defensive Rebound.
58 - 82
6:30
Darrell Armstrong missed 28 ft Three Point Jumper.
58 - 82
6:28
Drew Gooden Offensive Rebound.
58 - 82
6:26
Drew Gooden missed Layup.
58 - 82
6:24
Ben Wallace Defensive Rebound.
58 - 82
6:03
Tayshaun Prince missed 26 ft Three Point Jumper.
58 - 82
6:01
Darrell Armstrong Defensive Rebound.
58 - 82
5:54
Darrell Armstrong missed Layup. Blocked by Ben Wallace.
58 - 82
5:52
Drew Gooden Offensive Rebound.
58 - 82
5:52
Ben Wallace Shooting Foul
58 - 82
5:52
Detroit Full Timeout.
58 - 82
5:52
Steven Hunter enters the game for Andrew DeClercq.
58 - 82
5:52
Jeryl Sasser enters the game for Tracy McGrady.
58 - 82
5:52
Jacque Vaughn enters the game for Darrell Armstrong.
58 - 82
5:52
Drew Gooden missed Free Throw 1 of 2.
58 - 82
5:52
Orlando Offensive Rebound.
58 - 82
5:52
Drew Gooden made Free Throw 2 of 2.
59 - 82
5:37
Chucky Atkins missed 25 ft Three Point Jumper.
59 - 82
5:35
Detroit Defensive Rebound.
59 - 82
5:35
Pat Burke enters the game for Drew Gooden.
59 - 82
5:22
Steven Hunter missed Layup. Blocked by Ben Wallace.
59 - 82
5:20
Tayshaun Prince Defensive Rebound.
59 - 82
5:00
Chucky Atkins missed Layup. Blocked by Steven Hunter.
59 - 82
4:58
Ben Wallace Offensive Rebound.
59 - 82
4:56
Ben Wallace made Layup.
59 - 84
4:41
Chucky Atkins Shooting Foul
59 - 84
4:41
Clifford Robinson enters the game for Ben Wallace.
59 - 84
4:41
Pat Burke made Free Throw 1 of 2.
60 - 84
4:41
Pat Burke made Free Throw 2 of 2.
61 - 84
4:20
Tayshaun Prince made 9 ft Hook Shot.
61 - 86
4:09
Gordan Giricek made 20 ft Jumper. Assisted by Jacque Vaughn.
63 - 86
3:42
Gordan Giricek Shooting Foul
63 - 86
3:42
Danny Manning enters the game for Clifford Robinson.
63 - 86
3:42
Jon Barry made Free Throw 1 of 2.
63 - 87
3:42
Jon Barry made Free Throw 2 of 2.
63 - 88
3:31
Jacque Vaughn missed 22 ft Jumper.
63 - 88
3:29
Orlando Defensive Rebound.
63 - 88
3:29
Chris Whitney enters the game for Gordan Giricek.
63 - 88
3:04
Tayshaun Prince missed 28 ft Three Point Jumper. Blocked by Jeryl Sasser.
63 - 88
3:01
Pat Burke Defensive Rebound.
63 - 88
2:53
Jeryl Sasser missed 23 ft Jumper.
63 - 88
2:50
Mehmet Okur Defensive Rebound.
63 - 88
2:31
Chucky Atkins missed 21 ft Jumper.
63 - 88
2:29
Jeryl Sasser Defensive Rebound.
63 - 88
2:16
Pat Burke Lost Ball. Stolen by Chucky Atkins.
63 - 88
2:10
Jon Barry made 26 ft Three Point Jumper. Assisted by Chucky Atkins.
63 - 91
1:52
Jacque Vaughn made 19 ft Jumper.
65 - 91
1:35
Mehmet Okur made Two Point Shot.
65 - 93
1:25
Pat Burke missed 21 ft Jumper.
65 - 93
1:24
Danny Manning Defensive Rebound.
65 - 93
1:00
Mehmet Okur made Two Point Shot. Assisted by Tayshaun Prince.
65 - 95
0:46
Steven Hunter missed Layup. Blocked by Danny Manning.
65 - 95
0:42
Mehmet Okur Defensive Rebound.
65 - 95
0:39
Danny Manning missed Two Point Shot.
65 - 95
0:34
Pat Burke Defensive Rebound.
65 - 95
0:27
Jeryl Sasser missed 27 ft Three Point Jumper.
65 - 95
0:25
Danny Manning Defensive Rebound.
65 - 95
0:03
Mehmet Okur made 25 ft Three Point Jumper.
65 - 98
0:00
End of the 4th Quarter.
65 - 98
0:00
End Game
65 - 98
0:00
End Game
65 - 98
The Boston Celtics will sign No. 45 pick Demetrius Jackson to a four-year, $5.5 million deal, a league source confirmed to ESPN.

DeMarcus Cousins discusses Team USA's victory over China in basketball and what assistant Tom Thibodeau likes to work on defensively in practice.

Take a look back at some of Amar'e Stoudemire's top plays during his time in the NBA, including a dunk that created an interesting reaction from Stephon Marbury.
Playoff Series
DET wins series 4-3
2015-2016 Atlantic Standings