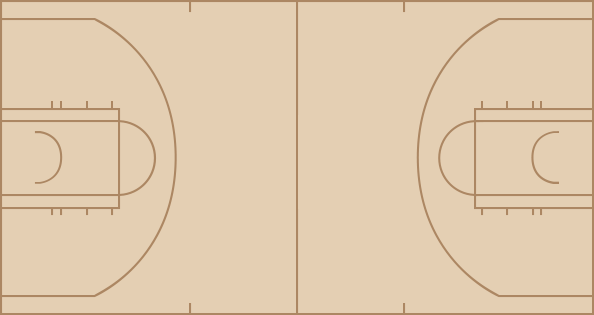 Mavericks
time
TEAM
PLAY
SCORE
12:00
Start of the 1st Quarter.
0 - 0
12:00
Jumpball. Shawn Bradley vs. Rasheed Wallace. Dirk Nowitzki gains possession.
0 - 0
11:48
Raef LaFrentz missed Jumper. Blocked by Dale Davis.
0 - 0
11:47
Dallas Offensive Rebound.
0 - 0
11:37
Steve Nash made 22 ft Three Point Jumper. Assisted by Shawn Bradley.
3 - 0
11:18
Raef LaFrentz Personal Foul
3 - 0
11:07
Damon Stoudamire made 25 ft Three Point Jumper.
3 - 3
10:53
Shawn Bradley missed 19 ft Jumper.
3 - 3
10:52
Bonzi Wells Defensive Rebound.
3 - 3
10:34
Damon Stoudamire missed 22 ft Jumper.
3 - 3
10:33
Portland Defensive Rebound.
3 - 3
10:18
Steve Nash missed Two Point Shot.
3 - 3
10:18
Dallas Defensive Rebound.
3 - 3
10:18
Steve Nash Loose Ball Foul
3 - 3
9:57
Bonzi Wells made 10 ft Jumper.
3 - 5
9:34
Michael Finley made 23 ft Three Point Jumper. Assisted by Dirk Nowitzki.
6 - 5
9:15
Dirk Nowitzki Shooting Foul
6 - 5
9:15
Zachary Randolph made Free Throw 1 of 2.
6 - 6
9:15
Zachary Randolph made Free Throw 2 of 2.
6 - 7
8:56
Shawn Bradley made Layup. Assisted by Steve Nash.
8 - 7
8:41
Zachary Randolph Lost Ball
8 - 7
8:30
Rasheed Wallace Personal Foul
8 - 7
8:22
Shawn Bradley made 18 ft Jumper. Assisted by Steve Nash.
10 - 7
8:00
Bonzi Wells Bad Pass. Stolen by Shawn Bradley.
10 - 7
7:54
Michael Finley made 24 ft Three Point Jumper. Assisted by Steve Nash.
13 - 7
7:37
Bonzi Wells missed 21 ft Jumper.
13 - 7
7:35
Zachary Randolph Offensive Rebound.
13 - 9
7:35
Zachary Randolph made Tip Shot.
13 - 9
7:18
Steve Nash made 24 ft Three Point Jumper.
16 - 9
7:11
Steve Nash Personal Foul
16 - 9
7:01
Damon Stoudamire missed 24 ft Three Point Jumper.
16 - 9
7:00
Dale Davis Offensive Rebound.
16 - 9
6:50
Dale Davis made Slam Dunk. Assisted by Damon Stoudamire.
16 - 11
6:33
Dirk Nowitzki missed 12 ft Jumper. Blocked by Rasheed Wallace.
16 - 11
6:31
Zachary Randolph Defensive Rebound.
16 - 11
6:28
Damon Stoudamire Traveling
16 - 11
6:20
Raef LaFrentz missed 24 ft Three Point Jumper.
16 - 11
6:18
Michael Finley Offensive Rebound.
16 - 11
6:16
Michael Finley made 17 ft Jumper.
18 - 11
6:01
Rasheed Wallace made 17 ft Jumper. Assisted by Damon Stoudamire.
18 - 13
5:43
Damon Stoudamire Personal Foul
18 - 13
5:43
Portland Full Timeout.
18 - 13
5:28
Steve Nash missed 21 ft Jumper.
18 - 13
5:26
Dallas Offensive Rebound.
18 - 13
5:16
Bonzi Wells Personal Foul
18 - 13
5:07
Dirk Nowitzki missed 20 ft Jumper.
18 - 13
5:07
Zachary Randolph Defensive Rebound.
18 - 13
4:52
Bonzi Wells made Slam Dunk. Assisted by Rasheed Wallace.
18 - 15
4:31
Steve Nash missed 17 ft Jumper.
18 - 15
4:30
Damon Stoudamire Defensive Rebound.
18 - 15
4:22
Dale Davis made Jumper. Assisted by Bonzi Wells.
18 - 17
4:01
Dirk Nowitzki missed 10 ft Jumper. Blocked by Rasheed Wallace.
18 - 17
3:59
Bonzi Wells Defensive Rebound.
18 - 17
3:56
Bonzi Wells Lost Ball. Stolen by Steve Nash.
18 - 17
3:53
Steve Nash made 23 ft Three Point Jumper.
21 - 17
3:39
Dirk Nowitzki Personal Foul
21 - 17
3:39
Lane Violation
21 - 17
3:39
Damon Stoudamire made Free Throw 1 of 2.
21 - 18
3:39
Damon Stoudamire made Free Throw 2 of 2.
21 - 19
3:26
Dirk Nowitzki missed 19 ft Jumper.
21 - 19
3:25
Zachary Randolph Defensive Rebound.
21 - 19
3:06
Dale Davis missed 14 ft Two Point Shot.
21 - 19
3:04
Portland Defensive Rebound.
21 - 19
3:00
Zachary Randolph Shooting Foul
21 - 19
3:00
Arvydas Sabonis enters the game for Dale Davis.
21 - 19
3:00
Eduardo Najera enters the game for Raef LaFrentz.
21 - 19
3:00
Shawn Bradley missed Free Throw 1 of 2.
21 - 19
3:00
Dallas Offensive Rebound.
21 - 19
3:00
Shawn Bradley made Free Throw 2 of 2.
22 - 19
2:46
Damon Stoudamire made Two Point Shot.
22 - 21
2:38
Shawn Bradley missed Two Point Shot.
22 - 21
2:35
Arvydas Sabonis Defensive Rebound.
22 - 21
2:30
Rasheed Wallace missed 25 ft Three Point Jumper.
22 - 21
2:26
Bonzi Wells Offensive Rebound.
22 - 21
2:10
Arvydas Sabonis made Dunk. Assisted by Rasheed Wallace.
22 - 23
1:55
Steve Nash missed 24 ft Three Point Jumper.
22 - 23
1:54
Bonzi Wells Defensive Rebound.
22 - 23
1:50
Damon Stoudamire missed Two Point Shot. Blocked by Michael Finley.
22 - 23
1:47
Michael Finley Defensive Rebound.
22 - 23
1:36
Dallas Full Timeout.
22 - 23
1:36
Raef LaFrentz enters the game for Shawn Bradley.
22 - 23
1:36
Nick Van Exel enters the game for Steve Nash.
22 - 23
1:28
Dirk Nowitzki missed 5 ft Two Point Shot.
22 - 23
1:27
Arvydas Sabonis Defensive Rebound.
22 - 23
1:16
Arvydas Sabonis made Layup. Assisted by Zachary Randolph.
22 - 25
1:07
Raef LaFrentz missed 23 ft Jumper.
22 - 25
1:05
Arvydas Sabonis Defensive Rebound.
22 - 25
1:00
Raef LaFrentz Personal Foul
22 - 25
1:00
Zachary Randolph made Free Throw 1 of 2.
22 - 26
1:00
Zachary Randolph made Free Throw 2 of 2.
22 - 27
0:42
Nick Van Exel Bad Pass
22 - 27
0:29
Arvydas Sabonis missed Layup. Blocked by Raef LaFrentz.
22 - 27
0:27
Michael Finley Defensive Rebound.
22 - 27
0:24
Dirk Nowitzki made Dunk. Assisted by Nick Van Exel.
24 - 27
0:00
24 second
24 - 27
0:00
End of the 1st Quarter.
24 - 27

time
TEAM
PLAY
SCORE
12:00
Start of the 2nd Quarter.
24 - 27
11:40
Rasheed Wallace made 25 ft Three Point Jumper. Assisted by Bonzi Wells.
24 - 30
11:18
Michael Finley missed 19 ft Jumper.
24 - 30
11:18
Raef LaFrentz Offensive Rebound.
24 - 30
11:11
Eduardo Najera missed 10 ft Jumper.
24 - 30
11:08
Damon Stoudamire Defensive Rebound.
24 - 30
10:53
Bonzi Wells missed 25 ft Three Point Jumper.
24 - 30
10:48
Damon Stoudamire Offensive Rebound.
24 - 30
10:37
Zachary Randolph missed Layup.
24 - 30
10:37
Nick Van Exel Defensive Rebound.
24 - 30
10:29
Michael Finley missed 24 ft Three Point Jumper.
24 - 30
10:26
Dallas Defensive Rebound.
24 - 30
10:26
Jeff McInnis enters the game for Damon Stoudamire.
24 - 30
10:11
Arvydas Sabonis made 9 ft Hook Shot. Assisted by Jeff McInnis.
24 - 32
10:00
Michael Finley missed 4 ft Jumper.
24 - 32
9:59
Eduardo Najera Offensive Rebound.
24 - 32
9:59
Arvydas Sabonis Shooting Foul
24 - 32
9:59
Ruben Patterson enters the game for Zachary Randolph.
24 - 32
9:59
Steve Nash enters the game for Raef LaFrentz.
24 - 32
9:59
Eduardo Najera made Free Throw 1 of 2.
25 - 32
9:59
Eduardo Najera missed Free Throw 2 of 2.
25 - 32
9:57
Rasheed Wallace Defensive Rebound.
25 - 32
9:41
Jeff McInnis missed 8 ft Two Point Shot.
25 - 32
9:40
Rasheed Wallace Offensive Rebound.
25 - 32
9:40
Rasheed Wallace missed Two Point Shot.
25 - 32
9:37
Arvydas Sabonis Offensive Rebound.
25 - 32
9:33
Bonzi Wells made Dunk. Assisted by Arvydas Sabonis.
25 - 34
9:29
Dallas Full Timeout.
25 - 34
9:29
Shawn Bradley enters the game for Michael Finley.
25 - 34
9:17
Shawn Bradley missed 17 ft Jumper.
25 - 34
9:14
Rasheed Wallace Defensive Rebound.
25 - 34
8:53
Ruben Patterson Lost Ball
25 - 34
8:41
Jeff McInnis Personal Foul
25 - 34
8:30
Shawn Bradley missed Two Point Shot.
25 - 34
8:29
Dallas Defensive Rebound.
25 - 34
8:19
Bonzi Wells made Jumper. Assisted by Jeff McInnis.
25 - 36
8:04
Steve Nash missed 12 ft Two Point Shot.
25 - 36
8:03
Arvydas Sabonis Defensive Rebound.
25 - 36
7:52
Ruben Patterson made Layup. Assisted by Jeff McInnis.
25 - 38
7:50
Dallas 20 Sec. Timeout.
25 - 38
7:50
Michael Finley enters the game for Steve Nash.
25 - 38
7:35
Shawn Bradley 3 second
25 - 38
7:35
Raef LaFrentz enters the game for Eduardo Najera.
25 - 38
7:26
Bonzi Wells missed Two Point Shot.
25 - 38
7:24
Arvydas Sabonis Offensive Rebound.
25 - 40
7:24
Arvydas Sabonis made Tip Shot.
25 - 40
7:11
Dirk Nowitzki missed 16 ft Jumper.
25 - 40
7:09
Arvydas Sabonis Defensive Rebound.
25 - 40
7:05
Michael Finley Shooting Foul
25 - 40
7:05
Eduardo Najera enters the game for Shawn Bradley.
25 - 40
7:05
Ruben Patterson made Free Throw 1 of 2.
25 - 41
7:05
Ruben Patterson made Free Throw 2 of 2.
25 - 42
6:52
Nick Van Exel made Two Point Shot.
27 - 42
6:31
Bonzi Wells made Jumper. Assisted by Jeff McInnis.
27 - 44
6:22
Nick Van Exel Lost Ball. Stolen by Jeff McInnis.
27 - 44
6:18
Ruben Patterson made Layup. Assisted by Bonzi Wells.
27 - 46
6:11
Dallas Full Timeout.
27 - 46
6:11
Steve Nash enters the game for Raef LaFrentz.
27 - 46
6:05
Eduardo Najera made Layup. Assisted by Steve Nash.
29 - 46
5:47
Arvydas Sabonis Lost Ball
29 - 46
5:47
Zachary Randolph enters the game for Arvydas Sabonis.
29 - 46
5:37
Jeff McInnis Personal Foul
29 - 46
5:33
Steve Nash Bad Pass. Stolen by Ruben Patterson.
29 - 46
5:30
Ruben Patterson made Two Point Shot.
29 - 48
5:05
Michael Finley missed 19 ft Jumper.
29 - 48
5:03
Rasheed Wallace Defensive Rebound.
29 - 48
4:50
Rasheed Wallace missed 25 ft Three Point Jumper.
29 - 48
4:48
Steve Nash Defensive Rebound.
29 - 48
4:43
Steve Nash missed Two Point Shot.
29 - 48
4:41
Ruben Patterson Defensive Rebound.
29 - 48
4:37
Jeff McInnis missed Jumper.
29 - 48
4:35
Jeff McInnis Offensive Rebound.
29 - 48
4:35
Nick Van Exel Personal Foul
29 - 48
4:35
Damon Stoudamire enters the game for Jeff McInnis.
29 - 48
4:22
Bonzi Wells missed 6 ft Two Point Shot.
29 - 48
4:20
Zachary Randolph Offensive Rebound.
29 - 50
4:20
Zachary Randolph made Layup.
29 - 50
4:03
Dirk Nowitzki Lost Ball
29 - 50
3:55
Portland Full Timeout.
29 - 50
3:43
Damon Stoudamire missed Jumper.
29 - 50
3:40
Portland Offensive Rebound.
29 - 50
3:35
Bonzi Wells made Layup. Assisted by Ruben Patterson.
29 - 52
3:14
Eduardo Najera missed 6 ft Jumper.
29 - 52
3:12
Michael Finley Offensive Rebound.
31 - 52
3:12
Michael Finley made Tip Shot.
31 - 52
2:57
Zachary Randolph made Layup. Assisted by Ruben Patterson.
31 - 54
2:42
Zachary Randolph Shooting Foul
31 - 54
2:42
Steve Nash made Free Throw 1 of 2.
32 - 54
2:42
Raef LaFrentz enters the game for Eduardo Najera.
32 - 54
2:42
Steve Nash made Free Throw 2 of 2.
33 - 54
2:30
Bonzi Wells made Dunk. Assisted by Rasheed Wallace.
33 - 56
2:29
Bonzi Wells Hanging on Rim Foul
33 - 56
2:29
Steve Nash made Technical Free Throw.
34 - 56
2:29
Antonio Daniels enters the game for Zachary Randolph.
34 - 56
2:15
Steve Nash made Two Point Shot.
36 - 56
1:52
Rasheed Wallace made Two Point Shot. Assisted by Antonio Daniels.
36 - 58
1:52
Michael Finley Shooting Foul
36 - 58
1:52
Rasheed Wallace made Free Throw 1 of 1.
36 - 59
1:31
Raef LaFrentz made Dunk. Assisted by Nick Van Exel.
38 - 59
1:07
Rasheed Wallace made 25 ft Three Point Jumper. Assisted by Antonio Daniels.
38 - 62
0:45
Raef LaFrentz missed 21 ft Jumper.
38 - 62
0:43
Damon Stoudamire Defensive Rebound.
38 - 62
0:31
Damon Stoudamire missed 8 ft Jumper.
38 - 62
0:28
Ruben Patterson Offensive Rebound.
38 - 62
0:28
Ruben Patterson missed Layup.
38 - 62
0:25
Portland Offensive Rebound.
38 - 62
0:25
Shawn Bradley enters the game for Raef LaFrentz.
38 - 62
0:25
Ruben Patterson Bad Pass. Stolen by Michael Finley.
38 - 62
0:19
Nick Van Exel missed Layup.
38 - 62
0:19
Nick Van Exel Offensive Rebound.
38 - 62
0:17
Nick Van Exel missed Layup.
38 - 62
0:16
Rasheed Wallace Defensive Rebound.
38 - 62
0:03
Damon Stoudamire made 6 ft Jumper.
38 - 64
0:00
End of the 2nd Quarter.
38 - 64

time
TEAM
PLAY
SCORE
12:00
Start of the 3rd Quarter.
38 - 64
11:48
Rasheed Wallace Lost Ball
38 - 64
11:30
Dirk Nowitzki missed 24 ft Three Point Jumper.
38 - 64
11:29
Michael Finley Offensive Rebound.
38 - 64
11:26
Michael Finley missed 7 ft Jumper. Blocked by Bonzi Wells.
38 - 64
11:26
Damon Stoudamire Defensive Rebound.
38 - 64
11:22
Ruben Patterson made 15 ft Jumper. Assisted by Damon Stoudamire.
38 - 66
11:11
Zachary Randolph Personal Foul
38 - 66
11:08
Dirk Nowitzki missed 22 ft Jumper.
38 - 66
11:06
Bonzi Wells Defensive Rebound.
38 - 66
10:56
Ruben Patterson made 12 ft Jumper. Assisted by Damon Stoudamire.
38 - 68
10:48
Steve Nash made 8 ft Jumper.
40 - 68
10:36
Ruben Patterson Bad Pass. Stolen by Steve Nash.
40 - 68
10:32
Steve Nash made Two Point Shot.
42 - 68
10:29
Portland Full Timeout.
42 - 68
10:29
Eduardo Najera enters the game for Shawn Bradley.
42 - 68
10:22
Damon Stoudamire Lost Ball. Stolen by Steve Nash.
42 - 68
10:22
Steve Nash Backcourt
42 - 68
10:00
Zachary Randolph missed 5 ft Jumper.
42 - 68
10:00
Portland Defensive Rebound.
42 - 68
10:00
Ruben Patterson Loose Ball Foul
42 - 68
9:42
Dirk Nowitzki missed 17 ft Jumper.
42 - 68
9:41
Rasheed Wallace Defensive Rebound.
42 - 68
9:29
Dirk Nowitzki Shooting Foul
42 - 68
9:29
Zachary Randolph made Free Throw 1 of 2.
42 - 69
9:29
Zachary Randolph made Free Throw 2 of 2.
42 - 70
9:21
Steve Nash Lost Ball
42 - 70
9:07
Bonzi Wells made Two Point Shot.
42 - 72
8:55
Dirk Nowitzki made Two Point Shot. Assisted by Michael Finley.
44 - 72
8:45
Bonzi Wells Offensive Foul
44 - 72
8:45
Bonzi Wells Foul
44 - 72
8:29
Steve Nash missed Two Point Shot.
44 - 72
8:26
Raef LaFrentz Offensive Rebound.
44 - 72
8:26
Raef LaFrentz missed Layup.
44 - 72
8:26
Bonzi Wells Defensive Rebound.
44 - 72
8:22
Ruben Patterson made Slam Dunk. Assisted by Rasheed Wallace.
44 - 74
8:03
Michael Finley made 8 ft Jumper. Assisted by Steve Nash.
46 - 74
7:48
Zachary Randolph Offensive Foul
46 - 74
7:48
Zachary Randolph Foul
46 - 74
7:48
Adrian Griffin enters the game for Dirk Nowitzki.
46 - 74
7:48
Zachary Randolph Technical Foul
46 - 74
7:48
Steve Nash made Technical Free Throw.
47 - 74
7:48
Antonio Daniels enters the game for Zachary Randolph.
47 - 74
7:41
Damon Stoudamire Personal Foul
47 - 74
7:31
Rasheed Wallace Personal Foul
47 - 74
7:20
Steve Nash missed 25 ft Three Point Jumper.
47 - 74
7:16
Dallas Defensive Rebound.
47 - 74
7:01
Damon Stoudamire made 20 ft Jumper.
47 - 76
6:48
Eduardo Najera made Two Point Shot. Assisted by Steve Nash.
49 - 76
6:37
Antonio Daniels made Two Point Shot.
49 - 78
6:31
Damon Stoudamire Shooting Foul
49 - 78
6:31
Steve Nash made Free Throw 1 of 2.
50 - 78
6:31
Steve Nash made Free Throw 2 of 2.
51 - 78
6:16
Bonzi Wells missed Layup.
51 - 78
6:16
Portland Defensive Rebound.
51 - 78
6:16
Nick Van Exel enters the game for Steve Nash.
51 - 78
6:09
Michael Finley missed 25 ft Three Point Jumper.
51 - 78
6:09
Damon Stoudamire Defensive Rebound.
51 - 78
6:09
Raef LaFrentz Personal Foul
51 - 78
5:56
Eduardo Najera Shooting Foul
51 - 78
5:56
Rasheed Wallace made Free Throw 1 of 2.
51 - 79
5:56
Rasheed Wallace made Free Throw 2 of 2.
51 - 80
5:39
Michael Finley missed 18 ft Jumper.
51 - 80
5:37
Adrian Griffin Offensive Rebound.
51 - 80
5:30
Bonzi Wells Personal Foul
51 - 80
5:30
Michael Finley made Free Throw 1 of 2.
52 - 80
5:30
Michael Finley made Free Throw 2 of 2.
53 - 80
5:11
Damon Stoudamire made 24 ft Three Point Jumper. Assisted by Rasheed Wallace.
53 - 83
5:05
Eduardo Najera made Layup. Assisted by Nick Van Exel.
55 - 83
4:43
Ruben Patterson made Slam Dunk. Assisted by Rasheed Wallace.
55 - 85
4:43
Raef LaFrentz Shooting Foul
55 - 85
4:43
Tariq Abdul-Wahad enters the game for Michael Finley.
55 - 85
4:43
Ruben Patterson made Free Throw 1 of 1.
55 - 86
4:20
Adrian Griffin missed 6 ft Jumper.
55 - 86
4:18
Adrian Griffin Offensive Rebound.
55 - 86
4:13
Raef LaFrentz made Layup. Assisted by Eduardo Najera.
57 - 86
3:55
Antonio Daniels made 17 ft Jumper.
57 - 88
3:38
Eduardo Najera Lost Ball. Stolen by Damon Stoudamire.
57 - 88
3:34
Rasheed Wallace Backcourt
57 - 88
3:34
Michael Finley enters the game for Raef LaFrentz.
57 - 88
3:34
Zachary Randolph enters the game for Rasheed Wallace.
57 - 88
3:18
Antonio Daniels Shooting Foul
57 - 88
3:18
Nick Van Exel made Free Throw 1 of 2.
58 - 88
3:18
Nick Van Exel made Free Throw 2 of 2.
59 - 88
3:03
Adrian Griffin Personal Foul
59 - 88
3:03
Ruben Patterson Technical Foul
59 - 88
3:03
Michael Finley made Technical Free Throw.
60 - 88
3:03
Ruben Patterson made Free Throw 1 of 2.
60 - 89
3:03
Ruben Patterson missed Free Throw 2 of 2.
60 - 89
3:03
Adrian Griffin Defensive Rebound.
60 - 89
2:55
Adrian Griffin Offensive Foul
60 - 89
2:55
Adrian Griffin Foul
60 - 89
2:55
Dallas Full Timeout.
60 - 89
2:55
Raja Bell enters the game for Nick Van Exel.
60 - 89
2:55
Jeff McInnis enters the game for Damon Stoudamire.
60 - 89
2:32
Bonzi Wells made Layup. Assisted by Antonio Daniels.
60 - 91
2:17
Michael Finley made 22 ft Jumper. Assisted by Tariq Abdul-Wahad.
62 - 91
1:55
Jeff McInnis made Two Point Shot.
62 - 93
1:42
Bonzi Wells Personal Foul
62 - 93
1:42
Eduardo Najera missed Free Throw 1 of 2.
62 - 93
1:42
Dallas Offensive Rebound.
62 - 93
1:42
Scottie Pippen enters the game for Bonzi Wells.
62 - 93
1:42
Eduardo Najera made Free Throw 2 of 2.
63 - 93
1:24
Scottie Pippen made 10 ft Jumper. Assisted by Ruben Patterson.
63 - 95
1:14
Michael Finley made Three Point Jumper.
66 - 95
1:00
Ruben Patterson missed Two Point Shot.
66 - 95
1:00
Adrian Griffin Defensive Rebound.
66 - 95
0:49
Michael Finley missed Layup.
66 - 95
0:47
Eduardo Najera Offensive Rebound.
66 - 95
0:47
Eduardo Najera missed Layup.
66 - 95
0:45
Zachary Randolph Defensive Rebound.
66 - 95
0:33
Raja Bell Personal Foul
66 - 95
0:33
Evan Eschmeyer enters the game for Eduardo Najera.
66 - 95
0:33
Qyntel Woods enters the game for Ruben Patterson.
66 - 95
0:33
Scottie Pippen made Free Throw 1 of 2.
66 - 96
0:33
Scottie Pippen made Free Throw 2 of 2.
66 - 97
0:25
Michael Finley missed 22 ft Jumper.
66 - 97
0:22
Jeff McInnis Defensive Rebound.
66 - 97
0:03
Jeff McInnis missed 24 ft Three Point Jumper.
66 - 97
0:01
Raja Bell Defensive Rebound.
66 - 97
0:00
End of the 3rd Quarter.
66 - 97

time
TEAM
PLAY
SCORE
12:00
Start of the 4th Quarter.
66 - 97
11:47
Walt Williams missed 22 ft Jumper.
66 - 97
11:45
Raja Bell Offensive Rebound.
66 - 97
11:41
Adrian Griffin missed 20 ft Jumper.
66 - 97
11:40
Tariq Abdul-Wahad Offensive Rebound.
68 - 97
11:40
Tariq Abdul-Wahad made Two Point Shot.
68 - 97
11:15
Antonio Daniels missed 6 ft Two Point Shot.
68 - 97
11:15
Zachary Randolph Offensive Rebound.
68 - 97
11:15
Zachary Randolph missed Tip Shot.
68 - 97
11:14
Walt Williams Defensive Rebound.
68 - 97
11:00
Walt Williams made Jumper. Assisted by Tariq Abdul-Wahad.
70 - 97
10:41
Qyntel Woods missed Jumper.
70 - 97
10:38
Qyntel Woods Offensive Rebound.
70 - 97
10:37
Raja Bell Personal Foul
70 - 97
10:29
Scottie Pippen missed 23 ft Jumper.
70 - 97
10:26
Tariq Abdul-Wahad Defensive Rebound.
70 - 97
10:21
Raja Bell made 20 ft Jumper. Assisted by Tariq Abdul-Wahad.
72 - 97
10:03
Jeff McInnis missed 4 ft Jumper.
72 - 97
10:02
Adrian Griffin Defensive Rebound.
72 - 97
9:57
Tariq Abdul-Wahad missed Jumper.
72 - 97
9:56
Scottie Pippen Defensive Rebound.
72 - 97
9:56
Adrian Griffin Personal Foul
72 - 97
9:56
Arvydas Sabonis enters the game for Zachary Randolph.
72 - 97
9:37
Jeff McInnis missed 19 ft Jumper.
72 - 97
9:36
Scottie Pippen Offensive Rebound.
72 - 97
9:36
Raja Bell Personal Foul
72 - 97
9:26
Evan Eschmeyer Personal Foul
72 - 97
9:22
Arvydas Sabonis made Layup. Assisted by Jeff McInnis.
72 - 99
9:11
Tariq Abdul-Wahad missed Two Point Shot. Blocked by Arvydas Sabonis.
72 - 99
9:11
Arvydas Sabonis Defensive Rebound.
72 - 99
9:00
Qyntel Woods made Jumper.
72 - 101
8:48
Adrian Griffin made 22 ft Jumper. Assisted by Raja Bell.
74 - 101
8:33
Evan Eschmeyer Personal Foul
74 - 101
8:33
Official Timeout.
74 - 101
8:33
Arvydas Sabonis made Free Throw 1 of 2.
74 - 102
8:33
Arvydas Sabonis made Free Throw 2 of 2.
74 - 103
8:22
Raja Bell made Three Point Jumper. Assisted by Walt Williams.
77 - 103
8:03
Arvydas Sabonis made Two Point Shot. Assisted by Scottie Pippen.
77 - 105
7:52
Tariq Abdul-Wahad made Two Point Shot.
79 - 105
7:33
Arvydas Sabonis made Two Point Shot. Assisted by Antonio Daniels.
79 - 107
7:20
Walt Williams made 25 ft Three Point Jumper.
82 - 107
7:07
Qyntel Woods Offensive Foul
82 - 107
7:07
Qyntel Woods Foul
82 - 107
7:07
Zachary Randolph enters the game for Arvydas Sabonis.
82 - 107
7:07
Ruben Patterson enters the game for Scottie Pippen.
82 - 107
6:52
Raja Bell made Two Point Shot. Assisted by Walt Williams.
84 - 107
6:35
Evan Eschmeyer Shooting Foul
84 - 107
6:35
Jeff McInnis made Free Throw 1 of 2.
84 - 108
6:35
Jeff McInnis missed Free Throw 2 of 2.
84 - 108
6:35
Tariq Abdul-Wahad Defensive Rebound.
84 - 108
6:31
Raja Bell missed Layup. Blocked by Jeff McInnis.
84 - 108
6:28
Dallas Defensive Rebound.
84 - 108
6:28
Raja Bell Technical Foul
84 - 108
6:28
Zachary Randolph made Technical Free Throw.
84 - 109
6:22
Qyntel Woods missed 20 ft Jumper.
84 - 109
6:20
Adrian Griffin Defensive Rebound.
84 - 109
6:11
Tariq Abdul-Wahad made Two Point Shot. Assisted by Raja Bell.
86 - 109
6:11
Qyntel Woods Shooting Foul
86 - 109
6:11
Tariq Abdul-Wahad made Free Throw 1 of 1.
87 - 109
5:48
Zachary Randolph made Jumper. Assisted by Jeff McInnis.
87 - 111
5:35
Adrian Griffin missed 19 ft Jumper.
87 - 111
5:35
Walt Williams Offensive Rebound.
87 - 111
5:31
Evan Eschmeyer made Dunk. Assisted by Walt Williams.
89 - 111
5:13
Qyntel Woods missed 20 ft Jumper.
89 - 111
5:11
Zachary Randolph Offensive Rebound.
89 - 113
5:11
Zachary Randolph made Layup.
89 - 113
5:00
Walt Williams missed 24 ft Three Point Jumper.
89 - 113
4:58
Evan Eschmeyer Offensive Rebound.
89 - 113
4:58
Evan Eschmeyer missed Tip Shot.
89 - 113
4:54
Adrian Griffin Offensive Rebound.
89 - 113
4:54
Adrian Griffin missed 13 ft Jumper.
89 - 113
4:52
Jeff McInnis Defensive Rebound.
89 - 113
4:48
Jeff McInnis Bad Pass. Stolen by Evan Eschmeyer.
89 - 113
4:45
Walt Williams made Dunk. Assisted by Evan Eschmeyer.
91 - 113
4:15
Jeff McInnis made 13 ft Jumper. Assisted by Antonio Daniels.
91 - 115
3:59
Portland Full Timeout.
91 - 115
3:58
Tariq Abdul-Wahad made Two Point Shot. Assisted by Raja Bell.
93 - 115
3:58
Ruben Patterson Shooting Foul
93 - 115
3:58
Tariq Abdul-Wahad missed Free Throw 1 of 1.
93 - 115
3:58
Tariq Abdul-Wahad Offensive Rebound.
93 - 115
3:55
Tariq Abdul-Wahad missed 18 ft Jumper.
93 - 115
3:53
Zachary Randolph Defensive Rebound.
93 - 115
3:39
Qyntel Woods missed Layup.
93 - 115
3:38
Walt Williams Defensive Rebound.
93 - 115
3:28
Adrian Griffin missed Two Point Shot.
93 - 115
3:27
Zachary Randolph Defensive Rebound.
93 - 115
3:08
Zachary Randolph made Slam Dunk. Assisted by Ruben Patterson.
93 - 117
3:01
Raja Bell Bad Pass
93 - 117
2:45
Ruben Patterson made 4 ft Jumper.
93 - 119
2:26
Adrian Griffin made 21 ft Jumper. Assisted by Tariq Abdul-Wahad.
95 - 119
2:01
Jeff McInnis made 17 ft Jumper.
95 - 121
1:54
Qyntel Woods Personal Foul
95 - 121
1:54
Dallas Full Timeout.
95 - 121
1:54
Raja Bell missed Free Throw 1 of 2.
95 - 121
1:54
Dallas Offensive Rebound.
95 - 121
1:54
Raja Bell made Free Throw 2 of 2.
96 - 121
1:39
Qyntel Woods made Jumper. Assisted by Zachary Randolph.
96 - 123
1:31
Evan Eschmeyer made 7 ft Jumper. Assisted by Walt Williams.
98 - 123
1:16
Qyntel Woods missed 22 ft Jumper.
98 - 123
1:15
Tariq Abdul-Wahad Defensive Rebound.
98 - 123
1:04
Evan Eschmeyer made Layup. Assisted by Adrian Griffin.
100 - 123
0:45
Zachary Randolph missed 20 ft Jumper.
100 - 123
0:43
Tariq Abdul-Wahad Defensive Rebound.
100 - 123
0:35
Tariq Abdul-Wahad missed 24 ft Three Point Jumper.
100 - 123
0:33
Adrian Griffin Offensive Rebound.
100 - 123
0:31
Adrian Griffin Bad Pass
100 - 123
0:11
Evan Eschmeyer Shooting Foul
100 - 123
0:11
Zachary Randolph made Free Throw 1 of 2.
100 - 124
0:11
Zachary Randolph made Free Throw 2 of 2.
100 - 125
0:05
Raja Bell made 24 ft Three Point Jumper.
103 - 125
0:00
End of the 4th Quarter.
103 - 125
0:00
End Game
103 - 125
0:00
End Game
103 - 125
0:00
End Game
103 - 125
The market is open. NBA free-agency news is coming in fast. Stay up-to-date with the latest rumblings from around the league.

A federal judge denied Derrick Rose's motion for summary judgment in a civil sexual assault case, and a trial date has been set for Oct. 4.

Nick Friedell isn't optimistic about the Bulls' chances this season and says the Dwyane Wade signing was about winning headlines, not how the team will translate on the floor.
Playoff Series
DAL wins series 4-3
2015-2016 Pacific Standings