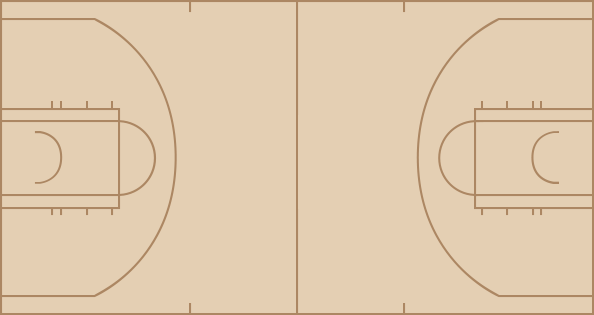 Nuggets
time
TEAM
PLAY
SCORE
12:00
Start of the 1st Quarter.
0 - 0
12:00
Jumpball. Marcus Camby vs. Jermaine O'Neal. Andre Miller gains possession.
0 - 0
11:41
Andre Miller missed Jumper.
0 - 0
11:38
Reggie Miller Defensive Rebound.
0 - 0
11:34
Kenny Anderson made Layup. Assisted by Reggie Miller.
0 - 2
11:34
Defensive Goaltending
0 - 2
11:23
Carmelo Anthony missed Layup.
0 - 2
11:22
Kenny Anderson Defensive Rebound.
0 - 2
11:18
Kenny Anderson Bad Pass. Stolen by Voshon Lenard.
0 - 2
11:15
Carmelo Anthony made Dunk. Assisted by Nene Hilario.
2 - 2
10:56
Kenny Anderson missed 6 ft Two Point Shot.
2 - 2
10:53
Nene Hilario Defensive Rebound.
2 - 2
10:47
Andre Miller made Layup.
4 - 2
10:26
Ron Artest missed 6 ft Jumper.
4 - 2
10:26
Jermaine O'Neal Offensive Rebound.
4 - 2
10:23
Jermaine O'Neal missed Layup. Blocked by Nene Hilario.
4 - 2
10:22
Marcus Camby Defensive Rebound.
4 - 2
10:11
Nene Hilario missed 4 ft Jumper. Blocked by Ron Artest.
4 - 2
10:11
Denver Offensive Rebound.
4 - 2
10:06
Andre Miller Bad Pass
4 - 2
9:49
Kenny Anderson Bad Pass. Stolen by Andre Miller.
4 - 2
9:44
Carmelo Anthony missed 13 ft Jumper.
4 - 2
9:42
Marcus Camby Offensive Rebound.
4 - 2
9:32
Andre Miller Bad Pass. Stolen by Ron Artest.
4 - 2
9:18
Jermaine O'Neal Bad Pass. Stolen by Carmelo Anthony.
4 - 2
9:12
Voshon Lenard missed Layup.
4 - 2
9:11
Andre Miller Offensive Rebound.
4 - 2
9:08
Carmelo Anthony missed 6 ft Jumper.
4 - 2
9:06
Jeff Foster Defensive Rebound.
4 - 2
8:56
Jermaine O'Neal made 14 ft Jumper. Assisted by Reggie Miller.
4 - 4
8:34
Voshon Lenard missed 16 ft Jumper.
4 - 4
8:33
Kenny Anderson Defensive Rebound.
4 - 4
8:18
Jermaine O'Neal made 12 ft Jumper. Assisted by Ron Artest.
4 - 6
8:06
Jeff Foster Shooting Foul
4 - 6
8:06
Nene Hilario missed Free Throw 1 of 2.
4 - 6
8:06
Denver Offensive Rebound.
4 - 6
8:06
Nene Hilario missed Free Throw 2 of 2.
4 - 6
8:04
Jermaine O'Neal Defensive Rebound.
4 - 6
7:43
Jermaine O'Neal missed 6 ft Jumper. Blocked by Marcus Camby.
4 - 6
7:41
Andre Miller Defensive Rebound.
4 - 6
7:39
Andre Miller Lost Ball. Stolen by Ron Artest.
4 - 6
7:35
Ron Artest made Dunk.
4 - 8
7:16
Andre Miller Traveling
4 - 8
7:00
Reggie Miller missed 25 ft Three Point Jumper.
4 - 8
6:58
Indiana Defensive Rebound.
4 - 8
6:58
Indiana 20 Sec. Timeout.
4 - 8
6:48
Carmelo Anthony missed 20 ft Jumper.
4 - 8
6:47
Denver Defensive Rebound.
4 - 8
6:31
Jermaine O'Neal made Slam Dunk. Assisted by Reggie Miller.
4 - 10
6:03
Carmelo Anthony missed 12 ft Jumper.
4 - 10
6:01
Andre Miller Offensive Rebound.
6 - 10
6:01
Andre Miller made Tip Shot.
6 - 10
5:46
Reggie Miller made 15 ft Jumper. Assisted by Kenny Anderson.
6 - 12
5:28
Jermaine O'Neal Shooting Foul
6 - 12
5:28
Indiana Full Timeout.
6 - 12
5:28
Nene Hilario made Free Throw 1 of 2.
7 - 12
5:28
Nene Hilario made Free Throw 2 of 2.
8 - 12
5:16
Ron Artest missed 26 ft Three Point Jumper.
8 - 12
5:13
Voshon Lenard Defensive Rebound.
8 - 12
4:58
Marcus Camby Bad Pass. Stolen by Jermaine O'Neal.
8 - 12
4:43
Reggie Miller missed Jumper.
8 - 12
4:41
Andre Miller Defensive Rebound.
8 - 12
4:33
Carmelo Anthony missed 17 ft Jumper.
8 - 12
4:33
Jeff Foster Defensive Rebound.
8 - 12
4:18
Ron Artest made Hook Shot. Assisted by Kenny Anderson.
8 - 14
4:01
Marcus Camby missed 13 ft Jumper.
8 - 14
4:00
Reggie Miller Defensive Rebound.
8 - 14
3:51
Kenny Anderson missed 15 ft Jumper.
8 - 14
3:50
Nene Hilario Defensive Rebound.
8 - 14
3:40
Andre Miller missed Layup.
8 - 14
3:39
Jeff Foster Defensive Rebound.
8 - 14
3:33
Marcus Camby Shooting Foul
8 - 14
3:33
Anthony Johnson enters the game for Kenny Anderson.
8 - 14
3:33
Jermaine O'Neal made Free Throw 1 of 2.
8 - 15
3:33
Al Harrington enters the game for Reggie Miller.
8 - 15
3:33
Jon Barry enters the game for Voshon Lenard.
8 - 15
3:33
Francisco Elson enters the game for Marcus Camby.
8 - 15
3:33
Jermaine O'Neal made Free Throw 2 of 2.
8 - 16
3:15
Carmelo Anthony missed Layup. Blocked by Jermaine O'Neal.
8 - 16
3:15
Denver Offensive Rebound.
8 - 16
3:10
Andre Miller made Two Point Shot.
10 - 16
2:50
Al Harrington made 19 ft Jumper. Assisted by Anthony Johnson.
10 - 18
2:30
Nene Hilario Lost Ball. Stolen by Jeff Foster.
10 - 18
2:14
Jermaine O'Neal missed 11 ft Jumper.
10 - 18
2:13
Francisco Elson Defensive Rebound.
10 - 18
2:05
Andre Miller missed 8 ft Jumper.
10 - 18
2:04
Jermaine O'Neal Defensive Rebound.
10 - 18
1:58
Al Harrington Bad Pass. Stolen by Jon Barry.
10 - 18
1:52
Carmelo Anthony missed 25 ft Three Point Jumper.
10 - 18
1:50
Ron Artest Defensive Rebound.
10 - 18
1:39
Denver Full Timeout.
10 - 18
1:39
Chris Andersen enters the game for Carmelo Anthony.
10 - 18
1:39
Earl Boykins enters the game for Nene Hilario.
10 - 18
1:39
Rodney White enters the game for Andre Miller.
10 - 18
1:39
Fred Jones enters the game for Jeff Foster.
10 - 18
1:27
Anthony Johnson missed 23 ft Three Point Jumper.
10 - 18
1:25
Jon Barry Defensive Rebound.
10 - 18
1:14
Chris Andersen missed Layup.
10 - 18
1:12
Chris Andersen Offensive Rebound.
10 - 18
1:10
Chris Andersen Lost Ball. Stolen by Fred Jones.
10 - 18
0:58
Ron Artest missed Layup.
10 - 18
0:56
Ron Artest Offensive Rebound.
10 - 18
0:54
Ron Artest missed Layup. Blocked by Rodney White.
10 - 18
0:51
Chris Andersen Defensive Rebound.
10 - 18
0:40
Rodney White missed 18 ft Jumper.
10 - 18
0:38
Jermaine O'Neal Defensive Rebound.
10 - 18
0:17
Anthony Johnson missed 20 ft Jumper.
10 - 18
0:15
Al Harrington Offensive Rebound.
10 - 18
0:13
Al Harrington Double Dribble
10 - 18
0:13
Scot Pollard enters the game for Jermaine O'Neal.
10 - 18
0:00
Rodney White missed 5 ft Jumper.
10 - 18
0:00
Denver Offensive Rebound.
10 - 18
0:00
End of the 1st Quarter.
10 - 18

time
TEAM
PLAY
SCORE
12:00
Start of the 2nd Quarter.
10 - 18
11:40
Al Harrington made 10 ft Jumper.
10 - 20
11:19
Chris Andersen Offensive Foul
10 - 20
11:19
Chris Andersen Foul
10 - 20
10:59
Anthony Johnson missed 5 ft Jumper.
10 - 20
10:57
Francisco Elson Defensive Rebound.
10 - 20
10:48
Jon Barry missed 25 ft Three Point Jumper.
10 - 20
10:47
Francisco Elson Offensive Rebound.
10 - 20
10:38
Rodney White Lost Ball. Stolen by Scot Pollard.
10 - 20
10:25
Al Harrington made Slam Dunk.
10 - 22
10:17
Kicked Ball
10 - 22
10:04
Rodney White made 1 ft Two Point Shot. Assisted by Jon Barry.
12 - 22
9:48
Fred Jones missed Layup. Blocked by Chris Andersen.
12 - 22
9:45
Ron Artest Offensive Rebound.
12 - 22
9:41
Ron Artest missed 25 ft Three Point Jumper.
12 - 22
9:38
Chris Andersen Defensive Rebound.
12 - 22
9:22
Earl Boykins made 10 ft Jumper.
14 - 22
9:22
Delay of Game
14 - 22
8:57
24 second
14 - 22
8:57
Official Timeout.
14 - 22
8:57
Austin Croshere enters the game for Ron Artest.
14 - 22
8:57
Kenny Anderson enters the game for Anthony Johnson.
14 - 22
8:41
Al Harrington Personal Foul
14 - 22
8:36
Jon Barry missed 25 ft Three Point Jumper.
14 - 22
8:33
Rodney White Offensive Rebound.
14 - 22
8:12
Rodney White made 26 ft Three Point Jumper. Assisted by Jon Barry.
17 - 22
7:50
Kenny Anderson missed 18 ft Jumper. Blocked by Chris Andersen.
17 - 22
7:50
Indiana Offensive Rebound.
17 - 22
7:43
Scot Pollard missed 6 ft Jumper.
17 - 22
7:43
Indiana Offensive Rebound.
17 - 22
7:43
24 second
17 - 22
7:35
Earl Boykins made 16 ft Jumper.
19 - 22
7:26
Indiana Full Timeout.
19 - 22
7:26
Jermaine O'Neal enters the game for Austin Croshere.
19 - 22
7:26
Reggie Miller enters the game for Scot Pollard.
19 - 22
7:13
Kenny Anderson missed 18 ft Jumper.
19 - 22
7:11
Chris Andersen Defensive Rebound.
19 - 22
7:07
Chris Andersen Bad Pass. Stolen by Al Harrington.
19 - 22
7:05
Chris Andersen Shooting Foul
19 - 22
7:05
Kenny Anderson made Free Throw 1 of 2.
19 - 23
7:05
Kenny Anderson made Free Throw 2 of 2.
19 - 24
6:54
Earl Boykins made 25 ft Three Point Jumper.
22 - 24
6:28
Fred Jones missed 18 ft Jumper.
22 - 24
6:26
Francisco Elson Defensive Rebound.
22 - 24
6:24
Earl Boykins Lost Ball. Stolen by Reggie Miller.
22 - 24
6:18
Jermaine O'Neal missed 9 ft Jumper.
22 - 24
6:16
Fred Jones Offensive Rebound.
22 - 24
6:13
Jermaine O'Neal made Layup. Assisted by Fred Jones.
22 - 26
5:58
Earl Boykins Bad Pass
22 - 26
5:39
Al Harrington made Dunk. Assisted by Kenny Anderson.
22 - 28
5:22
Al Harrington Personal Foul
22 - 28
5:13
Jon Barry Bad Pass. Stolen by Jermaine O'Neal.
22 - 28
5:09
Chris Andersen Shooting Foul
22 - 28
5:09
Reggie Miller made Free Throw 1 of 2.
22 - 29
5:09
Marcus Camby enters the game for Chris Andersen.
22 - 29
5:09
Nene Hilario enters the game for Francisco Elson.
22 - 29
5:09
Reggie Miller made Free Throw 2 of 2.
22 - 30
4:58
Marcus Camby missed 15 ft Jumper.
22 - 30
4:56
Denver Offensive Rebound.
22 - 30
4:43
Kenny Anderson Shooting Foul
22 - 30
4:43
Earl Boykins made Free Throw 1 of 2.
23 - 30
4:43
Anthony Johnson enters the game for Fred Jones.
23 - 30
4:43
Ron Artest enters the game for Kenny Anderson.
23 - 30
4:43
Andre Miller enters the game for Jon Barry.
23 - 30
4:43
Earl Boykins made Free Throw 2 of 2.
24 - 30
4:30
Al Harrington Offensive Foul
24 - 30
4:30
Al Harrington Foul
24 - 30
4:15
Anthony Johnson Shooting Foul
24 - 30
4:15
Jeff Foster enters the game for Al Harrington.
24 - 30
4:15
Voshon Lenard enters the game for Rodney White.
24 - 30
4:15
Earl Boykins missed Free Throw 1 of 2.
24 - 30
4:15
Denver Offensive Rebound.
24 - 30
4:15
Earl Boykins made Free Throw 2 of 2.
25 - 30
3:56
Jermaine O'Neal missed 13 ft Jumper.
25 - 30
3:54
Marcus Camby Defensive Rebound.
25 - 30
3:44
Earl Boykins made 15 ft Jumper. Assisted by Andre Miller.
27 - 30
3:29
Jeff Foster Lost Ball. Stolen by Nene Hilario.
27 - 30
3:29
Jeff Foster Clear Path Foul
27 - 30
3:29
Nene Hilario made Free Throw.
28 - 30
3:16
Nene Hilario Offensive Foul
28 - 30
3:16
Nene Hilario Foul
28 - 30
2:56
Anthony Johnson made Jumper. Assisted by Ron Artest.
28 - 32
2:41
Marcus Camby missed Jumper.
28 - 32
2:39
Nene Hilario Offensive Rebound.
28 - 32
2:39
Nene Hilario missed Tip Shot.
28 - 32
2:35
Jeff Foster Defensive Rebound.
28 - 32
2:30
Jeff Foster missed 5 ft Jumper. Blocked by Marcus Camby.
28 - 32
2:27
Jermaine O'Neal Offensive Rebound.
28 - 32
2:26
Nene Hilario Shooting Foul
28 - 32
2:26
Denver Full Timeout.
28 - 32
2:26
Francisco Elson enters the game for Nene Hilario.
28 - 32
2:26
Jermaine O'Neal missed Free Throw 1 of 2.
28 - 32
2:26
Indiana Offensive Rebound.
28 - 33
2:26
Jermaine O'Neal made Free Throw 2 of 2.
28 - 33
2:06
Voshon Lenard missed 10 ft Jumper.
28 - 33
2:04
Jermaine O'Neal Defensive Rebound.
28 - 33
1:46
Jermaine O'Neal missed 3 ft Two Point Shot.
28 - 33
1:43
Marcus Camby Defensive Rebound.
28 - 33
1:32
Marcus Camby missed 4 ft Two Point Shot.
28 - 33
1:31
Jermaine O'Neal Defensive Rebound.
28 - 33
1:22
Voshon Lenard Shooting Foul
28 - 33
1:22
Ron Artest missed Free Throw 1 of 2.
28 - 33
1:22
Indiana Offensive Rebound.
28 - 33
1:22
Ron Artest made Free Throw 2 of 2.
28 - 34
1:07
Reggie Miller Personal Foul
28 - 34
1:07
Francisco Elson made Free Throw 1 of 2.
29 - 34
1:07
Francisco Elson made Free Throw 2 of 2.
30 - 34
0:53
Anthony Johnson made Layup. Assisted by Reggie Miller.
30 - 36
0:53
Francisco Elson Shooting Foul
30 - 36
0:53
Anthony Johnson made Free Throw 1 of 1.
30 - 37
0:39
Scot Pollard enters the game for Jeff Foster.
30 - 37
0:36
Earl Boykins made 16 ft Jumper. Assisted by Andre Miller.
32 - 37
0:21
Anthony Johnson missed 19 ft Jumper.
32 - 37
0:20
Jermaine O'Neal Offensive Rebound.
32 - 39
0:20
Jermaine O'Neal made Tip Shot.
32 - 39
0:00
Earl Boykins made 18 ft Jumper.
34 - 39
0:00
End of the 2nd Quarter.
34 - 39

time
TEAM
PLAY
SCORE
12:00
Start of the 3rd Quarter.
34 - 39
11:48
Ron Artest missed 25 ft Three Point Jumper.
34 - 39
11:45
Marcus Camby Defensive Rebound.
34 - 39
11:40
Carmelo Anthony missed Jumper.
34 - 39
11:38
Jermaine O'Neal Defensive Rebound.
34 - 39
11:15
Kenny Anderson missed Jumper.
34 - 39
11:14
Jeff Foster Offensive Rebound.
34 - 39
11:14
Nene Hilario Loose Ball Foul
34 - 39
11:04
Andre Miller Illegal Defense Foul
34 - 39
11:04
Reggie Miller made Technical Free Throw.
34 - 40
10:51
Jermaine O'Neal made 16 ft Jumper. Assisted by Kenny Anderson.
34 - 42
10:32
Nene Hilario Offensive Foul
34 - 42
10:32
Nene Hilario Foul
34 - 42
10:32
Francisco Elson enters the game for Nene Hilario.
34 - 42
10:17
Jeff Foster Bad Pass. Stolen by Marcus Camby.
34 - 42
10:12
Kenny Anderson Shooting Foul
34 - 42
10:12
Andre Miller made Free Throw 1 of 2.
35 - 42
10:12
Andre Miller made Free Throw 2 of 2.
36 - 42
9:53
Ron Artest missed 17 ft Jumper.
36 - 42
9:52
Marcus Camby Defensive Rebound.
36 - 42
9:37
Carmelo Anthony missed 25 ft Three Point Jumper.
36 - 42
9:36
Kenny Anderson Defensive Rebound.
36 - 42
9:22
Reggie Miller made 20 ft Jumper. Assisted by Kenny Anderson.
36 - 44
9:11
Marcus Camby missed 3 ft Jumper.
36 - 44
9:08
Marcus Camby Offensive Rebound.
36 - 44
9:07
Marcus Camby missed Layup. Blocked by Reggie Miller.
36 - 44
9:03
Marcus Camby made 4 ft Jumper.
38 - 44
9:03
Marcus Camby Offensive Rebound.
38 - 44
8:38
Jermaine O'Neal missed 13 ft Jumper.
38 - 44
8:37
Ron Artest Offensive Rebound.
38 - 44
8:36
Ron Artest made Layup.
38 - 46
8:36
Francisco Elson Shooting Foul
38 - 46
8:36
Ron Artest missed Free Throw 1 of 1.
38 - 46
8:34
Francisco Elson Defensive Rebound.
38 - 46
8:22
Carmelo Anthony missed 18 ft Jumper.
38 - 46
8:21
Jermaine O'Neal Defensive Rebound.
38 - 46
8:00
Reggie Miller missed 19 ft Jumper.
38 - 46
7:58
Francisco Elson Defensive Rebound.
38 - 46
7:43
Marcus Camby missed 15 ft Jumper.
38 - 46
7:41
Jeff Foster Defensive Rebound.
38 - 46
7:33
Ron Artest missed 25 ft Three Point Jumper.
38 - 46
7:31
Jermaine O'Neal Offensive Rebound.
38 - 46
7:26
Indiana Full Timeout.
38 - 46
7:15
Jermaine O'Neal 3 second
38 - 46
7:01
Voshon Lenard missed 5 ft Jumper. Blocked by Kenny Anderson.
38 - 46
7:01
Denver Offensive Rebound.
38 - 46
6:50
Carmelo Anthony missed 11 ft Jumper.
38 - 46
6:48
Jermaine O'Neal Defensive Rebound.
38 - 46
6:35
Voshon Lenard Shooting Foul
38 - 46
6:35
Reggie Miller missed Free Throw 1 of 2.
38 - 46
6:35
Indiana Offensive Rebound.
38 - 46
6:35
Reggie Miller made Free Throw 2 of 2.
38 - 47
6:24
Andre Miller missed Jumper.
38 - 47
6:22
Marcus Camby missed Tip Shot.
38 - 47
6:22
Marcus Camby Offensive Rebound.
38 - 47
6:20
Marcus Camby missed Tip Shot.
38 - 47
6:20
Marcus Camby Offensive Rebound.
38 - 47
6:18
Jeff Foster Defensive Rebound.
38 - 47
6:09
Carmelo Anthony Personal Foul
38 - 47
6:03
Ron Artest made Layup. Assisted by Reggie Miller.
38 - 49
5:50
Voshon Lenard missed 27 ft Three Point Jumper.
38 - 49
5:48
Jermaine O'Neal Defensive Rebound.
38 - 49
5:41
Ron Artest Offensive Foul
38 - 49
5:41
Ron Artest Foul
38 - 49
5:41
Al Harrington enters the game for Reggie Miller.
38 - 49
5:41
Anthony Johnson enters the game for Kenny Anderson.
38 - 49
5:20
Marcus Camby missed Layup.
38 - 49
5:18
Jeff Foster Defensive Rebound.
38 - 49
4:58
Al Harrington missed 16 ft Jumper.
38 - 49
4:58
Marcus Camby Defensive Rebound.
38 - 49
4:54
Andre Miller missed Layup.
38 - 49
4:52
Jeff Foster Defensive Rebound.
38 - 49
4:35
Jermaine O'Neal made 18 ft Jumper. Assisted by Al Harrington.
38 - 51
4:26
Denver Full Timeout.
38 - 51
4:26
Rodney White enters the game for Francisco Elson.
38 - 51
4:07
Andre Miller missed 25 ft Three Point Jumper.
38 - 51
4:05
Marcus Camby Offensive Rebound.
38 - 51
4:01
Voshon Lenard Lost Ball. Stolen by Ron Artest.
38 - 51
3:56
Marcus Camby Personal Foul
38 - 51
3:56
Fred Jones enters the game for Jeff Foster.
38 - 51
3:56
Ron Artest made Free Throw 1 of 2.
38 - 52
3:56
Ron Artest made Free Throw 2 of 2.
38 - 53
3:41
Earl Boykins enters the game for Andre Miller.
38 - 53
3:41
Chris Andersen enters the game for Marcus Camby.
38 - 53
3:21
Al Harrington made Slam Dunk. Assisted by Ron Artest.
38 - 55
3:01
Ron Artest Personal Foul
38 - 55
3:01
Jon Barry enters the game for Carmelo Anthony.
38 - 55
2:51
Rodney White missed Layup.
38 - 55
2:51
Denver Defensive Rebound.
38 - 55
2:45
Rodney White Personal Foul
38 - 55
2:45
Al Harrington missed Free Throw 1 of 2.
38 - 55
2:45
Indiana Offensive Rebound.
38 - 55
2:45
Al Harrington made Free Throw 2 of 2.
38 - 56
2:32
Anthony Johnson Personal Foul
38 - 56
2:28
Voshon Lenard Bad Pass. Stolen by Ron Artest.
38 - 56
2:24
Ron Artest Bad Pass
38 - 56
2:06
Rodney White missed 18 ft Jumper.
38 - 56
2:05
Jermaine O'Neal Defensive Rebound.
38 - 56
1:52
Al Harrington missed Layup. Blocked by Chris Andersen.
38 - 56
1:50
Jermaine O'Neal Offensive Rebound.
38 - 56
1:50
Jermaine O'Neal made 1 ft Two Point Shot.
38 - 58
1:39
Anthony Johnson Personal Foul
38 - 58
1:31
5 second
38 - 58
1:13
Fred Jones Bad Pass
38 - 58
1:13
Jeff Foster enters the game for Jermaine O'Neal.
38 - 58
1:01
Voshon Lenard missed 23 ft Three Point Jumper.
38 - 58
1:00
Al Harrington Defensive Rebound.
38 - 58
0:49
Ron Artest made 19 ft Jumper. Assisted by Anthony Johnson.
38 - 60
0:39
Ron Artest Shooting Foul
38 - 60
0:39
Chris Andersen made Free Throw 1 of 2.
39 - 60
0:39
Chris Andersen missed Free Throw 2 of 2.
39 - 60
0:39
Al Harrington Defensive Rebound.
39 - 60
0:17
Anthony Johnson missed 23 ft Three Point Jumper.
39 - 60
0:15
Jon Barry Defensive Rebound.
39 - 60
0:12
Earl Boykins made Layup. Assisted by Jon Barry.
41 - 60
0:01
Anthony Johnson missed 12 ft Jumper.
41 - 60
0:00
Rodney White Defensive Rebound.
41 - 60
0:00
End of the 3rd Quarter.
41 - 60

time
TEAM
PLAY
SCORE
12:00
Start of the 4th Quarter.
41 - 60
11:42
Rodney White made Jumper. Assisted by Earl Boykins.
43 - 60
11:23
Jeff Foster missed 16 ft Jumper.
43 - 60
11:22
Ryan Bowen Defensive Rebound.
43 - 60
11:07
Ryan Bowen made Layup. Assisted by Earl Boykins.
45 - 60
10:52
Ron Artest made Layup. Assisted by Anthony Johnson.
45 - 62
10:37
Anthony Johnson Shooting Foul
45 - 62
10:37
Kenny Anderson enters the game for Anthony Johnson.
45 - 62
10:37
Rodney White missed Free Throw 1 of 2.
45 - 62
10:37
Denver Offensive Rebound.
45 - 62
10:37
Rodney White made Free Throw 2 of 2.
46 - 62
10:26
Ryan Bowen Personal Foul
46 - 62
10:11
Kenny Anderson missed 19 ft Jumper.
46 - 62
10:10
Jeff Foster Offensive Rebound.
46 - 62
10:08
Jeff Foster missed Two Point Shot.
46 - 62
10:07
Rodney White Defensive Rebound.
46 - 62
10:00
Earl Boykins missed Layup.
46 - 62
9:57
Chris Andersen Offensive Rebound.
46 - 62
9:57
Chris Andersen missed Tip Shot.
46 - 62
9:56
Ryan Bowen Offensive Rebound.
48 - 62
9:56
Ryan Bowen made Layup.
48 - 62
9:38
Kenny Anderson Bad Pass. Stolen by Chris Andersen.
48 - 62
9:38
Kenny Anderson Personal Foul
48 - 62
9:38
Jermaine O'Neal enters the game for Jeff Foster.
48 - 62
9:23
Rodney White made Dunk. Assisted by Earl Boykins.
50 - 62
9:07
Kenny Anderson missed Layup. Blocked by Rodney White.
50 - 62
9:06
Rodney White Defensive Rebound.
50 - 62
9:04
Rodney White Bad Pass. Stolen by Al Harrington.
50 - 62
9:02
Ron Artest missed 24 ft Three Point Jumper.
50 - 62
9:02
Jermaine O'Neal Offensive Rebound.
50 - 62
9:02
Rodney White Personal Foul
50 - 62
9:02
Reggie Miller enters the game for Ron Artest.
50 - 62
8:55
Al Harrington Traveling
50 - 62
8:55
Official Timeout.
50 - 62
8:36
Rodney White made Dunk. Assisted by Ryan Bowen.
52 - 62
8:15
Reggie Miller Bad Pass. Stolen by Jon Barry.
52 - 62
8:03
Ron Artest enters the game for Fred Jones.
52 - 62
7:50
Rodney White made 12 ft Jumper. Assisted by Earl Boykins.
54 - 62
7:50
Kenny Anderson Shooting Foul
54 - 62
7:50
Anthony Johnson enters the game for Kenny Anderson.
54 - 62
7:50
Rodney White missed Free Throw 1 of 1.
54 - 62
7:48
Jermaine O'Neal Defensive Rebound.
54 - 62
7:31
Anthony Johnson missed 5 ft Jumper. Blocked by Chris Andersen.
54 - 62
7:28
Earl Boykins Defensive Rebound.
54 - 62
7:26
Earl Boykins missed 17 ft Jumper.
54 - 62
7:24
Rodney White Offensive Rebound.
54 - 62
7:24
Rodney White missed Tip Shot.
54 - 62
7:22
Ron Artest Defensive Rebound.
54 - 62
7:09
Jermaine O'Neal Offensive Foul
54 - 62
7:09
Jermaine O'Neal Foul
54 - 62
6:47
Jon Barry made 20 ft Jumper. Assisted by Ryan Bowen.
56 - 62
6:31
Jermaine O'Neal missed 11 ft Jumper.
56 - 62
6:28
Rodney White Defensive Rebound.
56 - 62
6:22
Rodney White missed 4 ft Jumper. Blocked by Jermaine O'Neal.
56 - 62
6:20
Anthony Johnson Defensive Rebound.
56 - 62
6:13
Indiana Full Timeout.
56 - 62
5:58
Ron Artest missed Layup.
56 - 62
5:56
Chris Andersen Defensive Rebound.
56 - 62
5:39
Earl Boykins missed Layup. Blocked by Ron Artest.
56 - 62
5:37
Earl Boykins Offensive Rebound.
56 - 62
5:18
Rodney White missed Layup. Blocked by Jermaine O'Neal.
56 - 62
5:16
Earl Boykins Offensive Rebound.
56 - 62
5:13
Earl Boykins missed 16 ft Jumper.
56 - 62
5:11
Chris Andersen Offensive Rebound.
58 - 62
5:11
Chris Andersen made 2 ft Two Point Shot.
58 - 62
4:48
Jermaine O'Neal made Layup. Assisted by Reggie Miller.
58 - 64
4:31
Rodney White missed 17 ft Jumper.
58 - 64
4:28
Jermaine O'Neal Defensive Rebound.
58 - 64
4:16
Jeff Foster enters the game for Al Harrington.
58 - 64
4:16
Marcus Camby enters the game for Chris Andersen.
58 - 64
4:16
Nene Hilario enters the game for Ryan Bowen.
58 - 64
4:13
Reggie Miller missed 17 ft Jumper.
58 - 64
4:11
Marcus Camby Defensive Rebound.
58 - 64
3:50
Rodney White missed Jumper.
58 - 64
3:48
Ron Artest Defensive Rebound.
58 - 64
3:34
Ron Artest missed Layup. Blocked by Marcus Camby.
58 - 64
3:32
Jermaine O'Neal Offensive Rebound.
58 - 64
3:27
Jermaine O'Neal made 10 ft Jumper. Assisted by Jeff Foster.
58 - 66
3:20
Denver Full Timeout.
58 - 66
3:13
Jon Barry missed 18 ft Jumper.
58 - 66
3:11
Jeff Foster Defensive Rebound.
58 - 66
2:47
Marcus Camby Shooting Foul
58 - 66
2:47
Jermaine O'Neal made Free Throw 1 of 2.
58 - 67
2:47
Jermaine O'Neal made Free Throw 2 of 2.
58 - 68
2:36
Marcus Camby Bad Pass. Stolen by Jeff Foster.
58 - 68
2:14
Ron Artest made 18 ft Jumper. Assisted by Jermaine O'Neal.
58 - 70
1:57
Jon Barry made 3 ft Two Point Shot.
60 - 70
1:36
Anthony Johnson missed Layup.
60 - 70
1:34
Jeff Foster Offensive Rebound.
60 - 70
1:15
Anthony Johnson missed 19 ft Jumper.
60 - 70
1:15
Indiana Defensive Rebound.
60 - 70
1:15
Jermaine O'Neal Loose Ball Foul
60 - 70
1:15
Denver Full Timeout.
60 - 70
1:10
Rodney White Lost Ball. Stolen by Ron Artest.
60 - 70
1:07
Marcus Camby Shooting Foul
60 - 70
1:07
Ron Artest missed Free Throw 1 of 2.
60 - 70
1:07
Indiana Offensive Rebound.
60 - 70
1:07
Francisco Elson enters the game for Marcus Camby.
60 - 70
1:07
Ron Artest made Free Throw 2 of 2.
60 - 71
1:07
Denver Full Timeout.
60 - 71
0:59
Jon Barry missed 17 ft Jumper.
60 - 71
0:56
Jermaine O'Neal Defensive Rebound.
60 - 71
0:38
Ron Artest missed Layup.
60 - 71
0:36
Rodney White Defensive Rebound.
60 - 71
0:31
Rodney White missed 3 ft Jumper.
60 - 71
0:30
Jeff Foster Defensive Rebound.
60 - 71
0:10
Anthony Johnson missed 6 ft Jumper.
60 - 71
0:08
Rodney White Defensive Rebound.
60 - 71
0:06
Rodney White Bad Pass. Stolen by Reggie Miller.
60 - 71
0:00
End of the 4th Quarter.
60 - 71
0:00
End Game
60 - 71
0:00
End Game
60 - 71
0:00
End Game
60 - 71
The Golden State Warriors held off the Oklahoma City Thunder in an elimination Game 5 for a 120-111 win and bring the West finals score to 3-2.

With their backs against the wall, the Warriors got back on track in Game 5, with Steph Curry scoring 31 points and Golden State topping Oklahoma City 120-111.

The Thunder had a chance to dethrone the champs, but the Warriors overcame Kevin Durant's 40 to make it 3-2 in the West finals. Now it's back to OKC.
Regular Season Series
IND wins series 2-0