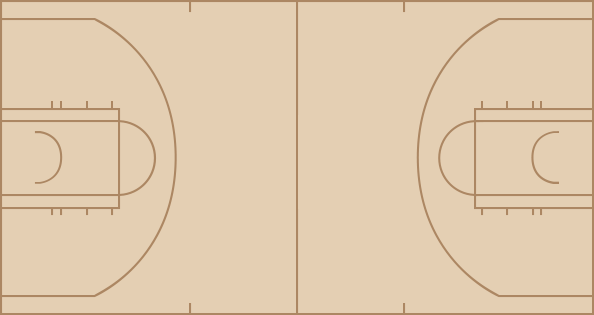 Lakers
time
TEAM
PLAY
SCORE
12:00
Start of the 1st Quarter.
0 - 0
12:00
Jumpball. Shaquille O'Neal vs. Daniel Santiago. Gary Payton gains possession.
0 - 0
11:47
Shaquille O'Neal made Layup. Assisted by Karl Malone.
2 - 0
11:33
Michael Redd made Two Point Shot. Assisted by T.J. Ford.
2 - 2
11:15
Devean George made Dunk. Assisted by Karl Malone.
4 - 2
10:55
Tim Thomas missed 14 ft Jumper.
4 - 2
10:52
Devean George Defensive Rebound.
4 - 2
10:45
Kobe Bryant missed 10 ft Jumper.
4 - 2
10:44
Daniel Santiago Defensive Rebound.
4 - 2
10:40
T.J. Ford made Layup.
4 - 4
10:26
Karl Malone missed 13 ft Jumper.
4 - 4
10:25
Daniel Santiago Defensive Rebound.
4 - 4
10:18
T.J. Ford missed 11 ft Jumper.
4 - 4
10:17
Karl Malone Defensive Rebound.
4 - 4
10:04
Devean George made Three Point Jumper. Assisted by Karl Malone.
7 - 4
9:36
Joe Smith missed 6 ft Jumper.
7 - 4
9:33
Karl Malone Defensive Rebound.
7 - 4
9:30
T.J. Ford Personal Foul
7 - 4
9:15
Karl Malone missed 17 ft Jumper.
7 - 4
9:14
Shaquille O'Neal Offensive Rebound.
7 - 4
9:11
Shaquille O'Neal made Dunk.
9 - 4
8:49
Michael Redd missed 25 ft Three Point Jumper.
9 - 4
8:48
Milwaukee Offensive Rebound.
9 - 4
8:48
Shaquille O'Neal Loose Ball Foul
9 - 4
8:30
Joe Smith missed 14 ft Jumper. Blocked by Kobe Bryant.
9 - 4
8:27
Joe Smith Offensive Rebound.
9 - 4
8:26
Joe Smith missed Layup. Blocked by Kobe Bryant.
9 - 4
8:23
Joe Smith Offensive Rebound.
9 - 4
8:22
Tim Thomas missed Layup. Blocked by Shaquille O'Neal.
9 - 4
8:18
Gary Payton made Layup. Assisted by Kobe Bryant.
11 - 4
8:18
Kobe Bryant Defensive Rebound.
9 - 4
8:00
Tim Thomas made Layup.
11 - 6
7:41
Shaquille O'Neal missed Layup.
11 - 6
7:39
Joe Smith Defensive Rebound.
11 - 6
7:33
Daniel Santiago made Slam Dunk. Assisted by Michael Redd.
11 - 8
7:13
Karl Malone missed 13 ft Jumper.
11 - 8
7:11
Kobe Bryant Offensive Rebound.
11 - 8
7:11
Kobe Bryant made Two Point Shot.
13 - 8
6:54
T.J. Ford missed 13 ft Jumper.
13 - 8
6:52
Karl Malone Defensive Rebound.
13 - 8
6:43
Gary Payton Bad Pass. Stolen by T.J. Ford.
13 - 8
6:39
Michael Redd Lost Ball. Stolen by Karl Malone.
13 - 8
6:39
Michael Redd Loose Ball Foul
13 - 8
6:28
Karl Malone missed Jumper.
13 - 8
6:26
Joe Smith Defensive Rebound.
13 - 8
6:22
Michael Redd Traveling
13 - 8
6:09
Gary Payton missed 7 ft Jumper. Blocked by Joe Smith.
13 - 8
6:09
Karl Malone Offensive Rebound.
13 - 8
6:07
Karl Malone made Layup.
15 - 8
5:54
Michael Redd missed 17 ft Jumper.
15 - 8
5:52
Shaquille O'Neal Defensive Rebound.
15 - 8
5:22
Tim Thomas Offensive Rebound.
15 - 8
5:22
Tim Thomas missed Layup.
15 - 8
5:20
Karl Malone Defensive Rebound.
15 - 8
5:07
Gary Payton missed 23 ft Three Point Jumper.
15 - 8
5:05
Daniel Santiago Defensive Rebound.
15 - 8
5:00
Michael Redd made 23 ft Three Point Jumper. Assisted by T.J. Ford.
15 - 11
4:48
Gary Payton made Layup.
17 - 11
4:24
Tim Thomas missed Layup.
17 - 11
4:22
Joe Smith missed Tip Shot.
17 - 11
4:20
Gary Payton Defensive Rebound.
17 - 11
4:18
Gary Payton Bad Pass
17 - 11
4:18
Milwaukee Full Timeout.
17 - 11
4:18
Damon Jones enters the game for T.J. Ford.
17 - 11
4:05
Michael Redd missed 12 ft Jumper.
17 - 11
4:03
Devean George Defensive Rebound.
17 - 11
3:51
Shaquille O'Neal Offensive Goaltending
17 - 11
3:41
Gary Payton Personal Foul
17 - 11
3:41
Desmond Mason enters the game for Tim Thomas.
17 - 11
3:36
Michael Redd made 10 ft Two Point Shot.
17 - 13
3:19
Joe Smith Shooting Foul
17 - 13
3:19
Karl Malone made Free Throw 1 of 2.
18 - 13
3:19
Karl Malone missed Free Throw 2 of 2.
18 - 13
3:18
Michael Redd Defensive Rebound.
18 - 13
3:12
Desmond Mason made 16 ft Jumper. Assisted by Damon Jones.
18 - 15
2:50
Joe Smith Shooting Foul
18 - 15
2:50
Los Angeles Full Timeout.
18 - 15
2:50
Horace Grant enters the game for Karl Malone.
18 - 15
2:50
Derek Fisher enters the game for Kobe Bryant.
18 - 15
2:50
Dan Gadzuric enters the game for Joe Smith.
18 - 15
2:50
Shaquille O'Neal missed Free Throw 1 of 2.
18 - 15
2:50
Los Angeles Offensive Rebound.
18 - 15
2:50
Toni Kukoc enters the game for Daniel Santiago.
18 - 15
2:50
Shaquille O'Neal made Free Throw 2 of 2.
19 - 15
2:34
Toni Kukoc missed 15 ft Jumper.
19 - 15
2:32
Devean George Defensive Rebound.
19 - 15
2:23
Horace Grant missed 15 ft Jumper.
19 - 15
2:20
Desmond Mason Defensive Rebound.
19 - 15
2:08
Dan Gadzuric missed 8 ft Jumper.
19 - 15
2:05
Horace Grant Defensive Rebound.
19 - 15
1:51
Shaquille O'Neal made Dunk. Assisted by Devean George.
21 - 15
1:31
Toni Kukoc missed 22 ft Jumper.
21 - 15
1:29
Gary Payton Defensive Rebound.
21 - 15
1:23
Devean George made 24 ft Three Point Jumper. Assisted by Gary Payton.
24 - 15
1:08
Michael Redd missed 20 ft Jumper.
24 - 15
1:07
Horace Grant Defensive Rebound.
24 - 15
0:54
Devean George Bad Pass. Stolen by Toni Kukoc.
25 - 18
0:51
Dan Gadzuric Shooting Foul
24 - 15
0:51
Devean George missed Free Throw 1 of 2.
24 - 15
0:51
Los Angeles Offensive Rebound.
24 - 15
0:51
Karl Malone enters the game for Shaquille O'Neal.
24 - 15
0:51
Devean George made Free Throw 2 of 2.
25 - 15
0:33
Michael Redd made 26 ft Three Point Jumper. Assisted by Toni Kukoc.
25 - 18
0:22
Derek Fisher missed 11 ft Jumper.
25 - 18
0:20
Desmond Mason Defensive Rebound.
25 - 18
0:18
Desmond Mason Bad Pass. Stolen by Gary Payton.
25 - 18
0:13
Gary Payton missed Layup.
25 - 18
0:11
Dan Gadzuric Defensive Rebound.
25 - 18
0:02
Desmond Mason missed 17 ft Jumper.
25 - 18
0:00
Michael Redd Offensive Rebound.
25 - 18
0:00
End of the 1st Quarter.
25 - 18

time
TEAM
PLAY
SCORE
12:00
Start of the 2nd Quarter.
25 - 18
11:48
Kareem Rush Shooting Foul
25 - 18
11:48
Desmond Mason made Free Throw 1 of 2.
25 - 19
11:48
Desmond Mason made Free Throw 2 of 2.
25 - 20
11:41
Toni Kukoc Shooting Foul
25 - 20
11:41
Kareem Rush missed Free Throw 1 of 2.
25 - 20
11:41
Los Angeles Offensive Rebound.
25 - 20
11:41
Kareem Rush missed Free Throw 2 of 2.
25 - 20
11:40
Toni Kukoc Defensive Rebound.
25 - 20
11:32
Kareem Rush Personal Foul
25 - 20
11:22
Toni Kukoc made 9 ft Two Point Shot.
25 - 22
11:06
Bryon Russell made 12 ft Jumper.
27 - 22
10:45
Desmond Mason made Layup. Assisted by Toni Kukoc.
27 - 24
10:45
Karl Malone Shooting Foul
27 - 24
10:45
Desmond Mason made Free Throw 1 of 1.
27 - 25
10:27
Horace Grant missed Layup. Blocked by Dan Gadzuric.
27 - 25
10:26
Karl Malone Offensive Rebound.
27 - 25
10:26
Dan Gadzuric Shooting Foul
27 - 25
10:26
Karl Malone missed Free Throw 1 of 2.
27 - 25
10:26
Los Angeles Offensive Rebound.
27 - 25
10:26
Marcus Haislip enters the game for Dan Gadzuric.
27 - 25
10:26
Karl Malone made Free Throw 2 of 2.
28 - 25
10:15
Toni Kukoc made 26 ft Three Point Jumper. Assisted by Damon Jones.
28 - 28
10:07
Tim Thomas Shooting Foul
28 - 28
10:07
Horace Grant missed Free Throw 1 of 2.
28 - 28
10:07
Los Angeles Offensive Rebound.
28 - 28
10:07
Horace Grant made Free Throw 2 of 2.
29 - 28
9:52
Tim Thomas missed 6 ft Jumper.
29 - 28
9:52
Marcus Haislip Offensive Rebound.
29 - 28
9:52
Bryon Russell Shooting Foul
29 - 28
9:52
Marcus Haislip made Free Throw 1 of 2.
29 - 29
9:52
Marcus Haislip missed Free Throw 2 of 2.
29 - 29
9:41
Bryon Russell Defensive Rebound.
29 - 29
9:26
Bryon Russell Lost Ball. Stolen by Marcus Haislip.
29 - 29
9:25
Marcus Haislip made Layup.
29 - 31
9:25
Bryon Russell Shooting Foul
29 - 31
9:25
Marcus Haislip made Free Throw 1 of 1.
29 - 32
9:04
Derek Fisher made 18 ft Jumper. Assisted by Horace Grant.
31 - 32
8:49
Tim Thomas missed 27 ft Three Point Jumper.
31 - 32
8:48
Desmond Mason Offensive Rebound.
31 - 32
8:48
Official Timeout.
31 - 32
8:48
Shaquille O'Neal enters the game for Karl Malone.
31 - 32
8:48
Kobe Bryant enters the game for Kareem Rush.
31 - 32
8:48
Daniel Santiago enters the game for Marcus Haislip.
31 - 32
8:37
Damon Jones missed 24 ft Three Point Jumper.
31 - 32
8:34
Tim Thomas Offensive Rebound.
31 - 32
8:32
Tim Thomas missed Layup.
31 - 32
8:30
Shaquille O'Neal Defensive Rebound.
31 - 32
8:19
Kobe Bryant missed 18 ft Jumper.
31 - 32
8:18
Tim Thomas Defensive Rebound.
31 - 32
8:07
Damon Jones made 26 ft Three Point Jumper. Assisted by Tim Thomas.
31 - 35
7:43
Derek Fisher made 27 ft Three Point Jumper. Assisted by Kobe Bryant.
34 - 35
7:26
Tim Thomas made 11 ft Jumper.
34 - 37
7:18
Toni Kukoc Personal Foul
34 - 37
7:18
Joe Smith enters the game for Toni Kukoc.
34 - 37
7:09
Horace Grant missed 16 ft Jumper.
34 - 37
7:07
Shaquille O'Neal Offensive Rebound.
34 - 37
7:05
Daniel Santiago Shooting Foul
34 - 37
7:05
Shaquille O'Neal missed Free Throw 1 of 2.
34 - 37
7:05
Los Angeles Offensive Rebound.
34 - 37
7:05
Shaquille O'Neal missed Free Throw 2 of 2.
34 - 37
7:05
Daniel Santiago Defensive Rebound.
34 - 37
6:56
Daniel Santiago missed 13 ft Jumper.
34 - 37
6:54
Derek Fisher Defensive Rebound.
34 - 37
6:48
Shaquille O'Neal made Layup. Assisted by Bryon Russell.
36 - 37
6:28
Joe Smith made 13 ft Jumper. Assisted by Tim Thomas.
36 - 39
6:11
Kobe Bryant missed 22 ft Jumper.
36 - 39
6:09
Horace Grant Offensive Rebound.
36 - 39
6:05
Desmond Mason Shooting Foul
36 - 39
6:05
Derek Fisher made Free Throw 1 of 2.
37 - 39
6:05
T.J. Ford enters the game for Damon Jones.
37 - 39
6:05
Derek Fisher made Free Throw 2 of 2.
38 - 39
5:48
T.J. Ford missed 9 ft Jumper.
38 - 39
5:46
Bryon Russell Defensive Rebound.
38 - 39
5:39
Shaquille O'Neal missed Layup.
38 - 39
5:37
T.J. Ford Defensive Rebound.
38 - 39
5:31
Desmond Mason missed 8 ft Jumper.
38 - 39
5:31
Desmond Mason Offensive Rebound.
38 - 39
5:30
Desmond Mason missed Two Point Shot.
38 - 39
5:28
Joe Smith Offensive Rebound.
38 - 39
5:28
Joe Smith missed Layup.
38 - 39
5:26
T.J. Ford Offensive Rebound.
38 - 39
5:24
Bryon Russell Shooting Foul
38 - 39
5:24
Milwaukee Full Timeout.
38 - 39
5:24
Devean George enters the game for Horace Grant.
38 - 39
5:24
Karl Malone enters the game for Derek Fisher.
38 - 39
5:24
Gary Payton enters the game for Bryon Russell.
38 - 39
5:24
Tim Thomas made Free Throw 1 of 2.
38 - 40
5:24
Tim Thomas made Free Throw 2 of 2.
38 - 41
5:13
Desmond Mason Personal Foul
38 - 41
5:13
Kobe Bryant made Free Throw 1 of 2.
39 - 41
5:13
Michael Redd enters the game for Desmond Mason.
39 - 41
5:13
Kobe Bryant made Free Throw 2 of 2.
40 - 41
4:56
Tim Thomas made 13 ft Jumper.
40 - 43
4:41
Gary Payton made 16 ft Jumper. Assisted by Kobe Bryant.
42 - 43
4:20
Daniel Santiago missed 13 ft Jumper.
42 - 43
4:18
Shaquille O'Neal Defensive Rebound.
42 - 43
4:11
Kobe Bryant missed 25 ft Three Point Jumper.
42 - 43
4:07
T.J. Ford Defensive Rebound.
42 - 43
3:56
Daniel Santiago made Two Point Shot. Assisted by T.J. Ford.
42 - 45
3:30
Tim Thomas Shooting Foul
42 - 45
3:30
Karl Malone made Free Throw 1 of 2.
43 - 45
3:30
Karl Malone missed Free Throw 2 of 2.
43 - 45
3:29
Los Angeles Defensive Rebound.
43 - 45
3:15
Tim Thomas made 18 ft Jumper. Assisted by T.J. Ford.
43 - 47
2:58
Shaquille O'Neal made 4 ft Two Point Shot. Assisted by Devean George.
45 - 47
2:38
Michael Redd Bad Pass
45 - 47
2:38
Los Angeles Full Timeout.
45 - 47
2:15
Gary Payton missed 24 ft Three Point Jumper.
45 - 47
2:13
Kobe Bryant Offensive Rebound.
45 - 47
2:12
Kobe Bryant missed 9 ft Jumper.
45 - 47
2:09
Kobe Bryant Offensive Rebound.
45 - 47
2:04
Gary Payton missed Layup.
45 - 47
2:03
Tim Thomas Defensive Rebound.
45 - 47
1:55
Michael Redd missed 20 ft Jumper.
45 - 47
1:54
Karl Malone Defensive Rebound.
45 - 47
1:52
Kobe Bryant made Layup. Assisted by Gary Payton.
47 - 47
1:52
T.J. Ford Shooting Foul
47 - 47
1:52
Kobe Bryant made Free Throw 1 of 1.
48 - 47
1:32
Michael Redd made Layup. Assisted by T.J. Ford.
48 - 49
1:13
Karl Malone missed 16 ft Jumper.
48 - 49
1:10
T.J. Ford Defensive Rebound.
48 - 49
1:05
Daniel Santiago made Two Point Shot. Assisted by T.J. Ford.
48 - 51
0:56
Shaquille O'Neal made Two Point Shot. Assisted by Gary Payton.
50 - 51
0:53
Devean George Shooting Foul
50 - 51
0:53
Desmond Mason enters the game for Michael Redd.
50 - 51
0:53
T.J. Ford made Free Throw 1 of 2.
50 - 52
0:53
Dan Gadzuric enters the game for Daniel Santiago.
50 - 52
0:53
T.J. Ford missed Free Throw 2 of 2.
50 - 52
0:52
Karl Malone Defensive Rebound.
50 - 52
0:40
Dan Gadzuric Shooting Foul
50 - 52
0:40
Kobe Bryant made Free Throw 1 of 2.
51 - 52
0:40
Toni Kukoc enters the game for Dan Gadzuric.
51 - 52
0:40
Kobe Bryant made Free Throw 2 of 2.
52 - 52
0:23
Shaquille O'Neal Shooting Foul
52 - 52
0:23
Tim Thomas made Free Throw 1 of 2.
52 - 53
0:23
Marcus Haislip enters the game for Joe Smith.
52 - 53
0:23
Damon Jones enters the game for T.J. Ford.
52 - 53
0:23
Tim Thomas made Free Throw 2 of 2.
52 - 54
0:00
Gary Payton made 24 ft Three Point Jumper. Assisted by Kobe Bryant.
55 - 54
0:00
End of the 2nd Quarter.
55 - 54

time
TEAM
PLAY
SCORE
12:00
Start of the 3rd Quarter.
55 - 54
11:41
T.J. Ford missed 18 ft Jumper.
55 - 54
11:38
Joe Smith Offensive Rebound.
55 - 54
11:38
Devean George Shooting Foul
55 - 54
11:38
Joe Smith made Free Throw 1 of 2.
55 - 55
11:38
Joe Smith made Free Throw 2 of 2.
55 - 56
11:26
Michael Redd Illegal Defense Foul
55 - 56
11:26
Kobe Bryant made Technical Free Throw.
56 - 56
11:18
Gary Payton missed 26 ft Three Point Jumper.
56 - 56
11:17
Devean George Offensive Rebound.
56 - 56
11:11
Shaquille O'Neal missed Layup. Blocked by Dan Gadzuric.
56 - 56
11:10
Shaquille O'Neal Offensive Rebound.
56 - 56
11:10
Joe Smith Shooting Foul
56 - 56
11:10
Shaquille O'Neal missed Free Throw 1 of 2.
56 - 56
11:10
Los Angeles Offensive Rebound.
56 - 56
11:10
Shaquille O'Neal missed Free Throw 2 of 2.
56 - 56
11:08
Tim Thomas Defensive Rebound.
56 - 56
10:56
T.J. Ford missed 5 ft Jumper.
56 - 56
10:53
Karl Malone Defensive Rebound.
56 - 56
10:44
Kobe Bryant made Layup.
58 - 56
10:18
Michael Redd missed 14 ft Jumper.
58 - 56
10:15
Shaquille O'Neal Defensive Rebound.
58 - 56
10:03
Karl Malone Bad Pass. Stolen by Tim Thomas.
58 - 56
9:59
Dan Gadzuric missed Layup.
58 - 56
9:57
Michael Redd Offensive Rebound.
58 - 56
9:57
Michael Redd missed Tip Shot.
58 - 56
9:56
Michael Redd Offensive Rebound.
58 - 58
9:56
Michael Redd made Tip Shot.
58 - 58
9:42
Devean George Bad Pass. Stolen by Dan Gadzuric.
58 - 58
9:32
Joe Smith missed 20 ft Jumper.
58 - 58
9:30
Shaquille O'Neal Defensive Rebound.
58 - 58
9:11
Gary Payton made 15 ft Jumper. Assisted by Kobe Bryant.
60 - 58
8:55
Michael Redd made 24 ft Three Point Jumper. Assisted by T.J. Ford.
60 - 61
8:44
Gary Payton Bad Pass. Stolen by Dan Gadzuric.
60 - 61
8:40
Karl Malone Shooting Foul
60 - 61
8:40
Daniel Santiago enters the game for Dan Gadzuric.
60 - 61
8:40
T.J. Ford made Free Throw 1 of 2.
60 - 62
8:40
T.J. Ford made Free Throw 2 of 2.
60 - 63
8:15
Devean George missed 26 ft Three Point Jumper.
60 - 63
8:12
Kobe Bryant Offensive Rebound.
62 - 63
8:12
Kobe Bryant made Tip Shot.
62 - 63
7:50
T.J. Ford missed Layup.
62 - 63
7:48
Kobe Bryant Defensive Rebound.
62 - 63
7:43
Gary Payton missed Layup.
62 - 63
7:41
Tim Thomas Defensive Rebound.
62 - 63
7:33
Michael Redd made 26 ft Three Point Jumper. Assisted by Tim Thomas.
62 - 66
7:16
Karl Malone missed 18 ft Jumper.
62 - 66
7:13
Shaquille O'Neal Offensive Rebound.
62 - 66
7:13
Shaquille O'Neal made Layup.
64 - 66
7:13
Daniel Santiago Shooting Foul
64 - 66
7:13
Shaquille O'Neal missed Free Throw 1 of 1.
64 - 66
7:11
Tim Thomas Defensive Rebound.
64 - 66
6:54
Michael Redd made 14 ft Jumper. Assisted by Tim Thomas.
64 - 68
6:39
Daniel Santiago Shooting Foul
64 - 68
6:39
Damon Jones enters the game for T.J. Ford.
64 - 68
6:39
Shaquille O'Neal missed Free Throw 1 of 2.
64 - 68
6:39
Los Angeles Offensive Rebound.
64 - 68
6:39
Shaquille O'Neal missed Free Throw 2 of 2.
64 - 68
6:37
Tim Thomas Defensive Rebound.
64 - 68
6:22
Michael Redd made 13 ft Jumper.
64 - 70
6:07
Devean George made Two Point Shot. Assisted by Karl Malone.
66 - 70
5:50
Kobe Bryant Shooting Foul
66 - 70
5:50
Milwaukee Full Timeout.
66 - 70
5:50
Tim Thomas made Free Throw 1 of 2.
66 - 71
5:50
Tim Thomas made Free Throw 2 of 2.
66 - 72
5:33
Karl Malone missed 13 ft Jumper.
66 - 72
5:31
Tim Thomas Defensive Rebound.
66 - 72
5:13
Michael Redd made Three Point Jumper. Assisted by Damon Jones.
66 - 75
4:56
Shaquille O'Neal made Layup. Assisted by Kobe Bryant.
68 - 75
4:56
Daniel Santiago Shooting Foul
68 - 75
4:56
Shaquille O'Neal missed Free Throw 1 of 1.
68 - 75
4:56
Dan Gadzuric enters the game for Daniel Santiago.
68 - 75
4:56
Shaquille O'Neal made Free Throw 1 of 1.
69 - 75
4:37
Damon Jones made 9 ft Two Point Shot. Assisted by Michael Redd.
69 - 77
4:26
Gary Payton Bad Pass. Stolen by Michael Redd.
69 - 77
4:20
Joe Smith made Dunk. Assisted by Damon Jones.
69 - 79
4:00
Devean George missed 24 ft Three Point Jumper.
69 - 79
3:58
Joe Smith Defensive Rebound.
69 - 79
3:57
Kobe Bryant Personal Foul
69 - 79
3:45
Damon Jones made 15 ft Jumper.
69 - 81
3:28
Karl Malone made 16 ft Jumper.
71 - 81
3:13
Damon Jones missed 14 ft Jumper.
71 - 81
3:10
Devean George Defensive Rebound.
71 - 81
2:57
Karl Malone missed Layup. Blocked by Dan Gadzuric.
71 - 81
2:56
Devean George Offensive Rebound.
71 - 81
2:49
Kobe Bryant made Layup.
73 - 81
2:34
Los Angeles Full Timeout.
73 - 81
2:34
Desmond Mason enters the game for Tim Thomas.
73 - 81
2:34
Derek Fisher enters the game for Karl Malone.
73 - 81
2:34
Luke Walton enters the game for Gary Payton.
73 - 81
2:31
Michael Redd made 10 ft Jumper. Assisted by Desmond Mason.
73 - 83
2:15
Kobe Bryant missed Layup.
73 - 83
2:14
Joe Smith Defensive Rebound.
73 - 83
2:10
Desmond Mason made Layup. Assisted by Damon Jones.
73 - 85
1:54
Derek Fisher made 23 ft Three Point Jumper. Assisted by Kobe Bryant.
76 - 85
1:39
Joe Smith Bad Pass. Stolen by Derek Fisher.
76 - 85
1:35
Kobe Bryant missed Layup.
76 - 85
1:35
Los Angeles Offensive Rebound.
76 - 85
1:35
Toni Kukoc enters the game for Joe Smith.
76 - 85
1:35
Kareem Rush enters the game for Kobe Bryant.
76 - 85
1:28
Luke Walton made 20 ft Jumper. Assisted by Derek Fisher.
78 - 85
1:16
Kareem Rush Personal Foul
78 - 85
1:16
Michael Redd missed Free Throw 1 of 2.
78 - 85
1:16
Milwaukee Offensive Rebound.
78 - 85
1:16
Michael Redd made Free Throw 2 of 2.
78 - 86
1:05
Luke Walton Bad Pass. Stolen by Damon Jones.
78 - 86
0:58
Dan Gadzuric missed Layup.
78 - 86
0:58
Milwaukee Defensive Rebound.
78 - 86
0:41
Kareem Rush made 25 ft Three Point Jumper. Assisted by Derek Fisher.
81 - 86
0:28
Dan Gadzuric missed Layup. Blocked by Shaquille O'Neal.
81 - 86
0:26
Shaquille O'Neal Defensive Rebound.
81 - 86
0:05
Shaquille O'Neal missed 10 ft Jumper.
81 - 86
0:03
Toni Kukoc Defensive Rebound.
81 - 86
0:01
Toni Kukoc missed 42 ft Three Point Jumper.
81 - 86
0:00
Milwaukee Offensive Rebound.
81 - 86
0:00
End of the 3rd Quarter.
81 - 86

time
TEAM
PLAY
SCORE
12:00
Start of the 4th Quarter.
81 - 86
11:48
Kobe Bryant made 14 ft Jumper.
83 - 86
11:30
Damon Jones made 25 ft Three Point Jumper.
83 - 89
11:08
Kobe Bryant missed 13 ft Jumper.
83 - 89
11:07
Desmond Mason Defensive Rebound.
83 - 89
11:07
Kobe Bryant Personal Foul
83 - 89
10:53
Toni Kukoc 3 second
83 - 89
10:34
Desmond Mason Shooting Foul
83 - 89
10:34
Kobe Bryant made Free Throw 1 of 2.
84 - 89
10:34
Kobe Bryant made Free Throw 2 of 2.
85 - 89
10:22
Toni Kukoc made 26 ft Three Point Jumper. Assisted by Damon Jones.
85 - 92
9:59
Kareem Rush missed 26 ft Three Point Jumper.
85 - 92
9:57
Los Angeles Defensive Rebound.
85 - 92
9:45
Damon Jones missed 23 ft Three Point Jumper.
85 - 92
9:44
Milwaukee Defensive Rebound.
85 - 92
9:30
Derek Fisher missed 24 ft Three Point Jumper.
85 - 92
9:26
Tim Thomas Defensive Rebound.
85 - 92
9:17
Tim Thomas missed 17 ft Jumper.
85 - 92
9:17
Milwaukee Defensive Rebound.
85 - 92
9:04
Kobe Bryant missed 19 ft Jumper.
85 - 92
9:03
Toni Kukoc Defensive Rebound.
85 - 92
8:56
Toni Kukoc Bad Pass
85 - 92
8:56
Official Timeout.
85 - 92
8:33
Kobe Bryant missed 16 ft Jumper.
85 - 92
8:30
Dan Gadzuric Defensive Rebound.
85 - 92
8:30
Horace Grant Loose Ball Foul
85 - 92
8:30
T.J. Ford enters the game for Damon Jones.
85 - 92
8:30
Gary Payton enters the game for Kareem Rush.
85 - 92
8:30
Karl Malone enters the game for Luke Walton.
85 - 92
8:14
Karl Malone Shooting Foul
85 - 92
8:14
Tim Thomas made Free Throw 1 of 2.
85 - 93
8:14
Tim Thomas made Free Throw 2 of 2.
85 - 94
8:00
Toni Kukoc Personal Foul
85 - 94
7:50
Karl Malone made 5 ft Jumper. Assisted by Gary Payton.
87 - 94
7:33
Desmond Mason made 13 ft Jumper.
87 - 96
7:20
Gary Payton missed 26 ft Three Point Jumper.
87 - 96
7:18
Toni Kukoc Defensive Rebound.
87 - 96
7:07
Horace Grant Shooting Foul
87 - 96
7:07
Shaquille O'Neal enters the game for Horace Grant.
87 - 96
7:07
Dan Gadzuric missed Free Throw 1 of 2.
87 - 96
7:07
Milwaukee Offensive Rebound.
87 - 96
7:07
Dan Gadzuric made Free Throw 2 of 2.
87 - 97
6:48
Derek Fisher missed Three Point Jumper.
87 - 97
6:47
Tim Thomas Defensive Rebound.
87 - 97
6:39
Tim Thomas missed 26 ft Three Point Jumper.
87 - 97
6:37
Shaquille O'Neal Defensive Rebound.
87 - 97
6:24
Karl Malone made Layup. Assisted by Shaquille O'Neal.
89 - 97
6:11
T.J. Ford Bad Pass. Stolen by Derek Fisher.
89 - 97
6:05
Derek Fisher missed Layup.
89 - 97
6:03
Gary Payton Offensive Rebound.
89 - 97
6:01
Gary Payton made 5 ft Jumper.
91 - 97
5:56
Milwaukee Full Timeout.
91 - 97
5:56
Daniel Santiago enters the game for Tim Thomas.
91 - 97
5:56
Joe Smith enters the game for Dan Gadzuric.
91 - 97
5:56
Michael Redd enters the game for Toni Kukoc.
91 - 97
5:43
T.J. Ford missed Layup.
91 - 97
5:43
Milwaukee Defensive Rebound.
91 - 97
5:31
Shaquille O'Neal missed 8 ft Hook Shot.
91 - 97
5:28
Joe Smith Defensive Rebound.
91 - 97
5:18
Daniel Santiago missed 7 ft Jumper. Blocked by Shaquille O'Neal.
91 - 97
5:13
Karl Malone Defensive Rebound.
91 - 97
5:01
Daniel Santiago Shooting Foul
91 - 97
5:01
Shaquille O'Neal made Free Throw 1 of 2.
92 - 97
5:01
Shaquille O'Neal made Free Throw 2 of 2.
93 - 97
4:50
Michael Redd missed Layup.
93 - 97
4:50
Daniel Santiago Offensive Rebound.
93 - 99
4:50
Daniel Santiago made Dunk.
93 - 99
4:31
Kobe Bryant missed 24 ft Three Point Jumper.
93 - 99
4:30
Joe Smith Defensive Rebound.
93 - 99
4:22
Michael Redd missed 25 ft Three Point Jumper.
93 - 99
4:20
Shaquille O'Neal Defensive Rebound.
93 - 99
4:09
Karl Malone missed 14 ft Jumper.
93 - 99
4:07
Kobe Bryant Offensive Rebound.
93 - 99
4:03
Karl Malone missed 15 ft Jumper.
93 - 99
4:03
T.J. Ford Defensive Rebound.
93 - 99
3:48
Derek Fisher Personal Foul
93 - 99
3:48
Devean George enters the game for Derek Fisher.
93 - 99
3:48
Desmond Mason made Free Throw 1 of 2.
93 - 100
3:48
Desmond Mason made Free Throw 2 of 2.
93 - 101
3:33
Kobe Bryant made 27 ft Three Point Jumper. Assisted by Karl Malone.
96 - 101
3:20
Los Angeles Full Timeout.
96 - 101
3:20
Tim Thomas enters the game for Daniel Santiago.
96 - 101
3:08
Kobe Bryant missed 13 ft Jumper.
96 - 101
3:05
Michael Redd Defensive Rebound.
96 - 101
3:00
T.J. Ford missed Layup.
96 - 101
3:00
Shaquille O'Neal Defensive Rebound.
96 - 101
2:56
Gary Payton made Layup.
98 - 101
2:27
Joe Smith missed 15 ft Jumper.
98 - 101
2:25
Devean George Defensive Rebound.
98 - 101
2:08
Shaquille O'Neal missed Layup. Blocked by Joe Smith.
98 - 101
2:05
Michael Redd Defensive Rebound.
98 - 101
1:49
T.J. Ford missed 7 ft Jumper.
98 - 101
1:46
Shaquille O'Neal Defensive Rebound.
98 - 101
1:30
Kobe Bryant made 28 ft Three Point Jumper. Assisted by Gary Payton.
101 - 101
1:30
Milwaukee Full Timeout.
101 - 101
1:19
Jumpball. Gary Payton vs. Tim Thomas. Joe Smith gains possession.
101 - 101
1:07
Tim Thomas Lost Ball. Stolen by Karl Malone.
101 - 101
1:01
Shaquille O'Neal made Dunk. Assisted by Kobe Bryant.
103 - 101
1:01
Joe Smith Shooting Foul
103 - 101
1:01
Shaquille O'Neal made Free Throw 1 of 1.
104 - 101
1:01
Milwaukee 20 Sec. Timeout.
104 - 101
0:54
Tim Thomas missed 25 ft Three Point Jumper.
104 - 101
0:52
Milwaukee Offensive Rebound.
104 - 101
0:51
Shaquille O'Neal Loose Ball Foul
104 - 101
0:51
Michael Redd made Free Throw 1 of 2.
104 - 102
0:51
Michael Redd made Free Throw 2 of 2.
104 - 103
0:30
Kobe Bryant made 21 ft Jumper.
106 - 103
0:30
Milwaukee Full Timeout.
106 - 103
0:30
Damon Jones enters the game for T.J. Ford.
106 - 103
0:30
Toni Kukoc enters the game for Joe Smith.
106 - 103
0:30
Derek Fisher enters the game for Karl Malone.
106 - 103
0:24
Toni Kukoc Bad Pass. Stolen by Kobe Bryant.
106 - 103
0:24
Michael Redd Personal Foul
106 - 103
0:24
Kobe Bryant missed Free Throw 1 of 2.
106 - 103
0:24
Los Angeles Offensive Rebound.
106 - 103
0:24
Luke Walton enters the game for Shaquille O'Neal.
106 - 103
0:24
Kobe Bryant made Free Throw 2 of 2.
107 - 103
0:16
Devean George Shooting Foul
107 - 103
0:16
Michael Redd made Free Throw 1 of 2.
107 - 104
0:16
Michael Redd made Free Throw 2 of 2.
107 - 105
0:14
Damon Jones Personal Foul
107 - 105
0:14
Gary Payton made Free Throw 1 of 2.
108 - 105
0:14
Gary Payton made Free Throw 2 of 2.
109 - 105
0:08
Damon Jones missed 26 ft Three Point Jumper.
109 - 105
0:07
Michael Redd Offensive Rebound.
109 - 105
0:06
Michael Redd made Layup.
109 - 107
0:05
Damon Jones Personal Foul
109 - 107
0:05
Gary Payton made Free Throw 1 of 2.
110 - 107
0:05
Gary Payton made Free Throw 2 of 2.
111 - 107
0:02
Tim Thomas missed 25 ft Three Point Jumper.
111 - 107
0:02
Michael Redd Offensive Rebound.
111 - 107
0:01
Michael Redd missed Tip Shot.
111 - 107
0:00
Tim Thomas Offensive Rebound.
111 - 107
0:00
End of the 4th Quarter.
111 - 107
0:00
End Game
111 - 107
0:00
End Game
111 - 107
Joakim Noah, an eight-year veteran for the Chicago Bulls, played in only 29 regular season games during the 2015-16 season.

The move by Alonzo Gee, a defensive specialist, gives the Pelicans six unrestricted free agents this offseason.

A big man who can help make life easier for the Knicks' big scoring threats could be atop the team's free-agency wish list, coach Jeff Hornacek said.
Regular Season Series
LAL wins series 2-0
2015-2016 Pacific Standings