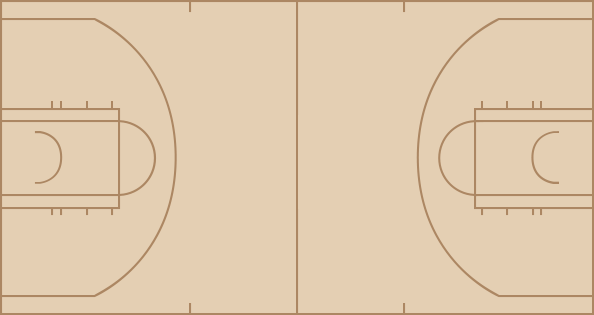 Kings
time
TEAM
PLAY
SCORE
12:00
Start of the 1st Quarter.
0 - 0
12:00
Jumpball. Vlade Divac vs. Tony Battie. Peja Stojakovic gains possession.
0 - 0
11:52
Brad Miller made Two Point Shot. Assisted by Peja Stojakovic.
2 - 0
11:40
Paul Pierce missed 16 ft Jumper.
2 - 0
11:37
Brad Miller Defensive Rebound.
2 - 0
11:26
Vlade Divac made Layup. Assisted by Mike Bibby.
4 - 0
11:15
Vin Baker missed 19 ft Jumper.
4 - 0
11:12
Peja Stojakovic Defensive Rebound.
4 - 0
10:56
Vlade Divac missed 5 ft Two Point Shot.
4 - 0
10:55
Vin Baker Defensive Rebound.
4 - 0
10:45
Tony Battie missed Hook Shot.
4 - 0
10:41
Brad Miller Defensive Rebound.
4 - 0
10:26
Brad Miller made 16 ft Jumper. Assisted by Doug Christie.
6 - 0
10:10
Tony Battie missed 16 ft Jumper.
6 - 0
10:07
Brad Miller Defensive Rebound.
6 - 0
9:56
Brad Miller made 18 ft Jumper. Assisted by Mike Bibby.
8 - 0
9:49
Boston 20 Sec. Timeout.
8 - 0
9:40
Mike James missed 20 ft Jumper.
8 - 0
9:37
Kedrick Brown Offensive Rebound.
8 - 0
9:36
Kedrick Brown missed Two Point Shot.
8 - 0
9:33
Brad Miller Defensive Rebound.
8 - 0
9:26
Doug Christie made 22 ft Jumper. Assisted by Mike Bibby.
10 - 0
9:08
Vin Baker made Layup. Assisted by Paul Pierce.
10 - 2
8:57
Vlade Divac made Two Point Shot. Assisted by Mike Bibby.
12 - 2
8:41
Paul Pierce missed 17 ft Jumper.
12 - 2
8:38
Vin Baker Offensive Rebound.
12 - 2
8:37
Vin Baker missed 6 ft Jumper. Blocked by Doug Christie.
12 - 2
8:33
Mike Bibby Defensive Rebound.
12 - 2
8:18
Mike Bibby made 24 ft Three Point Jumper. Assisted by Peja Stojakovic.
15 - 2
8:03
Brad Miller Shooting Foul
15 - 2
8:03
Kedrick Brown missed Free Throw 1 of 2.
15 - 2
8:03
Boston Offensive Rebound.
15 - 2
8:03
Kedrick Brown made Free Throw 2 of 2.
15 - 3
7:37
Vin Baker made 6 ft Two Point Shot. Assisted by Tony Battie.
15 - 5
7:16
Doug Christie missed 21 ft Jumper.
15 - 5
7:15
Vin Baker Defensive Rebound.
15 - 5
7:00
Paul Pierce made 19 ft Jumper. Assisted by Kedrick Brown.
15 - 7
6:39
Peja Stojakovic missed 20 ft Jumper.
15 - 7
6:37
Sacramento Defensive Rebound.
15 - 7
6:30
Tony Battie Offensive Foul
15 - 7
6:30
Tony Battie Foul
15 - 7
6:13
Mike James Personal Foul
15 - 7
6:05
Brad Miller made Dunk. Assisted by Vlade Divac.
17 - 7
5:47
Vin Baker made 6 ft Jumper.
17 - 9
5:30
Brad Miller made 12 ft Jumper. Assisted by Peja Stojakovic.
19 - 9
5:16
Vin Baker Lost Ball. Stolen by Peja Stojakovic.
19 - 9
5:11
Boston Full Timeout.
19 - 9
5:11
Mark Blount enters the game for Tony Battie.
19 - 9
5:07
Vlade Divac missed Layup. Blocked by Vin Baker.
19 - 9
5:05
Vin Baker Defensive Rebound.
19 - 9
5:03
Vin Baker Bad Pass
19 - 9
4:58
Vlade Divac missed Layup.
19 - 9
4:56
Vlade Divac Offensive Rebound.
19 - 9
4:56
Vlade Divac missed Layup.
19 - 9
4:54
Mark Blount Defensive Rebound.
19 - 9
4:47
Kedrick Brown missed Layup. Blocked by Brad Miller.
19 - 9
4:45
Brad Miller Defensive Rebound.
19 - 9
4:39
Peja Stojakovic made 21 ft Jumper. Assisted by Mike Bibby.
21 - 9
4:16
Vin Baker made Two Point Shot.
21 - 11
3:58
Vlade Divac missed Layup. Blocked by Paul Pierce.
21 - 11
3:57
Sacramento Offensive Rebound.
21 - 11
3:55
Peja Stojakovic missed 2 ft Two Point Shot.
21 - 11
3:53
Paul Pierce Defensive Rebound.
21 - 11
3:46
Kedrick Brown missed 24 ft Three Point Jumper.
21 - 11
3:44
Mike Bibby Defensive Rebound.
21 - 11
3:40
Brad Miller made Layup. Assisted by Mike Bibby.
23 - 11
3:18
Kedrick Brown made 15 ft Jumper.
23 - 13
3:08
Mike Bibby missed 18 ft Jumper.
23 - 13
3:05
Paul Pierce Defensive Rebound.
23 - 13
2:58
Paul Pierce made Two Point Shot.
23 - 15
2:45
Doug Christie Bad Pass. Stolen by Mike James.
23 - 15
2:41
Brad Miller Shooting Foul
23 - 15
2:41
Sacramento Full Timeout.
23 - 15
2:41
Tony Massenburg enters the game for Brad Miller.
23 - 15
2:41
Jiri Welsch enters the game for Kedrick Brown.
23 - 15
2:41
Raef LaFrentz enters the game for Vin Baker.
23 - 15
2:41
Eric Williams enters the game for Paul Pierce.
23 - 15
2:41
Bobby Jackson enters the game for Doug Christie.
23 - 15
2:41
Mike James made Free Throw 1 of 2.
23 - 16
2:41
Mike James made Free Throw 2 of 2.
23 - 17
2:27
Bobby Jackson missed 12 ft Jumper.
23 - 17
2:26
Sacramento Defensive Rebound.
23 - 17
2:26
Tony Massenburg Loose Ball Foul
23 - 17
2:26
Raef LaFrentz Foul
23 - 17
2:11
Peja Stojakovic Shooting Foul
23 - 17
2:11
Eric Williams made Free Throw 1 of 2.
23 - 18
2:11
Eric Williams made Free Throw 2 of 2.
23 - 19
1:58
Peja Stojakovic missed 22 ft Jumper.
23 - 19
1:55
Vlade Divac Offensive Rebound.
23 - 19
1:46
Vlade Divac made 17 ft Jumper. Assisted by Mike Bibby.
25 - 19
1:25
Eric Williams made Layup.
25 - 21
1:07
Bobby Jackson Bad Pass. Stolen by Mike James.
25 - 21
1:01
Mark Blount made Slam Dunk. Assisted by Mike James.
25 - 23
0:39
Tony Massenburg missed 13 ft Jumper.
25 - 23
0:37
Raef LaFrentz Defensive Rebound.
25 - 23
0:29
Mike James missed 25 ft Three Point Jumper.
25 - 23
0:27
Vlade Divac Defensive Rebound.
25 - 23
0:20
Mike Bibby Bad Pass
25 - 23
0:03
Mike James made 25 ft Three Point Jumper.
25 - 26
0:00
Mike Bibby missed 25 ft Three Point Jumper.
25 - 26
0:00
Sacramento Offensive Rebound.
25 - 26
0:00
End of the 1st Quarter.
25 - 26

time
TEAM
PLAY
SCORE
12:00
Start of the 2nd Quarter.
25 - 26
11:47
Gerald Wallace Shooting Foul
25 - 26
11:47
Eric Williams made Free Throw 1 of 2.
25 - 27
11:47
Eric Williams made Free Throw 2 of 2.
25 - 28
11:22
Mike Bibby missed 24 ft Three Point Jumper.
25 - 28
11:21
Jiri Welsch Defensive Rebound.
25 - 28
11:15
Mark Blount missed 5 ft Jumper.
25 - 28
11:12
Eric Williams Offensive Rebound.
25 - 28
11:11
Jiri Welsch missed 18 ft Jumper.
25 - 28
11:08
Gerald Wallace Defensive Rebound.
25 - 28
11:03
Darius Songaila missed 16 ft Jumper.
25 - 28
11:02
Gerald Wallace Offensive Rebound.
25 - 28
11:00
Mark Blount Personal Foul
25 - 28
11:00
Marcus Banks enters the game for Mike James.
25 - 28
10:41
Bobby Jackson made 26 ft Three Point Jumper.
28 - 28
10:23
Jiri Welsch missed 11 ft Jumper.
28 - 28
10:22
Gerald Wallace Defensive Rebound.
28 - 28
10:15
Bobby Jackson missed 18 ft Jumper.
28 - 28
10:14
Eric Williams Defensive Rebound.
28 - 28
10:11
Marcus Banks Offensive Foul
28 - 28
10:11
Marcus Banks Foul
28 - 28
9:52
Darius Songaila missed Layup.
28 - 28
9:49
Eric Williams Defensive Rebound.
28 - 28
9:45
Raef LaFrentz missed Layup.
28 - 28
9:42
Mark Blount Offensive Rebound.
28 - 28
9:41
Mark Blount made Tip Shot.
28 - 30
9:32
Raef LaFrentz Shooting Foul
28 - 30
9:32
Darius Songaila missed Free Throw 1 of 2.
28 - 30
9:32
Sacramento Offensive Rebound.
28 - 30
9:32
Darius Songaila made Free Throw 2 of 2.
29 - 30
9:18
Gerald Wallace Personal Foul
29 - 30
9:06
Eric Williams missed Layup.
29 - 30
9:04
Gerald Wallace Defensive Rebound.
29 - 30
8:56
Bobby Jackson Lost Ball. Stolen by Raef LaFrentz.
29 - 30
8:49
Mark Blount made Dunk. Assisted by Jiri Welsch.
29 - 32
8:32
Gerald Wallace missed Layup. Blocked by Raef LaFrentz.
29 - 32
8:27
Mark Blount Defensive Rebound.
29 - 32
8:18
Eric Williams Lost Ball. Stolen by Tony Massenburg.
29 - 32
8:14
Bobby Jackson made 24 ft Three Point Jumper. Assisted by Gerald Wallace.
32 - 32
8:00
Eric Williams Offensive Foul
32 - 32
8:00
Eric Williams Foul
32 - 32
8:00
Official Timeout.
32 - 32
8:00
Kedrick Brown enters the game for Raef LaFrentz.
32 - 32
8:00
Paul Pierce enters the game for Jiri Welsch.
32 - 32
8:00
Vin Baker enters the game for Eric Williams.
32 - 32
8:00
Doug Christie enters the game for Mike Bibby.
32 - 32
7:41
Bobby Jackson made 20 ft Jumper.
34 - 32
7:31
Gerald Wallace Shooting Foul
34 - 32
7:31
Paul Pierce missed Free Throw 1 of 2.
34 - 32
7:31
Boston Offensive Rebound.
34 - 32
7:31
Paul Pierce made Free Throw 2 of 2.
34 - 33
7:26
Mark Blount Personal Foul
34 - 33
7:07
Tony Massenburg made 11 ft Jumper. Assisted by Doug Christie.
36 - 33
6:54
Darius Songaila Personal Foul
36 - 33
6:47
Paul Pierce Bad Pass. Stolen by Doug Christie.
36 - 33
6:39
Darius Songaila missed Layup. Blocked by Mark Blount.
36 - 33
6:37
Vin Baker Defensive Rebound.
36 - 33
6:35
Marcus Banks Lost Ball. Stolen by Bobby Jackson.
36 - 33
6:18
Doug Christie missed 13 ft Jumper.
36 - 33
6:16
Kedrick Brown Defensive Rebound.
36 - 33
6:09
Marcus Banks missed Jumper.
36 - 33
6:07
Gerald Wallace Defensive Rebound.
36 - 33
6:07
Brad Miller enters the game for Darius Songaila.
36 - 33
5:48
Brad Miller missed Layup. Blocked by Mark Blount.
36 - 33
5:47
Mark Blount Defensive Rebound.
36 - 33
5:37
Mark Blount Bad Pass. Stolen by Doug Christie.
36 - 33
5:35
Kedrick Brown Shooting Foul
36 - 33
5:35
Boston Full Timeout.
36 - 33
5:35
Tony Battie enters the game for Mark Blount.
36 - 33
5:35
Eric Williams enters the game for Kedrick Brown.
36 - 33
5:35
Gerald Wallace missed Free Throw 1 of 2.
36 - 33
5:35
Sacramento Offensive Rebound.
36 - 33
5:35
Gerald Wallace made Free Throw 2 of 2.
37 - 33
5:18
Paul Pierce missed 25 ft Three Point Jumper.
37 - 33
5:18
Tony Massenburg Defensive Rebound.
37 - 33
5:16
Jumpball. Tony Massenburg vs. Tony Battie. Marcus Banks gains possession.
37 - 33
5:16
Tony Massenburg Lost Ball. Stolen by Tony Battie.
37 - 33
5:09
Eric Williams missed Layup. Blocked by Tony Massenburg.
37 - 33
5:07
Gerald Wallace Defensive Rebound.
37 - 33
4:56
Brad Miller missed 16 ft Jumper.
37 - 33
4:54
Sacramento Defensive Rebound.
37 - 33
4:18
Doug Christie missed 4 ft Jumper.
37 - 33
4:18
Vin Baker Defensive Rebound.
37 - 33
4:05
Vin Baker made 6 ft Two Point Shot. Assisted by Marcus Banks.
37 - 35
3:49
Brad Miller missed 11 ft Jumper.
37 - 35
3:47
Paul Pierce Defensive Rebound.
37 - 35
3:42
Marcus Banks made 3 ft Two Point Shot.
37 - 37
3:21
Bobby Jackson missed 25 ft Three Point Jumper.
37 - 37
3:19
Eric Williams Defensive Rebound.
37 - 37
3:04
Eric Williams missed Layup.
37 - 37
3:03
Tony Battie Offensive Rebound.
37 - 37
3:01
Tony Battie Bad Pass. Stolen by Doug Christie.
37 - 37
3:00
Paul Pierce Personal Foul
37 - 37
3:00
Vlade Divac enters the game for Tony Massenburg.
37 - 37
3:00
Peja Stojakovic enters the game for Gerald Wallace.
37 - 37
3:00
Mike James enters the game for Marcus Banks.
37 - 37
3:00
Doug Christie made Free Throw 1 of 2.
38 - 37
3:00
Doug Christie made Free Throw 2 of 2.
39 - 37
2:38
Eric Williams made Layup.
39 - 39
2:20
Doug Christie Lost Ball. Stolen by Paul Pierce.
39 - 39
2:05
Vin Baker missed Layup.
39 - 39
2:04
Brad Miller Defensive Rebound.
39 - 39
1:47
Vlade Divac made 21 ft Jumper. Assisted by Bobby Jackson.
41 - 39
1:29
Paul Pierce missed 9 ft Jumper.
41 - 39
1:28
Brad Miller Defensive Rebound.
41 - 39
1:23
Eric Williams Shooting Foul
41 - 39
1:23
Sacramento Full Timeout.
41 - 39
1:23
Mike Bibby enters the game for Bobby Jackson.
41 - 39
1:23
Kedrick Brown enters the game for Eric Williams.
41 - 39
1:23
Peja Stojakovic made Free Throw 1 of 2.
42 - 39
1:23
Peja Stojakovic made Free Throw 2 of 2.
43 - 39
1:04
Paul Pierce missed 7 ft Jumper.
43 - 39
1:02
Brad Miller Defensive Rebound.
43 - 39
0:42
Peja Stojakovic missed 25 ft Three Point Jumper.
43 - 39
0:40
Vin Baker Defensive Rebound.
43 - 39
0:31
Tony Battie 3 second
43 - 39
0:19
Brad Miller made Layup. Assisted by Mike Bibby.
45 - 39
0:00
Paul Pierce missed 25 ft Three Point Jumper.
45 - 39
0:00
Boston Offensive Rebound.
45 - 39
0:00
End of the 2nd Quarter.
45 - 39

time
TEAM
PLAY
SCORE
12:00
Start of the 3rd Quarter.
45 - 39
11:40
Paul Pierce made Layup.
45 - 41
11:26
Peja Stojakovic made Jumper. Assisted by Vlade Divac.
47 - 41
11:14
Mike James missed 24 ft Three Point Jumper.
47 - 41
11:11
Brad Miller Defensive Rebound.
47 - 41
11:07
Kedrick Brown Personal Foul
47 - 41
11:03
Vin Baker Personal Foul
47 - 41
11:03
Doug Christie Bad Pass
47 - 41
10:48
Vin Baker made 5 ft Jumper.
47 - 43
10:37
Mike Bibby missed 19 ft Jumper.
47 - 43
10:36
Mike James Defensive Rebound.
47 - 43
10:27
Vin Baker made 18 ft Jumper. Assisted by Mike James.
47 - 45
10:07
Peja Stojakovic missed 24 ft Three Point Jumper.
47 - 45
10:07
Mike Bibby Offensive Rebound.
47 - 45
10:03
Doug Christie missed 23 ft Jumper.
47 - 45
10:02
Kedrick Brown Defensive Rebound.
47 - 45
9:45
Paul Pierce missed Layup.
47 - 45
9:42
Paul Pierce Offensive Rebound.
47 - 45
9:41
Paul Pierce Bad Pass. Stolen by Doug Christie.
47 - 45
9:37
Peja Stojakovic made Two Point Shot. Assisted by Doug Christie.
49 - 45
9:21
Vin Baker missed 16 ft Jumper.
49 - 45
9:19
Vlade Divac Defensive Rebound.
49 - 45
9:07
Peja Stojakovic Bad Pass. Stolen by Mike James.
49 - 45
9:04
Mike Bibby Shooting Foul
49 - 45
9:04
Mike James missed Free Throw 1 of 2.
49 - 45
9:04
Boston Offensive Rebound.
49 - 45
9:04
Mike James made Free Throw 2 of 2.
49 - 46
8:42
Vlade Divac missed Jumper.
49 - 46
8:41
Tony Battie Defensive Rebound.
49 - 46
8:33
Mike James missed 24 ft Three Point Jumper.
49 - 46
8:30
Brad Miller Defensive Rebound.
49 - 46
8:23
Mike Bibby missed 21 ft Jumper.
49 - 46
8:22
Kedrick Brown Defensive Rebound.
49 - 46
8:14
Tony Battie made 21 ft Jumper. Assisted by Kedrick Brown.
49 - 48
7:56
Mike Bibby missed Layup.
49 - 48
7:54
Mike James Defensive Rebound.
49 - 48
7:43
Vin Baker missed Layup.
49 - 48
7:41
Brad Miller Defensive Rebound.
49 - 48
7:28
Peja Stojakovic made 18 ft Jumper. Assisted by Vlade Divac.
51 - 48
7:01
Kedrick Brown made 22 ft Three Point Jumper. Assisted by Mike James.
51 - 51
6:41
Doug Christie missed Jumper.
51 - 51
6:39
Vin Baker Defensive Rebound.
51 - 51
6:33
Vin Baker missed Layup.
51 - 51
6:31
Brad Miller Defensive Rebound.
51 - 51
6:22
Vin Baker Personal Foul
51 - 51
6:22
Mark Blount enters the game for Tony Battie.
51 - 51
6:22
Marcus Banks enters the game for Mike James.
51 - 51
6:13
Mike Bibby made 21 ft Jumper. Assisted by Brad Miller.
53 - 51
5:56
Paul Pierce made 16 ft Two Point Shot. Assisted by Vin Baker.
53 - 53
5:37
Vlade Divac made Layup. Assisted by Mike Bibby.
55 - 53
5:37
Paul Pierce Shooting Foul
55 - 53
5:37
Boston Full Timeout.
55 - 53
5:37
Raef LaFrentz enters the game for Vin Baker.
55 - 53
5:37
Eric Williams enters the game for Kedrick Brown.
55 - 53
5:37
Vlade Divac made Free Throw 1 of 1.
56 - 53
5:26
Mark Blount made 17 ft Jumper. Assisted by Marcus Banks.
56 - 55
5:13
Peja Stojakovic missed Jumper.
56 - 55
5:13
Peja Stojakovic Offensive Rebound.
56 - 55
5:09
Mike Bibby missed 15 ft Jumper.
56 - 55
5:07
Raef LaFrentz Defensive Rebound.
56 - 55
4:56
Paul Pierce missed 24 ft Three Point Jumper.
56 - 55
4:54
Brad Miller Defensive Rebound.
56 - 55
4:39
Vlade Divac made 21 ft Jumper. Assisted by Brad Miller.
58 - 55
4:20
Paul Pierce made 22 ft Jumper. Assisted by Mark Blount.
58 - 57
4:03
Brad Miller missed 19 ft Jumper.
58 - 57
4:01
Eric Williams Defensive Rebound.
58 - 57
3:54
Vlade Divac Shooting Foul
58 - 57
3:54
Paul Pierce made Free Throw 1 of 2.
58 - 58
3:54
Paul Pierce made Free Throw 2 of 2.
58 - 59
3:34
Mike Bibby made 25 ft Three Point Jumper. Assisted by Vlade Divac.
61 - 59
3:16
Raef LaFrentz missed 24 ft Three Point Jumper.
61 - 59
3:15
Boston Defensive Rebound.
61 - 59
3:15
Mark Blount Loose Ball Foul
61 - 59
3:15
Vlade Divac missed Free Throw 1 of 2.
61 - 59
3:15
Sacramento Offensive Rebound.
61 - 59
3:15
Vin Baker enters the game for Mark Blount.
61 - 59
3:15
Vlade Divac missed Free Throw 2 of 2.
61 - 59
3:14
Paul Pierce Defensive Rebound.
61 - 59
3:05
Marcus Banks missed 25 ft Three Point Jumper.
61 - 59
3:02
Brad Miller Defensive Rebound.
61 - 59
2:57
Mike Bibby missed 25 ft Three Point Jumper.
61 - 59
2:54
Raef LaFrentz Defensive Rebound.
61 - 59
2:44
Raef LaFrentz made 26 ft Three Point Jumper. Assisted by Marcus Banks.
61 - 62
2:30
Marcus Banks Personal Foul
61 - 62
2:30
Sacramento Full Timeout.
61 - 62
2:30
Tony Massenburg enters the game for Vlade Divac.
61 - 62
2:30
Jiri Welsch enters the game for Paul Pierce.
61 - 62
2:30
Bobby Jackson enters the game for Doug Christie.
61 - 62
2:30
Mike Bibby made Free Throw 1 of 2.
62 - 62
2:30
Mike Bibby missed Free Throw 2 of 2.
62 - 62
2:30
Raef LaFrentz Defensive Rebound.
62 - 62
2:11
Vin Baker missed Jumper.
62 - 62
2:09
Raef LaFrentz Offensive Rebound.
62 - 62
2:06
Raef LaFrentz made Layup.
62 - 64
1:54
Tony Massenburg missed Layup.
62 - 64
1:54
Vin Baker Defensive Rebound.
62 - 64
1:50
Peja Stojakovic Personal Foul
62 - 64
1:50
Eric Williams made Free Throw 1 of 2.
62 - 65
1:50
Eric Williams made Free Throw 2 of 2.
62 - 66
1:29
Peja Stojakovic made 11 ft Two Point Shot.
64 - 66
1:10
Jiri Welsch made Two Point Shot.
64 - 68
0:55
Brad Miller missed 17 ft Jumper.
64 - 68
0:53
Mike Bibby Offensive Rebound.
64 - 68
0:51
Tony Massenburg made 1 ft Two Point Shot. Assisted by Mike Bibby.
66 - 68
0:51
Raef LaFrentz Shooting Foul
66 - 68
0:51
Tony Massenburg made Free Throw 1 of 1.
67 - 68
0:34
Marcus Banks made 24 ft Three Point Jumper. Assisted by Jiri Welsch.
67 - 71
0:20
Mike Bibby made 19 ft Jumper.
69 - 71
0:02
Marcus Banks made 8 ft Two Point Shot.
69 - 73
0:00
Bobby Jackson missed 62 ft Three Point Jumper.
69 - 73
0:00
Sacramento Offensive Rebound.
69 - 73
0:00
End of the 3rd Quarter.
69 - 73

time
TEAM
PLAY
SCORE
12:00
Start of the 4th Quarter.
69 - 73
11:41
Tony Massenburg missed 16 ft Jumper.
69 - 73
11:38
Vin Baker Defensive Rebound.
69 - 73
11:30
Eric Williams made 7 ft Jumper.
69 - 75
11:30
Peja Stojakovic Shooting Foul
69 - 75
11:30
Eric Williams missed Free Throw 1 of 1.
69 - 75
11:29
Brad Miller Defensive Rebound.
69 - 75
11:07
Peja Stojakovic missed 25 ft Three Point Jumper.
69 - 75
11:06
Raef LaFrentz Defensive Rebound.
69 - 75
11:04
Brad Miller Personal Foul
69 - 75
10:47
Raef LaFrentz missed 25 ft Three Point Jumper.
69 - 75
10:45
Tony Massenburg Defensive Rebound.
69 - 75
10:37
Bobby Jackson missed 24 ft Three Point Jumper.
69 - 75
10:36
Sacramento Offensive Rebound.
69 - 75
10:19
Peja Stojakovic missed 24 ft Three Point Jumper.
69 - 75
10:18
Tony Massenburg Offensive Rebound.
69 - 75
10:17
Tony Massenburg missed Layup.
69 - 75
10:15
Bobby Jackson Offensive Rebound.
69 - 75
10:14
Bobby Jackson missed Layup.
69 - 75
10:11
Vin Baker Defensive Rebound.
69 - 75
10:08
Sacramento Full Timeout.
69 - 75
10:08
Gerald Wallace enters the game for Peja Stojakovic.
69 - 75
10:08
Doug Christie enters the game for Mike Bibby.
69 - 75
9:47
Tony Massenburg 3 second
69 - 75
9:30
Jiri Welsch missed 21 ft Jumper.
69 - 75
9:29
Gerald Wallace Defensive Rebound.
69 - 75
9:15
Doug Christie missed 17 ft Jumper.
69 - 75
9:15
Tony Massenburg Offensive Rebound.
69 - 75
9:14
Raef LaFrentz Personal Foul
69 - 75
9:02
Bobby Jackson Lost Ball. Stolen by Marcus Banks.
69 - 75
9:00
Bobby Jackson Personal Foul
69 - 75
8:52
Vin Baker Offensive Foul
69 - 75
8:52
Vin Baker Foul
69 - 75
8:36
Gerald Wallace missed 20 ft Jumper.
69 - 75
8:34
Jiri Welsch Defensive Rebound.
69 - 75
8:30
Tony Massenburg Personal Foul
69 - 75
8:30
Paul Pierce enters the game for Jiri Welsch.
69 - 75
8:17
Paul Pierce missed 17 ft Jumper.
69 - 75
8:15
Raef LaFrentz Offensive Rebound.
69 - 75
8:15
Raef LaFrentz missed 5 ft Jumper.
69 - 75
8:12
Eric Williams Offensive Rebound.
69 - 75
8:11
Eric Williams missed Jumper.
69 - 75
8:10
Raef LaFrentz Offensive Rebound.
69 - 77
8:10
Raef LaFrentz made Tip Shot.
69 - 77
7:48
Doug Christie made 24 ft Three Point Jumper.
72 - 77
7:11
Marcus Banks Personal Foul
72 - 77
7:11
Kedrick Brown enters the game for Raef LaFrentz.
72 - 77
7:11
Mike James enters the game for Eric Williams.
72 - 77
7:11
Mark Blount enters the game for Marcus Banks.
72 - 77
7:03
Bobby Jackson Lost Ball. Stolen by Mike James.
72 - 77
6:56
Kedrick Brown made Layup.
72 - 79
6:56
Brad Miller Shooting Foul
72 - 79
6:56
Peja Stojakovic enters the game for Gerald Wallace.
72 - 79
6:56
Kedrick Brown missed Free Throw 1 of 1.
72 - 79
6:54
Kedrick Brown Offensive Rebound.
72 - 79
6:47
Kedrick Brown missed 23 ft Jumper.
72 - 79
6:46
Boston Defensive Rebound.
72 - 79
6:46
Vin Baker Loose Ball Foul
72 - 79
6:28
Tony Massenburg missed Layup.
72 - 79
6:28
Sacramento Defensive Rebound.
72 - 79
6:09
Mark Blount made 4 ft Two Point Shot.
72 - 81
5:48
Bobby Jackson missed 26 ft Three Point Jumper.
72 - 81
5:45
Vin Baker Defensive Rebound.
72 - 81
5:35
Paul Pierce made 18 ft Jumper. Assisted by Mark Blount.
72 - 83
5:31
Sacramento Full Timeout.
72 - 83
5:20
Brad Miller made 19 ft Jumper. Assisted by Doug Christie.
74 - 83
4:48
Raef LaFrentz Personal Foul
74 - 83
4:39
Peja Stojakovic missed 16 ft Jumper.
74 - 83
4:37
Bobby Jackson Offensive Rebound.
74 - 83
4:31
Bobby Jackson missed 15 ft Jumper.
74 - 83
4:28
Peja Stojakovic Offensive Rebound.
74 - 83
4:26
Doug Christie missed 24 ft Three Point Jumper.
74 - 83
4:26
Sacramento Offensive Rebound.
74 - 83
4:26
Mark Blount Loose Ball Foul
74 - 83
4:26
Bobby Jackson missed Free Throw 1 of 2.
74 - 83
4:26
Sacramento Offensive Rebound.
74 - 83
4:26
Vin Baker enters the game for Mark Blount.
74 - 83
4:26
Bobby Jackson made Free Throw 2 of 2.
75 - 83
4:05
Paul Pierce missed Jumper.
75 - 83
4:03
Peja Stojakovic Defensive Rebound.
75 - 83
3:56
Bobby Jackson missed 17 ft Jumper.
75 - 83
3:54
Brad Miller Offensive Rebound.
75 - 83
3:50
Bobby Jackson Bad Pass. Stolen by Raef LaFrentz.
75 - 83
3:46
Paul Pierce Offensive Foul
75 - 83
3:46
Paul Pierce Foul
75 - 83
3:46
Mike Bibby enters the game for Bobby Jackson.
75 - 83
3:29
Doug Christie missed Layup.
75 - 83
3:28
Sacramento Offensive Rebound.
75 - 83
3:25
Vlade Divac missed 18 ft Jumper.
75 - 83
3:21
Kedrick Brown Defensive Rebound.
75 - 83
3:13
Paul Pierce missed 24 ft Three Point Jumper.
75 - 83
2:55
Raef LaFrentz missed Layup.
75 - 83
2:53
Raef LaFrentz Offensive Rebound.
75 - 85
2:53
Raef LaFrentz made Tip Shot.
75 - 85
2:46
Brad Miller made Layup. Assisted by Mike Bibby.
77 - 85
2:29
Vin Baker made Layup. Assisted by Kedrick Brown.
77 - 87
2:10
Paul Pierce Shooting Foul
77 - 87
2:10
Official Timeout.
77 - 87
2:10
Brad Miller missed Free Throw 1 of 2.
77 - 87
2:10
Sacramento Offensive Rebound.
77 - 87
2:10
Boston Full Timeout.
77 - 87
2:10
Brad Miller made Free Throw 2 of 2.
78 - 87
1:55
Doug Christie Personal Foul
78 - 87
1:55
Vin Baker made Free Throw 1 of 2.
78 - 88
1:55
Vin Baker made Free Throw 2 of 2.
78 - 89
1:42
Vin Baker Illegal Defense Foul
78 - 89
1:42
Peja Stojakovic made Technical Free Throw.
79 - 89
1:39
Peja Stojakovic missed Layup. Blocked by Vin Baker.
79 - 89
1:37
Mike James Defensive Rebound.
79 - 89
1:13
Paul Pierce missed Jumper.
79 - 89
1:12
Boston Defensive Rebound.
79 - 89
1:06
Mike Bibby made 25 ft Three Point Jumper.
82 - 89
0:43
Vin Baker missed 17 ft Jumper.
82 - 89
0:41
Kedrick Brown Offensive Rebound.
82 - 89
0:22
Raef LaFrentz missed Layup.
82 - 89
0:20
Vin Baker Offensive Rebound.
82 - 89
0:19
Vin Baker missed Layup.
82 - 89
0:17
Mike Bibby Defensive Rebound.
82 - 89
0:15
Mike Bibby missed 25 ft Three Point Jumper.
82 - 89
0:14
Sacramento Defensive Rebound.
82 - 89
0:00
End of the 4th Quarter.
82 - 89
The Charlotte Hornets announced that Noel Gillespie has been named coach of their new NBA Developmental League affiliate, the Greensboro Swarm.

After signing C.J. McCollum to a max deal, the Blazers now have a ton of money wrapped up in their backcourt. Kevin Pelton breaks down what that means for the future of Portland and its roster.

Andre Drummond got posterized twice in the Drew League, but he's not the only NBA player to be on the wrong side of a poster.
Regular Season Series
Series tied 1-1
2015-2016 Pacific Standings
2015-2016 Atlantic Standings