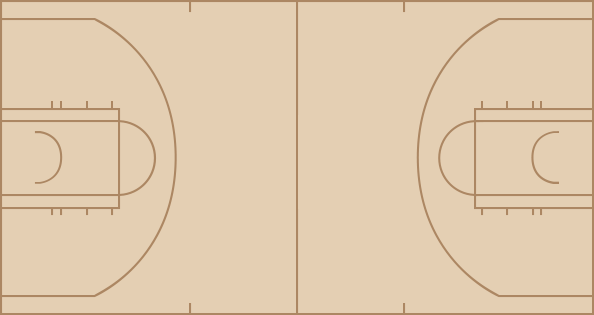 Pacers
time
TEAM
PLAY
SCORE
12:00
Start of the 1st Quarter.
0 - 0
12:00
Jumpball. Jermaine O'Neal vs. Derrick Coleman. Kenny Anderson gains possession.
0 - 0
11:48
Kenny Anderson missed 10 ft Jumper.
0 - 0
11:47
Glenn Robinson Defensive Rebound.
0 - 0
11:23
Eric Snow missed 9 ft Jumper.
0 - 0
11:22
Jermaine O'Neal Defensive Rebound.
0 - 0
11:07
Reggie Miller missed 17 ft Jumper.
0 - 0
11:06
Ron Artest Offensive Rebound.
0 - 0
10:57
Derrick Coleman missed Layup.
0 - 0
10:56
Jermaine O'Neal Defensive Rebound.
0 - 0
10:45
Ron Artest made 26 ft Three Point Jumper. Assisted by Kenny Anderson.
3 - 0
10:25
Derrick Coleman Lost Ball. Stolen by Jeff Foster.
3 - 0
10:21
Kenny Anderson made Layup. Assisted by Jeff Foster.
5 - 0
10:07
Allen Iverson missed 18 ft Jumper.
5 - 0
10:06
Jermaine O'Neal Defensive Rebound.
5 - 0
10:00
Ron Artest Bad Pass. Stolen by Allen Iverson.
5 - 0
9:56
Allen Iverson made Layup.
5 - 2
9:33
Jermaine O'Neal missed 10 ft Jumper.
5 - 2
9:32
Jeff Foster Offensive Rebound.
5 - 2
9:29
Jermaine O'Neal made Two Point Shot. Assisted by Jeff Foster.
7 - 2
9:11
Derrick Coleman made Layup. Assisted by Allen Iverson.
7 - 4
8:32
Kenny Anderson made Jumper.
9 - 4
8:26
Glenn Robinson made 7 ft Jumper.
9 - 6
8:03
Glenn Robinson Personal Foul
9 - 6
8:03
Jeff Foster made Layup. Assisted by Jermaine O'Neal.
11 - 6
7:52
Derrick Coleman Lost Ball. Stolen by Ron Artest.
11 - 6
7:50
Ron Artest made Two Point Shot.
13 - 6
7:39
Philadelphia Full Timeout.
13 - 6
7:24
Glenn Robinson missed Two Point Shot.
13 - 6
7:18
Jeff Foster Defensive Rebound.
13 - 6
7:07
Ron Artest made Layup. Assisted by Kenny Anderson.
15 - 6
6:52
Allen Iverson missed Layup.
15 - 6
6:50
Jeff Foster Defensive Rebound.
15 - 6
6:37
Jermaine O'Neal made Slam Dunk. Assisted by Jeff Foster.
17 - 6
6:11
Eric Snow missed Jumper.
17 - 6
6:09
Jeff Foster Defensive Rebound.
17 - 6
6:01
Ron Artest missed 26 ft Three Point Jumper.
17 - 6
6:00
Jeff Foster Offensive Rebound.
17 - 6
5:48
Jeff Foster made Dunk. Assisted by Reggie Miller.
19 - 6
5:28
Allen Iverson missed 11 ft Jumper.
19 - 6
5:26
Jermaine O'Neal Defensive Rebound.
19 - 6
5:15
Reggie Miller missed 25 ft Three Point Jumper.
19 - 6
5:13
Derrick Coleman Defensive Rebound.
19 - 6
5:01
Derrick Coleman made 18 ft Jumper. Assisted by Eric Snow.
19 - 8
4:35
Jermaine O'Neal missed 13 ft Jumper.
19 - 8
4:35
Indiana Defensive Rebound.
19 - 8
4:35
Anthony Johnson enters the game for Kenny Anderson.
19 - 8
4:35
Al Harrington enters the game for Reggie Miller.
19 - 8
4:35
Aaron McKie enters the game for Eric Snow.
19 - 8
4:20
Allen Iverson made 24 ft Three Point Jumper.
19 - 11
4:05
Ron Artest made Two Point Shot.
21 - 11
3:59
Allen Iverson made Two Point Shot.
21 - 13
3:50
Indiana Full Timeout.
21 - 13
3:50
Samuel Dalembert enters the game for Derrick Coleman.
21 - 13
3:38
Marc Jackson Illegal Defense Foul
21 - 13
3:38
Anthony Johnson made Technical Free Throw.
22 - 13
3:21
Jermaine O'Neal missed 14 ft Jumper.
22 - 13
3:20
Allen Iverson Defensive Rebound.
22 - 13
3:11
Marc Jackson missed 17 ft Jumper.
22 - 13
3:10
Al Harrington Defensive Rebound.
22 - 13
3:02
Ron Artest made 19 ft Jumper.
24 - 13
2:50
Allen Iverson missed Layup.
24 - 13
2:49
Jeff Foster Defensive Rebound.
24 - 13
2:30
Jermaine O'Neal missed Layup. Blocked by Samuel Dalembert.
24 - 13
2:29
Indiana Offensive Rebound.
24 - 13
2:27
Jeff Foster missed Layup.
24 - 13
2:24
Jeff Foster Offensive Rebound.
24 - 13
2:21
Jeff Foster Bad Pass. Stolen by Marc Jackson.
24 - 13
2:17
Allen Iverson made Dunk. Assisted by Marc Jackson.
24 - 15
1:54
Ron Artest missed 18 ft Jumper.
24 - 15
1:53
Anthony Johnson Offensive Rebound.
24 - 15
1:43
Jeff Foster made Layup. Assisted by Jermaine O'Neal.
26 - 15
1:43
Defensive Goaltending
26 - 15
1:32
Allen Iverson missed 24 ft Three Point Jumper.
26 - 15
1:30
Ron Artest Defensive Rebound.
26 - 15
1:15
Jeff Foster Offensive Foul
26 - 15
1:15
Jeff Foster Foul
26 - 15
1:15
Fred Jones enters the game for Jeff Foster.
26 - 15
1:15
Scot Pollard enters the game for Jermaine O'Neal.
26 - 15
1:02
Glenn Robinson missed 25 ft Three Point Jumper.
26 - 15
1:01
Ron Artest Defensive Rebound.
26 - 15
0:45
Ron Artest Bad Pass. Stolen by Marc Jackson.
26 - 15
0:41
Fred Jones Shooting Foul
26 - 15
0:41
Allen Iverson missed Free Throw 1 of 2.
26 - 15
0:41
Willie Green enters the game for Glenn Robinson.
26 - 15
0:41
Philadelphia Offensive Rebound.
26 - 15
0:41
Allen Iverson missed Free Throw 2 of 2.
26 - 15
0:41
Allen Iverson Offensive Rebound.
26 - 15
0:21
Marc Jackson missed 6 ft Jumper.
26 - 15
0:20
Anthony Johnson Defensive Rebound.
26 - 15
0:02
Anthony Johnson missed 13 ft Jumper.
26 - 15
0:00
Samuel Dalembert Defensive Rebound.
26 - 15
0:00
End of the 1st Quarter.
26 - 15

time
TEAM
PLAY
SCORE
12:00
Start of the 2nd Quarter.
26 - 15
11:44
Willie Green missed 13 ft Jumper.
26 - 15
11:41
Ron Artest Defensive Rebound.
26 - 15
11:27
Samuel Dalembert Shooting Foul
26 - 15
11:27
Scot Pollard made Free Throw 1 of 2.
27 - 15
11:27
Scot Pollard made Free Throw 2 of 2.
28 - 15
11:08
Allen Iverson missed 16 ft Jumper.
28 - 15
11:07
Philadelphia Offensive Rebound.
28 - 15
10:56
Willie Green missed 11 ft Jumper. Blocked by Scot Pollard.
28 - 15
10:55
Anthony Johnson Defensive Rebound.
28 - 15
10:36
Al Harrington Traveling
28 - 15
10:21
Samuel Dalembert made Two Point Shot.
28 - 17
9:59
Ron Artest missed Layup.
28 - 17
9:56
Ron Artest Offensive Rebound.
30 - 17
9:55
Ron Artest made Layup.
30 - 17
9:45
Scot Pollard Shooting Foul
30 - 17
9:45
Samuel Dalembert made Free Throw 1 of 2.
30 - 18
9:45
Eric Snow enters the game for Allen Iverson.
30 - 18
9:45
Kenny Anderson enters the game for Anthony Johnson.
30 - 18
9:45
Samuel Dalembert made Free Throw 2 of 2.
30 - 19
9:25
Kenny Anderson missed 15 ft Jumper.
30 - 19
9:22
Eric Snow Defensive Rebound.
30 - 19
9:15
Derrick Coleman missed Layup.
30 - 19
9:14
Samuel Dalembert Offensive Rebound.
30 - 21
9:14
Samuel Dalembert made Tip Shot.
30 - 21
8:56
Fred Jones missed 25 ft Three Point Jumper.
30 - 21
8:56
Indiana Defensive Rebound.
30 - 21
8:56
Official Timeout.
30 - 21
8:40
Derrick Coleman missed 11 ft Jumper.
30 - 21
8:38
Scot Pollard Defensive Rebound.
30 - 21
8:19
Al Harrington made 20 ft Jumper. Assisted by Fred Jones.
32 - 21
8:02
Derrick Coleman 3 second
32 - 21
8:02
Glenn Robinson enters the game for Aaron McKie.
32 - 21
8:02
Allen Iverson enters the game for Willie Green.
32 - 21
7:46
Jermaine O'Neal Lost Ball. Stolen by Eric Snow.
32 - 21
7:39
Jermaine O'Neal Shooting Foul
32 - 21
7:39
Eric Snow made Free Throw 1 of 2.
32 - 22
7:39
Reggie Miller enters the game for Fred Jones.
32 - 22
7:39
Marc Jackson enters the game for Samuel Dalembert.
32 - 22
7:39
Eric Snow made Free Throw 2 of 2.
32 - 23
7:20
Reggie Miller missed 18 ft Jumper.
32 - 23
7:20
Glenn Robinson Defensive Rebound.
32 - 23
7:03
Allen Iverson missed 16 ft Jumper.
32 - 23
7:01
Philadelphia Offensive Rebound.
32 - 23
7:01
Jeff Foster enters the game for Scot Pollard.
32 - 23
6:54
Marc Jackson missed 11 ft Jumper.
32 - 23
6:54
Glenn Robinson Offensive Rebound.
32 - 25
6:54
Glenn Robinson made Layup.
32 - 25
6:35
Al Harrington made 20 ft Jumper. Assisted by Jermaine O'Neal.
34 - 25
6:13
Jermaine O'Neal Shooting Foul
34 - 25
6:13
Allen Iverson made Free Throw 1 of 2.
34 - 26
6:13
Allen Iverson missed Free Throw 2 of 2.
34 - 26
6:13
Al Harrington Defensive Rebound.
34 - 26
5:58
Jermaine O'Neal missed 10 ft Jumper.
34 - 26
5:56
Jeff Foster Offensive Rebound.
34 - 26
5:54
Jermaine O'Neal made Dunk. Assisted by Al Harrington.
36 - 26
5:35
Glenn Robinson missed 14 ft Jumper.
36 - 26
5:35
Marc Jackson Offensive Rebound.
36 - 26
5:31
Eric Snow Bad Pass. Stolen by Kenny Anderson.
36 - 26
5:28
Kenny Anderson made Layup. Assisted by Reggie Miller.
38 - 26
5:16
Philadelphia Full Timeout.
38 - 26
5:07
Marc Jackson made Two Point Shot. Assisted by Derrick Coleman.
38 - 28
4:50
Jeff Foster missed Jumper.
38 - 28
4:48
Derrick Coleman Defensive Rebound.
38 - 28
4:39
Glenn Robinson missed 14 ft Jumper.
38 - 28
4:37
Jermaine O'Neal Defensive Rebound.
38 - 28
4:26
Marc Jackson Personal Foul
38 - 28
4:26
Ron Artest enters the game for Al Harrington.
38 - 28
4:26
Jeff Foster missed 14 ft Jumper.
38 - 28
4:24
Eric Snow Defensive Rebound.
38 - 28
4:03
Allen Iverson made Two Point Shot.
38 - 30
3:41
Kenny Anderson Bad Pass. Stolen by Eric Snow.
38 - 30
3:36
Allen Iverson made Layup. Assisted by Eric Snow.
38 - 32
3:35
Indiana Full Timeout.
38 - 32
3:21
Anthony Johnson enters the game for Kenny Anderson.
38 - 32
3:17
Ron Artest made Two Point Shot.
40 - 32
3:17
Glenn Robinson Shooting Foul
40 - 32
3:17
Ron Artest made Free Throw 1 of 1.
41 - 32
3:00
Glenn Robinson made 11 ft Jumper. Assisted by Eric Snow.
41 - 34
2:40
Jermaine O'Neal made Slam Dunk. Assisted by Reggie Miller.
43 - 34
2:20
Allen Iverson missed 19 ft Jumper.
43 - 34
2:19
Reggie Miller Defensive Rebound.
43 - 34
2:10
Jermaine O'Neal missed 8 ft Jumper.
43 - 34
2:08
Marc Jackson Defensive Rebound.
43 - 34
2:02
Eric Snow missed Layup.
43 - 34
2:01
Ron Artest Defensive Rebound.
43 - 34
1:46
Jermaine O'Neal missed 5 ft Jumper. Blocked by Derrick Coleman.
43 - 34
1:43
Indiana Defensive Rebound.
43 - 34
1:42
Aaron McKie enters the game for Glenn Robinson.
43 - 34
1:42
Samuel Dalembert enters the game for Marc Jackson.
43 - 34
1:42
Al Harrington enters the game for Jermaine O'Neal.
43 - 34
1:30
Anthony Johnson Shooting Foul
43 - 34
1:30
Derrick Coleman made Free Throw 1 of 2.
43 - 35
1:30
Derrick Coleman made Free Throw 2 of 2.
43 - 36
1:09
Anthony Johnson missed 25 ft Three Point Jumper.
43 - 36
1:08
Aaron McKie Defensive Rebound.
43 - 36
1:06
Eric Snow made Layup. Assisted by Allen Iverson.
43 - 38
1:06
Ron Artest Shooting Foul
43 - 38
1:06
Eric Snow made Free Throw 1 of 1.
43 - 39
0:47
Jeff Foster Personal Foul
43 - 39
0:47
Allen Iverson made Free Throw 1 of 2.
43 - 40
0:47
Allen Iverson made Free Throw 2 of 2.
43 - 41
0:39
Anthony Johnson Offensive Foul
43 - 41
0:39
Anthony Johnson Foul
43 - 41
0:34
Aaron McKie missed 14 ft Jumper.
43 - 41
0:33
Anthony Johnson Defensive Rebound.
43 - 41
0:16
Ron Artest missed Jumper. Blocked by Samuel Dalembert.
43 - 41
0:14
Jeff Foster Offensive Rebound.
43 - 41
0:08
Anthony Johnson Offensive Foul
43 - 41
0:08
Anthony Johnson Foul
43 - 41
0:08
Fred Jones enters the game for Anthony Johnson.
43 - 41
0:08
Kyle Korver enters the game for Eric Snow.
43 - 41
0:01
Allen Iverson missed 21 ft Jumper.
43 - 41
0:00
Ron Artest Defensive Rebound.
43 - 41
0:00
End of the 2nd Quarter.
43 - 41

time
TEAM
PLAY
SCORE
11:56
Glenn Robinson missed 14 ft Jumper.
43 - 41
11:52
Philadelphia Defensive Rebound.
43 - 41
11:23
Jermaine O'Neal made Layup. Assisted by Reggie Miller.
45 - 41
11:04
Allen Iverson made Two Point Shot.
45 - 43
10:37
Eric Snow Personal Foul
45 - 43
10:26
Ron Artest missed Three Point Jumper.
45 - 43
10:25
Glenn Robinson Defensive Rebound.
45 - 43
10:25
Kenny Anderson Personal Foul
45 - 43
10:07
Allen Iverson made Two Point Shot.
45 - 45
9:44
Kenny Anderson missed 16 ft Jumper.
45 - 45
9:42
Glenn Robinson Defensive Rebound.
45 - 45
9:25
Marc Jackson made 13 ft Two Point Shot. Assisted by Derrick Coleman.
45 - 47
9:06
Jermaine O'Neal made 16 ft Two Point Shot.
47 - 47
8:47
Derrick Coleman made 14 ft Jumper.
47 - 49
8:33
Reggie Miller made 21 ft Jumper. Assisted by Kenny Anderson.
49 - 49
8:17
Kenny Anderson Personal Foul
49 - 49
8:11
Glenn Robinson missed 13 ft Jumper.
49 - 49
8:08
Jermaine O'Neal Defensive Rebound.
49 - 49
7:56
Reggie Miller made 23 ft Three Point Jumper. Assisted by Ron Artest.
52 - 49
7:35
Allen Iverson missed 18 ft Jumper.
52 - 49
7:33
Ron Artest Defensive Rebound.
52 - 49
7:18
Kenny Anderson made 16 ft Jumper. Assisted by Ron Artest.
54 - 49
7:01
Allen Iverson made 20 ft Two Point Shot.
54 - 51
6:41
Samuel Dalembert enters the game for Derrick Coleman.
54 - 51
6:37
Reggie Miller Lost Ball. Stolen by Allen Iverson.
54 - 51
6:18
Glenn Robinson Lost Ball. Stolen by Kenny Anderson.
54 - 51
6:13
Kenny Anderson made Two Point Shot.
56 - 51
6:13
Philadelphia Full Timeout.
56 - 51
5:56
Eric Snow made 12 ft Two Point Shot. Assisted by Allen Iverson.
56 - 53
5:37
Reggie Miller missed 26 ft Three Point Jumper.
56 - 53
5:35
Marc Jackson Defensive Rebound.
56 - 53
5:31
Jermaine O'Neal Personal Foul
56 - 53
5:31
Aaron McKie enters the game for Glenn Robinson.
56 - 53
5:31
Anthony Johnson enters the game for Reggie Miller.
56 - 53
5:31
Al Harrington enters the game for Kenny Anderson.
56 - 53
5:26
Jeff Foster Personal Foul
56 - 53
5:13
Samuel Dalembert made Two Point Shot. Assisted by Allen Iverson.
56 - 55
4:46
Ron Artest missed 16 ft Jumper.
56 - 55
4:43
Jeff Foster Offensive Rebound.
56 - 55
4:43
Aaron McKie Personal Foul
56 - 55
4:30
Ron Artest made 18 ft Jumper. Assisted by Jermaine O'Neal.
58 - 55
4:13
Allen Iverson Offensive Foul
58 - 55
4:13
Allen Iverson Foul
58 - 55
3:49
Al Harrington Traveling
58 - 55
3:27
Eric Snow missed 10 ft Jumper.
58 - 55
3:25
Samuel Dalembert Offensive Rebound.
58 - 57
3:25
Samuel Dalembert made Layup.
58 - 57
3:19
Indiana Full Timeout.
58 - 57
3:19
Austin Croshere enters the game for Jeff Foster.
58 - 57
3:19
Derrick Coleman enters the game for Marc Jackson.
58 - 57
3:10
Austin Croshere missed 16 ft Jumper.
58 - 57
3:09
Samuel Dalembert Defensive Rebound.
58 - 57
2:46
Derrick Coleman missed 27 ft Three Point Jumper.
58 - 57
2:45
Al Harrington Defensive Rebound.
58 - 57
2:25
Eric Snow Bad Pass. Stolen by Al Harrington.
58 - 57
2:16
Al Harrington Offensive Foul
58 - 57
2:16
Al Harrington Foul
58 - 57
2:02
Willie Green enters the game for Eric Snow.
58 - 57
1:54
Willie Green missed 27 ft Three Point Jumper.
58 - 57
1:52
Jermaine O'Neal Defensive Rebound.
58 - 57
1:19
Allen Iverson made 19 ft Jumper.
58 - 59
1:07
Anthony Johnson Lost Ball. Stolen by Derrick Coleman.
58 - 59
1:00
Allen Iverson missed 20 ft Jumper.
58 - 59
0:59
Ron Artest Defensive Rebound.
58 - 59
0:46
Samuel Dalembert Shooting Foul
58 - 59
0:46
Jermaine O'Neal made Free Throw 1 of 2.
59 - 59
0:46
Jermaine O'Neal missed Free Throw 2 of 2.
59 - 59
0:45
Aaron McKie Defensive Rebound.
59 - 59
0:34
Ron Artest Personal Foul
59 - 59
0:34
Scot Pollard enters the game for Jermaine O'Neal.
59 - 59
0:34
Allen Iverson made Free Throw 1 of 2.
59 - 60
0:34
Allen Iverson made Free Throw 2 of 2.
59 - 61
0:34
John Salmons enters the game for Derrick Coleman.
59 - 61
0:34
Kenny Anderson enters the game for Austin Croshere.
59 - 61
0:24
Samuel Dalembert Shooting Foul
59 - 61
0:24
Ron Artest missed Free Throw 1 of 2.
59 - 61
0:24
Indiana Offensive Rebound.
59 - 61
0:24
Ron Artest missed Free Throw 2 of 2.
59 - 61
0:23
Allen Iverson Defensive Rebound.
59 - 61
0:00
Allen Iverson made 27 ft Three Point Jumper. Assisted by Aaron McKie.
59 - 64
0:00
End of the 3rd Quarter.
59 - 64
0:00
End of the 3rd Quarter.
59 - 64

time
TEAM
PLAY
SCORE
12:00
Start of the 4th Quarter.
59 - 64
11:40
Scot Pollard missed Jumper.
59 - 64
11:38
Indiana Defensive Rebound.
59 - 64
11:38
Al Harrington Loose Ball Foul
59 - 64
11:26
Scot Pollard Personal Foul
59 - 64
11:26
Jonathan Bender Technical Foul
59 - 64
11:26
Allen Iverson missed Technical Free Throw.
59 - 64
11:26
Philadelphia Offensive Rebound.
59 - 64
11:17
Willie Green missed Layup. Blocked by Scot Pollard.
59 - 64
11:17
Philadelphia Defensive Rebound.
59 - 64
11:17
Willie Green Personal Foul
59 - 64
10:53
Anthony Johnson missed 20 ft Jumper.
59 - 64
10:53
Indiana Defensive Rebound.
59 - 64
10:40
Allen Iverson missed 19 ft Jumper.
59 - 64
10:38
Ron Artest Defensive Rebound.
59 - 64
10:30
Ron Artest made 18 ft Two Point Shot.
61 - 64
10:04
Allen Iverson missed 27 ft Three Point Jumper.
61 - 64
10:02
Derrick Coleman Offensive Rebound.
61 - 64
9:56
Allen Iverson Lost Ball. Stolen by Kenny Anderson.
61 - 64
9:51
Kenny Anderson missed Layup. Blocked by Samuel Dalembert.
61 - 64
9:49
Aaron McKie Defensive Rebound.
61 - 64
9:45
Reggie Miller enters the game for Ron Artest.
61 - 64
9:45
Jermaine O'Neal enters the game for Scot Pollard.
61 - 64
9:45
Eric Snow enters the game for Allen Iverson.
61 - 64
9:42
Aaron McKie missed Layup. Blocked by Kenny Anderson.
61 - 64
9:37
Reggie Miller Defensive Rebound.
61 - 64
9:30
Jermaine O'Neal made Two Point Shot. Assisted by Anthony Johnson.
63 - 64
9:11
Derrick Coleman Offensive Foul
63 - 64
9:11
Derrick Coleman Foul
63 - 64
8:55
Official Timeout.
63 - 64
8:55
Glenn Robinson enters the game for Willie Green.
63 - 64
8:45
Al Harrington missed 17 ft Jumper.
63 - 64
8:44
Eric Snow Defensive Rebound.
63 - 64
8:19
Eric Snow missed 18 ft Jumper.
63 - 64
8:18
Derrick Coleman Offensive Rebound.
63 - 66
8:18
Derrick Coleman made Two Point Shot.
63 - 66
8:00
Reggie Miller missed 26 ft Three Point Jumper.
63 - 66
7:58
Indiana Defensive Rebound.
63 - 66
7:58
Allen Iverson enters the game for Aaron McKie.
63 - 66
7:50
Glenn Robinson Offensive Foul
63 - 66
7:50
Glenn Robinson Foul
63 - 66
7:50
Ron Artest enters the game for Anthony Johnson.
63 - 66
7:31
Al Harrington missed Layup.
63 - 66
7:30
Al Harrington Offensive Rebound.
63 - 66
7:30
Al Harrington missed Layup.
63 - 66
7:28
Allen Iverson Defensive Rebound.
63 - 66
7:24
Allen Iverson Bad Pass. Stolen by Reggie Miller.
63 - 66
7:20
Eric Snow Loose Ball Foul
63 - 66
7:05
Kenny Anderson missed 19 ft Jumper.
63 - 66
7:03
Jermaine O'Neal Offensive Rebound.
63 - 66
7:03
Jermaine O'Neal missed Layup. Blocked by Samuel Dalembert.
63 - 66
7:01
Jermaine O'Neal Offensive Rebound.
63 - 66
6:58
Jermaine O'Neal missed Layup. Blocked by Samuel Dalembert.
63 - 66
6:56
Kenny Anderson Offensive Rebound.
63 - 66
6:56
Eric Snow Personal Foul
63 - 66
6:47
Reggie Miller made 25 ft Three Point Jumper. Assisted by Ron Artest.
66 - 66
6:24
Glenn Robinson missed 15 ft Jumper.
66 - 66
6:22
Philadelphia Defensive Rebound.
66 - 66
6:05
Kenny Anderson missed Layup.
66 - 66
6:03
Derrick Coleman Defensive Rebound.
66 - 66
5:52
Philadelphia Full Timeout.
66 - 66
5:43
Samuel Dalembert Lost Ball. Stolen by Reggie Miller.
66 - 66
5:26
Ron Artest made 26 ft Three Point Jumper. Assisted by Al Harrington.
69 - 66
5:09
Derrick Coleman Offensive Foul
69 - 66
5:09
Derrick Coleman Foul
69 - 66
4:52
Kenny Anderson missed 23 ft Three Point Jumper.
69 - 66
4:50
Derrick Coleman Defensive Rebound.
69 - 66
4:39
Derrick Coleman missed 14 ft Jumper.
69 - 66
4:37
Al Harrington Defensive Rebound.
69 - 66
4:22
Derrick Coleman Flagrant Foul Type 1
69 - 66
4:22
Ron Artest made Flagrant Free Throw 1 of 2.
70 - 66
4:22
Indiana 20 Sec. Timeout.
70 - 66
4:22
Ron Artest made Flagrant Free Throw 2 of 2.
71 - 66
4:22
Aaron McKie enters the game for Glenn Robinson.
71 - 66
4:05
Jermaine O'Neal made 6 ft Jumper.
73 - 66
4:05
Defensive Goaltending
73 - 66
3:54
Allen Iverson made 19 ft Jumper. Assisted by Eric Snow.
73 - 68
3:35
Samuel Dalembert Shooting Foul
73 - 68
3:35
Ron Artest made Free Throw 1 of 2.
74 - 68
3:35
Marc Jackson enters the game for Derrick Coleman.
74 - 68
3:35
Ron Artest made Free Throw 2 of 2.
75 - 68
3:23
Marc Jackson Offensive Foul
75 - 68
3:23
Marc Jackson Foul
75 - 68
3:03
Jermaine O'Neal made 12 ft Two Point Shot. Assisted by Reggie Miller.
77 - 68
3:02
Philadelphia Full Timeout.
77 - 68
3:02
Glenn Robinson enters the game for Samuel Dalembert.
77 - 68
2:54
Glenn Robinson Lost Ball
77 - 68
2:47
Kenny Anderson Lost Ball. Stolen by Eric Snow.
77 - 68
2:44
Allen Iverson made Layup. Assisted by Eric Snow.
77 - 70
2:43
Indiana Full Timeout.
77 - 70
2:20
Ron Artest made 27 ft Three Point Jumper. Assisted by Reggie Miller.
80 - 70
2:11
Allen Iverson made 19 ft Jumper.
80 - 72
1:46
Jermaine O'Neal Traveling
80 - 72
1:35
Eric Snow missed 27 ft Three Point Jumper.
80 - 72
1:34
Jermaine O'Neal Defensive Rebound.
80 - 72
1:09
Ron Artest missed 27 ft Three Point Jumper.
80 - 72
1:07
Marc Jackson Defensive Rebound.
80 - 72
1:01
Al Harrington Personal Foul
80 - 72
0:58
Allen Iverson missed Layup.
80 - 72
0:57
Al Harrington Defensive Rebound.
80 - 72
0:54
Allen Iverson Personal Foul
80 - 72
0:54
Kenny Anderson missed Free Throw 1 of 2.
80 - 72
0:54
Indiana Offensive Rebound.
80 - 72
0:54
Kenny Anderson made Free Throw 2 of 2.
81 - 72
0:54
Philadelphia 20 Sec. Timeout.
81 - 72
0:54
Eric Snow Bad Pass. Stolen by Jermaine O'Neal.
81 - 72
0:53
Marc Jackson Personal Foul
81 - 72
0:53
Jermaine O'Neal made Free Throw 1 of 2.
82 - 72
0:53
Jermaine O'Neal made Free Throw 2 of 2.
83 - 72
0:47
Allen Iverson missed 22 ft Jumper.
83 - 72
0:44
Al Harrington Defensive Rebound.
83 - 72
0:21
Jermaine O'Neal made Two Point Shot. Assisted by Reggie Miller.
85 - 72
0:14
Allen Iverson made Two Point Shot. Assisted by Glenn Robinson.
85 - 74
0:00
End of the 4th Quarter.
85 - 74
0:00
End Game
85 - 74
0:00
End Game
85 - 74
Even though Dennis Schroder hit some shots from long range in Game 1, Kyrie Irving and the Cavs had a successful game plan against Kyle Korver.

Former NBA official and ESPN NBA analyst Steve Javie breaks down the overshadowed moments in the final play of Game 2 between the Spurs and Thunder.

D.J. Augustin heads into free agency following two upbeat months with the Denver Nuggets.
Regular Season Series
IND wins series 4-0
2015-2016 Central Standings
2015-2016 Atlantic Standings