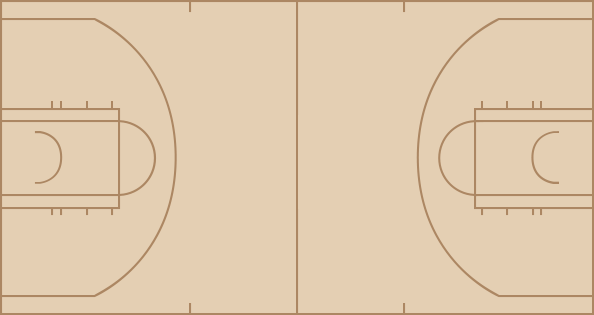 Mavericks
time
TEAM
PLAY
SCORE
12:00
Start of the 1st Quarter.
0 - 0
12:00
Jumpball. Dirk Nowitzki vs. Pau Gasol. Steve Nash gains possession.
0 - 0
11:25
Josh Howard missed 26 ft Three Point Jumper.
0 - 0
11:22
Antoine Walker Offensive Rebound.
2 - 0
11:22
Antoine Walker made Layup.
2 - 0
11:18
Pau Gasol missed 10 ft Jumper.
2 - 0
11:15
Josh Howard Defensive Rebound.
2 - 0
11:12
Antoine Walker Lost Ball. Stolen by James Posey.
2 - 0
11:07
Pau Gasol made Layup. Assisted by Jason Williams.
2 - 2
10:48
Steve Nash missed 25 ft Three Point Jumper.
2 - 2
10:47
Pau Gasol Defensive Rebound.
2 - 2
10:40
Mike Miller made Two Point Shot.
2 - 4
10:19
Josh Howard made 20 ft Jumper.
4 - 4
9:59
Jake Tsakalidis missed 6 ft Jumper.
4 - 4
9:56
Michael Finley Defensive Rebound.
4 - 4
9:55
Mike Miller Shooting Foul
4 - 4
9:55
Josh Howard missed Free Throw 1 of 2.
4 - 4
9:55
Dallas Offensive Rebound.
4 - 4
9:55
Josh Howard missed Free Throw 2 of 2.
4 - 4
9:52
Jake Tsakalidis Defensive Rebound.
4 - 4
9:40
Dirk Nowitzki Shooting Foul
4 - 4
9:40
Mike Miller made Free Throw 1 of 2.
4 - 5
9:40
Mike Miller made Free Throw 2 of 2.
4 - 6
9:26
Steve Nash missed Two Point Shot.
4 - 6
9:25
Pau Gasol Defensive Rebound.
4 - 6
9:19
Mike Miller missed 26 ft Three Point Jumper.
4 - 6
9:18
Pau Gasol Offensive Rebound.
4 - 6
9:18
Michael Finley Loose Ball Foul
4 - 6
9:12
Pau Gasol made 15 ft Jumper. Assisted by Jason Williams.
4 - 8
8:56
Jake Tsakalidis Personal Foul
4 - 8
8:45
Antoine Walker missed Layup. Blocked by Jake Tsakalidis.
4 - 8
8:41
James Posey Defensive Rebound.
4 - 8
8:38
Jason Williams missed 25 ft Three Point Jumper.
4 - 8
8:37
Dirk Nowitzki Defensive Rebound.
4 - 8
8:37
Pau Gasol Loose Ball Foul
4 - 8
8:26
Steve Nash missed 25 ft Three Point Jumper.
4 - 8
8:23
Pau Gasol Defensive Rebound.
4 - 8
8:14
Pau Gasol missed 5 ft Two Point Shot.
4 - 8
8:10
Dirk Nowitzki Defensive Rebound.
4 - 8
8:07
Josh Howard made Layup. Assisted by Antoine Walker.
6 - 8
8:07
Jake Tsakalidis Shooting Foul
6 - 8
8:07
Josh Howard made Free Throw 1 of 1.
7 - 8
7:46
Pau Gasol made Layup.
7 - 10
7:33
Dirk Nowitzki made 14 ft Jumper. Assisted by Antoine Walker.
9 - 10
7:20
Mike Miller made 19 ft Jumper. Assisted by Jason Williams.
9 - 12
7:13
Jason Williams Personal Foul
9 - 12
7:13
Steve Nash made Free Throw 1 of 2.
10 - 12
7:13
Steve Nash made Free Throw 2 of 2.
11 - 12
7:01
Jason Williams made 14 ft Two Point Shot.
11 - 14
6:39
Dirk Nowitzki made 13 ft Two Point Shot.
13 - 14
6:16
Jake Tsakalidis made Jumper. Assisted by Pau Gasol.
13 - 16
6:05
Josh Howard missed 19 ft Jumper.
13 - 16
6:03
James Posey Defensive Rebound.
13 - 16
5:48
James Posey made Two Point Shot. Assisted by Pau Gasol.
13 - 18
5:28
Dirk Nowitzki Lost Ball. Stolen by James Posey.
13 - 18
5:24
James Posey Offensive Foul
13 - 18
5:24
James Posey Foul
13 - 18
5:24
Memphis Full Timeout.
13 - 18
5:24
Dirk Nowitzki Technical Foul
13 - 18
5:24
Antawn Jamison enters the game for Josh Howard.
13 - 18
5:24
Shane Battier enters the game for James Posey.
13 - 18
5:24
Lorenzen Wright enters the game for Jake Tsakalidis.
13 - 18
5:24
Mike Miller made Technical Free Throw.
13 - 19
5:03
Dirk Nowitzki Lost Ball. Stolen by Shane Battier.
13 - 19
4:58
Jason Williams missed 25 ft Three Point Jumper.
13 - 19
4:56
Dirk Nowitzki Defensive Rebound.
13 - 19
4:54
Dirk Nowitzki Bad Pass. Stolen by Pau Gasol.
13 - 19
4:35
Jason Williams missed 22 ft Jumper.
13 - 19
4:33
Dirk Nowitzki Defensive Rebound.
13 - 19
4:28
Antawn Jamison missed 15 ft Jumper.
13 - 19
4:26
Mike Miller Defensive Rebound.
13 - 19
4:20
Dirk Nowitzki Personal Foul
13 - 19
4:20
Tony Delk Technical Foul
13 - 19
4:20
Mike Miller missed Technical Free Throw.
13 - 19
4:20
Memphis Offensive Rebound.
13 - 19
4:13
Pau Gasol missed Layup.
13 - 19
4:11
Shane Battier Offensive Rebound.
13 - 19
4:11
Shane Battier missed Layup.
13 - 19
4:09
Pau Gasol Offensive Rebound.
13 - 19
4:07
Pau Gasol missed Layup.
13 - 19
4:05
Pau Gasol Offensive Rebound.
13 - 19
4:03
Pau Gasol Lost Ball. Stolen by Michael Finley.
13 - 19
3:48
Antawn Jamison missed 6 ft Jumper. Blocked by Shane Battier.
13 - 19
3:46
Steve Nash Offensive Rebound.
13 - 19
3:34
Jason Williams Personal Foul
13 - 19
3:34
Earl Watson enters the game for Jason Williams.
13 - 19
3:34
Wesley Person enters the game for Mike Miller.
13 - 19
3:34
Dirk Nowitzki made Free Throw 1 of 2.
14 - 19
3:34
Bo Outlaw enters the game for Pau Gasol.
14 - 19
3:34
Dirk Nowitzki missed Free Throw 2 of 2.
14 - 19
3:33
Lorenzen Wright Defensive Rebound.
14 - 19
3:16
Bo Outlaw missed 7 ft Jumper. Blocked by Dirk Nowitzki.
14 - 19
3:14
Antawn Jamison Defensive Rebound.
14 - 19
3:06
Dirk Nowitzki made 16 ft Jumper. Assisted by Steve Nash.
16 - 19
2:50
Earl Watson missed 20 ft Jumper.
16 - 19
2:48
Antoine Walker Defensive Rebound.
16 - 19
2:39
Antoine Walker missed 25 ft Three Point Jumper.
16 - 19
2:36
Lorenzen Wright Defensive Rebound.
16 - 19
2:31
Bo Outlaw made Layup. Assisted by Earl Watson.
16 - 21
2:23
Bo Outlaw Shooting Foul
16 - 21
2:23
Dallas Full Timeout.
16 - 21
2:23
Danny Fortson enters the game for Dirk Nowitzki.
16 - 21
2:23
Antoine Walker missed Free Throw 1 of 2.
16 - 21
2:23
Dallas Offensive Rebound.
16 - 21
2:23
Antoine Walker missed Free Throw 2 of 2.
16 - 21
2:21
Bo Outlaw Defensive Rebound.
16 - 21
2:04
Lorenzen Wright made 7 ft Two Point Shot. Assisted by Earl Watson.
16 - 23
1:52
Michael Finley made 21 ft Jumper.
18 - 23
1:34
Lorenzen Wright made 8 ft Jumper.
18 - 25
1:10
Antoine Walker missed 17 ft Two Point Shot.
18 - 25
1:07
Earl Watson Defensive Rebound.
18 - 25
1:00
Shane Battier made Two Point Shot.
18 - 27
1:00
Antawn Jamison Shooting Foul
18 - 27
1:00
Shane Battier made Free Throw 1 of 1.
18 - 28
0:41
Antawn Jamison missed 4 ft Two Point Shot.
18 - 28
0:35
Shane Battier Defensive Rebound.
18 - 28
0:33
Earl Watson made Layup.
18 - 30
0:21
Antoine Walker made 27 ft Three Point Jumper. Assisted by Steve Nash.
21 - 30
0:02
Danny Fortson Shooting Foul
21 - 30
0:02
Earl Watson missed Free Throw 1 of 2.
21 - 30
0:02
Memphis Offensive Rebound.
21 - 30
0:02
Earl Watson made Free Throw 2 of 2.
21 - 31
0:00
Steve Nash Lost Ball. Stolen by Earl Watson.
21 - 31
0:00
End of the 1st Quarter.
21 - 31

time
TEAM
PLAY
SCORE
12:00
Start of the 2nd Quarter.
21 - 31
11:47
Shane Battier made 21 ft Jumper. Assisted by Lorenzen Wright.
21 - 33
11:26
Antawn Jamison missed 18 ft Jumper.
21 - 33
11:22
Dirk Nowitzki Offensive Rebound.
21 - 33
11:21
Dirk Nowitzki missed Layup.
21 - 33
11:17
Travis Best Offensive Rebound.
21 - 33
11:15
Earl Watson Shooting Foul
21 - 33
11:15
Dirk Nowitzki made Free Throw 1 of 2.
22 - 33
11:15
Dirk Nowitzki missed Free Throw 2 of 2.
22 - 33
11:14
Antawn Jamison Offensive Rebound.
22 - 33
11:12
Dirk Nowitzki Lost Ball. Stolen by Earl Watson.
22 - 33
11:07
Shane Battier missed 3 ft Jumper.
22 - 33
11:06
Dirk Nowitzki Defensive Rebound.
22 - 33
10:59
Michael Finley missed 11 ft Two Point Shot.
22 - 33
10:56
Michael Finley Offensive Rebound.
22 - 33
10:53
Michael Finley missed Jumper.
22 - 33
10:53
Dallas Defensive Rebound.
22 - 33
10:37
Wesley Person made 12 ft Jumper. Assisted by Earl Watson.
22 - 35
10:15
Travis Best missed 12 ft Jumper.
22 - 35
10:12
Bo Outlaw Defensive Rebound.
22 - 35
9:59
Earl Watson Bad Pass. Stolen by Antawn Jamison.
22 - 35
9:52
Dirk Nowitzki missed 14 ft Jumper.
22 - 35
9:52
Dallas Defensive Rebound.
22 - 35
9:52
Eduardo Najera enters the game for Danny Fortson.
22 - 35
9:32
Lorenzen Wright missed 9 ft Two Point Shot.
22 - 35
9:29
Bo Outlaw Offensive Rebound.
22 - 35
9:15
Lorenzen Wright Traveling
22 - 35
9:14
Dallas Offensive Rebound.
22 - 35
9:14
Eduardo Najera missed Layup. Blocked by Lorenzen Wright.
22 - 35
9:04
Michael Finley missed 10 ft Two Point Shot.
22 - 35
9:02
Eduardo Najera Offensive Rebound.
24 - 35
9:02
Eduardo Najera made Layup.
24 - 35
8:44
Lorenzen Wright missed 13 ft Jumper.
24 - 35
8:41
Bo Outlaw Offensive Rebound.
24 - 35
8:38
Earl Watson missed 26 ft Three Point Jumper.
24 - 35
8:37
Michael Finley Defensive Rebound.
24 - 35
8:23
Lorenzen Wright Shooting Foul
24 - 35
8:23
Official Timeout.
24 - 35
8:23
Dirk Nowitzki made Free Throw 1 of 2.
25 - 35
8:23
Dirk Nowitzki made Free Throw 2 of 2.
26 - 35
8:04
Shane Battier made Two Point Shot.
26 - 37
7:48
Dirk Nowitzki made Jumper.
28 - 37
7:33
Lorenzen Wright missed 14 ft Jumper. Blocked by Eduardo Najera.
28 - 37
7:31
Antawn Jamison Defensive Rebound.
28 - 37
7:22
Antawn Jamison missed 26 ft Three Point Jumper.
28 - 37
7:20
Wesley Person Defensive Rebound.
28 - 37
7:00
Shane Battier missed Three Point Jumper.
28 - 37
7:00
Memphis Defensive Rebound.
28 - 37
7:00
Lorenzen Wright Personal Foul
28 - 37
7:00
Mike Miller enters the game for Shane Battier.
28 - 37
7:00
Pau Gasol enters the game for Wesley Person.
28 - 37
7:00
James Posey enters the game for Bo Outlaw.
28 - 37
6:58
Josh Howard enters the game for Michael Finley.
28 - 37
6:48
Dirk Nowitzki made 17 ft Jumper. Assisted by Antawn Jamison.
30 - 37
6:31
Earl Watson Bad Pass. Stolen by Eduardo Najera.
30 - 37
6:22
Lorenzen Wright Shooting Foul
30 - 37
6:22
Jason Williams enters the game for Earl Watson.
30 - 37
6:22
Jake Tsakalidis enters the game for Lorenzen Wright.
30 - 37
6:22
Travis Best made Free Throw 1 of 2.
31 - 37
6:22
Travis Best made Free Throw 2 of 2.
32 - 37
6:11
Eduardo Najera Shooting Foul
32 - 37
6:11
Pau Gasol made Free Throw 1 of 2.
32 - 38
6:11
Steve Nash enters the game for Travis Best.
32 - 38
6:11
Pau Gasol made Free Throw 2 of 2.
32 - 39
5:56
Jake Tsakalidis Shooting Foul
32 - 39
5:56
Memphis Full Timeout.
32 - 39
5:56
Stromile Swift enters the game for Jake Tsakalidis.
32 - 39
5:56
Josh Howard made Free Throw 1 of 2.
33 - 39
5:56
Josh Howard missed Free Throw 2 of 2.
33 - 39
5:56
Stromile Swift Defensive Rebound.
33 - 39
5:41
Pau Gasol missed Two Point Shot.
33 - 39
5:39
Josh Howard Defensive Rebound.
33 - 39
5:20
Steve Nash missed 6 ft Jumper. Blocked by James Posey.
33 - 39
5:18
Josh Howard Offensive Rebound.
33 - 39
5:15
Steve Nash made 16 ft Jumper. Assisted by Josh Howard.
35 - 39
5:01
Josh Howard Personal Foul
35 - 39
4:56
Josh Howard Personal Foul
35 - 39
4:56
Antoine Walker enters the game for Antawn Jamison.
35 - 39
4:43
Mike Miller missed 15 ft Two Point Shot.
35 - 39
4:39
Josh Howard Defensive Rebound.
35 - 39
4:35
Dirk Nowitzki made 19 ft Jumper. Assisted by Steve Nash.
37 - 39
4:26
Memphis 20 Sec. Timeout.
37 - 39
4:18
Stromile Swift missed Two Point Shot.
37 - 39
4:16
Josh Howard Defensive Rebound.
37 - 39
4:11
Eduardo Najera made Layup. Assisted by Josh Howard.
39 - 39
3:54
Mike Miller missed 22 ft Jumper.
39 - 39
3:53
Memphis Offensive Rebound.
39 - 39
3:53
Eduardo Najera Loose Ball Foul
39 - 39
3:42
James Posey made 23 ft Jumper.
39 - 41
3:31
Eduardo Najera made Layup. Assisted by Steve Nash.
41 - 41
3:04
James Posey missed 28 ft Three Point Jumper.
41 - 41
3:04
Memphis Offensive Rebound.
41 - 41
3:04
24 second
41 - 41
2:55
James Posey Personal Foul
41 - 41
2:55
Dallas Full Timeout.
41 - 41
2:55
Dirk Nowitzki missed Free Throw 1 of 2.
41 - 41
2:55
Dallas Offensive Rebound.
41 - 41
2:55
Dirk Nowitzki made Free Throw 2 of 2.
42 - 41
2:36
Mike Miller missed Layup.
42 - 41
2:35
Memphis Defensive Rebound.
42 - 41
2:20
Josh Howard missed Layup. Blocked by Pau Gasol.
42 - 41
2:17
Pau Gasol Defensive Rebound.
42 - 41
2:14
Jason Williams made 15 ft Jumper.
42 - 43
2:00
Stromile Swift Personal Foul
42 - 43
2:00
Steve Nash made Free Throw 1 of 2.
43 - 43
2:00
Steve Nash made Free Throw 2 of 2.
44 - 43
1:47
Mike Miller missed Layup.
44 - 43
1:47
Dirk Nowitzki Defensive Rebound.
44 - 43
1:42
Josh Howard made Two Point Shot. Assisted by Steve Nash.
46 - 43
1:24
Stromile Swift Lost Ball. Stolen by Eduardo Najera.
46 - 43
1:17
Josh Howard missed 19 ft Jumper.
46 - 43
1:14
Dallas Defensive Rebound.
46 - 43
0:56
Antoine Walker Personal Foul
46 - 43
0:56
James Posey made Free Throw 1 of 2.
46 - 44
0:56
Danny Fortson enters the game for Eduardo Najera.
46 - 44
0:56
James Posey made Free Throw 2 of 2.
46 - 45
0:37
Antoine Walker missed 25 ft Three Point Jumper.
46 - 45
0:35
Pau Gasol Defensive Rebound.
46 - 45
0:18
Jason Williams made 27 ft Three Point Jumper. Assisted by James Posey.
46 - 48
0:01
Steve Nash Lost Ball. Stolen by James Posey.
46 - 48
0:00
End of the 2nd Quarter.
46 - 48

time
TEAM
PLAY
SCORE
12:00
Start of the 3rd Quarter.
46 - 48
11:42
Pau Gasol missed 5 ft Hook Shot.
46 - 48
11:40
Shawn Bradley Defensive Rebound.
46 - 48
11:33
Antoine Walker made 7 ft Two Point Shot.
48 - 48
11:14
Pau Gasol missed Layup. Blocked by Shawn Bradley.
48 - 48
11:11
Pau Gasol Offensive Rebound.
48 - 48
11:08
Pau Gasol missed Layup. Blocked by Shawn Bradley.
48 - 48
11:07
Michael Finley Defensive Rebound.
48 - 48
11:03
Shawn Bradley made Dunk. Assisted by Dirk Nowitzki.
50 - 48
10:59
Memphis 20 Sec. Timeout.
50 - 48
10:41
Pau Gasol Bad Pass. Stolen by Dirk Nowitzki.
50 - 48
10:37
Antoine Walker made Layup.
52 - 48
10:37
Mike Miller Shooting Foul
52 - 48
10:37
Antoine Walker made Free Throw 1 of 1.
53 - 48
10:21
Antoine Walker Shooting Foul
53 - 48
10:21
Mike Miller made Free Throw 1 of 2.
53 - 49
10:21
Mike Miller made Free Throw 2 of 2.
53 - 50
10:07
Michael Finley missed 16 ft Jumper.
53 - 50
10:06
James Posey Defensive Rebound.
53 - 50
9:59
Jason Williams made 26 ft Three Point Jumper. Assisted by James Posey.
53 - 53
9:40
Steve Nash made Layup. Assisted by Michael Finley.
55 - 53
9:30
James Posey Bad Pass. Stolen by Dirk Nowitzki.
55 - 53
9:22
Steve Nash Bad Pass. Stolen by Mike Miller.
55 - 53
9:15
Pau Gasol made Layup. Assisted by Jason Williams.
55 - 55
8:59
Steve Nash made Two Point Shot.
57 - 55
8:36
Antoine Walker Shooting Foul
57 - 55
8:36
Jake Tsakalidis made Free Throw 1 of 2.
57 - 56
8:36
Jake Tsakalidis made Free Throw 2 of 2.
57 - 57
8:14
Steve Nash Lost Ball. Stolen by Jason Williams.
57 - 57
8:12
Jumpball. Shawn Bradley vs. James Posey. Antoine Walker gains possession.
57 - 57
8:12
James Posey Lost Ball. Stolen by Shawn Bradley.
57 - 57
8:07
Dirk Nowitzki missed 16 ft Jumper.
57 - 57
8:06
Pau Gasol Defensive Rebound.
57 - 57
7:58
James Posey missed 27 ft Three Point Jumper.
57 - 57
7:56
Antoine Walker Defensive Rebound.
57 - 57
7:41
Antoine Walker missed Layup.
57 - 57
7:39
Antoine Walker Offensive Rebound.
57 - 57
7:39
Antoine Walker missed Tip Shot.
57 - 57
7:37
Dirk Nowitzki Offensive Rebound.
59 - 57
7:37
Dirk Nowitzki made Tip Shot.
59 - 57
7:28
James Posey made Layup. Assisted by Jason Williams.
59 - 59
7:22
Steve Nash Bad Pass
59 - 59
7:09
Michael Finley Shooting Foul
59 - 59
7:09
Jake Tsakalidis made Free Throw 1 of 2.
59 - 60
7:09
Jake Tsakalidis missed Free Throw 2 of 2.
59 - 60
7:07
Dirk Nowitzki Defensive Rebound.
59 - 60
6:56
Michael Finley made 26 ft Three Point Jumper. Assisted by Antoine Walker.
62 - 60
6:41
Jason Williams missed 26 ft Three Point Jumper.
62 - 60
6:37
Pau Gasol Offensive Rebound.
62 - 60
6:35
Pau Gasol missed Layup. Blocked by Shawn Bradley.
62 - 60
6:33
Antoine Walker Defensive Rebound.
62 - 60
6:26
Antoine Walker missed 25 ft Three Point Jumper.
62 - 60
6:24
Pau Gasol Defensive Rebound.
62 - 60
6:22
Official Timeout.
62 - 60
6:22
Lorenzen Wright enters the game for Jake Tsakalidis.
62 - 60
6:22
Shane Battier enters the game for James Posey.
62 - 60
6:22
Antawn Jamison enters the game for Dirk Nowitzki.
62 - 60
6:09
Shane Battier made 23 ft Three Point Jumper. Assisted by Pau Gasol.
62 - 63
5:54
Steve Nash made 25 ft Three Point Jumper.
65 - 63
5:31
Pau Gasol missed Layup. Blocked by Shawn Bradley.
65 - 63
5:30
Steve Nash Defensive Rebound.
65 - 63
5:16
Michael Finley made 26 ft Three Point Jumper. Assisted by Antawn Jamison.
68 - 63
5:13
Memphis Full Timeout.
68 - 63
5:01
Mike Miller missed 22 ft Jumper.
68 - 63
4:58
Shawn Bradley Defensive Rebound.
68 - 63
4:41
Steve Nash Lost Ball. Stolen by Jason Williams.
68 - 63
4:37
Pau Gasol made Dunk. Assisted by Jason Williams.
68 - 65
4:18
Steve Nash Bad Pass. Stolen by Shane Battier.
68 - 65
4:11
Shane Battier missed 25 ft Three Point Jumper.
68 - 65
4:09
Michael Finley Defensive Rebound.
68 - 65
3:59
Steve Nash missed 10 ft Two Point Shot.
68 - 65
3:57
Shawn Bradley Offensive Rebound.
68 - 65
3:57
Lorenzen Wright Shooting Foul
68 - 65
3:57
Lorenzen Wright Technical Foul
68 - 65
3:57
Steve Nash made Technical Free Throw.
69 - 65
3:57
Shawn Bradley made Free Throw 1 of 2.
70 - 65
3:57
Travis Best enters the game for Steve Nash.
70 - 65
3:57
Shawn Bradley made Free Throw 2 of 2.
71 - 65
3:47
Shawn Bradley Personal Foul
71 - 65
3:47
Wesley Person enters the game for Pau Gasol.
71 - 65
3:47
Earl Watson enters the game for Jason Williams.
71 - 65
3:47
Bo Outlaw enters the game for Mike Miller.
71 - 65
3:44
Michael Finley Personal Foul
71 - 65
3:44
Bo Outlaw made Free Throw 1 of 2.
71 - 66
3:44
Lane Violation
71 - 66
3:44
Bo Outlaw made Free Throw 2 of 2.
71 - 67
3:20
Travis Best missed Two Point Shot.
71 - 67
3:17
Bo Outlaw Defensive Rebound.
71 - 67
3:14
Lorenzen Wright made Layup. Assisted by Earl Watson.
71 - 69
2:56
Michael Finley missed 15 ft Jumper.
71 - 69
2:54
Lorenzen Wright Defensive Rebound.
71 - 69
2:40
Shawn Bradley Shooting Foul
71 - 69
2:40
Dallas Full Timeout.
71 - 69
2:40
Shane Battier missed Free Throw 1 of 2.
71 - 69
2:40
Memphis Offensive Rebound.
71 - 69
2:40
Shane Battier made Free Throw 2 of 2.
71 - 70
2:19
Antawn Jamison missed Layup.
71 - 70
2:15
Earl Watson Defensive Rebound.
71 - 70
2:12
Earl Watson Bad Pass. Stolen by Shawn Bradley.
71 - 70
2:05
Antoine Walker missed Layup. Blocked by Earl Watson.
71 - 70
2:03
Antoine Walker Offensive Rebound.
71 - 70
1:58
Michael Finley made 25 ft Three Point Jumper. Assisted by Antoine Walker.
74 - 70
1:42
Lorenzen Wright missed 15 ft Jumper.
74 - 70
1:39
Michael Finley Defensive Rebound.
74 - 70
1:30
Antawn Jamison made Two Point Shot.
76 - 70
1:13
Shane Battier missed 14 ft Jumper.
76 - 70
1:10
Shawn Bradley Defensive Rebound.
76 - 70
1:00
Antawn Jamison missed Layup. Blocked by Shane Battier.
76 - 70
0:58
Bo Outlaw Defensive Rebound.
76 - 70
0:55
Earl Watson made Layup. Assisted by Wesley Person.
76 - 72
0:43
Michael Finley made 22 ft Jumper.
78 - 72
0:26
Lorenzen Wright missed Layup. Blocked by Shawn Bradley.
78 - 72
0:24
Travis Best Defensive Rebound.
78 - 72
0:07
Wesley Person Personal Foul
78 - 72
0:00
Antawn Jamison missed 16 ft Jumper. Blocked by Shane Battier.
78 - 72
0:00
Bo Outlaw Defensive Rebound.
78 - 72
0:00
End of the 3rd Quarter.
78 - 72

time
TEAM
PLAY
SCORE
12:00
Start of the 4th Quarter.
78 - 72
11:45
Michael Finley made 19 ft Jumper. Assisted by Antoine Walker.
80 - 72
11:26
Wesley Person missed 17 ft Jumper.
80 - 72
11:23
Bo Outlaw Offensive Rebound.
80 - 74
11:23
Bo Outlaw made Tip Shot.
80 - 74
11:03
Michael Finley made 17 ft Jumper.
82 - 74
10:42
Earl Watson missed 19 ft Jumper.
82 - 74
10:41
Antawn Jamison Defensive Rebound.
82 - 74
10:21
Travis Best missed 21 ft Jumper.
82 - 74
10:18
Bo Outlaw Defensive Rebound.
82 - 74
10:11
Earl Watson Bad Pass. Stolen by Shawn Bradley.
82 - 74
10:00
Antawn Jamison missed Layup. Blocked by Bo Outlaw.
82 - 74
9:59
Shawn Bradley Offensive Rebound.
82 - 74
9:56
Shawn Bradley missed Layup.
82 - 74
9:53
Shane Battier Defensive Rebound.
82 - 74
9:52
Lorenzen Wright made Dunk. Assisted by Earl Watson.
82 - 76
9:26
Michael Finley made 18 ft Jumper.
84 - 76
9:07
Lorenzen Wright missed 19 ft Jumper.
84 - 76
9:04
Antoine Walker Defensive Rebound.
84 - 76
8:45
Antoine Walker missed 27 ft Three Point Jumper.
84 - 76
8:44
Earl Watson Defensive Rebound.
84 - 76
8:41
Antoine Walker Shooting Foul
84 - 76
8:41
Official Timeout.
84 - 76
8:41
James Posey enters the game for Shane Battier.
84 - 76
8:41
Mike Miller enters the game for Wesley Person.
84 - 76
8:41
Pau Gasol enters the game for Bo Outlaw.
84 - 76
8:41
Earl Watson missed Free Throw 1 of 2.
84 - 76
8:41
Memphis Offensive Rebound.
84 - 76
8:41
Earl Watson missed Free Throw 2 of 2.
84 - 76
8:40
Antawn Jamison Defensive Rebound.
84 - 76
8:19
Michael Finley missed 16 ft Jumper.
84 - 76
8:15
Travis Best Offensive Rebound.
84 - 76
8:03
Travis Best missed Two Point Shot.
84 - 76
8:00
Antoine Walker Offensive Rebound.
84 - 76
7:54
Antoine Walker missed 24 ft Three Point Jumper.
84 - 76
7:50
Lorenzen Wright Defensive Rebound.
84 - 76
7:50
Lorenzen Wright Double Technical Foul. Shawn Bradley gains possession.
84 - 76
7:50
Jake Tsakalidis enters the game for Lorenzen Wright.
84 - 76
7:50
Jason Williams enters the game for Earl Watson.
84 - 76
7:50
Dirk Nowitzki enters the game for Antoine Walker.
84 - 76
7:50
Steve Nash enters the game for Travis Best.
84 - 76
7:37
Mike Miller made 25 ft Three Point Jumper. Assisted by Jason Williams.
84 - 79
7:22
Michael Finley missed 13 ft Two Point Shot.
84 - 79
7:18
Antawn Jamison Offensive Rebound.
84 - 79
7:07
Shawn Bradley missed 18 ft Jumper.
84 - 79
7:05
James Posey Defensive Rebound.
84 - 79
6:58
James Posey made Layup. Assisted by Jason Williams.
84 - 81
6:35
Antawn Jamison missed Layup.
84 - 81
6:33
Steve Nash Offensive Rebound.
84 - 81
6:28
Steve Nash missed 18 ft Jumper.
84 - 81
6:26
Jake Tsakalidis Defensive Rebound.
84 - 81
6:22
James Posey made Layup. Assisted by Jason Williams.
84 - 83
6:03
Dallas Full Timeout.
84 - 83
6:03
Antoine Walker enters the game for Michael Finley.
84 - 83
6:03
Michael Finley enters the game for Shawn Bradley.
84 - 83
6:01
Antoine Walker made Layup. Assisted by Steve Nash.
86 - 83
5:47
Mike Miller missed 22 ft Jumper.
86 - 83
5:35
Antawn Jamison made Layup. Assisted by Dirk Nowitzki.
88 - 83
5:33
Memphis Full Timeout.
88 - 83
5:33
Eduardo Najera enters the game for Antawn Jamison.
88 - 83
5:33
Bo Outlaw enters the game for Jake Tsakalidis.
88 - 83
5:20
Pau Gasol made 10 ft Jumper. Assisted by Mike Miller.
88 - 85
5:01
Steve Nash missed Layup.
88 - 85
5:00
Pau Gasol Defensive Rebound.
88 - 85
4:52
Jason Williams missed 27 ft Three Point Jumper.
88 - 85
4:50
James Posey Offensive Rebound.
88 - 85
4:39
James Posey missed 8 ft Hook Shot.
88 - 85
4:35
Michael Finley Defensive Rebound.
88 - 85
4:28
Antoine Walker missed Three Point Jumper.
88 - 85
4:26
Dirk Nowitzki Offensive Rebound.
88 - 85
4:24
Dirk Nowitzki Lost Ball. Stolen by Bo Outlaw.
88 - 85
4:16
Dirk Nowitzki Shooting Foul
88 - 85
4:16
Pau Gasol made Free Throw 1 of 2.
88 - 86
4:16
Pau Gasol missed Free Throw 2 of 2.
88 - 86
4:15
Dirk Nowitzki Defensive Rebound.
88 - 86
3:50
Eduardo Najera made 15 ft Jumper. Assisted by Michael Finley.
90 - 86
3:26
Mike Miller made Layup. Assisted by Bo Outlaw.
90 - 88
3:11
Mike Miller Shooting Foul
90 - 88
3:11
Antoine Walker missed Free Throw 1 of 2.
90 - 88
3:11
Dallas Offensive Rebound.
90 - 88
3:11
Antoine Walker missed Free Throw 2 of 2.
90 - 88
3:10
Bo Outlaw Defensive Rebound.
90 - 88
2:55
Pau Gasol made Layup.
90 - 90
2:30
Eduardo Najera made Layup. Assisted by Steve Nash.
92 - 90
2:10
Jason Williams missed Jumper.
92 - 90
2:08
Eduardo Najera Defensive Rebound.
92 - 90
1:52
Dirk Nowitzki missed 26 ft Three Point Jumper.
92 - 90
1:51
Bo Outlaw Defensive Rebound.
92 - 90
1:51
Eduardo Najera Loose Ball Foul
92 - 90
1:51
Shawn Bradley enters the game for Eduardo Najera.
92 - 90
1:31
Jason Williams made 28 ft Three Point Jumper. Assisted by James Posey.
92 - 93
1:12
James Posey Personal Foul
92 - 93
1:07
Steve Nash missed 26 ft Three Point Jumper.
92 - 93
1:07
Pau Gasol Defensive Rebound.
92 - 93
0:46
James Posey missed Jumper.
92 - 93
0:43
Shawn Bradley Defensive Rebound.
92 - 93
0:32
Michael Finley Bad Pass
92 - 93
0:32
Delay of Game
92 - 93
0:32
Memphis Full Timeout.
92 - 93
0:16
Mike Miller made 6 ft Two Point Shot.
92 - 95
0:16
Dallas Full Timeout.
92 - 95
0:16
Antawn Jamison enters the game for Shawn Bradley.
92 - 95
0:11
Michael Finley missed 27 ft Three Point Jumper.
92 - 95
0:09
Bo Outlaw Defensive Rebound.
92 - 95
0:08
Dirk Nowitzki Personal Foul
92 - 95
0:08
James Posey missed Free Throw 1 of 2.
92 - 95
0:08
Memphis Offensive Rebound.
92 - 95
0:08
James Posey missed Free Throw 2 of 2.
92 - 95
0:07
Steve Nash Defensive Rebound.
92 - 95
0:07
Dallas Full Timeout.
92 - 95
0:00
Antoine Walker made 28 ft Three Point Jumper. Assisted by Steve Nash.
95 - 95
0:00
End of the 4th Quarter.
95 - 95

time
TEAM
PLAY
SCORE
5:00
Start of the 1st Overtime.
95 - 95
5:00
Jumpball. Shawn Bradley vs. Pau Gasol. Dirk Nowitzki gains possession.
95 - 95
4:39
Dirk Nowitzki missed 10 ft Two Point Shot.
95 - 95
4:37
Mike Miller Defensive Rebound.
95 - 95
4:31
Mike Miller made Two Point Shot.
95 - 97
4:05
Dirk Nowitzki Lost Ball. Stolen by Mike Miller.
95 - 97
4:01
Steve Nash Shooting Foul
95 - 97
4:01
Mike Miller made Free Throw 1 of 2.
95 - 98
4:01
Eduardo Najera enters the game for Shawn Bradley.
95 - 98
4:01
Mike Miller made Free Throw 2 of 2.
95 - 99
3:36
Michael Finley missed 16 ft Two Point Shot.
95 - 99
3:32
Dallas Defensive Rebound.
95 - 99
3:23
Jason Williams made 27 ft Three Point Jumper.
95 - 102
3:17
Dallas Full Timeout.
95 - 102
3:17
Antawn Jamison enters the game for Eduardo Najera.
95 - 102
3:05
Dirk Nowitzki missed 14 ft Jumper.
95 - 102
3:03
Antawn Jamison Offensive Rebound.
97 - 102
3:03
Antawn Jamison made Tip Shot.
97 - 102
2:47
Jason Williams missed 25 ft Three Point Jumper.
97 - 102
2:46
Steve Nash Defensive Rebound.
97 - 102
2:33
Dirk Nowitzki missed 16 ft Jumper.
97 - 102
2:31
Antawn Jamison Offensive Rebound.
97 - 102
2:30
Antawn Jamison missed 4 ft Jumper.
97 - 102
2:27
Pau Gasol Defensive Rebound.
97 - 102
2:09
Mike Miller missed Layup. Blocked by Michael Finley.
97 - 102
2:06
Antoine Walker Defensive Rebound.
97 - 102
2:03
Antawn Jamison made Layup. Assisted by Antoine Walker.
99 - 102
1:54
Memphis Full Timeout.
99 - 102
1:40
Dirk Nowitzki Personal Foul
99 - 102
1:34
Mike Miller missed 22 ft Three Point Jumper.
99 - 102
1:31
Mike Miller Offensive Rebound.
99 - 102
1:07
Jason Williams Lost Ball. Stolen by Steve Nash.
99 - 102
0:55
Antoine Walker missed Layup.
99 - 102
0:53
Pau Gasol Defensive Rebound.
99 - 102
0:37
Dirk Nowitzki Personal Foul
99 - 102
0:37
Jason Williams made Free Throw 1 of 2.
99 - 103
0:37
Jason Williams made Free Throw 2 of 2.
99 - 104
0:37
Dallas Full Timeout.
99 - 104
0:37
Eduardo Najera enters the game for Dirk Nowitzki.
99 - 104
0:28
Mike Miller made Layup. Assisted by Bo Outlaw.
99 - 106
0:28
Antoine Walker Shooting Foul
99 - 106
0:28
Mike Miller missed Free Throw 1 of 1.
99 - 106
0:25
Antawn Jamison Defensive Rebound.
99 - 106
0:25
Bo Outlaw Personal Foul
99 - 106
0:20
Steve Nash Lost Ball. Stolen by Jason Williams.
99 - 106
0:18
Jason Williams made Layup.
99 - 108
0:12
Steve Nash made Two Point Shot.
101 - 108
0:00
End of the 1st Overtime.
101 - 108
0:00
End Game
101 - 108
0:00
End Game
101 - 108
The latest notes, updates and analysis on the Bucks from around the web.

Chris Broussard analyzes Rajon Rondo's options entering free agency and if there is a chance he re-signs with the Kings.

ESPN NewYork.com reporter Ohm Youngmisuk talks about potential landing spots for Jeremy Lin if he doesn't re-sign in Charlotte.
Regular Season Series
Series tied 2-2