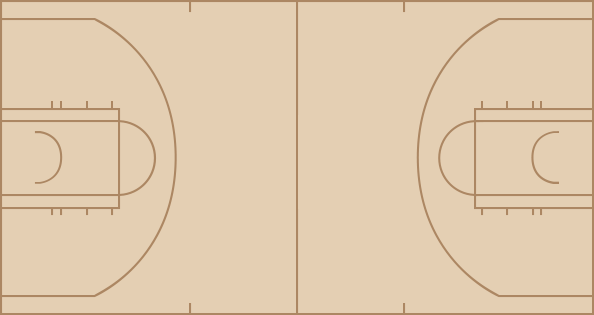 Grizzlies
time
TEAM
PLAY
SCORE
12:00
Start of the 1st Quarter.
0 - 0
12:00
Jumpball. Pau Gasol vs. Horace Grant. Jason Williams gains possession.
0 - 0
11:47
Pau Gasol made 7 ft Two Point Shot. Assisted by Jason Williams.
2 - 0
11:30
Gary Payton missed 16 ft Jumper.
2 - 0
11:29
Mike Miller Defensive Rebound.
2 - 0
11:22
Karl Malone Shooting Foul
2 - 0
11:22
Jake Tsakalidis missed Free Throw 1 of 2.
2 - 0
11:22
Memphis Offensive Rebound.
2 - 0
11:22
Jake Tsakalidis made Free Throw 2 of 2.
3 - 0
11:07
Horace Grant missed 20 ft Jumper.
3 - 0
11:07
Horace Grant Offensive Rebound.
3 - 0
11:03
Devean George made 22 ft Jumper. Assisted by Horace Grant.
3 - 2
10:47
James Posey Bad Pass
3 - 2
10:33
Kobe Bryant missed Jumper.
3 - 2
10:33
Mike Miller Defensive Rebound.
3 - 2
10:15
Pau Gasol made Jumper. Assisted by Jason Williams.
5 - 2
10:03
Karl Malone made Two Point Shot. Assisted by Horace Grant.
5 - 4
9:49
Devean George Shooting Foul
5 - 4
9:49
Mike Miller made Free Throw 1 of 2.
6 - 4
9:49
Mike Miller missed Free Throw 2 of 2.
6 - 4
9:49
Karl Malone Defensive Rebound.
6 - 4
9:33
Karl Malone made Layup. Assisted by Gary Payton.
6 - 6
9:33
Jake Tsakalidis Shooting Foul
6 - 6
9:33
Karl Malone missed Free Throw 1 of 1.
6 - 6
9:33
Jake Tsakalidis Defensive Rebound.
6 - 6
9:23
Pau Gasol Bad Pass. Stolen by Horace Grant.
6 - 6
9:18
Gary Payton missed 14 ft Two Point Shot.
6 - 6
9:15
Mike Miller Defensive Rebound.
6 - 6
9:11
Jake Tsakalidis made Two Point Shot. Assisted by Mike Miller.
8 - 6
9:00
Jake Tsakalidis Shooting Foul
8 - 6
9:00
Kobe Bryant missed Free Throw 1 of 2.
8 - 6
9:00
Los Angeles Offensive Rebound.
8 - 6
9:00
Kobe Bryant made Free Throw 2 of 2.
8 - 7
8:47
Pau Gasol made Hook Shot.
10 - 7
8:38
Gary Payton made Two Point Shot.
10 - 9
8:14
James Posey missed 28 ft Three Point Jumper.
10 - 9
8:11
Karl Malone Defensive Rebound.
10 - 9
8:03
Horace Grant made 20 ft Jumper. Assisted by Gary Payton.
10 - 11
7:46
Karl Malone Personal Foul
10 - 11
7:46
Lorenzen Wright enters the game for Jake Tsakalidis.
10 - 11
7:46
Stanislav Medvedenko enters the game for Karl Malone.
10 - 11
7:43
James Posey Offensive Foul
10 - 11
7:43
James Posey Foul
10 - 11
7:22
James Posey Shooting Foul
10 - 11
7:22
Kobe Bryant made Free Throw 1 of 2.
10 - 12
7:22
Shane Battier enters the game for James Posey.
10 - 12
7:22
Kobe Bryant made Free Throw 2 of 2.
10 - 13
7:05
Mike Miller made 26 ft Three Point Jumper. Assisted by Jason Williams.
13 - 13
6:52
Devean George missed 26 ft Three Point Jumper.
13 - 13
6:50
Mike Miller Defensive Rebound.
13 - 13
6:48
Mike Miller Lost Ball. Stolen by Stanislav Medvedenko.
13 - 13
6:43
Kobe Bryant made 20 ft Jumper. Assisted by Gary Payton.
13 - 15
6:24
Mike Miller made Two Point Shot.
15 - 15
6:13
Horace Grant made 16 ft Jumper. Assisted by Gary Payton.
15 - 17
5:58
Jason Williams made 26 ft Three Point Jumper.
18 - 17
5:35
Kobe Bryant missed Two Point Shot.
18 - 17
5:33
Pau Gasol Defensive Rebound.
18 - 17
5:28
Devean George Shooting Foul
18 - 17
5:28
Los Angeles Full Timeout.
18 - 17
5:28
Bryon Russell enters the game for Devean George.
18 - 17
5:28
Lorenzen Wright missed Free Throw 1 of 2.
18 - 17
5:28
Memphis Offensive Rebound.
18 - 17
5:28
Lorenzen Wright made Free Throw 2 of 2.
19 - 17
5:09
Gary Payton missed Two Point Shot.
19 - 17
5:05
Stanislav Medvedenko Offensive Rebound.
19 - 17
5:05
Stanislav Medvedenko missed Layup. Blocked by Shane Battier.
19 - 17
5:03
Lorenzen Wright Defensive Rebound.
19 - 17
4:56
Shane Battier made 28 ft Three Point Jumper. Assisted by Jason Williams.
22 - 17
4:30
Gary Payton Bad Pass. Stolen by Shane Battier.
22 - 17
4:24
Jason Williams missed 25 ft Three Point Jumper.
22 - 17
4:22
Stanislav Medvedenko Defensive Rebound.
22 - 17
4:16
Bryon Russell made Two Point Shot. Assisted by Kobe Bryant.
22 - 19
3:53
Pau Gasol missed 7 ft Jumper.
22 - 19
3:50
Horace Grant Defensive Rebound.
22 - 19
3:47
Stanislav Medvedenko made Two Point Shot. Assisted by Gary Payton.
22 - 21
3:24
Bryon Russell Shooting Foul
22 - 21
3:24
Earl Watson enters the game for Jason Williams.
22 - 21
3:24
Wesley Person enters the game for Mike Miller.
22 - 21
3:24
Bo Outlaw enters the game for Pau Gasol.
22 - 21
3:24
Derek Fisher enters the game for Kobe Bryant.
22 - 21
3:24
Shane Battier made Free Throw 1 of 2.
23 - 21
3:24
Shane Battier made Free Throw 2 of 2.
24 - 21
3:12
Bo Outlaw Personal Foul
24 - 21
2:57
24 second
24 - 21
2:57
Memphis Full Timeout.
24 - 21
2:41
Wesley Person missed 14 ft Jumper.
24 - 21
2:40
Stanislav Medvedenko Defensive Rebound.
24 - 21
2:19
Horace Grant made 8 ft Hook Shot. Assisted by Derek Fisher.
24 - 23
2:00
Earl Watson missed 26 ft Three Point Jumper.
24 - 23
1:59
Stanislav Medvedenko Defensive Rebound.
24 - 23
1:50
Stanislav Medvedenko made 19 ft Jumper. Assisted by Gary Payton.
24 - 25
1:36
Lorenzen Wright Offensive Foul
24 - 25
1:36
Lorenzen Wright Foul
24 - 25
1:17
Stanislav Medvedenko made 17 ft Jumper. Assisted by Gary Payton.
24 - 27
1:00
Shane Battier made 17 ft Jumper. Assisted by Earl Watson.
26 - 27
0:53
Gary Payton made Two Point Shot.
26 - 29
0:34
Shane Battier missed 24 ft Three Point Jumper.
26 - 29
0:32
Horace Grant Defensive Rebound.
26 - 29
0:22
Horace Grant missed Jumper.
26 - 29
0:20
Shane Battier Defensive Rebound.
26 - 29
0:04
Lorenzen Wright made Layup. Assisted by Wesley Person.
28 - 29
0:00
End of the 1st Quarter.
28 - 29

time
TEAM
PLAY
SCORE
12:00
Start of the 2nd Quarter.
28 - 29
11:48
Kareem Rush Bad Pass. Stolen by Bo Outlaw.
28 - 29
11:42
Wesley Person made Layup. Assisted by Earl Watson.
30 - 29
11:30
Kareem Rush Bad Pass
30 - 29
11:18
Shane Battier Lost Ball. Stolen by Kobe Bryant.
30 - 29
11:14
Derek Fisher Bad Pass
30 - 29
10:56
Lorenzen Wright made Jumper. Assisted by Shane Battier.
32 - 29
10:36
Kareem Rush missed Layup.
32 - 29
10:34
Shane Battier Defensive Rebound.
32 - 29
10:25
Earl Watson missed 21 ft Jumper.
32 - 29
10:22
Karl Malone Defensive Rebound.
32 - 29
10:08
Derek Fisher made 16 ft Two Point Shot. Assisted by Kareem Rush.
32 - 31
9:53
Wesley Person made Jumper. Assisted by Earl Watson.
34 - 31
9:45
Lorenzen Wright Personal Foul
34 - 31
9:37
Derek Fisher missed 19 ft Jumper.
34 - 31
9:36
Stanislav Medvedenko Offensive Rebound.
34 - 31
9:36
Earl Watson Loose Ball Foul
34 - 31
9:21
Lorenzen Wright Shooting Foul
34 - 31
9:21
Stromile Swift enters the game for Lorenzen Wright.
34 - 31
9:21
Karl Malone made Free Throw 1 of 2.
34 - 32
9:21
Karl Malone made Free Throw 2 of 2.
34 - 33
9:10
Kareem Rush Shooting Foul
34 - 33
9:10
Wesley Person made Free Throw 1 of 2.
35 - 33
9:10
Devean George enters the game for Kareem Rush.
35 - 33
9:10
Wesley Person made Free Throw 2 of 2.
36 - 33
8:59
Karl Malone missed 11 ft Jumper.
36 - 33
8:57
Earl Watson Defensive Rebound.
36 - 33
8:44
Shane Battier made 14 ft Jumper. Assisted by Earl Watson.
38 - 33
8:32
Karl Malone made 20 ft Jumper. Assisted by Kobe Bryant.
38 - 35
8:04
Earl Watson Bad Pass. Stolen by Kobe Bryant.
38 - 35
7:56
Stromile Swift Shooting Foul
38 - 35
7:56
Official Timeout.
38 - 35
7:56
Mike Miller enters the game for Earl Watson.
38 - 35
7:56
Jason Williams enters the game for Wesley Person.
38 - 35
7:56
Pau Gasol enters the game for Bo Outlaw.
38 - 35
7:56
Kobe Bryant made Free Throw 1 of 2.
38 - 36
7:56
Kobe Bryant made Free Throw 2 of 2.
38 - 37
7:41
Stromile Swift made 17 ft Jumper.
40 - 37
7:16
Kobe Bryant missed 21 ft Jumper.
40 - 37
7:13
Mike Miller Defensive Rebound.
40 - 37
7:05
Pau Gasol missed 23 ft Jumper.
40 - 37
7:03
Kobe Bryant Defensive Rebound.
40 - 37
6:58
Karl Malone made Layup. Assisted by Kobe Bryant.
40 - 39
6:48
Devean George Personal Foul
40 - 39
6:48
Bryon Russell enters the game for Devean George.
40 - 39
6:48
James Posey enters the game for Shane Battier.
40 - 39
6:33
James Posey missed Jumper.
40 - 39
6:33
Memphis Offensive Rebound.
40 - 39
6:33
24 second
40 - 39
6:22
Karl Malone made Two Point Shot. Assisted by Derek Fisher.
40 - 41
6:15
Jason Williams Bad Pass. Stolen by Kobe Bryant.
40 - 41
6:09
Kobe Bryant Bad Pass. Stolen by Mike Miller.
40 - 41
6:03
James Posey made Two Point Shot. Assisted by Mike Miller.
42 - 41
5:48
Mike Miller Personal Foul
42 - 41
5:48
Los Angeles Full Timeout.
42 - 41
5:48
Horace Grant enters the game for Stanislav Medvedenko.
42 - 41
5:48
Gary Payton enters the game for Derek Fisher.
42 - 41
5:48
Bryon Russell made Free Throw 1 of 2.
42 - 42
5:48
Bryon Russell made Free Throw 2 of 2.
42 - 43
5:33
Pau Gasol made 6 ft Two Point Shot.
44 - 43
5:26
Stromile Swift Personal Foul
44 - 43
5:26
Horace Grant made Free Throw 1 of 2.
44 - 44
5:26
Horace Grant made Free Throw 2 of 2.
44 - 45
5:16
Jason Williams missed Two Point Shot.
44 - 45
5:15
Pau Gasol Offensive Rebound.
46 - 45
5:15
Pau Gasol made Tip Shot.
46 - 45
4:54
Los Angeles 20 Sec. Timeout.
46 - 45
4:50
Gary Payton missed 13 ft Jumper. Blocked by Stromile Swift.
46 - 45
4:48
Mike Miller Defensive Rebound.
46 - 45
4:45
Jason Williams missed Layup. Blocked by Bryon Russell.
46 - 45
4:43
Gary Payton Defensive Rebound.
46 - 45
4:37
Kobe Bryant made 26 ft Three Point Jumper. Assisted by Gary Payton.
46 - 48
4:31
Memphis 20 Sec. Timeout.
46 - 48
4:16
Jason Williams Bad Pass
46 - 48
4:07
Gary Payton Offensive Foul
46 - 48
4:07
Gary Payton Foul
46 - 48
3:59
James Posey Offensive Foul
46 - 48
3:59
James Posey Foul
46 - 48
3:59
Shane Battier enters the game for James Posey.
46 - 48
3:45
Kobe Bryant missed 15 ft Jumper.
46 - 48
3:43
Mike Miller Defensive Rebound.
46 - 48
3:31
Mike Miller missed 9 ft Jumper.
46 - 48
3:30
Karl Malone Defensive Rebound.
46 - 48
3:24
Horace Grant missed 12 ft Jumper.
46 - 48
3:21
Gary Payton Offensive Rebound.
46 - 48
3:16
Bryon Russell made 27 ft Three Point Jumper. Assisted by Karl Malone.
46 - 51
3:09
Memphis Full Timeout.
46 - 51
2:56
Kobe Bryant Personal Foul
46 - 51
2:47
Pau Gasol made 5 ft Two Point Shot.
48 - 51
2:27
Kobe Bryant missed 17 ft Jumper.
48 - 51
2:26
Los Angeles Offensive Rebound.
48 - 51
2:20
Kobe Bryant made Two Point Shot. Assisted by Bryon Russell.
48 - 53
2:02
Mike Miller Offensive Foul
48 - 53
2:02
Mike Miller Foul
48 - 53
1:51
Shane Battier Shooting Foul
48 - 53
1:51
Kobe Bryant made Free Throw 1 of 2.
48 - 54
1:51
Kobe Bryant made Free Throw 2 of 2.
48 - 55
1:37
Mike Miller missed Layup.
48 - 55
1:36
Bryon Russell Defensive Rebound.
48 - 55
1:27
Bryon Russell made 4 ft Two Point Shot. Assisted by Karl Malone.
48 - 57
1:15
Kobe Bryant Personal Foul
48 - 57
1:06
Pau Gasol missed 7 ft Jumper.
48 - 57
1:05
Karl Malone Defensive Rebound.
48 - 57
0:49
Kobe Bryant made 19 ft Jumper.
48 - 59
0:35
Stanislav Medvedenko enters the game for Karl Malone.
48 - 59
0:35
Derek Fisher enters the game for Kobe Bryant.
48 - 59
0:27
Jason Williams missed 26 ft Three Point Jumper.
48 - 59
0:26
Mike Miller Offensive Rebound.
48 - 59
0:20
Horace Grant Shooting Foul
48 - 59
0:20
Stromile Swift missed Free Throw 1 of 2.
48 - 59
0:20
Memphis Offensive Rebound.
48 - 59
0:20
Stromile Swift missed Free Throw 2 of 2.
48 - 59
0:18
Stanislav Medvedenko Defensive Rebound.
48 - 59
0:02
Derek Fisher missed Layup.
48 - 59
0:00
Stromile Swift Defensive Rebound.
48 - 59
0:00
Jason Williams missed 40 ft Three Point Jumper.
48 - 59
0:00
Memphis Offensive Rebound.
48 - 59
0:00
End of the 2nd Quarter.
48 - 59

time
TEAM
PLAY
SCORE
12:00
Start of the 3rd Quarter.
48 - 59
11:42
James Posey Personal Foul
48 - 59
11:42
Shane Battier enters the game for James Posey.
48 - 59
11:30
Gary Payton missed 14 ft Jumper.
48 - 59
11:30
Mike Miller Defensive Rebound.
48 - 59
11:19
Gary Payton Personal Foul
48 - 59
11:11
Mike Miller Bad Pass. Stolen by Kobe Bryant.
48 - 59
11:06
Kobe Bryant missed 15 ft Jumper.
48 - 59
11:03
Pau Gasol Defensive Rebound.
48 - 59
10:56
Jason Williams missed Layup.
48 - 59
10:56
Karl Malone Defensive Rebound.
48 - 59
10:48
Devean George made 16 ft Jumper. Assisted by Gary Payton.
48 - 61
10:25
Shane Battier missed 24 ft Three Point Jumper.
48 - 61
10:22
Pau Gasol Offensive Rebound.
48 - 61
10:22
Pau Gasol made Layup.
50 - 61
10:12
Gary Payton made Two Point Shot.
50 - 63
9:56
Mike Miller made Layup. Assisted by Pau Gasol.
52 - 63
9:34
Gary Payton Bad Pass. Stolen by Mike Miller.
52 - 63
9:29
Mike Miller made Dunk.
54 - 63
9:18
Shane Battier Shooting Foul
54 - 63
9:18
Kobe Bryant made Free Throw 1 of 2.
54 - 64
9:18
Kobe Bryant made Free Throw 2 of 2.
54 - 65
9:02
Jake Tsakalidis made Slam Dunk. Assisted by Pau Gasol.
56 - 65
8:44
Gary Payton made Jumper.
56 - 67
8:30
Jason Williams missed 26 ft Three Point Jumper.
56 - 67
8:29
Devean George Defensive Rebound.
56 - 67
8:23
Gary Payton made Layup. Assisted by Devean George.
56 - 69
8:21
Memphis 20 Sec. Timeout.
56 - 69
8:02
Jake Tsakalidis made Slam Dunk.
58 - 69
7:43
Karl Malone made Layup. Assisted by Gary Payton.
58 - 71
7:26
Jake Tsakalidis Offensive Foul
58 - 71
7:26
Jake Tsakalidis Foul
58 - 71
7:11
Pau Gasol Shooting Foul
58 - 71
7:11
Karl Malone made Free Throw 1 of 2.
58 - 72
7:11
Karl Malone Bad Pass
58 - 72
7:11
Karl Malone made Free Throw 2 of 2.
58 - 73
6:54
Shane Battier made Three Point Jumper. Assisted by Pau Gasol.
61 - 73
6:28
Kobe Bryant missed 26 ft Three Point Jumper.
61 - 73
6:26
Mike Miller Defensive Rebound.
61 - 73
6:22
Mike Miller missed 21 ft Jumper.
61 - 73
6:20
Karl Malone Defensive Rebound.
61 - 73
6:16
Los Angeles Full Timeout.
61 - 73
6:01
Kobe Bryant made 20 ft Two Point Shot.
61 - 75
5:48
Pau Gasol Offensive Foul
61 - 75
5:48
Pau Gasol Foul
61 - 75
5:48
Lorenzen Wright enters the game for Jake Tsakalidis.
61 - 75
5:35
Gary Payton made Layup. Assisted by Karl Malone.
61 - 77
5:35
Jason Williams Shooting Foul
61 - 77
5:35
Gary Payton made Free Throw 1 of 1.
61 - 78
5:24
Lorenzen Wright missed 16 ft Jumper.
61 - 78
5:22
Kobe Bryant Defensive Rebound.
61 - 78
5:15
Kobe Bryant made 6 ft Two Point Shot.
61 - 80
5:07
Memphis Full Timeout.
61 - 80
4:58
Pau Gasol Bad Pass. Stolen by Horace Grant.
61 - 80
4:50
Horace Grant missed 21 ft Jumper.
61 - 80
4:48
Shane Battier Defensive Rebound.
61 - 80
4:28
Mike Miller Bad Pass
61 - 80
4:28
Earl Watson enters the game for Pau Gasol.
61 - 80
4:28
Bo Outlaw enters the game for Mike Miller.
61 - 80
4:28
Wesley Person enters the game for Jason Williams.
61 - 80
4:11
Bo Outlaw Personal Foul
61 - 80
4:11
Karl Malone made Free Throw 1 of 2.
61 - 81
4:11
Karl Malone made Free Throw 2 of 2.
61 - 82
3:53
Shane Battier made 17 ft Jumper. Assisted by Earl Watson.
63 - 82
3:40
Devean George Lost Ball. Stolen by Wesley Person.
63 - 82
3:25
Earl Watson missed 20 ft Jumper.
63 - 82
3:23
Karl Malone Defensive Rebound.
63 - 82
3:12
Devean George Bad Pass
63 - 82
3:12
Devean George Loose Ball Foul
63 - 82
3:12
Derek Fisher enters the game for Kobe Bryant.
63 - 82
3:12
Stanislav Medvedenko enters the game for Horace Grant.
63 - 82
3:12
Bryon Russell enters the game for Devean George.
63 - 82
2:56
Lorenzen Wright missed 10 ft Jumper.
63 - 82
2:50
Karl Malone Defensive Rebound.
63 - 82
2:31
Derek Fisher missed 20 ft Jumper. Blocked by Bo Outlaw.
63 - 82
2:31
Los Angeles Offensive Rebound.
63 - 82
2:31
24 second
63 - 82
2:15
Bryon Russell Shooting Foul
63 - 82
2:15
Lorenzen Wright made Free Throw 1 of 2.
64 - 82
2:15
Lorenzen Wright made Free Throw 2 of 2.
65 - 82
2:02
Bryon Russell Lost Ball. Stolen by Shane Battier.
65 - 82
2:02
Bryon Russell Personal Foul
65 - 82
1:51
Shane Battier made Two Point Shot.
67 - 82
1:36
Bo Outlaw Shooting Foul
67 - 82
1:36
Karl Malone made Free Throw 1 of 2.
67 - 83
1:36
Karl Malone made Free Throw 2 of 2.
67 - 84
1:25
Lorenzen Wright Loose Ball Foul
67 - 84
1:25
Derek Fisher made Free Throw 1 of 2.
67 - 85
1:25
Derek Fisher made Free Throw 2 of 2.
67 - 86
1:09
Wesley Person missed 20 ft Jumper.
67 - 86
1:08
Bryon Russell Defensive Rebound.
67 - 86
1:04
Gary Payton made 7 ft Jumper. Assisted by Derek Fisher.
67 - 88
0:51
Shane Battier missed 18 ft Jumper.
67 - 88
0:49
Karl Malone Defensive Rebound.
67 - 88
0:30
Stanislav Medvedenko Lost Ball. Stolen by Lorenzen Wright.
67 - 88
0:27
Earl Watson Offensive Foul
67 - 88
0:27
Earl Watson Foul
67 - 88
0:27
Luke Walton enters the game for Karl Malone.
67 - 88
0:08
Gary Payton made Two Point Shot. Assisted by Luke Walton.
67 - 90
0:01
Bo Outlaw missed 18 ft Jumper.
67 - 90
0:00
Memphis Offensive Rebound.
67 - 90
0:00
End of the 3rd Quarter.
67 - 90

time
TEAM
PLAY
SCORE
12:00
Start of the 4th Quarter.
67 - 90
11:45
Wesley Person made 18 ft Jumper.
69 - 90
11:22
Bryon Russell made 20 ft Jumper. Assisted by Stanislav Medvedenko.
69 - 92
11:06
Wesley Person missed 16 ft Jumper.
69 - 92
11:03
Stanislav Medvedenko Defensive Rebound.
69 - 92
10:52
Kobe Bryant missed 14 ft Jumper.
69 - 92
10:51
Kobe Bryant Offensive Rebound.
69 - 92
10:48
Kobe Bryant made Layup.
69 - 94
10:45
Memphis Full Timeout.
69 - 94
10:22
James Posey missed Two Point Shot. Blocked by Bryon Russell.
69 - 94
10:21
James Posey Offensive Rebound.
69 - 94
10:19
James Posey missed Two Point Shot.
69 - 94
10:19
Memphis Offensive Rebound.
69 - 94
10:19
24 second
69 - 94
10:15
James Posey Personal Foul
69 - 94
10:07
James Posey Shooting Foul
69 - 94
10:07
Shane Battier enters the game for James Posey.
69 - 94
10:07
Kobe Bryant made Free Throw 1 of 2.
69 - 95
10:07
Kobe Bryant made Free Throw 2 of 2.
69 - 96
9:48
Shane Battier Offensive Foul
69 - 96
9:48
Shane Battier Foul
69 - 96
9:33
Kobe Bryant made 9 ft Jumper.
69 - 98
9:23
Wesley Person made 19 ft Two Point Shot.
71 - 98
9:11
Lorenzen Wright Shooting Foul
71 - 98
9:11
Luke Walton missed Free Throw 1 of 2.
71 - 98
9:11
Los Angeles Offensive Rebound.
71 - 98
9:11
Kareem Rush enters the game for Kobe Bryant.
71 - 98
9:11
Luke Walton made Free Throw 2 of 2.
71 - 99
8:57
Earl Watson missed 21 ft Jumper.
71 - 99
8:56
Stanislav Medvedenko Defensive Rebound.
71 - 99
8:53
Derek Fisher Bad Pass
71 - 99
8:33
Derek Fisher Shooting Foul
71 - 99
8:33
Lorenzen Wright made Free Throw 1 of 2.
72 - 99
8:33
Lorenzen Wright made Free Throw 2 of 2.
73 - 99
8:22
Dahntay Jones enters the game for Wesley Person.
73 - 99
8:22
Stromile Swift enters the game for Bo Outlaw.
73 - 99
8:21
Stanislav Medvedenko made 13 ft Jumper. Assisted by Bryon Russell.
73 - 101
8:15
Memphis Full Timeout.
73 - 101
8:00
Lorenzen Wright missed Layup.
73 - 101
7:58
Bryon Russell Defensive Rebound.
73 - 101
7:43
Bryon Russell missed 7 ft Jumper.
73 - 101
7:43
Los Angeles Defensive Rebound.
73 - 101
7:43
Stanislav Medvedenko Loose Ball Foul
73 - 101
7:28
Dahntay Jones missed 18 ft Jumper.
73 - 101
7:26
Luke Walton Defensive Rebound.
73 - 101
7:11
Luke Walton made 13 ft Jumper.
73 - 103
6:58
Earl Watson Bad Pass. Stolen by Bryon Russell.
73 - 103
6:52
Derek Fisher missed 18 ft Jumper.
73 - 103
6:50
Lorenzen Wright Defensive Rebound.
73 - 103
6:43
Earl Watson missed 14 ft Jumper.
73 - 103
6:41
Stanislav Medvedenko Defensive Rebound.
73 - 103
6:22
Stanislav Medvedenko made Two Point Shot.
73 - 105
6:00
Lorenzen Wright missed 5 ft Jumper.
73 - 105
5:58
Stanislav Medvedenko Defensive Rebound.
73 - 105
5:50
Derek Fisher missed 27 ft Three Point Jumper.
73 - 105
5:48
Stromile Swift Defensive Rebound.
73 - 105
5:43
Bryon Russell Shooting Foul
73 - 105
5:43
Jannero Pargo enters the game for Derek Fisher.
73 - 105
5:43
Shane Battier made Free Throw 1 of 2.
74 - 105
5:43
Shane Battier made Free Throw 2 of 2.
75 - 105
5:30
Bryon Russell made 29 ft Three Point Jumper. Assisted by Luke Walton.
75 - 108
5:22
Memphis Full Timeout.
75 - 108
5:22
Wesley Person enters the game for Shane Battier.
75 - 108
5:22
Devean George enters the game for Bryon Russell.
75 - 108
5:13
Dahntay Jones Bad Pass. Stolen by Luke Walton.
75 - 108
5:09
Kareem Rush Offensive Foul
75 - 108
5:09
Kareem Rush Foul
75 - 108
4:54
Kareem Rush Shooting Foul
75 - 108
4:54
Stromile Swift made Free Throw 1 of 2.
76 - 108
4:54
Stromile Swift made Free Throw 2 of 2.
77 - 108
4:37
Jannero Pargo missed Layup.
77 - 108
4:37
Earl Watson Defensive Rebound.
77 - 108
4:31
Earl Watson made Two Point Shot.
79 - 108
4:16
Luke Walton made Layup. Assisted by Devean George.
79 - 110
4:05
Wesley Person missed 19 ft Jumper.
79 - 110
4:03
Kareem Rush Defensive Rebound.
79 - 110
3:50
Devean George missed 18 ft Jumper.
79 - 110
3:48
Earl Watson Defensive Rebound.
79 - 110
3:46
Earl Watson made 12 ft Jumper.
81 - 110
3:31
Stanislav Medvedenko made 14 ft Two Point Shot. Assisted by Luke Walton.
81 - 112
3:06
Stromile Swift missed Layup.
81 - 112
3:05
Stromile Swift Offensive Rebound.
83 - 112
3:05
Stromile Swift made Layup.
83 - 112
2:59
Luke Walton missed Layup. Blocked by Stromile Swift.
83 - 112
2:58
Lorenzen Wright Defensive Rebound.
83 - 112
2:49
Earl Watson Bad Pass. Stolen by Kareem Rush.
83 - 112
2:41
Stromile Swift Personal Foul
83 - 112
2:29
Luke Walton made Layup.
83 - 114
2:12
Wesley Person made 21 ft Jumper. Assisted by Earl Watson.
85 - 114
1:49
Jannero Pargo made 19 ft Jumper.
85 - 116
1:40
Jannero Pargo Personal Foul
85 - 116
1:40
Stromile Swift made Free Throw 1 of 2.
86 - 116
1:40
Stromile Swift made Free Throw 2 of 2.
87 - 116
1:27
Devean George made 26 ft Three Point Jumper. Assisted by Stanislav Medvedenko.
87 - 119
1:12
Lorenzen Wright missed 13 ft Jumper.
87 - 119
1:10
Devean George Defensive Rebound.
87 - 119
0:58
Stanislav Medvedenko made 7 ft Two Point Shot. Assisted by Jannero Pargo.
87 - 121
0:43
Lorenzen Wright made Two Point Shot. Assisted by Dahntay Jones.
89 - 121
0:37
Jannero Pargo missed Layup.
89 - 121
0:36
Lorenzen Wright Defensive Rebound.
89 - 121
0:20
Wesley Person missed 17 ft Jumper.
89 - 121
0:18
Stanislav Medvedenko Defensive Rebound.
89 - 121
0:00
End of the 4th Quarter.
89 - 121
Pablo Torre, Amin Elhassan and Tom Haberstroh break down Game 7 of the NBA Finals,

Authorities say a fan in his early 20s is in critical-but-stable condition after falling from the second deck of Oakland's Oracle Arena following a postgame altercation with another fan.

Coming back from a 3-1 deficit was unprecedented in NBA history. But there are other great championship-round comebacks in sports that rival this one.
Regular Season Series
Series tied 2-2
2015-2016 Pacific Standings