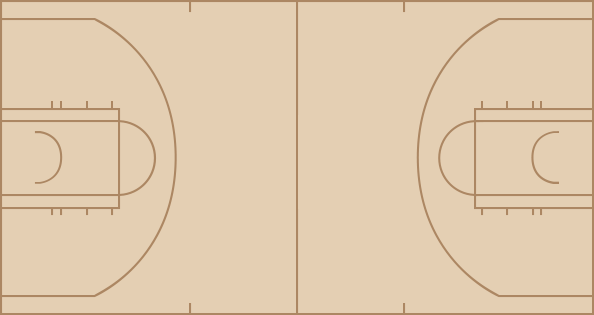 Jazz
time
TEAM
PLAY
SCORE
12:00
Start of the 1st Quarter.
0 - 0
12:00
Jumpball. Greg Ostertag vs. Shaquille O'Neal. Raul Lopez gains possession.
0 - 0
11:37
Matt Harpring missed 19 ft Jumper.
0 - 0
11:36
Devean George Defensive Rebound.
0 - 0
11:17
Shaquille O'Neal missed 7 ft Jumper.
0 - 0
11:15
Matt Harpring Defensive Rebound.
0 - 0
11:04
Matt Harpring made Two Point Shot. Assisted by Greg Ostertag.
2 - 0
10:48
Kobe Bryant Bad Pass. Stolen by Andrei Kirilenko.
2 - 0
10:48
Andrei Kirilenko Lost Ball. Stolen by Gary Payton.
2 - 0
10:41
Gary Payton missed Three Point Jumper.
2 - 0
10:40
Shaquille O'Neal Offensive Rebound.
2 - 0
10:33
Stanislav Medvedenko made 20 ft Jumper. Assisted by Devean George.
2 - 2
10:11
DeShawn Stevenson made 16 ft Jumper. Assisted by Matt Harpring.
4 - 2
9:55
Matt Harpring made Layup. Assisted by Andrei Kirilenko.
6 - 2
9:36
Devean George made 18 ft Jumper. Assisted by Shaquille O'Neal.
6 - 4
9:18
Raul Lopez made 18 ft Jumper. Assisted by Matt Harpring.
8 - 4
8:57
Andrei Kirilenko missed 17 ft Jumper.
8 - 4
8:56
Gary Payton Defensive Rebound.
8 - 4
8:51
Gary Payton missed Layup. Blocked by Andrei Kirilenko.
8 - 4
8:48
DeShawn Stevenson Defensive Rebound.
8 - 4
8:45
Andrei Kirilenko made Two Point Shot. Assisted by DeShawn Stevenson.
10 - 4
8:26
Shaquille O'Neal missed Layup.
10 - 4
8:25
Raul Lopez Defensive Rebound.
10 - 4
8:06
Matt Harpring missed 18 ft Jumper.
10 - 4
8:04
Andrei Kirilenko Offensive Rebound.
10 - 4
7:50
Andrei Kirilenko Lost Ball. Stolen by Shaquille O'Neal.
10 - 4
7:45
DeShawn Stevenson Shooting Foul
10 - 4
7:45
Stanislav Medvedenko missed Free Throw 1 of 2.
10 - 4
7:45
Los Angeles Offensive Rebound.
10 - 4
7:45
Stanislav Medvedenko made Free Throw 2 of 2.
10 - 5
7:24
Greg Ostertag missed Two Point Shot.
10 - 5
7:24
Devean George Defensive Rebound.
10 - 5
7:18
Stanislav Medvedenko made 16 ft Jumper. Assisted by Gary Payton.
10 - 7
6:56
DeShawn Stevenson made Jumper. Assisted by Greg Ostertag.
12 - 7
6:31
Gary Payton missed 17 ft Jumper.
12 - 7
6:30
Gary Payton Offensive Rebound.
12 - 7
6:28
Gary Payton missed Layup.
12 - 7
6:26
Los Angeles Defensive Rebound.
12 - 7
6:13
Stanislav Medvedenko Personal Foul
12 - 7
6:13
Los Angeles Full Timeout.
12 - 7
6:01
Matt Harpring missed 13 ft Jumper.
12 - 7
6:00
Kobe Bryant Defensive Rebound.
12 - 7
5:46
Shaquille O'Neal Lost Ball. Stolen by Andrei Kirilenko.
12 - 7
5:30
Andrei Kirilenko missed Layup.
12 - 7
5:28
Stanislav Medvedenko Defensive Rebound.
12 - 7
5:20
Stanislav Medvedenko missed 20 ft Jumper.
12 - 7
5:18
Matt Harpring Defensive Rebound.
12 - 7
5:11
Raul Lopez Bad Pass. Stolen by Kobe Bryant.
12 - 7
5:07
Gary Payton made Two Point Shot. Assisted by Shaquille O'Neal.
12 - 9
4:46
Raul Lopez missed 11 ft Jumper.
12 - 9
4:45
Matt Harpring Offensive Rebound.
12 - 9
4:43
Matt Harpring made Layup.
14 - 9
4:26
Stanislav Medvedenko Bad Pass. Stolen by Matt Harpring.
14 - 9
4:20
Matt Harpring made Slam Dunk.
16 - 9
3:59
Gary Payton missed 15 ft Jumper.
16 - 9
3:57
Gary Payton Offensive Rebound.
16 - 9
3:54
Gary Payton missed Layup.
16 - 9
3:53
Andrei Kirilenko Defensive Rebound.
16 - 9
3:49
Raul Lopez Bad Pass
16 - 9
3:34
Kobe Bryant made 26 ft Three Point Jumper. Assisted by Shaquille O'Neal.
16 - 12
3:20
Matt Harpring Bad Pass. Stolen by Devean George.
16 - 12
3:16
Devean George made Two Point Shot.
16 - 14
3:01
DeShawn Stevenson missed 18 ft Jumper.
16 - 14
3:00
Stanislav Medvedenko Defensive Rebound.
16 - 14
2:50
Stanislav Medvedenko made Layup. Assisted by Shaquille O'Neal.
16 - 16
2:26
DeShawn Stevenson missed 17 ft Jumper.
16 - 16
2:24
Devean George Defensive Rebound.
16 - 16
2:06
Devean George missed 26 ft Three Point Jumper.
16 - 16
2:04
DeShawn Stevenson Defensive Rebound.
16 - 16
1:50
Andrei Kirilenko missed 26 ft Three Point Jumper.
16 - 16
1:49
Gary Payton Defensive Rebound.
16 - 16
1:40
Kobe Bryant made 21 ft Jumper. Assisted by Gary Payton.
16 - 18
1:39
Utah Full Timeout.
16 - 18
1:39
Maurice Williams enters the game for Matt Harpring.
16 - 18
1:39
Raja Bell enters the game for Raul Lopez.
16 - 18
1:39
Bryon Russell enters the game for Stanislav Medvedenko.
16 - 18
1:39
Derek Fisher enters the game for Gary Payton.
16 - 18
1:14
Greg Ostertag made Layup. Assisted by Maurice Williams.
18 - 18
0:55
Kobe Bryant missed Layup. Blocked by Andrei Kirilenko.
18 - 18
0:54
Maurice Williams Defensive Rebound.
18 - 18
0:50
Maurice Williams missed Layup.
18 - 18
0:50
Utah Defensive Rebound.
18 - 18
0:50
Raja Bell Loose Ball Foul
18 - 18
0:50
Aleksandar Pavlovic enters the game for DeShawn Stevenson.
18 - 18
0:36
Shaquille O'Neal made Slam Dunk.
18 - 20
0:36
Greg Ostertag Shooting Foul
18 - 20
0:36
Shaquille O'Neal missed Free Throw 1 of 1.
18 - 20
0:36
Lane Violation
18 - 20
0:36
Shaquille O'Neal missed Free Throw 1 of 1.
18 - 20
0:34
Andrei Kirilenko Defensive Rebound.
18 - 20
0:28
Maurice Williams missed Two Point Shot. Blocked by Shaquille O'Neal.
18 - 20
0:28
Utah Offensive Rebound.
18 - 20
0:22
Aleksandar Pavlovic missed 23 ft Jumper.
18 - 20
0:21
Derek Fisher Defensive Rebound.
18 - 20
0:01
Bryon Russell made 27 ft Three Point Jumper. Assisted by Devean George.
18 - 23
0:01
Andrei Kirilenko Bad Pass
18 - 23
0:00
End of the 1st Quarter.
18 - 23

time
TEAM
PLAY
SCORE
12:00
Start of the 2nd Quarter.
18 - 23
11:37
Kobe Bryant missed 20 ft Jumper.
18 - 23
11:37
Raja Bell Defensive Rebound.
18 - 23
11:18
Jarron Collins Bad Pass
18 - 23
10:55
Kobe Bryant missed Layup.
18 - 23
10:52
Matt Harpring Defensive Rebound.
18 - 23
10:36
Aleksandar Pavlovic made 22 ft Jumper. Assisted by Jarron Collins.
20 - 23
10:18
Raja Bell Personal Foul
20 - 23
10:18
Kobe Bryant Technical Foul
20 - 23
10:18
Matt Harpring missed Technical Free Throw.
20 - 23
10:18
Los Angeles Offensive Rebound.
20 - 23
10:18
Kareem Rush enters the game for Kobe Bryant.
20 - 23
10:04
Horace Grant made 12 ft Two Point Shot.
20 - 25
9:44
Matt Harpring Lost Ball. Stolen by Bryon Russell.
20 - 25
9:42
Aleksandar Pavlovic Clear Path Foul
20 - 25
9:42
Kareem Rush made Free Throw.
20 - 26
9:32
Luke Walton Traveling
20 - 26
9:18
Jarron Collins missed 18 ft Jumper.
20 - 26
9:15
Horace Grant Defensive Rebound.
20 - 26
9:00
Derek Fisher missed 20 ft Jumper.
20 - 26
8:59
Matt Harpring Defensive Rebound.
20 - 26
8:44
Aleksandar Pavlovic made 18 ft Jumper. Assisted by Andrei Kirilenko.
22 - 26
8:27
Kareem Rush made Layup. Assisted by Bryon Russell.
22 - 28
8:15
Andrei Kirilenko Bad Pass
22 - 28
8:15
Official Timeout.
22 - 28
8:15
Curtis Borchardt enters the game for Andrei Kirilenko.
22 - 28
8:15
Shaquille O'Neal enters the game for Luke Walton.
22 - 28
8:02
Bryon Russell missed 27 ft Three Point Jumper.
22 - 28
8:00
Shaquille O'Neal Offensive Rebound.
22 - 28
7:58
Shaquille O'Neal made Layup.
22 - 30
7:31
Maurice Williams made 19 ft Jumper.
24 - 30
7:16
Curtis Borchardt Personal Foul
24 - 30
7:16
Devean George enters the game for Horace Grant.
24 - 30
7:05
Bryon Russell missed Layup.
24 - 30
7:05
Raja Bell Defensive Rebound.
24 - 30
6:46
Aleksandar Pavlovic made 18 ft Jumper. Assisted by Curtis Borchardt.
26 - 30
6:24
Shaquille O'Neal made Layup. Assisted by Derek Fisher.
26 - 32
6:24
Aleksandar Pavlovic Shooting Foul
26 - 32
6:24
Shaquille O'Neal missed Free Throw 1 of 1.
26 - 32
6:20
Bryon Russell Offensive Rebound.
26 - 32
6:09
Kareem Rush Personal Foul
26 - 32
6:09
Raul Lopez enters the game for Maurice Williams.
26 - 32
6:09
Gary Payton enters the game for Derek Fisher.
26 - 32
6:01
Kareem Rush Personal Foul
26 - 32
5:47
Raul Lopez missed Layup.
26 - 32
5:43
Shaquille O'Neal Defensive Rebound.
26 - 32
5:41
Kareem Rush missed 21 ft Jumper.
26 - 32
5:39
Curtis Borchardt Defensive Rebound.
26 - 32
5:22
Raja Bell made 19 ft Jumper. Assisted by Curtis Borchardt.
28 - 32
5:05
Matt Harpring Personal Foul
28 - 32
5:05
Los Angeles Full Timeout.
28 - 32
5:05
Stanislav Medvedenko enters the game for Bryon Russell.
28 - 32
5:05
Kobe Bryant enters the game for Kareem Rush.
28 - 32
5:05
Shaquille O'Neal made Free Throw 1 of 2.
28 - 33
5:05
Shaquille O'Neal Lane Violation
28 - 33
5:03
Michael Ruffin Technical Foul
28 - 33
5:03
Raja Bell made Technical Free Throw.
29 - 33
4:50
Raja Bell made Layup.
31 - 33
4:50
Defensive Goaltending
31 - 33
4:39
Gary Payton made Two Point Shot. Assisted by Stanislav Medvedenko.
31 - 35
4:26
Raja Bell missed Layup.
31 - 35
4:26
Shaquille O'Neal Defensive Rebound.
31 - 35
4:16
Kobe Bryant Offensive Foul
31 - 35
4:16
Kobe Bryant Foul
31 - 35
4:05
Curtis Borchardt Bad Pass
31 - 35
3:55
Gary Payton Bad Pass
31 - 35
3:39
Raul Lopez missed 12 ft Jumper.
31 - 35
3:39
Shaquille O'Neal Defensive Rebound.
31 - 35
3:39
Curtis Borchardt Loose Ball Foul
31 - 35
3:39
Shaquille O'Neal made Free Throw 1 of 2.
31 - 36
3:39
Shaquille O'Neal missed Free Throw 2 of 2.
31 - 36
3:36
Matt Harpring Defensive Rebound.
31 - 36
3:20
Matt Harpring missed 11 ft Jumper.
31 - 36
3:18
Kobe Bryant Defensive Rebound.
31 - 36
3:13
Shaquille O'Neal made Two Point Shot. Assisted by Gary Payton.
31 - 38
2:47
Curtis Borchardt missed 8 ft Jumper. Blocked by Shaquille O'Neal.
31 - 38
2:46
Shaquille O'Neal Defensive Rebound.
31 - 38
2:41
Aleksandar Pavlovic Shooting Foul
31 - 38
2:41
Utah Full Timeout.
31 - 38
2:41
DeShawn Stevenson enters the game for Raja Bell.
31 - 38
2:41
Andrei Kirilenko enters the game for Aleksandar Pavlovic.
31 - 38
2:41
Greg Ostertag enters the game for Curtis Borchardt.
31 - 38
2:41
Kobe Bryant missed Free Throw 1 of 2.
31 - 38
2:41
Los Angeles Offensive Rebound.
31 - 38
2:41
Kobe Bryant made Free Throw 2 of 2.
31 - 39
2:26
Raul Lopez missed 13 ft Jumper.
31 - 39
2:25
Kobe Bryant Defensive Rebound.
31 - 39
2:09
Stanislav Medvedenko missed 16 ft Jumper.
31 - 39
2:06
Devean George Offensive Rebound.
31 - 39
2:00
Gary Payton made Jumper. Assisted by Kobe Bryant.
31 - 41
2:00
Defensive Goaltending
31 - 41
1:43
Raul Lopez Bad Pass. Stolen by Devean George.
31 - 41
1:34
Devean George missed 24 ft Three Point Jumper.
31 - 41
1:31
Greg Ostertag Defensive Rebound.
31 - 41
1:24
Raul Lopez missed Two Point Shot.
31 - 41
1:23
Andrei Kirilenko Offensive Rebound.
31 - 41
1:17
Devean George Personal Foul
31 - 41
1:17
Matt Harpring missed Free Throw 1 of 2.
31 - 41
1:17
Utah Offensive Rebound.
31 - 41
1:17
Maurice Williams enters the game for Raul Lopez.
31 - 41
1:17
Matt Harpring missed Free Throw 2 of 2.
31 - 41
1:16
Devean George Defensive Rebound.
31 - 41
0:59
Gary Payton made Layup.
31 - 43
0:38
Shaquille O'Neal Shooting Foul
31 - 43
0:38
DeShawn Stevenson made Free Throw 1 of 2.
32 - 43
0:38
DeShawn Stevenson missed Free Throw 2 of 2.
32 - 43
0:37
Shaquille O'Neal Defensive Rebound.
32 - 43
0:26
Kobe Bryant missed 16 ft Two Point Shot.
32 - 43
0:23
Kobe Bryant Offensive Rebound.
32 - 43
0:17
Shaquille O'Neal made Slam Dunk. Assisted by Gary Payton.
32 - 45
0:02
Maurice Williams missed 9 ft Jumper.
32 - 45
0:01
Devean George Defensive Rebound.
32 - 45
0:00
Devean George Lost Ball. Stolen by Maurice Williams.
32 - 45
0:00
Maurice Williams missed 27 ft Three Point Jumper.
32 - 45
0:00
Utah Offensive Rebound.
32 - 45
0:00
End of the 2nd Quarter.
32 - 45

time
TEAM
PLAY
SCORE
12:00
Start of the 3rd Quarter.
32 - 45
11:37
Stanislav Medvedenko made Layup. Assisted by Shaquille O'Neal.
32 - 47
11:15
Raul Lopez made 12 ft Jumper. Assisted by Greg Ostertag.
34 - 47
11:04
Stanislav Medvedenko made 18 ft Jumper. Assisted by Gary Payton.
34 - 49
10:42
DeShawn Stevenson made 16 ft Jumper.
36 - 49
10:33
Gary Payton missed 7 ft Jumper.
36 - 49
10:33
Devean George Offensive Rebound.
36 - 49
10:33
Greg Ostertag Shooting Foul
36 - 49
10:33
Devean George made Free Throw 1 of 2.
36 - 50
10:33
Devean George made Free Throw 2 of 2.
36 - 51
10:21
DeShawn Stevenson made 19 ft Jumper. Assisted by Matt Harpring.
38 - 51
10:18
Delay of Game
38 - 51
10:03
Devean George made 18 ft Jumper. Assisted by Kobe Bryant.
38 - 53
9:45
DeShawn Stevenson missed 19 ft Jumper.
38 - 53
9:42
Shaquille O'Neal Defensive Rebound.
38 - 53
9:33
Raul Lopez Personal Foul
38 - 53
9:27
Kobe Bryant missed 18 ft Jumper.
38 - 53
9:26
DeShawn Stevenson Defensive Rebound.
38 - 53
9:03
DeShawn Stevenson missed 18 ft Jumper. Blocked by Devean George.
38 - 53
9:03
DeShawn Stevenson Offensive Rebound.
38 - 53
9:03
24 second
38 - 53
8:47
Raul Lopez Shooting Foul
38 - 53
8:47
Gary Payton missed Free Throw 1 of 2.
38 - 53
8:47
Los Angeles Offensive Rebound.
38 - 53
8:47
Gary Payton made Free Throw 2 of 2.
38 - 54
8:30
Raul Lopez made 20 ft Jumper.
40 - 54
8:18
Raul Lopez Personal Foul
40 - 54
8:04
Devean George made 26 ft Three Point Jumper. Assisted by Shaquille O'Neal.
40 - 57
7:46
Raul Lopez missed Layup.
40 - 57
7:45
Shaquille O'Neal Defensive Rebound.
40 - 57
7:39
Kobe Bryant missed 25 ft Three Point Jumper.
40 - 57
7:37
Los Angeles Defensive Rebound.
40 - 57
7:24
Gary Payton Personal Foul
40 - 57
7:16
DeShawn Stevenson missed Layup. Blocked by Stanislav Medvedenko.
40 - 57
7:15
Shaquille O'Neal Defensive Rebound.
40 - 57
7:05
Stanislav Medvedenko made Jumper. Assisted by Devean George.
40 - 59
6:50
Gary Payton Personal Foul
40 - 59
6:41
Andrei Kirilenko missed Layup.
40 - 59
6:41
Utah Offensive Rebound.
40 - 59
6:37
Devean George Loose Ball Foul
40 - 59
6:31
Stanislav Medvedenko Shooting Foul
40 - 59
6:31
DeShawn Stevenson made Free Throw 1 of 2.
41 - 59
6:31
DeShawn Stevenson made Free Throw 2 of 2.
42 - 59
6:16
Shaquille O'Neal missed Layup.
42 - 59
6:15
Greg Ostertag Defensive Rebound.
42 - 59
6:01
Matt Harpring missed 24 ft Three Point Jumper.
42 - 59
6:00
Greg Ostertag Offensive Rebound.
42 - 59
5:50
Shaquille O'Neal Shooting Foul
42 - 59
5:50
Los Angeles Full Timeout.
42 - 59
5:50
Greg Ostertag missed Free Throw 1 of 2.
42 - 59
5:50
Utah Offensive Rebound.
42 - 59
5:50
Greg Ostertag made Free Throw 2 of 2.
43 - 59
5:35
Devean George missed 17 ft Jumper.
43 - 59
5:33
Greg Ostertag Defensive Rebound.
43 - 59
5:28
Andrei Kirilenko made Two Point Shot. Assisted by Raul Lopez.
45 - 59
5:11
Kobe Bryant made 2 ft Hook Shot. Assisted by Shaquille O'Neal.
45 - 61
4:52
Greg Ostertag missed Layup. Blocked by Stanislav Medvedenko.
45 - 61
4:50
Greg Ostertag Offensive Rebound.
45 - 61
4:50
Greg Ostertag made Layup.
47 - 61
4:33
Kobe Bryant missed Layup.
47 - 61
4:31
Greg Ostertag Defensive Rebound.
47 - 61
4:24
Raul Lopez Lost Ball. Stolen by Gary Payton.
47 - 61
4:20
Greg Ostertag Shooting Foul
47 - 61
4:20
Stanislav Medvedenko missed Free Throw 1 of 2.
47 - 61
4:20
Los Angeles Offensive Rebound.
47 - 61
4:20
Stanislav Medvedenko made Free Throw 2 of 2.
47 - 62
4:05
Andrei Kirilenko missed Layup.
47 - 62
4:05
Greg Ostertag Offensive Rebound.
49 - 62
4:05
Greg Ostertag made Tip Shot.
49 - 62
3:56
Andrei Kirilenko Personal Foul
49 - 62
3:56
Stanislav Medvedenko missed Free Throw 1 of 2.
49 - 62
3:56
Los Angeles Offensive Rebound.
49 - 63
3:56
Stanislav Medvedenko made Free Throw 2 of 2.
49 - 63
3:39
Raul Lopez missed 26 ft Three Point Jumper.
49 - 63
3:38
Matt Harpring Offensive Rebound.
49 - 63
3:38
Shaquille O'Neal Shooting Foul
49 - 63
3:38
Raja Bell enters the game for Andrei Kirilenko.
49 - 63
3:38
Matt Harpring made Free Throw 1 of 2.
50 - 63
3:38
Matt Harpring made Free Throw 2 of 2.
51 - 63
3:27
Shaquille O'Neal Offensive Foul
51 - 63
3:27
Shaquille O'Neal Foul
51 - 63
3:03
DeShawn Stevenson missed 19 ft Jumper.
51 - 63
3:01
Shaquille O'Neal Defensive Rebound.
51 - 63
2:56
Kobe Bryant made 26 ft Three Point Jumper. Assisted by Gary Payton.
51 - 66
2:39
Raja Bell missed 16 ft Jumper.
51 - 66
2:36
Shaquille O'Neal Defensive Rebound.
51 - 66
2:31
Raul Lopez Personal Foul
51 - 66
2:31
Utah Full Timeout.
51 - 66
2:31
Maurice Williams enters the game for Raul Lopez.
51 - 66
2:31
Bryon Russell enters the game for Stanislav Medvedenko.
51 - 66
2:31
Derek Fisher enters the game for Kobe Bryant.
51 - 66
2:31
Gary Payton made Free Throw 1 of 2.
51 - 67
2:31
Gary Payton made Free Throw 2 of 2.
51 - 68
2:12
Devean George Personal Foul
51 - 68
2:12
Greg Ostertag made Free Throw 1 of 2.
52 - 68
2:12
Greg Ostertag made Free Throw 2 of 2.
53 - 68
1:51
Devean George made 16 ft Jumper. Assisted by Bryon Russell.
53 - 70
1:27
DeShawn Stevenson made 18 ft Jumper.
55 - 70
0:59
Bryon Russell missed 24 ft Three Point Jumper.
55 - 70
0:58
Matt Harpring Defensive Rebound.
55 - 70
0:37
Maurice Williams made 17 ft Jumper.
57 - 70
0:21
Gary Payton made Layup. Assisted by Shaquille O'Neal.
57 - 72
0:00
Raja Bell made 23 ft Three Point Jumper. Assisted by Maurice Williams.
60 - 72
0:00
End of the 3rd Quarter.
60 - 72

time
TEAM
PLAY
SCORE
12:00
Start of the 4th Quarter.
60 - 72
11:38
Ben Handlogten made Layup. Assisted by Maurice Williams.
62 - 72
11:38
Horace Grant Shooting Foul
62 - 72
11:38
Ben Handlogten made Free Throw 1 of 1.
63 - 72
11:21
Kobe Bryant missed 3 ft Hook Shot.
63 - 72
11:17
Ben Handlogten Defensive Rebound.
63 - 72
11:03
Maurice Williams missed 5 ft Jumper.
63 - 72
11:02
Bryon Russell Defensive Rebound.
63 - 72
10:56
Raja Bell Shooting Foul
63 - 72
10:56
Kobe Bryant made Free Throw 1 of 2.
63 - 73
10:56
Kobe Bryant made Free Throw 2 of 2.
63 - 74
10:38
Jarron Collins missed 11 ft Jumper.
63 - 74
10:37
Ben Handlogten Offensive Rebound.
65 - 74
10:37
Ben Handlogten made Layup.
65 - 74
10:32
Ben Handlogten missed Layup.
65 - 74
10:29
Horace Grant Defensive Rebound.
65 - 74
10:22
Kobe Bryant missed 14 ft Jumper.
65 - 74
10:19
Kobe Bryant Offensive Rebound.
65 - 74
10:15
Aleksandar Pavlovic Personal Foul
65 - 74
10:00
Bryon Russell missed 29 ft Three Point Jumper.
65 - 74
9:59
Jarron Collins Defensive Rebound.
65 - 74
9:56
Kicked Ball
65 - 74
9:37
Derek Fisher Shooting Foul
65 - 74
9:37
Maurice Williams made Free Throw 1 of 3.
66 - 74
9:37
Maurice Williams made Free Throw 2 of 3.
67 - 74
9:37
Maurice Williams missed Free Throw 3 of 3.
67 - 74
9:37
Ben Handlogten Offensive Rebound.
67 - 74
9:37
Ben Handlogten missed Layup. Blocked by Bryon Russell.
67 - 74
9:37
Utah Offensive Rebound.
67 - 74
9:30
Maurice Williams made Two Point Shot.
69 - 74
9:15
Ben Handlogten Shooting Foul
69 - 74
9:15
Kobe Bryant made Free Throw 1 of 2.
69 - 75
9:15
Kobe Bryant made Free Throw 2 of 2.
69 - 76
8:53
Ben Handlogten made Two Point Shot. Assisted by Maurice Williams.
71 - 76
8:45
Official Timeout.
71 - 76
8:45
Shaquille O'Neal enters the game for Luke Walton.
71 - 76
8:37
Shaquille O'Neal missed 8 ft Jumper.
71 - 76
8:34
Ben Handlogten Defensive Rebound.
71 - 76
8:15
Maurice Williams made 16 ft Jumper.
73 - 76
7:56
Shaquille O'Neal missed Layup.
73 - 76
7:54
Raja Bell Defensive Rebound.
73 - 76
7:52
Kobe Bryant Shooting Foul
73 - 76
7:52
Aleksandar Pavlovic made Free Throw 1 of 2.
74 - 76
7:52
Aleksandar Pavlovic made Free Throw 2 of 2.
75 - 76
7:35
Horace Grant missed 15 ft Jumper.
75 - 76
7:33
Ben Handlogten Defensive Rebound.
75 - 76
7:18
Derek Fisher Personal Foul
75 - 76
7:16
Derek Fisher Personal Foul
75 - 76
7:16
Maurice Williams missed Free Throw 1 of 2.
75 - 76
7:16
Utah Offensive Rebound.
75 - 76
7:16
Maurice Williams missed Free Throw 2 of 2.
75 - 76
7:16
Shaquille O'Neal Defensive Rebound.
75 - 76
7:03
Raja Bell Shooting Foul
75 - 76
7:03
Kobe Bryant made Free Throw 1 of 2.
75 - 77
7:03
Devean George enters the game for Bryon Russell.
75 - 77
7:03
Gary Payton enters the game for Derek Fisher.
75 - 77
7:03
Kobe Bryant made Free Throw 2 of 2.
75 - 78
6:50
Aleksandar Pavlovic made 20 ft Jumper. Assisted by Maurice Williams.
77 - 78
6:37
Shaquille O'Neal made Slam Dunk.
77 - 80
6:13
Raja Bell Traveling
77 - 80
6:13
Los Angeles Full Timeout.
77 - 80
6:01
Gary Payton made Layup. Assisted by Kobe Bryant.
77 - 82
5:43
Maurice Williams made 19 ft Jumper.
79 - 82
5:26
Jarron Collins Shooting Foul
79 - 82
5:26
Kobe Bryant made Free Throw 1 of 2.
79 - 83
5:26
Kobe Bryant made Free Throw 2 of 2.
79 - 84
5:01
Maurice Williams missed 7 ft Jumper.
79 - 84
5:01
Horace Grant Defensive Rebound.
79 - 84
4:50
Kobe Bryant missed 28 ft Three Point Jumper.
79 - 84
4:48
Maurice Williams Defensive Rebound.
79 - 84
4:48
Kobe Bryant Personal Foul
79 - 84
4:48
Raja Bell made Free Throw 1 of 2.
80 - 84
4:48
Raja Bell made Free Throw 2 of 2.
81 - 84
4:26
Devean George missed 24 ft Three Point Jumper.
81 - 84
4:22
Ben Handlogten Defensive Rebound.
81 - 84
4:20
Raja Bell missed Two Point Shot.
81 - 84
4:20
Aleksandar Pavlovic Offensive Rebound.
83 - 84
4:20
Aleksandar Pavlovic made Layup.
83 - 84
4:20
Gary Payton Shooting Foul
83 - 84
4:20
Aleksandar Pavlovic missed Free Throw 1 of 1.
83 - 84
4:18
Shaquille O'Neal Defensive Rebound.
83 - 84
4:05
Shaquille O'Neal made Hook Shot.
83 - 86
3:40
Jarron Collins made Layup. Assisted by Maurice Williams.
85 - 86
3:28
Jarron Collins Personal Foul
85 - 86
3:28
Shaquille O'Neal missed Free Throw 1 of 2.
85 - 86
3:28
Los Angeles Offensive Rebound.
85 - 86
3:28
Shaquille O'Neal made Free Throw 2 of 2.
85 - 87
3:09
Aleksandar Pavlovic missed 16 ft Jumper.
85 - 87
3:08
Kobe Bryant Defensive Rebound.
85 - 87
3:02
Kobe Bryant missed 14 ft Jumper.
85 - 87
3:01
Maurice Williams Defensive Rebound.
85 - 87
3:01
Kobe Bryant Personal Foul
85 - 87
3:01
Maurice Williams made Free Throw 1 of 2.
86 - 87
3:01
Maurice Williams made Free Throw 2 of 2.
87 - 87
2:46
Kobe Bryant missed 16 ft Jumper.
87 - 87
2:44
Los Angeles Defensive Rebound.
87 - 87
2:43
Utah Full Timeout.
87 - 87
2:28
Maurice Williams missed 16 ft Jumper.
87 - 87
2:27
Devean George Defensive Rebound.
87 - 87
2:04
Kobe Bryant missed Layup.
87 - 87
2:03
Ben Handlogten Defensive Rebound.
87 - 87
2:03
Horace Grant Personal Foul
87 - 87
2:03
Ben Handlogten missed Free Throw 1 of 2.
87 - 87
2:03
Utah Offensive Rebound.
87 - 87
2:03
Ben Handlogten made Free Throw 2 of 2.
88 - 87
1:49
Gary Payton missed 13 ft Jumper.
88 - 87
1:47
Maurice Williams Defensive Rebound.
88 - 87
1:32
Devean George Personal Foul
88 - 87
1:32
Jarron Collins made Free Throw 1 of 2.
89 - 87
1:32
Jarron Collins made Free Throw 2 of 2.
90 - 87
1:20
Shaquille O'Neal missed 6 ft Hook Shot.
90 - 87
1:16
Maurice Williams Defensive Rebound.
90 - 87
0:55
Raja Bell missed Layup.
90 - 87
0:55
Ben Handlogten Offensive Rebound.
92 - 87
0:55
Ben Handlogten made Layup.
92 - 87
0:46
Jarron Collins Shooting Foul
92 - 87
0:46
Shaquille O'Neal made Free Throw 1 of 2.
92 - 88
0:46
Shaquille O'Neal made Free Throw 2 of 2.
92 - 89
0:36
Maurice Williams made 19 ft Two Point Shot.
94 - 89
0:24
Devean George made 27 ft Three Point Jumper. Assisted by Gary Payton.
94 - 92
0:09
Utah Full Timeout.
94 - 92
0:08
Utah Full Timeout.
94 - 92
0:08
Utah 20 Sec. Timeout.
94 - 92
0:05
Maurice Williams missed 20 ft Jumper.
94 - 92
0:03
Raja Bell Offensive Rebound.
94 - 92
0:01
Raja Bell missed 19 ft Jumper.
94 - 92
0:00
Shaquille O'Neal Defensive Rebound.
94 - 92
0:00
End of the 4th Quarter.
94 - 92
0:00
End Game
94 - 92
0:00
End Game
94 - 92
To balance out the roster, the Sixers will probably trade one of their young centers to upgrade the talent in the backcourt.

Kyrie Irving has earned bragging rights in the basketball world and plans on playfully throwing it in the faces of his fellow US Olympic team members; Klay Thompson, Draymond Green and Harrison Barnes.

The Memphis Grizzlies have decided to decline Lance Stephenson's team option for 2016-17 and he likely won't return next season.
Regular Season Series
LAL wins series 3-1
2015-2016 Pacific Standings