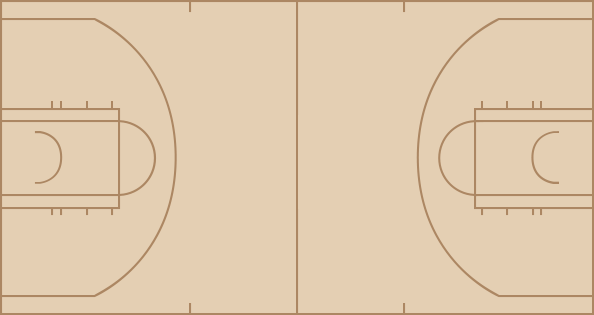 Pacers
time
TEAM
PLAY
SCORE
12:00
Start of the 1st Quarter.
0 - 0
12:00
Jumpball. Jermaine O'Neal vs. Mark Blount. Jamaal Tinsley gains possession.
0 - 0
11:42
Mike James Personal Foul
0 - 0
11:40
Vin Baker Shooting Foul
0 - 0
11:40
Ron Artest made Free Throw 1 of 2.
1 - 0
11:40
Ron Artest made Free Throw 2 of 2.
2 - 0
11:26
Mark Blount made Jumper. Assisted by Mike James.
2 - 2
11:11
Reggie Miller made 3 ft Two Point Shot. Assisted by Jamaal Tinsley.
4 - 2
11:02
Paul Pierce made Layup. Assisted by Mike James.
4 - 4
10:41
Jermaine O'Neal missed 17 ft Jumper.
4 - 4
10:38
Jiri Welsch Defensive Rebound.
4 - 4
10:33
Jermaine O'Neal Shooting Foul
4 - 4
10:33
Mike James missed Free Throw 1 of 2.
4 - 4
10:33
Boston Offensive Rebound.
4 - 4
10:33
Mike James made Free Throw 2 of 2.
4 - 5
10:22
Ron Artest made 23 ft Three Point Jumper. Assisted by Jamaal Tinsley.
7 - 5
10:11
Paul Pierce missed 14 ft Jumper.
7 - 5
10:10
Jeff Foster Defensive Rebound.
7 - 5
10:06
Jamaal Tinsley Discontinue Dribble
7 - 5
9:45
Vin Baker missed Layup. Blocked by Jermaine O'Neal.
7 - 5
9:41
Jeff Foster Defensive Rebound.
7 - 5
9:37
Jermaine O'Neal missed Layup. Blocked by Mark Blount.
7 - 5
9:33
Paul Pierce Defensive Rebound.
7 - 5
9:23
Mike James missed 22 ft Jumper.
7 - 5
9:22
Mark Blount Offensive Rebound.
7 - 5
9:11
Mike James missed Jumper.
7 - 5
9:08
Ron Artest Defensive Rebound.
7 - 5
8:57
Jeff Foster missed Layup. Blocked by Paul Pierce.
7 - 5
8:56
Indiana Offensive Rebound.
7 - 5
8:53
Reggie Miller missed 18 ft Jumper.
7 - 5
8:52
Paul Pierce Defensive Rebound.
7 - 5
8:48
Jeff Foster Shooting Foul
7 - 5
8:48
Mike James made Free Throw 1 of 2.
7 - 6
8:48
Mike James made Free Throw 2 of 2.
7 - 7
8:36
Jermaine O'Neal Bad Pass
7 - 7
8:23
Jiri Welsch made 24 ft Three Point Jumper.
7 - 10
8:04
Ron Artest Bad Pass
7 - 10
7:52
Jiri Welsch Offensive Foul
7 - 10
7:52
Jiri Welsch Foul
7 - 10
7:37
Jeff Foster made 17 ft Jumper. Assisted by Reggie Miller.
9 - 10
7:16
Jamaal Tinsley Shooting Foul
9 - 10
7:16
Mike James made Free Throw 1 of 2.
9 - 11
7:16
Mike James made Free Throw 2 of 2.
9 - 12
7:05
Ron Artest missed 23 ft Three Point Jumper.
9 - 12
7:03
Mike James Defensive Rebound.
9 - 12
6:58
Paul Pierce made Three Point Jumper. Assisted by Mike James.
9 - 15
6:50
Indiana Full Timeout.
9 - 15
6:37
Jamaal Tinsley missed 24 ft Three Point Jumper.
9 - 15
6:35
Paul Pierce Defensive Rebound.
9 - 15
6:24
Mike James made Two Point Shot.
9 - 17
6:11
Jermaine O'Neal made 13 ft Two Point Shot. Assisted by Jamaal Tinsley.
11 - 17
5:48
Paul Pierce missed Layup. Blocked by Jeff Foster.
11 - 17
5:47
Reggie Miller Defensive Rebound.
11 - 17
5:39
Reggie Miller made 24 ft Three Point Jumper. Assisted by Jamaal Tinsley.
14 - 17
5:22
Jiri Welsch Bad Pass. Stolen by Reggie Miller.
14 - 17
5:18
Ron Artest made Layup. Assisted by Jamaal Tinsley.
16 - 17
5:18
Paul Pierce Shooting Foul
16 - 17
5:18
Al Harrington enters the game for Reggie Miller.
16 - 17
5:18
Walter McCarty enters the game for Jiri Welsch.
16 - 17
5:18
Ricky Davis enters the game for Vin Baker.
16 - 17
5:18
Ron Artest made Free Throw 1 of 1.
17 - 17
5:09
Al Harrington Personal Foul
17 - 17
4:58
Paul Pierce missed 14 ft Jumper. Blocked by Ron Artest.
17 - 17
4:56
Mark Blount Offensive Rebound.
17 - 17
4:56
Jumpball. Ron Artest vs. Mark Blount. Mike James gains possession.
17 - 17
4:50
Mike James made Three Point Jumper.
17 - 20
4:30
Jermaine O'Neal missed 20 ft Jumper.
17 - 20
4:28
Jeff Foster Offensive Rebound.
17 - 20
4:22
Jamaal Tinsley Bad Pass
17 - 20
4:07
Ricky Davis missed 4 ft Jumper.
17 - 20
4:07
Jermaine O'Neal Defensive Rebound.
17 - 20
3:50
Paul Pierce missed 21 ft Jumper.
17 - 20
3:48
Jermaine O'Neal Defensive Rebound.
17 - 20
3:35
Al Harrington made 16 ft Two Point Shot.
19 - 20
3:09
Jamaal Tinsley Shooting Foul
19 - 20
3:09
Chris Mihm enters the game for Mark Blount.
19 - 20
3:09
Jamison Brewer enters the game for Jamaal Tinsley.
19 - 20
3:09
Mike James made Free Throw 1 of 2.
19 - 21
3:09
Austin Croshere enters the game for Jeff Foster.
19 - 21
3:09
Jiri Welsch enters the game for Paul Pierce.
19 - 21
3:09
Mike James missed Free Throw 2 of 2.
19 - 21
3:08
Jermaine O'Neal Defensive Rebound.
19 - 21
2:47
Al Harrington missed 24 ft Three Point Jumper.
19 - 21
2:45
Mike James Defensive Rebound.
19 - 21
2:38
Mike James made Jumper. Assisted by Chris Mihm.
19 - 23
2:10
Chris Mihm Shooting Foul
19 - 23
2:10
Boston Full Timeout.
19 - 23
2:10
Jermaine O'Neal missed Free Throw 1 of 2.
19 - 23
2:10
Indiana Offensive Rebound.
19 - 23
2:10
Jermaine O'Neal missed Free Throw 2 of 2.
19 - 23
2:09
Walter McCarty Defensive Rebound.
19 - 23
1:57
Chris Mihm made 2 ft Two Point Shot. Assisted by Walter McCarty.
19 - 25
1:36
Jamison Brewer missed 23 ft Three Point Jumper.
19 - 25
1:34
Walter McCarty Defensive Rebound.
19 - 25
1:20
Jiri Welsch made 25 ft Three Point Jumper. Assisted by Ricky Davis.
19 - 28
1:07
Chris Mihm Personal Foul
19 - 28
1:07
Jermaine O'Neal made Free Throw 1 of 2.
20 - 28
1:07
Jermaine O'Neal made Free Throw 2 of 2.
21 - 28
0:50
Ricky Davis made Two Point Shot.
21 - 30
0:32
Jermaine O'Neal made Slam Dunk. Assisted by Ron Artest.
23 - 30
0:24
Walter McCarty missed 24 ft Three Point Jumper.
23 - 30
0:22
Jamison Brewer Defensive Rebound.
23 - 30
0:00
Ron Artest made 20 ft Two Point Shot.
25 - 30
0:00
End of the 1st Quarter.
25 - 30

time
TEAM
PLAY
SCORE
12:00
Start of the 2nd Quarter.
25 - 30
11:42
Walter McCarty missed Jumper.
25 - 30
11:41
Ricky Davis Offensive Rebound.
25 - 30
11:37
Jiri Welsch made 24 ft Three Point Jumper. Assisted by Ricky Davis.
25 - 33
11:14
Austin Croshere made 24 ft Three Point Jumper.
28 - 33
10:52
Ricky Davis made 12 ft Two Point Shot.
28 - 35
10:36
Walter McCarty Personal Foul
28 - 35
10:22
Ron Artest missed 19 ft Jumper.
28 - 35
10:19
Marcus Banks Defensive Rebound.
28 - 35
10:15
Marcus Banks missed Layup.
28 - 35
10:14
Al Harrington Defensive Rebound.
28 - 35
10:06
Austin Croshere missed Three Point Jumper.
28 - 35
10:02
Jiri Welsch Defensive Rebound.
28 - 35
9:51
Austin Croshere Shooting Foul
28 - 35
9:51
Marcus Banks missed Free Throw 1 of 2.
28 - 35
9:51
Boston Offensive Rebound.
28 - 35
9:51
Paul Pierce enters the game for Ricky Davis.
28 - 35
9:51
Marcus Banks made Free Throw 2 of 2.
28 - 36
9:36
Ron Artest missed 25 ft Three Point Jumper.
28 - 36
9:34
Indiana Defensive Rebound.
28 - 36
9:22
Jiri Welsch made 22 ft Jumper.
28 - 38
9:17
Indiana Full Timeout.
28 - 38
9:17
Jermaine O'Neal enters the game for Jamison Brewer.
28 - 38
9:17
Jamaal Tinsley enters the game for Ron Artest.
28 - 38
8:56
Jermaine O'Neal made Layup. Assisted by Austin Croshere.
30 - 38
8:44
Paul Pierce missed 26 ft Three Point Jumper.
30 - 38
8:41
Austin Croshere Defensive Rebound.
30 - 38
8:22
Al Harrington missed 18 ft Jumper.
30 - 38
8:19
Walter McCarty Defensive Rebound.
30 - 38
8:07
Mark Blount made 11 ft Two Point Shot. Assisted by Walter McCarty.
30 - 40
7:48
Mark Blount Shooting Foul
30 - 40
7:48
Jermaine O'Neal made Free Throw 1 of 2.
31 - 40
7:48
Reggie Miller enters the game for Fred Jones.
31 - 40
7:48
Jeff Foster enters the game for Austin Croshere.
31 - 40
7:48
Ricky Davis enters the game for Jiri Welsch.
31 - 40
7:48
Jermaine O'Neal missed Free Throw 2 of 2.
31 - 40
7:48
Paul Pierce Defensive Rebound.
31 - 40
7:39
Paul Pierce made 14 ft Jumper.
31 - 42
7:24
Jeff Foster missed 18 ft Jumper.
31 - 42
7:20
Jermaine O'Neal Offensive Rebound.
31 - 42
7:20
Vin Baker enters the game for Walter McCarty.
31 - 42
7:07
Paul Pierce missed 5 ft Jumper. Blocked by Jermaine O'Neal.
31 - 42
7:05
Jamaal Tinsley Defensive Rebound.
31 - 42
6:56
Jeff Foster missed 5 ft Jumper. Blocked by Mark Blount.
31 - 42
6:56
Paul Pierce Defensive Rebound.
31 - 42
6:52
Marcus Banks Offensive Foul
31 - 42
6:52
Marcus Banks Foul
31 - 42
6:52
Ron Artest enters the game for Al Harrington.
31 - 42
6:39
Jermaine O'Neal missed Layup. Blocked by Mark Blount.
31 - 42
6:37
Paul Pierce Defensive Rebound.
31 - 42
6:33
Ron Artest Shooting Foul
31 - 42
6:33
Marcus Banks made Free Throw 1 of 2.
31 - 43
6:33
Marcus Banks made Free Throw 2 of 2.
31 - 44
6:33
Marcus Banks made Free Throw 1 of 2.
31 - 45
6:20
Jermaine O'Neal Offensive Foul
31 - 45
6:20
Jermaine O'Neal Foul
31 - 45
6:09
Jeff Foster Personal Foul
31 - 45
6:01
Ricky Davis made 3 ft Two Point Shot.
31 - 47
5:52
Indiana 20 Sec. Timeout.
31 - 47
5:52
Official Timeout.
31 - 47
5:39
Ron Artest missed 12 ft Jumper.
31 - 47
5:37
Ricky Davis Defensive Rebound.
31 - 47
5:31
Paul Pierce missed 13 ft Jumper.
31 - 47
5:30
Jermaine O'Neal Defensive Rebound.
31 - 47
5:22
Ron Artest made 4 ft Jumper.
33 - 47
5:22
Paul Pierce Shooting Foul
33 - 47
5:22
Ron Artest made Free Throw 1 of 1.
34 - 47
5:05
Jonathan Bender Technical Foul
34 - 47
5:05
Paul Pierce missed Technical Free Throw.
34 - 47
5:05
Boston Offensive Rebound.
34 - 47
4:58
Paul Pierce made 25 ft Three Point Jumper. Assisted by Marcus Banks.
34 - 50
4:43
Al Harrington enters the game for Jeff Foster.
34 - 50
4:43
Mike James enters the game for Marcus Banks.
34 - 50
4:41
Ron Artest made Layup.
36 - 50
4:41
Paul Pierce Shooting Foul
36 - 50
4:41
Jiri Welsch enters the game for Paul Pierce.
36 - 50
4:41
Ron Artest made Free Throw 1 of 1.
37 - 50
4:20
Ricky Davis missed 20 ft Jumper.
37 - 50
4:18
Jermaine O'Neal Defensive Rebound.
37 - 50
4:13
Reggie Miller missed 25 ft Three Point Jumper.
37 - 50
4:11
Jamaal Tinsley Offensive Rebound.
37 - 50
4:09
Ron Artest missed Dunk.
37 - 50
4:07
Al Harrington Offensive Rebound.
37 - 50
4:01
Jamaal Tinsley made 25 ft Three Point Jumper. Assisted by Al Harrington.
40 - 50
3:48
Vin Baker made Layup. Assisted by Mike James.
40 - 52
3:30
Ron Artest missed 3 ft Jumper.
40 - 52
3:28
Mark Blount Defensive Rebound.
40 - 52
3:20
Mike James Bad Pass
40 - 52
3:00
Al Harrington made 16 ft Jumper. Assisted by Jamaal Tinsley.
42 - 52
2:47
Reggie Miller Personal Foul
42 - 52
2:47
Boston Full Timeout.
42 - 52
2:36
Mike James missed 25 ft Three Point Jumper.
42 - 52
2:34
Ron Artest Defensive Rebound.
42 - 52
2:15
Reggie Miller missed 26 ft Three Point Jumper.
42 - 52
2:13
Jermaine O'Neal Offensive Rebound.
42 - 52
2:12
Jermaine O'Neal made Layup.
44 - 52
1:59
Ricky Davis Bad Pass
44 - 52
1:45
Jamaal Tinsley Bad Pass. Stolen by Mark Blount.
44 - 52
1:45
Jiri Welsch made Layup. Assisted by Mike James.
44 - 54
1:45
Jamaal Tinsley Shooting Foul
44 - 54
1:45
Jamison Brewer enters the game for Jamaal Tinsley.
44 - 54
1:45
Jiri Welsch made Free Throw 1 of 1.
44 - 55
1:28
Ron Artest missed Jumper.
44 - 55
1:25
Mark Blount Defensive Rebound.
44 - 55
1:15
Walter McCarty missed Three Point Jumper.
44 - 55
1:09
Reggie Miller Defensive Rebound.
44 - 55
1:07
Al Harrington made Layup. Assisted by Ron Artest.
46 - 55
1:07
Mark Blount Shooting Foul
46 - 55
1:07
Al Harrington missed Free Throw 1 of 1.
46 - 55
1:07
Jermaine O'Neal Offensive Rebound.
46 - 55
1:05
Jermaine O'Neal made 4 ft Two Point Shot.
48 - 55
0:43
Walter McCarty missed 27 ft Three Point Jumper.
48 - 55
0:41
Jermaine O'Neal Defensive Rebound.
48 - 55
0:33
Reggie Miller missed 28 ft Three Point Jumper.
48 - 55
0:33
Indiana Defensive Rebound.
48 - 55
0:33
Jeff Foster enters the game for Jermaine O'Neal.
48 - 55
0:33
Fred Jones enters the game for Reggie Miller.
48 - 55
0:33
Chris Mihm enters the game for Mark Blount.
48 - 55
0:09
Ricky Davis missed 25 ft Three Point Jumper.
48 - 55
0:09
Boston Offensive Rebound.
48 - 55
0:09
24 second
48 - 55
0:09
Jermaine O'Neal enters the game for Jeff Foster.
48 - 55
0:09
Jamaal Tinsley enters the game for Jamison Brewer.
48 - 55
0:09
Reggie Miller enters the game for Fred Jones.
48 - 55
0:00
Ron Artest missed 26 ft Three Point Jumper.
48 - 55
0:00
Indiana Offensive Rebound.
48 - 55
0:00
End of the 2nd Quarter.
48 - 55

time
TEAM
PLAY
SCORE
12:00
Start of the 3rd Quarter.
48 - 55
11:42
Paul Pierce Lost Ball. Stolen by Reggie Miller.
48 - 55
11:22
Jeff Foster made Two Point Shot.
50 - 55
11:22
Mark Blount Shooting Foul
50 - 55
11:22
Jeff Foster made Free Throw 1 of 1.
51 - 55
11:07
Vin Baker missed 17 ft Jumper.
51 - 55
11:07
Jermaine O'Neal Defensive Rebound.
51 - 55
10:53
Jermaine O'Neal missed 15 ft Jumper.
51 - 55
10:52
Jeff Foster Offensive Rebound.
51 - 55
10:51
Jeff Foster missed Layup.
51 - 55
10:48
Mark Blount Defensive Rebound.
51 - 55
10:37
Mark Blount made 12 ft Two Point Shot.
51 - 57
10:22
Jiri Welsch Shooting Foul
51 - 57
10:22
Reggie Miller made Free Throw 1 of 2.
52 - 57
10:22
Reggie Miller made Free Throw 2 of 2.
53 - 57
10:15
Mike James Bad Pass
53 - 57
10:07
Reggie Miller missed 25 ft Three Point Jumper.
53 - 57
10:06
Paul Pierce Defensive Rebound.
53 - 57
10:00
Paul Pierce Lost Ball. Stolen by Ron Artest.
53 - 57
9:56
Ron Artest made Layup.
55 - 57
9:37
Mike James Bad Pass
55 - 57
9:07
Mark Blount made 15 ft Jumper. Assisted by Mike James.
55 - 59
8:53
Vin Baker Shooting Foul
55 - 59
8:53
Jermaine O'Neal made Free Throw 1 of 2.
56 - 59
8:53
Jermaine O'Neal missed Free Throw 2 of 2.
56 - 59
8:52
Jeff Foster Offensive Rebound.
56 - 59
8:41
Jermaine O'Neal missed Layup.
56 - 59
8:41
Jeff Foster Offensive Rebound.
56 - 59
8:36
Reggie Miller missed 25 ft Three Point Jumper.
56 - 59
8:33
Jiri Welsch Defensive Rebound.
56 - 59
8:22
Paul Pierce made 21 ft Jumper. Assisted by Mike James.
56 - 61
8:10
Ron Artest made 18 ft Jumper. Assisted by Jamaal Tinsley.
58 - 61
7:56
Jiri Welsch missed 5 ft Two Point Shot.
58 - 61
7:54
Vin Baker Offensive Rebound.
58 - 61
7:54
Ron Artest Personal Foul
58 - 61
7:43
Paul Pierce Lost Ball. Stolen by Ron Artest.
58 - 61
7:37
Ron Artest missed Layup. Blocked by Vin Baker.
58 - 61
7:37
Jeff Foster Offensive Rebound.
58 - 61
7:35
Jeff Foster made Layup.
60 - 61
7:20
Jeff Foster Shooting Foul
60 - 61
7:20
Vin Baker made Free Throw 1 of 2.
60 - 62
7:20
Vin Baker made Free Throw 2 of 2.
60 - 63
6:54
Vin Baker made 9 ft Two Point Shot.
60 - 65
6:45
Indiana Full Timeout.
60 - 65
6:45
Ricky Davis enters the game for Jiri Welsch.
60 - 65
6:30
Jamaal Tinsley missed 23 ft Three Point Jumper.
60 - 65
6:28
Ricky Davis Defensive Rebound.
60 - 65
6:16
Paul Pierce made 19 ft Jumper. Assisted by Ricky Davis.
60 - 67
5:56
Ron Artest missed 16 ft Jumper.
60 - 67
5:54
Ricky Davis Defensive Rebound.
60 - 67
5:46
Mike James missed 20 ft Jumper.
60 - 67
5:43
Jamaal Tinsley Defensive Rebound.
60 - 67
5:33
Jamaal Tinsley made 7 ft Two Point Shot.
62 - 67
5:09
Al Harrington enters the game for Reggie Miller.
62 - 67
5:09
Jumpball. Jeff Foster vs. Mark Blount. Ricky Davis gains possession.
62 - 67
5:03
Ricky Davis missed 21 ft Jumper.
62 - 67
5:01
Boston Defensive Rebound.
62 - 67
4:45
Jeff Foster missed Layup. Blocked by Mark Blount.
62 - 67
4:43
Paul Pierce Defensive Rebound.
62 - 67
4:37
Jamaal Tinsley Personal Foul
62 - 67
4:37
Fred Jones enters the game for Jeff Foster.
62 - 67
4:37
Jamison Brewer enters the game for Jamaal Tinsley.
62 - 67
4:37
Walter McCarty enters the game for Vin Baker.
62 - 67
4:35
Walter McCarty Bad Pass. Stolen by Ron Artest.
62 - 67
4:31
Ron Artest made Layup.
64 - 67
4:31
Walter McCarty Shooting Foul
64 - 67
4:31
Ron Artest made Free Throw 1 of 1.
65 - 67
4:20
Ricky Davis missed 21 ft Jumper.
65 - 67
4:18
Al Harrington Defensive Rebound.
65 - 67
4:05
Ron Artest made 3 ft Two Point Shot.
67 - 67
3:47
Paul Pierce missed 21 ft Jumper.
67 - 67
3:46
Jermaine O'Neal Defensive Rebound.
67 - 67
3:35
Al Harrington made 19 ft Jumper. Assisted by Jamison Brewer.
69 - 67
3:34
Boston Full Timeout.
69 - 67
3:34
Jiri Welsch enters the game for Paul Pierce.
69 - 67
3:34
Chris Mihm enters the game for Mark Blount.
69 - 67
3:04
Ricky Davis made Layup.
69 - 69
2:47
Fred Jones Bad Pass. Stolen by Mike James.
69 - 69
2:43
Mike James Bad Pass. Stolen by Jermaine O'Neal.
69 - 69
2:35
Fred Jones made Two Point Shot. Assisted by Jamison Brewer.
71 - 69
2:20
Ricky Davis missed 15 ft Jumper.
71 - 69
2:18
Al Harrington Defensive Rebound.
71 - 69
1:59
Jermaine O'Neal made Slam Dunk. Assisted by Ron Artest.
73 - 69
1:40
Al Harrington Personal Foul
73 - 69
1:40
Austin Croshere enters the game for Jermaine O'Neal.
73 - 69
1:32
Austin Croshere Personal Foul
73 - 69
1:32
Reggie Miller enters the game for Ron Artest.
73 - 69
1:32
Chris Mihm made Free Throw 1 of 2.
73 - 70
1:32
Marcus Banks enters the game for Mike James.
73 - 70
1:32
Chris Mihm made Free Throw 2 of 2.
73 - 71
1:13
Austin Croshere missed 18 ft Jumper.
73 - 71
1:10
Al Harrington Offensive Rebound.
73 - 71
0:55
Al Harrington Lost Ball. Stolen by Chris Mihm.
73 - 71
0:50
Chris Mihm made Slam Dunk. Assisted by Ricky Davis.
73 - 73
0:34
Jamison Brewer Bad Pass
73 - 73
0:21
Chris Mihm missed Layup.
73 - 73
0:19
Austin Croshere Defensive Rebound.
73 - 73
0:00
Austin Croshere missed 9 ft Two Point Shot.
73 - 73
0:00
Ricky Davis Defensive Rebound.
73 - 73
0:00
End of the 3rd Quarter.
73 - 73

time
TEAM
PLAY
SCORE
12:00
Start of the 4th Quarter.
73 - 73
11:37
Reggie Miller missed 8 ft Two Point Shot.
73 - 73
11:36
Walter McCarty Defensive Rebound.
73 - 73
11:23
Fred Jones Personal Foul
73 - 73
11:18
Walter McCarty Bad Pass. Stolen by Fred Jones.
73 - 73
11:03
Chris Mihm Shooting Foul
73 - 73
11:03
Austin Croshere made Free Throw 1 of 2.
74 - 73
11:03
Austin Croshere made Free Throw 2 of 2.
75 - 73
10:49
Walter McCarty Bad Pass. Stolen by Fred Jones.
75 - 73
10:42
Reggie Miller made 24 ft Three Point Jumper. Assisted by Fred Jones.
78 - 73
10:41
Boston Full Timeout.
78 - 73
10:41
Ron Artest enters the game for Fred Jones.
78 - 73
10:41
Vin Baker enters the game for Walter McCarty.
78 - 73
10:41
Paul Pierce enters the game for Ricky Davis.
78 - 73
10:41
Mike James enters the game for Marcus Banks.
78 - 73
10:26
Austin Croshere Shooting Foul
78 - 73
10:26
Paul Pierce missed Free Throw 1 of 2.
78 - 73
10:26
Boston Offensive Rebound.
78 - 73
10:26
Paul Pierce missed Free Throw 2 of 2.
78 - 73
10:03
Reggie Miller made 26 ft Three Point Jumper.
81 - 73
9:44
Paul Pierce missed 25 ft Three Point Jumper.
81 - 73
9:41
Jamison Brewer Defensive Rebound.
81 - 73
9:37
Paul Pierce Shooting Foul
81 - 73
9:37
Al Harrington made Free Throw 1 of 2.
82 - 73
9:37
Al Harrington made Free Throw 2 of 2.
83 - 73
9:18
Jiri Welsch missed 15 ft Jumper.
83 - 73
9:17
Boston Defensive Rebound.
83 - 73
9:17
Vin Baker Loose Ball Foul
83 - 73
9:17
Jamaal Tinsley enters the game for Jamison Brewer.
83 - 73
9:00
Reggie Miller missed 23 ft Three Point Jumper.
83 - 73
8:59
Ron Artest Offensive Rebound.
83 - 73
8:55
Reggie Miller made 25 ft Three Point Jumper. Assisted by Ron Artest.
86 - 73
8:53
Boston 20 Sec. Timeout.
86 - 73
8:53
Ricky Davis enters the game for Jiri Welsch.
86 - 73
8:41
Mike James made Jumper.
86 - 75
8:30
Reggie Miller missed 18 ft Two Point Shot.
86 - 75
8:29
Indiana Defensive Rebound.
86 - 75
8:26
Jermaine O'Neal enters the game for Austin Croshere.
86 - 75
8:10
Mark Blount Lost Ball. Stolen by Ron Artest.
86 - 75
8:04
Reggie Miller made 24 ft Jumper.
88 - 75
7:50
Al Harrington Personal Foul
88 - 75
7:50
Walter McCarty enters the game for Vin Baker.
88 - 75
7:50
Chris Mihm enters the game for Mark Blount.
88 - 75
7:43
Paul Pierce made 18 ft Jumper. Assisted by Mike James.
88 - 77
7:30
Al Harrington made 20 ft Jumper. Assisted by Jermaine O'Neal.
90 - 77
7:15
Chris Mihm made Dunk. Assisted by Walter McCarty.
90 - 79
7:00
Al Harrington missed 22 ft Jumper.
90 - 79
6:58
Walter McCarty Defensive Rebound.
90 - 79
6:52
Paul Pierce made 19 ft Jumper.
90 - 81
6:48
Indiana Full Timeout.
90 - 81
6:33
Al Harrington missed 19 ft Jumper.
90 - 81
6:31
Ron Artest Offensive Rebound.
90 - 81
6:15
Jermaine O'Neal made Layup.
92 - 81
5:54
Chris Mihm 3 second
92 - 81
5:43
Reggie Miller missed 25 ft Three Point Jumper.
92 - 81
5:41
Paul Pierce Defensive Rebound.
92 - 81
5:33
Chris Mihm missed 8 ft Hook Shot. Blocked by Jermaine O'Neal.
92 - 81
5:31
Jermaine O'Neal Defensive Rebound.
92 - 81
5:13
Al Harrington made Dunk. Assisted by Jermaine O'Neal.
94 - 81
5:13
Walter McCarty Shooting Foul
94 - 81
5:13
Al Harrington made Free Throw 1 of 1.
95 - 81
4:58
Ricky Davis Lost Ball. Stolen by Ron Artest.
95 - 81
4:47
Chris Mihm Shooting Foul
95 - 81
4:47
Jermaine O'Neal missed Free Throw 1 of 2.
95 - 81
4:47
Indiana Offensive Rebound.
95 - 81
4:47
Jermaine O'Neal made Free Throw 2 of 2.
96 - 81
4:35
Paul Pierce missed Three Point Jumper.
96 - 81
4:33
Al Harrington Defensive Rebound.
96 - 81
4:11
Ron Artest made 23 ft Three Point Jumper. Assisted by Al Harrington.
99 - 81
4:01
Paul Pierce missed 25 ft Three Point Jumper.
99 - 81
4:00
Jamaal Tinsley Defensive Rebound.
99 - 81
3:47
Ron Artest Bad Pass. Stolen by Ricky Davis.
99 - 81
3:45
Ricky Davis made Two Point Shot.
99 - 83
3:45
Jamaal Tinsley Shooting Foul
99 - 83
3:45
Fred Jones enters the game for Reggie Miller.
99 - 83
3:45
Mark Blount enters the game for Paul Pierce.
99 - 83
3:45
Ricky Davis missed Free Throw 1 of 1.
99 - 83
3:43
Fred Jones Defensive Rebound.
99 - 83
3:31
Ron Artest missed 17 ft Jumper.
99 - 83
3:31
Al Harrington Offensive Rebound.
99 - 83
3:29
Al Harrington missed Layup.
99 - 83
3:28
Ricky Davis Defensive Rebound.
99 - 83
3:27
Jermaine O'Neal Personal Foul
99 - 83
3:27
Marcus Banks enters the game for Mike James.
99 - 83
3:27
Ricky Davis missed Free Throw 1 of 2.
99 - 83
3:27
Boston Offensive Rebound.
99 - 83
3:27
Ricky Davis made Free Throw 2 of 2.
99 - 84
3:13
Fred Jones missed 15 ft Jumper. Blocked by Chris Mihm.
99 - 84
3:11
Jermaine O'Neal Offensive Rebound.
99 - 84
3:10
Jermaine O'Neal missed Layup. Blocked by Mark Blount.
99 - 84
3:08
Mark Blount Defensive Rebound.
99 - 84
3:02
Marcus Banks made 21 ft Jumper.
99 - 86
3:00
Indiana Full Timeout.
99 - 86
3:00
Reggie Miller enters the game for Fred Jones.
99 - 86
2:36
Al Harrington missed 18 ft Jumper.
99 - 86
2:34
Al Harrington Offensive Rebound.
99 - 86
2:32
Al Harrington missed Layup.
99 - 86
2:31
Al Harrington Offensive Rebound.
99 - 86
2:11
Reggie Miller missed 24 ft Three Point Jumper.
99 - 86
2:09
Al Harrington Offensive Rebound.
99 - 86
1:51
Jermaine O'Neal made Layup. Assisted by Al Harrington.
101 - 86
1:42
Ricky Davis missed 17 ft Jumper.
101 - 86
1:39
Chris Mihm Offensive Rebound.
101 - 86
1:39
Jermaine O'Neal Shooting Foul
101 - 86
1:39
Chris Mihm made Free Throw 1 of 2.
101 - 87
1:39
Fred Jones enters the game for Reggie Miller.
101 - 87
1:39
Chris Mihm missed Free Throw 2 of 2.
101 - 87
1:37
Ron Artest Defensive Rebound.
101 - 87
1:15
Jermaine O'Neal 3 second
101 - 87
1:15
Austin Croshere enters the game for Jermaine O'Neal.
101 - 87
1:15
Jamison Brewer enters the game for Ron Artest.
101 - 87
1:04
Marcus Banks made 13 ft Jumper.
101 - 89
0:39
Jamison Brewer missed 18 ft Jumper.
101 - 89
0:39
Indiana Offensive Rebound.
101 - 89
0:39
24 second
101 - 89
0:26
Marcus Banks made 9 ft Two Point Shot.
101 - 91
0:02
Al Harrington made 17 ft Jumper.
103 - 91
0:00
End of the 4th Quarter.
103 - 91
0:00
End Game
103 - 91
Can Kawhi Leonard and the Spurs stop Kevin Durant and Russell Westbrook? Which team could handle the Warriors? Our 5-on-5 crew forecasts the Spurs-Thunder series.

Luke Walton tells Marc Stein he was a little surprised the Lakers deal got done as quickly as it did and that he feels comfortable with the organization, the team's young players and salary cap flexibility.

Steve Kerr tells the story of Luke Walton calling him "with good news and bad news" to tell him about the Lakers job and explains what he'll say to Walton if he ever calls asking for coaching advice.
NBA Finals
IND wins series 4-0
2015-2016 Central Standings
2015-2016 Atlantic Standings