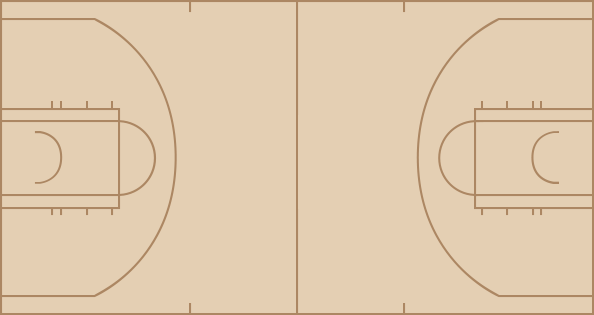 Magic
time
TEAM
PLAY
SCORE
12:00
Start of the 1st Quarter.
0 - 0
12:00
Jumpball. Andrew DeClercq vs. Dikembe Mutombo. Kurt Thomas gains possession.
0 - 0
11:45
Stephon Marbury missed Jumper.
0 - 0
11:42
Juwan Howard Defensive Rebound.
0 - 0
11:21
Juwan Howard made 4 ft Two Point Shot.
2 - 0
11:07
Kurt Thomas missed 16 ft Jumper.
2 - 0
11:04
Tracy McGrady Defensive Rebound.
2 - 0
10:56
Tyronn Lue missed 21 ft Jumper.
2 - 0
10:53
Kurt Thomas Defensive Rebound.
2 - 0
10:51
Stephon Marbury made Two Point Shot. Assisted by Kurt Thomas.
2 - 2
10:32
Allan Houston Shooting Foul
2 - 2
10:32
Tracy McGrady made Free Throw 1 of 2.
3 - 2
10:32
Tracy McGrady made Free Throw 2 of 2.
4 - 2
10:26
Drew Gooden Technical Foul
0 - 0
10:26
Stephon Marbury Bad Pass. Stolen by Tyronn Lue.
4 - 2
10:15
Shammond Williams Foul
0 - 0
10:15
Andrew DeClercq Shooting Foul
4 - 2
10:15
Keith Van Horn made Free Throw 1 of 2.
4 - 3
10:15
Keith Van Horn made Free Throw 2 of 2.
4 - 4
9:59
Keith Bogans missed 23 ft Three Point Jumper.
4 - 4
9:56
Dikembe Mutombo Defensive Rebound.
4 - 4
9:48
Allan Houston missed 20 ft Jumper.
4 - 4
9:45
Tracy McGrady Defensive Rebound.
4 - 4
9:41
Tracy McGrady missed 25 ft Three Point Jumper.
4 - 4
9:40
Kurt Thomas Defensive Rebound.
4 - 4
9:30
Stephon Marbury missed 14 ft Jumper.
4 - 4
9:29
Juwan Howard Defensive Rebound.
4 - 4
9:22
Tyronn Lue missed 9 ft Jumper.
4 - 4
9:21
Dikembe Mutombo Defensive Rebound.
4 - 4
9:15
Keith Van Horn missed Layup.
4 - 4
9:14
Allan Houston Offensive Rebound.
4 - 4
9:11
Allan Houston missed 26 ft Three Point Jumper.
4 - 4
9:07
Jumpball. Juwan Howard vs. Allan Houston. Andrew DeClercq gains possession.
4 - 4
9:07
New York Defensive Rebound.
4 - 4
8:51
Tracy McGrady missed 22 ft Jumper.
4 - 4
8:48
Dikembe Mutombo Defensive Rebound.
4 - 4
8:32
Kurt Thomas made 4 ft Two Point Shot.
4 - 6
8:18
Juwan Howard made Two Point Shot.
6 - 6
8:11
Allan Houston made 20 ft Jumper.
6 - 8
8:03
Juwan Howard made Two Point Shot. Assisted by Keith Bogans.
8 - 8
8:03
Dikembe Mutombo Shooting Foul
8 - 8
8:03
Juwan Howard made Free Throw 1 of 1.
9 - 8
7:43
Kurt Thomas made 6 ft Two Point Shot.
9 - 10
7:30
Juwan Howard missed Layup.
9 - 10
7:28
Dikembe Mutombo Defensive Rebound.
9 - 10
7:22
Allan Houston Traveling
9 - 10
7:11
Tracy McGrady missed 21 ft Jumper.
9 - 10
7:09
Kurt Thomas Defensive Rebound.
9 - 10
6:58
Kurt Thomas missed 19 ft Jumper.
9 - 10
6:56
Keith Bogans Defensive Rebound.
9 - 10
6:52
Tyronn Lue made Two Point Shot. Assisted by Keith Bogans.
11 - 10
6:37
Allan Houston made 25 ft Three Point Jumper. Assisted by Kurt Thomas.
11 - 13
6:22
Keith Bogans missed Jumper.
11 - 13
6:20
Tyronn Lue Offensive Rebound.
11 - 13
6:11
Tyronn Lue made 26 ft Three Point Jumper. Assisted by Tracy McGrady.
14 - 13
5:54
Andrew DeClercq Shooting Foul
14 - 13
5:54
New York Full Timeout.
14 - 13
5:54
Keith Van Horn missed Free Throw 1 of 2.
14 - 13
5:54
New York Offensive Rebound.
14 - 13
5:54
Keith Van Horn made Free Throw 2 of 2.
14 - 14
5:35
Kurt Thomas Shooting Foul
14 - 14
5:35
Tracy McGrady missed Free Throw 1 of 2.
14 - 14
5:35
Orlando Offensive Rebound.
14 - 14
5:35
Tracy McGrady missed Free Throw 2 of 2.
14 - 14
5:22
Allan Houston made 15 ft Two Point Shot.
14 - 16
5:11
Tyronn Lue missed 18 ft Jumper.
14 - 16
5:09
Dikembe Mutombo Defensive Rebound.
14 - 16
5:03
Kurt Thomas Bad Pass
14 - 16
4:45
Juwan Howard missed 22 ft Jumper.
14 - 16
4:43
Kurt Thomas Defensive Rebound.
14 - 16
4:31
Kurt Thomas made 8 ft Jumper. Assisted by Keith Van Horn.
14 - 18
4:07
Tracy McGrady missed 25 ft Three Point Jumper.
14 - 18
4:05
Keith Van Horn Defensive Rebound.
14 - 18
3:51
Keith Bogans Shooting Foul
14 - 18
3:51
Drew Gooden enters the game for Andrew DeClercq.
14 - 18
3:51
Kurt Thomas missed Free Throw 1 of 2.
14 - 18
3:51
New York Offensive Rebound.
14 - 18
3:51
Kurt Thomas made Free Throw 2 of 2.
14 - 19
3:38
Juwan Howard made 14 ft Jumper. Assisted by Tracy McGrady.
16 - 19
3:29
Rod Strickland enters the game for Tyronn Lue.
16 - 19
3:21
Kurt Thomas made Two Point Shot.
16 - 21
3:10
Tracy McGrady missed Dunk. Blocked by Dikembe Mutombo.
16 - 21
3:08
Allan Houston Defensive Rebound.
16 - 21
3:02
Keith Van Horn made Two Point Shot. Assisted by Stephon Marbury.
16 - 23
2:55
Orlando Full Timeout.
16 - 23
2:55
Anfernee Hardaway enters the game for Dikembe Mutombo.
16 - 23
2:47
Juwan Howard made 10 ft Jumper. Assisted by Tracy McGrady.
18 - 23
2:33
Juwan Howard Personal Foul
18 - 23
2:20
Allan Houston made 25 ft Three Point Jumper. Assisted by Kurt Thomas.
18 - 26
2:00
Juwan Howard missed 19 ft Jumper.
18 - 26
1:59
Orlando Defensive Rebound.
18 - 26
1:49
Anfernee Hardaway made Two Point Shot. Assisted by Stephon Marbury.
18 - 28
1:24
Rod Strickland made 25 ft Three Point Jumper. Assisted by Keith Bogans.
21 - 28
1:09
Allan Houston missed 22 ft Jumper.
21 - 28
1:07
Juwan Howard Defensive Rebound.
21 - 28
0:58
Keith Bogans made Three Point Jumper. Assisted by Tracy McGrady.
24 - 28
0:44
Keith Van Horn made Layup. Assisted by Allan Houston.
24 - 30
0:36
Tracy McGrady made 16 ft Two Point Shot.
26 - 30
0:23
Stephon Marbury made 18 ft Jumper. Assisted by Anfernee Hardaway.
26 - 32
0:01
Rod Strickland missed 25 ft Three Point Jumper.
26 - 32
0:00
Kurt Thomas Defensive Rebound.
26 - 32
0:00
End of the 1st Quarter.
26 - 32

time
TEAM
PLAY
SCORE
12:00
Start of the 2nd Quarter.
26 - 32
11:48
Tracy McGrady missed 23 ft Jumper.
26 - 32
11:45
Stephon Marbury Defensive Rebound.
26 - 32
11:33
Anfernee Hardaway made 11 ft Two Point Shot. Assisted by Shandon Anderson.
26 - 34
11:33
Zaza Pachulia Shooting Foul
26 - 34
11:33
Anfernee Hardaway made Free Throw 1 of 1.
26 - 35
11:17
Keith Van Horn Personal Foul
26 - 35
11:17
Gordan Giricek enters the game for Keith Bogans.
26 - 35
11:03
Zaza Pachulia made Two Point Shot. Assisted by Tracy McGrady.
28 - 35
10:45
Kurt Thomas made Layup. Assisted by Stephon Marbury.
28 - 37
10:30
Gordan Giricek made Jumper.
30 - 37
10:04
Keith Van Horn made 15 ft Jumper.
30 - 39
9:48
Rod Strickland Bad Pass. Stolen by Keith Van Horn.
30 - 39
9:42
Stephon Marbury made Layup. Assisted by Shandon Anderson.
30 - 41
9:33
Zaza Pachulia made Layup. Assisted by Tracy McGrady.
32 - 41
9:33
Shandon Anderson Shooting Foul
32 - 41
9:33
Othella Harrington enters the game for Kurt Thomas.
32 - 41
9:33
Zaza Pachulia made Free Throw 1 of 1.
33 - 41
9:15
Keith Van Horn made 26 ft Three Point Jumper. Assisted by Stephon Marbury.
33 - 44
8:57
Tracy McGrady made 18 ft Jumper.
35 - 44
8:41
Stephon Marbury made Two Point Shot.
35 - 46
8:27
Tracy McGrady made 18 ft Two Point Shot. Assisted by Rod Strickland.
37 - 46
8:11
Keith Van Horn missed 25 ft Three Point Jumper.
37 - 46
8:10
New York Defensive Rebound.
37 - 46
8:10
Official Timeout.
37 - 46
8:10
Frank Williams enters the game for Stephon Marbury.
37 - 46
8:10
Lee Nailon enters the game for Drew Gooden.
37 - 46
7:56
Lee Nailon missed 15 ft Jumper.
37 - 46
7:54
Keith Van Horn Defensive Rebound.
37 - 46
7:39
Anfernee Hardaway made Two Point Shot.
37 - 48
7:11
Juwan Howard enters the game for Zaza Pachulia.
37 - 48
7:11
Keith Bogans enters the game for Tracy McGrady.
37 - 48
7:11
Kurt Thomas enters the game for Keith Van Horn.
37 - 48
7:11
Gordan Giricek Personal Foul
37 - 48
7:09
Gordan Giricek Personal Foul
37 - 48
6:56
Shandon Anderson made Two Point Shot. Assisted by Anfernee Hardaway.
37 - 50
6:43
Shandon Anderson Personal Foul
37 - 50
6:39
Tyronn Lue made Two Point Shot.
39 - 50
6:18
Frank Williams made 21 ft Jumper. Assisted by Anfernee Hardaway.
39 - 52
5:54
Gordan Giricek made 25 ft Three Point Jumper. Assisted by Keith Bogans.
42 - 52
5:35
Anfernee Hardaway made 19 ft Jumper. Assisted by Frank Williams.
42 - 54
5:20
Juwan Howard missed Jumper.
42 - 54
5:18
Othella Harrington Defensive Rebound.
42 - 54
5:03
Kurt Thomas made 7 ft Two Point Shot.
42 - 56
4:41
Keith Bogans made 22 ft Three Point Jumper. Assisted by Gordan Giricek.
45 - 56
4:20
Frank Williams Traveling
45 - 56
4:20
New York Full Timeout.
45 - 56
4:20
Allan Houston enters the game for Shandon Anderson.
45 - 56
3:41
Allan Houston missed Jumper.
45 - 56
3:39
Tyronn Lue Defensive Rebound.
45 - 56
3:31
Lee Nailon made Layup. Assisted by Tracy McGrady.
47 - 56
3:12
Othella Harrington missed 16 ft Jumper.
47 - 56
3:10
Tracy McGrady Defensive Rebound.
47 - 56
3:03
Keith Van Horn enters the game for Othella Harrington.
47 - 56
3:03
Stephon Marbury enters the game for Frank Williams.
47 - 56
2:47
Gordan Giricek Personal Foul
47 - 56
2:47
Orlando Full Timeout.
47 - 56
2:47
Keith Bogans enters the game for Gordan Giricek.
47 - 56
2:33
Anfernee Hardaway missed 9 ft Jumper.
47 - 56
2:32
Juwan Howard Defensive Rebound.
47 - 56
2:20
Tracy McGrady missed 22 ft Jumper.
47 - 56
2:18
Anfernee Hardaway Defensive Rebound.
47 - 56
2:14
Allan Houston missed 19 ft Jumper.
47 - 56
2:12
Lee Nailon Defensive Rebound.
47 - 56
2:06
Keith Bogans missed 22 ft Jumper.
47 - 56
2:03
Jumpball. Lee Nailon vs. Kurt Thomas. Keith Van Horn gains possession.
47 - 56
2:03
Orlando Defensive Rebound.
47 - 56
1:43
Anfernee Hardaway missed 18 ft Jumper.
47 - 56
1:40
Keith Bogans Defensive Rebound.
47 - 56
1:34
Tracy McGrady missed 26 ft Three Point Jumper.
47 - 56
1:31
Kurt Thomas Defensive Rebound.
47 - 56
1:25
Stephon Marbury made Two Point Shot.
47 - 58
1:25
Tyronn Lue Shooting Foul
47 - 58
1:25
Stephon Marbury made Free Throw 1 of 1.
47 - 59
1:10
Lee Nailon made Two Point Shot. Assisted by Keith Bogans.
49 - 59
0:58
Stephon Marbury Lost Ball. Stolen by Tyronn Lue.
49 - 59
0:56
Anfernee Hardaway Personal Foul
49 - 59
0:45
Juwan Howard missed 21 ft Jumper. Blocked by Kurt Thomas.
49 - 59
0:44
Tracy McGrady Offensive Rebound.
49 - 59
0:44
Tracy McGrady made Layup.
51 - 59
0:33
Allan Houston made 25 ft Three Point Jumper. Assisted by Stephon Marbury.
51 - 62
0:28
Orlando 20 Sec. Timeout.
51 - 62
0:16
Keith Van Horn Personal Foul
51 - 62
0:16
Tracy McGrady made Free Throw 1 of 2.
52 - 62
0:16
Tracy McGrady missed Free Throw 2 of 2.
52 - 62
0:15
Keith Van Horn Defensive Rebound.
52 - 62
0:03
Lee Nailon Personal Foul
52 - 62
0:03
Stephon Marbury made Free Throw 1 of 2.
52 - 63
0:03
Stephon Marbury made Free Throw 2 of 2.
52 - 64
0:00
Tracy McGrady missed 40 ft Three Point Jumper.
52 - 64
0:00
Orlando Offensive Rebound.
52 - 64
0:00
End of the 2nd Quarter.
52 - 64

time
TEAM
PLAY
SCORE
12:00
Start of the 3rd Quarter.
52 - 64
11:41
Stephon Marbury Illegal Defense Foul
52 - 64
11:41
Tyronn Lue missed Technical Free Throw.
52 - 64
11:41
Orlando Offensive Rebound.
52 - 64
11:33
Juwan Howard made 5 ft Hook Shot.
54 - 64
11:08
Dikembe Mutombo missed 7 ft Jumper.
54 - 64
11:07
Keith Bogans Defensive Rebound.
54 - 64
10:56
Tracy McGrady missed 15 ft Jumper.
54 - 64
10:53
Keith Van Horn Defensive Rebound.
54 - 64
10:45
Kurt Thomas made 18 ft Jumper. Assisted by Stephon Marbury.
54 - 66
10:26
Kurt Thomas Shooting Foul
54 - 66
10:26
Juwan Howard made Free Throw 1 of 2.
55 - 66
10:26
Juwan Howard made Free Throw 2 of 2.
56 - 66
10:08
Allan Houston missed 22 ft Jumper.
56 - 66
10:07
New York Defensive Rebound.
56 - 66
10:07
Kurt Thomas Loose Ball Foul
56 - 66
9:51
Juwan Howard missed 12 ft Jumper.
56 - 66
9:48
Dikembe Mutombo Defensive Rebound.
56 - 66
9:36
Kurt Thomas Bad Pass. Stolen by Andrew DeClercq.
56 - 66
9:36
Kurt Thomas Personal Foul
56 - 66
9:36
Othella Harrington enters the game for Kurt Thomas.
56 - 66
9:17
Keith Bogans missed 23 ft Three Point Jumper.
56 - 66
9:15
Dikembe Mutombo Defensive Rebound.
56 - 66
9:03
Dikembe Mutombo 3 second
56 - 66
8:45
Keith Bogans missed 7 ft Jumper.
56 - 66
8:44
Allan Houston Defensive Rebound.
56 - 66
8:37
Stephon Marbury Bad Pass. Stolen by Tyronn Lue.
56 - 66
8:32
Keith Bogans made Layup. Assisted by Tyronn Lue.
58 - 66
8:17
Juwan Howard Shooting Foul
58 - 66
8:17
Dikembe Mutombo missed Free Throw 1 of 2.
58 - 66
8:17
New York Offensive Rebound.
58 - 66
8:17
Dikembe Mutombo missed Free Throw 2 of 2.
58 - 66
8:15
Andrew DeClercq Defensive Rebound.
58 - 66
8:06
Tracy McGrady missed 16 ft Jumper.
58 - 66
8:04
Orlando Defensive Rebound.
58 - 66
8:04
Andrew DeClercq Loose Ball Foul
58 - 66
7:52
Allan Houston made 19 ft Jumper. Assisted by Othella Harrington.
58 - 68
7:31
Stephon Marbury Personal Foul
58 - 68
7:24
Tyronn Lue missed Layup.
58 - 68
7:24
Dikembe Mutombo Defensive Rebound.
58 - 68
7:22
Dikembe Mutombo Lost Ball. Stolen by Tyronn Lue.
58 - 68
7:07
Juwan Howard made 9 ft Jumper. Assisted by Tyronn Lue.
60 - 68
6:54
Keith Bogans Shooting Foul
60 - 68
6:54
Allan Houston made Free Throw 1 of 2.
60 - 69
6:54
Allan Houston made Free Throw 2 of 2.
60 - 70
6:35
Keith Bogans Bad Pass. Stolen by Allan Houston.
60 - 70
6:28
Andrew DeClercq Shooting Foul
60 - 70
6:28
Dikembe Mutombo made Free Throw 1 of 2.
60 - 71
6:28
Zaza Pachulia enters the game for Andrew DeClercq.
60 - 71
6:28
Dikembe Mutombo made Free Throw 2 of 2.
60 - 72
6:13
Tracy McGrady made Two Point Shot.
62 - 72
6:13
Othella Harrington Shooting Foul
62 - 72
6:13
Tracy McGrady made Free Throw 1 of 1.
63 - 72
6:05
Allan Houston Offensive Foul
63 - 72
6:05
Allan Houston Foul
63 - 72
5:56
Dikembe Mutombo Illegal Defense Foul
63 - 72
5:56
New York Full Timeout.
63 - 72
5:56
Tracy McGrady made Technical Free Throw.
64 - 72
5:50
Tracy McGrady made 18 ft Two Point Shot. Assisted by Juwan Howard.
66 - 72
5:37
Othella Harrington Offensive Foul
66 - 72
5:37
Othella Harrington Foul
66 - 72
5:26
Tracy McGrady missed 13 ft Jumper.
66 - 72
5:24
Orlando Defensive Rebound.
66 - 72
5:07
Allan Houston Bad Pass. Stolen by Zaza Pachulia.
66 - 72
5:03
Zaza Pachulia made Two Point Shot.
68 - 72
4:52
Stephon Marbury Offensive Foul
68 - 72
4:52
Stephon Marbury Foul
68 - 72
4:52
Michael Doleac enters the game for Dikembe Mutombo.
68 - 72
4:37
Juwan Howard made Jumper. Assisted by Keith Bogans.
70 - 72
4:16
Keith Van Horn missed 19 ft Jumper.
70 - 72
4:15
Tracy McGrady Defensive Rebound.
70 - 72
4:09
Zaza Pachulia made Layup. Assisted by Tracy McGrady.
72 - 72
4:07
New York Full Timeout.
72 - 72
3:54
Stephon Marbury missed 19 ft Jumper.
72 - 72
3:51
Zaza Pachulia Defensive Rebound.
72 - 72
3:31
Juwan Howard missed 6 ft Jumper.
72 - 72
3:30
Michael Doleac Defensive Rebound.
72 - 72
3:14
Michael Doleac missed 20 ft Jumper.
72 - 72
3:13
Zaza Pachulia Defensive Rebound.
72 - 72
3:03
Tracy McGrady made 19 ft Two Point Shot.
74 - 72
2:48
Keith Van Horn made Two Point Shot.
74 - 74
2:33
Tracy McGrady Bad Pass
74 - 74
2:33
Anfernee Hardaway enters the game for Keith Van Horn.
74 - 74
2:18
Allan Houston made 24 ft Three Point Jumper. Assisted by Stephon Marbury.
74 - 77
2:02
Michael Doleac Shooting Foul
74 - 77
2:02
Juwan Howard made Free Throw 1 of 2.
75 - 77
2:02
Rod Strickland enters the game for Tyronn Lue.
75 - 77
2:02
Juwan Howard made Free Throw 2 of 2.
76 - 77
1:54
Keith Bogans Personal Foul
76 - 77
1:54
Drew Gooden enters the game for Juwan Howard.
76 - 77
1:54
Anfernee Hardaway made Free Throw 1 of 2.
76 - 78
1:54
Anfernee Hardaway made Free Throw 2 of 2.
76 - 79
1:40
Keith Bogans missed 23 ft Three Point Jumper.
76 - 79
1:39
Allan Houston Defensive Rebound.
76 - 79
1:24
Othella Harrington made Layup. Assisted by Michael Doleac.
76 - 81
1:02
Tracy McGrady Bad Pass. Stolen by Stephon Marbury.
76 - 81
1:00
Stephon Marbury Bad Pass. Stolen by Drew Gooden.
76 - 81
0:58
Michael Doleac Shooting Foul
76 - 81
0:58
Gordan Giricek enters the game for Tracy McGrady.
76 - 81
0:58
Keith Bogans made Free Throw 1 of 2.
77 - 81
0:58
Keith Bogans made Free Throw 2 of 2.
78 - 81
0:51
Rod Strickland Personal Foul
78 - 81
0:51
Stephon Marbury made Free Throw 1 of 2.
78 - 82
0:51
Stephon Marbury made Free Throw 2 of 2.
78 - 83
0:44
Allan Houston Personal Foul
78 - 83
0:44
Gordan Giricek made Free Throw 1 of 2.
79 - 83
0:44
Gordan Giricek missed Free Throw 2 of 2.
79 - 83
0:43
Othella Harrington Defensive Rebound.
79 - 83
0:33
Allan Houston made 26 ft Three Point Jumper. Assisted by Stephon Marbury.
79 - 86
0:22
Drew Gooden made 5 ft Hook Shot. Assisted by Keith Bogans.
81 - 86
0:01
Stephon Marbury missed Layup.
81 - 86
0:00
Michael Doleac Offensive Rebound.
81 - 88
0:00
Michael Doleac made Layup.
81 - 88
0:00
End of the 3rd Quarter.
81 - 88

time
TEAM
PLAY
SCORE
12:00
Start of the 4th Quarter.
81 - 88
11:48
Michael Doleac missed 17 ft Jumper.
81 - 88
11:47
Keith Bogans Defensive Rebound.
81 - 88
11:33
Drew Gooden Traveling
81 - 88
11:18
Othella Harrington missed 6 ft Jumper. Blocked by Gordan Giricek.
81 - 88
11:17
Rod Strickland Defensive Rebound.
81 - 88
11:11
Rod Strickland made 18 ft Jumper.
83 - 88
10:53
Michael Doleac made 19 ft Jumper. Assisted by Stephon Marbury.
83 - 90
10:40
Drew Gooden missed 7 ft Jumper.
83 - 90
10:37
Michael Doleac Defensive Rebound.
83 - 90
10:33
Andrew DeClercq Personal Foul
83 - 90
10:33
Lee Nailon enters the game for Drew Gooden.
83 - 90
10:27
Andrew DeClercq Shooting Foul
83 - 90
10:27
Keith Van Horn enters the game for Othella Harrington.
83 - 90
10:27
Juwan Howard enters the game for Andrew DeClercq.
83 - 90
10:27
Tracy McGrady enters the game for Keith Bogans.
83 - 90
10:27
Stephon Marbury made Free Throw 1 of 2.
83 - 91
10:27
Stephon Marbury made Free Throw 2 of 2.
83 - 92
10:12
Gordan Giricek missed 23 ft Three Point Jumper.
83 - 92
10:11
Keith Van Horn Defensive Rebound.
83 - 92
10:00
Keith Van Horn made 26 ft Three Point Jumper. Assisted by Michael Doleac.
83 - 95
9:52
Tracy McGrady made 26 ft Three Point Jumper. Assisted by Rod Strickland.
86 - 95
9:37
Stephon Marbury made 8 ft Jumper.
86 - 97
9:25
Frank Williams enters the game for Stephon Marbury.
86 - 97
9:25
Tyronn Lue enters the game for Rod Strickland.
86 - 97
9:17
Tracy McGrady missed 19 ft Jumper. Blocked by Anfernee Hardaway.
86 - 97
9:15
Keith Van Horn Defensive Rebound.
86 - 97
9:07
Michael Doleac missed 15 ft Jumper.
86 - 97
9:06
Juwan Howard Defensive Rebound.
86 - 97
8:52
Gordan Giricek made Two Point Shot.
88 - 97
8:32
Keith Van Horn missed 11 ft Jumper.
88 - 97
8:30
Juwan Howard Defensive Rebound.
88 - 97
8:11
Lee Nailon made Jumper. Assisted by Tracy McGrady.
90 - 97
7:56
Keith Van Horn Bad Pass. Stolen by Tracy McGrady.
90 - 97
7:54
Anfernee Hardaway Personal Foul
90 - 97
7:54
Official Timeout.
90 - 97
7:54
Kurt Thomas enters the game for Michael Doleac.
90 - 97
7:35
Lee Nailon missed Jumper.
90 - 97
7:35
Keith Van Horn Defensive Rebound.
90 - 97
7:24
Frank Williams made Two Point Shot.
90 - 99
7:05
Juwan Howard missed 8 ft Jumper.
90 - 99
7:03
Kurt Thomas Defensive Rebound.
90 - 99
6:54
Frank Williams Lost Ball. Stolen by Tyronn Lue.
90 - 99
6:33
Juwan Howard Personal Foul
90 - 99
6:33
Stephon Marbury enters the game for Frank Williams.
90 - 99
6:33
Allan Houston enters the game for Shandon Anderson.
90 - 99
6:22
Anfernee Hardaway made 6 ft Two Point Shot.
90 - 101
6:01
Lee Nailon missed Layup.
90 - 101
6:01
Kurt Thomas Defensive Rebound.
90 - 101
5:54
Allan Houston missed 25 ft Three Point Jumper.
90 - 101
5:52
Juwan Howard Defensive Rebound.
90 - 101
5:39
Tracy McGrady missed 14 ft Jumper.
90 - 101
5:39
Orlando Offensive Rebound.
90 - 101
5:39
Allan Houston Loose Ball Foul
90 - 101
5:39
New York Full Timeout.
90 - 101
5:39
Keith Bogans enters the game for Lee Nailon.
90 - 101
5:39
Drew Gooden enters the game for Gordan Giricek.
90 - 101
5:26
Tyronn Lue missed Three Point Jumper.
90 - 101
5:24
Kurt Thomas Defensive Rebound.
90 - 101
5:18
Keith Van Horn made 26 ft Three Point Jumper. Assisted by Stephon Marbury.
90 - 104
5:16
Orlando Full Timeout.
90 - 104
5:16
Lee Nailon enters the game for Drew Gooden.
90 - 104
5:03
Allan Houston Shooting Foul
90 - 104
5:03
Lee Nailon made Free Throw 1 of 2.
91 - 104
5:03
Lee Nailon made Free Throw 2 of 2.
92 - 104
4:43
Allan Houston Bad Pass. Stolen by Juwan Howard.
92 - 104
4:39
Stephon Marbury Shooting Foul
92 - 104
4:39
Tyronn Lue made Free Throw 1 of 2.
93 - 104
4:39
Shandon Anderson enters the game for Allan Houston.
93 - 104
4:39
Tyronn Lue made Free Throw 2 of 2.
94 - 104
4:26
Keith Van Horn made 10 ft Two Point Shot.
94 - 106
4:01
Tyronn Lue Bad Pass. Stolen by Anfernee Hardaway.
94 - 106
3:56
Shandon Anderson made Two Point Shot.
94 - 108
3:26
Tyronn Lue made 16 ft Jumper.
96 - 108
3:08
Stephon Marbury missed 16 ft Jumper.
96 - 108
3:06
Tracy McGrady Defensive Rebound.
96 - 108
2:59
Juwan Howard made Two Point Shot. Assisted by Lee Nailon.
98 - 108
2:59
Anfernee Hardaway Shooting Foul
98 - 108
2:59
Allan Houston enters the game for Shandon Anderson.
98 - 108
2:59
Juwan Howard missed Free Throw 1 of 1.
98 - 108
2:58
Keith Van Horn Defensive Rebound.
98 - 108
2:42
Anfernee Hardaway missed 6 ft Jumper.
98 - 108
2:40
Anfernee Hardaway Offensive Rebound.
98 - 108
2:40
Tyronn Lue Personal Foul
98 - 108
2:31
Stephon Marbury made 25 ft Three Point Jumper.
98 - 111
2:15
Keith Bogans missed 23 ft Three Point Jumper.
98 - 111
2:15
Orlando Offensive Rebound.
98 - 111
2:15
Allan Houston Personal Foul
98 - 111
2:15
Shandon Anderson enters the game for Allan Houston.
98 - 111
2:15
Lee Nailon made Free Throw 1 of 2.
99 - 111
2:15
Lee Nailon made Free Throw 2 of 2.
100 - 111
2:00
Lee Nailon Shooting Foul
100 - 111
2:00
Shandon Anderson made Free Throw 1 of 2.
100 - 112
2:00
Gordan Giricek enters the game for Keith Bogans.
100 - 112
2:00
Shandon Anderson made Free Throw 2 of 2.
100 - 113
2:00
Orlando Full Timeout.
100 - 113
1:44
Tracy McGrady missed 21 ft Jumper.
100 - 113
1:42
Stephon Marbury Defensive Rebound.
100 - 113
1:24
Lee Nailon Shooting Foul
100 - 113
1:24
Shandon Anderson made Free Throw 1 of 2.
100 - 114
1:24
Shandon Anderson made Free Throw 2 of 2.
100 - 115
1:16
Tracy McGrady made 26 ft Three Point Jumper.
103 - 115
1:12
Tyronn Lue Personal Foul
103 - 115
1:12
Stephon Marbury made Free Throw 1 of 2.
103 - 116
1:12
Stephon Marbury made Free Throw 2 of 2.
103 - 117
1:00
Lee Nailon missed Layup.
103 - 117
0:59
Lee Nailon Offensive Rebound.
103 - 117
0:59
Shandon Anderson Personal Foul
103 - 117
0:59
Lee Nailon made Free Throw 1 of 2.
104 - 117
0:59
Lee Nailon made Free Throw 2 of 2.
105 - 117
0:56
Tyronn Lue Personal Foul
105 - 117
0:56
Stephon Marbury made Free Throw 1 of 2.
105 - 118
0:56
Stephon Marbury missed Free Throw 2 of 2.
105 - 118
0:55
Juwan Howard Defensive Rebound.
105 - 118
0:47
Tyronn Lue missed 24 ft Three Point Jumper.
105 - 118
0:45
Kurt Thomas Defensive Rebound.
105 - 118
0:45
Juwan Howard Personal Foul
105 - 118
0:45
Kurt Thomas made Free Throw 1 of 2.
105 - 119
0:45
Kurt Thomas missed Free Throw 2 of 2.
105 - 119
0:45
Keith Van Horn Offensive Rebound.
105 - 119
0:37
Tyronn Lue Personal Foul
105 - 119
0:37
Stephon Marbury made Free Throw 1 of 2.
105 - 120
0:37
Stephon Marbury missed Free Throw 2 of 2.
105 - 120
0:36
Gordan Giricek Defensive Rebound.
105 - 120
0:36
Orlando Full Timeout.
105 - 120
0:32
Tracy McGrady missed 24 ft Three Point Jumper.
105 - 120
0:31
Anfernee Hardaway Defensive Rebound.
105 - 120
0:06
Shandon Anderson missed 25 ft Three Point Jumper.
105 - 120
0:05
Keith Van Horn Offensive Rebound.
105 - 120
0:00
End of the 4th Quarter.
105 - 120
0:00
End Game
105 - 120
0:00
End Game
105 - 120
Rachel Nichols is relieved that Steph Curry gave us a glimpse of his regular-season performance but warns Curry that he needs to raise the bar or he will be going home empty-handed.

Russillo and Kanell comment on rumors that the Sixers are in talks to trade Jahlil Okafor and Nerlens Noel. Will Okafor finally land on a team he wants to be on?

The 76ers will explore trades involving young big men Jahlil Okafor, Nerlens Noel as the NBA draft approaches, sources told ESPN.
Regular Season Series
NY wins series 3-1
2015-2016 Atlantic Standings