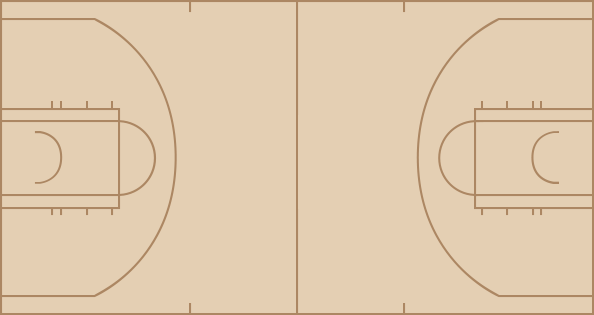 Clippers
time
TEAM
PLAY
SCORE
12:00
Start of the 1st Quarter.
0 - 0
12:00
Jumpball. Chris Kaman vs. Jamal Sampson. Gary Payton gains possession.
0 - 0
11:45
Kareem Rush made 18 ft Jumper. Assisted by Gary Payton.
0 - 2
11:26
Corey Maggette missed 21 ft Jumper.
0 - 2
11:26
Kareem Rush Defensive Rebound.
0 - 2
11:15
Gary Payton missed 13 ft Jumper.
0 - 2
11:14
Elton Brand Defensive Rebound.
0 - 2
11:04
Jamal Sampson Shooting Foul
0 - 2
11:04
Elton Brand missed Free Throw 1 of 2.
0 - 2
11:04
Los Angeles Offensive Rebound.
0 - 2
11:04
Elton Brand made Free Throw 2 of 2.
1 - 2
10:48
Jamal Sampson made 5 ft Jumper. Assisted by Gary Payton.
1 - 4
10:30
Chris Kaman made Layup. Assisted by Eddie House.
3 - 4
10:12
Gary Payton missed 6 ft Jumper.
3 - 4
10:11
Jamal Sampson Offensive Rebound.
3 - 4
10:11
Marko Jaric Shooting Foul
3 - 4
10:11
Jamal Sampson made Free Throw 1 of 2.
3 - 5
10:11
Jamal Sampson missed Free Throw 2 of 2.
3 - 5
10:10
Jamal Sampson Offensive Rebound.
3 - 5
9:53
Jamal Sampson made 11 ft Jumper.
3 - 7
9:33
Eddie House missed Two Point Shot.
3 - 7
9:30
Stanislav Medvedenko Defensive Rebound.
3 - 7
9:25
Jamal Sampson missed Layup.
3 - 7
9:23
Jamal Sampson Offensive Rebound.
3 - 7
9:22
Jamal Sampson missed Layup.
3 - 7
9:22
Chris Kaman Defensive Rebound.
3 - 7
9:07
Elton Brand made 9 ft Hook Shot. Assisted by Eddie House.
5 - 7
8:55
Gary Payton made Two Point Shot.
5 - 9
8:45
Marko Jaric missed 22 ft Jumper.
5 - 9
8:42
Los Angeles Offensive Rebound.
5 - 9
8:36
Chris Kaman made Slam Dunk. Assisted by Marko Jaric.
7 - 9
8:19
Stanislav Medvedenko missed 16 ft Jumper.
7 - 9
8:18
Devean George Offensive Rebound.
7 - 9
8:08
Kareem Rush missed 15 ft Jumper.
7 - 9
8:07
Jamal Sampson Offensive Rebound.
7 - 9
7:54
Jamal Sampson missed 15 ft Jumper.
7 - 9
7:52
Chris Kaman Defensive Rebound.
7 - 9
7:41
Stanislav Medvedenko Personal Foul
7 - 9
7:33
Chris Kaman Lost Ball. Stolen by Stanislav Medvedenko.
7 - 9
7:33
Elton Brand Personal Foul
7 - 9
7:15
Kareem Rush Lost Ball. Stolen by Eddie House.
7 - 9
7:07
Marko Jaric missed 26 ft Three Point Jumper.
7 - 9
7:07
Kareem Rush Defensive Rebound.
7 - 9
6:56
Devean George missed 25 ft Three Point Jumper.
7 - 9
6:54
Stanislav Medvedenko Offensive Rebound.
7 - 9
6:39
Devean George made 16 ft Jumper. Assisted by Gary Payton.
7 - 11
6:26
Elton Brand made 10 ft Jumper. Assisted by Corey Maggette.
9 - 11
6:26
Devean George Shooting Foul
9 - 11
6:26
Elton Brand missed Free Throw 1 of 1.
9 - 11
6:24
Gary Payton Defensive Rebound.
9 - 11
6:07
Stanislav Medvedenko missed Jumper.
9 - 11
6:05
Corey Maggette Defensive Rebound.
9 - 11
5:58
Elton Brand made Layup. Assisted by Corey Maggette.
11 - 11
5:35
Gary Payton made 15 ft Jumper.
11 - 13
5:18
Chris Kaman missed Jumper.
11 - 13
5:18
Kareem Rush Defensive Rebound.
11 - 13
5:09
Gary Payton missed Jumper.
11 - 13
5:09
Los Angeles Offensive Rebound.
11 - 13
5:09
Los Angeles Full Timeout.
11 - 13
5:00
Kareem Rush missed 9 ft Jumper.
11 - 13
5:00
Los Angeles Defensive Rebound.
11 - 13
5:00
Jamal Sampson Loose Ball Foul
11 - 13
4:48
Eddie House made 22 ft Jumper. Assisted by Marko Jaric.
13 - 13
4:28
Stanislav Medvedenko missed 19 ft Jumper.
13 - 13
4:26
Elton Brand Defensive Rebound.
13 - 13
4:05
Elton Brand Lost Ball. Stolen by Jamal Sampson.
13 - 13
3:58
Stanislav Medvedenko missed Jumper.
13 - 13
3:56
Chris Kaman Defensive Rebound.
13 - 13
3:45
Corey Maggette made 12 ft Two Point Shot.
15 - 13
3:30
Kareem Rush Offensive Foul
15 - 13
3:30
Kareem Rush Foul
15 - 13
3:30
Brian Cook enters the game for Jamal Sampson.
15 - 13
3:17
Marko Jaric made 20 ft Jumper.
17 - 13
3:04
Stanislav Medvedenko made Hook Shot. Assisted by Gary Payton.
17 - 15
2:48
Elton Brand made Layup.
19 - 15
2:48
Stanislav Medvedenko Shooting Foul
19 - 15
2:48
Los Angeles Full Timeout.
19 - 15
2:48
Luke Walton enters the game for Stanislav Medvedenko.
19 - 15
2:48
Derek Fisher enters the game for Kareem Rush.
19 - 15
2:48
Lane Violation
19 - 15
2:48
Elton Brand made Free Throw 1 of 1.
20 - 15
2:36
Derek Fisher Bad Pass
20 - 15
2:27
Corey Maggette made Two Point Shot. Assisted by Elton Brand.
22 - 15
2:14
Eddie House Personal Foul
22 - 15
2:04
Luke Walton missed Two Point Shot.
22 - 15
2:02
Elton Brand Defensive Rebound.
22 - 15
1:52
Corey Maggette missed 22 ft Jumper.
22 - 15
1:51
Los Angeles Offensive Rebound.
22 - 15
1:42
Elton Brand made 14 ft Jumper. Assisted by Marko Jaric.
24 - 15
1:23
Derek Fisher missed 15 ft Jumper.
24 - 15
1:23
Elton Brand Defensive Rebound.
24 - 15
1:10
Chris Kaman missed 10 ft Jumper.
24 - 15
1:09
Elton Brand Offensive Rebound.
24 - 15
1:09
Devean George Shooting Foul
24 - 15
1:09
Elton Brand made Free Throw 1 of 2.
25 - 15
1:09
Bryon Russell enters the game for Devean George.
25 - 15
1:09
Predrag Drobnjak enters the game for Chris Kaman.
25 - 15
1:09
Elton Brand made Free Throw 2 of 2.
26 - 15
0:55
Luke Walton missed Jumper.
26 - 15
0:53
Corey Maggette Defensive Rebound.
26 - 15
0:44
Elton Brand missed 12 ft Jumper. Blocked by Gary Payton.
26 - 15
0:44
Predrag Drobnjak Offensive Rebound.
26 - 15
0:44
Predrag Drobnjak made Layup.
28 - 15
0:44
Luke Walton Shooting Foul
28 - 15
0:44
Predrag Drobnjak missed Free Throw 1 of 1.
28 - 15
0:43
Bryon Russell Defensive Rebound.
28 - 15
0:29
Luke Walton made Two Point Shot. Assisted by Gary Payton.
28 - 17
0:09
Bryon Russell Personal Foul
28 - 17
0:09
Keyon Dooling enters the game for Eddie House.
28 - 17
0:09
Corey Maggette made Free Throw 1 of 2.
29 - 17
0:09
Doug Overton enters the game for Marko Jaric.
29 - 17
0:09
Corey Maggette made Free Throw 2 of 2.
30 - 17
0:03
Keyon Dooling Personal Foul
30 - 17
0:01
Gary Payton missed Jumper.
30 - 17
0:00
Corey Maggette Defensive Rebound.
30 - 17
0:00
End of the 1st Quarter.
30 - 17

time
TEAM
PLAY
SCORE
12:00
Start of the 2nd Quarter.
30 - 17
11:37
Keyon Dooling missed 5 ft Jumper. Blocked by Brian Cook.
30 - 17
11:36
Derek Fisher Defensive Rebound.
30 - 17
11:25
Stanislav Medvedenko made 10 ft Jumper. Assisted by Derek Fisher.
30 - 19
11:25
Corey Maggette Shooting Foul
30 - 19
11:25
Stanislav Medvedenko missed Free Throw 1 of 1.
30 - 19
11:23
Corey Maggette Defensive Rebound.
30 - 19
11:08
Corey Maggette missed 6 ft Jumper. Blocked by Brian Cook.
30 - 19
11:07
Corey Maggette Offensive Rebound.
30 - 19
11:03
Elton Brand made 9 ft Two Point Shot. Assisted by Corey Maggette.
32 - 19
10:47
Brian Cook missed 12 ft Jumper.
32 - 19
10:45
Elton Brand Defensive Rebound.
32 - 19
10:22
Elton Brand missed 14 ft Jumper.
32 - 19
10:22
Derek Fisher Defensive Rebound.
32 - 19
10:17
Stanislav Medvedenko made Two Point Shot. Assisted by Derek Fisher.
32 - 21
10:02
Corey Maggette made 21 ft Jumper. Assisted by Doug Overton.
34 - 21
9:45
Bryon Russell missed Layup.
34 - 21
9:45
Bryon Russell Offensive Rebound.
34 - 21
9:45
Doug Overton Shooting Foul
34 - 21
9:45
Chris Kaman enters the game for Elton Brand.
34 - 21
9:45
Bryon Russell made Free Throw 1 of 2.
34 - 22
9:45
Bryon Russell made Free Throw 2 of 2.
34 - 23
9:30
Predrag Drobnjak missed 5 ft Jumper.
34 - 23
9:29
Stanislav Medvedenko Defensive Rebound.
34 - 23
9:22
Bryon Russell missed 20 ft Jumper.
34 - 23
9:18
Keyon Dooling Defensive Rebound.
34 - 23
9:14
Keyon Dooling Bad Pass
34 - 23
9:03
Kareem Rush missed Layup. Blocked by Chris Kaman.
34 - 23
9:02
Chris Kaman Defensive Rebound.
34 - 23
8:57
Corey Maggette missed 26 ft Three Point Jumper.
34 - 23
8:57
Los Angeles Defensive Rebound.
34 - 23
8:57
Official Timeout.
34 - 23
8:57
Marko Jaric enters the game for Corey Maggette.
34 - 23
8:45
Brian Cook made Layup. Assisted by Bryon Russell.
34 - 25
8:25
Chris Kaman Lost Ball. Stolen by Derek Fisher.
34 - 25
8:17
Derek Fisher missed Layup.
34 - 25
8:15
Derek Fisher Offensive Rebound.
34 - 25
8:07
Marko Jaric Personal Foul
34 - 25
7:58
Chris Kaman Personal Foul
34 - 25
7:54
Derek Fisher missed 27 ft Three Point Jumper.
34 - 25
7:52
Marko Jaric Defensive Rebound.
34 - 25
7:45
Predrag Drobnjak missed Layup.
34 - 25
7:43
Chris Kaman Offensive Rebound.
36 - 25
7:43
Chris Kaman made Layup.
36 - 25
7:20
Stanislav Medvedenko made Two Point Shot.
36 - 27
7:07
Keyon Dooling made 16 ft Jumper. Assisted by Doug Overton.
38 - 27
6:48
Kareem Rush missed 18 ft Jumper.
38 - 27
6:47
Chris Kaman Defensive Rebound.
38 - 27
6:39
Doug Overton made 15 ft Two Point Shot.
40 - 27
6:31
Los Angeles Full Timeout.
40 - 27
6:31
Devean George enters the game for Brian Cook.
40 - 27
6:31
Gary Payton enters the game for Bryon Russell.
40 - 27
6:31
Jamal Sampson enters the game for Kareem Rush.
40 - 27
6:26
Marko Jaric Shooting Foul
40 - 27
6:26
Devean George missed Free Throw 1 of 2.
40 - 27
6:26
Los Angeles Offensive Rebound.
40 - 27
6:26
Corey Maggette enters the game for Marko Jaric.
40 - 27
6:26
Devean George made Free Throw 2 of 2.
40 - 28
6:13
Keyon Dooling missed 21 ft Jumper.
40 - 28
6:11
Jamal Sampson Defensive Rebound.
40 - 28
5:58
Derek Fisher made Two Point Shot.
40 - 30
5:33
Keyon Dooling Bad Pass
40 - 30
5:18
Devean George missed 22 ft Jumper.
40 - 30
5:16
Corey Maggette Defensive Rebound.
40 - 30
5:03
Predrag Drobnjak missed 19 ft Jumper.
40 - 30
5:00
Jamal Sampson Defensive Rebound.
40 - 30
4:43
Devean George made 18 ft Jumper. Assisted by Jamal Sampson.
40 - 32
4:33
Los Angeles Full Timeout.
40 - 32
4:33
Elton Brand enters the game for Predrag Drobnjak.
40 - 32
4:28
Doug Overton Bad Pass
40 - 32
4:09
Gary Payton missed 27 ft Three Point Jumper.
40 - 32
4:07
Stanislav Medvedenko Offensive Rebound.
40 - 34
4:07
Stanislav Medvedenko made Tip Shot.
40 - 34
3:46
Corey Maggette missed 26 ft Three Point Jumper.
40 - 34
3:44
Gary Payton Defensive Rebound.
40 - 34
3:32
Gary Payton missed 6 ft Hook Shot.
40 - 34
3:31
Elton Brand Defensive Rebound.
40 - 34
3:30
Derek Fisher Personal Foul
40 - 34
3:30
Eddie House enters the game for Doug Overton.
40 - 34
3:30
Kareem Rush enters the game for Derek Fisher.
40 - 34
3:19
Keyon Dooling missed 24 ft Three Point Jumper.
40 - 34
3:17
Gary Payton Defensive Rebound.
40 - 34
3:10
Stanislav Medvedenko missed Layup.
40 - 34
3:09
Corey Maggette Defensive Rebound.
40 - 34
3:02
Corey Maggette missed Two Point Shot.
40 - 34
3:01
Stanislav Medvedenko Defensive Rebound.
40 - 34
2:59
Keyon Dooling Personal Foul
40 - 34
2:59
Gary Payton made Free Throw 1 of 2.
40 - 35
2:59
Brian Cook enters the game for Stanislav Medvedenko.
40 - 35
2:59
Gary Payton missed Free Throw 2 of 2.
40 - 35
2:58
Gary Payton Offensive Rebound.
40 - 35
2:46
Kareem Rush made 27 ft Three Point Jumper. Assisted by Gary Payton.
40 - 38
2:33
Elton Brand Lost Ball. Stolen by Kareem Rush.
40 - 38
2:31
Kareem Rush Bad Pass
40 - 38
2:16
Brian Cook Shooting Foul
40 - 38
2:16
Elton Brand made Free Throw 1 of 2.
41 - 38
2:16
Elton Brand made Free Throw 2 of 2.
42 - 38
2:05
Gary Payton missed Layup.
42 - 38
2:05
Jamal Sampson Offensive Rebound.
42 - 38
2:05
Jamal Sampson missed Tip Shot.
42 - 38
2:05
Los Angeles Offensive Rebound.
42 - 38
2:05
Chris Kaman Loose Ball Foul
42 - 38
2:05
Brian Cook missed Free Throw 1 of 2.
42 - 38
2:05
Los Angeles Offensive Rebound.
42 - 38
2:05
Brian Cook made Free Throw 2 of 2.
42 - 39
1:54
Gary Payton Shooting Foul
42 - 39
1:54
Keyon Dooling made Free Throw 1 of 2.
43 - 39
1:54
Keyon Dooling made Free Throw 2 of 2.
44 - 39
1:42
Kareem Rush missed 26 ft Three Point Jumper.
44 - 39
1:39
Keyon Dooling Defensive Rebound.
44 - 39
1:27
Corey Maggette missed 26 ft Three Point Jumper.
44 - 39
1:24
Jamal Sampson Defensive Rebound.
44 - 39
1:07
Brian Cook made 12 ft Jumper. Assisted by Gary Payton.
44 - 41
0:42
Keyon Dooling missed 26 ft Three Point Jumper.
44 - 41
0:40
Elton Brand Offensive Rebound.
44 - 41
0:31
Chris Kaman Bad Pass. Stolen by Brian Cook.
44 - 41
0:27
Brian Cook made Slam Dunk. Assisted by Gary Payton.
44 - 43
0:21
Derek Fisher enters the game for Jamal Sampson.
44 - 43
0:21
Doug Overton enters the game for Chris Kaman.
44 - 43
0:01
Gary Payton missed 8 ft Jumper.
44 - 43
0:00
Los Angeles Offensive Rebound.
44 - 43
0:00
End of the 2nd Quarter.
44 - 43

time
TEAM
PLAY
SCORE
12:00
Start of the 3rd Quarter.
44 - 43
11:45
Eddie House missed 18 ft Jumper.
44 - 43
11:41
Devean George Defensive Rebound.
44 - 43
11:26
Stanislav Medvedenko made 15 ft Jumper. Assisted by Jamal Sampson.
44 - 45
11:11
Stanislav Medvedenko Personal Foul
44 - 45
11:03
Elton Brand missed 10 ft Jumper.
44 - 45
11:02
Stanislav Medvedenko Defensive Rebound.
44 - 45
10:41
Devean George missed Layup. Blocked by Chris Kaman.
44 - 45
10:36
Elton Brand Defensive Rebound.
44 - 45
10:30
Kareem Rush Personal Foul
44 - 45
10:22
Gary Payton Shooting Foul
44 - 45
10:22
Corey Maggette missed Free Throw 1 of 2.
44 - 45
10:22
Los Angeles Offensive Rebound.
44 - 45
10:22
Corey Maggette made Free Throw 2 of 2.
45 - 45
10:06
Jamal Sampson made 9 ft Jumper. Assisted by Gary Payton.
45 - 47
9:53
Marko Jaric missed Layup.
45 - 47
9:51
Marko Jaric Offensive Rebound.
45 - 47
9:51
Marko Jaric missed Tip Shot.
45 - 47
9:48
Marko Jaric Offensive Rebound.
45 - 47
9:48
Marko Jaric missed Layup.
45 - 47
9:48
Stanislav Medvedenko Defensive Rebound.
45 - 47
9:38
Kareem Rush made Three Point Jumper. Assisted by Gary Payton.
45 - 50
9:14
Eddie House missed 24 ft Three Point Jumper.
45 - 50
9:07
Jumpball. Marko Jaric vs. Stanislav Medvedenko. Corey Maggette gains possession.
45 - 50
9:07
Los Angeles Offensive Rebound.
45 - 50
8:55
Corey Maggette missed 25 ft Three Point Jumper.
45 - 50
8:52
Stanislav Medvedenko Defensive Rebound.
45 - 50
8:48
Eddie House Personal Foul
45 - 50
8:40
Corey Maggette Shooting Foul
45 - 50
8:40
Devean George made Free Throw 1 of 2.
45 - 51
8:40
Devean George missed Free Throw 2 of 2.
45 - 51
8:38
Stanislav Medvedenko Offensive Rebound.
45 - 51
8:27
Gary Payton missed 7 ft Jumper.
45 - 51
8:26
Elton Brand Defensive Rebound.
45 - 51
8:15
Elton Brand missed 16 ft Jumper.
45 - 51
8:14
Kareem Rush Defensive Rebound.
45 - 51
8:07
Devean George made Two Point Shot. Assisted by Kareem Rush.
45 - 53
8:00
Corey Maggette made Layup.
47 - 53
8:00
Jamal Sampson Shooting Foul
47 - 53
8:00
Corey Maggette made Free Throw 1 of 1.
48 - 53
7:48
Corey Maggette Personal Foul
48 - 53
7:33
Jamal Sampson missed 21 ft Jumper.
48 - 53
7:31
Eddie House Defensive Rebound.
48 - 53
7:26
Corey Maggette made Two Point Shot. Assisted by Eddie House.
50 - 53
7:09
Gary Payton made Two Point Shot.
50 - 55
7:09
Defensive Goaltending
50 - 55
6:50
Eddie House missed 24 ft Three Point Jumper.
50 - 55
6:50
Los Angeles Defensive Rebound.
50 - 55
6:50
Los Angeles Full Timeout.
50 - 55
6:37
Stanislav Medvedenko made 19 ft Jumper. Assisted by Kareem Rush.
50 - 57
6:24
Corey Maggette missed 9 ft Jumper. Blocked by Devean George.
50 - 57
6:24
Los Angeles Offensive Rebound.
50 - 57
6:18
Corey Maggette missed 20 ft Jumper.
50 - 57
6:13
Elton Brand Offensive Rebound.
50 - 57
6:11
Elton Brand made Layup.
52 - 57
5:54
Stanislav Medvedenko Bad Pass. Stolen by Marko Jaric.
52 - 57
5:48
Eddie House missed 10 ft Jumper.
52 - 57
5:47
Elton Brand Offensive Rebound.
54 - 57
5:47
Elton Brand made Layup.
54 - 57
5:31
Marko Jaric Personal Foul
54 - 57
5:31
Doug Overton enters the game for Marko Jaric.
54 - 57
5:18
24 second
54 - 57
5:07
Corey Maggette missed 15 ft Jumper.
54 - 57
5:05
Jamal Sampson Defensive Rebound.
54 - 57
4:47
Devean George missed Jumper.
54 - 57
4:45
Corey Maggette Defensive Rebound.
54 - 57
4:31
Elton Brand missed 15 ft Jumper.
54 - 57
4:30
Gary Payton Defensive Rebound.
54 - 57
4:20
Gary Payton Lost Ball. Stolen by Eddie House.
54 - 57
4:13
Elton Brand made 8 ft Hook Shot. Assisted by Eddie House.
56 - 57
4:01
Stanislav Medvedenko missed 9 ft Jumper.
56 - 57
4:00
Corey Maggette Defensive Rebound.
56 - 57
3:48
Doug Overton missed 21 ft Jumper.
56 - 57
3:47
Jamal Sampson Defensive Rebound.
56 - 57
3:39
Gary Payton made Two Point Shot.
56 - 59
3:15
Chris Kaman Traveling
56 - 59
2:57
Kareem Rush missed Three Point Jumper.
56 - 59
2:56
Corey Maggette Defensive Rebound.
56 - 59
2:42
Chris Kaman missed Layup.
56 - 59
2:41
Eddie House Offensive Rebound.
56 - 59
2:32
Corey Maggette missed 25 ft Three Point Jumper.
56 - 59
2:31
Kareem Rush Defensive Rebound.
56 - 59
2:19
Devean George Lost Ball. Stolen by Eddie House.
56 - 59
2:15
Eddie House missed Layup. Blocked by Gary Payton.
56 - 59
2:12
Corey Maggette Offensive Rebound.
58 - 59
2:12
Corey Maggette made Two Point Shot.
58 - 59
2:00
Stanislav Medvedenko Bad Pass. Stolen by Eddie House.
58 - 59
1:57
Eddie House made Two Point Shot.
60 - 59
1:54
Los Angeles Full Timeout.
60 - 59
1:54
Predrag Drobnjak enters the game for Elton Brand.
60 - 59
1:54
Derek Fisher enters the game for Devean George.
60 - 59
1:54
Brian Cook enters the game for Jamal Sampson.
60 - 59
1:54
Bryon Russell enters the game for Kareem Rush.
60 - 59
1:34
Gary Payton made Two Point Shot. Assisted by Brian Cook.
60 - 61
1:15
Predrag Drobnjak missed 20 ft Jumper.
60 - 61
1:14
Chris Kaman Offensive Rebound.
60 - 61
1:05
Chris Kaman missed 10 ft Two Point Shot.
60 - 61
1:02
Bryon Russell Defensive Rebound.
60 - 61
0:50
Stanislav Medvedenko made 17 ft Jumper. Assisted by Gary Payton.
60 - 63
0:29
Predrag Drobnjak missed 4 ft Jumper.
60 - 63
0:29
Los Angeles Offensive Rebound.
60 - 63
0:29
Los Angeles Full Timeout.
60 - 63
0:02
Derek Fisher made 25 ft Three Point Jumper. Assisted by Gary Payton.
60 - 66
0:00
Corey Maggette missed 60 ft Three Point Jumper.
60 - 66
0:00
Los Angeles Offensive Rebound.
60 - 66
0:00
End of the 3rd Quarter.
60 - 66

time
TEAM
PLAY
SCORE
12:00
Start of the 4th Quarter.
60 - 66
11:41
Derek Fisher made 27 ft Three Point Jumper. Assisted by Bryon Russell.
60 - 69
11:26
Derek Fisher Personal Foul
60 - 69
11:10
Marko Jaric made 27 ft Three Point Jumper. Assisted by Elton Brand.
63 - 69
10:51
Predrag Drobnjak Personal Foul
63 - 69
10:37
Jamal Sampson made 11 ft Jumper. Assisted by Brian Cook.
63 - 71
10:17
Elton Brand missed 9 ft Jumper.
63 - 71
10:15
Bryon Russell Defensive Rebound.
63 - 71
9:55
Gary Payton missed 6 ft Jumper.
63 - 71
9:52
Elton Brand Defensive Rebound.
63 - 71
9:41
Elton Brand missed 3 ft Jumper.
63 - 71
9:41
Los Angeles Offensive Rebound.
63 - 71
9:41
Stanislav Medvedenko enters the game for Brian Cook.
63 - 71
9:38
Elton Brand missed 9 ft Jumper.
63 - 71
9:37
Gary Payton Defensive Rebound.
63 - 71
9:33
Derek Fisher missed 21 ft Jumper.
63 - 71
9:32
Elton Brand Defensive Rebound.
63 - 71
9:19
Marko Jaric missed 18 ft Jumper.
63 - 71
9:18
Elton Brand Offensive Rebound.
63 - 71
9:15
Predrag Drobnjak missed 26 ft Three Point Jumper.
63 - 71
9:12
Derek Fisher Defensive Rebound.
63 - 71
8:51
Gary Payton missed 22 ft Jumper.
63 - 71
8:48
Corey Maggette Defensive Rebound.
63 - 71
8:33
Jamal Sampson Personal Foul
63 - 71
8:33
Official Timeout.
63 - 71
8:33
Kareem Rush enters the game for Gary Payton.
63 - 71
8:18
24 second
63 - 71
8:07
Chris Kaman enters the game for Predrag Drobnjak.
63 - 71
8:00
Derek Fisher missed 17 ft Jumper.
63 - 71
7:58
Stanislav Medvedenko Offensive Rebound.
63 - 71
7:58
Chris Kaman Shooting Foul
63 - 71
7:58
Stanislav Medvedenko missed Free Throw 1 of 2.
63 - 71
7:58
Los Angeles Offensive Rebound.
63 - 71
7:58
Stanislav Medvedenko made Free Throw 2 of 2.
63 - 72
7:43
Elton Brand made Layup. Assisted by Doug Overton.
65 - 72
7:24
Stanislav Medvedenko missed Layup. Blocked by Elton Brand.
65 - 72
7:24
Los Angeles Defensive Rebound.
65 - 72
7:24
Stanislav Medvedenko Loose Ball Foul
65 - 72
7:13
Doug Overton Bad Pass
65 - 72
7:01
Stanislav Medvedenko Bad Pass. Stolen by Marko Jaric.
65 - 72
7:00
Bryon Russell Shooting Foul
65 - 72
7:00
Marko Jaric missed Free Throw 1 of 2.
65 - 72
7:00
Los Angeles Offensive Rebound.
65 - 72
7:00
Eddie House enters the game for Doug Overton.
65 - 72
7:00
Marko Jaric missed Free Throw 2 of 2.
65 - 72
6:56
Bryon Russell Defensive Rebound.
65 - 72
6:43
Kareem Rush made 6 ft Two Point Shot.
65 - 74
6:26
Marko Jaric Lost Ball. Stolen by Bryon Russell.
65 - 74
6:11
Kareem Rush missed 21 ft Jumper.
65 - 74
6:11
Chris Kaman Defensive Rebound.
65 - 74
6:01
Jumpball. Corey Maggette vs. Bryon Russell. Elton Brand gains possession.
65 - 74
5:56
Bryon Russell Personal Foul
65 - 74
5:56
Los Angeles Full Timeout.
65 - 74
5:56
Devean George enters the game for Kareem Rush.
65 - 74
5:56
Gary Payton enters the game for Bryon Russell.
65 - 74
5:56
Elton Brand made Free Throw 1 of 2.
66 - 74
5:56
Elton Brand made Free Throw 2 of 2.
67 - 74
5:48
Eddie House Personal Foul
67 - 74
5:31
Derek Fisher made 27 ft Three Point Jumper. Assisted by Jamal Sampson.
67 - 77
5:18
Jamal Sampson Personal Foul
67 - 77
5:18
Elton Brand made Free Throw 1 of 2.
68 - 77
5:18
Brian Cook enters the game for Jamal Sampson.
68 - 77
5:18
Elton Brand missed Free Throw 2 of 2.
68 - 77
5:18
Brian Cook Defensive Rebound.
68 - 77
5:01
Devean George made 18 ft Jumper. Assisted by Gary Payton.
68 - 79
4:50
Elton Brand made 6 ft Jumper. Assisted by Corey Maggette.
70 - 79
4:31
Gary Payton made 2 ft Two Point Shot.
70 - 81
4:24
Corey Maggette missed Layup.
70 - 81
4:22
Elton Brand Offensive Rebound.
70 - 81
4:22
Stanislav Medvedenko Shooting Foul
70 - 81
4:22
Elton Brand made Free Throw 1 of 2.
71 - 81
4:22
Elton Brand made Free Throw 2 of 2.
72 - 81
4:13
Elton Brand Shooting Foul
72 - 81
4:13
Stanislav Medvedenko made Free Throw 1 of 2.
72 - 82
4:13
Keyon Dooling enters the game for Chris Kaman.
72 - 82
4:13
Stanislav Medvedenko missed Free Throw 1 of 2.
72 - 82
4:13
Los Angeles Offensive Rebound.
72 - 82
4:13
Stanislav Medvedenko missed Free Throw 2 of 2.
72 - 82
4:11
Elton Brand Defensive Rebound.
72 - 82
3:55
Eddie House made 27 ft Three Point Jumper. Assisted by Elton Brand.
75 - 82
3:41
Brian Cook missed Layup.
75 - 82
3:39
Corey Maggette Defensive Rebound.
75 - 82
3:34
Marko Jaric made 21 ft Jumper. Assisted by Eddie House.
77 - 82
3:33
Elton Brand Personal Foul
77 - 82
3:33
Devean George missed Free Throw 1 of 2.
77 - 82
3:33
Los Angeles Offensive Rebound.
77 - 82
3:33
Bryon Russell enters the game for Stanislav Medvedenko.
77 - 82
3:33
Devean George made Free Throw 2 of 2.
77 - 83
3:20
Marko Jaric made 26 ft Three Point Jumper. Assisted by Keyon Dooling.
80 - 83
2:55
Eddie House Personal Foul
80 - 83
2:55
Los Angeles Full Timeout.
80 - 83
2:55
Stanislav Medvedenko enters the game for Brian Cook.
80 - 83
2:55
Bryon Russell made Free Throw 1 of 2.
80 - 84
2:55
Bryon Russell made Free Throw 2 of 2.
80 - 85
2:35
Keyon Dooling missed Layup.
80 - 85
2:33
Elton Brand Offensive Rebound.
80 - 85
2:33
Elton Brand missed Tip Shot.
80 - 85
2:32
Keyon Dooling Offensive Rebound.
80 - 85
2:26
Marko Jaric missed 18 ft Jumper.
80 - 85
2:25
Elton Brand Offensive Rebound.
80 - 85
2:25
Bryon Russell Personal Foul
80 - 85
2:25
Elton Brand made Free Throw 1 of 2.
81 - 85
2:25
Elton Brand made Free Throw 2 of 2.
82 - 85
2:06
Stanislav Medvedenko made 19 ft Jumper. Assisted by Gary Payton.
82 - 87
1:46
Gary Payton made Two Point Shot.
82 - 89
1:31
Gary Payton Shooting Foul
82 - 89
1:31
Corey Maggette made Free Throw 1 of 2.
83 - 89
1:31
Corey Maggette made Free Throw 2 of 2.
84 - 89
1:24
Derek Fisher Lost Ball. Stolen by Marko Jaric.
84 - 89
1:14
Devean George Personal Foul
84 - 89
1:14
Marko Jaric missed Free Throw 1 of 2.
84 - 89
1:14
Los Angeles Offensive Rebound.
84 - 89
1:14
Marko Jaric made Free Throw 2 of 2.
85 - 89
1:06
Bryon Russell made Two Point Shot. Assisted by Gary Payton.
85 - 91
0:59
Marko Jaric made 13 ft Two Point Shot.
87 - 91
0:51
Devean George missed Layup. Blocked by Corey Maggette.
87 - 91
0:50
Los Angeles Defensive Rebound.
87 - 91
0:43
Marko Jaric made Two Point Shot.
89 - 91
0:21
Gary Payton missed 17 ft Jumper.
89 - 91
0:19
Elton Brand Defensive Rebound.
89 - 91
0:17
Los Angeles Full Timeout.
89 - 91
0:00
Keyon Dooling missed 27 ft Three Point Jumper.
89 - 91
0:00
Los Angeles Offensive Rebound.
89 - 91
0:00
End of the 4th Quarter.
89 - 91
0:00
End Game
89 - 91
LeBron James (33 points) and the Cavaliers played big in Toronto, eliminating the Raptors 113-87 in Game 6 of the East finals.

LeBron James believes in his team and is humbled that the Cavaliers will be advancing to the finals for his sixth straight year. He is especially proud of Kyrie Irving and Kevin Love for overcoming adversity and getting to where they are today.

LeBron James scored 33 points, Kevin Love had 20 points and 12 rebounds, and the Cleveland Cavaliers secured their second straight trip to the NBA Finals by beating the Toronto Raptors 113-87.
Regular Season Series
LAL wins series 3-1
2015-2016 Pacific Standings