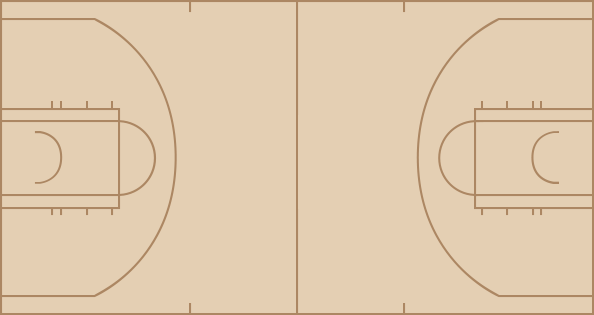 76ers
time
TEAM
PLAY
SCORE
12:00
Start of the 1st Quarter.
0 - 0
12:00
Jumpball. Derrick Coleman vs. Jamaal Magloire. P.J. Brown gains possession.
0 - 0
11:41
Steve Smith missed 12 ft Jumper.
0 - 0
11:38
Kenny Thomas Defensive Rebound.
0 - 0
11:18
Eric Snow missed 12 ft Jumper.
0 - 0
11:17
Jamaal Magloire Defensive Rebound.
0 - 0
10:56
P.J. Brown missed 17 ft Jumper.
0 - 0
10:55
Glenn Robinson Defensive Rebound.
0 - 0
10:41
Allen Iverson missed 18 ft Jumper. Blocked by Darrell Armstrong.
0 - 0
10:38
Jamaal Magloire Defensive Rebound.
0 - 0
10:27
Jamaal Magloire made Two Point Shot. Assisted by Darrell Armstrong.
0 - 2
10:27
Kenny Thomas Shooting Foul
0 - 2
10:27
Jamaal Magloire missed Free Throw 1 of 1.
0 - 2
10:26
Derrick Coleman Defensive Rebound.
0 - 2
10:03
Derrick Coleman missed 15 ft Jumper. Blocked by P.J. Brown.
0 - 2
10:02
Philadelphia Offensive Rebound.
0 - 2
10:02
24 second
0 - 2
9:45
George Lynch missed 18 ft Jumper.
0 - 2
9:45
Glenn Robinson Defensive Rebound.
0 - 2
9:38
Amal McCaskill Technical Foul
0 - 2
9:38
Steve Smith made Technical Free Throw.
0 - 3
9:22
Glenn Robinson made 19 ft Jumper. Assisted by Eric Snow.
2 - 3
9:00
George Lynch missed 18 ft Jumper.
2 - 3
8:59
Eric Snow Defensive Rebound.
2 - 3
8:55
Steve Smith Personal Foul
2 - 3
8:44
George Lynch Shooting Foul
2 - 3
8:44
Glenn Robinson made Free Throw 1 of 2.
3 - 3
8:44
Glenn Robinson missed Free Throw 2 of 2.
3 - 3
8:41
Jamaal Magloire Defensive Rebound.
3 - 3
8:30
George Lynch missed 10 ft Jumper. Blocked by Derrick Coleman.
3 - 3
8:27
New Orleans Offensive Rebound.
3 - 3
8:22
Jamaal Magloire missed 12 ft Hook Shot.
3 - 3
8:21
Derrick Coleman Defensive Rebound.
3 - 3
8:15
Allen Iverson made 18 ft Jumper. Assisted by Derrick Coleman.
5 - 3
8:02
Steve Smith made 19 ft Jumper. Assisted by Jamaal Magloire.
5 - 5
7:45
Allen Iverson made Hook Shot.
7 - 5
7:24
Steve Smith made 16 ft Jumper. Assisted by Darrell Armstrong.
7 - 7
7:03
Allen Iverson made 23 ft Jumper. Assisted by Eric Snow.
9 - 7
6:43
Steve Smith missed Layup.
9 - 7
6:41
Derrick Coleman Defensive Rebound.
9 - 7
6:35
George Lynch Personal Foul
9 - 7
6:35
Stacey Augmon enters the game for George Lynch.
9 - 7
6:28
Glenn Robinson Bad Pass. Stolen by Darrell Armstrong.
9 - 7
6:11
Allen Iverson missed Layup.
9 - 7
6:09
Stacey Augmon Defensive Rebound.
9 - 7
5:58
Eric Snow Shooting Foul
9 - 7
5:58
New Orleans Full Timeout.
9 - 7
5:58
Jamaal Magloire made Free Throw 1 of 2.
9 - 8
5:58
Jamaal Magloire made Free Throw 2 of 2.
9 - 9
5:41
Glenn Robinson missed 25 ft Three Point Jumper.
9 - 9
5:41
P.J. Brown Defensive Rebound.
9 - 9
5:31
Stacey Augmon missed 17 ft Jumper.
9 - 9
5:30
P.J. Brown Offensive Rebound.
9 - 9
5:30
P.J. Brown missed Tip Shot.
9 - 9
5:28
Derrick Coleman Defensive Rebound.
9 - 9
5:20
Allen Iverson missed 12 ft Jumper.
9 - 9
5:18
Philadelphia Defensive Rebound.
9 - 9
5:05
Darrell Armstrong made 16 ft Jumper. Assisted by Stacey Augmon.
9 - 11
4:48
Derrick Coleman missed 10 ft Jumper.
9 - 11
4:47
Darrell Armstrong Defensive Rebound.
9 - 11
4:39
Darrell Armstrong missed 25 ft Three Point Jumper.
9 - 11
4:37
Eric Snow Defensive Rebound.
9 - 11
4:26
Glenn Robinson made Dunk. Assisted by Kenny Thomas.
11 - 11
4:07
P.J. Brown missed 18 ft Jumper.
11 - 11
4:07
New Orleans Defensive Rebound.
11 - 11
4:07
Aaron McKie enters the game for Eric Snow.
11 - 11
3:55
Derrick Coleman missed 24 ft Three Point Jumper.
11 - 11
3:53
Glenn Robinson Offensive Rebound.
13 - 11
3:53
Glenn Robinson made Two Point Shot.
13 - 11
3:39
Derrick Coleman Personal Foul
13 - 11
3:39
Robert Traylor enters the game for P.J. Brown.
13 - 11
3:35
Darrell Armstrong missed Layup.
13 - 11
3:33
Darrell Armstrong Offensive Rebound.
13 - 11
3:32
Kenny Thomas Personal Foul
13 - 11
3:32
Samuel Dalembert enters the game for Kenny Thomas.
13 - 11
3:23
Steve Smith made 13 ft Two Point Shot.
13 - 13
3:01
Glenn Robinson made 14 ft Jumper. Assisted by Allen Iverson.
15 - 13
2:47
Jamaal Magloire Offensive Foul
15 - 13
2:47
Jamaal Magloire Foul
15 - 13
2:47
Philadelphia Full Timeout.
15 - 13
2:28
Allen Iverson made 8 ft Jumper.
17 - 13
2:04
Robert Traylor made 19 ft Jumper. Assisted by Jamaal Magloire.
17 - 15
1:49
Allen Iverson Bad Pass
17 - 15
1:37
Aaron McKie Personal Foul
17 - 15
1:37
Darrell Armstrong made Free Throw 1 of 2.
17 - 16
1:37
Darrell Armstrong made Free Throw 2 of 2.
17 - 17
1:16
Allen Iverson missed Layup.
17 - 17
1:15
Jamaal Magloire Defensive Rebound.
17 - 17
1:07
Steve Smith made 23 ft Three Point Jumper. Assisted by Darrell Armstrong.
17 - 20
0:53
Samuel Dalembert missed 7 ft Jumper. Blocked by Robert Traylor.
17 - 20
0:53
Jumpball. Samuel Dalembert vs. Robert Traylor. Allen Iverson gains possession.
17 - 20
0:53
Samuel Dalembert Offensive Rebound.
17 - 20
0:53
Bryce Drew enters the game for Darrell Armstrong.
17 - 20
0:53
John Salmons enters the game for Glenn Robinson.
17 - 20
0:51
Stacey Augmon Personal Foul
17 - 20
0:43
Allen Iverson made 9 ft Two Point Shot.
19 - 20
0:38
Samuel Dalembert Personal Foul
19 - 20
0:38
Jamaal Magloire made Free Throw 1 of 2.
19 - 21
0:38
Jamaal Magloire made Free Throw 2 of 2.
19 - 22
0:31
Allen Iverson missed 16 ft Jumper.
19 - 22
0:29
Robert Traylor Defensive Rebound.
19 - 22
0:09
Robert Traylor made 16 ft Two Point Shot. Assisted by Bryce Drew.
19 - 24
0:05
Robert Traylor Personal Foul
19 - 24
0:05
John Salmons missed Free Throw 1 of 2.
19 - 24
0:05
Philadelphia Offensive Rebound.
19 - 24
0:05
Amal McCaskill enters the game for Derrick Coleman.
19 - 24
0:05
John Salmons made Free Throw 2 of 2.
20 - 24
0:01
Stacey Augmon missed 17 ft Jumper.
20 - 24
0:00
Samuel Dalembert Defensive Rebound.
20 - 24
0:00
End of the 1st Quarter.
20 - 24

time
TEAM
PLAY
SCORE
12:00
Start of the 2nd Quarter.
20 - 24
11:37
Amal McCaskill made 11 ft Two Point Shot. Assisted by Allen Iverson.
22 - 24
11:12
George Lynch made Layup. Assisted by Stacey Augmon.
22 - 26
10:52
John Salmons made 23 ft Three Point Jumper. Assisted by Aaron McKie.
25 - 26
10:36
Bryce Drew missed 18 ft Jumper.
25 - 26
10:33
Robert Traylor Offensive Rebound.
25 - 26
10:33
Robert Traylor made Dunk.
25 - 28
10:15
P.J. Brown Shooting Foul
25 - 28
10:15
Samuel Dalembert made Free Throw 1 of 2.
26 - 28
10:15
Samuel Dalembert missed Free Throw 2 of 2.
26 - 28
10:15
Robert Traylor Defensive Rebound.
26 - 28
9:52
Stacey Augmon missed 10 ft Jumper.
26 - 28
9:48
Samuel Dalembert Defensive Rebound.
26 - 28
9:32
Samuel Dalembert missed Layup.
26 - 28
9:29
Aaron McKie Offensive Rebound.
26 - 28
9:22
John Salmons made 23 ft Three Point Jumper. Assisted by Allen Iverson.
29 - 28
9:17
Aaron McKie Shooting Foul
29 - 28
9:17
Stacey Augmon made Free Throw 1 of 2.
29 - 29
9:17
Eric Snow enters the game for Aaron McKie.
29 - 29
9:17
Stacey Augmon made Free Throw 2 of 2.
29 - 30
9:04
Kicked Ball
29 - 30
9:04
Philadelphia Full Timeout.
29 - 30
8:49
Eric Snow made 14 ft Jumper. Assisted by Allen Iverson.
31 - 30
8:27
P.J. Brown missed Layup.
31 - 30
8:26
Amal McCaskill Defensive Rebound.
31 - 30
8:18
Allen Iverson made Jumper.
33 - 30
7:52
Stacey Augmon made 17 ft Two Point Shot. Assisted by Robert Traylor.
33 - 32
7:33
John Salmons made 14 ft Jumper. Assisted by Eric Snow.
35 - 32
7:15
Allen Iverson Shooting Foul
35 - 32
7:15
Darrell Armstrong enters the game for Bryce Drew.
35 - 32
7:15
Kenny Thomas enters the game for John Salmons.
35 - 32
7:15
Glenn Robinson enters the game for Amal McCaskill.
35 - 32
7:15
Robert Traylor made Free Throw 1 of 2.
35 - 33
7:15
Steve Smith enters the game for Stacey Augmon.
35 - 33
7:15
Robert Traylor missed Free Throw 2 of 2.
35 - 33
7:13
Samuel Dalembert Defensive Rebound.
35 - 33
6:56
Robert Traylor Shooting Foul
35 - 33
6:56
Jamaal Magloire enters the game for Robert Traylor.
35 - 33
6:56
Samuel Dalembert made Free Throw 1 of 2.
36 - 33
6:56
Samuel Dalembert made Free Throw 2 of 2.
37 - 33
6:43
Samuel Dalembert Shooting Foul
37 - 33
6:43
George Lynch missed Free Throw 1 of 2.
37 - 33
6:43
New Orleans Offensive Rebound.
37 - 33
6:43
Amal McCaskill enters the game for Samuel Dalembert.
37 - 33
6:43
George Lynch made Free Throw 2 of 2.
37 - 34
6:33
Kenny Thomas missed Layup.
37 - 34
6:31
Jamaal Magloire Defensive Rebound.
37 - 34
6:20
Jamaal Magloire made 11 ft Jumper.
37 - 36
6:05
Glenn Robinson Bad Pass
37 - 36
6:01
Jamaal Magloire made Layup. Assisted by Darrell Armstrong.
37 - 38
5:48
Glenn Robinson missed 23 ft Jumper.
37 - 38
5:47
Kenny Thomas Offensive Rebound.
39 - 38
5:47
Kenny Thomas made Tip Shot.
39 - 38
5:37
Darrell Armstrong missed Two Point Shot.
39 - 38
5:35
Glenn Robinson Defensive Rebound.
39 - 38
5:26
Allen Iverson Lost Ball. Stolen by Darrell Armstrong.
39 - 38
5:18
Official Timeout.
39 - 38
5:11
Darrell Armstrong made 18 ft Jumper. Assisted by Steve Smith.
39 - 40
4:52
Allen Iverson missed 14 ft Jumper.
39 - 40
4:52
Kenny Thomas Offensive Rebound.
39 - 40
4:52
Jamaal Magloire Loose Ball Foul
39 - 40
4:52
Derrick Coleman enters the game for Amal McCaskill.
39 - 40
4:43
George Lynch Personal Foul
39 - 40
4:43
Stacey Augmon enters the game for George Lynch.
39 - 40
4:43
John Salmons enters the game for Allen Iverson.
39 - 40
4:37
Glenn Robinson Bad Pass. Stolen by Darrell Armstrong.
39 - 40
4:33
Darrell Armstrong missed 25 ft Three Point Jumper.
39 - 40
4:30
Steve Smith Offensive Rebound.
39 - 40
4:11
Kenny Thomas missed 13 ft Jumper. Blocked by Darrell Armstrong.
39 - 40
4:11
Philadelphia Offensive Rebound.
39 - 40
4:01
Derrick Coleman missed 12 ft Jumper. Blocked by Jamaal Magloire.
39 - 40
4:00
Stacey Augmon Defensive Rebound.
39 - 40
3:43
Darrell Armstrong missed 25 ft Three Point Jumper.
39 - 40
3:41
Eric Snow Defensive Rebound.
39 - 40
3:39
Stacey Augmon Personal Foul
39 - 40
3:39
Eric Snow made Free Throw 1 of 2.
40 - 40
3:39
Eric Snow made Free Throw 2 of 2.
41 - 40
3:21
Steve Smith made Layup. Assisted by P.J. Brown.
41 - 42
3:03
Derrick Coleman missed 9 ft Jumper.
41 - 42
3:01
Darrell Armstrong Defensive Rebound.
41 - 42
2:54
P.J. Brown missed Jumper.
41 - 42
2:53
New Orleans Defensive Rebound.
41 - 42
2:53
New Orleans Full Timeout.
41 - 42
2:53
Robert Traylor enters the game for Jamaal Magloire.
41 - 42
2:39
Glenn Robinson missed 19 ft Jumper.
41 - 42
2:38
Kenny Thomas Offensive Rebound.
41 - 42
2:38
P.J. Brown Loose Ball Foul
41 - 42
2:38
Kenny Thomas made Free Throw 1 of 2.
42 - 42
2:38
Kenny Thomas missed Free Throw 2 of 2.
42 - 42
2:36
P.J. Brown Defensive Rebound.
42 - 42
2:31
Darrell Armstrong made Layup. Assisted by P.J. Brown.
42 - 44
2:08
John Salmons Bad Pass. Stolen by Darrell Armstrong.
42 - 44
2:00
Darrell Armstrong made 17 ft Jumper.
42 - 46
1:44
Glenn Robinson missed 8 ft Jumper.
42 - 46
1:43
Eric Snow Offensive Rebound.
42 - 46
1:40
Eric Snow made 9 ft Jumper.
44 - 46
1:31
Darrell Armstrong missed 25 ft Three Point Jumper.
44 - 46
1:31
New Orleans Defensive Rebound.
44 - 46
1:31
Bryce Drew enters the game for Stacey Augmon.
44 - 46
1:31
Allen Iverson enters the game for Kenny Thomas.
44 - 46
1:16
Allen Iverson missed 24 ft Three Point Jumper.
44 - 46
1:15
Darrell Armstrong Defensive Rebound.
44 - 46
0:57
Darrell Armstrong made 24 ft Three Point Jumper. Assisted by Robert Traylor.
44 - 49
0:49
John Salmons Bad Pass. Stolen by Darrell Armstrong.
44 - 49
0:45
Darrell Armstrong made Dunk.
44 - 51
0:42
Philadelphia 20 Sec. Timeout.
44 - 51
0:30
Allen Iverson missed 13 ft Jumper.
44 - 51
0:28
Robert Traylor Defensive Rebound.
44 - 51
0:08
Steve Smith missed 9 ft Jumper.
44 - 51
0:06
Allen Iverson Defensive Rebound.
44 - 51
0:02
Allen Iverson Offensive Foul
44 - 51
0:02
Allen Iverson Foul
44 - 51
0:02
New Orleans 20 Sec. Timeout.
44 - 51
0:02
Aaron McKie enters the game for Glenn Robinson.
44 - 51
0:00
Darrell Armstrong missed 24 ft Three Point Jumper.
44 - 51
0:00
New Orleans Offensive Rebound.
44 - 51
0:00
End of the 2nd Quarter.
44 - 51

time
TEAM
PLAY
SCORE
12:00
Start of the 3rd Quarter.
44 - 51
11:47
Jamaal Magloire Illegal Defense Foul
44 - 51
11:47
Glenn Robinson missed Technical Free Throw.
44 - 51
11:47
Philadelphia Offensive Rebound.
44 - 51
11:33
Glenn Robinson made 17 ft Jumper. Assisted by Eric Snow.
46 - 51
11:21
Darrell Armstrong made Two Point Shot.
46 - 53
10:55
Eric Snow Bad Pass
46 - 53
10:44
Darrell Armstrong Bad Pass. Stolen by Kenny Thomas.
46 - 53
10:21
Derrick Coleman missed 22 ft Jumper.
46 - 53
10:18
Philadelphia Defensive Rebound.
46 - 53
10:00
P.J. Brown made 14 ft Jumper. Assisted by Jamaal Magloire.
46 - 55
9:44
Derrick Coleman made Dunk. Assisted by Eric Snow.
48 - 55
9:27
George Lynch missed 8 ft Jumper. Blocked by Kenny Thomas.
48 - 55
9:26
New Orleans Offensive Rebound.
48 - 55
9:23
Steve Smith Lost Ball. Stolen by Glenn Robinson.
48 - 55
9:18
Allen Iverson made Two Point Shot. Assisted by Glenn Robinson.
50 - 55
8:59
Darrell Armstrong made 16 ft Jumper. Assisted by P.J. Brown.
50 - 57
8:40
Allen Iverson missed 24 ft Three Point Jumper.
50 - 57
8:37
George Lynch Defensive Rebound.
50 - 57
8:30
P.J. Brown missed 16 ft Jumper.
50 - 57
8:27
Derrick Coleman Defensive Rebound.
50 - 57
8:21
Kenny Thomas made Layup. Assisted by Eric Snow.
52 - 57
7:58
Allen Iverson Personal Foul
52 - 57
7:46
Darrell Armstrong missed 24 ft Three Point Jumper.
52 - 57
7:43
Glenn Robinson Defensive Rebound.
52 - 57
7:37
Jamaal Magloire Shooting Foul
52 - 57
7:37
Kenny Thomas made Free Throw 1 of 2.
53 - 57
7:37
Kenny Thomas made Free Throw 2 of 2.
54 - 57
7:20
P.J. Brown missed Layup. Blocked by Eric Snow.
54 - 57
7:18
New Orleans Offensive Rebound.
54 - 57
7:16
P.J. Brown missed 17 ft Jumper.
54 - 57
7:15
P.J. Brown Offensive Rebound.
54 - 57
7:15
Kenny Thomas Personal Foul
54 - 57
6:56
Darrell Armstrong made 18 ft Jumper.
54 - 59
6:31
Glenn Robinson made 14 ft Jumper.
56 - 59
6:05
Eric Snow Personal Foul
56 - 59
5:52
Steve Smith missed 14 ft Jumper.
56 - 59
5:50
New Orleans Offensive Rebound.
56 - 59
5:50
New Orleans Full Timeout.
56 - 59
5:50
Stacey Augmon enters the game for George Lynch.
56 - 59
5:43
Stacey Augmon Lost Ball. Stolen by Allen Iverson.
56 - 59
5:39
Glenn Robinson made Dunk. Assisted by Allen Iverson.
58 - 59
5:22
Derrick Coleman Personal Foul
58 - 59
5:13
Eric Snow Personal Foul
58 - 59
5:13
Jamaal Magloire made Free Throw 1 of 2.
58 - 60
5:13
Jamaal Magloire made Free Throw 2 of 2.
58 - 61
5:03
Eric Snow Bad Pass. Stolen by Steve Smith.
58 - 61
4:54
Steve Smith missed 9 ft Jumper.
58 - 61
4:52
Derrick Coleman Defensive Rebound.
58 - 61
4:50
Eric Snow missed Layup. Blocked by Darrell Armstrong.
58 - 61
4:48
Stacey Augmon Defensive Rebound.
58 - 61
4:43
Stacey Augmon Lost Ball. Stolen by Glenn Robinson.
58 - 61
4:37
Glenn Robinson made Layup.
60 - 61
4:31
Steve Smith missed 23 ft Three Point Jumper.
60 - 61
4:28
Derrick Coleman Defensive Rebound.
60 - 61
4:13
Kenny Thomas made Layup.
62 - 61
3:49
Darrell Armstrong made Two Point Shot. Assisted by P.J. Brown.
62 - 63
3:40
Philadelphia Full Timeout.
62 - 63
3:40
Robert Traylor enters the game for P.J. Brown.
62 - 63
3:26
Glenn Robinson made 17 ft Two Point Shot. Assisted by Eric Snow.
64 - 63
3:01
Darrell Armstrong Bad Pass. Stolen by Glenn Robinson.
64 - 63
2:58
Eric Snow made Layup.
66 - 63
2:45
Jamaal Magloire missed 5 ft Hook Shot.
66 - 63
2:43
New Orleans Offensive Rebound.
66 - 63
2:43
Samuel Dalembert enters the game for Derrick Coleman.
66 - 63
2:43
Aaron McKie enters the game for Eric Snow.
66 - 63
2:26
Stacey Augmon missed 13 ft Jumper.
66 - 63
2:25
Robert Traylor Offensive Rebound.
66 - 63
2:25
Robert Traylor missed Tip Shot.
66 - 63
2:23
Samuel Dalembert Defensive Rebound.
66 - 63
2:17
Allen Iverson missed Layup.
66 - 63
2:16
Samuel Dalembert Offensive Rebound.
68 - 63
2:15
Samuel Dalembert made Dunk.
68 - 63
1:55
Steve Smith missed 25 ft Three Point Jumper.
68 - 63
1:53
Kenny Thomas Defensive Rebound.
68 - 63
1:39
Aaron McKie made Layup.
70 - 63
1:39
Jamaal Magloire Shooting Foul
70 - 63
1:39
Aaron McKie made Free Throw 1 of 1.
71 - 63
1:22
Stacey Augmon made 7 ft Jumper. Assisted by Robert Traylor.
71 - 65
1:04
Allen Iverson missed 24 ft Three Point Jumper.
71 - 65
1:01
Robert Traylor Defensive Rebound.
71 - 65
0:56
Steve Smith missed Two Point Shot. Blocked by Samuel Dalembert.
71 - 65
0:55
Samuel Dalembert Defensive Rebound.
71 - 65
0:46
Glenn Robinson made Layup. Assisted by Samuel Dalembert.
73 - 65
0:28
Jamaal Magloire missed 6 ft Hook Shot.
73 - 65
0:26
Samuel Dalembert Defensive Rebound.
73 - 65
0:03
24 second
73 - 65
0:03
John Salmons enters the game for Glenn Robinson.
73 - 65
0:03
Amal McCaskill enters the game for Kenny Thomas.
73 - 65
0:00
Darrell Armstrong Lost Ball. Stolen by Allen Iverson.
73 - 65
0:00
End of the 3rd Quarter.
73 - 65

time
TEAM
PLAY
SCORE
12:00
Start of the 4th Quarter.
73 - 65
11:40
Robert Traylor missed 9 ft Jumper.
73 - 65
11:37
Allen Iverson Defensive Rebound.
73 - 65
11:18
Robert Traylor Shooting Foul
73 - 65
11:18
John Salmons missed Free Throw 1 of 2.
73 - 65
11:18
Philadelphia Offensive Rebound.
73 - 65
11:18
John Salmons made Free Throw 2 of 2.
74 - 65
11:07
Bryce Drew missed 23 ft Three Point Jumper.
74 - 65
11:06
P.J. Brown Offensive Rebound.
74 - 65
11:06
Kicked Ball
74 - 65
10:57
Robert Traylor missed Layup.
74 - 65
10:56
Robert Traylor Offensive Rebound.
74 - 67
10:56
Robert Traylor made Tip Shot.
74 - 67
10:37
Allen Iverson missed 18 ft Jumper.
74 - 67
10:36
Robert Traylor Defensive Rebound.
74 - 67
10:14
Darrell Armstrong missed 27 ft Three Point Jumper.
74 - 67
10:11
P.J. Brown Offensive Rebound.
74 - 67
10:08
Bryce Drew made 17 ft Jumper. Assisted by P.J. Brown.
74 - 69
9:40
John Salmons missed Jumper.
74 - 69
9:37
Robert Traylor Defensive Rebound.
74 - 69
9:26
Stacey Augmon missed 8 ft Hook Shot.
74 - 69
9:25
Stacey Augmon Offensive Rebound.
74 - 69
9:22
Stacey Augmon Lost Ball. Stolen by John Salmons.
74 - 69
9:18
Allen Iverson made Layup.
76 - 69
9:11
Samuel Dalembert Shooting Foul
76 - 69
9:11
Robert Traylor made Free Throw 1 of 2.
76 - 70
9:11
Robert Traylor made Free Throw 2 of 2.
76 - 71
8:52
Aaron McKie missed 23 ft Three Point Jumper.
76 - 71
8:48
Amal McCaskill Offensive Rebound.
76 - 71
8:48
Amal McCaskill made Layup.
78 - 71
8:19
Darrell Armstrong made 25 ft Three Point Jumper. Assisted by Bryce Drew.
78 - 74
8:00
Allen Iverson missed 22 ft Three Point Jumper.
78 - 74
7:58
Samuel Dalembert Offensive Rebound.
78 - 74
7:56
Philadelphia Full Timeout.
78 - 74
7:56
Glenn Robinson enters the game for John Salmons.
78 - 74
7:48
Glenn Robinson made Two Point Shot.
80 - 74
7:26
Stacey Augmon missed 16 ft Jumper.
80 - 74
7:24
P.J. Brown Offensive Rebound.
80 - 74
7:11
Stacey Augmon missed 16 ft Two Point Shot.
80 - 74
7:09
Samuel Dalembert Defensive Rebound.
80 - 74
6:47
Allen Iverson missed 25 ft Three Point Jumper.
80 - 74
6:47
Philadelphia Defensive Rebound.
80 - 74
6:31
Darrell Armstrong made 24 ft Three Point Jumper. Assisted by P.J. Brown.
80 - 77
6:11
Aaron McKie missed 23 ft Three Point Jumper.
80 - 77
6:09
Robert Traylor Defensive Rebound.
80 - 77
6:03
Darrell Armstrong missed 25 ft Three Point Jumper.
80 - 77
6:01
Aaron McKie Defensive Rebound.
80 - 77
5:58
Allen Iverson made Layup.
82 - 77
5:37
P.J. Brown missed 19 ft Jumper.
82 - 77
5:35
Glenn Robinson Defensive Rebound.
82 - 77
5:22
Glenn Robinson missed Jumper.
82 - 77
5:20
Glenn Robinson Offensive Rebound.
82 - 77
5:11
Darrell Armstrong Shooting Foul
82 - 77
5:11
Official Timeout.
82 - 77
5:11
Eric Snow enters the game for Aaron McKie.
82 - 77
5:11
Kenny Thomas enters the game for Amal McCaskill.
82 - 77
5:11
Jamaal Magloire enters the game for P.J. Brown.
82 - 77
5:11
Steve Smith enters the game for Bryce Drew.
82 - 77
5:11
Allen Iverson made Free Throw 1 of 2.
83 - 77
5:11
Allen Iverson made Free Throw 2 of 2.
84 - 77
4:58
Darrell Armstrong missed 25 ft Three Point Jumper.
84 - 77
4:58
Kenny Thomas Defensive Rebound.
84 - 77
4:58
Jamaal Magloire Loose Ball Foul
84 - 77
4:39
Kenny Thomas Bad Pass. Stolen by Stacey Augmon.
84 - 77
4:18
Robert Traylor made Jumper.
84 - 79
4:05
Stacey Augmon Personal Foul
84 - 79
4:01
Amal McCaskill Technical Foul
84 - 79
4:01
Glenn Robinson missed Technical Free Throw.
84 - 79
4:01
Philadelphia Offensive Rebound.
84 - 79
3:59
Samuel Dalembert made 10 ft Hook Shot. Assisted by Eric Snow.
86 - 79
3:43
Samuel Dalembert Shooting Foul
86 - 79
3:43
Robert Traylor missed Free Throw 1 of 2.
86 - 79
3:43
New Orleans Offensive Rebound.
86 - 79
3:43
Robert Traylor missed Free Throw 2 of 2.
86 - 79
3:43
Aaron McKie enters the game for Samuel Dalembert.
86 - 79
3:42
Glenn Robinson Defensive Rebound.
86 - 79
3:29
Glenn Robinson missed 19 ft Jumper.
86 - 79
3:27
Jamaal Magloire Defensive Rebound.
86 - 79
3:14
Steve Smith missed 26 ft Three Point Jumper.
86 - 79
3:12
Allen Iverson Defensive Rebound.
86 - 79
2:59
Glenn Robinson missed 16 ft Jumper.
86 - 79
2:57
Stacey Augmon Defensive Rebound.
86 - 79
2:40
Steve Smith missed Layup.
86 - 79
2:39
New Orleans Offensive Rebound.
86 - 79
2:39
Eric Snow Loose Ball Foul
86 - 79
2:39
New Orleans Full Timeout.
86 - 79
2:39
Samuel Dalembert enters the game for Glenn Robinson.
86 - 79
2:39
Bryce Drew enters the game for Robert Traylor.
86 - 79
2:27
Jamaal Magloire made Hook Shot. Assisted by Bryce Drew.
86 - 81
1:50
Aaron McKie Personal Foul
86 - 81
1:39
Steve Smith missed 25 ft Three Point Jumper.
86 - 81
1:38
Aaron McKie Defensive Rebound.
86 - 81
1:35
Stacey Augmon Shooting Foul
86 - 81
1:35
Allen Iverson made Free Throw 1 of 2.
87 - 81
1:35
Allen Iverson made Free Throw 2 of 2.
88 - 81
1:20
Stacey Augmon missed 16 ft Jumper.
88 - 81
1:17
Allen Iverson Defensive Rebound.
88 - 81
0:59
New Orleans Full Timeout.
88 - 81
0:54
Eric Snow Loose Ball Foul
88 - 81
0:54
Bryce Drew made Free Throw 1 of 2.
88 - 82
0:54
P.J. Brown enters the game for Jamaal Magloire.
88 - 82
0:54
Bryce Drew made Free Throw 2 of 2.
88 - 83
0:28
Eric Snow missed 25 ft Three Point Jumper.
88 - 83
0:26
Stacey Augmon Defensive Rebound.
88 - 83
0:24
New Orleans Full Timeout.
88 - 83
0:24
John Salmons enters the game for Samuel Dalembert.
88 - 83
0:24
Jamaal Magloire enters the game for Stacey Augmon.
88 - 83
0:21
Eric Snow Personal Foul
88 - 83
0:21
Amal McCaskill enters the game for Eric Snow.
88 - 83
0:21
Jamaal Magloire missed Free Throw 1 of 2.
88 - 83
0:21
New Orleans Offensive Rebound.
88 - 83
0:21
Stacey Augmon enters the game for P.J. Brown.
88 - 83
0:21
Jamaal Magloire made Free Throw 2 of 2.
88 - 84
0:21
Philadelphia Full Timeout.
88 - 84
0:21
Glenn Robinson enters the game for Amal McCaskill.
88 - 84
0:21
George Lynch enters the game for Jamaal Magloire.
88 - 84
0:19
Darrell Armstrong Personal Foul
88 - 84
0:19
John Salmons made Free Throw 1 of 2.
89 - 84
0:19
Jamaal Magloire enters the game for George Lynch.
89 - 84
0:19
John Salmons made Free Throw 2 of 2.
90 - 84
0:09
Steve Smith missed 26 ft Three Point Jumper.
90 - 84
0:08
New Orleans Defensive Rebound.
90 - 84
0:07
Stacey Augmon Personal Foul
90 - 84
0:07
Aaron McKie made Free Throw 1 of 2.
91 - 84
0:07
Aaron McKie made Free Throw 2 of 2.
92 - 84
0:02
Darrell Armstrong missed 25 ft Three Point Jumper.
92 - 84
0:01
Jamaal Magloire Offensive Rebound.
92 - 84
0:00
Jamaal Magloire made Layup.
92 - 86
0:00
End of the 4th Quarter.
92 - 86
0:00
End Game
92 - 86
Stephen A. Smith reacts to the news that the Knicks and Bulls have agreed to a deal that will send former All-Star point guard Derrick Rose to New York.

Ian Begley breaks down the multi-player deal that sends Derrick Rose to the Knicks for Robin Lopez, Jerian Grant and Jose Calderon.

Here's a look at what trades are going down ahead of Thursday night's NBA draft.
Regular Season Series
Series tied 2-2
2015-2016 Atlantic Standings