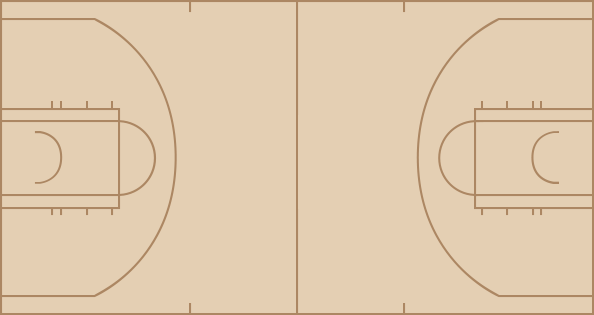 Lakers
time
TEAM
PLAY
SCORE
12:00
Start of the 1st Quarter.
0 - 0
12:00
Jumpball. Stanislav Medvedenko vs. Pau Gasol. Jason Williams gains possession.
0 - 0
11:48
Pau Gasol made Two Point Shot. Assisted by Jason Williams.
0 - 2
11:26
Stanislav Medvedenko made Two Point Shot.
2 - 2
11:07
Lorenzen Wright made 6 ft Jumper. Assisted by Mike Miller.
2 - 4
10:56
Kareem Rush made 21 ft Jumper.
4 - 4
10:44
Jason Williams made 22 ft Jumper.
4 - 6
10:27
Brian Cook Lost Ball. Stolen by Mike Miller.
4 - 6
10:21
Jason Williams missed 25 ft Three Point Jumper.
4 - 6
10:18
Gary Payton Defensive Rebound.
4 - 6
10:14
Gary Payton missed 21 ft Jumper.
4 - 6
10:11
Lorenzen Wright Defensive Rebound.
4 - 6
10:04
Mike Miller missed 26 ft Three Point Jumper.
4 - 6
10:03
Devean George Defensive Rebound.
4 - 6
9:42
Gary Payton missed 15 ft Two Point Shot.
4 - 6
9:41
Stanislav Medvedenko Offensive Rebound.
4 - 6
9:40
James Posey Loose Ball Foul
4 - 6
9:40
Los Angeles 20 Sec. Timeout.
4 - 6
9:30
Kareem Rush missed 7 ft Jumper.
4 - 6
9:27
Brian Cook Offensive Rebound.
4 - 6
9:26
Brian Cook missed Layup.
4 - 6
9:26
Stanislav Medvedenko Offensive Rebound.
4 - 6
9:23
Stanislav Medvedenko made Layup.
6 - 6
9:00
Jason Williams made 23 ft Three Point Jumper. Assisted by Mike Miller.
6 - 9
8:44
Gary Payton Lost Ball. Stolen by Mike Miller.
6 - 9
8:40
Mike Miller made Layup.
6 - 11
8:23
Stanislav Medvedenko missed 15 ft Jumper.
6 - 11
8:22
Jason Williams Defensive Rebound.
6 - 11
8:21
Devean George Shooting Foul
6 - 11
8:21
Mike Miller made Free Throw 1 of 2.
6 - 12
8:21
Mike Miller made Free Throw 2 of 2.
6 - 13
8:08
Brian Cook made 17 ft Jumper. Assisted by Kareem Rush.
8 - 13
7:58
Mike Miller made 22 ft Jumper. Assisted by Jason Williams.
8 - 15
7:45
Jason Williams Shooting Foul
8 - 15
7:45
Gary Payton made Free Throw 1 of 2.
9 - 15
7:45
Gary Payton made Free Throw 2 of 2.
10 - 15
7:35
Mike Miller Offensive Foul
10 - 15
7:35
Mike Miller Foul
10 - 15
7:15
Gary Payton made Two Point Shot.
12 - 15
7:03
Pau Gasol missed 6 ft Two Point Shot. Blocked by Stanislav Medvedenko.
12 - 15
7:01
Gary Payton Defensive Rebound.
12 - 15
6:56
James Posey Personal Foul
12 - 15
6:56
Shane Battier enters the game for James Posey.
12 - 15
6:48
Stanislav Medvedenko missed 8 ft Two Point Shot.
12 - 15
6:46
Lorenzen Wright Defensive Rebound.
12 - 15
6:39
Shane Battier missed 14 ft Jumper.
12 - 15
6:35
Gary Payton Defensive Rebound.
12 - 15
6:26
Stanislav Medvedenko missed 17 ft Jumper.
12 - 15
6:24
Brian Cook Offensive Rebound.
12 - 15
6:22
Brian Cook made Layup.
14 - 15
6:16
Memphis Full Timeout.
14 - 15
6:13
Stanislav Medvedenko Personal Foul
14 - 15
6:13
Stromile Swift enters the game for Mike Miller.
14 - 15
6:13
Bonzi Wells enters the game for Lorenzen Wright.
14 - 15
6:01
Pau Gasol missed 5 ft Jumper.
14 - 15
5:58
Pau Gasol Offensive Rebound.
14 - 17
5:58
Pau Gasol made Dunk.
14 - 17
5:50
Gary Payton Lost Ball. Stolen by Jason Williams.
14 - 17
5:48
Jason Williams made 17 ft Jumper.
14 - 19
5:28
Gary Payton made Jumper. Assisted by Stanislav Medvedenko.
16 - 19
5:07
Stanislav Medvedenko Shooting Foul
16 - 19
5:07
Pau Gasol missed Free Throw 1 of 2.
16 - 19
5:07
Memphis Offensive Rebound.
16 - 19
5:07
Pau Gasol missed Free Throw 2 of 2.
16 - 19
5:05
Stanislav Medvedenko Defensive Rebound.
16 - 19
4:52
Gary Payton missed Jumper.
16 - 19
4:50
Stanislav Medvedenko Offensive Rebound.
18 - 19
4:50
Stanislav Medvedenko made Tip Shot.
18 - 19
4:31
Bonzi Wells missed 7 ft Two Point Shot.
18 - 19
4:30
Brian Cook Defensive Rebound.
18 - 19
4:24
Kareem Rush missed 25 ft Three Point Jumper.
18 - 19
4:22
Shane Battier Defensive Rebound.
18 - 19
4:15
Shane Battier missed 17 ft Jumper.
18 - 19
4:13
Stanislav Medvedenko Defensive Rebound.
18 - 19
4:03
Stanislav Medvedenko made Jumper. Assisted by Gary Payton.
20 - 19
3:56
Memphis 20 Sec. Timeout.
20 - 19
3:45
Bonzi Wells made 11 ft Jumper. Assisted by Jason Williams.
20 - 21
3:33
Shane Battier Shooting Foul
20 - 21
3:33
Earl Watson enters the game for Jason Williams.
20 - 21
3:33
Bo Outlaw enters the game for Pau Gasol.
20 - 21
3:33
Bryon Russell enters the game for Kareem Rush.
20 - 21
3:33
Derek Fisher enters the game for Stanislav Medvedenko.
20 - 21
3:33
Brian Cook missed Free Throw 1 of 2.
20 - 21
3:33
Los Angeles Offensive Rebound.
20 - 21
3:33
Brian Cook missed Free Throw 2 of 2.
20 - 21
3:32
Bryon Russell Offensive Rebound.
20 - 21
3:11
Earl Watson Personal Foul
20 - 21
3:11
Derek Fisher made Free Throw 1 of 2.
21 - 21
3:11
Derek Fisher made Free Throw 2 of 2.
22 - 21
2:58
Brian Cook Personal Foul
22 - 21
2:58
Los Angeles Full Timeout.
22 - 21
2:46
Earl Watson made 21 ft Jumper. Assisted by Bo Outlaw.
22 - 23
2:34
Bonzi Wells Personal Foul
22 - 23
2:34
Gary Payton missed Free Throw 1 of 2.
22 - 23
2:34
Los Angeles Offensive Rebound.
22 - 23
2:34
Gary Payton made Free Throw 2 of 2.
23 - 23
2:19
Bonzi Wells missed 18 ft Jumper.
23 - 23
2:18
Derek Fisher Defensive Rebound.
23 - 23
2:05
Bryon Russell missed 19 ft Jumper.
23 - 23
2:02
Bonzi Wells Defensive Rebound.
23 - 23
1:59
Earl Watson Double Dribble
23 - 23
1:42
Devean George made 7 ft Jumper. Assisted by Bryon Russell.
25 - 23
1:19
Stromile Swift missed 14 ft Jumper.
25 - 23
1:16
Bryon Russell Defensive Rebound.
25 - 23
0:58
Gary Payton Lost Ball. Stolen by Bonzi Wells.
25 - 23
0:54
Bryon Russell Shooting Foul
25 - 23
0:54
Bonzi Wells made Free Throw 1 of 2.
25 - 24
0:54
Bonzi Wells made Free Throw 2 of 2.
25 - 25
0:41
Bo Outlaw Personal Foul
25 - 25
0:41
Bryon Russell made Free Throw 1 of 2.
26 - 25
0:41
Bryon Russell missed Free Throw 2 of 2.
26 - 25
0:39
Bo Outlaw Defensive Rebound.
26 - 25
0:20
Earl Watson Lost Ball. Stolen by Devean George.
26 - 25
0:01
Derek Fisher missed 25 ft Three Point Jumper.
26 - 25
0:00
Los Angeles Offensive Rebound.
26 - 25
0:00
End of the 1st Quarter.
26 - 25

time
TEAM
PLAY
SCORE
12:00
Start of the 2nd Quarter.
26 - 25
11:42
Earl Watson Shooting Foul
26 - 25
11:42
Derek Fisher made Free Throw 1 of 2.
27 - 25
11:42
Derek Fisher made Free Throw 2 of 2.
28 - 25
11:26
Earl Watson missed 15 ft Jumper.
28 - 25
11:25
Bryon Russell Defensive Rebound.
28 - 25
11:06
Derek Fisher missed 22 ft Jumper.
28 - 25
11:03
Lorenzen Wright Defensive Rebound.
28 - 25
10:49
Earl Watson Bad Pass. Stolen by Derek Fisher.
28 - 25
10:42
Derek Fisher Bad Pass
28 - 25
10:29
Lorenzen Wright missed 9 ft Two Point Shot.
28 - 25
10:26
Luke Walton Defensive Rebound.
28 - 25
10:10
Bryon Russell missed 25 ft Three Point Jumper.
28 - 25
10:10
Los Angeles Offensive Rebound.
28 - 25
10:10
Bo Outlaw Loose Ball Foul
28 - 25
10:03
Luke Walton Lost Ball. Stolen by James Posey.
28 - 25
9:55
Bonzi Wells made 18 ft Jumper. Assisted by Earl Watson.
28 - 27
9:30
Kareem Rush missed 5 ft Jumper. Blocked by James Posey.
28 - 27
9:27
Bonzi Wells Defensive Rebound.
28 - 27
9:25
Earl Watson made Layup.
28 - 29
9:17
Los Angeles Full Timeout.
28 - 29
9:17
Gary Payton enters the game for Bryon Russell.
28 - 29
9:03
Kareem Rush missed 23 ft Jumper.
28 - 29
9:03
Los Angeles Offensive Rebound.
28 - 29
8:56
Kareem Rush missed 16 ft Jumper.
28 - 29
8:55
Earl Watson Defensive Rebound.
28 - 29
8:33
Bonzi Wells missed 23 ft Jumper.
28 - 29
8:32
Gary Payton Defensive Rebound.
28 - 29
8:21
Gary Payton missed 21 ft Jumper.
28 - 29
8:19
James Posey Defensive Rebound.
28 - 29
8:03
James Posey missed 26 ft Three Point Jumper.
28 - 29
8:02
Luke Walton Defensive Rebound.
28 - 29
7:50
Stanislav Medvedenko missed Two Point Shot.
28 - 29
7:47
Lorenzen Wright Defensive Rebound.
28 - 29
7:37
Derek Fisher made Two Point Shot. Assisted by Luke Walton.
30 - 29
7:18
Lorenzen Wright missed 16 ft Jumper.
30 - 29
7:16
Luke Walton Defensive Rebound.
30 - 29
7:00
Derek Fisher missed 23 ft Jumper.
30 - 29
6:58
Stanislav Medvedenko Offensive Rebound.
30 - 29
6:58
Stanislav Medvedenko missed Tip Shot.
30 - 29
6:56
Stanislav Medvedenko Offensive Rebound.
30 - 29
6:56
Lorenzen Wright Shooting Foul
30 - 29
6:56
Jason Williams enters the game for Earl Watson.
30 - 29
6:56
Pau Gasol enters the game for Bonzi Wells.
30 - 29
6:56
Mike Miller enters the game for Bo Outlaw.
30 - 29
6:56
Stanislav Medvedenko made Free Throw 1 of 2.
31 - 29
6:56
Stanislav Medvedenko made Free Throw 2 of 2.
32 - 29
6:41
Lorenzen Wright made Layup. Assisted by Pau Gasol.
32 - 31
6:26
Luke Walton missed Layup. Blocked by Pau Gasol.
32 - 31
6:24
James Posey Defensive Rebound.
32 - 31
6:20
Jason Williams missed 25 ft Three Point Jumper.
32 - 31
6:18
Derek Fisher Defensive Rebound.
32 - 31
6:15
Luke Walton made Layup. Assisted by Derek Fisher.
34 - 31
6:15
Lorenzen Wright Shooting Foul
34 - 31
6:15
Devean George enters the game for Derek Fisher.
34 - 31
6:15
Luke Walton missed Free Throw 1 of 1.
34 - 31
6:13
James Posey Defensive Rebound.
34 - 31
5:56
Pau Gasol missed 6 ft Jumper.
34 - 31
5:54
Lorenzen Wright Offensive Rebound.
34 - 33
5:54
Lorenzen Wright made Layup.
34 - 33
5:37
Gary Payton missed 7 ft Two Point Shot.
34 - 33
5:33
Devean George Offensive Rebound.
36 - 33
5:33
Devean George made Two Point Shot.
36 - 33
5:26
Memphis Full Timeout.
36 - 33
5:26
Shane Battier enters the game for James Posey.
36 - 33
5:26
Stromile Swift enters the game for Lorenzen Wright.
36 - 33
5:26
Brian Cook enters the game for Luke Walton.
36 - 33
5:11
Jason Williams missed 25 ft Three Point Jumper.
36 - 33
5:09
Kareem Rush Defensive Rebound.
36 - 33
5:00
Devean George missed 25 ft Three Point Jumper.
36 - 33
4:56
Stanislav Medvedenko Offensive Rebound.
36 - 33
4:39
Devean George missed 7 ft Jumper.
36 - 33
4:35
Mike Miller Defensive Rebound.
36 - 33
4:24
Mike Miller missed Two Point Shot.
36 - 33
4:22
Devean George Defensive Rebound.
36 - 33
4:22
Shane Battier Personal Foul
36 - 33
4:22
Devean George missed Free Throw 1 of 2.
36 - 33
4:22
Los Angeles Offensive Rebound.
36 - 33
4:22
Devean George missed Free Throw 2 of 2.
36 - 33
4:22
Stromile Swift Defensive Rebound.
36 - 33
4:03
Pau Gasol missed Two Point Shot.
36 - 33
4:00
Stanislav Medvedenko Defensive Rebound.
36 - 33
3:57
Stanislav Medvedenko missed Two Point Shot.
36 - 33
3:54
Kareem Rush Offensive Rebound.
36 - 33
3:49
Brian Cook made 17 ft Jumper. Assisted by Kareem Rush.
38 - 33
3:31
Pau Gasol made 9 ft Jumper. Assisted by Mike Miller.
38 - 35
3:31
Stanislav Medvedenko Shooting Foul
38 - 35
3:31
Bryon Russell enters the game for Stanislav Medvedenko.
38 - 35
3:31
Pau Gasol missed Free Throw 1 of 1.
38 - 35
3:28
Brian Cook Defensive Rebound.
38 - 35
3:16
Kareem Rush missed 12 ft Two Point Shot.
38 - 35
3:14
Stromile Swift Defensive Rebound.
38 - 35
2:59
Shane Battier missed Three Point Jumper.
38 - 35
2:56
Kareem Rush Defensive Rebound.
38 - 35
2:48
Gary Payton missed Layup.
38 - 35
2:47
Stromile Swift Defensive Rebound.
38 - 35
2:40
Mike Miller missed 25 ft Three Point Jumper.
38 - 35
2:36
Brian Cook Defensive Rebound.
38 - 35
2:32
Los Angeles Full Timeout.
38 - 35
2:16
Bryon Russell made 7 ft Two Point Shot. Assisted by Gary Payton.
40 - 35
1:55
Brian Cook Shooting Foul
40 - 35
1:55
Pau Gasol missed Free Throw 1 of 2.
40 - 35
1:55
Memphis Offensive Rebound.
40 - 35
1:55
Derek Fisher enters the game for Brian Cook.
40 - 35
1:55
Pau Gasol missed Free Throw 2 of 2.
40 - 35
1:54
Kareem Rush Defensive Rebound.
40 - 35
1:39
Bryon Russell made 23 ft Jumper. Assisted by Derek Fisher.
42 - 35
1:24
Devean George Personal Foul
42 - 35
1:24
Pau Gasol made Free Throw 1 of 2.
42 - 36
1:24
Pau Gasol missed Free Throw 2 of 2.
42 - 36
1:23
Devean George Defensive Rebound.
42 - 36
1:12
Shane Battier Shooting Foul
42 - 36
1:12
Gary Payton made Free Throw 1 of 2.
43 - 36
1:12
Gary Payton made Free Throw 2 of 2.
44 - 36
1:00
Shane Battier missed 23 ft Three Point Jumper.
44 - 36
0:58
Gary Payton Defensive Rebound.
44 - 36
0:53
Derek Fisher missed 25 ft Three Point Jumper.
44 - 36
0:50
Pau Gasol Defensive Rebound.
44 - 36
0:42
Mike Miller made 25 ft Three Point Jumper. Assisted by Pau Gasol.
44 - 39
0:31
Derek Fisher missed Layup. Blocked by Stromile Swift.
44 - 39
0:28
Kareem Rush Offensive Rebound.
44 - 39
0:24
Gary Payton made 5 ft Two Point Shot.
46 - 39
0:02
Jason Williams missed Two Point Shot.
46 - 39
0:01
Pau Gasol Offensive Rebound.
46 - 39
0:01
Gary Payton Shooting Foul
46 - 39
0:01
Pau Gasol made Free Throw 1 of 2.
46 - 40
0:01
Pau Gasol missed Free Throw 2 of 2.
46 - 40
0:01
Memphis Offensive Rebound.
46 - 40
0:00
Brian Cook enters the game for Derek Fisher.
46 - 40
0:00
End of the 2nd Quarter.
46 - 40

time
TEAM
PLAY
SCORE
12:00
Start of the 3rd Quarter.
46 - 40
11:41
Devean George missed 22 ft Jumper.
46 - 40
11:38
Mike Miller Defensive Rebound.
46 - 40
11:29
Mike Miller made 22 ft Jumper. Assisted by Jason Williams.
46 - 42
11:15
Devean George Offensive Foul
46 - 42
11:15
Devean George Foul
46 - 42
11:03
Mike Miller made 21 ft Jumper. Assisted by Jason Williams.
46 - 44
10:42
Devean George made 5 ft Two Point Shot. Assisted by Kareem Rush.
48 - 44
10:19
Mike Miller made Two Point Shot.
48 - 46
10:04
Pau Gasol Personal Foul
48 - 46
9:51
Devean George missed 15 ft Jumper.
48 - 46
9:48
James Posey Defensive Rebound.
48 - 46
9:41
Jason Williams made Two Point Shot.
48 - 48
9:41
Brian Cook Shooting Foul
48 - 48
9:41
Jason Williams made Free Throw 1 of 1.
48 - 49
9:23
Stanislav Medvedenko missed 13 ft Jumper.
48 - 49
9:22
James Posey Defensive Rebound.
48 - 49
9:15
Jason Williams missed 26 ft Three Point Jumper.
48 - 49
9:14
Lorenzen Wright Offensive Rebound.
48 - 49
9:04
Mike Miller missed 22 ft Jumper.
48 - 49
9:03
Pau Gasol Offensive Rebound.
48 - 49
9:00
Pau Gasol missed 6 ft Jumper.
48 - 49
8:59
Lorenzen Wright Offensive Rebound.
48 - 49
8:59
Lorenzen Wright missed Tip Shot.
48 - 49
8:56
Kareem Rush Defensive Rebound.
48 - 49
8:51
Brian Cook made Dunk. Assisted by Gary Payton.
50 - 49
8:36
Pau Gasol made Two Point Shot. Assisted by Jason Williams.
50 - 51
8:10
Stanislav Medvedenko Lost Ball. Stolen by Pau Gasol.
50 - 51
8:07
Kareem Rush Shooting Foul
50 - 51
8:07
Mike Miller missed Free Throw 1 of 2.
50 - 51
8:07
Memphis Offensive Rebound.
50 - 51
8:07
Luke Walton enters the game for Stanislav Medvedenko.
50 - 51
8:07
Mike Miller made Free Throw 2 of 2.
50 - 52
7:56
Gary Payton made 25 ft Three Point Jumper.
53 - 52
7:33
Lorenzen Wright missed 6 ft Jumper.
53 - 52
7:30
Devean George Defensive Rebound.
53 - 52
7:26
Gary Payton Lost Ball. Stolen by James Posey.
53 - 52
7:01
Pau Gasol missed 7 ft Jumper.
53 - 52
7:01
Memphis Offensive Rebound.
53 - 52
7:01
24 second
53 - 52
6:39
Devean George missed 25 ft Three Point Jumper.
53 - 52
6:37
Mike Miller Defensive Rebound.
53 - 52
6:20
James Posey made 22 ft Jumper. Assisted by Jason Williams.
53 - 54
6:00
Brian Cook made Layup. Assisted by Luke Walton.
55 - 54
6:00
Lorenzen Wright Shooting Foul
55 - 54
6:00
Shane Battier enters the game for James Posey.
55 - 54
6:00
Stromile Swift enters the game for Mike Miller.
55 - 54
6:00
Bonzi Wells enters the game for Lorenzen Wright.
55 - 54
6:00
Derek Fisher enters the game for Kareem Rush.
55 - 54
6:00
Brian Cook made Free Throw 1 of 1.
56 - 54
5:52
Jason Williams missed 23 ft Jumper.
56 - 54
5:48
Brian Cook Defensive Rebound.
56 - 54
5:43
Derek Fisher missed 12 ft Jumper.
56 - 54
5:41
Shane Battier Defensive Rebound.
56 - 54
5:37
Pau Gasol made 5 ft Two Point Shot. Assisted by Jason Williams.
56 - 56
5:37
Luke Walton Shooting Foul
56 - 56
5:37
Memphis Full Timeout.
56 - 56
5:37
Bryon Russell enters the game for Devean George.
56 - 56
5:37
Stanislav Medvedenko enters the game for Brian Cook.
56 - 56
5:37
Pau Gasol missed Free Throw 1 of 1.
56 - 56
5:35
Luke Walton Defensive Rebound.
56 - 56
5:20
Bryon Russell missed 22 ft Jumper.
56 - 56
5:20
Pau Gasol Defensive Rebound.
56 - 56
5:15
Bonzi Wells Lost Ball. Stolen by Derek Fisher.
56 - 56
5:09
Derek Fisher made 23 ft Jumper.
58 - 56
4:48
Bryon Russell Personal Foul
58 - 56
4:39
Jason Williams made 21 ft Jumper.
58 - 58
4:11
Gary Payton made 6 ft Two Point Shot.
60 - 58
3:59
Stanislav Medvedenko Personal Foul
60 - 58
3:59
Pau Gasol made Free Throw 1 of 2.
60 - 59
3:59
Brian Cook enters the game for Stanislav Medvedenko.
60 - 59
3:59
Pau Gasol missed Free Throw 2 of 2.
60 - 59
3:57
Gary Payton Defensive Rebound.
60 - 59
3:44
Gary Payton made Two Point Shot. Assisted by Luke Walton.
62 - 59
3:11
Derek Fisher missed 25 ft Three Point Jumper.
62 - 59
3:10
Bonzi Wells Defensive Rebound.
62 - 59
3:00
Pau Gasol made Two Point Shot. Assisted by Jason Williams.
62 - 61
2:44
Brian Cook missed 21 ft Jumper.
62 - 61
2:40
Stromile Swift Defensive Rebound.
62 - 61
2:33
Pau Gasol made Layup. Assisted by Bonzi Wells.
62 - 63
2:32
Los Angeles Full Timeout.
62 - 63
2:32
Earl Watson enters the game for Pau Gasol.
62 - 63
2:32
Bo Outlaw enters the game for Jason Williams.
62 - 63
2:15
Bryon Russell missed 25 ft Three Point Jumper.
62 - 63
2:15
Stromile Swift Defensive Rebound.
62 - 63
2:15
Brian Cook Loose Ball Foul
62 - 63
2:15
Stromile Swift missed Free Throw 1 of 2.
62 - 63
2:15
Memphis Offensive Rebound.
62 - 63
2:15
Stromile Swift made Free Throw 2 of 2.
62 - 64
1:52
Bryon Russell Lost Ball. Stolen by Shane Battier.
62 - 64
1:35
Stromile Swift missed Two Point Shot.
62 - 64
1:35
Brian Cook Defensive Rebound.
62 - 64
1:35
Stromile Swift Loose Ball Foul
62 - 64
1:35
Stanislav Medvedenko enters the game for Brian Cook.
62 - 64
1:14
Derek Fisher missed 23 ft Three Point Jumper.
62 - 64
1:12
Bo Outlaw Defensive Rebound.
62 - 64
0:57
Stromile Swift made Layup. Assisted by Earl Watson.
62 - 66
0:40
Luke Walton missed Layup.
62 - 66
0:39
Stromile Swift Defensive Rebound.
62 - 66
0:26
Earl Watson missed 8 ft Jumper.
62 - 66
0:20
Derek Fisher Defensive Rebound.
62 - 66
0:18
Derek Fisher Lost Ball. Stolen by Stromile Swift.
62 - 66
0:02
Bonzi Wells made Three Point Jumper. Assisted by Stromile Swift.
62 - 69
0:00
End of the 3rd Quarter.
62 - 69

time
TEAM
PLAY
SCORE
12:00
Start of the 4th Quarter.
62 - 69
11:41
Bonzi Wells made 6 ft Two Point Shot.
62 - 71
11:18
Bryon Russell missed 7 ft Two Point Shot.
62 - 71
11:15
Bonzi Wells Defensive Rebound.
62 - 71
11:07
Earl Watson made Two Point Shot.
62 - 73
11:06
Los Angeles Full Timeout.
62 - 73
10:49
Bryon Russell made 21 ft Jumper. Assisted by Kareem Rush.
64 - 73
10:37
Bonzi Wells Offensive Foul
64 - 73
10:37
Bonzi Wells Foul
64 - 73
10:25
Derek Fisher missed 18 ft Jumper.
64 - 73
10:23
Earl Watson Defensive Rebound.
64 - 73
9:52
Devean George missed 10 ft Two Point Shot.
64 - 73
9:52
Los Angeles Offensive Rebound.
64 - 73
9:52
24 second
64 - 73
9:34
James Posey made Two Point Shot.
64 - 75
9:08
Devean George missed Two Point Shot.
64 - 75
9:07
Stanislav Medvedenko Offensive Rebound.
64 - 75
9:07
24 second
64 - 75
8:55
James Posey missed 23 ft Three Point Jumper.
64 - 75
8:52
Bryon Russell Defensive Rebound.
64 - 75
8:30
Devean George made 21 ft Two Point Shot. Assisted by Kareem Rush.
66 - 75
8:08
Bonzi Wells missed 21 ft Jumper.
66 - 75
8:07
Kareem Rush Defensive Rebound.
66 - 75
8:00
Earl Watson Shooting Foul
66 - 75
8:00
Derek Fisher missed Free Throw 1 of 2.
66 - 75
8:00
Los Angeles Offensive Rebound.
66 - 75
8:00
Gary Payton enters the game for Bryon Russell.
66 - 75
8:00
Derek Fisher made Free Throw 2 of 2.
67 - 75
7:48
Derek Fisher Personal Foul
67 - 75
7:48
Pau Gasol enters the game for Bo Outlaw.
67 - 75
7:48
Jason Williams enters the game for Earl Watson.
67 - 75
7:33
Jason Williams missed 25 ft Three Point Jumper.
67 - 75
7:31
Kareem Rush Defensive Rebound.
67 - 75
7:26
Bonzi Wells Personal Foul
67 - 75
7:09
Derek Fisher missed 28 ft Three Point Jumper.
67 - 75
7:05
Lorenzen Wright Defensive Rebound.
67 - 75
6:58
Kareem Rush Personal Foul
67 - 75
6:58
Mike Miller enters the game for Bonzi Wells.
67 - 75
6:58
Ime Udoka enters the game for Kareem Rush.
67 - 75
6:58
Brian Cook enters the game for Derek Fisher.
67 - 75
6:52
Jason Williams made 19 ft Jumper.
67 - 77
6:35
Pau Gasol Shooting Foul
67 - 77
6:35
Stanislav Medvedenko made Free Throw 1 of 2.
68 - 77
6:35
Stanislav Medvedenko made Free Throw 2 of 2.
69 - 77
6:20
Jason Williams made 25 ft Three Point Jumper. Assisted by Pau Gasol.
69 - 80
6:07
Gary Payton Lost Ball. Stolen by James Posey.
69 - 80
5:43
Mike Miller missed 25 ft Three Point Jumper.
69 - 80
5:39
Stanislav Medvedenko Defensive Rebound.
69 - 80
5:35
James Posey Personal Foul
69 - 80
5:35
Official Timeout.
69 - 80
5:35
Shane Battier enters the game for Lorenzen Wright.
69 - 80
5:30
Shane Battier Shooting Foul
69 - 80
5:30
Gary Payton made Free Throw 1 of 2.
70 - 80
5:30
Gary Payton made Free Throw 2 of 2.
71 - 80
5:11
Brian Cook Shooting Foul
71 - 80
5:11
James Posey made Free Throw 1 of 2.
71 - 81
5:11
James Posey made Free Throw 2 of 2.
71 - 82
4:56
Stanislav Medvedenko missed 6 ft Two Point Shot. Blocked by Pau Gasol.
71 - 82
4:52
Jason Williams Defensive Rebound.
71 - 82
4:48
Shane Battier made Layup. Assisted by Jason Williams.
71 - 84
4:31
Ime Udoka missed 26 ft Three Point Jumper.
71 - 84
4:28
Shane Battier Defensive Rebound.
71 - 84
4:11
Shane Battier missed Jumper.
71 - 84
4:09
Brian Cook Defensive Rebound.
71 - 84
3:56
Devean George missed 11 ft Two Point Shot.
71 - 84
3:50
Ime Udoka Offensive Rebound.
71 - 84
3:48
Stanislav Medvedenko missed 21 ft Jumper.
71 - 84
3:46
Pau Gasol Defensive Rebound.
71 - 84
3:26
Pau Gasol missed 15 ft Jumper.
71 - 84
3:24
Stanislav Medvedenko Defensive Rebound.
71 - 84
3:15
Ime Udoka missed 12 ft Two Point Shot.
71 - 84
3:13
Mike Miller Defensive Rebound.
71 - 84
2:44
Stanislav Medvedenko missed 19 ft Jumper.
71 - 84
2:41
Brian Cook Offensive Rebound.
71 - 84
2:35
Brian Cook missed 8 ft Jumper.
71 - 84
2:31
Jason Williams Defensive Rebound.
71 - 84
2:12
Jason Williams missed 24 ft Three Point Jumper.
71 - 84
2:11
Brian Cook Defensive Rebound.
71 - 84
2:11
Shane Battier Personal Foul
71 - 84
2:11
Memphis Full Timeout.
71 - 84
2:11
Luke Walton enters the game for Devean George.
71 - 84
2:11
Bryon Russell enters the game for Stanislav Medvedenko.
71 - 84
2:11
Kareem Rush enters the game for Ime Udoka.
71 - 84
2:11
Brian Cook missed Free Throw 1 of 2.
71 - 84
2:11
Los Angeles Offensive Rebound.
71 - 84
2:11
Brian Cook made Free Throw 2 of 2.
72 - 84
1:47
Shane Battier made Jumper.
72 - 86
1:36
Kareem Rush made 24 ft Three Point Jumper. Assisted by Bryon Russell.
75 - 86
1:17
Jason Williams Bad Pass
75 - 86
1:12
Gary Payton made Two Point Shot.
77 - 86
1:02
Mike Miller made Layup. Assisted by James Posey.
77 - 88
0:56
Kareem Rush missed 26 ft Three Point Jumper.
77 - 88
0:54
Pau Gasol Defensive Rebound.
77 - 88
0:33
Shane Battier missed 11 ft Jumper.
77 - 88
0:32
Memphis Defensive Rebound.
77 - 88
0:15
Kareem Rush missed Two Point Shot. Blocked by Pau Gasol.
77 - 88
0:15
Los Angeles Offensive Rebound.
77 - 88
0:14
James Posey Shooting Foul
77 - 88
0:14
Gary Payton made Free Throw 1 of 2.
78 - 88
0:14
Gary Payton made Free Throw 2 of 2.
79 - 88
0:06
Jason Williams Bad Pass. Stolen by Bryon Russell.
79 - 88
0:02
Bryon Russell made 27 ft Three Point Jumper. Assisted by Luke Walton.
82 - 88
0:00
End of the 4th Quarter.
82 - 88
0:00
End Game
82 - 88
Even if they currently aren't obvious title contenders like the Thunder, Spurs and Warriors, the Celtics could be an enticing option for Kevin Durant.

Brian Windhorst discusses the changes the Warriors would need to make to the roster if they were to bring in Kevin Durant.

Brian Windhorst says the timing of Kevin Durant's decision in free agency will be the first, and biggest domino to fall. Windhorst also lists the teams in addition to the Warriors, Spurs and Thunder that will make a major push for Durant.
Regular Season Series
Series tied 2-2
2015-2016 Pacific Standings