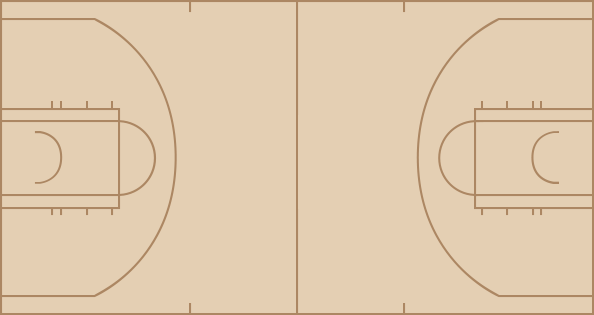 Timberwolves
time
TEAM
PLAY
SCORE
12:00
Start of the 1st Quarter.
0 - 0
12:00
Jumpball. Kevin Garnett vs. Marcus Camby. Andre Miller gains possession.
0 - 0
11:40
Ervin Johnson Illegal Defense Foul
0 - 0
11:40
Andre Miller made Technical Free Throw.
0 - 1
11:33
Carmelo Anthony Bad Pass. Stolen by Sam Cassell.
0 - 1
11:29
Latrell Sprewell made Layup. Assisted by Sam Cassell.
2 - 1
11:11
Andre Miller made 6 ft Jumper. Assisted by Ryan Bowen.
2 - 3
10:55
Marcus Camby Illegal Defense Foul
2 - 3
10:55
Sam Cassell made Technical Free Throw.
3 - 3
10:45
Kevin Garnett missed Two Point Shot.
3 - 3
10:42
Ervin Johnson Offensive Rebound.
3 - 3
10:42
Ervin Johnson missed Tip Shot.
3 - 3
10:42
Ervin Johnson Offensive Rebound.
3 - 3
10:42
Marcus Camby Shooting Foul
3 - 3
10:42
Ervin Johnson made Free Throw 1 of 2.
4 - 3
10:42
Ervin Johnson made Free Throw 2 of 2.
5 - 3
10:30
Ryan Bowen missed 18 ft Jumper.
5 - 3
10:30
Trenton Hassell Defensive Rebound.
5 - 3
10:21
Latrell Sprewell made 20 ft Jumper. Assisted by Sam Cassell.
7 - 3
10:06
Carmelo Anthony Lost Ball. Stolen by Kevin Garnett.
7 - 3
9:57
Sam Cassell made 9 ft Jumper.
9 - 3
9:36
Carmelo Anthony missed 21 ft Jumper.
9 - 3
9:33
Ryan Bowen Offensive Rebound.
9 - 3
9:30
Marcus Camby missed Two Point Shot.
9 - 3
9:26
Ryan Bowen Offensive Rebound.
9 - 3
9:26
Ryan Bowen missed Tip Shot.
9 - 3
9:23
Ervin Johnson Defensive Rebound.
9 - 3
9:22
Latrell Sprewell missed 20 ft Jumper.
9 - 3
9:19
Sam Cassell Offensive Rebound.
9 - 3
9:15
Sam Cassell missed 22 ft Three Point Jumper.
9 - 3
9:14
Nene Hilario Defensive Rebound.
9 - 3
9:07
Andre Miller missed 7 ft Jumper.
9 - 3
9:03
Andre Miller Offensive Rebound.
9 - 3
9:03
Andre Miller missed 4 ft Jumper.
9 - 3
9:03
Kevin Garnett Defensive Rebound.
9 - 3
8:40
Kevin Garnett made 13 ft Jumper. Assisted by Trenton Hassell.
11 - 3
8:19
Marcus Camby missed 17 ft Jumper.
11 - 3
8:18
Latrell Sprewell Defensive Rebound.
11 - 3
8:00
Kevin Garnett Lost Ball. Stolen by Nene Hilario.
11 - 3
7:56
Ryan Bowen made Layup. Assisted by Andre Miller.
11 - 5
7:33
Kevin Garnett made 17 ft Jumper.
13 - 5
7:07
Marcus Camby missed 16 ft Jumper.
13 - 5
7:05
Ervin Johnson Defensive Rebound.
13 - 5
7:01
Kevin Garnett Lost Ball. Stolen by Andre Miller.
13 - 5
6:54
Andre Miller missed 18 ft Jumper.
13 - 5
6:52
Ervin Johnson Defensive Rebound.
13 - 5
6:33
Sam Cassell missed 14 ft Jumper.
13 - 5
6:33
Minnesota Offensive Rebound.
13 - 5
6:33
Carmelo Anthony Loose Ball Foul
13 - 5
6:33
Rodney White enters the game for Ryan Bowen.
13 - 5
6:20
Kevin Garnett missed 17 ft Two Point Shot.
13 - 5
6:16
Marcus Camby Defensive Rebound.
13 - 5
6:13
Carmelo Anthony made Two Point Shot. Assisted by Andre Miller.
13 - 7
5:58
Latrell Sprewell made 17 ft Jumper. Assisted by Sam Cassell.
15 - 7
5:45
Carmelo Anthony missed Two Point Shot.
15 - 7
5:43
Latrell Sprewell Defensive Rebound.
15 - 7
5:37
Latrell Sprewell Bad Pass. Stolen by Andre Miller.
15 - 7
5:33
Carmelo Anthony made Dunk. Assisted by Andre Miller.
15 - 9
5:16
Sam Cassell made Two Point Shot. Assisted by Kevin Garnett.
17 - 9
5:01
Rodney White made 24 ft Three Point Jumper. Assisted by Marcus Camby.
17 - 12
4:43
Latrell Sprewell missed 11 ft Jumper. Blocked by Marcus Camby.
17 - 12
4:43
Minnesota Offensive Rebound.
17 - 12
4:43
Denver Full Timeout.
17 - 12
4:35
Kevin Garnett missed 17 ft Jumper.
17 - 12
4:33
Rodney White Defensive Rebound.
17 - 12
4:22
Nene Hilario missed Layup. Blocked by Ervin Johnson.
17 - 12
4:22
Latrell Sprewell Defensive Rebound.
17 - 12
4:05
Kevin Garnett missed 15 ft Two Point Shot.
17 - 12
4:01
Carmelo Anthony Defensive Rebound.
17 - 12
3:47
Andre Miller made Two Point Shot.
17 - 14
3:23
Kevin Garnett missed 18 ft Jumper.
17 - 14
3:21
Carmelo Anthony Defensive Rebound.
17 - 14
3:14
Carmelo Anthony missed 17 ft Jumper.
17 - 14
3:12
Kevin Garnett Defensive Rebound.
17 - 14
3:08
Rodney White Shooting Foul
17 - 14
3:08
Fred Hoiberg enters the game for Trenton Hassell.
17 - 14
3:08
Chris Andersen enters the game for Nene Hilario.
17 - 14
3:08
Mark Madsen enters the game for Ervin Johnson.
17 - 14
3:08
Latrell Sprewell made Free Throw 1 of 2.
18 - 14
3:08
Latrell Sprewell missed Free Throw 2 of 2.
18 - 14
3:04
Andre Miller Defensive Rebound.
18 - 14
3:00
Rodney White made Two Point Shot. Assisted by Carmelo Anthony.
18 - 16
2:39
Mark Madsen made Two Point Shot. Assisted by Fred Hoiberg.
20 - 16
2:26
Marcus Camby Bad Pass. Stolen by Mark Madsen.
20 - 16
2:19
Kevin Garnett made Two Point Shot. Assisted by Sam Cassell.
22 - 16
2:06
Carmelo Anthony missed 20 ft Jumper.
22 - 16
2:04
Fred Hoiberg Defensive Rebound.
22 - 16
2:00
Fred Hoiberg Bad Pass. Stolen by Andre Miller.
22 - 16
1:57
Andre Miller made Layup.
22 - 18
1:57
Fred Hoiberg Shooting Foul
22 - 18
1:57
Minnesota Full Timeout.
22 - 18
1:57
Trenton Hassell enters the game for Latrell Sprewell.
22 - 18
1:57
Earl Boykins enters the game for Carmelo Anthony.
22 - 18
1:57
Andre Miller made Free Throw 1 of 1.
22 - 19
1:45
Sam Cassell missed 8 ft Two Point Shot.
22 - 19
1:43
Mark Madsen Offensive Rebound.
22 - 19
1:40
Sam Cassell made 10 ft Two Point Shot.
24 - 19
1:25
Andre Miller missed 9 ft Jumper.
24 - 19
1:23
Fred Hoiberg Defensive Rebound.
24 - 19
1:08
Earl Boykins Personal Foul
24 - 19
1:02
Sam Cassell made 19 ft Jumper.
26 - 19
0:41
Rodney White Bad Pass. Stolen by Kevin Garnett.
26 - 19
0:22
Sam Cassell missed Two Point Shot.
26 - 19
0:20
Mark Madsen Offensive Rebound.
26 - 19
0:20
Mark Madsen made Layup.
28 - 19
0:03
Andre Miller missed 6 ft Two Point Shot.
28 - 19
0:00
Mark Madsen Defensive Rebound.
28 - 19
0:00
Mark Madsen missed 81 ft Three Point Jumper.
28 - 19
0:00
Minnesota Offensive Rebound.
28 - 19
0:00
End of the 1st Quarter.
28 - 19

time
TEAM
PLAY
SCORE
12:00
Start of the 2nd Quarter.
28 - 19
11:42
Kevin Garnett made 6 ft Two Point Shot.
30 - 19
11:22
Carmelo Anthony Bad Pass. Stolen by Fred Hoiberg.
30 - 19
11:14
Trenton Hassell missed 22 ft Jumper.
30 - 19
11:11
Andre Miller Defensive Rebound.
30 - 19
11:02
Nene Hilario made Two Point Shot.
30 - 21
10:36
Troy Hudson made 21 ft Jumper.
32 - 21
10:22
Earl Boykins made Two Point Shot.
32 - 23
9:57
Kevin Garnett missed Layup. Blocked by Chris Andersen.
32 - 23
9:56
Earl Boykins Defensive Rebound.
32 - 23
9:53
Trenton Hassell Shooting Foul
32 - 23
9:53
Latrell Sprewell enters the game for Trenton Hassell.
32 - 23
9:53
Gary Trent enters the game for Kevin Garnett.
32 - 23
9:53
Andre Miller made Free Throw 1 of 2.
32 - 24
9:53
Andre Miller made Free Throw 2 of 2.
32 - 25
9:38
Troy Hudson missed 22 ft Jumper.
32 - 25
9:37
Nene Hilario Defensive Rebound.
32 - 25
9:30
Carmelo Anthony made 25 ft Three Point Jumper.
32 - 28
9:11
Fred Hoiberg missed 25 ft Three Point Jumper.
32 - 28
9:07
Chris Andersen Defensive Rebound.
32 - 28
8:52
Andre Miller made Jumper.
32 - 30
8:49
Minnesota Full Timeout.
32 - 30
8:49
Oliver Miller enters the game for Mark Madsen.
32 - 30
8:49
Rodney White enters the game for Andre Miller.
32 - 30
8:32
Gary Trent made Two Point Shot. Assisted by Fred Hoiberg.
34 - 30
8:22
Earl Boykins made Two Point Shot.
34 - 32
8:06
Fred Hoiberg missed 23 ft Jumper.
34 - 32
8:03
Carmelo Anthony Defensive Rebound.
34 - 32
7:50
Earl Boykins missed 12 ft Two Point Shot.
34 - 32
7:48
Gary Trent Defensive Rebound.
34 - 32
7:37
Latrell Sprewell missed 20 ft Jumper.
34 - 32
7:37
Minnesota Defensive Rebound.
34 - 32
7:37
Oliver Miller Loose Ball Foul
34 - 32
7:20
Chris Andersen made Jumper. Assisted by Carmelo Anthony.
34 - 34
7:00
Troy Hudson made 18 ft Two Point Shot.
36 - 34
6:39
Troy Hudson missed 17 ft Two Point Shot.
36 - 34
6:37
Chris Andersen Defensive Rebound.
36 - 34
6:26
Nene Hilario missed 18 ft Jumper.
36 - 34
6:24
Carmelo Anthony Offensive Rebound.
36 - 34
6:18
Carmelo Anthony made 17 ft Jumper.
36 - 36
6:01
Latrell Sprewell Lost Ball. Stolen by Carmelo Anthony.
36 - 36
5:56
Carmelo Anthony made Slam Dunk.
36 - 38
5:54
Minnesota 20 Sec. Timeout.
36 - 38
5:54
Official Timeout.
36 - 38
5:54
Trenton Hassell enters the game for Fred Hoiberg.
36 - 38
5:54
Ervin Johnson enters the game for Troy Hudson.
36 - 38
5:54
Kevin Garnett enters the game for Gary Trent.
36 - 38
5:54
Sam Cassell enters the game for Oliver Miller.
36 - 38
5:54
Marcus Camby enters the game for Chris Andersen.
36 - 38
5:35
Kevin Garnett missed 12 ft Two Point Shot.
36 - 38
5:31
Earl Boykins Defensive Rebound.
36 - 38
5:13
Earl Boykins made 14 ft Two Point Shot. Assisted by Nene Hilario.
36 - 40
5:03
Earl Boykins Personal Foul
36 - 40
4:58
Latrell Sprewell made 11 ft Jumper. Assisted by Sam Cassell.
38 - 40
4:37
Ervin Johnson Personal Foul
38 - 40
4:37
Andre Miller enters the game for Rodney White.
38 - 40
4:26
Earl Boykins made 8 ft Jumper. Assisted by Andre Miller.
38 - 42
4:16
Nene Hilario Shooting Foul
38 - 42
4:16
Fred Hoiberg enters the game for Latrell Sprewell.
38 - 42
4:16
Kevin Garnett made Free Throw 1 of 2.
39 - 42
4:16
Kevin Garnett missed Free Throw 2 of 2.
39 - 42
4:13
Marcus Camby Defensive Rebound.
39 - 42
3:51
Earl Boykins missed 17 ft Jumper.
39 - 42
3:49
Sam Cassell Defensive Rebound.
39 - 42
3:41
Ervin Johnson missed Layup.
39 - 42
3:40
Marcus Camby Defensive Rebound.
39 - 42
3:20
Carmelo Anthony missed Two Point Shot.
39 - 42
3:16
Trenton Hassell Defensive Rebound.
39 - 42
3:11
Kevin Garnett Bad Pass. Stolen by Earl Boykins.
39 - 42
3:06
Carmelo Anthony missed Layup.
39 - 42
3:04
Andre Miller Offensive Rebound.
39 - 44
3:04
Andre Miller made Tip Shot.
39 - 44
2:44
Fred Hoiberg made Jumper. Assisted by Sam Cassell.
41 - 44
2:31
Earl Boykins missed 26 ft Three Point Jumper.
41 - 44
2:29
Kevin Garnett Defensive Rebound.
41 - 44
2:16
Sam Cassell made 19 ft Jumper.
43 - 44
2:09
Denver Full Timeout.
43 - 44
1:54
Nene Hilario Backcourt
43 - 44
1:46
Sam Cassell made 16 ft Two Point Shot.
45 - 44
1:24
Carmelo Anthony missed Layup. Blocked by Ervin Johnson.
45 - 44
1:23
Kevin Garnett Defensive Rebound.
45 - 44
1:08
Andre Miller Personal Foul
45 - 44
1:00
Sam Cassell made 17 ft Jumper.
47 - 44
0:44
Nene Hilario made 17 ft Jumper. Assisted by Earl Boykins.
47 - 46
0:30
Kevin Garnett made 21 ft Jumper. Assisted by Sam Cassell.
49 - 46
0:26
Earl Boykins made 16 ft Jumper. Assisted by Carmelo Anthony.
49 - 48
0:02
Fred Hoiberg missed Jumper.
49 - 48
0:00
Kevin Garnett Offensive Rebound.
49 - 48
0:00
Kevin Garnett missed 6 ft Jumper.
49 - 48
0:00
Minnesota Offensive Rebound.
49 - 48
0:00
End of the 2nd Quarter.
49 - 48

time
TEAM
PLAY
SCORE
12:00
Start of the 3rd Quarter.
49 - 48
11:45
Latrell Sprewell missed 5 ft Two Point Shot.
49 - 48
11:41
Carmelo Anthony Defensive Rebound.
49 - 48
11:34
Latrell Sprewell Personal Foul
49 - 48
11:25
Marcus Camby Bad Pass. Stolen by Sam Cassell.
49 - 48
11:18
Sam Cassell missed 17 ft Jumper.
49 - 48
11:17
Kevin Garnett Offensive Rebound.
49 - 48
11:17
Kevin Garnett missed Tip Shot.
49 - 48
11:14
Marcus Camby Defensive Rebound.
49 - 48
11:07
Nene Hilario Foul. Stolen by Kevin Garnett.
49 - 48
10:52
Marcus Camby Personal Foul
49 - 48
10:45
Latrell Sprewell made 6 ft Jumper. Assisted by Kevin Garnett.
51 - 48
10:32
Andre Miller made Jumper. Assisted by Marcus Camby.
51 - 50
10:11
Latrell Sprewell missed 8 ft Two Point Shot.
51 - 50
10:07
Marcus Camby Defensive Rebound.
51 - 50
9:52
Trenton Hassell Personal Foul
51 - 50
9:47
Earl Boykins missed 24 ft Three Point Jumper.
51 - 50
9:44
Trenton Hassell Defensive Rebound.
51 - 50
9:38
Latrell Sprewell missed Jumper.
51 - 50
9:38
Kevin Garnett Offensive Rebound.
53 - 50
9:38
Kevin Garnett made Tip Shot.
53 - 50
9:38
Nene Hilario Shooting Foul
53 - 50
9:38
Kevin Garnett made Free Throw 1 of 1.
54 - 50
9:18
Marcus Camby made Layup. Assisted by Carmelo Anthony.
54 - 52
8:59
Kevin Garnett Lost Ball. Stolen by Andre Miller.
54 - 52
8:45
Marcus Camby made 17 ft Jumper. Assisted by Andre Miller.
54 - 54
8:23
Kevin Garnett missed 17 ft Jumper.
54 - 54
8:22
Marcus Camby Defensive Rebound.
54 - 54
8:12
Marcus Camby made 17 ft Jumper. Assisted by Andre Miller.
54 - 56
8:03
Minnesota Full Timeout.
54 - 56
7:54
Latrell Sprewell missed 16 ft Jumper. Blocked by Andre Miller.
54 - 56
7:50
Kevin Garnett Offensive Rebound.
54 - 56
7:43
Kevin Garnett made Slam Dunk.
56 - 56
7:37
Nene Hilario made 5 ft Two Point Shot. Assisted by Earl Boykins.
56 - 58
7:37
Ervin Johnson Shooting Foul
56 - 58
7:37
Nene Hilario made Free Throw 1 of 1.
56 - 59
7:20
Kevin Garnett made 8 ft Two Point Shot. Assisted by Latrell Sprewell.
58 - 59
7:05
Jumpball. Kevin Garnett vs. Carmelo Anthony. Sam Cassell gains possession.
58 - 59
7:05
Carmelo Anthony Lost Ball. Stolen by Kevin Garnett.
58 - 59
6:54
Sam Cassell missed 18 ft Jumper.
58 - 59
6:52
Nene Hilario Defensive Rebound.
58 - 59
6:47
Earl Boykins missed 16 ft Jumper. Blocked by Trenton Hassell.
58 - 59
6:47
Denver Offensive Rebound.
58 - 59
6:37
Earl Boykins made 6 ft Two Point Shot. Assisted by Andre Miller.
58 - 61
6:20
Nene Hilario Personal Foul
58 - 61
6:11
Latrell Sprewell missed Two Point Shot.
58 - 61
6:07
Marcus Camby Defensive Rebound.
58 - 61
5:58
Andre Miller made 8 ft Jumper.
58 - 63
5:31
Kevin Garnett Lost Ball. Stolen by Marcus Camby.
58 - 63
5:26
Andre Miller Bad Pass
58 - 63
5:26
Troy Hudson enters the game for Latrell Sprewell.
58 - 63
5:07
Kevin Garnett made 16 ft Jumper. Assisted by Sam Cassell.
60 - 63
4:56
Sam Cassell Personal Foul
60 - 63
4:56
Mark Madsen enters the game for Ervin Johnson.
60 - 63
4:56
Chris Andersen enters the game for Nene Hilario.
60 - 63
4:56
Rodney White enters the game for Andre Miller.
60 - 63
4:43
Rodney White missed 25 ft Three Point Jumper.
60 - 63
4:41
Marcus Camby Offensive Rebound.
60 - 63
4:39
Marcus Camby missed 4 ft Two Point Shot.
60 - 63
4:39
Denver Offensive Rebound.
60 - 63
4:39
Mark Madsen Loose Ball Foul
60 - 63
4:39
Chris Andersen made Free Throw 1 of 2.
60 - 64
4:39
Chris Andersen made Free Throw 2 of 2.
60 - 65
4:28
Sam Cassell made 26 ft Three Point Jumper. Assisted by Mark Madsen.
63 - 65
4:11
Rodney White missed 17 ft Jumper.
63 - 65
4:09
Kevin Garnett Defensive Rebound.
63 - 65
4:09
Chris Andersen Personal Foul
63 - 65
3:51
Sam Cassell missed 13 ft Jumper.
63 - 65
3:50
Minnesota Defensive Rebound.
63 - 65
3:32
Carmelo Anthony missed 24 ft Three Point Jumper.
63 - 65
3:31
Denver Defensive Rebound.
63 - 65
3:06
Kevin Garnett made 21 ft Jumper. Assisted by Sam Cassell.
65 - 65
2:47
Carmelo Anthony missed Two Point Shot.
65 - 65
2:46
Chris Andersen Offensive Rebound.
65 - 67
2:46
Chris Andersen made Tip Shot.
65 - 67
2:33
Marcus Camby Personal Foul
65 - 67
2:33
Denver Full Timeout.
65 - 67
2:33
Andre Miller enters the game for Carmelo Anthony.
65 - 67
2:33
Kevin Garnett made Free Throw 1 of 2.
66 - 67
2:33
Kevin Garnett missed Free Throw 2 of 2.
66 - 67
2:31
Chris Andersen Defensive Rebound.
66 - 67
2:11
Rodney White missed 9 ft Two Point Shot.
66 - 67
2:08
Marcus Camby Offensive Rebound.
66 - 67
2:04
Rodney White made 6 ft Two Point Shot. Assisted by Marcus Camby.
66 - 69
1:51
Kicked Ball
66 - 69
1:39
Kevin Garnett made 17 ft Two Point Shot. Assisted by Troy Hudson.
68 - 69
1:19
Rodney White missed 21 ft Jumper.
68 - 69
1:16
Trenton Hassell Defensive Rebound.
68 - 69
1:12
Sam Cassell missed 25 ft Three Point Jumper.
68 - 69
1:09
Andre Miller Defensive Rebound.
68 - 69
1:07
Andre Miller made 13 ft Jumper.
68 - 71
0:44
Kevin Garnett made 18 ft Jumper. Assisted by Troy Hudson.
70 - 71
0:31
Earl Boykins missed 25 ft Three Point Jumper.
70 - 71
0:29
Marcus Camby Offensive Rebound.
70 - 71
0:29
Marcus Camby missed Layup.
70 - 71
0:29
Chris Andersen Offensive Rebound.
70 - 73
0:29
Chris Andersen made Tip Shot.
70 - 73
0:04
Sam Cassell missed 24 ft Three Point Jumper.
70 - 73
0:02
Andre Miller Defensive Rebound.
70 - 73
0:00
Earl Boykins made Layup. Assisted by Andre Miller.
70 - 75
0:00
Kevin Garnett missed 43 ft Three Point Jumper.
70 - 75
0:00
Minnesota Offensive Rebound.
70 - 75
0:00
End of the 3rd Quarter.
70 - 75

time
TEAM
PLAY
SCORE
12:00
Start of the 4th Quarter.
70 - 75
11:41
Troy Hudson Personal Foul
70 - 75
11:33
Rodney White missed 9 ft Two Point Shot. Blocked by Kevin Garnett.
70 - 75
11:30
Chris Andersen Offensive Rebound.
70 - 75
11:29
Earl Boykins missed 25 ft Three Point Jumper.
70 - 75
11:26
Andre Miller Offensive Rebound.
70 - 75
11:22
Kevin Garnett Shooting Foul
70 - 75
11:22
Chris Andersen made Free Throw 1 of 2.
70 - 76
11:22
Chris Andersen missed Free Throw 2 of 2.
70 - 76
11:21
Kevin Garnett Defensive Rebound.
70 - 76
11:06
Troy Hudson Bad Pass. Stolen by Marcus Camby.
70 - 76
11:03
Troy Hudson Personal Foul
70 - 76
11:03
Latrell Sprewell enters the game for Sam Cassell.
70 - 76
10:48
Marcus Camby Offensive Foul
70 - 76
10:48
Marcus Camby Foul
70 - 76
10:30
Chris Andersen Shooting Foul
70 - 76
10:30
Kevin Garnett made Free Throw 1 of 2.
71 - 76
10:30
Kevin Garnett made Free Throw 2 of 2.
72 - 76
10:19
Andre Miller made 8 ft Jumper.
72 - 78
10:08
Chris Andersen Shooting Foul
72 - 78
10:08
Carmelo Anthony enters the game for Rodney White.
72 - 78
10:08
Gary Trent enters the game for Kevin Garnett.
72 - 78
10:08
Mark Madsen made Free Throw 1 of 2.
73 - 78
10:08
Nene Hilario enters the game for Marcus Camby.
73 - 78
10:08
Mark Madsen made Free Throw 2 of 2.
74 - 78
9:48
Andre Miller missed 11 ft Two Point Shot.
74 - 78
9:45
Mark Madsen Defensive Rebound.
74 - 78
9:30
Gary Trent missed Jumper.
74 - 78
9:29
Gary Trent Offensive Rebound.
74 - 78
9:25
Fred Hoiberg missed 20 ft Jumper.
74 - 78
9:23
Andre Miller Defensive Rebound.
74 - 78
9:23
Mark Madsen Loose Ball Foul
74 - 78
9:14
Nene Hilario Lost Ball. Stolen by Mark Madsen.
74 - 78
9:07
Troy Hudson missed 7 ft Jumper.
74 - 78
9:04
Chris Andersen Defensive Rebound.
74 - 78
8:59
Earl Boykins made 18 ft Jumper. Assisted by Chris Andersen.
74 - 80
8:45
Latrell Sprewell missed 15 ft Jumper.
74 - 80
8:42
Nene Hilario Defensive Rebound.
74 - 80
8:23
Gary Trent Personal Foul
74 - 80
8:23
Official Timeout.
74 - 80
8:23
Sam Cassell enters the game for Troy Hudson.
74 - 80
8:23
Nene Hilario made Free Throw 1 of 2.
74 - 81
8:23
Nene Hilario missed Free Throw 2 of 2.
74 - 81
8:21
Latrell Sprewell Defensive Rebound.
74 - 81
8:07
Sam Cassell missed 13 ft Jumper.
74 - 81
8:06
Earl Boykins Defensive Rebound.
74 - 81
8:02
Earl Boykins missed 8 ft Jumper.
74 - 81
8:00
Chris Andersen Offensive Rebound.
74 - 83
8:00
Chris Andersen made Tip Shot.
74 - 83
7:43
Gary Trent made Two Point Shot. Assisted by Sam Cassell.
76 - 83
7:28
Chris Andersen made Slam Dunk. Assisted by Andre Miller.
76 - 85
7:03
Mark Madsen made Layup. Assisted by Fred Hoiberg.
78 - 85
7:03
Andre Miller Shooting Foul
78 - 85
7:03
Mark Madsen missed Free Throw 1 of 1.
78 - 85
7:01
Chris Andersen Defensive Rebound.
78 - 85
6:50
Andre Miller missed Two Point Shot.
78 - 85
6:48
Chris Andersen Offensive Rebound.
78 - 87
6:48
Chris Andersen made Tip Shot.
78 - 87
6:31
Gary Trent made Layup. Assisted by Sam Cassell.
80 - 87
6:24
Mark Madsen Personal Foul
80 - 87
6:24
Kevin Garnett enters the game for Mark Madsen.
80 - 87
6:24
Nene Hilario made Free Throw 1 of 2.
80 - 88
6:24
Nene Hilario missed Free Throw 2 of 2.
80 - 88
6:22
Fred Hoiberg Defensive Rebound.
80 - 88
6:05
Kevin Garnett missed 7 ft Two Point Shot.
80 - 88
6:05
Minnesota Offensive Rebound.
80 - 88
6:05
Marcus Camby enters the game for Nene Hilario.
80 - 88
6:03
Sam Cassell missed 18 ft Jumper.
80 - 88
6:01
Marcus Camby Defensive Rebound.
80 - 88
5:48
Carmelo Anthony Lost Ball. Stolen by Latrell Sprewell.
80 - 88
5:41
Sam Cassell made Layup. Assisted by Latrell Sprewell.
82 - 88
5:16
Earl Boykins made 16 ft Jumper.
82 - 90
5:05
Earl Boykins Shooting Foul
82 - 90
5:05
Denver Full Timeout.
82 - 90
5:05
Sam Cassell made Free Throw 1 of 2.
83 - 90
5:05
Sam Cassell made Free Throw 2 of 2.
84 - 90
4:43
Earl Boykins missed 19 ft Jumper.
84 - 90
4:41
Marcus Camby Offensive Rebound.
84 - 90
4:20
Andre Miller missed 28 ft Three Point Jumper.
84 - 90
4:18
Kevin Garnett Defensive Rebound.
84 - 90
4:11
Fred Hoiberg made 27 ft Three Point Jumper. Assisted by Latrell Sprewell.
87 - 90
3:47
Earl Boykins missed 17 ft Jumper.
87 - 90
3:46
Marcus Camby Offensive Rebound.
87 - 90
3:46
Marcus Camby missed Layup.
87 - 90
3:46
Denver Offensive Rebound.
87 - 90
3:46
24 second
87 - 90
3:31
Fred Hoiberg missed 22 ft Jumper.
87 - 90
3:28
Gary Trent Offensive Rebound.
87 - 90
3:21
Fred Hoiberg made 25 ft Three Point Jumper. Assisted by Gary Trent.
90 - 90
3:19
Denver Full Timeout.
90 - 90
3:19
Nene Hilario enters the game for Chris Andersen.
90 - 90
2:56
Andre Miller missed 18 ft Jumper.
90 - 90
2:54
Kevin Garnett Defensive Rebound.
90 - 90
2:38
Sam Cassell missed 20 ft Jumper.
90 - 90
2:35
Andre Miller Defensive Rebound.
90 - 90
2:28
Gary Trent Shooting Foul
90 - 90
2:28
Andre Miller made Free Throw 1 of 2.
90 - 91
2:28
Minnesota Full Timeout.
90 - 91
2:28
Andre Miller made Free Throw 2 of 2.
90 - 92
2:05
Latrell Sprewell missed 23 ft Three Point Jumper.
90 - 92
2:03
Andre Miller Defensive Rebound.
90 - 92
2:00
Carmelo Anthony made Layup. Assisted by Andre Miller.
90 - 94
1:40
Fred Hoiberg missed 7 ft Jumper. Blocked by Nene Hilario.
90 - 94
1:39
Gary Trent Offensive Rebound.
90 - 94
1:36
Latrell Sprewell missed Layup.
90 - 94
1:36
Gary Trent Offensive Rebound.
90 - 94
1:36
Marcus Camby Shooting Foul
90 - 94
1:36
Gary Trent made Free Throw 1 of 2.
91 - 94
1:36
Gary Trent made Free Throw 2 of 2.
92 - 94
1:31
Andre Miller Lost Ball. Stolen by Sam Cassell.
92 - 94
1:27
Sam Cassell missed Layup. Blocked by Earl Boykins.
92 - 94
1:23
Fred Hoiberg Offensive Rebound.
92 - 94
1:20
Fred Hoiberg missed Layup.
92 - 94
1:19
Nene Hilario Defensive Rebound.
92 - 94
1:01
Andre Miller missed 23 ft Jumper.
92 - 94
0:59
Fred Hoiberg Defensive Rebound.
92 - 94
0:51
Sam Cassell missed 17 ft Jumper.
92 - 94
0:50
Kevin Garnett Offensive Rebound.
92 - 94
0:47
Kevin Garnett made Two Point Shot.
94 - 94
0:44
Denver Full Timeout.
94 - 94
0:36
Earl Boykins missed 25 ft Three Point Jumper.
94 - 94
0:34
Denver Defensive Rebound.
94 - 94
0:16
Kevin Garnett missed 19 ft Jumper.
94 - 94
0:16
Latrell Sprewell Offensive Rebound.
96 - 94
0:16
Latrell Sprewell made Tip Shot.
96 - 94
0:16
Denver 20 Sec. Timeout.
96 - 94
0:16
Trenton Hassell enters the game for Gary Trent.
96 - 94
0:16
Rodney White enters the game for Marcus Camby.
96 - 94
0:08
Latrell Sprewell Shooting Foul
96 - 94
0:08
Carmelo Anthony missed Free Throw 1 of 2.
96 - 94
0:08
Denver Offensive Rebound.
96 - 94
0:08
Marcus Camby enters the game for Rodney White.
96 - 94
0:08
Gary Trent enters the game for Trenton Hassell.
96 - 94
0:08
Carmelo Anthony made Free Throw 2 of 2.
96 - 95
0:06
Andre Miller Personal Foul
96 - 95
0:06
Rodney White enters the game for Nene Hilario.
96 - 95
0:06
Fred Hoiberg missed Free Throw 1 of 2.
96 - 95
0:06
Minnesota Offensive Rebound.
96 - 95
0:06
Trenton Hassell enters the game for Gary Trent.
96 - 95
0:06
Fred Hoiberg made Free Throw 2 of 2.
97 - 95
0:01
Andre Miller missed 26 ft Three Point Jumper.
97 - 95
0:00
Fred Hoiberg Defensive Rebound.
97 - 95
0:00
End of the 4th Quarter.
97 - 95
0:00
End Game
97 - 95
0:00
End Game
97 - 95
Kyle Lowry hits a game-tying buzzer beater from half court to send the game to overtime where Dwyane Wade scores seven of his 24 points in the Heat's 102-96 win over the Raptors in Game 1.

DeMar DeRozan turns the ball over with Dwyane Wade making a great hustle play to go the other way for the layup and foul to seal the Heat's victory in OT against the Raptors.

Goran Dragic scored 26 points, Dwyane Wade had seven of his 24 in overtime after Kyle Lowry's halfcourt shot tied it at the buzzer, and the Miami Heat beat the Toronto Raptors 102-96 on Tuesday.
NBA Finals
MIN wins series 4-1