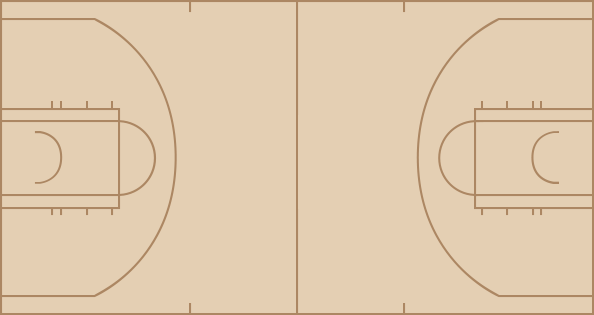 Timberwolves
time
TEAM
PLAY
SCORE
12:00
Jumpball. Kevin Garnett vs. Ben Wallace. Chauncey Billups gains possession.
0 - 0
11:48
Chauncey Billups made 17 ft Jumper.
0 - 2
11:22
Kevin Garnett missed 17 ft Jumper.
0 - 2
11:19
Chauncey Billups Defensive Rebound.
0 - 2
11:17
Trenton Hassell Shooting Foul
0 - 2
11:17
Richard Hamilton made Free Throw 1 of 2.
0 - 3
11:17
Richard Hamilton missed Free Throw 2 of 2.
0 - 3
11:15
Ervin Johnson Defensive Rebound.
0 - 3
11:11
Sam Cassell Bad Pass
0 - 3
10:55
Ben Wallace missed 13 ft Jumper.
0 - 3
10:52
Kevin Garnett Defensive Rebound.
0 - 3
10:36
Latrell Sprewell made 18 ft Jumper. Assisted by Sam Cassell.
2 - 3
10:15
Ben Wallace made Two Point Shot. Assisted by Tayshaun Prince.
2 - 5
9:56
Kevin Garnett missed 14 ft Jumper.
2 - 5
9:53
Ben Wallace Defensive Rebound.
2 - 5
9:41
Ben Wallace missed Jumper. Blocked by Kevin Garnett.
2 - 5
9:40
Ervin Johnson Defensive Rebound.
2 - 5
9:29
Latrell Sprewell Bad Pass. Stolen by Mehmet Okur.
2 - 5
9:29
Latrell Sprewell Personal Foul
2 - 5
9:12
Richard Hamilton Bad Pass. Stolen by Kevin Garnett.
2 - 5
8:42
Ervin Johnson Shooting Foul
2 - 5
8:42
Richard Hamilton made Free Throw 1 of 2.
2 - 6
8:42
Richard Hamilton made Free Throw 2 of 2.
2 - 7
8:29
Kevin Garnett made 7 ft Two Point Shot.
4 - 7
8:18
Chauncey Billups made Two Point Shot.
4 - 9
8:03
Ervin Johnson made 7 ft Hook Shot. Assisted by Kevin Garnett.
6 - 9
7:46
Chauncey Billups missed 24 ft Three Point Jumper.
6 - 9
7:43
Latrell Sprewell Defensive Rebound.
6 - 9
7:35
Kevin Garnett made 21 ft Jumper. Assisted by Latrell Sprewell.
8 - 9
7:15
Kevin Garnett Personal Foul
8 - 9
7:15
Detroit Full Timeout.
8 - 9
7:09
Ben Wallace made Layup. Assisted by Chauncey Billups.
8 - 11
6:41
Trenton Hassell missed Jumper.
8 - 11
6:39
Ervin Johnson Offensive Rebound.
8 - 11
6:33
Latrell Sprewell missed 19 ft Jumper.
8 - 11
6:31
Mehmet Okur Defensive Rebound.
8 - 11
6:22
Tayshaun Prince made 12 ft Hook Shot. Assisted by Richard Hamilton.
8 - 13
6:07
Kevin Garnett missed 11 ft Two Point Shot.
8 - 13
6:05
Ben Wallace Defensive Rebound.
8 - 13
5:56
Mehmet Okur missed 16 ft Jumper.
8 - 13
5:56
Ben Wallace Offensive Rebound.
8 - 13
5:31
Tayshaun Prince missed 15 ft Jumper.
8 - 13
5:30
Ben Wallace Offensive Rebound.
8 - 13
5:26
Tayshaun Prince missed 26 ft Three Point Jumper.
8 - 13
5:24
Kevin Garnett Defensive Rebound.
8 - 13
5:15
Sam Cassell made 18 ft Jumper.
10 - 13
4:52
Mark Madsen enters the game for Ervin Johnson.
10 - 13
4:35
Kevin Garnett missed 17 ft Jumper.
10 - 13
4:33
Richard Hamilton Defensive Rebound.
10 - 13
4:31
Trenton Hassell Shooting Foul
10 - 13
4:31
Richard Hamilton missed Free Throw 1 of 2.
10 - 13
4:31
Detroit Offensive Rebound.
10 - 13
4:31
Rasheed Wallace enters the game for Mehmet Okur.
10 - 13
4:31
Richard Hamilton missed Free Throw 2 of 2.
10 - 13
4:31
Wally Szczerbiak enters the game for Trenton Hassell.
10 - 13
4:31
Richard Hamilton made Free Throw 2 of 2.
10 - 14
4:16
Kevin Garnett missed Layup. Blocked by Ben Wallace.
10 - 14
4:15
Chauncey Billups Defensive Rebound.
10 - 14
4:05
Richard Hamilton Lost Ball. Stolen by Mark Madsen.
10 - 14
3:58
Latrell Sprewell made Two Point Shot.
12 - 14
3:36
Rasheed Wallace missed 12 ft Jumper. Blocked by Kevin Garnett.
12 - 14
3:33
Sam Cassell Defensive Rebound.
12 - 14
3:29
Sam Cassell made 13 ft Two Point Shot.
14 - 14
3:05
Rasheed Wallace made 18 ft Jumper. Assisted by Tayshaun Prince.
14 - 16
2:46
Wally Szczerbiak made Three Point Jumper. Assisted by Latrell Sprewell.
17 - 16
2:24
Rasheed Wallace made Jumper.
17 - 18
2:10
Sam Cassell Bad Pass
17 - 18
2:10
Minnesota Full Timeout.
17 - 18
2:10
Mike James enters the game for Chauncey Billups.
17 - 18
1:54
Richard Hamilton missed 14 ft Jumper.
17 - 18
1:51
Sam Cassell Defensive Rebound.
17 - 18
1:35
Wally Szczerbiak made 16 ft Jumper. Assisted by Sam Cassell.
19 - 18
1:14
Richard Hamilton missed Layup. Blocked by Kevin Garnett.
19 - 18
1:12
Latrell Sprewell Defensive Rebound.
19 - 18
1:07
Latrell Sprewell made 15 ft Jumper. Assisted by Sam Cassell.
21 - 18
0:50
Richard Hamilton Traveling
21 - 18
0:50
Chauncey Billups enters the game for Richard Hamilton.
21 - 18
0:50
Troy Hudson enters the game for Sam Cassell.
21 - 18
0:50
Fred Hoiberg enters the game for Latrell Sprewell.
21 - 18
0:29
Wally Szczerbiak missed 13 ft Jumper.
21 - 18
0:25
Rasheed Wallace Defensive Rebound.
21 - 18
0:22
Chauncey Billups made Two Point Shot.
21 - 20
0:11
Kevin Garnett made 5 ft Hook Shot.
23 - 20
0:00
Rasheed Wallace missed 25 ft Three Point Jumper.
23 - 20
0:00
Detroit Offensive Rebound.
23 - 20
0:00
End of the 1st Quarter.
23 - 20

time
TEAM
PLAY
SCORE
12:00
Start of the 2nd Quarter.
23 - 20
11:45
Corliss Williamson Shooting Foul
23 - 20
11:45
Mark Madsen made Free Throw 1 of 2.
24 - 20
11:45
Mark Madsen missed Free Throw 2 of 2.
24 - 20
11:44
Chauncey Billups Defensive Rebound.
24 - 20
11:29
Chauncey Billups Bad Pass. Stolen by Kevin Garnett.
24 - 20
11:03
Troy Hudson missed Jumper.
24 - 20
11:02
Wally Szczerbiak Offensive Rebound.
24 - 20
11:00
Wally Szczerbiak missed Layup.
24 - 20
11:00
Mark Madsen Offensive Rebound.
24 - 20
10:59
Mark Madsen made Tip Shot.
26 - 20
10:42
Rasheed Wallace missed 13 ft Jumper.
26 - 20
10:41
Kevin Garnett Defensive Rebound.
26 - 20
10:36
Darvin Ham Shooting Foul
26 - 20
10:36
Mark Madsen made Free Throw 1 of 2.
27 - 20
10:36
Gary Trent enters the game for Kevin Garnett.
27 - 20
10:36
Mark Madsen missed Free Throw 2 of 2.
27 - 20
10:34
Chauncey Billups Defensive Rebound.
27 - 20
10:22
Corliss Williamson missed 7 ft Hook Shot.
27 - 20
10:18
Rasheed Wallace Offensive Rebound.
27 - 20
10:18
Rasheed Wallace missed Tip Shot.
27 - 20
10:17
Troy Hudson Defensive Rebound.
27 - 20
10:12
Wally Szczerbiak missed 19 ft Jumper.
27 - 20
10:11
Chauncey Billups Defensive Rebound.
27 - 20
10:04
Corliss Williamson Bad Pass. Stolen by Mark Madsen.
27 - 20
9:44
Gary Trent Lost Ball. Stolen by Corliss Williamson.
27 - 20
9:26
Corliss Williamson missed Layup.
27 - 20
9:25
Gary Trent Defensive Rebound.
27 - 20
9:15
Mike James Personal Foul
27 - 20
9:15
Richard Hamilton enters the game for Mike James.
27 - 20
9:15
Mehmet Okur enters the game for Rasheed Wallace.
27 - 20
9:15
Latrell Sprewell enters the game for Wally Szczerbiak.
27 - 20
9:00
Gary Trent missed 12 ft Two Point Shot.
27 - 20
9:00
Minnesota Offensive Rebound.
27 - 20
9:00
24 second
27 - 20
8:48
Corliss Williamson Lost Ball. Stolen by Gary Trent.
27 - 20
8:41
Troy Hudson made 26 ft Three Point Jumper.
30 - 20
8:25
Chauncey Billups missed 20 ft Jumper.
30 - 20
8:22
Mehmet Okur Offensive Rebound.
30 - 20
8:17
Mehmet Okur made Two Point Shot.
30 - 22
8:11
Minnesota Full Timeout.
30 - 22
8:11
Trenton Hassell enters the game for Fred Hoiberg.
30 - 22
8:00
Latrell Sprewell missed 28 ft Three Point Jumper.
30 - 22
7:58
Corliss Williamson Defensive Rebound.
30 - 22
7:46
Gary Trent Shooting Foul
30 - 22
7:46
Richard Hamilton made Free Throw 1 of 2.
30 - 23
7:46
Richard Hamilton made Free Throw 2 of 2.
30 - 24
7:28
Trenton Hassell made 16 ft Jumper. Assisted by Troy Hudson.
32 - 24
7:11
Corliss Williamson made Layup. Assisted by Chauncey Billups.
32 - 26
6:50
Troy Hudson missed 21 ft Jumper.
32 - 26
6:48
Darvin Ham Defensive Rebound.
32 - 26
6:39
Corliss Williamson made Layup. Assisted by Chauncey Billups.
32 - 28
6:13
Trenton Hassell missed 11 ft Jumper.
32 - 28
6:13
Minnesota Offensive Rebound.
32 - 28
6:13
Mehmet Okur Loose Ball Foul
32 - 28
5:52
Minnesota 20 Sec. Timeout.
32 - 28
5:52
Official Timeout.
32 - 28
5:52
Sam Cassell enters the game for Troy Hudson.
32 - 28
5:52
Kevin Garnett enters the game for Gary Trent.
32 - 28
5:52
Tayshaun Prince enters the game for Darvin Ham.
32 - 28
5:50
Kevin Garnett made 13 ft Jumper. Assisted by Trenton Hassell.
34 - 28
5:50
Mehmet Okur Shooting Foul
34 - 28
5:50
Kevin Garnett made Free Throw 1 of 1.
35 - 28
5:50
Ben Wallace enters the game for Corliss Williamson.
35 - 28
5:37
Chauncey Billups made 27 ft Three Point Jumper.
35 - 31
5:20
Sam Cassell Bad Pass. Stolen by Richard Hamilton.
35 - 31
5:15
Richard Hamilton made 9 ft Two Point Shot.
35 - 33
5:01
Kevin Garnett missed Two Point Shot. Blocked by Ben Wallace.
35 - 33
4:58
Mehmet Okur Defensive Rebound.
35 - 33
4:54
Chauncey Billups missed 21 ft Jumper.
35 - 33
4:52
Trenton Hassell Defensive Rebound.
35 - 33
4:39
Mark Madsen missed Layup. Blocked by Ben Wallace.
35 - 33
4:37
Richard Hamilton Defensive Rebound.
35 - 33
4:33
Chauncey Billups missed Layup.
35 - 33
4:33
Latrell Sprewell Defensive Rebound.
35 - 33
4:26
Trenton Hassell made 20 ft Jumper. Assisted by Sam Cassell.
37 - 33
4:22
Detroit Full Timeout.
37 - 33
4:22
Rasheed Wallace enters the game for Mehmet Okur.
37 - 33
4:22
Michael Olowokandi enters the game for Mark Madsen.
37 - 33
4:01
Richard Hamilton missed 14 ft Jumper.
37 - 33
4:00
Detroit Offensive Rebound.
37 - 33
3:57
Richard Hamilton missed 16 ft Jumper.
37 - 33
3:55
Tayshaun Prince Offensive Rebound.
37 - 33
3:49
Tayshaun Prince missed 27 ft Three Point Jumper.
37 - 33
3:47
Trenton Hassell Defensive Rebound.
37 - 33
3:32
Richard Hamilton Personal Foul
37 - 33
3:32
Sam Cassell made Free Throw 1 of 2.
38 - 33
3:32
Sam Cassell made Free Throw 2 of 2.
39 - 33
3:14
Michael Olowokandi Personal Foul
39 - 33
3:06
Tayshaun Prince made 25 ft Three Point Jumper. Assisted by Chauncey Billups.
39 - 36
2:47
Trenton Hassell made 17 ft Jumper. Assisted by Kevin Garnett.
41 - 36
2:31
Tayshaun Prince Bad Pass. Stolen by Latrell Sprewell.
41 - 36
2:18
Kevin Garnett made 16 ft Jumper.
43 - 36
1:53
Richard Hamilton made 17 ft Jumper. Assisted by Chauncey Billups.
43 - 38
1:35
Sam Cassell made Jumper.
45 - 38
1:15
Richard Hamilton made Two Point Shot.
45 - 40
1:00
Sam Cassell missed 16 ft Jumper.
45 - 40
0:59
Tayshaun Prince Defensive Rebound.
45 - 40
0:54
Ben Wallace missed Layup.
45 - 40
0:53
Richard Hamilton Offensive Rebound.
45 - 40
0:52
Richard Hamilton missed Tip Shot.
45 - 40
0:50
Kevin Garnett Defensive Rebound.
45 - 40
0:35
Trenton Hassell missed 14 ft Jumper.
45 - 40
0:34
Kevin Garnett Offensive Rebound.
45 - 40
0:19
Latrell Sprewell missed 16 ft Jumper.
45 - 40
0:18
Richard Hamilton Defensive Rebound.
45 - 40
0:18
Latrell Sprewell Personal Foul
45 - 40
0:18
Fred Hoiberg enters the game for Latrell Sprewell.
45 - 40
0:18
Wally Szczerbiak enters the game for Trenton Hassell.
45 - 40
0:18
Mark Madsen enters the game for Michael Olowokandi.
45 - 40
0:18
Detroit 20 Sec. Timeout.
45 - 40
0:02
Fred Hoiberg Personal Foul
45 - 40
0:02
Chauncey Billups missed Free Throw 1 of 2.
45 - 40
0:02
Detroit Offensive Rebound.
45 - 40
0:02
Darvin Ham enters the game for Tayshaun Prince.
45 - 40
0:02
Mike James enters the game for Richard Hamilton.
45 - 40
0:02
Troy Hudson enters the game for Fred Hoiberg.
45 - 40
0:02
Chauncey Billups made Free Throw 2 of 2.
45 - 41
0:01
Troy Hudson missed 47 ft Three Point Jumper.
45 - 41
0:00
Minnesota Offensive Rebound.
45 - 41
0:00
End of the 2nd Quarter.
45 - 41

time
TEAM
PLAY
SCORE
12:00
Start of the 3rd Quarter.
45 - 41
11:38
Kevin Garnett made Dunk. Assisted by Trenton Hassell.
47 - 41
11:32
Corliss Williamson missed Layup.
47 - 41
11:30
Kevin Garnett Defensive Rebound.
47 - 41
11:18
Kevin Garnett missed 21 ft Jumper.
47 - 41
11:17
Corliss Williamson Defensive Rebound.
47 - 41
11:11
Sam Cassell Personal Foul
47 - 41
11:03
Ben Wallace made Dunk. Assisted by Chauncey Billups.
47 - 43
10:53
Chauncey Billups Shooting Foul
47 - 43
10:53
Sam Cassell made Free Throw 1 of 2.
48 - 43
10:53
Sam Cassell made Free Throw 2 of 2.
49 - 43
10:40
Ben Wallace made Layup. Assisted by Richard Hamilton.
49 - 45
10:30
Chauncey Billups Personal Foul
49 - 45
10:15
Sam Cassell made 18 ft Jumper. Assisted by Ervin Johnson.
51 - 45
9:56
Ervin Johnson Shooting Foul
51 - 45
9:56
Ben Wallace missed Free Throw 1 of 2.
51 - 45
9:56
Detroit Offensive Rebound.
51 - 45
9:56
Ben Wallace missed Free Throw 2 of 2.
51 - 45
9:55
Ervin Johnson Defensive Rebound.
51 - 45
9:30
Kevin Garnett made 11 ft Jumper.
53 - 45
9:18
Mehmet Okur made 27 ft Three Point Jumper. Assisted by Richard Hamilton.
53 - 48
9:07
Tayshaun Prince enters the game for Mehmet Okur.
53 - 48
8:56
Kevin Garnett Traveling
53 - 48
8:41
Corliss Williamson made 17 ft Jumper. Assisted by Richard Hamilton.
53 - 50
8:15
Kevin Garnett missed 26 ft Three Point Jumper.
53 - 50
8:12
Tayshaun Prince Defensive Rebound.
53 - 50
8:03
Richard Hamilton missed Jumper.
53 - 50
8:02
Kevin Garnett Defensive Rebound.
53 - 50
7:50
Mark Madsen enters the game for Ervin Johnson.
53 - 50
7:45
Ben Wallace Personal Foul
53 - 50
7:31
Sam Cassell missed Layup. Blocked by Ben Wallace.
53 - 50
7:28
Chauncey Billups Defensive Rebound.
53 - 50
7:26
Richard Hamilton made Dunk. Assisted by Chauncey Billups.
53 - 52
7:11
Minnesota Full Timeout.
53 - 52
7:01
Kevin Garnett missed 16 ft Jumper.
53 - 52
6:58
Tayshaun Prince Defensive Rebound.
53 - 52
6:50
Mark Madsen Shooting Foul
53 - 52
6:50
Chauncey Billups made Free Throw 1 of 2.
53 - 53
6:50
Chauncey Billups made Free Throw 2 of 2.
53 - 54
6:31
Mark Madsen made Layup. Assisted by Kevin Garnett.
55 - 54
6:05
Richard Hamilton made Layup. Assisted by Chauncey Billups.
55 - 56
5:47
Trenton Hassell missed 18 ft Jumper.
55 - 56
5:45
Mark Madsen Offensive Rebound.
55 - 56
5:41
Wally Szczerbiak enters the game for Trenton Hassell.
55 - 56
5:41
Tremaine Fowlkes enters the game for Chauncey Billups.
55 - 56
5:26
Kevin Garnett Personal Foul
55 - 56
5:18
Tremaine Fowlkes Offensive Foul
55 - 56
5:18
Tremaine Fowlkes Foul
55 - 56
5:01
Kevin Garnett made Two Point Shot. Assisted by Sam Cassell.
57 - 56
4:41
Tremaine Fowlkes missed Jumper.
57 - 56
4:39
Wally Szczerbiak Defensive Rebound.
57 - 56
4:20
Wally Szczerbiak made Layup. Assisted by Kevin Garnett.
59 - 56
4:11
Detroit Full Timeout.
59 - 56
3:57
Richard Hamilton missed 17 ft Jumper.
59 - 56
3:56
Latrell Sprewell Defensive Rebound.
59 - 56
3:46
Tremaine Fowlkes Personal Foul
59 - 56
3:36
Richard Hamilton Shooting Foul
59 - 56
3:36
Mark Madsen made Free Throw 1 of 2.
60 - 56
3:36
Mark Madsen missed Free Throw 2 of 2.
60 - 56
3:36
Mehmet Okur enters the game for Tremaine Fowlkes.
60 - 56
3:36
Mark Madsen missed Free Throw 2 of 2.
60 - 56
3:35
Mark Madsen Offensive Rebound.
60 - 56
3:31
Sam Cassell missed 26 ft Three Point Jumper.
60 - 56
3:31
Ben Wallace Defensive Rebound.
60 - 56
3:13
Richard Hamilton Traveling
60 - 56
3:13
Chauncey Billups enters the game for Tayshaun Prince.
60 - 56
3:13
Troy Hudson enters the game for Sam Cassell.
60 - 56
2:58
Latrell Sprewell made 24 ft Three Point Jumper. Assisted by Troy Hudson.
63 - 56
2:45
Richard Hamilton Offensive Foul
63 - 56
2:45
Richard Hamilton Foul
63 - 56
2:23
Latrell Sprewell missed 7 ft Two Point Shot.
63 - 56
2:19
Mehmet Okur Defensive Rebound.
63 - 56
2:11
Corliss Williamson missed 9 ft Jumper.
63 - 56
2:09
Richard Hamilton Offensive Rebound.
63 - 56
2:00
Corliss Williamson made Two Point Shot. Assisted by Chauncey Billups.
63 - 58
1:47
Kevin Garnett made Two Point Shot. Assisted by Latrell Sprewell.
65 - 58
1:24
Wally Szczerbiak Personal Foul
65 - 58
1:24
Tayshaun Prince enters the game for Corliss Williamson.
65 - 58
1:24
Richard Hamilton made Free Throw 1 of 2.
65 - 59
1:24
Richard Hamilton made Free Throw 2 of 2.
65 - 60
1:09
Troy Hudson missed 18 ft Jumper.
65 - 60
1:07
Chauncey Billups Defensive Rebound.
65 - 60
0:59
Mehmet Okur Lost Ball. Stolen by Kevin Garnett.
65 - 60
0:55
Kevin Garnett Bad Pass
65 - 60
0:38
Ben Wallace made Layup. Assisted by Mehmet Okur.
65 - 62
0:38
Wally Szczerbiak Shooting Foul
65 - 62
0:38
Ben Wallace missed Free Throw 1 of 1.
65 - 62
0:37
Mehmet Okur Offensive Rebound.
65 - 62
0:25
Tayshaun Prince missed Jumper.
65 - 62
0:24
Troy Hudson Defensive Rebound.
65 - 62
0:02
Troy Hudson missed 28 ft Three Point Jumper.
65 - 62
0:00
Ben Wallace Defensive Rebound.
65 - 62
0:00
End of the 3rd Quarter.
65 - 62

time
TEAM
PLAY
SCORE
12:00
Start of the 4th Quarter.
65 - 62
11:48
Troy Hudson Personal Foul
65 - 62
11:38
Mehmet Okur missed Layup.
65 - 62
11:37
Kevin Garnett Defensive Rebound.
65 - 62
11:15
Kevin Garnett made 14 ft Two Point Shot.
67 - 62
10:59
Richard Hamilton missed 13 ft Jumper.
67 - 62
10:56
Ben Wallace Offensive Rebound.
67 - 62
10:56
Ben Wallace missed Tip Shot.
67 - 62
10:53
Ben Wallace Offensive Rebound.
67 - 62
10:52
Ben Wallace missed Layup. Blocked by Oliver Miller.
67 - 62
10:51
Oliver Miller Defensive Rebound.
67 - 62
10:47
Kevin Garnett made Layup. Assisted by Troy Hudson.
69 - 62
10:27
Ben Wallace made Layup. Assisted by Richard Hamilton.
69 - 64
10:10
Kevin Garnett missed 18 ft Jumper.
69 - 64
10:07
Chauncey Billups Defensive Rebound.
69 - 64
10:07
Oliver Miller Personal Foul
69 - 64
10:07
Corliss Williamson enters the game for Mehmet Okur.
69 - 64
10:07
Gary Trent enters the game for Kevin Garnett.
69 - 64
10:02
Chauncey Billups made 21 ft Jumper.
69 - 66
9:33
Gary Trent missed 12 ft Jumper.
69 - 66
9:30
Corliss Williamson Defensive Rebound.
69 - 66
9:25
Tayshaun Prince missed Two Point Shot.
69 - 66
9:23
Detroit Defensive Rebound.
69 - 66
9:23
Mehmet Okur enters the game for Ben Wallace.
69 - 66
9:11
Troy Hudson made 16 ft Jumper. Assisted by Wally Szczerbiak.
71 - 66
8:45
Mehmet Okur missed 24 ft Three Point Jumper.
71 - 66
8:42
Oliver Miller Defensive Rebound.
71 - 66
8:41
Richard Hamilton Shooting Foul
71 - 66
8:41
Official Timeout.
71 - 66
8:41
Latrell Sprewell enters the game for Wally Szczerbiak.
71 - 66
8:41
Tremaine Fowlkes enters the game for Chauncey Billups.
71 - 66
8:41
Gary Trent missed Free Throw 1 of 2.
71 - 66
8:41
Minnesota Offensive Rebound.
71 - 66
8:41
Gary Trent made Free Throw 2 of 2.
72 - 66
8:22
Gary Trent Personal Foul
72 - 66
8:12
Corliss Williamson missed 14 ft Jumper.
72 - 66
8:10
Mehmet Okur Offensive Rebound.
72 - 66
8:07
Mehmet Okur Lost Ball. Stolen by Fred Hoiberg.
72 - 66
8:03
Troy Hudson made 21 ft Jumper.
74 - 66
7:45
Gary Trent Shooting Foul
74 - 66
7:45
Ben Wallace enters the game for Mehmet Okur.
74 - 66
7:45
Chauncey Billups enters the game for Tremaine Fowlkes.
74 - 66
7:45
Corliss Williamson made Free Throw 1 of 2.
74 - 67
7:45
Corliss Williamson made Free Throw 2 of 2.
74 - 68
7:24
Troy Hudson missed 23 ft Three Point Jumper.
74 - 68
7:22
Ben Wallace Defensive Rebound.
74 - 68
7:09
Richard Hamilton missed 23 ft Three Point Jumper. Blocked by Latrell Sprewell.
74 - 68
7:07
Detroit Defensive Rebound.
74 - 68
6:52
Chauncey Billups Personal Foul
74 - 68
6:52
Kevin Garnett enters the game for Gary Trent.
74 - 68
6:45
Latrell Sprewell missed Jumper.
74 - 68
6:43
Kevin Garnett Offensive Rebound.
74 - 68
6:41
Fred Hoiberg made 27 ft Three Point Jumper. Assisted by Kevin Garnett.
77 - 68
6:22
Oliver Miller Shooting Foul
77 - 68
6:22
Ben Wallace made Free Throw 1 of 2.
77 - 69
6:22
Sam Cassell enters the game for Troy Hudson.
77 - 69
6:22
Wally Szczerbiak enters the game for Latrell Sprewell.
77 - 69
6:22
Ben Wallace missed Free Throw 2 of 2.
77 - 69
6:20
Kevin Garnett Defensive Rebound.
77 - 69
6:07
Corliss Williamson Shooting Foul
77 - 69
6:07
Kevin Garnett made Free Throw 1 of 2.
78 - 69
6:07
Kevin Garnett made Free Throw 2 of 2.
79 - 69
5:58
Chauncey Billups missed 11 ft Jumper.
79 - 69
5:56
Kevin Garnett Defensive Rebound.
79 - 69
5:39
Sam Cassell missed Layup. Blocked by Tayshaun Prince.
79 - 69
5:37
Richard Hamilton Defensive Rebound.
79 - 69
5:33
Richard Hamilton Lost Ball. Stolen by Sam Cassell.
79 - 69
5:30
Minnesota Full Timeout.
79 - 69
5:13
Wally Szczerbiak missed 16 ft Jumper.
79 - 69
5:13
Minnesota Defensive Rebound.
79 - 69
4:58
Corliss Williamson made Layup. Assisted by Chauncey Billups.
79 - 71
4:41
Latrell Sprewell enters the game for Wally Szczerbiak.
79 - 71
4:33
Latrell Sprewell missed 22 ft Jumper.
79 - 71
4:31
Oliver Miller Offensive Rebound.
79 - 71
4:30
Oliver Miller missed Tip Shot.
79 - 71
4:28
Chauncey Billups Defensive Rebound.
79 - 71
4:16
Chauncey Billups made 24 ft Three Point Jumper. Assisted by Richard Hamilton.
79 - 74
3:56
Kevin Garnett missed 19 ft Jumper.
79 - 74
3:55
Chauncey Billups Defensive Rebound.
79 - 74
3:54
Latrell Sprewell Personal Foul
79 - 74
3:54
Chauncey Billups missed Free Throw 1 of 2.
79 - 74
3:54
Detroit Offensive Rebound.
79 - 74
3:54
Mark Madsen enters the game for Oliver Miller.
79 - 74
3:54
Chauncey Billups made Free Throw 2 of 2.
79 - 75
3:35
Tayshaun Prince Defensive Rebound.
79 - 75
3:28
Corliss Williamson missed 11 ft Jumper.
79 - 75
3:26
Tayshaun Prince Offensive Rebound.
79 - 75
3:08
Ben Wallace Offensive Rebound.
79 - 75
3:05
Ben Wallace made Tip Shot.
79 - 77
2:47
Mark Madsen made Layup. Assisted by Sam Cassell.
81 - 77
2:38
Detroit Full Timeout.
81 - 77
2:38
Trenton Hassell enters the game for Fred Hoiberg.
81 - 77
2:27
Ben Wallace missed 10 ft Jumper.
81 - 77
2:25
Corliss Williamson Offensive Rebound.
81 - 77
2:20
Corliss Williamson missed Layup. Blocked by Mark Madsen.
81 - 77
2:17
Kevin Garnett Defensive Rebound.
81 - 77
1:59
Trenton Hassell missed 19 ft Jumper.
81 - 77
1:57
Ben Wallace Defensive Rebound.
81 - 77
1:52
Chauncey Billups made Layup.
81 - 79
1:32
Chauncey Billups Personal Foul
81 - 79
1:32
Wally Szczerbiak enters the game for Trenton Hassell.
81 - 79
1:17
Kevin Garnett missed 21 ft Jumper.
81 - 79
1:15
Tayshaun Prince Defensive Rebound.
81 - 79
1:10
Chauncey Billups missed 27 ft Three Point Jumper.
81 - 79
1:08
Kevin Garnett Defensive Rebound.
81 - 79
1:01
Sam Cassell missed Layup.
81 - 79
1:00
Tayshaun Prince Defensive Rebound.
81 - 79
0:44
Corliss Williamson missed 6 ft Hook Shot.
81 - 79
0:42
Latrell Sprewell Defensive Rebound.
81 - 79
0:42
Corliss Williamson Personal Foul
81 - 79
0:42
Latrell Sprewell made Free Throw 1 of 2.
82 - 79
0:42
Trenton Hassell enters the game for Wally Szczerbiak.
82 - 79
0:42
Latrell Sprewell made Free Throw 2 of 2.
83 - 79
0:42
Detroit Full Timeout.
83 - 79
0:38
Sam Cassell Personal Foul
83 - 79
0:38
Richard Hamilton made Free Throw 1 of 2.
83 - 80
0:38
Wally Szczerbiak enters the game for Trenton Hassell.
83 - 80
0:38
Tremaine Fowlkes enters the game for Corliss Williamson.
83 - 80
0:38
Richard Hamilton made Free Throw 2 of 2.
83 - 81
0:32
Minnesota 20 Sec. Timeout.
83 - 81
0:32
Minnesota Full Timeout.
83 - 81
0:32
Fred Hoiberg enters the game for Mark Madsen.
83 - 81
0:31
Chauncey Billups Personal Foul
83 - 81
0:31
Sam Cassell missed Free Throw 1 of 2.
83 - 81
0:31
Minnesota Offensive Rebound.
83 - 81
0:31
Corliss Williamson enters the game for Tremaine Fowlkes.
83 - 81
0:31
Trenton Hassell enters the game for Wally Szczerbiak.
83 - 81
0:31
Sam Cassell missed Free Throw 2 of 2.
83 - 81
0:31
Corliss Williamson Defensive Rebound.
83 - 81
0:31
Detroit Full Timeout.
83 - 81
0:31
Mark Madsen enters the game for Fred Hoiberg.
83 - 81
0:24
Richard Hamilton made Layup. Assisted by Chauncey Billups.
83 - 83
0:19
Tayshaun Prince Personal Foul
83 - 83
0:19
Latrell Sprewell made Free Throw 1 of 2.
84 - 83
0:19
Latrell Sprewell missed Free Throw 2 of 2.
84 - 83
0:19
Corliss Williamson Defensive Rebound.
84 - 83
0:19
Fred Hoiberg enters the game for Mark Madsen.
84 - 83
0:19
Detroit 20 Sec. Timeout.
84 - 83
0:15
Richard Hamilton made Two Point Shot.
84 - 85
0:14
Chauncey Billups Personal Foul
84 - 85
0:14
Tremaine Fowlkes enters the game for Chauncey Billups.
84 - 85
0:14
Sam Cassell made Free Throw 1 of 2.
85 - 85
0:14
Sam Cassell made Free Throw 2 of 2.
86 - 85
0:02
Tayshaun Prince missed 29 ft Three Point Jumper. Blocked by Kevin Garnett.
86 - 85
0:01
Ben Wallace Offensive Rebound.
86 - 85
0:01
Ben Wallace made Tip Shot.
86 - 87
0:01
Corliss Williamson Personal Foul
86 - 87
0:01
Latrell Sprewell missed Free Throw 1 of 2.
86 - 87
0:01
Darvin Ham enters the game for Tremaine Fowlkes.
86 - 87
0:01
Minnesota Offensive Rebound.
86 - 87
0:01
Latrell Sprewell missed Free Throw 2 of 2.
86 - 87
0:01
Minnesota Defensive Rebound.
86 - 87
0:00
Darvin Ham Bad Pass. Stolen by Sam Cassell.
86 - 87
0:00
End of the 4th Quarter.
86 - 87
0:00
End Game
86 - 87
0:00
End Game
86 - 87
ESPN Fan Shop Powered By
adidas Youth Minnesota Timberwolves Ricky Rubio #9 Road Blue Replica JerseyShop
Paul Millsap had 17 points and eight rebounds, and the Atlanta Hawks advanced to the second round of the NBA playoffs with a 104-92 Game 6 victory over the Boston Celtics on Thursday night.

Jae Crowder takes the feed from Isaiah Thomas and throws down a huge dunk over the outstretched arms of Mike Scott in the second quarter.

Carmelo Anthony and Phil Jackson have not discussed the Knicks' coaching search since their exit meetings last month.