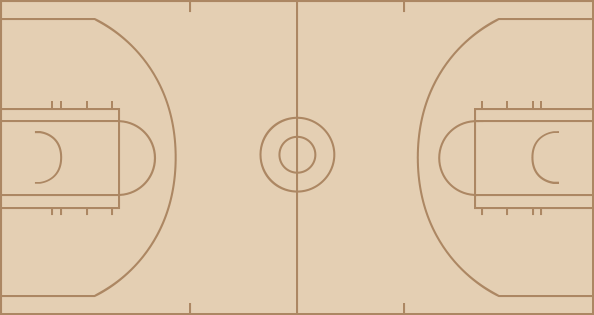 Celtics
time
TEAM
PLAY
SCORE
12:00
Start of the 1st Quarter.
0 - 0
12:00
Jumpball. Chris Mihm vs. Calvin Booth. Ray Allen gains possession.
0 - 0
11:41
Ray Allen made 6 ft Jumper.
0 - 2
11:25
Paul Pierce missed 14 ft Jumper.
0 - 2
11:23
Ray Allen Defensive Rebound.
0 - 2
11:11
Vitaly Potapenko missed 16 ft Jumper.
0 - 2
11:08
Paul Pierce Defensive Rebound.
0 - 2
10:56
Chris Mihm Traveling
0 - 2
10:40
Rashard Lewis missed 8 ft Two Point Shot.
0 - 2
10:37
Ricky Davis Defensive Rebound.
0 - 2
10:30
Paul Pierce made 25 ft Three Point Jumper. Assisted by Ricky Davis.
3 - 2
10:06
Ray Allen missed 19 ft Jumper.
3 - 2
10:03
Vitaly Potapenko Offensive Rebound.
3 - 2
10:00
Ray Allen missed 25 ft Three Point Jumper.
3 - 2
9:59
Chris Mihm Defensive Rebound.
3 - 2
9:37
Mark Blount made Layup. Assisted by Paul Pierce.
5 - 2
9:37
Defensive Goaltending
5 - 2
9:22
Calvin Booth missed 17 ft Jumper.
5 - 2
9:19
Chris Mihm Defensive Rebound.
5 - 2
9:14
Marcus Banks made 18 ft Jumper.
7 - 2
8:49
Vitaly Potapenko made 17 ft Jumper. Assisted by Antonio Daniels.
7 - 4
8:36
Mark Blount made 10 ft Jumper. Assisted by Paul Pierce.
9 - 4
8:18
Rashard Lewis made 26 ft Three Point Jumper. Assisted by Ray Allen.
9 - 7
7:56
Rashard Lewis Shooting Foul
9 - 7
7:56
Marcus Banks missed Free Throw 1 of 2.
9 - 7
7:56
Marcus Banks missed Free Throw 2 of 2.
9 - 7
7:54
Calvin Booth Defensive Rebound.
9 - 7
7:41
Rashard Lewis Offensive Rebound.
9 - 7
7:41
Rashard Lewis missed 26 ft Three Point Jumper.
9 - 7
7:39
Chris Mihm Defensive Rebound.
9 - 7
7:33
Marcus Banks missed Layup.
9 - 7
7:31
Calvin Booth Defensive Rebound.
9 - 7
7:16
Calvin Booth missed 4 ft Jumper. Blocked by Chris Mihm.
9 - 7
7:16
Seattle Offensive Rebound.
9 - 7
7:13
Rashard Lewis missed 10 ft Jumper.
9 - 7
7:11
Chris Mihm Defensive Rebound.
9 - 7
7:00
Paul Pierce made 25 ft Three Point Jumper. Assisted by Marcus Banks.
12 - 7
6:43
Ray Allen missed 9 ft Jumper.
12 - 7
6:41
Calvin Booth Offensive Rebound.
12 - 7
6:37
Rashard Lewis missed 25 ft Three Point Jumper.
12 - 7
6:35
Chris Mihm Defensive Rebound.
12 - 7
6:28
Paul Pierce made Two Point Shot.
14 - 7
6:22
Seattle Full Timeout.
14 - 7
6:22
Vladimir Radmanovic enters the game for Calvin Booth.
14 - 7
6:13
Rashard Lewis made 8 ft Two Point Shot. Assisted by Ray Allen.
14 - 9
5:54
Marcus Banks missed Jumper.
14 - 9
5:50
Chris Mihm Offensive Rebound.
14 - 9
5:50
Chris Mihm missed Tip Shot.
14 - 9
5:50
Boston Defensive Rebound.
14 - 9
5:30
Rashard Lewis made Hook Shot. Assisted by Antonio Daniels.
14 - 11
5:16
Paul Pierce missed 18 ft Jumper.
14 - 11
5:13
Boston Defensive Rebound.
14 - 11
4:52
Antonio Daniels missed 9 ft Two Point Shot.
14 - 11
4:50
Mark Blount Defensive Rebound.
14 - 11
4:41
Vladimir Radmanovic Shooting Foul
14 - 11
4:41
Paul Pierce made Free Throw 1 of 2.
15 - 11
4:41
Paul Pierce missed Free Throw 2 of 2.
15 - 11
4:39
Vitaly Potapenko Defensive Rebound.
15 - 11
4:22
Ray Allen missed 6 ft Jumper.
15 - 11
4:20
Vladimir Radmanovic Offensive Rebound.
15 - 11
4:18
Vladimir Radmanovic Bad Pass. Stolen by Marcus Banks.
15 - 11
4:13
Marcus Banks missed Layup.
15 - 11
4:11
Antonio Daniels Defensive Rebound.
15 - 11
4:07
Antonio Daniels made Two Point Shot.
15 - 13
3:59
Ricky Davis made 19 ft Jumper.
17 - 13
3:57
Delay of Game
17 - 13
3:45
Marcus Banks Shooting Foul
17 - 13
3:45
Antonio Daniels made Free Throw 1 of 2.
17 - 14
3:45
Antonio Daniels missed Free Throw 2 of 2.
17 - 14
3:44
Paul Pierce Defensive Rebound.
17 - 14
3:31
Paul Pierce missed Layup.
17 - 14
3:28
Mark Blount Offensive Rebound.
17 - 14
3:12
Mark Blount made 4 ft Hook Shot. Assisted by Paul Pierce.
19 - 14
2:54
Rashard Lewis made 26 ft Three Point Jumper. Assisted by Ray Allen.
19 - 17
2:44
Ricky Davis Bad Pass
19 - 17
2:44
Boston Full Timeout.
19 - 17
2:44
Jerome James enters the game for Ray Allen.
19 - 17
2:44
Ronald Murray enters the game for Vitaly Potapenko.
19 - 17
2:24
Vladimir Radmanovic made 23 ft Three Point Jumper. Assisted by Ronald Murray.
19 - 20
2:11
Paul Pierce made Layup. Assisted by Mark Blount.
21 - 20
1:58
Rashard Lewis made 26 ft Three Point Jumper. Assisted by Ronald Murray.
21 - 23
1:43
Chris Mihm missed 20 ft Jumper.
21 - 23
1:40
Vladimir Radmanovic Defensive Rebound.
21 - 23
1:34
Vladimir Radmanovic missed 25 ft Three Point Jumper.
21 - 23
1:31
Paul Pierce Defensive Rebound.
21 - 23
1:27
Ricky Davis made 17 ft Jumper. Assisted by Paul Pierce.
23 - 23
1:12
Paul Pierce Personal Foul
23 - 23
1:12
Jiri Welsch enters the game for Marcus Banks.
23 - 23
1:12
Walter McCarty enters the game for Chris Mihm.
23 - 23
1:04
Jerome James missed Dunk.
23 - 23
1:04
Seattle Defensive Rebound.
23 - 23
0:52
Paul Pierce missed 26 ft Three Point Jumper.
23 - 23
0:50
Antonio Daniels Defensive Rebound.
23 - 23
0:45
Ronald Murray made 18 ft Jumper. Assisted by Antonio Daniels.
23 - 25
0:37
Ricky Davis made Jumper.
25 - 25
0:26
Ronald Murray made 21 ft Jumper. Assisted by Antonio Daniels.
25 - 27
0:01
Mark Blount missed 12 ft Jumper.
25 - 27
0:00
Antonio Daniels Defensive Rebound.
25 - 27
0:00
End of the 1st Quarter.
25 - 27

time
TEAM
PLAY
SCORE
12:00
Start of the 2nd Quarter.
25 - 27
11:48
Jiri Welsch Lost Ball. Stolen by Vladimir Radmanovic.
25 - 27
11:32
Paul Pierce missed 25 ft Three Point Jumper.
25 - 27
11:30
Vladimir Radmanovic Defensive Rebound.
25 - 27
11:19
Ray Allen missed 24 ft Three Point Jumper.
25 - 27
11:18
Ray Allen Offensive Rebound.
25 - 27
11:02
Jerome James made Slam Dunk. Assisted by Ronald Murray.
25 - 29
10:41
Ricky Davis missed 8 ft Jumper. Blocked by Jerome James.
25 - 29
10:40
Mark Blount Offensive Rebound.
25 - 29
10:38
Mark Blount made Layup.
27 - 29
10:27
Jerome James made Layup. Assisted by Luke Ridnour.
27 - 31
10:07
Mark Blount missed 17 ft Jumper.
27 - 31
10:06
Vladimir Radmanovic Defensive Rebound.
27 - 31
10:02
Walter McCarty Personal Foul
27 - 31
9:53
Ray Allen missed 21 ft Jumper.
27 - 31
9:52
Seattle Defensive Rebound.
27 - 31
9:52
Jerome James Loose Ball Foul
27 - 31
9:34
Mark Blount Lost Ball. Stolen by Ronald Murray.
27 - 31
9:34
Jiri Welsch Personal Foul
27 - 31
9:34
Chris Mihm enters the game for Mark Blount.
27 - 31
9:34
Marcus Banks enters the game for Ricky Davis.
27 - 31
9:22
Ronald Murray missed 22 ft Jumper.
27 - 31
9:22
Jerome James Offensive Rebound.
27 - 31
9:22
Jerome James made Slam Dunk.
27 - 33
9:22
Marcus Banks Shooting Foul
27 - 33
9:22
Jerome James made Free Throw 1 of 1.
27 - 34
9:11
Jerome James Shooting Foul
27 - 34
9:11
Paul Pierce made Free Throw 1 of 2.
28 - 34
9:11
Paul Pierce made Free Throw 2 of 2.
29 - 34
8:57
Official Timeout.
29 - 34
8:37
Jiri Welsch made 21 ft Jumper. Assisted by Paul Pierce.
31 - 34
8:25
Jerome James made Dunk. Assisted by Ray Allen.
31 - 36
8:03
Walter McCarty missed 25 ft Three Point Jumper.
31 - 36
8:02
Boston Defensive Rebound.
31 - 36
7:43
Ronald Murray missed 19 ft Jumper.
31 - 36
7:41
Chris Mihm Defensive Rebound.
31 - 36
7:35
Jiri Welsch missed Three Point Jumper.
31 - 36
7:33
Paul Pierce Offensive Rebound.
31 - 36
7:20
Marcus Banks missed 26 ft Three Point Jumper.
31 - 36
7:18
Boston Defensive Rebound.
31 - 36
7:18
Ricky Davis enters the game for Paul Pierce.
31 - 36
7:03
Ronald Murray missed 24 ft Three Point Jumper.
31 - 36
7:01
Chris Mihm Defensive Rebound.
31 - 36
6:45
Jerome James Illegal Defense Foul
31 - 36
6:45
Walter McCarty made Technical Free Throw.
32 - 36
6:45
Rashard Lewis enters the game for Ronald Murray.
32 - 36
6:37
Marcus Banks missed Jumper.
32 - 36
6:37
Chris Mihm Offensive Rebound.
32 - 36
6:30
Jerome James made Slam Dunk. Assisted by Ray Allen.
32 - 38
6:20
Boston Full Timeout.
32 - 38
6:11
Marcus Banks Bad Pass. Stolen by Vladimir Radmanovic.
32 - 38
5:56
Ray Allen made 9 ft Jumper.
32 - 40
5:37
Ricky Davis missed 16 ft Jumper.
32 - 40
5:35
Rashard Lewis Defensive Rebound.
32 - 40
5:31
Ray Allen missed 23 ft Three Point Jumper.
32 - 40
5:28
Ray Allen Offensive Rebound.
32 - 40
5:09
Jerome James missed Jumper.
32 - 40
5:09
Chris Mihm Defensive Rebound.
32 - 40
4:47
Chris Mihm made Slam Dunk. Assisted by Jiri Welsch.
34 - 40
4:26
Rashard Lewis made 23 ft Three Point Jumper. Assisted by Vladimir Radmanovic.
34 - 43
4:03
Walter McCarty Bad Pass. Stolen by Ray Allen.
34 - 43
3:50
Paul Pierce enters the game for Jiri Welsch.
34 - 43
3:50
Mark Blount enters the game for Chris Mihm.
34 - 43
3:45
Walter McCarty Personal Foul
34 - 43
3:45
Jumaine Jones enters the game for Walter McCarty.
34 - 43
3:42
Vladimir Radmanovic missed 26 ft Three Point Jumper.
34 - 43
3:41
Seattle Defensive Rebound.
34 - 43
3:23
Ricky Davis made Two Point Shot.
36 - 43
3:02
Ray Allen made 26 ft Three Point Jumper. Assisted by Rashard Lewis.
36 - 46
2:47
Paul Pierce made 25 ft Three Point Jumper.
39 - 46
2:30
Jerome James missed 8 ft Jumper.
39 - 46
2:30
Seattle Offensive Rebound.
39 - 46
2:30
Mark Blount Loose Ball Foul
39 - 46
2:30
Seattle Full Timeout.
39 - 46
2:30
Jerome James made Free Throw 1 of 2.
39 - 47
2:30
Jerome James made Free Throw 2 of 2.
39 - 48
2:17
Paul Pierce Traveling
39 - 48
2:17
Vitaly Potapenko enters the game for Jerome James.
39 - 48
2:04
Rashard Lewis missed 8 ft Jumper.
39 - 48
2:04
Seattle Offensive Rebound.
39 - 48
2:04
Jumaine Jones Loose Ball Foul
39 - 48
2:04
Vitaly Potapenko missed Free Throw 1 of 2.
39 - 48
2:04
Seattle Offensive Rebound.
39 - 48
2:04
Vitaly Potapenko made Free Throw 2 of 2.
39 - 49
1:51
Ray Allen Shooting Foul
39 - 49
1:51
Paul Pierce made Free Throw 1 of 2.
40 - 49
1:51
Paul Pierce made Free Throw 2 of 2.
41 - 49
1:31
Luke Ridnour missed 12 ft Jumper.
41 - 49
1:30
Paul Pierce Defensive Rebound.
41 - 49
1:28
Paul Pierce Lost Ball. Stolen by Luke Ridnour.
41 - 49
1:23
Rashard Lewis made Slam Dunk. Assisted by Luke Ridnour.
41 - 51
1:08
Boston 20 Sec. Timeout.
41 - 51
0:57
Paul Pierce Bad Pass. Stolen by Ray Allen.
41 - 51
0:42
Vladimir Radmanovic missed Three Point Jumper.
41 - 51
0:40
Ray Allen Offensive Rebound.
41 - 51
0:30
Luke Ridnour missed 19 ft Jumper.
41 - 51
0:28
Vladimir Radmanovic Offensive Rebound.
41 - 51
0:26
Vladimir Radmanovic missed 6 ft Jumper.
41 - 51
0:25
Paul Pierce Defensive Rebound.
41 - 51
0:22
Paul Pierce Lost Ball. Stolen by Luke Ridnour.
41 - 51
0:02
Vladimir Radmanovic missed 13 ft Two Point Shot.
41 - 51
0:00
Mark Blount Defensive Rebound.
41 - 51
0:00
End of the 2nd Quarter.
41 - 51

time
TEAM
PLAY
SCORE
12:00
Start of the 3rd Quarter.
41 - 51
11:42
Mark Blount missed Jumper.
41 - 51
11:41
Antonio Daniels Defensive Rebound.
41 - 51
11:21
Rashard Lewis missed 13 ft Two Point Shot.
41 - 51
11:19
Vitaly Potapenko Offensive Rebound.
41 - 51
11:19
Jiri Welsch Personal Foul
41 - 51
11:10
Jiri Welsch Personal Foul
41 - 51
10:56
Ray Allen missed 14 ft Jumper.
41 - 51
10:56
Seattle Offensive Rebound.
41 - 51
10:49
Vitaly Potapenko made Layup. Assisted by Ray Allen.
41 - 53
10:40
Jiri Welsch made Jumper. Assisted by Marcus Banks.
43 - 53
10:27
Vladimir Radmanovic made 23 ft Jumper. Assisted by Antonio Daniels.
43 - 55
10:15
Paul Pierce missed 17 ft Jumper.
43 - 55
10:12
Antonio Daniels Defensive Rebound.
43 - 55
10:03
Ray Allen made 24 ft Three Point Jumper. Assisted by Antonio Daniels.
43 - 58
9:51
Mark Blount made 2 ft Hook Shot. Assisted by Jiri Welsch.
45 - 58
9:30
Ray Allen made 25 ft Three Point Jumper. Assisted by Antonio Daniels.
45 - 61
9:07
Jiri Welsch made 26 ft Three Point Jumper. Assisted by Ricky Davis.
48 - 61
8:52
Mark Blount Personal Foul
48 - 61
8:48
Vitaly Potapenko Offensive Foul
48 - 61
8:48
Vitaly Potapenko Foul
48 - 61
8:48
Vitaly Potapenko Technical Foul
48 - 61
8:48
Paul Pierce made Technical Free Throw.
49 - 61
8:25
Jiri Welsch made 19 ft Jumper. Assisted by Marcus Banks.
51 - 61
8:22
Seattle Full Timeout.
51 - 61
8:07
Vitaly Potapenko Lost Ball. Stolen by Ricky Davis.
51 - 61
8:03
Ricky Davis Bad Pass. Stolen by Antonio Daniels.
51 - 61
7:56
Vitaly Potapenko missed Layup.
51 - 61
7:56
Seattle Offensive Rebound.
51 - 61
7:48
Antonio Daniels missed 14 ft Jumper.
51 - 61
7:48
Vladimir Radmanovic Offensive Rebound.
51 - 61
7:41
Vitaly Potapenko missed 4 ft Jumper.
51 - 61
7:39
Mark Blount Defensive Rebound.
51 - 61
7:20
Antonio Daniels Illegal Defense Foul
51 - 61
7:20
Paul Pierce made Technical Free Throw.
52 - 61
7:07
Antonio Daniels Shooting Foul
52 - 61
7:07
Paul Pierce made Free Throw 1 of 2.
53 - 61
7:07
Paul Pierce missed Free Throw 2 of 2.
53 - 61
7:05
Vladimir Radmanovic Defensive Rebound.
53 - 61
6:50
Rashard Lewis missed 26 ft Three Point Jumper.
53 - 61
6:48
Vitaly Potapenko Offensive Rebound.
53 - 61
6:45
Rashard Lewis made Jumper. Assisted by Vitaly Potapenko.
53 - 63
6:31
Paul Pierce missed 12 ft Two Point Shot.
53 - 63
6:28
Vladimir Radmanovic Defensive Rebound.
53 - 63
6:24
Antonio Daniels Bad Pass
53 - 63
6:03
Jiri Welsch missed 19 ft Jumper.
53 - 63
6:01
Ray Allen Defensive Rebound.
53 - 63
5:50
Vladimir Radmanovic Bad Pass. Stolen by Mark Blount.
53 - 63
5:43
Ricky Davis missed 9 ft Jumper.
53 - 63
5:41
Vladimir Radmanovic Defensive Rebound.
53 - 63
5:26
Jiri Welsch Personal Foul
53 - 63
5:26
Walter McCarty enters the game for Jiri Welsch.
53 - 63
5:24
Mark Blount Personal Foul
53 - 63
5:24
Rashard Lewis missed Free Throw 1 of 2.
53 - 63
5:24
Seattle Offensive Rebound.
53 - 63
5:24
Rashard Lewis missed Free Throw 2 of 2.
53 - 63
5:22
Mark Blount Defensive Rebound.
53 - 63
5:09
Ricky Davis missed 16 ft Jumper.
53 - 63
5:07
Rashard Lewis Defensive Rebound.
53 - 63
5:00
Antonio Daniels missed 9 ft Jumper.
53 - 63
4:58
Mark Blount Defensive Rebound.
53 - 63
4:43
Paul Pierce made Layup. Assisted by Mark Blount.
55 - 63
4:22
Mark Blount Illegal Defense Foul
55 - 63
4:22
Ray Allen made Technical Free Throw.
55 - 64
4:18
Rashard Lewis made Layup. Assisted by Ray Allen.
55 - 66
4:07
Marcus Banks missed Layup.
55 - 66
4:05
Vitaly Potapenko Defensive Rebound.
55 - 66
4:01
Vladimir Radmanovic made Dunk. Assisted by Antonio Daniels.
55 - 68
3:54
Boston Full Timeout.
55 - 68
3:54
Chris Mihm enters the game for Mark Blount.
55 - 68
3:40
Ricky Davis made Two Point Shot. Assisted by Marcus Banks.
57 - 68
3:13
Vitaly Potapenko missed Jumper.
57 - 68
3:11
Paul Pierce Defensive Rebound.
57 - 68
3:10
Paul Pierce Bad Pass. Stolen by Rashard Lewis.
57 - 68
2:55
Vitaly Potapenko missed 5 ft Jumper. Blocked by Paul Pierce.
57 - 68
2:53
Marcus Banks Defensive Rebound.
57 - 68
2:43
Chris Mihm made 13 ft Jumper. Assisted by Ricky Davis.
59 - 68
2:27
Rashard Lewis made Three Point Jumper. Assisted by Antonio Daniels.
59 - 71
2:08
Vitaly Potapenko Personal Foul
59 - 71
2:08
Jerome James enters the game for Vitaly Potapenko.
59 - 71
2:08
Ronald Murray enters the game for Ray Allen.
59 - 71
2:00
Paul Pierce made 21 ft Jumper. Assisted by Walter McCarty.
61 - 71
1:43
Rashard Lewis made 24 ft Three Point Jumper. Assisted by Antonio Daniels.
61 - 74
1:34
Jerome James Personal Foul
61 - 74
1:22
Paul Pierce made 20 ft Jumper. Assisted by Walter McCarty.
63 - 74
1:04
Vladimir Radmanovic missed 23 ft Three Point Jumper.
63 - 74
1:01
Jerome James Offensive Rebound.
63 - 74
0:49
Vladimir Radmanovic Offensive Foul
63 - 74
0:49
Vladimir Radmanovic Foul
63 - 74
0:49
Luke Ridnour enters the game for Antonio Daniels.
63 - 74
0:36
Chris Mihm made Layup. Assisted by Paul Pierce.
65 - 74
0:27
Rashard Lewis missed 26 ft Three Point Jumper.
65 - 74
0:25
Ricky Davis Defensive Rebound.
65 - 74
0:07
Luke Ridnour Shooting Foul
65 - 74
0:07
Paul Pierce made Free Throw 1 of 2.
66 - 74
0:07
Paul Pierce made Free Throw 2 of 2.
67 - 74
0:00
Luke Ridnour made 9 ft Two Point Shot.
67 - 76
0:00
End of the 3rd Quarter.
67 - 76

time
TEAM
PLAY
SCORE
12:00
Start of the 4th Quarter.
67 - 76
11:41
Luke Ridnour made 15 ft Jumper. Assisted by Ray Allen.
67 - 78
11:27
Jiri Welsch missed 27 ft Three Point Jumper.
67 - 78
11:26
Ronald Murray Defensive Rebound.
67 - 78
11:21
Ronald Murray missed 3 ft Jumper. Blocked by Chris Mihm.
67 - 78
11:19
Seattle Offensive Rebound.
67 - 78
11:07
Jerome James missed Jumper.
67 - 78
11:03
Ricky Davis Defensive Rebound.
67 - 78
10:56
Paul Pierce missed 15 ft Jumper.
67 - 78
10:55
Ray Allen Defensive Rebound.
67 - 78
10:37
Ansu Sesay made 20 ft Jumper. Assisted by Ray Allen.
67 - 80
10:17
Walter McCarty made 16 ft Jumper. Assisted by Chris Mihm.
69 - 80
9:56
Ansu Sesay made 24 ft Three Point Jumper. Assisted by Luke Ridnour.
69 - 83
9:37
Paul Pierce missed 26 ft Three Point Jumper.
69 - 83
9:37
Boston Offensive Rebound.
69 - 83
9:37
Jerome James Loose Ball Foul
69 - 83
9:22
Chris Mihm missed 15 ft Jumper.
69 - 83
9:21
Ray Allen Defensive Rebound.
69 - 83
9:18
Ricky Davis Personal Foul
69 - 83
9:08
Ray Allen made 23 ft Three Point Jumper. Assisted by Luke Ridnour.
69 - 86
8:41
24 second
69 - 86
8:41
Official Timeout.
69 - 86
8:29
Ray Allen made 24 ft Three Point Jumper. Assisted by Luke Ridnour.
69 - 89
8:15
Ansu Sesay Personal Foul
69 - 89
8:15
Mark Blount enters the game for Chris Mihm.
69 - 89
8:07
Paul Pierce missed 21 ft Jumper.
69 - 89
8:07
Boston Defensive Rebound.
69 - 89
7:45
Jerome James missed Layup.
69 - 89
7:43
Mark Blount Defensive Rebound.
69 - 89
7:37
Jerome James Shooting Foul
69 - 89
7:37
Paul Pierce made Free Throw 1 of 2.
70 - 89
7:37
Vitaly Potapenko enters the game for Jerome James.
70 - 89
7:37
Paul Pierce made Free Throw 2 of 2.
71 - 89
7:18
Luke Ridnour made 25 ft Three Point Jumper.
71 - 92
7:03
Luke Ridnour Shooting Foul
71 - 92
7:03
Jiri Welsch missed Free Throw 1 of 2.
71 - 92
7:03
Boston Offensive Rebound.
71 - 92
7:03
Jiri Welsch made Free Throw 2 of 2.
72 - 92
6:48
Vitaly Potapenko missed Jumper.
72 - 92
6:47
Paul Pierce Defensive Rebound.
72 - 92
6:39
Ricky Davis made 20 ft Jumper.
74 - 92
6:20
Ronald Murray made 7 ft Two Point Shot.
74 - 94
6:09
Ansu Sesay Personal Foul
74 - 94
6:09
Marcus Banks enters the game for Jiri Welsch.
74 - 94
6:09
Paul Pierce missed Free Throw 1 of 2.
74 - 94
6:09
Boston Offensive Rebound.
74 - 94
6:09
Paul Pierce made Free Throw 2 of 2.
75 - 94
5:58
Ray Allen Bad Pass. Stolen by Walter McCarty.
75 - 94
5:52
Marcus Banks made 9 ft Two Point Shot.
77 - 94
5:50
Seattle Full Timeout.
77 - 94
5:26
Luke Ridnour missed 22 ft Jumper.
77 - 94
5:22
Ansu Sesay Offensive Rebound.
77 - 94
5:11
Ricky Davis Personal Foul
77 - 94
5:11
Jerome James enters the game for Vitaly Potapenko.
77 - 94
5:05
Ronald Murray missed 18 ft Jumper.
77 - 94
5:03
Mark Blount Defensive Rebound.
77 - 94
4:54
Ricky Davis missed Two Point Shot.
77 - 94
4:52
Mark Blount Offensive Rebound.
77 - 94
4:50
Mark Blount made 3 ft Hook Shot.
79 - 94
4:41
Marcus Banks Personal Foul
79 - 94
4:41
Rashard Lewis enters the game for Ronald Murray.
79 - 94
4:24
Ansu Sesay missed 21 ft Jumper.
79 - 94
4:24
Seattle Offensive Rebound.
79 - 94
4:24
24 second
79 - 94
4:11
Paul Pierce missed 26 ft Three Point Jumper.
79 - 94
4:11
Boston Defensive Rebound.
79 - 94
3:53
Ray Allen missed 26 ft Three Point Jumper.
79 - 94
3:51
Rashard Lewis Offensive Rebound.
79 - 94
3:43
Rashard Lewis missed Three Point Jumper.
79 - 94
3:42
Seattle Defensive Rebound.
79 - 94
3:20
Paul Pierce made 13 ft Jumper.
81 - 94
2:59
Luke Ridnour made Three Point Jumper. Assisted by Rashard Lewis.
81 - 97
2:43
Mark Blount missed 6 ft Jumper.
81 - 97
2:41
Jerome James Defensive Rebound.
81 - 97
2:26
Ricky Davis Personal Foul
81 - 97
2:26
Boston Full Timeout.
81 - 97
2:26
Jumaine Jones enters the game for Mark Blount.
81 - 97
2:26
Brandon Hunter enters the game for Paul Pierce.
81 - 97
2:15
Luke Ridnour made 23 ft Three Point Jumper. Assisted by Ansu Sesay.
81 - 100
1:58
Marcus Banks made 18 ft Jumper.
83 - 100
1:45
Ansu Sesay made 26 ft Three Point Jumper. Assisted by Ray Allen.
83 - 103
1:34
Marcus Banks missed 18 ft Jumper.
83 - 103
1:31
Jerome James Defensive Rebound.
83 - 103
1:23
Ray Allen missed 25 ft Three Point Jumper.
83 - 103
1:23
Walter McCarty Defensive Rebound.
83 - 103
1:16
Jumaine Jones missed 16 ft Jumper.
83 - 103
1:15
Jumaine Jones Offensive Rebound.
83 - 103
1:14
Jumaine Jones missed 11 ft Jumper.
83 - 103
1:13
Jumaine Jones Offensive Rebound.
83 - 103
1:07
Marcus Banks missed 27 ft Three Point Jumper.
83 - 103
1:07
Boston Defensive Rebound.
83 - 103
1:07
Michael Stewart enters the game for Ricky Davis.
83 - 103
1:07
Richie Frahm enters the game for Rashard Lewis.
83 - 103
1:07
Ronald Murray enters the game for Ray Allen.
83 - 103
0:55
Luke Ridnour made Layup. Assisted by Jerome James.
83 - 105
0:45
Jumaine Jones made 21 ft Jumper. Assisted by Marcus Banks.
85 - 105
0:27
Ronald Murray made 24 ft Three Point Jumper. Assisted by Richie Frahm.
85 - 108
0:10
Brandon Hunter made 3 ft Hook Shot. Assisted by Marcus Banks.
87 - 108
0:00
End of the 4th Quarter.
87 - 108
0:00
End Game
87 - 108
0:00
End Game
87 - 108
0:00
End Game
87 - 108
0:00
End Game
87 - 108
0:00
End Game
87 - 108
Andre Drummond and the Pistons have agreed on a five-year maximum contract in the $130 million range that includes a player option, according to league sources.

The Boston Celtics are still looking to make a big splash by signing Kevin Durant, Al Horford or Dwight Howard before looking elsewhere.

Sources told ESPN that Al Jefferson is poised to sign a three-year deal with the Pacers when a league-wide moratorium on signings and trades is lifted July 7.
2015-2016 Atlantic Standings