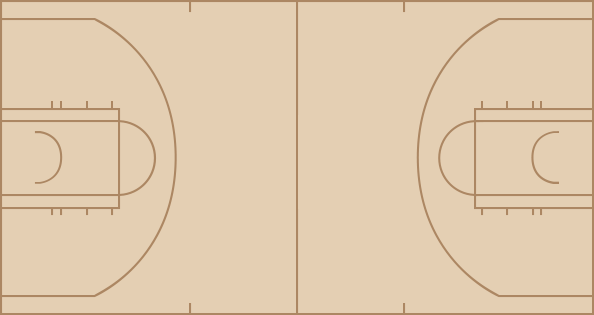 76ers
time
TEAM
PLAY
SCORE
12:00
Start of the 1st Quarter.
0 - 0
12:00
Jumpball. Samuel Dalembert vs. Nazr Mohammed. Kenny Thomas gains possession.
0 - 0
11:38
Kenny Thomas made 19 ft Jumper. Assisted by Glenn Robinson.
2 - 0
11:23
Allan Houston missed 20 ft Jumper.
2 - 0
11:22
New York Defensive Rebound.
2 - 0
11:06
Glenn Robinson missed 9 ft Jumper.
2 - 0
11:04
Philadelphia Offensive Rebound.
2 - 0
11:00
Kenny Thomas made 21 ft Jumper. Assisted by Allen Iverson.
4 - 0
10:45
Tim Thomas missed 25 ft Three Point Jumper.
4 - 0
10:42
Glenn Robinson Defensive Rebound.
4 - 0
10:30
Kenny Thomas Lost Ball. Stolen by Kurt Thomas.
4 - 0
10:22
Tim Thomas made 19 ft Jumper. Assisted by Stephon Marbury.
4 - 2
10:07
Eric Snow missed Layup.
4 - 2
10:07
Nazr Mohammed Defensive Rebound.
4 - 2
10:00
Allan Houston missed 18 ft Jumper.
4 - 2
9:59
Kenny Thomas Defensive Rebound.
4 - 2
9:48
Kenny Thomas made Two Point Shot. Assisted by Allen Iverson.
6 - 2
9:48
Nazr Mohammed Shooting Foul
6 - 2
9:48
Kenny Thomas missed Free Throw 1 of 1.
6 - 2
9:47
Kurt Thomas Defensive Rebound.
6 - 2
9:30
Kurt Thomas made Jumper.
6 - 4
9:14
Tim Thomas Shooting Foul
6 - 4
9:14
Allen Iverson made Free Throw 1 of 2.
7 - 4
9:14
Allen Iverson made Free Throw 2 of 2.
8 - 4
9:00
Nazr Mohammed missed 15 ft Jumper.
8 - 4
8:59
Samuel Dalembert Defensive Rebound.
8 - 4
8:48
Glenn Robinson Lost Ball. Stolen by Tim Thomas.
8 - 4
8:38
Nazr Mohammed made Layup. Assisted by Stephon Marbury.
8 - 6
8:22
Glenn Robinson made 16 ft Jumper. Assisted by Eric Snow.
10 - 6
8:15
New York Full Timeout.
10 - 6
8:04
Kurt Thomas made 16 ft Jumper. Assisted by Stephon Marbury.
10 - 8
7:48
Allen Iverson made 19 ft Two Point Shot.
12 - 8
7:31
Allan Houston missed 18 ft Jumper.
12 - 8
7:30
Kenny Thomas Defensive Rebound.
12 - 8
7:18
Allen Iverson missed Layup.
12 - 8
7:16
Stephon Marbury Defensive Rebound.
12 - 8
7:11
Stephon Marbury made 22 ft Jumper.
12 - 10
6:50
Stephon Marbury Personal Foul
12 - 10
6:35
Glenn Robinson missed 20 ft Jumper.
12 - 10
6:35
Stephon Marbury Defensive Rebound.
12 - 10
6:24
Kurt Thomas missed 17 ft Jumper.
12 - 10
6:24
Eric Snow Defensive Rebound.
12 - 10
6:16
Samuel Dalembert made Two Point Shot. Assisted by Allen Iverson.
14 - 10
5:56
Tim Thomas made Slam Dunk.
14 - 12
5:33
Allen Iverson made 11 ft Jumper. Assisted by Kenny Thomas.
16 - 12
5:24
Stephon Marbury made Two Point Shot.
16 - 14
5:24
Samuel Dalembert Shooting Foul
16 - 14
5:24
Stephon Marbury missed Free Throw 1 of 1.
16 - 14
5:22
Nazr Mohammed Offensive Rebound.
16 - 14
5:18
Stephon Marbury Lost Ball. Stolen by Glenn Robinson.
16 - 14
5:07
Allen Iverson missed Layup.
16 - 14
5:05
Nazr Mohammed Defensive Rebound.
16 - 14
4:58
Stephon Marbury made Two Point Shot.
16 - 16
4:41
Glenn Robinson made 16 ft Jumper. Assisted by Allen Iverson.
18 - 16
4:24
Nazr Mohammed missed 8 ft Jumper.
18 - 16
4:22
New York Defensive Rebound.
18 - 16
4:07
Kenny Thomas missed 7 ft Jumper.
18 - 16
4:05
Tim Thomas Defensive Rebound.
18 - 16
3:59
Stephon Marbury made Layup.
18 - 18
3:59
Defensive Goaltending
18 - 18
3:44
Kurt Thomas Shooting Foul
18 - 18
3:44
Allen Iverson missed Free Throw 1 of 2.
18 - 18
3:44
Philadelphia Offensive Rebound.
18 - 18
3:44
Allen Iverson made Free Throw 2 of 2.
19 - 18
3:28
Allan Houston missed 7 ft Jumper.
19 - 18
3:26
Nazr Mohammed Offensive Rebound.
19 - 20
3:26
Nazr Mohammed made Tip Shot.
19 - 20
3:12
Allen Iverson missed Layup. Blocked by Kurt Thomas.
19 - 20
3:11
Samuel Dalembert Offensive Rebound.
19 - 20
3:04
Samuel Dalembert missed Layup. Blocked by Nazr Mohammed.
19 - 20
3:03
Kurt Thomas Defensive Rebound.
19 - 20
2:57
Stephon Marbury missed 24 ft Three Point Jumper.
19 - 20
2:55
Stephon Marbury Offensive Rebound.
19 - 20
2:48
Nazr Mohammed made Slam Dunk. Assisted by Stephon Marbury.
19 - 22
2:38
Allen Iverson missed 18 ft Jumper.
19 - 22
2:35
Samuel Dalembert Offensive Rebound.
21 - 22
2:35
Samuel Dalembert made Two Point Shot.
21 - 22
2:15
Nazr Mohammed made Slam Dunk. Assisted by Stephon Marbury.
21 - 24
1:54
Philadelphia 20 Sec. Timeout.
21 - 24
1:54
Aaron McKie enters the game for Allen Iverson.
21 - 24
1:39
Tim Thomas made Two Point Shot.
21 - 26
1:21
Glenn Robinson missed 18 ft Jumper.
21 - 26
1:19
Tim Thomas Defensive Rebound.
21 - 26
1:10
Anfernee Hardaway enters the game for Allan Houston.
21 - 26
0:59
Samuel Dalembert made Two Point Shot. Assisted by Eric Snow.
23 - 26
0:44
Tim Thomas missed 19 ft Jumper.
23 - 26
0:43
Samuel Dalembert Defensive Rebound.
23 - 26
0:27
Glenn Robinson Lost Ball. Stolen by Nazr Mohammed.
23 - 26
0:22
Anfernee Hardaway made 22 ft Jumper. Assisted by Stephon Marbury.
23 - 28
0:02
Kenny Thomas missed Layup.
23 - 28
0:01
Anfernee Hardaway Defensive Rebound.
23 - 28
0:00
End of the 1st Quarter.
23 - 28

time
TEAM
PLAY
SCORE
12:00
Start of the 2nd Quarter.
23 - 28
11:37
Tim Thomas missed 23 ft Three Point Jumper.
23 - 28
11:36
Samuel Dalembert Defensive Rebound.
23 - 28
11:30
Willie Green missed 15 ft Jumper.
23 - 28
11:29
Frank Williams Defensive Rebound.
23 - 28
11:21
John Salmons Shooting Foul
23 - 28
11:21
Anfernee Hardaway missed Free Throw 1 of 2.
23 - 28
11:21
New York Offensive Rebound.
23 - 28
11:21
Anfernee Hardaway made Free Throw 2 of 2.
23 - 29
11:00
John Salmons missed Layup.
23 - 29
11:00
Nazr Mohammed Defensive Rebound.
23 - 29
10:41
Nazr Mohammed made Layup. Assisted by Anfernee Hardaway.
23 - 31
10:30
Willie Green Lost Ball. Stolen by Kurt Thomas.
23 - 31
10:26
Tim Thomas made Two Point Shot. Assisted by Frank Williams.
23 - 33
10:03
Kurt Thomas Shooting Foul
23 - 33
10:03
Kenny Thomas made Free Throw 1 of 2.
24 - 33
10:03
Othella Harrington enters the game for Kurt Thomas.
24 - 33
10:03
Amal McCaskill enters the game for Samuel Dalembert.
24 - 33
10:03
Kenny Thomas made Free Throw 2 of 2.
25 - 33
9:48
Frank Williams Bad Pass
25 - 33
9:33
Aaron McKie Bad Pass. Stolen by Tim Thomas.
25 - 33
9:12
Tim Thomas made 16 ft Jumper.
25 - 35
8:52
Aaron McKie missed 24 ft Three Point Jumper.
25 - 35
8:52
Amal McCaskill Offensive Rebound.
25 - 35
8:47
Willie Green Lost Ball. Stolen by Tim Thomas.
25 - 35
8:44
Amal McCaskill Shooting Foul
25 - 35
8:44
Official Timeout.
25 - 35
8:44
Shandon Anderson enters the game for Tim Thomas.
25 - 35
8:44
Allen Iverson enters the game for Willie Green.
25 - 35
8:44
Frank Williams made Free Throw 1 of 2.
25 - 36
8:44
Frank Williams made Free Throw 2 of 2.
25 - 37
8:30
Kenny Thomas Lost Ball. Stolen by Frank Williams.
25 - 37
8:15
Othella Harrington Offensive Foul
25 - 37
8:15
Othella Harrington Foul
25 - 37
8:03
Nazr Mohammed Shooting Foul
25 - 37
8:03
Kurt Thomas enters the game for Nazr Mohammed.
25 - 37
8:03
Stephon Marbury enters the game for Frank Williams.
25 - 37
8:03
Kenny Thomas missed Free Throw 1 of 2.
25 - 37
8:03
Philadelphia Offensive Rebound.
25 - 37
8:03
Kenny Thomas made Free Throw 2 of 2.
26 - 37
7:45
Kurt Thomas Offensive Foul
26 - 37
7:45
Kurt Thomas Foul
26 - 37
7:45
Samuel Dalembert enters the game for Kenny Thomas.
26 - 37
7:45
Nazr Mohammed enters the game for Kurt Thomas.
26 - 37
7:31
John Salmons Bad Pass. Stolen by Nazr Mohammed.
26 - 37
7:26
Stephon Marbury made 24 ft Three Point Jumper.
26 - 40
7:15
Allen Iverson missed Layup.
26 - 40
7:13
Nazr Mohammed Defensive Rebound.
26 - 40
6:54
Stephon Marbury missed 8 ft Jumper.
26 - 40
6:52
Othella Harrington Offensive Rebound.
26 - 40
6:52
John Salmons Personal Foul
26 - 40
6:52
Eric Snow enters the game for John Salmons.
26 - 40
6:43
Nazr Mohammed Traveling
26 - 40
6:24
Allen Iverson missed 24 ft Three Point Jumper.
26 - 40
6:22
Philadelphia Offensive Rebound.
26 - 40
6:22
Nazr Mohammed Loose Ball Foul
26 - 40
6:22
Cezary Trybanski enters the game for Nazr Mohammed.
26 - 40
6:20
Othella Harrington Personal Foul
26 - 40
6:11
Allen Iverson missed Layup. Blocked by Anfernee Hardaway.
26 - 40
6:11
Jumpball. Allen Iverson vs. Shandon Anderson. Shandon Anderson gains possession.
26 - 40
6:11
Philadelphia Defensive Rebound.
26 - 40
5:54
Jumpball. Eric Snow vs. Shandon Anderson. Stephon Marbury gains possession.
26 - 40
5:48
Stephon Marbury missed 20 ft Jumper.
26 - 40
5:48
New York Defensive Rebound.
26 - 40
5:48
Cezary Trybanski Loose Ball Foul
26 - 40
5:48
Glenn Robinson enters the game for Aaron McKie.
26 - 40
5:48
Kenny Thomas enters the game for Amal McCaskill.
26 - 40
5:48
Samuel Dalembert made Free Throw 1 of 2.
27 - 40
5:48
Samuel Dalembert made Free Throw 2 of 2.
28 - 40
5:33
Shandon Anderson missed 10 ft Jumper. Blocked by Samuel Dalembert.
28 - 40
5:31
Allen Iverson Defensive Rebound.
28 - 40
5:16
Samuel Dalembert made Two Point Shot. Assisted by Glenn Robinson.
30 - 40
5:16
Cezary Trybanski Shooting Foul
30 - 40
5:16
Allan Houston enters the game for Anfernee Hardaway.
30 - 40
5:16
Mike Sweetney enters the game for Cezary Trybanski.
30 - 40
5:16
Samuel Dalembert missed Free Throw 1 of 1.
30 - 40
5:16
Shandon Anderson Defensive Rebound.
30 - 40
5:01
Allan Houston missed 12 ft Jumper.
30 - 40
4:58
Samuel Dalembert Defensive Rebound.
30 - 40
4:48
Glenn Robinson missed 11 ft Jumper.
30 - 40
4:47
Mike Sweetney Defensive Rebound.
30 - 40
4:41
Othella Harrington Offensive Foul
30 - 40
4:41
Othella Harrington Foul
30 - 40
4:26
Samuel Dalembert missed Layup.
30 - 40
4:24
Mike Sweetney Defensive Rebound.
30 - 40
4:16
Eric Snow Personal Foul
30 - 40
4:16
Tim Thomas enters the game for Othella Harrington.
30 - 40
4:16
New York 20 Sec. Timeout.
30 - 40
4:03
Shandon Anderson missed 24 ft Three Point Jumper.
30 - 40
4:01
Tim Thomas Offensive Rebound.
30 - 40
4:01
Tim Thomas missed Tip Shot.
30 - 40
3:59
Mike Sweetney Offensive Rebound.
30 - 40
3:53
Shandon Anderson made Jumper. Assisted by Stephon Marbury.
30 - 42
3:35
Allen Iverson missed Jumper.
30 - 42
3:34
Mike Sweetney Defensive Rebound.
30 - 42
3:27
Shandon Anderson missed Layup. Blocked by Samuel Dalembert.
30 - 42
3:23
Shandon Anderson Offensive Rebound.
30 - 42
3:21
Shandon Anderson missed Layup.
30 - 42
3:20
Mike Sweetney Offensive Rebound.
30 - 42
3:09
Mike Sweetney made 11 ft Jumper. Assisted by Shandon Anderson.
30 - 44
2:49
Kenny Thomas missed 4 ft Jumper.
30 - 44
2:47
Kenny Thomas Offensive Rebound.
30 - 44
2:47
Kenny Thomas missed Layup.
30 - 44
2:46
Stephon Marbury Defensive Rebound.
30 - 44
2:41
Mike Sweetney made Two Point Shot. Assisted by Stephon Marbury.
30 - 46
2:32
Philadelphia Full Timeout.
30 - 46
2:25
Mike Sweetney Shooting Foul
30 - 46
2:25
Allen Iverson made Free Throw 1 of 2.
31 - 46
2:25
Allen Iverson missed Free Throw 2 of 2.
31 - 46
2:23
Samuel Dalembert Offensive Rebound.
31 - 46
2:19
Samuel Dalembert made Layup.
33 - 46
2:00
Tim Thomas missed Two Point Shot. Blocked by Samuel Dalembert.
33 - 46
1:59
Allen Iverson Defensive Rebound.
33 - 46
1:53
Shandon Anderson Personal Foul
33 - 46
1:53
Kenny Thomas made Free Throw 1 of 2.
34 - 46
1:53
Kenny Thomas missed Free Throw 2 of 2.
34 - 46
1:53
Tim Thomas Defensive Rebound.
34 - 46
1:46
Glenn Robinson Personal Foul
34 - 46
1:46
Shandon Anderson missed Free Throw 1 of 2.
34 - 46
1:46
New York Offensive Rebound.
34 - 46
1:46
Shandon Anderson made Free Throw 2 of 2.
34 - 47
1:31
Allen Iverson missed Layup.
34 - 47
1:30
Kenny Thomas Offensive Rebound.
34 - 47
1:29
Kenny Thomas made Layup.
36 - 47
1:20
Tim Thomas Offensive Foul
36 - 47
1:20
Tim Thomas Foul
36 - 47
1:06
Glenn Robinson missed 10 ft Jumper.
36 - 47
1:04
Mike Sweetney Defensive Rebound.
36 - 47
0:42
Stephon Marbury missed 20 ft Jumper.
36 - 47
0:41
Kenny Thomas Defensive Rebound.
36 - 47
0:35
Tim Thomas Shooting Foul
36 - 47
0:35
Allen Iverson missed Free Throw 1 of 2.
36 - 47
0:35
Philadelphia Offensive Rebound.
36 - 47
0:35
John Salmons enters the game for Glenn Robinson.
36 - 47
0:35
Anfernee Hardaway enters the game for Tim Thomas.
36 - 47
0:35
Allen Iverson made Free Throw 2 of 2.
37 - 47
0:22
Kenny Thomas Personal Foul
37 - 47
0:22
Stephon Marbury made Free Throw 1 of 2.
37 - 48
0:22
Stephon Marbury made Free Throw 2 of 2.
37 - 49
0:00
Eric Snow missed 21 ft Jumper.
37 - 49
0:00
Philadelphia Offensive Rebound.
37 - 49
0:00
End of the 2nd Quarter.
37 - 49

time
TEAM
PLAY
SCORE
12:00
Start of the 3rd Quarter.
37 - 49
11:37
Nazr Mohammed Traveling
37 - 49
11:25
Kenny Thomas missed 13 ft Jumper.
37 - 49
11:22
Tim Thomas Defensive Rebound.
37 - 49
11:11
Eric Snow Shooting Foul
37 - 49
11:11
Allan Houston made Free Throw 1 of 2.
37 - 50
11:11
Allan Houston made Free Throw 2 of 2.
37 - 51
10:52
Kenny Thomas missed Layup.
37 - 51
10:48
Allan Houston Defensive Rebound.
37 - 51
10:33
Kurt Thomas Bad Pass. Stolen by Samuel Dalembert.
37 - 51
10:29
Kurt Thomas Shooting Foul
37 - 51
10:29
Allen Iverson made Free Throw 1 of 2.
38 - 51
10:29
Allen Iverson made Free Throw 2 of 2.
39 - 51
10:22
Othella Harrington enters the game for Kurt Thomas.
39 - 51
10:22
New York 20 Sec. Timeout.
39 - 51
10:19
Allan Houston missed 21 ft Jumper.
39 - 51
10:18
Kenny Thomas Defensive Rebound.
39 - 51
10:04
Allen Iverson missed 6 ft Jumper.
39 - 51
10:03
Samuel Dalembert Offensive Rebound.
39 - 51
10:02
Samuel Dalembert missed 6 ft Jumper.
39 - 51
10:00
Othella Harrington Defensive Rebound.
39 - 51
9:52
Stephon Marbury Bad Pass. Stolen by Glenn Robinson.
39 - 51
9:48
Allen Iverson missed 4 ft Jumper.
39 - 51
9:45
Kenny Thomas Offensive Rebound.
39 - 51
9:41
Allen Iverson missed 25 ft Three Point Jumper.
39 - 51
9:41
Philadelphia Defensive Rebound.
39 - 51
9:41
Tim Thomas Technical Foul
39 - 51
9:41
Glenn Robinson missed Technical Free Throw.
39 - 51
9:41
New York Offensive Rebound.
39 - 51
9:23
Allan Houston missed 15 ft Jumper.
39 - 51
9:22
Glenn Robinson Defensive Rebound.
39 - 51
9:11
Glenn Robinson made 14 ft Jumper. Assisted by Eric Snow.
41 - 51
8:56
Tim Thomas made 25 ft Three Point Jumper. Assisted by Stephon Marbury.
41 - 54
8:36
Kenny Thomas made Two Point Shot. Assisted by Eric Snow.
43 - 54
8:21
Allan Houston missed 7 ft Jumper. Blocked by Samuel Dalembert.
43 - 54
8:18
Stephon Marbury Offensive Rebound.
43 - 54
8:17
Samuel Dalembert Shooting Foul
43 - 54
8:17
Stephon Marbury made Free Throw 1 of 2.
43 - 55
8:17
Stephon Marbury made Free Throw 2 of 2.
43 - 56
7:54
Glenn Robinson missed Three Point Jumper.
43 - 56
7:52
Samuel Dalembert Offensive Rebound.
43 - 56
7:48
Glenn Robinson made 6 ft Two Point Shot. Assisted by Samuel Dalembert.
45 - 56
7:26
Stephon Marbury missed 11 ft Jumper.
45 - 56
7:24
Stephon Marbury Offensive Rebound.
45 - 56
7:24
Stephon Marbury missed Layup.
45 - 56
7:22
Nazr Mohammed Offensive Rebound.
45 - 56
7:22
Nazr Mohammed missed Layup. Blocked by Glenn Robinson.
45 - 56
7:20
Eric Snow Defensive Rebound.
45 - 56
7:16
Glenn Robinson missed Layup.
45 - 56
7:15
Allen Iverson Offensive Rebound.
45 - 56
6:58
Allen Iverson missed 14 ft Jumper.
45 - 56
6:56
Othella Harrington Defensive Rebound.
45 - 56
6:46
Tim Thomas missed 25 ft Three Point Jumper.
45 - 56
6:43
Samuel Dalembert Defensive Rebound.
45 - 56
6:31
Samuel Dalembert Lost Ball. Stolen by Allan Houston.
45 - 56
6:30
Allen Iverson Personal Foul
45 - 56
6:11
Allan Houston made 6 ft Jumper.
45 - 58
5:56
Eric Snow Offensive Foul
45 - 58
5:56
Eric Snow Foul
45 - 58
5:56
New York Full Timeout.
45 - 58
5:56
Kyle Korver enters the game for Eric Snow.
45 - 58
5:56
Willie Green enters the game for Glenn Robinson.
45 - 58
5:43
Allan Houston missed 5 ft Jumper.
45 - 58
5:43
Allen Iverson Defensive Rebound.
45 - 58
5:28
Allen Iverson Lost Ball. Stolen by Allan Houston.
45 - 58
5:24
Nazr Mohammed missed 4 ft Jumper.
45 - 58
5:22
New York Offensive Rebound.
45 - 58
5:15
Allan Houston missed Jumper.
45 - 58
5:13
Othella Harrington Offensive Rebound.
45 - 58
5:13
Othella Harrington missed Tip Shot.
45 - 58
5:11
Nazr Mohammed Offensive Rebound.
45 - 58
5:05
Stephon Marbury made Two Point Shot. Assisted by Nazr Mohammed.
45 - 60
4:45
Othella Harrington Personal Foul
45 - 60
4:20
Tim Thomas missed 7 ft Jumper.
45 - 60
4:18
Tim Thomas Offensive Rebound.
45 - 60
4:16
Allan Houston missed 24 ft Three Point Jumper.
45 - 60
4:13
Willie Green Defensive Rebound.
45 - 60
4:05
Samuel Dalembert made Slam Dunk. Assisted by Willie Green.
47 - 60
3:47
Allen Iverson Personal Foul
47 - 60
3:42
Allan Houston Lost Ball. Stolen by Samuel Dalembert.
47 - 60
3:35
Kenny Thomas made Two Point Shot. Assisted by Allen Iverson.
49 - 60
3:18
Stephon Marbury missed 4 ft Jumper.
49 - 60
3:16
Othella Harrington Offensive Rebound.
49 - 60
3:15
Anfernee Hardaway enters the game for Allan Houston.
49 - 60
3:11
Anfernee Hardaway missed 9 ft Jumper.
49 - 60
3:10
Nazr Mohammed Offensive Rebound.
49 - 60
3:00
Anfernee Hardaway Lost Ball. Stolen by Allen Iverson.
49 - 60
2:45
Kenny Thomas made Two Point Shot. Assisted by Willie Green.
51 - 60
2:45
Othella Harrington Shooting Foul
51 - 60
2:45
Philadelphia Full Timeout.
51 - 60
2:45
Kurt Thomas enters the game for Othella Harrington.
51 - 60
2:45
Kenny Thomas made Free Throw 1 of 1.
52 - 60
2:29
Stephon Marbury missed Layup.
52 - 60
2:28
Nazr Mohammed Offensive Rebound.
52 - 60
2:23
Stephon Marbury missed 20 ft Jumper.
52 - 60
2:21
Kurt Thomas Offensive Rebound.
52 - 60
2:21
Willie Green Shooting Foul
52 - 60
2:21
Kurt Thomas made Free Throw 1 of 2.
52 - 61
2:21
Kurt Thomas made Free Throw 2 of 2.
52 - 62
2:12
Willie Green Bad Pass. Stolen by Anfernee Hardaway.
52 - 62
2:08
Anfernee Hardaway Bad Pass
52 - 62
1:52
Kenny Thomas missed 17 ft Jumper.
52 - 62
1:49
Tim Thomas Defensive Rebound.
52 - 62
1:42
Stephon Marbury Offensive Foul
52 - 62
1:42
Stephon Marbury Foul
52 - 62
1:42
Shandon Anderson enters the game for Tim Thomas.
52 - 62
1:31
Allen Iverson missed 19 ft Jumper. Blocked by Stephon Marbury.
52 - 62
1:30
Nazr Mohammed Defensive Rebound.
52 - 62
1:25
Willie Green Personal Foul
52 - 62
1:25
Mike Sweetney enters the game for Kurt Thomas.
52 - 62
1:25
Stephon Marbury made Free Throw 1 of 2.
52 - 63
1:25
Stephon Marbury made Free Throw 2 of 2.
52 - 64
1:10
Willie Green missed 20 ft Jumper.
52 - 64
1:08
Philadelphia Defensive Rebound.
52 - 64
1:07
Aaron McKie enters the game for Allen Iverson.
52 - 64
0:35
Willie Green missed Layup.
52 - 64
0:34
Kyle Korver Offensive Rebound.
52 - 64
0:30
Willie Green made Jumper. Assisted by Kyle Korver.
54 - 64
0:19
Stephon Marbury made Two Point Shot.
54 - 66
0:00
End of the 3rd Quarter.
54 - 66

time
TEAM
PLAY
SCORE
12:00
Start of the 4th Quarter.
54 - 66
11:41
Kyle Korver made 24 ft Three Point Jumper. Assisted by Aaron McKie.
57 - 66
11:18
Nazr Mohammed made 3 ft Two Point Shot. Assisted by Shandon Anderson.
57 - 68
11:03
Willie Green missed 5 ft Jumper.
57 - 68
11:02
Kenny Thomas Offensive Rebound.
57 - 68
11:00
Kyle Korver made 25 ft Three Point Jumper. Assisted by Kenny Thomas.
60 - 68
10:36
Mike Sweetney missed 6 ft Jumper.
60 - 68
10:34
Kyle Korver Defensive Rebound.
60 - 68
10:12
Aaron McKie missed Three Point Jumper.
60 - 68
10:11
Philadelphia Offensive Rebound.
60 - 68
10:08
Kurt Thomas enters the game for Mike Sweetney.
60 - 68
9:51
Kurt Thomas Shooting Foul
60 - 68
9:51
Samuel Dalembert missed Free Throw 1 of 2.
60 - 68
9:51
Philadelphia Offensive Rebound.
60 - 68
9:51
Samuel Dalembert made Free Throw 2 of 2.
61 - 68
9:44
Anfernee Hardaway Bad Pass. Stolen by Willie Green.
61 - 68
9:41
Willie Green made Slam Dunk.
63 - 68
9:38
New York Full Timeout.
63 - 68
9:38
Allan Houston enters the game for Kurt Thomas.
63 - 68
9:38
Tim Thomas enters the game for Frank Williams.
63 - 68
9:38
Stephon Marbury enters the game for Shandon Anderson.
63 - 68
9:25
Willie Green Personal Foul
63 - 68
9:22
Aaron McKie Personal Foul
63 - 68
9:08
Tim Thomas missed 10 ft Jumper.
63 - 68
9:07
Kenny Thomas Defensive Rebound.
63 - 68
8:49
Kyle Korver missed 26 ft Three Point Jumper.
63 - 68
8:48
Nazr Mohammed Defensive Rebound.
63 - 68
8:37
Samuel Dalembert Shooting Foul
63 - 68
8:37
Nazr Mohammed missed Free Throw 1 of 2.
63 - 68
8:37
New York Offensive Rebound.
63 - 68
8:37
Nazr Mohammed missed Free Throw 2 of 2.
63 - 68
8:36
Kenny Thomas Defensive Rebound.
63 - 68
8:22
Willie Green made Two Point Shot.
65 - 68
8:02
Stephon Marbury made Two Point Shot.
65 - 70
7:37
Aaron McKie missed Layup.
65 - 70
7:37
Nazr Mohammed Defensive Rebound.
65 - 70
7:26
Stephon Marbury made 26 ft Three Point Jumper.
65 - 73
7:24
Philadelphia Full Timeout.
65 - 73
7:24
Allen Iverson enters the game for Aaron McKie.
65 - 73
7:01
Willie Green missed Layup.
65 - 73
6:58
Tim Thomas Defensive Rebound.
65 - 73
6:48
Tim Thomas made Slam Dunk. Assisted by Stephon Marbury.
65 - 75
6:48
Samuel Dalembert Shooting Foul
65 - 75
6:48
Tim Thomas made Free Throw 1 of 1.
65 - 76
6:13
Nazr Mohammed missed Jumper.
65 - 76
6:11
Allen Iverson Defensive Rebound.
65 - 76
6:05
Allen Iverson missed 4 ft Jumper.
65 - 76
6:05
Nazr Mohammed Defensive Rebound.
65 - 76
6:00
Stephon Marbury made 9 ft Jumper.
65 - 78
5:43
Nazr Mohammed Personal Foul
65 - 78
5:43
Eric Snow enters the game for Willie Green.
65 - 78
5:43
Glenn Robinson enters the game for Samuel Dalembert.
65 - 78
5:43
Kurt Thomas enters the game for Nazr Mohammed.
65 - 78
5:39
Kenny Thomas made Slam Dunk. Assisted by Allen Iverson.
67 - 78
5:22
null
67 - 78
5:22
Allan Houston Jump Ball
67 - 78
5:22
Stephon Marbury Lost Ball. Stolen by Kenny Thomas.
67 - 78
5:01
Allen Iverson missed 6 ft Jumper.
67 - 78
5:01
Kyle Korver Offensive Rebound.
67 - 78
4:58
Allen Iverson missed 9 ft Jumper.
67 - 78
4:56
Kenny Thomas Offensive Rebound.
67 - 78
4:54
Kyle Korver missed 25 ft Three Point Jumper.
67 - 78
4:52
Tim Thomas Defensive Rebound.
67 - 78
4:41
Eric Snow Personal Foul
67 - 78
4:41
Stephon Marbury made Free Throw 1 of 2.
67 - 79
4:41
Stephon Marbury made Free Throw 2 of 2.
67 - 80
4:35
Eric Snow missed 17 ft Jumper.
67 - 80
4:33
Kyle Korver Offensive Rebound.
69 - 80
4:33
Kyle Korver made Tip Shot.
69 - 80
4:22
Stephon Marbury made Two Point Shot.
69 - 82
4:07
Samuel Dalembert enters the game for Kenny Thomas.
69 - 82
4:00
Eric Snow Offensive Foul
69 - 82
4:00
Eric Snow Foul
69 - 82
4:00
Allan Houston Shooting Foul
69 - 82
4:00
Glenn Robinson made Free Throw 1 of 2.
70 - 82
4:00
Glenn Robinson made Free Throw 2 of 2.
71 - 82
3:45
Allan Houston made 8 ft Jumper.
71 - 84
3:29
Nazr Mohammed enters the game for Kurt Thomas.
71 - 84
3:29
Shandon Anderson enters the game for Anfernee Hardaway.
71 - 84
3:18
Eric Snow missed 5 ft Jumper.
71 - 84
3:16
Nazr Mohammed Defensive Rebound.
71 - 84
3:08
Stephon Marbury made Two Point Shot.
71 - 86
3:04
Philadelphia Full Timeout.
71 - 86
2:58
Eric Snow made Two Point Shot.
73 - 86
2:38
Stephon Marbury made Two Point Shot.
73 - 88
2:21
Samuel Dalembert made Jumper. Assisted by Kyle Korver.
75 - 88
1:58
Stephon Marbury missed 25 ft Three Point Jumper.
75 - 88
1:55
Samuel Dalembert Defensive Rebound.
75 - 88
1:47
Allen Iverson missed Layup.
75 - 88
1:47
Samuel Dalembert Offensive Rebound.
77 - 88
1:47
Samuel Dalembert made Two Point Shot.
77 - 88
1:29
Tim Thomas missed 24 ft Three Point Jumper.
77 - 88
1:27
Samuel Dalembert Defensive Rebound.
77 - 88
1:21
Allen Iverson missed Layup.
77 - 88
1:20
Tim Thomas Defensive Rebound.
77 - 88
1:01
Stephon Marbury missed 16 ft Jumper.
77 - 88
0:59
Tim Thomas Offensive Rebound.
77 - 88
0:37
Shandon Anderson missed 21 ft Jumper.
77 - 88
0:35
Samuel Dalembert Defensive Rebound.
77 - 88
0:21
Eric Snow missed 22 ft Jumper.
77 - 88
0:20
Tim Thomas Defensive Rebound.
77 - 88
0:00
End of the 4th Quarter.
77 - 88
0:00
End Game
77 - 88
0:00
End Game
77 - 88
Warriors small forward Harrison Barnes becomes a restricted free agent on July 1.

Skip Bayless shares his disappointment in Blazers guard Damian Lillard's inability to close out the Warriors in the fourth quarter of their Game 2 matchup and questions his consistency to the point where he is hesitant to call him a star.

Center Ian Mahinmi would like to re-sign with the Pacers.
Regular Season Series
NY wins series 3-1
2015-2016 Atlantic Standings