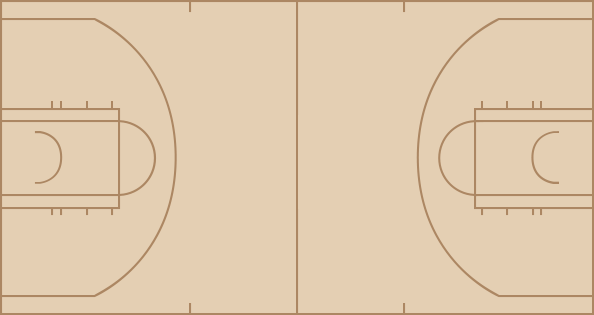 Hawks
time
TEAM
PLAY
SCORE
12:00
Start of the 1st Quarter.
0 - 0
12:00
Jumpball. Joel Przybilla vs. Joe Smith. Boris Diaw gains possession.
0 - 0
11:45
Joel Przybilla made Layup.
2 - 0
11:26
Michael Redd made 18 ft Jumper. Assisted by Keith Van Horn.
2 - 2
11:04
Stephen Jackson missed Three Point Jumper.
2 - 2
11:03
Atlanta Defensive Rebound.
2 - 2
10:49
Keith Van Horn missed Layup. Blocked by Boris Diaw.
2 - 2
10:48
Jason Terry Defensive Rebound.
2 - 2
10:40
Chris Crawford made 25 ft Three Point Jumper. Assisted by Jason Terry.
5 - 2
10:23
Joel Przybilla Personal Foul
5 - 2
10:15
Brian Skinner missed Layup.
5 - 2
10:14
Joe Smith Offensive Rebound.
5 - 2
10:11
Joe Smith made Layup.
5 - 4
10:03
Jason Terry missed 20 ft Jumper.
5 - 4
10:00
Joe Smith Defensive Rebound.
5 - 4
9:55
Brian Skinner missed Layup.
5 - 4
9:52
Joel Przybilla Defensive Rebound.
5 - 4
9:48
Joe Smith Shooting Foul
5 - 4
9:48
Jason Terry missed Free Throw 1 of 2.
5 - 4
9:48
Atlanta Offensive Rebound.
5 - 4
9:48
Jason Terry made Free Throw 2 of 2.
6 - 4
9:32
Michael Redd missed 26 ft Three Point Jumper.
6 - 4
9:30
Stephen Jackson Defensive Rebound.
6 - 4
9:15
Chris Crawford missed 17 ft Jumper.
6 - 4
9:15
Atlanta Defensive Rebound.
6 - 4
9:15
Joel Przybilla Loose Ball Foul
6 - 4
9:15
Jason Collier enters the game for Joel Przybilla.
6 - 4
9:00
Brian Skinner made 3 ft Hook Shot. Assisted by Damon Jones.
6 - 6
8:38
Jason Collier made 15 ft Jumper. Assisted by Stephen Jackson.
8 - 6
8:26
Stephen Jackson Personal Foul
8 - 6
8:18
Keith Van Horn missed 11 ft Jumper.
8 - 6
8:17
Boris Diaw Defensive Rebound.
8 - 6
8:08
Stephen Jackson missed 25 ft Three Point Jumper.
8 - 6
8:07
Joe Smith Defensive Rebound.
8 - 6
8:00
Keith Van Horn made 6 ft Jumper. Assisted by Damon Jones.
8 - 8
7:52
Chris Crawford made Dunk. Assisted by Jason Terry.
10 - 8
7:37
Stephen Jackson Shooting Foul
10 - 8
7:37
Michael Redd made Free Throw 1 of 2.
10 - 9
7:37
Bob Sura enters the game for Stephen Jackson.
10 - 9
7:37
Michael Redd made Free Throw 2 of 2.
10 - 10
7:20
Boris Diaw missed 20 ft Jumper.
10 - 10
7:18
Michael Redd Defensive Rebound.
10 - 10
7:00
Brian Skinner made 4 ft Jumper. Assisted by Damon Jones.
10 - 12
6:50
Jason Terry made Layup.
12 - 12
6:37
Keith Van Horn made 19 ft Jumper. Assisted by Damon Jones.
12 - 14
6:16
Jason Collier missed 20 ft Jumper.
12 - 14
6:15
Keith Van Horn Defensive Rebound.
12 - 14
5:58
Keith Van Horn missed 12 ft Jumper. Blocked by Boris Diaw.
12 - 14
5:56
Bob Sura Defensive Rebound.
12 - 14
5:52
Bob Sura missed 15 ft Jumper.
12 - 14
5:50
Brian Skinner Defensive Rebound.
12 - 14
5:43
Michael Redd missed 6 ft Jumper.
12 - 14
5:41
Jason Collier Defensive Rebound.
12 - 14
5:35
Jason Terry made Layup.
14 - 14
5:16
Damon Jones made 17 ft Jumper.
14 - 16
5:05
Chris Crawford missed 26 ft Three Point Jumper.
14 - 16
5:03
Bob Sura Offensive Rebound.
14 - 16
5:01
Bob Sura made 2 ft Jumper.
16 - 16
4:46
Damon Jones missed 15 ft Jumper.
16 - 16
4:45
Brian Skinner Offensive Rebound.
16 - 16
4:45
Jason Collier Shooting Foul
16 - 16
4:45
Milwaukee Full Timeout.
16 - 16
4:45
Brian Skinner missed Free Throw 1 of 2.
16 - 16
4:45
Milwaukee Offensive Rebound.
16 - 16
4:45
Brian Skinner made Free Throw 2 of 2.
16 - 17
4:26
Boris Diaw missed 19 ft Jumper.
16 - 17
4:24
Bob Sura Offensive Rebound.
16 - 17
4:24
Bob Sura made Layup.
18 - 17
4:09
Keith Van Horn made 6 ft Hook Shot. Assisted by Damon Jones.
18 - 19
3:51
Chris Crawford Traveling
18 - 19
3:34
Michael Redd missed 15 ft Jumper.
18 - 19
3:32
Jason Terry Defensive Rebound.
18 - 19
3:31
Bob Sura made Layup. Assisted by Jason Terry.
20 - 19
3:31
Damon Jones Shooting Foul
20 - 19
3:15
Damon Jones missed 27 ft Three Point Jumper.
20 - 19
3:14
Joe Smith Offensive Rebound.
20 - 19
3:10
Joe Smith missed 12 ft Jumper.
20 - 19
3:08
Jason Terry Defensive Rebound.
20 - 19
2:59
Jason Collier missed 3 ft Jumper.
20 - 19
2:57
Keith Van Horn Defensive Rebound.
20 - 19
2:46
Damon Jones missed 18 ft Jumper.
20 - 19
2:44
Joe Smith Offensive Rebound.
20 - 19
2:43
Joe Smith made Layup.
20 - 21
2:31
Michael Redd Personal Foul
20 - 21
2:31
Atlanta Full Timeout.
20 - 21
2:31
Dan Gadzuric enters the game for Brian Skinner.
20 - 21
2:31
Brevin Knight enters the game for Damon Jones.
20 - 21
2:17
Jason Terry missed 24 ft Three Point Jumper.
20 - 21
2:15
Bob Sura Offensive Rebound.
20 - 21
2:14
Jason Terry made 13 ft Jumper.
22 - 21
1:54
Dan Gadzuric missed 12 ft Jumper.
22 - 21
1:53
Chris Crawford Defensive Rebound.
22 - 21
1:49
Dan Gadzuric Shooting Foul
22 - 21
1:49
Jason Collier made Free Throw 1 of 2.
23 - 21
1:49
Jason Collier made Free Throw 2 of 2.
24 - 21
1:27
Michael Redd missed 26 ft Three Point Jumper.
24 - 21
1:24
Milwaukee Defensive Rebound.
24 - 21
1:05
Josh Davis enters the game for Boris Diaw.
24 - 21
1:01
Jason Terry made Three Point Jumper. Assisted by Bob Sura.
27 - 21
0:43
Chris Crawford Shooting Foul
27 - 21
0:43
Michael Redd made Free Throw 1 of 2.
27 - 22
0:43
Michael Redd made Free Throw 2 of 2.
27 - 23
0:21
Jason Collier Lost Ball. Stolen by Brevin Knight.
27 - 23
0:16
Jason Terry Shooting Foul
27 - 23
0:16
Michael Redd missed Free Throw 1 of 2.
27 - 23
0:16
Milwaukee Offensive Rebound.
27 - 23
0:16
Michael Redd missed Free Throw 2 of 2.
27 - 23
0:14
Jason Collier Defensive Rebound.
27 - 23
0:01
Josh Davis missed 14 ft Jumper.
27 - 23
0:00
Keith Van Horn Defensive Rebound.
27 - 23
0:00
End of the 1st Quarter.
27 - 23

time
TEAM
PLAY
SCORE
12:00
Start of the 2nd Quarter.
27 - 23
11:45
Brevin Knight missed 20 ft Jumper.
27 - 23
11:42
Bob Sura Defensive Rebound.
27 - 23
11:21
Bob Sura missed 18 ft Jumper.
27 - 23
11:18
Jason Collier Offensive Rebound.
27 - 23
11:14
Chris Crawford missed 25 ft Three Point Jumper.
27 - 23
11:11
Dan Gadzuric Defensive Rebound.
27 - 23
11:00
Jason Collier Shooting Foul
27 - 23
11:00
Stephen Jackson enters the game for Chris Crawford.
27 - 23
11:00
Brevin Knight missed Free Throw 1 of 2.
27 - 23
11:00
Milwaukee Offensive Rebound.
27 - 23
11:00
Brevin Knight missed Free Throw 2 of 2.
27 - 23
10:59
Stephen Jackson Defensive Rebound.
27 - 23
10:52
Bob Sura made Layup. Assisted by Stephen Jackson.
29 - 23
10:26
Dan Gadzuric missed 14 ft Jumper.
29 - 23
10:25
Josh Davis Defensive Rebound.
29 - 23
10:18
Keith Van Horn Personal Foul
29 - 23
10:18
Joel Przybilla enters the game for Jason Collier.
29 - 23
10:18
Jacque Vaughn enters the game for Jason Terry.
29 - 23
10:07
Stephen Jackson Bad Pass. Stolen by Keith Van Horn.
29 - 23
9:48
Joel Przybilla Personal Foul
29 - 23
9:41
Toni Kukoc missed 26 ft Three Point Jumper.
29 - 23
9:38
Keith Van Horn Offensive Rebound.
29 - 23
9:29
Keith Van Horn missed 12 ft Jumper.
29 - 23
9:26
Milwaukee Defensive Rebound.
29 - 23
9:18
Brevin Knight Personal Foul
29 - 23
9:18
Michael Redd enters the game for Keith Van Horn.
29 - 23
9:12
Josh Davis missed 25 ft Three Point Jumper.
29 - 23
9:11
Brevin Knight Defensive Rebound.
29 - 23
8:53
Toni Kukoc missed 14 ft Jumper.
29 - 23
8:52
Michael Redd Offensive Rebound.
29 - 23
8:52
Michael Redd made 9 ft Jumper.
29 - 25
8:29
Stephen Jackson missed Jumper.
29 - 25
8:27
Toni Kukoc Defensive Rebound.
29 - 25
8:18
Brevin Knight made Layup.
29 - 27
8:11
Jacque Vaughn missed 14 ft Jumper.
29 - 27
8:10
Brevin Knight Defensive Rebound.
29 - 27
8:03
Desmond Mason missed Layup.
29 - 27
8:03
Milwaukee Defensive Rebound.
29 - 27
8:03
Official Timeout.
29 - 27
8:03
Boris Diaw enters the game for Joel Przybilla.
29 - 27
8:03
Chris Crawford enters the game for Bob Sura.
29 - 27
8:03
Jason Terry enters the game for Josh Davis.
29 - 27
7:48
Brevin Knight Shooting Foul
29 - 27
7:48
Stephen Jackson made Free Throw 1 of 2.
30 - 27
7:48
Stephen Jackson made Free Throw 2 of 2.
31 - 27
7:24
Michael Redd missed Layup.
31 - 27
7:24
Boris Diaw Defensive Rebound.
31 - 27
7:24
Dan Gadzuric Personal Foul
31 - 27
7:05
Boris Diaw missed 14 ft Jumper.
31 - 27
7:03
Michael Redd Defensive Rebound.
31 - 27
7:00
Boris Diaw Personal Foul
31 - 27
7:00
Keith Van Horn enters the game for Dan Gadzuric.
31 - 27
6:56
Boris Diaw Personal Foul
31 - 27
6:45
Michael Redd made Layup. Assisted by Desmond Mason.
31 - 29
6:35
Jacque Vaughn Lost Ball. Stolen by Brevin Knight.
31 - 29
6:30
Toni Kukoc made Layup. Assisted by Brevin Knight.
31 - 31
6:16
Stephen Jackson Offensive Foul
31 - 31
6:16
Stephen Jackson Foul
31 - 31
6:16
Jason Collier enters the game for Stephen Jackson.
31 - 31
5:58
Keith Van Horn made Dunk. Assisted by Brevin Knight.
31 - 33
5:50
Atlanta Full Timeout.
31 - 33
5:50
Bob Sura enters the game for Jacque Vaughn.
31 - 33
5:37
Jason Terry Lost Ball. Stolen by Brevin Knight.
31 - 33
5:31
Michael Redd made Layup. Assisted by Keith Van Horn.
31 - 35
5:09
Chris Crawford made Two Point Shot.
33 - 35
4:50
Keith Van Horn missed Layup.
33 - 35
4:48
Chris Crawford Defensive Rebound.
33 - 35
4:37
Jason Collier missed 4 ft Jumper.
33 - 35
4:35
Keith Van Horn Defensive Rebound.
33 - 35
4:30
Michael Redd missed 12 ft Jumper.
33 - 35
4:28
Bob Sura Defensive Rebound.
33 - 35
4:20
Jason Terry missed 26 ft Three Point Jumper.
33 - 35
4:18
Desmond Mason Defensive Rebound.
33 - 35
4:09
Bob Sura Shooting Foul
33 - 35
4:09
Damon Jones enters the game for Brevin Knight.
33 - 35
4:09
Michael Redd made Free Throw 1 of 2.
33 - 36
4:09
Michael Redd made Free Throw 2 of 2.
33 - 37
4:00
Damon Jones Personal Foul
33 - 37
4:00
Jason Terry missed Free Throw 1 of 2.
33 - 37
4:00
Atlanta Offensive Rebound.
33 - 37
4:00
Jason Terry made Free Throw 2 of 2.
34 - 37
3:47
Desmond Mason made Two Point Shot. Assisted by Damon Jones.
34 - 39
3:26
Michael Redd Personal Foul
34 - 39
3:26
Bob Sura missed Free Throw 1 of 2.
34 - 39
3:26
Atlanta Offensive Rebound.
34 - 39
3:26
Erick Strickland enters the game for Michael Redd.
34 - 39
3:26
Bob Sura made Free Throw 2 of 2.
35 - 39
3:12
Damon Jones made Two Point Shot.
35 - 41
2:55
Chris Crawford missed 7 ft Jumper. Blocked by Keith Van Horn.
35 - 41
2:55
Atlanta Offensive Rebound.
35 - 41
2:55
Milwaukee Full Timeout.
35 - 41
2:50
Chris Crawford missed 7 ft Jumper.
35 - 41
2:48
Desmond Mason Defensive Rebound.
35 - 41
2:12
Jason Collier made Layup.
37 - 41
1:54
Keith Van Horn missed 26 ft Three Point Jumper.
37 - 41
1:53
Bob Sura Defensive Rebound.
37 - 41
1:39
Chris Crawford missed 19 ft Jumper.
37 - 41
1:38
Bob Sura Offensive Rebound.
37 - 41
1:30
Boris Diaw made Layup. Assisted by Jason Collier.
39 - 41
1:14
Toni Kukoc missed 17 ft Jumper.
39 - 41
1:12
Chris Crawford Defensive Rebound.
39 - 41
1:02
Bob Sura Bad Pass
39 - 41
0:46
Toni Kukoc made 13 ft Jumper. Assisted by Damon Jones.
39 - 43
0:33
Jason Collier Offensive Foul
39 - 43
0:33
Jason Collier Foul
39 - 43
0:33
Josh Davis enters the game for Jason Collier.
39 - 43
0:15
Chris Crawford Shooting Foul
39 - 43
0:15
Chris Crawford Technical Foul
39 - 43
0:15
Keith Van Horn made Technical Free Throw.
39 - 44
0:15
Atlanta 20 Sec. Timeout.
39 - 44
0:15
Toni Kukoc made Free Throw 1 of 2.
39 - 45
0:15
Toni Kukoc made Free Throw 2 of 2.
39 - 46
0:01
Jason Terry missed 26 ft Three Point Jumper.
39 - 46
0:00
Erick Strickland Defensive Rebound.
39 - 46
0:00
End of the 2nd Quarter.
39 - 46

time
TEAM
PLAY
SCORE
12:00
Start of the 3rd Quarter.
39 - 46
11:45
Brian Skinner Backcourt
39 - 46
11:33
Chris Crawford made Layup. Assisted by Stephen Jackson.
41 - 46
11:18
Michael Redd missed 17 ft Jumper.
41 - 46
11:15
Chris Crawford Defensive Rebound.
41 - 46
11:14
Damon Jones Shooting Foul
41 - 46
11:14
Stephen Jackson made Free Throw 1 of 2.
42 - 46
11:14
Stephen Jackson missed Free Throw 2 of 2.
42 - 46
11:11
Brian Skinner Defensive Rebound.
42 - 46
11:00
Joe Smith missed 8 ft Jumper.
42 - 46
10:56
Chris Crawford Defensive Rebound.
42 - 46
10:40
Chris Crawford missed 20 ft Jumper.
42 - 46
10:37
Joe Smith Defensive Rebound.
42 - 46
10:29
Joe Smith Traveling
42 - 46
10:18
Jason Terry missed 15 ft Jumper.
42 - 46
10:17
Brian Skinner Defensive Rebound.
42 - 46
9:56
Brian Skinner missed 14 ft Jumper.
42 - 46
9:53
Joe Smith Offensive Rebound.
42 - 46
9:52
Joe Smith missed Jumper.
42 - 46
9:49
Boris Diaw Defensive Rebound.
42 - 46
9:47
Jason Terry missed 16 ft Jumper.
42 - 46
9:45
Michael Redd Defensive Rebound.
42 - 46
9:29
Keith Van Horn Bad Pass
42 - 46
9:12
Chris Crawford missed 16 ft Jumper.
42 - 46
9:11
Brian Skinner Defensive Rebound.
42 - 46
9:03
Damon Jones missed 16 ft Jumper.
42 - 46
9:03
Milwaukee Offensive Rebound.
42 - 46
9:03
Chris Crawford Loose Ball Foul
42 - 46
8:56
Brian Skinner made Dunk. Assisted by Michael Redd.
42 - 48
8:44
Joel Przybilla Offensive Foul
42 - 48
8:44
Joel Przybilla Foul
42 - 48
8:32
Brian Skinner missed Hook Shot.
42 - 48
8:30
Jason Terry Defensive Rebound.
42 - 48
8:25
Stephen Jackson missed 27 ft Three Point Jumper.
42 - 48
8:22
Chris Crawford Offensive Rebound.
42 - 48
8:18
Jason Terry made 20 ft Jumper. Assisted by Chris Crawford.
44 - 48
8:00
Joe Smith made Layup.
44 - 50
7:41
Chris Crawford missed 5 ft Hook Shot.
44 - 50
7:39
Joe Smith Defensive Rebound.
44 - 50
7:33
Jason Collier enters the game for Joel Przybilla.
44 - 50
7:20
Jason Terry made 4 ft Two Point Shot.
46 - 50
7:00
Michael Redd made 8 ft Jumper.
46 - 52
6:46
Stephen Jackson made Layup. Assisted by Jason Terry.
48 - 52
6:24
Joe Smith made 10 ft Jumper.
48 - 54
6:13
Jason Terry missed 13 ft Jumper.
48 - 54
6:11
Chris Crawford Offensive Rebound.
48 - 54
6:01
Chris Crawford missed 23 ft Three Point Jumper.
48 - 54
6:00
Keith Van Horn Defensive Rebound.
48 - 54
5:48
Boris Diaw Shooting Foul
48 - 54
5:48
Milwaukee Full Timeout.
48 - 54
5:48
Keith Van Horn made Free Throw 1 of 2.
48 - 55
5:48
Keith Van Horn made Free Throw 2 of 2.
48 - 56
5:33
Boris Diaw made 12 ft Jumper.
50 - 56
5:20
Keith Van Horn Bad Pass. Stolen by Boris Diaw.
50 - 56
5:18
Keith Van Horn Clear Path Foul
50 - 56
5:18
Boris Diaw missed Free Throw 1 of 1.
50 - 56
5:18
Atlanta Offensive Rebound.
53 - 56
5:07
Chris Crawford made 26 ft Three Point Jumper. Assisted by Jason Terry.
53 - 56
4:48
Boris Diaw Shooting Foul
53 - 56
4:48
Keith Van Horn made Free Throw 1 of 2.
53 - 57
4:48
Keith Van Horn made Free Throw 2 of 2.
53 - 58
4:31
Jason Collier made Layup.
55 - 58
4:11
Jason Collier Shooting Foul
55 - 58
4:11
Joe Smith made Free Throw 1 of 2.
55 - 59
4:11
Joe Smith made Free Throw 2 of 2.
55 - 60
3:53
Jason Terry missed 22 ft Jumper.
55 - 60
3:50
Damon Jones Defensive Rebound.
55 - 60
3:45
Damon Jones made 17 ft Jumper.
55 - 62
3:32
Stephen Jackson Bad Pass. Stolen by Keith Van Horn.
55 - 62
3:28
Michael Redd Bad Pass. Stolen by Jason Terry.
55 - 62
3:25
Stephen Jackson made Three Point Jumper. Assisted by Jason Terry.
58 - 62
3:01
Brian Skinner missed Jumper.
58 - 62
3:00
Jason Terry Defensive Rebound.
58 - 62
2:51
Joe Smith Personal Foul
58 - 62
2:51
Atlanta Full Timeout.
58 - 62
2:51
Toni Kukoc enters the game for Brian Skinner.
58 - 62
2:47
Jason Terry Bad Pass
58 - 62
2:34
Damon Jones made 26 ft Three Point Jumper.
58 - 65
2:15
Jason Collier 3 second
58 - 65
2:02
Michael Redd missed 15 ft Jumper.
58 - 65
2:00
Jason Terry Defensive Rebound.
58 - 65
1:53
Chris Crawford missed 15 ft Jumper.
58 - 65
1:52
Damon Jones Defensive Rebound.
58 - 65
1:38
Boris Diaw Shooting Foul
58 - 65
1:38
Keith Van Horn made Free Throw 1 of 2.
58 - 66
1:38
Josh Davis enters the game for Boris Diaw.
58 - 66
1:38
Keith Van Horn missed Free Throw 2 of 2.
58 - 66
1:37
Josh Davis Defensive Rebound.
58 - 66
1:19
Stephen Jackson missed 16 ft Jumper.
58 - 66
1:16
Keith Van Horn Defensive Rebound.
58 - 66
1:09
Michael Redd made Layup.
58 - 68
0:57
Stephen Jackson Bad Pass. Stolen by Keith Van Horn.
58 - 68
0:44
Michael Redd missed 23 ft Three Point Jumper.
58 - 68
0:42
Stephen Jackson Defensive Rebound.
58 - 68
0:36
Stephen Jackson Lost Ball. Stolen by Michael Redd.
58 - 68
0:31
Keith Van Horn missed Layup.
58 - 68
0:30
Josh Davis Defensive Rebound.
58 - 68
0:25
Jason Terry missed 25 ft Three Point Jumper.
58 - 68
0:23
Jason Terry Offensive Rebound.
58 - 68
0:21
Jason Terry made 4 ft Jumper.
60 - 68
0:03
Jason Terry Personal Foul
60 - 68
0:03
Keith Van Horn made Free Throw 1 of 2.
60 - 69
0:03
Bob Sura enters the game for Josh Davis.
60 - 69
0:03
Keith Van Horn made Free Throw 2 of 2.
60 - 70
0:01
Keith Van Horn Personal Foul
60 - 70
0:00
Jason Terry missed 20 ft Jumper.
60 - 70
0:00
Atlanta Offensive Rebound.
60 - 70
0:00
End of the 3rd Quarter.
60 - 70

time
TEAM
PLAY
SCORE
12:00
Start of the 4th Quarter.
60 - 70
11:45
Chris Crawford made Dunk. Assisted by Stephen Jackson.
62 - 70
11:21
Michael Redd made 26 ft Three Point Jumper. Assisted by Toni Kukoc.
62 - 73
10:57
Jason Terry Bad Pass. Stolen by Dan Gadzuric.
62 - 73
10:55
Bob Sura Personal Foul
62 - 73
10:41
Jason Terry Personal Foul
62 - 73
10:37
Desmond Mason missed 13 ft Jumper.
62 - 73
10:34
Jason Terry Defensive Rebound.
62 - 73
10:33
Jason Terry Bad Pass
62 - 73
10:18
Michael Redd missed 14 ft Jumper. Blocked by Jason Collier.
62 - 73
10:17
Milwaukee Offensive Rebound.
62 - 73
10:14
Michael Redd made 13 ft Jumper. Assisted by Desmond Mason.
62 - 75
9:57
Chris Crawford missed 14 ft Jumper.
62 - 75
9:56
Desmond Mason Defensive Rebound.
62 - 75
9:49
Toni Kukoc missed Jumper.
62 - 75
9:48
Dan Gadzuric Offensive Rebound.
62 - 75
9:48
Dan Gadzuric missed Tip Shot.
62 - 75
9:47
Milwaukee Defensive Rebound.
62 - 75
9:47
Joel Przybilla enters the game for Jason Collier.
62 - 75
9:26
Bob Sura missed Layup.
62 - 75
9:25
Brevin Knight Defensive Rebound.
62 - 75
9:18
Dan Gadzuric missed Two Point Shot.
62 - 75
9:17
Chris Crawford Defensive Rebound.
62 - 75
9:12
Desmond Mason Shooting Foul
62 - 75
9:12
Chris Crawford made Free Throw 1 of 2.
63 - 75
9:12
Erick Strickland enters the game for Michael Redd.
63 - 75
9:12
Jacque Vaughn enters the game for Jason Terry.
63 - 75
9:12
Chris Crawford made Free Throw 2 of 2.
64 - 75
8:56
Desmond Mason made Layup.
64 - 77
8:42
Stephen Jackson made Layup.
66 - 77
8:42
Dan Gadzuric Shooting Foul
66 - 77
8:42
Official Timeout.
66 - 77
8:42
Stephen Jackson made Free Throw 1 of 1.
67 - 77
8:33
Joel Przybilla Personal Foul
67 - 77
8:18
Brevin Knight missed 18 ft Jumper.
67 - 77
8:17
Stephen Jackson Defensive Rebound.
67 - 77
7:56
Dan Gadzuric Personal Foul
67 - 77
7:56
Chris Crawford made Free Throw 1 of 2.
68 - 77
7:56
Chris Crawford made Free Throw 2 of 2.
69 - 77
7:45
Desmond Mason made 4 ft Hook Shot. Assisted by Brevin Knight.
69 - 79
7:22
Stephen Jackson missed 25 ft Three Point Jumper.
69 - 79
7:18
Dan Gadzuric Defensive Rebound.
69 - 79
7:01
Dan Gadzuric made 3 ft Two Point Shot. Assisted by Toni Kukoc.
69 - 81
6:35
Jacque Vaughn made 16 ft Jumper. Assisted by Bob Sura.
71 - 81
6:16
Dan Gadzuric missed 7 ft Jumper.
71 - 81
6:16
Bob Sura Defensive Rebound.
71 - 81
6:09
Bob Sura missed Jumper.
71 - 81
6:07
Erick Strickland Defensive Rebound.
71 - 81
6:00
Toni Kukoc made 20 ft Jumper. Assisted by Erick Strickland.
71 - 83
5:56
Atlanta Full Timeout.
71 - 83
5:56
Jason Collier enters the game for Joel Przybilla.
71 - 83
5:56
Jason Terry enters the game for Jacque Vaughn.
71 - 83
5:37
Jason Terry made 16 ft Jumper.
73 - 83
5:16
Brevin Knight missed 17 ft Jumper.
73 - 83
5:15
Milwaukee Offensive Rebound.
73 - 83
5:15
Jason Collier Loose Ball Foul
73 - 83
5:07
Toni Kukoc Bad Pass. Stolen by Stephen Jackson.
73 - 83
5:05
Atlanta Full Timeout.
73 - 83
5:05
Damon Jones enters the game for Brevin Knight.
73 - 83
5:05
Keith Van Horn enters the game for Dan Gadzuric.
73 - 83
4:52
Jason Terry missed Layup.
73 - 83
4:48
Bob Sura Offensive Rebound.
75 - 83
4:48
Bob Sura made Tip Shot.
75 - 83
4:28
Toni Kukoc missed 19 ft Jumper.
75 - 83
4:26
Keith Van Horn Offensive Rebound.
75 - 83
4:26
Bob Sura Shooting Foul
75 - 83
4:26
Jason Terry Technical Foul
75 - 83
4:26
Keith Van Horn made Technical Free Throw.
75 - 84
4:26
Keith Van Horn made Free Throw 1 of 2.
75 - 85
4:26
Keith Van Horn made Free Throw 2 of 2.
75 - 86
4:07
Desmond Mason Shooting Foul
75 - 86
4:07
Jason Collier made Free Throw 1 of 2.
76 - 86
4:07
Jason Collier missed Free Throw 2 of 2.
76 - 86
4:07
Michael Redd Defensive Rebound.
76 - 86
3:53
Keith Van Horn missed 4 ft Jumper.
76 - 86
3:51
Toni Kukoc Offensive Rebound.
76 - 86
3:51
Toni Kukoc made Free Throw 1 of 2.
76 - 87
3:51
Toni Kukoc made Free Throw 2 of 2.
76 - 88
3:31
Chris Crawford Lost Ball. Stolen by Toni Kukoc.
76 - 88
3:21
Desmond Mason missed Three Point Jumper.
76 - 88
3:19
Chris Crawford Defensive Rebound.
76 - 88
3:15
Stephen Jackson missed 27 ft Three Point Jumper.
76 - 88
3:13
Desmond Mason Defensive Rebound.
76 - 88
3:06
Milwaukee Full Timeout.
76 - 88
3:06
Brevin Knight enters the game for Damon Jones.
76 - 88
2:57
Desmond Mason made 4 ft Two Point Shot. Assisted by Brevin Knight.
76 - 90
2:31
Stephen Jackson missed Layup.
76 - 90
2:31
Toni Kukoc Defensive Rebound.
76 - 90
2:24
Brevin Knight Bad Pass
76 - 90
2:09
Stephen Jackson missed 26 ft Three Point Jumper.
76 - 90
2:06
Keith Van Horn Defensive Rebound.
76 - 90
1:47
Keith Van Horn made Jumper.
76 - 92
1:44
Brevin Knight Personal Foul
76 - 92
1:44
Jason Terry made Free Throw 1 of 2.
77 - 92
1:44
Josh Davis enters the game for Chris Crawford.
77 - 92
1:44
Jason Terry missed Free Throw 2 of 2.
77 - 92
1:43
Toni Kukoc Defensive Rebound.
77 - 92
1:31
Keith Van Horn missed 18 ft Jumper.
77 - 92
1:30
Desmond Mason Offensive Goaltending
77 - 92
1:16
Jason Collier made 18 ft Jumper. Assisted by Bob Sura.
79 - 92
0:57
Keith Van Horn missed Layup.
79 - 92
0:56
Keith Van Horn Offensive Rebound.
79 - 92
0:56
Josh Davis Shooting Foul
79 - 92
0:56
Keith Van Horn made Free Throw 1 of 2.
79 - 93
0:56
Boris Diaw enters the game for Stephen Jackson.
79 - 93
0:56
Jacque Vaughn enters the game for Jason Terry.
79 - 93
0:56
Keith Van Horn made Free Throw 2 of 2.
79 - 94
0:44
Bob Sura missed 22 ft Jumper.
79 - 94
0:42
Keith Van Horn Defensive Rebound.
79 - 94
0:27
Toni Kukoc missed 17 ft Jumper.
79 - 94
0:24
Bob Sura Defensive Rebound.
79 - 94
0:08
Bob Sura missed Layup. Blocked by Desmond Mason.
79 - 94
0:08
Atlanta Offensive Rebound.
79 - 94
0:07
Jacque Vaughn Bad Pass. Stolen by Keith Van Horn.
79 - 94
0:00
End of the 4th Quarter.
79 - 94
0:00
End Game
79 - 94
0:00
End Game
79 - 94
Michael Smith explains why even though the Cavaliers have been playing well so far in the postseason, he doesn't think they would be able to beat the Spurs or Warriors in the NBA finals.

Michael Smith explains why he does not support Charles Barkley's notion that the Hawks needed to take out the Cavaliers players after getting blown out. Jemele Hill goes on to say why she does agree with Barkley.

Should the 76ers take Ben Simmons No. 1? What if they get the Lakers' pick, too? And how does the rest of the top 10 shake out? Our Insiders run their latest mock draft, with Philly on the clock.
Regular Season Series
Series tied 2-2