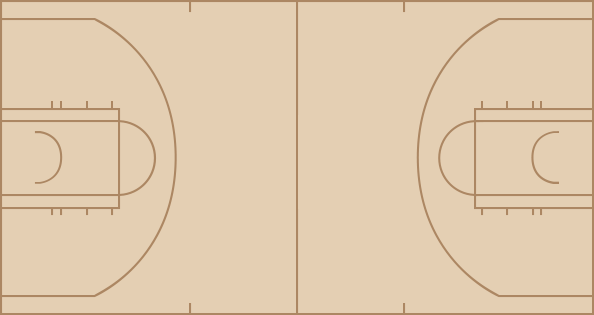 Lakers
time
TEAM
PLAY
SCORE
12:00
Start of the 1st Quarter.
0 - 0
12:00
Jumpball. Shaquille O'Neal vs. Kevin Garnett. Gary Payton gains possession.
0 - 0
11:44
Karl Malone missed 17 ft Jumper.
0 - 0
11:41
Latrell Sprewell Defensive Rebound.
0 - 0
11:27
Kevin Garnett missed 20 ft Jumper.
0 - 0
11:26
Trenton Hassell Offensive Rebound.
0 - 0
11:18
Latrell Sprewell made 6 ft Two Point Shot.
0 - 2
10:49
Kobe Bryant missed 17 ft Jumper.
0 - 2
10:48
Los Angeles Defensive Rebound.
0 - 2
10:34
Sam Cassell missed 13 ft Jumper.
0 - 2
10:33
Shaquille O'Neal Defensive Rebound.
0 - 2
10:22
Gary Payton made Two Point Shot. Assisted by Shaquille O'Neal.
2 - 2
10:18
Kobe Bryant Shooting Foul
2 - 2
10:18
Latrell Sprewell made Free Throw 1 of 2.
2 - 3
10:18
Latrell Sprewell missed Free Throw 2 of 2.
2 - 3
10:17
Karl Malone Defensive Rebound.
2 - 3
10:03
Gary Payton missed 8 ft Jumper.
2 - 3
10:03
Los Angeles Offensive Rebound.
2 - 3
10:03
Kevin Garnett Loose Ball Foul
2 - 3
9:57
Latrell Sprewell Personal Foul
2 - 3
9:49
Gary Payton missed 25 ft Three Point Jumper.
2 - 3
9:48
Kevin Garnett Defensive Rebound.
2 - 3
9:36
Karl Malone Personal Foul
2 - 3
9:27
Kevin Garnett missed Two Point Shot.
2 - 3
9:25
Shaquille O'Neal Defensive Rebound.
2 - 3
9:15
Gary Payton made Two Point Shot. Assisted by Karl Malone.
4 - 3
9:02
Trenton Hassell missed 16 ft Jumper.
4 - 3
9:00
Kobe Bryant Defensive Rebound.
4 - 3
8:45
Kobe Bryant missed 21 ft Jumper.
4 - 3
8:42
Michael Olowokandi Defensive Rebound.
4 - 3
8:37
Kevin Garnett made Two Point Shot. Assisted by Sam Cassell.
4 - 5
8:15
Karl Malone made 14 ft Two Point Shot. Assisted by Kobe Bryant.
6 - 5
7:54
Michael Olowokandi made 13 ft Two Point Shot. Assisted by Kevin Garnett.
6 - 7
7:43
Rick Fox made 8 ft Two Point Shot.
8 - 7
7:37
Minnesota 20 Sec. Timeout.
8 - 7
7:33
Sam Cassell Bad Pass. Stolen by Rick Fox.
8 - 7
7:30
Rick Fox made Two Point Shot.
10 - 7
7:16
Latrell Sprewell missed 9 ft Jumper.
10 - 7
7:13
Minnesota Offensive Rebound.
10 - 7
7:07
Michael Olowokandi missed 13 ft Jumper.
10 - 7
7:05
Karl Malone Defensive Rebound.
10 - 7
6:50
Gary Payton missed 7 ft Jumper. Blocked by Michael Olowokandi.
10 - 7
6:48
Sam Cassell Defensive Rebound.
10 - 7
6:41
Latrell Sprewell made 11 ft Jumper. Assisted by Sam Cassell.
10 - 9
6:24
Michael Olowokandi Personal Foul
10 - 9
6:18
Karl Malone Bad Pass. Stolen by Trenton Hassell.
10 - 9
6:11
Sam Cassell made 21 ft Jumper.
10 - 11
6:01
Los Angeles 20 Sec. Timeout.
10 - 11
5:45
Michael Olowokandi Personal Foul
10 - 11
5:45
Minnesota Full Timeout.
10 - 11
5:45
Ervin Johnson enters the game for Michael Olowokandi.
10 - 11
5:28
Kobe Bryant missed Layup.
10 - 11
5:28
Shaquille O'Neal Offensive Rebound.
12 - 11
5:28
Shaquille O'Neal made Tip Shot.
12 - 11
5:20
Sam Cassell made Two Point Shot.
12 - 13
5:09
Rick Fox Bad Pass. Stolen by Kevin Garnett.
12 - 13
5:00
Latrell Sprewell missed 23 ft Three Point Jumper.
12 - 13
4:58
Shaquille O'Neal Defensive Rebound.
12 - 13
4:52
Ervin Johnson Shooting Foul
12 - 13
4:52
Troy Hudson enters the game for Sam Cassell.
12 - 13
4:52
Karl Malone made Free Throw 1 of 2.
13 - 13
4:52
Karl Malone missed Free Throw 2 of 2.
13 - 13
4:52
Ervin Johnson Defensive Rebound.
13 - 13
4:41
Ervin Johnson made Two Point Shot. Assisted by Latrell Sprewell.
13 - 15
4:18
Kobe Bryant missed 8 ft Jumper.
13 - 15
4:16
Kevin Garnett Defensive Rebound.
13 - 15
4:09
Latrell Sprewell missed 21 ft Jumper.
13 - 15
4:09
Kevin Garnett Offensive Rebound.
13 - 15
4:01
Troy Hudson missed 22 ft Jumper.
13 - 15
4:01
Shaquille O'Neal Defensive Rebound.
13 - 15
3:40
Shaquille O'Neal missed 7 ft Jumper.
13 - 15
3:38
Gary Payton Offensive Rebound.
13 - 15
3:33
Shaquille O'Neal missed Layup.
13 - 15
3:32
Kevin Garnett Defensive Rebound.
13 - 15
3:21
Kevin Garnett missed 8 ft Jumper.
13 - 15
3:20
Rick Fox Defensive Rebound.
13 - 15
3:14
Kobe Bryant made 7 ft Two Point Shot. Assisted by Rick Fox.
15 - 15
2:53
Ervin Johnson Offensive Foul
15 - 15
2:53
Ervin Johnson Foul
15 - 15
2:53
Los Angeles Full Timeout.
15 - 15
2:53
Fred Hoiberg enters the game for Latrell Sprewell.
15 - 15
2:53
Stanislav Medvedenko enters the game for Karl Malone.
15 - 15
2:53
Kareem Rush enters the game for Kobe Bryant.
15 - 15
2:36
Rick Fox made 11 ft Two Point Shot. Assisted by Gary Payton.
17 - 15
2:20
Jumpball. Gary Payton vs. Ervin Johnson. Kevin Garnett gains possession.
17 - 15
2:13
Kevin Garnett made 10 ft Jumper.
17 - 17
1:54
Stanislav Medvedenko made 21 ft Jumper. Assisted by Rick Fox.
19 - 17
1:27
Kevin Garnett made 16 ft Jumper.
19 - 19
1:07
Shaquille O'Neal made 7 ft Jumper. Assisted by Gary Payton.
21 - 19
0:49
Kevin Garnett made 12 ft Two Point Shot.
21 - 21
0:36
Gary Payton Bad Pass. Stolen by Fred Hoiberg.
21 - 21
0:32
Stanislav Medvedenko Shooting Foul
21 - 21
0:32
Wally Szczerbiak enters the game for Trenton Hassell.
21 - 21
0:32
Troy Hudson made Free Throw 1 of 2.
21 - 22
0:32
Mark Madsen enters the game for Kevin Garnett.
21 - 22
0:32
Devean George enters the game for Rick Fox.
21 - 22
0:32
Troy Hudson made Free Throw 2 of 2.
21 - 23
0:15
Devean George missed 21 ft Jumper.
21 - 23
0:14
Fred Hoiberg Defensive Rebound.
21 - 23
0:00
Troy Hudson missed 19 ft Jumper.
21 - 23
0:00
Shaquille O'Neal Defensive Rebound.
21 - 23
0:00
End of the 1st Quarter.
21 - 23

time
TEAM
PLAY
SCORE
12:00
Start of the 2nd Quarter.
21 - 23
11:41
Wally Szczerbiak Bad Pass. Stolen by Stanislav Medvedenko.
21 - 23
11:26
Wally Szczerbiak Personal Foul
21 - 23
11:26
Latrell Sprewell enters the game for Fred Hoiberg.
21 - 23
11:21
Kareem Rush missed 20 ft Jumper.
21 - 23
11:18
Devean George Offensive Rebound.
21 - 23
11:03
Horace Grant missed 20 ft Jumper.
21 - 23
11:03
Mark Madsen Defensive Rebound.
21 - 23
10:47
Stanislav Medvedenko Shooting Foul
21 - 23
10:47
Troy Hudson made Free Throw 1 of 2.
21 - 24
10:47
Kobe Bryant enters the game for Stanislav Medvedenko.
21 - 24
10:47
Troy Hudson made Free Throw 2 of 2.
21 - 25
10:36
Devean George missed 16 ft Jumper.
21 - 25
10:34
Troy Hudson Defensive Rebound.
21 - 25
10:23
Troy Hudson made Two Point Shot.
21 - 27
10:17
Oliver Miller Personal Foul
21 - 27
10:03
Devean George missed 5 ft Jumper. Blocked by Oliver Miller.
21 - 27
10:02
Los Angeles Offensive Rebound.
21 - 27
9:59
Mark Madsen Shooting Foul
21 - 27
9:59
Kobe Bryant made Free Throw 1 of 2.
22 - 27
9:59
Kobe Bryant made Free Throw 2 of 2.
23 - 27
9:48
Troy Hudson missed 25 ft Three Point Jumper.
23 - 27
9:45
Derek Fisher Defensive Rebound.
23 - 27
9:37
Kareem Rush missed 26 ft Three Point Jumper.
23 - 27
9:36
Latrell Sprewell Defensive Rebound.
23 - 27
9:32
Derek Fisher Shooting Foul
23 - 27
9:32
Sam Cassell enters the game for Troy Hudson.
23 - 27
9:32
Wally Szczerbiak made Free Throw 1 of 2.
23 - 28
9:32
Shaquille O'Neal enters the game for Horace Grant.
23 - 28
9:32
Luke Walton enters the game for Devean George.
23 - 28
9:32
Wally Szczerbiak made Free Throw 2 of 2.
23 - 29
9:18
Luke Walton missed 19 ft Jumper.
23 - 29
9:15
Oliver Miller Defensive Rebound.
23 - 29
9:08
Sam Cassell made 16 ft Two Point Shot.
23 - 31
9:00
Los Angeles Full Timeout.
23 - 31
9:00
Gary Payton enters the game for Derek Fisher.
23 - 31
8:42
Shaquille O'Neal missed 15 ft Jumper.
23 - 31
8:41
Kobe Bryant Offensive Rebound.
23 - 31
8:41
Kobe Bryant missed Tip Shot.
23 - 31
8:40
Latrell Sprewell Defensive Rebound.
23 - 31
8:33
Sam Cassell missed 15 ft Jumper.
23 - 31
8:33
Kobe Bryant Defensive Rebound.
23 - 31
8:25
Shaquille O'Neal made 6 ft Hook Shot. Assisted by Gary Payton.
25 - 31
8:25
Oliver Miller Shooting Foul
25 - 31
8:25
Kevin Garnett enters the game for Mark Madsen.
25 - 31
8:25
Stanislav Medvedenko enters the game for Luke Walton.
25 - 31
8:25
Shaquille O'Neal made Free Throw 1 of 1.
26 - 31
8:10
Sam Cassell missed 12 ft Jumper.
26 - 31
8:07
Shaquille O'Neal Defensive Rebound.
26 - 31
7:54
Stanislav Medvedenko made 20 ft Jumper. Assisted by Kareem Rush.
28 - 31
7:50
Stanislav Medvedenko Loose Ball Foul
28 - 31
7:50
Horace Grant enters the game for Stanislav Medvedenko.
28 - 31
7:50
Michael Olowokandi enters the game for Oliver Miller.
28 - 31
7:41
Kevin Garnett made 18 ft Two Point Shot. Assisted by Sam Cassell.
28 - 33
7:18
Shaquille O'Neal made 8 ft Two Point Shot. Assisted by Kobe Bryant.
30 - 33
6:58
Wally Szczerbiak missed 23 ft Three Point Jumper.
30 - 33
6:56
Shaquille O'Neal Defensive Rebound.
30 - 33
6:41
Shaquille O'Neal missed 10 ft Jumper.
30 - 33
6:37
Wally Szczerbiak Defensive Rebound.
30 - 33
6:31
Wally Szczerbiak missed Layup.
30 - 33
6:31
Shaquille O'Neal Defensive Rebound.
30 - 33
6:20
Kareem Rush missed 23 ft Three Point Jumper.
30 - 33
6:20
Los Angeles Offensive Rebound.
30 - 33
6:20
Trenton Hassell enters the game for Wally Szczerbiak.
30 - 33
6:16
Kobe Bryant missed 18 ft Jumper.
30 - 33
6:15
Sam Cassell Defensive Rebound.
30 - 33
6:07
Latrell Sprewell made 6 ft Jumper. Assisted by Trenton Hassell.
30 - 35
5:43
Kobe Bryant missed 7 ft Jumper.
30 - 35
5:41
Kobe Bryant Offensive Rebound.
30 - 35
5:39
Kobe Bryant missed Layup.
30 - 35
5:37
Kevin Garnett Defensive Rebound.
30 - 35
5:33
Sam Cassell made 19 ft Jumper.
30 - 37
5:13
Kobe Bryant missed 20 ft Jumper.
30 - 37
5:11
Kevin Garnett Defensive Rebound.
30 - 37
5:01
Michael Olowokandi missed 11 ft Jumper.
30 - 37
5:00
Kobe Bryant Defensive Rebound.
30 - 37
4:58
Michael Olowokandi Clear Path Foul
30 - 37
4:58
Full Timeout.
30 - 37
4:58
Ervin Johnson enters the game for Michael Olowokandi.
30 - 37
4:58
Bryon Russell enters the game for Kareem Rush.
30 - 37
4:58
Shaquille O'Neal made Free Throw.
31 - 37
4:58
Karl Malone enters the game for Horace Grant.
31 - 37
4:41
Karl Malone made 16 ft Jumper.
33 - 37
4:24
Trenton Hassell made 22 ft Jumper. Assisted by Sam Cassell.
33 - 39
4:05
Ervin Johnson Shooting Foul
33 - 39
4:05
Oliver Miller enters the game for Ervin Johnson.
33 - 39
4:05
Gary Payton made Free Throw 1 of 2.
34 - 39
4:05
Gary Payton made Free Throw 2 of 2.
35 - 39
4:00
Sam Cassell missed Layup. Blocked by Gary Payton.
35 - 39
3:59
Minnesota Offensive Rebound.
35 - 39
3:57
Latrell Sprewell made 17 ft Jumper. Assisted by Trenton Hassell.
35 - 41
3:35
Shaquille O'Neal missed 4 ft Jumper. Blocked by Kevin Garnett.
35 - 41
3:33
Kevin Garnett Defensive Rebound.
35 - 41
3:25
Latrell Sprewell missed 11 ft Jumper.
35 - 41
3:23
Shaquille O'Neal Defensive Rebound.
35 - 41
3:18
Kobe Bryant missed 9 ft Hook Shot.
35 - 41
3:16
Oliver Miller Defensive Rebound.
35 - 41
3:05
Sam Cassell made 18 ft Jumper.
35 - 43
2:47
Oliver Miller Shooting Foul
35 - 43
2:47
Minnesota Full Timeout.
35 - 43
2:47
Mark Madsen enters the game for Oliver Miller.
35 - 43
2:47
Shaquille O'Neal made Free Throw 1 of 2.
36 - 43
2:47
Shaquille O'Neal made Free Throw 2 of 2.
37 - 43
2:27
Sam Cassell Bad Pass. Stolen by Karl Malone.
37 - 43
2:21
Karl Malone made Two Point Shot. Assisted by Kobe Bryant.
39 - 43
2:08
Latrell Sprewell made Jumper. Assisted by Sam Cassell.
39 - 45
1:42
Bryon Russell made 19 ft Jumper.
41 - 45
1:16
Kevin Garnett missed 10 ft Jumper.
41 - 45
1:15
Kobe Bryant Defensive Rebound.
41 - 45
1:08
Gary Payton Traveling
41 - 45
0:55
Sam Cassell missed 20 ft Jumper.
41 - 45
0:54
Kobe Bryant Defensive Rebound.
41 - 45
0:47
Kobe Bryant Bad Pass
41 - 45
0:30
Kevin Garnett missed 19 ft Jumper.
41 - 45
0:28
Mark Madsen Offensive Rebound.
41 - 45
0:26
Sam Cassell missed 19 ft Jumper.
41 - 45
0:24
Shaquille O'Neal Defensive Rebound.
41 - 45
0:03
Karl Malone Traveling
41 - 45
0:01
Kevin Garnett missed 34 ft Three Point Jumper.
41 - 45
0:00
Minnesota Offensive Rebound.
41 - 45
0:00
End of the 2nd Quarter.
41 - 45

time
TEAM
PLAY
SCORE
12:00
Start of the 3rd Quarter.
41 - 45
12:00
Gary Payton Technical Foul
41 - 45
12:00
Sam Cassell made Technical Free Throw.
41 - 46
11:51
Kicked Ball
41 - 46
11:22
Kobe Bryant missed 19 ft Jumper.
41 - 46
11:21
Kevin Garnett Defensive Rebound.
41 - 46
11:12
Kevin Garnett made 13 ft Two Point Shot. Assisted by Sam Cassell.
41 - 48
10:51
Kobe Bryant made Two Point Shot. Assisted by Karl Malone.
43 - 48
10:51
Trenton Hassell Shooting Foul
43 - 48
10:51
Kobe Bryant made Free Throw 1 of 1.
44 - 48
10:37
Karl Malone Shooting Foul
44 - 48
10:37
Kevin Garnett made Free Throw 1 of 2.
44 - 49
10:37
Kevin Garnett made Free Throw 2 of 2.
44 - 50
10:18
Kicked Ball
44 - 50
10:12
Kobe Bryant made 20 ft Jumper. Assisted by Gary Payton.
46 - 50
9:52
Sam Cassell missed 20 ft Jumper.
46 - 50
9:49
Kobe Bryant Defensive Rebound.
46 - 50
9:45
Kobe Bryant made 22 ft Jumper.
48 - 50
9:22
Michael Olowokandi missed 13 ft Two Point Shot.
48 - 50
9:19
Gary Payton Defensive Rebound.
48 - 50
9:14
Kevin Garnett Shooting Foul
48 - 50
9:14
Karl Malone made Free Throw 1 of 2.
49 - 50
9:14
Minnesota Full Timeout.
49 - 50
9:14
Karl Malone missed Free Throw 2 of 2.
49 - 50
9:10
Kevin Garnett Defensive Rebound.
49 - 50
8:55
Trenton Hassell missed Layup.
49 - 50
8:53
Trenton Hassell Offensive Rebound.
49 - 50
8:47
Karl Malone Personal Foul
49 - 50
8:38
Sam Cassell made 18 ft Jumper.
49 - 52
8:15
Kobe Bryant missed 19 ft Jumper.
49 - 52
8:12
Kevin Garnett Defensive Rebound.
49 - 52
8:07
Latrell Sprewell missed Layup.
49 - 52
8:07
Rick Fox Defensive Rebound.
49 - 52
7:54
Karl Malone made 15 ft Jumper.
51 - 52
7:30
Kevin Garnett missed 7 ft Jumper.
51 - 52
7:28
Michael Olowokandi Offensive Rebound.
51 - 52
7:26
Sam Cassell missed 23 ft Jumper.
51 - 52
7:24
Gary Payton Defensive Rebound.
51 - 52
7:13
Gary Payton Lost Ball. Stolen by Sam Cassell.
51 - 52
7:11
Sam Cassell Double Dribble
51 - 52
7:01
Shaquille O'Neal missed 13 ft Jumper.
51 - 52
7:00
Rick Fox Offensive Rebound.
51 - 52
6:56
Shaquille O'Neal 3 second
51 - 52
6:43
Latrell Sprewell made 19 ft Jumper. Assisted by Sam Cassell.
51 - 54
6:28
Gary Payton Offensive Foul
51 - 54
6:28
Gary Payton Foul
51 - 54
5:58
Sam Cassell Personal Foul
51 - 54
5:58
Troy Hudson enters the game for Sam Cassell.
51 - 54
5:50
Karl Malone made 21 ft Jumper. Assisted by Rick Fox.
53 - 54
5:33
Kevin Garnett made 9 ft Two Point Shot.
53 - 56
5:20
Michael Olowokandi Personal Foul
53 - 56
5:20
Ervin Johnson enters the game for Michael Olowokandi.
53 - 56
5:16
Shaquille O'Neal made Layup. Assisted by Rick Fox.
55 - 56
5:11
Karl Malone Personal Foul
55 - 56
4:54
Kevin Garnett missed 19 ft Jumper.
55 - 56
4:52
Gary Payton Defensive Rebound.
55 - 56
4:46
Kevin Garnett Shooting Foul
55 - 56
4:46
Karl Malone made Free Throw 1 of 2.
56 - 56
4:46
Derek Fisher enters the game for Gary Payton.
56 - 56
4:46
Karl Malone missed Free Throw 2 of 2.
56 - 56
4:43
Trenton Hassell Defensive Rebound.
56 - 56
4:30
Kevin Garnett missed 17 ft Jumper.
56 - 56
4:28
Minnesota Offensive Rebound.
56 - 56
4:28
Stanislav Medvedenko enters the game for Karl Malone.
56 - 56
4:24
Kevin Garnett made 21 ft Jumper. Assisted by Trenton Hassell.
56 - 58
4:01
Kobe Bryant made Layup.
58 - 58
3:49
Shaquille O'Neal Shooting Foul
58 - 58
3:49
Fred Hoiberg enters the game for Latrell Sprewell.
58 - 58
3:49
Trenton Hassell made Free Throw 1 of 2.
58 - 59
3:49
Trenton Hassell made Free Throw 2 of 2.
58 - 60
3:33
Shaquille O'Neal made Dunk. Assisted by Rick Fox.
60 - 60
3:21
Troy Hudson made 26 ft Three Point Jumper.
60 - 63
3:01
Shaquille O'Neal made Layup. Assisted by Rick Fox.
62 - 63
2:50
Rick Fox Shooting Foul
62 - 63
2:50
Los Angeles Full Timeout.
62 - 63
2:50
Ervin Johnson made Free Throw 1 of 2.
62 - 64
2:50
Ervin Johnson made Free Throw 2 of 2.
62 - 65
2:31
Rick Fox missed 24 ft Three Point Jumper.
62 - 65
2:30
Shaquille O'Neal Offensive Rebound.
62 - 65
2:27
Shaquille O'Neal Bad Pass. Stolen by Kevin Garnett.
62 - 65
2:21
Ervin Johnson Offensive Foul
62 - 65
2:21
Ervin Johnson Foul
62 - 65
2:21
Kareem Rush enters the game for Kobe Bryant.
62 - 65
2:21
Oliver Miller enters the game for Ervin Johnson.
62 - 65
2:05
Rick Fox missed 17 ft Two Point Shot.
62 - 65
2:04
Los Angeles Defensive Rebound.
62 - 65
1:42
Troy Hudson made 25 ft Three Point Jumper.
62 - 68
1:28
Oliver Miller Personal Foul
62 - 68
1:28
Shaquille O'Neal made Free Throw 1 of 2.
63 - 68
1:28
Devean George enters the game for Rick Fox.
63 - 68
1:28
Shaquille O'Neal made Free Throw 2 of 2.
64 - 68
1:15
Stanislav Medvedenko Personal Foul
64 - 68
1:15
Fred Hoiberg made Free Throw 1 of 2.
64 - 69
1:15
Fred Hoiberg made Free Throw 2 of 2.
64 - 70
0:55
Kareem Rush Bad Pass. Stolen by Kevin Garnett.
64 - 70
0:53
Derek Fisher Shooting Foul
64 - 70
0:53
Mark Madsen enters the game for Kevin Garnett.
64 - 70
0:53
Wally Szczerbiak enters the game for Trenton Hassell.
64 - 70
0:53
Troy Hudson missed Free Throw 1 of 2.
64 - 70
0:53
Minnesota Offensive Rebound.
64 - 70
0:53
Troy Hudson made Free Throw 2 of 2.
64 - 71
0:44
Stanislav Medvedenko made 21 ft Jumper. Assisted by Derek Fisher.
66 - 71
0:35
Troy Hudson missed Layup.
66 - 71
0:34
Minnesota Defensive Rebound.
66 - 71
0:23
Oliver Miller Shooting Foul
66 - 71
0:23
Shaquille O'Neal missed Free Throw 1 of 2.
66 - 71
0:23
Los Angeles Offensive Rebound.
66 - 71
0:23
Latrell Sprewell enters the game for Oliver Miller.
66 - 71
0:23
Bryon Russell enters the game for Stanislav Medvedenko.
66 - 71
0:23
Shaquille O'Neal missed Free Throw 2 of 2.
66 - 71
0:23
Wally Szczerbiak Defensive Rebound.
66 - 71
0:04
Troy Hudson made 26 ft Three Point Jumper.
66 - 74
0:00
Kareem Rush made 31 ft Three Point Jumper.
69 - 74
0:00
End of the 3rd Quarter.
69 - 74

time
TEAM
PLAY
SCORE
12:00
Start of the 4th Quarter.
69 - 74
11:44
Luke Walton missed 20 ft Jumper.
69 - 74
11:41
Michael Olowokandi Defensive Rebound.
69 - 74
11:22
Troy Hudson made 24 ft Three Point Jumper. Assisted by Mark Madsen.
69 - 77
11:02
Gary Payton missed 26 ft Three Point Jumper.
69 - 77
11:00
Latrell Sprewell Defensive Rebound.
69 - 77
10:45
Michael Olowokandi missed 9 ft Jumper.
69 - 77
10:45
Minnesota Offensive Rebound.
69 - 77
10:36
Mark Madsen made 6 ft Two Point Shot. Assisted by Latrell Sprewell.
69 - 79
10:19
Devean George missed 20 ft Jumper.
69 - 79
10:18
Michael Olowokandi Defensive Rebound.
69 - 79
10:14
Wally Szczerbiak made 16 ft Jumper. Assisted by Troy Hudson.
69 - 81
9:52
Wally Szczerbiak Personal Foul
69 - 81
9:42
Kareem Rush missed 6 ft Jumper.
69 - 81
9:41
Horace Grant Offensive Rebound.
71 - 81
9:41
Horace Grant made Tip Shot.
71 - 81
9:22
Wally Szczerbiak Bad Pass. Stolen by Devean George.
71 - 81
9:19
Gary Payton made Layup. Assisted by Devean George.
73 - 81
8:56
Kareem Rush Personal Foul
73 - 81
8:56
Full Timeout.
73 - 81
8:56
Kevin Garnett enters the game for Michael Olowokandi.
73 - 81
8:56
Kobe Bryant enters the game for Devean George.
73 - 81
8:56
Shaquille O'Neal enters the game for Luke Walton.
73 - 81
8:48
Troy Hudson missed 22 ft Jumper.
73 - 81
8:48
Mark Madsen Offensive Rebound.
73 - 81
8:42
Troy Hudson missed 27 ft Three Point Jumper.
73 - 81
8:41
Horace Grant Defensive Rebound.
73 - 81
8:19
Kobe Bryant missed 25 ft Three Point Jumper.
73 - 81
8:15
Wally Szczerbiak Defensive Rebound.
73 - 81
8:14
Latrell Sprewell made Two Point Shot. Assisted by Wally Szczerbiak.
73 - 83
7:54
Shaquille O'Neal missed 9 ft Jumper.
73 - 83
7:54
Latrell Sprewell Defensive Rebound.
73 - 83
7:48
Latrell Sprewell Offensive Foul
73 - 83
7:48
Latrell Sprewell Foul
73 - 83
7:41
Mark Madsen Personal Foul
73 - 83
7:37
Horace Grant made 21 ft Jumper. Assisted by Gary Payton.
75 - 83
7:22
Kevin Garnett Traveling
75 - 83
7:07
Kareem Rush missed 25 ft Three Point Jumper.
75 - 83
7:05
Kevin Garnett Defensive Rebound.
75 - 83
6:54
Mark Madsen made Dunk. Assisted by Kevin Garnett.
75 - 85
6:39
Horace Grant missed 20 ft Jumper.
75 - 85
6:39
Troy Hudson Defensive Rebound.
75 - 85
6:39
Wally Szczerbiak missed 14 ft Jumper.
75 - 85
6:39
Kobe Bryant Defensive Rebound.
75 - 85
6:28
Gary Payton Offensive Foul
75 - 85
6:28
Gary Payton Foul
75 - 85
6:28
Sam Cassell enters the game for Troy Hudson.
75 - 85
6:28
Michael Olowokandi enters the game for Mark Madsen.
75 - 85
6:28
Stanislav Medvedenko enters the game for Horace Grant.
75 - 85
6:18
Latrell Sprewell missed 17 ft Jumper.
75 - 85
6:18
Minnesota Defensive Rebound.
75 - 85
5:56
Kobe Bryant Lost Ball. Stolen by Latrell Sprewell.
75 - 85
5:56
Stanislav Medvedenko Personal Foul
75 - 85
5:56
Minnesota Full Timeout.
75 - 85
5:56
Trenton Hassell enters the game for Wally Szczerbiak.
75 - 85
5:56
Luke Walton enters the game for Stanislav Medvedenko.
75 - 85
5:41
Latrell Sprewell missed Layup. Blocked by Shaquille O'Neal.
75 - 85
5:41
Minnesota Offensive Rebound.
75 - 85
5:35
Kevin Garnett made 16 ft Jumper.
75 - 87
5:18
Michael Olowokandi Shooting Foul
75 - 87
5:18
Mark Madsen enters the game for Michael Olowokandi.
75 - 87
5:18
Shaquille O'Neal made Free Throw 1 of 2.
76 - 87
5:18
Shaquille O'Neal made Free Throw 2 of 2.
77 - 87
4:56
Kevin Garnett missed Layup.
77 - 87
4:56
Mark Madsen Offensive Rebound.
77 - 89
4:56
Mark Madsen made Tip Shot.
77 - 89
4:45
Shaquille O'Neal Offensive Foul
77 - 89
4:45
Shaquille O'Neal Foul
77 - 89
4:31
Luke Walton Personal Foul
77 - 89
4:24
Trenton Hassell Lost Ball. Stolen by Gary Payton.
77 - 89
4:20
Kareem Rush missed Layup.
77 - 89
4:18
Los Angeles Offensive Rebound.
77 - 89
4:13
Shaquille O'Neal made 8 ft Jumper. Assisted by Kobe Bryant.
79 - 89
3:48
Latrell Sprewell missed 16 ft Jumper.
79 - 89
3:47
Mark Madsen Offensive Rebound.
79 - 89
3:42
Latrell Sprewell missed 26 ft Three Point Jumper.
79 - 89
3:41
Kevin Garnett Offensive Rebound.
79 - 89
3:39
Shaquille O'Neal Shooting Foul
79 - 89
3:39
Latrell Sprewell made Free Throw 1 of 2.
79 - 90
3:39
Latrell Sprewell missed Free Throw 2 of 2.
79 - 90
3:38
Kobe Bryant Defensive Rebound.
79 - 90
3:29
Sam Cassell Personal Foul
79 - 90
3:21
Luke Walton made 23 ft Jumper. Assisted by Gary Payton.
81 - 90
3:12
Michael Olowokandi enters the game for Mark Madsen.
81 - 90
3:12
Stanislav Medvedenko enters the game for Luke Walton.
81 - 90
3:00
Sam Cassell made 15 ft Two Point Shot.
81 - 92
2:56
Los Angeles Full Timeout.
81 - 92
2:56
Luke Walton enters the game for Stanislav Medvedenko.
81 - 92
2:44
Kobe Bryant made 25 ft Three Point Jumper.
84 - 92
2:17
Kevin Garnett missed 19 ft Jumper.
84 - 92
2:16
Shaquille O'Neal Defensive Rebound.
84 - 92
2:08
Kobe Bryant missed 27 ft Three Point Jumper.
84 - 92
2:05
Latrell Sprewell Defensive Rebound.
84 - 92
1:54
Michael Olowokandi made 10 ft Two Point Shot. Assisted by Trenton Hassell.
84 - 94
1:31
Gary Payton missed 11 ft Jumper. Blocked by Sam Cassell.
84 - 94
1:31
Los Angeles Offensive Rebound.
84 - 94
1:31
Michael Olowokandi Loose Ball Foul
84 - 94
1:31
Mark Madsen enters the game for Michael Olowokandi.
84 - 94
1:31
Shaquille O'Neal missed Free Throw 1 of 2.
84 - 94
1:31
Los Angeles Offensive Rebound.
84 - 94
1:31
Shaquille O'Neal missed Free Throw 2 of 2.
84 - 94
1:31
Mark Madsen Defensive Rebound.
84 - 94
1:31
Kobe Bryant Personal Foul
84 - 94
1:31
Mark Madsen missed Free Throw 1 of 2.
84 - 94
1:31
Minnesota Offensive Rebound.
84 - 94
1:31
Mark Madsen missed Free Throw 2 of 2.
84 - 94
1:30
Kobe Bryant Defensive Rebound.
84 - 94
1:19
Gary Payton made Two Point Shot. Assisted by Kobe Bryant.
86 - 94
1:00
Gary Payton Personal Foul
86 - 94
1:00
Sam Cassell made Free Throw 1 of 2.
86 - 95
1:00
Sam Cassell made Free Throw 2 of 2.
86 - 96
0:51
Mark Madsen Personal Foul
86 - 96
0:51
Shaquille O'Neal missed Free Throw 1 of 2.
86 - 96
0:51
Los Angeles Offensive Rebound.
86 - 96
0:51
Shaquille O'Neal missed Free Throw 2 of 2.
86 - 96
0:51
Mark Madsen Defensive Rebound.
86 - 96
0:39
Minnesota 20 Sec. Timeout.
86 - 96
0:39
Fred Hoiberg enters the game for Mark Madsen.
86 - 96
0:39
Devean George enters the game for Kobe Bryant.
86 - 96
0:39
Rick Fox enters the game for Shaquille O'Neal.
86 - 96
0:28
Latrell Sprewell missed 13 ft Jumper.
86 - 96
0:27
Devean George Defensive Rebound.
86 - 96
0:21
Gary Payton missed Layup.
86 - 96
0:20
Kevin Garnett Defensive Rebound.
86 - 96
0:00
End of the 4th Quarter.
86 - 96
0:00
End Game
86 - 96
0:00
End Game
86 - 96
0:00
End Game
86 - 96
0:00
End Game
86 - 96
Mike Greenberg shares his theory as to how Russell Westbrook could be affecting Kevin Durant's decision on whether he wants to remain with the Thunder.

Mike Greenberg is fascinated by "the overwhelming diva quality" of soccer stars such as Lionel Messi and Cristiano Ronaldo, and says that if LeBron James acted in the same manner as they do, the media would be all over him.

Kevin Pelton ranks the top 25 free agents. Which stars could your team pursue?
NBA Finals
LAL wins series 4-2
2015-2016 Pacific Standings