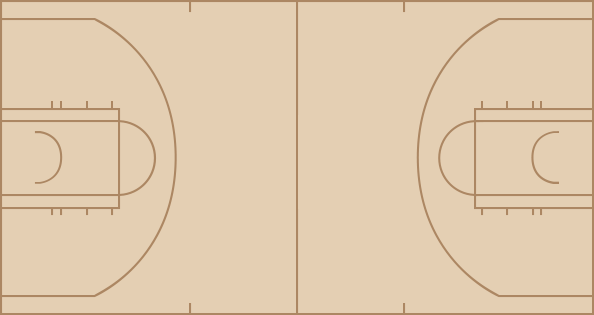 Rockets
time
TEAM
PLAY
SCORE
12:00
Start of the 1st Quarter.
0 - 0
12:00
Jumpball. Maurice Taylor vs. Vlade Divac. Mike Bibby gains possession.
0 - 0
11:41
Yao Ming Shooting Foul
0 - 0
11:41
Vlade Divac made Free Throw 1 of 2.
0 - 1
11:41
Vlade Divac missed Free Throw 2 of 2.
0 - 1
11:41
Jim Jackson Defensive Rebound.
0 - 1
11:21
Yao Ming missed 15 ft Jumper.
0 - 1
11:19
Chris Webber Defensive Rebound.
0 - 1
11:11
Vlade Divac Lost Ball. Stolen by Steve Francis.
0 - 1
11:06
Maurice Taylor made Dunk. Assisted by Steve Francis.
2 - 1
10:48
Mike Bibby missed 26 ft Three Point Jumper.
2 - 1
10:48
Maurice Taylor Defensive Rebound.
2 - 1
10:32
Maurice Taylor made 16 ft Jumper.
4 - 1
10:18
Peja Stojakovic Lost Ball. Stolen by Steve Francis.
4 - 1
10:07
Jim Jackson missed 25 ft Three Point Jumper.
4 - 1
10:04
Doug Christie Defensive Rebound.
4 - 1
10:02
Peja Stojakovic made Layup. Assisted by Doug Christie.
4 - 3
9:45
Steve Francis missed 18 ft Jumper.
4 - 3
9:42
Yao Ming Offensive Rebound.
4 - 3
9:41
Yao Ming made Dunk.
6 - 3
9:30
Jim Jackson Personal Foul
6 - 3
9:26
Vlade Divac made 16 ft Jumper. Assisted by Chris Webber.
6 - 5
9:07
Yao Ming missed 10 ft Two Point Shot.
6 - 5
9:06
Steve Francis Offensive Rebound.
6 - 5
8:57
Maurice Taylor made 12 ft Two Point Shot.
8 - 5
8:40
Chris Webber missed 17 ft Jumper.
8 - 5
8:38
Yao Ming Defensive Rebound.
8 - 5
8:19
Maurice Taylor missed 18 ft Jumper.
8 - 5
8:18
Doug Christie Defensive Rebound.
8 - 5
8:02
Peja Stojakovic missed 24 ft Three Point Jumper.
8 - 5
8:00
Chris Webber Offensive Rebound.
8 - 5
7:54
Mike Bibby missed 18 ft Jumper.
8 - 5
7:54
Jim Jackson Defensive Rebound.
8 - 5
7:37
Steve Francis made 23 ft Three Point Jumper.
11 - 5
7:26
Doug Christie Bad Pass. Stolen by Jim Jackson.
11 - 5
7:20
Cuttino Mobley made Layup. Assisted by Jim Jackson.
13 - 5
7:05
Maurice Taylor Personal Foul
13 - 5
6:58
Chris Webber missed Layup. Blocked by Steve Francis.
13 - 5
6:56
Vlade Divac Offensive Rebound.
13 - 5
6:56
Vlade Divac Bad Pass. Stolen by Steve Francis.
13 - 5
6:50
Yao Ming Shooting Foul
13 - 5
6:50
Chris Webber missed Free Throw 1 of 2.
13 - 5
6:50
Sacramento Offensive Rebound.
13 - 5
6:50
Chris Webber made Free Throw 2 of 2.
13 - 6
6:33
Jim Jackson made 11 ft Two Point Shot.
15 - 6
6:13
Doug Christie missed 25 ft Three Point Jumper.
15 - 6
6:11
Steve Francis Defensive Rebound.
15 - 6
6:01
Vlade Divac Illegal Defense Foul
15 - 6
6:01
Jim Jackson made Technical Free Throw.
16 - 6
5:52
Steve Francis made 19 ft Jumper.
18 - 6
5:43
Sacramento Full Timeout.
18 - 6
5:43
Clarence Weatherspoon enters the game for Yao Ming.
18 - 6
5:33
Chris Webber made 19 ft Jumper. Assisted by Mike Bibby.
18 - 8
5:11
Steve Francis missed 9 ft Jumper.
18 - 8
5:11
Mike Bibby Defensive Rebound.
18 - 8
4:58
Mike Bibby made 6 ft Two Point Shot. Assisted by Vlade Divac.
18 - 10
4:31
Maurice Taylor missed 19 ft Jumper.
18 - 10
4:30
Doug Christie Defensive Rebound.
18 - 10
4:20
Peja Stojakovic missed 15 ft Jumper.
18 - 10
4:18
Maurice Taylor Defensive Rebound.
18 - 10
4:05
Mike Bibby Shooting Foul
18 - 10
4:05
Clarence Weatherspoon made Free Throw 1 of 2.
19 - 10
4:05
Brad Miller enters the game for Vlade Divac.
19 - 10
4:05
Clarence Weatherspoon made Free Throw 2 of 2.
20 - 10
3:50
Brad Miller missed 4 ft Jumper. Blocked by Cuttino Mobley.
20 - 10
3:49
Sacramento Offensive Rebound.
20 - 10
3:47
Doug Christie made Dunk. Assisted by Mike Bibby.
20 - 12
3:28
Clarence Weatherspoon made 19 ft Jumper.
22 - 12
3:02
Mike Bibby made 19 ft Jumper. Assisted by Brad Miller.
22 - 14
2:50
Clarence Weatherspoon made Layup. Assisted by Maurice Taylor.
24 - 14
2:35
Clarence Weatherspoon Shooting Foul
24 - 14
2:35
Houston Full Timeout.
24 - 14
2:35
Chris Webber made Free Throw 1 of 2.
24 - 15
2:35
Chris Webber missed Free Throw 2 of 2.
24 - 15
2:35
Jim Jackson Defensive Rebound.
24 - 15
2:19
Cuttino Mobley missed Jumper.
24 - 15
2:17
Brad Miller Defensive Rebound.
24 - 15
2:00
Doug Christie made 19 ft Jumper. Assisted by Chris Webber.
24 - 17
1:37
Maurice Taylor missed Two Point Shot.
24 - 17
1:35
Brad Miller Defensive Rebound.
24 - 17
1:27
Chris Webber missed 18 ft Jumper.
24 - 17
1:24
Clarence Weatherspoon Defensive Rebound.
24 - 17
1:12
Maurice Taylor Lost Ball. Stolen by Chris Webber.
24 - 17
1:01
Chris Webber missed 7 ft Two Point Shot.
24 - 17
1:00
Clarence Weatherspoon Defensive Rebound.
24 - 17
0:46
Clarence Weatherspoon Lost Ball. Stolen by Chris Webber.
24 - 17
0:37
Clarence Weatherspoon Shooting Foul
24 - 17
0:37
Anthony Peeler enters the game for Peja Stojakovic.
24 - 17
0:37
Mike Bibby made Free Throw 1 of 2.
24 - 18
0:37
Mike Bibby missed Free Throw 2 of 2.
24 - 18
0:37
Jim Jackson Defensive Rebound.
24 - 18
0:19
Steve Francis made 22 ft Jumper.
26 - 18
0:01
Mike Bibby missed Three Point Jumper.
26 - 18
0:00
Chris Webber Offensive Rebound.
26 - 18
0:00
End of the 1st Quarter.
26 - 18

time
TEAM
PLAY
SCORE
12:00
Start of the 2nd Quarter.
26 - 18
11:40
Jim Jackson missed 13 ft Jumper. Blocked by Doug Christie.
26 - 18
11:37
Vlade Divac Defensive Rebound.
26 - 18
11:26
Brad Miller missed 17 ft Jumper.
26 - 18
11:25
Eric Piatkowski Defensive Rebound.
26 - 18
11:11
Clarence Weatherspoon made Jumper. Assisted by Steve Francis.
28 - 18
10:55
Doug Christie made Two Point Shot. Assisted by Vlade Divac.
28 - 20
10:08
Doug Christie missed 25 ft Three Point Jumper.
28 - 20
10:07
Yao Ming Defensive Rebound.
28 - 20
9:51
Steve Francis missed 16 ft Jumper.
28 - 20
9:49
Brad Miller Defensive Rebound.
28 - 20
9:42
Steve Francis Personal Foul
28 - 20
9:42
Steve Francis Technical Foul
28 - 20
9:42
Doug Christie made Technical Free Throw.
28 - 21
9:42
Peja Stojakovic enters the game for Mike Bibby.
28 - 21
9:40
Doug Christie Lost Ball. Stolen by Eric Piatkowski.
28 - 21
9:19
Yao Ming made 15 ft Two Point Shot.
30 - 21
9:00
Brad Miller missed 20 ft Jumper.
30 - 21
8:57
Yao Ming Defensive Rebound.
30 - 21
8:45
Eric Piatkowski made Layup. Assisted by Clarence Weatherspoon.
32 - 21
8:41
Sacramento Full Timeout.
32 - 21
8:27
Vlade Divac missed Layup. Blocked by Steve Francis.
32 - 21
8:26
Jim Jackson Defensive Rebound.
32 - 21
8:19
Steve Francis missed 6 ft Jumper.
32 - 21
8:18
Yao Ming Offensive Rebound.
32 - 21
8:18
Brad Miller Shooting Foul
32 - 21
8:18
Yao Ming made Free Throw 1 of 2.
33 - 21
8:18
Mark Jackson enters the game for Steve Francis.
33 - 21
8:18
Yao Ming made Free Throw 2 of 2.
34 - 21
8:04
Brad Miller missed 18 ft Jumper.
34 - 21
8:03
Jim Jackson Defensive Rebound.
34 - 21
7:52
Yao Ming missed 12 ft Two Point Shot.
34 - 21
7:50
Clarence Weatherspoon Offensive Rebound.
34 - 21
7:37
Yao Ming Bad Pass. Stolen by Peja Stojakovic.
34 - 21
7:31
Anthony Peeler made 16 ft Jumper. Assisted by Doug Christie.
34 - 23
7:05
Jim Jackson made 24 ft Three Point Jumper.
37 - 23
6:46
Peja Stojakovic made 18 ft Jumper. Assisted by Vlade Divac.
37 - 25
6:30
Mark Jackson Bad Pass. Stolen by Vlade Divac.
37 - 25
6:26
Clarence Weatherspoon Shooting Foul
37 - 25
6:26
Chris Webber enters the game for Vlade Divac.
37 - 25
6:26
Doug Christie made Free Throw 1 of 2.
37 - 26
6:26
Cuttino Mobley enters the game for Jim Jackson.
37 - 26
6:26
Maurice Taylor enters the game for Clarence Weatherspoon.
37 - 26
6:26
Doug Christie made Free Throw 2 of 2.
37 - 27
6:07
Mike Bibby enters the game for Doug Christie.
37 - 27
5:50
Chris Webber Bad Pass. Stolen by Mark Jackson.
37 - 27
5:43
Brad Miller Shooting Foul
37 - 27
5:43
Official Timeout.
37 - 27
5:43
Maurice Taylor missed Free Throw 1 of 2.
37 - 27
5:43
Houston Offensive Rebound.
37 - 27
5:43
Maurice Taylor made Free Throw 2 of 2.
38 - 27
5:26
Cuttino Mobley Shooting Foul
38 - 27
5:26
Peja Stojakovic made Free Throw 1 of 3.
38 - 28
5:26
Peja Stojakovic made Free Throw 2 of 3.
38 - 29
5:26
Peja Stojakovic made Free Throw 3 of 3.
38 - 30
5:13
Yao Ming missed 18 ft Jumper.
38 - 30
5:13
Chris Webber Defensive Rebound.
38 - 30
4:58
Mike Bibby made Two Point Shot.
38 - 32
4:41
Cuttino Mobley missed 16 ft Jumper.
38 - 32
4:39
Peja Stojakovic Defensive Rebound.
38 - 32
4:31
Peja Stojakovic made 23 ft Three Point Jumper.
38 - 35
4:18
Houston Full Timeout.
38 - 35
4:18
Jim Jackson enters the game for Eric Piatkowski.
38 - 35
4:18
Steve Francis enters the game for Mark Jackson.
38 - 35
4:09
Yao Ming missed Two Point Shot.
38 - 35
4:07
Yao Ming Offensive Rebound.
38 - 35
4:05
Yao Ming made Two Point Shot.
40 - 35
3:51
Chris Webber missed 18 ft Jumper.
40 - 35
3:49
Jim Jackson Defensive Rebound.
40 - 35
3:38
Cuttino Mobley made 25 ft Three Point Jumper. Assisted by Jim Jackson.
43 - 35
3:18
Anthony Peeler missed Free Throw. Blocked by Yao Ming.
43 - 35
3:13
Steve Francis missed Layup.
43 - 35
3:11
Cuttino Mobley Offensive Rebound.
45 - 35
3:11
Cuttino Mobley made Two Point Shot.
45 - 35
2:57
Chris Webber missed 12 ft Jumper.
45 - 35
2:55
Chris Webber Offensive Rebound.
45 - 35
2:51
Chris Webber missed Layup.
45 - 35
2:50
Sacramento Offensive Rebound.
45 - 35
2:50
Doug Christie enters the game for Anthony Peeler.
45 - 35
2:47
Mike Bibby made Jumper. Assisted by Doug Christie.
45 - 37
2:30
Maurice Taylor missed 19 ft Jumper.
45 - 37
2:29
Yao Ming Offensive Rebound.
45 - 37
2:29
Brad Miller Personal Foul
45 - 37
2:29
Vlade Divac enters the game for Brad Miller.
45 - 37
2:17
Chris Webber Shooting Foul
45 - 37
2:17
Maurice Taylor made Free Throw 1 of 2.
46 - 37
2:17
Maurice Taylor made Free Throw 2 of 2.
47 - 37
2:06
Chris Webber made Two Point Shot. Assisted by Mike Bibby.
47 - 39
1:40
Maurice Taylor made 10 ft Jumper.
49 - 39
1:30
Mike Bibby made 25 ft Three Point Jumper. Assisted by Doug Christie.
49 - 42
1:20
Houston 20 Sec. Timeout.
49 - 42
1:20
Charles Oakley enters the game for Yao Ming.
49 - 42
1:15
Maurice Taylor Offensive Foul
49 - 42
1:15
Maurice Taylor Foul
49 - 42
1:15
Scott Padgett enters the game for Maurice Taylor.
49 - 42
1:15
Anthony Peeler enters the game for Vlade Divac.
49 - 42
1:04
Chris Webber missed 20 ft Jumper.
49 - 42
1:02
Charles Oakley Defensive Rebound.
49 - 42
0:48
Steve Francis made 4 ft Jumper.
51 - 42
0:40
Mike Bibby Bad Pass. Stolen by Jim Jackson.
51 - 42
0:34
Steve Francis missed Layup.
51 - 42
0:33
Jim Jackson Offensive Rebound.
51 - 42
0:32
Jim Jackson missed Layup.
51 - 42
0:31
Chris Webber Defensive Rebound.
51 - 42
0:28
Doug Christie made Layup. Assisted by Chris Webber.
51 - 44
0:07
Jim Jackson missed 7 ft Jumper.
51 - 44
0:05
Chris Webber Defensive Rebound.
51 - 44
0:02
Chris Webber Bad Pass. Stolen by Cuttino Mobley.
51 - 44
0:00
Peja Stojakovic missed 26 ft Three Point Jumper.
51 - 44
0:00
Sacramento Offensive Rebound.
51 - 44
0:00
End of the 2nd Quarter.
51 - 44

time
TEAM
PLAY
SCORE
12:00
Start of the 3rd Quarter.
51 - 44
11:45
Vlade Divac Personal Foul
51 - 44
11:36
Maurice Taylor made 18 ft Jumper.
53 - 44
11:17
Chris Webber Bad Pass. Stolen by Steve Francis.
53 - 44
11:00
Mike Bibby made Layup. Assisted by Vlade Divac.
53 - 46
10:44
Maurice Taylor made 20 ft Jumper. Assisted by Steve Francis.
55 - 46
10:26
Mike Bibby made 20 ft Jumper. Assisted by Chris Webber.
55 - 48
10:10
Yao Ming Lost Ball. Stolen by Vlade Divac.
55 - 48
10:03
Peja Stojakovic made 13 ft Jumper.
55 - 50
9:45
Maurice Taylor made 21 ft Jumper. Assisted by Steve Francis.
57 - 50
9:32
Yao Ming Shooting Foul
57 - 50
9:32
Mike Bibby made Free Throw 1 of 2.
57 - 51
9:32
Mike Bibby made Free Throw 2 of 2.
57 - 52
9:17
Jim Jackson missed Three Point Jumper.
57 - 52
9:15
Chris Webber Defensive Rebound.
57 - 52
9:04
Cuttino Mobley Shooting Foul
57 - 52
9:04
Peja Stojakovic made Free Throw 1 of 2.
57 - 53
9:04
Peja Stojakovic missed Free Throw 2 of 2.
57 - 53
9:03
Maurice Taylor Defensive Rebound.
57 - 53
8:41
Peja Stojakovic made Layup. Assisted by Doug Christie.
57 - 55
8:41
Houston Full Timeout.
57 - 55
8:30
Vlade Divac Personal Foul
57 - 55
8:14
Jim Jackson missed 25 ft Three Point Jumper.
57 - 55
8:12
Vlade Divac Defensive Rebound.
57 - 55
7:48
Vlade Divac made Layup.
57 - 57
7:30
Yao Ming Bad Pass. Stolen by Mike Bibby.
57 - 57
7:24
Peja Stojakovic missed 25 ft Three Point Jumper.
57 - 57
7:22
Steve Francis Defensive Rebound.
57 - 57
7:22
Chris Webber Personal Foul
57 - 57
7:11
Cuttino Mobley made 17 ft Jumper.
59 - 57
6:50
Doug Christie missed 19 ft Jumper.
59 - 57
6:48
Vlade Divac Offensive Rebound.
59 - 57
6:41
Vlade Divac made Dunk. Assisted by Mike Bibby.
59 - 59
6:41
Jim Jackson Shooting Foul
59 - 59
6:41
Vlade Divac missed Free Throw 1 of 1.
59 - 59
6:41
Peja Stojakovic Offensive Rebound.
59 - 59
6:37
Peja Stojakovic made 22 ft Three Point Jumper.
59 - 62
6:16
Cuttino Mobley made 23 ft Three Point Jumper. Assisted by Jim Jackson.
62 - 62
5:45
Jim Jackson missed 16 ft Two Point Shot.
62 - 62
5:43
Houston Defensive Rebound.
62 - 62
5:37
Chris Webber missed 21 ft Jumper.
62 - 62
5:37
Sacramento Offensive Rebound.
62 - 62
5:37
Jim Jackson Loose Ball Foul
62 - 62
5:28
Maurice Taylor Shooting Foul
62 - 62
5:28
Vlade Divac made Free Throw 1 of 2.
62 - 63
5:28
Vlade Divac made Free Throw 2 of 2.
62 - 64
5:16
Steve Francis made Two Point Shot.
64 - 64
5:01
Chris Webber made 4 ft Two Point Shot. Assisted by Mike Bibby.
64 - 66
4:39
Jim Jackson made Three Point Jumper. Assisted by Cuttino Mobley.
67 - 66
4:26
Yao Ming Shooting Foul
67 - 66
4:26
Chris Webber made Free Throw 1 of 2.
67 - 67
4:26
Clarence Weatherspoon enters the game for Yao Ming.
67 - 67
4:26
Chris Webber made Free Throw 2 of 2.
67 - 68
4:11
Maurice Taylor missed 18 ft Jumper.
67 - 68
4:09
Clarence Weatherspoon Offensive Rebound.
67 - 68
4:03
Steve Francis missed 22 ft Jumper.
67 - 68
4:01
Maurice Taylor Offensive Rebound.
67 - 68
3:44
Jim Jackson missed 24 ft Three Point Jumper.
67 - 68
3:43
Doug Christie Defensive Rebound.
67 - 68
3:34
Peja Stojakovic made Three Point Jumper. Assisted by Mike Bibby.
67 - 71
3:15
Cuttino Mobley missed 18 ft Jumper.
67 - 71
3:14
Chris Webber Defensive Rebound.
67 - 71
3:01
Mike Bibby missed 16 ft Jumper.
67 - 71
3:00
Jim Jackson Defensive Rebound.
67 - 71
2:54
Cuttino Mobley missed 23 ft Three Point Jumper.
67 - 71
2:53
Steve Francis Offensive Rebound.
67 - 71
2:32
Clarence Weatherspoon missed 13 ft Jumper.
67 - 71
2:31
Chris Webber Defensive Rebound.
67 - 71
2:18
Mike Bibby missed 24 ft Three Point Jumper.
67 - 71
2:16
Cuttino Mobley Defensive Rebound.
67 - 71
2:02
Jim Jackson Bad Pass
67 - 71
2:02
Sacramento Full Timeout.
67 - 71
2:02
Brad Miller enters the game for Vlade Divac.
67 - 71
1:52
Chris Webber missed 19 ft Jumper.
67 - 71
1:50
Maurice Taylor Defensive Rebound.
67 - 71
1:27
Steve Francis missed 18 ft Jumper.
67 - 71
1:25
Chris Webber Defensive Rebound.
67 - 71
1:15
Peja Stojakovic missed 24 ft Three Point Jumper.
67 - 71
1:13
Cuttino Mobley Defensive Rebound.
67 - 71
0:57
Maurice Taylor made 9 ft Jumper.
69 - 71
0:51
Mike Bibby Bad Pass. Stolen by Jim Jackson.
69 - 71
0:48
Steve Francis made Layup. Assisted by Jim Jackson.
71 - 71
0:35
Chris Webber missed 16 ft Jumper.
71 - 71
0:33
Jim Jackson Defensive Rebound.
71 - 71
0:10
Cuttino Mobley made Jumper. Assisted by Jim Jackson.
73 - 71
0:00
Peja Stojakovic missed 26 ft Three Point Jumper.
73 - 71
0:00
Sacramento Offensive Rebound.
73 - 71
0:00
End of the 3rd Quarter.
73 - 71

time
TEAM
PLAY
SCORE
12:00
Start of the 4th Quarter.
73 - 71
11:41
Brad Miller Lost Ball. Stolen by Clarence Weatherspoon.
73 - 71
11:37
Steve Francis missed Layup.
73 - 71
11:36
Doug Christie Defensive Rebound.
73 - 71
11:26
Brad Miller made Dunk. Assisted by Doug Christie.
73 - 73
10:59
Clarence Weatherspoon made 16 ft Jumper. Assisted by Steve Francis.
75 - 73
10:40
Brad Miller Bad Pass. Stolen by Jim Jackson.
75 - 73
10:37
Cuttino Mobley made Two Point Shot. Assisted by Jim Jackson.
77 - 73
10:17
Doug Christie missed 25 ft Three Point Jumper.
77 - 73
10:17
Sacramento Defensive Rebound.
77 - 73
10:17
Yao Ming enters the game for Maurice Taylor.
77 - 73
10:00
Cuttino Mobley missed 21 ft Jumper.
77 - 73
10:00
Peja Stojakovic Defensive Rebound.
77 - 73
9:48
Steve Francis Personal Foul
77 - 73
9:48
Sacramento Full Timeout.
77 - 73
9:48
Vlade Divac enters the game for Brad Miller.
77 - 73
9:41
Doug Christie Bad Pass. Stolen by Steve Francis.
77 - 73
9:37
Steve Francis made Two Point Shot.
79 - 73
9:12
Clarence Weatherspoon Shooting Foul
79 - 73
9:12
Mike Bibby enters the game for Doug Christie.
79 - 73
9:12
Vlade Divac made Free Throw 1 of 2.
79 - 74
9:12
Vlade Divac made Free Throw 2 of 2.
79 - 75
8:56
Cuttino Mobley missed 15 ft Jumper.
79 - 75
8:56
Chris Webber Defensive Rebound.
79 - 75
8:45
Anthony Peeler made 23 ft Three Point Jumper. Assisted by Chris Webber.
79 - 78
8:26
Cuttino Mobley Bad Pass. Stolen by Peja Stojakovic.
79 - 78
8:23
Peja Stojakovic made Layup.
79 - 80
8:23
Defensive Goaltending
79 - 80
8:10
Yao Ming made Layup.
81 - 80
8:10
Vlade Divac Shooting Foul
81 - 80
8:10
Eric Piatkowski enters the game for Cuttino Mobley.
81 - 80
8:10
Yao Ming made Free Throw 1 of 1.
82 - 80
7:56
Vlade Divac missed 10 ft Jumper.
82 - 80
7:54
Yao Ming Defensive Rebound.
82 - 80
7:54
Vlade Divac Technical Foul
82 - 80
7:54
Jim Jackson made Technical Free Throw.
83 - 80
7:47
Vlade Divac Personal Foul
83 - 80
7:37
Steve Francis missed 22 ft Jumper.
83 - 80
7:35
Clarence Weatherspoon Offensive Rebound.
83 - 80
7:31
Steve Francis missed 27 ft Three Point Jumper.
83 - 80
7:30
Vlade Divac Defensive Rebound.
83 - 80
7:20
Chris Webber made 19 ft Jumper. Assisted by Mike Bibby.
83 - 82
6:56
Jim Jackson missed 15 ft Two Point Shot.
83 - 82
6:54
Houston Defensive Rebound.
83 - 82
6:54
Yao Ming Loose Ball Foul
83 - 82
6:54
Maurice Taylor enters the game for Yao Ming.
83 - 82
6:41
Chris Webber missed Two Point Shot.
83 - 82
6:41
Steve Francis Defensive Rebound.
83 - 82
6:37
Chris Webber Shooting Foul
83 - 82
6:37
Steve Francis made Free Throw 1 of 2.
84 - 82
6:37
Cuttino Mobley enters the game for Jim Jackson.
84 - 82
6:37
Steve Francis made Free Throw 2 of 2.
85 - 82
6:18
Chris Webber Bad Pass. Stolen by Cuttino Mobley.
85 - 82
5:56
Cuttino Mobley missed 25 ft Three Point Jumper.
85 - 82
5:56
Mike Bibby Defensive Rebound.
85 - 82
5:46
Cuttino Mobley Shooting Foul
85 - 82
5:46
Official Timeout.
85 - 82
5:46
Vlade Divac missed Free Throw 1 of 2.
85 - 82
5:46
Sacramento Offensive Rebound.
85 - 82
5:46
Vlade Divac made Free Throw 2 of 2.
85 - 83
5:28
Steve Francis missed 18 ft Jumper.
85 - 83
5:26
Chris Webber Defensive Rebound.
85 - 83
5:09
Peja Stojakovic made 24 ft Three Point Jumper. Assisted by Vlade Divac.
85 - 86
4:46
Maurice Taylor missed 20 ft Jumper.
85 - 86
4:43
Chris Webber Defensive Rebound.
85 - 86
4:26
Anthony Peeler made Three Point Jumper. Assisted by Vlade Divac.
85 - 89
4:24
Houston Full Timeout.
85 - 89
4:24
Yao Ming enters the game for Clarence Weatherspoon.
85 - 89
4:24
Jim Jackson enters the game for Eric Piatkowski.
85 - 89
4:13
Cuttino Mobley missed 11 ft Jumper.
85 - 89
4:11
Peja Stojakovic Defensive Rebound.
85 - 89
3:59
Chris Webber missed 19 ft Jumper.
85 - 89
3:57
Yao Ming Defensive Rebound.
85 - 89
3:48
Jim Jackson made Three Point Jumper. Assisted by Cuttino Mobley.
88 - 89
3:32
Mike Bibby missed Two Point Shot. Blocked by Maurice Taylor.
88 - 89
3:30
Cuttino Mobley Defensive Rebound.
88 - 89
3:26
Delay of Game
88 - 89
3:11
Mike Bibby missed 19 ft Jumper.
88 - 89
3:09
Anthony Peeler Offensive Rebound.
88 - 89
2:50
Chris Webber missed 16 ft Jumper.
88 - 89
2:49
Jim Jackson Defensive Rebound.
88 - 89
2:35
Yao Ming missed 6 ft Two Point Shot.
88 - 89
2:33
Peja Stojakovic Defensive Rebound.
88 - 89
2:13
Yao Ming Personal Foul
88 - 89
2:13
Clarence Weatherspoon enters the game for Yao Ming.
88 - 89
2:13
Chris Webber missed Free Throw 1 of 2.
88 - 89
2:13
Sacramento Offensive Rebound.
88 - 89
2:13
Chris Webber made Free Throw 2 of 2.
88 - 90
1:58
Steve Francis missed 19 ft Jumper.
88 - 90
1:55
Chris Webber Defensive Rebound.
88 - 90
1:46
Vlade Divac made Layup. Assisted by Chris Webber.
88 - 92
1:46
Houston Full Timeout.
88 - 92
1:31
Maurice Taylor Bad Pass. Stolen by Chris Webber.
88 - 92
1:15
Peja Stojakovic made 23 ft Three Point Jumper. Assisted by Anthony Peeler.
88 - 95
1:15
Houston 20 Sec. Timeout.
88 - 95
1:05
Maurice Taylor made 17 ft Jumper. Assisted by Jim Jackson.
90 - 95
0:44
Chris Webber Bad Pass
90 - 95
0:44
null
90 - 95
0:41
Vlade Divac made 26 ft Three Point Jumper. Assisted by Anthony Peeler.
90 - 98
0:41
Scott Padgett enters the game for Clarence Weatherspoon.
90 - 98
0:41
Doug Christie enters the game for Vlade Divac.
90 - 98
0:41
Houston Full Timeout.
90 - 98
0:37
Maurice Taylor made Dunk. Assisted by Steve Francis.
92 - 98
0:16
Sacramento Full Timeout.
92 - 98
0:12
Anthony Peeler missed 22 ft Jumper.
92 - 98
0:11
Scott Padgett Defensive Rebound.
92 - 98
0:04
Steve Francis missed 24 ft Three Point Jumper.
92 - 98
0:02
Anthony Peeler Defensive Rebound.
92 - 98
0:02
Maurice Taylor Personal Foul
92 - 98
0:02
Mike Bibby made Free Throw 1 of 2.
92 - 99
0:02
Mike Bibby made Free Throw 2 of 2.
92 - 100
0:00
Scott Padgett missed 22 ft Jumper.
92 - 100
0:00
Houston Offensive Rebound.
92 - 100
0:00
End of the 4th Quarter.
92 - 100
0:00
End Game
92 - 100
0:00
End Game
92 - 100
0:00
End Game
92 - 100
Carmelo Anthony said he's already talking with free agent Kevin Durant about possibly joining him with the Knicks.

With a little help from nine-time Grammy winner Justin Timberlake, director Craig Brewer shows Mike Conley why he should stay in Memphis.

Former Cavaliers and Lakers coach Mike Brown will replace Luke Walton as Steve Kerr's top assistant with the Warriors, sources told ESPN's Marc Stein.
Regular Season Series
SAC wins series 4-0
2015-2016 Pacific Standings