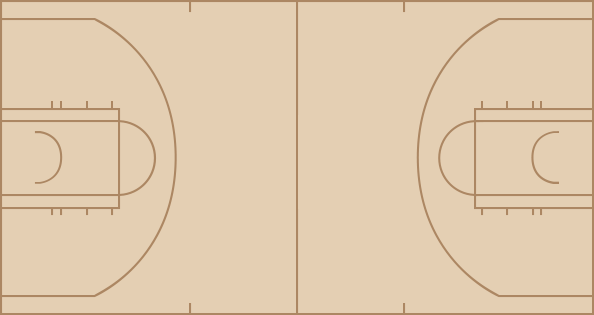 Spurs
time
TEAM
PLAY
SCORE
12:00
Start of the 1st Quarter.
0 - 0
12:00
Jumpball. Tim Duncan vs. Shaquille O'Neal. Kobe Bryant gains possession.
0 - 0
11:42
Karl Malone missed 13 ft Jumper.
0 - 0
11:41
Shaquille O'Neal Offensive Rebound.
0 - 0
11:40
Shaquille O'Neal missed Layup. Blocked by Tim Duncan.
0 - 0
11:37
Shaquille O'Neal Offensive Rebound.
0 - 2
11:37
Shaquille O'Neal made Layup.
0 - 2
11:14
Tim Duncan missed 9 ft Jumper.
0 - 2
11:11
Shaquille O'Neal Defensive Rebound.
0 - 2
11:07
Gary Payton missed 8 ft Jumper. Blocked by Tony Parker.
0 - 2
11:04
Tim Duncan Defensive Rebound.
0 - 2
10:52
Tim Duncan made 12 ft Two Point Shot.
2 - 2
10:30
Karl Malone missed 17 ft Jumper.
2 - 2
10:29
Hedo Turkoglu Defensive Rebound.
2 - 2
10:21
Tim Duncan Lost Ball. Stolen by Karl Malone.
2 - 2
10:02
Gary Payton missed Three Point Jumper.
2 - 2
9:57
Tim Duncan Defensive Rebound.
2 - 2
9:48
Tony Parker missed 7 ft Jumper.
2 - 2
9:48
Rasho Nesterovic Offensive Rebound.
2 - 2
9:48
Rasho Nesterovic missed Tip Shot.
2 - 2
9:47
Rasho Nesterovic Offensive Rebound.
2 - 2
9:47
Rasho Nesterovic missed Tip Shot.
2 - 2
9:45
Kobe Bryant Defensive Rebound.
2 - 2
9:41
Gary Payton made Two Point Shot. Assisted by Kobe Bryant.
2 - 4
9:19
Bruce Bowen missed 24 ft Three Point Jumper.
2 - 4
9:18
Kobe Bryant Defensive Rebound.
2 - 4
8:59
Rasho Nesterovic Shooting Foul
2 - 4
8:59
Kevin Willis enters the game for Rasho Nesterovic.
2 - 4
8:59
Karl Malone missed Free Throw 1 of 2.
2 - 4
8:59
Los Angeles Offensive Rebound.
2 - 4
8:59
Karl Malone made Free Throw 2 of 2.
2 - 5
8:47
Tony Parker Bad Pass
2 - 5
8:27
Karl Malone missed 17 ft Jumper.
2 - 5
8:26
Hedo Turkoglu Defensive Rebound.
2 - 5
8:11
Hedo Turkoglu missed 17 ft Jumper.
2 - 5
8:07
Shaquille O'Neal Defensive Rebound.
2 - 5
8:03
Tim Duncan Shooting Foul
2 - 5
8:03
Shaquille O'Neal missed Free Throw 1 of 2.
2 - 5
8:03
Los Angeles Offensive Rebound.
2 - 5
8:03
Shaquille O'Neal missed Free Throw 2 of 2.
2 - 5
8:02
Hedo Turkoglu Defensive Rebound.
2 - 5
7:41
Tony Parker missed 25 ft Three Point Jumper.
2 - 5
7:39
San Antonio Defensive Rebound.
2 - 5
7:39
Kevin Willis Loose Ball Foul
2 - 5
7:24
Kobe Bryant missed Layup.
2 - 5
7:24
Los Angeles Offensive Rebound.
2 - 5
7:24
Hedo Turkoglu Loose Ball Foul
2 - 5
7:24
Rasho Nesterovic enters the game for Kevin Willis.
2 - 5
7:13
Gary Payton missed 17 ft Jumper.
2 - 5
7:11
Rasho Nesterovic Defensive Rebound.
2 - 5
6:58
Bruce Bowen missed 21 ft Jumper.
2 - 5
6:58
San Antonio Defensive Rebound.
2 - 5
6:58
Tim Duncan Loose Ball Foul
2 - 5
6:58
Manu Ginobili enters the game for Hedo Turkoglu.
2 - 5
6:58
Karl Malone made Free Throw 1 of 2.
2 - 6
6:58
Karl Malone missed Free Throw 2 of 2.
2 - 6
6:56
Tim Duncan Defensive Rebound.
2 - 6
6:35
Tim Duncan made 11 ft Two Point Shot. Assisted by Manu Ginobili.
4 - 6
6:07
Devean George made 25 ft Three Point Jumper. Assisted by Gary Payton.
4 - 9
5:48
Rasho Nesterovic made 19 ft Jumper. Assisted by Manu Ginobili.
6 - 9
5:28
Shaquille O'Neal made Layup.
6 - 11
5:28
Rasho Nesterovic Shooting Foul
6 - 11
5:28
Los Angeles Full Timeout.
6 - 11
5:28
Robert Horry enters the game for Tim Duncan.
6 - 11
5:28
Shaquille O'Neal made Free Throw 1 of 1.
6 - 12
5:05
Manu Ginobili missed 25 ft Three Point Jumper.
6 - 12
5:03
San Antonio Offensive Rebound.
6 - 12
4:56
Tony Parker made 12 ft Jumper. Assisted by Manu Ginobili.
8 - 12
4:39
Kobe Bryant made 10 ft Two Point Shot. Assisted by Gary Payton.
8 - 14
4:28
Tony Parker Lost Ball. Stolen by Karl Malone.
8 - 14
4:24
Kobe Bryant made Two Point Shot. Assisted by Gary Payton.
8 - 16
4:20
San Antonio Full Timeout.
8 - 16
4:20
Devin Brown enters the game for Rasho Nesterovic.
8 - 16
4:20
Tim Duncan enters the game for Bruce Bowen.
8 - 16
4:20
Derek Fisher enters the game for Devean George.
8 - 16
4:00
Tim Duncan missed 12 ft Jumper.
8 - 16
3:58
Robert Horry Offensive Rebound.
8 - 16
3:45
Devin Brown made 24 ft Three Point Jumper. Assisted by Robert Horry.
11 - 16
3:25
Shaquille O'Neal missed 8 ft Jumper.
11 - 16
3:21
Robert Horry Defensive Rebound.
11 - 16
3:15
Tony Parker missed 8 ft Jumper.
11 - 16
3:14
Shaquille O'Neal Defensive Rebound.
11 - 16
3:02
Derek Fisher made 15 ft Jumper. Assisted by Kobe Bryant.
11 - 18
2:45
Tim Duncan made Two Point Shot.
13 - 18
2:25
Kobe Bryant Bad Pass. Stolen by Manu Ginobili.
13 - 18
2:21
Manu Ginobili Double Dribble
13 - 18
2:01
Kobe Bryant missed 24 ft Three Point Jumper.
13 - 18
2:00
Manu Ginobili Defensive Rebound.
13 - 18
1:49
Tim Duncan made Two Point Shot. Assisted by Tony Parker.
15 - 18
1:49
Shaquille O'Neal Shooting Foul
15 - 18
1:49
Devean George enters the game for Karl Malone.
15 - 18
1:49
Hedo Turkoglu enters the game for Tony Parker.
15 - 18
1:49
Tim Duncan made Free Throw 1 of 1.
16 - 18
1:30
Kobe Bryant made Two Point Shot.
16 - 20
1:09
Kobe Bryant Personal Foul
16 - 20
1:09
Kareem Rush enters the game for Gary Payton.
16 - 20
1:09
Robert Horry made Free Throw 1 of 2.
17 - 20
1:09
Robert Horry made Free Throw 2 of 2.
18 - 20
0:53
Shaquille O'Neal Offensive Foul
18 - 20
0:53
Shaquille O'Neal Foul
18 - 20
0:53
Karl Malone enters the game for Shaquille O'Neal.
18 - 20
0:40
Robert Horry made 26 ft Three Point Jumper. Assisted by Manu Ginobili.
21 - 20
0:26
Devean George made 24 ft Three Point Jumper. Assisted by Kobe Bryant.
21 - 23
0:07
Hedo Turkoglu missed 23 ft Three Point Jumper.
21 - 23
0:04
Karl Malone Defensive Rebound.
21 - 23
0:00
Derek Fisher missed 25 ft Three Point Jumper.
21 - 23
0:00
Los Angeles Offensive Rebound.
21 - 23
0:00
End of the 1st Quarter.
21 - 23

time
TEAM
PLAY
SCORE
12:00
Start of the 2nd Quarter.
21 - 23
11:48
Manu Ginobili missed 26 ft Three Point Jumper.
21 - 23
11:45
Hedo Turkoglu Offensive Rebound.
21 - 23
11:41
Hedo Turkoglu missed 19 ft Jumper.
21 - 23
11:41
San Antonio Defensive Rebound.
21 - 23
11:29
Karl Malone Offensive Foul
21 - 23
11:29
Karl Malone Foul
21 - 23
11:21
Derek Fisher Personal Foul
21 - 23
11:15
Hedo Turkoglu Bad Pass
21 - 23
11:00
Stanislav Medvedenko missed 18 ft Jumper.
21 - 23
10:57
Stanislav Medvedenko Offensive Rebound.
21 - 23
10:49
Karl Malone missed 11 ft Two Point Shot.
21 - 23
10:48
Devin Brown Defensive Rebound.
21 - 23
10:33
Manu Ginobili made Two Point Shot.
23 - 23
10:08
Derek Fisher missed 23 ft Three Point Jumper.
23 - 23
10:06
Tim Duncan Defensive Rebound.
23 - 23
9:56
Tim Duncan made 6 ft Two Point Shot. Assisted by Devin Brown.
25 - 23
9:55
Los Angeles Full Timeout.
25 - 23
9:55
Tony Parker enters the game for Hedo Turkoglu.
25 - 23
9:55
Bruce Bowen enters the game for Manu Ginobili.
25 - 23
9:55
Shaquille O'Neal enters the game for Karl Malone.
25 - 23
9:55
Devean George enters the game for Kobe Bryant.
25 - 23
9:55
Gary Payton enters the game for Kareem Rush.
25 - 23
9:34
Stanislav Medvedenko missed Two Point Shot.
25 - 23
9:33
Los Angeles Defensive Rebound.
25 - 23
9:33
Rasho Nesterovic enters the game for Tim Duncan.
25 - 23
9:17
Devin Brown made 18 ft Jumper.
27 - 23
8:59
Devean George missed 25 ft Three Point Jumper.
27 - 23
8:56
Bruce Bowen Defensive Rebound.
27 - 23
8:44
Rasho Nesterovic made Jumper. Assisted by Devin Brown.
29 - 23
8:23
Derek Fisher made 6 ft Two Point Shot. Assisted by Gary Payton.
29 - 25
8:08
Derek Fisher Shooting Foul
29 - 25
8:08
Devin Brown missed Free Throw 1 of 2.
29 - 25
8:08
San Antonio Offensive Rebound.
29 - 25
8:08
Devin Brown made Free Throw 2 of 2.
30 - 25
7:54
Devin Brown Personal Foul
30 - 25
7:54
Tim Duncan enters the game for Robert Horry.
30 - 25
7:45
Gary Payton missed Layup.
30 - 25
7:43
Shaquille O'Neal Offensive Rebound.
30 - 25
7:43
Shaquille O'Neal missed Tip Shot.
30 - 25
7:41
Shaquille O'Neal Offensive Rebound.
30 - 27
7:41
Shaquille O'Neal made Slam Dunk.
30 - 27
7:24
Tim Duncan missed 11 ft Two Point Shot.
30 - 27
7:20
Shaquille O'Neal Defensive Rebound.
30 - 27
7:01
Gary Payton missed 16 ft Jumper.
30 - 27
7:00
Devin Brown Defensive Rebound.
30 - 27
6:37
Devin Brown missed 19 ft Jumper.
30 - 27
6:37
San Antonio Offensive Rebound.
30 - 27
6:37
24 second
30 - 27
6:18
Shaquille O'Neal made 10 ft Two Point Shot. Assisted by Derek Fisher.
30 - 29
5:54
Rasho Nesterovic Bad Pass
30 - 29
5:54
Official Timeout.
30 - 29
5:54
Manu Ginobili enters the game for Devin Brown.
30 - 29
5:54
Kobe Bryant enters the game for Derek Fisher.
30 - 29
5:54
Karl Malone enters the game for Stanislav Medvedenko.
30 - 29
5:39
Shaquille O'Neal missed Layup.
30 - 29
5:39
Manu Ginobili Defensive Rebound.
30 - 29
5:22
Rasho Nesterovic missed 14 ft Jumper.
30 - 29
5:20
Tim Duncan Offensive Rebound.
30 - 29
5:15
Tony Parker made 23 ft Jumper. Assisted by Tim Duncan.
32 - 29
4:50
Kobe Bryant made Layup.
32 - 31
4:33
Manu Ginobili missed 9 ft Jumper.
32 - 31
4:31
Tim Duncan Offensive Rebound.
32 - 31
4:18
Tony Parker missed 26 ft Three Point Jumper.
32 - 31
4:16
Kobe Bryant Defensive Rebound.
32 - 31
4:07
Kobe Bryant missed 22 ft Jumper.
32 - 31
4:05
Los Angeles Offensive Rebound.
32 - 31
3:59
Manu Ginobili Personal Foul
32 - 31
3:48
Gary Payton made 25 ft Three Point Jumper. Assisted by Kobe Bryant.
32 - 34
3:12
Shaquille O'Neal missed Layup.
32 - 34
3:11
Tim Duncan Defensive Rebound.
32 - 34
3:03
Tony Parker made 20 ft Jumper.
34 - 34
2:47
Shaquille O'Neal Bad Pass
34 - 34
2:47
San Antonio Full Timeout.
34 - 34
2:47
Devin Brown enters the game for Bruce Bowen.
34 - 34
2:42
Tony Parker Lost Ball. Stolen by Gary Payton.
34 - 34
2:36
Karl Malone made Layup. Assisted by Gary Payton.
34 - 36
2:15
Rasho Nesterovic missed 23 ft Three Point Jumper.
34 - 36
2:12
Tim Duncan Offensive Rebound.
34 - 36
2:01
Tim Duncan missed 4 ft Hook Shot.
34 - 36
2:00
Gary Payton Defensive Rebound.
34 - 36
1:53
Manu Ginobili Personal Foul
34 - 36
1:42
Karl Malone made Layup. Assisted by Kobe Bryant.
34 - 38
1:23
Tony Parker made 6 ft Two Point Shot.
36 - 38
1:23
Karl Malone Away From Ball Foul
36 - 38
1:23
Karl Malone Double Technical Foul. Tim Duncan gains possession.
36 - 38
1:23
Bruce Bowen enters the game for Manu Ginobili.
36 - 38
1:23
Tim Duncan made Free Throw 1 of 1.
37 - 38
1:15
Robert Horry enters the game for Tim Duncan.
37 - 38
1:15
Tony Parker Personal Foul
37 - 38
1:15
Gary Payton made Free Throw 1 of 2.
37 - 39
1:15
Derek Fisher enters the game for Devean George.
37 - 39
1:15
Gary Payton missed Free Throw 2 of 2.
37 - 39
1:14
Devin Brown Defensive Rebound.
37 - 39
0:52
Tony Parker missed 17 ft Jumper.
37 - 39
0:50
Shaquille O'Neal Defensive Rebound.
37 - 39
0:48
Shaquille O'Neal Bad Pass. Stolen by Robert Horry.
37 - 39
0:42
Tony Parker missed 20 ft Jumper.
37 - 39
0:41
Robert Horry Offensive Rebound.
39 - 39
0:41
Robert Horry made Layup.
39 - 39
0:31
Kobe Bryant missed 26 ft Three Point Jumper.
39 - 39
0:31
Los Angeles Defensive Rebound.
39 - 39
0:31
Tim Duncan enters the game for Rasho Nesterovic.
39 - 39
0:12
Devin Brown Bad Pass. Stolen by Karl Malone.
39 - 39
0:00
Kobe Bryant missed 26 ft Three Point Jumper.
39 - 39
0:00
Robert Horry Defensive Rebound.
39 - 39
0:00
End of the 2nd Quarter.
39 - 39

time
TEAM
PLAY
SCORE
12:00
Start of the 3rd Quarter.
39 - 39
11:34
Tim Duncan missed 12 ft Jumper.
39 - 39
11:33
Shaquille O'Neal Defensive Rebound.
39 - 39
11:15
Gary Payton missed 8 ft Jumper.
39 - 39
11:12
Tim Duncan Defensive Rebound.
39 - 39
10:56
Manu Ginobili made Two Point Shot.
41 - 39
10:37
Gary Payton made 19 ft Jumper. Assisted by Shaquille O'Neal.
41 - 41
10:15
Tim Duncan missed 8 ft Jumper.
41 - 41
10:14
Shaquille O'Neal Defensive Rebound.
41 - 41
10:03
Gary Payton made 26 ft Three Point Jumper. Assisted by Kobe Bryant.
41 - 44
9:45
Devean George Personal Foul
41 - 44
9:33
Tony Parker missed 20 ft Jumper.
41 - 44
9:30
Devean George Defensive Rebound.
41 - 44
9:15
Devean George Bad Pass
41 - 44
9:15
Shaquille O'Neal Loose Ball Foul
41 - 44
8:56
Bruce Bowen missed 24 ft Three Point Jumper.
41 - 44
8:52
Karl Malone Defensive Rebound.
41 - 44
8:44
Rasho Nesterovic Personal Foul
41 - 44
8:44
Kevin Willis enters the game for Rasho Nesterovic.
41 - 44
8:29
Kobe Bryant missed 14 ft Jumper.
41 - 44
8:26
Manu Ginobili Defensive Rebound.
41 - 44
8:14
Kevin Willis missed 6 ft Hook Shot.
41 - 44
8:11
Devean George Defensive Rebound.
41 - 44
7:54
Kobe Bryant Bad Pass. Stolen by Tim Duncan.
41 - 44
7:50
Kicked Ball
41 - 44
7:41
Tony Parker Lost Ball. Stolen by Kobe Bryant.
41 - 44
7:41
Los Angeles Full Timeout.
41 - 44
7:41
Gary Payton Technical Foul
41 - 44
7:41
Manu Ginobili made Technical Free Throw.
42 - 44
7:20
Gary Payton missed 25 ft Three Point Jumper.
42 - 44
7:20
Manu Ginobili Defensive Rebound.
42 - 44
7:00
Manu Ginobili made 12 ft Two Point Shot.
44 - 44
6:35
Kobe Bryant missed 15 ft Jumper.
44 - 44
6:33
Shaquille O'Neal Offensive Rebound.
44 - 46
6:33
Shaquille O'Neal made Slam Dunk.
44 - 46
6:07
Kevin Willis missed 17 ft Jumper.
44 - 46
6:07
San Antonio Offensive Rebound.
44 - 46
6:05
Kareem Rush enters the game for Devean George.
44 - 46
6:05
Robert Horry enters the game for Kevin Willis.
44 - 46
6:03
Kareem Rush Personal Foul
44 - 46
5:54
Manu Ginobili missed Jumper.
44 - 46
5:54
Shaquille O'Neal Defensive Rebound.
44 - 46
5:35
Kobe Bryant made Two Point Shot.
44 - 48
5:15
Tim Duncan missed 19 ft Jumper.
44 - 48
5:13
Shaquille O'Neal Defensive Rebound.
44 - 48
5:11
Shaquille O'Neal Bad Pass. Stolen by Robert Horry.
44 - 48
5:07
Tony Parker missed 25 ft Three Point Jumper.
44 - 48
5:03
Shaquille O'Neal Defensive Rebound.
44 - 48
4:48
Karl Malone Lost Ball. Stolen by Tim Duncan.
44 - 48
4:48
Gary Payton Personal Foul
44 - 48
4:48
Hedo Turkoglu enters the game for Manu Ginobili.
44 - 48
4:48
Stanislav Medvedenko enters the game for Karl Malone.
44 - 48
4:31
Bruce Bowen missed 15 ft Jumper.
44 - 48
4:28
Shaquille O'Neal Defensive Rebound.
44 - 48
4:15
Kobe Bryant made 17 ft Jumper. Assisted by Shaquille O'Neal.
44 - 50
4:03
Tony Parker missed Layup.
44 - 50
4:03
Bruce Bowen Offensive Rebound.
44 - 50
4:03
Bruce Bowen missed Tip Shot.
44 - 50
4:01
Kobe Bryant Defensive Rebound.
44 - 50
3:55
Gary Payton missed 24 ft Three Point Jumper.
44 - 50
3:54
Los Angeles Defensive Rebound.
44 - 50
3:54
San Antonio Full Timeout.
44 - 50
3:54
Devin Brown enters the game for Bruce Bowen.
44 - 50
3:44
Tony Parker missed 20 ft Jumper.
44 - 50
3:42
Devin Brown Offensive Rebound.
44 - 50
3:40
Devin Brown missed Layup. Blocked by Shaquille O'Neal.
44 - 50
3:38
Tony Parker Offensive Rebound.
44 - 50
3:21
Tony Parker Bad Pass
44 - 50
3:02
Kareem Rush missed 24 ft Three Point Jumper.
44 - 50
3:01
Los Angeles Defensive Rebound.
44 - 50
2:51
Devin Brown made Layup. Assisted by Robert Horry.
46 - 50
2:51
Kareem Rush Shooting Foul
46 - 50
2:51
Manu Ginobili enters the game for Tony Parker.
46 - 50
2:51
Derek Fisher enters the game for Kareem Rush.
46 - 50
2:51
Devin Brown made Free Throw 1 of 1.
47 - 50
2:33
Tim Duncan Shooting Foul
47 - 50
2:33
Shaquille O'Neal missed Free Throw 1 of 2.
47 - 50
2:33
Los Angeles Offensive Rebound.
47 - 50
2:33
Shaquille O'Neal made Free Throw 2 of 2.
47 - 51
2:19
Hedo Turkoglu missed 23 ft Three Point Jumper.
47 - 51
2:16
Stanislav Medvedenko Defensive Rebound.
47 - 51
2:14
Kobe Bryant Bad Pass
47 - 51
1:58
Manu Ginobili missed 23 ft Three Point Jumper.
47 - 51
1:57
San Antonio Offensive Rebound.
47 - 51
1:57
Gary Payton Personal Foul
47 - 51
1:57
Tim Duncan made Free Throw 1 of 2.
48 - 51
1:57
Kareem Rush enters the game for Gary Payton.
48 - 51
1:57
Lane Violation
48 - 51
1:57
Tim Duncan made Free Throw 2 of 2.
49 - 51
1:44
Devin Brown Personal Foul
49 - 51
1:37
Kobe Bryant made 21 ft Jumper.
49 - 53
1:20
Devin Brown missed Layup. Blocked by Shaquille O'Neal.
49 - 53
1:17
Kobe Bryant Defensive Rebound.
49 - 53
1:10
Kareem Rush made 25 ft Three Point Jumper. Assisted by Kobe Bryant.
49 - 56
0:58
Stanislav Medvedenko Personal Foul
49 - 56
0:58
Manu Ginobili made Free Throw 1 of 2.
50 - 56
0:58
Karl Malone enters the game for Shaquille O'Neal.
50 - 56
0:58
Manu Ginobili made Free Throw 2 of 2.
51 - 56
0:41
Kobe Bryant missed 9 ft Jumper.
51 - 56
0:39
Hedo Turkoglu Defensive Rebound.
51 - 56
0:32
Stanislav Medvedenko Shooting Foul
51 - 56
0:32
Robert Horry made Free Throw 1 of 2.
52 - 56
0:32
Malik Rose enters the game for Tim Duncan.
52 - 56
0:32
Robert Horry missed Free Throw 2 of 2.
52 - 56
0:32
Malik Rose Offensive Rebound.
52 - 56
0:26
Robert Horry missed 26 ft Three Point Jumper.
52 - 56
0:24
Malik Rose Offensive Rebound.
52 - 56
0:01
Manu Ginobili missed 25 ft Three Point Jumper.
52 - 56
0:00
Malik Rose Offensive Rebound.
52 - 56
0:00
Malik Rose missed Layup.
52 - 56
0:00
Malik Rose Offensive Rebound.
52 - 56
0:00
End of the 3rd Quarter.
52 - 56

time
TEAM
PLAY
SCORE
12:00
Start of the 4th Quarter.
52 - 56
11:47
Robert Horry Shooting Foul
52 - 56
11:47
Karl Malone made Free Throw 1 of 2.
52 - 57
11:47
Karl Malone missed Free Throw 2 of 2.
52 - 57
11:45
Hedo Turkoglu Defensive Rebound.
52 - 57
11:26
Devin Brown made 24 ft Three Point Jumper. Assisted by Tim Duncan.
55 - 57
11:07
Kobe Bryant Bad Pass. Stolen by Robert Horry.
55 - 57
11:00
Manu Ginobili missed 24 ft Three Point Jumper.
55 - 57
10:59
San Antonio Offensive Rebound.
55 - 57
10:59
Tony Parker enters the game for Manu Ginobili.
55 - 57
10:59
Gary Payton enters the game for Kareem Rush.
55 - 57
10:52
Devin Brown made Two Point Shot.
57 - 57
10:52
Derek Fisher Shooting Foul
57 - 57
10:52
Rasho Nesterovic enters the game for Robert Horry.
57 - 57
10:52
Devin Brown made Free Throw 1 of 1.
58 - 57
10:38
Tim Duncan Shooting Foul
58 - 57
10:38
Shaquille O'Neal missed Free Throw 1 of 2.
58 - 57
10:38
Los Angeles Offensive Rebound.
58 - 57
10:38
Shaquille O'Neal missed Free Throw 2 of 2.
58 - 57
10:37
Hedo Turkoglu Defensive Rebound.
58 - 57
10:21
Tim Duncan missed 12 ft Two Point Shot.
58 - 57
10:18
Kobe Bryant Defensive Rebound.
58 - 57
10:11
Rasho Nesterovic Shooting Foul
58 - 57
10:11
Kobe Bryant made Free Throw 1 of 2.
58 - 58
10:11
Kobe Bryant made Free Throw 2 of 2.
58 - 59
9:52
Devin Brown missed Layup. Blocked by Shaquille O'Neal.
58 - 59
9:51
Rasho Nesterovic Offensive Rebound.
58 - 59
9:51
Rasho Nesterovic missed 5 ft Jumper. Blocked by Shaquille O'Neal.
58 - 59
9:51
San Antonio Offensive Rebound.
58 - 59
9:40
Karl Malone Personal Foul
58 - 59
9:40
Manu Ginobili enters the game for Hedo Turkoglu.
58 - 59
9:32
Devin Brown missed 21 ft Jumper.
58 - 59
9:30
Gary Payton Defensive Rebound.
58 - 59
9:10
Derek Fisher made 24 ft Three Point Jumper. Assisted by Gary Payton.
58 - 62
8:55
Karl Malone Shooting Foul
58 - 62
8:55
Official Timeout.
58 - 62
8:55
Tim Duncan missed Free Throw 1 of 2.
58 - 62
8:55
San Antonio Offensive Rebound.
58 - 62
8:55
Tim Duncan missed Free Throw 2 of 2.
58 - 62
8:52
Shaquille O'Neal Defensive Rebound.
58 - 62
8:37
Rasho Nesterovic Shooting Foul
58 - 62
8:37
Karl Malone missed Free Throw 1 of 2.
58 - 62
8:37
Los Angeles Offensive Rebound.
58 - 62
8:37
Robert Horry enters the game for Rasho Nesterovic.
58 - 62
8:37
Karl Malone made Free Throw 2 of 2.
58 - 63
8:25
Tim Duncan made Two Point Shot.
60 - 63
8:07
Derek Fisher missed 11 ft Jumper.
60 - 63
8:06
Devin Brown Defensive Rebound.
60 - 63
7:45
Tim Duncan missed 13 ft Jumper.
60 - 63
7:43
Derek Fisher Defensive Rebound.
60 - 63
7:37
Gary Payton made Two Point Shot. Assisted by Derek Fisher.
60 - 65
7:28
San Antonio Full Timeout.
60 - 65
7:24
Kobe Bryant Personal Foul
60 - 65
7:11
Tim Duncan missed 19 ft Jumper.
60 - 65
7:07
Robert Horry Offensive Rebound.
62 - 65
7:07
Robert Horry made Layup.
62 - 65
6:50
Kobe Bryant made Two Point Shot. Assisted by Gary Payton.
62 - 67
6:33
Manu Ginobili made Two Point Shot. Assisted by Tony Parker.
64 - 67
6:11
Gary Payton made Two Point Shot.
64 - 69
5:50
Devin Brown Offensive Foul
64 - 69
5:50
Devin Brown Foul
64 - 69
5:35
Kobe Bryant made 17 ft Jumper.
64 - 71
5:20
Tim Duncan made 9 ft Two Point Shot. Assisted by Tony Parker.
66 - 71
5:03
Devin Brown Personal Foul
66 - 71
5:03
Kobe Bryant made Free Throw 1 of 2.
66 - 72
5:03
Kobe Bryant made Free Throw 2 of 2.
66 - 73
4:41
Tony Parker missed 24 ft Three Point Jumper.
66 - 73
4:39
Manu Ginobili Offensive Rebound.
66 - 73
4:24
Tony Parker missed 20 ft Jumper.
66 - 73
4:24
Tim Duncan Offensive Rebound.
66 - 73
4:24
Shaquille O'Neal Shooting Foul
66 - 73
4:24
Tim Duncan made Free Throw 1 of 2.
67 - 73
4:24
Tim Duncan made Free Throw 2 of 2.
68 - 73
4:09
Kobe Bryant missed 17 ft Jumper.
68 - 73
4:07
Karl Malone Offensive Rebound.
68 - 73
4:05
Tony Parker Personal Foul
68 - 73
4:05
Derek Fisher missed Free Throw 1 of 2.
68 - 73
4:05
Los Angeles Offensive Rebound.
68 - 73
4:05
Derek Fisher made Free Throw 2 of 2.
68 - 74
3:51
Manu Ginobili missed Layup. Blocked by Shaquille O'Neal.
68 - 74
3:49
Shaquille O'Neal Defensive Rebound.
68 - 74
3:39
Robert Horry Personal Foul
68 - 74
3:39
Shaquille O'Neal made Free Throw 1 of 2.
68 - 75
3:39
Shaquille O'Neal made Free Throw 2 of 2.
68 - 76
3:30
Robert Horry missed 26 ft Three Point Jumper.
68 - 76
3:28
Shaquille O'Neal Defensive Rebound.
68 - 76
3:28
Manu Ginobili Personal Foul
68 - 76
3:28
Shaquille O'Neal missed Free Throw 1 of 2.
68 - 76
3:28
Los Angeles Offensive Rebound.
68 - 76
3:28
Shaquille O'Neal missed Free Throw 2 of 2.
68 - 76
3:27
Devin Brown Defensive Rebound.
68 - 76
3:11
Manu Ginobili made Two Point Shot. Assisted by Devin Brown.
70 - 76
3:05
Tony Parker Personal Foul
70 - 76
3:05
Los Angeles Full Timeout.
70 - 76
3:05
Shaquille O'Neal made Free Throw 1 of 2.
70 - 77
3:05
Shaquille O'Neal missed Free Throw 2 of 2.
70 - 77
3:03
Robert Horry Defensive Rebound.
70 - 77
2:51
Tony Parker Bad Pass. Stolen by Karl Malone.
70 - 77
2:47
Robert Horry Personal Foul
70 - 77
2:47
Shaquille O'Neal made Free Throw 1 of 2.
70 - 78
2:47
Shaquille O'Neal made Free Throw 2 of 2.
70 - 79
2:38
Robert Horry missed Three Point Jumper.
70 - 79
2:34
Manu Ginobili Offensive Rebound.
70 - 79
2:29
Gary Payton Shooting Foul
70 - 79
2:29
Tony Parker missed Free Throw 1 of 2.
70 - 79
2:29
San Antonio Offensive Rebound.
70 - 79
2:29
Tony Parker made Free Throw 2 of 2.
71 - 79
2:10
Gary Payton missed 9 ft Jumper.
71 - 79
2:08
Manu Ginobili Defensive Rebound.
71 - 79
2:00
Robert Horry missed 26 ft Three Point Jumper.
71 - 79
1:59
San Antonio Defensive Rebound.
71 - 79
1:55
Los Angeles 20 Sec. Timeout.
71 - 79
1:52
Kobe Bryant made Two Point Shot. Assisted by Derek Fisher.
71 - 81
1:42
Tony Parker missed 8 ft Jumper.
71 - 81
1:40
Robert Horry Offensive Rebound.
71 - 81
1:40
Shaquille O'Neal Shooting Foul
71 - 81
1:40
Robert Horry made Free Throw 1 of 2.
72 - 81
1:40
Devean George enters the game for Shaquille O'Neal.
72 - 81
1:40
Robert Horry made Free Throw 2 of 2.
73 - 81
1:16
Kobe Bryant missed 9 ft Jumper. Blocked by Devin Brown.
73 - 81
1:16
Los Angeles Offensive Rebound.
73 - 81
1:16
Hedo Turkoglu enters the game for Robert Horry.
73 - 81
1:16
Shaquille O'Neal enters the game for Karl Malone.
73 - 81
1:16
Devean George missed Three Point Jumper.
73 - 81
1:16
Los Angeles Offensive Rebound.
73 - 81
1:16
24 second
73 - 81
1:08
Tim Duncan missed 24 ft Three Point Jumper.
73 - 81
1:06
Devean George Defensive Rebound.
73 - 81
1:06
Manu Ginobili Personal Foul
73 - 81
1:06
Devean George made Free Throw 1 of 2.
73 - 82
1:06
Devean George made Free Throw 2 of 2.
73 - 83
1:06
San Antonio Full Timeout.
73 - 83
1:06
Robert Horry enters the game for Tony Parker.
73 - 83
1:00
Gary Payton Shooting Foul
73 - 83
1:00
Manu Ginobili made Free Throw 1 of 3.
74 - 83
1:00
Tony Parker enters the game for Robert Horry.
74 - 83
1:00
Manu Ginobili made Free Throw 2 of 3.
75 - 83
1:00
Manu Ginobili made Free Throw 3 of 3.
76 - 83
1:00
Devin Brown Personal Foul
76 - 83
1:00
Kobe Bryant made Free Throw 1 of 2.
76 - 84
1:00
Kobe Bryant missed Free Throw 2 of 2.
76 - 84
0:58
Tim Duncan Defensive Rebound.
76 - 84
0:45
Tony Parker missed 24 ft Three Point Jumper.
76 - 84
0:43
Devean George Defensive Rebound.
76 - 84
0:43
Hedo Turkoglu Personal Foul
76 - 84
0:43
Devean George made Free Throw 1 of 2.
76 - 85
0:43
Devean George made Free Throw 2 of 2.
76 - 86
0:35
Hedo Turkoglu missed 26 ft Three Point Jumper.
76 - 86
0:33
Kobe Bryant Defensive Rebound.
76 - 86
0:30
Devin Brown Personal Foul
76 - 86
0:30
Bruce Bowen enters the game for Devin Brown.
76 - 86
0:30
Kobe Bryant made Free Throw 1 of 2.
76 - 87
0:30
Kobe Bryant missed Free Throw 2 of 2.
76 - 87
0:30
Devean George Offensive Rebound.
76 - 87
0:18
Tony Parker Personal Foul
76 - 87
0:18
Derek Fisher missed Free Throw 1 of 2.
76 - 87
0:18
Los Angeles Offensive Rebound.
76 - 87
0:18
Derek Fisher made Free Throw 2 of 2.
76 - 88
0:18
San Antonio 20 Sec. Timeout.
76 - 88
0:18
Robert Horry enters the game for Bruce Bowen.
76 - 88
0:18
Charlie Ward enters the game for Tony Parker.
76 - 88
0:18
Brian Cook enters the game for Shaquille O'Neal.
76 - 88
0:16
Robert Horry Bad Pass. Stolen by Devean George.
76 - 88
0:00
End of the 4th Quarter.
76 - 88
0:00
End Game
76 - 88
0:00
End Game
76 - 88
Myron Medcalf and Amin Elhassan discuss the Hawks selection of DeAndre Bembry with the 21st overall pick.

Knicks president Phil Jackson said Carmelo Anthony sees the addition of Derrick Rose "as a positive move."

The Detroit Pistons selected Marquette forward Henry Ellenson with the No. 18 overall pick in the 2016 NBA draft on Thursday night.
NBA Finals
LAL wins series 4-2
2015-2016 Pacific Standings