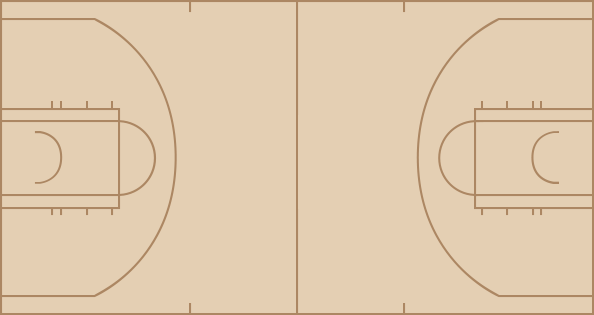 Rockets
time
TEAM
PLAY
SCORE
12:00
Start of the 1st Quarter.
0 - 0
12:00
Jumpball. Yao Ming vs. Loren Woods. Maurice Taylor gains possession.
0 - 0
11:41
Yao Ming Offensive Foul
0 - 0
11:41
Yao Ming Foul
0 - 0
11:30
Chris Bosh missed 6 ft Two Point Shot. Blocked by Yao Ming.
0 - 0
11:27
Yao Ming Defensive Rebound.
0 - 0
11:11
Charlie Ward missed Three Point Jumper.
0 - 0
11:08
Loren Woods Defensive Rebound.
0 - 0
10:51
Vince Carter missed 10 ft Two Point Shot.
0 - 0
10:48
Maurice Taylor Defensive Rebound.
0 - 0
10:27
Jimmy Jackson missed 25 ft Three Point Jumper.
0 - 0
10:26
Houston Defensive Rebound.
0 - 0
10:11
Vince Carter made 19 ft Jumper. Assisted by Rafer Alston.
0 - 2
10:00
Loren Woods Personal Foul
0 - 2
9:48
Maurice Taylor Bad Pass. Stolen by Jalen Rose.
0 - 2
9:41
Jalen Rose Lost Ball. Stolen by Jimmy Jackson.
0 - 2
9:37
Tracy McGrady Bad Pass. Stolen by Chris Bosh.
0 - 2
9:26
Rafer Alston made 9 ft Two Point Shot.
0 - 4
9:11
Tracy McGrady made 12 ft Jumper. Assisted by Jimmy Jackson.
2 - 4
8:49
Chris Bosh made 19 ft Jumper. Assisted by Jalen Rose.
2 - 6
8:30
Tracy McGrady missed 16 ft Two Point Shot.
2 - 6
8:29
Rafer Alston Defensive Rebound.
2 - 6
8:18
Rafer Alston missed 26 ft Three Point Jumper.
2 - 6
8:17
Maurice Taylor Defensive Rebound.
2 - 6
8:07
Charlie Ward Bad Pass. Stolen by Loren Woods.
2 - 6
7:56
Jalen Rose made 11 ft Two Point Shot.
2 - 8
7:33
Jimmy Jackson missed 24 ft Three Point Jumper.
2 - 8
7:33
Rafer Alston Defensive Rebound.
2 - 8
7:26
Loren Woods made Layup. Assisted by Jalen Rose.
2 - 10
7:07
Tracy McGrady made Two Point Shot.
4 - 10
6:58
Vince Carter made 22 ft Jumper. Assisted by Rafer Alston.
4 - 12
6:39
Yao Ming missed 8 ft Two Point Shot.
4 - 12
6:37
Chris Bosh Defensive Rebound.
4 - 12
6:28
Jalen Rose made 25 ft Three Point Jumper. Assisted by Rafer Alston.
4 - 15
6:22
Houston Full Timeout.
4 - 15
6:13
Yao Ming 3 second
4 - 15
5:56
Vince Carter made 8 ft Two Point Shot.
4 - 17
5:35
Tracy McGrady made 18 ft Jumper.
6 - 17
5:22
Maurice Taylor Shooting Foul
6 - 17
5:22
Chris Bosh missed Free Throw 1 of 2.
6 - 17
5:22
Toronto Offensive Rebound.
6 - 17
5:22
Chris Bosh made Free Throw 2 of 2.
6 - 18
5:09
Tracy McGrady missed 24 ft Three Point Jumper.
6 - 18
5:07
Loren Woods Defensive Rebound.
6 - 18
4:52
Loren Woods missed 7 ft Jumper.
6 - 18
4:50
Tracy McGrady Defensive Rebound.
6 - 18
4:33
Yao Ming made Two Point Shot. Assisted by Maurice Taylor.
8 - 18
4:09
Vince Carter missed 8 ft Two Point Shot.
8 - 18
4:07
Yao Ming Defensive Rebound.
8 - 18
4:00
Tyronn Lue enters the game for Charlie Ward.
8 - 18
4:00
Donyell Marshall enters the game for Loren Woods.
8 - 18
3:49
Maurice Taylor missed 22 ft Jumper.
8 - 18
3:47
Yao Ming Offensive Rebound.
8 - 18
3:46
Yao Ming made Slam Dunk.
10 - 18
3:27
Yao Ming Shooting Foul
10 - 18
3:27
Chris Bosh made Free Throw 1 of 2.
10 - 19
3:27
Clarence Weatherspoon enters the game for Yao Ming.
10 - 19
3:27
Chris Bosh missed Free Throw 2 of 2.
10 - 19
3:27
Jimmy Jackson Defensive Rebound.
10 - 19
3:03
Clarence Weatherspoon made Layup. Assisted by Tyronn Lue.
12 - 19
2:43
Donyell Marshall missed 22 ft Jumper.
12 - 19
2:41
Maurice Taylor Defensive Rebound.
12 - 19
2:30
Maurice Taylor made 14 ft Two Point Shot.
14 - 19
2:14
Donyell Marshall missed 21 ft Jumper.
14 - 19
2:13
Toronto Defensive Rebound.
14 - 19
2:12
Toronto Official Timeout.
14 - 19
1:58
Clarence Weatherspoon made 10 ft Two Point Shot. Assisted by Tracy McGrady.
16 - 19
1:44
Rafer Alston Bad Pass
16 - 19
1:28
Tyronn Lue missed 15 ft Jumper.
16 - 19
1:25
Rafer Alston Defensive Rebound.
16 - 19
1:21
Rafer Alston missed Two Point Shot.
16 - 19
1:19
Donyell Marshall Offensive Rebound.
16 - 19
1:15
Rafer Alston missed 25 ft Three Point Jumper.
16 - 19
1:13
Clarence Weatherspoon Defensive Rebound.
16 - 19
1:05
Rafer Alston Shooting Foul
16 - 19
1:05
Morris Peterson enters the game for Vince Carter.
16 - 19
1:05
Milt Palacio enters the game for Rafer Alston.
16 - 19
1:05
Tracy McGrady missed Free Throw 1 of 3.
16 - 19
1:05
Houston Offensive Rebound.
16 - 19
1:05
Tracy McGrady made Free Throw 2 of 3.
17 - 19
1:05
Tracy McGrady made Free Throw 3 of 3.
18 - 19
0:51
Maurice Taylor Personal Foul
18 - 19
0:51
Rafael Araujo enters the game for Chris Bosh.
18 - 19
0:51
Bostjan Nachbar enters the game for Tracy McGrady.
18 - 19
0:40
Rafael Araujo missed 20 ft Jumper.
18 - 19
0:39
Morris Peterson Offensive Rebound.
18 - 19
0:15
Morris Peterson missed 26 ft Three Pointer.
18 - 19
0:13
Jimmy Jackson Defensive Rebound.
18 - 19
0:00
Clarence Weatherspoon missed 18 ft Two Point Shot.
18 - 19
0:00
Houston Offensive Rebound.
18 - 19
0:00
End of the 1st Quarter.
18 - 19

time
TEAM
PLAY
SCORE
12:00
Start of the 2nd Quarter.
18 - 19
11:45
Milt Palacio made 11 ft Two Point Shot.
18 - 21
11:27
Juwan Howard made Jumper. Assisted by Jimmy Jackson.
20 - 21
11:04
Morris Peterson missed Two Point Shot.
20 - 21
11:03
Bostjan Nachbar Defensive Rebound.
20 - 21
10:52
Clarence Weatherspoon made Layup. Assisted by Tyronn Lue.
22 - 21
10:37
Milt Palacio missed Two Point Shot.
22 - 21
10:36
Toronto Offensive Rebound.
22 - 21
10:36
Delay of Game
22 - 21
10:32
Morris Peterson missed 13 ft Jumper.
22 - 21
10:30
Rafael Araujo Offensive Rebound.
22 - 21
10:29
Rafael Araujo made Tip Shot.
22 - 23
10:15
Jimmy Jackson made 11 ft Two Point Shot.
24 - 23
9:59
Lamond Murray Traveling
24 - 23
9:59
Chris Bosh enters the game for Rafael Araujo.
24 - 23
9:38
Tyronn Lue missed 13 ft Jumper.
24 - 23
9:37
Clarence Weatherspoon Offensive Rebound.
24 - 23
9:36
Clarence Weatherspoon made 7 ft Two Point Shot.
26 - 23
9:15
Donyell Marshall missed 25 ft Three Point Jumper.
26 - 23
9:12
Jimmy Jackson Defensive Rebound.
26 - 23
9:00
Bostjan Nachbar missed 25 ft Three Point Jumper.
26 - 23
8:57
Morris Peterson Defensive Rebound.
26 - 23
8:53
Tyronn Lue Shooting Foul
26 - 23
8:53
Official Timeout.
26 - 23
8:53
Tracy McGrady enters the game for Jimmy Jackson.
26 - 23
8:53
Lamond Murray missed Free Throw 1 of 2.
26 - 23
8:53
Toronto Offensive Rebound.
26 - 23
8:53
Lamond Murray made Free Throw 2 of 2.
26 - 24
8:36
Clarence Weatherspoon missed Jumper.
26 - 24
8:34
Morris Peterson Defensive Rebound.
26 - 24
8:23
Kicked Ball
26 - 24
8:11
Lamond Murray missed 23 ft Jumper.
26 - 24
8:10
Bostjan Nachbar Defensive Rebound.
26 - 24
8:02
Chris Bosh Shooting Foul
26 - 24
8:02
Tracy McGrady made Free Throw 1 of 2.
27 - 24
8:02
Tracy McGrady missed Free Throw 2 of 2.
27 - 24
8:00
Donyell Marshall Defensive Rebound.
27 - 24
7:48
Juwan Howard Shooting Foul
27 - 24
7:48
Chris Bosh made Free Throw 1 of 2.
27 - 25
7:48
Chris Bosh missed Free Throw 2 of 2.
27 - 25
7:48
Donyell Marshall Offensive Rebound.
27 - 25
7:47
Donyell Marshall missed Tip Shot.
27 - 25
7:45
Bostjan Nachbar Defensive Rebound.
27 - 25
7:28
Tyronn Lue made 11 ft Two Point Shot.
29 - 25
7:11
Lamond Murray made 14 ft Two Point Shot.
29 - 27
6:58
Lamond Murray Shooting Foul
29 - 27
6:58
Rafer Alston enters the game for Milt Palacio.
29 - 27
6:58
Jalen Rose enters the game for Lamond Murray.
29 - 27
6:58
Vince Carter enters the game for Morris Peterson.
29 - 27
6:58
Maurice Taylor enters the game for Clarence Weatherspoon.
29 - 27
6:58
Bostjan Nachbar missed Free Throw 1 of 2.
29 - 27
6:58
Houston Offensive Rebound.
29 - 27
6:58
Bostjan Nachbar made Free Throw 2 of 2.
30 - 27
6:41
Juwan Howard Personal Foul
30 - 27
6:31
Rafer Alston made 25 ft Three Point Jumper. Assisted by Vince Carter.
30 - 30
6:07
Tracy McGrady made Slam Dunk.
32 - 30
5:47
Chris Bosh made 14 ft Jumper.
32 - 32
5:28
Juwan Howard made 9 ft Two Point Shot.
34 - 32
5:13
Donyell Marshall made Layup. Assisted by Vince Carter.
34 - 34
4:54
Tyronn Lue missed 23 ft Three Point Jumper.
34 - 34
4:52
Vince Carter Defensive Rebound.
34 - 34
4:47
Bostjan Nachbar Personal Foul
34 - 34
4:47
Toronto Official Timeout.
34 - 34
4:47
Jimmy Jackson enters the game for Tyronn Lue.
34 - 34
4:47
Charlie Ward enters the game for Bostjan Nachbar.
34 - 34
4:41
Maurice Taylor Shooting Foul
34 - 34
4:41
Jalen Rose made Free Throw 1 of 2.
34 - 35
4:41
Loren Woods enters the game for Donyell Marshall.
34 - 35
4:41
Yao Ming enters the game for Maurice Taylor.
34 - 35
4:41
Jalen Rose made Free Throw 2 of 2.
34 - 36
4:24
Rafer Alston Defensive Rebound.
34 - 36
4:18
Loren Woods missed Layup. Blocked by Yao Ming.
34 - 36
4:15
Chris Bosh Offensive Rebound.
34 - 36
4:13
Jimmy Jackson Personal Foul
34 - 36
4:13
Jalen Rose made Free Throw 1 of 2.
34 - 37
4:13
Jalen Rose made Free Throw 2 of 2.
34 - 38
3:59
Jalen Rose Personal Foul
34 - 38
3:45
Tracy McGrady missed 17 ft Jumper.
34 - 38
3:44
Rafer Alston Defensive Rebound.
34 - 38
3:35
Vince Carter made 22 ft Jumper. Assisted by Rafer Alston.
34 - 40
3:27
Houston Full Timeout.
34 - 40
3:12
Jimmy Jackson Lost Ball. Stolen by Chris Bosh.
34 - 40
3:08
Loren Woods made Two Point Shot. Assisted by Vince Carter.
34 - 42
3:08
Tracy McGrady Shooting Foul
34 - 42
3:08
Loren Woods made Free Throw 1 of 1.
34 - 43
2:47
Charlie Ward missed Two Point Shot. Blocked by Loren Woods.
34 - 43
2:47
Houston Offensive Rebound.
34 - 43
2:43
Tracy McGrady missed 21 ft Jumper.
34 - 43
2:42
Juwan Howard Offensive Rebound.
34 - 43
2:39
Juwan Howard made Layup.
36 - 43
2:23
Tracy McGrady Personal Foul
36 - 43
2:23
Jalen Rose made Free Throw 1 of 2.
36 - 44
2:23
Jalen Rose made Free Throw 2 of 2.
36 - 45
2:09
Vince Carter Personal Foul
36 - 45
1:44
Clarence Weatherspoon enters the game for Yao Ming.
36 - 45
1:44
Donyell Marshall enters the game for Loren Woods.
36 - 45
1:39
Rafer Alston made 19 ft Jumper.
36 - 47
1:15
Charlie Ward missed 21 ft Jumper.
36 - 47
1:14
Vince Carter Defensive Rebound.
36 - 47
1:07
Tyronn Lue enters the game for Charlie Ward.
36 - 47
0:58
Chris Bosh missed 11 ft Jumper.
36 - 47
0:57
Chris Bosh Offensive Rebound.
36 - 47
0:56
Chris Bosh made 9 ft Two Point Shot.
36 - 49
0:56
Clarence Weatherspoon Shooting Foul
36 - 49
0:56
Chris Bosh made Free Throw 1 of 1.
36 - 50
0:38
Tracy McGrady made 21 ft Jumper.
38 - 50
0:28
Chris Bosh missed 20 ft Jumper.
38 - 50
0:26
Juwan Howard Defensive Rebound.
38 - 50
0:07
Vince Carter Shooting Foul
38 - 50
0:07
Tracy McGrady missed Free Throw 1 of 2.
38 - 50
0:07
Houston Offensive Rebound.
38 - 50
0:07
Scott Padgett enters the game for Juwan Howard.
38 - 50
0:07
Tracy McGrady made Free Throw 2 of 2.
39 - 50
0:01
Vince Carter made 19 ft Two Point Shot. Assisted by Rafer Alston.
39 - 52
0:00
End of the 2nd Quarter.
39 - 52

time
TEAM
PLAY
SCORE
12:00
Start of the 3rd Quarter.
39 - 52
11:45
Jalen Rose Bad Pass. Stolen by Yao Ming.
39 - 52
11:22
Chris Bosh Shooting Foul
39 - 52
11:22
Yao Ming made Free Throw 1 of 2.
40 - 52
11:22
Yao Ming made Free Throw 2 of 2.
41 - 52
11:08
Loren Woods missed Two Point Shot.
41 - 52
11:07
Yao Ming Defensive Rebound.
41 - 52
11:00
Tracy McGrady made 25 ft Three Point Jumper. Assisted by Charlie Ward.
44 - 52
10:45
Rafer Alston made 24 ft Three Point Jumper. Assisted by Chris Bosh.
44 - 55
10:27
Yao Ming Offensive Foul
44 - 55
10:27
Yao Ming Foul
44 - 55
10:27
Clarence Weatherspoon enters the game for Yao Ming.
44 - 55
10:12
Chris Bosh missed Two Point Shot.
44 - 55
10:11
Loren Woods Offensive Rebound.
44 - 55
10:08
Loren Woods missed Layup.
44 - 55
10:07
Charlie Ward Defensive Rebound.
44 - 55
9:59
Maurice Taylor missed 11 ft Two Point Shot.
44 - 55
9:56
Loren Woods Defensive Rebound.
44 - 55
9:49
Chris Bosh made 10 ft Two Point Shot. Assisted by Vince Carter.
44 - 57
9:47
Houston Full Timeout.
44 - 57
9:47
Yao Ming enters the game for Clarence Weatherspoon.
44 - 57
9:32
Charlie Ward made 25 ft Three Point Jumper. Assisted by Yao Ming.
47 - 57
9:15
Jalen Rose missed Jumper.
47 - 57
9:14
Charlie Ward Defensive Rebound.
47 - 57
9:07
Charlie Ward missed 15 ft Two Point Shot.
47 - 57
9:04
Chris Bosh Defensive Rebound.
47 - 57
9:00
Maurice Taylor Shooting Foul
47 - 57
9:00
Loren Woods missed Free Throw 1 of 2.
47 - 57
9:00
Toronto Offensive Rebound.
47 - 57
9:00
Loren Woods made Free Throw 2 of 2.
47 - 58
8:41
Maurice Taylor Bad Pass. Stolen by Jalen Rose.
47 - 58
8:33
Loren Woods 3 second
47 - 58
8:18
Tracy McGrady missed Jumper. Blocked by Vince Carter.
47 - 58
8:17
Chris Bosh Defensive Rebound.
47 - 58
8:11
Jalen Rose missed 25 ft Three Point Jumper.
47 - 58
8:10
Maurice Taylor Defensive Rebound.
47 - 58
7:54
Maurice Taylor made Two Point Shot.
49 - 58
7:39
Vince Carter missed 20 ft Two Point Shot.
49 - 58
7:37
Charlie Ward Defensive Rebound.
49 - 58
7:31
Charlie Ward missed 21 ft Jumper.
49 - 58
7:30
Chris Bosh Defensive Rebound.
49 - 58
7:26
Chris Bosh Traveling
49 - 58
7:09
Maurice Taylor made Dunk. Assisted by Jimmy Jackson.
51 - 58
7:01
Toronto Full Timeout.
51 - 58
6:50
Rafer Alston Bad Pass. Stolen by Maurice Taylor.
51 - 58
6:30
Maurice Taylor made Two Point Shot.
53 - 58
6:16
Chris Bosh made 19 ft Jumper. Assisted by Rafer Alston.
53 - 60
5:58
Yao Ming missed 8 ft Two Point Shot.
53 - 60
5:56
Loren Woods Defensive Rebound.
53 - 60
5:50
Vince Carter made Two Point Shot.
53 - 62
5:37
Maurice Taylor made 21 ft Jumper. Assisted by Tracy McGrady.
55 - 62
5:13
Vince Carter missed Jumper.
55 - 62
5:11
Charlie Ward Defensive Rebound.
55 - 62
5:05
Maurice Taylor missed 17 ft Jumper.
55 - 62
5:03
Jalen Rose Defensive Rebound.
55 - 62
4:48
Jalen Rose missed 25 ft Three Point Jumper.
55 - 62
4:46
Chris Bosh Offensive Rebound.
55 - 62
4:31
Loren Woods 3 second
55 - 62
4:31
Donyell Marshall enters the game for Loren Woods.
55 - 62
4:18
Chris Bosh Shooting Foul
55 - 62
4:18
Official Timeout.
55 - 62
4:18
Yao Ming missed Free Throw 1 of 2.
55 - 62
4:18
Houston Offensive Rebound.
55 - 62
4:18
Yao Ming made Free Throw 2 of 2.
56 - 62
4:00
Vince Carter Offensive Foul
56 - 62
4:00
Vince Carter Foul
56 - 62
3:48
Yao Ming made Two Point Shot.
58 - 62
3:29
Rafer Alston made 26 ft Three Point Jumper. Assisted by Chris Bosh.
58 - 65
3:10
Charlie Ward missed 26 ft Three Point Jumper.
58 - 65
3:09
Vince Carter Defensive Rebound.
58 - 65
3:02
Vince Carter missed 13 ft Two Point Shot.
58 - 65
3:00
Maurice Taylor Defensive Rebound.
58 - 65
2:54
Charlie Ward made 12 ft Jumper.
60 - 65
2:33
Chris Bosh Bad Pass. Stolen by Tracy McGrady.
60 - 65
2:29
Morris Peterson enters the game for Vince Carter.
60 - 65
2:29
Tyronn Lue enters the game for Charlie Ward.
60 - 65
2:20
Yao Ming missed Two Point Shot.
60 - 65
2:19
Yao Ming Offensive Rebound.
60 - 65
2:16
Yao Ming made Tip Shot.
62 - 65
1:57
Chris Bosh made 16 ft Jumper. Assisted by Jalen Rose.
62 - 67
1:42
Rafer Alston Shooting Foul
62 - 67
1:42
Tracy McGrady made Free Throw 1 of 2.
63 - 67
1:42
Clarence Weatherspoon enters the game for Yao Ming.
63 - 67
1:42
Tracy McGrady made Free Throw 2 of 2.
64 - 67
1:30
Rafer Alston made Two Point Shot.
64 - 69
1:12
Tracy McGrady missed 16 ft Jumper.
64 - 69
1:09
Rafer Alston Defensive Rebound.
64 - 69
0:56
Rafer Alston missed 25 ft Three Point Jumper.
64 - 69
0:54
Donyell Marshall Offensive Rebound.
64 - 69
0:54
Donyell Marshall made Layup.
64 - 71
0:34
Jimmy Jackson made 23 ft Three Point Jumper. Assisted by Maurice Taylor.
67 - 71
0:15
Chris Bosh Offensive Foul
67 - 71
0:15
Chris Bosh Foul
67 - 71
0:15
Chris Bosh Technical Foul
67 - 71
0:15
Jimmy Jackson made Technical Free Throw.
68 - 71
0:01
Tracy McGrady missed 27 ft Three Point Jumper.
68 - 71
0:00
Morris Peterson Defensive Rebound.
68 - 71
0:00
End of the 3rd Quarter.
68 - 71

time
TEAM
PLAY
SCORE
12:00
Start of the 4th Quarter.
68 - 71
11:40
Maurice Taylor missed 16 ft Jumper.
68 - 71
11:37
Jalen Rose Defensive Rebound.
68 - 71
11:11
Jimmy Jackson missed 11 ft Two Point Shot.
68 - 71
11:10
Milt Palacio Defensive Rebound.
68 - 71
11:04
Jalen Rose made 12 ft Jumper. Assisted by Milt Palacio.
68 - 73
10:47
Clarence Weatherspoon missed Layup.
68 - 73
10:45
Matt Bonner Defensive Rebound.
68 - 73
10:40
Jalen Rose missed 19 ft Jumper.
68 - 73
10:38
Milt Palacio Offensive Rebound.
68 - 73
10:22
Donyell Marshall made 25 ft Three Point Jumper. Assisted by Jalen Rose.
68 - 76
10:19
Houston Full Timeout.
68 - 76
10:19
Bostjan Nachbar enters the game for Maurice Taylor.
68 - 76
10:19
Juwan Howard enters the game for Tracy McGrady.
68 - 76
10:19
Yao Ming enters the game for Clarence Weatherspoon.
68 - 76
10:07
Juwan Howard Bad Pass
68 - 76
9:48
Morris Peterson missed Three Point Jumper.
68 - 76
9:45
Jimmy Jackson Defensive Rebound.
68 - 76
9:26
Yao Ming missed 13 ft Jumper.
68 - 76
9:25
Jalen Rose Defensive Rebound.
68 - 76
9:08
Donyell Marshall missed 25 ft Three Point Jumper.
68 - 76
9:07
Jimmy Jackson Defensive Rebound.
68 - 76
8:57
Jalen Rose Shooting Foul
68 - 76
8:57
Vince Carter enters the game for Jalen Rose.
68 - 76
8:57
Yao Ming missed Free Throw 1 of 2.
68 - 76
8:57
Houston Offensive Rebound.
68 - 76
8:57
Tracy McGrady enters the game for Jimmy Jackson.
68 - 76
8:57
Yao Ming made Free Throw 2 of 2.
69 - 76
8:47
Matt Bonner made 18 ft Jumper. Assisted by Vince Carter.
69 - 78
8:26
Tyronn Lue missed Two Point Shot.
69 - 78
8:26
Yao Ming Offensive Rebound.
69 - 78
8:26
Morris Peterson Shooting Foul
69 - 78
8:26
Yao Ming missed Free Throw 1 of 2.
69 - 78
8:26
Houston Offensive Rebound.
69 - 78
8:26
Yao Ming made Free Throw 2 of 2.
70 - 78
8:10
Juwan Howard made Layup. Assisted by Yao Ming.
72 - 78
7:52
Matt Bonner missed 21 ft Jumper.
72 - 78
7:52
Tracy McGrady Defensive Rebound.
72 - 78
7:43
Yao Ming 3 second
72 - 78
7:26
Donyell Marshall missed 23 ft Three Point Jumper.
72 - 78
7:24
Morris Peterson Offensive Rebound.
72 - 78
7:09
Matt Bonner missed 13 ft Jumper.
72 - 78
7:07
Juwan Howard Defensive Rebound.
72 - 78
6:52
Yao Ming made 14 ft Two Point Shot.
74 - 78
6:28
Donyell Marshall missed 25 ft Three Point Jumper.
74 - 78
6:26
Juwan Howard Defensive Rebound.
74 - 78
6:11
Bostjan Nachbar Bad Pass. Stolen by Vince Carter.
74 - 78
6:05
Tyronn Lue Personal Foul
74 - 78
6:05
Loren Woods enters the game for Donyell Marshall.
74 - 78
6:05
Jalen Rose enters the game for Matt Bonner.
74 - 78
6:05
Rafer Alston enters the game for Morris Peterson.
74 - 78
6:05
Chris Bosh enters the game for Milt Palacio.
74 - 78
5:56
Jalen Rose missed 10 ft Two Point Shot.
74 - 78
5:54
Bostjan Nachbar Defensive Rebound.
74 - 78
5:39
Bostjan Nachbar missed 20 ft Jumper.
74 - 78
5:37
Loren Woods Defensive Rebound.
74 - 78
5:20
Vince Carter missed 12 ft Jumper.
74 - 78
5:18
Loren Woods Offensive Rebound.
74 - 78
5:18
Juwan Howard Shooting Foul
74 - 78
5:18
Official Timeout.
74 - 78
5:18
Loren Woods Double Technical Foul. Tracy McGrady gains possession.
74 - 78
5:18
Jimmy Jackson enters the game for Bostjan Nachbar.
74 - 78
5:18
Loren Woods missed Free Throw 1 of 2.
74 - 78
5:18
Toronto Offensive Rebound.
74 - 78
5:18
Loren Woods made Free Throw 2 of 2.
74 - 79
4:56
Juwan Howard made Two Point Shot. Assisted by Tracy McGrady.
76 - 79
4:33
Vince Carter made 22 ft Three Point Jumper. Assisted by Rafer Alston.
76 - 82
4:11
Jimmy Jackson missed 24 ft Three Point Jumper.
76 - 82
4:11
Rafer Alston Defensive Rebound.
76 - 82
4:05
Chris Bosh made 6 ft Two Point Shot. Assisted by Loren Woods.
76 - 84
4:03
Houston Full Timeout.
76 - 84
4:03
Maurice Taylor enters the game for Tyronn Lue.
76 - 84
4:03
Charlie Ward enters the game for Juwan Howard.
76 - 84
3:45
Jimmy Jackson made Two Point Shot. Assisted by Charlie Ward.
78 - 84
3:27
Chris Bosh made Two Point Shot.
78 - 86
3:09
Chris Bosh Shooting Foul
78 - 86
3:09
Yao Ming made Free Throw 1 of 2.
79 - 86
3:09
Toronto Full Timeout.
79 - 86
3:09
Donyell Marshall enters the game for Chris Bosh.
79 - 86
3:09
Yao Ming made Free Throw 2 of 2.
80 - 86
2:50
Rafer Alston missed 25 ft Three Point Jumper.
80 - 86
2:48
Yao Ming Defensive Rebound.
80 - 86
2:35
Maurice Taylor missed 11 ft Two Point Shot.
80 - 86
2:33
Yao Ming Offensive Rebound.
80 - 86
2:31
Yao Ming Lost Ball. Stolen by Rafer Alston.
80 - 86
2:15
Jalen Rose missed 6 ft Two Point Shot.
80 - 86
2:13
Yao Ming Defensive Rebound.
80 - 86
2:01
Yao Ming Offensive Foul
80 - 86
2:01
Yao Ming Foul
80 - 86
1:46
Donyell Marshall made Two Point Shot. Assisted by Rafer Alston.
80 - 88
1:31
Charlie Ward made Three Point Jumper. Assisted by Tracy McGrady.
83 - 88
1:07
Jalen Rose missed 7 ft Two Point Shot.
83 - 88
1:07
Toronto Offensive Rebound.
83 - 88
1:07
Toronto 20 Sec. Timeout.
83 - 88
0:46
Loren Woods made Slam Dunk. Assisted by Vince Carter.
83 - 90
0:46
Houston Full Timeout.
83 - 90
0:42
Donyell Marshall Shooting Foul
83 - 90
0:42
Tracy McGrady made Free Throw 1 of 2.
84 - 90
0:42
Ryan Bowen enters the game for Yao Ming.
84 - 90
0:42
Tracy McGrady made Free Throw 2 of 2.
85 - 90
0:41
Jimmy Jackson Personal Foul
85 - 90
0:41
Chris Bosh enters the game for Loren Woods.
85 - 90
0:39
Jimmy Jackson Personal Foul
85 - 90
0:39
Jalen Rose made Free Throw 1 of 2.
85 - 91
0:39
Loren Woods enters the game for Chris Bosh.
85 - 91
0:39
Yao Ming enters the game for Ryan Bowen.
85 - 91
0:39
Jalen Rose made Free Throw 2 of 2.
85 - 92
0:25
Maurice Taylor Lost Ball. Stolen by Donyell Marshall.
85 - 92
0:23
Charlie Ward Personal Foul
85 - 92
0:23
Vince Carter made Free Throw 1 of 2.
85 - 93
0:23
Vince Carter missed Free Throw 2 of 2.
85 - 93
0:22
Charlie Ward Defensive Rebound.
85 - 93
0:21
Houston 20 Sec. Timeout.
85 - 93
0:17
Charlie Ward missed 25 ft Three Point Jumper.
85 - 93
0:15
Tracy McGrady Offensive Rebound.
85 - 93
0:11
Maurice Taylor made 22 ft Three Point Jumper. Assisted by Tracy McGrady.
88 - 93
0:10
Jimmy Jackson Personal Foul
88 - 93
0:10
Jalen Rose made Free Throw 1 of 2.
88 - 94
0:10
Morris Peterson enters the game for Loren Woods.
88 - 94
0:10
Jalen Rose made Free Throw 2 of 2.
88 - 95
0:01
Maurice Taylor missed Three Point Jumper.
88 - 95
0:00
Tracy McGrady Offensive Rebound.
88 - 95
0:00
End of the 4th Quarter.
88 - 95
0:00
End Game
88 - 95
0:00
End Game
88 - 95
Whether it was Kobe Bryant getting slimed or Rob Gronkowski busting a move, several stars of the sports world made their presence felt at the Nickelodeon Kid's Choice Awards.

Denzel Valentine scores 13 points while five other Bulls reach double digits in Chicago's 85-79 win over Cleveland to remain unbeaten in summer league play and advance to the final.

Almost a month removed from the NBA Finals and four months from the start of the next season, the NBA business keeps chugging along. And business is good.
Regular Season Series
Series tied 1-1
2015-2016 Southwest Standings
2015-2016 Atlantic Standings