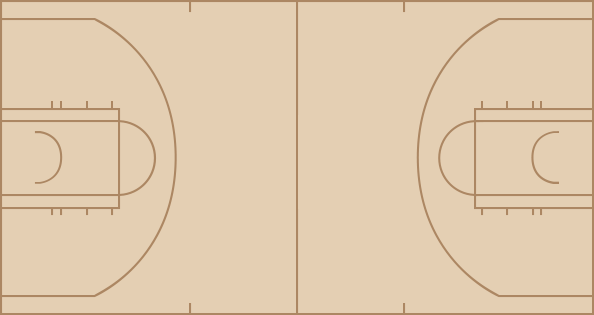 Magic
time
TEAM
PLAY
SCORE
12:00
Start of the 1st Quarter.
0 - 0
12:00
Jumpball. Kelvin Cato vs. Primoz Brezec. Jason Hart gains possession.
0 - 0
11:49
Gerald Wallace Bad Pass. Stolen by Grant Hill.
0 - 0
11:44
Cuttino Mobley Bad Pass
0 - 0
11:38
Charlotte 20 Sec. Timeout.
0 - 0
11:30
Primoz Brezec missed 18 ft Jumper.
0 - 0
11:27
Grant Hill Defensive Rebound.
0 - 0
11:22
Cuttino Mobley missed 18 ft Jumper.
0 - 0
11:21
Brevin Knight Defensive Rebound.
0 - 0
11:07
Primoz Brezec made Jumper. Assisted by Jason Hart.
0 - 2
10:52
Dwight Howard missed 15 ft Two Point Shot.
0 - 2
10:48
Gerald Wallace Defensive Rebound.
0 - 2
10:36
Emeka Okafor missed Jumper.
0 - 2
10:33
Cuttino Mobley Defensive Rebound.
0 - 2
10:26
Grant Hill missed 7 ft Jumper.
0 - 2
10:22
Emeka Okafor Defensive Rebound.
0 - 2
10:17
Gerald Wallace missed 15 ft Jumper.
0 - 2
10:15
Kelvin Cato Defensive Rebound.
0 - 2
10:11
Steve Francis Offensive Foul
0 - 2
10:11
Steve Francis Foul
0 - 2
9:51
Primoz Brezec made Layup. Assisted by Gerald Wallace.
0 - 4
9:25
Dwight Howard Traveling
0 - 4
9:07
Brevin Knight Bad Pass. Stolen by Cuttino Mobley.
0 - 4
9:03
Steve Francis made Dunk. Assisted by Cuttino Mobley.
2 - 4
8:49
Gerald Wallace missed 19 ft Jumper.
2 - 4
8:48
Cuttino Mobley Defensive Rebound.
2 - 4
8:37
Cuttino Mobley Bad Pass
2 - 4
8:19
Jason Hart made 20 ft Jumper.
2 - 6
7:58
Steve Francis missed 6 ft Jumper.
2 - 6
7:56
Emeka Okafor Defensive Rebound.
2 - 6
7:46
Emeka Okafor made 18 ft Jumper. Assisted by Jason Hart.
2 - 8
7:28
Grant Hill made 15 ft Jumper. Assisted by Dwight Howard.
4 - 8
7:22
Cuttino Mobley Personal Foul
4 - 8
7:16
Jason Hart missed 16 ft Jumper.
4 - 8
7:13
Emeka Okafor Offensive Rebound.
4 - 8
7:09
Gerald Wallace made 17 ft Jumper. Assisted by Brevin Knight.
4 - 10
6:46
Cuttino Mobley made 19 ft Jumper.
6 - 10
6:26
Dwight Howard Shooting Foul
6 - 10
6:26
Emeka Okafor missed Free Throw 1 of 2.
6 - 10
6:26
Charlotte Offensive Rebound.
6 - 10
6:26
Emeka Okafor made Free Throw 2 of 2.
6 - 11
6:22
Steve Francis Bad Pass
6 - 11
6:07
Dwight Howard Personal Foul
6 - 11
6:07
Pat Garrity enters the game for Dwight Howard.
6 - 11
6:01
Emeka Okafor missed 16 ft Jumper.
6 - 11
6:01
Charlotte Defensive Rebound.
6 - 11
6:01
Gerald Wallace Loose Ball Foul
6 - 11
5:50
Cuttino Mobley missed 6 ft Jumper.
6 - 11
5:46
Steve Francis Offensive Rebound.
6 - 11
5:43
Jason Hart Shooting Foul
6 - 11
5:43
Charlotte Full Timeout.
6 - 11
5:43
Cuttino Mobley made Free Throw 1 of 2.
7 - 11
5:43
Cuttino Mobley made Free Throw 2 of 2.
8 - 11
5:28
Emeka Okafor missed Layup.
8 - 11
5:28
Primoz Brezec Offensive Rebound.
8 - 13
5:28
Primoz Brezec made Layup.
8 - 13
5:28
Cuttino Mobley Shooting Foul
8 - 13
5:28
Primoz Brezec made Free Throw 1 of 1.
8 - 14
5:15
Kelvin Cato missed 12 ft Hook Shot.
8 - 14
5:11
Gerald Wallace Defensive Rebound.
8 - 14
4:56
Gerald Wallace made 19 ft Jumper. Assisted by Jason Hart.
8 - 16
4:50
Grant Hill missed 17 ft Jumper.
8 - 16
4:48
Primoz Brezec Defensive Rebound.
8 - 16
4:33
Emeka Okafor missed 18 ft Jumper.
8 - 16
4:31
Charlotte Defensive Rebound.
8 - 16
4:13
Pat Garrity missed 20 ft Jumper.
8 - 16
4:11
Gerald Wallace Defensive Rebound.
8 - 16
4:01
Gerald Wallace Traveling
8 - 16
4:01
Eddie House enters the game for Brevin Knight.
8 - 16
4:01
Jason Kapono enters the game for Gerald Wallace.
8 - 16
4:01
Hidayet Turkoglu enters the game for Cuttino Mobley.
8 - 16
3:50
Primoz Brezec Shooting Foul
8 - 16
3:50
Kelvin Cato made Free Throw 1 of 2.
9 - 16
3:50
Kelvin Cato made Free Throw 2 of 2.
10 - 16
3:33
Jason Kapono made 16 ft Jumper. Assisted by Jason Hart.
10 - 18
3:28
Emeka Okafor Personal Foul
10 - 18
3:28
Tony Battie enters the game for Kelvin Cato.
10 - 18
3:15
Hidayet Turkoglu made 20 ft Jumper. Assisted by Grant Hill.
12 - 18
3:06
Eddie House missed 22 ft Jumper.
12 - 18
3:04
Pat Garrity Defensive Rebound.
12 - 18
3:04
Eddie House Personal Foul
12 - 18
3:04
Grant Hill made Free Throw 1 of 2.
13 - 18
3:04
Melvin Ely enters the game for Primoz Brezec.
13 - 18
3:04
Grant Hill made Free Throw 2 of 2.
14 - 18
2:55
Jason Hart missed 21 ft Jumper.
14 - 18
2:53
Steve Francis Defensive Rebound.
14 - 18
2:46
Hidayet Turkoglu missed 21 ft Jumper.
14 - 18
2:44
Emeka Okafor Defensive Rebound.
14 - 18
2:31
Eddie House missed 20 ft Jumper.
14 - 18
2:29
Tony Battie Defensive Rebound.
14 - 18
2:20
Grant Hill missed 9 ft Jumper.
14 - 18
2:17
Hidayet Turkoglu Offensive Rebound.
14 - 18
2:17
Hidayet Turkoglu missed Tip Shot.
14 - 18
2:15
Emeka Okafor Defensive Rebound.
14 - 18
2:09
Melvin Ely missed 7 ft Hook Shot.
14 - 18
2:04
Jason Kapono Offensive Rebound.
14 - 20
2:04
Jason Kapono made Tip Shot.
14 - 20
1:55
Jason Kapono Personal Foul
14 - 20
1:55
Orlando Full Timeout.
14 - 20
1:55
Jameer Nelson enters the game for Steve Francis.
14 - 20
1:55
Grant Hill made Free Throw 1 of 2.
15 - 20
1:55
Grant Hill made Free Throw 2 of 2.
16 - 20
1:31
Jason Hart Bad Pass
16 - 20
1:31
Stacey Augmon enters the game for Grant Hill.
16 - 20
1:20
Melvin Ely Shooting Foul
16 - 20
1:20
Tony Battie made Free Throw 1 of 2.
17 - 20
1:20
Brevin Knight enters the game for Jason Hart.
17 - 20
1:20
Tony Battie made Free Throw 2 of 2.
18 - 20
1:10
Eddie House missed 17 ft Jumper.
18 - 20
1:07
Melvin Ely Offensive Rebound.
18 - 20
1:06
Melvin Ely Bad Pass. Stolen by Hidayet Turkoglu.
18 - 20
1:00
Hidayet Turkoglu made Dunk. Assisted by Jameer Nelson.
20 - 20
0:45
Melvin Ely missed 11 ft Jumper.
20 - 20
0:43
Hidayet Turkoglu Defensive Rebound.
20 - 20
0:26
Tony Battie made 18 ft Two Point Shot. Assisted by Jameer Nelson.
22 - 20
0:26
Pat Garrity Away From Ball Foul
22 - 20
0:26
Jason Kapono missed Free Throw 1 of 2.
22 - 20
0:26
Charlotte Offensive Rebound.
22 - 20
0:26
Primoz Brezec enters the game for Emeka Okafor.
22 - 20
0:26
Jason Kapono missed Free Throw 2 of 2.
22 - 20
0:24
Charlotte Defensive Rebound.
22 - 20
0:03
Jameer Nelson Bad Pass. Stolen by Eddie House.
22 - 20
0:00
Hidayet Turkoglu missed 25 ft Three Point Jumper.
22 - 20
0:00
Orlando Offensive Rebound.
22 - 20
0:00
End of the 1st Quarter.
22 - 20

time
TEAM
PLAY
SCORE
12:00
Start of the 2nd Quarter.
22 - 20
11:51
Brevin Knight Personal Foul
22 - 20
11:40
Tony Battie missed 5 ft Hook Shot.
22 - 20
11:37
Melvin Ely Defensive Rebound.
22 - 20
11:21
Melvin Ely made Two Point Shot. Assisted by Brevin Knight.
22 - 22
11:03
Pat Garrity missed 24 ft Three Point Jumper.
22 - 22
11:00
Primoz Brezec Defensive Rebound.
22 - 22
10:41
Jameer Nelson Shooting Foul
22 - 22
10:41
Eddie House made Free Throw 1 of 2.
22 - 23
10:41
Eddie House made Free Throw 2 of 2.
22 - 24
10:30
Tony Battie missed 7 ft Jumper.
22 - 24
10:26
Jason Kapono Defensive Rebound.
22 - 24
10:15
Jason Kapono missed 15 ft Jumper.
22 - 24
10:14
Tony Battie Defensive Rebound.
22 - 24
10:08
Stacey Augmon missed Layup. Blocked by Melvin Ely.
22 - 24
10:07
Hidayet Turkoglu Offensive Rebound.
24 - 24
10:07
Hidayet Turkoglu made Layup.
24 - 24
9:48
Jason Kapono missed 16 ft Jumper.
24 - 24
9:48
Charlotte Defensive Rebound.
24 - 24
9:48
Primoz Brezec Loose Ball Foul
24 - 24
9:48
Gerald Wallace enters the game for Jason Kapono.
24 - 24
9:48
Emeka Okafor enters the game for Primoz Brezec.
24 - 24
9:33
Eddie House Shooting Foul
24 - 24
9:33
Hidayet Turkoglu made Free Throw 1 of 2.
25 - 24
9:33
Dwight Howard enters the game for Pat Garrity.
25 - 24
9:33
Hidayet Turkoglu made Free Throw 2 of 2.
26 - 24
9:15
Melvin Ely missed 5 ft Hook Shot.
26 - 24
9:11
Dwight Howard Defensive Rebound.
26 - 24
9:07
Melvin Ely Shooting Foul
26 - 24
9:07
Stacey Augmon missed Free Throw 1 of 2.
26 - 24
9:07
Orlando Offensive Rebound.
26 - 24
9:07
Stacey Augmon missed Free Throw 2 of 2.
26 - 24
9:06
Dwight Howard Offensive Rebound.
26 - 24
9:03
Dwight Howard missed Layup. Blocked by Melvin Ely.
26 - 24
9:00
Tony Battie Offensive Rebound.
26 - 24
8:57
Tony Battie missed Layup. Blocked by Emeka Okafor.
26 - 24
8:56
Eddie House Defensive Rebound.
26 - 24
8:48
Emeka Okafor missed 13 ft Jumper.
26 - 24
8:48
Charlotte Offensive Rebound.
26 - 24
8:48
Official Timeout.
26 - 24
8:48
Kelvin Cato enters the game for Tony Battie.
26 - 24
8:48
Steve Francis enters the game for Jameer Nelson.
26 - 24
8:48
Primoz Brezec enters the game for Melvin Ely.
26 - 24
8:45
Eddie House missed 17 ft Jumper.
26 - 24
8:44
Charlotte Offensive Rebound.
26 - 24
8:38
Kelvin Cato Personal Foul
26 - 24
8:38
Cuttino Mobley enters the game for Stacey Augmon.
26 - 24
8:29
Dwight Howard Personal Foul
26 - 24
8:29
Pat Garrity enters the game for Dwight Howard.
26 - 24
8:22
Eddie House made 24 ft Three Point Jumper. Assisted by Brevin Knight.
26 - 27
8:19
Brevin Knight Personal Foul
26 - 27
8:19
Steve Francis missed Free Throw 1 of 2.
26 - 27
8:19
Orlando Offensive Rebound.
26 - 27
8:19
Steve Francis made Free Throw 2 of 2.
27 - 27
7:56
Primoz Brezec missed 18 ft Jumper.
27 - 27
7:54
Charlotte Defensive Rebound.
27 - 27
7:54
Emeka Okafor Loose Ball Foul
27 - 27
7:54
Pat Garrity made Free Throw 1 of 2.
28 - 27
7:54
Pat Garrity made Free Throw 2 of 2.
29 - 27
7:43
Eddie House made 15 ft Jumper. Assisted by Brevin Knight.
29 - 29
7:33
Eddie House Shooting Foul
29 - 29
7:33
Kelvin Cato made Free Throw 1 of 2.
30 - 29
7:33
Steve Smith enters the game for Eddie House.
30 - 29
7:33
Kelvin Cato missed Free Throw 2 of 2.
30 - 29
7:31
Primoz Brezec Defensive Rebound.
30 - 29
7:24
Gerald Wallace missed Layup. Blocked by Kelvin Cato.
30 - 29
7:22
Gerald Wallace Offensive Rebound.
30 - 29
7:22
Gerald Wallace missed Layup.
30 - 29
7:22
Charlotte Offensive Rebound.
30 - 29
7:22
Grant Hill enters the game for Hidayet Turkoglu.
30 - 29
7:09
Brevin Knight Bad Pass. Stolen by Pat Garrity.
30 - 29
6:58
Grant Hill missed 17 ft Jumper.
30 - 29
6:54
Grant Hill Offensive Rebound.
32 - 29
6:54
Grant Hill made 16 ft Jumper.
32 - 29
6:48
Charlotte Full Timeout.
32 - 29
6:39
Kicked Ball
32 - 29
6:30
Brevin Knight missed Jumper.
32 - 29
6:26
Primoz Brezec Offensive Rebound.
32 - 29
6:26
Primoz Brezec missed Layup.
32 - 29
6:26
Primoz Brezec Offensive Rebound.
32 - 31
6:26
Primoz Brezec made Tip Shot.
32 - 31
6:11
Cuttino Mobley missed 27 ft Three Point Jumper.
32 - 31
6:09
Emeka Okafor Defensive Rebound.
32 - 31
5:48
Primoz Brezec made 19 ft Jumper.
32 - 33
5:33
Pat Garrity missed 18 ft Jumper.
32 - 33
5:31
Gerald Wallace Defensive Rebound.
32 - 33
5:16
Gerald Wallace missed Layup. Blocked by Kelvin Cato.
32 - 33
5:13
Kelvin Cato Defensive Rebound.
32 - 33
5:07
Grant Hill made 7 ft Two Point Shot.
34 - 33
4:45
Emeka Okafor missed Two Point Shot.
34 - 33
4:41
Steve Francis Defensive Rebound.
34 - 33
4:37
Cuttino Mobley Offensive Foul
34 - 33
4:37
Cuttino Mobley Foul
34 - 33
4:37
Jason Hart enters the game for Brevin Knight.
34 - 33
4:37
Hidayet Turkoglu enters the game for Cuttino Mobley.
34 - 33
4:24
Steve Smith missed 19 ft Jumper.
34 - 33
4:22
Emeka Okafor Offensive Rebound.
34 - 33
4:20
Steve Francis Personal Foul
34 - 33
4:16
Steve Smith made 19 ft Jumper. Assisted by Jason Hart.
34 - 35
3:55
Kelvin Cato missed Two Point Shot.
34 - 35
3:53
Kelvin Cato Offensive Rebound.
34 - 35
3:53
Kelvin Cato missed Layup.
34 - 35
3:50
Gerald Wallace Defensive Rebound.
34 - 35
3:34
Gerald Wallace missed 20 ft Jumper.
34 - 35
3:34
Charlotte Defensive Rebound.
34 - 35
3:34
Emeka Okafor Loose Ball Foul
34 - 35
3:34
Grant Hill made Free Throw 1 of 2.
35 - 35
3:34
Melvin Ely enters the game for Emeka Okafor.
35 - 35
3:34
Jason Kapono enters the game for Gerald Wallace.
35 - 35
3:34
Grant Hill made Free Throw 2 of 2.
36 - 35
3:20
Steve Smith made 22 ft Three Point Jumper. Assisted by Jason Hart.
36 - 38
3:13
Steve Francis missed 18 ft Jumper.
36 - 38
3:10
Melvin Ely Defensive Rebound.
36 - 38
2:53
Primoz Brezec made 9 ft Jumper. Assisted by Jason Kapono.
36 - 40
2:46
Orlando Full Timeout.
36 - 40
2:46
Tony Battie enters the game for Kelvin Cato.
36 - 40
2:35
Steve Francis Lost Ball. Stolen by Jason Kapono.
36 - 40
2:20
Jason Kapono made 17 ft Jumper. Assisted by Jason Hart.
36 - 42
2:01
Tony Battie missed 16 ft Jumper.
36 - 42
2:00
Orlando Offensive Rebound.
36 - 42
2:00
Jason Kapono Loose Ball Foul
36 - 42
2:00
Pat Garrity made Free Throw 1 of 2.
37 - 42
2:00
Pat Garrity made Free Throw 2 of 2.
38 - 42
1:40
Steve Smith made Hook Shot. Assisted by Jason Hart.
38 - 44
1:31
Grant Hill missed 19 ft Jumper.
38 - 44
1:29
Tony Battie Offensive Rebound.
38 - 44
1:29
Tony Battie missed Layup. Blocked by Melvin Ely.
38 - 44
1:27
Jason Hart Defensive Rebound.
38 - 44
1:14
Primoz Brezec made Dunk. Assisted by Jason Hart.
38 - 46
0:54
Pat Garrity missed 25 ft Three Point Jumper.
38 - 46
0:51
Jason Kapono Defensive Rebound.
38 - 46
0:39
Melvin Ely missed 18 ft Jumper.
38 - 46
0:36
Pat Garrity Defensive Rebound.
38 - 46
0:30
Pat Garrity made Layup.
40 - 46
0:06
Jason Hart made 25 ft Three Point Jumper. Assisted by Primoz Brezec.
40 - 49
0:00
Steve Francis made 21 ft Jumper.
42 - 49
0:00
End of the 2nd Quarter.
42 - 49

time
TEAM
PLAY
SCORE
12:00
Start of the 3rd Quarter.
42 - 49
11:37
Steve Francis missed 19 ft Jumper.
42 - 49
11:34
Kelvin Cato Offensive Rebound.
42 - 49
11:34
Kelvin Cato missed Tip Shot.
42 - 49
11:32
Emeka Okafor Defensive Rebound.
42 - 49
11:18
Emeka Okafor made 18 ft Jumper. Assisted by Brevin Knight.
42 - 51
10:33
Primoz Brezec missed Layup.
42 - 51
10:32
Primoz Brezec Offensive Rebound.
42 - 53
10:32
Primoz Brezec made Tip Shot.
42 - 53
10:22
Steve Francis Bad Pass. Stolen by Gerald Wallace.
42 - 53
10:21
Gerald Wallace made Layup.
42 - 55
10:21
Steve Francis Shooting Foul
42 - 55
10:21
Orlando Full Timeout.
42 - 55
10:21
Gerald Wallace missed Free Throw 1 of 1.
42 - 55
10:18
Kelvin Cato Defensive Rebound.
42 - 55
10:00
Cuttino Mobley made 13 ft Two Point Shot.
44 - 55
9:44
Brevin Knight missed 18 ft Jumper.
44 - 55
9:41
Dwight Howard Defensive Rebound.
44 - 55
9:38
Dwight Howard Bad Pass
44 - 55
8:40
Gerald Wallace missed Layup. Blocked by Kelvin Cato.
44 - 55
8:37
Emeka Okafor made Two Point Shot.
44 - 57
8:27
Grant Hill missed Layup. Blocked by Emeka Okafor.
44 - 57
8:26
Brevin Knight Defensive Rebound.
44 - 57
8:18
Brevin Knight made 18 ft Jumper.
44 - 59
8:02
Cuttino Mobley missed 16 ft Jumper.
44 - 59
8:00
Dwight Howard Offensive Rebound.
44 - 59
8:00
Dwight Howard missed Tip Shot.
44 - 59
7:58
Primoz Brezec Defensive Rebound.
44 - 59
7:54
Jason Hart missed 15 ft Jumper.
44 - 59
7:52
Dwight Howard Defensive Rebound.
44 - 59
7:48
Dwight Howard Offensive Foul
44 - 59
7:48
Dwight Howard Foul
44 - 59
7:48
Pat Garrity enters the game for Dwight Howard.
44 - 59
7:48
Tony Battie enters the game for Kelvin Cato.
44 - 59
7:33
Gerald Wallace missed 20 ft Jumper.
44 - 59
7:33
Charlotte Offensive Rebound.
44 - 59
7:33
Tony Battie Loose Ball Foul
44 - 59
7:28
Tony Battie Personal Foul
44 - 59
7:28
Charlotte Full Timeout.
44 - 59
7:13
Primoz Brezec Offensive Foul
44 - 59
7:13
Primoz Brezec Foul
44 - 59
7:00
Tony Battie Bad Pass. Stolen by Gerald Wallace.
44 - 59
6:58
Tony Battie Shooting Foul
44 - 59
6:58
Gerald Wallace missed Free Throw 1 of 2.
44 - 59
6:58
Charlotte Offensive Rebound.
44 - 59
6:58
Eddie House enters the game for Brevin Knight.
44 - 59
6:58
Gerald Wallace made Free Throw 2 of 2.
44 - 60
6:48
Grant Hill Lost Ball. Stolen by Gerald Wallace.
44 - 60
6:46
Grant Hill Shooting Foul
44 - 60
6:46
Gerald Wallace made Free Throw 1 of 2.
44 - 61
6:46
Gerald Wallace missed Free Throw 2 of 2.
44 - 61
6:45
Grant Hill Defensive Rebound.
44 - 61
6:37
Gerald Wallace Personal Foul
44 - 61
6:24
Steve Francis Lost Ball. Stolen by Jason Hart.
44 - 61
6:18
Gerald Wallace made Two Point Shot. Assisted by Jason Hart.
44 - 63
6:11
Cuttino Mobley Offensive Foul
44 - 63
6:11
Cuttino Mobley Foul
44 - 63
6:11
Orlando Full Timeout.
44 - 63
6:11
DeShawn Stevenson enters the game for Cuttino Mobley.
44 - 63
6:11
Hidayet Turkoglu enters the game for Tony Battie.
44 - 63
5:48
Pat Garrity Shooting Foul
44 - 63
5:48
Primoz Brezec missed Free Throw 1 of 2.
44 - 63
5:48
Charlotte Offensive Rebound.
44 - 63
5:48
Primoz Brezec made Free Throw 2 of 2.
44 - 64
5:28
Pat Garrity missed Layup.
44 - 64
5:26
Steve Francis Offensive Rebound.
44 - 64
5:26
Steve Francis missed Tip Shot.
44 - 64
5:24
Hidayet Turkoglu Offensive Rebound.
46 - 64
5:24
Hidayet Turkoglu made Tip Shot.
46 - 64
5:07
Emeka Okafor made 9 ft Jumper. Assisted by Gerald Wallace.
46 - 66
4:56
Pat Garrity missed 16 ft Jumper.
46 - 66
4:54
Gerald Wallace Defensive Rebound.
46 - 66
4:39
Eddie House missed 26 ft Three Point Jumper.
46 - 66
4:35
Grant Hill Defensive Rebound.
46 - 66
4:30
Grant Hill made 16 ft Jumper.
48 - 66
4:13
Grant Hill Personal Foul
48 - 66
4:13
Gerald Wallace made Free Throw 1 of 2.
48 - 67
4:13
Stacey Augmon enters the game for Grant Hill.
48 - 67
4:13
Melvin Ely enters the game for Primoz Brezec.
48 - 67
4:13
Gerald Wallace made Free Throw 2 of 2.
48 - 68
4:01
Hidayet Turkoglu missed 27 ft Three Point Jumper.
48 - 68
4:00
Melvin Ely Defensive Rebound.
48 - 68
3:47
Jason Hart made Two Point Shot.
48 - 70
3:33
Gerald Wallace Personal Foul
48 - 70
3:33
Jason Kapono enters the game for Gerald Wallace.
48 - 70
3:26
Steve Francis missed Layup. Blocked by Eddie House.
48 - 70
3:24
Steve Francis Offensive Rebound.
48 - 70
3:21
DeShawn Stevenson made 26 ft Three Point Jumper. Assisted by Steve Francis.
51 - 70
3:05
Melvin Ely Offensive Foul
51 - 70
3:05
Melvin Ely Foul
51 - 70
2:54
Hidayet Turkoglu missed 26 ft Three Point Jumper.
51 - 70
2:51
Steve Francis Offensive Rebound.
51 - 70
2:48
Steve Francis made Layup.
53 - 70
2:47
Charlotte Full Timeout.
53 - 70
2:33
Jason Hart Lost Ball. Stolen by Stacey Augmon.
53 - 70
2:31
Steve Francis missed Layup.
53 - 70
2:28
DeShawn Stevenson Offensive Rebound.
53 - 70
2:28
DeShawn Stevenson missed Two Point Shot.
53 - 70
2:25
Steve Francis Offensive Rebound.
53 - 70
2:21
DeShawn Stevenson made Layup. Assisted by Steve Francis.
55 - 70
2:03
Eddie House missed 19 ft Jumper.
55 - 70
2:02
Charlotte Defensive Rebound.
55 - 70
1:58
Emeka Okafor Shooting Foul
55 - 70
1:58
Hidayet Turkoglu made Free Throw 1 of 2.
56 - 70
1:58
Steve Smith enters the game for Eddie House.
56 - 70
1:58
Jameer Nelson enters the game for Steve Francis.
56 - 70
1:58
Primoz Brezec enters the game for Emeka Okafor.
56 - 70
1:58
Hidayet Turkoglu made Free Throw 2 of 2.
57 - 70
1:52
Hidayet Turkoglu Personal Foul
57 - 70
1:52
Jason Hart made Free Throw 1 of 2.
57 - 71
1:52
Jason Hart made Free Throw 2 of 2.
57 - 72
1:34
Pat Garrity missed 7 ft Two Point Shot.
57 - 72
1:31
Steve Smith Defensive Rebound.
57 - 72
1:20
Melvin Ely missed 5 ft Hook Shot.
57 - 72
1:15
Jameer Nelson Defensive Rebound.
57 - 72
1:02
Hidayet Turkoglu made 18 ft Jumper.
59 - 72
0:54
Melvin Ely Lost Ball. Stolen by Stacey Augmon.
59 - 72
0:54
Melvin Ely Loose Ball Foul
59 - 72
0:54
Gerald Wallace enters the game for Melvin Ely.
59 - 72
0:54
Stacey Augmon made Free Throw 1 of 2.
60 - 72
0:54
Brevin Knight enters the game for Jason Hart.
60 - 72
0:54
Stacey Augmon made Free Throw 2 of 2.
61 - 72
0:41
Brevin Knight made Two Point Shot.
61 - 74
0:41
Pat Garrity Shooting Foul
61 - 74
0:41
Brevin Knight made Free Throw 1 of 1.
61 - 75
0:39
Gerald Wallace Personal Foul
61 - 75
0:39
Jameer Nelson made Free Throw 1 of 2.
62 - 75
0:39
Bernard Robinson Jr enters the game for Gerald Wallace.
62 - 75
0:39
Jameer Nelson made Free Throw 2 of 2.
63 - 75
0:29
Jason Kapono made 17 ft Jumper. Assisted by Brevin Knight.
63 - 77
0:17
DeShawn Stevenson missed 18 ft Jumper.
63 - 77
0:13
Stacey Augmon Offensive Rebound.
63 - 77
0:13
Stacey Augmon Traveling
63 - 77
0:02
Brevin Knight missed Layup.
63 - 77
0:02
Primoz Brezec Offensive Rebound.
63 - 79
0:02
Primoz Brezec made Tip Shot.
63 - 79
0:00
DeShawn Stevenson missed 51 ft Three Point Jumper.
63 - 79
0:00
Orlando Offensive Rebound.
63 - 79
0:00
End of the 3rd Quarter.
63 - 79

time
TEAM
PLAY
SCORE
12:00
Start of the 4th Quarter.
63 - 79
11:44
Bernard Robinson Jr missed 15 ft Jumper.
63 - 79
11:40
Dwight Howard Defensive Rebound.
63 - 79
11:33
Cuttino Mobley made 24 ft Three Point Jumper. Assisted by Hidayet Turkoglu.
66 - 79
11:15
Bernard Robinson Jr made Layup.
66 - 81
11:15
Hidayet Turkoglu Shooting Foul
66 - 81
11:15
Bernard Robinson Jr made Free Throw 1 of 1.
66 - 82
11:07
Bernard Robinson Jr Personal Foul
66 - 82
11:03
Steve Francis made Two Point Shot.
68 - 82
10:48
Brevin Knight made Two Point Shot.
68 - 84
10:48
Steve Francis Shooting Foul
68 - 84
10:48
Gerald Wallace enters the game for Bernard Robinson Jr.
68 - 84
10:48
Brevin Knight made Free Throw 1 of 1.
68 - 85
10:44
Steve Francis missed Dunk.
68 - 85
10:41
Cuttino Mobley Offensive Rebound.
68 - 85
10:40
Cuttino Mobley made 26 ft Three Point Jumper.
71 - 85
10:22
DeShawn Stevenson Shooting Foul
71 - 85
10:22
Gerald Wallace made Free Throw 1 of 2.
71 - 86
10:22
Gerald Wallace missed Free Throw 2 of 2.
71 - 86
10:22
DeShawn Stevenson enters the game for Stacey Augmon.
71 - 88
10:21
Gerald Wallace Offensive Rebound.
71 - 86
10:18
Gerald Wallace made Layup.
71 - 88
10:07
Cuttino Mobley made 15 ft Jumper.
73 - 88
9:44
Steve Smith missed 15 ft Jumper.
73 - 88
9:41
DeShawn Stevenson Defensive Rebound.
73 - 88
9:26
DeShawn Stevenson Lost Ball. Stolen by Steve Smith.
73 - 88
9:08
Steve Francis Personal Foul
73 - 88
9:08
Jason Hart enters the game for Brevin Knight.
73 - 88
9:08
Emeka Okafor enters the game for Steve Smith.
73 - 88
9:00
Primoz Brezec missed Jumper. Blocked by Dwight Howard.
73 - 88
8:56
Dwight Howard Defensive Rebound.
73 - 88
8:52
Cuttino Mobley missed 26 ft Three Point Jumper.
73 - 88
8:47
Emeka Okafor Defensive Rebound.
73 - 88
8:34
Jason Kapono missed 11 ft Jumper.
73 - 88
8:33
Hidayet Turkoglu Defensive Rebound.
73 - 88
8:30
Primoz Brezec Shooting Foul
73 - 88
8:30
Official Timeout.
73 - 88
8:30
Jameer Nelson enters the game for Steve Francis.
73 - 88
8:30
Grant Hill enters the game for Hidayet Turkoglu.
73 - 88
8:30
Bernard Robinson Jr enters the game for Primoz Brezec.
73 - 88
8:30
Steve Smith enters the game for Jason Kapono.
73 - 88
8:30
Cuttino Mobley made Free Throw 1 of 2.
74 - 88
8:30
Jason Hart enters the game for Primoz Brezec.
74 - 88
8:30
Cuttino Mobley made Free Throw 2 of 2.
75 - 88
8:11
Emeka Okafor made 4 ft Hook Shot.
75 - 90
7:50
DeShawn Stevenson made 21 ft Jumper. Assisted by Jameer Nelson.
77 - 90
7:31
Jason Hart made Jumper. Assisted by Gerald Wallace.
77 - 92
7:13
DeShawn Stevenson made 21 ft Jumper.
79 - 92
6:48
Jason Hart missed 18 ft Jumper.
79 - 92
6:46
Dwight Howard Defensive Rebound.
79 - 92
6:43
Gerald Wallace Personal Foul
79 - 92
6:37
Grant Hill made 16 ft Jumper. Assisted by Jameer Nelson.
81 - 92
6:13
Emeka Okafor missed 7 ft Jumper.
81 - 92
6:11
Dwight Howard Defensive Rebound.
81 - 92
6:05
Dwight Howard made Two Point Shot. Assisted by Jameer Nelson.
83 - 92
6:05
Charlotte Full Timeout.
83 - 92
5:50
Steve Smith made 18 ft Jumper. Assisted by Jason Hart.
83 - 94
5:33
Jameer Nelson missed 21 ft Jumper.
83 - 94
5:31
Jason Hart Defensive Rebound.
83 - 94
5:16
Steve Smith missed 18 ft Jumper.
83 - 94
5:13
Charlotte Offensive Rebound.
83 - 94
5:13
Brevin Knight enters the game for Jason Hart.
83 - 94
5:13
Steve Francis enters the game for Jameer Nelson.
83 - 94
5:13
Hidayet Turkoglu enters the game for Grant Hill.
83 - 94
5:13
null
83 - 94
4:56
Steve Smith Lost Ball. Stolen by Cuttino Mobley.
83 - 94
4:52
Cuttino Mobley missed 26 ft Three Point Jumper.
83 - 94
4:50
Brevin Knight Defensive Rebound.
83 - 94
4:41
Brevin Knight missed Layup. Blocked by Dwight Howard.
83 - 94
4:39
Dwight Howard Defensive Rebound.
83 - 94
4:35
Steve Smith Shooting Foul
83 - 94
4:35
Bernard Robinson Jr Double Technical Foul. Hidayet Turkoglu gains possession.
83 - 94
4:35
DeShawn Stevenson missed Free Throw 1 of 2.
83 - 94
4:35
Orlando Offensive Rebound.
83 - 94
4:35
DeShawn Stevenson made Free Throw 2 of 2.
84 - 94
4:18
Steve Smith made 14 ft Two Point Shot.
84 - 96
4:05
Steve Francis missed Layup.
84 - 96
4:05
Gerald Wallace Defensive Rebound.
84 - 96
4:05
Steve Francis Personal Foul
84 - 96
4:05
Jameer Nelson enters the game for Steve Francis.
84 - 96
4:05
Gerald Wallace missed Free Throw 1 of 2.
84 - 96
4:05
Charlotte Offensive Rebound.
84 - 96
4:05
Gerald Wallace made Free Throw 2 of 2.
84 - 97
3:54
Bernard Robinson Jr Shooting Foul
84 - 97
3:54
Cuttino Mobley made Free Throw 1 of 2.
85 - 97
3:54
Cuttino Mobley made Free Throw 2 of 2.
86 - 97
3:35
Emeka Okafor missed 8 ft Jumper. Blocked by Dwight Howard.
86 - 97
3:35
Charlotte Offensive Rebound.
86 - 97
3:35
Stacey Augmon enters the game for DeShawn Stevenson.
86 - 97
3:33
Emeka Okafor Bad Pass
86 - 97
3:21
Cuttino Mobley made Layup.
88 - 97
3:00
Stacey Augmon Shooting Foul
88 - 97
3:00
Charlotte Full Timeout.
88 - 97
3:00
Jahidi White enters the game for Brevin Knight.
88 - 97
3:00
Jahidi White made Free Throw 1 of 2.
88 - 98
3:00
Jahidi White missed Free Throw 2 of 2.
88 - 98
2:59
Jahidi White Offensive Rebound.
88 - 98
2:47
Emeka Okafor missed 11 ft Two Point Shot.
88 - 98
2:44
Stacey Augmon Defensive Rebound.
88 - 98
2:35
Stacey Augmon missed 6 ft Hook Shot.
88 - 98
2:32
Emeka Okafor Defensive Rebound.
88 - 98
2:18
Stacey Augmon Shooting Foul
88 - 98
2:18
Jahidi White missed Free Throw 1 of 2.
88 - 98
2:18
Charlotte Offensive Rebound.
88 - 98
2:18
Orlando Full Timeout.
88 - 98
2:18
Pat Garrity enters the game for Stacey Augmon.
88 - 98
2:18
Jahidi White made Free Throw 2 of 2.
88 - 99
2:12
Pat Garrity missed 26 ft Three Point Jumper.
88 - 99
2:09
Gerald Wallace Defensive Rebound.
88 - 99
2:08
Charlotte 20 Sec. Timeout.
88 - 99
2:08
Jason Hart enters the game for Jahidi White.
88 - 99
1:55
Hidayet Turkoglu Personal Foul
88 - 99
1:55
Steve Smith made Free Throw 1 of 2.
88 - 100
1:55
Steve Smith made Free Throw 2 of 2.
88 - 101
1:51
Jameer Nelson made Layup.
90 - 101
1:47
Cuttino Mobley Personal Foul
90 - 101
1:47
Bernard Robinson Jr missed Free Throw 1 of 2.
90 - 101
1:47
Charlotte Offensive Rebound.
90 - 101
1:47
Bernard Robinson Jr made Free Throw 2 of 2.
90 - 102
1:40
Hidayet Turkoglu missed 24 ft Three Point Jumper.
90 - 102
1:39
Dwight Howard Offensive Rebound.
90 - 102
1:39
Dwight Howard made Layup.
92 - 102
1:27
Gerald Wallace made Two Point Shot. Assisted by Bernard Robinson Jr.
92 - 104
1:20
Cuttino Mobley missed 21 ft Jumper.
92 - 104
1:16
Dwight Howard Offensive Rebound.
92 - 104
1:16
Gerald Wallace Shooting Foul
92 - 104
1:16
Primoz Brezec enters the game for Gerald Wallace.
92 - 104
1:16
Dwight Howard made Free Throw 1 of 2.
93 - 104
1:16
Dwight Howard missed Free Throw 2 of 2.
93 - 104
1:15
Emeka Okafor Defensive Rebound.
93 - 104
1:10
Jameer Nelson Personal Foul
93 - 104
1:10
Bernard Robinson Jr made Free Throw 1 of 2.
93 - 105
1:10
Bernard Robinson Jr made Free Throw 2 of 2.
93 - 106
1:00
Cuttino Mobley made 24 ft Three Point Jumper. Assisted by Jameer Nelson.
96 - 106
0:50
Jameer Nelson Personal Foul
96 - 106
0:50
Jason Hart missed Free Throw 1 of 2.
96 - 106
0:50
Charlotte Offensive Rebound.
96 - 106
0:50
Jason Hart made Free Throw 2 of 2.
96 - 107
0:50
Orlando Full Timeout.
96 - 107
0:47
Jameer Nelson made Two Point Shot.
98 - 107
0:45
Cuttino Mobley Personal Foul
98 - 107
0:45
DeShawn Stevenson enters the game for Cuttino Mobley.
98 - 107
0:45
Steve Smith missed Free Throw 1 of 2.
98 - 107
0:45
Charlotte Offensive Rebound.
98 - 107
0:45
Steve Smith made Free Throw 2 of 2.
98 - 108
0:34
Hidayet Turkoglu made 5 ft Jumper. Assisted by Jameer Nelson.
100 - 108
0:33
Pat Garrity Personal Foul
100 - 108
0:33
Jason Hart made Free Throw 1 of 2.
100 - 109
0:33
Jason Hart made Free Throw 2 of 2.
100 - 110
0:33
Orlando 20 Sec. Timeout.
100 - 110
0:26
Pat Garrity missed Layup.
100 - 110
0:25
Emeka Okafor Defensive Rebound.
100 - 110
0:25
Jameer Nelson Personal Foul
100 - 110
0:25
Emeka Okafor missed Free Throw 1 of 2.
100 - 110
0:25
Charlotte Offensive Rebound.
100 - 110
0:25
Emeka Okafor made Free Throw 2 of 2.
100 - 111
0:17
Jameer Nelson missed Layup.
100 - 111
0:15
Emeka Okafor Defensive Rebound.
100 - 111
0:15
Emeka Okafor Bad Pass. Stolen by Jameer Nelson.
100 - 111
0:12
DeShawn Stevenson missed Three Point Jumper.
100 - 111
0:08
Primoz Brezec Defensive Rebound.
100 - 111
0:00
End of the 4th Quarter.
100 - 111
0:00
End Game
100 - 111
Did the draft's skinniest player steal somebody's lunch?

Joe Kaiser breaks down if Derrick Rose can produce for the Knicks and how he'll affect Carmelo Anthony and Kristaps Porzingis. Plus, what kind of boost does Jimmy Butler get with Rose gone?

President Barack Obama has "discussed" being part of an NBA franchise ownership group, White House press secretary Josh Earnest told the Washington Post on Wednesday.
Regular Season Series
CHA wins series 3-1
2015-2016 Southeast Standings