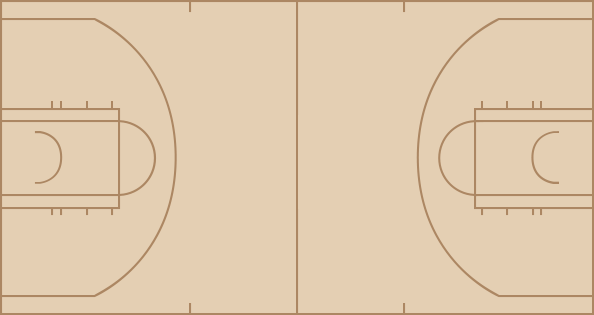 Magic
time
TEAM
PLAY
SCORE
12:00
Start of the 1st Quarter.
0 - 0
12:00
Jumpball. Dwight Howard vs. Brendan Haywood. Larry Hughes gains possession.
0 - 0
11:53
Larry Hughes made Layup.
0 - 2
11:36
Grant Hill missed 17 ft Jumper.
0 - 2
11:33
Michael Ruffin Defensive Rebound.
0 - 2
11:18
Brendan Haywood Traveling
0 - 2
11:06
Dwight Howard missed 5 ft Jumper.
0 - 2
11:03
Gilbert Arenas Defensive Rebound.
0 - 2
10:56
Gilbert Arenas made 26 ft Three Point Jumper. Assisted by Antawn Jamison.
0 - 5
10:36
Tony Battie missed 13 ft Jumper.
0 - 5
10:33
Gilbert Arenas Defensive Rebound.
0 - 5
10:27
Antawn Jamison missed Layup.
0 - 5
10:27
Washington Defensive Rebound.
0 - 5
10:27
Brendan Haywood Loose Ball Foul
0 - 5
10:15
Dwight Howard Offensive Foul
0 - 5
10:15
Dwight Howard Foul
0 - 5
10:04
Brendan Haywood made 5 ft Hook Shot. Assisted by Gilbert Arenas.
0 - 7
9:51
Dwight Howard missed Jumper.
0 - 7
9:49
Dwight Howard Offensive Rebound.
0 - 7
9:42
Grant Hill made 17 ft Jumper.
2 - 7
9:37
Antawn Jamison Offensive Foul
2 - 7
9:37
Antawn Jamison Foul
2 - 7
9:25
Tony Battie missed 13 ft Jumper.
2 - 7
9:22
Michael Ruffin Defensive Rebound.
2 - 7
9:14
Dwight Howard Shooting Foul
2 - 7
9:14
Pat Garrity enters the game for Dwight Howard.
2 - 7
9:14
Michael Ruffin made Free Throw 1 of 2.
2 - 8
9:14
Michael Ruffin made Free Throw 2 of 2.
2 - 9
8:52
Steve Francis missed 19 ft Jumper.
2 - 9
8:48
Michael Ruffin Defensive Rebound.
2 - 9
8:45
Larry Hughes missed Layup.
2 - 9
8:42
DeShawn Stevenson Defensive Rebound.
2 - 9
8:36
Grant Hill made 10 ft Jumper. Assisted by DeShawn Stevenson.
4 - 9
8:18
DeShawn Stevenson Shooting Foul
4 - 9
8:18
Larry Hughes made Free Throw 1 of 2.
4 - 10
8:18
Larry Hughes made Free Throw 2 of 2.
4 - 11
8:06
Gilbert Arenas Personal Foul
4 - 11
7:52
Steve Francis missed 14 ft Jumper.
4 - 11
7:50
Antawn Jamison Defensive Rebound.
4 - 11
7:46
DeShawn Stevenson Personal Foul
4 - 11
7:39
Gilbert Arenas made Two Point Shot.
4 - 13
7:37
Larry Hughes Personal Foul
4 - 13
7:26
Pat Garrity made Layup. Assisted by Grant Hill.
6 - 13
7:13
Antawn Jamison missed 14 ft Jumper.
6 - 13
7:11
Tony Battie Defensive Rebound.
6 - 13
7:01
Grant Hill missed 20 ft Jumper.
6 - 13
7:00
DeShawn Stevenson Offensive Rebound.
6 - 13
6:58
DeShawn Stevenson made Layup.
8 - 13
6:41
Tony Battie Personal Foul
8 - 13
6:41
Jarvis Hayes enters the game for Brendan Haywood.
8 - 13
6:28
Larry Hughes missed 18 ft Jumper.
8 - 13
6:26
Michael Ruffin Offensive Rebound.
8 - 13
6:24
Larry Hughes missed 25 ft Three Point Jumper.
8 - 13
6:22
Tony Battie Defensive Rebound.
8 - 13
6:09
Grant Hill made Two Point Shot. Assisted by Tony Battie.
10 - 13
5:56
Larry Hughes Traveling
10 - 13
5:56
Washington Full Timeout.
10 - 13
5:56
Hidayet Turkoglu enters the game for DeShawn Stevenson.
10 - 13
5:48
Grant Hill missed Layup.
10 - 13
5:48
Orlando Defensive Rebound.
10 - 13
5:35
Tony Battie Personal Foul
10 - 13
5:35
Gilbert Arenas made Free Throw 1 of 2.
10 - 14
5:35
Michael Bradley enters the game for Tony Battie.
10 - 14
5:35
Gilbert Arenas missed Free Throw 2 of 2.
10 - 14
5:35
Pat Garrity Defensive Rebound.
10 - 14
5:22
Steve Francis made 17 ft Jumper. Assisted by Hidayet Turkoglu.
12 - 14
4:56
Larry Hughes missed 9 ft Jumper.
12 - 14
4:54
Michael Ruffin Offensive Rebound.
12 - 14
4:52
Michael Ruffin missed Layup.
12 - 14
4:50
Steve Francis Defensive Rebound.
12 - 14
4:48
Steve Francis made Two Point Shot.
14 - 14
4:24
Michael Ruffin missed 14 ft Jumper.
14 - 14
4:22
Larry Hughes Offensive Rebound.
14 - 14
4:20
Larry Hughes made Layup.
14 - 16
4:07
Grant Hill made 16 ft Two Point Shot.
16 - 16
3:47
Gilbert Arenas missed 12 ft Jumper.
16 - 16
3:46
Pat Garrity Defensive Rebound.
16 - 16
3:43
Grant Hill made Layup. Assisted by Hidayet Turkoglu.
18 - 16
3:23
Larry Hughes missed 26 ft Three Point Jumper.
18 - 16
3:20
Steve Francis Defensive Rebound.
18 - 16
3:17
Grant Hill made Dunk. Assisted by Steve Francis.
20 - 16
3:13
Washington 20 Sec. Timeout.
20 - 16
3:13
Anthony Peeler enters the game for Larry Hughes.
20 - 16
3:13
Jameer Nelson enters the game for Grant Hill.
20 - 16
3:00
Gilbert Arenas made 22 ft Jumper.
20 - 18
2:46
Pat Garrity made 19 ft Jumper. Assisted by Jameer Nelson.
22 - 18
2:27
Jarvis Hayes missed 13 ft Jumper.
22 - 18
2:26
Steve Francis Defensive Rebound.
22 - 18
2:17
Michael Ruffin Shooting Foul
22 - 18
2:17
Orlando Full Timeout.
22 - 18
2:17
Samaki Walker enters the game for Michael Ruffin.
22 - 18
2:17
Steve Francis made Free Throw 1 of 2.
23 - 18
2:17
Steve Francis made Free Throw 2 of 2.
24 - 18
2:06
Antawn Jamison missed 7 ft Jumper.
24 - 18
2:04
Michael Bradley Defensive Rebound.
24 - 18
1:55
Jameer Nelson missed 5 ft Jumper.
24 - 18
1:54
Orlando Defensive Rebound.
24 - 18
1:40
Jarvis Hayes missed 14 ft Jumper.
24 - 18
1:39
Samaki Walker Offensive Rebound.
24 - 18
1:32
Jarvis Hayes missed Layup.
24 - 18
1:31
Michael Bradley Defensive Rebound.
24 - 18
1:25
Steve Francis missed 19 ft Jumper.
24 - 18
1:23
Samaki Walker Defensive Rebound.
24 - 18
1:14
Hidayet Turkoglu Shooting Foul
24 - 18
1:14
Jarvis Hayes made Free Throw 1 of 2.
24 - 19
1:14
Stacey Augmon enters the game for Steve Francis.
24 - 19
1:14
Jarvis Hayes made Free Throw 2 of 2.
24 - 20
1:04
Hidayet Turkoglu missed 18 ft Jumper.
24 - 20
1:01
Michael Bradley Offensive Rebound.
24 - 20
0:50
Pat Garrity missed 26 ft Three Point Jumper.
24 - 20
0:48
Jarvis Hayes Defensive Rebound.
24 - 20
0:41
Pat Garrity Personal Foul
24 - 20
0:41
Antawn Jamison made Free Throw 1 of 2.
24 - 21
0:41
Antawn Jamison made Free Throw 2 of 2.
24 - 22
0:31
Hidayet Turkoglu missed 22 ft Jumper.
24 - 22
0:29
Antawn Jamison Defensive Rebound.
24 - 22
0:10
Antawn Jamison missed 8 ft Jumper.
24 - 22
0:09
Samaki Walker Offensive Rebound.
24 - 22
0:09
Stacey Augmon Shooting Foul
24 - 22
0:09
Samaki Walker made Free Throw 1 of 2.
24 - 23
0:09
Laron Profit enters the game for Antawn Jamison.
24 - 23
0:09
Samaki Walker made Free Throw 2 of 2.
24 - 24
0:01
Hidayet Turkoglu made 19 ft Jumper. Assisted by Jameer Nelson.
26 - 24
0:00
End of the 1st Quarter.
26 - 24

time
TEAM
PLAY
SCORE
12:00
Start of the 2nd Quarter.
26 - 24
11:45
Michael Bradley made 6 ft Two Point Shot.
28 - 24
11:18
Juan Dixon missed 18 ft Jumper.
28 - 24
11:15
Michael Bradley Defensive Rebound.
28 - 24
10:56
Jameer Nelson Bad Pass. Stolen by Jarvis Hayes.
28 - 24
10:42
Anthony Peeler missed 27 ft Three Point Jumper.
28 - 24
10:41
Dwight Howard Defensive Rebound.
28 - 24
10:27
Michael Bradley Bad Pass. Stolen by Anthony Peeler.
28 - 24
10:22
Brendan Haywood enters the game for Jarvis Hayes.
28 - 24
10:22
Antawn Jamison enters the game for Laron Profit.
28 - 24
10:17
Juan Dixon made 18 ft Two Point Shot.
28 - 26
9:56
Michael Bradley missed 21 ft Jumper.
28 - 26
9:53
Anthony Peeler Defensive Rebound.
28 - 26
9:45
Anthony Peeler Bad Pass. Stolen by Hidayet Turkoglu.
28 - 26
9:41
Hidayet Turkoglu Bad Pass. Stolen by Anthony Peeler.
28 - 26
9:33
Antawn Jamison made Layup. Assisted by Juan Dixon.
28 - 28
9:17
Dwight Howard made 10 ft Two Point Shot. Assisted by Michael Bradley.
30 - 28
8:53
Samaki Walker Traveling
30 - 28
8:53
Official Timeout.
30 - 28
8:53
Steve Francis enters the game for Jameer Nelson.
30 - 28
8:53
Jarvis Hayes enters the game for Samaki Walker.
30 - 28
8:53
Tony Battie enters the game for Michael Bradley.
30 - 28
8:37
Steve Francis missed 4 ft Jumper.
30 - 28
8:36
Brendan Haywood Defensive Rebound.
30 - 28
8:30
Steve Francis Shooting Foul
30 - 30
8:30
DeShawn Stevenson enters the game for Stacey Augmon.
30 - 30
8:30
Grant Hill enters the game for Hidayet Turkoglu.
30 - 30
8:30
Antawn Jamison made Layup. Assisted by Juan Dixon.
30 - 30
8:30
Antawn Jamison made Free Throw 1 of 1.
30 - 31
8:12
DeShawn Stevenson missed 4 ft Jumper.
30 - 31
8:11
Dwight Howard Offensive Rebound.
30 - 31
8:10
Dwight Howard missed 3 ft Jumper. Blocked by Brendan Haywood.
30 - 31
8:06
Dwight Howard Offensive Rebound.
30 - 31
8:03
Dwight Howard made Layup.
32 - 31
7:48
Brendan Haywood missed Jumper.
32 - 31
7:47
Dwight Howard Defensive Rebound.
32 - 31
7:31
Jarvis Hayes Shooting Foul
32 - 31
7:31
Grant Hill made Free Throw 1 of 2.
33 - 31
7:31
Gilbert Arenas enters the game for Anthony Peeler.
33 - 31
7:31
Grant Hill made Free Throw 2 of 2.
34 - 31
7:15
Jarvis Hayes missed 14 ft Jumper.
34 - 31
7:13
Steve Francis Defensive Rebound.
34 - 31
7:09
Steve Francis missed 4 ft Jumper.
34 - 31
7:07
Tony Battie Offensive Rebound.
34 - 31
7:05
Tony Battie made Layup.
36 - 31
6:50
Juan Dixon made 16 ft Jumper.
36 - 33
6:33
Grant Hill Bad Pass. Stolen by Antawn Jamison.
36 - 33
6:26
Juan Dixon missed 23 ft Three Point Jumper.
36 - 33
6:24
Grant Hill Defensive Rebound.
36 - 33
6:20
Steve Francis Bad Pass
36 - 33
6:05
Steve Francis Shooting Foul
36 - 33
6:05
Brendan Haywood made Free Throw 1 of 2.
36 - 34
6:05
Brendan Haywood made Free Throw 2 of 2.
36 - 35
5:54
Steve Francis made Two Point Shot.
38 - 35
5:48
Jarvis Hayes Offensive Foul
38 - 35
5:48
Jarvis Hayes Foul
38 - 35
5:48
Washington Full Timeout.
38 - 35
5:31
Grant Hill missed 19 ft Jumper.
38 - 35
5:28
Tony Battie Offensive Rebound.
38 - 35
5:24
Tony Battie missed Layup.
38 - 35
5:22
Tony Battie Offensive Rebound.
38 - 35
5:20
Tony Battie missed 3 ft Jumper.
38 - 35
5:18
Juan Dixon Defensive Rebound.
38 - 35
5:07
Antawn Jamison missed 25 ft Three Point Jumper.
38 - 35
5:05
Brendan Haywood Offensive Rebound.
38 - 35
5:03
Brendan Haywood made Slam Dunk.
38 - 37
4:56
Brendan Haywood Shooting Foul
38 - 37
4:56
Steve Francis made Free Throw 1 of 2.
39 - 37
4:56
Larry Hughes enters the game for Juan Dixon.
39 - 37
4:56
Michael Ruffin enters the game for Jarvis Hayes.
39 - 37
4:56
Steve Francis missed Free Throw 2 of 2.
39 - 37
4:56
Brendan Haywood Defensive Rebound.
39 - 37
4:35
Gilbert Arenas Bad Pass
39 - 37
4:22
Grant Hill missed Layup.
39 - 37
4:22
Orlando Offensive Rebound.
39 - 37
4:18
DeShawn Stevenson missed Layup.
39 - 37
4:16
Michael Ruffin Defensive Rebound.
39 - 37
4:11
Gilbert Arenas made 16 ft Jumper. Assisted by Michael Ruffin.
39 - 39
3:51
Steve Francis missed 16 ft Jumper.
39 - 39
3:51
Orlando Offensive Rebound.
39 - 39
3:51
Brendan Haywood Loose Ball Foul
39 - 39
3:45
Michael Ruffin Personal Foul
39 - 39
3:45
Jarvis Hayes enters the game for Brendan Haywood.
39 - 39
3:45
Hidayet Turkoglu enters the game for DeShawn Stevenson.
39 - 39
3:32
Steve Francis Lost Ball. Stolen by Larry Hughes.
39 - 39
3:28
Larry Hughes missed 4 ft Jumper. Blocked by Steve Francis.
39 - 39
3:27
Hidayet Turkoglu Defensive Rebound.
39 - 39
3:27
Michael Ruffin Personal Foul
39 - 39
3:27
Steve Francis made Free Throw 1 of 2.
40 - 39
3:27
Pat Garrity enters the game for Tony Battie.
40 - 39
3:27
Steve Francis made Free Throw 2 of 2.
41 - 39
3:05
Antawn Jamison made 6 ft Two Point Shot. Assisted by Larry Hughes.
41 - 41
2:57
Dwight Howard Traveling
41 - 41
2:57
Orlando Full Timeout.
41 - 41
2:45
Gilbert Arenas missed 25 ft Three Point Jumper.
41 - 41
2:43
Larry Hughes Offensive Rebound.
41 - 41
2:41
Larry Hughes made Layup.
41 - 43
2:26
Steve Francis made Two Point Shot. Assisted by Dwight Howard.
43 - 43
2:03
Gilbert Arenas Bad Pass. Stolen by Steve Francis.
43 - 43
1:59
Hidayet Turkoglu Bad Pass. Stolen by Larry Hughes.
43 - 43
1:54
Larry Hughes missed 4 ft Jumper.
43 - 43
1:54
Hidayet Turkoglu Defensive Rebound.
43 - 43
1:50
Grant Hill made Jumper. Assisted by Hidayet Turkoglu.
45 - 43
1:36
Antawn Jamison made Jumper. Assisted by Larry Hughes.
45 - 45
1:19
Hidayet Turkoglu missed 26 ft Three Point Jumper.
45 - 45
1:16
Antawn Jamison Defensive Rebound.
45 - 45
1:08
Gilbert Arenas missed 27 ft Three Point Jumper.
45 - 45
1:07
Steve Francis Defensive Rebound.
45 - 45
1:01
Pat Garrity missed 25 ft Three Point Jumper.
45 - 45
0:59
Dwight Howard Offensive Rebound.
45 - 45
0:57
Dwight Howard missed Layup. Blocked by Michael Ruffin.
45 - 45
0:55
Dwight Howard Offensive Rebound.
45 - 45
0:52
Dwight Howard Lost Ball. Stolen by Gilbert Arenas.
45 - 45
0:51
Hidayet Turkoglu Shooting Foul
45 - 45
0:51
Jameer Nelson enters the game for Steve Francis.
45 - 45
0:51
Larry Hughes made Free Throw 1 of 2.
45 - 46
0:51
DeShawn Stevenson enters the game for Dwight Howard.
45 - 46
0:51
Larry Hughes made Free Throw 2 of 2.
45 - 47
0:28
Grant Hill missed 16 ft Jumper.
45 - 47
0:23
DeShawn Stevenson Offensive Rebound.
45 - 47
0:22
DeShawn Stevenson missed Layup.
45 - 47
0:20
Antawn Jamison Defensive Rebound.
45 - 47
0:04
DeShawn Stevenson Personal Foul
45 - 47
0:04
Jarvis Hayes made Free Throw 1 of 2.
45 - 48
0:04
Laron Profit enters the game for Michael Ruffin.
45 - 48
0:04
Jarvis Hayes made Free Throw 2 of 2.
45 - 49
0:00
DeShawn Stevenson missed Layup.
45 - 49
0:00
Orlando Offensive Rebound.
45 - 49
0:00
End of the 2nd Quarter.
45 - 49

time
TEAM
PLAY
SCORE
12:00
Start of the 3rd Quarter.
45 - 49
11:42
Grant Hill missed 21 ft Jumper.
45 - 49
11:37
Larry Hughes Defensive Rebound.
45 - 49
11:25
Brendan Haywood Bad Pass
45 - 49
11:06
DeShawn Stevenson missed 18 ft Jumper.
45 - 49
11:04
Antawn Jamison Defensive Rebound.
45 - 49
10:59
Brendan Haywood missed 14 ft Jumper.
45 - 49
10:57
Antawn Jamison Offensive Rebound.
45 - 49
10:55
Antawn Jamison made 4 ft Jumper.
45 - 51
10:49
Tony Battie Bad Pass. Stolen by Michael Ruffin.
45 - 51
10:45
Michael Ruffin missed Layup.
45 - 51
10:45
Brendan Haywood Offensive Rebound.
45 - 51
10:45
Dwight Howard Shooting Foul
45 - 51
10:45
Brendan Haywood made Free Throw 1 of 2.
45 - 52
10:45
Brendan Haywood missed Free Throw 2 of 2.
45 - 52
10:42
Washington Defensive Rebound.
45 - 52
10:26
Dwight Howard missed 14 ft Jumper.
45 - 52
10:25
Michael Ruffin Defensive Rebound.
45 - 52
10:17
Brendan Haywood Bad Pass. Stolen by Grant Hill.
45 - 52
10:12
Grant Hill made Layup.
47 - 52
10:04
Antawn Jamison made 8 ft Two Point Shot. Assisted by Larry Hughes.
47 - 54
9:44
Brendan Haywood Shooting Foul
47 - 54
9:44
Tony Battie made Free Throw 1 of 2.
48 - 54
9:44
Tony Battie missed Free Throw 2 of 2.
48 - 54
9:27
Dwight Howard Offensive Rebound.
48 - 54
9:22
Dwight Howard missed 5 ft Jumper. Blocked by Michael Ruffin.
48 - 54
9:21
Orlando Offensive Rebound.
48 - 54
9:21
Jarvis Hayes enters the game for Brendan Haywood.
48 - 54
9:06
DeShawn Stevenson made 21 ft Jumper. Assisted by Steve Francis.
50 - 54
8:48
Jarvis Hayes missed 20 ft Jumper.
50 - 54
8:45
Antawn Jamison Offensive Rebound.
50 - 54
8:44
Antawn Jamison made Layup.
50 - 56
8:26
Grant Hill Bad Pass. Stolen by Jarvis Hayes.
50 - 56
8:22
Larry Hughes made Dunk. Assisted by Gilbert Arenas.
50 - 58
8:21
Orlando Full Timeout.
50 - 58
8:21
Hidayet Turkoglu enters the game for DeShawn Stevenson.
50 - 58
8:08
Dwight Howard Traveling
50 - 58
7:50
Jarvis Hayes made 21 ft Jumper.
50 - 60
7:31
Steve Francis made 17 ft Two Point Shot. Assisted by Dwight Howard.
52 - 60
7:09
Antawn Jamison made Two Point Shot.
52 - 62
6:52
Tony Battie made 13 ft Jumper. Assisted by Steve Francis.
54 - 62
6:37
Larry Hughes made 19 ft Two Point Shot.
54 - 64
6:28
Larry Hughes Personal Foul
54 - 64
6:28
Pat Garrity enters the game for Tony Battie.
54 - 64
6:20
Hidayet Turkoglu Bad Pass. Stolen by Jarvis Hayes.
54 - 64
6:16
Michael Ruffin made Two Point Shot. Assisted by Jarvis Hayes.
54 - 66
6:16
Dwight Howard Shooting Foul
54 - 66
6:16
Michael Bradley enters the game for Dwight Howard.
54 - 66
6:16
Michael Ruffin made Free Throw 1 of 1.
54 - 67
6:01
Steve Francis missed 25 ft Three Point Jumper.
54 - 67
6:00
Antawn Jamison Defensive Rebound.
54 - 67
5:47
Jarvis Hayes made 18 ft Jumper. Assisted by Michael Ruffin.
54 - 69
5:37
Grant Hill made Two Point Shot. Assisted by Pat Garrity.
56 - 69
5:11
Jarvis Hayes made 19 ft Jumper. Assisted by Gilbert Arenas.
56 - 71
4:54
Grant Hill made 4 ft Jumper. Assisted by Pat Garrity.
58 - 71
4:39
Jarvis Hayes missed 24 ft Three Point Jumper.
58 - 71
4:37
Antawn Jamison Offensive Rebound.
58 - 71
4:31
Antawn Jamison missed 6 ft Jumper.
58 - 71
4:30
Jarvis Hayes Offensive Rebound.
58 - 71
4:22
Jarvis Hayes missed 24 ft Three Point Jumper.
58 - 71
4:20
Grant Hill Defensive Rebound.
58 - 71
4:15
Hidayet Turkoglu made 25 ft Three Point Jumper. Assisted by Grant Hill.
61 - 71
4:13
Washington Full Timeout.
61 - 71
4:13
Anthony Peeler enters the game for Larry Hughes.
61 - 71
4:01
Anthony Peeler Bad Pass. Stolen by Steve Francis.
61 - 71
4:00
Gilbert Arenas Personal Foul
61 - 71
3:50
Pat Garrity made 24 ft Three Point Jumper. Assisted by Michael Bradley.
64 - 71
3:31
Jarvis Hayes missed 12 ft Jumper.
64 - 71
3:31
Washington Defensive Rebound.
64 - 71
3:18
Grant Hill missed 18 ft Jumper.
64 - 71
3:16
Hidayet Turkoglu Offensive Rebound.
64 - 71
3:12
Hidayet Turkoglu made 27 ft Three Point Jumper. Assisted by Steve Francis.
67 - 71
2:54
Gilbert Arenas missed 28 ft Three Point Jumper.
67 - 71
2:51
Grant Hill Defensive Rebound.
67 - 71
2:49
Hidayet Turkoglu made Layup. Assisted by Grant Hill.
69 - 71
2:49
Gilbert Arenas Shooting Foul
69 - 71
2:49
Juan Dixon enters the game for Michael Ruffin.
69 - 71
2:49
Hidayet Turkoglu made Free Throw 1 of 1.
70 - 71
2:29
Antawn Jamison missed 9 ft Jumper.
70 - 71
2:28
Steve Francis Defensive Rebound.
70 - 71
2:23
Pat Garrity made 26 ft Three Point Jumper. Assisted by Steve Francis.
73 - 71
2:03
Gilbert Arenas missed 26 ft Three Point Jumper.
73 - 71
2:01
Pat Garrity Defensive Rebound.
73 - 71
1:44
Hidayet Turkoglu missed 5 ft Jumper.
73 - 71
1:42
Hidayet Turkoglu Offensive Rebound.
73 - 71
1:39
Hidayet Turkoglu made Tip Shot.
75 - 71
1:23
Jarvis Hayes missed Layup.
75 - 71
1:23
Washington Offensive Rebound.
75 - 71
1:23
Pat Garrity Loose Ball Foul
75 - 71
1:17
Juan Dixon missed Three Point Jumper.
75 - 71
1:15
Jarvis Hayes Offensive Rebound.
75 - 71
1:15
Jarvis Hayes made Layup.
75 - 73
0:59
Hidayet Turkoglu missed 20 ft Jumper.
75 - 73
0:57
Jarvis Hayes Defensive Rebound.
75 - 73
0:51
Anthony Peeler missed 23 ft Three Point Jumper.
75 - 73
0:49
Steve Francis Defensive Rebound.
75 - 73
0:43
Grant Hill missed 19 ft Jumper.
75 - 73
0:41
Anthony Peeler Defensive Rebound.
75 - 73
0:33
Juan Dixon missed 12 ft Jumper.
75 - 73
0:32
Grant Hill Defensive Rebound.
75 - 73
0:30
Jarvis Hayes Shooting Foul
75 - 73
0:30
Steve Francis missed Free Throw 1 of 2.
75 - 73
0:30
Stacey Augmon enters the game for Grant Hill.
75 - 73
0:30
Steve Francis made Free Throw 1 of 2.
76 - 73
0:30
Tony Battie enters the game for Michael Bradley.
76 - 73
0:30
Steve Francis made Free Throw 2 of 2.
77 - 73
0:18
Juan Dixon made 24 ft Three Point Jumper. Assisted by Anthony Peeler.
77 - 76
0:01
Pat Garrity missed 26 ft Three Point Jumper.
77 - 76
0:00
Orlando Defensive Rebound.
77 - 76
0:00
End of the 3rd Quarter.
77 - 76

time
TEAM
PLAY
SCORE
12:00
Start of the 4th Quarter.
77 - 76
11:45
Gilbert Arenas Bad Pass. Stolen by Stacey Augmon.
77 - 76
11:26
Pat Garrity Traveling
77 - 76
11:06
Juan Dixon made 20 ft Jumper. Assisted by Anthony Peeler.
77 - 78
10:41
Hidayet Turkoglu missed Layup.
77 - 78
10:38
Anthony Peeler Defensive Rebound.
77 - 78
10:29
Antawn Jamison missed 24 ft Three Point Jumper.
77 - 78
10:26
Steve Francis Defensive Rebound.
77 - 78
10:15
Steve Francis missed 15 ft Jumper.
77 - 78
10:15
Tony Battie Offensive Rebound.
77 - 78
10:12
Anthony Peeler Shooting Foul
77 - 78
10:12
Brendan Haywood enters the game for Antawn Jamison.
77 - 78
10:12
Larry Hughes enters the game for Gilbert Arenas.
77 - 78
10:12
Steve Francis made Free Throw 1 of 2.
78 - 78
10:12
Steve Francis missed Free Throw 2 of 2.
78 - 78
10:12
Grant Hill enters the game for Hidayet Turkoglu.
78 - 78
10:12
Juan Dixon missed Free Throw 1 of 2.
78 - 78
10:12
Steve Francis made Free Throw 2 of 2.
79 - 78
9:57
Brendan Haywood made Dunk. Assisted by Jarvis Hayes.
79 - 80
9:36
Jameer Nelson enters the game for Steve Francis.
79 - 80
9:32
Jameer Nelson Offensive Rebound.
79 - 80
9:32
Jameer Nelson missed 8 ft Jumper.
79 - 80
9:30
Brendan Haywood Defensive Rebound.
79 - 80
9:15
Larry Hughes missed 25 ft Three Point Jumper.
79 - 80
9:14
Washington Defensive Rebound.
79 - 80
8:53
Grant Hill Bad Pass
79 - 80
8:53
Official Timeout.
79 - 80
8:53
DeShawn Stevenson enters the game for Pat Garrity.
79 - 80
8:53
Dwight Howard enters the game for Stacey Augmon.
79 - 80
8:37
Larry Hughes made Two Point Shot.
79 - 82
8:19
Jameer Nelson made 21 ft Jumper. Assisted by DeShawn Stevenson.
81 - 82
8:06
Anthony Peeler missed 18 ft Jumper.
81 - 82
8:03
Jameer Nelson Defensive Rebound.
81 - 82
7:58
Jameer Nelson made 18 ft Jumper.
83 - 82
7:43
Jameer Nelson Personal Foul
83 - 82
7:43
Gilbert Arenas enters the game for Juan Dixon.
83 - 82
7:43
Antawn Jamison enters the game for Anthony Peeler.
83 - 82
7:37
Larry Hughes made 19 ft Jumper. Assisted by Antawn Jamison.
83 - 84
7:18
Jameer Nelson missed 26 ft Three Point Jumper.
83 - 84
7:16
Antawn Jamison Defensive Rebound.
83 - 84
7:09
Gilbert Arenas Bad Pass. Stolen by Jameer Nelson.
83 - 84
7:09
Larry Hughes Personal Foul
83 - 84
7:09
Steve Francis enters the game for DeShawn Stevenson.
83 - 84
6:54
Grant Hill missed 19 ft Jumper.
83 - 84
6:52
Steve Francis Offensive Rebound.
83 - 84
6:43
Steve Francis missed 17 ft Jumper.
83 - 84
6:41
Dwight Howard Offensive Rebound.
83 - 84
6:41
Antawn Jamison Shooting Foul
83 - 84
6:41
Dwight Howard missed Free Throw 1 of 2.
83 - 84
6:41
Orlando Offensive Rebound.
83 - 84
6:41
Dwight Howard missed Free Throw 2 of 2.
83 - 84
6:41
Antawn Jamison Defensive Rebound.
83 - 84
6:28
Jameer Nelson Personal Foul
83 - 84
6:20
Larry Hughes missed 14 ft Jumper.
83 - 84
6:18
Larry Hughes Offensive Rebound.
83 - 84
6:13
Larry Hughes missed 18 ft Jumper.
83 - 84
6:11
Jameer Nelson Defensive Rebound.
83 - 84
6:03
Steve Francis Bad Pass
83 - 84
5:45
Antawn Jamison missed 14 ft Jumper.
83 - 84
5:43
Grant Hill Defensive Rebound.
83 - 84
5:39
Jarvis Hayes Personal Foul
83 - 84
5:39
Washington Full Timeout.
83 - 84
5:39
Hidayet Turkoglu enters the game for Grant Hill.
83 - 84
5:24
Tony Battie missed 17 ft Jumper.
83 - 84
5:24
Orlando Defensive Rebound.
83 - 84
5:09
Brendan Haywood made 6 ft Two Point Shot. Assisted by Larry Hughes.
83 - 86
4:50
Hidayet Turkoglu missed 23 ft Three Point Jumper.
83 - 86
4:48
Gilbert Arenas Defensive Rebound.
83 - 86
4:46
Larry Hughes Offensive Foul
83 - 86
4:46
Larry Hughes Foul
83 - 86
4:46
Grant Hill enters the game for Jameer Nelson.
83 - 86
4:28
Steve Francis made 16 ft Two Point Shot.
85 - 86
4:15
Gilbert Arenas missed 26 ft Three Point Jumper.
85 - 86
4:13
Hidayet Turkoglu Defensive Rebound.
85 - 86
3:53
Tony Battie 3 second
85 - 86
3:44
Antawn Jamison made 17 ft Jumper. Assisted by Gilbert Arenas.
85 - 88
3:19
Hidayet Turkoglu Lost Ball. Stolen by Jarvis Hayes.
85 - 88
3:17
Grant Hill Shooting Foul
85 - 88
3:17
Larry Hughes made Free Throw 1 of 2.
85 - 89
3:17
Larry Hughes missed Free Throw 2 of 2.
85 - 89
3:15
Dwight Howard Defensive Rebound.
85 - 89
3:08
Steve Francis Lost Ball. Stolen by Larry Hughes.
85 - 89
3:05
Steve Francis Shooting Foul
85 - 89
3:05
Larry Hughes made Free Throw 1 of 2.
85 - 90
3:05
Larry Hughes made Free Throw 2 of 2.
85 - 91
3:02
Orlando Full Timeout.
85 - 91
3:02
Pat Garrity enters the game for Dwight Howard.
85 - 91
2:55
Steve Francis made 16 ft Jumper. Assisted by Grant Hill.
87 - 91
2:31
Antawn Jamison missed Jumper.
87 - 91
2:29
Tony Battie Defensive Rebound.
87 - 91
2:29
Brendan Haywood Personal Foul
87 - 91
2:29
Grant Hill made Free Throw 1 of 2.
88 - 91
2:29
Grant Hill made Free Throw 2 of 2.
89 - 91
2:15
Brendan Haywood made Hook Shot. Assisted by Gilbert Arenas.
89 - 93
2:02
Brendan Haywood Shooting Foul
89 - 93
2:02
Michael Ruffin enters the game for Brendan Haywood.
89 - 93
2:02
Tony Battie missed Free Throw 1 of 2.
89 - 93
2:02
Orlando Offensive Rebound.
89 - 93
2:02
Tony Battie made Free Throw 2 of 2.
90 - 93
1:50
Antawn Jamison made 4 ft Two Point Shot. Assisted by Gilbert Arenas.
90 - 95
1:50
Pat Garrity Shooting Foul
90 - 95
1:50
Antawn Jamison made Free Throw 1 of 1.
90 - 96
1:25
Grant Hill missed 19 ft Jumper.
90 - 96
1:23
Steve Francis Offensive Rebound.
90 - 96
1:22
Steve Francis missed Layup.
90 - 96
1:21
Larry Hughes Defensive Rebound.
90 - 96
1:05
Larry Hughes made Two Point Shot.
90 - 98
1:05
Tony Battie Shooting Foul
90 - 98
1:05
Larry Hughes made Free Throw 1 of 1.
90 - 99
1:05
Orlando Full Timeout.
90 - 99
0:57
Hidayet Turkoglu missed 26 ft Three Point Jumper.
90 - 99
0:55
Grant Hill Offensive Rebound.
90 - 99
0:53
Michael Ruffin Shooting Foul
90 - 99
0:53
Pat Garrity made Free Throw 1 of 2.
91 - 99
0:53
Pat Garrity made Free Throw 2 of 2.
92 - 99
0:53
Hidayet Turkoglu Personal Foul
92 - 99
0:53
Larry Hughes made Free Throw 1 of 2.
92 - 100
0:53
Larry Hughes made Free Throw 2 of 2.
92 - 101
0:53
Orlando Full Timeout.
92 - 101
0:53
Jameer Nelson enters the game for Tony Battie.
92 - 101
0:48
Pat Garrity made 10 ft Two Point Shot. Assisted by Steve Francis.
94 - 101
0:48
Washington Full Timeout.
94 - 101
0:48
Stacey Augmon enters the game for Pat Garrity.
94 - 101
0:48
Anthony Peeler enters the game for Michael Ruffin.
94 - 101
0:47
Jameer Nelson Personal Foul
94 - 101
0:47
Antawn Jamison made Free Throw 1 of 2.
94 - 102
0:47
Pat Garrity enters the game for Stacey Augmon.
94 - 102
0:47
Antawn Jamison made Free Throw 2 of 2.
94 - 103
0:38
Pat Garrity made 5 ft Two Point Shot. Assisted by Steve Francis.
96 - 103
0:38
Steve Francis Personal Foul
96 - 103
0:38
Jarvis Hayes missed Free Throw 1 of 2.
96 - 103
0:38
Washington Offensive Rebound.
96 - 103
0:38
Jarvis Hayes made Free Throw 2 of 2.
96 - 104
0:38
Orlando 20 Sec. Timeout.
96 - 104
0:34
Pat Garrity missed 4 ft Jumper. Blocked by Gilbert Arenas.
96 - 104
0:34
Orlando Defensive Rebound.
96 - 104
0:33
Grant Hill Personal Foul
96 - 104
0:33
Jarvis Hayes made Free Throw 1 of 2.
96 - 105
0:33
Laron Profit enters the game for Antawn Jamison.
96 - 105
0:33
Jarvis Hayes made Free Throw 2 of 2.
96 - 106
0:28
Jameer Nelson missed 5 ft Jumper.
96 - 106
0:27
Gilbert Arenas Defensive Rebound.
96 - 106
0:02
Laron Profit missed 27 ft Three Point Jumper.
96 - 106
0:00
Jameer Nelson Defensive Rebound.
96 - 106
0:00
End of the 4th Quarter.
96 - 106
0:00
End Game
96 - 106
BOSTON -- While Boston Celtics coach Brad Stevens might be the most meticulously prepared coach in the NBA, his young team is essentially a bunch of procrastinating college kids who sometimes only seem motivated by an assignment's due date.

Relieve some of the best moments of the Dwight Howard and James Harden era in Houston.

In 2014 Cleveland rejoiced when LeBron returned. In 2016 they have hopes for a championship. 30 for 30 Believeland premieres May 14 9:30 ET on ESPN.
Regular Season Series
Series tied 2-2
2015-2016 Southeast Standings