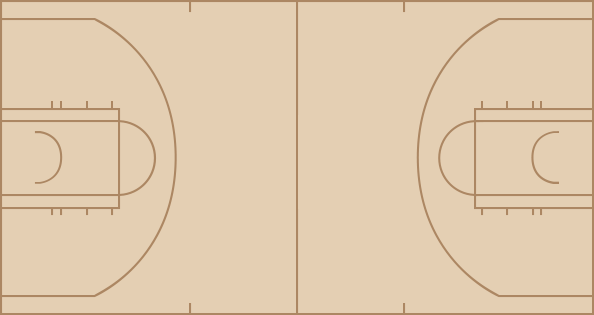 Spurs
time
TEAM
PLAY
SCORE
12:00
Start of the 1st Quarter.
0 - 0
12:00
Jumpball. Radoslav Nesterovic vs. Jason Collier. Tony Parker gains possession.
0 - 0
11:48
Radoslav Nesterovic Bad Pass
0 - 0
11:33
Jason Collier Bad Pass
0 - 0
11:19
Radoslav Nesterovic Bad Pass. Stolen by Antoine Walker.
0 - 0
11:07
Antoine Walker missed 12 ft Jumper. Blocked by Radoslav Nesterovic.
0 - 0
11:03
Tim Duncan Defensive Rebound.
0 - 0
10:42
Tony Parker missed Layup.
0 - 0
10:41
Jason Collier Defensive Rebound.
0 - 0
10:27
Jason Collier missed 13 ft Jumper.
0 - 0
10:26
Tim Duncan Defensive Rebound.
0 - 0
10:15
Radoslav Nesterovic made Layup. Assisted by Emmanuel Ginobili.
2 - 0
9:53
Al Harrington made 14 ft Jumper. Assisted by Boris Diaw.
2 - 2
9:32
Tim Duncan missed Layup.
2 - 2
9:30
Al Harrington Defensive Rebound.
2 - 2
9:27
Kenny Anderson missed 16 ft Jumper.
2 - 2
9:26
Tim Duncan Defensive Rebound.
2 - 2
9:15
Tim Duncan missed Layup.
2 - 2
9:14
Boris Diaw Defensive Rebound.
2 - 2
9:06
Al Harrington made Dunk. Assisted by Jason Collier.
2 - 4
8:48
Kenny Anderson Personal Foul
2 - 4
8:41
Jumpball. Tim Duncan vs. Kenny Anderson. Radoslav Nesterovic gains possession.
2 - 4
8:37
Radoslav Nesterovic Lost Ball. Stolen by Kenny Anderson.
2 - 4
8:37
Radoslav Nesterovic Loose Ball Foul
2 - 4
8:29
Antoine Walker missed Layup. Blocked by Radoslav Nesterovic.
2 - 4
8:26
Tim Duncan Defensive Rebound.
2 - 4
8:26
Al Harrington Personal Foul
2 - 4
8:26
Predrag Drobnjak enters the game for Jason Collier.
2 - 4
8:18
Tim Duncan made 17 ft Jumper. Assisted by Emmanuel Ginobili.
4 - 4
8:00
Al Harrington missed Jumper.
4 - 4
7:58
Tim Duncan Defensive Rebound.
4 - 4
7:48
Radoslav Nesterovic made 6 ft Two Point Shot.
6 - 4
7:31
Kenny Anderson made 4 ft Jumper.
6 - 6
7:13
Tim Duncan made Dunk. Assisted by Radoslav Nesterovic.
8 - 6
6:52
Predrag Drobnjak missed 6 ft Jumper.
8 - 6
6:52
Emmanuel Ginobili Defensive Rebound.
8 - 6
6:45
Bruce Bowen made 23 ft Three Point Jumper. Assisted by Emmanuel Ginobili.
11 - 6
6:24
Antoine Walker made 17 ft Two Point Shot.
11 - 8
6:03
Tim Duncan missed 5 ft Jumper.
11 - 8
6:03
Al Harrington Defensive Rebound.
11 - 8
6:03
Emmanuel Ginobili Personal Foul
11 - 8
6:03
Jon Barry enters the game for Antoine Walker.
11 - 8
6:03
Royal Ivey enters the game for Kenny Anderson.
11 - 8
6:03
Kevin Willis enters the game for Boris Diaw.
11 - 8
6:03
Atlanta Full Timeout.
11 - 8
6:03
Brent Barry enters the game for Radoslav Nesterovic.
11 - 8
6:03
Malik Rose enters the game for Emmanuel Ginobili.
11 - 8
5:37
Predrag Drobnjak made 5 ft Hook Shot. Assisted by Al Harrington.
11 - 10
5:18
Tim Duncan missed Jumper.
11 - 10
5:16
San Antonio Offensive Rebound.
11 - 10
5:11
Tony Parker missed 15 ft Jumper.
11 - 10
5:09
Jon Barry Defensive Rebound.
11 - 10
4:58
Predrag Drobnjak made Layup.
11 - 12
4:45
Tim Duncan made Layup. Assisted by Malik Rose.
13 - 12
4:18
Jon Barry missed 26 ft Three Point Jumper.
13 - 12
4:16
Malik Rose Defensive Rebound.
13 - 12
4:11
Tony Parker missed Layup.
13 - 12
4:09
Tim Duncan Offensive Rebound.
13 - 12
4:09
Tim Duncan missed Layup.
13 - 12
4:07
Al Harrington Defensive Rebound.
13 - 12
4:05
Al Harrington missed Layup.
13 - 12
4:03
Predrag Drobnjak Offensive Rebound.
13 - 12
4:03
Predrag Drobnjak missed Layup.
13 - 12
4:01
Tim Duncan Defensive Rebound.
13 - 12
3:59
Malik Rose Traveling
13 - 12
3:59
Josh Smith enters the game for Al Harrington.
13 - 12
3:49
Beno Udrih enters the game for Tony Parker.
13 - 12
3:49
Brent Barry Personal Foul
13 - 12
3:49
Robert Horry enters the game for Tim Duncan.
13 - 12
3:42
Predrag Drobnjak missed 14 ft Jumper.
13 - 12
3:40
Brent Barry Defensive Rebound.
13 - 12
3:28
Brent Barry made 26 ft Three Point Jumper. Assisted by Robert Horry.
16 - 12
3:06
Josh Smith missed 15 ft Jumper.
16 - 12
3:04
Bruce Bowen Defensive Rebound.
16 - 12
2:58
Kevin Willis Personal Foul
16 - 12
2:58
San Antonio Full Timeout.
16 - 12
2:58
Antoine Walker enters the game for Kevin Willis.
16 - 12
2:58
Josh Childress enters the game for Josh Smith.
16 - 12
2:54
Beno Udrih Bad Pass. Stolen by Royal Ivey.
16 - 12
2:51
Royal Ivey made Dunk.
16 - 14
2:34
Brent Barry missed 25 ft Three Point Jumper.
16 - 14
2:32
Antoine Walker Defensive Rebound.
16 - 14
2:27
Brent Barry Shooting Foul
16 - 14
2:27
Jon Barry made Free Throw 1 of 2.
16 - 15
2:27
Emmanuel Ginobili enters the game for Bruce Bowen.
16 - 15
2:27
Jon Barry made Free Throw 2 of 2.
16 - 16
2:09
Beno Udrih made 24 ft Three Point Jumper. Assisted by Brent Barry.
19 - 16
1:49
Antoine Walker missed 18 ft Jumper.
19 - 16
1:47
Josh Childress Offensive Rebound.
19 - 16
1:47
Josh Childress missed Tip Shot.
19 - 16
1:46
Brent Barry Defensive Rebound.
19 - 16
1:34
Royal Ivey Shooting Foul
19 - 16
1:34
Beno Udrih made Free Throw 1 of 2.
20 - 16
1:34
Beno Udrih missed Free Throw 2 of 2.
20 - 16
1:34
Delay of Game
19 - 16
1:32
Royal Ivey Defensive Rebound.
20 - 16
1:16
Royal Ivey made 9 ft Two Point Shot.
20 - 18
1:04
Emmanuel Ginobili missed 23 ft Three Point Jumper.
20 - 18
1:01
Josh Childress Defensive Rebound.
20 - 18
0:59
Jon Barry Lost Ball. Stolen by Emmanuel Ginobili.
20 - 18
0:50
Beno Udrih missed 11 ft Jumper.
20 - 18
0:49
Robert Horry Offensive Rebound.
20 - 18
0:49
Jelani McCoy enters the game for Predrag Drobnjak.
20 - 18
0:45
Robert Horry missed Jumper.
20 - 18
0:43
Jon Barry Defensive Rebound.
20 - 18
0:39
Jelani McCoy missed Layup.
20 - 18
0:38
Atlanta Defensive Rebound.
20 - 18
0:38
Jelani McCoy Loose Ball Foul
20 - 18
0:38
Robert Horry made Free Throw 1 of 2.
21 - 18
0:38
Robert Horry made Free Throw 2 of 2.
22 - 18
0:29
Jon Barry missed 26 ft Three Point Jumper.
22 - 18
0:27
Malik Rose Defensive Rebound.
22 - 18
0:14
Malik Rose made Layup.
24 - 18
0:00
Royal Ivey missed 7 ft Jumper.
24 - 18
0:00
Robert Horry Defensive Rebound.
24 - 18
0:00
End of the 1st Quarter.
24 - 18

time
TEAM
PLAY
SCORE
12:00
Start of the 2nd Quarter.
24 - 18
11:37
Jelani McCoy missed Layup.
24 - 18
11:36
Jelani McCoy Offensive Rebound.
24 - 18
11:36
Jelani McCoy missed Layup.
24 - 18
11:34
Jelani McCoy Offensive Rebound.
24 - 18
11:34
Jelani McCoy missed Layup.
24 - 18
11:33
Malik Rose Defensive Rebound.
24 - 18
11:26
Emmanuel Ginobili Bad Pass. Stolen by Jelani McCoy.
24 - 18
11:14
Al Harrington missed Layup. Blocked by Robert Horry.
24 - 18
11:12
Malik Rose Defensive Rebound.
24 - 18
11:08
Beno Udrih made Layup. Assisted by Emmanuel Ginobili.
26 - 18
10:51
Antoine Walker made 7 ft Jumper.
26 - 20
10:36
Brent Barry missed 25 ft Three Point Jumper.
26 - 20
10:34
Jelani McCoy Defensive Rebound.
26 - 20
10:11
Antoine Walker missed 19 ft Jumper.
26 - 20
10:10
Emmanuel Ginobili Defensive Rebound.
26 - 20
9:57
Brent Barry missed 26 ft Three Point Jumper.
26 - 20
9:56
Malik Rose Offensive Rebound.
26 - 20
9:53
Malik Rose missed 4 ft Jumper.
26 - 20
9:52
Al Harrington Defensive Rebound.
26 - 20
9:38
Josh Childress Bad Pass. Stolen by Emmanuel Ginobili.
26 - 20
9:27
Robert Horry missed 25 ft Three Point Jumper.
26 - 20
9:25
Al Harrington Defensive Rebound.
26 - 20
9:22
Atlanta Full Timeout.
26 - 20
9:22
Tim Duncan enters the game for Brent Barry.
26 - 20
9:22
Devin Brown enters the game for Robert Horry.
26 - 20
9:22
Boris Diaw enters the game for Royal Ivey.
26 - 20
9:22
Kenny Anderson enters the game for Josh Childress.
26 - 20
9:15
Devin Brown Shooting Foul
26 - 20
9:15
Al Harrington made Free Throw 1 of 2.
26 - 21
9:15
Al Harrington made Free Throw 2 of 2.
26 - 22
8:52
Tim Duncan made 4 ft Jumper.
28 - 22
8:36
Malik Rose Shooting Foul
28 - 22
8:36
Radoslav Nesterovic enters the game for Tim Duncan.
28 - 22
8:36
Radoslav Nesterovic enters the game for Malik Rose.
28 - 22
8:36
Tony Parker enters the game for Beno Udrih.
28 - 22
8:36
Antoine Walker missed Free Throw 1 of 2.
28 - 22
8:36
Antoine Walker made Free Throw 2 of 2.
28 - 23
8:22
Devin Brown made Layup. Assisted by Emmanuel Ginobili.
30 - 23
8:08
Kenny Anderson made Layup.
30 - 25
7:56
Emmanuel Ginobili missed Layup.
30 - 25
7:54
Tim Duncan Offensive Rebound.
30 - 25
7:54
Tim Duncan missed Layup.
30 - 25
7:52
Al Harrington Defensive Rebound.
30 - 25
7:52
Emmanuel Ginobili Personal Foul
30 - 25
7:52
Jason Collier enters the game for Jelani McCoy.
30 - 25
7:52
Bruce Bowen enters the game for Emmanuel Ginobili.
30 - 25
7:35
Al Harrington missed 13 ft Jumper.
30 - 25
7:33
Tim Duncan Defensive Rebound.
30 - 25
7:24
Radoslav Nesterovic made Layup.
32 - 25
7:11
Antoine Walker missed 25 ft Three Point Jumper.
32 - 25
7:09
Tony Parker Defensive Rebound.
32 - 25
7:01
Tim Duncan Bad Pass. Stolen by Kenny Anderson.
32 - 25
6:46
Kenny Anderson made 18 ft Jumper. Assisted by Al Harrington.
32 - 27
6:20
Tim Duncan missed 15 ft Jumper.
32 - 27
6:18
Kenny Anderson Defensive Rebound.
32 - 27
6:07
Jason Collier missed 13 ft Jumper. Blocked by Bruce Bowen.
32 - 27
6:03
Antoine Walker Offensive Rebound.
32 - 29
6:03
Antoine Walker made 11 ft Jumper.
32 - 29
6:03
San Antonio Full Timeout.
32 - 29
5:50
Radoslav Nesterovic missed 4 ft Jumper.
32 - 29
5:48
Al Harrington Defensive Rebound.
32 - 29
5:37
Boris Diaw missed 6 ft Jumper. Blocked by Tim Duncan.
32 - 29
5:35
Radoslav Nesterovic Defensive Rebound.
32 - 29
5:22
Jason Collier Shooting Foul
32 - 29
5:22
Tim Duncan made Free Throw 1 of 2.
33 - 29
5:22
Tim Duncan missed Free Throw 2 of 2.
33 - 29
5:20
Al Harrington Defensive Rebound.
33 - 29
5:03
Kenny Anderson missed 7 ft Jumper.
33 - 29
5:01
Radoslav Nesterovic Defensive Rebound.
33 - 29
4:46
Radoslav Nesterovic missed 13 ft Jumper.
33 - 29
4:45
Radoslav Nesterovic Offensive Rebound.
33 - 29
4:33
Tony Parker made 6 ft Jumper.
35 - 29
4:09
Antoine Walker missed Jumper.
35 - 29
4:07
Radoslav Nesterovic Defensive Rebound.
35 - 29
4:05
Kenny Anderson Shooting Foul
35 - 29
4:05
Jon Barry enters the game for Boris Diaw.
35 - 29
4:05
Kenny Anderson Technical Foul
35 - 29
4:05
Devin Brown made Technical Free Throw.
36 - 29
4:05
Tony Parker made Free Throw 1 of 2.
37 - 29
4:05
Tony Parker missed Free Throw 2 of 2.
37 - 29
4:03
Al Harrington Defensive Rebound.
37 - 29
3:45
Antoine Walker missed Layup.
37 - 29
3:44
Kenny Anderson Offensive Rebound.
37 - 29
3:35
Tim Duncan Shooting Foul
37 - 29
3:35
Al Harrington made Free Throw 1 of 2.
37 - 30
3:35
Predrag Drobnjak enters the game for Jason Collier.
37 - 30
3:35
Al Harrington made Free Throw 2 of 2.
37 - 31
3:17
Tony Parker missed 7 ft Jumper.
37 - 31
3:16
Antoine Walker Defensive Rebound.
37 - 31
3:06
Antoine Walker missed Layup. Blocked by Radoslav Nesterovic.
37 - 31
3:04
Antoine Walker Offensive Rebound.
37 - 31
3:04
Antoine Walker missed Layup.
37 - 31
3:03
Devin Brown Defensive Rebound.
37 - 31
3:01
Jon Barry Personal Foul
37 - 31
2:57
Devin Brown Lost Ball. Stolen by Antoine Walker.
37 - 31
2:49
Kenny Anderson missed Layup.
37 - 31
2:48
Tim Duncan Defensive Rebound.
37 - 31
2:44
Bruce Bowen made Layup. Assisted by Devin Brown.
39 - 31
2:34
Atlanta 20 Sec. Timeout.
39 - 31
2:34
Official Timeout.
39 - 31
2:34
Brent Barry enters the game for Devin Brown.
39 - 31
2:17
Antoine Walker 3 second
39 - 31
2:17
Antoine Walker Technical Foul
39 - 31
2:17
Brent Barry made Technical Free Throw.
40 - 31
2:01
Brent Barry missed Three Point Jumper.
40 - 31
2:00
Radoslav Nesterovic Offensive Rebound.
40 - 31
1:40
Tim Duncan made 16 ft Jumper.
42 - 31
1:23
Radoslav Nesterovic Shooting Foul
42 - 31
1:23
Predrag Drobnjak made Free Throw 1 of 2.
42 - 32
1:23
Royal Ivey enters the game for Kenny Anderson.
42 - 32
1:23
Predrag Drobnjak made Free Throw 2 of 2.
42 - 33
1:12
Tony Parker missed Layup.
42 - 33
1:08
Antoine Walker Defensive Rebound.
42 - 33
0:58
Jon Barry missed 25 ft Three Point Jumper.
42 - 33
0:57
Radoslav Nesterovic Defensive Rebound.
42 - 33
0:54
Tim Duncan made Dunk. Assisted by Brent Barry.
44 - 33
0:35
Predrag Drobnjak missed 16 ft Jumper.
44 - 33
0:33
Radoslav Nesterovic Defensive Rebound.
44 - 33
0:23
Predrag Drobnjak Personal Foul
44 - 33
0:23
Devin Brown enters the game for Brent Barry.
44 - 33
0:23
Robert Horry enters the game for Radoslav Nesterovic.
44 - 33
0:08
Bruce Bowen missed 15 ft Jumper.
44 - 33
0:06
Antoine Walker Defensive Rebound.
44 - 33
0:02
Antoine Walker made Two Point Shot.
44 - 35
0:00
Tony Parker missed Three Point Jumper.
44 - 35
0:00
San Antonio Defensive Rebound.
44 - 35
0:00
End of the 2nd Quarter.
44 - 35

time
TEAM
PLAY
SCORE
12:00
Start of the 3rd Quarter.
44 - 35
11:41
Bruce Bowen Personal Foul
44 - 35
11:25
Kenny Anderson missed 16 ft Jumper.
44 - 35
11:23
Radoslav Nesterovic Defensive Rebound.
44 - 35
11:17
Jason Collier Personal Foul
44 - 35
11:07
Tim Duncan missed 6 ft Jumper.
44 - 35
11:06
Antoine Walker Defensive Rebound.
44 - 35
10:52
Jason Collier made 6 ft Jumper.
44 - 37
10:38
Radoslav Nesterovic made Layup. Assisted by Tony Parker.
46 - 37
10:38
Antoine Walker Shooting Foul
46 - 37
10:38
Radoslav Nesterovic missed Free Throw 1 of 1.
46 - 37
10:38
San Antonio Defensive Rebound.
46 - 37
10:21
Al Harrington missed Layup. Blocked by Tim Duncan.
46 - 37
10:18
Tim Duncan Defensive Rebound.
46 - 37
10:17
Jason Collier Shooting Foul
46 - 37
10:17
Bruce Bowen missed Free Throw 1 of 2.
46 - 37
10:17
San Antonio Offensive Rebound.
46 - 37
10:17
Kevin Willis enters the game for Jason Collier.
46 - 37
10:17
Bruce Bowen made Free Throw 2 of 2.
47 - 37
9:59
Antoine Walker missed Layup.
47 - 37
9:57
Antoine Walker Offensive Rebound.
47 - 37
9:57
Antoine Walker missed Layup.
47 - 37
9:56
Tim Duncan Defensive Rebound.
47 - 37
9:45
Bruce Bowen made 26 ft Three Point Jumper. Assisted by Emmanuel Ginobili.
50 - 37
9:37
Atlanta Full Timeout.
50 - 37
9:29
Kenny Anderson missed Layup.
50 - 37
9:29
Al Harrington Offensive Rebound.
50 - 37
9:15
Emmanuel Ginobili made Two Point Shot.
52 - 37
9:15
Boris Diaw Shooting Foul
52 - 37
9:15
Emmanuel Ginobili made Free Throw 1 of 1.
53 - 37
8:52
Kenny Anderson missed 5 ft Jumper.
53 - 37
8:52
Tim Duncan Defensive Rebound.
53 - 37
8:38
Bruce Bowen missed Layup.
53 - 37
8:37
Al Harrington Defensive Rebound.
53 - 37
8:30
Al Harrington made Layup. Assisted by Kenny Anderson.
53 - 39
8:14
Tim Duncan made 6 ft Jumper.
55 - 39
7:48
Antoine Walker missed 15 ft Jumper.
55 - 39
7:47
Emmanuel Ginobili Defensive Rebound.
55 - 39
7:33
Bruce Bowen made 23 ft Three Point Jumper. Assisted by Emmanuel Ginobili.
58 - 39
7:09
Boris Diaw missed 6 ft Jumper.
58 - 39
7:07
Tony Parker Defensive Rebound.
58 - 39
7:00
Bruce Bowen made 24 ft Three Point Jumper. Assisted by Emmanuel Ginobili.
61 - 39
6:58
Atlanta Full Timeout.
61 - 39
6:58
Jon Barry enters the game for Al Harrington.
61 - 39
6:58
Predrag Drobnjak enters the game for Antoine Walker.
61 - 39
6:58
Josh Childress enters the game for Boris Diaw.
61 - 39
6:45
Predrag Drobnjak made 16 ft Jumper. Assisted by Kenny Anderson.
61 - 41
6:18
Tim Duncan made 18 ft Two Point Shot.
63 - 41
6:01
Josh Childress missed 6 ft Jumper.
63 - 41
5:58
Tim Duncan Defensive Rebound.
63 - 41
5:54
Jon Barry Personal Foul
63 - 41
5:54
Bruce Bowen made Free Throw 1 of 2.
64 - 41
5:54
Bruce Bowen made Free Throw 2 of 2.
65 - 41
5:37
Jon Barry made 4 ft Jumper.
65 - 43
5:22
Royal Ivey enters the game for Kenny Anderson.
65 - 43
5:22
Brent Barry enters the game for Radoslav Nesterovic.
65 - 43
5:22
Malik Rose enters the game for Emmanuel Ginobili.
65 - 43
5:20
Predrag Drobnjak Shooting Foul
65 - 43
5:20
Tim Duncan missed Free Throw 1 of 2.
65 - 43
5:20
San Antonio Offensive Rebound.
65 - 43
5:20
Tim Duncan missed Free Throw 2 of 2.
65 - 43
5:18
Josh Childress Defensive Rebound.
65 - 43
5:13
Kevin Willis made Layup. Assisted by Jon Barry.
65 - 45
4:54
Bruce Bowen made 13 ft Two Point Shot.
67 - 45
4:33
Kevin Willis made Two Point Shot.
67 - 47
4:33
Brent Barry Shooting Foul
67 - 47
4:33
Kevin Willis made Free Throw 1 of 1.
67 - 48
4:20
Tim Duncan made Layup. Assisted by Malik Rose.
69 - 48
4:03
Josh Childress missed Layup.
69 - 48
4:03
Malik Rose Defensive Rebound.
69 - 48
4:03
Josh Childress Personal Foul
69 - 48
4:03
Jelani McCoy enters the game for Predrag Drobnjak.
69 - 48
4:03
Malik Rose made Free Throw 1 of 2.
70 - 48
4:03
Malik Rose missed Free Throw 2 of 2.
70 - 48
4:01
Tim Duncan Offensive Rebound.
70 - 48
3:44
Malik Rose missed Layup.
70 - 48
3:43
Josh Childress Defensive Rebound.
70 - 48
3:39
Josh Childress made Layup.
70 - 50
3:28
San Antonio Full Timeout.
70 - 50
3:20
Tim Duncan Bad Pass. Stolen by Jon Barry.
70 - 50
3:15
Josh Childress made Dunk. Assisted by Royal Ivey.
70 - 52
2:59
Brent Barry missed 22 ft Jumper.
70 - 52
2:57
San Antonio Offensive Rebound.
70 - 52
2:56
Tony Massenburg enters the game for Tim Duncan.
70 - 52
2:35
Bruce Bowen missed 9 ft Jumper.
70 - 52
2:34
Jelani McCoy Defensive Rebound.
70 - 52
2:15
Royal Ivey missed 7 ft Jumper.
70 - 52
2:15
Kevin Willis Offensive Rebound.
70 - 52
2:11
Kevin Willis missed 8 ft Jumper.
70 - 52
2:10
Tony Parker Defensive Rebound.
70 - 52
2:00
Jelani McCoy Shooting Foul
70 - 52
2:00
Brent Barry made Free Throw 1 of 2.
71 - 52
2:00
Brent Barry made Free Throw 2 of 2.
72 - 52
1:49
Bruce Bowen Personal Foul
72 - 52
1:38
Jelani McCoy made Jumper. Assisted by Jon Barry.
72 - 54
1:20
Brent Barry made 25 ft Three Point Jumper. Assisted by Tony Parker.
75 - 54
1:06
Jon Barry Bad Pass. Stolen by Malik Rose.
75 - 54
1:00
Brent Barry made Layup. Assisted by Tony Parker.
77 - 54
0:51
Tony Massenburg Shooting Foul
77 - 54
0:51
Kevin Willis made Free Throw 1 of 2.
77 - 55
0:51
Kevin Willis made Free Throw 2 of 2.
77 - 56
0:28
Malik Rose missed 15 ft Jumper.
77 - 56
0:27
Kevin Willis Defensive Rebound.
77 - 56
0:08
Royal Ivey made 6 ft Jumper.
77 - 58
0:03
Tony Parker Bad Pass. Stolen by Royal Ivey.
77 - 58
0:00
Jon Barry made 4 ft Jumper.
77 - 60
0:00
End of the 3rd Quarter.
77 - 60

time
TEAM
PLAY
SCORE
12:00
Start of the 4th Quarter.
77 - 60
11:41
Josh Childress Personal Foul
77 - 60
11:34
Malik Rose missed 13 ft Jumper.
77 - 60
11:33
Josh Childress Defensive Rebound.
77 - 60
11:18
Jelani McCoy Offensive Foul
77 - 60
11:18
Jelani McCoy Foul
77 - 60
11:04
Beno Udrih missed 14 ft Jumper.
77 - 60
11:03
Jelani McCoy Defensive Rebound.
77 - 60
10:48
Tony Massenburg Personal Foul
77 - 60
10:48
Antoine Walker enters the game for Jelani McCoy.
77 - 60
10:34
Antoine Walker made 14 ft Two Point Shot.
77 - 62
10:18
Beno Udrih Lost Ball. Stolen by Josh Childress.
77 - 62
10:07
Kevin Willis missed Jumper.
77 - 62
10:06
Malik Rose Defensive Rebound.
77 - 62
9:55
Emmanuel Ginobili missed 27 ft Three Point Jumper.
77 - 62
9:52
Tony Massenburg Offensive Rebound.
77 - 62
9:52
Tony Massenburg missed Layup.
77 - 62
9:52
Kevin Willis Defensive Rebound.
77 - 62
9:44
Royal Ivey made Two Point Shot.
77 - 64
9:44
Beno Udrih Shooting Foul
77 - 64
9:44
Tim Duncan enters the game for Malik Rose.
77 - 64
9:44
Al Harrington enters the game for Josh Childress.
77 - 64
9:44
Royal Ivey made Free Throw 1 of 1.
77 - 65
9:33
Al Harrington Personal Foul
77 - 65
9:30
Al Harrington Shooting Foul
77 - 65
9:30
Emmanuel Ginobili made Free Throw 1 of 2.
78 - 65
9:30
Radoslav Nesterovic enters the game for Tony Massenburg.
78 - 65
9:30
Emmanuel Ginobili made Free Throw 2 of 2.
79 - 65
9:14
Jon Barry made 23 ft Three Point Jumper. Assisted by Antoine Walker.
79 - 68
9:03
Radoslav Nesterovic made Layup. Assisted by Brent Barry.
81 - 68
9:03
Jon Barry Shooting Foul
81 - 68
9:03
Jelani McCoy enters the game for Kevin Willis.
81 - 68
9:03
Radoslav Nesterovic missed Free Throw 1 of 1.
81 - 68
9:00
Al Harrington Defensive Rebound.
81 - 68
8:56
Antoine Walker made 25 ft Three Point Jumper. Assisted by Royal Ivey.
81 - 71
8:38
Beno Udrih made 24 ft Three Point Jumper. Assisted by Emmanuel Ginobili.
84 - 71
8:22
Jon Barry missed 25 ft Three Point Jumper.
84 - 71
8:19
Tim Duncan Defensive Rebound.
84 - 71
8:12
Antoine Walker Personal Foul
84 - 71
8:12
Official Timeout.
84 - 71
8:12
Tim Duncan made Free Throw 1 of 2.
85 - 71
8:12
Tim Duncan missed Free Throw 2 of 2.
85 - 71
8:11
Antoine Walker Defensive Rebound.
85 - 71
7:56
Antoine Walker made 25 ft Three Point Jumper. Assisted by Jon Barry.
85 - 74
7:37
Tim Duncan Lost Ball. Stolen by Al Harrington.
85 - 74
7:31
Antoine Walker Bad Pass. Stolen by Beno Udrih.
85 - 74
7:28
Brent Barry made Dunk. Assisted by Beno Udrih.
87 - 74
7:07
Brent Barry Personal Foul
87 - 74
7:07
Tony Parker enters the game for Beno Udrih.
87 - 74
6:58
Royal Ivey missed 6 ft Jumper.
87 - 74
6:58
Jelani McCoy Offensive Rebound.
87 - 74
6:58
Jelani McCoy missed Tip Shot.
87 - 74
6:56
Tim Duncan Defensive Rebound.
87 - 74
6:39
Emmanuel Ginobili missed 3 ft Jumper.
87 - 74
6:35
Tim Duncan Offensive Rebound.
89 - 74
6:35
Tim Duncan made Tip Shot.
89 - 74
6:30
Atlanta Full Timeout.
89 - 74
6:30
Bruce Bowen enters the game for Brent Barry.
89 - 74
6:22
Jelani McCoy Offensive Foul
89 - 74
6:22
Jelani McCoy Foul
89 - 74
6:07
Radoslav Nesterovic missed Jumper.
89 - 74
6:07
Emmanuel Ginobili Offensive Rebound.
89 - 74
6:07
Jelani McCoy Personal Foul
89 - 74
6:07
Predrag Drobnjak enters the game for Jelani McCoy.
89 - 74
6:07
Emmanuel Ginobili made Free Throw 1 of 2.
90 - 74
6:07
Emmanuel Ginobili made Free Throw 2 of 2.
91 - 74
5:54
Tim Duncan Offensive Foul
91 - 74
5:54
Tony Parker Personal Foul
91 - 74
5:54
Antoine Walker missed Free Throw 1 of 2.
91 - 74
5:54
Atlanta Offensive Rebound.
91 - 74
5:54
Antoine Walker missed Free Throw 2 of 2.
91 - 74
5:52
Radoslav Nesterovic Defensive Rebound.
91 - 74
5:35
Emmanuel Ginobili made 6 ft Jumper. Assisted by Radoslav Nesterovic.
93 - 74
5:20
Antoine Walker made 25 ft Three Point Jumper. Assisted by Royal Ivey.
93 - 77
5:01
Tim Duncan missed 4 ft Jumper.
93 - 77
4:58
Radoslav Nesterovic Offensive Rebound.
93 - 77
4:48
Royal Ivey Personal Foul
93 - 77
4:48
Tim Duncan made Free Throw 1 of 2.
94 - 77
4:48
Boris Diaw enters the game for Royal Ivey.
94 - 77
4:48
Tim Duncan made Free Throw 2 of 2.
95 - 77
4:37
Bruce Bowen Personal Foul
95 - 77
4:37
Devin Brown enters the game for Emmanuel Ginobili.
95 - 77
4:37
Atlanta Offensive Rebound.
95 - 77
4:37
Al Harrington missed Free Throw 1 of 2.
95 - 77
4:37
Al Harrington missed Free Throw 2 of 2.
95 - 77
4:35
Radoslav Nesterovic Defensive Rebound.
95 - 77
4:20
Radoslav Nesterovic 3 second
95 - 77
4:20
Radoslav Nesterovic Personal Foul
95 - 77
4:20
Al Harrington Technical Foul
95 - 77
4:20
Devin Brown made Technical Free Throw.
96 - 77
4:07
Devin Brown Personal Foul
96 - 77
4:07
Boris Diaw missed Free Throw 1 of 2.
96 - 77
4:07
Atlanta Offensive Rebound.
96 - 77
4:07
Boris Diaw made Free Throw 2 of 2.
96 - 78
3:50
Tim Duncan missed Jumper.
96 - 78
3:48
Antoine Walker Defensive Rebound.
96 - 78
3:44
Antoine Walker made 26 ft Three Point Jumper.
96 - 81
3:31
Predrag Drobnjak Personal Foul
96 - 81
3:31
Tim Duncan made Free Throw 1 of 2.
97 - 81
3:31
Malik Rose enters the game for Radoslav Nesterovic.
97 - 81
3:31
Tim Duncan made Free Throw 2 of 2.
98 - 81
3:24
Tim Duncan Shooting Foul
98 - 81
3:24
Boris Diaw made Free Throw 1 of 2.
98 - 82
3:24
Boris Diaw made Free Throw 2 of 2.
98 - 83
3:06
Al Harrington Personal Foul
98 - 83
3:06
Devin Brown made Free Throw 1 of 2.
99 - 83
3:06
Josh Smith enters the game for Jon Barry.
99 - 83
3:06
Josh Childress enters the game for Al Harrington.
99 - 83
3:06
Tony Massenburg enters the game for Tim Duncan.
99 - 83
3:06
Devin Brown made Free Throw 2 of 2.
100 - 83
2:51
Predrag Drobnjak missed 18 ft Jumper.
100 - 83
2:49
Devin Brown Defensive Rebound.
100 - 83
2:42
Bruce Bowen made Three Point Jumper. Assisted by Tony Parker.
103 - 83
2:33
Atlanta 20 Sec. Timeout.
103 - 83
2:33
San Antonio Full Timeout.
103 - 83
2:33
Jason Collier enters the game for Antoine Walker.
103 - 83
2:33
Mike Wilks enters the game for Bruce Bowen.
103 - 83
2:33
Beno Udrih enters the game for Tony Parker.
103 - 83
2:21
Jason Collier Bad Pass
103 - 83
2:05
Devin Brown missed 18 ft Jumper.
103 - 83
2:03
Predrag Drobnjak Defensive Rebound.
103 - 83
1:50
Josh Smith made 4 ft Jumper. Assisted by Josh Childress.
103 - 85
1:31
Beno Udrih missed Layup.
103 - 85
1:31
Boris Diaw Defensive Rebound.
103 - 85
1:24
Boris Diaw Bad Pass. Stolen by Mike Wilks.
103 - 85
1:21
Devin Brown Traveling
103 - 85
1:02
Jason Collier missed Jumper.
103 - 85
1:01
Predrag Drobnjak Offensive Rebound.
103 - 85
1:01
Mike Wilks Shooting Foul
103 - 85
1:01
Predrag Drobnjak missed Free Throw 1 of 2.
103 - 85
1:01
Atlanta Offensive Rebound.
103 - 85
1:01
Predrag Drobnjak made Free Throw 2 of 2.
103 - 86
0:47
Tony Massenburg missed Layup.
103 - 86
0:46
Predrag Drobnjak Defensive Rebound.
103 - 86
0:39
Jason Collier made Layup. Assisted by Josh Smith.
103 - 88
0:22
Malik Rose missed 17 ft Jumper.
103 - 88
0:20
Jason Collier Defensive Rebound.
103 - 88
0:18
Boris Diaw Double Dribble
103 - 88
0:00
End of the 4th Quarter.
103 - 88
0:00
End Game
103 - 88
Jeff Hornacek may bring a very fast offense to the New York Knicks that tries to get a lot of early shots.

Mike & Mike believe Draymond Green tripped Enes Kanter on purpose during Game 4 of the Western Conference finals, but say the play would have been a non-story if it was any other player.

The latest notes, updates and analysis on the Raptors from around the web.
Regular Season Series
SA wins series 2-0
2015-2016 Southwest Standings
2015-2016 Southeast Standings