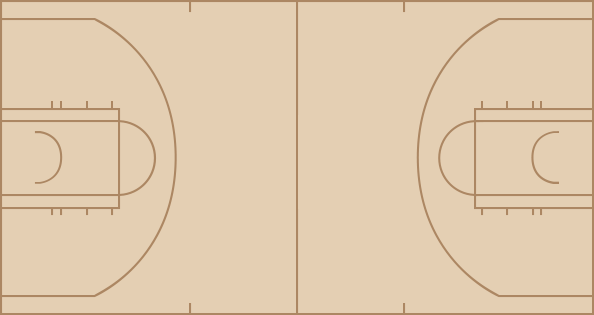 Pistons
time
TEAM
PLAY
SCORE
12:00
Start of the 1st Quarter.
0 - 0
12:00
Jumpball. Rasheed Wallace vs. Jarron Collins. Tayshaun Prince gains possession.
0 - 0
11:45
Carlos Boozer Shooting Foul
0 - 0
11:45
Rasheed Wallace made Free Throw 1 of 2.
1 - 0
11:45
Rasheed Wallace made Free Throw 2 of 2.
2 - 0
11:26
Carlos Boozer missed Two Point Shot.
2 - 0
11:25
Antonio McDyess Defensive Rebound.
2 - 0
11:11
Tayshaun Prince missed 23 ft Jumper.
2 - 0
11:08
Gordan Giricek Defensive Rebound.
2 - 0
10:52
Gordan Giricek missed 23 ft Jumper.
2 - 0
10:52
Utah Defensive Rebound.
2 - 0
10:52
Jarron Collins Loose Ball Foul
2 - 0
10:27
Lindsey Hunter made 24 ft Three Point Jumper. Assisted by Tayshaun Prince.
5 - 0
10:07
Gordan Giricek missed 21 ft Jumper.
5 - 0
10:03
Antonio McDyess Defensive Rebound.
5 - 0
10:00
Richard Hamilton missed Layup. Blocked by Andrei Kirilenko.
5 - 0
9:57
Gordan Giricek Defensive Rebound.
5 - 0
9:53
Gordan Giricek made Two Point Shot.
5 - 2
9:33
Rasheed Wallace missed 18 ft Jumper.
5 - 2
9:32
Tayshaun Prince Offensive Rebound.
5 - 2
9:29
Tayshaun Prince missed 18 ft Jumper.
5 - 2
9:29
Detroit Offensive Rebound.
5 - 2
9:29
Jarron Collins Loose Ball Foul
5 - 2
9:29
Mehmet Okur enters the game for Jarron Collins.
5 - 2
9:25
Tayshaun Prince missed Layup. Blocked by Andrei Kirilenko.
5 - 2
9:22
Keith McLeod Defensive Rebound.
5 - 2
9:15
Keith McLeod made Two Point Shot.
5 - 4
8:56
Antonio McDyess made 16 ft Jumper. Assisted by Tayshaun Prince.
7 - 4
8:37
Andrei Kirilenko made Slam Dunk. Assisted by Gordan Giricek.
7 - 6
8:11
Lindsey Hunter Traveling
7 - 6
7:56
Mehmet Okur missed Layup. Blocked by Rasheed Wallace.
7 - 6
7:54
Carlos Boozer Offensive Rebound.
7 - 6
7:52
Carlos Boozer missed Jumper.
7 - 6
7:50
Keith McLeod Offensive Rebound.
7 - 6
7:48
Keith McLeod made 21 ft Jumper.
7 - 8
7:31
Antonio McDyess missed 20 ft Jumper.
7 - 8
7:28
Rasheed Wallace Offensive Rebound.
7 - 8
7:18
Richard Hamilton made Two Point Shot. Assisted by Antonio McDyess.
9 - 8
7:09
Antonio McDyess Shooting Foul
9 - 8
7:09
Mehmet Okur made Free Throw 1 of 2.
9 - 9
7:09
Mehmet Okur made Free Throw 2 of 2.
9 - 10
6:45
24 second
9 - 10
6:31
Richard Hamilton Personal Foul
9 - 10
6:24
Gordan Giricek made 19 ft Jumper. Assisted by Keith McLeod.
9 - 12
6:05
Rasheed Wallace made 14 ft Jumper. Assisted by Richard Hamilton.
11 - 12
5:54
Keith McLeod Bad Pass. Stolen by Antonio McDyess.
11 - 12
5:50
Antonio McDyess made Two Point Shot. Assisted by Lindsey Hunter.
13 - 12
5:37
Carlos Boozer Bad Pass. Stolen by Tayshaun Prince.
13 - 12
5:35
Tayshaun Prince made Layup.
15 - 12
5:33
Utah Full Timeout.
15 - 12
5:22
Richard Hamilton Shooting Foul
15 - 12
5:22
Carlos Boozer made Free Throw 1 of 2.
15 - 13
5:22
Carlos Delfino enters the game for Richard Hamilton.
15 - 13
5:22
Carlos Boozer missed Free Throw 2 of 2.
15 - 13
5:20
Antonio McDyess Defensive Rebound.
15 - 13
5:01
Rasheed Wallace missed 12 ft Jumper.
15 - 13
4:58
Gordan Giricek Defensive Rebound.
15 - 13
4:52
Mehmet Okur made Layup. Assisted by Andrei Kirilenko.
15 - 15
4:24
Rasheed Wallace missed Layup.
15 - 15
4:24
Rasheed Wallace Offensive Rebound.
15 - 15
4:22
24 second
15 - 15
4:22
Matt Harpring enters the game for Andrei Kirilenko.
15 - 15
4:07
Carlos Boozer made Layup. Assisted by Mehmet Okur.
15 - 17
3:55
Gordan Giricek Personal Foul
15 - 17
3:55
Darvin Ham enters the game for Tayshaun Prince.
15 - 17
3:31
Mehmet Okur missed Layup. Blocked by Rasheed Wallace.
15 - 17
3:29
Antonio McDyess Defensive Rebound.
15 - 17
3:10
Rasheed Wallace Lost Ball. Stolen by Matt Harpring.
15 - 17
3:00
Keith McLeod Lost Ball. Stolen by Darvin Ham.
15 - 17
2:55
Detroit Full Timeout.
15 - 17
2:55
Raja Bell enters the game for Gordan Giricek.
15 - 17
2:55
Elden Campbell enters the game for Antonio McDyess.
15 - 17
2:49
Matt Harpring Loose Ball Foul
15 - 17
2:49
Carlos Delfino made Free Throw 1 of 2.
16 - 17
2:49
Carlos Delfino made Free Throw 2 of 2.
17 - 17
2:40
Darvin Ham Personal Foul
17 - 17
2:28
Raja Bell made 21 ft Jumper. Assisted by Mehmet Okur.
17 - 19
2:12
Lindsey Hunter made Layup. Assisted by Elden Campbell.
19 - 19
1:50
Darvin Ham Shooting Foul
19 - 19
1:50
Mehmet Okur made Free Throw 1 of 2.
19 - 20
1:50
Mehmet Okur made Free Throw 2 of 2.
19 - 21
1:36
Elden Campbell missed Layup. Blocked by Mehmet Okur.
19 - 21
1:34
Matt Harpring Defensive Rebound.
19 - 21
1:31
Carlos Boozer made Two Point Shot. Assisted by Raja Bell.
19 - 23
1:31
Rasheed Wallace Shooting Foul
19 - 23
1:31
Carlos Boozer made Free Throw 1 of 1.
19 - 24
1:14
Darvin Ham made Two Point Shot.
21 - 24
0:56
Carlos Boozer made 11 ft Jumper. Assisted by Keith McLeod.
21 - 26
0:40
Mehmet Okur Shooting Foul
21 - 26
0:40
Elden Campbell made Free Throw 1 of 2.
22 - 26
0:40
Elden Campbell made Free Throw 2 of 2.
23 - 26
0:30
Keith McLeod made 17 ft Two Point Shot.
23 - 28
0:08
Lindsey Hunter missed 25 ft Three Point Jumper.
23 - 28
0:06
Mehmet Okur Defensive Rebound.
23 - 28
0:01
Raja Bell missed 24 ft Three Point Jumper.
23 - 28
0:00
Elden Campbell Defensive Rebound.
23 - 28
0:00
End of the 1st Quarter.
23 - 28

time
TEAM
PLAY
SCORE
12:00
Start of the 2nd Quarter.
23 - 28
12:00
Tayshaun Prince Personal Foul
23 - 28
11:48
Curtis Borchardt Offensive Foul
23 - 28
11:48
Curtis Borchardt Foul
23 - 28
11:36
Matt Harpring missed 14 ft Jumper.
23 - 28
11:34
Elden Campbell Defensive Rebound.
23 - 28
11:22
Antonio McDyess missed 12 ft Jumper.
23 - 28
11:21
Curtis Borchardt Defensive Rebound.
23 - 28
11:17
Mehmet Okur made Layup. Assisted by Howard Eisley.
23 - 30
10:53
Antonio McDyess made Layup. Assisted by Richard Hamilton.
25 - 30
10:32
Elden Campbell Personal Foul
25 - 30
10:29
Mehmet Okur made 25 ft Three Point Jumper. Assisted by Curtis Borchardt.
25 - 33
10:15
Carlos Delfino made Two Point Shot.
27 - 33
9:57
Howard Eisley made 21 ft Jumper.
27 - 35
9:34
Tayshaun Prince made 20 ft Jumper. Assisted by Richard Hamilton.
29 - 35
9:12
Raja Bell made 23 ft Jumper. Assisted by Matt Harpring.
29 - 37
8:53
Richard Hamilton missed 6 ft Jumper.
29 - 37
8:52
Mehmet Okur Defensive Rebound.
29 - 37
8:48
Howard Eisley Bad Pass
29 - 37
8:48
Official Timeout.
29 - 37
8:29
Carlos Delfino missed 25 ft Three Point Jumper.
29 - 37
8:26
Tayshaun Prince Offensive Rebound.
29 - 37
8:19
Carlos Delfino missed 25 ft Three Point Jumper.
29 - 37
8:18
Carlos Delfino Offensive Rebound.
29 - 37
8:07
Tayshaun Prince made 8 ft Two Point Shot.
31 - 37
7:48
Raja Bell made Jumper. Assisted by Howard Eisley.
31 - 39
7:28
Tayshaun Prince Lost Ball. Stolen by Matt Harpring.
31 - 39
7:11
Andrei Kirilenko enters the game for Mehmet Okur.
31 - 39
7:05
Howard Eisley made 25 ft Three Point Jumper. Assisted by Matt Harpring.
31 - 42
6:43
Elden Campbell Traveling
31 - 42
6:26
Andrei Kirilenko made Layup. Assisted by Curtis Borchardt.
31 - 44
6:26
Tayshaun Prince Shooting Foul
31 - 44
6:26
Rasheed Wallace enters the game for Elden Campbell.
31 - 44
6:26
Lindsey Hunter enters the game for Carlos Delfino.
31 - 44
6:26
Andrei Kirilenko missed Free Throw 1 of 1.
31 - 44
6:26
Matt Harpring Offensive Rebound.
31 - 44
6:11
Howard Eisley missed Layup.
31 - 44
6:09
Andrei Kirilenko Offensive Rebound.
31 - 44
6:09
Lindsey Hunter Shooting Foul
31 - 44
6:09
Andrei Kirilenko made Free Throw 1 of 2.
31 - 45
6:09
Andrei Kirilenko made Free Throw 2 of 2.
31 - 46
6:03
Detroit Full Timeout.
31 - 46
5:47
Richard Hamilton missed 21 ft Jumper.
31 - 46
5:45
Howard Eisley Defensive Rebound.
31 - 46
5:33
Richard Hamilton Personal Foul
31 - 46
5:33
Raja Bell made Free Throw 1 of 2.
31 - 47
5:33
Carlos Delfino enters the game for Richard Hamilton.
31 - 47
5:33
Raja Bell missed Free Throw 2 of 2.
31 - 47
5:31
Antonio McDyess Defensive Rebound.
31 - 47
5:13
Carlos Delfino made Layup. Assisted by Rasheed Wallace.
33 - 47
4:54
Curtis Borchardt made 4 ft Two Point Shot. Assisted by Howard Eisley.
33 - 49
4:33
Tayshaun Prince Lost Ball. Stolen by Howard Eisley.
33 - 49
4:28
Carlos Boozer enters the game for Curtis Borchardt.
33 - 49
4:26
Matt Harpring made Layup. Assisted by Andrei Kirilenko.
33 - 51
4:03
Lindsey Hunter made 25 ft Three Point Jumper. Assisted by Antonio McDyess.
36 - 51
3:43
Matt Harpring missed 21 ft Jumper.
36 - 51
3:42
Carlos Boozer Offensive Rebound.
36 - 51
3:39
Howard Eisley made 19 ft Jumper. Assisted by Carlos Boozer.
36 - 53
3:19
Antonio McDyess made 4 ft Jumper.
38 - 53
2:58
Utah Full Timeout.
38 - 53
2:55
Raja Bell made Jumper. Assisted by Matt Harpring.
38 - 55
2:33
Rasheed Wallace made 2 ft Jumper.
40 - 55
2:13
Carlos Boozer missed 10 ft Jumper.
40 - 55
2:12
Lindsey Hunter Defensive Rebound.
40 - 55
2:04
Tayshaun Prince missed Jumper.
40 - 55
2:02
Carlos Boozer Defensive Rebound.
40 - 55
1:53
Andrei Kirilenko made 22 ft Three Point Jumper. Assisted by Raja Bell.
40 - 58
1:32
Lindsey Hunter missed 24 ft Three Point Jumper.
40 - 58
1:29
Matt Harpring Defensive Rebound.
40 - 58
1:15
Raja Bell missed 22 ft Three Point Jumper.
40 - 58
1:12
Matt Harpring Offensive Rebound.
40 - 58
1:12
Mehmet Okur enters the game for Matt Harpring.
40 - 58
1:02
Mehmet Okur missed 22 ft Jumper.
40 - 58
1:00
Antonio McDyess Defensive Rebound.
40 - 58
0:52
Tayshaun Prince missed 17 ft Jumper.
40 - 58
0:49
Carlos Boozer Defensive Rebound.
40 - 58
0:34
Raja Bell missed 23 ft Three Point Jumper.
40 - 58
0:31
Andrei Kirilenko Offensive Rebound.
40 - 58
0:09
Howard Eisley made 11 ft Two Point Shot.
40 - 60
0:03
Mehmet Okur Shooting Foul
40 - 60
0:03
Tayshaun Prince made Free Throw 1 of 2.
41 - 60
0:03
Tayshaun Prince made Free Throw 2 of 2.
42 - 60
0:00
Carlos Boozer made Layup. Assisted by Mehmet Okur.
42 - 62
0:00
End of the 2nd Quarter.
42 - 62

time
TEAM
PLAY
SCORE
12:00
Start of the 3rd Quarter.
42 - 62
11:41
Keith McLeod Bad Pass. Stolen by Rasheed Wallace.
42 - 62
11:32
Antonio McDyess missed Two Point Shot.
42 - 62
11:30
Carlos Boozer Defensive Rebound.
42 - 62
11:12
Gordan Giricek made 21 ft Jumper.
42 - 64
10:52
Richard Hamilton made Two Point Shot. Assisted by Rasheed Wallace.
44 - 64
10:21
Gordan Giricek Shooting Foul
44 - 64
10:21
Richard Hamilton made Free Throw 1 of 2.
45 - 64
10:21
Richard Hamilton made Free Throw 2 of 2.
46 - 64
10:11
Andrei Kirilenko made Two Point Shot. Assisted by Keith McLeod.
46 - 66
10:11
Antonio McDyess Shooting Foul
46 - 66
10:11
Andrei Kirilenko missed Free Throw 1 of 1.
46 - 66
10:11
Tayshaun Prince Defensive Rebound.
46 - 66
10:00
Richard Hamilton made Layup. Assisted by Antonio McDyess.
48 - 66
9:42
Carlos Boozer missed 21 ft Jumper.
48 - 66
9:41
Antonio McDyess Defensive Rebound.
48 - 66
9:34
Rasheed Wallace made 9 ft Jumper. Assisted by Richard Hamilton.
50 - 66
9:22
Andrei Kirilenko Offensive Foul
50 - 66
9:22
Andrei Kirilenko Foul
50 - 66
9:04
Gordan Giricek Shooting Foul
50 - 66
9:04
Richard Hamilton missed Free Throw 1 of 2.
50 - 66
9:04
Detroit Offensive Rebound.
50 - 66
9:04
Richard Hamilton made Free Throw 2 of 2.
51 - 66
8:48
Andrei Kirilenko made Two Point Shot. Assisted by Gordan Giricek.
51 - 68
8:27
Richard Hamilton Bad Pass. Stolen by Andrei Kirilenko.
51 - 68
8:22
Antonio McDyess Shooting Foul
51 - 68
8:22
Jarron Collins made Free Throw 1 of 2.
51 - 69
8:22
Jarron Collins missed Free Throw 2 of 2.
51 - 69
8:21
Carlos Boozer Offensive Rebound.
51 - 69
8:19
Jumpball. Rasheed Wallace vs. Jarron Collins. Andrei Kirilenko gains possession.
51 - 69
8:04
Carlos Boozer made Two Point Shot.
51 - 71
7:48
Tayshaun Prince missed 24 ft Three Point Jumper.
51 - 71
7:46
Richard Hamilton Offensive Rebound.
53 - 71
7:46
Richard Hamilton made 13 ft Jumper.
53 - 71
7:35
Keith McLeod Bad Pass. Stolen by Antonio McDyess.
53 - 71
7:31
Richard Hamilton made Dunk. Assisted by Lindsey Hunter.
55 - 71
7:16
Gordan Giricek made Two Point Shot.
55 - 73
6:47
Andrei Kirilenko Personal Foul
55 - 73
6:41
Richard Hamilton missed 6 ft Jumper.
55 - 73
6:39
Carlos Boozer Defensive Rebound.
55 - 73
6:33
Andrei Kirilenko Bad Pass. Stolen by Richard Hamilton.
55 - 73
6:26
Antonio McDyess made Layup. Assisted by Lindsey Hunter.
57 - 73
5:52
Rasheed Wallace made 23 ft Jumper. Assisted by Lindsey Hunter.
59 - 73
5:28
Andrei Kirilenko made 20 ft Jumper. Assisted by Gordan Giricek.
59 - 75
5:18
Detroit Full Timeout.
59 - 75
5:18
Carlos Delfino enters the game for Richard Hamilton.
59 - 75
5:11
Lindsey Hunter made 11 ft Two Point Shot.
61 - 75
5:00
Lindsey Hunter Personal Foul
61 - 75
4:56
Gordan Giricek made Three Point Jumper. Assisted by Andrei Kirilenko.
61 - 78
4:33
Carlos Delfino made Layup. Assisted by Tayshaun Prince.
63 - 78
4:18
Carlos Delfino Personal Foul
63 - 78
4:13
Keith McLeod missed Layup.
63 - 78
4:13
Lindsey Hunter Defensive Rebound.
63 - 78
4:07
Lindsey Hunter missed Layup.
63 - 78
4:07
Tayshaun Prince Offensive Rebound.
63 - 78
4:07
Tayshaun Prince missed Layup.
63 - 78
4:03
Carlos Boozer Defensive Rebound.
63 - 78
3:58
Andrei Kirilenko made Layup. Assisted by Gordan Giricek.
63 - 80
3:38
Antonio McDyess made 17 ft Jumper. Assisted by Carlos Delfino.
65 - 80
3:20
Gordan Giricek Offensive Rebound.
65 - 80
3:20
Gordan Giricek Lost Ball. Stolen by Carlos Delfino.
65 - 80
3:18
Keith McLeod Personal Foul
65 - 80
3:18
Mehmet Okur enters the game for Jarron Collins.
65 - 80
3:18
Utah 20 Sec. Timeout.
65 - 80
3:18
Elden Campbell enters the game for Antonio McDyess.
65 - 80
3:11
Lindsey Hunter missed 21 ft Jumper.
65 - 80
3:09
Mehmet Okur Defensive Rebound.
65 - 80
2:57
Carlos Delfino Shooting Foul
65 - 80
2:57
Utah Full Timeout.
65 - 80
2:57
Matt Harpring enters the game for Andrei Kirilenko.
65 - 80
2:57
Richard Hamilton enters the game for Tayshaun Prince.
65 - 80
2:57
Gordan Giricek made Free Throw 1 of 2.
65 - 81
2:57
Gordan Giricek made Free Throw 2 of 2.
65 - 82
2:44
Elden Campbell missed 15 ft Jumper.
65 - 82
2:43
Carlos Boozer Defensive Rebound.
65 - 82
2:24
Keith McLeod made 22 ft Jumper. Assisted by Gordan Giricek.
65 - 84
2:03
Carlos Delfino missed 23 ft Three Point Jumper.
65 - 84
2:01
Keith McLeod Defensive Rebound.
65 - 84
1:55
Carlos Boozer made Slam Dunk. Assisted by Keith McLeod.
65 - 86
1:27
Carlos Delfino missed Two Point Shot.
65 - 86
1:25
Carlos Boozer Defensive Rebound.
65 - 86
1:13
Carlos Delfino Shooting Foul
65 - 86
1:13
Darvin Ham enters the game for Lindsey Hunter.
65 - 86
1:13
Matt Harpring made Free Throw 1 of 2.
65 - 87
1:13
Matt Harpring missed Free Throw 2 of 2.
65 - 87
1:13
Antonio McDyess enters the game for Rasheed Wallace.
65 - 87
1:13
Matt Harpring made Free Throw 2 of 2.
65 - 88
0:56
Keith McLeod Personal Foul
65 - 88
0:56
Richard Hamilton made Free Throw 1 of 2.
66 - 88
0:56
Richard Hamilton made Free Throw 2 of 2.
67 - 88
0:41
Keith McLeod Bad Pass
67 - 88
0:32
Richard Hamilton made 19 ft Jumper.
69 - 88
0:11
Gordan Giricek made 22 ft Jumper. Assisted by Keith McLeod.
69 - 90
0:01
Richard Hamilton Bad Pass
69 - 90
0:00
Matt Harpring Bad Pass. Stolen by Carlos Delfino.
69 - 90
0:00
End of the 3rd Quarter.
69 - 90

time
TEAM
PLAY
SCORE
12:00
Start of the 4th Quarter.
69 - 90
11:36
Richard Hamilton made 21 ft Two Point Shot.
71 - 90
11:12
Howard Eisley missed Layup.
71 - 90
11:11
Carlos Boozer Offensive Rebound.
71 - 92
11:11
Carlos Boozer made Two Point Shot.
71 - 92
10:48
Antonio McDyess made 6 ft Two Point Shot.
73 - 92
10:30
Elden Campbell Shooting Foul
73 - 92
10:30
Carlos Boozer missed Free Throw 1 of 2.
73 - 92
10:30
Utah Offensive Rebound.
73 - 92
10:30
Carlos Boozer made Free Throw 2 of 2.
73 - 93
10:15
Antonio McDyess made Layup. Assisted by Tayshaun Prince.
75 - 93
9:56
Mehmet Okur missed 6 ft Hook Shot.
75 - 93
9:53
Antonio McDyess Defensive Rebound.
75 - 93
9:48
Richard Hamilton missed Layup.
75 - 93
9:45
Tayshaun Prince Offensive Rebound.
77 - 93
9:45
Tayshaun Prince made Two Point Shot.
77 - 93
9:30
Matt Harpring missed 16 ft Jumper.
77 - 93
9:27
Elden Campbell Defensive Rebound.
77 - 93
9:19
Tayshaun Prince made 24 ft Three Point Jumper. Assisted by Richard Hamilton.
80 - 93
9:18
Utah Full Timeout.
80 - 93
9:18
Curtis Borchardt enters the game for Carlos Boozer.
80 - 93
9:03
Mehmet Okur made 23 ft Jumper. Assisted by Howard Eisley.
80 - 95
8:45
Curtis Borchardt Shooting Foul
80 - 95
8:45
Elden Campbell made Free Throw 1 of 2.
81 - 95
8:45
Elden Campbell made Free Throw 2 of 2.
82 - 95
8:42
Raja Bell missed 8 ft Jumper.
82 - 95
8:42
Utah Defensive Rebound.
82 - 95
8:42
Curtis Borchardt Loose Ball Foul
82 - 95
8:27
Richard Hamilton Offensive Foul
82 - 95
8:27
Richard Hamilton Foul
82 - 95
8:11
Raja Bell missed 20 ft Jumper.
82 - 95
8:10
Antonio McDyess Defensive Rebound.
82 - 95
8:04
Richard Hamilton Bad Pass. Stolen by Raja Bell.
82 - 95
7:43
Mehmet Okur missed 19 ft Jumper.
82 - 95
7:41
Elden Campbell Defensive Rebound.
82 - 95
7:30
Richard Hamilton made 18 ft Jumper.
84 - 95
7:05
Matt Harpring missed 20 ft Jumper.
84 - 95
7:03
Elden Campbell Defensive Rebound.
84 - 95
6:43
Richard Hamilton missed 22 ft Jumper.
84 - 95
6:41
Antonio McDyess Offensive Rebound.
84 - 95
6:41
Raja Bell Personal Foul
84 - 95
6:41
Carlos Boozer enters the game for Curtis Borchardt.
84 - 95
6:41
Andrei Kirilenko enters the game for Matt Harpring.
84 - 95
6:41
Rasheed Wallace enters the game for Elden Campbell.
84 - 95
6:41
Lindsey Hunter enters the game for Darvin Ham.
84 - 95
6:35
Lindsey Hunter made 23 ft Jumper. Assisted by Richard Hamilton.
86 - 95
6:24
Lindsey Hunter Personal Foul
86 - 95
6:07
Howard Eisley made 20 ft Jumper.
86 - 97
5:52
Richard Hamilton Offensive Foul
86 - 97
5:52
Richard Hamilton Foul
86 - 97
5:52
Official Timeout.
86 - 97
5:52
Carlos Delfino enters the game for Richard Hamilton.
86 - 97
5:37
Carlos Boozer missed Dunk. Blocked by Tayshaun Prince.
86 - 97
5:35
Carlos Boozer Offensive Rebound.
86 - 97
5:35
Carlos Boozer missed Layup.
86 - 97
5:18
Antonio McDyess Defensive Rebound.
86 - 97
5:18
Lindsey Hunter missed Layup.
86 - 97
5:13
Antonio McDyess Offensive Rebound.
86 - 97
4:58
Lindsey Hunter Bad Pass. Stolen by Raja Bell.
86 - 97
4:52
Rasheed Wallace Shooting Foul
86 - 97
4:52
Mehmet Okur made Free Throw 1 of 2.
86 - 98
4:52
Mehmet Okur made Free Throw 2 of 2.
86 - 99
4:41
Mehmet Okur Personal Foul
86 - 99
4:35
Lindsey Hunter missed 21 ft Jumper.
86 - 99
4:33
Mehmet Okur Defensive Rebound.
86 - 99
4:18
Antonio McDyess Personal Foul
86 - 99
4:11
Raja Bell missed 14 ft Two Point Shot.
86 - 99
4:09
Rasheed Wallace Defensive Rebound.
86 - 99
3:54
Tayshaun Prince made 17 ft Two Point Shot.
88 - 99
3:30
Antonio McDyess Shooting Foul
88 - 99
3:30
Raja Bell made Free Throw 1 of 2.
88 - 100
3:30
Richard Hamilton enters the game for Carlos Delfino.
88 - 100
3:30
Raja Bell made Free Throw 2 of 2.
88 - 101
3:12
Tayshaun Prince missed 24 ft Three Point Jumper.
88 - 101
3:10
Carlos Boozer Defensive Rebound.
88 - 101
3:05
Carlos Boozer made Layup. Assisted by Howard Eisley.
88 - 103
3:05
Richard Hamilton Shooting Foul
88 - 103
3:05
Carlos Delfino enters the game for Richard Hamilton.
88 - 103
3:05
Carlos Boozer made Free Throw 1 of 1.
88 - 104
3:03
Detroit Full Timeout.
88 - 104
2:56
Tayshaun Prince missed Layup.
88 - 104
2:56
Detroit Defensive Rebound.
88 - 104
2:32
Howard Eisley missed 21 ft Jumper.
88 - 104
2:30
Mehmet Okur Offensive Rebound.
88 - 106
2:30
Mehmet Okur made Layup.
88 - 106
2:06
Antonio McDyess made 19 ft Jumper. Assisted by Carlos Delfino.
90 - 106
1:39
Andrei Kirilenko missed 24 ft Three Point Jumper.
90 - 106
1:38
Rasheed Wallace Defensive Rebound.
90 - 106
1:32
Raja Bell Shooting Foul
90 - 106
1:32
Darvin Ham enters the game for Antonio McDyess.
90 - 106
1:32
Lindsey Hunter made Free Throw 1 of 2.
91 - 106
1:32
Darko Milicic enters the game for Rasheed Wallace.
91 - 106
1:32
Lindsey Hunter made Free Throw 2 of 2.
92 - 106
1:12
Andrei Kirilenko Offensive Foul
92 - 106
1:12
Andrei Kirilenko Foul
92 - 106
0:59
Tayshaun Prince missed 18 ft Two Point Shot.
92 - 106
0:57
Mehmet Okur Defensive Rebound.
92 - 106
0:57
Tayshaun Prince made Technical Free Throw.
93 - 106
0:57
Tayshaun Prince Personal Foul
93 - 106
0:57
Mehmet Okur made Free Throw 1 of 2.
93 - 107
0:57
Mehmet Okur made Free Throw 2 of 2.
93 - 108
0:38
Darko Milicic missed 12 ft Hook Shot.
93 - 108
0:36
Mehmet Okur Defensive Rebound.
93 - 108
0:13
Howard Eisley missed 23 ft Three Point Jumper.
93 - 108
0:11
Raja Bell Offensive Rebound.
93 - 108
0:00
End of the 4th Quarter.
93 - 108
0:00
End Game
93 - 108
ESPN Fan Shop Powered By
adidas Men's Utah Jazz Gordon Hayward #20 Navy T-ShirtPrice: $32.00 Shop
When Clippers coach Doc Rivers is asked who he leans on in discouraging situations, Doc tears up as the question reminds him of his mother, Bettye, who died last June.

The Los Angeles Lakers guard was all set to get a tattoo with the word "rebel" spelled wrong, until his fiancée stepped up and caught the error.

After struggling in the series, veteran swingman DeMar DeRozan delivered one of the biggest games of his career. Now he looks to do it again.
Regular Season Series
Series tied 1-1
2015-2016 Central Standings
2015-2016 Northwest Standings