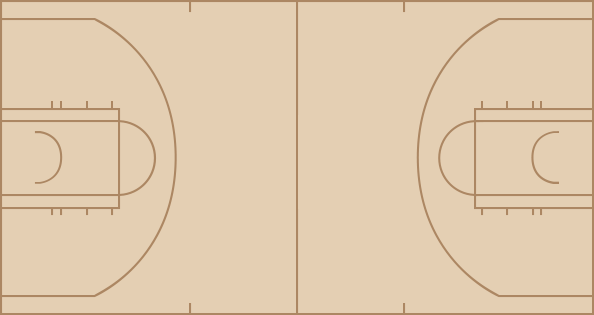 Jazz
time
TEAM
PLAY
SCORE
12:00
Start of the 1st Quarter.
0 - 0
12:00
Jumpball. Jarron Collins vs. Emeka Okafor. Gerald Wallace gains possession.
0 - 0
11:45
Primoz Brezec Traveling
0 - 0
11:29
Andrei Kirilenko missed 9 ft Jumper.
0 - 0
11:26
Gerald Wallace Defensive Rebound.
0 - 0
11:10
Steve Smith made Three Point Jumper. Assisted by Eddie House.
0 - 3
10:49
Gordan Giricek missed Layup. Blocked by Emeka Okafor.
0 - 3
10:47
Andrei Kirilenko Offensive Rebound.
0 - 3
10:41
Gordan Giricek missed 10 ft Jumper.
0 - 3
10:41
Carlos Boozer Offensive Rebound.
0 - 3
10:41
24 second
0 - 3
10:27
Eddie House Lost Ball. Stolen by Carlos Arroyo.
0 - 3
10:17
Carlos Boozer missed 6 ft Two Point Shot.
0 - 3
10:14
Emeka Okafor Defensive Rebound.
0 - 3
10:00
Eddie House made Jumper. Assisted by Emeka Okafor.
0 - 5
9:36
Carlos Boozer missed 14 ft Jumper.
0 - 5
9:33
Eddie House Defensive Rebound.
0 - 5
9:22
Primoz Brezec missed Layup.
0 - 5
9:19
Gerald Wallace Offensive Rebound.
0 - 7
9:19
Gerald Wallace made Layup.
0 - 7
8:55
Carlos Boozer made 17 ft Jumper. Assisted by Carlos Arroyo.
2 - 7
8:32
Steve Smith made 13 ft Jumper.
2 - 9
8:32
Gordan Giricek Shooting Foul
2 - 9
8:32
Steve Smith made Free Throw 1 of 1.
2 - 10
8:17
Steve Smith Shooting Foul
2 - 10
8:17
Gordan Giricek made Free Throw 1 of 2.
3 - 10
8:17
Gordan Giricek made Free Throw 2 of 2.
4 - 10
8:03
Eddie House made 15 ft Jumper.
4 - 12
7:48
Carlos Arroyo made Layup. Assisted by Carlos Boozer.
6 - 12
7:31
Eddie House made Two Point Shot.
6 - 14
7:09
Carlos Arroyo Bad Pass
6 - 14
6:56
Gerald Wallace Lost Ball. Stolen by Andrei Kirilenko.
6 - 14
6:52
Gordan Giricek made Layup. Assisted by Andrei Kirilenko.
8 - 14
6:52
Charlotte Full Timeout.
8 - 14
6:35
Gerald Wallace made Two Point Shot.
8 - 16
6:26
Eddie House Personal Foul
8 - 16
6:22
Jarron Collins made Layup. Assisted by Gordan Giricek.
10 - 16
6:05
Eddie House made 22 ft Jumper. Assisted by Primoz Brezec.
10 - 18
5:37
Gordan Giricek missed 22 ft Jumper.
10 - 18
5:35
Emeka Okafor Defensive Rebound.
10 - 18
5:30
Jarron Collins Personal Foul
10 - 18
5:26
Gordan Giricek Personal Foul
10 - 18
5:26
Raja Bell enters the game for Gordan Giricek.
10 - 18
5:16
Emeka Okafor made Two Point Shot. Assisted by Eddie House.
10 - 20
4:56
Carlos Boozer missed Layup.
10 - 20
4:54
Emeka Okafor Defensive Rebound.
10 - 20
4:48
Gerald Wallace Traveling
10 - 20
4:26
Emeka Okafor Shooting Foul
10 - 20
4:26
Andrei Kirilenko made Free Throw 1 of 2.
11 - 20
4:26
Andrei Kirilenko made Free Throw 2 of 2.
12 - 20
4:18
Eddie House made 22 ft Jumper. Assisted by Steve Smith.
12 - 22
4:01
Carlos Arroyo missed 17 ft Jumper.
12 - 22
3:58
Gerald Wallace Defensive Rebound.
12 - 22
3:51
Emeka Okafor made 8 ft Hook Shot. Assisted by Gerald Wallace.
12 - 24
3:31
Carlos Boozer made Dunk. Assisted by Carlos Arroyo.
14 - 24
3:13
Gerald Wallace Offensive Foul
14 - 24
3:13
Gerald Wallace Foul
14 - 24
3:13
Matt Harpring enters the game for Andrei Kirilenko.
14 - 24
3:13
Keith McLeod enters the game for Carlos Arroyo.
14 - 24
3:13
Keith Bogans enters the game for Steve Smith.
14 - 24
3:01
Matt Harpring Bad Pass. Stolen by Eddie House.
14 - 24
2:50
Primoz Brezec made Jumper. Assisted by Gerald Wallace.
14 - 26
2:42
Carlos Boozer Offensive Foul
14 - 26
2:42
Carlos Boozer Foul
14 - 26
2:42
Utah Full Timeout.
14 - 26
2:42
Curtis Borchardt enters the game for Carlos Boozer.
14 - 26
2:42
Mehmet Okur enters the game for Jarron Collins.
14 - 26
2:28
Curtis Borchardt Shooting Foul
14 - 26
2:28
Keith Bogans made Free Throw 1 of 2.
14 - 27
2:28
Melvin Ely enters the game for Emeka Okafor.
14 - 27
2:28
Jason Kapono enters the game for Gerald Wallace.
14 - 27
2:28
Keith Bogans made Free Throw 2 of 2.
14 - 28
2:09
Mehmet Okur missed 22 ft Jumper.
14 - 28
2:05
Keith Bogans Defensive Rebound.
14 - 28
2:00
Eddie House made 20 ft Jumper. Assisted by Keith Bogans.
14 - 30
1:45
Matt Harpring missed 17 ft Jumper.
14 - 30
1:43
Keith Bogans Defensive Rebound.
14 - 30
1:24
Keith Bogans made Two Point Shot.
14 - 32
1:24
Raja Bell Shooting Foul
14 - 32
1:24
Keith Bogans made Free Throw 1 of 1.
14 - 33
1:15
Melvin Ely Personal Foul
14 - 33
1:12
Keith Bogans Personal Foul
14 - 33
1:12
Raja Bell made Free Throw 1 of 2.
15 - 33
1:12
Raja Bell missed Free Throw 2 of 2.
15 - 33
1:09
Curtis Borchardt Offensive Rebound.
15 - 33
1:06
Raja Bell missed Layup.
15 - 33
1:05
Primoz Brezec Defensive Rebound.
15 - 33
0:49
Eddie House missed 26 ft Three Point Jumper.
15 - 33
0:45
Keith McLeod Defensive Rebound.
15 - 33
0:32
Keith McLeod made 18 ft Jumper.
17 - 33
0:19
Curtis Borchardt Personal Foul
17 - 33
0:19
Primoz Brezec made Free Throw 1 of 2.
17 - 34
0:19
Primoz Brezec made Free Throw 2 of 2.
17 - 35
0:00
Mehmet Okur missed 26 ft Three Point Jumper.
17 - 35
0:00
Utah Offensive Rebound.
17 - 35
0:00
End of the 1st Quarter.
17 - 35

time
TEAM
PLAY
SCORE
12:00
Start of the 2nd Quarter.
17 - 35
11:42
Curtis Borchardt missed 19 ft Jumper.
17 - 35
11:41
Curtis Borchardt Offensive Rebound.
17 - 35
11:23
Steve Smith Away From Ball Foul
17 - 35
11:23
Raja Bell missed Free Throw 1 of 2.
17 - 35
11:23
Raja Bell made Free Throw 2 of 2.
18 - 35
11:14
Keith Bogans made 4 ft Jumper. Assisted by Steve Smith.
18 - 37
11:07
Curtis Borchardt made Two Point Shot. Assisted by Keith McLeod.
20 - 37
10:37
Jason Kapono Offensive Rebound.
20 - 39
10:37
Jason Kapono made 19 ft Jumper. Assisted by Steve Smith.
20 - 39
10:17
Curtis Borchardt missed Layup.
20 - 39
10:15
Curtis Borchardt made Tip Shot.
22 - 39
9:56
Steve Smith Offensive Rebound.
22 - 39
9:56
Steve Smith missed 25 ft Three Point Jumper.
22 - 39
9:53
Matt Harpring Defensive Rebound.
22 - 39
9:38
Mehmet Okur missed 17 ft Jumper.
22 - 39
9:37
Emeka Okafor Defensive Rebound.
22 - 39
9:12
Keith Bogans made 23 ft Three Point Jumper.
22 - 42
8:51
Raja Bell Offensive Foul
22 - 42
8:51
Raja Bell Foul
22 - 42
8:51
Official Timeout.
22 - 42
8:51
Gerald Wallace enters the game for Steve Smith.
22 - 42
8:30
Melvin Ely missed Hook Shot.
22 - 42
8:26
Gerald Wallace Offensive Rebound.
22 - 42
8:26
Gerald Wallace missed Layup. Blocked by Curtis Borchardt.
22 - 42
8:22
Curtis Borchardt Defensive Rebound.
22 - 42
8:18
Matt Harpring missed Layup. Blocked by Emeka Okafor.
22 - 42
8:15
Keith Bogans Defensive Rebound.
22 - 42
8:12
Keith Bogans made 19 ft Jumper.
22 - 44
7:58
Keith McLeod missed 22 ft Jumper.
22 - 44
7:56
Melvin Ely Defensive Rebound.
22 - 44
7:39
Gerald Wallace missed 14 ft Jumper.
22 - 44
7:37
Mehmet Okur Defensive Rebound.
22 - 44
7:31
Keith McLeod made Layup.
24 - 44
7:16
Jason Kapono Offensive Foul
24 - 44
7:16
Jason Kapono Foul
24 - 44
7:16
Howard Eisley enters the game for Keith McLeod.
24 - 44
7:16
Carlos Boozer enters the game for Mehmet Okur.
24 - 44
7:16
Primoz Brezec enters the game for Melvin Ely.
24 - 44
7:16
Eddie House enters the game for Jason Kapono.
24 - 44
7:05
Raja Bell made 18 ft Jumper. Assisted by Curtis Borchardt.
26 - 44
6:43
Emeka Okafor made 11 ft Jumper. Assisted by Eddie House.
26 - 46
6:30
Emeka Okafor Shooting Foul
26 - 46
6:30
Matt Harpring made Free Throw 1 of 2.
27 - 46
6:30
Steve Smith enters the game for Keith Bogans.
27 - 46
6:30
Matt Harpring made Free Throw 2 of 2.
28 - 46
6:11
Carlos Boozer made 3 ft Hook Shot. Assisted by Matt Harpring.
30 - 46
5:54
Gerald Wallace missed 20 ft Jumper.
30 - 46
5:52
Carlos Boozer Defensive Rebound.
30 - 46
5:48
Raja Bell made 17 ft Jumper. Assisted by Howard Eisley.
32 - 46
5:47
Charlotte Full Timeout.
32 - 46
5:33
Emeka Okafor made Layup. Assisted by Primoz Brezec.
32 - 48
5:33
Howard Eisley Shooting Foul
32 - 48
5:33
Emeka Okafor made Free Throw 1 of 1.
32 - 49
5:20
Carlos Boozer made Layup. Assisted by Matt Harpring.
34 - 49
5:01
Primoz Brezec missed 12 ft Jumper.
34 - 49
4:58
Matt Harpring Defensive Rebound.
34 - 49
4:39
Raja Bell made 24 ft Three Point Jumper. Assisted by Howard Eisley.
37 - 49
4:22
Steve Smith missed 23 ft Three Point Jumper.
37 - 49
4:18
Matt Harpring Defensive Rebound.
37 - 49
4:00
Gerald Wallace Personal Foul
37 - 49
4:00
Keith Bogans enters the game for Eddie House.
37 - 49
3:50
Raja Bell Bad Pass
37 - 49
3:29
Steve Smith missed 16 ft Jumper.
37 - 49
3:27
Carlos Boozer Defensive Rebound.
37 - 49
3:10
Carlos Boozer Bad Pass
37 - 49
2:55
Utah Full Timeout.
37 - 49
2:30
Primoz Brezec Offensive Foul
37 - 49
2:30
Primoz Brezec Foul
37 - 49
2:17
Carlos Boozer Offensive Foul
37 - 49
2:17
Carlos Boozer Foul
37 - 49
2:02
Keith Bogans missed 22 ft Three Point Jumper.
37 - 49
2:00
Carlos Boozer Defensive Rebound.
37 - 49
1:47
Carlos Boozer made 21 ft Jumper. Assisted by Howard Eisley.
39 - 49
1:24
Emeka Okafor missed Jumper.
39 - 49
1:24
Charlotte Offensive Rebound.
39 - 49
1:24
Curtis Borchardt Loose Ball Foul
39 - 49
1:24
Melvin Ely enters the game for Emeka Okafor.
39 - 49
1:24
Andrei Kirilenko enters the game for Curtis Borchardt.
39 - 49
1:08
Melvin Ely made 5 ft Hook Shot. Assisted by Steve Smith.
39 - 51
0:44
Howard Eisley missed 25 ft Three Point Jumper.
39 - 51
0:44
Utah Defensive Rebound.
39 - 51
0:44
Jason Kapono enters the game for Steve Smith.
39 - 51
0:44
Eddie House enters the game for Gerald Wallace.
39 - 51
0:31
Keith Bogans made Two Point Shot.
39 - 53
0:31
Raja Bell Shooting Foul
39 - 53
0:31
Kirk Snyder enters the game for Raja Bell.
39 - 53
0:31
Charlotte 20 Sec. Timeout.
39 - 53
0:31
Keith Bogans made Free Throw 1 of 1.
39 - 54
0:12
Melvin Ely Personal Foul
39 - 54
0:07
Keith Bogans Personal Foul
39 - 54
0:07
Andrei Kirilenko missed Free Throw 1 of 2.
39 - 54
0:07
Utah Offensive Rebound.
39 - 54
0:07
Jarron Collins enters the game for Carlos Boozer.
39 - 54
0:07
Steve Smith enters the game for Melvin Ely.
39 - 54
0:07
Andrei Kirilenko made Free Throw 2 of 2.
40 - 54
0:01
Eddie House Bad Pass. Stolen by Matt Harpring.
40 - 54
0:00
End of the 2nd Quarter.
40 - 54

time
TEAM
PLAY
SCORE
12:00
Start of the 3rd Quarter.
40 - 54
11:45
Carlos Arroyo missed 18 ft Jumper.
40 - 54
11:44
Gerald Wallace Defensive Rebound.
40 - 54
11:29
Gerald Wallace made Two Point Shot.
40 - 56
11:18
Primoz Brezec Shooting Foul
40 - 56
11:18
Carlos Boozer made Free Throw 1 of 2.
41 - 56
11:18
Carlos Boozer made Free Throw 2 of 2.
42 - 56
10:57
Emeka Okafor missed Jumper. Blocked by Andrei Kirilenko.
42 - 56
10:57
Primoz Brezec Offensive Rebound.
42 - 56
10:57
Jarron Collins Shooting Foul
42 - 56
10:57
Primoz Brezec missed Free Throw 1 of 2.
42 - 56
10:57
Charlotte Offensive Rebound.
42 - 56
10:57
Primoz Brezec made Free Throw 2 of 2.
42 - 57
10:38
Emeka Okafor Shooting Foul
42 - 57
10:38
Jarron Collins made Free Throw 1 of 2.
43 - 57
10:38
Jarron Collins made Free Throw 2 of 2.
44 - 57
10:27
Andrei Kirilenko Personal Foul
44 - 57
10:22
Andrei Kirilenko Personal Foul
44 - 57
10:18
Eddie House missed 17 ft Jumper.
44 - 57
10:17
Jarron Collins Defensive Rebound.
44 - 57
10:07
Gerald Wallace Shooting Foul
44 - 57
10:07
Jarron Collins made Free Throw 1 of 2.
45 - 57
10:07
Jarron Collins made Free Throw 2 of 2.
46 - 57
10:02
Steve Smith Offensive Foul
46 - 57
10:02
Steve Smith Foul
46 - 57
9:49
Carlos Boozer missed Dunk. Blocked by Gerald Wallace.
46 - 57
9:47
Emeka Okafor Defensive Rebound.
46 - 57
9:45
Carlos Arroyo Personal Foul
46 - 57
9:33
Eddie House missed 24 ft Three Point Jumper.
46 - 57
9:32
Jarron Collins Defensive Rebound.
46 - 57
9:26
Carlos Arroyo Bad Pass. Stolen by Eddie House.
46 - 57
9:22
Carlos Arroyo Shooting Foul
46 - 57
9:22
Gerald Wallace made Free Throw 1 of 2.
46 - 58
9:22
Gerald Wallace made Free Throw 2 of 2.
46 - 59
9:07
Gordan Giricek missed 18 ft Jumper.
46 - 59
9:06
Emeka Okafor Defensive Rebound.
46 - 59
9:03
Eddie House made 9 ft Jumper.
46 - 61
8:42
Eddie House Personal Foul
46 - 61
8:42
Charlotte Full Timeout.
46 - 61
8:30
Steve Smith Shooting Foul
46 - 61
8:30
Jarron Collins made Free Throw 1 of 2.
47 - 61
8:30
Jarron Collins made Free Throw 2 of 2.
48 - 61
8:22
Andrei Kirilenko Personal Foul
48 - 61
8:22
Steve Smith made Free Throw 1 of 2.
48 - 62
8:22
Steve Smith made Free Throw 2 of 2.
48 - 63
8:22
Keith Bogans enters the game for Steve Smith.
48 - 63
8:11
Carlos Arroyo missed 19 ft Jumper.
48 - 63
8:10
Emeka Okafor Defensive Rebound.
48 - 63
7:47
Emeka Okafor made 16 ft Jumper. Assisted by Keith Bogans.
48 - 65
7:30
Carlos Boozer made 16 ft Jumper. Assisted by Carlos Arroyo.
50 - 65
7:09
Emeka Okafor made 8 ft Jumper. Assisted by Eddie House.
50 - 67
6:54
Keith Bogans Personal Foul
50 - 67
6:54
Gordan Giricek made Free Throw 1 of 2.
51 - 67
6:54
Gordan Giricek made Free Throw 2 of 2.
52 - 67
6:41
Primoz Brezec Lost Ball. Stolen by Andrei Kirilenko.
52 - 67
6:37
Carlos Boozer made Slam Dunk. Assisted by Carlos Arroyo.
54 - 67
6:18
Eddie House missed 14 ft Jumper.
54 - 67
6:16
Carlos Boozer Defensive Rebound.
54 - 67
6:01
Emeka Okafor Shooting Foul
54 - 67
6:01
Jarron Collins made Free Throw 1 of 2.
55 - 67
6:01
Melvin Ely enters the game for Emeka Okafor.
55 - 67
6:01
Jarron Collins missed Free Throw 2 of 2.
55 - 67
6:01
Utah Defensive Rebound.
55 - 67
6:01
Carlos Boozer Loose Ball Foul
55 - 67
6:01
Primoz Brezec made Free Throw 1 of 2.
55 - 68
6:01
Primoz Brezec missed Free Throw 2 of 2.
55 - 68
6:00
Andrei Kirilenko Defensive Rebound.
55 - 68
5:43
Andrei Kirilenko missed Layup.
55 - 68
5:41
Carlos Boozer Offensive Rebound.
57 - 68
5:41
Carlos Boozer made Layup.
57 - 68
5:33
Keith Bogans missed 5 ft Jumper.
57 - 68
5:33
Charlotte Offensive Rebound.
57 - 68
5:26
Eddie House made 14 ft Jumper.
57 - 70
5:11
Andrei Kirilenko made Dunk. Assisted by Carlos Boozer.
59 - 70
4:56
Gordan Giricek Shooting Foul
59 - 70
4:56
Keith Bogans made Free Throw 1 of 2.
59 - 71
4:56
Jason Kapono enters the game for Gerald Wallace.
59 - 71
4:56
Keith Bogans missed Free Throw 2 of 2.
59 - 71
4:54
Andrei Kirilenko Defensive Rebound.
59 - 71
4:41
Jarron Collins missed Layup. Blocked by Primoz Brezec.
59 - 71
4:37
Carlos Boozer Offensive Rebound.
61 - 71
4:37
Carlos Boozer made Layup.
61 - 71
4:24
Melvin Ely Lost Ball. Stolen by Carlos Boozer.
61 - 71
4:24
Jarron Collins Bad Pass. Stolen by Jason Kapono.
61 - 71
4:22
Charlotte 20 Sec. Timeout.
61 - 71
4:11
Eddie House missed 25 ft Three Point Jumper.
61 - 71
4:09
Andrei Kirilenko Defensive Rebound.
61 - 71
4:00
Gordan Giricek missed 24 ft Three Point Jumper.
61 - 71
3:58
Carlos Boozer Offensive Rebound.
61 - 71
3:43
Carlos Boozer made 14 ft Two Point Shot.
63 - 71
3:25
Melvin Ely missed Layup. Blocked by Andrei Kirilenko.
63 - 71
3:21
Gordan Giricek Defensive Rebound.
63 - 71
3:10
Andrei Kirilenko made Layup. Assisted by Gordan Giricek.
65 - 71
3:00
Charlotte Full Timeout.
65 - 71
3:00
Steve Smith enters the game for Eddie House.
65 - 71
3:00
Matt Harpring enters the game for Andrei Kirilenko.
65 - 71
2:48
Melvin Ely made Two Point Shot. Assisted by Steve Smith.
65 - 73
2:30
Matt Harpring missed 21 ft Jumper.
65 - 73
2:29
Steve Smith Defensive Rebound.
65 - 73
2:13
Primoz Brezec Traveling
65 - 73
2:13
Keith McLeod enters the game for Carlos Arroyo.
65 - 73
1:59
Gordan Giricek made Two Point Shot.
67 - 73
1:59
Jason Kapono Shooting Foul
67 - 73
1:59
Gordan Giricek made Free Throw 1 of 1.
68 - 73
1:39
Steve Smith missed 15 ft Jumper.
68 - 73
1:37
Primoz Brezec Offensive Rebound.
68 - 75
1:37
Primoz Brezec made Tip Shot.
68 - 75
1:23
Carlos Boozer made 21 ft Jumper.
70 - 75
1:13
Matt Harpring Personal Foul
70 - 75
1:13
Jason Kapono made Free Throw 1 of 2.
70 - 76
1:13
Jason Kapono made Free Throw 2 of 2.
70 - 77
1:02
Gordan Giricek made 15 ft Jumper. Assisted by Keith McLeod.
72 - 77
0:42
Jason Kapono made 13 ft Two Point Shot. Assisted by Steve Smith.
72 - 79
0:33
Melvin Ely Shooting Foul
72 - 79
0:33
Carlos Boozer made Free Throw 1 of 2.
73 - 79
0:33
Carlos Boozer made Free Throw 2 of 2.
74 - 79
0:23
Keith Bogans Bad Pass
74 - 79
0:23
Utah Full Timeout.
74 - 79
0:23
Delay of Game
74 - 79
0:23
Mehmet Okur enters the game for Carlos Boozer.
74 - 79
0:01
Matt Harpring missed Two Point Shot.
74 - 79
0:00
Melvin Ely Defensive Rebound.
74 - 79
0:00
End of the 3rd Quarter.
74 - 79

time
TEAM
PLAY
SCORE
12:00
Start of the 4th Quarter.
74 - 79
11:42
Mehmet Okur Shooting Foul
74 - 79
11:42
Melvin Ely missed Free Throw 1 of 2.
74 - 79
11:42
Charlotte Offensive Rebound.
74 - 79
11:42
Melvin Ely made Free Throw 2 of 2.
74 - 80
11:27
Raja Bell missed 16 ft Jumper.
74 - 80
11:26
Keith Bogans Defensive Rebound.
74 - 80
11:21
Keith Bogans made Two Point Shot.
74 - 82
11:21
Matt Harpring Shooting Foul
74 - 82
11:21
Keith Bogans missed Free Throw 1 of 1.
74 - 82
11:19
Curtis Borchardt Defensive Rebound.
74 - 82
11:07
Keith McLeod missed Two Point Shot. Blocked by Primoz Brezec.
74 - 82
11:07
Utah Offensive Rebound.
74 - 82
11:07
Gerald Wallace enters the game for Jason Kapono.
74 - 82
10:56
Mehmet Okur missed 20 ft Jumper.
74 - 82
10:56
Utah Defensive Rebound.
74 - 82
10:47
Primoz Brezec made Layup. Assisted by Keith Bogans.
74 - 84
10:47
Curtis Borchardt Shooting Foul
74 - 84
10:47
Primoz Brezec made Free Throw 1 of 1.
74 - 85
10:27
Keith McLeod made 21 ft Jumper.
76 - 85
10:12
Raja Bell Shooting Foul
76 - 85
10:12
Melvin Ely missed Free Throw 1 of 2.
76 - 85
10:12
Charlotte Offensive Rebound.
76 - 85
10:12
Andrei Kirilenko enters the game for Curtis Borchardt.
76 - 85
10:12
Carlos Boozer enters the game for Matt Harpring.
76 - 85
10:12
Melvin Ely missed Free Throw 2 of 2.
76 - 85
10:11
Carlos Boozer Defensive Rebound.
76 - 85
9:52
Keith McLeod missed 17 ft Jumper.
76 - 85
9:49
Carlos Boozer Offensive Rebound.
76 - 85
9:38
Andrei Kirilenko made Layup. Assisted by Keith McLeod.
78 - 85
9:26
Carlos Boozer Personal Foul
78 - 85
9:26
Melvin Ely missed Free Throw 1 of 2.
78 - 85
9:26
Charlotte Offensive Rebound.
78 - 85
9:26
Melvin Ely made Free Throw 2 of 2.
78 - 86
9:11
Keith McLeod missed 18 ft Jumper.
78 - 86
9:10
Primoz Brezec Defensive Rebound.
78 - 86
8:59
Melvin Ely missed Layup.
78 - 86
8:57
Andrei Kirilenko Defensive Rebound.
78 - 86
8:44
Carlos Boozer made 8 ft Two Point Shot. Assisted by Raja Bell.
80 - 86
8:26
Keith McLeod Shooting Foul
80 - 86
8:26
Official Timeout.
80 - 86
8:26
Eddie House enters the game for Steve Smith.
80 - 86
8:26
Emeka Okafor enters the game for Melvin Ely.
80 - 86
8:26
Howard Eisley enters the game for Keith McLeod.
80 - 86
8:26
Keith Bogans made Free Throw 1 of 2.
80 - 87
8:26
Keith Bogans made Free Throw 2 of 2.
80 - 88
8:08
Eddie House Personal Foul
80 - 88
7:54
Raja Bell made 21 ft Jumper. Assisted by Mehmet Okur.
82 - 88
7:39
Keith Bogans made 21 ft Jumper. Assisted by Eddie House.
82 - 90
7:20
Melvin Ely enters the game for Primoz Brezec.
82 - 90
7:18
Andrei Kirilenko made Dunk. Assisted by Carlos Boozer.
84 - 90
7:05
Howard Eisley Personal Foul
84 - 90
7:05
Eddie House made Free Throw 1 of 2.
84 - 91
7:05
Eddie House missed Free Throw 2 of 2.
84 - 91
7:01
Andrei Kirilenko Defensive Rebound.
84 - 91
6:50
Mehmet Okur Offensive Foul
84 - 91
6:50
Mehmet Okur Foul
84 - 91
6:35
Gerald Wallace Lost Ball. Stolen by Howard Eisley.
84 - 91
6:31
Raja Bell made Slam Dunk. Assisted by Howard Eisley.
86 - 91
6:24
Keith Bogans Bad Pass. Stolen by Howard Eisley.
86 - 91
6:22
Raja Bell missed 26 ft Three Point Jumper.
86 - 91
6:20
Utah Offensive Rebound.
86 - 91
6:13
Howard Eisley Bad Pass. Stolen by Eddie House.
86 - 91
5:56
Keith Bogans made 25 ft Three Point Jumper. Assisted by Melvin Ely.
86 - 94
5:33
Mehmet Okur missed Jumper.
86 - 94
5:31
Utah Defensive Rebound.
86 - 94
5:31
Andrei Kirilenko Loose Ball Foul
86 - 94
5:31
Charlotte Full Timeout.
86 - 94
5:31
Jarron Collins enters the game for Mehmet Okur.
86 - 94
5:31
Gerald Wallace made Free Throw 1 of 2.
86 - 95
5:31
Gerald Wallace made Free Throw 2 of 2.
86 - 96
5:16
Melvin Ely Personal Foul
86 - 96
5:07
Raja Bell made 19 ft Jumper. Assisted by Howard Eisley.
88 - 96
4:45
Emeka Okafor missed 7 ft Jumper.
88 - 96
4:43
Melvin Ely Offensive Rebound.
88 - 96
4:41
Melvin Ely missed Layup.
88 - 96
4:41
Howard Eisley Defensive Rebound.
88 - 96
4:35
Andrei Kirilenko missed Layup. Blocked by Emeka Okafor.
88 - 96
4:31
Jarron Collins Offensive Rebound.
90 - 96
4:31
Jarron Collins made Layup.
90 - 96
4:07
Gerald Wallace missed 20 ft Jumper. Blocked by Andrei Kirilenko.
90 - 96
4:05
Carlos Boozer Defensive Rebound.
90 - 96
4:01
Keith Bogans Personal Foul
90 - 96
4:01
Primoz Brezec enters the game for Melvin Ely.
90 - 96
4:01
Steve Smith enters the game for Eddie House.
90 - 96
3:55
Steve Smith Personal Foul
90 - 96
3:44
Howard Eisley made 18 ft Jumper.
92 - 96
3:25
Emeka Okafor missed Jumper.
92 - 96
3:23
Howard Eisley Defensive Rebound.
92 - 96
3:23
Gerald Wallace Personal Foul
92 - 96
3:23
Howard Eisley missed Free Throw 1 of 2.
92 - 96
3:23
Utah Offensive Rebound.
92 - 96
3:23
Howard Eisley made Free Throw 2 of 2.
93 - 96
3:13
Primoz Brezec Offensive Foul
93 - 96
3:13
Primoz Brezec Foul
93 - 96
2:59
Primoz Brezec Shooting Foul
93 - 96
2:59
Utah Full Timeout.
93 - 96
2:59
Andrei Kirilenko made Free Throw 1 of 2.
94 - 96
2:59
Andrei Kirilenko made Free Throw 2 of 2.
95 - 96
2:47
Keith Bogans missed 11 ft Jumper. Blocked by Andrei Kirilenko.
95 - 96
2:44
Keith Bogans Offensive Rebound.
95 - 96
2:41
Gerald Wallace made Slam Dunk. Assisted by Keith Bogans.
95 - 98
2:23
Raja Bell Bad Pass. Stolen by Keith Bogans.
95 - 98
2:15
Andrei Kirilenko Shooting Foul
95 - 98
2:15
Keith Bogans made Free Throw 1 of 2.
95 - 99
2:15
Keith Bogans missed Free Throw 2 of 2.
95 - 99
2:15
Emeka Okafor Offensive Rebound.
95 - 99
1:52
Keith Bogans missed 18 ft Jumper. Blocked by Howard Eisley.
95 - 99
1:50
Carlos Boozer Defensive Rebound.
95 - 99
1:46
Carlos Boozer made Two Point Shot. Assisted by Howard Eisley.
97 - 99
1:46
Emeka Okafor Shooting Foul
97 - 99
1:46
Carlos Boozer made Free Throw 1 of 1.
98 - 99
1:29
Emeka Okafor Bad Pass
98 - 99
1:19
Carlos Boozer missed 18 ft Jumper.
98 - 99
1:19
Utah Defensive Rebound.
98 - 99
1:19
Charlotte Full Timeout.
98 - 99
1:04
Gerald Wallace made Layup. Assisted by Steve Smith.
98 - 101
1:04
Carlos Boozer Shooting Foul
98 - 101
1:04
Gerald Wallace missed Free Throw 1 of 1.
98 - 101
1:02
Jarron Collins Defensive Rebound.
98 - 101
0:52
Carlos Boozer made Layup. Assisted by Howard Eisley.
100 - 101
0:48
Raja Bell Personal Foul
100 - 101
0:48
Gerald Wallace made Free Throw 1 of 2.
100 - 102
0:48
Gerald Wallace made Free Throw 2 of 2.
100 - 103
0:36
Primoz Brezec Personal Foul
100 - 103
0:36
Raja Bell missed Free Throw 1 of 2.
100 - 103
0:36
Utah Offensive Rebound.
100 - 103
0:36
Raja Bell made Free Throw 2 of 2.
101 - 103
0:21
Keith Bogans made Jumper. Assisted by Steve Smith.
101 - 105
0:21
Utah Full Timeout.
101 - 105
0:21
Mehmet Okur enters the game for Jarron Collins.
101 - 105
0:18
Raja Bell made 22 ft Three Point Jumper. Assisted by Howard Eisley.
104 - 105
0:18
Howard Eisley Personal Foul
104 - 105
0:18
Keith Bogans missed Free Throw 1 of 2.
104 - 105
0:18
Charlotte Offensive Rebound.
104 - 105
0:18
Keith Bogans missed Free Throw 2 of 2.
104 - 105
0:17
Andrei Kirilenko Defensive Rebound.
104 - 105
0:17
Utah Full Timeout.
104 - 105
0:15
Steve Smith Personal Foul
104 - 105
0:15
Eddie House enters the game for Steve Smith.
104 - 105
0:15
Raja Bell made Free Throw 1 of 2.
105 - 105
0:15
Raja Bell made Free Throw 2 of 2.
106 - 105
0:00
Gerald Wallace missed 18 ft Jumper.
106 - 105
0:00
Carlos Boozer Defensive Rebound.
106 - 105
0:00
Primoz Brezec Personal Foul
106 - 105
0:00
Melvin Ely enters the game for Primoz Brezec.
106 - 105
0:00
Carlos Boozer missed Free Throw 1 of 2.
106 - 105
0:00
Utah Offensive Rebound.
106 - 105
0:00
Carlos Boozer made Free Throw 2 of 2.
107 - 105
0:00
End of the 4th Quarter.
107 - 105
0:00
End Game
107 - 105
The Denver Nuggets have signed rookie Jamal Murray, the seventh overall pick in last month's NBA draft, and agreed to a deal with veteran Mike Miller.

Carmelo Anthony sits down with Sage Steele to talk about his vocal leadership in a divided world. Anthony will be holding a town hall in Los Angeles to discuss the issues.

The Clippers have signed forward Brandon Bass, who joins them after playing last season for the Lakers.
Regular Season Series
Series tied 1-1
2015-2016 Northwest Standings