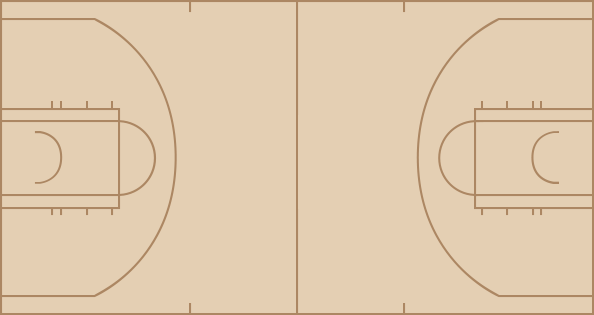 Cavaliers
time
TEAM
PLAY
SCORE
12:00
Start of the 1st Quarter.
0 - 0
12:00
Jumpball. Zydrunas Ilgauskas vs. Emeka Okafor. Jeff McInnis gains possession.
0 - 0
11:45
Emeka Okafor Shooting Foul
0 - 0
11:45
Zydrunas Ilgauskas made Free Throw 1 of 2.
1 - 0
11:45
Zydrunas Ilgauskas made Free Throw 2 of 2.
2 - 0
11:23
Eddie House made 17 ft Jumper. Assisted by Brevin Knight.
2 - 2
11:15
LeBron James Loose Ball Foul
2 - 2
11:15
LeBron James Foul
2 - 2
11:00
Brevin Knight missed 16 ft Jumper.
2 - 2
10:56
Drew Gooden Defensive Rebound.
2 - 2
10:41
Jeff McInnis made Two Point Shot.
4 - 2
10:29
Eddie House made 16 ft Jumper. Assisted by Brevin Knight.
4 - 4
10:17
Ira Newble made 15 ft Jumper. Assisted by Jeff McInnis.
6 - 4
9:44
Zydrunas Ilgauskas missed Jumper.
6 - 4
9:41
Gerald Wallace Defensive Rebound.
6 - 4
9:29
Emeka Okafor missed Layup.
6 - 4
9:27
Emeka Okafor Offensive Rebound.
6 - 4
9:27
Emeka Okafor missed Layup.
6 - 4
9:25
LeBron James Defensive Rebound.
6 - 4
9:22
LeBron James made Two Point Shot.
8 - 4
9:06
Brevin Knight missed 20 ft Jumper.
8 - 4
9:03
Jeff McInnis Defensive Rebound.
8 - 4
8:59
Jeff McInnis missed 5 ft Jumper.
8 - 4
8:56
LeBron James Offensive Rebound.
8 - 4
8:51
Ira Newble made Jumper. Assisted by LeBron James.
10 - 4
8:30
Emeka Okafor made Jumper. Assisted by Brevin Knight.
10 - 6
8:11
Jeff McInnis missed 15 ft Jumper.
10 - 6
8:07
Zydrunas Ilgauskas Offensive Rebound.
12 - 6
8:07
Zydrunas Ilgauskas made Tip Shot.
12 - 6
7:56
Primoz Brezec missed 19 ft Jumper.
12 - 6
7:52
LeBron James Defensive Rebound.
12 - 6
7:48
Zydrunas Ilgauskas made Layup. Assisted by Jeff McInnis.
14 - 6
7:48
Primoz Brezec Shooting Foul
14 - 6
7:48
Melvin Ely enters the game for Primoz Brezec.
14 - 6
7:48
Zydrunas Ilgauskas made Free Throw 1 of 1.
15 - 6
7:33
Emeka Okafor missed Jumper.
15 - 6
7:31
Zydrunas Ilgauskas Defensive Rebound.
15 - 6
7:24
Zydrunas Ilgauskas made 18 ft Jumper. Assisted by LeBron James.
17 - 6
7:16
Charlotte Full Timeout.
17 - 6
7:05
Melvin Ely made Layup. Assisted by Gerald Wallace.
17 - 8
6:50
LeBron James made Two Point Shot.
19 - 8
6:24
Gerald Wallace missed 17 ft Jumper.
19 - 8
6:22
Jeff McInnis Defensive Rebound.
19 - 8
6:18
Jeff McInnis missed Free Throw 1 of 2.
19 - 8
6:18
Cleveland Offensive Rebound.
19 - 8
6:18
Keith Bogans enters the game for Brevin Knight.
19 - 8
6:18
Brevin Knight Shooting Foul
19 - 8
6:18
Jeff McInnis made Free Throw 2 of 2.
20 - 8
6:03
Eddie House missed 19 ft Jumper.
20 - 8
5:56
Melvin Ely Offensive Rebound.
20 - 8
5:54
Melvin Ely missed Layup.
20 - 8
5:50
Drew Gooden Defensive Rebound.
20 - 8
5:50
Melvin Ely Personal Foul
20 - 8
5:41
LeBron James made Two Point Shot. Assisted by Drew Gooden.
22 - 8
5:28
Keith Bogans made Layup.
22 - 10
5:13
Drew Gooden missed Hook Shot.
22 - 10
5:11
Cleveland Defensive Rebound.
22 - 10
5:11
Drew Gooden Loose Ball Foul
22 - 10
5:01
Ira Newble Personal Foul
22 - 10
4:50
Melvin Ely made 5 ft Hook Shot. Assisted by Eddie House.
22 - 12
4:37
LeBron James made Two Point Shot. Assisted by Jeff McInnis.
24 - 12
4:22
Gerald Wallace made Two Point Shot.
24 - 14
4:00
Jeff McInnis made 6 ft Two Point Shot. Assisted by LeBron James.
26 - 14
3:43
Gerald Wallace missed Layup. Blocked by Zydrunas Ilgauskas.
26 - 14
3:42
Charlotte Offensive Rebound.
26 - 14
3:36
Eddie House made 21 ft Jumper. Assisted by Keith Bogans.
26 - 16
3:18
Zydrunas Ilgauskas made 18 ft Jumper.
28 - 16
3:01
Zydrunas Ilgauskas Shooting Foul
28 - 16
3:01
Keith Bogans made Free Throw 1 of 2.
28 - 17
3:01
Keith Bogans made Free Throw 2 of 2.
28 - 18
2:53
Jeff McInnis Bad Pass. Stolen by Gerald Wallace.
28 - 18
2:49
Gerald Wallace Bad Pass. Stolen by Zydrunas Ilgauskas.
28 - 18
2:47
Jeff McInnis Lost Ball. Stolen by Eddie House.
28 - 18
2:46
Cleveland Full Timeout.
28 - 18
2:41
Melvin Ely made Dunk. Assisted by Eddie House.
28 - 20
2:17
Jeff McInnis made Jumper. Assisted by LeBron James.
30 - 20
2:04
Melvin Ely missed 19 ft Jumper.
30 - 20
2:01
LeBron James Defensive Rebound.
30 - 20
1:50
Zydrunas Ilgauskas Traveling
30 - 20
1:35
Drew Gooden Personal Foul
30 - 20
1:35
Robert Traylor enters the game for Drew Gooden.
30 - 20
1:35
Emeka Okafor made Free Throw 1 of 2.
30 - 21
1:35
Emeka Okafor missed Free Throw 2 of 2.
30 - 21
1:34
Charlotte Offensive Rebound.
30 - 21
1:31
LeBron James Defensive Rebound.
30 - 21
1:15
Ira Newble Bad Pass. Stolen by Eddie House.
30 - 21
1:15
Jeff McInnis Clear Path Foul
30 - 21
1:15
Gerald Wallace made Free Throw.
30 - 22
1:15
Lucious Harris enters the game for Ira Newble.
30 - 22
1:15
Jahidi White enters the game for Emeka Okafor.
30 - 22
1:00
Gerald Wallace made Dunk. Assisted by Keith Bogans.
30 - 24
0:53
Cleveland 20 Sec. Timeout.
30 - 24
0:38
Lucious Harris missed 21 ft Jumper.
30 - 24
0:35
Robert Traylor Offensive Rebound.
30 - 24
0:26
Robert Traylor missed Layup. Blocked by Jahidi White.
30 - 24
0:24
Keith Bogans Defensive Rebound.
30 - 24
0:17
Melvin Ely missed 9 ft Hook Shot.
30 - 24
0:17
Gerald Wallace Offensive Rebound.
30 - 24
0:17
Robert Traylor Personal Foul
30 - 24
0:17
Gerald Wallace missed Free Throw 1 of 2.
30 - 24
0:17
Charlotte Offensive Rebound.
30 - 24
0:17
Gerald Wallace made Free Throw 2 of 2.
30 - 25
0:02
LeBron James made 10 ft Jumper.
32 - 25
0:00
End of the 1st Quarter.
32 - 25

time
TEAM
PLAY
SCORE
12:00
Start of the 2nd Quarter.
32 - 25
11:45
Robert Traylor Shooting Foul
32 - 25
11:45
Jahidi White missed Free Throw 1 of 2.
32 - 25
11:45
Charlotte Offensive Rebound.
32 - 25
11:45
Jahidi White made Free Throw 2 of 2.
32 - 26
11:33
Keith Bogans Personal Foul
32 - 26
11:25
Robert Traylor made 17 ft Jumper. Assisted by LeBron James.
34 - 26
11:03
Primoz Brezec missed 17 ft Jumper.
34 - 26
11:00
Zydrunas Ilgauskas Defensive Rebound.
34 - 26
10:47
Robert Traylor 3 second
34 - 26
10:47
Eric Snow enters the game for Jeff McInnis.
34 - 26
10:47
Scott Williams enters the game for Zydrunas Ilgauskas.
34 - 26
10:32
Jason Kapono made 20 ft Jumper. Assisted by Steve Smith.
34 - 28
10:10
Robert Traylor made 18 ft Jumper. Assisted by Eric Snow.
36 - 28
9:55
Keith Bogans missed Layup.
36 - 28
9:52
Keith Bogans Offensive Rebound.
36 - 28
9:51
Scott Williams Shooting Foul
36 - 28
9:51
Jahidi White missed Free Throw 1 of 2.
36 - 28
9:51
Charlotte Offensive Rebound.
36 - 28
9:51
Aleksandar Pavlovic enters the game for LeBron James.
36 - 28
9:51
Jahidi White missed Free Throw 2 of 2.
36 - 28
9:49
Charlotte Offensive Rebound.
36 - 28
9:49
Emeka Okafor enters the game for Jahidi White.
36 - 28
9:48
Jason Kapono made 18 ft Jumper. Assisted by Keith Bogans.
36 - 30
9:30
Robert Traylor missed 8 ft Hook Shot.
36 - 30
9:27
Scott Williams Offensive Rebound.
36 - 30
9:27
Scott Williams missed Layup.
36 - 30
9:26
Jason Kapono Defensive Rebound.
36 - 30
9:22
Jason Kapono missed 25 ft Three Point Jumper.
36 - 30
9:18
Aleksandar Pavlovic Defensive Rebound.
36 - 30
8:59
Aleksandar Pavlovic missed 19 ft Jumper.
36 - 30
8:56
Keith Bogans Defensive Rebound.
36 - 30
8:48
Primoz Brezec missed 6 ft Jumper.
36 - 30
8:45
Aleksandar Pavlovic Defensive Rebound.
36 - 30
8:42
Keith Bogans Shooting Foul
36 - 30
8:42
Eric Snow missed Free Throw 1 of 2.
36 - 30
8:42
Cleveland Offensive Rebound.
36 - 30
8:42
Eric Snow made Free Throw 2 of 2.
37 - 30
8:42
Official Timeout.
36 - 30
8:38
Aleksandar Pavlovic Personal Foul
37 - 30
8:27
Jason Kapono made Jumper. Assisted by Steve Smith.
37 - 32
8:11
Lucious Harris missed 17 ft Jumper.
37 - 32
8:08
Primoz Brezec Defensive Rebound.
37 - 32
8:03
Keith Bogans made 19 ft Jumper. Assisted by Primoz Brezec.
37 - 34
7:48
Aleksandar Pavlovic missed 18 ft Jumper.
37 - 34
7:47
Emeka Okafor Defensive Rebound.
37 - 34
7:33
Emeka Okafor missed 17 ft Jumper.
37 - 34
7:31
Primoz Brezec Offensive Rebound.
37 - 36
7:31
Primoz Brezec made Tip Shot.
37 - 36
7:24
Cleveland Full Timeout.
37 - 36
7:24
Zydrunas Ilgauskas enters the game for Robert Traylor.
37 - 36
7:24
Drew Gooden enters the game for Lucious Harris.
37 - 36
7:24
Jeff McInnis enters the game for Scott Williams.
37 - 36
7:24
LeBron James enters the game for Aleksandar Pavlovic.
37 - 36
7:05
LeBron James made 26 ft Three Point Jumper.
40 - 36
6:46
LeBron James Personal Foul
40 - 36
6:39
Jason Kapono made 18 ft Jumper. Assisted by Steve Smith.
40 - 38
6:15
Jeff McInnis made 26 ft Three Point Jumper. Assisted by LeBron James.
43 - 38
5:50
Jason Kapono made 4 ft Jumper.
43 - 40
5:39
Jeff McInnis Bad Pass. Stolen by Emeka Okafor.
43 - 40
5:37
Gerald Wallace enters the game for Keith Bogans.
43 - 40
5:33
Eric Snow Personal Foul
43 - 40
5:33
Jason Kapono made Free Throw 1 of 2.
43 - 41
5:33
Ira Newble enters the game for Eric Snow.
43 - 41
5:33
Jason Kapono made Free Throw 2 of 2.
43 - 42
5:16
Drew Gooden Bad Pass. Stolen by Emeka Okafor.
43 - 42
5:11
Charlotte Offensive Rebound.
43 - 42
5:11
Zydrunas Ilgauskas Loose Ball Foul
43 - 42
5:11
Primoz Brezec missed Free Throw 1 of 2.
43 - 42
5:11
Charlotte Offensive Rebound.
43 - 42
5:11
Primoz Brezec made Free Throw 2 of 2.
43 - 43
4:56
Ira Newble made Layup. Assisted by LeBron James.
45 - 43
4:37
Primoz Brezec missed 15 ft Jumper.
45 - 43
4:37
Jason Kapono Offensive Rebound.
45 - 43
4:37
Ira Newble Shooting Foul
45 - 43
4:37
Jason Kapono made Free Throw 1 of 2.
45 - 44
4:37
Jason Kapono made Free Throw 2 of 2.
45 - 45
4:20
LeBron James missed 19 ft Jumper.
45 - 45
4:18
Steve Smith Defensive Rebound.
45 - 45
4:11
Primoz Brezec Offensive Foul
45 - 45
4:11
Primoz Brezec Foul
45 - 45
3:54
Jason Kapono Shooting Foul
45 - 45
3:54
Zydrunas Ilgauskas made Free Throw 1 of 2.
46 - 45
3:54
Zydrunas Ilgauskas made Free Throw 2 of 2.
47 - 45
3:47
Charlotte Full Timeout.
47 - 45
3:34
Steve Smith made Layup. Assisted by Gerald Wallace.
47 - 47
3:11
Jeff McInnis made 26 ft Three Point Jumper. Assisted by Zydrunas Ilgauskas.
50 - 47
2:56
Primoz Brezec missed 19 ft Jumper.
50 - 47
2:54
LeBron James Defensive Rebound.
50 - 47
2:48
Gerald Wallace Personal Foul
50 - 47
2:48
Melvin Ely enters the game for Primoz Brezec.
50 - 47
2:33
Zydrunas Ilgauskas missed 8 ft Two Point Shot.
50 - 47
2:29
Steve Smith Defensive Rebound.
50 - 47
2:21
Jason Kapono missed 18 ft Jumper.
50 - 47
2:19
Drew Gooden Defensive Rebound.
50 - 47
2:04
Melvin Ely Personal Foul
50 - 47
2:04
Keith Bogans enters the game for Jason Kapono.
50 - 47
2:04
Zydrunas Ilgauskas missed Free Throw 1 of 2.
50 - 47
2:04
Cleveland Offensive Rebound.
50 - 47
2:04
Zydrunas Ilgauskas missed Free Throw 2 of 2.
50 - 47
2:03
Cleveland Defensive Rebound.
50 - 47
1:49
Steve Smith made 6 ft Jumper. Assisted by Emeka Okafor.
50 - 49
1:30
LeBron James made 24 ft Three Point Jumper.
53 - 49
1:22
Melvin Ely Bad Pass. Stolen by Drew Gooden.
53 - 49
1:08
LeBron James made Dunk. Assisted by Drew Gooden.
55 - 49
1:01
Keith Bogans missed 6 ft Jumper.
55 - 49
1:00
Drew Gooden Defensive Rebound.
55 - 49
0:57
Ira Newble made Layup. Assisted by Drew Gooden.
57 - 49
0:57
Eddie House enters the game for Steve Smith.
57 - 49
0:57
Charlotte 20 Sec. Timeout.
57 - 49
0:33
Keith Bogans missed 5 ft Jumper. Blocked by Zydrunas Ilgauskas.
57 - 49
0:31
Zydrunas Ilgauskas Defensive Rebound.
57 - 49
0:17
LeBron James missed 8 ft Jumper.
57 - 49
0:16
Drew Gooden Offensive Rebound.
57 - 49
0:01
LeBron James missed 26 ft Three Point Jumper.
57 - 49
0:00
Melvin Ely Defensive Rebound.
57 - 49
0:00
End of the 2nd Quarter.
57 - 49

time
TEAM
PLAY
SCORE
12:00
Start of the 3rd Quarter.
57 - 49
11:42
Gerald Wallace missed Jumper.
57 - 49
11:41
Drew Gooden Defensive Rebound.
57 - 49
11:27
Drew Gooden missed Layup. Blocked by Primoz Brezec.
57 - 49
11:27
Cleveland Offensive Rebound.
57 - 49
11:21
Jeff McInnis missed 7 ft Jumper.
57 - 49
11:18
Emeka Okafor Defensive Rebound.
57 - 49
11:14
Emeka Okafor Traveling
57 - 49
10:53
Drew Gooden made 8 ft Hook Shot. Assisted by LeBron James.
59 - 49
10:40
Primoz Brezec Bad Pass
59 - 49
10:23
Zydrunas Ilgauskas Offensive Foul
59 - 49
10:23
Zydrunas Ilgauskas Foul
59 - 49
10:08
Steve Smith made 16 ft Jumper. Assisted by Gerald Wallace.
59 - 51
9:55
LeBron James missed 15 ft Two Point Shot.
59 - 51
9:52
Primoz Brezec Defensive Rebound.
59 - 51
9:42
Gerald Wallace missed 15 ft Jumper.
59 - 51
9:41
Jeff McInnis Defensive Rebound.
59 - 51
9:40
Gerald Wallace Flagrant Foul Type 1
59 - 51
9:40
LeBron James made Flagrant Free Throw 1 of 2.
60 - 51
9:40
LeBron James missed Flagrant Free Throw 2 of 2.
60 - 51
9:40
Cleveland Offensive Rebound.
60 - 51
9:33
Drew Gooden made 17 ft Jumper. Assisted by Jeff McInnis.
62 - 51
9:22
Gerald Wallace Offensive Foul
62 - 51
9:22
Gerald Wallace Foul
62 - 51
9:22
Melvin Ely enters the game for Primoz Brezec.
62 - 51
9:10
Jeff McInnis missed 7 ft Two Point Shot.
62 - 51
9:07
Emeka Okafor Defensive Rebound.
62 - 51
9:00
Eddie House missed 9 ft Jumper. Blocked by Zydrunas Ilgauskas.
62 - 51
8:57
Jeff McInnis Defensive Rebound.
62 - 51
8:51
Drew Gooden made 8 ft Two Point Shot.
64 - 51
8:49
Charlotte Full Timeout.
64 - 51
8:49
Keith Bogans enters the game for Steve Smith.
64 - 51
8:37
Gerald Wallace Lost Ball. Stolen by Jeff McInnis.
64 - 51
8:34
Gerald Wallace Flagrant Foul Type 1
64 - 51
8:34
Gerald Wallace ejected.
64 - 51
8:34
Jason Kapono enters the game for Gerald Wallace.
64 - 51
8:34
Jeff McInnis missed Flagrant Free Throw 1 of 2.
64 - 51
8:34
Cleveland Offensive Rebound.
64 - 51
8:34
Jeff McInnis made Flagrant Free Throw 2 of 2.
65 - 51
8:34
Drew Gooden missed Technical Free Throw.
65 - 51
8:34
Cleveland Offensive Rebound.
65 - 51
8:34
Drew Gooden missed Technical Free Throw.
65 - 51
8:34
Cleveland Offensive Rebound.
65 - 51
8:22
Ira Newble missed 17 ft Jumper.
65 - 51
8:19
Keith Bogans Defensive Rebound.
65 - 51
8:07
Drew Gooden Personal Foul
65 - 51
8:03
Jason Kapono Offensive Foul
65 - 51
8:03
Jason Kapono Foul
65 - 51
7:43
Zydrunas Ilgauskas missed 15 ft Jumper.
65 - 51
7:43
Jason Kapono Defensive Rebound.
65 - 51
7:35
LeBron James Personal Foul
65 - 51
7:26
Jason Kapono missed 16 ft Jumper.
65 - 51
7:24
Emeka Okafor Offensive Rebound.
65 - 53
7:24
Emeka Okafor made Layup.
65 - 53
7:07
Eddie House Shooting Foul
65 - 53
7:07
Jeff McInnis made Free Throw 1 of 2.
66 - 53
7:07
Jeff McInnis made Free Throw 2 of 2.
67 - 53
6:54
Keith Bogans missed 24 ft Three Point Jumper.
67 - 53
6:52
Melvin Ely Offensive Rebound.
67 - 53
6:46
Backcourt
67 - 53
6:28
Emeka Okafor Shooting Foul
67 - 53
6:28
Ira Newble missed Free Throw 1 of 2.
67 - 53
6:28
Cleveland Offensive Rebound.
67 - 53
6:28
Primoz Brezec enters the game for Emeka Okafor.
67 - 53
6:28
Ira Newble made Free Throw 2 of 2.
68 - 53
6:22
Ira Newble Shooting Foul
68 - 53
6:22
Keith Bogans missed Free Throw 1 of 2.
68 - 53
6:22
Charlotte Offensive Rebound.
68 - 53
6:22
Keith Bogans made Free Throw 2 of 2.
68 - 54
6:03
Ira Newble made Dunk. Assisted by LeBron James.
70 - 54
5:50
Keith Bogans Bad Pass. Stolen by Ira Newble.
70 - 54
5:41
Eddie House Personal Foul
70 - 54
5:41
Drew Gooden made Free Throw 1 of 2.
71 - 54
5:41
Drew Gooden made Free Throw 2 of 2.
72 - 54
5:30
Keith Bogans made 16 ft Jumper.
72 - 56
5:07
Drew Gooden missed 17 ft Jumper.
72 - 56
5:07
Cleveland Offensive Rebound.
72 - 56
5:01
LeBron James missed 19 ft Jumper.
72 - 56
5:01
Cleveland Defensive Rebound.
72 - 56
4:48
Primoz Brezec made 17 ft Jumper.
72 - 58
4:28
Zydrunas Ilgauskas missed 12 ft Jumper.
72 - 58
4:28
Eddie House Defensive Rebound.
72 - 58
4:28
Drew Gooden Personal Foul
72 - 58
4:28
Cleveland Full Timeout.
72 - 58
4:28
Aleksandar Pavlovic enters the game for LeBron James.
72 - 58
4:28
Robert Traylor enters the game for Drew Gooden.
72 - 58
4:28
Scott Williams enters the game for Zydrunas Ilgauskas.
72 - 58
4:15
Keith Bogans missed Layup. Blocked by Aleksandar Pavlovic.
72 - 58
4:13
Robert Traylor Defensive Rebound.
72 - 58
4:00
Jeff McInnis made 17 ft Jumper. Assisted by Scott Williams.
74 - 58
3:45
Primoz Brezec missed 15 ft Jumper.
74 - 58
3:43
Melvin Ely Offensive Rebound.
74 - 58
3:41
Melvin Ely made 8 ft Hook Shot.
74 - 60
3:13
Robert Traylor missed 12 ft Two Point Shot.
74 - 60
3:09
Primoz Brezec Defensive Rebound.
74 - 60
2:59
Scott Williams Personal Foul
74 - 60
2:59
Jamal Sampson enters the game for Melvin Ely.
74 - 60
2:59
Steve Smith enters the game for Eddie House.
74 - 60
2:59
Primoz Brezec made Free Throw 1 of 2.
74 - 61
2:59
Eric Snow enters the game for Jeff McInnis.
74 - 61
2:59
Primoz Brezec made Free Throw 2 of 2.
74 - 62
2:46
Keith Bogans Personal Foul
74 - 62
2:46
Lucious Harris enters the game for Ira Newble.
74 - 62
2:46
Aleksandar Pavlovic missed Free Throw 1 of 2.
74 - 62
2:46
Cleveland Offensive Rebound.
74 - 62
2:46
Aleksandar Pavlovic made Free Throw 2 of 2.
75 - 62
2:30
Steve Smith missed 24 ft Three Point Jumper.
75 - 62
2:28
Jamal Sampson Offensive Rebound.
75 - 62
2:24
Jason Kapono made 14 ft Jumper. Assisted by Primoz Brezec.
75 - 64
2:15
Aleksandar Pavlovic missed Two Point Shot. Blocked by Primoz Brezec.
75 - 64
2:12
Jason Kapono Defensive Rebound.
75 - 64
2:04
Jamal Sampson Lost Ball. Stolen by Robert Traylor.
75 - 64
1:52
Eddie House enters the game for Keith Bogans.
75 - 64
1:43
Aleksandar Pavlovic made 23 ft Three Point Jumper. Assisted by Eric Snow.
78 - 64
1:23
Jason Kapono missed 22 ft Jumper.
78 - 64
1:22
Aleksandar Pavlovic Defensive Rebound.
78 - 64
1:19
Robert Traylor made Dunk. Assisted by Eric Snow.
80 - 64
0:55
Jason Kapono missed 11 ft Jumper. Blocked by Scott Williams.
80 - 64
0:55
Charlotte Defensive Rebound.
80 - 64
0:55
Melvin Ely enters the game for Primoz Brezec.
80 - 64
0:55
Jumpball. Scott Williams vs. Jason Kapono. Robert Traylor gains possession.
80 - 64
0:48
Eric Snow Lost Ball. Stolen by Eddie House.
80 - 64
0:42
Robert Traylor Shooting Foul
80 - 64
0:42
Melvin Ely missed Free Throw 1 of 2.
80 - 64
0:42
Charlotte Offensive Rebound.
80 - 64
0:42
Melvin Ely missed Free Throw 2 of 2.
80 - 64
0:41
Scott Williams Defensive Rebound.
80 - 64
0:23
Aleksandar Pavlovic made 8 ft Two Point Shot. Assisted by Robert Traylor.
82 - 64
0:01
Eddie House missed 9 ft Jumper.
82 - 64
0:00
Charlotte Defensive Rebound.
82 - 64
0:00
End of the 3rd Quarter.
82 - 64

time
TEAM
PLAY
SCORE
12:00
Start of the 4th Quarter.
82 - 64
11:44
Aleksandar Pavlovic Bad Pass. Stolen by Keith Bogans.
82 - 64
11:40
Keith Bogans Bad Pass. Stolen by Robert Traylor.
82 - 64
11:33
Scott Williams missed Layup.
82 - 64
11:32
Scott Williams Offensive Rebound.
84 - 64
11:32
Scott Williams made Layup.
84 - 64
11:11
Eddie House missed Jumper.
84 - 64
11:10
Robert Traylor Defensive Rebound.
84 - 64
10:57
Scott Williams made 17 ft Jumper. Assisted by Lucious Harris.
86 - 64
10:44
Eddie House made 20 ft Jumper. Assisted by Keith Bogans.
86 - 66
10:22
Robert Traylor missed 21 ft Jumper.
86 - 66
10:22
Cleveland Defensive Rebound.
86 - 66
10:10
Aleksandar Pavlovic Personal Foul
86 - 66
10:10
Zydrunas Ilgauskas enters the game for Scott Williams.
86 - 66
10:02
Zydrunas Ilgauskas Shooting Foul
86 - 66
10:02
Emeka Okafor made Free Throw 1 of 2.
86 - 67
10:02
Drew Gooden enters the game for Robert Traylor.
86 - 67
10:02
Emeka Okafor made Free Throw 2 of 2.
86 - 68
9:41
Zydrunas Ilgauskas made 11 ft Jumper. Assisted by Eric Snow.
88 - 68
9:18
Melvin Ely missed 7 ft Hook Shot.
88 - 68
9:15
Drew Gooden Defensive Rebound.
88 - 68
8:53
Eric Snow made 14 ft Jumper.
90 - 68
8:45
Jahidi White enters the game for Melvin Ely.
90 - 68
8:45
Brevin Knight enters the game for Jason Kapono.
90 - 68
8:45
Primoz Brezec enters the game for Emeka Okafor.
90 - 68
8:45
Charlotte Full Timeout.
90 - 68
8:36
Eddie House missed 24 ft Three Point Jumper.
90 - 68
8:33
Drew Gooden Defensive Rebound.
90 - 68
8:17
Eric Snow Lost Ball. Stolen by Eddie House.
90 - 68
8:08
Keith Bogans made Layup.
90 - 70
7:50
Lucious Harris made 19 ft Jumper. Assisted by Drew Gooden.
92 - 70
7:28
Jahidi White missed Layup.
92 - 70
7:26
Primoz Brezec Offensive Rebound.
92 - 70
7:26
Primoz Brezec missed Tip Shot.
92 - 70
7:24
Primoz Brezec Offensive Rebound.
92 - 70
7:24
Primoz Brezec missed Tip Shot.
92 - 70
7:24
Drew Gooden Defensive Rebound.
92 - 70
7:13
Lucious Harris made 20 ft Jumper. Assisted by Eric Snow.
94 - 70
6:58
Drew Gooden Personal Foul
94 - 70
6:58
Robert Traylor enters the game for Drew Gooden.
94 - 70
6:58
Jason Kapono enters the game for Eddie House.
94 - 70
6:50
Brevin Knight made 19 ft Jumper. Assisted by Primoz Brezec.
94 - 72
6:26
Aleksandar Pavlovic missed 18 ft Jumper.
94 - 72
6:24
Zydrunas Ilgauskas Offensive Rebound.
94 - 72
6:22
Jahidi White Shooting Foul
94 - 72
6:22
Zydrunas Ilgauskas made Free Throw 1 of 2.
95 - 72
6:22
Steve Smith enters the game for Keith Bogans.
95 - 72
6:22
Zydrunas Ilgauskas missed Free Throw 2 of 2.
95 - 72
6:15
Brevin Knight Defensive Rebound.
95 - 72
6:13
Steve Smith missed 20 ft Jumper.
95 - 72
6:13
Charlotte Offensive Rebound.
95 - 72
6:13
Zydrunas Ilgauskas Loose Ball Foul
95 - 72
6:11
Aleksandar Pavlovic Personal Foul
95 - 72
6:11
Scott Williams enters the game for Zydrunas Ilgauskas.
95 - 72
6:11
Steve Smith made Free Throw 1 of 2.
95 - 73
6:11
Steve Smith made Free Throw 2 of 2.
95 - 74
5:56
Aleksandar Pavlovic made Layup. Assisted by Scott Williams.
97 - 74
5:43
Steve Smith missed Layup. Blocked by Aleksandar Pavlovic.
97 - 74
5:43
Charlotte Offensive Rebound.
97 - 74
5:43
DeSagana Diop enters the game for Scott Williams.
97 - 74
5:43
Dajuan Wagner enters the game for Aleksandar Pavlovic.
97 - 74
5:43
Official Timeout.
97 - 74
5:41
Robert Traylor Personal Foul
97 - 74
5:41
Jahidi White made Free Throw 1 of 2.
97 - 75
5:41
Keith Bogans enters the game for Steve Smith.
97 - 75
5:41
Melvin Ely enters the game for Primoz Brezec.
97 - 75
5:41
Jahidi White made Free Throw 2 of 2.
97 - 76
5:18
Robert Traylor missed Layup.
97 - 76
5:16
DeSagana Diop Offensive Rebound.
97 - 76
5:16
DeSagana Diop missed Tip Shot.
97 - 76
5:15
DeSagana Diop Offensive Rebound.
97 - 76
5:01
Dajuan Wagner made Layup. Assisted by Eric Snow.
99 - 76
4:52
Jahidi White missed Layup.
99 - 76
4:48
Robert Traylor Defensive Rebound.
99 - 76
4:45
Dajuan Wagner made 24 ft Three Point Jumper. Assisted by Eric Snow.
102 - 76
4:26
Brevin Knight made 13 ft Jumper.
102 - 78
4:09
Dajuan Wagner made Two Point Shot.
104 - 78
3:47
Brevin Knight made 17 ft Jumper. Assisted by Melvin Ely.
104 - 80
3:31
Dajuan Wagner missed 25 ft Three Point Jumper.
104 - 80
3:29
Melvin Ely Defensive Rebound.
104 - 80
3:24
Jamal Sampson enters the game for Jahidi White.
104 - 80
3:15
DeSagana Diop Personal Foul
104 - 80
3:15
Melvin Ely missed Free Throw 1 of 2.
104 - 80
3:15
Charlotte Offensive Rebound.
104 - 80
3:15
Melvin Ely missed Free Throw 2 of 2.
104 - 80
3:15
Jamal Sampson Offensive Rebound.
104 - 80
3:10
Eric Snow Personal Foul
104 - 80
3:10
Brevin Knight made Free Throw 1 of 2.
104 - 81
3:10
Brevin Knight made Free Throw 2 of 2.
104 - 82
2:51
Eric Snow Bad Pass. Stolen by Brevin Knight.
104 - 82
2:47
Jamal Sampson made Two Point Shot. Assisted by Brevin Knight.
104 - 84
2:47
DeSagana Diop Shooting Foul
104 - 84
2:47
Cleveland Full Timeout.
104 - 84
2:47
Jamal Sampson missed Free Throw 1 of 1.
104 - 84
2:46
Melvin Ely Offensive Rebound.
104 - 86
2:46
Melvin Ely made Dunk.
104 - 86
2:20
Lucious Harris missed Jumper.
104 - 86
2:18
Jamal Sampson Defensive Rebound.
104 - 86
2:13
Brevin Knight missed 17 ft Jumper.
104 - 86
2:11
Robert Traylor Defensive Rebound.
104 - 86
2:06
Keith Bogans Shooting Foul
104 - 86
2:06
Eric Snow made Free Throw 1 of 2.
105 - 86
2:06
Eric Snow made Free Throw 2 of 2.
106 - 86
1:58
Keith Bogans missed 24 ft Three Point Jumper.
106 - 86
1:55
Melvin Ely Offensive Rebound.
106 - 86
1:51
Jamal Sampson missed Layup. Blocked by DeSagana Diop.
106 - 86
1:49
DeSagana Diop Defensive Rebound.
106 - 86
1:47
Dajuan Wagner Lost Ball. Stolen by Keith Bogans.
106 - 86
1:35
Keith Bogans missed 17 ft Jumper.
106 - 86
1:34
Robert Traylor Defensive Rebound.
106 - 86
1:20
DeSagana Diop missed Layup. Blocked by Jamal Sampson.
106 - 86
1:20
Cleveland Offensive Rebound.
106 - 86
1:13
DeSagana Diop missed Layup.
106 - 86
1:12
Jamal Sampson Defensive Rebound.
106 - 86
0:53
Jason Kapono missed 13 ft Jumper.
106 - 86
0:51
Robert Traylor Defensive Rebound.
106 - 86
0:35
DeSagana Diop missed 14 ft Jumper.
106 - 86
0:33
Jamal Sampson Defensive Rebound.
106 - 86
0:25
Keith Bogans made 23 ft Three Point Jumper. Assisted by Brevin Knight.
106 - 89
0:02
DeSagana Diop missed 12 ft Jumper.
106 - 89
0:01
Keith Bogans Defensive Rebound.
106 - 89
0:00
Keith Bogans Lost Ball. Stolen by Lucious Harris.
106 - 89
0:00
End of the 4th Quarter.
106 - 89
Charles Barkley thinks the Thunder will eliminate the Spurs as long as they don't make "what the hell plays."

Skip Bayless expresses his concern for the Spurs chances to win their series against the Thunder after dropping Game 2 at home.

Coach Gregg Popovich, Manu Ginobili and the Spurs sound off on the missed offensive foul call in the final seconds of Game 2.
Regular Season Series
CLE wins series 4-0