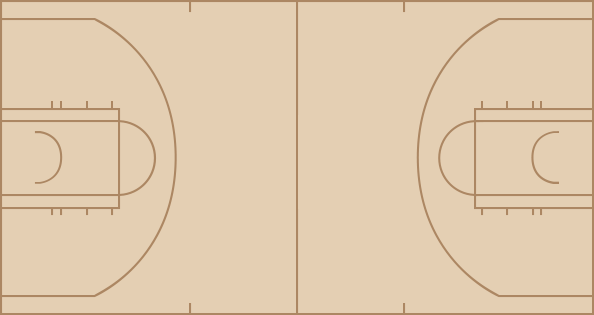 Warriors
time
TEAM
PLAY
SCORE
12:00
Start of the 1st Quarter.
0 - 0
12:00
Jumpball. Dale Davis vs. Chris Wilcox. Elton Brand gains possession.
0 - 0
11:48
Troy Murphy Shooting Foul
0 - 0
11:48
Chris Wilcox made Free Throw 1 of 2.
0 - 1
11:48
Chris Wilcox made Free Throw 2 of 2.
0 - 2
11:36
Mike Dunleavy made 16 ft Jumper. Assisted by Speedy Claxton.
2 - 2
11:14
Elton Brand made 12 ft Two Point Shot.
2 - 4
10:56
Mike Dunleavy made 18 ft Two Point Shot. Assisted by Speedy Claxton.
4 - 4
10:41
Elton Brand missed 9 ft Hook Shot.
4 - 4
10:40
Dale Davis Defensive Rebound.
4 - 4
10:29
Mike Dunleavy missed 20 ft Jumper.
4 - 4
10:27
Chris Wilcox Defensive Rebound.
4 - 4
10:18
Chris Wilcox missed 16 ft Jumper.
4 - 4
10:17
Speedy Claxton Defensive Rebound.
4 - 4
10:08
Quinton Ross Shooting Foul
4 - 4
10:08
Dale Davis made Free Throw 1 of 2.
5 - 4
10:08
Dale Davis made Free Throw 2 of 2.
6 - 4
9:48
Bobby Simmons made 17 ft Jumper. Assisted by Elton Brand.
6 - 6
9:29
Mike Dunleavy made 25 ft Three Point Jumper. Assisted by Speedy Claxton.
9 - 6
9:02
Chris Wilcox made 10 ft Two Point Shot. Assisted by Bobby Simmons.
9 - 8
8:47
Jason Richardson made Jumper.
11 - 8
8:36
Quinton Ross Bad Pass. Stolen by Jason Richardson.
11 - 8
8:23
Speedy Claxton missed Two Point Shot.
11 - 8
8:22
Chris Wilcox Defensive Rebound.
11 - 8
8:14
Elton Brand Traveling
11 - 8
8:03
Mike Dunleavy Bad Pass. Stolen by Marko Jaric.
11 - 8
8:00
Mike Dunleavy Shooting Foul
11 - 8
8:00
Marko Jaric made Free Throw 1 of 2.
11 - 9
8:00
Marko Jaric made Free Throw 2 of 2.
11 - 10
7:45
Jason Richardson Bad Pass. Stolen by Marko Jaric.
11 - 10
7:37
Elton Brand made Layup. Assisted by Bobby Simmons.
11 - 12
7:20
Dale Davis missed 8 ft Two Point Shot.
11 - 12
7:16
Quinton Ross Defensive Rebound.
11 - 12
7:11
Elton Brand missed 10 ft Jumper.
11 - 12
7:09
Speedy Claxton Defensive Rebound.
11 - 12
7:05
Mike Dunleavy missed 13 ft Jumper.
11 - 12
7:03
Speedy Claxton Offensive Rebound.
11 - 12
6:58
Jason Richardson made Three Point Jumper. Assisted by Speedy Claxton.
14 - 12
6:35
Chris Wilcox missed Layup.
14 - 12
6:33
Elton Brand Offensive Rebound.
14 - 12
6:33
Dale Davis Shooting Foul
14 - 12
6:33
Elton Brand made Free Throw 1 of 2.
14 - 13
6:33
Elton Brand made Free Throw 2 of 2.
14 - 14
6:22
Chris Wilcox Shooting Foul
14 - 14
6:22
Troy Murphy made Free Throw 1 of 2.
15 - 14
6:22
Troy Murphy made Free Throw 2 of 2.
16 - 14
6:09
Jason Richardson Shooting Foul
16 - 14
6:09
Elton Brand missed Free Throw 1 of 2.
16 - 14
6:09
Los Angeles Offensive Rebound.
16 - 14
6:09
Elton Brand made Free Throw 2 of 2.
16 - 15
5:54
Troy Murphy made Layup. Assisted by Jason Richardson.
18 - 15
5:41
Quinton Ross missed 21 ft Jumper.
18 - 15
5:39
Troy Murphy Defensive Rebound.
18 - 15
5:28
Jason Richardson made 6 ft Two Point Shot.
20 - 15
5:07
Bobby Simmons missed 16 ft Jumper.
20 - 15
5:05
Dale Davis Defensive Rebound.
20 - 15
4:58
Jason Richardson missed 27 ft Three Point Jumper.
20 - 15
4:58
Mike Dunleavy Offensive Rebound.
20 - 15
4:56
Jason Richardson made Layup. Assisted by Mike Dunleavy.
22 - 15
4:56
Chris Wilcox Shooting Foul
22 - 15
4:56
Los Angeles Full Timeout.
22 - 15
4:56
Mikki Moore enters the game for Chris Wilcox.
22 - 15
4:56
Jason Richardson made Free Throw 1 of 1.
23 - 15
4:35
Marko Jaric missed 26 ft Three Point Jumper.
23 - 15
4:33
Dale Davis Defensive Rebound.
23 - 15
4:26
Bad Pass
23 - 15
4:15
Bobby Simmons made Slam Dunk. Assisted by Mikki Moore.
23 - 17
3:57
Speedy Claxton missed Jumper.
23 - 17
3:55
Mikki Moore Defensive Rebound.
23 - 17
3:45
Bobby Simmons Lost Ball. Stolen by Speedy Claxton.
23 - 17
3:40
Troy Murphy made Two Point Shot. Assisted by Speedy Claxton.
25 - 17
3:25
Mikki Moore made 8 ft Two Point Shot. Assisted by Marko Jaric.
25 - 19
3:06
Speedy Claxton missed 16 ft Jumper.
25 - 19
3:05
Mikki Moore Defensive Rebound.
25 - 19
2:59
Troy Murphy Shooting Foul
25 - 19
2:59
Golden State Full Timeout.
25 - 19
2:59
Calbert Cheaney enters the game for Mike Dunleavy.
25 - 19
2:59
Adonal Foyle enters the game for Dale Davis.
25 - 19
2:59
Elton Brand made Free Throw 1 of 2.
25 - 20
2:59
Elton Brand made Free Throw 2 of 2.
25 - 21
2:43
Adonal Foyle Offensive Foul
25 - 21
2:43
Adonal Foyle Foul
25 - 21
2:32
Bobby Simmons made 19 ft Jumper. Assisted by Marko Jaric.
25 - 23
2:16
Troy Murphy missed 19 ft Jumper.
25 - 23
2:15
Elton Brand Defensive Rebound.
25 - 23
2:05
Bobby Simmons made 21 ft Jumper. Assisted by Marko Jaric.
25 - 25
1:51
Jason Richardson made 19 ft Jumper.
27 - 25
1:30
Mikki Moore made Layup. Assisted by Bobby Simmons.
27 - 27
1:19
Calbert Cheaney made Jumper. Assisted by Speedy Claxton.
29 - 27
1:07
Marko Jaric made Two Point Shot.
29 - 29
0:49
Jason Richardson missed 18 ft Jumper.
29 - 29
0:47
Elton Brand Defensive Rebound.
29 - 29
0:39
Quinton Ross made Jumper. Assisted by Marko Jaric.
29 - 31
0:21
Speedy Claxton missed 26 ft Three Point Jumper.
29 - 31
0:20
Elton Brand Defensive Rebound.
29 - 31
0:00
Bobby Simmons missed 21 ft Jumper.
29 - 31
0:00
Troy Murphy Defensive Rebound.
29 - 31
0:00
End of the 1st Quarter.
29 - 31

time
TEAM
PLAY
SCORE
12:00
Start of the 2nd Quarter.
29 - 31
11:44
Jason Richardson missed Layup.
29 - 31
11:41
Bobby Simmons Defensive Rebound.
29 - 31
11:25
Mikki Moore missed 17 ft Jumper.
29 - 31
11:22
Calbert Cheaney Defensive Rebound.
29 - 31
11:14
Calbert Cheaney missed 19 ft Jumper.
29 - 31
11:11
Bobby Simmons Defensive Rebound.
29 - 31
11:00
Bobby Simmons made Three Point Jumper. Assisted by Mikki Moore.
29 - 34
10:37
Derek Fisher made 20 ft Jumper.
31 - 34
10:26
Cliff Robinson Personal Foul
31 - 34
10:11
Marko Jaric missed Jumper.
31 - 34
10:08
Calbert Cheaney Defensive Rebound.
31 - 34
9:42
Bobby Simmons made 23 ft Three Point Jumper. Assisted by Marko Jaric.
31 - 37
9:25
Jason Richardson missed 19 ft Jumper.
31 - 37
9:22
Adonal Foyle Offensive Rebound.
31 - 37
9:18
Derek Fisher Lost Ball. Stolen by Rick Brunson.
31 - 37
9:15
Bobby Simmons made Two Point Shot.
31 - 39
8:52
Cliff Robinson made 4 ft Two Point Shot. Assisted by Calbert Cheaney.
33 - 39
8:33
Marko Jaric made 26 ft Three Point Jumper. Assisted by Bobby Simmons.
33 - 42
8:03
Jason Richardson missed Layup. Blocked by Chris Kaman.
33 - 42
8:02
Jason Richardson Offensive Rebound.
33 - 42
8:02
24 second
33 - 42
8:02
Official Timeout.
33 - 42
8:02
Quinton Ross enters the game for Bobby Simmons.
33 - 42
8:02
Mickael Pietrus enters the game for Calbert Cheaney.
33 - 42
7:48
Rick Brunson missed 11 ft Jumper.
33 - 42
7:46
Adonal Foyle Defensive Rebound.
33 - 42
7:41
Derek Fisher made 21 ft Jumper.
35 - 42
7:31
Mickael Pietrus Personal Foul
35 - 42
7:31
Mike Dunleavy enters the game for Jason Richardson.
35 - 42
7:15
Mikki Moore missed 8 ft Jumper.
35 - 42
7:13
Chris Kaman Offensive Rebound.
35 - 42
7:13
Chris Kaman missed Layup.
35 - 42
7:13
Quinton Ross Offensive Rebound.
35 - 42
7:13
Quinton Ross missed Tip Shot.
35 - 42
7:11
Quinton Ross Offensive Rebound.
35 - 42
7:11
Quinton Ross made Layup.
35 - 44
7:11
Derek Fisher Shooting Foul
35 - 44
7:11
Quinton Ross missed Free Throw 1 of 1.
35 - 44
7:09
Adonal Foyle Defensive Rebound.
35 - 44
7:01
Chris Kaman Shooting Foul
35 - 44
7:01
Adonal Foyle missed Free Throw 1 of 2.
35 - 44
7:01
Golden State Offensive Rebound.
35 - 44
7:01
Adonal Foyle missed Free Throw 2 of 2.
35 - 44
7:01
Chris Kaman Defensive Rebound.
35 - 44
6:47
Marko Jaric missed Layup. Blocked by Adonal Foyle.
35 - 44
6:45
Adonal Foyle Defensive Rebound.
35 - 44
6:37
Cliff Robinson missed 26 ft Three Point Jumper.
35 - 44
6:35
Mike Dunleavy Offensive Rebound.
35 - 44
6:33
Mike Dunleavy Bad Pass. Stolen by Marko Jaric.
35 - 44
6:28
Marko Jaric made Layup.
35 - 46
6:11
Mickael Pietrus missed Layup.
35 - 46
6:09
Mickael Pietrus Offensive Rebound.
35 - 46
6:09
Mickael Pietrus missed Tip Shot.
35 - 46
6:07
Marko Jaric Defensive Rebound.
35 - 46
6:03
Marko Jaric Offensive Foul
35 - 46
6:03
Marko Jaric Foul
35 - 46
6:03
Troy Murphy enters the game for Adonal Foyle.
35 - 46
6:03
Bobby Simmons enters the game for Marko Jaric.
35 - 46
5:47
Derek Fisher missed 24 ft Three Point Jumper.
35 - 46
5:45
Mikki Moore Defensive Rebound.
35 - 46
5:39
Rick Brunson missed 24 ft Three Point Jumper.
35 - 46
5:37
Los Angeles Defensive Rebound.
35 - 46
5:37
Los Angeles Full Timeout.
35 - 46
5:37
Elton Brand enters the game for Mikki Moore.
35 - 46
5:26
Mike Dunleavy Lost Ball. Stolen by Bobby Simmons.
35 - 46
5:13
Mickael Pietrus Shooting Foul
35 - 46
5:13
Quinton Ross made Free Throw 1 of 2.
35 - 47
5:13
Quinton Ross made Free Throw 2 of 2.
35 - 48
4:54
Mickael Pietrus made 4 ft Two Point Shot.
37 - 48
4:26
Elton Brand missed Layup.
37 - 48
4:26
Derek Fisher Defensive Rebound.
37 - 48
4:22
Mike Dunleavy made Layup. Assisted by Derek Fisher.
39 - 48
4:05
Elton Brand Lost Ball. Stolen by Cliff Robinson.
39 - 48
4:01
Chris Kaman Shooting Foul
39 - 48
4:01
Chris Wilcox enters the game for Chris Kaman.
39 - 48
4:01
Mickael Pietrus made Free Throw 1 of 2.
40 - 48
4:01
Mickael Pietrus made Free Throw 2 of 2.
41 - 48
3:47
Quinton Ross made 11 ft Two Point Shot.
41 - 50
3:29
Troy Murphy made Two Point Shot.
43 - 50
3:29
Chris Wilcox Shooting Foul
43 - 50
3:29
Zeljko Rebraca enters the game for Chris Wilcox.
43 - 50
3:29
Troy Murphy made Free Throw 1 of 1.
44 - 50
3:16
Rick Brunson Bad Pass. Stolen by Cliff Robinson.
44 - 50
3:09
Elton Brand Shooting Foul
44 - 50
3:09
Troy Murphy made Free Throw 1 of 2.
45 - 50
3:09
Los Angeles 20 Sec. Timeout.
45 - 50
3:09
Troy Murphy made Free Throw 2 of 2.
46 - 50
2:57
Quinton Ross Bad Pass
46 - 50
2:57
Golden State Full Timeout.
46 - 50
2:57
Marko Jaric enters the game for Rick Brunson.
46 - 50
2:42
Derek Fisher missed Layup.
46 - 50
2:41
Marko Jaric Defensive Rebound.
46 - 50
2:25
Bobby Simmons made 21 ft Jumper. Assisted by Quinton Ross.
46 - 52
2:00
Mike Dunleavy missed Layup.
46 - 52
1:59
Elton Brand Defensive Rebound.
46 - 52
1:39
Zeljko Rebraca missed 16 ft Jumper.
46 - 52
1:37
Elton Brand Offensive Rebound.
46 - 52
1:36
Elton Brand Lost Ball. Stolen by Derek Fisher.
46 - 52
1:28
Mike Dunleavy made 16 ft Jumper. Assisted by Derek Fisher.
48 - 52
1:13
Elton Brand missed 18 ft Jumper.
48 - 52
1:10
Mickael Pietrus Defensive Rebound.
48 - 52
1:05
Derek Fisher missed 20 ft Jumper.
48 - 52
1:02
Marko Jaric Defensive Rebound.
48 - 52
0:59
Marko Jaric Offensive Foul
48 - 52
0:59
Marko Jaric Foul
48 - 52
0:59
Speedy Claxton enters the game for Derek Fisher.
48 - 52
0:48
Troy Murphy missed 19 ft Jumper.
48 - 52
0:46
Quinton Ross Defensive Rebound.
48 - 52
0:32
Elton Brand made Two Point Shot. Assisted by Marko Jaric.
48 - 54
0:18
Mickael Pietrus missed 18 ft Jumper.
48 - 54
0:16
Elton Brand Defensive Rebound.
48 - 54
0:00
Bobby Simmons missed 15 ft Jumper. Blocked by Mike Dunleavy.
48 - 54
0:00
Los Angeles Offensive Rebound.
48 - 54
0:00
End of the 2nd Quarter.
48 - 54

time
TEAM
PLAY
SCORE
12:00
Start of the 3rd Quarter.
48 - 54
11:34
Cliff Robinson made 24 ft Three Point Jumper.
51 - 54
11:15
Mickael Pietrus Personal Foul
51 - 54
11:11
Elton Brand made Two Point Shot.
51 - 56
11:11
Cliff Robinson Shooting Foul
51 - 56
11:11
Elton Brand missed Free Throw 1 of 1.
51 - 56
11:11
Troy Murphy Defensive Rebound.
51 - 56
10:55
Jason Richardson Bad Pass. Stolen by Marko Jaric.
51 - 56
10:51
Marko Jaric made Two Point Shot.
51 - 58
10:37
Jason Richardson missed 18 ft Jumper.
51 - 58
10:36
Bobby Simmons Defensive Rebound.
51 - 58
10:26
Mickael Pietrus Personal Foul
51 - 58
10:17
Marko Jaric missed 15 ft Jumper.
51 - 58
10:15
Bobby Simmons Offensive Rebound.
51 - 58
10:15
Bobby Simmons Bad Pass
51 - 58
10:03
Speedy Claxton made 15 ft Jumper.
53 - 58
9:52
Speedy Claxton Personal Foul
53 - 58
9:41
Bobby Simmons missed Layup.
53 - 58
9:40
Jason Richardson Defensive Rebound.
53 - 58
9:30
Mickael Pietrus missed 25 ft Three Point Jumper.
53 - 58
9:27
Bobby Simmons Defensive Rebound.
53 - 58
9:18
Chris Wilcox made Layup. Assisted by Elton Brand.
53 - 60
9:18
Mickael Pietrus Shooting Foul
53 - 60
9:18
Chris Wilcox missed Free Throw 1 of 1.
53 - 60
9:18
Mike Dunleavy enters the game for Mickael Pietrus.
53 - 60
9:18
Chris Wilcox made Free Throw 1 of 1.
53 - 61
9:03
Cliff Robinson missed 21 ft Jumper.
53 - 61
9:02
Bobby Simmons Defensive Rebound.
53 - 61
8:53
Chris Wilcox made Layup. Assisted by Marko Jaric.
53 - 63
8:37
Chris Wilcox Illegal Defense Foul
53 - 63
8:37
Speedy Claxton made Technical Free Throw.
54 - 63
8:25
Jason Richardson missed 15 ft Jumper.
54 - 63
8:22
Marko Jaric Defensive Rebound.
54 - 63
8:10
Marko Jaric missed 24 ft Three Point Jumper.
54 - 63
8:08
Bobby Simmons Offensive Rebound.
54 - 63
8:08
Jumpball. Mike Dunleavy vs. Bobby Simmons. Chris Wilcox gains possession.
54 - 63
7:58
Quinton Ross made 11 ft Two Point Shot. Assisted by Marko Jaric.
54 - 65
7:43
Mike Dunleavy missed 25 ft Three Point Jumper.
54 - 65
7:41
Speedy Claxton Offensive Rebound.
54 - 65
7:39
Bobby Simmons Personal Foul
54 - 65
7:28
Cliff Robinson missed 8 ft Two Point Shot.
54 - 65
7:26
Chris Wilcox Defensive Rebound.
54 - 65
7:15
Elton Brand made Two Point Shot.
54 - 67
6:58
Bobby Simmons Personal Foul
54 - 67
6:48
Troy Murphy made 16 ft Jumper.
56 - 67
6:35
Quinton Ross made Two Point Shot. Assisted by Marko Jaric.
56 - 69
6:16
Golden State Full Timeout.
56 - 69
6:15
Mike Dunleavy Backcourt
56 - 69
6:03
Mike Dunleavy Personal Foul
56 - 69
6:03
Bobby Simmons missed Free Throw 1 of 2.
56 - 69
6:03
Los Angeles Offensive Rebound.
56 - 69
6:03
Bobby Simmons missed Free Throw 2 of 2.
56 - 69
6:01
Troy Murphy Defensive Rebound.
56 - 69
5:52
Troy Murphy missed 21 ft Jumper.
56 - 69
5:50
Bobby Simmons Defensive Rebound.
56 - 69
5:47
Quinton Ross Traveling
56 - 69
5:41
Jason Richardson missed Layup. Blocked by Bobby Simmons.
56 - 69
5:39
Bobby Simmons Defensive Rebound.
56 - 69
5:26
Marko Jaric missed Layup.
56 - 69
5:24
Jason Richardson Defensive Rebound.
56 - 69
5:13
Marko Jaric Shooting Foul
56 - 69
5:13
Troy Murphy missed Free Throw 1 of 2.
56 - 69
5:13
Golden State Offensive Rebound.
56 - 69
5:13
Rick Brunson enters the game for Marko Jaric.
56 - 69
5:13
Eduardo Najera enters the game for Cliff Robinson.
56 - 69
5:13
Troy Murphy made Free Throw 2 of 2.
57 - 69
4:52
Chris Wilcox made Two Point Shot. Assisted by Rick Brunson.
57 - 71
4:33
Troy Murphy made Two Point Shot.
59 - 71
4:33
Bobby Simmons Shooting Foul
59 - 71
4:33
Troy Murphy missed Free Throw 1 of 1.
59 - 71
4:33
Elton Brand Defensive Rebound.
59 - 71
4:18
Elton Brand made Layup. Assisted by Bobby Simmons.
59 - 73
4:01
Mike Dunleavy missed 26 ft Three Point Jumper.
59 - 73
4:00
Chris Wilcox Defensive Rebound.
59 - 73
3:48
Elton Brand missed 19 ft Jumper.
59 - 73
3:47
Jason Richardson Defensive Rebound.
59 - 73
3:31
Eduardo Najera missed 17 ft Jumper.
59 - 73
3:31
Golden State Defensive Rebound.
59 - 73
3:19
Elton Brand Bad Pass. Stolen by Jason Richardson.
59 - 73
3:15
Mike Dunleavy missed 14 ft Jumper.
59 - 73
3:14
Quinton Ross Defensive Rebound.
59 - 73
2:55
Speedy Claxton Shooting Foul
59 - 73
2:55
Los Angeles Full Timeout.
59 - 73
2:55
Derek Fisher enters the game for Speedy Claxton.
59 - 73
2:55
Elton Brand made Free Throw 1 of 2.
59 - 74
2:55
Elton Brand made Free Throw 2 of 2.
59 - 75
2:38
Troy Murphy missed 21 ft Jumper.
59 - 75
2:34
Elton Brand Defensive Rebound.
59 - 75
2:15
Chris Wilcox missed Layup.
59 - 75
2:15
Jason Richardson Defensive Rebound.
59 - 75
2:05
Eduardo Najera missed 13 ft Jumper.
59 - 75
2:03
Bobby Simmons Defensive Rebound.
59 - 75
1:47
Chris Wilcox made Dunk. Assisted by Rick Brunson.
59 - 77
1:30
Jason Richardson missed 19 ft Jumper.
59 - 77
1:28
Elton Brand Defensive Rebound.
59 - 77
1:15
Bobby Simmons made Jumper. Assisted by Rick Brunson.
59 - 79
1:00
Derek Fisher made 25 ft Three Point Jumper. Assisted by Mike Dunleavy.
62 - 79
0:51
Rick Brunson made Two Point Shot.
62 - 81
0:30
Chris Wilcox Shooting Foul
62 - 81
0:30
Chris Kaman enters the game for Chris Wilcox.
62 - 81
0:30
Mikki Moore enters the game for Bobby Simmons.
62 - 81
0:30
Troy Murphy missed Free Throw 1 of 2.
62 - 81
0:30
Golden State Offensive Rebound.
62 - 81
0:30
Troy Murphy made Free Throw 2 of 2.
63 - 81
0:18
Rick Brunson made 18 ft Jumper.
63 - 83
0:00
Eduardo Najera missed Jumper.
63 - 83
0:00
Troy Murphy Offensive Rebound.
63 - 83
0:00
Troy Murphy missed 11 ft Jumper.
63 - 83
0:00
Chris Kaman Defensive Rebound.
63 - 83
0:00
End of the 3rd Quarter.
63 - 83

time
TEAM
PLAY
SCORE
12:00
Start of the 4th Quarter.
63 - 83
11:37
Marko Jaric made 23 ft Three Point Jumper. Assisted by Chris Kaman.
63 - 86
11:14
Mike Dunleavy made Two Point Shot.
65 - 86
11:14
Chris Kaman Shooting Foul
65 - 86
11:14
Mike Dunleavy made Free Throw 1 of 1.
66 - 86
10:56
Mikki Moore made Layup. Assisted by Elton Brand.
66 - 88
10:40
Mike Dunleavy missed 17 ft Jumper.
66 - 88
10:37
Mikki Moore Defensive Rebound.
66 - 88
10:29
Elton Brand missed 13 ft Jumper.
66 - 88
10:27
Derek Fisher Defensive Rebound.
66 - 88
10:25
Jason Richardson made Layup. Assisted by Derek Fisher.
68 - 88
10:25
Mikki Moore Shooting Foul
68 - 88
10:25
Jason Richardson missed Free Throw 1 of 1.
68 - 88
10:22
Elton Brand Defensive Rebound.
68 - 88
10:11
Cliff Robinson Personal Foul
68 - 88
10:02
Marko Jaric made Layup. Assisted by Chris Kaman.
68 - 90
9:48
Jason Richardson made Three Point Jumper. Assisted by Derek Fisher.
71 - 90
9:22
Mike Dunleavy Shooting Foul
71 - 90
9:22
Chris Kaman made Free Throw 1 of 2.
71 - 91
9:22
Chris Kaman made Free Throw 2 of 2.
71 - 92
9:15
Mike Dunleavy made Two Point Shot. Assisted by Derek Fisher.
73 - 92
8:59
Rick Brunson missed 25 ft Three Point Jumper.
73 - 92
8:56
Adonal Foyle Defensive Rebound.
73 - 92
8:51
Mikki Moore Shooting Foul
73 - 92
8:51
Official Timeout.
73 - 92
8:51
Calbert Cheaney enters the game for Jason Richardson.
73 - 92
8:51
Bobby Simmons enters the game for Elton Brand.
73 - 92
8:51
Derek Fisher made Free Throw 1 of 2.
74 - 92
8:51
Derek Fisher made Free Throw 2 of 2.
75 - 92
8:36
Marko Jaric missed 18 ft Jumper.
75 - 92
8:33
Cliff Robinson Defensive Rebound.
75 - 92
8:14
Derek Fisher made 23 ft Jumper.
77 - 92
7:45
Rick Brunson missed 25 ft Three Point Jumper.
77 - 92
7:43
Adonal Foyle Defensive Rebound.
77 - 92
7:35
Calbert Cheaney missed 20 ft Jumper.
77 - 92
7:35
Mike Dunleavy Offensive Rebound.
77 - 92
7:31
Derek Fisher missed 24 ft Three Point Jumper.
77 - 92
7:28
Chris Kaman Defensive Rebound.
77 - 92
7:20
Bobby Simmons missed 21 ft Jumper.
77 - 92
7:18
Los Angeles Offensive Rebound.
77 - 92
7:07
Mikki Moore made Two Point Shot. Assisted by Chris Kaman.
77 - 94
7:07
Adonal Foyle Shooting Foul
77 - 94
7:07
Mikki Moore made Free Throw 1 of 1.
77 - 95
6:52
Adonal Foyle made 16 ft Two Point Shot.
79 - 95
6:37
Marko Jaric Bad Pass
79 - 95
6:35
Chris Kaman Loose Ball Foul
79 - 95
6:26
Mike Dunleavy made 19 ft Jumper. Assisted by Cliff Robinson.
81 - 95
6:07
Bobby Simmons Traveling
81 - 95
5:48
Cliff Robinson Bad Pass. Stolen by Chris Kaman.
81 - 95
5:41
Bobby Simmons made 18 ft Jumper. Assisted by Rick Brunson.
81 - 97
5:18
Mike Dunleavy made 6 ft Two Point Shot. Assisted by Derek Fisher.
83 - 97
5:01
Marko Jaric missed 18 ft Jumper.
83 - 97
5:00
Derek Fisher Defensive Rebound.
83 - 97
4:56
Chris Kaman Shooting Foul
83 - 97
4:56
Los Angeles Full Timeout.
83 - 97
4:56
Elton Brand enters the game for Chris Kaman.
83 - 97
4:56
Derek Fisher made Free Throw 1 of 2.
84 - 97
4:56
Derek Fisher made Free Throw 2 of 2.
85 - 97
4:35
Marko Jaric Bad Pass. Stolen by Calbert Cheaney.
85 - 97
4:26
Cliff Robinson made 9 ft Two Point Shot. Assisted by Derek Fisher.
87 - 97
4:03
Elton Brand missed 11 ft Jumper.
87 - 97
4:01
Marko Jaric Offensive Rebound.
87 - 97
3:46
Elton Brand made Layup. Assisted by Marko Jaric.
87 - 99
3:27
Derek Fisher missed 26 ft Three Point Jumper.
87 - 99
3:25
Marko Jaric Defensive Rebound.
87 - 99
3:15
Elton Brand Offensive Foul
87 - 99
3:15
Elton Brand Foul
87 - 99
3:15
Quinton Ross enters the game for Rick Brunson.
87 - 99
3:00
Calbert Cheaney missed 18 ft Jumper.
87 - 99
2:57
Mikki Moore Defensive Rebound.
87 - 99
2:47
Bobby Simmons Offensive Foul
87 - 99
2:47
Bobby Simmons Foul
87 - 99
2:47
Golden State Full Timeout.
87 - 99
2:31
Cliff Robinson missed 21 ft Jumper.
87 - 99
2:31
Marko Jaric Defensive Rebound.
87 - 99
2:10
Marko Jaric missed 25 ft Three Point Jumper.
87 - 99
2:08
Adonal Foyle Defensive Rebound.
87 - 99
1:54
Mike Dunleavy Bad Pass. Stolen by Quinton Ross.
87 - 99
1:30
Elton Brand made 12 ft Jumper. Assisted by Marko Jaric.
87 - 101
1:17
Cliff Robinson missed 4 ft Two Point Shot.
87 - 101
1:15
Elton Brand Defensive Rebound.
87 - 101
0:58
Elton Brand missed 17 ft Jumper.
87 - 101
0:56
Mike Dunleavy Defensive Rebound.
87 - 101
0:51
Calbert Cheaney missed Layup.
87 - 101
0:50
Calbert Cheaney Offensive Rebound.
89 - 101
0:50
Calbert Cheaney made 19 ft Jumper. Assisted by Mike Dunleavy.
89 - 101
0:34
Quinton Ross missed 8 ft Jumper. Blocked by Mike Dunleavy.
89 - 101
0:33
Elton Brand Offensive Rebound.
89 - 101
0:33
Elton Brand made Layup.
89 - 103
0:23
Cliff Robinson made Layup. Assisted by Derek Fisher.
91 - 103
0:00
End of the 4th Quarter.
91 - 103
0:00
End Game
91 - 103
Brian Windhorst weighs in on the Lakers offseason moves and explains why Los Angeles appears to be acting like a small-market team, failing to get seats at the table for Kevin Durant or DeMar DeRozan.

What moves should New Orleans make this summer to build around Anthony Davis? Our NBA Insiders debate the future of the Pelicans.

Freddie Coleman stuns the First Take crew with the news that in the two years since LeBron James' return, the Cavaliers franchise's worth has skyrocketed from $515 million dollars to $1.1 billion dollars.
Regular Season Series
LAC wins series 4-0
2015-2016 Pacific Standings