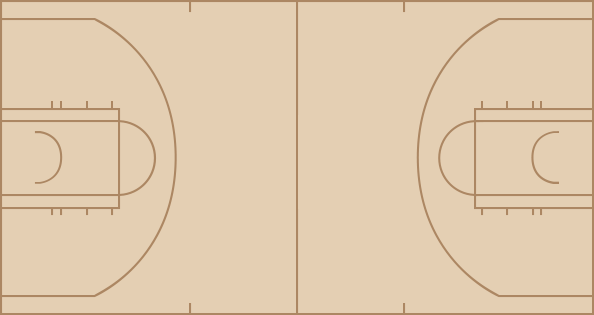 Kings
time
TEAM
PLAY
SCORE
12:00
Start of the 1st Quarter.
0 - 0
12:00
Jumpball. Brad Miller vs. P.J. Brown. David West gains possession.
0 - 0
11:45
P.J. Brown missed 6 ft Jumper.
0 - 0
11:44
Lee Nailon Offensive Rebound.
0 - 0
11:36
P.J. Brown missed 18 ft Jumper.
0 - 0
11:33
Mike Bibby Defensive Rebound.
0 - 0
11:22
Lee Nailon Personal Foul
0 - 0
11:14
Brad Miller made Layup. Assisted by Chris Webber.
2 - 0
10:53
P.J. Brown Traveling
2 - 0
10:38
Mike Bibby missed 24 ft Three Point Jumper.
2 - 0
10:37
David West Defensive Rebound.
2 - 0
10:17
Lee Nailon made 17 ft Jumper. Assisted by P.J. Brown.
2 - 2
10:04
David West Personal Foul
2 - 2
10:02
Predrag Stojakovic missed 25 ft Three Point Jumper.
2 - 2
10:00
P.J. Brown Defensive Rebound.
2 - 2
9:52
Lee Nailon made 13 ft Jumper. Assisted by Darrell Armstrong.
2 - 4
9:23
Lee Nailon missed Layup.
2 - 4
9:22
P.J. Brown Offensive Rebound.
2 - 4
9:22
P.J. Brown missed Tip Shot.
2 - 4
9:22
New Orleans Defensive Rebound.
2 - 4
9:11
Predrag Stojakovic made Layup. Assisted by Doug Christie.
4 - 4
9:11
Lee Nailon Shooting Foul
4 - 4
9:11
George Lynch enters the game for Lee Nailon.
4 - 4
9:11
Predrag Stojakovic made Free Throw 1 of 1.
5 - 4
8:52
David West made Layup.
5 - 6
8:41
Chris Webber missed 18 ft Jumper.
5 - 6
8:40
David Wesley Defensive Rebound.
5 - 6
8:19
Darrell Armstrong made Two Point Shot.
5 - 8
7:56
Mike Bibby missed Layup.
5 - 8
7:56
Brad Miller Offensive Rebound.
5 - 8
7:54
Brad Miller missed Layup. Blocked by P.J. Brown.
5 - 8
7:54
George Lynch Defensive Rebound.
5 - 8
7:30
Darrell Armstrong missed Jumper.
5 - 8
7:28
New Orleans Offensive Rebound.
5 - 8
7:28
Shot Clock Violation
5 - 8
7:28
Lee Nailon enters the game for David West.
5 - 8
7:20
David Wesley Shooting Foul
5 - 8
7:20
Doug Christie made Free Throw 1 of 2.
6 - 8
7:20
Doug Christie made Free Throw 2 of 2.
7 - 8
6:58
Darrell Armstrong missed 21 ft Jumper.
7 - 8
6:58
George Lynch Offensive Rebound.
7 - 8
6:58
George Lynch missed Tip Shot.
7 - 8
6:56
Chris Webber Defensive Rebound.
7 - 8
6:50
Mike Bibby missed 16 ft Jumper.
7 - 8
6:47
George Lynch Defensive Rebound.
7 - 8
6:39
Lee Nailon missed 16 ft Jumper.
7 - 8
6:39
Chris Webber Defensive Rebound.
7 - 8
6:24
Brad Miller made 12 ft Jumper. Assisted by Chris Webber.
9 - 8
6:03
David Wesley made 23 ft Jumper.
9 - 10
5:50
Chris Webber Lost Ball. Stolen by David Wesley.
9 - 10
5:39
David Wesley missed Layup.
9 - 10
5:37
Lee Nailon Offensive Rebound.
9 - 10
5:37
Lee Nailon made Layup.
9 - 12
5:22
Predrag Stojakovic made 15 ft Jumper. Assisted by Doug Christie.
11 - 12
5:05
Lee Nailon missed Jumper.
11 - 12
5:03
Brad Miller Defensive Rebound.
11 - 12
4:47
Chris Webber made 20 ft Jumper. Assisted by Mike Bibby.
13 - 12
4:39
New Orleans Full Timeout.
13 - 12
4:39
Junior Harrington enters the game for Darrell Armstrong.
13 - 12
4:39
Chris Andersen enters the game for Lee Nailon.
13 - 12
4:24
George Lynch missed Jumper.
13 - 12
4:22
Doug Christie Defensive Rebound.
13 - 12
4:07
Chris Webber Bad Pass. Stolen by David Wesley.
13 - 12
3:59
David Wesley missed 23 ft Jumper.
13 - 12
3:58
Doug Christie Defensive Rebound.
13 - 12
3:45
Brad Miller made 17 ft Jumper. Assisted by Chris Webber.
15 - 12
3:31
David Wesley made Layup. Assisted by George Lynch.
15 - 14
3:31
Brad Miller Shooting Foul
15 - 14
3:31
David Wesley made Free Throw 1 of 1.
15 - 15
3:18
George Lynch Personal Foul
15 - 15
3:18
J.R. Smith enters the game for David Wesley.
15 - 15
3:18
Bobby Jackson enters the game for Doug Christie.
15 - 15
3:18
Predrag Stojakovic made Free Throw 1 of 2.
16 - 15
3:18
Predrag Stojakovic made Free Throw 2 of 2.
17 - 15
3:00
Junior Harrington missed 20 ft Jumper.
17 - 15
3:00
Chris Webber Defensive Rebound.
17 - 15
2:55
Junior Harrington Personal Foul
17 - 15
2:55
Sacramento Full Timeout.
17 - 15
2:55
Mike Bibby made Free Throw 1 of 2.
18 - 15
2:55
Mike Bibby missed Free Throw 2 of 2.
18 - 15
2:54
Chris Andersen Defensive Rebound.
18 - 15
2:31
J.R. Smith missed 19 ft Jumper.
18 - 15
2:31
P.J. Brown Offensive Rebound.
18 - 15
2:16
Greg Ostertag enters the game for Chris Webber.
18 - 15
2:01
Junior Harrington Shooting Foul
18 - 15
2:01
Bobby Jackson missed Free Throw 1 of 3.
18 - 15
2:01
Sacramento Offensive Rebound.
18 - 15
2:01
Bobby Jackson made Free Throw 2 of 3.
19 - 15
2:01
Bobby Jackson made Free Throw 3 of 3.
20 - 15
1:47
Junior Harrington made 21 ft Jumper. Assisted by P.J. Brown.
20 - 17
1:34
Predrag Stojakovic missed Three Point Jumper.
20 - 17
1:31
Mike Bibby Offensive Rebound.
20 - 17
1:23
Mike Bibby missed 25 ft Three Point Jumper.
20 - 17
1:22
Greg Ostertag Offensive Rebound.
20 - 17
1:13
Predrag Stojakovic missed Jumper.
20 - 17
1:10
Junior Harrington Defensive Rebound.
20 - 17
1:08
J.R. Smith missed 23 ft Three Point Jumper.
20 - 17
1:07
P.J. Brown Offensive Rebound.
20 - 17
1:00
George Lynch missed Layup.
20 - 17
1:00
Chris Andersen Offensive Rebound.
20 - 19
1:00
Chris Andersen made Tip Shot.
20 - 19
0:49
P.J. Brown Shooting Foul
20 - 19
0:49
Brad Miller made Free Throw 1 of 2.
21 - 19
0:49
Matt Barnes enters the game for Predrag Stojakovic.
21 - 19
0:49
Brad Miller missed Free Throw 2 of 2.
21 - 19
0:47
George Lynch Defensive Rebound.
21 - 19
0:29
Chris Andersen made 17 ft Jumper. Assisted by Junior Harrington.
21 - 21
0:06
Brad Miller missed 25 ft Three Point Jumper.
21 - 21
0:05
Junior Harrington Defensive Rebound.
21 - 21
0:04
Bobby Jackson Personal Foul
21 - 21
0:00
Junior Harrington made 11 ft Two Point Shot.
21 - 23
0:00
End of the 1st Quarter.
21 - 23

time
TEAM
PLAY
SCORE
12:00
Start of the 2nd Quarter.
21 - 23
11:37
Greg Ostertag made 8 ft Jumper.
23 - 23
11:17
Chris Andersen missed Layup.
23 - 23
11:15
Mike Bibby Defensive Rebound.
23 - 23
10:55
Mike Bibby missed 18 ft Jumper.
23 - 23
10:52
Matt Barnes Offensive Rebound.
23 - 23
10:51
Matt Barnes made Layup.
25 - 23
10:30
Chris Andersen missed 19 ft Jumper.
25 - 23
10:27
Mike Bibby Defensive Rebound.
25 - 23
10:22
Junior Harrington Personal Foul
25 - 23
10:22
Bobby Jackson made Free Throw 1 of 2.
26 - 23
10:22
Darrell Armstrong enters the game for Junior Harrington.
26 - 23
10:22
Bobby Jackson made Free Throw 2 of 2.
27 - 23
10:18
Darrell Armstrong Bad Pass
27 - 23
9:56
Mike Bibby Traveling
27 - 23
9:56
Lee Nailon enters the game for George Lynch.
27 - 23
9:45
Lee Nailon missed 19 ft Jumper.
27 - 23
9:38
Matt Barnes Defensive Rebound.
27 - 23
9:37
Doug Christie enters the game for Mike Bibby.
27 - 23
9:30
Chris Andersen Personal Foul
27 - 23
9:23
Matt Barnes missed 20 ft Jumper.
27 - 23
9:22
Darius Songaila Offensive Rebound.
27 - 23
9:18
J.R. Smith Shooting Foul
27 - 23
9:18
Doug Christie made Free Throw 1 of 2.
28 - 23
9:18
Doug Christie made Free Throw 2 of 2.
29 - 23
9:04
David West missed 9 ft Jumper.
29 - 23
9:03
Bobby Jackson Defensive Rebound.
29 - 23
8:49
Darius Songaila missed 21 ft Jumper.
29 - 23
8:48
Lee Nailon Defensive Rebound.
29 - 23
8:47
Lee Nailon Bad Pass. Stolen by Matt Barnes.
29 - 23
8:45
Matt Barnes made Layup.
31 - 23
8:33
New Orleans Full Timeout.
31 - 23
8:18
Darrell Armstrong Bad Pass. Stolen by Doug Christie.
31 - 23
8:02
Doug Christie made 24 ft Jumper. Assisted by Matt Barnes.
33 - 23
7:45
Lee Nailon missed Jumper.
33 - 23
7:43
Greg Ostertag Defensive Rebound.
33 - 23
7:37
Doug Christie missed 20 ft Jumper.
33 - 23
7:35
Chris Andersen Defensive Rebound.
33 - 23
7:20
Darrell Armstrong missed 25 ft Three Point Jumper.
33 - 23
7:18
Lee Nailon Offensive Rebound.
33 - 23
7:16
Lee Nailon Bad Pass. Stolen by Matt Barnes.
33 - 23
7:13
Bobby Jackson made Layup. Assisted by Matt Barnes.
35 - 23
6:56
Darrell Armstrong missed 24 ft Three Point Jumper.
35 - 23
6:56
New Orleans Defensive Rebound.
35 - 23
6:56
Chris Webber enters the game for Greg Ostertag.
35 - 23
6:56
P.J. Brown enters the game for Chris Andersen.
35 - 23
6:56
David Wesley enters the game for J.R. Smith.
35 - 23
6:43
Bobby Jackson made Two Point Shot. Assisted by Doug Christie.
37 - 23
6:24
Lee Nailon missed 4 ft Jumper.
37 - 23
6:22
Darius Songaila Defensive Rebound.
37 - 23
6:13
Chris Webber missed 19 ft Jumper.
37 - 23
6:09
Lee Nailon Defensive Rebound.
37 - 23
6:03
Lee Nailon missed Layup.
37 - 23
6:03
Darius Songaila Defensive Rebound.
37 - 23
6:03
Lee Nailon Personal Foul
37 - 23
6:03
Sacramento Full Timeout.
37 - 23
6:03
George Lynch enters the game for Lee Nailon.
37 - 23
5:45
Bobby Jackson made 25 ft Three Point Jumper.
40 - 23
5:28
Darius Songaila Personal Foul
40 - 23
5:22
Matt Barnes Personal Foul
40 - 23
5:15
David Wesley made 18 ft Jumper. Assisted by Darrell Armstrong.
40 - 25
4:54
Brad Miller enters the game for Darius Songaila.
40 - 25
4:54
Predrag Stojakovic enters the game for Matt Barnes.
40 - 25
4:43
David Wesley made 19 ft Jumper. Assisted by Darrell Armstrong.
40 - 27
4:05
P.J. Brown missed Layup.
40 - 27
4:03
Bobby Jackson Defensive Rebound.
40 - 27
3:59
Bobby Jackson made Layup.
42 - 27
3:47
David West made Layup. Assisted by Darrell Armstrong.
42 - 29
3:33
Brad Miller made Layup. Assisted by Chris Webber.
44 - 29
3:15
David West made Two Point Shot. Assisted by David Wesley.
44 - 31
3:01
Chris Webber Bad Pass
44 - 31
2:44
Darrell Armstrong missed 25 ft Three Point Jumper.
44 - 31
2:42
Chris Webber Defensive Rebound.
44 - 31
2:26
Brad Miller made 21 ft Jumper.
46 - 31
2:11
Bobby Jackson Personal Foul
46 - 31
2:11
Official Timeout.
46 - 31
2:02
David Wesley missed 22 ft Jumper.
46 - 31
2:01
Predrag Stojakovic Defensive Rebound.
46 - 31
1:46
Predrag Stojakovic missed 25 ft Three Point Jumper.
46 - 31
1:44
Doug Christie Offensive Rebound.
46 - 31
1:38
Chris Webber Bad Pass. Stolen by David Wesley.
46 - 31
1:22
P.J. Brown made 19 ft Jumper. Assisted by Darrell Armstrong.
46 - 33
1:02
Chris Webber made 20 ft Jumper. Assisted by Bobby Jackson.
48 - 33
0:47
Brad Miller Personal Foul
48 - 33
0:43
Darrell Armstrong missed 18 ft Jumper.
48 - 33
0:41
P.J. Brown Offensive Rebound.
48 - 33
0:32
David Wesley missed 22 ft Three Point Jumper.
48 - 33
0:30
George Lynch Offensive Rebound.
48 - 33
0:21
Darrell Armstrong missed 24 ft Three Point Jumper.
48 - 33
0:20
George Lynch Offensive Rebound.
48 - 33
0:19
Brad Miller Personal Foul
48 - 33
0:19
George Lynch made Free Throw 1 of 2.
48 - 34
0:19
Darius Songaila enters the game for Brad Miller.
48 - 34
0:19
George Lynch missed Free Throw 2 of 2.
48 - 34
0:17
P.J. Brown Offensive Rebound.
48 - 34
0:03
Darrell Armstrong missed Layup.
48 - 34
0:02
P.J. Brown Offensive Rebound.
48 - 34
0:02
P.J. Brown missed Tip Shot.
48 - 34
0:01
Doug Christie Defensive Rebound.
48 - 34
0:00
Doug Christie missed Three Point Jumper.
48 - 34
0:00
Sacramento Offensive Rebound.
48 - 34
0:00
End of the 2nd Quarter.
48 - 34

time
TEAM
PLAY
SCORE
12:00
Start of the 3rd Quarter.
48 - 34
11:44
Chris Webber made 19 ft Jumper. Assisted by Predrag Stojakovic.
50 - 34
11:19
David Wesley missed Layup.
50 - 34
11:18
New Orleans Offensive Rebound.
50 - 34
11:17
P.J. Brown made 14 ft Jumper. Assisted by Lee Nailon.
50 - 36
10:59
Doug Christie Bad Pass. Stolen by P.J. Brown.
50 - 36
10:45
Darrell Armstrong Bad Pass. Stolen by Doug Christie.
50 - 36
10:45
P.J. Brown Personal Foul
50 - 36
10:30
Brad Miller made 21 ft Jumper. Assisted by Doug Christie.
52 - 36
10:14
Lee Nailon made Layup. Assisted by David West.
52 - 38
9:48
Brad Miller made Layup. Assisted by Chris Webber.
54 - 38
9:30
Darrell Armstrong missed 24 ft Three Point Jumper.
54 - 38
9:27
Darrell Armstrong Offensive Rebound.
54 - 38
9:25
Darrell Armstrong made 19 ft Jumper.
54 - 40
9:08
Predrag Stojakovic missed 19 ft Jumper.
54 - 40
9:07
P.J. Brown Defensive Rebound.
54 - 40
8:59
Lee Nailon missed Layup.
54 - 40
8:56
Brad Miller Defensive Rebound.
54 - 40
8:48
Mike Bibby Bad Pass. Stolen by Lee Nailon.
54 - 40
8:26
Chris Webber missed 18 ft Jumper.
54 - 40
8:23
David West Defensive Rebound.
54 - 40
8:18
P.J. Brown missed 18 ft Jumper.
54 - 40
8:17
Mike Bibby Defensive Rebound.
54 - 40
8:07
Predrag Stojakovic missed 24 ft Three Point Jumper.
54 - 40
8:03
David Wesley Defensive Rebound.
54 - 40
7:52
P.J. Brown missed 16 ft Jumper.
54 - 40
7:50
New Orleans Offensive Rebound.
54 - 40
7:46
Mike Bibby Personal Foul
54 - 40
7:37
David Wesley Lost Ball. Stolen by Doug Christie.
54 - 40
7:33
Doug Christie Bad Pass
54 - 40
7:09
Lee Nailon made 19 ft Jumper.
54 - 42
6:50
Brad Miller made Layup. Assisted by Chris Webber.
56 - 42
6:43
David Wesley made 16 ft Jumper. Assisted by David West.
56 - 44
6:28
Lee Nailon Shooting Foul
56 - 44
6:28
Predrag Stojakovic made Free Throw 1 of 2.
57 - 44
6:28
George Lynch enters the game for Lee Nailon.
57 - 44
6:28
Predrag Stojakovic made Free Throw 2 of 2.
58 - 44
6:11
Darrell Armstrong missed 26 ft Three Point Jumper.
58 - 44
6:09
Brad Miller Defensive Rebound.
58 - 44
5:54
Chris Webber missed 18 ft Jumper.
58 - 44
5:52
P.J. Brown Defensive Rebound.
58 - 44
5:43
P.J. Brown made 18 ft Jumper. Assisted by Darrell Armstrong.
58 - 46
5:16
Predrag Stojakovic made 24 ft Three Point Jumper. Assisted by Doug Christie.
61 - 46
4:56
David Wesley Bad Pass. Stolen by Brad Miller.
61 - 46
4:46
Chris Webber missed 20 ft Jumper.
61 - 46
4:43
Mike Bibby Offensive Rebound.
63 - 46
4:43
Mike Bibby made Tip Shot.
63 - 46
4:37
New Orleans Full Timeout.
63 - 46
4:37
Junior Harrington enters the game for Darrell Armstrong.
63 - 46
4:37
Chris Andersen enters the game for David West.
63 - 46
4:22
P.J. Brown missed 20 ft Jumper.
63 - 46
4:20
Brad Miller Defensive Rebound.
63 - 46
4:07
Chris Andersen Shooting Foul
63 - 46
4:07
Brad Miller made Free Throw 1 of 2.
64 - 46
4:07
Brad Miller made Free Throw 2 of 2.
65 - 46
3:47
Junior Harrington missed 26 ft Three Point Jumper.
65 - 46
3:46
George Lynch Offensive Rebound.
65 - 48
3:45
George Lynch made Layup.
65 - 48
3:26
Mike Bibby missed Jumper.
65 - 48
3:23
Chris Andersen Defensive Rebound.
65 - 48
3:10
David Wesley Lost Ball. Stolen by Chris Webber.
65 - 48
3:00
Chris Andersen Personal Foul
65 - 48
2:55
Mike Bibby missed 24 ft Three Point Jumper.
65 - 48
2:54
Predrag Stojakovic Offensive Rebound.
65 - 48
2:46
George Lynch Shooting Foul
65 - 48
2:46
Sacramento Full Timeout.
65 - 48
2:46
Doug Christie made Free Throw 1 of 2.
66 - 48
2:46
Doug Christie made Free Throw 2 of 2.
67 - 48
2:27
Junior Harrington made 21 ft Jumper. Assisted by P.J. Brown.
67 - 50
2:00
Predrag Stojakovic made 25 ft Three Point Jumper. Assisted by Brad Miller.
70 - 50
1:39
David Wesley made 25 ft Three Point Jumper. Assisted by Junior Harrington.
70 - 53
1:19
Doug Christie made 19 ft Jumper. Assisted by Mike Bibby.
72 - 53
0:59
David Wesley missed 24 ft Three Point Jumper.
72 - 53
0:58
Chris Webber Defensive Rebound.
72 - 53
0:45
Predrag Stojakovic missed 22 ft Three Point Jumper.
72 - 53
0:44
George Lynch Defensive Rebound.
72 - 53
0:40
David Wesley made Layup. Assisted by George Lynch.
72 - 55
0:25
Chris Webber made 19 ft Jumper.
74 - 55
0:08
Doug Christie Personal Foul
74 - 55
0:08
Bobby Jackson enters the game for Mike Bibby.
74 - 55
0:01
Junior Harrington made 13 ft Jumper.
74 - 57
0:00
Predrag Stojakovic missed 43 ft Three Point Jumper.
74 - 57
0:00
Sacramento Offensive Rebound.
74 - 57
0:00
End of the 3rd Quarter.
74 - 57

time
TEAM
PLAY
SCORE
12:00
Start of the 4th Quarter.
74 - 57
11:22
Doug Christie missed 18 ft Jumper.
74 - 57
11:21
Chris Andersen Defensive Rebound.
74 - 57
11:07
J.R. Smith missed 22 ft Jumper.
74 - 57
11:04
David West Offensive Rebound.
74 - 57
10:56
Junior Harrington missed 14 ft Jumper.
74 - 57
10:56
Lee Nailon Offensive Rebound.
74 - 57
10:53
Lee Nailon made Layup.
74 - 59
10:53
Darius Songaila Shooting Foul
74 - 59
10:53
Lee Nailon made Free Throw 1 of 1.
74 - 60
10:34
Predrag Stojakovic missed 24 ft Three Point Jumper.
74 - 60
10:33
Junior Harrington Defensive Rebound.
74 - 60
10:27
J.R. Smith missed Two Point Shot.
74 - 60
10:26
Brad Miller Defensive Rebound.
74 - 60
10:15
Doug Christie Lost Ball. Stolen by Junior Harrington.
74 - 60
10:07
Junior Harrington made 22 ft Jumper. Assisted by J.R. Smith.
74 - 62
10:07
Doug Christie Shooting Foul
74 - 62
10:07
Sacramento Full Timeout.
74 - 62
10:07
Junior Harrington made Free Throw 1 of 1.
74 - 63
9:53
Bobby Jackson Lost Ball. Stolen by Junior Harrington.
74 - 63
9:53
Bobby Jackson Loose Ball Foul
74 - 63
9:32
J.R. Smith missed 24 ft Three Point Jumper.
74 - 63
9:30
Lee Nailon Offensive Rebound.
74 - 65
9:30
Lee Nailon made Tip Shot.
74 - 65
9:19
Brad Miller Offensive Foul
74 - 65
9:19
Brad Miller Foul
74 - 65
9:19
Chris Webber enters the game for Brad Miller.
77 - 65
9:19
Mike Bibby enters the game for Doug Christie.
77 - 67
9:07
Lee Nailon missed 20 ft Jumper.
74 - 65
9:03
Bobby Jackson Defensive Rebound.
74 - 65
8:52
Bobby Jackson made 24 ft Three Point Jumper. Assisted by Chris Webber.
77 - 65
8:34
David West made 16 ft Jumper.
77 - 67
8:22
Bobby Jackson made 25 ft Three Point Jumper. Assisted by Mike Bibby.
80 - 67
8:03
J.R. Smith missed 9 ft Jumper.
80 - 67
8:00
Chris Webber Defensive Rebound.
80 - 67
7:41
Bobby Jackson missed 24 ft Three Point Jumper.
80 - 67
7:39
Junior Harrington Defensive Rebound.
80 - 67
7:24
David West missed 8 ft Jumper.
80 - 67
7:24
Mike Bibby Defensive Rebound.
80 - 67
7:16
Predrag Stojakovic made Three Point Jumper. Assisted by Bobby Jackson.
83 - 67
7:09
New Orleans Full Timeout.
83 - 67
7:09
P.J. Brown enters the game for Chris Andersen.
83 - 67
6:54
Junior Harrington missed 15 ft Jumper.
83 - 67
6:54
Bobby Jackson Defensive Rebound.
83 - 67
6:35
Predrag Stojakovic made Layup. Assisted by Chris Webber.
85 - 67
6:22
P.J. Brown made 16 ft Jumper. Assisted by Lee Nailon.
85 - 69
6:03
Chris Webber Lost Ball. Stolen by Junior Harrington.
85 - 69
6:00
Junior Harrington missed Layup.
85 - 69
5:58
New Orleans Offensive Rebound.
85 - 69
5:58
David Wesley enters the game for J.R. Smith.
85 - 69
5:39
David West missed Layup.
85 - 69
5:39
David West Offensive Rebound.
85 - 71
5:37
David West made Layup.
85 - 71
5:16
Chris Webber made 21 ft Jumper. Assisted by Bobby Jackson.
87 - 71
4:56
P.J. Brown missed 18 ft Jumper.
87 - 71
4:56
New Orleans Defensive Rebound.
87 - 71
4:56
Brad Miller enters the game for Darius Songaila.
87 - 71
4:39
Mike Bibby missed 25 ft Three Point Jumper.
87 - 71
4:35
Bobby Jackson Offensive Rebound.
87 - 71
4:30
Mike Bibby Bad Pass. Stolen by P.J. Brown.
87 - 71
4:22
Junior Harrington made 24 ft Jumper. Assisted by David Wesley.
87 - 73
4:09
Chris Webber made 21 ft Jumper. Assisted by Mike Bibby.
89 - 73
3:47
David Wesley made 21 ft Jumper. Assisted by P.J. Brown.
89 - 75
3:30
Mike Bibby Bad Pass. Stolen by P.J. Brown.
89 - 75
3:25
Junior Harrington missed Layup.
89 - 75
3:24
Predrag Stojakovic Defensive Rebound.
89 - 75
3:12
Brad Miller made Layup. Assisted by Chris Webber.
91 - 75
3:12
David West Shooting Foul
91 - 75
3:12
Brad Miller made Free Throw 1 of 1.
92 - 75
2:58
David West Bad Pass. Stolen by Brad Miller.
92 - 75
2:54
Bobby Jackson missed Layup. Blocked by Junior Harrington.
92 - 75
2:51
Lee Nailon Defensive Rebound.
92 - 75
2:47
David Wesley missed Two Point Shot.
92 - 75
2:47
Lee Nailon Offensive Rebound.
92 - 75
2:47
Lee Nailon missed Tip Shot.
92 - 75
2:46
Chris Webber Defensive Rebound.
92 - 75
2:30
Brad Miller made 21 ft Jumper. Assisted by Mike Bibby.
94 - 75
2:23
New Orleans Full Timeout.
94 - 75
2:23
Chris Andersen enters the game for P.J. Brown.
94 - 75
2:23
Matt Freije enters the game for Lee Nailon.
94 - 75
2:23
George Lynch enters the game for David Wesley.
94 - 75
2:23
Darius Songaila enters the game for Predrag Stojakovic.
94 - 75
2:23
Erik Daniels enters the game for Chris Webber.
94 - 75
2:23
Maurice Evans enters the game for Brad Miller.
94 - 75
2:23
Kevin Martin enters the game for Mike Bibby.
94 - 75
2:23
J.R. Smith enters the game for David West.
94 - 75
2:05
J.R. Smith missed 24 ft Three Point Jumper.
94 - 75
2:05
New Orleans Defensive Rebound.
94 - 75
1:49
Maurice Evans missed 19 ft Jumper.
94 - 75
1:47
George Lynch Defensive Rebound.
94 - 75
1:39
Matt Freije missed 18 ft Jumper.
94 - 75
1:38
Erik Daniels Defensive Rebound.
94 - 75
1:25
Erik Daniels missed 17 ft Jumper.
94 - 75
1:23
Maurice Evans Offensive Rebound.
94 - 75
1:17
Bobby Jackson missed 28 ft Three Point Jumper.
94 - 75
1:16
Sacramento Defensive Rebound.
94 - 75
1:16
Maurice Evans Loose Ball Foul
94 - 75
1:04
Chris Andersen made Layup. Assisted by George Lynch.
94 - 77
0:54
Kevin Martin Traveling
94 - 77
0:54
Matt Barnes enters the game for Bobby Jackson.
94 - 77
0:44
Matt Freije missed 17 ft Jumper.
94 - 77
0:41
Junior Harrington Offensive Rebound.
94 - 77
0:40
Junior Harrington made 9 ft Two Point Shot.
94 - 79
0:30
Matt Barnes missed 18 ft Jumper.
94 - 79
0:28
Darius Songaila Offensive Rebound.
94 - 79
0:10
Matt Barnes missed 21 ft Jumper.
94 - 79
0:08
George Lynch Defensive Rebound.
94 - 79
0:03
Erik Daniels Shooting Foul
94 - 79
0:03
Chris Andersen made Free Throw 1 of 2.
94 - 80
0:03
Chris Andersen made Free Throw 2 of 2.
94 - 81
0:00
End of the 4th Quarter.
94 - 81
0:00
End Game
94 - 81
Even if they currently aren't obvious title contenders like the Thunder, Spurs and Warriors, the Celtics could be an enticing option for Kevin Durant.

Brian Windhorst discusses the changes the Warriors would need to make to the roster if they were to bring in Kevin Durant.

Brian Windhorst breaks down possible destinations for free agent Joakim Noah including playing in his hometown of New York with longtime teammate Derrick Rose.
2015-2016 Pacific Standings