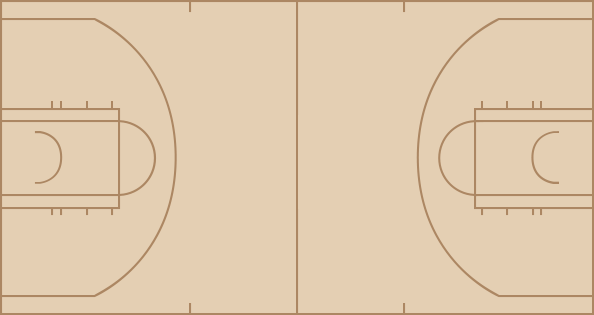 Pistons
time
TEAM
PLAY
SCORE
12:00
Start of the 1st Quarter.
0 - 0
12:00
Jumpball: Ben Wallace vs. Radoslav Nesterovic. Rasheed Wallace gains possession.
0 - 0
11:44
Rasheed Wallace Bad Pass. Stolen by Tim Duncan.
0 - 0
11:40
Emanuel Ginobili's two point shot blocked by Rasheed Wallace.
0 - 0
11:37
Tayshaun Prince defensive rebound.
0 - 0
11:22
Tayshaun Prince missed 6 ft two point shot.
0 - 0
11:22
Tayshaun Prince offensive rebound.
0 - 0
11:22
Radoslav Nesterovic Personal Foul. Nesterovic's 1st Personal Foul, San Antonio's 1st Team Foul.
0 - 0
11:04
Richard Hamilton missed layup.
0 - 0
11:03
Radoslav Nesterovic defensive rebound.
0 - 0
10:49
Tim Duncan made 9 ft two point shot. Assisted by Bruce Bowen.
0 - 2
10:29
Chauncey Billups missed 17 ft jumper.
0 - 2
10:26
Tim Duncan defensive rebound.
0 - 2
10:22
Emanuel Ginobili Out of Bounds
0 - 2
10:04
Chauncey Billups missed jumper.
0 - 2
10:03
Tim Duncan defensive rebound.
0 - 2
9:57
Tony Parker made 2 ft two point shot.
0 - 4
9:33
Rasheed Wallace missed layup.
0 - 4
9:32
Tim Duncan defensive rebound.
0 - 4
9:17
Tim Duncan Lost Ball. Stolen by Ben Wallace.
0 - 4
9:12
Ben Wallace made layup. Assisted by Chauncey Billups.
2 - 4
8:52
Tim Duncan made slam dunk. Assisted by Bruce Bowen.
2 - 6
8:30
Rasheed Wallace made 15 ft jumper. Assisted by Richard Hamilton.
4 - 6
8:15
Radoslav Nesterovic Traveling
4 - 6
8:02
Tim Duncan Shooting Foul. Duncan's 1st Personal Foul, San Antonio's 2nd Team Foul.
4 - 6
8:02
Ben Wallace missed Free Throw 1 of 2.
4 - 6
8:02
Detroit offensive rebound.
4 - 6
8:02
Ben Wallace made Free Throw 2 of 2.
5 - 6
7:37
Emanuel Ginobili made 25 ft three point jumper. Assisted by Tony Parker.
5 - 9
7:20
Tayshaun Prince Bad Pass. Stolen by Emanuel Ginobili.
5 - 9
7:18
Emanuel Ginobili made 1 ft two point shot.
5 - 11
7:18
Tayshaun Prince Shooting Foul. Prince's 2nd Personal Foul, Detroit's 1st Team Foul.
5 - 11
7:18
Emanuel Ginobili made Free Throw 1 of 1.
5 - 12
6:58
Rasheed Wallace missed 7 ft jumper.
5 - 12
6:58
Tayshaun Prince offensive rebound.
7 - 12
6:58
Tayshaun Prince made tip shot.
7 - 12
6:43
Tim Duncan missed two point shot.
7 - 12
6:41
Radoslav Nesterovic offensive rebound.
7 - 14
6:41
Radoslav Nesterovic made layup.
7 - 14
6:28
Chauncey Billups Offensive Foul. Billups's 2nd Personal Foul, Detroit's 2nd Team Foul.
7 - 14
6:28
Chauncey Billups Foul
7 - 14
6:16
Emanuel Ginobili Offensive Foul. Ginobili's 2nd Personal Foul, San Antonio's 3rd Team Foul.
7 - 14
6:16
Emanuel Ginobili Foul
7 - 14
6:03
Ben Wallace missed 8 ft two point shot.
7 - 14
6:01
Rasheed Wallace offensive rebound.
7 - 14
5:54
Rasheed Wallace missed 25 ft three point jumper.
7 - 14
5:52
Emanuel Ginobili defensive rebound.
7 - 14
5:41
Bruce Bowen made 20 ft jumper.
7 - 16
5:33
Detroit Full Timeout.
7 - 16
5:33
Malik Rose enters the game for Radoslav Nesterovic.
7 - 16
5:33
Brent Barry enters the game for Emanuel Ginobili.
7 - 16
5:18
Ben Wallace missed 5 ft jumper.
7 - 16
5:18
Brent Barry defensive rebound.
7 - 16
4:56
Malik Rose missed 19 ft jumper.
7 - 16
4:54
Tayshaun Prince defensive rebound.
7 - 16
4:35
Ben Wallace missed 7 ft jumper.
7 - 16
4:33
Tim Duncan defensive rebound.
7 - 16
4:20
Brent Barry missed 5 ft two point shot.
7 - 16
4:18
Rasheed Wallace defensive rebound.
7 - 16
4:18
Chauncey Billups Offensive Foul. Billups's 3rd Personal Foul, Detroit's 3rd Team Foul.
7 - 16
4:18
Chauncey Billups Foul
7 - 16
4:18
Carlos Delfino enters the game for Tayshaun Prince.
7 - 16
4:18
Antonio McDyess enters the game for Ben Wallace.
7 - 16
4:18
Lindsey Hunter enters the game for Chauncey Billups.
7 - 16
4:07
Carlos Delfino Illegal Defense Foul. Delfino's 1st Personal Foul, Detroit's 4th Team Foul.
7 - 16
4:07
Brent Barry missed Technical Free Throw.
7 - 16
4:07
San Antonio offensive rebound.
7 - 16
4:07
Radoslav Nesterovic enters the game for Tim Duncan.
7 - 16
3:58
Brent Barry missed 25 ft three point jumper.
7 - 16
3:56
Antonio McDyess defensive rebound.
7 - 16
3:39
Rasheed Wallace missed 12 ft jumper.
7 - 16
3:38
Tony Parker defensive rebound.
7 - 16
3:21
Radoslav Nesterovic missed 5 ft hook shot.
7 - 16
3:19
Rasheed Wallace defensive rebound.
7 - 16
3:13
Antonio McDyess missed two point shot.
7 - 16
3:11
Tony Parker defensive rebound.
7 - 16
3:06
Tony Parker made layup.
7 - 18
2:49
Carlos Delfino made layup.
9 - 18
2:28
Brent Barry missed 23 ft three point jumper.
9 - 18
2:26
Antonio McDyess defensive rebound.
9 - 18
2:19
Antonio McDyess made layup. Assisted by Richard Hamilton.
11 - 18
2:13
San Antonio Full Timeout.
11 - 18
2:13
Emanuel Ginobili enters the game for Bruce Bowen.
11 - 18
2:11
Radoslav Nesterovic Lost Ball. Stolen by Lindsey Hunter.
11 - 18
2:06
Lindsey Hunter made layup.
13 - 18
1:54
Tony Parker made 4 ft jumper.
13 - 20
1:35
Richard Hamilton's 13 ft jumper blocked by Emanuel Ginobili.
13 - 20
1:34
Detroit defensive rebound.
13 - 20
1:19
Emanuel Ginobili Bad Pass. Stolen by Carlos Delfino.
13 - 20
1:16
Richard Hamilton Offensive Foul. Hamilton's 2nd Personal Foul, Detroit's 5th Team Foul.
13 - 20
1:16
Richard Hamilton Foul
13 - 20
1:04
Tony Parker missed 18 ft jumper.
13 - 20
1:01
Malik Rose offensive rebound.
13 - 20
0:59
Brent Barry missed 25 ft three point jumper.
13 - 20
0:58
San Antonio defensive rebound.
13 - 20
0:35
Carlos Delfino made 25 ft three point jumper. Assisted by Antonio McDyess.
16 - 20
0:28
Tony Parker missed 4 ft jumper.
16 - 20
0:26
Radoslav Nesterovic offensive rebound.
16 - 20
0:26
Radoslav Nesterovic's layup blocked by Rasheed Wallace.
16 - 20
0:26
Radoslav Nesterovic offensive rebound.
16 - 20
0:25
Radoslav Nesterovic Lost Ball
16 - 20
0:25
Beno Udrih enters the game for Tony Parker.
16 - 20
0:09
Lindsey Hunter missed jumper.
16 - 20
0:07
Beno Udrih defensive rebound.
16 - 20
0:04
Emanuel Ginobili made slam dunk. Assisted by Brent Barry.
16 - 22
0:00
Richard Hamilton missed layup.
16 - 22
0:00
Malik Rose defensive rebound.
16 - 22
0:00
End of the 1st Quarter.
16 - 22

time
TEAM
PLAY
SCORE
12:00
Start of the 2nd Quarter.
16 - 22
11:52
Beno Udrih Lost Ball. Stolen by Antonio McDyess.
16 - 22
11:48
Antonio McDyess's layup blocked by Malik Rose.
16 - 22
11:48
Detroit defensive rebound.
16 - 22
11:32
Tim Duncan made layup. Assisted by Beno Udrih.
16 - 24
11:11
Ben Wallace made layup. Assisted by Antonio McDyess.
18 - 24
11:11
Devin Brown Shooting Foul. Brown's 2nd Personal Foul, San Antonio's 1st Team Foul.
18 - 24
11:11
Ben Wallace missed Free Throw 1 of 1.
18 - 24
11:11
Tim Duncan defensive rebound.
18 - 24
11:03
Antonio McDyess Personal Foul. McDyess's 1st Personal Foul, Detroit's 1st Team Foul.
18 - 24
10:52
Ben Wallace Shooting Foul. Wallace's 1st Personal Foul, Detroit's 2nd Team Foul.
18 - 24
10:52
Tim Duncan made Free Throw 1 of 2.
18 - 25
10:52
Tim Duncan missed Free Throw 2 of 2.
18 - 25
10:52
Carlos Delfino defensive rebound.
18 - 25
10:33
Antonio McDyess made layup. Assisted by Tayshaun Prince.
20 - 25
10:11
Emanuel Ginobili made two point shot. Assisted by Devin Brown.
20 - 27
9:57
Tayshaun Prince made 17 ft jumper. Assisted by Lindsey Hunter.
22 - 27
9:47
Beno Udrih Bad Pass
22 - 27
9:47
Chauncey Billups enters the game for Lindsey Hunter.
22 - 27
9:30
Antonio McDyess made 8 ft two point shot. Assisted by Tayshaun Prince.
24 - 27
9:12
Chauncey Billups Personal Foul. Billups's 3rd Personal Foul, Detroit's 3rd Team Foul.
24 - 27
9:12
Horace Jenkins enters the game for Chauncey Billups.
24 - 27
9:00
Devin Brown made 24 ft three point jumper. Assisted by Beno Udrih.
24 - 30
8:47
Carlos Delfino missed 25 ft three point jumper.
24 - 30
8:45
Detroit defensive rebound.
24 - 30
8:45
Official Timeout.
24 - 30
8:22
Tim Duncan missed 7 ft jumper.
24 - 30
8:19
Ben Wallace defensive rebound.
24 - 30
8:02
Carlos Delfino Offensive Foul. Delfino's 2nd Personal Foul, Detroit's 4th Team Foul.
24 - 30
8:02
Carlos Delfino Foul
24 - 30
8:02
Bruce Bowen enters the game for Emanuel Ginobili.
24 - 30
8:02
Radoslav Nesterovic enters the game for Malik Rose.
24 - 30
7:45
Devin Brown missed 17 ft jumper.
24 - 30
7:43
Tayshaun Prince defensive rebound.
24 - 30
7:43
Tayshaun Prince Bad Pass
24 - 30
7:30
Horace Jenkins Personal Foul. Jenkins's 1st Personal Foul, Detroit's 5th Team Foul.
24 - 30
7:30
Tony Parker enters the game for Beno Udrih.
24 - 30
7:30
Richard Hamilton enters the game for Carlos Delfino.
24 - 30
7:30
Lindsey Hunter enters the game for Horace Jenkins.
24 - 30
7:20
Tim Duncan missed 12 ft jumper.
24 - 30
7:18
Richard Hamilton defensive rebound.
24 - 30
6:54
Lindsey Hunter missed 24 ft three point jumper.
24 - 30
6:52
Bruce Bowen defensive rebound.
24 - 30
6:45
Radoslav Nesterovic Bad Pass. Stolen by Antonio McDyess.
24 - 30
6:31
Richard Hamilton missed 5 ft jumper.
24 - 30
6:31
Tayshaun Prince offensive rebound.
24 - 30
6:28
Tayshaun Prince Offensive Goaltending
24 - 30
6:16
Tim Duncan made slam dunk.
24 - 32
5:54
Radoslav Nesterovic Shooting Foul. Nesterovic's 2nd Personal Foul, San Antonio's 2nd Team Foul.
24 - 32
5:54
San Antonio Full Timeout.
24 - 32
5:54
Rasheed Wallace enters the game for Antonio McDyess.
24 - 32
5:54
Tayshaun Prince made Free Throw 1 of 2.
25 - 32
5:54
Tayshaun Prince missed Free Throw 2 of 2.
25 - 32
5:52
Tim Duncan defensive rebound.
25 - 32
5:35
Tim Duncan missed 17 ft jumper.
25 - 32
5:33
Ben Wallace defensive rebound.
25 - 32
5:09
Richard Hamilton missed 9 ft jumper.
25 - 32
5:07
Rasheed Wallace offensive rebound.
25 - 32
5:05
Rasheed Wallace made 5 ft jumper.
27 - 32
4:41
Devin Brown missed 15 ft jumper.
27 - 32
4:39
Tim Duncan offensive rebound.
27 - 32
4:35
Tony Parker's layup blocked by Ben Wallace.
27 - 32
4:31
Ben Wallace defensive rebound.
27 - 32
4:18
Tayshaun Prince made 16 ft jumper. Assisted by Lindsey Hunter.
29 - 32
4:03
Devin Brown made layup. Assisted by Radoslav Nesterovic.
29 - 34
3:40
Lindsey Hunter made 19 ft jumper. Assisted by Tayshaun Prince.
31 - 34
3:26
Radoslav Nesterovic Bad Pass
31 - 34
3:26
Malik Rose enters the game for Tim Duncan.
31 - 34
3:26
Emanuel Ginobili enters the game for Devin Brown.
31 - 34
3:23
Detroit Full Timeout.
31 - 34
3:23
Tim Duncan enters the game for Radoslav Nesterovic.
31 - 34
3:08
Rasheed Wallace missed 12 ft jumper.
31 - 34
3:06
Tim Duncan defensive rebound.
31 - 34
3:04
Tim Duncan Bad Pass. Stolen by Ben Wallace.
31 - 34
2:57
Richard Hamilton made 12 ft jumper. Assisted by Lindsey Hunter.
33 - 34
2:38
Tony Parker missed 25 ft three point jumper.
33 - 34
2:34
Malik Rose offensive rebound.
33 - 34
2:33
Malik Rose's layup blocked by Ben Wallace.
33 - 34
2:31
Tayshaun Prince defensive rebound.
33 - 34
2:24
Detroit 20 Sec. Timeout.
33 - 34
2:10
Ben Wallace missed 9 ft jumper.
33 - 34
2:10
Detroit defensive rebound.
33 - 34
2:10
Ben Wallace Loose Ball Foul. Wallace's 2nd Personal Foul, Detroit's 6th Team Foul.
33 - 34
2:10
Malik Rose made Free Throw 1 of 2.
33 - 35
2:10
Antonio McDyess enters the game for Ben Wallace.
33 - 35
2:10
Malik Rose made Free Throw 2 of 2.
33 - 36
1:55
Lindsey Hunter missed 17 ft jumper.
33 - 36
1:54
Tim Duncan defensive rebound.
33 - 36
1:40
Tony Parker made 15 ft jumper. Assisted by Emanuel Ginobili.
33 - 38
1:25
Antonio McDyess's 4 ft jumper blocked by Tim Duncan.
33 - 38
1:23
Tim Duncan defensive rebound.
33 - 38
1:21
Malik Rose made layup. Assisted by Emanuel Ginobili.
33 - 40
1:21
Richard Hamilton Shooting Foul. Hamilton's 3rd Personal Foul, Detroit's 7th Team Foul.
33 - 40
1:21
Malik Rose made Free Throw 1 of 1.
33 - 41
1:07
Richard Hamilton made 13 ft jumper. Assisted by Lindsey Hunter.
35 - 41
0:51
Malik Rose made layup.
35 - 43
0:34
Richard Hamilton missed 17 ft jumper.
35 - 43
0:33
Emanuel Ginobili defensive rebound.
35 - 43
0:29
Emanuel Ginobili Bad Pass
35 - 43
0:29
Bruce Bowen Personal Foul. Bowen's 1st Personal Foul, San Antonio's 3rd Team Foul.
35 - 43
0:07
Richard Hamilton made 6 ft two point shot.
37 - 43
0:01
Tony Parker's layup blocked by Antonio McDyess.
37 - 43
0:01
San Antonio offensive rebound.
37 - 43
0:01
San Antonio 20 Sec. Timeout.
37 - 43
0:00
Tim Duncan made 24 ft three pointer. Assisted by Tony Parker.
37 - 46
0:00
End of the 2nd Quarter.
37 - 46

time
TEAM
PLAY
SCORE
12:00
Start of the 3rd Quarter.
37 - 46
11:36
Emanuel Ginobili made 25 ft three point jumper. Assisted by Tim Duncan.
37 - 49
11:17
Ben Wallace missed 4 ft jumper.
37 - 49
11:15
Detroit defensive rebound.
37 - 49
10:53
Tim Duncan made 4 ft two point shot.
37 - 51
10:34
Tayshaun Prince's 2 ft two point shot blocked by Tim Duncan.
37 - 51
10:33
Tim Duncan defensive rebound.
37 - 51
10:19
Tony Parker Offensive Foul. Parker's 2nd Personal Foul, San Antonio's 1st Team Foul.
37 - 51
10:19
Tony Parker Foul
37 - 51
10:00
Ben Wallace missed 11 ft jumper.
37 - 51
9:57
Tim Duncan defensive rebound.
37 - 51
9:49
Emanuel Ginobili missed 23 ft three point jumper.
37 - 51
9:48
Richard Hamilton defensive rebound.
37 - 51
9:33
Rasheed Wallace missed 17 ft jumper.
37 - 51
9:32
Emanuel Ginobili defensive rebound.
37 - 51
9:27
Tony Parker made 2 ft two point shot. Assisted by Emanuel Ginobili.
37 - 53
9:25
Detroit Full Timeout.
37 - 53
9:04
Rasheed Wallace missed 8 ft two point shot.
37 - 53
9:03
Tim Duncan defensive rebound.
37 - 53
8:45
Emanuel Ginobili's three point jumper blocked by Tayshaun Prince.
37 - 53
8:44
Rasheed Wallace defensive rebound.
37 - 53
8:42
Emanuel Ginobili Personal Foul. Ginobili's 2nd Personal Foul, San Antonio's 2nd Team Foul.
37 - 53
8:27
Radoslav Nesterovic Shooting Foul. Nesterovic's 3rd Personal Foul, San Antonio's 3rd Team Foul.
37 - 53
8:27
Rasheed Wallace missed Free Throw 1 of 2.
37 - 53
8:27
Detroit offensive rebound.
37 - 53
8:27
Rasheed Wallace missed Free Throw 2 of 2.
37 - 53
8:26
Tony Parker defensive rebound.
37 - 53
8:07
Tim Duncan missed 8 ft two point shot.
37 - 53
8:06
Ben Wallace defensive rebound.
37 - 53
8:00
Rasheed Wallace Offensive Foul. Wallace's 2nd Personal Foul, Detroit's 1st Team Foul.
37 - 53
8:00
Rasheed Wallace Foul
37 - 53
7:41
Tim Duncan missed 15 ft two point shot.
37 - 53
7:39
Ben Wallace defensive rebound.
37 - 53
7:22
Tony Parker Personal Foul. Parker's 2nd Personal Foul, San Antonio's 4th Team Foul.
37 - 53
7:15
Chauncey Billups missed 10 ft jumper.
37 - 53
7:13
Tayshaun Prince offensive rebound.
37 - 53
7:13
Tayshaun Prince missed 3 ft two point shot.
37 - 53
7:11
Emanuel Ginobili defensive rebound.
37 - 53
6:58
Tim Duncan missed dunk.
37 - 53
6:56
Ben Wallace defensive rebound.
37 - 53
6:52
Richard Hamilton missed 13 ft jumper.
37 - 53
6:50
Radoslav Nesterovic defensive rebound.
37 - 53
6:31
Tim Duncan missed 2 ft two point shot.
37 - 53
6:30
Tim Duncan offensive rebound.
37 - 55
6:30
Tim Duncan made layup.
37 - 55
6:05
Richard Hamilton missed 13 ft two point shot.
37 - 55
6:03
Tim Duncan defensive rebound.
37 - 55
6:01
San Antonio Full Timeout.
37 - 55
6:01
Malik Rose enters the game for Radoslav Nesterovic.
37 - 55
6:01
Devin Brown enters the game for Emanuel Ginobili.
37 - 55
5:52
Bruce Bowen missed 16 ft jumper.
37 - 55
5:50
Ben Wallace defensive rebound.
37 - 55
5:33
Malik Rose Shooting Foul. Rose's 1st Personal Foul, San Antonio's 5th Team Foul.
37 - 55
5:33
Tayshaun Prince made Free Throw 1 of 2.
38 - 55
5:33
Lindsey Hunter enters the game for Richard Hamilton.
38 - 55
5:33
Tayshaun Prince made Free Throw 2 of 2.
39 - 55
5:16
Tony Parker Bad Pass. Stolen by Tayshaun Prince.
39 - 55
5:13
Malik Rose Shooting Foul. Rose's 2nd Personal Foul, San Antonio's 6th Team Foul.
39 - 55
5:13
Tayshaun Prince made Free Throw 1 of 2.
40 - 55
5:13
Tayshaun Prince missed Free Throw 2 of 2.
40 - 55
5:13
Tim Duncan defensive rebound.
40 - 55
4:52
Bruce Bowen made 18 ft jumper. Assisted by Tim Duncan.
40 - 57
4:30
Rasheed Wallace made 14 ft jumper. Assisted by Chauncey Billups.
42 - 57
4:15
Malik Rose Bad Pass. Stolen by Rasheed Wallace.
42 - 57
3:58
Tayshaun Prince Lost Ball. Stolen by Devin Brown.
42 - 57
3:54
Bruce Bowen made layup. Assisted by Devin Brown.
42 - 59
3:33
Radoslav Nesterovic enters the game for Tim Duncan.
42 - 59
3:33
Antonio McDyess enters the game for Rasheed Wallace.
42 - 59
3:33
Richard Hamilton enters the game for Tayshaun Prince.
42 - 59
3:25
Lindsey Hunter missed 24 ft three point jumper.
42 - 59
3:23
Tony Parker defensive rebound.
42 - 59
3:11
Antonio McDyess Shooting Foul. McDyess's 2nd Personal Foul, Detroit's 2nd Team Foul.
42 - 59
3:11
Tony Parker made Free Throw 1 of 2.
42 - 60
3:11
Tony Parker made Free Throw 2 of 2.
42 - 61
2:58
Lindsey Hunter missed three point jumper.
42 - 61
2:56
Malik Rose defensive rebound.
42 - 61
2:49
Bruce Bowen missed 7 ft jumper.
42 - 61
2:47
Antonio McDyess defensive rebound.
42 - 61
2:32
Lindsey Hunter missed layup.
42 - 61
2:31
Radoslav Nesterovic defensive rebound.
42 - 61
2:26
Tony Parker made 2 ft two point shot.
42 - 63
2:17
Detroit Full Timeout.
42 - 63
2:17
Emanuel Ginobili enters the game for Bruce Bowen.
42 - 63
2:05
Richard Hamilton missed 5 ft jumper.
42 - 63
2:03
Malik Rose defensive rebound.
42 - 63
2:02
Malik Rose Bad Pass
42 - 63
1:47
Antonio McDyess missed 12 ft two point shot.
42 - 63
1:47
Devin Brown defensive rebound.
42 - 63
1:39
Malik Rose missed layup.
42 - 63
1:39
Malik Rose offensive rebound.
42 - 63
1:37
Antonio McDyess Shooting Foul. McDyess's 3rd Personal Foul, Detroit's 3rd Team Foul.
42 - 63
1:37
Malik Rose missed Free Throw 1 of 2.
42 - 63
1:37
San Antonio offensive rebound.
42 - 63
1:37
Beno Udrih enters the game for Tony Parker.
42 - 63
1:37
Malik Rose missed Free Throw 2 of 2.
42 - 63
1:37
Radoslav Nesterovic offensive rebound.
42 - 63
1:32
Emanuel Ginobili Lost Ball. Stolen by Lindsey Hunter.
42 - 63
1:28
Devin Brown Personal Foul. Brown's 2nd Personal Foul, San Antonio's 7th Team Foul.
42 - 63
1:28
Lindsey Hunter made Free Throw 1 of 2.
43 - 63
1:28
Rasheed Wallace enters the game for Ben Wallace.
43 - 63
1:28
Carlos Delfino enters the game for Chauncey Billups.
43 - 63
1:28
Lindsey Hunter made Free Throw 2 of 2.
44 - 63
1:04
Malik Rose's layup blocked by Rasheed Wallace.
44 - 63
1:04
Antonio McDyess defensive rebound.
44 - 63
1:04
Radoslav Nesterovic Loose Ball Foul. Nesterovic's 4th Personal Foul, San Antonio's 8th Team Foul.
44 - 63
1:04
Antonio McDyess made Free Throw 1 of 2.
45 - 63
1:04
Rasheed Wallace missed Free Throw 2 of 2.
45 - 63
1:04
Tony Massenburg enters the game for Radoslav Nesterovic.
45 - 63
1:04
Antonio McDyess made Free Throw 2 of 2.
46 - 63
0:55
Beno Udrih Bad Pass. Stolen by Rasheed Wallace.
46 - 63
0:41
Rasheed Wallace made layup. Assisted by Richard Hamilton.
48 - 63
0:26
Tony Massenburg's 2 ft two point shot blocked by Rasheed Wallace.
48 - 63
0:23
Antonio McDyess defensive rebound.
48 - 63
0:05
Richard Hamilton missed 16 ft jumper.
48 - 63
0:03
Malik Rose defensive rebound.
48 - 63
0:00
Emanuel Ginobili missed 39 ft three point jumper.
48 - 63
0:00
San Antonio offensive rebound.
48 - 63
0:00
End of the 3rd Quarter.
48 - 63

time
TEAM
PLAY
SCORE
12:00
Start of the 4th Quarter.
48 - 63
11:42
Antonio McDyess Bad Pass
48 - 63
11:30
Carlos Delfino Personal Foul. Delfino's 2nd Personal Foul, Detroit's 1st Team Foul.
48 - 63
11:19
Beno Udrih missed 16 ft jumper.
48 - 63
11:18
Rasheed Wallace defensive rebound.
48 - 63
11:03
Chauncey Billups made 23 ft three point jumper. Assisted by Carlos Delfino.
51 - 63
10:47
Emanuel Ginobili made 4 ft two point shot. Assisted by Beno Udrih.
51 - 65
10:30
Emanuel Ginobili Shooting Foul. Ginobili's 3rd Personal Foul, San Antonio's 1st Team Foul.
51 - 65
10:30
Tony Parker enters the game for Beno Udrih.
51 - 65
10:30
Antonio McDyess made Free Throw 1 of 2.
52 - 65
10:30
Antonio McDyess missed Free Throw 2 of 2.
52 - 65
10:29
Malik Rose defensive rebound.
52 - 65
10:18
Carlos Delfino Personal Foul. Delfino's 3rd Personal Foul, Detroit's 2nd Team Foul.
52 - 65
10:12
Rasheed Wallace Shooting Foul. Wallace's 2nd Personal Foul, Detroit's 3rd Team Foul.
52 - 65
10:12
Emanuel Ginobili made Free Throw 1 of 2.
52 - 66
10:12
Emanuel Ginobili made Free Throw 2 of 2.
52 - 67
10:00
Lindsey Hunter missed 5 ft two point shot.
52 - 67
9:57
Tim Duncan defensive rebound.
52 - 67
9:49
Tim Duncan missed 3 ft two point shot.
52 - 67
9:48
Malik Rose offensive rebound.
52 - 67
9:41
Devin Brown missed 25 ft three point jumper.
52 - 67
9:41
San Antonio defensive rebound.
52 - 67
9:41
Malik Rose Loose Ball Foul. Rose's 3rd Personal Foul, San Antonio's 2nd Team Foul.
52 - 67
9:41
Tayshaun Prince enters the game for Lindsey Hunter.
52 - 67
9:22
Rasheed Wallace missed 7 ft two point shot.
52 - 67
9:19
Devin Brown defensive rebound.
52 - 67
9:08
Devin Brown Bad Pass. Stolen by Chauncey Billups.
52 - 67
9:03
Antonio McDyess made 3 ft two point shot. Assisted by Chauncey Billups.
54 - 67
8:36
Devin Brown missed 23 ft jumper.
54 - 67
8:34
Rasheed Wallace defensive rebound.
54 - 67
8:25
Rasheed Wallace made 12 ft two point shot. Assisted by Tayshaun Prince.
56 - 67
8:23
San Antonio Full Timeout.
56 - 67
8:07
Tony Parker made 22 ft jumper. Assisted by Emanuel Ginobili.
56 - 69
7:47
Chauncey Billups made 25 ft three point jumper.
59 - 69
7:22
Malik Rose's jumper blocked by Antonio McDyess.
59 - 69
7:22
Antonio McDyess defensive rebound.
59 - 69
7:09
Emanuel Ginobili Personal Foul. Ginobili's 4th Personal Foul, San Antonio's 3rd Team Foul.
59 - 69
7:09
Bruce Bowen enters the game for Emanuel Ginobili.
59 - 69
6:58
Chauncey Billups Bad Pass. Stolen by Malik Rose.
59 - 69
6:45
Tony Parker made 9 ft two point shot.
59 - 71
6:18
Rasheed Wallace missed 9 ft two point shot.
59 - 71
6:16
Tim Duncan defensive rebound.
59 - 71
6:03
Carlos Delfino Personal Foul. Delfino's 4th Personal Foul, Detroit's 4th Team Foul.
59 - 71
6:03
Lindsey Hunter enters the game for Chauncey Billups.
59 - 71
5:52
Tim Duncan Lost Ball. Stolen by Lindsey Hunter.
59 - 71
5:43
Malik Rose Shooting Foul. Rose's 4th Personal Foul, San Antonio's 4th Team Foul.
59 - 71
5:43
Official Timeout.
59 - 71
5:43
Antonio McDyess made Free Throw 1 of 2.
60 - 71
5:43
Antonio McDyess made Free Throw 2 of 2.
61 - 71
5:20
Tim Duncan missed two point shot.
61 - 71
5:18
Antonio McDyess defensive rebound.
61 - 71
5:03
Malik Rose Personal Foul. Rose's 6th Personal Foul, San Antonio's 5th Team Foul.
61 - 71
5:03
Chauncey Billups enters the game for Carlos Delfino.
61 - 71
5:03
Radoslav Nesterovic enters the game for Malik Rose.
61 - 71
5:03
Emanuel Ginobili enters the game for Devin Brown.
61 - 71
5:03
Antonio McDyess missed Free Throw 1 of 2.
61 - 71
5:03
Detroit offensive rebound.
61 - 71
5:03
Antonio McDyess missed Free Throw 2 of 2.
61 - 71
5:03
Detroit defensive rebound.
61 - 71
4:43
Tayshaun Prince Personal Foul. Prince's 2nd Personal Foul, Detroit's 5th Team Foul.
61 - 71
4:43
Emanuel Ginobili missed Free Throw 1 of 2.
61 - 71
4:43
San Antonio offensive rebound.
61 - 71
4:43
Emanuel Ginobili missed Free Throw 2 of 2.
61 - 71
4:41
Antonio McDyess defensive rebound.
61 - 71
4:22
Rasheed Wallace missed jumper.
61 - 71
4:20
Antonio McDyess offensive rebound.
61 - 71
4:20
Bruce Bowen Personal Foul. Bowen's 2nd Personal Foul, San Antonio's 6th Team Foul.
61 - 71
4:20
Lindsey Hunter made Free Throw 1 of 2.
62 - 71
4:20
Lindsey Hunter made Free Throw 2 of 2.
63 - 71
4:03
Tony Parker made two point shot.
63 - 73
3:46
Richard Hamilton enters the game for Lindsey Hunter.
63 - 73
3:46
Ben Wallace enters the game for Antonio McDyess.
63 - 73
3:43
Rasheed Wallace missed 16 ft jumper.
63 - 73
3:41
Bruce Bowen defensive rebound.
63 - 73
3:21
Tony Parker missed 3 ft two point shot.
63 - 73
3:19
Rasheed Wallace defensive rebound.
63 - 73
3:12
Rasheed Wallace missed 25 ft three pointer.
63 - 73
3:10
Ben Wallace offensive rebound.
63 - 73
2:58
Chauncey Billups made 24 ft three point jumper.
66 - 73
2:35
Tim Duncan Bad Pass
66 - 73
2:35
Tim Duncan Loose Ball Foul. Duncan's 2nd Personal Foul, San Antonio's 7th Team Foul.
66 - 73
2:35
Detroit Full Timeout.
66 - 73
2:35
Malik Rose enters the game for Radoslav Nesterovic.
66 - 73
2:35
Chauncey Billups made Free Throw 1 of 2.
67 - 73
2:35
Chauncey Billups made Free Throw 2 of 2.
68 - 73
2:15
Bruce Bowen missed 16 ft jumper.
68 - 73
2:14
Rasheed Wallace defensive rebound.
68 - 73
2:03
Chauncey Billups Bad Pass
68 - 73
1:49
Richard Hamilton Personal Foul. Hamilton's 3rd Personal Foul, Detroit's 6th Team Foul.
68 - 73
1:49
Bruce Bowen made Free Throw 1 of 2.
68 - 74
1:49
Bruce Bowen made Free Throw 2 of 2.
68 - 75
1:29
Chauncey Billups made 15 ft jumper.
70 - 75
1:15
Emanuel Ginobili Bad Pass. Stolen by Rasheed Wallace.
70 - 75
1:10
Richard Hamilton made layup. Assisted by Chauncey Billups.
72 - 75
0:56
Tim Duncan made jumper. Assisted by Tony Parker.
72 - 77
0:42
Tony Parker Personal Foul. Parker's 3rd Personal Foul, San Antonio's 8th Team Foul.
72 - 77
0:42
Chauncey Billups made Free Throw 1 of 2.
73 - 77
0:42
Chauncey Billups made Free Throw 2 of 2.
74 - 77
0:42
San Antonio Full Timeout.
74 - 77
0:24
Tony Parker missed 21 ft jumper.
74 - 77
0:22
Tayshaun Prince defensive rebound.
74 - 77
0:15
Chauncey Billups missed 14 ft jumper.
74 - 77
0:14
Malik Rose defensive rebound.
74 - 77
0:12
Tayshaun Prince Personal Foul. Prince's 4th Personal Foul, Detroit's 7th Team Foul.
74 - 77
0:12
Emanuel Ginobili missed Free Throw 1 of 2.
74 - 77
0:12
San Antonio offensive rebound.
74 - 77
0:12
Emanuel Ginobili made Free Throw 2 of 2.
74 - 78
0:12
Detroit Full Timeout.
74 - 78
0:07
Chauncey Billups made 25 ft three point jumper. Assisted by Rasheed Wallace.
77 - 78
0:07
San Antonio Full Timeout.
77 - 78
0:07
Brent Barry enters the game for Bruce Bowen.
77 - 78
0:04
Richard Hamilton Personal Foul. Hamilton's 4th Personal Foul, Detroit's 8th Team Foul.
77 - 78
0:04
Brent Barry made Free Throw 1 of 2.
77 - 79
0:04
Brent Barry made Free Throw 2 of 2.
77 - 80
0:04
Detroit 20 Sec. Timeout.
77 - 80
0:04
Bruce Bowen enters the game for Brent Barry.
77 - 80
0:04
Tayshaun Prince Bad Pass. Stolen by Malik Rose.
77 - 80
0:02
Ben Wallace Personal Foul. Wallace's 3rd Personal Foul, Detroit's 9th Team Foul.
77 - 80
0:02
Malik Rose missed Free Throw 1 of 2.
77 - 80
0:02
San Antonio offensive rebound.
77 - 80
0:02
Malik Rose missed Free Throw 2 of 2.
77 - 80
0:02
Rasheed Wallace defensive rebound.
77 - 80
0:00
Rasheed Wallace missed 68 ft three point jumper.
77 - 80
0:00
Detroit offensive rebound.
77 - 80
0:00
End of the 4th Quarter.
77 - 80
0:00
End Game
77 - 80
0:00
End Game
77 - 80
Dan Le Batard can't believe the only sport that has sufficient replay is tennis and all the other sports consistently get calls wrong.

The Cavs' LeBron James, who played with the Heat from 2010 to '14, said it would be "great" to play Dwyane Wade and his former team in the next round.

Even after hitting a game-tying buzzer beater, Kyle Lowry was in the gym at 1am getting shots up.
NBA Finals
SA wins series 4-3
2015-2016 Central Standings
2015-2016 Southwest Standings