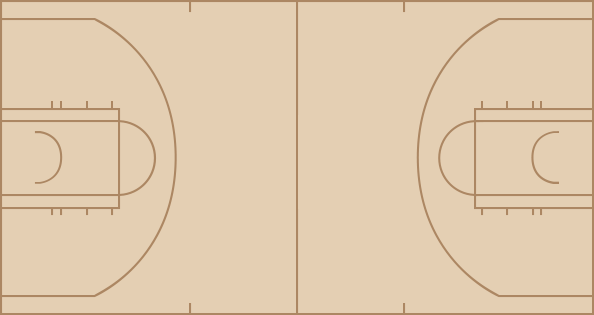 Bobcats
time
TEAM
PLAY
SCORE
12:00
Start of the 1st Quarter.
0 - 0
12:00
Jumpball: Emeka Okafor vs. Chris Wilcox. Elton Brand gains possession.
0 - 0
11:34
Elton Brand missed jumper.
0 - 0
11:33
Emeka Okafor defensive rebound.
0 - 0
11:27
Jason Kapono made 18 ft two point shot. Assisted by Brevin Knight.
2 - 0
11:10
Marko Jaric Bad Pass. Stolen by Jason Hart.
2 - 0
11:03
Jason Kapono Bad Pass. Stolen by Marko Jaric.
2 - 0
10:57
Elton Brand made two point shot. Assisted by Marko Jaric.
2 - 2
10:41
Primoz Brezec made 19 ft jumper. Assisted by Brevin Knight.
4 - 2
10:21
Chris Wilcox missed 6 ft jumper.
4 - 2
10:19
Emeka Okafor defensive rebound.
4 - 2
10:14
Emeka Okafor missed 17 ft jumper.
4 - 2
10:12
Corey Maggette defensive rebound.
4 - 2
10:02
Bobby Simmons made 19 ft jumper. Assisted by Elton Brand.
4 - 4
9:47
Jason Hart made 11 ft jumper. Assisted by Brevin Knight.
6 - 4
9:27
Elton Brand Traveling
6 - 4
9:11
Primoz Brezec missed 19 ft jumper.
6 - 4
9:10
Chris Wilcox defensive rebound.
6 - 4
9:00
Jason Kapono Shooting Foul. Kapono's 1st Personal Foul, Charlotte's 1st Team Foul.
6 - 4
9:00
Corey Maggette made Free Throw 1 of 2.
6 - 5
9:00
Corey Maggette made Free Throw 2 of 2.
6 - 6
8:44
Brevin Knight missed 19 ft jumper.
6 - 6
8:42
Brevin Knight offensive rebound.
6 - 6
8:33
Primoz Brezec made hook shot. Assisted by Brevin Knight.
8 - 6
8:26
Brevin Knight Personal Foul. Knight's 1st Personal Foul, Charlotte's 2nd Team Foul.
8 - 6
8:22
Corey Maggette made two point shot. Assisted by Elton Brand.
8 - 8
8:03
Jason Hart made 17 ft jumper.
10 - 8
7:43
Jason Kapono Shooting Foul. Kapono's 2nd Personal Foul, Charlotte's 3rd Team Foul.
10 - 8
7:43
Bobby Simmons made Free Throw 1 of 2.
10 - 9
7:43
Bobby Simmons missed Free Throw 2 of 2.
10 - 9
7:43
Keith Bogans enters the game for Jason Kapono.
10 - 9
7:43
Bobby Simmons made Free Throw 2 of 2.
10 - 10
7:31
Keith Bogans made jumper. Assisted by Brevin Knight.
12 - 10
7:16
Bobby Simmons made 20 ft jumper. Assisted by Elton Brand.
12 - 12
6:50
Emeka Okafor's 6 ft jumper blocked by Elton Brand.
12 - 12
6:48
Jason Hart offensive rebound.
12 - 12
6:48
Shot Clock Violation
12 - 12
6:37
Elton Brand made layup. Assisted by Corey Maggette.
12 - 14
6:37
Primoz Brezec Shooting Foul. Brezec's 1st Personal Foul, Charlotte's 4th Team Foul.
12 - 14
6:37
Elton Brand missed Free Throw 1 of 1.
12 - 14
6:37
Elton Brand Lane Violation
12 - 14
6:37
Elton Brand made Free Throw 1 of 1.
12 - 15
6:26
Keith Bogans Lost Ball. Stolen by Marko Jaric.
12 - 15
6:22
Brevin Knight Shooting Foul. Knight's 2nd Personal Foul, Charlotte's 5th Team Foul.
12 - 15
6:22
Corey Maggette made Free Throw 1 of 2.
12 - 16
6:22
Steve Smith enters the game for Brevin Knight.
12 - 16
6:22
Corey Maggette made Free Throw 2 of 2.
12 - 17
6:07
Emeka Okafor missed 7 ft jumper.
12 - 17
6:05
Keith Bogans offensive rebound.
12 - 17
6:05
Keith Bogans missed tip shot.
12 - 17
6:05
Charlotte offensive rebound.
12 - 17
6:05
Jumpball: Keith Bogans vs. Corey Maggette. Corey Maggette gains possession.
12 - 17
6:05
Charlotte defensive rebound.
12 - 17
6:05
null
12 - 17
6:05
Charlotte offensive rebound.
12 - 17
5:47
Steve Smith made 27 ft three point jumper. Assisted by Emeka Okafor.
15 - 17
5:31
Chris Wilcox Lost Ball. Stolen by Emeka Okafor.
15 - 17
5:20
Jason Hart made two point shot.
17 - 17
5:01
Chris Wilcox missed layup.
17 - 17
5:00
Keith Bogans defensive rebound.
17 - 17
4:56
Keith Bogans made two point shot.
19 - 17
4:46
Los Angeles Full Timeout.
19 - 17
4:46
Mikki Moore enters the game for Chris Wilcox.
19 - 17
4:37
Mikki Moore Lost Ball. Stolen by Keith Bogans.
19 - 17
4:24
Primoz Brezec made jumper. Assisted by Jason Hart.
21 - 17
4:05
Bobby Simmons made 20 ft jumper. Assisted by Elton Brand.
21 - 19
3:47
Jason Hart missed 18 ft jumper.
21 - 19
3:45
Mikki Moore defensive rebound.
21 - 19
3:31
Mikki Moore missed layup.
21 - 19
3:30
Mikki Moore offensive rebound.
21 - 19
3:25
Mikki Moore made 5 ft two point shot.
21 - 21
2:58
Melvin Ely missed 6 ft jumper.
21 - 21
2:55
Keith Bogans offensive rebound.
21 - 21
2:55
Keith Bogans missed tip shot.
21 - 21
2:51
Marko Jaric defensive rebound.
21 - 21
2:45
Marko Jaric missed 14 ft jumper.
21 - 21
2:43
Elton Brand offensive rebound.
21 - 21
2:43
Elton Brand missed tip shot.
21 - 21
2:43
Los Angeles defensive rebound.
21 - 21
2:43
Rick Brunson enters the game for Marko Jaric.
21 - 21
2:43
Quinton Ross enters the game for Corey Maggette.
21 - 21
2:29
Melvin Ely missed 8 ft hook shot.
21 - 21
2:26
Elton Brand defensive rebound.
21 - 21
2:12
Mikki Moore Bad Pass. Stolen by Keith Bogans.
21 - 21
2:10
Rick Brunson Personal Foul. Brunson's 1st Personal Foul, Los Angeles's 1st Team Foul.
21 - 21
1:50
Melvin Ely missed 5 ft hook shot.
21 - 21
1:49
Primoz Brezec offensive rebound.
21 - 21
1:49
Primoz Brezec missed tip shot.
21 - 21
1:49
Charlotte defensive rebound.
21 - 21
1:28
Bobby Simmons missed 22 ft jumper.
21 - 21
1:27
Keith Bogans defensive rebound.
21 - 21
1:17
Quinton Ross Personal Foul. Ross's 1st Personal Foul, Los Angeles's 2nd Team Foul.
21 - 21
1:14
Primoz Brezec's 4 ft jumper blocked by Elton Brand.
21 - 21
1:12
Rick Brunson defensive rebound.
21 - 21
1:04
Rick Brunson Bad Pass. Stolen by Keith Bogans.
21 - 21
1:01
Quinton Ross Personal Foul. Ross's 2nd Personal Foul, Los Angeles's 3rd Team Foul.
21 - 21
1:01
Keith Bogans made Free Throw 1 of 2.
22 - 21
1:01
Marko Jaric enters the game for Quinton Ross.
22 - 21
1:01
Keith Bogans made Free Throw 2 of 2.
23 - 21
0:48
Elton Brand made 6 ft two point shot.
23 - 23
0:28
Melvin Ely made hook shot.
25 - 23
0:14
Marko Jaric missed 21 ft jumper.
25 - 23
0:12
Jason Hart defensive rebound.
25 - 23
0:00
Keith Bogans missed three point jumper.
25 - 23
0:00
Charlotte offensive rebound.
25 - 23
0:00
End of the 1st Quarter.
25 - 23

time
TEAM
PLAY
SCORE
12:00
Start of the 2nd Quarter.
25 - 23
11:44
Emeka Okafor Bad Pass. Stolen by Rick Brunson.
25 - 23
11:29
Steve Smith Shooting Foul. Smith's 1st Personal Foul, Charlotte's 1st Team Foul.
25 - 23
11:29
Corey Maggette made Free Throw 1 of 2.
25 - 24
11:29
Corey Maggette missed Free Throw 2 of 2.
25 - 24
11:29
Tamar Slay enters the game for Steve Smith.
25 - 24
11:29
Corey Maggette made Free Throw 2 of 2.
25 - 25
11:15
Tamar Slay made 17 ft jumper. Assisted by Jason Hart.
27 - 25
10:57
Marko Jaric missed 24 ft three point jumper.
27 - 25
10:56
Emeka Okafor defensive rebound.
27 - 25
10:48
Mikki Moore Shooting Foul. Moore's 1st Personal Foul, Los Angeles's 1st Team Foul.
27 - 25
10:48
Mikki Moore Personal Foul. Moore's 2nd Personal Foul, Los Angeles's 2nd Team Foul.
27 - 25
10:48
Mikki Moore Technical Foul. Moore's 2nd Personal Foul, Los Angeles's 3rd Team Foul.
27 - 25
10:48
Chris Kaman enters the game for Elton Brand.
27 - 25
10:48
Jason Hart made Technical Free Throw.
28 - 25
10:48
Keith Bogans made Free Throw 1 of 2.
29 - 25
10:48
Keith Bogans missed Free Throw 2 of 2.
29 - 25
10:48
Corey Maggette defensive rebound.
29 - 25
10:37
Rick Brunson Bad Pass. Stolen by Tamar Slay.
29 - 25
10:18
Melvin Ely missed 20 ft jumper.
29 - 25
10:17
Keith Bogans offensive rebound.
29 - 25
10:15
Keith Bogans missed layup.
29 - 25
10:15
Emeka Okafor offensive rebound.
29 - 25
10:14
Emeka Okafor made layup.
31 - 25
9:56
Corey Maggette made jumper. Assisted by Chris Kaman.
31 - 27
9:41
Tamar Slay made 26 ft three point jumper. Assisted by Jason Hart.
34 - 27
9:18
Rick Brunson missed 27 ft three point jumper.
34 - 27
9:15
Los Angeles offensive rebound.
34 - 27
9:15
Brevin Knight enters the game for Jason Hart.
34 - 27
9:00
Rick Brunson made 24 ft three point jumper. Assisted by Marko Jaric.
34 - 30
8:33
Emeka Okafor missed 8 ft jumper.
34 - 30
8:32
Corey Maggette defensive rebound.
34 - 30
8:23
Corey Maggette Lost Ball. Stolen by Melvin Ely.
34 - 30
8:18
Keith Bogans made 20 ft jumper. Assisted by Brevin Knight.
36 - 30
7:54
Marko Jaric missed 18 ft jumper.
36 - 30
7:52
Los Angeles defensive rebound.
36 - 30
7:52
Official Timeout.
36 - 30
7:52
Primoz Brezec enters the game for Melvin Ely.
36 - 30
7:52
Chris Wilcox enters the game for Mikki Moore.
36 - 30
7:52
Bobby Simmons enters the game for Rick Brunson.
36 - 30
7:41
Corey Maggette Personal Foul. Maggette's 1st Personal Foul, Los Angeles's 4th Team Foul.
36 - 30
7:37
Primoz Brezec missed 19 ft jumper.
36 - 30
7:37
Keith Bogans offensive rebound.
36 - 30
7:22
Primoz Brezec missed 9 ft jumper.
36 - 30
7:22
Charlotte defensive rebound.
36 - 30
7:05
Bobby Simmons missed 16 ft jumper.
36 - 30
7:03
Emeka Okafor defensive rebound.
36 - 30
6:47
Brevin Knight missed 20 ft jumper.
36 - 30
6:45
Corey Maggette defensive rebound.
36 - 30
6:33
Chris Wilcox made 8 ft two point shot. Assisted by Bobby Simmons.
36 - 32
6:20
Chris Wilcox Personal Foul. Wilcox's 1st Personal Foul, Los Angeles's 5th Team Foul.
36 - 32
6:20
Jason Kapono enters the game for Keith Bogans.
36 - 32
6:07
Primoz Brezec missed 19 ft jumper.
36 - 32
6:07
Chris Wilcox defensive rebound.
36 - 32
5:52
Marko Jaric made layup. Assisted by Chris Wilcox.
36 - 34
5:43
Chris Kaman Shooting Foul. Kaman's 1st Personal Foul, Los Angeles's 6th Team Foul.
36 - 34
5:43
Los Angeles Full Timeout.
36 - 34
5:43
Primoz Brezec made Free Throw 1 of 2.
37 - 34
5:43
Primoz Brezec made Free Throw 2 of 2.
38 - 34
5:24
Corey Maggette's layup blocked by Emeka Okafor.
38 - 34
5:20
Corey Maggette offensive rebound.
38 - 34
5:20
Corey Maggette Lost Ball. Stolen by Primoz Brezec.
38 - 34
5:13
Tamar Slay missed 18 ft jumper.
38 - 34
5:11
Chris Kaman defensive rebound.
38 - 34
5:01
Tamar Slay Shooting Foul. Slay's 1st Personal Foul, Charlotte's 2nd Team Foul.
38 - 34
5:01
Chris Wilcox missed Free Throw 1 of 2.
38 - 34
5:01
Los Angeles offensive rebound.
38 - 34
5:01
Chris Wilcox made Free Throw 2 of 2.
38 - 35
4:50
Jason Kapono made 24 ft three point jumper. Assisted by Brevin Knight.
41 - 35
4:31
Primoz Brezec Personal Foul. Brezec's 2nd Personal Foul, Charlotte's 3rd Team Foul.
41 - 35
4:31
Elton Brand enters the game for Chris Kaman.
41 - 35
4:31
Corey Maggette made Free Throw 1 of 2.
41 - 36
4:31
Corey Maggette made Free Throw 2 of 2.
41 - 37
4:22
Jason Kapono missed 20 ft jumper.
41 - 37
4:20
Chris Wilcox defensive rebound.
41 - 37
4:05
Marko Jaric made 23 ft jumper. Assisted by Bobby Simmons.
41 - 39
3:43
Corey Maggette missed 19 ft jumper.
41 - 39
3:41
Tamar Slay defensive rebound.
41 - 39
3:33
Tamar Slay missed 19 ft jumper.
41 - 39
3:32
Bobby Simmons defensive rebound.
41 - 39
3:27
Marko Jaric Bad Pass. Stolen by Tamar Slay.
41 - 39
3:23
Tamar Slay made two point shot.
43 - 39
3:06
Marko Jaric missed 6 ft jumper.
43 - 39
3:04
Marko Jaric offensive rebound.
43 - 39
3:04
Marko Jaric missed tip shot.
43 - 39
3:01
Emeka Okafor defensive rebound.
43 - 39
3:00
Charlotte Full Timeout.
43 - 39
3:00
Melvin Ely enters the game for Primoz Brezec.
43 - 39
3:00
Keith Bogans enters the game for Tamar Slay.
43 - 39
2:45
Jason Kapono missed layup.
43 - 39
2:43
Elton Brand defensive rebound.
43 - 39
2:38
Melvin Ely Shooting Foul. Ely's 1st Personal Foul, Charlotte's 4th Team Foul.
43 - 39
2:38
Corey Maggette missed Free Throw 1 of 2.
43 - 39
2:38
Los Angeles offensive rebound.
43 - 39
2:38
Jason Hart enters the game for Brevin Knight.
43 - 39
2:38
Corey Maggette made Free Throw 2 of 2.
43 - 40
2:26
Jason Hart missed jumper.
43 - 40
2:25
Bobby Simmons defensive rebound.
43 - 40
2:11
Elton Brand made 9 ft hook shot.
43 - 42
1:52
Jason Kapono made two point shot. Assisted by Melvin Ely.
45 - 42
1:29
Chris Wilcox missed 14 ft jumper.
45 - 42
1:28
Melvin Ely defensive rebound.
45 - 42
1:13
Keith Bogans's 3 ft two point shot blocked by Elton Brand.
45 - 42
1:09
Bobby Simmons defensive rebound.
45 - 42
0:51
Corey Maggette made 19 ft jumper. Assisted by Marko Jaric.
45 - 44
0:27
Melvin Ely made jumper. Assisted by Jason Hart.
47 - 44
0:06
Marko Jaric missed 26 ft three point jumper.
47 - 44
0:06
Los Angeles defensive rebound.
47 - 44
0:06
Charlotte 20 Sec. Timeout.
47 - 44
0:06
Tamar Slay enters the game for Emeka Okafor.
47 - 44
0:06
Steve Smith enters the game for Emeka Okafor.
47 - 44
0:06
Quinton Ross enters the game for Elton Brand.
47 - 44
0:06
Tamar Slay enters the game for Melvin Ely.
47 - 44
0:06
Rick Brunson enters the game for Chris Wilcox.
47 - 44
0:00
Jason Hart's 6 ft jumper blocked by Corey Maggette.
47 - 44
0:00
Charlotte offensive rebound.
47 - 44
0:00
End of the 2nd Quarter.
47 - 44

time
TEAM
PLAY
SCORE
12:00
Start of the 3rd Quarter.
47 - 44
11:37
Primoz Brezec made two point shot. Assisted by Jason Hart.
49 - 44
11:15
Elton Brand's layup blocked by Emeka Okafor.
49 - 44
11:12
Emeka Okafor defensive rebound.
49 - 44
11:00
Emeka Okafor missed layup.
49 - 44
10:59
Chris Wilcox defensive rebound.
49 - 44
10:48
Chris Wilcox Offensive Foul. Wilcox's 3rd Personal Foul, Los Angeles's 1st Team Foul.
49 - 44
10:48
Chris Wilcox Foul
49 - 44
10:29
Emeka Okafor Lost Ball. Stolen by Bobby Simmons.
49 - 44
10:19
Bobby Simmons missed 20 ft jumper.
49 - 44
10:18
Emeka Okafor defensive rebound.
49 - 44
10:15
Bobby Simmons Personal Foul. Simmons's 2nd Personal Foul, Los Angeles's 2nd Team Foul.
49 - 44
10:03
Brevin Knight missed layup.
49 - 44
10:00
Corey Maggette defensive rebound.
49 - 44
9:52
Corey Maggette missed 16 ft jumper.
49 - 44
9:51
Emeka Okafor defensive rebound.
49 - 44
9:47
Chris Wilcox Shooting Foul. Wilcox's 3rd Personal Foul, Los Angeles's 3rd Team Foul.
49 - 44
9:47
Emeka Okafor missed Free Throw 1 of 2.
49 - 44
9:47
Charlotte offensive rebound.
49 - 44
9:47
Emeka Okafor missed Free Throw 2 of 2.
49 - 44
9:45
Elton Brand defensive rebound.
49 - 44
9:29
Bobby Simmons made 18 ft jumper.
49 - 46
9:10
Emeka Okafor made 18 ft jumper. Assisted by Primoz Brezec.
51 - 46
8:44
Marko Jaric missed 28 ft three point jumper.
51 - 46
8:42
Primoz Brezec defensive rebound.
51 - 46
8:42
Elton Brand Personal Foul. Brand's 1st Personal Foul, Los Angeles's 4th Team Foul.
51 - 46
8:23
Brevin Knight Bad Pass. Stolen by Marko Jaric.
51 - 46
8:18
Corey Maggette made slam dunk. Assisted by Marko Jaric.
51 - 48
7:58
Primoz Brezec missed 18 ft jumper.
51 - 48
7:58
Charlotte defensive rebound.
51 - 48
7:46
Chris Wilcox's layup blocked by Primoz Brezec.
51 - 48
7:43
Primoz Brezec defensive rebound.
51 - 48
7:31
Primoz Brezec made layup. Assisted by Brevin Knight.
53 - 48
7:11
Elton Brand's dunk blocked by Emeka Okafor.
53 - 48
7:09
Elton Brand offensive rebound.
53 - 48
7:00
Bobby Simmons made 17 ft jumper. Assisted by Elton Brand.
53 - 50
6:48
Primoz Brezec missed 15 ft jumper.
53 - 50
6:47
Marko Jaric defensive rebound.
53 - 50
6:33
Elton Brand made 13 ft jumper. Assisted by Marko Jaric.
53 - 52
6:31
Charlotte Full Timeout.
53 - 52
6:31
Melvin Ely enters the game for Jason Kapono.
53 - 52
6:31
Steve Smith enters the game for Emeka Okafor.
53 - 52
6:31
Keith Bogans enters the game for Brevin Knight.
53 - 52
6:16
Jason Hart missed 8 ft jumper.
53 - 52
6:13
Melvin Ely offensive rebound.
53 - 52
6:13
Melvin Ely made layup.
55 - 52
5:52
Primoz Brezec Personal Foul. Brezec's 3rd Personal Foul, Charlotte's 1st Team Foul.
55 - 52
5:45
Chris Wilcox made two point shot. Assisted by Marko Jaric.
55 - 54
5:18
Jason Hart missed 13 ft jumper.
55 - 54
5:16
Bobby Simmons defensive rebound.
55 - 54
5:07
Elton Brand Offensive Foul. Brand's 3rd Personal Foul, Los Angeles's 5th Team Foul.
55 - 54
5:07
Elton Brand Foul
55 - 54
5:07
Emeka Okafor enters the game for Primoz Brezec.
55 - 54
4:50
Steve Smith missed 27 ft three point jumper.
55 - 54
4:48
Emeka Okafor offensive rebound.
55 - 54
4:48
Chris Wilcox Shooting Foul. Wilcox's 4th Personal Foul, Los Angeles's 6th Team Foul.
55 - 54
4:48
Emeka Okafor missed Free Throw 1 of 2.
55 - 54
4:48
Charlotte offensive rebound.
55 - 54
4:48
Brevin Knight enters the game for Jason Hart.
55 - 54
4:48
Mikki Moore enters the game for Chris Wilcox.
55 - 54
4:48
Emeka Okafor made Free Throw 2 of 2.
56 - 54
4:31
Brevin Knight Shooting Foul. Knight's 3rd Personal Foul, Charlotte's 2nd Team Foul.
56 - 54
4:31
Elton Brand made Free Throw 1 of 2.
56 - 55
4:31
Elton Brand made Free Throw 2 of 2.
56 - 56
4:16
Bobby Simmons Personal Foul. Simmons's 2nd Personal Foul, Los Angeles's 7th Team Foul.
56 - 56
4:16
Bobby Simmons Personal Foul. Simmons's 2nd Personal Foul, Los Angeles's 8th Team Foul.
56 - 56
4:16
Steve Smith made Free Throw 1 of 2.
57 - 56
4:16
Steve Smith made Free Throw 2 of 2.
58 - 56
3:59
Steve Smith Personal Foul. Smith's 2nd Personal Foul, Charlotte's 3rd Team Foul.
58 - 56
3:50
Corey Maggette missed 21 ft jumper.
58 - 56
3:49
Los Angeles offensive rebound.
58 - 56
3:43
Marko Jaric missed two point shot.
58 - 56
3:39
Corey Maggette offensive rebound.
58 - 56
3:23
Elton Brand made 3 ft two point shot.
58 - 58
2:55
Melvin Ely missed 9 ft jumper.
58 - 58
2:53
Marko Jaric defensive rebound.
58 - 58
2:49
Marko Jaric Bad Pass. Stolen by Steve Smith.
58 - 58
2:35
Brevin Knight missed two point shot.
58 - 58
2:31
Bobby Simmons defensive rebound.
58 - 58
2:24
Marko Jaric made two point shot.
58 - 60
2:00
Steve Smith made 24 ft three point jumper. Assisted by Brevin Knight.
61 - 60
1:44
Melvin Ely Shooting Foul. Ely's 2nd Personal Foul, Charlotte's 4th Team Foul.
61 - 60
1:44
Los Angeles Full Timeout.
61 - 60
1:44
Tamar Slay enters the game for Keith Bogans.
61 - 60
1:44
Corey Maggette missed Free Throw 1 of 2.
61 - 60
1:44
Los Angeles offensive rebound.
61 - 60
1:44
Corey Maggette made Free Throw 2 of 2.
61 - 61
1:22
Steve Smith missed 2 ft two point shot.
61 - 61
1:17
Melvin Ely offensive rebound.
61 - 61
1:15
Melvin Ely made layup.
63 - 61
1:00
Steve Smith Personal Foul. Smith's 3rd Personal Foul, Charlotte's 5th Team Foul.
63 - 61
1:00
Corey Maggette made Free Throw 1 of 2.
63 - 62
1:00
Corey Maggette made Free Throw 2 of 2.
63 - 63
0:49
Steve Smith made 25 ft three point jumper. Assisted by Brevin Knight.
66 - 63
0:35
Elton Brand Lost Ball. Stolen by Tamar Slay.
66 - 63
0:28
Emeka Okafor's layup blocked by Elton Brand.
66 - 63
0:21
Corey Maggette defensive rebound.
66 - 63
0:20
Elton Brand Traveling
66 - 63
0:20
Chris Kaman enters the game for Elton Brand.
66 - 63
0:20
Quinton Ross enters the game for Corey Maggette.
66 - 63
0:02
Brevin Knight missed 8 ft jumper.
66 - 63
0:00
Chris Kaman defensive rebound.
66 - 63
0:00
End of the 3rd Quarter.
66 - 63

time
TEAM
PLAY
SCORE
12:00
Start of the 4th Quarter.
66 - 63
11:41
Steve Smith Personal Foul. Smith's 4th Personal Foul, Charlotte's 1st Team Foul.
66 - 63
11:25
Mikki Moore missed 16 ft jumper.
66 - 63
11:22
Melvin Ely defensive rebound.
66 - 63
11:04
Melvin Ely missed 16 ft jumper.
66 - 63
11:03
Mikki Moore defensive rebound.
66 - 63
10:49
Chris Kaman Offensive Foul. Kaman's 3rd Personal Foul, Los Angeles's 1st Team Foul.
66 - 63
10:49
Chris Kaman Foul
66 - 63
10:26
Steve Smith missed 15 ft jumper.
66 - 63
10:23
Emeka Okafor offensive rebound.
66 - 63
10:22
Brevin Knight missed 18 ft jumper.
66 - 63
10:19
Emeka Okafor offensive rebound.
66 - 63
10:18
Emeka Okafor made 7 ft jumper.
68 - 63
9:55
Jason Hart enters the game for Brevin Knight.
68 - 63
9:55
Elton Brand enters the game for Mikki Moore.
68 - 63
9:41
Emeka Okafor missed 14 ft jumper.
68 - 63
9:38
Bobby Simmons defensive rebound.
68 - 63
9:33
Emeka Okafor Personal Foul. Okafor's 1st Personal Foul, Charlotte's 2nd Team Foul.
68 - 63
9:26
Bobby Simmons made 18 ft jumper.
68 - 65
9:06
Tamar Slay's 10 ft jumper blocked by Chris Kaman.
68 - 65
9:03
Bobby Simmons defensive rebound.
68 - 65
9:00
Quinton Ross missed layup.
68 - 65
8:59
Chris Kaman offensive rebound.
68 - 67
8:59
Chris Kaman made layup.
68 - 67
8:55
Charlotte Full Timeout.
68 - 67
8:33
Tamar Slay missed 19 ft jumper.
68 - 67
8:32
Emeka Okafor offensive rebound.
68 - 67
8:11
Melvin Ely missed jumper.
68 - 67
8:08
Elton Brand defensive rebound.
68 - 67
7:46
Elton Brand made 15 ft jumper. Assisted by Rick Brunson.
68 - 69
7:22
Jason Hart Bad Pass. Stolen by Elton Brand.
68 - 69
6:58
Elton Brand missed 19 ft jumper.
68 - 69
6:58
Los Angeles offensive rebound.
68 - 69
6:58
Bad Pass
68 - 69
6:58
Shot Clock Violation
68 - 69
6:58
Primoz Brezec enters the game for Melvin Ely.
68 - 69
6:58
Corey Maggette enters the game for Bobby Simmons.
68 - 69
6:35
Steve Smith missed 7 ft jumper.
68 - 69
6:33
Chris Kaman defensive rebound.
68 - 69
6:22
Elton Brand made 14 ft jumper. Assisted by Rick Brunson.
68 - 71
6:01
Jason Hart missed 8 ft jumper.
68 - 71
6:01
Charlotte offensive rebound.
68 - 71
6:01
Keith Bogans enters the game for Tamar Slay.
68 - 71
6:01
Jason Kapono enters the game for Steve Smith.
68 - 71
5:54
Official Timeout.
68 - 71
5:39
Corey Maggette Bad Pass
68 - 71
5:16
Keith Bogans made 26 ft three point jumper. Assisted by Jason Hart.
71 - 71
4:54
Quinton Ross missed 19 ft jumper.
71 - 71
4:52
Chris Kaman offensive rebound.
71 - 71
4:52
Emeka Okafor Personal Foul. Okafor's 3rd Personal Foul, Charlotte's 3rd Team Foul.
71 - 71
4:52
Bobby Simmons enters the game for Quinton Ross.
71 - 71
4:41
Bobby Simmons missed jumper.
71 - 71
4:39
Brevin Knight defensive rebound.
71 - 71
4:31
Keith Bogans missed layup.
71 - 71
4:31
Charlotte offensive rebound.
71 - 71
4:31
Bobby Simmons Loose Ball Foul. Simmons's 3rd Personal Foul, Los Angeles's 2nd Team Foul.
71 - 71
4:16
Emeka Okafor's 9 ft jumper blocked by Elton Brand.
71 - 71
4:13
Bobby Simmons defensive rebound.
71 - 71
4:01
Elton Brand Offensive Foul. Brand's 4th Personal Foul, Los Angeles's 3rd Team Foul.
71 - 71
4:01
Elton Brand Foul
71 - 71
3:47
Jason Kapono made 26 ft three point jumper. Assisted by Emeka Okafor.
74 - 71
3:31
Corey Maggette missed 21 ft jumper.
74 - 71
3:31
Elton Brand offensive rebound.
74 - 71
3:28
Elton Brand Lost Ball. Stolen by Brevin Knight.
74 - 71
3:28
Elton Brand Flagrant Foul Type 2. Brand's 4th Personal Foul, Los Angeles's 4th Team Foul.
74 - 71
3:28
Elton Brand ejected.
74 - 71
3:28
Marko Jaric enters the game for Elton Brand.
74 - 71
3:28
Emeka Okafor missed Flagrant Free Throw 1 of 2.
74 - 71
3:28
Charlotte offensive rebound.
74 - 71
3:28
Emeka Okafor made Flagrant Free Throw 2 of 2.
75 - 71
3:17
Brevin Knight made 11 ft jumper.
77 - 71
2:56
Corey Maggette made layup.
77 - 73
2:56
Primoz Brezec Shooting Foul. Brezec's 5th Personal Foul, Charlotte's 4th Team Foul.
77 - 73
2:56
Los Angeles Full Timeout.
77 - 73
2:56
Chris Wilcox enters the game for Rick Brunson.
77 - 73
2:56
Corey Maggette made Free Throw 1 of 1.
77 - 74
2:36
Keith Bogans Lost Ball. Stolen by Marko Jaric.
77 - 74
2:33
Chris Wilcox made two point shot. Assisted by Marko Jaric.
77 - 76
2:33
Keith Bogans Shooting Foul. Bogans's 1st Personal Foul, Charlotte's 5th Team Foul.
77 - 76
2:33
Chris Wilcox missed Free Throw 1 of 1.
77 - 76
2:33
Steve Smith enters the game for Keith Bogans.
77 - 76
2:33
Chris Wilcox made Free Throw 1 of 1.
77 - 77
2:17
Jason Kapono Lost Ball. Stolen by Marko Jaric.
77 - 77
1:54
Corey Maggette Bad Pass. Stolen by Jason Kapono.
77 - 77
1:49
Steve Smith missed 27 ft three point jumper.
77 - 77
1:47
Corey Maggette defensive rebound.
77 - 77
1:27
Marko Jaric missed 5 ft jumper.
77 - 77
1:23
Emeka Okafor defensive rebound.
77 - 77
1:21
Charlotte Full Timeout.
77 - 77
1:01
Jason Kapono missed 25 ft three point jumper.
77 - 77
1:00
Primoz Brezec offensive rebound.
77 - 77
0:46
Brevin Knight made two point shot.
79 - 77
0:29
Emeka Okafor Shooting Foul. Okafor's 3rd Personal Foul, Charlotte's 6th Team Foul.
79 - 77
0:29
Corey Maggette made Free Throw 1 of 2.
79 - 78
0:29
Corey Maggette made Free Throw 2 of 2.
79 - 79
0:29
Charlotte Full Timeout.
79 - 79
0:29
Mikki Moore enters the game for Chris Wilcox.
79 - 79
0:29
Quinton Ross enters the game for Corey Maggette.
79 - 79
0:06
Brevin Knight missed 13 ft jumper.
79 - 79
0:05
Marko Jaric defensive rebound.
79 - 79
0:00
Marko Jaric missed two point shot.
79 - 79
0:00
Primoz Brezec defensive rebound.
79 - 79
0:00
End of the 4th Quarter.
79 - 79

time
TEAM
PLAY
SCORE
5:00
Start of the 1st Overtime.
79 - 79
5:00
Jumpball: Emeka Okafor vs. Chris Kaman. Bobby Simmons gains possession.
79 - 79
4:39
Chris Wilcox missed layup.
79 - 79
4:37
Primoz Brezec defensive rebound.
79 - 79
4:24
Primoz Brezec made 17 ft jumper. Assisted by Brevin Knight.
81 - 79
4:07
Marko Jaric missed 22 ft jumper.
81 - 79
4:03
Primoz Brezec defensive rebound.
81 - 79
3:51
Emeka Okafor made slam dunk. Assisted by Brevin Knight.
83 - 79
3:33
Chris Kaman made 4 ft hook shot. Assisted by Marko Jaric.
83 - 81
3:11
Jason Kapono missed 6 ft jumper.
83 - 81
3:11
Charlotte defensive rebound.
83 - 81
3:11
Emeka Okafor Loose Ball Foul. Okafor's 4th Personal Foul, Charlotte's 1st Team Foul.
83 - 81
3:11
Mikki Moore enters the game for Chris Wilcox.
83 - 81
2:56
Marko Jaric made 23 ft jumper. Assisted by Corey Maggette.
83 - 83
2:32
Brevin Knight made 15 ft jumper.
85 - 83
2:16
Jason Kapono Personal Foul. Kapono's 3rd Personal Foul, Charlotte's 2nd Team Foul.
85 - 83
2:03
Mikki Moore made layup. Assisted by Chris Kaman.
85 - 85
1:47
Charlotte 20 Sec. Timeout.
85 - 85
1:37
Brevin Knight missed 14 ft jumper.
85 - 85
1:35
Mikki Moore defensive rebound.
85 - 85
1:20
Corey Maggette made 21 ft jumper.
85 - 87
1:01
Steve Smith missed 23 ft three point jumper.
85 - 87
0:59
Marko Jaric defensive rebound.
85 - 87
0:42
Corey Maggette made 16 ft jumper.
85 - 89
0:42
Charlotte Full Timeout.
85 - 89
0:36
Jason Kapono made 20 ft jumper. Assisted by Emeka Okafor.
87 - 89
0:15
Corey Maggette Lost Ball. Stolen by Brevin Knight.
87 - 89
0:11
Brevin Knight made two point shot.
89 - 89
0:11
Los Angeles Full Timeout.
89 - 89
0:11
Jason Hart enters the game for Jason Kapono.
89 - 89
0:11
Keith Bogans enters the game for Steve Smith.
89 - 89
0:11
Rick Brunson enters the game for Marko Jaric.
89 - 89
0:00
Charlotte Full Timeout.
89 - 89
0:00
Marko Jaric enters the game for Chris Kaman.
89 - 89
0:00
End of the 1st Overtime.
89 - 89

time
TEAM
PLAY
SCORE
5:00
Start of the 2nd Overtime.
89 - 89
5:00
Jumpball: Emeka Okafor vs. Mikki Moore. Corey Maggette gains possession.
89 - 89
4:37
Mikki Moore made slam dunk. Assisted by Marko Jaric.
89 - 91
4:16
Primoz Brezec missed 17 ft jumper.
89 - 91
4:15
Emeka Okafor offensive rebound.
89 - 91
4:03
Keith Bogans Traveling
89 - 91
3:49
Marko Jaric missed 26 ft three point jumper.
89 - 91
3:47
Brevin Knight defensive rebound.
89 - 91
3:31
Keith Bogans Offensive Foul. Bogans's 3rd Personal Foul, Charlotte's 1st Team Foul.
89 - 91
3:31
Keith Bogans Foul
89 - 91
3:06
Marko Jaric missed 21 ft jumper.
89 - 91
3:04
Corey Maggette offensive rebound.
89 - 91
2:47
Corey Maggette missed 18 ft jumper.
89 - 91
2:46
Primoz Brezec defensive rebound.
89 - 91
2:31
Brevin Knight missed 6 ft two point shot.
89 - 91
2:31
Marko Jaric defensive rebound.
89 - 91
2:20
Mikki Moore missed 9 ft hook shot.
89 - 91
2:17
Bobby Simmons offensive rebound.
89 - 91
2:15
Chris Kaman Traveling
89 - 91
2:15
Jason Hart enters the game for Keith Bogans.
89 - 91
1:52
Steve Smith missed 25 ft three point jumper.
89 - 91
1:50
Chris Kaman defensive rebound.
89 - 91
1:40
Los Angeles Full Timeout.
89 - 91
1:30
Steve Smith Shooting Foul. Smith's 5th Personal Foul, Charlotte's 2nd Team Foul.
89 - 91
1:30
Corey Maggette made Free Throw 1 of 2.
89 - 92
1:30
Jason Kapono enters the game for Jason Hart.
89 - 92
1:30
Corey Maggette made Free Throw 2 of 2.
89 - 93
1:15
Jason Kapono made 17 ft jumper. Assisted by Brevin Knight.
91 - 93
0:55
Chris Kaman made layup. Assisted by Marko Jaric.
91 - 95
0:55
Charlotte Full Timeout.
91 - 95
0:31
Corey Maggette Shooting Foul. Maggette's 2nd Personal Foul, Los Angeles's 1st Team Foul.
91 - 95
0:31
Emeka Okafor made Free Throw 1 of 2.
92 - 95
0:31
Jason Hart enters the game for Jason Kapono.
92 - 95
0:31
Emeka Okafor made Free Throw 2 of 2.
93 - 95
0:10
Bobby Simmons made 19 ft jumper. Assisted by Mikki Moore.
93 - 97
0:10
Charlotte Full Timeout.
93 - 97
0:10
Jason Kapono enters the game for Jason Hart.
93 - 97
0:04
Primoz Brezec missed 22 ft jumper.
93 - 97
0:04
Corey Maggette defensive rebound.
93 - 97
0:04
Steve Smith Personal Foul. Smith's 6th Personal Foul, Charlotte's 3rd Team Foul.
93 - 97
0:04
Corey Maggette made Free Throw 1 of 2.
93 - 98
0:04
Quinton Ross enters the game for Chris Kaman.
93 - 98
0:04
Corey Maggette made Free Throw 2 of 2.
93 - 99
0:00
End of the 2nd Overtime.
93 - 99
0:00
End Game
93 - 99
0:00
End Game
93 - 99
The Jump breaks down the likelihood that Kevin Durant stays with the Thunder or leaves for the Spurs.

Blake Griffin will not practice or tour with Team USA this summer as he continues rehabilitation following a bone-marrow procedure on his left quad tendon.

Knicks general manager Steve Mills has reached out to the agents of former Pacers coach Frank Vogel about the team's coaching vacancy, sources told ESPN.
Regular Season Series
LAC wins series 2-0
2015-2016 Pacific Standings