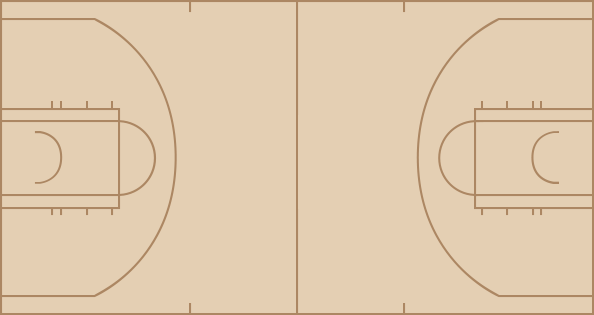 Nuggets
time
TEAM
PLAY
SCORE
12:00
Start of the 1st Quarter.
0 - 0
12:00
Jumpball: Marcus Camby vs. Nazr Mohammed. Andre Miller gains possession.
0 - 0
11:48
Kenyon Martin Bad Pass
0 - 0
11:32
Tim Thomas Traveling
0 - 0
11:18
Carmelo Anthony made slam dunk. Assisted by Kenyon Martin.
2 - 0
10:57
Jamal Crawford missed 25 ft three point jumper.
2 - 0
10:56
Carmelo Anthony defensive rebound.
2 - 0
10:41
Andre Miller missed jumper.
2 - 0
10:38
Kurt Thomas defensive rebound.
2 - 0
10:30
Stephon Marbury made 17 ft jumper.
2 - 2
10:15
Carmelo Anthony missed 14 ft jumper.
2 - 2
10:14
Marcus Camby offensive rebound.
2 - 2
10:11
Marcus Camby made dunk.
4 - 2
9:57
Stephon Marbury made 7 ft two point shot.
4 - 4
9:57
Andre Miller Shooting Foul. Miller's 2nd Personal Foul, Denver's 1st Team Foul.
4 - 4
9:57
Stephon Marbury made Free Throw 1 of 1.
4 - 5
9:48
Kenyon Martin made 9 ft two point shot.
6 - 5
9:30
Nazr Mohammed missed 15 ft jumper.
6 - 5
9:27
Carmelo Anthony defensive rebound.
6 - 5
9:17
Marcus Camby missed 16 ft jumper.
6 - 5
9:15
Denver defensive rebound.
6 - 5
9:15
New York 20 Sec. Timeout.
6 - 5
9:06
Kenyon Martin Shooting Foul. Martin's 1st Personal Foul, Denver's 2nd Team Foul.
6 - 5
9:06
Tim Thomas made Free Throw 1 of 2.
6 - 6
9:06
Tim Thomas missed Free Throw 2 of 2.
6 - 6
9:03
Marcus Camby defensive rebound.
6 - 6
8:53
Marcus Camby made two point shot.
8 - 6
8:38
Nazr Mohammed made 7 ft two point shot. Assisted by Stephon Marbury.
8 - 8
8:27
Carmelo Anthony's layup blocked by Tim Thomas.
8 - 8
8:26
Denver offensive rebound.
8 - 8
8:22
Kenyon Martin missed 19 ft jumper.
8 - 8
8:21
Denver offensive rebound.
8 - 8
8:11
Carmelo Anthony missed 19 ft jumper.
8 - 8
8:10
Marcus Camby offensive rebound.
8 - 8
7:54
Marcus Camby Bad Pass
8 - 8
7:31
Tim Thomas made layup.
8 - 10
7:15
Greg Buckner made two point shot. Assisted by Kenyon Martin.
10 - 10
6:56
Jamal Crawford missed 21 ft jumper.
10 - 10
6:54
Andre Miller defensive rebound.
10 - 10
6:50
Kenyon Martin made layup. Assisted by Andre Miller.
12 - 10
6:50
Nazr Mohammed Shooting Foul. Mohammed's 2nd Personal Foul, New York's 1st Team Foul.
12 - 10
6:50
Kenyon Martin missed Free Throw 1 of 1.
12 - 10
6:48
Kurt Thomas defensive rebound.
12 - 10
6:26
Jamal Crawford missed jumper.
12 - 10
6:24
New York offensive rebound.
12 - 10
6:24
Shot Clock Violation
12 - 10
6:15
Carmelo Anthony made two point shot. Assisted by Kenyon Martin.
14 - 10
6:11
New York Full Timeout.
14 - 10
5:56
Nazr Mohammed Traveling
14 - 10
5:41
Kenyon Martin made slam dunk. Assisted by Carmelo Anthony.
16 - 10
5:22
Jamal Crawford missed 9 ft jumper.
16 - 10
5:20
Marcus Camby defensive rebound.
16 - 10
5:18
Marcus Camby Bad Pass
16 - 10
5:01
Tim Thomas missed 18 ft jumper.
16 - 10
4:58
Kenyon Martin defensive rebound.
16 - 10
4:43
Marcus Camby missed 16 ft jumper.
16 - 10
4:41
Kurt Thomas defensive rebound.
16 - 10
4:30
Jerome Williams enters the game for Tim Thomas.
16 - 10
4:22
Stephon Marbury missed layup.
16 - 10
4:20
Kenyon Martin defensive rebound.
16 - 10
4:16
Greg Buckner made two point shot. Assisted by Andre Miller.
18 - 10
4:03
Jamal Crawford made 26 ft three point jumper. Assisted by Stephon Marbury.
18 - 13
3:43
Greg Buckner Bad Pass. Stolen by Nazr Mohammed.
18 - 13
3:39
Greg Buckner Personal Foul. Buckner's 1st Personal Foul, Denver's 3rd Team Foul.
18 - 13
3:31
Nazr Mohammed missed jumper.
18 - 13
3:30
Kenyon Martin defensive rebound.
18 - 13
3:20
Carmelo Anthony missed 25 ft three point jumper.
18 - 13
3:19
Jerome Williams defensive rebound.
18 - 13
3:04
Kurt Thomas missed 17 ft jumper.
18 - 13
3:03
New York defensive rebound.
18 - 13
2:50
Kenyon Martin missed 19 ft jumper.
18 - 13
2:48
Marcus Camby offensive rebound.
18 - 13
2:47
Marcus Camby made layup.
20 - 13
2:30
Jamal Crawford made 8 ft two point shot.
20 - 15
2:15
Carmelo Anthony Offensive Foul. Anthony's 1st Personal Foul, Denver's 4th Team Foul.
20 - 15
2:15
Carmelo Anthony Foul
20 - 15
2:15
Denver Full Timeout.
20 - 15
2:15
Bryon Russell enters the game for Carmelo Anthony.
20 - 15
2:15
Nene Hilario enters the game for Marcus Camby.
20 - 15
2:15
Allan Houston enters the game for Jamal Crawford.
20 - 15
1:54
Stephon Marbury made 22 ft jumper.
20 - 17
1:39
Bryon Russell made two point shot.
22 - 17
1:39
Jerome Williams Shooting Foul. Williams's 1st Personal Foul, New York's 2nd Team Foul.
22 - 17
1:39
Bryon Russell missed Free Throw 1 of 1.
22 - 17
1:39
Kurt Thomas defensive rebound.
22 - 17
1:17
Allan Houston missed 19 ft jumper.
22 - 17
1:15
Andre Miller defensive rebound.
22 - 17
0:57
Kenyon Martin missed 11 ft jumper.
22 - 17
0:55
Stephon Marbury defensive rebound.
22 - 17
0:45
Jerome Williams made 21 ft jumper. Assisted by Stephon Marbury.
22 - 19
0:29
Nene Hilario made 19 ft jumper.
24 - 19
0:05
Stephon Marbury made two point shot.
24 - 21
0:01
Andre Miller missed 37 ft three point jumper.
24 - 21
0:00
Kurt Thomas defensive rebound.
24 - 21
0:00
End of the 1st Quarter.
24 - 21

time
TEAM
PLAY
SCORE
12:00
Start of the 2nd Quarter.
24 - 21
11:41
Mike Sweetney Offensive Foul. Sweetney's 2nd Personal Foul, New York's 1st Team Foul.
24 - 21
11:41
Mike Sweetney Foul
24 - 21
11:32
Marcus Camby Bad Pass. Stolen by Stephon Marbury.
24 - 21
11:27
Stephon Marbury missed layup.
24 - 21
11:26
Jerome Williams offensive rebound.
24 - 21
11:25
Jerome Williams made layup.
24 - 23
11:06
Nene Hilario missed 7 ft jumper.
24 - 23
11:03
Bryon Russell offensive rebound.
24 - 23
11:03
Bryon Russell missed tip shot.
24 - 23
11:03
Allan Houston defensive rebound.
24 - 23
10:52
Allan Houston missed 19 ft jumper.
24 - 23
10:51
Nene Hilario defensive rebound.
24 - 23
10:48
Marcus Camby missed layup.
24 - 23
10:45
Marcus Camby offensive rebound.
24 - 23
10:45
Trevor Ariza Shooting Foul. Ariza's 1st Personal Foul, New York's 2nd Team Foul.
24 - 23
10:45
Marcus Camby made Free Throw 1 of 2.
25 - 23
10:45
Kenyon Martin enters the game for Nene Hilario.
25 - 23
10:45
Moochie Norris enters the game for Stephon Marbury.
25 - 23
10:45
Marcus Camby made Free Throw 2 of 2.
26 - 23
10:33
Allan Houston made 13 ft two point shot.
26 - 25
10:33
Bryon Russell Shooting Foul. Russell's 2nd Personal Foul, Denver's 1st Team Foul.
26 - 25
10:33
Allan Houston made Free Throw 1 of 1.
26 - 26
10:11
Kenyon Martin missed 15 ft jumper.
26 - 26
10:10
Denver defensive rebound.
26 - 26
9:56
Carmelo Anthony enters the game for Bryon Russell.
26 - 26
9:48
Trevor Ariza made layup.
26 - 28
9:37
Moochie Norris Shooting Foul. Norris's 1st Personal Foul, New York's 3rd Team Foul.
26 - 28
9:37
Kenyon Martin made Free Throw 1 of 2.
27 - 28
9:37
Kenyon Martin made Free Throw 2 of 2.
28 - 28
9:29
Rodney White Personal Foul. White's 1st Personal Foul, Denver's 2nd Team Foul.
28 - 28
9:15
Allan Houston missed 17 ft jumper.
28 - 28
9:15
Jerome Williams offensive rebound.
28 - 28
9:14
Rodney White Shooting Foul. White's 2nd Personal Foul, Denver's 3rd Team Foul.
28 - 28
9:14
Jerome Williams missed Free Throw 1 of 2.
28 - 28
9:14
New York offensive rebound.
28 - 28
9:14
Jerome Williams missed Free Throw 2 of 2.
28 - 28
9:12
Marcus Camby defensive rebound.
28 - 28
9:00
Marcus Camby made layup. Assisted by Carmelo Anthony.
30 - 28
8:38
Moochie Norris's layup blocked by Marcus Camby.
30 - 28
8:37
Jerome Williams offensive rebound.
30 - 28
8:34
Jerome Williams missed layup.
30 - 28
8:33
Mike Sweetney offensive rebound.
30 - 28
8:33
Trevor Ariza made two point shot.
30 - 30
8:17
Carmelo Anthony missed 18 ft jumper.
30 - 30
8:15
Mike Sweetney defensive rebound.
30 - 30
8:08
Official Timeout.
30 - 30
8:08
Kurt Thomas enters the game for Jerome Williams.
30 - 30
8:08
Andre Miller enters the game for Rodney White.
30 - 30
8:03
Andre Miller Shooting Foul. Miller's 2nd Personal Foul, Denver's 4th Team Foul.
30 - 30
8:03
Allan Houston made Free Throw 1 of 2.
30 - 31
8:03
Allan Houston made Free Throw 2 of 2.
30 - 32
7:52
Moochie Norris Shooting Foul. Norris's 2nd Personal Foul, New York's 4th Team Foul.
30 - 32
7:52
Carmelo Anthony made Free Throw 1 of 2.
31 - 32
7:52
Carmelo Anthony made Free Throw 2 of 2.
32 - 32
7:37
Allan Houston missed 18 ft jumper.
32 - 32
7:35
Marcus Camby defensive rebound.
32 - 32
7:22
Carmelo Anthony missed 18 ft jumper.
32 - 32
7:20
Moochie Norris defensive rebound.
32 - 32
7:13
Trevor Ariza made slam dunk.
32 - 34
6:52
Kenyon Martin made 11 ft two point shot.
34 - 34
6:26
Moochie Norris missed layup.
34 - 34
6:24
Kenyon Martin defensive rebound.
34 - 34
6:20
Earl Boykins made 12 ft two point shot.
36 - 34
6:03
Moochie Norris's layup blocked by Marcus Camby.
36 - 34
6:01
Earl Boykins defensive rebound.
36 - 34
5:56
Carmelo Anthony missed layup.
36 - 34
5:54
Kurt Thomas defensive rebound.
36 - 34
5:48
Mike Sweetney made layup. Assisted by Allan Houston.
36 - 36
5:39
Trevor Ariza Personal Foul. Ariza's 3rd Personal Foul, New York's 5th Team Foul.
36 - 36
5:39
New York Full Timeout.
36 - 36
5:39
Jamal Crawford enters the game for Trevor Ariza.
36 - 36
5:39
Nazr Mohammed enters the game for Mike Sweetney.
36 - 36
5:39
Stephon Marbury enters the game for Moochie Norris.
36 - 36
5:39
Bryon Russell enters the game for Kenyon Martin.
36 - 36
5:28
Andre Miller missed 7 ft jumper.
36 - 36
5:26
Jamal Crawford defensive rebound.
36 - 36
5:18
Nazr Mohammed made hook shot. Assisted by Allan Houston.
36 - 38
5:07
Kurt Thomas Personal Foul. Thomas's 1st Personal Foul, New York's 6th Team Foul.
36 - 38
5:07
Carmelo Anthony missed Free Throw 1 of 2.
36 - 38
5:07
Denver offensive rebound.
36 - 38
5:07
Carmelo Anthony made Free Throw 2 of 2.
37 - 38
4:54
Allan Houston missed 19 ft jumper.
37 - 38
4:52
Andre Miller defensive rebound.
37 - 38
4:50
Andre Miller Bad Pass
37 - 38
4:50
Francisco Elson enters the game for Marcus Camby.
37 - 38
4:28
Stephon Marbury missed 19 ft jumper.
37 - 38
4:26
Carmelo Anthony defensive rebound.
37 - 38
4:11
Carmelo Anthony missed layup.
37 - 38
4:11
Carmelo Anthony offensive rebound.
37 - 38
4:11
Carmelo Anthony Traveling
37 - 38
4:11
Tim Thomas enters the game for Allan Houston.
37 - 38
3:58
Nazr Mohammed made two point shot. Assisted by Stephon Marbury.
37 - 40
3:36
Carmelo Anthony made 18 ft jumper.
39 - 40
3:23
Earl Boykins Personal Foul. Boykins's 1st Personal Foul, Denver's 5th Team Foul.
39 - 40
3:23
Greg Buckner enters the game for Earl Boykins.
39 - 40
3:23
Stephon Marbury made Free Throw 1 of 2.
39 - 41
3:23
Stephon Marbury missed Free Throw 2 of 2.
39 - 41
3:21
Kurt Thomas offensive rebound.
39 - 41
3:14
Tim Thomas made layup. Assisted by Stephon Marbury.
39 - 43
2:56
Andre Miller Bad Pass. Stolen by Tim Thomas.
39 - 43
2:48
Stephon Marbury Bad Pass. Stolen by Andre Miller.
39 - 43
2:44
Andre Miller missed layup.
39 - 43
2:42
Kurt Thomas defensive rebound.
39 - 43
2:36
Stephon Marbury missed layup.
39 - 43
2:34
Kurt Thomas offensive rebound.
39 - 43
2:33
Kurt Thomas made layup.
39 - 45
2:27
Denver Full Timeout.
39 - 45
2:27
Kenyon Martin enters the game for Francisco Elson.
39 - 45
2:17
Kurt Thomas Shooting Foul. Thomas's 2nd Personal Foul, New York's 7th Team Foul.
39 - 45
2:17
Carmelo Anthony missed Free Throw 1 of 2.
39 - 45
2:17
Denver offensive rebound.
39 - 45
2:17
Carmelo Anthony made Free Throw 2 of 2.
40 - 45
1:59
Tim Thomas's 4 ft jumper blocked by Kenyon Martin.
40 - 45
1:57
Andre Miller defensive rebound.
40 - 45
1:45
Kenyon Martin made two point shot. Assisted by Andre Miller.
42 - 45
1:27
Nazr Mohammed missed 12 ft jumper.
42 - 45
1:24
Greg Buckner defensive rebound.
42 - 45
1:06
Carmelo Anthony missed 15 ft jumper.
42 - 45
1:02
Bryon Russell offensive rebound.
42 - 45
0:53
Carmelo Anthony missed layup.
42 - 45
0:52
Kurt Thomas defensive rebound.
42 - 45
0:47
Stephon Marbury made two point shot.
42 - 47
0:33
Carmelo Anthony Lost Ball. Stolen by Stephon Marbury.
42 - 47
0:32
Bryon Russell Personal Foul. Russell's 2nd Personal Foul, Denver's 6th Team Foul.
42 - 47
0:32
Denver 20 Sec. Timeout.
42 - 47
0:32
Jerome Williams enters the game for Kurt Thomas.
42 - 47
0:32
Stephon Marbury made Free Throw 1 of 2.
42 - 48
0:32
Stephon Marbury made Free Throw 2 of 2.
42 - 49
0:25
Kenyon Martin made two point shot. Assisted by Andre Miller.
44 - 49
0:02
Jamal Crawford Bad Pass. Stolen by Greg Buckner.
44 - 49
0:00
Greg Buckner missed 31 ft three point jumper.
44 - 49
0:00
Denver offensive rebound.
44 - 49
0:00
End of the 2nd Quarter.
44 - 49

time
TEAM
PLAY
SCORE
12:00
Start of the 3rd Quarter.
44 - 49
11:49
Tim Thomas Traveling
44 - 49
11:37
Kenyon Martin missed 7 ft jumper.
44 - 49
11:34
Kurt Thomas defensive rebound.
44 - 49
11:27
Jamal Crawford missed layup.
44 - 49
11:26
Marcus Camby defensive rebound.
44 - 49
11:07
Carmelo Anthony's 7 ft jumper blocked by Kurt Thomas.
44 - 49
11:06
Denver defensive rebound.
44 - 49
10:48
Jamal Crawford Offensive Foul. Crawford's 2nd Personal Foul, New York's 1st Team Foul.
44 - 49
10:48
Jamal Crawford Foul
44 - 49
10:26
Andre Miller made layup.
46 - 49
10:08
Stephon Marbury missed 10 ft jumper.
46 - 49
10:07
Kurt Thomas offensive rebound.
46 - 49
10:06
Kurt Thomas made layup.
46 - 51
9:52
Carmelo Anthony 3 second
46 - 51
9:37
Greg Buckner Shooting Foul. Buckner's 2nd Personal Foul, Denver's 1st Team Foul.
46 - 51
9:37
Jamal Crawford made Free Throw 1 of 2.
46 - 52
9:37
Jamal Crawford made Free Throw 2 of 2.
46 - 53
9:29
Andre Miller missed 18 ft jumper.
46 - 53
9:27
Denver offensive rebound.
46 - 53
9:14
Carmelo Anthony missed 23 ft three point jumper.
46 - 53
9:11
Marcus Camby offensive rebound.
46 - 53
9:11
Carmelo Anthony made slam dunk. Assisted by Marcus Camby.
48 - 53
8:52
Nazr Mohammed's layup blocked by Kenyon Martin.
48 - 53
8:49
Greg Buckner defensive rebound.
48 - 53
8:41
Tim Thomas made layup. Assisted by Stephon Marbury.
48 - 55
8:19
Tim Thomas Shooting Foul. Thomas's 1st Personal Foul, New York's 2nd Team Foul.
48 - 55
8:19
Carmelo Anthony made Free Throw 1 of 2.
49 - 55
8:19
Carmelo Anthony missed Free Throw 2 of 2.
49 - 55
8:18
Nazr Mohammed defensive rebound.
49 - 55
8:00
Jamal Crawford made 24 ft three point jumper.
49 - 58
7:48
Kenyon Martin missed 9 ft jumper.
49 - 58
7:46
Kurt Thomas defensive rebound.
49 - 58
7:39
Jamal Crawford made 18 ft two point shot.
49 - 60
7:33
Denver Full Timeout.
49 - 60
7:24
Carmelo Anthony made two point shot.
51 - 60
7:09
Jamal Crawford made 23 ft three point jumper. Assisted by Stephon Marbury.
51 - 63
6:56
Carmelo Anthony made slam dunk. Assisted by Andre Miller.
53 - 63
6:37
Jamal Crawford made 21 ft two point shot.
53 - 65
6:24
Carmelo Anthony made 16 ft two point shot. Assisted by Andre Miller.
55 - 65
6:03
Stephon Marbury made two point shot.
55 - 67
5:47
Tim Thomas Shooting Foul. Thomas's 2nd Personal Foul, New York's 3rd Team Foul.
55 - 67
5:47
Carmelo Anthony missed Free Throw 1 of 2.
55 - 67
5:47
Denver offensive rebound.
55 - 67
5:47
Carmelo Anthony made Free Throw 2 of 2.
56 - 67
5:35
Jamal Crawford made 25 ft three point jumper. Assisted by Stephon Marbury.
56 - 70
5:24
Tim Thomas Personal Foul. Thomas's 3rd Personal Foul, New York's 4th Team Foul.
56 - 70
5:22
Tim Thomas Personal Foul. Thomas's 4th Personal Foul, New York's 5th Team Foul.
56 - 70
5:22
Jerome Williams enters the game for Tim Thomas.
56 - 70
5:15
Nazr Mohammed Shooting Foul. Mohammed's 2nd Personal Foul, New York's 6th Team Foul.
56 - 70
5:15
Marcus Camby made Free Throw 1 of 2.
57 - 70
5:15
Marcus Camby made Free Throw 2 of 2.
58 - 70
5:00
Jamal Crawford missed 18 ft jumper.
58 - 70
4:58
Carmelo Anthony defensive rebound.
58 - 70
4:39
Andre Miller Bad Pass. Stolen by Jamal Crawford.
58 - 70
4:33
Stephon Marbury made two point shot. Assisted by Jamal Crawford.
58 - 72
4:24
Nazr Mohammed Shooting Foul. Mohammed's 3rd Personal Foul, New York's 7th Team Foul.
58 - 72
4:24
Marcus Camby made Free Throw 1 of 2.
59 - 72
4:24
New York Full Timeout.
59 - 72
4:24
Earl Boykins enters the game for Greg Buckner.
59 - 72
4:24
Marcus Camby missed Free Throw 2 of 2.
59 - 72
4:22
Nazr Mohammed defensive rebound.
59 - 72
4:09
Stephon Marbury missed 9 ft jumper.
59 - 72
4:07
Nazr Mohammed offensive rebound.
59 - 72
4:07
Nazr Mohammed missed tip shot.
59 - 72
4:07
Carmelo Anthony defensive rebound.
59 - 72
3:55
Marcus Camby made 13 ft jumper. Assisted by Carmelo Anthony.
61 - 72
3:34
Jamal Crawford made two point shot.
61 - 74
3:18
Kurt Thomas Shooting Foul. Thomas's 3rd Personal Foul, New York's 8th Team Foul.
61 - 74
3:18
Allan Houston enters the game for Jamal Crawford.
61 - 74
3:18
Kenyon Martin made Free Throw 1 of 2.
62 - 74
3:18
Kenyon Martin made Free Throw 2 of 2.
63 - 74
2:55
Shot Clock Violation
63 - 74
2:44
Earl Boykins made 19 ft jumper.
65 - 74
2:25
Allan Houston made 13 ft jumper.
65 - 76
2:13
Andre Miller Bad Pass. Stolen by Nazr Mohammed.
65 - 76
2:05
Allan Houston missed 18 ft jumper.
65 - 76
2:03
Nazr Mohammed offensive rebound.
65 - 76
2:03
Nazr Mohammed missed tip shot.
65 - 76
2:02
Marcus Camby defensive rebound.
65 - 76
1:58
Earl Boykins missed 24 ft three point jumper.
65 - 76
1:55
Kurt Thomas defensive rebound.
65 - 76
1:43
Nazr Mohammed made slam dunk. Assisted by Stephon Marbury.
65 - 78
1:31
Marcus Camby made 18 ft jumper. Assisted by Earl Boykins.
67 - 78
1:07
Kurt Thomas made 19 ft jumper. Assisted by Stephon Marbury.
67 - 80
0:54
Bryon Russell enters the game for Kenyon Martin.
67 - 80
0:54
Mike Sweetney enters the game for Nazr Mohammed.
67 - 80
0:54
Jamal Crawford enters the game for Jerome Williams.
67 - 80
0:54
Rodney White enters the game for Andre Miller.
67 - 80
0:43
Earl Boykins Shooting Foul. Boykins's 2nd Personal Foul, Denver's 2nd Team Foul.
67 - 80
0:43
Stephon Marbury missed Free Throw 1 of 2.
67 - 80
0:43
Stephon Marbury made Free Throw 2 of 2.
67 - 81
0:38
Rodney White made layup.
69 - 81
0:19
Mike Sweetney offensive rebound.
69 - 81
0:19
Mike Sweetney's 5 ft jumper blocked by Marcus Camby.
69 - 81
0:17
Earl Boykins defensive rebound.
69 - 81
0:16
Stephon Marbury Personal Foul. Marbury's 1st Personal Foul, New York's 9th Team Foul.
69 - 81
0:16
Earl Boykins made Free Throw 1 of 2.
70 - 81
0:16
New York 20 Sec. Timeout.
70 - 81
0:16
Earl Boykins made Free Throw 2 of 2.
71 - 81
0:03
Kurt Thomas made 6 ft jumper. Assisted by Allan Houston.
71 - 83
0:00
Earl Boykins missed 30 ft three point jumper.
71 - 83
0:00
Denver offensive rebound.
71 - 83
0:00
End of the 3rd Quarter.
71 - 83

time
TEAM
PLAY
SCORE
12:00
Start of the 4th Quarter.
71 - 83
11:40
Carmelo Anthony missed 16 ft jumper.
71 - 83
11:37
Mike Sweetney defensive rebound.
71 - 83
11:21
Allan Houston made two point shot.
71 - 85
11:06
Bryon Russell made 23 ft three point jumper. Assisted by Rodney White.
74 - 85
10:42
Allan Houston missed 9 ft jumper.
74 - 85
10:41
Carmelo Anthony defensive rebound.
74 - 85
10:34
Kenyon Martin missed 5 ft jumper.
74 - 85
10:33
Kurt Thomas defensive rebound.
74 - 85
10:26
Mike Sweetney made two point shot. Assisted by Jamal Crawford.
74 - 87
10:26
Carmelo Anthony Shooting Foul. Anthony's 3rd Personal Foul, Denver's 1st Team Foul.
74 - 87
10:26
Mike Sweetney made Free Throw 1 of 1.
74 - 88
10:15
Earl Boykins made 21 ft jumper.
76 - 88
9:51
Allan Houston missed 20 ft jumper.
76 - 88
9:48
Kenyon Martin defensive rebound.
76 - 88
9:45
Allan Houston Personal Foul. Houston's 1st Personal Foul, New York's 1st Team Foul.
76 - 88
9:33
Carmelo Anthony missed 9 ft jumper.
76 - 88
9:30
Rodney White offensive rebound.
76 - 88
9:26
Rodney White made 20 ft jumper.
78 - 88
9:07
Mike Sweetney missed 19 ft jumper.
78 - 88
9:04
Allan Houston offensive rebound.
78 - 88
8:55
Kurt Thomas missed 15 ft jumper.
78 - 88
8:52
Earl Boykins defensive rebound.
78 - 88
8:33
Carmelo Anthony Bad Pass. Stolen by Mike Sweetney.
78 - 88
8:30
Official Timeout.
78 - 88
8:30
Marcus Camby enters the game for Bryon Russell.
78 - 88
8:30
Nazr Mohammed enters the game for Kurt Thomas.
78 - 88
8:30
Trevor Ariza enters the game for Allan Houston.
78 - 88
8:14
Trevor Ariza Bad Pass. Stolen by Rodney White.
78 - 88
8:03
Nazr Mohammed Shooting Foul. Mohammed's 4th Personal Foul, New York's 2nd Team Foul.
78 - 88
8:03
Carmelo Anthony made Free Throw 1 of 2.
79 - 88
8:03
Carmelo Anthony made Free Throw 2 of 2.
80 - 88
7:48
Jamal Crawford missed 21 ft jumper.
80 - 88
7:47
New York defensive rebound.
80 - 88
7:47
Nazr Mohammed Loose Ball Foul. Mohammed's 5th Personal Foul, New York's 3rd Team Foul.
80 - 88
7:37
Kenyon Martin Bad Pass. Stolen by Mike Sweetney.
80 - 88
7:16
Nazr Mohammed missed 10 ft jumper.
80 - 88
7:15
New York defensive rebound.
80 - 88
7:15
Trevor Ariza Loose Ball Foul. Ariza's 4th Personal Foul, New York's 4th Team Foul.
80 - 88
7:15
Stephon Marbury enters the game for Moochie Norris.
80 - 88
7:15
Kurt Thomas enters the game for Mike Sweetney.
80 - 88
6:58
Rodney White made 7 ft jumper.
82 - 88
6:43
Stephon Marbury made 9 ft jumper.
82 - 90
6:33
Marcus Camby missed layup.
82 - 90
6:33
Nazr Mohammed defensive rebound.
82 - 90
6:18
Jerome Williams enters the game for Nazr Mohammed.
82 - 90
6:11
Earl Boykins Shooting Foul. Boykins's 3rd Personal Foul, Denver's 2nd Team Foul.
82 - 90
6:11
Jamal Crawford made Free Throw 1 of 3.
82 - 91
6:11
Jamal Crawford missed Free Throw 2 of 3.
82 - 91
6:11
New York offensive rebound.
82 - 91
6:11
Jamal Crawford made Free Throw 3 of 3.
82 - 92
6:01
Trevor Ariza Shooting Foul. Ariza's 4th Personal Foul, New York's 5th Team Foul.
82 - 92
6:01
Carmelo Anthony made Free Throw 1 of 2.
83 - 92
6:01
Carmelo Anthony made Free Throw 2 of 2.
84 - 92
5:48
Jamal Crawford made two point shot.
84 - 94
5:48
Rodney White Shooting Foul. White's 4th Personal Foul, Denver's 3rd Team Foul.
84 - 94
5:48
New York Full Timeout.
84 - 94
5:48
Andre Miller enters the game for Rodney White.
84 - 94
5:48
Jamal Crawford made Free Throw 1 of 1.
84 - 95
5:31
Andre Miller Bad Pass. Stolen by Kurt Thomas.
84 - 95
5:26
Jamal Crawford Bad Pass. Stolen by Earl Boykins.
84 - 95
5:26
Jamal Crawford Personal Foul. Crawford's 2nd Personal Foul, New York's 6th Team Foul.
84 - 95
5:26
Earl Boykins made Free Throw 1 of 2.
85 - 95
5:26
Earl Boykins made Free Throw 2 of 2.
86 - 95
5:05
Trevor Ariza missed 8 ft jumper.
86 - 95
5:03
Marcus Camby defensive rebound.
86 - 95
4:43
Earl Boykins Traveling
86 - 95
4:33
Stephon Marbury missed 25 ft three point jumper.
86 - 95
4:31
Kurt Thomas offensive rebound.
86 - 95
4:22
Kurt Thomas made 18 ft jumper. Assisted by Stephon Marbury.
86 - 97
4:13
Jerome Williams Personal Foul. Williams's 2nd Personal Foul, New York's 7th Team Foul.
86 - 97
4:13
Marcus Camby made Free Throw 1 of 2.
87 - 97
4:13
Marcus Camby made Free Throw 2 of 2.
88 - 97
3:55
Jamal Crawford made 16 ft jumper.
88 - 99
3:45
Andre Miller's layup blocked by Jerome Williams.
88 - 99
3:44
Marcus Camby offensive rebound.
88 - 99
3:43
Kurt Thomas Shooting Foul. Thomas's 4th Personal Foul, New York's 8th Team Foul.
88 - 99
3:43
Marcus Camby made Free Throw 1 of 2.
89 - 99
3:43
Marcus Camby missed Free Throw 2 of 2.
89 - 99
3:42
Kurt Thomas defensive rebound.
89 - 99
3:27
Trevor Ariza's layup blocked by Marcus Camby.
89 - 99
3:25
Earl Boykins defensive rebound.
89 - 99
3:17
Andre Miller Offensive Foul. Miller's 4th Personal Foul, Denver's 4th Team Foul.
89 - 99
3:17
Andre Miller Foul
89 - 99
3:17
Tim Thomas enters the game for Trevor Ariza.
89 - 99
3:08
Stephon Marbury made two point shot.
89 - 101
3:00
Earl Boykins missed layup.
89 - 101
2:58
Jerome Williams defensive rebound.
89 - 101
2:38
Kurt Thomas missed 16 ft jumper.
89 - 101
2:35
Marcus Camby defensive rebound.
89 - 101
2:31
Carmelo Anthony's layup blocked by Tim Thomas.
89 - 101
2:30
Denver offensive rebound.
89 - 101
2:30
Denver Full Timeout.
89 - 101
2:19
Kenyon Martin made two point shot. Assisted by Marcus Camby.
91 - 101
1:57
Jamal Crawford made 11 ft two point shot.
91 - 103
1:46
Kurt Thomas Shooting Foul. Thomas's 5th Personal Foul, New York's 9th Team Foul.
91 - 103
1:46
Marcus Camby missed Free Throw 1 of 2.
91 - 103
1:46
Denver offensive rebound.
91 - 103
1:46
Marcus Camby made Free Throw 2 of 2.
92 - 103
1:31
Jamal Crawford missed 17 ft jumper.
92 - 103
1:29
Kenyon Martin defensive rebound.
92 - 103
1:21
Carmelo Anthony missed 17 ft jumper.
92 - 103
1:17
Kenyon Martin offensive rebound.
92 - 103
1:16
Jerome Williams Shooting Foul. Williams's 3rd Personal Foul, New York's 10th Team Foul.
92 - 103
1:16
Carmelo Anthony made Free Throw 1 of 2.
93 - 103
1:16
Carmelo Anthony made Free Throw 2 of 2.
94 - 103
1:01
Stephon Marbury made 21 ft jumper.
94 - 105
0:57
Jamal Crawford Shooting Foul. Crawford's 3rd Personal Foul, New York's 11st Team Foul.
94 - 105
0:57
Earl Boykins made Free Throw 1 of 2.
95 - 105
0:57
Earl Boykins made Free Throw 2 of 2.
96 - 105
0:40
Tim Thomas made layup. Assisted by Kurt Thomas.
96 - 107
0:33
Earl Boykins Bad Pass. Stolen by Jamal Crawford.
96 - 107
0:32
Kenyon Martin Personal Foul. Martin's 2nd Personal Foul, Denver's 5th Team Foul.
96 - 107
0:12
Stephon Marbury missed 27 ft three point jumper.
96 - 107
0:10
Kurt Thomas offensive rebound.
96 - 107
0:09
Kurt Thomas missed 14 ft jumper.
96 - 107
0:08
Carmelo Anthony defensive rebound.
96 - 107
0:00
Carmelo Anthony Traveling
96 - 107
0:00
New York offensive rebound.
96 - 107
0:00
End of the 4th Quarter.
96 - 107
0:00
End Game
96 - 107
0:00
End Game
96 - 107
0:00
End Game
96 - 107
0:00
End Game
96 - 107
Is David Fizdale a good hire for the Grizzlies? Will the team keep free agent Mike Conley? Our crew forecasts the future for Memphis.

Can the Warriors shock OKC and overcome a 3-1 deficit? If so, they need to look like the Warriors that won 73 games. Kevin Pelton has the facts on a potential comeback.

Cavs coach Tyronn Lue has called for LeBron James to be more assertive and to set the tone early vs. the Raptors in Game 6 of the Eastern Conference finals.
Regular Season Series
Series tied 1-1
2015-2016 Northwest Standings
2015-2016 Atlantic Standings