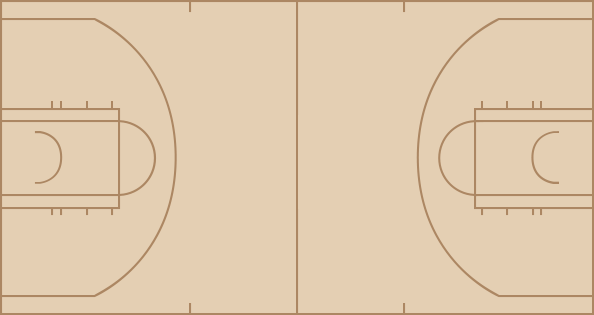 Jazz
time
TEAM
PLAY
SCORE
12:00
Start of the 1st Quarter.
0 - 0
12:00
Jumpball: Mehmet Okur vs. Amare Stoudemire. Raul Lopez gains possession.
0 - 0
11:45
Raja Bell missed 17 ft jumper.
0 - 0
11:44
Quentin Richardson defensive rebound.
0 - 0
11:30
Quentin Richardson missed 24 ft three point jumper.
0 - 0
11:27
Carlos Boozer defensive rebound.
0 - 0
11:14
Matt Harpring missed 27 ft three point jumper.
0 - 0
11:12
Mehmet Okur offensive rebound.
0 - 0
11:11
Matt Harpring made layup. Assisted by Mehmet Okur.
2 - 0
10:56
Joe Johnson missed 15 ft two point shot.
2 - 0
10:52
Matt Harpring defensive rebound.
2 - 0
10:40
Raja Bell made 17 ft jumper. Assisted by Mehmet Okur.
4 - 0
10:32
Steve Nash made driving layup.
4 - 2
10:15
Utah 20 Sec. Timeout.
4 - 2
10:03
Raja Bell missed 12 ft jumper.
4 - 2
10:03
Carlos Boozer offensive rebound.
4 - 2
10:00
Carlos Boozer missed 9 ft two point shot.
4 - 2
9:56
Joe Johnson defensive rebound.
4 - 2
9:48
Shawn Marion missed three point jumper.
4 - 2
9:48
Phoenix defensive rebound.
4 - 2
9:26
Mehmet Okur missed 16 ft jumper.
4 - 2
9:25
Amare Stoudemire defensive rebound.
4 - 2
9:19
Steve Nash missed 25 ft three point jumper.
4 - 2
9:18
Carlos Boozer defensive rebound.
4 - 2
9:00
Carlos Boozer made layup. Assisted by Matt Harpring.
6 - 2
8:41
Steve Nash made 7 ft jumper.
6 - 4
8:23
Mehmet Okur's 7 ft jumper blocked by Shawn Marion.
6 - 4
8:22
Amare Stoudemire defensive rebound.
6 - 4
8:11
Steve Nash Bad Pass
6 - 4
7:52
Matt Harpring missed 17 ft jumper.
6 - 4
7:48
Raja Bell offensive rebound.
8 - 4
7:48
Raja Bell made tip shot.
8 - 4
7:37
Joe Johnson made 23 ft three point jumper. Assisted by Steve Nash.
8 - 7
7:18
Matt Harpring made 18 ft jumper. Assisted by Raul Lopez.
10 - 7
7:05
Amare Stoudemire made driving layup.
10 - 9
6:50
Matt Harpring made 19 ft jumper. Assisted by Raul Lopez.
12 - 9
6:43
Quentin Richardson Bad Pass. Stolen by Mehmet Okur.
12 - 9
6:28
Raul Lopez missed 20 ft jumper.
12 - 9
6:26
Quentin Richardson defensive rebound.
12 - 9
6:16
Joe Johnson made three point jumper. Assisted by Steve Nash.
12 - 12
5:54
Carlos Boozer made dunk.
14 - 12
5:46
Shawn Marion made 16 ft jumper. Assisted by Steve Nash.
14 - 14
5:26
Phoenix Full Timeout.
14 - 14
5:26
Steve Hunter enters the game for Amare Stoudemire.
14 - 14
5:16
Mehmet Okur made 16 ft jumper. Assisted by Matt Harpring.
16 - 14
5:05
Quentin Richardson missed 25 ft three point jumper.
16 - 14
5:01
Mehmet Okur defensive rebound.
16 - 14
4:39
Matt Harpring missed 17 ft jumper.
16 - 14
4:37
Carlos Boozer offensive rebound.
16 - 14
4:20
Raja Bell missed 18 ft jumper.
16 - 14
4:18
Utah defensive rebound.
16 - 14
4:01
Shawn Marion missed 19 ft jumper.
16 - 14
4:00
Raja Bell defensive rebound.
16 - 14
3:54
Matt Harpring made layup. Assisted by Raul Lopez.
18 - 14
3:35
Quentin Richardson missed 25 ft three point jumper.
18 - 14
3:33
Raja Bell defensive rebound.
18 - 14
3:11
Matt Harpring made 20 ft jumper. Assisted by Mehmet Okur.
20 - 14
3:00
Joe Johnson made 19 ft jumper. Assisted by Steve Nash.
20 - 16
2:33
Raul Lopez made 18 ft two point shot.
22 - 16
2:24
Joe Johnson missed 15 ft jumper.
22 - 16
2:20
Carlos Boozer defensive rebound.
22 - 16
2:19
Carlos Boozer Bad Pass. Stolen by Joe Johnson.
22 - 16
2:17
Joe Johnson missed layup.
22 - 16
2:16
Shawn Marion offensive rebound.
22 - 16
2:16
Shawn Marion missed tip shot.
22 - 16
2:15
Mehmet Okur defensive rebound.
22 - 16
1:55
Raja Bell made 10 ft jumper. Assisted by Carlos Boozer.
24 - 16
1:42
Quentin Richardson Bad Pass. Stolen by Raja Bell.
24 - 16
1:36
Raja Bell made 19 ft jumper. Assisted by Raul Lopez.
26 - 16
1:34
Phoenix 20 Sec. Timeout.
26 - 16
1:34
Utah Full Timeout.
26 - 16
1:34
Amare Stoudemire enters the game for Quentin Richardson.
26 - 16
1:34
Casey Jacobsen enters the game for Steve Nash.
26 - 16
1:34
Leandro Barbosa enters the game for Steve Hunter.
26 - 16
1:34
Curtis Borchardt enters the game for Carlos Boozer.
26 - 16
1:34
Kris Humphries enters the game for Mehmet Okur.
26 - 16
1:21
Shawn Marion made 14 ft running jumper.
26 - 18
0:57
Raul Lopez Lost Ball. Stolen by Shawn Marion.
26 - 18
0:51
Curtis Borchardt Personal Foul. Borchardt's 1st Personal Foul, Utah's 1st Team Foul.
26 - 18
0:51
Howard Eisley enters the game for Raul Lopez.
26 - 18
0:41
Shawn Marion missed 27 ft three point jumper.
26 - 18
0:39
Raja Bell defensive rebound.
26 - 18
0:32
Howard Eisley missed 18 ft jumper.
26 - 18
0:32
Utah defensive rebound.
26 - 18
0:32
Kris Humphries Loose Ball Foul. Humphries's 1st Personal Foul, Utah's 2nd Team Foul.
26 - 18
0:32
Casey Jacobsen made Free Throw 1 of 2.
26 - 19
0:32
Kirk Snyder enters the game for Matt Harpring.
26 - 19
0:32
Casey Jacobsen missed Free Throw 2 of 2.
26 - 19
0:30
Kirk Snyder defensive rebound.
26 - 19
0:08
Kris Humphries missed layup.
26 - 19
0:06
Shawn Marion defensive rebound.
26 - 19
0:01
Casey Jacobsen missed three point jumper.
26 - 19
0:00
Kirk Snyder defensive rebound.
26 - 19
0:00
Kirk Snyder missed 75 ft three point jumper.
26 - 19
0:00
Utah offensive rebound.
26 - 19
0:00
End of the 1st Quarter.
26 - 19

time
TEAM
PLAY
SCORE
12:00
Start of the 2nd Quarter.
26 - 19
11:51
Shawn Marion made driving layup.
26 - 21
11:33
Howard Eisley missed 16 ft jumper.
26 - 21
11:32
Kirk Snyder offensive rebound.
26 - 21
11:11
Curtis Borchardt made 6 ft jumper. Assisted by Howard Eisley.
28 - 21
10:57
Amare Stoudemire made layup.
28 - 23
10:57
Howard Eisley Shooting Foul. Eisley's 2nd Personal Foul, Utah's 1st Team Foul.
28 - 23
10:57
Quentin Richardson enters the game for Joe Johnson.
28 - 23
10:57
Carlos Boozer enters the game for Kris Humphries.
28 - 23
10:57
Amare Stoudemire made Free Throw 1 of 1.
28 - 24
10:33
Howard Eisley made 19 ft jumper.
30 - 24
10:14
Leandro Barbosa made 25 ft three point jumper.
30 - 27
9:45
Kirk Snyder missed 21 ft jumper.
30 - 27
9:42
Casey Jacobsen defensive rebound.
30 - 27
9:37
Shawn Marion made 9 ft two point shot. Assisted by Casey Jacobsen.
30 - 29
9:19
Amare Stoudemire Shooting Foul. Stoudemire's 1st Personal Foul, Phoenix's 1st Team Foul.
30 - 29
9:19
Carlos Boozer missed Free Throw 1 of 2.
30 - 29
9:19
Utah offensive rebound.
30 - 29
9:19
Mehmet Okur enters the game for Curtis Borchardt.
30 - 29
9:19
Carlos Boozer made Free Throw 2 of 2.
31 - 29
9:03
Leandro Barbosa made 25 ft three point jumper.
31 - 32
8:37
Shot Clock Violation
31 - 32
8:37
Official Timeout.
31 - 32
8:37
Bo Outlaw enters the game for Shawn Marion.
31 - 32
8:37
Steve Nash enters the game for Casey Jacobsen.
31 - 32
8:37
Matt Harpring enters the game for Kirk Snyder.
31 - 32
8:25
Amare Stoudemire made layup. Assisted by Steve Nash.
31 - 34
8:25
Carlos Boozer Shooting Foul. Boozer's 2nd Personal Foul, Utah's 2nd Team Foul.
31 - 34
8:25
Amare Stoudemire made Free Throw 1 of 1.
31 - 35
8:10
Carlos Boozer missed 11 ft two point shot.
31 - 35
8:07
Mehmet Okur offensive rebound.
31 - 35
8:06
Mehmet Okur made layup.
33 - 35
7:56
Gordan Giricek Shooting Foul. Giricek's 1st Personal Foul, Utah's 3rd Team Foul.
33 - 35
7:56
Leandro Barbosa made Free Throw 1 of 2.
33 - 36
7:56
Leandro Barbosa made Free Throw 2 of 2.
33 - 37
7:45
Howard Eisley Bad Pass
33 - 37
7:39
Mehmet Okur Shooting Foul. Okur's 1st Personal Foul, Utah's 4th Team Foul.
33 - 37
7:39
Amare Stoudemire made Free Throw 1 of 2.
33 - 38
7:39
Raul Lopez enters the game for Howard Eisley.
33 - 38
7:39
Raja Bell enters the game for Gordan Giricek.
33 - 38
7:39
Amare Stoudemire made Free Throw 2 of 2.
33 - 39
7:20
Matt Harpring missed 17 ft jumper.
33 - 39
7:18
Bo Outlaw defensive rebound.
33 - 39
7:13
Quentin Richardson missed 24 ft three point jumper.
33 - 39
7:11
Leandro Barbosa offensive rebound.
33 - 39
7:01
Leandro Barbosa missed 25 ft three point jumper.
33 - 39
6:58
Mehmet Okur defensive rebound.
33 - 39
6:41
Raja Bell missed 26 ft three point jumper.
33 - 39
6:39
Utah offensive rebound.
33 - 39
6:39
Joe Johnson enters the game for Leandro Barbosa.
33 - 39
6:33
Amare Stoudemire Personal Foul. Stoudemire's 2nd Personal Foul, Phoenix's 2nd Team Foul.
33 - 39
6:18
Raul Lopez missed layup.
33 - 39
6:18
Utah defensive rebound.
33 - 39
6:07
Raul Lopez Personal Foul. Lopez's 1st Personal Foul, Utah's 5th Team Foul.
33 - 39
6:07
Steve Nash made Free Throw 1 of 2.
33 - 40
6:07
Steve Nash made Free Throw 2 of 2.
33 - 41
5:52
Matt Harpring made 7 ft jumper. Assisted by Raul Lopez.
35 - 41
5:37
Amare Stoudemire made dunk. Assisted by Bo Outlaw.
35 - 43
5:16
Bo Outlaw Personal Foul. Outlaw's 1st Personal Foul, Phoenix's 3rd Team Foul.
35 - 43
5:16
Phoenix Full Timeout.
35 - 43
5:16
Shawn Marion enters the game for Amare Stoudemire.
35 - 43
5:16
Steve Hunter enters the game for Bo Outlaw.
35 - 43
5:05
Raul Lopez missed 26 ft three point jumper.
35 - 43
5:03
Carlos Boozer offensive rebound.
35 - 43
5:03
Shawn Marion Shooting Foul. Marion's 1st Personal Foul, Phoenix's 4th Team Foul.
35 - 43
5:03
Carlos Boozer made Free Throw 1 of 2.
36 - 43
5:03
Carlos Boozer made Free Throw 2 of 2.
37 - 43
4:50
Joe Johnson made 25 ft three point jumper.
37 - 46
4:33
Carlos Boozer made slam dunk. Assisted by Raul Lopez.
39 - 46
4:15
Raja Bell Shooting Foul. Bell's 1st Personal Foul, Utah's 6th Team Foul.
39 - 46
4:15
Joe Johnson missed Free Throw 1 of 2.
39 - 46
4:15
Phoenix offensive rebound.
39 - 46
4:15
Joe Johnson made Free Throw 2 of 2.
39 - 47
4:01
Raja Bell missed 23 ft jumper.
39 - 47
3:59
Raja Bell offensive rebound.
39 - 47
3:56
Steve Hunter Shooting Foul. Hunter's 1st Personal Foul, Phoenix's 5th Team Foul.
39 - 47
3:56
Mehmet Okur made Free Throw 1 of 2.
40 - 47
3:56
Mehmet Okur missed Free Throw 2 of 2.
40 - 47
3:54
Shawn Marion defensive rebound.
40 - 47
3:41
Raul Lopez Personal Foul. Lopez's 2nd Personal Foul, Utah's 7th Team Foul.
40 - 47
3:41
Steve Nash made Free Throw 1 of 2.
40 - 48
3:41
Amare Stoudemire enters the game for Steve Hunter.
40 - 48
3:41
Steve Nash made Free Throw 2 of 2.
40 - 49
3:28
Carlos Boozer made dunk. Assisted by Raul Lopez.
42 - 49
3:19
Steve Nash Lost Ball. Stolen by Matt Harpring.
42 - 49
3:15
Carlos Boozer made dunk. Assisted by Raul Lopez.
44 - 49
3:05
Quentin Richardson made 26 ft three point jumper. Assisted by Joe Johnson.
44 - 52
2:41
Raul Lopez missed 12 ft jumper.
44 - 52
2:39
Steve Nash defensive rebound.
44 - 52
2:34
Shawn Marion made dunk. Assisted by Amare Stoudemire.
44 - 54
2:12
Raja Bell missed 19 ft jumper.
44 - 54
2:10
Mehmet Okur offensive rebound.
44 - 54
2:06
Mehmet Okur made dunk.
46 - 54
1:50
Joe Johnson missed 18 ft jumper.
46 - 54
1:47
Shawn Marion offensive rebound.
46 - 54
1:40
Raul Lopez Personal Foul. Lopez's 3rd Personal Foul, Utah's 8th Team Foul.
46 - 54
1:40
Utah Full Timeout.
46 - 54
1:40
Howard Eisley enters the game for Raul Lopez.
46 - 54
1:40
Steve Nash made Free Throw 1 of 2.
46 - 55
1:40
Steve Nash made Free Throw 2 of 2.
46 - 56
1:25
Matt Harpring missed 17 ft jumper.
46 - 56
1:23
Shawn Marion defensive rebound.
46 - 56
1:17
Quentin Richardson missed 12 ft jumper.
46 - 56
1:15
Carlos Boozer defensive rebound.
46 - 56
1:01
Matt Harpring made layup. Assisted by Carlos Boozer.
48 - 56
0:43
Matt Harpring Shooting Foul. Harpring's 1st Personal Foul, Utah's 9th Team Foul.
48 - 56
0:43
Amare Stoudemire made Free Throw 1 of 2.
48 - 57
0:43
Amare Stoudemire missed Free Throw 2 of 2.
48 - 57
0:41
Mehmet Okur defensive rebound.
48 - 57
0:33
Howard Eisley missed 14 ft jumper.
48 - 57
0:31
Amare Stoudemire defensive rebound.
48 - 57
0:25
Shawn Marion missed 11 ft jumper.
48 - 57
0:25
Phoenix defensive rebound.
48 - 57
0:25
Amare Stoudemire Loose Ball Foul. Stoudemire's 3rd Personal Foul, Phoenix's 6th Team Foul.
48 - 57
0:25
Steve Hunter enters the game for Amare Stoudemire.
48 - 57
0:25
Matt Harpring made Free Throw 1 of 2.
49 - 57
0:25
Matt Harpring missed Free Throw 2 of 2.
49 - 57
0:23
Joe Johnson defensive rebound.
49 - 57
0:06
Howard Eisley Shooting Foul. Eisley's 2nd Personal Foul, Utah's 10th Team Foul.
49 - 57
0:06
Steve Nash made Free Throw 1 of 2.
49 - 58
0:06
Steve Nash missed Free Throw 2 of 2.
49 - 58
0:05
Carlos Boozer defensive rebound.
49 - 58
0:03
Carlos Boozer Bad Pass. Stolen by Steve Nash.
49 - 58
0:00
Steve Nash made 17 ft jumper.
49 - 60
0:00
End of the 2nd Quarter.
49 - 60

time
TEAM
PLAY
SCORE
12:00
Start of the 3rd Quarter.
49 - 60
11:44
Amare Stoudemire made driving dunk.
49 - 62
11:29
Carlos Boozer made driving layup.
51 - 62
11:29
Amare Stoudemire Shooting Foul. Stoudemire's 5th Personal Foul, Phoenix's 1st Team Foul.
51 - 62
11:29
Steve Hunter enters the game for Amare Stoudemire.
51 - 62
11:29
Carlos Boozer missed Free Throw 1 of 1.
51 - 62
11:26
Joe Johnson defensive rebound.
51 - 62
11:15
Steve Nash missed 26 ft three point jumper.
51 - 62
11:14
Joe Johnson offensive rebound.
51 - 62
11:10
Steve Hunter missed layup.
51 - 62
11:07
Mehmet Okur defensive rebound.
51 - 62
11:06
Carlos Arroyo Bad Pass
51 - 62
10:52
Shawn Marion missed 14 ft jumper.
51 - 62
10:52
Phoenix defensive rebound.
51 - 62
10:52
Steve Hunter Loose Ball Foul. Hunter's 2nd Personal Foul, Phoenix's 2nd Team Foul.
51 - 62
10:32
Mehmet Okur missed 9 ft jumper.
51 - 62
10:29
Steve Hunter defensive rebound.
51 - 62
10:19
Shawn Marion's 10 ft jumper blocked by Mehmet Okur.
51 - 62
10:17
Carlos Boozer defensive rebound.
51 - 62
10:14
Raja Bell made layup. Assisted by Carlos Arroyo.
53 - 62
10:03
Joe Johnson made 23 ft three point jumper. Assisted by Steve Nash.
53 - 65
9:52
Carlos Boozer made 18 ft jumper.
55 - 65
9:38
Carlos Arroyo Personal Foul. Arroyo's 1st Personal Foul, Utah's 1st Team Foul.
55 - 65
9:33
Quentin Richardson missed 25 ft three point jumper.
55 - 65
9:30
Steve Hunter offensive rebound.
55 - 67
9:30
Steve Hunter made two point shot.
55 - 67
9:07
Matt Harpring Bad Pass. Stolen by Shawn Marion.
55 - 67
9:03
Joe Johnson made dunk. Assisted by Shawn Marion.
55 - 69
8:45
Steve Hunter Shooting Foul. Hunter's 3rd Personal Foul, Phoenix's 3rd Team Foul.
55 - 69
8:45
Carlos Boozer made Free Throw 1 of 2.
56 - 69
8:45
Carlos Boozer missed Free Throw 2 of 2.
56 - 69
8:44
Shawn Marion defensive rebound.
56 - 69
8:27
Shawn Marion made 25 ft three point jumper. Assisted by Steve Nash.
56 - 72
8:15
Steve Hunter Personal Foul. Hunter's 4th Personal Foul, Phoenix's 4th Team Foul.
56 - 72
8:11
Steve Hunter Personal Foul. Hunter's 5th Personal Foul, Phoenix's 5th Team Foul.
56 - 72
8:11
Raja Bell made Free Throw 1 of 2.
57 - 72
8:11
Maciej Lampe enters the game for Steve Hunter.
57 - 72
8:11
Raja Bell made Free Throw 2 of 2.
58 - 72
7:56
Maciej Lampe missed jumper.
58 - 72
7:54
Mehmet Okur defensive rebound.
58 - 72
7:43
Matt Harpring missed 19 ft jumper.
58 - 72
7:41
Carlos Boozer offensive rebound.
58 - 72
7:39
Maciej Lampe Shooting Foul. Lampe's 1st Personal Foul, Phoenix's 6th Team Foul.
58 - 72
7:39
Carlos Boozer made Free Throw 1 of 2.
59 - 72
7:39
Carlos Boozer missed Free Throw 2 of 2.
59 - 72
7:39
Shawn Marion defensive rebound.
59 - 72
7:31
Steve Nash missed 26 ft three point jumper.
59 - 72
7:28
Matt Harpring defensive rebound.
59 - 72
7:07
Maciej Lampe Shooting Foul. Lampe's 2nd Personal Foul, Phoenix's 7th Team Foul.
59 - 72
7:07
Mehmet Okur made Free Throw 1 of 2.
60 - 72
7:07
Mehmet Okur made Free Throw 2 of 2.
61 - 72
6:45
Maciej Lampe missed 12 ft jumper.
61 - 72
6:41
Shawn Marion offensive rebound.
61 - 72
6:41
Shawn Marion missed tip shot.
61 - 72
6:39
Shawn Marion offensive rebound.
61 - 72
6:39
Shawn Marion missed tip shot.
61 - 72
6:37
Mehmet Okur defensive rebound.
61 - 72
6:31
Carlos Boozer Turnover
61 - 72
6:11
Joe Johnson missed 19 ft jumper.
61 - 72
6:09
Mehmet Okur defensive rebound.
61 - 72
5:46
Carlos Boozer missed jumper.
61 - 72
5:43
Quentin Richardson defensive rebound.
61 - 72
5:41
Raja Bell Shooting Foul. Bell's 2nd Personal Foul, Utah's 2nd Team Foul.
61 - 72
5:41
Phoenix Full Timeout.
61 - 72
5:41
Maciej Lampe made Free Throw 1 of 2.
61 - 73
5:41
Maciej Lampe made Free Throw 2 of 2.
61 - 74
5:20
Carlos Boozer's layup blocked by Shawn Marion.
61 - 74
5:18
Quentin Richardson defensive rebound.
61 - 74
5:01
Steve Nash missed 17 ft jumper.
61 - 74
5:01
Phoenix offensive rebound.
61 - 74
5:01
Mehmet Okur Loose Ball Foul. Okur's 2nd Personal Foul, Utah's 3rd Team Foul.
61 - 74
4:58
Carlos Arroyo Personal Foul. Arroyo's 2nd Personal Foul, Utah's 4th Team Foul.
61 - 74
4:52
Joe Johnson made 16 ft jumper. Assisted by Steve Nash.
61 - 76
4:35
Mehmet Okur made 9 ft jumper. Assisted by Raja Bell.
63 - 76
4:18
Maciej Lampe made 17 ft jumper. Assisted by Steve Nash.
63 - 78
4:00
Matt Harpring missed 12 ft jumper.
63 - 78
3:58
Carlos Boozer offensive rebound.
63 - 78
3:58
Carlos Boozer Bad Pass
63 - 78
3:58
Gordan Giricek enters the game for Carlos Boozer.
63 - 78
3:45
Maciej Lampe made 21 ft jumper. Assisted by Steve Nash.
63 - 80
3:27
Carlos Arroyo missed 16 ft jumper.
63 - 80
3:26
Raja Bell offensive rebound.
63 - 80
3:24
Raja Bell made 13 ft jumper.
65 - 80
3:11
Joe Johnson made 25 ft three point jumper. Assisted by Steve Nash.
65 - 83
2:55
Gordan Giricek made driving layup.
67 - 83
2:39
Matt Harpring Personal Foul. Harpring's 2nd Personal Foul, Utah's 5th Team Foul.
67 - 83
2:39
Utah Full Timeout.
67 - 83
2:39
Casey Jacobsen enters the game for Quentin Richardson.
67 - 83
2:39
Leandro Barbosa enters the game for Steve Nash.
67 - 83
2:39
Shawn Marion missed Free Throw 1 of 2.
67 - 83
2:39
Phoenix offensive rebound.
67 - 83
2:39
Shawn Marion made Free Throw 2 of 2.
67 - 84
2:27
Raja Bell made 17 ft jumper. Assisted by Gordan Giricek.
69 - 84
2:12
Shawn Marion missed 16 ft jumper.
69 - 84
2:11
Gordan Giricek defensive rebound.
69 - 84
1:53
Mehmet Okur's layup blocked by Maciej Lampe.
69 - 84
1:53
Utah offensive rebound.
69 - 84
1:50
Carlos Arroyo missed 18 ft jumper.
69 - 84
1:47
Shawn Marion defensive rebound.
69 - 84
1:44
Leandro Barbosa missed layup.
69 - 84
1:42
Shawn Marion offensive rebound.
69 - 86
1:42
Shawn Marion made tip shot.
69 - 86
1:22
Mehmet Okur missed 15 ft jumper.
69 - 86
1:20
Shawn Marion defensive rebound.
69 - 86
1:15
Leandro Barbosa missed two point shot.
69 - 86
1:15
Phoenix offensive rebound.
69 - 86
1:15
Matt Harpring Shooting Foul. Harpring's 3rd Personal Foul, Utah's 6th Team Foul.
69 - 86
1:15
Maciej Lampe missed Free Throw 1 of 2.
69 - 86
1:15
Phoenix offensive rebound.
69 - 86
1:15
Curtis Borchardt enters the game for Mehmet Okur.
69 - 86
1:15
Kris Humphries enters the game for Matt Harpring.
69 - 86
1:15
Maciej Lampe made Free Throw 2 of 2.
69 - 87
1:00
Gordan Giricek missed two point shot.
69 - 87
1:00
Kris Humphries offensive rebound.
69 - 87
1:00
Casey Jacobsen Personal Foul. Jacobsen's 1st Personal Foul, Phoenix's 8th Team Foul.
69 - 87
1:00
Kris Humphries missed Free Throw 1 of 2.
69 - 87
1:00
Utah offensive rebound.
69 - 87
1:00
Kris Humphries missed Free Throw 2 of 2.
69 - 87
0:58
Maciej Lampe defensive rebound.
69 - 87
0:39
Leandro Barbosa Traveling
69 - 87
0:38
Delay of Game
69 - 87
0:32
Shawn Marion Shooting Foul. Marion's 2nd Personal Foul, Phoenix's 9th Team Foul.
69 - 87
0:32
Carlos Arroyo made Free Throw 1 of 2.
70 - 87
0:32
Carlos Arroyo missed Free Throw 2 of 2.
70 - 87
0:30
Shawn Marion defensive rebound.
70 - 87
0:19
Joe Johnson made 19 ft jumper.
70 - 89
0:01
Kris Humphries made dunk. Assisted by Carlos Arroyo.
72 - 89
0:00
End of the 3rd Quarter.
72 - 89

time
TEAM
PLAY
SCORE
12:00
Start of the 4th Quarter.
72 - 89
11:34
Howard Eisley missed 21 ft jumper.
72 - 89
11:33
Joe Johnson defensive rebound.
72 - 89
11:11
Amare Stoudemire missed 9 ft jumper.
72 - 89
11:10
Curtis Borchardt defensive rebound.
72 - 89
10:56
Gordan Giricek missed 17 ft jumper.
72 - 89
10:53
Joe Johnson defensive rebound.
72 - 89
10:45
Joe Johnson made 14 ft jumper.
72 - 91
10:18
Kirk Snyder missed 25 ft three point jumper.
72 - 91
10:15
Amare Stoudemire defensive rebound.
72 - 91
10:08
Gordan Giricek Shooting Foul. Giricek's 2nd Personal Foul, Utah's 1st Team Foul.
72 - 91
10:08
Leandro Barbosa made Free Throw 1 of 2.
72 - 92
10:08
Leandro Barbosa made Free Throw 2 of 2.
72 - 93
9:49
Howard Eisley Bad Pass
72 - 93
9:36
Leandro Barbosa's layup blocked by Kris Humphries.
72 - 93
9:33
Kirk Snyder defensive rebound.
72 - 93
9:15
Howard Eisley missed 21 ft jumper.
72 - 93
9:12
Maciej Lampe defensive rebound.
72 - 93
9:06
Joe Johnson made 19 ft jumper.
72 - 95
8:37
Kirk Snyder missed 17 ft jumper.
72 - 95
8:36
Kris Humphries offensive rebound.
74 - 95
8:36
Kris Humphries made two point shot.
74 - 95
8:22
Joe Johnson made driving layup.
74 - 97
8:22
Kirk Snyder Shooting Foul. Snyder's 2nd Personal Foul, Utah's 2nd Team Foul.
74 - 97
8:22
Official Timeout.
74 - 97
8:22
Joe Johnson missed Free Throw 1 of 1.
74 - 97
8:21
Kris Humphries defensive rebound.
74 - 97
8:00
Gordan Giricek made driving layup.
76 - 97
7:41
Kris Humphries Shooting Foul. Humphries's 2nd Personal Foul, Utah's 3rd Team Foul.
76 - 97
7:41
Amare Stoudemire made Free Throw 1 of 2.
76 - 98
7:41
Quentin Richardson enters the game for Joe Johnson.
76 - 98
7:41
Amare Stoudemire made Free Throw 2 of 2.
76 - 99
7:26
Curtis Borchardt made 9 ft two point shot. Assisted by Gordan Giricek.
78 - 99
7:15
Kris Humphries Personal Foul. Humphries's 3rd Personal Foul, Utah's 4th Team Foul.
78 - 99
7:07
Howard Eisley Personal Foul. Eisley's 3rd Personal Foul, Utah's 5th Team Foul.
78 - 99
7:07
Amare Stoudemire made Free Throw 1 of 2.
78 - 100
7:07
Amare Stoudemire made Free Throw 2 of 2.
78 - 101
6:52
Howard Eisley made 18 ft jumper. Assisted by Curtis Borchardt.
80 - 101
6:41
Maciej Lampe Offensive Foul. Lampe's 4th Personal Foul, Phoenix's 1st Team Foul.
80 - 101
6:41
Maciej Lampe Foul
80 - 101
6:41
Aleksandar Radojevic enters the game for Curtis Borchardt.
80 - 101
6:24
Howard Eisley missed 18 ft jumper.
80 - 101
6:22
Quentin Richardson defensive rebound.
80 - 101
6:16
Maciej Lampe missed 26 ft three point jumper.
80 - 101
6:13
Kris Humphries defensive rebound.
80 - 101
5:58
Kirk Snyder missed 17 ft jumper.
80 - 101
5:56
Leandro Barbosa defensive rebound.
80 - 101
5:35
Leandro Barbosa's layup blocked by Aleksandar Radojevic.
80 - 101
5:33
Gordan Giricek defensive rebound.
80 - 101
5:30
Kris Humphries made dunk. Assisted by Howard Eisley.
82 - 101
5:16
Leandro Barbosa Bad Pass. Stolen by Kirk Snyder.
82 - 101
4:56
Kirk Snyder missed 23 ft three point jumper.
82 - 101
4:54
Utah offensive rebound.
82 - 101
4:54
Phoenix Full Timeout.
82 - 101
4:54
Steve Hunter enters the game for Maciej Lampe.
82 - 101
4:50
Kris Humphries missed layup.
82 - 101
4:47
Aleksandar Radojevic offensive rebound.
84 - 101
4:47
Aleksandar Radojevic made layup.
84 - 101
4:33
Aleksandar Radojevic Shooting Foul. Radojevic's 1st Personal Foul, Utah's 6th Team Foul.
84 - 101
4:33
Casey Jacobsen missed Free Throw 1 of 2.
84 - 101
4:33
Phoenix offensive rebound.
84 - 101
4:33
Casey Jacobsen made Free Throw 2 of 2.
84 - 102
4:16
Kirk Snyder missed 21 ft jumper.
84 - 102
4:13
Kris Humphries offensive rebound.
84 - 102
4:01
Kris Humphries missed 15 ft jumper.
84 - 102
4:00
Kirk Snyder offensive rebound.
84 - 102
3:43
Aleksandar Radojevic's layup blocked by Amare Stoudemire.
84 - 102
3:43
Utah offensive rebound.
84 - 102
3:43
Aleksandar Radojevic Offensive Foul. Radojevic's 3rd Personal Foul, Utah's 7th Team Foul.
84 - 102
3:43
Aleksandar Radojevic Foul
84 - 102
3:27
Quentin Richardson missed 27 ft three point jumper.
84 - 102
3:25
Quentin Richardson offensive rebound.
84 - 102
3:15
Amare Stoudemire missed 8 ft jumper.
84 - 102
3:14
Kris Humphries defensive rebound.
84 - 102
3:09
Gordan Giricek Bad Pass
84 - 102
2:49
Steve Hunter missed 15 ft jumper.
84 - 102
2:47
Gordan Giricek defensive rebound.
84 - 102
2:42
Aleksandar Radojevic missed 8 ft jumper.
84 - 102
2:41
Quentin Richardson defensive rebound.
84 - 102
2:19
Steve Hunter made dunk. Assisted by Quentin Richardson.
84 - 104
2:02
Gordan Giricek missed 18 ft jumper.
84 - 104
2:00
Quentin Richardson defensive rebound.
84 - 104
1:57
Aleksandar Radojevic Shooting Foul. Radojevic's 3rd Personal Foul, Utah's 8th Team Foul.
84 - 104
1:57
Utah Full Timeout.
84 - 104
1:57
Yuta Tabuse enters the game for Quentin Richardson.
84 - 104
1:57
Zarko Cabarkapa enters the game for Amare Stoudemire.
84 - 104
1:57
Steve Hunter made Free Throw 1 of 2.
84 - 105
1:57
Steve Hunter missed Free Throw 2 of 2.
84 - 105
1:54
Kris Humphries defensive rebound.
84 - 105
1:38
Aleksandar Radojevic's layup blocked by Steve Hunter.
84 - 105
1:37
Kris Humphries offensive rebound.
84 - 105
1:31
Kris Humphries missed 24 ft three point jumper.
84 - 105
1:30
Casey Jacobsen defensive rebound.
84 - 105
1:16
Leandro Barbosa missed 26 ft three point jumper.
84 - 105
1:15
Howard Eisley defensive rebound.
84 - 105
0:54
Howard Eisley missed 25 ft three point jumper.
84 - 105
0:52
Leandro Barbosa defensive rebound.
84 - 105
0:37
Casey Jacobsen made 26 ft three point jumper. Assisted by Leandro Barbosa.
84 - 108
0:23
Howard Eisley made driving layup.
86 - 108
0:00
End of the 4th Quarter.
86 - 108
0:00
End Game
86 - 108
0:00
End Game
86 - 108
Golic reacts to Nicolas Batum's hefty new contract. While overpaid, Golic believes Batum will be a great asset to the Hornets.

DeMar DeRozan is staying put in Toronto with a five-year 139 million dollar deal, which is the second highest contract in NBA history.

Mike Golic reacts to Hassan Whiteside's decision to stay with the Miami Heat.
Regular Season Series
PHX wins series 3-1
2015-2016 Northwest Standings
2015-2016 Pacific Standings