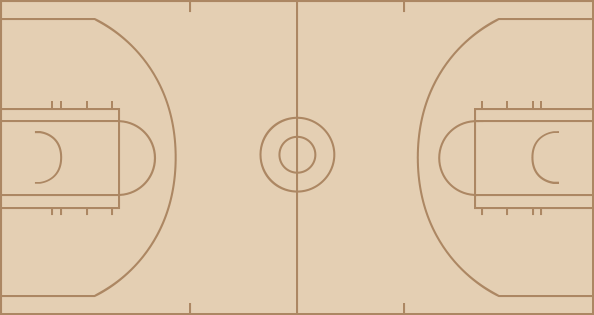 Pacers
time
TEAM
PLAY
SCORE
12:00
Start of the 1st Quarter.
0 - 0
12:00
Jumpball: Jermaine O'Neal vs. Jason Collins. Jason Kidd gains possession.
0 - 0
11:37
Vince Carter missed two point shot.
0 - 0
11:37
Jermaine O'Neal defensive rebound.
0 - 0
11:18
Jermaine O'Neal missed 16 ft two point shot.
0 - 0
11:18
Jason Kidd defensive rebound.
0 - 0
10:57
Vince Carter missed 20 ft jumper.
0 - 0
10:56
Jermaine O'Neal defensive rebound.
0 - 0
10:48
Jermaine O'Neal made 19 ft jumper. Assisted by Jamaal Tinsley.
2 - 0
10:23
Richard Jefferson missed two point shot.
2 - 0
10:22
Jeff Foster defensive rebound.
2 - 0
10:15
Jermaine O'Neal made driving layup. Assisted by Jamaal Tinsley.
4 - 0
10:15
Nenad Krstic Shooting Foul. Krstic's 2nd Personal Foul, New Jersey's 1st Team Foul.
4 - 0
10:15
Jermaine O'Neal made Free Throw 1 of 1.
5 - 0
10:04
Jason Collins missed 16 ft jumper.
5 - 0
10:03
Nenad Krstic offensive rebound.
5 - 0
10:02
Nenad Krstic missed layup.
5 - 0
10:00
Jeff Foster defensive rebound.
5 - 0
9:51
Jamaal Tinsley missed 9 ft hook shot.
5 - 0
9:48
Vince Carter defensive rebound.
5 - 0
9:41
Vince Carter Bad Pass. Stolen by Michael Curry.
5 - 0
9:30
Jeff Foster made layup. Assisted by Jamaal Tinsley.
7 - 0
9:30
Nenad Krstic Shooting Foul. Krstic's 3rd Personal Foul, New Jersey's 2nd Team Foul.
7 - 0
9:30
Jabari Smith enters the game for Nenad Krstic.
7 - 0
9:30
Jeff Foster made Free Throw 1 of 1.
8 - 0
9:17
Richard Jefferson made 10 ft jumper.
8 - 2
8:55
Jermaine O'Neal Lost Ball. Stolen by Jason Collins.
8 - 2
8:52
Richard Jefferson made driving layup. Assisted by Jason Kidd.
8 - 4
8:52
Reggie Miller Shooting Foul. Miller's 2nd Personal Foul, Indiana's 1st Team Foul.
8 - 4
8:52
Richard Jefferson made Free Throw 1 of 1.
8 - 5
8:37
Jamaal Tinsley missed jumper.
8 - 5
8:34
Jabari Smith defensive rebound.
8 - 5
8:25
Vince Carter Turnover
8 - 5
8:12
Jamaal Tinsley Turnover
8 - 5
8:00
Jason Kidd made two point shot. Assisted by Jason Collins.
8 - 7
7:43
Reggie Miller made 25 ft three point jumper. Assisted by Jamaal Tinsley.
11 - 7
7:35
Vince Carter missed 6 ft running jumper.
11 - 7
7:35
Jermaine O'Neal defensive rebound.
11 - 7
7:18
Jamaal Tinsley missed 8 ft jumper.
11 - 7
7:16
Jabari Smith defensive rebound.
11 - 7
7:13
Vince Carter made two point shot. Assisted by Jason Kidd.
11 - 9
6:52
Jeff Foster made 19 ft jumper. Assisted by Reggie Miller.
13 - 9
6:41
Jason Kidd missed 18 ft jumper.
13 - 9
6:41
Jeff Foster defensive rebound.
13 - 9
6:35
Reggie Miller missed 25 ft three point jumper.
13 - 9
6:33
Michael Curry offensive rebound.
13 - 9
6:22
Jermaine O'Neal made driving layup.
15 - 9
6:22
Jabari Smith Shooting Foul. Smith's 2nd Personal Foul, New Jersey's 3rd Team Foul.
15 - 9
6:22
Jermaine O'Neal missed Free Throw 1 of 1.
15 - 9
6:22
Jabari Smith defensive rebound.
15 - 9
6:16
New Jersey Full Timeout.
15 - 9
6:05
Richard Jefferson missed 19 ft jumper.
15 - 9
6:03
Jeff Foster defensive rebound.
15 - 9
6:00
Jeff Foster Bad Pass. Stolen by Jason Kidd.
15 - 9
5:45
Richard Jefferson missed 9 ft running jumper.
15 - 9
5:43
Jeff Foster defensive rebound.
15 - 9
5:28
Jermaine O'Neal made 7 ft jumper. Assisted by Jamaal Tinsley.
17 - 9
5:11
Jason Collins missed layup.
17 - 9
5:09
Jeff Foster defensive rebound.
17 - 9
4:48
Jermaine O'Neal made 26 ft three point jumper. Assisted by Jamaal Tinsley.
20 - 9
4:35
Michael Curry Personal Foul. Curry's 1st Personal Foul, Indiana's 2nd Team Foul.
20 - 9
4:35
Anthony Johnson enters the game for Jamaal Tinsley.
20 - 9
4:35
Fred Jones enters the game for Reggie Miller.
20 - 9
4:24
Vince Carter made 18 ft jumper. Assisted by Jason Kidd.
20 - 11
4:13
Jason Collins Personal Foul. Collins's 1st Personal Foul, New Jersey's 4th Team Foul.
20 - 11
4:13
Travis Best enters the game for Jason Kidd.
20 - 11
4:03
Jermaine O'Neal missed two point shot.
20 - 11
4:01
Richard Jefferson defensive rebound.
20 - 11
3:45
Vince Carter made 18 ft two point shot.
20 - 13
3:40
Indiana Full Timeout.
20 - 13
3:40
David Harrison enters the game for Jeff Foster.
20 - 13
3:21
Jermaine O'Neal made 18 ft jumper.
22 - 13
3:00
Michael Curry Personal Foul. Curry's 2nd Personal Foul, Indiana's 3rd Team Foul.
22 - 13
3:00
Reggie Miller enters the game for Michael Curry.
22 - 13
2:56
Vince Carter missed layup.
22 - 13
2:53
Jason Collins offensive rebound.
22 - 13
2:50
Jason Collins Bad Pass. Stolen by Reggie Miller.
22 - 13
2:47
Richard Jefferson Shooting Foul. Jefferson's 1st Personal Foul, New Jersey's 5th Team Foul.
22 - 13
2:47
Fred Jones missed Free Throw 1 of 2.
22 - 13
2:47
Indiana offensive rebound.
22 - 13
2:47
Rodney Buford enters the game for Vince Carter.
22 - 13
2:47
Fred Jones missed Free Throw 2 of 2.
22 - 13
2:47
Richard Jefferson defensive rebound.
22 - 13
2:23
Rodney Buford made 14 ft jumper. Assisted by Travis Best.
22 - 15
1:58
Jermaine O'Neal Lost Ball. Stolen by Jason Collins.
22 - 15
1:39
Travis Best missed 16 ft jumper.
22 - 15
1:38
Jason Collins offensive rebound.
22 - 15
1:24
Rodney Buford missed 21 ft jumper.
22 - 15
1:23
Jabari Smith offensive rebound.
22 - 15
1:22
Jabari Smith's layup blocked by David Harrison.
22 - 15
1:20
Fred Jones defensive rebound.
22 - 15
1:12
Reggie Miller missed 25 ft three point jumper.
22 - 15
1:10
David Harrison offensive rebound.
22 - 15
0:58
Fred Jones Lost Ball. Stolen by Jabari Smith.
22 - 15
0:37
Jabari Smith missed 17 ft two point shot.
22 - 15
0:37
Anthony Johnson defensive rebound.
22 - 15
0:20
Jason Collins Shooting Foul. Collins's 2nd Personal Foul, New Jersey's 6th Team Foul.
22 - 15
0:20
Jamaal Tinsley enters the game for Reggie Miller.
22 - 15
0:20
Jermaine O'Neal made Free Throw 1 of 2.
23 - 15
0:20
Jerome Moiso enters the game for Jason Collins.
23 - 15
0:20
Jermaine O'Neal missed Free Throw 2 of 2.
23 - 15
0:19
Jerome Moiso defensive rebound.
23 - 15
0:02
Jamaal Tinsley Shooting Foul. Tinsley's 1st Personal Foul, Indiana's 4th Team Foul.
23 - 15
0:02
Austin Croshere enters the game for Jermaine O'Neal.
23 - 15
0:02
Richard Jefferson made Free Throw 1 of 2.
23 - 16
0:02
Kaniel Dickens enters the game for Jabari Smith.
23 - 16
0:02
Richard Jefferson made Free Throw 2 of 2.
23 - 17
0:00
End of the 1st Quarter.
23 - 17

time
TEAM
PLAY
SCORE
12:00
Start of the 2nd Quarter.
26 - 17
11:41
Anthony Johnson missed 18 ft jumper.
26 - 17
11:40
Jabari Smith defensive rebound.
26 - 17
11:26
Vince Carter missed 21 ft jumper.
26 - 17
11:25
Jamaal Tinsley defensive rebound.
26 - 17
11:11
Austin Croshere made 18 ft jumper. Assisted by Anthony Johnson.
28 - 17
10:34
Jabari Smith Shooting Foul. Smith's 2nd Personal Foul, New Jersey's 1st Team Foul.
28 - 17
10:34
Austin Croshere made Free Throw 1 of 2.
29 - 17
10:34
Richard Jefferson enters the game for Jabari Smith.
29 - 17
10:34
Austin Croshere made Free Throw 2 of 2.
30 - 17
10:26
Travis Best missed 23 ft jumper.
30 - 17
10:25
David Harrison defensive rebound.
30 - 17
10:15
Jamaal Tinsley's 12 ft jumper blocked by Travis Best.
30 - 17
10:12
Vince Carter defensive rebound.
30 - 17
10:03
Rodney Buford made 21 ft jumper.
30 - 19
9:48
Jamaal Tinsley missed 12 ft running jumper.
30 - 19
9:48
Anthony Johnson offensive rebound.
30 - 19
9:33
Austin Croshere made 25 ft three point jumper. Assisted by Anthony Johnson.
33 - 19
9:25
Anthony Johnson Personal Foul. Johnson's 1st Personal Foul, Indiana's 1st Team Foul.
33 - 19
9:21
Fred Jones Shooting Foul. Jones's 1st Personal Foul, Indiana's 2nd Team Foul.
33 - 19
9:21
Richard Jefferson made Free Throw 1 of 2.
33 - 20
9:21
Richard Jefferson made Free Throw 2 of 2.
33 - 21
9:06
Nenad Krstic Shooting Foul. Krstic's 3rd Personal Foul, New Jersey's 2nd Team Foul.
33 - 21
9:06
David Harrison missed Free Throw 1 of 2.
33 - 21
9:06
Indiana offensive rebound.
33 - 21
9:06
Jason Kidd enters the game for Travis Best.
33 - 21
9:06
Jason Collins enters the game for Nenad Krstic.
33 - 21
9:06
David Harrison missed Free Throw 2 of 2.
33 - 21
9:04
Richard Jefferson defensive rebound.
33 - 21
8:56
Richard Jefferson Technical Foul. Jefferson's 1st Technical Foul.
33 - 21
8:56
Austin Croshere made Technical Free Throw.
34 - 21
8:56
Official Timeout.
34 - 21
8:56
Reggie Miller enters the game for Anthony Johnson.
34 - 21
8:48
Rodney Buford missed 18 ft jumper.
34 - 21
8:48
Jamaal Tinsley defensive rebound.
34 - 21
8:26
Reggie Miller missed driving layup.
34 - 21
8:23
Jason Collins defensive rebound.
34 - 21
8:18
Rodney Buford missed 24 ft three point jumper.
34 - 21
8:17
New Jersey defensive rebound.
34 - 21
8:06
Jamaal Tinsley's driving layup blocked by Richard Jefferson.
34 - 21
8:03
Jason Collins defensive rebound.
34 - 21
7:56
Jason Kidd's 16 ft jumper blocked by David Harrison.
34 - 21
7:54
Fred Jones defensive rebound.
34 - 21
7:46
David Harrison made layup. Assisted by Reggie Miller.
36 - 21
7:46
Jason Kidd Shooting Foul. Kidd's 2nd Personal Foul, New Jersey's 4th Team Foul.
36 - 21
7:46
David Harrison made Free Throw 1 of 1.
37 - 21
7:31
Jason Kidd Bad Pass. Stolen by David Harrison.
37 - 21
7:11
Austin Croshere made 26 ft three point jumper. Assisted by Reggie Miller.
40 - 21
7:07
New Jersey Full Timeout.
40 - 21
7:07
Jermaine O'Neal enters the game for David Harrison.
40 - 21
6:52
Jason Kidd made 15 ft jumper. Assisted by Richard Jefferson.
40 - 23
6:26
Jamaal Tinsley missed 28 ft three point jumper.
40 - 23
6:26
Vince Carter defensive rebound.
40 - 23
6:16
Jason Kidd Bad Pass. Stolen by Fred Jones.
40 - 23
6:11
Fred Jones missed driving layup.
40 - 23
6:09
Jason Kidd defensive rebound.
40 - 23
6:05
Vince Carter's layup blocked by Austin Croshere.
40 - 23
6:03
Austin Croshere defensive rebound.
40 - 23
6:01
Austin Croshere Bad Pass. Stolen by Jason Kidd.
40 - 23
5:50
Rodney Buford made 22 ft jumper. Assisted by Jason Kidd.
40 - 25
5:48
Indiana Full Timeout.
40 - 25
5:26
Jamaal Tinsley missed 26 ft three point jumper.
40 - 25
5:26
Jason Collins defensive rebound.
40 - 25
5:18
Rodney Buford missed 20 ft jumper.
40 - 25
5:16
Austin Croshere defensive rebound.
40 - 25
5:01
Vince Carter Shooting Foul. Carter's 1st Personal Foul, New Jersey's 5th Team Foul.
40 - 25
5:01
Austin Croshere made Free Throw 1 of 2.
41 - 25
5:01
Austin Croshere made Free Throw 2 of 2.
42 - 25
4:45
Richard Jefferson made driving dunk. Assisted by Rodney Buford.
42 - 27
4:28
Jermaine O'Neal Lost Ball. Stolen by Vince Carter.
42 - 27
4:18
Vince Carter's 7 ft two point shot blocked by Jermaine O'Neal.
42 - 27
4:16
Fred Jones defensive rebound.
42 - 27
4:05
Michael Curry enters the game for Fred Jones.
42 - 27
3:54
Jamaal Tinsley missed 25 ft three point jumper.
42 - 27
3:53
Rodney Buford defensive rebound.
42 - 27
3:39
Vince Carter Lost Ball. Stolen by Jamaal Tinsley.
42 - 27
3:21
Jamaal Tinsley Traveling
42 - 27
3:21
Anthony Johnson enters the game for Jamaal Tinsley.
42 - 27
3:13
Jermaine O'Neal Personal Foul. O'Neal's 1st Personal Foul, Indiana's 3rd Team Foul.
42 - 27
3:04
Rodney Buford made 24 ft three point jumper. Assisted by Richard Jefferson.
42 - 30
2:48
Jermaine O'Neal missed 7 ft two point shot.
42 - 30
2:47
Jason Kidd defensive rebound.
42 - 30
2:35
Michael Curry Personal Foul. Curry's 3rd Personal Foul, Indiana's 4th Team Foul.
42 - 30
2:35
Jeff Foster enters the game for Austin Croshere.
42 - 30
2:35
Fred Jones enters the game for Michael Curry.
42 - 30
2:28
Rodney Buford missed 19 ft jumper.
42 - 30
2:27
Fred Jones defensive rebound.
42 - 30
2:17
Anthony Johnson missed 25 ft three point jumper.
42 - 30
2:15
Jason Kidd defensive rebound.
42 - 30
2:10
Jeff Foster Shooting Foul. Foster's 1st Personal Foul, Indiana's 5th Team Foul.
42 - 30
2:10
Vince Carter made Free Throw 1 of 2.
42 - 31
2:10
Vince Carter made Free Throw 2 of 2.
42 - 32
1:52
Reggie Miller missed 24 ft three point jumper.
42 - 32
1:50
Indiana offensive rebound.
42 - 32
1:40
Jermaine O'Neal missed 18 ft jumper.
42 - 32
1:39
Rodney Buford defensive rebound.
42 - 32
1:28
Jason Collins made dunk. Assisted by Vince Carter.
42 - 34
1:19
Indiana 20 Sec. Timeout.
42 - 34
1:19
Jamaal Tinsley enters the game for Anthony Johnson.
42 - 34
0:58
Jermaine O'Neal missed 18 ft jumper.
42 - 34
0:57
Rodney Buford defensive rebound.
42 - 34
0:37
Jason Collins Lost Ball. Stolen by Jamaal Tinsley.
42 - 34
0:30
Jamaal Tinsley made 23 ft three point jumper. Assisted by Reggie Miller.
45 - 34
0:24
New Jersey 20 Sec. Timeout.
45 - 34
0:24
Jabari Smith enters the game for Jason Collins.
45 - 34
0:09
Jason Kidd missed 26 ft three point jumper.
45 - 34
0:07
Vince Carter offensive rebound.
45 - 34
0:05
Shot Clock Violation
45 - 34
0:05
Austin Croshere enters the game for Jeff Foster.
45 - 34
0:02
Austin Croshere made driving layup. Assisted by Reggie Miller.
47 - 34
0:02
Rodney Buford Illegal Defense. Rodney Buford gains possession.
47 - 34
0:00
Jason Kidd Bad Pass. Stolen by Fred Jones.
47 - 34
0:00
End of the 2nd Quarter.
47 - 34

time
TEAM
PLAY
SCORE
12:00
Start of the 3rd Quarter.
47 - 34
11:44
Jermaine O'Neal missed 18 ft jumper.
47 - 34
11:42
Jason Kidd defensive rebound.
47 - 34
11:33
Vince Carter made two point shot. Assisted by Richard Jefferson.
47 - 36
11:12
Jermaine O'Neal missed layup.
47 - 36
11:11
Jeff Foster offensive rebound.
47 - 36
11:11
Jeff Foster made tip shot.
49 - 36
10:56
Vince Carter Lost Ball. Stolen by Michael Curry.
49 - 36
10:37
Jermaine O'Neal missed two point shot.
49 - 36
10:36
Jeff Foster offensive rebound.
49 - 36
10:34
Jeff Foster made layup.
51 - 36
10:14
Nenad Krstic missed 6 ft hook shot.
51 - 36
10:12
Jeff Foster defensive rebound.
51 - 36
9:57
Michael Curry's driving layup blocked by Richard Jefferson.
51 - 36
9:56
Jeff Foster offensive rebound.
51 - 36
9:56
Jeff Foster made layup.
53 - 36
9:44
Jason Collins Offensive Foul. Collins's 4th Personal Foul, New Jersey's 1st Team Foul.
53 - 36
9:44
Jason Collins Foul
53 - 36
9:44
Jabari Smith enters the game for Nenad Krstic.
53 - 36
9:33
Reggie Miller missed 24 ft three point jumper.
53 - 36
9:33
Jason Kidd defensive rebound.
53 - 36
9:26
Vince Carter made layup. Assisted by Jason Kidd.
53 - 38
9:26
Jeff Foster Shooting Foul. Foster's 3rd Personal Foul, Indiana's 1st Team Foul.
53 - 38
9:26
Vince Carter made Free Throw 1 of 1.
53 - 39
9:07
Jamaal Tinsley missed 25 ft three point jumper.
53 - 39
9:03
Jermaine O'Neal offensive rebound.
53 - 39
8:51
Reggie Miller missed 24 ft three point jumper.
53 - 39
8:49
Indiana defensive rebound.
53 - 39
8:49
Jermaine O'Neal Loose Ball Foul. O'Neal's 2nd Personal Foul, Indiana's 2nd Team Foul.
53 - 39
8:37
Richard Jefferson Offensive Foul. Jefferson's 3rd Personal Foul, New Jersey's 2nd Team Foul.
53 - 39
8:37
Richard Jefferson Foul
53 - 39
8:17
Jermaine O'Neal missed 16 ft two point shot.
53 - 39
8:15
Jeff Foster offensive rebound.
53 - 39
8:14
Jabari Smith Shooting Foul. Smith's 3rd Personal Foul, New Jersey's 3rd Team Foul.
53 - 39
8:14
Jeff Foster missed Free Throw 1 of 2.
53 - 39
8:14
Indiana offensive rebound.
53 - 39
8:14
Jeff Foster made Free Throw 2 of 2.
54 - 39
8:02
Reggie Miller Personal Foul. Miller's 2nd Personal Foul, Indiana's 3rd Team Foul.
54 - 39
7:52
Jeff Foster Shooting Foul. Foster's 3rd Personal Foul, Indiana's 4th Team Foul.
54 - 39
7:52
Jason Collins made Free Throw 1 of 2.
54 - 40
7:52
Jason Collins made Free Throw 2 of 2.
54 - 41
7:37
Jamaal Tinsley missed 25 ft three point jumper.
54 - 41
7:35
Vince Carter defensive rebound.
54 - 41
7:31
Michael Curry Shooting Foul. Curry's 4th Personal Foul, Indiana's 5th Team Foul.
54 - 41
7:31
Vince Carter made Free Throw 1 of 2.
54 - 42
7:31
Fred Jones enters the game for Michael Curry.
54 - 42
7:31
Vince Carter made Free Throw 2 of 2.
54 - 43
7:11
Jermaine O'Neal missed 17 ft jumper.
54 - 43
7:09
Jason Kidd defensive rebound.
54 - 43
6:58
Reggie Miller Personal Foul. Miller's 3rd Personal Foul, Indiana's 6th Team Foul.
54 - 43
6:58
Richard Jefferson made Free Throw 1 of 2.
54 - 44
6:58
Austin Croshere enters the game for Jeff Foster.
54 - 44
6:58
Richard Jefferson made Free Throw 2 of 2.
54 - 45
6:41
Jermaine O'Neal Bad Pass
54 - 45
6:33
Jermaine O'Neal Shooting Foul. O'Neal's 3rd Personal Foul, Indiana's 7th Team Foul.
54 - 45
6:33
Jason Collins missed Free Throw 1 of 2.
54 - 45
6:33
New Jersey offensive rebound.
54 - 45
6:33
Indiana Full Timeout.
54 - 45
6:33
Jason Collins made Free Throw 2 of 2.
54 - 46
6:13
Fred Jones missed 21 ft jumper.
54 - 46
6:13
Jason Collins defensive rebound.
54 - 46
6:07
Vince Carter made 25 ft three point jumper. Assisted by Jason Kidd.
54 - 49
5:46
Jamaal Tinsley missed three point jumper.
54 - 49
5:45
Jason Collins defensive rebound.
54 - 49
5:31
Jabari Smith Bad Pass. Stolen by Jamaal Tinsley.
54 - 49
5:26
Jamaal Tinsley made driving layup.
56 - 49
5:11
Vince Carter missed two point shot.
56 - 49
5:07
Jason Kidd offensive rebound.
56 - 49
5:01
Jason Kidd Bad Pass. Stolen by Austin Croshere.
56 - 49
4:56
Jermaine O'Neal made layup. Assisted by Fred Jones.
58 - 49
4:54
New Jersey Full Timeout.
58 - 49
4:54
Nenad Krstic enters the game for Jabari Smith.
58 - 49
4:54
Anthony Johnson enters the game for Reggie Miller.
58 - 49
4:39
Vince Carter missed driving layup.
58 - 49
4:37
Fred Jones defensive rebound.
58 - 49
4:35
Jamaal Tinsley made driving layup.
60 - 49
4:35
Richard Jefferson Shooting Foul. Jefferson's 4th Personal Foul, New Jersey's 4th Team Foul.
60 - 49
4:35
Jamaal Tinsley missed Free Throw 1 of 1.
60 - 49
4:33
Jason Kidd defensive rebound.
60 - 49
4:24
Fred Jones Personal Foul. Jones's 2nd Personal Foul, Indiana's 8th Team Foul.
60 - 49
4:24
Richard Jefferson made Free Throw 1 of 2.
60 - 50
4:24
Rodney Buford enters the game for Jason Collins.
60 - 50
4:24
Richard Jefferson made Free Throw 2 of 2.
60 - 51
4:16
Jermaine O'Neal made layup. Assisted by Jamaal Tinsley.
62 - 51
4:16
Nenad Krstic Shooting Foul. Krstic's 5th Personal Foul, New Jersey's 5th Team Foul.
62 - 51
4:16
Jermaine O'Neal made Free Throw 1 of 1.
63 - 51
4:03
Fred Jones Shooting Foul. Jones's 3rd Personal Foul, Indiana's 9th Team Foul.
63 - 51
4:03
Richard Jefferson made Free Throw 1 of 2.
63 - 52
4:03
Richard Jefferson made Free Throw 2 of 2.
63 - 53
3:46
Austin Croshere missed 15 ft two point shot.
63 - 53
3:45
Jason Kidd defensive rebound.
63 - 53
3:28
Rodney Buford made 23 ft three point jumper. Assisted by Jason Kidd.
63 - 56
3:09
Austin Croshere's layup blocked by Nenad Krstic.
63 - 56
3:06
Rodney Buford defensive rebound.
63 - 56
2:56
Vince Carter missed 9 ft two point shot.
63 - 56
2:55
Jermaine O'Neal defensive rebound.
63 - 56
2:45
Jermaine O'Neal made 9 ft two point shot. Assisted by Fred Jones.
65 - 56
2:21
Richard Jefferson's 16 ft two point shot blocked by Fred Jones.
65 - 56
2:20
Jermaine O'Neal defensive rebound.
65 - 56
2:09
Jermaine O'Neal missed 15 ft two point shot.
65 - 56
2:08
Rodney Buford defensive rebound.
65 - 56
1:57
Nenad Krstic missed 15 ft jumper.
65 - 56
1:55
Rodney Buford offensive rebound.
65 - 56
1:53
Richard Jefferson Bad Pass. Stolen by Anthony Johnson.
65 - 56
1:49
Fred Jones made layup. Assisted by Anthony Johnson.
67 - 56
1:31
Rodney Buford made three point jumper. Assisted by Jason Kidd.
67 - 59
1:10
Austin Croshere missed 17 ft jumper.
67 - 59
1:09
Jermaine O'Neal offensive rebound.
67 - 59
1:07
Austin Croshere made driving layup. Assisted by Jermaine O'Neal.
69 - 59
1:04
New Jersey 20 Sec. Timeout.
69 - 59
1:04
Travis Best enters the game for Jason Kidd.
69 - 59
1:04
David Harrison enters the game for Jermaine O'Neal.
69 - 59
0:55
Travis Best made driving layup.
69 - 61
0:33
Fred Jones Turnover
69 - 61
0:19
Nenad Krstic made layup. Assisted by Vince Carter.
69 - 63
0:19
David Harrison Illegal Defense. David Harrison gains possession.
69 - 63
0:04
Vince Carter Personal Foul. Carter's 2nd Personal Foul, New Jersey's 6th Team Foul.
69 - 63
0:04
Jason Collins enters the game for Richard Jefferson.
69 - 63
0:00
Fred Jones missed jumper.
69 - 63
0:00
Indiana offensive rebound.
69 - 63
0:00
End of the 3rd Quarter.
69 - 63

time
TEAM
PLAY
SCORE
12:00
Start of the 4th Quarter.
69 - 63
11:37
Jason Collins's layup blocked by Austin Croshere.
69 - 63
11:36
David Harrison defensive rebound.
69 - 63
11:26
David Harrison 3 second
69 - 63
11:11
Fred Jones Personal Foul. Jones's 4th Personal Foul, Indiana's 1st Team Foul.
69 - 63
11:02
Travis Best missed 25 ft three point jumper.
69 - 63
11:00
Anthony Johnson defensive rebound.
69 - 63
10:45
David Harrison Offensive Foul. Harrison's 2nd Personal Foul, Indiana's 2nd Team Foul.
69 - 63
10:45
David Harrison Foul
69 - 63
10:45
Richard Jefferson enters the game for Vince Carter.
69 - 63
10:45
Jermaine O'Neal enters the game for David Harrison.
69 - 63
10:45
Jeff Foster enters the game for Austin Croshere.
69 - 63
10:22
Richard Jefferson missed 25 ft three point jumper.
69 - 63
10:19
New Jersey offensive rebound.
69 - 63
10:06
Richard Jefferson made running jumper. Assisted by Rodney Buford.
69 - 65
9:48
Jermaine O'Neal made layup. Assisted by Reggie Miller.
71 - 65
9:48
Nenad Krstic Shooting Foul. Krstic's 6th Personal Foul, New Jersey's 1st Team Foul.
71 - 65
9:48
Jabari Smith enters the game for Nenad Krstic.
71 - 65
9:48
Michael Curry enters the game for Fred Jones.
71 - 65
9:48
Jermaine O'Neal made Free Throw 1 of 1.
72 - 65
9:30
Travis Best Bad Pass. Stolen by Anthony Johnson.
72 - 65
9:25
Reggie Miller made 25 ft three point jumper. Assisted by Anthony Johnson.
75 - 65
8:57
Travis Best missed 20 ft jumper.
75 - 65
8:56
Rodney Buford offensive rebound.
75 - 65
8:55
Rodney Buford made two point shot.
75 - 67
8:41
Jason Collins Personal Foul. Collins's 4th Personal Foul, New Jersey's 2nd Team Foul.
75 - 67
8:41
Official Timeout.
75 - 67
8:41
Jason Kidd enters the game for Travis Best.
75 - 67
8:41
Vince Carter enters the game for Jabari Smith.
75 - 67
8:32
Jason Collins Shooting Foul. Collins's 5th Personal Foul, New Jersey's 3rd Team Foul.
75 - 67
8:32
Jeff Foster made Free Throw 1 of 2.
76 - 67
8:32
Nenad Krstic enters the game for Jason Collins.
76 - 67
8:32
Jeff Foster made Free Throw 2 of 2.
77 - 67
8:18
Richard Jefferson missed 18 ft jumper.
77 - 67
8:18
Jeff Foster defensive rebound.
77 - 67
8:04
Michael Curry Bad Pass
77 - 67
7:50
Nenad Krstic made 13 ft two point shot.
77 - 69
7:35
Nenad Krstic Personal Foul. Krstic's 6th Personal Foul, New Jersey's 4th Team Foul.
77 - 69
7:35
Jamaal Tinsley enters the game for Reggie Miller.
77 - 69
7:35
Jabari Smith enters the game for Nenad Krstic.
77 - 69
7:26
Jermaine O'Neal made 6 ft two point shot. Assisted by Michael Curry.
79 - 69
7:11
Jason Kidd Bad Pass. Stolen by Jermaine O'Neal.
79 - 69
6:52
Jamaal Tinsley made 24 ft three point jumper.
82 - 69
6:50
New Jersey Full Timeout.
82 - 69
6:35
Richard Jefferson Turnover
82 - 69
6:22
Jermaine O'Neal made two point shot. Assisted by Michael Curry.
84 - 69
6:09
Vince Carter made 22 ft jumper. Assisted by Jason Kidd.
84 - 71
5:47
Jamaal Tinsley missed 25 ft three point jumper.
84 - 71
5:46
Vince Carter defensive rebound.
84 - 71
5:41
Jeff Foster Shooting Foul. Foster's 4th Personal Foul, Indiana's 3rd Team Foul.
84 - 71
5:41
Jason Collins enters the game for Jabari Smith.
84 - 71
5:41
Jason Kidd missed Free Throw 1 of 2.
84 - 71
5:41
New Jersey offensive rebound.
84 - 71
5:41
Jason Kidd missed Free Throw 2 of 2.
84 - 71
5:39
Jeff Foster defensive rebound.
84 - 71
5:18
Reggie Miller enters the game for Anthony Johnson.
84 - 71
5:16
Jermaine O'Neal missed layup.
84 - 71
5:16
Richard Jefferson defensive rebound.
84 - 71
5:13
Michael Curry Flagrant Foul Type 1. Curry's 5th Personal Foul, Indiana's 4th Team Foul.
84 - 71
5:13
Vince Carter missed Flagrant Free Throw 2 of 2.
84 - 71
5:13
New Jersey offensive rebound.
84 - 71
5:13
Vince Carter made Free Throw.
84 - 72
5:03
Rodney Buford made 26 ft three point jumper. Assisted by Vince Carter.
84 - 75
4:56
Indiana Full Timeout.
84 - 75
4:43
Michael Curry missed 20 ft jumper.
84 - 75
4:43
Vince Carter defensive rebound.
84 - 75
4:37
Fred Jones enters the game for Michael Curry.
84 - 75
4:26
Vince Carter missed 6 ft jumper.
84 - 75
4:26
Vince Carter offensive rebound.
84 - 75
4:16
Richard Jefferson missed 8 ft running jumper.
84 - 75
4:16
Jason Collins offensive rebound.
84 - 75
4:15
Jason Collins missed layup.
84 - 75
4:13
Fred Jones defensive rebound.
84 - 75
3:55
Jeff Foster made 7 ft jumper. Assisted by Reggie Miller.
86 - 75
3:35
Richard Jefferson missed 24 ft three point jumper.
86 - 75
3:34
Fred Jones defensive rebound.
86 - 75
3:24
Jermaine O'Neal Offensive Foul. O'Neal's 5th Personal Foul, Indiana's 5th Team Foul.
86 - 75
3:24
Jermaine O'Neal Foul
86 - 75
3:06
Vince Carter made running jumper. Assisted by Richard Jefferson.
86 - 77
2:48
Reggie Miller missed 24 ft three point jumper.
86 - 77
2:47
Jason Kidd defensive rebound.
86 - 77
2:38
Richard Jefferson missed 5 ft hook shot.
86 - 77
2:36
Richard Jefferson offensive rebound.
86 - 77
2:35
Richard Jefferson missed layup.
86 - 77
2:34
Richard Jefferson offensive rebound.
86 - 77
2:33
Richard Jefferson missed tip shot.
86 - 77
2:32
Jeff Foster defensive rebound.
86 - 77
2:29
Indiana 20 Sec. Timeout.
86 - 77
2:16
Jamaal Tinsley made 25 ft three point jumper. Assisted by Jermaine O'Neal.
89 - 77
2:00
Jason Kidd missed 23 ft three point jumper.
89 - 77
2:00
Reggie Miller defensive rebound.
89 - 77
1:38
Jermaine O'Neal made driving layup.
91 - 77
1:38
New Jersey Full Timeout.
91 - 77
1:37
Reggie Miller Personal Foul. Miller's 4th Personal Foul, Indiana's 6th Team Foul.
91 - 77
1:34
Jermaine O'Neal Shooting Foul. O'Neal's 5th Personal Foul, Indiana's 7th Team Foul.
91 - 77
1:34
Vince Carter missed Free Throw 1 of 2.
91 - 77
1:34
New Jersey offensive rebound.
91 - 77
1:34
Travis Best enters the game for Jason Collins.
91 - 77
1:34
Vince Carter missed Free Throw 2 of 2.
91 - 77
1:32
Jeff Foster defensive rebound.
91 - 77
1:30
Vince Carter Personal Foul. Carter's 3rd Personal Foul, New Jersey's 5th Team Foul.
91 - 77
1:30
Fred Jones missed Free Throw 1 of 2.
91 - 77
1:30
Indiana offensive rebound.
91 - 77
1:30
Jason Collins enters the game for Travis Best.
91 - 77
1:30
Fred Jones missed Free Throw 2 of 2.
91 - 77
1:29
Jeff Foster offensive rebound.
91 - 77
1:22
Jason Collins Personal Foul. Collins's 6th Personal Foul, New Jersey's 6th Team Foul.
91 - 77
1:22
Jabari Smith enters the game for Jason Collins.
91 - 77
1:22
Fred Jones made Free Throw 1 of 2.
92 - 77
1:22
Fred Jones made Free Throw 2 of 2.
93 - 77
1:12
Jermaine O'Neal Shooting Foul. O'Neal's 6th Personal Foul, Indiana's 8th Team Foul.
93 - 77
1:12
Michael Curry enters the game for Jermaine O'Neal.
93 - 77
1:12
Richard Jefferson made Free Throw 1 of 2.
93 - 78
1:12
Richard Jefferson missed Free Throw 2 of 2.
93 - 78
1:10
Jamaal Tinsley defensive rebound.
93 - 78
1:10
Vince Carter Personal Foul. Carter's 4th Personal Foul, New Jersey's 7th Team Foul.
93 - 78
1:10
Jamaal Tinsley made Free Throw 1 of 2.
94 - 78
1:10
Jamaal Tinsley made Free Throw 2 of 2.
95 - 78
1:00
Vince Carter made two point shot. Assisted by Jason Kidd.
95 - 80
0:59
Vince Carter Personal Foul. Carter's 5th Personal Foul, New Jersey's 8th Team Foul.
95 - 80
0:59
Reggie Miller made Free Throw 1 of 2.
96 - 80
0:59
Reggie Miller made Free Throw 2 of 2.
97 - 80
0:51
Fred Jones Shooting Foul. Jones's 5th Personal Foul, Indiana's 9th Team Foul.
97 - 80
0:51
Jabari Smith made Free Throw 1 of 2.
97 - 81
0:51
Jabari Smith missed Free Throw 2 of 2.
97 - 81
0:50
Jamaal Tinsley defensive rebound.
97 - 81
0:41
Richard Jefferson Personal Foul. Jefferson's 4th Personal Foul, New Jersey's 9th Team Foul.
97 - 81
0:41
Travis Best enters the game for Jason Kidd.
97 - 81
0:41
Jerome Moiso enters the game for Richard Jefferson.
97 - 81
0:41
Kaniel Dickens enters the game for Vince Carter.
97 - 81
0:41
Eddie Gill enters the game for Jamaal Tinsley.
97 - 81
0:41
James Jones enters the game for Jeff Foster.
97 - 81
0:41
John Edwards enters the game for Reggie Miller.
97 - 81
0:41
Fred Jones missed Free Throw 1 of 2.
97 - 81
0:41
Indiana offensive rebound.
97 - 81
0:41
Fred Jones made Free Throw 2 of 2.
98 - 81
0:33
Travis Best missed 19 ft jumper.
98 - 81
0:31
John Edwards defensive rebound.
98 - 81
0:16
Jerome Moiso Shooting Foul. Moiso's 1st Personal Foul, New Jersey's 10th Team Foul.
98 - 81
0:16
John Edwards missed Free Throw 1 of 2.
98 - 81
0:16
Indiana offensive rebound.
98 - 81
0:16
John Edwards made Free Throw 2 of 2.
99 - 81
0:09
Travis Best made 21 ft jumper.
99 - 83
0:00
End of the 4th Quarter.
99 - 83
NBA referees have made several high-profile incorrect calls, or non-calls, in the final few minutes of this year's playoffs.

Jorge Sedano says the performance of Dwyane Wade and the Heat in this year's playoffs will determine how attractive the team will be to free agents this summer.

The NBA players union wants to meet with the Heat about the ongoing stalemate involving Chris Bosh's return to the court, according to a source.
Regular Season Series
Series tied 2-2