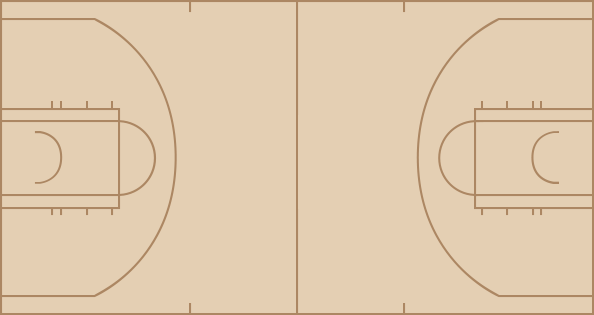 Trail Blazers
time
TEAM
PLAY
SCORE
12:00
Start of the 1st Quarter.
0 - 0
12:00
Jumpball: Joel Przybilla vs. Brendan Haywood. Damon Stoudamire gains possession.
0 - 0
11:38
Zach Randolph made 15 ft jumper. Assisted by Nick Van Exel.
2 - 0
11:19
Jared Jeffries made 16 ft jumper. Assisted by Larry Hughes.
2 - 2
10:56
Damon Stoudamire missed 19 ft jumper.
2 - 2
10:51
Antawn Jamison defensive rebound.
2 - 2
10:47
Joel Przybilla Shooting Foul. Przybilla's 1st Personal Foul, Portland's 1st Team Foul.
2 - 2
10:47
Brendan Haywood made Free Throw 1 of 2.
2 - 3
10:47
Brendan Haywood missed Free Throw 2 of 2.
2 - 3
10:45
Damon Stoudamire defensive rebound.
2 - 3
10:26
Zach Randolph's 7 ft jumper blocked by Brendan Haywood.
2 - 3
10:25
Jared Jeffries defensive rebound.
2 - 3
10:22
Larry Hughes Lost Ball. Stolen by Damon Stoudamire.
2 - 3
10:18
Damon Stoudamire Lost Ball. Stolen by Jared Jeffries.
2 - 3
10:15
Antawn Jamison missed 8 ft jumper.
2 - 3
10:14
Zach Randolph defensive rebound.
2 - 3
10:07
Nick Van Exel missed 17 ft jumper.
2 - 3
10:00
Antawn Jamison defensive rebound.
2 - 3
9:56
Antawn Jamison Lost Ball. Stolen by Ruben Patterson.
2 - 3
9:53
Ruben Patterson made dunk.
4 - 3
9:41
Jared Jeffries made two point shot.
4 - 5
9:29
Ruben Patterson missed 18 ft jumper.
4 - 5
9:26
Gilbert Arenas defensive rebound.
4 - 5
9:23
Antawn Jamison missed layup.
4 - 5
9:22
Joel Przybilla defensive rebound.
4 - 5
9:15
Larry Hughes Shooting Foul. Hughes's 1st Personal Foul, Washington's 1st Team Foul.
4 - 5
9:15
Nick Van Exel made Free Throw 1 of 2.
5 - 5
9:15
Nick Van Exel made Free Throw 2 of 2.
6 - 5
9:07
Antawn Jamison made 8 ft jumper. Assisted by Gilbert Arenas.
6 - 7
9:07
Joel Przybilla Illegal Defense. Joel Przybilla gains possession.
6 - 7
8:53
Damon Stoudamire missed 23 ft three point jumper.
6 - 7
8:52
Brendan Haywood defensive rebound.
6 - 7
8:45
Gilbert Arenas made 23 ft three point jumper. Assisted by Larry Hughes.
6 - 10
8:33
Joel Przybilla Lost Ball. Stolen by Larry Hughes.
6 - 10
8:26
Larry Hughes missed layup.
6 - 10
8:26
Gilbert Arenas offensive rebound.
6 - 10
8:22
Gilbert Arenas made 14 ft jumper.
6 - 12
8:08
Nick Van Exel missed 26 ft three point jumper.
6 - 12
8:07
Brendan Haywood defensive rebound.
6 - 12
7:52
Antawn Jamison missed 17 ft jumper.
6 - 12
7:52
Zach Randolph defensive rebound.
6 - 12
7:39
Gilbert Arenas Shooting Foul. Arenas's 1st Personal Foul, Washington's 2nd Team Foul.
6 - 12
7:39
Zach Randolph made Free Throw 1 of 2.
7 - 12
7:39
Zach Randolph made Free Throw 2 of 2.
8 - 12
7:26
Larry Hughes missed 17 ft jumper.
8 - 12
7:24
Joel Przybilla defensive rebound.
8 - 12
7:16
Ruben Patterson missed 16 ft jumper.
8 - 12
7:15
Larry Hughes defensive rebound.
8 - 12
7:11
Larry Hughes Lost Ball. Stolen by Ruben Patterson.
8 - 12
7:03
Ruben Patterson made layup. Assisted by Damon Stoudamire.
10 - 12
6:47
Jared Jeffries Lost Ball. Stolen by Damon Stoudamire.
10 - 12
6:41
Ruben Patterson made layup. Assisted by Damon Stoudamire.
12 - 12
6:33
Washington Full Timeout.
12 - 12
6:16
Gilbert Arenas missed 25 ft three point jumper.
12 - 12
6:16
Ruben Patterson defensive rebound.
12 - 12
5:54
Nick Van Exel Bad Pass. Stolen by Larry Hughes.
12 - 12
5:52
Gilbert Arenas made slam dunk. Assisted by Larry Hughes.
12 - 14
5:30
Damon Stoudamire made 12 ft running jumper. Assisted by Zach Randolph.
14 - 14
5:13
Antawn Jamison made layup. Assisted by Gilbert Arenas.
14 - 16
4:52
Zach Randolph missed 14 ft jumper.
14 - 16
4:50
Jared Jeffries defensive rebound.
14 - 16
4:45
Antawn Jamison missed 20 ft jumper.
14 - 16
4:43
Joel Przybilla defensive rebound.
14 - 16
4:37
Ruben Patterson's 6 ft jumper blocked by Antawn Jamison.
14 - 16
4:37
Portland offensive rebound.
14 - 16
4:33
Damon Stoudamire made 11 ft jumper. Assisted by Ruben Patterson.
16 - 16
4:20
Larry Hughes missed 6 ft jumper.
16 - 16
4:18
Brendan Haywood offensive rebound.
16 - 16
4:18
Brendan Haywood made two point shot.
16 - 18
4:07
Larry Hughes Personal Foul. Hughes's 2nd Personal Foul, Washington's 3rd Team Foul.
16 - 18
4:07
Travis Outlaw enters the game for Ruben Patterson.
16 - 18
4:03
Damon Stoudamire missed 26 ft three point jumper.
16 - 18
4:01
Portland defensive rebound.
16 - 18
3:46
Antawn Jamison Traveling
16 - 18
3:46
Juan Dixon enters the game for Larry Hughes.
16 - 18
3:42
Portland Full Timeout.
16 - 18
3:42
Jarvis Hayes enters the game for Jared Jeffries.
16 - 18
3:24
Travis Outlaw made 17 ft jumper. Assisted by Damon Stoudamire.
18 - 18
3:01
Brendan Haywood missed 6 ft jumper.
18 - 18
3:00
Zach Randolph defensive rebound.
18 - 18
2:50
Damon Stoudamire made 17 ft jumper.
20 - 18
2:38
Gilbert Arenas made 1 ft two point shot. Assisted by Juan Dixon.
20 - 20
2:29
Juan Dixon Personal Foul. Dixon's 1st Personal Foul, Washington's 4th Team Foul.
20 - 20
2:29
Theo Ratliff enters the game for Joel Przybilla.
20 - 20
2:29
Sebastian Telfair enters the game for Nick Van Exel.
20 - 20
2:17
Zach Randolph missed 6 ft jumper.
20 - 20
2:15
Zach Randolph offensive rebound.
20 - 20
2:15
Zach Randolph missed 6 ft jumper.
20 - 20
2:14
Sebastian Telfair offensive rebound.
20 - 20
2:02
Zach Randolph made 14 ft jumper. Assisted by Damon Stoudamire.
22 - 20
1:47
Antawn Jamison missed 26 ft three point jumper.
22 - 20
1:47
Damon Stoudamire defensive rebound.
22 - 20
1:37
Damon Stoudamire made three point jumper.
25 - 20
1:19
Gilbert Arenas made 13 ft two point shot.
25 - 22
1:19
Damon Stoudamire Shooting Foul. Stoudamire's 2nd Personal Foul, Portland's 2nd Team Foul.
25 - 22
1:19
Michael Ruffin enters the game for Brendan Haywood.
25 - 22
1:19
Etan Thomas enters the game for Antawn Jamison.
25 - 22
1:19
Gilbert Arenas missed Free Throw 1 of 1.
25 - 22
1:17
Damon Stoudamire defensive rebound.
25 - 22
1:05
Zach Randolph missed 18 ft jumper.
25 - 22
1:02
Etan Thomas defensive rebound.
25 - 22
0:46
Etan Thomas missed jumper.
25 - 22
0:45
Theo Ratliff defensive rebound.
25 - 22
0:37
Jarvis Hayes Personal Foul. Hayes's 1st Personal Foul, Washington's 5th Team Foul.
25 - 22
0:37
Zach Randolph made Free Throw 1 of 2.
26 - 22
0:37
Zach Randolph made Free Throw 2 of 2.
27 - 22
0:20
Michael Ruffin missed 7 ft jumper.
27 - 22
0:19
Jarvis Hayes offensive rebound.
27 - 22
0:00
Juan Dixon's 17 ft jumper blocked by Theo Ratliff.
27 - 22
0:00
Washington offensive rebound.
27 - 22
0:00
End of the 1st Quarter.
27 - 22

time
TEAM
PLAY
SCORE
12:00
Start of the 2nd Quarter.
27 - 22
11:52
Michael Ruffin Offensive Foul. Ruffin's 2nd Personal Foul, Washington's 1st Team Foul.
27 - 22
11:52
Michael Ruffin Foul
27 - 22
11:34
Michael Ruffin Shooting Foul. Ruffin's 2nd Personal Foul, Washington's 2nd Team Foul.
27 - 22
11:34
Sebastian Telfair made Free Throw 1 of 2.
28 - 22
11:34
Sebastian Telfair made Free Throw 2 of 2.
29 - 22
11:33
Sebastian Telfair Personal Foul. Telfair's 1st Personal Foul, Portland's 1st Team Foul.
29 - 22
11:15
Jarvis Hayes made 26 ft three point jumper.
29 - 25
10:53
Derek Anderson missed 6 ft jumper.
29 - 25
10:52
Derek Anderson offensive rebound.
29 - 25
10:48
Zach Randolph missed 5 ft jumper.
29 - 25
10:40
Travis Outlaw offensive rebound.
29 - 25
10:37
Travis Outlaw made layup.
31 - 25
10:30
Etan Thomas made 7 ft jumper.
31 - 27
10:30
Theo Ratliff Illegal Defense. Theo Ratliff gains possession.
31 - 27
10:11
Travis Outlaw missed 17 ft jumper.
31 - 27
10:08
Michael Ruffin defensive rebound.
31 - 27
10:03
Juan Dixon made driving layup. Assisted by Gilbert Arenas.
31 - 29
9:40
Zach Randolph made 13 ft jumper. Assisted by Sebastian Telfair.
33 - 29
9:32
Sebastian Telfair Personal Foul. Telfair's 2nd Personal Foul, Portland's 2nd Team Foul.
33 - 29
9:32
James Thomas enters the game for Zach Randolph.
33 - 29
9:32
Ruben Patterson enters the game for Travis Outlaw.
33 - 29
9:32
Larry Hughes enters the game for Gilbert Arenas.
33 - 29
9:25
Etan Thomas made layup. Assisted by Jarvis Hayes.
33 - 31
9:25
Sebastian Telfair Shooting Foul. Telfair's 4th Personal Foul, Portland's 3rd Team Foul.
33 - 31
9:25
Damon Stoudamire enters the game for Sebastian Telfair.
33 - 31
9:25
Etan Thomas missed Free Throw 1 of 1.
33 - 31
9:22
Michael Ruffin offensive rebound.
33 - 31
9:11
Juan Dixon made 21 ft jumper. Assisted by Larry Hughes.
33 - 33
8:52
Juan Dixon Personal Foul. Dixon's 2nd Personal Foul, Washington's 3rd Team Foul.
33 - 33
8:52
Official Timeout.
33 - 33
8:40
Theo Ratliff Turnover
33 - 33
8:23
Juan Dixon made 19 ft jumper.
33 - 35
8:03
Ruben Patterson missed 4 ft jumper.
33 - 35
8:03
Portland offensive rebound.
33 - 35
8:00
Zach Randolph enters the game for James Thomas.
33 - 35
8:00
Brendan Haywood enters the game for Etan Thomas.
33 - 35
7:58
Michael Ruffin Personal Foul. Ruffin's 3rd Personal Foul, Washington's 4th Team Foul.
33 - 35
7:48
Derek Anderson missed 19 ft jumper.
33 - 35
7:46
Jarvis Hayes defensive rebound.
33 - 35
7:39
Brendan Haywood made driving dunk. Assisted by Larry Hughes.
33 - 37
7:26
Derek Anderson missed 26 ft three point jumper.
33 - 37
7:22
Brendan Haywood defensive rebound.
33 - 37
7:07
Larry Hughes made driving layup.
33 - 39
6:58
Portland Full Timeout.
33 - 39
6:58
Jared Jeffries enters the game for Michael Ruffin.
33 - 39
6:58
Nick Van Exel enters the game for Derek Anderson.
33 - 39
6:39
Zach Randolph made 17 ft jumper.
35 - 39
6:22
Jarvis Hayes missed 22 ft jumper.
35 - 39
6:20
Jared Jeffries offensive rebound.
35 - 39
6:18
Larry Hughes made 19 ft jumper. Assisted by Jared Jeffries.
35 - 41
6:09
Portland Full Timeout.
35 - 41
6:09
James Thomas enters the game for Zach Randolph.
35 - 41
5:50
Damon Stoudamire missed 19 ft jumper.
35 - 41
5:50
Larry Hughes defensive rebound.
35 - 41
5:35
Larry Hughes missed 25 ft three point jumper.
35 - 41
5:33
Jarvis Hayes offensive rebound.
35 - 41
5:31
Jarvis Hayes missed layup.
35 - 41
5:31
Theo Ratliff defensive rebound.
35 - 41
5:16
Ruben Patterson made layup.
37 - 41
4:54
Jared Jeffries missed 5 ft jumper.
37 - 41
4:52
Brendan Haywood offensive rebound.
37 - 41
4:39
Larry Hughes missed 12 ft jumper.
37 - 41
4:37
James Thomas defensive rebound.
37 - 41
4:33
Ruben Patterson made two point shot. Assisted by Nick Van Exel.
39 - 41
4:18
Damon Stoudamire Personal Foul. Stoudamire's 2nd Personal Foul, Portland's 4th Team Foul.
39 - 41
4:18
Joel Przybilla enters the game for Theo Ratliff.
39 - 41
4:18
Gilbert Arenas enters the game for Juan Dixon.
39 - 41
4:18
Antawn Jamison enters the game for Jared Jeffries.
39 - 41
4:03
Shot Clock Violation
39 - 41
3:47
Gilbert Arenas Personal Foul. Arenas's 2nd Personal Foul, Washington's 5th Team Foul.
39 - 41
3:47
Jared Jeffries enters the game for Jarvis Hayes.
39 - 41
3:39
Damon Stoudamire missed 26 ft three point jumper.
39 - 41
3:36
Brendan Haywood defensive rebound.
39 - 41
3:31
Larry Hughes made layup.
39 - 43
3:31
Joel Przybilla Illegal Defense. Joel Przybilla gains possession.
39 - 43
3:11
Ruben Patterson missed 5 ft jumper.
39 - 43
3:10
James Thomas offensive rebound.
39 - 43
3:09
James Thomas made layup.
41 - 43
2:59
James Thomas Shooting Foul. Thomas's 1st Personal Foul, Portland's 5th Team Foul.
41 - 43
2:59
Washington Full Timeout.
41 - 43
2:59
Jared Jeffries missed Free Throw 1 of 2.
41 - 43
2:59
Washington offensive rebound.
41 - 43
2:59
Jared Jeffries missed Free Throw 2 of 2.
41 - 43
2:57
Joel Przybilla defensive rebound.
41 - 43
2:49
10 second
41 - 43
2:40
Joel Przybilla Shooting Foul. Przybilla's 2nd Personal Foul, Portland's 6th Team Foul.
41 - 43
2:40
Brendan Haywood made Free Throw 1 of 2.
41 - 44
2:40
Brendan Haywood missed Free Throw 2 of 2.
41 - 44
2:38
James Thomas defensive rebound.
41 - 44
2:19
Damon Stoudamire missed 26 ft three point jumper.
41 - 44
2:17
James Thomas offensive rebound.
41 - 44
2:16
James Thomas made layup.
43 - 44
2:00
Gilbert Arenas made 26 ft three point jumper. Assisted by Antawn Jamison.
43 - 47
1:37
Nick Van Exel made 23 ft three point jumper. Assisted by Damon Stoudamire.
46 - 47
1:25
Antawn Jamison missed 23 ft three point jumper.
46 - 47
1:23
Jared Jeffries offensive rebound.
46 - 47
1:23
Jared Jeffries missed layup.
46 - 47
1:21
Brendan Haywood offensive rebound.
46 - 47
1:20
Brendan Haywood made layup.
46 - 49
0:59
Brendan Haywood Personal Foul. Haywood's 1st Personal Foul, Washington's 6th Team Foul.
46 - 49
0:59
Derek Anderson enters the game for Damon Stoudamire.
46 - 49
0:59
Theo Ratliff enters the game for Joel Przybilla.
46 - 49
0:59
Ruben Patterson missed Free Throw 1 of 2.
46 - 49
0:59
Portland offensive rebound.
46 - 49
0:59
Ruben Patterson made Free Throw 2 of 2.
47 - 49
0:43
Antawn Jamison missed 24 ft three point jumper.
47 - 49
0:41
Brendan Haywood offensive rebound.
47 - 49
0:41
Washington 20 Sec. Timeout.
47 - 49
0:23
Antawn Jamison missed 12 ft jumper.
47 - 49
0:21
Washington offensive rebound.
47 - 49
0:00
End of the 2nd Quarter.
47 - 49

time
TEAM
PLAY
SCORE
12:00
Start of the 3rd Quarter.
47 - 49
11:44
Gilbert Arenas missed 25 ft three point jumper.
47 - 49
11:41
Antawn Jamison offensive rebound.
47 - 49
11:38
James Thomas Shooting Foul. Thomas's 2nd Personal Foul, Portland's 1st Team Foul.
47 - 49
11:38
Brendan Haywood made Free Throw 1 of 2.
47 - 50
11:38
Brendan Haywood missed Free Throw 2 of 2.
47 - 50
11:37
Joel Przybilla defensive rebound.
47 - 50
11:15
Damon Stoudamire missed 27 ft three point jumper.
47 - 50
11:14
Larry Hughes defensive rebound.
47 - 50
11:10
Gilbert Arenas made driving layup. Assisted by Larry Hughes.
47 - 52
10:48
James Thomas made dunk. Assisted by Damon Stoudamire.
49 - 52
10:26
Jared Jeffries missed 23 ft three point jumper.
49 - 52
10:25
Nick Van Exel defensive rebound.
49 - 52
10:11
Nick Van Exel missed jumper.
49 - 52
10:10
Joel Przybilla offensive rebound.
49 - 52
10:08
Joel Przybilla missed layup.
49 - 52
10:07
Joel Przybilla offensive rebound.
49 - 52
10:06
Ruben Patterson missed jumper.
49 - 52
10:04
Jared Jeffries defensive rebound.
49 - 52
9:55
Joel Przybilla Illegal Defense Foul. Przybilla's 3rd Personal Foul, Portland's 2nd Team Foul.
49 - 52
9:55
Antawn Jamison made Technical Free Throw.
49 - 53
9:40
Antawn Jamison missed 23 ft jumper.
49 - 53
9:37
Joel Przybilla defensive rebound.
49 - 53
9:19
Brendan Haywood Illegal Defense Foul. Haywood's 2nd Personal Foul, Washington's 1st Team Foul.
49 - 53
9:19
Damon Stoudamire missed Technical Free Throw.
49 - 53
9:19
Portland offensive rebound.
49 - 53
9:14
Damon Stoudamire missed 23 ft three point jumper.
49 - 53
9:11
Jared Jeffries defensive rebound.
49 - 53
9:04
Brendan Haywood made 6 ft two point shot. Assisted by Larry Hughes.
49 - 55
8:52
Brendan Haywood Shooting Foul. Haywood's 2nd Personal Foul, Washington's 2nd Team Foul.
49 - 55
8:52
Joel Przybilla missed Free Throw 1 of 2.
49 - 55
8:52
Portland offensive rebound.
49 - 55
8:52
Joel Przybilla made Free Throw 2 of 2.
50 - 55
8:42
Larry Hughes made 19 ft jumper. Assisted by Jared Jeffries.
50 - 57
8:36
Portland Full Timeout.
50 - 57
8:22
Nick Van Exel made 25 ft three point jumper. Assisted by Damon Stoudamire.
53 - 57
7:58
Larry Hughes's 15 ft jumper blocked by Ruben Patterson.
53 - 57
7:56
James Thomas defensive rebound.
53 - 57
7:50
Damon Stoudamire made 26 ft three point jumper. Assisted by Nick Van Exel.
56 - 57
7:31
Antawn Jamison missed 3 ft jumper.
56 - 57
7:31
Joel Przybilla defensive rebound.
56 - 57
7:26
Damon Stoudamire made driving layup.
58 - 57
7:15
Joel Przybilla Personal Foul. Przybilla's 3rd Personal Foul, Portland's 3rd Team Foul.
58 - 57
7:03
Gilbert Arenas made 25 ft three point jumper. Assisted by Larry Hughes.
58 - 60
6:41
Damon Stoudamire Lost Ball. Stolen by Larry Hughes.
58 - 60
6:37
Larry Hughes made layup. Assisted by Gilbert Arenas.
58 - 62
6:37
Ruben Patterson Shooting Foul. Patterson's 2nd Personal Foul, Portland's 4th Team Foul.
58 - 62
6:37
Larry Hughes made Free Throw 1 of 1.
58 - 63
6:20
Nick Van Exel made 9 ft running jumper.
60 - 63
6:03
Antawn Jamison made 22 ft jumper. Assisted by Gilbert Arenas.
60 - 65
5:50
Brendan Haywood Shooting Foul. Haywood's 3rd Personal Foul, Washington's 3rd Team Foul.
60 - 65
5:50
Joel Przybilla made Free Throw 1 of 2.
61 - 65
5:50
Joel Przybilla missed Free Throw 2 of 2.
61 - 65
5:48
Jared Jeffries defensive rebound.
61 - 65
5:37
Antawn Jamison Bad Pass
61 - 65
5:20
Nick Van Exel missed 26 ft three point jumper.
61 - 65
5:18
Ruben Patterson offensive rebound.
61 - 65
5:15
Ruben Patterson Lost Ball. Stolen by Jared Jeffries.
61 - 65
5:09
Gilbert Arenas made 25 ft three point jumper.
61 - 68
4:50
Travis Outlaw enters the game for Ruben Patterson.
61 - 68
4:35
James Thomas's jumper blocked by Brendan Haywood.
61 - 68
4:33
Larry Hughes defensive rebound.
61 - 68
4:28
Jared Jeffries's 4 ft jumper blocked by Joel Przybilla.
61 - 68
4:26
Jared Jeffries offensive rebound.
61 - 68
4:26
Jared Jeffries made layup.
61 - 70
4:26
Portland 20 Sec. Timeout.
61 - 70
4:11
Damon Stoudamire missed 21 ft jumper.
61 - 70
4:09
Joel Przybilla offensive rebound.
61 - 70
4:09
Antawn Jamison Personal Foul. Jamison's 1st Personal Foul, Washington's 4th Team Foul.
61 - 70
4:09
Derek Anderson enters the game for Damon Stoudamire.
61 - 70
3:48
Joel Przybilla made layup. Assisted by Derek Anderson.
63 - 70
3:31
Gilbert Arenas missed 9 ft jumper.
63 - 70
3:30
James Thomas defensive rebound.
63 - 70
3:18
Nick Van Exel Bad Pass. Stolen by Larry Hughes.
63 - 70
3:17
Derek Anderson Personal Foul. Anderson's 1st Personal Foul, Portland's 5th Team Foul.
63 - 70
3:17
Jarvis Hayes enters the game for Antawn Jamison.
63 - 70
3:05
Larry Hughes made driving layup.
63 - 72
2:49
Gilbert Arenas Personal Foul. Arenas's 4th Personal Foul, Washington's 5th Team Foul.
63 - 72
2:49
Washington Full Timeout.
63 - 72
2:49
Sebastian Telfair enters the game for Nick Van Exel.
63 - 72
2:49
Etan Thomas enters the game for Brendan Haywood.
63 - 72
2:36
Sebastian Telfair missed jumper.
63 - 72
2:34
James Thomas offensive rebound.
63 - 72
2:34
Shot Clock Violation
63 - 72
2:16
Gilbert Arenas missed 26 ft three point jumper.
63 - 72
2:15
Washington defensive rebound.
63 - 72
2:02
Larry Hughes Personal Foul. Hughes's 3rd Personal Foul, Washington's 6th Team Foul.
63 - 72
2:02
Theo Ratliff enters the game for Joel Przybilla.
63 - 72
2:02
Michael Ruffin enters the game for Jared Jeffries.
63 - 72
2:02
Derek Anderson made Free Throw 1 of 2.
64 - 72
2:02
Derek Anderson made Free Throw 2 of 2.
65 - 72
1:50
Etan Thomas's jumper blocked by Travis Outlaw.
65 - 72
1:47
Michael Ruffin offensive rebound.
65 - 72
1:44
Jarvis Hayes missed 7 ft jumper.
65 - 72
1:40
Sebastian Telfair defensive rebound.
65 - 72
1:32
Sebastian Telfair's 8 ft jumper blocked by Etan Thomas.
65 - 72
1:30
Gilbert Arenas defensive rebound.
65 - 72
1:12
Michael Ruffin made driving dunk.
65 - 74
0:46
Larry Hughes made slam dunk.
65 - 76
0:27
Theo Ratliff Lost Ball. Stolen by Larry Hughes.
65 - 76
0:23
Jarvis Hayes made layup. Assisted by Larry Hughes.
65 - 78
0:15
Theo Ratliff made 10 ft jumper. Assisted by James Thomas.
67 - 78
0:00
Theo Ratliff Shooting Foul. Ratliff's 1st Personal Foul, Portland's 6th Team Foul.
67 - 78
0:00
Michael Ruffin made Free Throw 1 of 2.
67 - 79
0:00
Joel Przybilla enters the game for Sebastian Telfair.
67 - 79
0:00
Michael Ruffin made Free Throw 2 of 2.
67 - 80
0:00
End of the 3rd Quarter.
67 - 80
0:00
End of the 3rd Quarter.
67 - 80

time
TEAM
PLAY
SCORE
12:00
Start of the 4th Quarter.
67 - 80
11:41
Etan Thomas Shooting Foul. Thomas's 1st Personal Foul, Washington's 1st Team Foul.
67 - 80
11:41
Derek Anderson made Free Throw 1 of 2.
68 - 80
11:41
Richie Frahm enters the game for Travis Outlaw.
68 - 80
11:41
Derek Anderson made Free Throw 2 of 2.
69 - 80
11:27
Etan Thomas missed jumper.
69 - 80
11:26
Etan Thomas offensive rebound.
69 - 80
11:25
Theo Ratliff Shooting Foul. Ratliff's 2nd Personal Foul, Portland's 1st Team Foul.
69 - 80
11:25
Etan Thomas missed Free Throw 1 of 2.
69 - 80
11:25
Washington offensive rebound.
69 - 80
11:25
Etan Thomas missed Free Throw 2 of 2.
69 - 80
11:23
Ruben Patterson defensive rebound.
69 - 80
11:08
Sebastian Telfair Offensive Foul. Telfair's 5th Personal Foul, Portland's 2nd Team Foul.
69 - 80
11:08
Sebastian Telfair Foul
69 - 80
10:52
Michael Ruffin's layup blocked by Theo Ratliff.
69 - 80
10:49
Ruben Patterson defensive rebound.
69 - 80
10:38
Richie Frahm missed 23 ft three point jumper.
69 - 80
10:37
Etan Thomas defensive rebound.
69 - 80
10:27
Sebastian Telfair Personal Foul. Telfair's 5th Personal Foul, Portland's 3rd Team Foul.
69 - 80
10:25
Gilbert Arenas missed 25 ft three point jumper.
69 - 80
10:22
Richie Frahm defensive rebound.
69 - 80
10:06
Sebastian Telfair missed 5 ft jumper.
69 - 80
10:04
Ruben Patterson offensive rebound.
69 - 80
10:04
Gilbert Arenas Shooting Foul. Arenas's 4th Personal Foul, Washington's 2nd Team Foul.
69 - 80
10:04
Ruben Patterson missed Free Throw 1 of 2.
69 - 80
10:04
Portland offensive rebound.
69 - 80
10:04
Juan Dixon enters the game for Gilbert Arenas.
69 - 80
10:04
Ruben Patterson missed Free Throw 2 of 2.
69 - 80
10:03
Ruben Patterson offensive rebound.
69 - 80
10:00
Ruben Patterson made layup.
71 - 80
9:34
Larry Hughes missed jumper.
71 - 80
9:33
Etan Thomas offensive rebound.
71 - 80
9:32
Etan Thomas missed layup.
71 - 80
9:30
Theo Ratliff defensive rebound.
71 - 80
9:29
Derek Anderson Bad Pass
71 - 80
9:29
Nick Van Exel enters the game for Sebastian Telfair.
71 - 80
9:29
Antawn Jamison enters the game for Michael Ruffin.
71 - 80
9:17
Antawn Jamison missed 19 ft jumper.
71 - 80
9:15
Washington offensive rebound.
71 - 80
9:15
Theo Ratliff Personal Foul. Ratliff's 3rd Personal Foul, Portland's 4th Team Foul.
71 - 80
9:04
Larry Hughes made 19 ft jumper. Assisted by Juan Dixon.
71 - 82
8:45
Theo Ratliff missed 13 ft jumper.
71 - 82
8:45
Juan Dixon defensive rebound.
71 - 82
8:36
Juan Dixon made 19 ft jumper.
71 - 84
8:30
Portland Full Timeout.
71 - 84
8:30
Damon Stoudamire enters the game for Derek Anderson.
71 - 84
8:21
Etan Thomas Shooting Foul. Thomas's 2nd Personal Foul, Washington's 3rd Team Foul.
71 - 84
8:21
Theo Ratliff made Free Throw 1 of 2.
72 - 84
8:21
Theo Ratliff made Free Throw 2 of 2.
73 - 84
8:03
Damon Stoudamire Shooting Foul. Stoudamire's 3rd Personal Foul, Portland's 5th Team Foul.
73 - 84
8:03
Juan Dixon missed Free Throw 1 of 2.
73 - 84
8:03
Washington offensive rebound.
73 - 84
8:03
Juan Dixon made Free Throw 2 of 2.
73 - 85
7:43
Ruben Patterson made layup.
75 - 85
7:30
Etan Thomas Lost Ball. Stolen by Ruben Patterson.
75 - 85
7:26
Ruben Patterson made dunk.
77 - 85
7:24
Washington Full Timeout.
77 - 85
7:24
Brendan Haywood enters the game for Etan Thomas.
77 - 85
7:03
Larry Hughes Bad Pass. Stolen by Damon Stoudamire.
77 - 85
6:56
Nick Van Exel made 23 ft three point jumper. Assisted by Damon Stoudamire.
80 - 85
6:41
Antawn Jamison's jumper blocked by Theo Ratliff.
80 - 85
6:39
Richie Frahm defensive rebound.
80 - 85
6:33
Nick Van Exel missed 24 ft three point jumper.
80 - 85
6:31
Juan Dixon defensive rebound.
80 - 85
6:24
Juan Dixon missed 27 ft three point jumper.
80 - 85
6:22
Richie Frahm defensive rebound.
80 - 85
6:18
Damon Stoudamire made 2 ft two point shot. Assisted by Richie Frahm.
82 - 85
5:58
Larry Hughes made 23 ft three point jumper. Assisted by Jarvis Hayes.
82 - 88
5:35
Ruben Patterson's jumper blocked by Brendan Haywood.
82 - 88
5:35
Portland offensive rebound.
82 - 88
5:35
Gilbert Arenas enters the game for Juan Dixon.
82 - 88
5:31
Damon Stoudamire made 25 ft three point jumper. Assisted by Richie Frahm.
85 - 88
5:18
Nick Van Exel Personal Foul. Van Exel's 1st Personal Foul, Portland's 6th Team Foul.
85 - 88
5:18
Larry Hughes missed Free Throw 1 of 2.
85 - 88
5:18
Washington offensive rebound.
85 - 88
5:18
Larry Hughes made Free Throw 2 of 2.
85 - 89
5:18
Ruben Patterson Turnover
85 - 89
5:11
Larry Hughes missed jumper.
85 - 89
5:11
Theo Ratliff defensive rebound.
85 - 89
5:01
Richie Frahm made 24 ft three point jumper. Assisted by Damon Stoudamire.
88 - 89
4:45
Larry Hughes missed 26 ft three point jumper.
88 - 89
4:43
Antawn Jamison offensive rebound.
88 - 89
4:28
Ruben Patterson Personal Foul. Patterson's 2nd Personal Foul, Portland's 7th Team Foul.
88 - 89
4:28
Gilbert Arenas missed Free Throw 1 of 2.
88 - 89
4:28
Washington offensive rebound.
88 - 89
4:28
Gilbert Arenas missed Free Throw 2 of 2.
88 - 89
4:28
Ruben Patterson defensive rebound.
88 - 89
4:11
Damon Stoudamire made driving layup.
90 - 89
3:49
Larry Hughes missed 5 ft jumper.
90 - 89
3:47
Brendan Haywood offensive rebound.
90 - 89
3:47
Brendan Haywood made dunk.
90 - 91
3:16
Nick Van Exel missed 27 ft three point jumper.
90 - 91
3:15
Antawn Jamison defensive rebound.
90 - 91
3:01
Damon Stoudamire Personal Foul. Stoudamire's 4th Personal Foul, Portland's 8th Team Foul.
90 - 91
3:01
Antawn Jamison made Free Throw 1 of 2.
90 - 92
3:01
Antawn Jamison missed Free Throw 2 of 2.
90 - 92
3:00
Washington defensive rebound.
90 - 92
2:43
Damon Stoudamire missed 25 ft three point jumper.
90 - 92
2:41
Antawn Jamison defensive rebound.
90 - 92
2:36
Theo Ratliff Shooting Foul. Ratliff's 4th Personal Foul, Portland's 9th Team Foul.
90 - 92
2:36
Antawn Jamison made Free Throw 1 of 2.
90 - 93
2:36
Antawn Jamison missed Free Throw 2 of 2.
90 - 93
2:36
Official Timeout.
90 - 92
2:35
Nick Van Exel defensive rebound.
90 - 93
2:14
Damon Stoudamire missed 5 ft jumper.
90 - 93
2:12
Gilbert Arenas defensive rebound.
90 - 93
1:58
Antawn Jamison made 6 ft two point shot.
90 - 95
1:45
Nick Van Exel made 27 ft three point jumper. Assisted by Damon Stoudamire.
93 - 95
1:23
Antawn Jamison's 25 ft three point jumper blocked by Ruben Patterson.
93 - 95
1:19
Nick Van Exel defensive rebound.
93 - 95
1:04
Nick Van Exel made 24 ft three point jumper. Assisted by Damon Stoudamire.
96 - 95
1:04
Washington Full Timeout.
96 - 95
0:55
Larry Hughes made 6 ft running jumper.
96 - 97
0:55
Portland Full Timeout.
96 - 97
0:55
Jared Jeffries enters the game for Antawn Jamison.
96 - 97
0:36
Damon Stoudamire missed 21 ft jumper.
96 - 97
0:36
Theo Ratliff offensive rebound.
96 - 97
0:36
Theo Ratliff made two point shot.
98 - 97
0:24
Gilbert Arenas made 6 ft running jumper.
98 - 99
0:24
Portland Full Timeout.
98 - 99
0:22
Richie Frahm Bad Pass. Stolen by Gilbert Arenas.
98 - 99
0:20
Gilbert Arenas made dunk.
98 - 101
0:16
Damon Stoudamire missed 26 ft three point jumper.
98 - 101
0:15
Larry Hughes defensive rebound.
98 - 101
0:15
Theo Ratliff Personal Foul. Ratliff's 5th Personal Foul, Portland's 10th Team Foul.
98 - 101
0:15
Larry Hughes made Free Throw 1 of 2.
98 - 102
0:15
Larry Hughes made Free Throw 2 of 2.
98 - 103
0:10
Gilbert Arenas Personal Foul. Arenas's 5th Personal Foul, Washington's 4th Team Foul.
98 - 103
0:06
Nick Van Exel missed 24 ft three point jumper.
98 - 103
0:05
Damon Stoudamire offensive rebound.
98 - 103
0:05
Damon Stoudamire made jumper.
100 - 103
0:05
Washington Full Timeout.
100 - 103
0:05
Juan Dixon enters the game for Jared Jeffries.
100 - 103
0:05
Antawn Jamison enters the game for Brendan Haywood.
100 - 103
0:02
Ruben Patterson Personal Foul. Patterson's 3rd Personal Foul, Portland's 11st Team Foul.
100 - 103
0:02
Larry Hughes missed Free Throw 1 of 2.
100 - 103
0:02
Washington offensive rebound.
100 - 103
0:02
Larry Hughes made Free Throw 2 of 2.
100 - 104
0:01
Ruben Patterson Bad Pass. Stolen by Gilbert Arenas.
100 - 104
0:00
End of the 4th Quarter.
100 - 104
0:00
End Game
100 - 104
Sources told ESPN.com that the Kings have sit-downs scheduled in the coming days with Mark Jackson, currently an ESPN NBA analyst, and Jeff Hornacek, formerly the Phoenix Suns' coach.

LeBron James leads the Cavaliers with 25 points to go along with nine assists, seven rebounds and five steals in a 104-93 win over the Hawks in Game 1 of the best-of-seven series.

Antonio Davis offers his evaluation of how LeBron James, Kyrie Irving and Kevin Love are playing together after the Cavaliers' Game 1 victory over the Hawks.
2015-2016 Northwest Standings
2015-2016 Southeast Standings