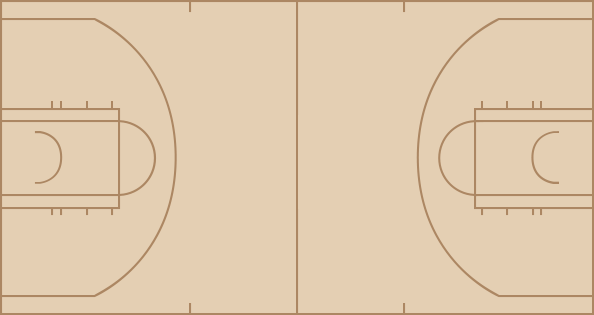 Magic
time
TEAM
PLAY
SCORE
12:00
Start of the 1st Quarter.
0 - 0
12:00
Jumpball: Kelvin Cato vs. Jermaine O'Neal. Jeff Foster gains possession.
0 - 0
11:45
Jermaine O'Neal missed jumper.
0 - 0
11:44
Jamaal Tinsley offensive rebound.
0 - 0
11:41
Hedo Turkoglu Shooting Foul. Turkoglu's 1st Personal Foul, Orlando's 1st Team Foul.
0 - 0
11:41
Jermaine O'Neal missed Free Throw 1 of 2.
0 - 0
11:41
Indiana offensive rebound.
0 - 0
11:41
Jermaine O'Neal made Free Throw 2 of 2.
0 - 1
11:19
Dwight Howard's layup blocked by Jermaine O'Neal.
0 - 1
11:18
Dwight Howard offensive rebound.
0 - 1
11:17
Dwight Howard missed layup.
0 - 1
11:17
Jermaine O'Neal Shooting Foul. O'Neal's 1st Personal Foul, Indiana's 1st Team Foul.
0 - 1
11:17
Dwight Howard made Free Throw 1 of 2.
1 - 1
11:17
Dwight Howard made Free Throw 2 of 2.
2 - 1
10:59
Jermaine O'Neal made 15 ft two point shot.
2 - 3
10:42
Steve Francis missed layup.
2 - 3
10:41
Steve Francis offensive rebound.
2 - 3
10:27
Grant Hill made 12 ft two point shot.
4 - 3
10:15
Jamaal Tinsley made 18 ft jumper.
4 - 5
10:08
Steve Francis Bad Pass
4 - 5
10:04
Jermaine O'Neal made layup. Assisted by Jamaal Tinsley.
4 - 7
9:41
Grant Hill made driving dunk.
6 - 7
9:25
Dwight Howard Shooting Foul. Howard's 1st Personal Foul, Orlando's 2nd Team Foul.
6 - 7
9:25
Jermaine O'Neal made Free Throw 1 of 2.
6 - 8
9:25
Jermaine O'Neal made Free Throw 2 of 2.
6 - 9
9:12
Hedo Turkoglu missed 18 ft jumper.
6 - 9
9:11
Grant Hill offensive rebound.
6 - 9
9:11
Grant Hill's layup blocked by James Jones.
6 - 9
9:11
Orlando defensive rebound.
6 - 9
9:00
Jermaine O'Neal missed 6 ft jumper.
6 - 9
9:00
Jeff Foster offensive rebound.
6 - 11
9:00
Jeff Foster made tip shot.
6 - 11
8:45
Dwight Howard made 2 ft two point shot.
8 - 11
8:29
James Jones missed 25 ft three point jumper.
8 - 11
8:26
Grant Hill defensive rebound.
8 - 11
8:21
James Jones Shooting Foul. Jones's 1st Personal Foul, Indiana's 2nd Team Foul.
8 - 11
8:21
Hedo Turkoglu made Free Throw 1 of 2.
9 - 11
8:21
Hedo Turkoglu missed Free Throw 2 of 2.
9 - 11
8:19
Jermaine O'Neal defensive rebound.
9 - 11
8:06
Reggie Miller made 25 ft three point jumper. Assisted by Jamaal Tinsley.
9 - 14
7:43
Hedo Turkoglu made layup. Assisted by Grant Hill.
11 - 14
7:28
Jeff Foster made dunk. Assisted by Jamaal Tinsley.
11 - 16
7:09
Kelvin Cato made 1 ft two point shot. Assisted by Steve Francis.
13 - 16
6:50
Jamaal Tinsley missed 25 ft three point jumper.
13 - 16
6:48
Indiana defensive rebound.
13 - 16
6:48
Jeff Foster Loose Ball Foul. Foster's 1st Personal Foul, Indiana's 3rd Team Foul.
13 - 16
6:30
Steve Francis missed 8 ft jumper.
13 - 16
6:28
Jermaine O'Neal defensive rebound.
13 - 16
6:13
Jermaine O'Neal missed 3 ft hook shot.
13 - 16
6:11
Dwight Howard defensive rebound.
13 - 16
6:07
Hedo Turkoglu made layup. Assisted by Grant Hill.
15 - 16
5:58
Indiana Full Timeout.
15 - 16
5:58
Tony Battie enters the game for Kelvin Cato.
15 - 16
5:50
Reggie Miller missed 14 ft jumper.
15 - 16
5:48
Steve Francis defensive rebound.
15 - 16
5:28
Steve Francis missed 26 ft three point jumper.
15 - 16
5:26
Jermaine O'Neal defensive rebound.
15 - 16
5:16
Steve Francis Shooting Foul. Francis's 1st Personal Foul, Orlando's 3rd Team Foul.
15 - 16
5:16
Jamaal Tinsley missed Free Throw 1 of 2.
15 - 16
5:16
Indiana offensive rebound.
15 - 16
5:16
Austin Croshere enters the game for Reggie Miller.
15 - 16
5:16
Fred Jones enters the game for Jeff Foster.
15 - 16
5:16
Jamaal Tinsley missed Free Throw 2 of 2.
15 - 16
5:16
Jermaine O'Neal offensive rebound.
15 - 16
5:13
Jermaine O'Neal made 4 ft two point shot.
15 - 18
5:00
Grant Hill made 16 ft jumper.
17 - 18
4:35
Jermaine O'Neal missed 17 ft jumper.
17 - 18
4:33
Hedo Turkoglu defensive rebound.
17 - 18
4:22
Dwight Howard made layup.
19 - 18
4:01
Austin Croshere missed layup.
19 - 18
4:00
Grant Hill defensive rebound.
19 - 18
3:47
Hedo Turkoglu made 20 ft jumper. Assisted by Steve Francis.
21 - 18
3:20
Jamaal Tinsley missed 7 ft jumper.
21 - 18
3:18
Dwight Howard defensive rebound.
21 - 18
3:10
Hedo Turkoglu made 22 ft jumper. Assisted by Tony Battie.
23 - 18
3:06
Indiana 20 Sec. Timeout.
23 - 18
3:06
Pat Garrity enters the game for Dwight Howard.
23 - 18
3:06
Jonathan Bender enters the game for James Jones.
23 - 18
3:00
Jamaal Tinsley missed layup.
23 - 18
2:59
Tony Battie defensive rebound.
23 - 18
2:47
Steve Francis made three point jumper. Assisted by Hedo Turkoglu.
26 - 18
2:21
Jermaine O'Neal missed jumper.
26 - 18
2:20
Hedo Turkoglu defensive rebound.
26 - 18
2:17
Fred Jones Shooting Foul. Jones's 1st Personal Foul, Indiana's 4th Team Foul.
26 - 18
2:17
Orlando Full Timeout.
26 - 18
2:17
Anthony Johnson enters the game for Jamaal Tinsley.
26 - 18
2:17
Doug Christie enters the game for Grant Hill.
26 - 18
2:17
Hedo Turkoglu missed Free Throw 1 of 2.
26 - 18
2:17
Orlando offensive rebound.
26 - 18
2:17
Hedo Turkoglu made Free Throw 2 of 2.
27 - 18
2:01
Jonathan Bender missed 10 ft jumper.
27 - 18
1:59
Doug Christie defensive rebound.
27 - 18
1:54
Steve Francis missed 15 ft jumper.
27 - 18
1:54
Austin Croshere defensive rebound.
27 - 18
1:39
Jermaine O'Neal Lost Ball. Stolen by Doug Christie.
27 - 18
1:23
Hedo Turkoglu Bad Pass. Stolen by Anthony Johnson.
27 - 18
1:16
Jonathan Bender made dunk. Assisted by Anthony Johnson.
27 - 20
0:57
Doug Christie missed jumper.
27 - 20
0:54
Anthony Johnson defensive rebound.
27 - 20
0:35
Jonathan Bender made dunk. Assisted by Jermaine O'Neal.
27 - 22
0:17
Steve Francis missed 14 ft jumper.
27 - 22
0:15
Jermaine O'Neal defensive rebound.
27 - 22
0:00
Anthony Johnson's layup blocked by Tony Battie.
27 - 22
0:00
Tony Battie defensive rebound.
27 - 22
0:00
End of the 1st Quarter.
27 - 22

time
TEAM
PLAY
SCORE
12:00
Start of the 2nd Quarter.
27 - 22
11:45
Grant Hill made 4 ft jumper.
29 - 22
11:32
Scot Pollard missed 16 ft jumper.
29 - 22
11:30
Tony Battie defensive rebound.
29 - 22
11:25
Doug Christie Bad Pass. Stolen by Fred Jones.
29 - 22
11:17
Fred Jones missed 25 ft three point jumper.
29 - 22
11:15
Grant Hill defensive rebound.
29 - 22
11:12
Grant Hill Lost Ball. Stolen by Jonathan Bender.
29 - 22
10:48
Jonathan Bender missed 16 ft jumper.
29 - 22
10:45
Pat Garrity defensive rebound.
29 - 22
10:40
Steve Francis made 2 ft two point shot. Assisted by Grant Hill.
31 - 22
10:22
Grant Hill Shooting Foul. Hill's 1st Personal Foul, Orlando's 1st Team Foul.
31 - 22
10:22
Jameer Nelson enters the game for Steve Francis.
31 - 22
10:22
Fred Jones missed Free Throw 1 of 2.
31 - 22
10:22
Indiana offensive rebound.
31 - 22
10:22
Fred Jones made Free Throw 2 of 2.
31 - 23
10:11
Tony Battie made 15 ft jumper. Assisted by Jameer Nelson.
33 - 23
9:53
Fred Jones missed 26 ft three point jumper.
33 - 23
9:52
Scot Pollard offensive rebound.
33 - 23
9:44
Scot Pollard missed jumper.
33 - 23
9:42
Anthony Johnson offensive rebound.
33 - 23
9:42
Jameer Nelson Loose Ball Foul. Nelson's 1st Personal Foul, Orlando's 2nd Team Foul.
33 - 23
9:29
Grant Hill Personal Foul. Hill's 2nd Personal Foul, Orlando's 3rd Team Foul.
33 - 23
9:29
Kelvin Cato enters the game for Tony Battie.
33 - 23
9:29
Hedo Turkoglu enters the game for Grant Hill.
33 - 23
9:18
Jonathan Bender missed 13 ft jumper.
33 - 23
9:17
Pat Garrity defensive rebound.
33 - 23
8:56
Jameer Nelson missed 21 ft jumper.
33 - 23
8:55
Austin Croshere defensive rebound.
33 - 23
8:33
Fred Jones made 17 ft jumper. Assisted by Scot Pollard.
33 - 25
8:17
Jameer Nelson missed jumper.
33 - 25
8:15
Jonathan Bender defensive rebound.
33 - 25
7:54
Jonathan Bender missed 5 ft jumper.
33 - 25
7:52
Austin Croshere offensive rebound.
33 - 25
7:52
Austin Croshere missed layup.
33 - 25
7:52
Indiana offensive rebound.
33 - 25
7:52
Official Timeout.
33 - 25
7:52
Reggie Miller enters the game for Jonathan Bender.
33 - 25
7:52
Jermaine O'Neal enters the game for Austin Croshere.
33 - 25
7:39
Jermaine O'Neal made 10 ft two point shot.
33 - 27
7:22
Doug Christie missed 12 ft jumper.
33 - 27
7:22
Kelvin Cato offensive rebound.
33 - 27
7:22
Scot Pollard Shooting Foul. Pollard's 1st Personal Foul, Indiana's 1st Team Foul.
33 - 27
7:22
Kelvin Cato made Free Throw 1 of 2.
34 - 27
7:22
Steve Francis enters the game for Jameer Nelson.
34 - 27
7:22
Kelvin Cato made Free Throw 2 of 2.
35 - 27
7:11
Pat Garrity Personal Foul. Garrity's 1st Personal Foul, Orlando's 4th Team Foul.
35 - 27
7:11
Dwight Howard enters the game for Pat Garrity.
35 - 27
7:11
Grant Hill enters the game for Doug Christie.
35 - 27
7:03
Grant Hill Shooting Foul. Hill's 3rd Personal Foul, Orlando's 5th Team Foul.
35 - 27
7:03
Doug Christie enters the game for Grant Hill.
35 - 27
7:03
Jermaine O'Neal made Free Throw 1 of 2.
35 - 28
7:03
Jamaal Tinsley enters the game for Anthony Johnson.
35 - 28
7:03
Jermaine O'Neal made Free Throw 2 of 2.
35 - 29
6:54
Dwight Howard Bad Pass. Stolen by Reggie Miller.
35 - 29
6:41
Jermaine O'Neal missed layup.
35 - 29
6:39
Steve Francis defensive rebound.
35 - 29
6:35
Fred Jones Shooting Foul. Jones's 2nd Personal Foul, Indiana's 2nd Team Foul.
35 - 29
6:35
Hedo Turkoglu made Free Throw 1 of 2.
36 - 29
6:35
Hedo Turkoglu made Free Throw 2 of 2.
37 - 29
6:22
Kelvin Cato Shooting Foul. Cato's 1st Personal Foul, Orlando's 6th Team Foul.
37 - 29
6:22
Jermaine O'Neal missed Free Throw 1 of 2.
37 - 29
6:22
Indiana offensive rebound.
37 - 29
6:22
Jermaine O'Neal made Free Throw 2 of 2.
37 - 30
6:07
Steve Francis made 10 ft two point shot.
39 - 30
5:41
Scot Pollard missed layup.
39 - 30
5:39
Scot Pollard offensive rebound.
39 - 30
5:28
Jermaine O'Neal Traveling
39 - 30
5:28
Indiana Full Timeout.
39 - 30
5:28
Jeff Foster enters the game for Scot Pollard.
39 - 30
5:13
Dwight Howard missed layup.
39 - 30
5:13
Jeff Foster defensive rebound.
39 - 30
4:58
Kelvin Cato Shooting Foul. Cato's 2nd Personal Foul, Orlando's 7th Team Foul.
39 - 30
4:58
Fred Jones missed Free Throw 1 of 2.
39 - 30
4:58
Indiana offensive rebound.
39 - 30
4:58
Fred Jones made Free Throw 2 of 2.
39 - 31
4:48
Kelvin Cato made two point shot. Assisted by Steve Francis.
41 - 31
4:28
Jermaine O'Neal missed 10 ft jumper.
41 - 31
4:26
Kelvin Cato defensive rebound.
41 - 31
4:16
Dwight Howard missed 16 ft jumper.
41 - 31
4:15
Orlando offensive rebound.
41 - 31
4:15
Fred Jones Personal Foul. Jones's 3rd Personal Foul, Indiana's 3rd Team Foul.
41 - 31
4:11
Reggie Miller Personal Foul. Miller's 1st Personal Foul, Indiana's 4th Team Foul.
41 - 31
4:11
James Jones enters the game for Fred Jones.
41 - 31
4:03
Steve Francis made 21 ft jumper. Assisted by Doug Christie.
43 - 31
3:39
Jermaine O'Neal Offensive Foul. O'Neal's 3rd Personal Foul, Indiana's 5th Team Foul.
43 - 31
3:39
Jermaine O'Neal Foul
43 - 31
3:39
Jonathan Bender enters the game for James Jones.
43 - 31
3:29
Steve Francis missed 18 ft jumper.
43 - 31
3:28
Reggie Miller defensive rebound.
43 - 31
3:20
Jamaal Tinsley made 17 ft jumper.
43 - 33
3:05
Hedo Turkoglu made 26 ft three point jumper. Assisted by Dwight Howard.
46 - 33
2:42
Jermaine O'Neal missed jumper.
46 - 33
2:41
Hedo Turkoglu defensive rebound.
46 - 33
2:33
Jeff Foster Shooting Foul. Foster's 2nd Personal Foul, Indiana's 6th Team Foul.
46 - 33
2:33
Orlando Full Timeout.
46 - 33
2:33
Tony Battie enters the game for Kelvin Cato.
46 - 33
2:33
Dwight Howard missed Free Throw 1 of 2.
46 - 33
2:33
Orlando offensive rebound.
46 - 33
2:33
Dwight Howard made Free Throw 2 of 2.
47 - 33
2:17
Reggie Miller Bad Pass. Stolen by Dwight Howard.
47 - 33
2:13
Hedo Turkoglu made Technical Free Throw.
48 - 33
2:08
Hedo Turkoglu missed 20 ft jumper.
48 - 33
2:05
Jeff Foster defensive rebound.
48 - 33
1:55
Jamaal Tinsley Bad Pass. Stolen by Doug Christie.
48 - 33
1:52
Hedo Turkoglu made two point shot. Assisted by Doug Christie.
50 - 33
1:52
Jonathan Bender Shooting Foul. Bender's 1st Personal Foul, Indiana's 7th Team Foul.
50 - 33
1:52
Hedo Turkoglu made Free Throw 1 of 1.
51 - 33
1:39
Dwight Howard Personal Foul. Howard's 2nd Personal Foul, Orlando's 8th Team Foul.
51 - 33
1:39
Jermaine O'Neal made Free Throw 1 of 2.
51 - 34
1:39
Jermaine O'Neal made Free Throw 2 of 2.
51 - 35
1:24
Steve Francis made 18 ft jumper.
53 - 35
1:02
Jermaine O'Neal made 7 ft jumper.
53 - 37
0:43
Steve Francis missed 14 ft jumper.
53 - 37
0:41
Jamaal Tinsley defensive rebound.
53 - 37
0:35
Tony Battie Shooting Foul. Battie's 1st Personal Foul, Orlando's 9th Team Foul.
53 - 37
0:35
Jermaine O'Neal made Free Throw 1 of 2.
53 - 38
0:35
Scot Pollard enters the game for Jeff Foster.
53 - 38
0:35
James Jones enters the game for Jonathan Bender.
53 - 38
0:35
Jermaine O'Neal made Free Throw 2 of 2.
53 - 39
0:30
Orlando 20 Sec. Timeout.
53 - 39
0:30
Pat Garrity enters the game for Dwight Howard.
53 - 39
0:30
Austin Croshere enters the game for Jermaine O'Neal.
53 - 39
0:18
Hedo Turkoglu missed 5 ft jumper.
53 - 39
0:16
Reggie Miller defensive rebound.
53 - 39
0:02
James Jones made 26 ft three point jumper. Assisted by Jamaal Tinsley.
53 - 42
0:01
Steve Francis Traveling
53 - 42
0:01
Jermaine O'Neal enters the game for Scot Pollard.
53 - 42
0:00
Austin Croshere missed three point jumper.
53 - 42
0:00
Indiana offensive rebound.
53 - 42
0:00
End of the 2nd Quarter.
53 - 42

time
TEAM
PLAY
SCORE
12:00
Start of the 3rd Quarter.
53 - 42
11:45
Grant Hill made 17 ft jumper.
55 - 42
11:22
Reggie Miller missed 4 ft jumper.
55 - 42
11:22
Kelvin Cato defensive rebound.
55 - 42
11:12
Steve Francis missed 20 ft jumper.
55 - 42
11:11
Reggie Miller defensive rebound.
55 - 42
11:03
Jamaal Tinsley missed 9 ft jumper.
55 - 42
11:00
Kelvin Cato defensive rebound.
55 - 42
10:38
Steve Francis missed 17 ft jumper.
55 - 42
10:37
James Jones defensive rebound.
55 - 42
10:21
Jermaine O'Neal missed 13 ft jumper.
55 - 42
10:21
Indiana defensive rebound.
55 - 42
10:21
Jeff Foster Loose Ball Foul. Foster's 3rd Personal Foul, Indiana's 1st Team Foul.
55 - 42
10:06
Hedo Turkoglu missed 24 ft three point jumper.
55 - 42
10:03
Jeff Foster defensive rebound.
55 - 42
9:45
Jamaal Tinsley missed 24 ft three point jumper.
55 - 42
9:44
Jeff Foster offensive rebound.
55 - 42
9:36
Jamaal Tinsley made two point shot.
55 - 44
9:21
James Jones Personal Foul. Jones's 2nd Personal Foul, Indiana's 2nd Team Foul.
55 - 44
9:12
Grant Hill's 13 ft jumper blocked by James Jones.
55 - 44
9:10
Jermaine O'Neal defensive rebound.
55 - 44
8:56
Jamaal Tinsley Turnover
55 - 44
8:56
Delay of Game
55 - 44
8:45
Reggie Miller Personal Foul. Miller's 2nd Personal Foul, Indiana's 3rd Team Foul.
55 - 44
8:33
Grant Hill Lost Ball. Stolen by Jamaal Tinsley.
55 - 44
8:18
Dwight Howard Personal Foul. Howard's 3rd Personal Foul, Orlando's 1st Team Foul.
55 - 44
8:10
Jermaine O'Neal missed 3 ft jumper.
55 - 44
8:07
Hedo Turkoglu defensive rebound.
55 - 44
8:02
Steve Francis made 2 ft two point shot.
57 - 44
7:41
Steve Francis Shooting Foul. Francis's 2nd Personal Foul, Orlando's 2nd Team Foul.
57 - 44
7:41
Jamaal Tinsley missed Free Throw 1 of 3.
57 - 44
7:41
Indiana offensive rebound.
57 - 44
7:41
Jamaal Tinsley made Free Throw 2 of 3.
57 - 45
7:41
Jamaal Tinsley made Free Throw 3 of 3.
57 - 46
7:31
Jamaal Tinsley Shooting Foul. Tinsley's 1st Personal Foul, Indiana's 4th Team Foul.
57 - 46
7:31
Steve Francis missed Free Throw 1 of 2.
57 - 46
7:31
Orlando offensive rebound.
57 - 46
7:31
Steve Francis made Free Throw 2 of 2.
58 - 46
7:18
Reggie Miller missed 25 ft three point jumper.
58 - 46
7:16
Hedo Turkoglu defensive rebound.
58 - 46
6:52
Hedo Turkoglu missed 17 ft jumper.
58 - 46
6:50
Kelvin Cato offensive rebound.
58 - 46
6:50
Kelvin Cato missed layup.
58 - 46
6:48
Kelvin Cato offensive rebound.
58 - 46
6:48
Kelvin Cato's layup blocked by Jermaine O'Neal.
58 - 46
6:48
Orlando defensive rebound.
58 - 46
6:48
Kelvin Cato Technical Foul. Cato's 1st Technical Foul.
58 - 46
6:48
Reggie Miller made Technical Free Throw.
58 - 47
6:37
Jeff Foster Offensive Foul. Foster's 5th Personal Foul, Indiana's 5th Team Foul.
58 - 47
6:37
Jeff Foster Foul
58 - 47
6:37
Scot Pollard enters the game for Jeff Foster.
58 - 47
6:20
Jermaine O'Neal Shooting Foul. O'Neal's 3rd Personal Foul, Indiana's 6th Team Foul.
58 - 47
6:20
Hedo Turkoglu made Free Throw 1 of 2.
59 - 47
6:20
Hedo Turkoglu made Free Throw 2 of 2.
60 - 47
6:09
Jermaine O'Neal missed 16 ft jumper.
60 - 47
6:07
Grant Hill defensive rebound.
60 - 47
5:54
Steve Francis's layup blocked by Scot Pollard.
60 - 47
5:54
Orlando defensive rebound.
60 - 47
5:43
Jermaine O'Neal made 5 ft jumper. Assisted by Reggie Miller.
60 - 49
5:31
Kelvin Cato Offensive Foul. Cato's 4th Personal Foul, Orlando's 4th Team Foul.
60 - 49
5:31
Kelvin Cato Foul
60 - 49
5:31
Indiana Full Timeout.
60 - 49
5:31
Tony Battie enters the game for Kelvin Cato.
60 - 49
5:18
Jermaine O'Neal's 6 ft jumper blocked by Dwight Howard.
60 - 49
5:16
Hedo Turkoglu defensive rebound.
60 - 49
4:58
Dwight Howard missed 3 ft jumper.
60 - 49
4:56
James Jones defensive rebound.
60 - 49
4:41
Jamaal Tinsley missed 16 ft jumper.
60 - 49
4:39
Grant Hill defensive rebound.
60 - 49
4:20
Grant Hill missed 18 ft jumper.
60 - 49
4:18
Scot Pollard defensive rebound.
60 - 49
4:03
Jermaine O'Neal made 11 ft jumper. Assisted by James Jones.
60 - 51
3:49
Tony Battie Offensive Foul. Battie's 3rd Personal Foul, Orlando's 5th Team Foul.
60 - 51
3:49
Tony Battie Foul
60 - 51
3:49
Fred Jones enters the game for Reggie Miller.
60 - 51
3:36
Jamaal Tinsley missed 27 ft three point jumper.
60 - 51
3:35
Jermaine O'Neal offensive rebound.
60 - 51
3:35
Jermaine O'Neal missed tip shot.
60 - 51
3:33
Jermaine O'Neal offensive rebound.
60 - 51
3:33
Steve Francis Personal Foul. Francis's 3rd Personal Foul, Orlando's 6th Team Foul.
60 - 51
3:20
Jermaine O'Neal missed layup.
60 - 51
3:18
Jermaine O'Neal offensive rebound.
60 - 53
3:18
Jermaine O'Neal made 4 ft jumper.
60 - 53
3:16
Orlando Full Timeout.
60 - 53
3:16
Doug Christie enters the game for Hedo Turkoglu.
60 - 53
2:59
Scot Pollard Shooting Foul. Pollard's 2nd Personal Foul, Indiana's 7th Team Foul.
60 - 53
2:59
Anthony Johnson enters the game for Jamaal Tinsley.
60 - 53
2:59
Jonathan Bender enters the game for James Jones.
60 - 53
2:59
Steve Francis made Free Throw 1 of 2.
61 - 53
2:59
Steve Francis missed Free Throw 2 of 2.
61 - 53
2:58
Jermaine O'Neal defensive rebound.
61 - 53
2:41
Scot Pollard made 18 ft jumper. Assisted by Jonathan Bender.
61 - 55
2:23
Steve Francis missed 18 ft jumper.
61 - 55
2:23
Orlando offensive rebound.
61 - 55
2:23
Scot Pollard Double Personal Foul. Tony Battie gains possession.
61 - 55
2:23
Tony Battie Foul
61 - 55
2:23
Jumpball: Dwight Howard vs. Jonathan Bender. Anthony Johnson gains possession.
61 - 55
2:06
Fred Jones Offensive Foul. Jones's 5th Personal Foul, Indiana's 8th Team Foul.
61 - 55
2:06
Fred Jones Foul
61 - 55
2:06
Reggie Miller enters the game for Fred Jones.
61 - 55
1:42
Steve Francis missed 7 ft jumper.
61 - 55
1:39
Dwight Howard offensive rebound.
61 - 55
1:39
Dwight Howard missed tip shot.
61 - 55
1:39
Dwight Howard offensive rebound.
61 - 55
1:28
Tony Battie made 15 ft jumper. Assisted by Grant Hill.
63 - 55
1:00
Jonathan Bender made 16 ft two point shot.
63 - 57
0:41
Dwight Howard made 6 ft two point shot. Assisted by Grant Hill.
65 - 57
0:32
Grant Hill Personal Foul. Hill's 4th Personal Foul, Orlando's 7th Team Foul.
65 - 57
0:32
Austin Croshere enters the game for Jermaine O'Neal.
65 - 57
0:32
Hedo Turkoglu enters the game for Grant Hill.
65 - 57
0:17
Austin Croshere missed 22 ft jumper.
65 - 57
0:15
Tony Battie defensive rebound.
65 - 57
0:00
Steve Francis missed 19 ft jumper.
65 - 57
0:00
Orlando offensive rebound.
65 - 57
0:00
End of the 3rd Quarter.
65 - 57

time
TEAM
PLAY
SCORE
12:00
Start of the 4th Quarter.
65 - 57
11:45
Reggie Miller made 10 ft running jumper. Assisted by Anthony Johnson.
65 - 59
11:30
Steve Francis's layup blocked by Anthony Johnson.
65 - 59
11:29
Orlando offensive rebound.
65 - 59
11:26
Hedo Turkoglu made jumper. Assisted by Steve Francis.
67 - 59
11:08
Austin Croshere missed 26 ft three point jumper.
67 - 59
11:07
Kelvin Cato defensive rebound.
67 - 59
11:07
Scot Pollard Loose Ball Foul. Pollard's 4th Personal Foul, Indiana's 1st Team Foul.
67 - 59
10:59
Doug Christie made 20 ft jumper. Assisted by Hedo Turkoglu.
69 - 59
10:47
Scot Pollard Bad Pass
69 - 59
10:33
Steve Francis made jumper.
71 - 59
10:30
Indiana Full Timeout.
71 - 59
10:30
Jamaal Tinsley enters the game for Anthony Johnson.
71 - 59
10:30
Jeff Foster enters the game for Scot Pollard.
71 - 59
10:30
Jermaine O'Neal enters the game for Austin Croshere.
71 - 59
10:18
Reggie Miller Bad Pass. Stolen by Doug Christie.
71 - 59
10:07
Steve Francis missed 17 ft jumper.
71 - 59
10:06
Reggie Miller defensive rebound.
71 - 59
9:55
Jonathan Bender made 2 ft two point shot. Assisted by Reggie Miller.
71 - 61
9:29
Steve Francis missed 17 ft jumper.
71 - 61
9:27
Kelvin Cato offensive rebound.
71 - 61
9:18
Doug Christie Bad Pass. Stolen by Jamaal Tinsley.
71 - 61
9:18
Steve Francis Personal Foul. Francis's 4th Personal Foul, Orlando's 1st Team Foul.
71 - 61
9:02
Jermaine O'Neal's 4 ft jumper blocked by Kelvin Cato.
71 - 61
9:02
Indiana offensive rebound.
71 - 61
8:57
Jamaal Tinsley made 6 ft running jumper.
71 - 63
8:40
Steve Francis Traveling
71 - 63
8:22
Jermaine O'Neal missed 6 ft jumper.
71 - 63
8:21
Jonathan Bender offensive rebound.
71 - 63
8:18
Reggie Miller missed three point jumper.
71 - 63
8:18
Tony Battie defensive rebound.
71 - 63
8:18
Jermaine O'Neal Loose Ball Foul. O'Neal's 4th Personal Foul, Indiana's 2nd Team Foul.
71 - 63
8:18
Fred Jones enters the game for Jonathan Bender.
71 - 63
8:18
Grant Hill enters the game for Steve Francis.
71 - 63
8:08
Jamaal Tinsley Personal Foul. Tinsley's 2nd Personal Foul, Indiana's 3rd Team Foul.
71 - 63
8:00
Kelvin Cato missed 17 ft jumper.
71 - 63
7:58
Jeff Foster defensive rebound.
71 - 63
7:52
Jamaal Tinsley missed 18 ft jumper.
71 - 63
7:50
Jeff Foster offensive rebound.
71 - 63
7:50
Jeff Foster missed tip shot.
71 - 63
7:48
Jermaine O'Neal offensive rebound.
71 - 63
7:48
Tony Battie Shooting Foul. Battie's 3rd Personal Foul, Orlando's 2nd Team Foul.
71 - 63
7:48
Jermaine O'Neal missed Free Throw 1 of 2.
71 - 63
7:48
Indiana offensive rebound.
71 - 63
7:48
Dwight Howard enters the game for Kelvin Cato.
71 - 63
7:48
Jermaine O'Neal made Free Throw 2 of 2.
71 - 64
7:28
Dwight Howard missed 4 ft jumper.
71 - 64
7:28
Jermaine O'Neal defensive rebound.
71 - 64
7:03
Jermaine O'Neal missed 25 ft three point jumper.
71 - 64
7:03
Indiana offensive rebound.
71 - 64
7:03
Shot Clock Violation
71 - 64
6:54
Hedo Turkoglu missed 16 ft jumper.
71 - 64
6:54
Tony Battie offensive rebound.
71 - 64
6:48
Reggie Miller Personal Foul. Miller's 3rd Personal Foul, Indiana's 4th Team Foul.
71 - 64
6:45
Grant Hill Bad Pass. Stolen by Jermaine O'Neal.
71 - 64
6:43
Tony Battie Shooting Foul. Battie's 4th Personal Foul, Orlando's 3rd Team Foul.
71 - 64
6:43
Jermaine O'Neal made Free Throw 1 of 2.
71 - 65
6:43
Jermaine O'Neal missed Free Throw 2 of 2.
71 - 65
6:43
Grant Hill defensive rebound.
71 - 65
6:35
Hedo Turkoglu Offensive Foul. Turkoglu's 3rd Personal Foul, Orlando's 4th Team Foul.
71 - 65
6:35
Hedo Turkoglu Foul
71 - 65
6:20
Jamaal Tinsley missed 27 ft three point jumper.
71 - 65
6:20
Dwight Howard defensive rebound.
71 - 65
6:07
Grant Hill made layup. Assisted by Doug Christie.
73 - 65
5:47
Jermaine O'Neal made layup.
73 - 67
5:31
Grant Hill made jumper.
75 - 67
5:13
Dwight Howard Personal Foul. Howard's 4th Personal Foul, Orlando's 5th Team Foul.
75 - 67
5:13
Official Timeout.
75 - 67
5:13
Steve Francis enters the game for Doug Christie.
75 - 67
4:58
Fred Jones made 5 ft running jumper.
75 - 69
4:35
Hedo Turkoglu missed layup.
75 - 69
4:33
Fred Jones defensive rebound.
75 - 69
4:22
Jamaal Tinsley Bad Pass. Stolen by Grant Hill.
75 - 69
4:18
Jamaal Tinsley Shooting Foul. Tinsley's 3rd Personal Foul, Indiana's 5th Team Foul.
75 - 69
4:18
Grant Hill made Free Throw 1 of 2.
76 - 69
4:18
Grant Hill made Free Throw 2 of 2.
77 - 69
3:58
Tony Battie Shooting Foul. Battie's 5th Personal Foul, Orlando's 6th Team Foul.
77 - 69
3:58
Kelvin Cato enters the game for Tony Battie.
77 - 69
3:58
Jeff Foster made Free Throw 1 of 2.
77 - 70
3:58
Jeff Foster missed Free Throw 2 of 2.
77 - 70
3:58
Dwight Howard defensive rebound.
77 - 70
3:40
Steve Francis missed 13 ft jumper.
77 - 70
3:19
Jermaine O'Neal made 4 ft two point shot. Assisted by Reggie Miller.
77 - 72
2:59
Fred Jones Shooting Foul. Jones's 5th Personal Foul, Indiana's 6th Team Foul.
77 - 72
2:59
Orlando Full Timeout.
77 - 72
2:59
Doug Christie enters the game for Hedo Turkoglu.
77 - 72
2:59
Grant Hill missed Free Throw 1 of 2.
77 - 72
2:59
Orlando offensive rebound.
77 - 72
2:59
Grant Hill made Free Throw 2 of 2.
78 - 72
2:48
Jamaal Tinsley made 5 ft running jumper.
78 - 74
2:48
Steve Francis Shooting Foul. Francis's 5th Personal Foul, Orlando's 7th Team Foul.
78 - 74
2:48
Jamaal Tinsley missed Free Throw 1 of 1.
78 - 74
2:47
Jeff Foster offensive rebound.
78 - 74
2:47
Dwight Howard Shooting Foul. Howard's 5th Personal Foul, Orlando's 8th Team Foul.
78 - 74
2:47
Jeff Foster made Free Throw 1 of 2.
78 - 75
2:47
Jeff Foster made Free Throw 2 of 2.
78 - 76
2:33
Grant Hill missed 16 ft jumper.
78 - 76
2:32
Jermaine O'Neal defensive rebound.
78 - 76
2:31
Steve Francis Loose Ball Foul. Francis's 6th Personal Foul, Orlando's 9th Team Foul.
78 - 76
2:31
Hedo Turkoglu enters the game for Steve Francis.
78 - 76
2:31
Jermaine O'Neal missed Free Throw 1 of 2.
78 - 76
2:31
Indiana offensive rebound.
78 - 76
2:31
Jermaine O'Neal made Free Throw 2 of 2.
78 - 77
2:12
Grant Hill missed jumper.
78 - 77
2:11
Grant Hill offensive rebound.
80 - 77
2:11
Grant Hill made tip shot.
80 - 77
1:50
Jermaine O'Neal made 9 ft two point shot.
80 - 79
1:30
Doug Christie missed 3 ft jumper.
80 - 79
1:28
Jermaine O'Neal defensive rebound.
80 - 79
1:14
Jamaal Tinsley missed 17 ft jumper.
80 - 79
1:14
Indiana defensive rebound.
80 - 79
1:14
Jermaine O'Neal Loose Ball Foul. O'Neal's 5th Personal Foul, Indiana's 7th Team Foul.
80 - 79
1:14
Indiana Full Timeout.
80 - 79
1:14
Dwight Howard made Free Throw 1 of 2.
81 - 79
1:14
Dwight Howard made Free Throw 2 of 2.
82 - 79
0:58
Dwight Howard Shooting Foul. Howard's 6th Personal Foul, Orlando's 10th Team Foul.
82 - 79
0:58
Pat Garrity enters the game for Dwight Howard.
82 - 79
0:58
Jermaine O'Neal missed Free Throw 1 of 2.
82 - 79
0:58
Indiana offensive rebound.
82 - 79
0:58
Jermaine O'Neal made Free Throw 2 of 2.
82 - 80
0:33
Grant Hill missed 23 ft three point jumper.
82 - 80
0:31
Kelvin Cato offensive rebound.
82 - 80
0:31
Jeff Foster Loose Ball Foul. Foster's 5th Personal Foul, Indiana's 8th Team Foul.
82 - 80
0:31
Kelvin Cato made Free Throw 1 of 2.
83 - 80
0:31
Kelvin Cato missed Free Throw 2 of 2.
83 - 80
0:31
Jermaine O'Neal defensive rebound.
83 - 80
0:31
Indiana Full Timeout.
83 - 80
0:28
Jermaine O'Neal made layup. Assisted by Fred Jones.
83 - 82
0:28
Orlando Full Timeout.
83 - 82
0:07
Fred Jones Shooting Foul. Jones's 6th Personal Foul, Indiana's 9th Team Foul.
83 - 82
0:07
Jonathan Bender enters the game for Fred Jones.
83 - 82
0:07
Kelvin Cato made Free Throw 1 of 2.
84 - 82
0:07
Kelvin Cato made Free Throw 2 of 2.
85 - 82
0:07
Indiana 20 Sec. Timeout.
85 - 82
0:07
James Jones enters the game for Jeff Foster.
85 - 82
0:03
Doug Christie Shooting Foul. Christie's 1st Personal Foul, Orlando's 11st Team Foul.
85 - 82
0:03
Reggie Miller missed Free Throw 1 of 3.
85 - 82
0:03
Indiana offensive rebound.
85 - 82
0:03
Reggie Miller made Free Throw 2 of 3.
85 - 83
0:03
Jeff Foster enters the game for James Jones.
85 - 83
0:03
Mario Kasun enters the game for Pat Garrity.
85 - 83
0:03
Reggie Miller made Free Throw 3 of 3.
85 - 84
0:03
Orlando Full Timeout.
85 - 84
0:03
Jameer Nelson enters the game for Kelvin Cato.
85 - 84
0:03
Pat Garrity enters the game for Mario Kasun.
85 - 84
0:03
Eddie Gill enters the game for Jermaine O'Neal.
85 - 84
0:03
Anthony Johnson enters the game for Jeff Foster.
85 - 84
0:03
Orlando 20 Sec. Timeout.
85 - 84
0:02
Anthony Johnson Personal Foul. Johnson's 1st Personal Foul, Indiana's 10th Team Foul.
85 - 84
0:02
Jermaine O'Neal enters the game for Jonathan Bender.
85 - 84
0:02
James Jones enters the game for Eddie Gill.
85 - 84
0:02
Jeff Foster enters the game for Anthony Johnson.
85 - 84
0:02
Kelvin Cato enters the game for Pat Garrity.
85 - 84
0:02
Jameer Nelson missed Free Throw 1 of 2.
85 - 84
0:02
Orlando offensive rebound.
85 - 84
0:02
Jameer Nelson missed Free Throw 2 of 2.
85 - 84
0:01
Jeff Foster defensive rebound.
85 - 84
0:00
End of the 4th Quarter.
85 - 84
0:00
End of the 4th Quarter.
85 - 84
0:00
End Game
85 - 84
Aldridge has been the dominant player for the Spurs in the first two games of the series. Should the Thunder consider a different approach against him?

Kyle Lowry does not reciprocate the security guard's fist bump upon arriving for Game 2 against the Heat.

After being embarrassed by the hot-handed Cavs in Game 2, the Hawks look to regroup and retaliate in Game 3 at a fired-up Philips Arena.
Regular Season Series
ORL wins series 3-1
2015-2016 Southeast Standings