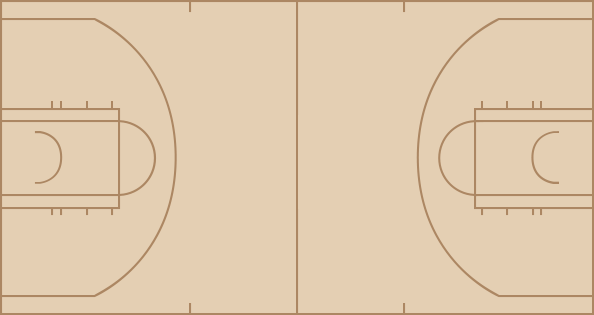 Hornets
time
TEAM
PLAY
SCORE
12:00
Start of the 1st Quarter.
0 - 0
12:00
Jumpball: P.J. Brown vs. Marc Jackson. Lee Nailon gains possession.
0 - 0
11:47
Dan Dickau Lost Ball. Stolen by Andre Iguodala.
0 - 0
11:40
Andre Iguodala missed 23 ft three point jumper.
0 - 0
11:37
Dan Dickau defensive rebound.
0 - 0
11:33
Lee Nailon made 17 ft jumper. Assisted by Dan Dickau.
2 - 0
11:18
Allen Iverson missed 13 ft jumper.
2 - 0
11:17
Andre Iguodala offensive rebound.
2 - 0
11:12
Kenny Thomas made 16 ft jumper. Assisted by Andre Iguodala.
2 - 2
10:55
P.J. Brown made dunk. Assisted by Rodney Rogers.
4 - 2
10:42
Kenny Thomas made 15 ft jumper. Assisted by Marc Jackson.
4 - 4
10:30
P.J. Brown missed 14 ft jumper.
4 - 4
10:29
Lee Nailon offensive rebound.
4 - 4
10:23
Lee Nailon missed 13 ft jumper.
4 - 4
10:22
P.J. Brown offensive rebound.
4 - 4
10:21
Dan Dickau missed 22 ft jumper.
4 - 4
10:19
Allen Iverson defensive rebound.
4 - 4
10:12
Rodney Rogers Shooting Foul. Rogers's 2nd Personal Foul, New Orleans's 1st Team Foul.
4 - 4
10:12
Allen Iverson made Free Throw 1 of 2.
4 - 5
10:12
Allen Iverson made Free Throw 2 of 2.
4 - 6
9:53
J.R. Smith missed 26 ft three point jumper.
4 - 6
9:52
John Salmons defensive rebound.
4 - 6
9:48
Allen Iverson's layup blocked by P.J. Brown.
4 - 6
9:44
P.J. Brown defensive rebound.
4 - 6
9:38
Rodney Rogers missed three point jumper.
4 - 6
9:37
Kenny Thomas defensive rebound.
4 - 6
9:22
Marc Jackson missed jumper.
4 - 6
9:22
Rodney Rogers defensive rebound.
4 - 6
9:12
P.J. Brown missed layup.
4 - 6
9:11
New Orleans offensive rebound.
4 - 6
9:02
Dan Dickau missed 26 ft three point jumper.
4 - 6
9:00
John Salmons defensive rebound.
4 - 6
8:53
Allen Iverson made 9 ft running jumper.
4 - 8
8:32
Rodney Rogers missed 12 ft jumper.
4 - 8
8:30
P.J. Brown offensive rebound.
4 - 8
8:26
P.J. Brown made 11 ft two point shot.
6 - 8
8:08
Kenny Thomas made 19 ft jumper. Assisted by John Salmons.
6 - 10
7:41
Dan Dickau's 12 ft jumper blocked by John Salmons.
6 - 10
7:41
Andre Iguodala defensive rebound.
6 - 10
7:31
Kenny Thomas missed 17 ft jumper.
6 - 10
7:31
Dan Dickau defensive rebound.
6 - 10
7:22
Lee Nailon made 7 ft running jumper.
8 - 10
7:05
Rodney Rogers Personal Foul. Rogers's 2nd Personal Foul, New Orleans's 2nd Team Foul.
8 - 10
7:05
Chris Andersen enters the game for Rodney Rogers.
8 - 10
7:01
Dan Dickau Shooting Foul. Dickau's 1st Personal Foul, New Orleans's 3rd Team Foul.
8 - 10
7:01
Allen Iverson made Free Throw 1 of 2.
8 - 11
7:01
Allen Iverson missed Free Throw 2 of 2.
8 - 11
7:01
Kyle Korver enters the game for John Salmons.
8 - 11
7:01
Allen Iverson missed Free Throw 2 of 2.
8 - 11
7:01
Kenny Thomas offensive rebound.
8 - 11
6:54
Allen Iverson missed 16 ft jumper.
8 - 11
6:52
Lee Nailon defensive rebound.
8 - 11
6:37
Lee Nailon missed 15 ft jumper.
8 - 11
6:35
Allen Iverson defensive rebound.
8 - 11
6:24
Marc Jackson made layup. Assisted by Kyle Korver.
8 - 13
6:11
Andre Iguodala Personal Foul. Iguodala's 1st Personal Foul, Philadelphia's 1st Team Foul.
8 - 13
6:11
Bostjan Nachbar enters the game for J.R. Smith.
8 - 13
5:56
Lee Nailon missed 13 ft jumper.
8 - 13
5:54
Allen Iverson defensive rebound.
8 - 13
5:43
Allen Iverson's layup blocked by Bostjan Nachbar.
8 - 13
5:41
Bostjan Nachbar defensive rebound.
8 - 13
5:35
Lee Nailon made layup. Assisted by Dan Dickau.
10 - 13
5:18
Philadelphia Full Timeout.
10 - 13
5:18
Bostjan Nachbar Personal Foul. Nachbar's 1st Personal Foul, New Orleans's 4th Team Foul.
10 - 13
5:09
Kenny Thomas made driving layup.
10 - 15
5:09
P.J. Brown Shooting Foul. Brown's 2nd Personal Foul, New Orleans's 5th Team Foul.
10 - 15
5:09
Kenny Thomas made Free Throw 1 of 1.
10 - 16
4:52
Lee Nailon Bad Pass. Stolen by Kenny Thomas.
10 - 16
4:43
Marc Jackson made layup. Assisted by Allen Iverson.
10 - 18
4:16
Lee Nailon made 15 ft jumper.
12 - 18
3:59
Allen Iverson missed layup.
12 - 18
3:57
Kenny Thomas offensive rebound.
12 - 20
3:57
Kenny Thomas made 5 ft two point shot.
12 - 20
3:29
Bostjan Nachbar made 21 ft jumper. Assisted by Dan Dickau.
14 - 20
3:16
Allen Iverson made two point shot.
14 - 22
3:09
Kyle Korver Personal Foul. Korver's 1st Personal Foul, Philadelphia's 2nd Team Foul.
14 - 22
3:09
John Salmons enters the game for Andre Iguodala.
14 - 22
2:59
Bostjan Nachbar missed jumper.
14 - 22
2:57
Kenny Thomas defensive rebound.
14 - 22
2:46
Chris Andersen Shooting Foul. Andersen's 1st Personal Foul, New Orleans's 6th Team Foul.
14 - 22
2:46
New Orleans Full Timeout.
14 - 22
2:46
Kenny Thomas made Free Throw 1 of 2.
14 - 23
2:46
Kenny Thomas made Free Throw 2 of 2.
14 - 24
2:35
Chris Andersen made slam dunk. Assisted by P.J. Brown.
16 - 24
2:13
Kenny Thomas made 5 ft two point shot. Assisted by John Salmons.
16 - 26
1:47
Dan Dickau Bad Pass. Stolen by Kyle Korver.
16 - 26
1:37
Marc Jackson missed layup.
16 - 26
1:36
Chris Andersen defensive rebound.
16 - 26
1:25
Chris Andersen made jumper. Assisted by Dan Dickau.
18 - 26
1:07
Kyle Korver missed 19 ft jumper.
18 - 26
1:05
Kyle Korver offensive rebound.
18 - 26
1:02
Kyle Korver made 21 ft jumper.
18 - 28
0:45
Dan Dickau missed 18 ft jumper.
18 - 28
0:44
Chris Andersen offensive rebound.
20 - 28
0:44
Chris Andersen made two point shot.
20 - 28
0:30
Allen Iverson missed 14 ft jumper.
20 - 28
0:28
P.J. Brown defensive rebound.
20 - 28
0:05
P.J. Brown made 17 ft jumper. Assisted by Lee Nailon.
22 - 28
0:00
Allen Iverson missed 25 ft three point jumper.
22 - 28
0:00
Bostjan Nachbar defensive rebound.
22 - 28
0:00
End of the 1st Quarter.
22 - 28

time
TEAM
PLAY
SCORE
12:00
Start of the 2nd Quarter.
22 - 28
11:52
Junior Harrington Personal Foul. Harrington's 1st Personal Foul, New Orleans's 1st Team Foul.
22 - 28
11:42
Corliss Williamson Bad Pass
22 - 28
11:29
Lee Nailon Bad Pass. Stolen by John Salmons.
22 - 28
11:15
Allen Iverson missed layup.
22 - 28
11:14
P.J. Brown defensive rebound.
22 - 28
11:07
P.J. Brown made running jumper. Assisted by Junior Harrington.
24 - 28
10:53
Kyle Korver missed 26 ft three point jumper.
24 - 28
10:52
Bostjan Nachbar defensive rebound.
24 - 28
10:34
John Salmons Shooting Foul. Salmons's 1st Personal Foul, Philadelphia's 1st Team Foul.
24 - 28
10:34
Bostjan Nachbar made Free Throw 1 of 2.
25 - 28
10:34
J.R. Smith enters the game for Lee Nailon.
25 - 28
10:34
Rodney Rogers enters the game for P.J. Brown.
25 - 28
10:34
Bostjan Nachbar made Free Throw 2 of 2.
26 - 28
10:15
Corliss Williamson made layup. Assisted by Kyle Korver.
26 - 30
10:06
Brian Skinner Personal Foul. Skinner's 1st Personal Foul, Philadelphia's 2nd Team Foul.
26 - 30
10:06
Andre Iguodala enters the game for Kyle Korver.
26 - 30
9:55
Junior Harrington Offensive Foul. Harrington's 3rd Personal Foul, New Orleans's 2nd Team Foul.
26 - 30
9:55
Junior Harrington Foul
26 - 30
9:37
Corliss Williamson missed 7 ft jumper.
26 - 30
9:36
Chris Andersen defensive rebound.
26 - 30
9:26
Rodney Rogers made 18 ft jumper. Assisted by Junior Harrington.
28 - 30
9:04
Allen Iverson missed two point shot.
28 - 30
9:03
Chris Andersen defensive rebound.
28 - 30
8:59
Bostjan Nachbar missed 27 ft three point jumper.
28 - 30
8:57
New Orleans defensive rebound.
28 - 30
8:56
Official Timeout.
28 - 30
8:56
Kenny Thomas enters the game for John Salmons.
28 - 30
8:56
Kyle Korver enters the game for Brian Skinner.
28 - 30
8:56
Dan Dickau enters the game for Junior Harrington.
28 - 30
8:42
Andre Iguodala made 24 ft three point jumper. Assisted by Kenny Thomas.
28 - 33
8:19
Rodney Rogers missed 19 ft jumper.
28 - 33
8:18
Andre Iguodala defensive rebound.
28 - 33
8:02
Corliss Williamson's layup blocked by Chris Andersen.
28 - 33
8:00
J.R. Smith defensive rebound.
28 - 33
7:50
Bostjan Nachbar made 16 ft two point shot.
30 - 33
7:28
Andre Iguodala missed 6 ft jumper.
30 - 33
7:28
Philadelphia offensive rebound.
30 - 33
7:28
Rodney Rogers Loose Ball Foul. Rogers's 3rd Personal Foul, New Orleans's 3rd Team Foul.
30 - 33
7:28
P.J. Brown enters the game for Rodney Rogers.
30 - 33
7:18
Kyle Korver made 25 ft three point jumper. Assisted by Kenny Thomas.
30 - 36
7:05
Allen Iverson Shooting Foul. Iverson's 1st Personal Foul, Philadelphia's 3rd Team Foul.
30 - 36
7:05
Dan Dickau made Free Throw 1 of 2.
31 - 36
7:05
Dan Dickau made Free Throw 2 of 2.
32 - 36
6:54
Allen Iverson missed 7 ft jumper.
32 - 36
6:50
Kenny Thomas offensive rebound.
32 - 36
6:50
Kenny Thomas missed layup.
32 - 36
6:50
Kenny Thomas offensive rebound.
32 - 36
6:48
Kenny Thomas made layup.
32 - 38
6:33
Dan Dickau missed 18 ft jumper.
32 - 38
6:31
Andre Iguodala defensive rebound.
32 - 38
6:26
Kyle Korver made 27 ft three point jumper. Assisted by Andre Iguodala.
32 - 41
6:16
New Orleans Full Timeout.
32 - 41
6:16
Lee Nailon enters the game for Bostjan Nachbar.
32 - 41
6:05
Chris Andersen made 17 ft jumper.
34 - 41
5:50
J.R. Smith Shooting Foul. Smith's 1st Personal Foul, New Orleans's 4th Team Foul.
34 - 41
5:50
Andre Iguodala made Free Throw 1 of 2.
34 - 42
5:50
Andre Iguodala missed Free Throw 2 of 2.
34 - 42
5:48
J.R. Smith defensive rebound.
34 - 42
5:35
J.R. Smith Bad Pass. Stolen by Corliss Williamson.
34 - 42
5:28
Dan Dickau Personal Foul. Dickau's 2nd Personal Foul, New Orleans's 5th Team Foul.
34 - 42
5:28
Junior Harrington enters the game for Dan Dickau.
34 - 42
5:16
Corliss Williamson made jumper. Assisted by Allen Iverson.
34 - 44
4:58
Junior Harrington missed 14 ft jumper.
34 - 44
4:56
Allen Iverson defensive rebound.
34 - 44
4:45
Corliss Williamson made layup.
34 - 46
4:22
Kyle Korver Shooting Foul. Korver's 2nd Personal Foul, Philadelphia's 4th Team Foul.
34 - 46
4:22
Lee Nailon made Free Throw 1 of 2.
35 - 46
4:22
Aaron McKie enters the game for Kyle Korver.
35 - 46
4:22
Lee Nailon made Free Throw 2 of 2.
36 - 46
4:09
Chris Andersen Personal Foul. Andersen's 2nd Personal Foul, New Orleans's 6th Team Foul.
36 - 46
4:09
Corliss Williamson made Free Throw 1 of 2.
36 - 47
4:09
Corliss Williamson made Free Throw 2 of 2.
36 - 48
3:51
Chris Andersen missed 11 ft jumper.
36 - 48
3:50
Kenny Thomas defensive rebound.
36 - 48
3:43
Corliss Williamson made layup. Assisted by Allen Iverson.
36 - 50
3:43
Chris Andersen Shooting Foul. Andersen's 3rd Personal Foul, New Orleans's 7th Team Foul.
36 - 50
3:43
Bostjan Nachbar enters the game for Chris Andersen.
36 - 50
3:43
Corliss Williamson made Free Throw 1 of 1.
36 - 51
3:24
Lee Nailon made 20 ft jumper. Assisted by Junior Harrington.
38 - 51
3:05
Junior Harrington Personal Foul. Harrington's 3rd Personal Foul, New Orleans's 8th Team Foul.
38 - 51
3:05
Allen Iverson made Free Throw 1 of 2.
38 - 52
3:05
Allen Iverson missed Free Throw 2 of 2.
38 - 52
3:01
P.J. Brown defensive rebound.
38 - 52
3:00
J.R. Smith Double Dribble
38 - 52
2:47
Kenny Thomas Traveling
38 - 52
2:47
Philadelphia Full Timeout.
38 - 52
2:47
Dan Dickau enters the game for Junior Harrington.
38 - 52
2:29
Bostjan Nachbar made 19 ft jumper. Assisted by J.R. Smith.
40 - 52
2:16
Allen Iverson missed 14 ft jumper.
40 - 52
2:15
Bostjan Nachbar defensive rebound.
40 - 52
2:15
Bostjan Nachbar Bad Pass. Stolen by Allen Iverson.
40 - 52
2:13
Allen Iverson made layup.
40 - 54
1:52
J.R. Smith missed 25 ft three point jumper.
40 - 54
1:50
Lee Nailon offensive rebound.
40 - 54
1:47
Lee Nailon made slam dunk.
42 - 54
1:17
Corliss Williamson missed layup.
42 - 54
1:16
Kenny Thomas offensive rebound.
42 - 54
1:16
Kenny Thomas missed tip shot.
42 - 54
1:15
Corliss Williamson offensive rebound.
42 - 56
1:15
Corliss Williamson made layup.
42 - 56
1:02
Dan Dickau Offensive Foul. Dickau's 4th Personal Foul, New Orleans's 9th Team Foul.
42 - 56
1:02
Dan Dickau Foul
42 - 56
0:48
Allen Iverson missed 24 ft three point jumper.
42 - 56
0:46
P.J. Brown defensive rebound.
42 - 56
0:41
Dan Dickau Offensive Foul. Dickau's 5th Personal Foul, New Orleans's 10th Team Foul.
42 - 56
0:41
Dan Dickau Foul
42 - 56
0:31
Kenny Thomas missed layup.
42 - 56
0:31
Kenny Thomas offensive rebound.
42 - 58
0:31
Kenny Thomas made layup.
42 - 58
0:15
Lee Nailon missed jumper.
42 - 58
0:14
P.J. Brown offensive rebound.
42 - 58
0:04
P.J. Brown missed 15 ft jumper.
42 - 58
0:03
New Orleans defensive rebound.
42 - 58
0:03
Lee Nailon Loose Ball Foul. Nailon's 2nd Personal Foul, New Orleans's 11st Team Foul.
42 - 58
0:03
Aaron McKie missed Free Throw 1 of 2.
42 - 58
0:03
Philadelphia offensive rebound.
42 - 58
0:03
Aaron McKie made Free Throw 2 of 2.
42 - 59
0:00
J.R. Smith missed 34 ft three point jumper.
42 - 59
0:00
Andre Iguodala defensive rebound.
42 - 59
0:00
End of the 2nd Quarter.
42 - 59

time
TEAM
PLAY
SCORE
12:00
Start of the 3rd Quarter.
42 - 59
11:40
Kenny Thomas missed 18 ft jumper.
42 - 59
11:37
Philadelphia defensive rebound.
42 - 59
11:15
Rodney Rogers made 19 ft jumper. Assisted by Lee Nailon.
44 - 59
11:00
Junior Harrington Shooting Foul. Harrington's 4th Personal Foul, New Orleans's 1st Team Foul.
44 - 59
11:00
John Salmons made Free Throw 1 of 2.
44 - 60
11:00
John Salmons made Free Throw 2 of 2.
44 - 61
10:37
Lee Nailon missed jumper.
44 - 61
10:34
Andre Iguodala defensive rebound.
44 - 61
10:15
Andre Iguodala missed three point jumper.
44 - 61
10:14
Rodney Rogers defensive rebound.
44 - 61
9:56
Lee Nailon's layup blocked by Andre Iguodala.
44 - 61
9:55
Lee Nailon offensive rebound.
44 - 61
9:55
Andre Iguodala Shooting Foul. Iguodala's 2nd Personal Foul, Philadelphia's 1st Team Foul.
44 - 61
9:55
Lee Nailon made Free Throw 1 of 2.
45 - 61
9:55
Lee Nailon missed Free Throw 2 of 2.
45 - 61
9:52
Kenny Thomas defensive rebound.
45 - 61
9:41
Marc Jackson missed 17 ft jumper.
45 - 61
9:40
Lee Nailon defensive rebound.
45 - 61
9:23
Rodney Rogers made 17 ft jumper. Assisted by P.J. Brown.
47 - 61
9:04
Andre Iguodala Bad Pass. Stolen by Lee Nailon.
47 - 61
8:56
Rodney Rogers made 26 ft three point jumper. Assisted by Junior Harrington.
50 - 61
8:53
Philadelphia Full Timeout.
50 - 61
8:42
Kenny Thomas made 20 ft jumper.
50 - 63
8:18
Rodney Rogers missed 26 ft three point jumper.
50 - 63
8:18
Marc Jackson defensive rebound.
50 - 63
8:12
Allen Iverson missed 26 ft three point jumper.
50 - 63
8:11
Marc Jackson offensive rebound.
50 - 63
8:11
Lee Nailon Shooting Foul. Nailon's 2nd Personal Foul, New Orleans's 2nd Team Foul.
50 - 63
8:11
Marc Jackson made Free Throw 1 of 2.
50 - 64
8:11
Marc Jackson made Free Throw 2 of 2.
50 - 65
7:52
Rodney Rogers missed layup.
50 - 65
7:52
John Salmons defensive rebound.
50 - 65
7:33
Marc Jackson missed layup.
50 - 65
7:33
Marc Jackson offensive rebound.
50 - 65
7:33
Marc Jackson missed tip shot.
50 - 65
7:31
J.R. Smith defensive rebound.
50 - 65
7:15
Lee Nailon Lost Ball. Stolen by Andre Iguodala.
50 - 65
7:03
Allen Iverson made 18 ft jumper. Assisted by John Salmons.
50 - 67
6:35
J.R. Smith Bad Pass. Stolen by Allen Iverson.
50 - 67
6:31
Allen Iverson made layup.
50 - 69
6:31
New Orleans Full Timeout.
50 - 69
6:31
Dan Dickau enters the game for J.R. Smith.
50 - 69
6:18
P.J. Brown made dunk. Assisted by Lee Nailon.
52 - 69
5:54
Allen Iverson missed jumper.
52 - 69
5:52
Junior Harrington defensive rebound.
52 - 69
5:50
Junior Harrington Bad Pass
52 - 69
5:33
John Salmons 3 second
52 - 69
5:22
Rodney Rogers missed layup.
52 - 69
5:22
Kenny Thomas defensive rebound.
52 - 69
5:09
Marc Jackson missed 7 ft jumper.
52 - 69
5:09
Junior Harrington defensive rebound.
52 - 69
5:03
Dan Dickau missed 23 ft three point jumper.
52 - 69
5:01
New Orleans offensive rebound.
52 - 69
5:01
Bostjan Nachbar enters the game for Junior Harrington.
52 - 69
5:01
Kenny Thomas Double Personal Foul. P.J. Brown gains possession.
52 - 69
5:01
Jumpball: P.J. Brown vs. Kenny Thomas. Lee Nailon gains possession.
52 - 69
4:47
P.J. Brown's layup blocked by Andre Iguodala.
52 - 69
4:45
John Salmons defensive rebound.
52 - 69
4:37
Andre Iguodala made layup.
52 - 71
4:28
Lee Nailon missed jumper.
52 - 71
4:26
Kenny Thomas defensive rebound.
52 - 71
4:24
Kenny Thomas Bad Pass. Stolen by Dan Dickau.
52 - 71
4:22
Dan Dickau's jumper blocked by Kenny Thomas.
52 - 71
4:18
Lee Nailon offensive rebound.
52 - 71
4:11
Bostjan Nachbar missed 26 ft three point jumper.
52 - 71
4:11
John Salmons defensive rebound.
52 - 71
3:36
Bostjan Nachbar Bad Pass
52 - 71
3:36
Kyle Korver enters the game for John Salmons.
52 - 71
3:26
John Salmons made 17 ft jumper.
52 - 73
3:09
Kenny Thomas Shooting Foul. Thomas's 3rd Personal Foul, Philadelphia's 2nd Team Foul.
52 - 73
3:09
Kyle Korver enters the game for Andre Iguodala.
52 - 73
3:09
Rodney Rogers missed Free Throw 1 of 2.
52 - 73
3:09
New Orleans offensive rebound.
52 - 73
3:09
Corliss Williamson enters the game for Kenny Thomas.
52 - 73
3:09
Rodney Rogers made Free Throw 2 of 2.
53 - 73
2:47
Allen Iverson missed layup.
53 - 73
2:47
P.J. Brown defensive rebound.
53 - 73
2:47
Marc Jackson Loose Ball Foul. Jackson's 1st Personal Foul, Philadelphia's 3rd Team Foul.
53 - 73
2:47
Chris Andersen enters the game for Rodney Rogers.
53 - 73
2:30
Bostjan Nachbar missed 25 ft three point jumper.
53 - 73
2:27
Kyle Korver defensive rebound.
53 - 73
2:15
Chris Andersen Shooting Foul. Andersen's 4th Personal Foul, New Orleans's 3rd Team Foul.
53 - 73
2:15
Allen Iverson made Free Throw 1 of 2.
53 - 74
2:15
Allen Iverson made Free Throw 2 of 2.
53 - 75
2:03
Dan Dickau Bad Pass
53 - 75
1:44
Marc Jackson missed jumper.
53 - 75
1:43
P.J. Brown defensive rebound.
53 - 75
1:31
Chris Andersen missed 12 ft jumper.
53 - 75
1:31
Kyle Korver defensive rebound.
53 - 75
1:21
Marc Jackson made 18 ft jumper. Assisted by John Salmons.
53 - 77
1:04
Marc Jackson Shooting Foul. Jackson's 3rd Personal Foul, Philadelphia's 4th Team Foul.
53 - 77
1:04
Aaron McKie enters the game for John Salmons.
53 - 77
1:04
Bostjan Nachbar made Free Throw 1 of 2.
54 - 77
1:04
Bostjan Nachbar made Free Throw 2 of 2.
55 - 77
0:39
Marc Jackson missed layup.
55 - 77
0:38
Corliss Williamson offensive rebound.
55 - 77
0:28
P.J. Brown Shooting Foul. Brown's 2nd Personal Foul, New Orleans's 4th Team Foul.
55 - 77
0:28
Allen Iverson made Free Throw 1 of 2.
55 - 78
0:28
Allen Iverson made Free Throw 2 of 2.
55 - 79
0:07
Corliss Williamson Personal Foul. Williamson's 1st Personal Foul, Philadelphia's 5th Team Foul.
55 - 79
0:07
P.J. Brown made Free Throw 1 of 2.
56 - 79
0:07
P.J. Brown made Free Throw 2 of 2.
57 - 79
0:00
Allen Iverson missed jumper.
57 - 79
0:00
Lee Nailon defensive rebound.
57 - 79
0:00
End of the 3rd Quarter.
57 - 79

time
TEAM
PLAY
SCORE
12:00
Start of the 4th Quarter.
57 - 79
11:36
Bostjan Nachbar Bad Pass. Stolen by Kyle Korver.
57 - 79
11:30
Allen Iverson made 26 ft three point jumper. Assisted by Aaron McKie.
57 - 82
11:03
Kyle Korver Personal Foul. Korver's 3rd Personal Foul, Philadelphia's 1st Team Foul.
57 - 82
10:48
Lee Nailon made two point shot.
59 - 82
10:33
Chris Andersen Personal Foul. Andersen's 5th Personal Foul, New Orleans's 1st Team Foul.
59 - 82
10:19
Corliss Williamson Bad Pass. Stolen by Bostjan Nachbar.
59 - 82
10:19
Corliss Williamson Personal Foul. Williamson's 4th Personal Foul, Philadelphia's 9th Team Foul.
91 - 95
9:55
Bostjan Nachbar missed 17 ft jumper.
59 - 82
9:52
Bostjan Nachbar offensive rebound.
59 - 82
9:48
Dan Dickau made 25 ft three point jumper. Assisted by Bostjan Nachbar.
62 - 82
9:41
Bostjan Nachbar Personal Foul. Nachbar's 2nd Personal Foul, New Orleans's 2nd Team Foul.
62 - 82
9:36
Kyle Korver Bad Pass
62 - 82
9:18
Allen Iverson Personal Foul. Iverson's 2nd Personal Foul, Philadelphia's 2nd Team Foul.
62 - 82
9:18
Lee Nailon Bad Pass. Stolen by Kenny Thomas.
62 - 82
9:12
Kyle Korver missed 23 ft three point jumper.
62 - 82
9:11
Lee Nailon defensive rebound.
62 - 82
9:03
Dan Dickau missed layup.
62 - 82
9:03
Kenny Thomas defensive rebound.
62 - 82
8:52
Kyle Korver missed 24 ft three point jumper.
62 - 82
8:49
Chris Andersen defensive rebound.
62 - 82
8:36
Bostjan Nachbar's 13 ft jumper blocked by Aaron McKie.
62 - 82
8:33
Kyle Korver defensive rebound.
62 - 82
8:30
Aaron McKie missed 20 ft jumper.
62 - 82
8:29
Chris Andersen defensive rebound.
62 - 82
8:11
Official Timeout.
62 - 82
8:03
Dan Dickau missed 21 ft jumper.
62 - 82
8:02
Matt Freije offensive rebound.
62 - 82
7:48
Kenny Thomas Shooting Foul. Thomas's 3rd Personal Foul, Philadelphia's 3rd Team Foul.
62 - 82
7:48
Chris Andersen made Free Throw 1 of 2.
63 - 82
7:48
John Salmons enters the game for Kyle Korver.
63 - 82
7:48
Chris Andersen made Free Throw 2 of 2.
64 - 82
7:28
Allen Iverson missed 19 ft jumper.
64 - 82
7:26
Chris Andersen defensive rebound.
64 - 82
7:13
Lee Nailon made 18 ft jumper.
66 - 82
7:01
John Salmons Bad Pass. Stolen by Matt Freije.
66 - 82
6:46
Matt Freije made jumper. Assisted by Lee Nailon.
68 - 82
6:24
Kenny Thomas missed 19 ft jumper.
68 - 82
6:22
Lee Nailon defensive rebound.
68 - 82
6:18
Kenny Thomas Shooting Foul. Thomas's 4th Personal Foul, Philadelphia's 4th Team Foul.
68 - 82
6:18
Dan Dickau made Free Throw 1 of 2.
69 - 82
6:18
Kyle Korver enters the game for Aaron McKie.
69 - 82
6:18
Marc Jackson enters the game for Kenny Thomas.
69 - 82
6:18
Dan Dickau made Free Throw 2 of 2.
70 - 82
6:07
John Salmons Bad Pass. Stolen by Chris Andersen.
70 - 82
6:01
Matt Freije made 14 ft running jumper.
72 - 82
5:39
Corliss Williamson missed layup.
72 - 82
5:39
Philadelphia offensive rebound.
72 - 82
5:39
Philadelphia Full Timeout.
72 - 82
5:39
Aaron McKie enters the game for John Salmons.
72 - 82
5:39
P.J. Brown enters the game for Chris Andersen.
72 - 82
5:39
Philadelphia 20 Sec. Timeout.
72 - 82
5:35
Allen Iverson missed 18 ft jumper.
72 - 82
5:33
Matt Freije defensive rebound.
72 - 82
5:16
Lee Nailon made jumper. Assisted by Dan Dickau.
74 - 82
4:56
Kyle Korver missed 23 ft three point jumper.
74 - 82
4:54
Bostjan Nachbar defensive rebound.
74 - 82
4:50
Lee Nailon missed 18 ft jumper.
74 - 82
4:48
Aaron McKie defensive rebound.
74 - 82
4:30
Kyle Korver missed 16 ft jumper.
74 - 82
4:28
P.J. Brown defensive rebound.
74 - 82
4:15
Bostjan Nachbar missed 28 ft three point jumper.
74 - 82
4:11
Corliss Williamson defensive rebound.
74 - 82
4:01
Corliss Williamson made two point shot. Assisted by Kyle Korver.
74 - 84
4:01
P.J. Brown Shooting Foul. Brown's 4th Personal Foul, New Orleans's 3rd Team Foul.
74 - 84
4:01
Kenny Thomas enters the game for Marc Jackson.
74 - 84
4:01
Corliss Williamson made Free Throw 1 of 1.
74 - 85
3:47
P.J. Brown made dunk. Assisted by Dan Dickau.
76 - 85
3:26
Kyle Korver missed 26 ft three point jumper.
76 - 85
3:25
Philadelphia offensive rebound.
76 - 85
3:25
Matt Freije Loose Ball Foul. Freije's 1st Personal Foul, New Orleans's 4th Team Foul.
76 - 85
3:09
Kyle Korver missed 26 ft three point jumper.
76 - 85
3:05
Kenny Thomas offensive rebound.
76 - 87
3:05
Allen Iverson made 16 ft jumper.
76 - 87
2:49
Lee Nailon missed 13 ft jumper.
76 - 87
2:48
Kenny Thomas defensive rebound.
76 - 87
2:41
Allen Iverson Turnover
76 - 87
2:41
New Orleans Full Timeout.
76 - 87
2:29
Bostjan Nachbar made driving layup.
78 - 87
2:12
Allen Iverson made 13 ft two point shot.
78 - 89
1:54
Matt Freije missed 25 ft three point jumper.
78 - 89
1:53
P.J. Brown offensive rebound.
78 - 89
1:49
Matt Freije made 10 ft jumper.
80 - 89
1:23
Allen Iverson missed 17 ft jumper.
80 - 89
1:22
P.J. Brown defensive rebound.
80 - 89
1:15
P.J. Brown missed 12 ft jumper.
80 - 89
1:14
Aaron McKie defensive rebound.
80 - 89
0:51
Allen Iverson missed 27 ft three point jumper.
80 - 89
0:49
P.J. Brown defensive rebound.
80 - 89
0:45
Dan Dickau made driving layup.
82 - 89
0:45
Kyle Korver Shooting Foul. Korver's 5th Personal Foul, Philadelphia's 5th Team Foul.
82 - 89
0:45
Dan Dickau made Free Throw 1 of 1.
83 - 89
0:20
Aaron McKie missed 16 ft jumper.
83 - 89
0:19
Bostjan Nachbar defensive rebound.
83 - 89
0:13
Corliss Williamson Personal Foul. Williamson's 2nd Personal Foul, Philadelphia's 6th Team Foul.
83 - 89
0:13
Lee Nailon made Free Throw 1 of 2.
84 - 89
0:13
Lee Nailon made Free Throw 2 of 2.
85 - 89
0:11
P.J. Brown Personal Foul. Brown's 5th Personal Foul, New Orleans's 5th Team Foul.
85 - 89
0:11
Allen Iverson made Free Throw 1 of 2.
85 - 90
0:11
Allen Iverson made Free Throw 2 of 2.
85 - 91
0:11
New Orleans Full Timeout.
85 - 91
0:07
Dan Dickau made driving layup.
87 - 91
0:07
Kenny Thomas Shooting Foul. Thomas's 6th Personal Foul, Philadelphia's 7th Team Foul.
87 - 91
0:07
Dan Dickau made Free Throw 1 of 1.
88 - 91
0:06
Lee Nailon Personal Foul. Nailon's 4th Personal Foul, New Orleans's 6th Team Foul.
88 - 91
0:06
Allen Iverson made Free Throw 1 of 2.
88 - 92
0:06
Allen Iverson made Free Throw 2 of 2.
88 - 93
0:06
New Orleans Full Timeout.
88 - 93
0:04
Allen Iverson Shooting Foul. Iverson's 3rd Personal Foul, Philadelphia's 8th Team Foul.
88 - 93
0:04
Dan Dickau made Free Throw 1 of 3.
89 - 93
0:04
Dan Dickau made Free Throw 2 of 3.
90 - 93
0:04
Dan Dickau made Free Throw 3 of 3.
91 - 93
0:04
Lee Nailon Personal Foul. Nailon's 5th Personal Foul, New Orleans's 7th Team Foul.
91 - 93
0:04
Kyle Korver made Free Throw 1 of 2.
91 - 94
0:04
Kyle Korver made Free Throw 2 of 2.
91 - 95
0:04
New Orleans 20 Sec. Timeout.
91 - 95
0:01
Dan Dickau missed 23 ft three point jumper.
91 - 95
0:00
Kyle Korver defensive rebound.
91 - 95
0:00
End of the 4th Quarter.
91 - 95
The latest notes, updates and analysis on the Hawks from around the web.

Damian Lillard and C.J. McCollum made sure the shorthanded Clippers didn't rise up in Game 5, leading the Portland Trail Blazers to a 3-2 series lead.

The Houston Rockets' season is mercifully over after Wednesday loss, so now everyone can admit that Houston's team chemistry wasn't exactly there.
2015-2016 Atlantic Standings