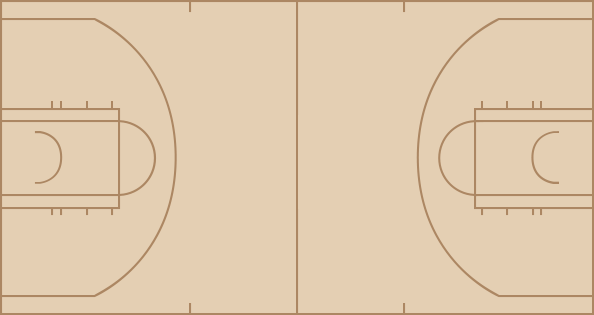 Bulls
time
TEAM
PLAY
SCORE
12:00
Start of the 1st Quarter.
0 - 0
12:00
Jumpball: Eddy Curry vs. Josh Smith. Luol Deng gains possession.
0 - 0
11:41
Eddy Curry missed jumper.
0 - 0
11:41
Josh Smith defensive rebound.
0 - 0
11:19
Al Harrington missed 17 ft jumper.
0 - 0
11:18
Kirk Hinrich defensive rebound.
0 - 0
11:14
Luol Deng missed 15 ft jumper.
0 - 0
11:11
Antoine Walker defensive rebound.
0 - 0
11:00
Jason Collier missed 6 ft jumper.
0 - 0
11:00
Kirk Hinrich defensive rebound.
0 - 0
10:52
Chris Duhon made 23 ft three point jumper. Assisted by Kirk Hinrich.
3 - 0
10:36
Antonio Davis Personal Foul. Davis's 1st Personal Foul, Chicago's 1st Team Foul.
3 - 0
10:22
Antoine Walker made 24 ft three point jumper. Assisted by Al Harrington.
3 - 3
9:57
Kirk Hinrich missed 18 ft jumper.
3 - 3
9:56
Antonio Davis offensive rebound.
3 - 3
9:52
Luol Deng Traveling
3 - 3
9:38
Jason Collier missed 19 ft jumper.
3 - 3
9:37
Luol Deng defensive rebound.
3 - 3
9:18
Chris Duhon made 25 ft three point jumper. Assisted by Antonio Davis.
6 - 3
8:55
Tyronn Lue made 19 ft jumper. Assisted by Antoine Walker.
6 - 5
8:36
Luol Deng made 23 ft jumper. Assisted by Chris Duhon.
8 - 5
8:11
Al Harrington missed 16 ft jumper.
8 - 5
8:11
Jason Collier offensive rebound.
8 - 5
8:11
Eddy Curry Personal Foul. Curry's 1st Personal Foul, Chicago's 2nd Team Foul.
8 - 5
8:03
Luol Deng Personal Foul. Deng's 1st Personal Foul, Chicago's 3rd Team Foul.
8 - 5
7:54
Jason Collier made layup. Assisted by Josh Smith.
8 - 7
7:39
Al Harrington Personal Foul. Harrington's 1st Personal Foul, Atlanta's 1st Team Foul.
8 - 7
7:33
Eddy Curry made 8 ft hook shot.
10 - 7
7:11
Antoine Walker made 6 ft jumper.
10 - 9
6:48
Antonio Davis missed 16 ft jumper.
10 - 9
6:47
Al Harrington defensive rebound.
10 - 9
6:33
Antoine Walker missed 17 ft jumper.
10 - 9
6:33
Atlanta defensive rebound.
10 - 9
6:33
Kenny Anderson enters the game for Tyronn Lue.
10 - 9
6:22
Predrag Drobnjak enters the game for Jason Collier.
10 - 9
6:18
Kirk Hinrich made 25 ft three point jumper.
13 - 9
5:58
Antoine Walker made layup. Assisted by Josh Smith.
13 - 11
5:35
Chris Duhon missed 26 ft three point jumper.
13 - 11
5:33
Antoine Walker defensive rebound.
13 - 11
5:26
Atlanta Full Timeout.
13 - 11
5:26
Josh Childress enters the game for Al Harrington.
13 - 11
5:20
Kirk Hinrich Personal Foul. Hinrich's 1st Personal Foul, Chicago's 4th Team Foul.
13 - 11
5:13
Josh Childress missed layup.
13 - 11
5:11
Chris Duhon defensive rebound.
13 - 11
4:58
Kirk Hinrich missed 24 ft three point jumper.
13 - 11
4:56
Antoine Walker defensive rebound.
13 - 11
4:54
Antonio Davis Shooting Foul. Davis's 2nd Personal Foul, Chicago's 5th Team Foul.
13 - 11
4:54
Tyson Chandler enters the game for Antonio Davis.
13 - 11
4:54
Antoine Walker made Free Throw 1 of 2.
13 - 12
4:54
Antoine Walker made Free Throw 2 of 2.
13 - 13
4:31
Eddy Curry made layup.
15 - 13
4:16
Kenny Anderson made 14 ft jumper.
15 - 15
3:59
Kirk Hinrich Bad Pass. Stolen by Kenny Anderson.
15 - 15
3:49
Antoine Walker's layup blocked by Luol Deng.
15 - 15
3:48
Luol Deng defensive rebound.
15 - 15
3:45
Luol Deng made layup.
17 - 15
3:35
Josh Smith made layup. Assisted by Kenny Anderson.
17 - 17
3:28
Chicago Full Timeout.
17 - 17
3:28
Tony Delk enters the game for Antoine Walker.
17 - 17
3:28
Al Harrington enters the game for Josh Smith.
17 - 17
3:19
Kirk Hinrich made 18 ft jumper. Assisted by Chris Duhon.
19 - 17
3:00
Tyson Chandler Personal Foul. Chandler's 1st Personal Foul, Chicago's 6th Team Foul.
19 - 17
3:00
Al Harrington made Free Throw 1 of 2.
19 - 18
3:00
Ben Gordon enters the game for Chris Duhon.
19 - 18
3:00
Al Harrington made Free Throw 2 of 2.
19 - 19
2:43
Ben Gordon Bad Pass. Stolen by Predrag Drobnjak.
19 - 19
2:35
Kenny Anderson missed 17 ft jumper.
19 - 19
2:31
Eddy Curry defensive rebound.
19 - 19
2:27
Eddy Curry Turnover
19 - 19
2:13
Josh Childress's layup blocked by Tyson Chandler.
19 - 19
2:13
Atlanta offensive rebound.
19 - 19
2:13
Andres Nocioni enters the game for Luol Deng.
19 - 19
2:10
Predrag Drobnjak Traveling
19 - 19
2:03
Tony Delk Personal Foul. Delk's 1st Personal Foul, Atlanta's 2nd Team Foul.
19 - 19
1:59
Ben Gordon missed layup.
19 - 19
1:55
Tyson Chandler offensive rebound.
19 - 19
1:55
Tyson Chandler Bad Pass
19 - 19
1:39
Predrag Drobnjak missed 15 ft jumper.
19 - 19
1:39
Tyson Chandler defensive rebound.
19 - 19
1:23
Tyson Chandler missed 18 ft jumper.
19 - 19
1:23
Andres Nocioni offensive rebound.
19 - 19
1:23
Tony Delk Shooting Foul. Delk's 2nd Personal Foul, Atlanta's 3rd Team Foul.
19 - 19
1:23
Andres Nocioni made Free Throw 1 of 2.
20 - 19
1:23
Othella Harrington enters the game for Eddy Curry.
20 - 19
1:23
Andres Nocioni made Free Throw 2 of 2.
21 - 19
1:06
Kenny Anderson made 18 ft jumper. Assisted by Al Harrington.
21 - 21
0:44
Ben Gordon missed 25 ft three point jumper.
21 - 21
0:42
Al Harrington defensive rebound.
21 - 21
0:33
Predrag Drobnjak missed 18 ft jumper.
21 - 21
0:33
Atlanta offensive rebound.
21 - 21
0:33
Othella Harrington Loose Ball Foul. Harrington's 1st Personal Foul, Chicago's 7th Team Foul.
21 - 21
0:33
Al Harrington missed Free Throw 1 of 2.
21 - 21
0:33
Atlanta offensive rebound.
21 - 21
0:33
Al Harrington made Free Throw 2 of 2.
21 - 22
0:25
Kenny Anderson Jump Ball
21 - 22
0:10
Kirk Hinrich missed jumper.
21 - 22
0:07
Josh Childress defensive rebound.
21 - 22
0:06
Al Harrington made dunk. Assisted by Josh Childress.
21 - 24
0:00
Othella Harrington made layup. Assisted by Kirk Hinrich.
23 - 24
0:00
End of the 1st Quarter.
23 - 24

time
TEAM
PLAY
SCORE
12:00
Start of the 2nd Quarter.
23 - 24
11:41
Predrag Drobnjak's 14 ft jumper blocked by Tyson Chandler.
23 - 24
11:38
Andres Nocioni defensive rebound.
23 - 24
11:27
Kenny Anderson Personal Foul. Anderson's 1st Personal Foul, Atlanta's 1st Team Foul.
23 - 24
11:27
Tyronn Lue enters the game for Tony Delk.
23 - 24
11:27
Antoine Walker enters the game for Kenny Anderson.
23 - 24
11:11
Andres Nocioni missed 11 ft jumper.
23 - 24
11:11
Al Harrington defensive rebound.
23 - 24
10:59
Tyronn Lue missed 18 ft jumper.
23 - 24
10:57
Tyson Chandler defensive rebound.
23 - 24
10:47
Tyson Chandler made 16 ft jumper. Assisted by Chris Duhon.
25 - 24
10:18
Tyronn Lue missed jumper.
25 - 24
10:18
Andres Nocioni defensive rebound.
25 - 24
10:10
Predrag Drobnjak Shooting Foul. Drobnjak's 1st Personal Foul, Atlanta's 2nd Team Foul.
25 - 24
10:10
Tyson Chandler made Free Throw 1 of 2.
26 - 24
10:10
Obinna Ekezie enters the game for Predrag Drobnjak.
26 - 24
10:10
Tyson Chandler made Free Throw 2 of 2.
27 - 24
10:10
Obinna Ekezie Technical Foul. Ekezie's 1st Technical Foul.
27 - 24
10:10
Ben Gordon made Technical Free Throw.
28 - 24
9:55
Tyson Chandler Personal Foul. Chandler's 2nd Personal Foul, Chicago's 1st Team Foul.
28 - 24
9:55
Tyson Chandler Technical Foul. Chandler's 1st Technical Foul.
28 - 24
9:55
Tyronn Lue made Technical Free Throw.
28 - 25
9:44
Antoine Walker Lost Ball. Stolen by Ben Gordon.
28 - 25
9:37
Chris Duhon missed layup.
28 - 25
9:33
Ben Gordon offensive rebound.
28 - 25
9:26
Andres Nocioni missed 6 ft jumper.
28 - 25
9:25
Al Harrington defensive rebound.
28 - 25
9:19
Al Harrington Bad Pass. Stolen by Tyson Chandler.
28 - 25
9:15
Josh Childress Personal Foul. Childress's 1st Personal Foul, Atlanta's 4th Team Foul.
28 - 25
9:15
Josh Smith enters the game for Josh Childress.
28 - 25
9:02
Antoine Walker Shooting Foul. Walker's 1st Personal Foul, Atlanta's 5th Team Foul.
28 - 25
9:02
Othella Harrington made Free Throw 1 of 2.
29 - 25
9:02
Othella Harrington missed Free Throw 2 of 2.
29 - 25
9:00
Al Harrington defensive rebound.
29 - 25
8:45
Obinna Ekezie made 7 ft jumper. Assisted by Antoine Walker.
29 - 27
8:32
Othella Harrington made 14 ft jumper.
31 - 27
8:15
Antoine Walker missed 6 ft jumper.
31 - 27
8:15
Obinna Ekezie offensive rebound.
31 - 27
8:15
Obinna Ekezie missed tip shot.
31 - 27
8:12
Andres Nocioni defensive rebound.
31 - 27
8:08
Andres Nocioni missed 12 ft jumper.
31 - 27
8:07
Othella Harrington offensive rebound.
31 - 27
8:04
Chris Duhon made 25 ft three point jumper. Assisted by Othella Harrington.
34 - 27
7:58
Atlanta Full Timeout.
34 - 27
7:48
Al Harrington made 14 ft jumper.
34 - 29
7:30
Ben Gordon missed 16 ft jumper.
34 - 29
7:28
Al Harrington defensive rebound.
34 - 29
7:22
Tyronn Lue made 17 ft jumper.
34 - 31
7:03
Andres Nocioni made jumper. Assisted by Chris Duhon.
36 - 31
6:41
Tyronn Lue missed 28 ft three point jumper.
36 - 31
6:39
Andres Nocioni defensive rebound.
36 - 31
6:31
Othella Harrington made layup. Assisted by Chris Duhon.
38 - 31
6:31
Tyronn Lue Shooting Foul. Lue's 2nd Personal Foul, Atlanta's 6th Team Foul.
38 - 31
6:31
Kirk Hinrich enters the game for Ben Gordon.
38 - 31
6:31
Othella Harrington missed Free Throw 1 of 1.
38 - 31
6:30
Al Harrington defensive rebound.
38 - 31
6:15
Al Harrington Bad Pass
38 - 31
6:15
Eddy Curry enters the game for Othella Harrington.
38 - 31
6:03
Eddy Curry made dunk. Assisted by Chris Duhon.
40 - 31
5:54
Atlanta 20 Sec. Timeout.
40 - 31
5:54
Official Timeout.
40 - 31
5:43
Antoine Walker missed 7 ft jumper.
40 - 31
5:43
Atlanta offensive rebound.
40 - 31
5:30
Andres Nocioni Shooting Foul. Nocioni's 1st Personal Foul, Chicago's 3rd Team Foul.
40 - 31
5:30
Obinna Ekezie missed Free Throw 1 of 2.
40 - 31
5:30
Atlanta offensive rebound.
40 - 31
5:30
Luol Deng enters the game for Andres Nocioni.
40 - 31
5:30
Obinna Ekezie missed Free Throw 2 of 2.
40 - 31
5:30
Antonio Davis enters the game for Tyson Chandler.
40 - 31
5:30
Obinna Ekezie made Free Throw 2 of 2.
40 - 32
5:05
Chris Duhon missed layup.
40 - 32
5:03
Eddy Curry offensive rebound.
42 - 32
5:03
Eddy Curry made tip shot.
42 - 32
4:37
Antoine Walker missed 16 ft jumper.
42 - 32
4:35
Josh Smith offensive rebound.
42 - 32
4:33
Josh Smith Lost Ball. Stolen by Kirk Hinrich.
42 - 32
4:28
Chris Duhon missed 23 ft three point jumper.
42 - 32
4:28
Chicago defensive rebound.
42 - 32
4:28
Josh Childress enters the game for Al Harrington.
42 - 32
4:28
Predrag Drobnjak enters the game for Obinna Ekezie.
42 - 32
4:16
Chris Duhon Personal Foul. Duhon's 1st Personal Foul, Chicago's 4th Team Foul.
42 - 32
4:05
Josh Smith missed 19 ft jumper.
42 - 32
4:03
Chris Duhon defensive rebound.
42 - 32
3:54
Eddy Curry missed layup.
42 - 32
3:51
Josh Childress defensive rebound.
42 - 32
3:47
Josh Childress Bad Pass
42 - 32
3:34
Luol Deng made three point jumper. Assisted by Kirk Hinrich.
45 - 32
3:15
Antoine Walker missed layup.
45 - 32
3:14
Atlanta defensive rebound.
45 - 32
3:13
Antoine Walker Technical Foul. Walker's 1st Technical Foul.
45 - 32
3:13
Chicago Full Timeout.
45 - 32
3:13
Kenny Anderson enters the game for Tyronn Lue.
45 - 32
3:13
Al Harrington enters the game for Josh Smith.
45 - 32
3:13
Kirk Hinrich made Technical Free Throw.
46 - 32
3:00
Eddy Curry made two point shot. Assisted by Kirk Hinrich.
48 - 32
2:32
Al Harrington missed 17 ft jumper.
48 - 32
2:31
Chris Duhon defensive rebound.
48 - 32
2:28
Josh Childress Personal Foul. Childress's 2nd Personal Foul, Atlanta's 8th Team Foul.
48 - 32
2:28
Kirk Hinrich made Free Throw 1 of 2.
49 - 32
2:28
Kirk Hinrich made Free Throw 2 of 2.
50 - 32
2:19
Predrag Drobnjak missed 14 ft jumper.
50 - 32
2:17
Atlanta offensive rebound.
50 - 32
2:17
Jason Collier enters the game for Predrag Drobnjak.
50 - 32
2:17
Othella Harrington enters the game for Antonio Davis.
50 - 32
2:09
Jason Collier missed jumper.
50 - 32
2:06
Josh Childress offensive rebound.
50 - 32
2:06
Josh Childress Offensive Foul. Childress's 4th Personal Foul, Atlanta's 9th Team Foul.
50 - 32
2:06
Josh Childress Turnover
50 - 32
2:06
Josh Smith enters the game for Josh Childress.
50 - 32
1:55
Eddy Curry made layup. Assisted by Kirk Hinrich.
52 - 32
1:55
Jason Collier Shooting Foul. Collier's 2nd Personal Foul, Atlanta's 10th Team Foul.
52 - 32
1:55
Eddy Curry made Free Throw 1 of 1.
53 - 32
1:29
Al Harrington missed 26 ft three point jumper.
53 - 32
1:27
Kenny Anderson offensive rebound.
53 - 32
1:19
Jason Collier Bad Pass
53 - 32
1:09
Luol Deng made two point shot. Assisted by Kirk Hinrich.
55 - 32
0:53
Jason Collier missed 16 ft jumper.
55 - 32
0:52
Chris Duhon defensive rebound.
55 - 32
0:46
Luol Deng missed layup.
55 - 32
0:45
Antoine Walker defensive rebound.
55 - 32
0:37
Kenny Anderson missed layup.
55 - 32
0:37
Josh Smith offensive rebound.
55 - 34
0:37
Josh Smith made tip shot.
55 - 34
0:28
Chris Duhon made 23 ft three point jumper. Assisted by Kirk Hinrich.
58 - 34
0:10
Chris Duhon Personal Foul. Duhon's 2nd Personal Foul, Chicago's 5th Team Foul.
58 - 34
0:03
Kenny Anderson made 7 ft jumper.
58 - 36
0:03
Eddy Curry Illegal Defense
58 - 36
0:00
Kirk Hinrich missed 25 ft three point jumper.
58 - 36
0:00
Chicago defensive rebound.
58 - 36
0:00
End of the 2nd Quarter.
58 - 36

time
TEAM
PLAY
SCORE
12:00
Start of the 3rd Quarter.
58 - 36
11:37
Antoine Walker missed 23 ft three point jumper.
58 - 36
11:34
Antonio Davis defensive rebound.
58 - 36
11:23
Eddy Curry made two point shot. Assisted by Chris Duhon.
60 - 36
11:03
Al Harrington made driving layup.
60 - 38
10:48
Antoine Walker Shooting Foul. Walker's 2nd Personal Foul, Atlanta's 1st Team Foul.
60 - 38
10:48
Kevin Willis enters the game for Jason Collier.
60 - 38
10:48
Luol Deng made Free Throw 1 of 2.
61 - 38
10:48
Luol Deng made Free Throw 2 of 2.
62 - 38
10:32
Josh Smith missed 19 ft jumper.
62 - 38
10:30
Al Harrington offensive rebound.
62 - 38
10:26
Josh Smith Lost Ball. Stolen by Chris Duhon.
62 - 38
10:15
Antonio Davis made 18 ft jumper. Assisted by Luol Deng.
64 - 38
9:56
Eddy Curry Shooting Foul. Curry's 2nd Personal Foul, Chicago's 1st Team Foul.
64 - 38
9:56
Kevin Willis missed Free Throw 1 of 2.
64 - 38
9:56
Atlanta offensive rebound.
64 - 38
9:56
Kevin Willis missed Free Throw 2 of 2.
64 - 38
9:56
Eddy Curry defensive rebound.
64 - 38
9:34
Kirk Hinrich Offensive Foul. Hinrich's 3rd Personal Foul, Chicago's 2nd Team Foul.
64 - 38
9:34
Kirk Hinrich Turnover
64 - 38
9:22
Josh Smith Bad Pass. Stolen by Luol Deng.
64 - 38
9:17
Eddy Curry made two point shot. Assisted by Luol Deng.
66 - 38
9:00
Chris Duhon Shooting Foul. Duhon's 3rd Personal Foul, Chicago's 3rd Team Foul.
66 - 38
9:00
Al Harrington made Free Throw 1 of 2.
66 - 39
9:00
Josh Childress enters the game for Josh Smith.
66 - 39
9:00
Al Harrington made Free Throw 2 of 2.
66 - 40
8:48
Kirk Hinrich made 25 ft three point jumper. Assisted by Chris Duhon.
69 - 40
8:30
Al Harrington missed layup.
69 - 40
8:29
Kevin Willis offensive rebound.
69 - 42
8:29
Kevin Willis made tip shot.
69 - 42
8:11
Tyronn Lue Personal Foul. Lue's 2nd Personal Foul, Atlanta's 2nd Team Foul.
69 - 42
8:03
Luol Deng made driving layup.
71 - 42
7:56
Antoine Walker Turnover
71 - 42
7:43
Chris Duhon made two point shot.
73 - 42
7:20
Kevin Willis missed 14 ft jumper.
73 - 42
7:18
Antonio Davis defensive rebound.
73 - 42
7:09
Chris Duhon Turnover
73 - 42
7:09
Atlanta Full Timeout.
73 - 42
7:09
Tyson Chandler enters the game for Antonio Davis.
73 - 42
7:09
Ben Gordon enters the game for Chris Duhon.
73 - 42
6:54
Josh Childress made layup. Assisted by Antoine Walker.
73 - 44
6:39
Ben Gordon made 25 ft three point jumper. Assisted by Kirk Hinrich.
76 - 44
6:20
Al Harrington missed layup.
76 - 44
6:18
Kevin Willis offensive rebound.
76 - 44
6:18
Kevin Willis's layup blocked by Tyson Chandler.
76 - 44
6:18
Atlanta offensive rebound.
76 - 44
6:18
Jumpball: Tyson Chandler vs. Kevin Willis. Ben Gordon gains possession.
76 - 44
6:18
Atlanta defensive rebound.
76 - 44
6:18
Atlanta 20 Sec. Timeout.
76 - 44
6:03
Ben Gordon missed 16 ft jumper.
76 - 44
6:01
Antoine Walker defensive rebound.
76 - 44
5:52
Josh Childress's layup blocked by Luol Deng.
76 - 44
5:52
Al Harrington offensive rebound.
76 - 46
5:52
Al Harrington made layup.
76 - 46
5:52
Tyson Chandler Shooting Foul. Chandler's 4th Personal Foul, Chicago's 4th Team Foul.
76 - 46
5:52
Al Harrington made Free Throw 1 of 1.
76 - 47
5:43
Tyson Chandler missed layup.
76 - 47
5:41
Eddy Curry offensive rebound.
78 - 47
5:41
Eddy Curry made layup.
78 - 47
5:24
Tyronn Lue made three point jumper. Assisted by Antoine Walker.
78 - 50
5:01
Kirk Hinrich missed 18 ft jumper.
78 - 50
4:58
Kevin Willis defensive rebound.
78 - 50
4:47
Al Harrington made two point shot.
78 - 52
4:46
Chicago Full Timeout.
78 - 52
4:46
Othella Harrington enters the game for Eddy Curry.
78 - 52
4:31
Antoine Walker Personal Foul. Walker's 3rd Personal Foul, Atlanta's 3rd Team Foul.
78 - 52
4:20
Ben Gordon made 15 ft jumper.
80 - 52
4:00
Kevin Willis Turnover
80 - 52
4:00
Andres Nocioni enters the game for Luol Deng.
80 - 52
3:47
Tyson Chandler made layup. Assisted by Andres Nocioni.
82 - 52
3:47
Kevin Willis Shooting Foul. Willis's 2nd Personal Foul, Atlanta's 4th Team Foul.
82 - 52
3:47
Tyson Chandler missed Free Throw 1 of 1.
82 - 52
3:47
Chris Duhon enters the game for Kirk Hinrich.
82 - 52
3:47
Obinna Ekezie enters the game for Kevin Willis.
82 - 52
3:47
Tyson Chandler made Free Throw 1 of 1.
83 - 52
3:28
Antoine Walker missed 4 ft jumper.
83 - 52
3:26
Andres Nocioni defensive rebound.
83 - 52
3:14
Ben Gordon made 4 ft jumper.
85 - 52
3:14
Obinna Ekezie Shooting Foul. Ekezie's 2nd Personal Foul, Atlanta's 5th Team Foul.
85 - 52
3:14
Ben Gordon made Free Throw 1 of 1.
86 - 52
2:59
Andres Nocioni Personal Foul. Nocioni's 2nd Personal Foul, Chicago's 5th Team Foul.
86 - 52
2:59
Al Harrington Technical Foul. Harrington's 1st Technical Foul.
86 - 52
2:59
Ben Gordon made Technical Free Throw.
87 - 52
2:59
Kenny Anderson enters the game for Tyronn Lue.
87 - 52
2:57
Tyson Chandler Personal Foul. Chandler's 4th Personal Foul, Chicago's 6th Team Foul.
87 - 52
2:57
Antoine Walker made Free Throw 1 of 2.
87 - 53
2:57
Antoine Walker made Free Throw 2 of 2.
87 - 54
2:38
Othella Harrington made 14 ft jumper. Assisted by Tyson Chandler.
89 - 54
2:15
Antoine Walker missed 25 ft three point jumper.
89 - 54
2:13
Chris Duhon defensive rebound.
89 - 54
2:10
Othella Harrington made layup. Assisted by Chris Duhon.
91 - 54
2:10
Antoine Walker Shooting Foul. Walker's 4th Personal Foul, Atlanta's 7th Team Foul.
91 - 54
2:10
Tony Delk enters the game for Antoine Walker.
91 - 54
2:10
Othella Harrington made Free Throw 1 of 1.
92 - 54
1:54
Al Harrington missed layup.
92 - 54
1:53
Othella Harrington defensive rebound.
92 - 54
1:37
Othella Harrington Bad Pass. Stolen by Tony Delk.
92 - 54
1:34
Chris Duhon Personal Foul. Duhon's 4th Personal Foul, Chicago's 7th Team Foul.
92 - 54
1:34
Tony Delk missed Free Throw 1 of 2.
92 - 54
1:34
Atlanta offensive rebound.
92 - 54
1:34
Tony Delk made Free Throw 2 of 2.
92 - 55
1:22
Chris Duhon missed 4 ft jumper.
92 - 55
1:21
Al Harrington defensive rebound.
92 - 55
1:17
Ben Gordon Shooting Foul. Gordon's 1st Personal Foul, Chicago's 8th Team Foul.
92 - 55
1:17
Kenny Anderson made Free Throw 1 of 2.
92 - 56
1:17
Kenny Anderson made Free Throw 2 of 2.
92 - 57
1:04
Tyson Chandler Lost Ball. Stolen by Al Harrington.
92 - 57
1:00
Al Harrington Bad Pass. Stolen by Ben Gordon.
92 - 57
0:46
Ben Gordon missed 9 ft jumper.
92 - 57
0:45
Obinna Ekezie defensive rebound.
92 - 57
0:38
Obinna Ekezie Offensive Foul. Ekezie's 3rd Personal Foul, Atlanta's 8th Team Foul.
92 - 57
0:38
Obinna Ekezie Turnover
92 - 57
0:24
Ben Gordon missed 27 ft three point jumper.
92 - 57
0:23
Chris Duhon offensive rebound.
92 - 57
0:04
Al Harrington Shooting Foul. Harrington's 2nd Personal Foul, Atlanta's 9th Team Foul.
92 - 57
0:04
Ben Gordon made Free Throw 1 of 2.
93 - 57
0:04
Ben Gordon made Free Throw 2 of 2.
94 - 57
0:00
Al Harrington missed 27 ft three point jumper.
94 - 57
0:00
Atlanta defensive rebound.
94 - 57
0:00
End of the 3rd Quarter.
94 - 57

time
TEAM
PLAY
SCORE
12:00
Start of the 4th Quarter.
94 - 57
11:45
Ben Gordon made 26 ft three point jumper. Assisted by Jannero Pargo.
97 - 57
11:26
Predrag Drobnjak missed 18 ft jumper.
97 - 57
11:25
Atlanta offensive rebound.
97 - 57
11:21
Tony Delk missed 18 ft jumper.
97 - 57
11:18
Tyson Chandler defensive rebound.
97 - 57
11:12
Antoine Walker Shooting Foul. Walker's 5th Personal Foul, Atlanta's 1st Team Foul.
97 - 57
11:12
Othella Harrington made Free Throw 1 of 2.
98 - 57
11:12
Josh Smith enters the game for Antoine Walker.
98 - 57
11:12
Adrian Griffin enters the game for Andres Nocioni.
98 - 57
11:12
Othella Harrington made Free Throw 2 of 2.
99 - 57
10:51
Tony Delk missed 24 ft three point jumper.
99 - 57
10:49
Tyson Chandler defensive rebound.
99 - 57
10:42
Jannero Pargo missed 15 ft jumper.
99 - 57
10:41
Kenny Anderson defensive rebound.
99 - 57
10:32
Othella Harrington Personal Foul. Harrington's 2nd Personal Foul, Chicago's 1st Team Foul.
99 - 57
10:27
Kenny Anderson missed layup.
99 - 57
10:27
Tyson Chandler defensive rebound.
99 - 57
10:27
Kenny Anderson Personal Foul. Anderson's 2nd Personal Foul, Atlanta's 2nd Team Foul.
99 - 57
10:15
Tyson Chandler's 12 ft jumper blocked by Predrag Drobnjak.
99 - 57
10:14
Predrag Drobnjak defensive rebound.
99 - 57
10:04
Tony Delk missed layup.
99 - 57
10:03
Ben Gordon defensive rebound.
99 - 57
9:55
Ben Gordon missed 25 ft three point jumper.
99 - 57
9:53
Josh Childress defensive rebound.
99 - 57
9:44
Jannero Pargo Personal Foul. Pargo's 1st Personal Foul, Chicago's 2nd Team Foul.
99 - 57
9:44
Al Harrington enters the game for Tony Delk.
99 - 57
9:37
Predrag Drobnjak made layup. Assisted by Kenny Anderson.
99 - 59
9:15
Tyson Chandler missed 4 ft jumper.
99 - 59
9:12
Josh Childress defensive rebound.
99 - 59
9:10
Adrian Griffin Shooting Foul. Griffin's 1st Personal Foul, Chicago's 3rd Team Foul.
99 - 59
9:10
Josh Childress made Free Throw 1 of 2.
99 - 60
9:10
Eric Piatkowski enters the game for Ben Gordon.
99 - 60
9:10
Josh Childress made Free Throw 2 of 2.
99 - 61
9:00
Jannero Pargo Bad Pass. Stolen by Kenny Anderson.
99 - 61
8:57
Othella Harrington Personal Foul. Harrington's 3rd Personal Foul, Chicago's 4th Team Foul.
99 - 61
8:57
Official Timeout.
99 - 61
8:42
Al Harrington Lost Ball. Stolen by Eric Piatkowski.
99 - 61
8:23
Adrian Griffin made 21 ft jumper. Assisted by Othella Harrington.
101 - 61
8:03
Kenny Anderson missed 13 ft jumper.
101 - 61
8:03
Othella Harrington defensive rebound.
101 - 61
7:54
Tyson Chandler missed layup.
101 - 61
7:54
Josh Smith defensive rebound.
101 - 61
7:54
Tyson Chandler Personal Foul. Chandler's 5th Personal Foul, Chicago's 5th Team Foul.
101 - 61
7:54
Josh Smith made Free Throw 1 of 2.
101 - 62
7:54
Andres Nocioni enters the game for Tyson Chandler.
101 - 62
7:54
Josh Smith made Free Throw 2 of 2.
101 - 63
7:43
Eric Piatkowski made 20 ft jumper. Assisted by Jannero Pargo.
103 - 63
7:20
Kenny Anderson made 15 ft jumper. Assisted by Josh Smith.
103 - 65
7:07
Al Harrington Personal Foul. Harrington's 3rd Personal Foul, Atlanta's 3rd Team Foul.
103 - 65
6:52
Othella Harrington missed 15 ft jumper.
103 - 65
6:50
Josh Smith defensive rebound.
103 - 65
6:39
Predrag Drobnjak missed 17 ft jumper.
103 - 65
6:37
Jannero Pargo defensive rebound.
103 - 65
6:35
Jannero Pargo Bad Pass
103 - 65
6:22
Kenny Anderson missed 18 ft jumper.
103 - 65
6:22
Othella Harrington defensive rebound.
103 - 65
6:22
Kenny Anderson Personal Foul. Anderson's 3rd Personal Foul, Atlanta's 4th Team Foul.
103 - 65
6:22
Tyronn Lue enters the game for Kenny Anderson.
103 - 65
6:07
Andres Nocioni missed 6 ft jumper.
103 - 65
6:05
Al Harrington defensive rebound.
103 - 65
5:54
Adrian Griffin Personal Foul. Griffin's 2nd Personal Foul, Chicago's 6th Team Foul.
103 - 65
5:54
Atlanta Full Timeout.
103 - 65
5:54
Josh Childress made Free Throw 1 of 2.
103 - 66
5:54
Josh Childress made Free Throw 2 of 2.
103 - 67
5:41
Andres Nocioni's 8 ft jumper blocked by Al Harrington.
103 - 67
5:39
Josh Childress defensive rebound.
103 - 67
5:18
Josh Smith missed 4 ft jumper.
103 - 67
5:18
Josh Childress offensive rebound.
103 - 67
5:16
Josh Childress missed 4 ft jumper.
103 - 67
5:15
Al Harrington offensive rebound.
103 - 67
5:15
Adrian Griffin Shooting Foul. Griffin's 3rd Personal Foul, Chicago's 7th Team Foul.
103 - 67
5:15
Al Harrington made Free Throw 1 of 2.
103 - 68
5:15
Jason Collier enters the game for Predrag Drobnjak.
103 - 68
5:15
Al Harrington made Free Throw 2 of 2.
103 - 69
4:56
Jannero Pargo Discontinue Dribble
103 - 69
4:56
Boris Diaw enters the game for Al Harrington.
103 - 69
4:35
Tyronn Lue missed 12 ft jumper.
103 - 69
4:33
Othella Harrington defensive rebound.
103 - 69
4:22
Jannero Pargo missed 15 ft jumper.
103 - 69
4:20
Josh Childress defensive rebound.
103 - 69
4:11
Josh Childress missed 18 ft jumper.
103 - 69
4:09
Boris Diaw offensive rebound.
103 - 69
4:03
Josh Childress missed jumper.
103 - 69
4:01
Othella Harrington defensive rebound.
103 - 69
3:49
Othella Harrington Offensive Foul. Harrington's 5th Personal Foul, Chicago's 8th Team Foul.
103 - 69
3:49
Othella Harrington Turnover
103 - 69
3:33
Andres Nocioni Shooting Foul. Nocioni's 3rd Personal Foul, Chicago's 9th Team Foul.
103 - 69
3:33
Josh Smith made Free Throw 1 of 2.
103 - 70
3:33
Josh Smith missed Free Throw 2 of 2.
103 - 70
3:32
Jason Collier offensive rebound.
103 - 70
3:30
Jannero Pargo Personal Foul. Pargo's 2nd Personal Foul, Chicago's 10th Team Foul.
103 - 70
3:30
Josh Smith made Free Throw 1 of 2.
103 - 71
3:30
Josh Smith made Free Throw 2 of 2.
103 - 72
3:25
Jason Collier Personal Foul. Collier's 2nd Personal Foul, Atlanta's 5th Team Foul.
103 - 72
3:25
Othella Harrington made Free Throw 1 of 2.
104 - 72
3:25
Othella Harrington made Free Throw 2 of 2.
105 - 72
3:06
Jason Collier made 17 ft two point shot. Assisted by Josh Childress.
105 - 74
2:47
Andres Nocioni's 5 ft jumper blocked by Josh Smith.
105 - 74
2:45
Josh Smith defensive rebound.
105 - 74
2:30
Boris Diaw missed 14 ft jumper.
105 - 74
2:28
Boris Diaw offensive rebound.
105 - 74
2:24
Boris Diaw made 19 ft jumper.
105 - 76
2:13
Jason Collier Personal Foul. Collier's 3rd Personal Foul, Atlanta's 6th Team Foul.
105 - 76
2:13
Chicago Full Timeout.
105 - 76
2:13
Chicago offensive rebound.
105 - 76
2:13
Othella Harrington missed Free Throw 1 of 2.
105 - 76
2:13
Othella Harrington made Free Throw 2 of 2.
106 - 76
1:55
Tyronn Lue missed layup.
106 - 76
1:54
Othella Harrington defensive rebound.
106 - 76
1:49
Jannero Pargo missed layup.
106 - 76
1:47
Josh Smith defensive rebound.
106 - 76
1:39
Josh Smith made dunk. Assisted by Josh Childress.
106 - 78
1:23
Jannero Pargo missed 17 ft jumper.
106 - 78
1:21
Tyronn Lue defensive rebound.
106 - 78
1:17
Josh Childress made two point shot. Assisted by Tyronn Lue.
106 - 80
1:00
Jannero Pargo missed 22 ft jumper.
106 - 80
0:58
Othella Harrington offensive rebound.
106 - 80
0:46
Jason Collier Shooting Foul. Collier's 4th Personal Foul, Atlanta's 7th Team Foul.
106 - 80
0:46
Othella Harrington made Free Throw 1 of 2.
107 - 80
0:46
Othella Harrington missed Free Throw 2 of 2.
107 - 80
0:44
Jason Collier defensive rebound.
107 - 80
0:29
Jannero Pargo Personal Foul. Pargo's 3rd Personal Foul, Chicago's 11st Team Foul.
107 - 80
0:29
Jason Collier made Free Throw 1 of 2.
107 - 81
0:29
Jason Collier made Free Throw 2 of 2.
107 - 82
0:08
Eric Piatkowski Turnover
107 - 82
0:00
Tyronn Lue missed 36 ft three point jumper.
107 - 82
0:00
Atlanta defensive rebound.
107 - 82
0:00
End of the 4th Quarter.
107 - 82
0:00
End Game
107 - 82
No matter where they are, enthusiastic fans of NBA teams will let their opinions be heard. And sometimes that's a good thing.

The Undefeated's Jerry Bembry credits Thon Maker's advisers for keeping him out the combine and allowing mystery to build around the Sudanese-Australian forward, who was selected 10th overall by the Milwaukee Bucks.

NBA fans will be looking forward to their newest players making plays like this next season.
Regular Season Series
CHI wins series 4-0
2015-2016 Central Standings
2015-2016 Southeast Standings