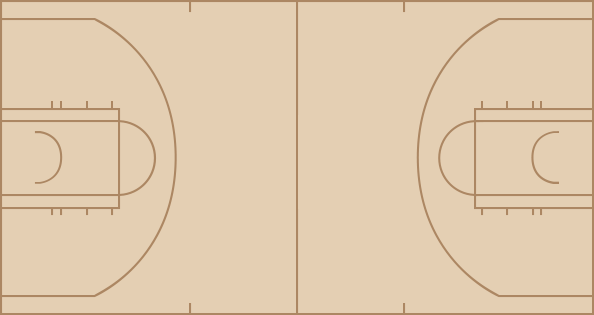 Jazz
time
TEAM
PLAY
SCORE
12:00
Start of the 1st Quarter.
0 - 0
12:00
Jumpball: Curtis Borchardt vs. Kevin Garnett. Carlos Boozer gains possession.
0 - 0
11:37
Andrei Kirilenko Lost Ball. Stolen by Trenton Hassell.
0 - 0
11:15
Kevin Garnett missed 14 ft jumper.
0 - 0
11:12
Gordan Giricek defensive rebound.
0 - 0
10:53
Carlos Boozer made 18 ft jumper. Assisted by Gordan Giricek.
2 - 0
10:33
Kevin Garnett made 9 ft jumper. Assisted by Anthony Carter.
2 - 2
10:17
Curtis Borchardt missed 17 ft jumper.
2 - 2
10:15
Kevin Garnett defensive rebound.
2 - 2
10:00
Latrell Sprewell missed 24 ft three point jumper.
2 - 2
10:00
Andrei Kirilenko defensive rebound.
2 - 2
9:47
Carlos Boozer Bad Pass. Stolen by Ervin Johnson.
2 - 2
9:41
Latrell Sprewell missed layup.
2 - 2
9:41
Carlos Boozer defensive rebound.
2 - 2
9:33
Gordan Giricek made running jumper. Assisted by Raul Lopez.
4 - 2
9:18
Gordan Giricek Personal Foul. His 1st Personal Foul.
4 - 2
9:07
Trenton Hassell Lost Ball. Stolen by Raul Lopez.
4 - 2
8:49
Raul Lopez's layup blocked by Anthony Carter.
4 - 2
8:48
Ervin Johnson defensive rebound.
4 - 2
8:45
Anthony Carter Bad Pass
4 - 2
8:32
Gordan Giricek made 14 ft jumper. Assisted by Andrei Kirilenko.
6 - 2
8:14
Latrell Sprewell missed 20 ft jumper.
6 - 2
8:12
Gordan Giricek defensive rebound.
6 - 2
8:08
Gordan Giricek Lost Ball. Stolen by Anthony Carter.
6 - 2
8:06
Anthony Carter's layup blocked by Andrei Kirilenko.
6 - 2
8:04
Minnesota offensive rebound.
6 - 2
8:04
Raja Bell enters the game for Gordan Giricek.
6 - 2
8:00
Ervin Johnson made layup. Assisted by Kevin Garnett.
6 - 4
7:50
Raul Lopez made 5 ft running jumper.
8 - 4
7:41
Carlos Boozer Personal Foul. His 1st Personal Foul.
8 - 4
7:33
Latrell Sprewell Lost Ball. Stolen by Raja Bell.
8 - 4
7:31
Curtis Borchardt Bad Pass. Stolen by Trenton Hassell.
8 - 4
7:30
Andrei Kirilenko Shooting Foul. His 1st Personal Foul.
8 - 4
7:30
Ervin Johnson made Free Throw 1 of 2.
8 - 5
7:30
Ervin Johnson missed Free Throw 2 of 2.
8 - 5
7:30
Carlos Boozer defensive rebound.
8 - 5
7:05
Curtis Borchardt made dunk. Assisted by Raul Lopez.
10 - 5
6:45
Kevin Garnett Bad Pass. Stolen by Raul Lopez.
10 - 5
6:26
Latrell Sprewell Shooting Foul. His 1st Personal Foul.
10 - 5
6:26
Curtis Borchardt made Free Throw 1 of 2.
11 - 5
6:26
Minnesota Full Timeout.
11 - 5
6:26
Curtis Borchardt made Free Throw 2 of 2.
12 - 5
6:07
Kevin Garnett missed jumper.
12 - 5
6:07
Anthony Carter offensive rebound.
12 - 5
5:54
Andrei Kirilenko Shooting Foul. His 2nd Personal Foul.
12 - 5
5:54
Latrell Sprewell made Free Throw 1 of 2.
12 - 6
5:54
Matt Harpring enters the game for Andrei Kirilenko.
12 - 6
5:54
Troy Hudson enters the game for Anthony Carter.
12 - 6
5:54
John Thomas enters the game for Ervin Johnson.
12 - 6
5:54
Latrell Sprewell missed Free Throw 2 of 2.
12 - 6
5:54
Carlos Boozer defensive rebound.
12 - 6
5:33
Raja Bell made 20 ft jumper. Assisted by Raul Lopez.
14 - 6
5:13
Kevin Garnett made two point shot. Assisted by Troy Hudson.
14 - 8
4:58
Raja Bell missed 19 ft jumper.
14 - 8
4:56
Latrell Sprewell defensive rebound.
14 - 8
4:50
Curtis Borchardt Personal Foul. His 1st Personal Foul.
14 - 8
4:50
Wally Szczerbiak enters the game for Trenton Hassell.
14 - 8
4:50
Jarron Collins enters the game for Curtis Borchardt.
14 - 8
4:50
John Thomas made Free Throw 1 of 2.
14 - 9
4:50
John Thomas missed Free Throw 2 of 2.
14 - 9
4:50
Matt Harpring defensive rebound.
14 - 9
4:37
Matt Harpring missed two point shot.
14 - 9
4:37
Carlos Boozer offensive rebound.
14 - 9
4:35
Carlos Boozer's layup blocked by Kevin Garnett.
14 - 9
4:35
Troy Hudson defensive rebound.
14 - 9
4:31
Raul Lopez Personal Foul. His 1st Personal Foul.
14 - 9
4:31
Wally Szczerbiak made Free Throw 1 of 2.
14 - 10
4:31
Wally Szczerbiak made Free Throw 2 of 2.
14 - 11
4:16
Raja Bell missed 23 ft jumper.
14 - 11
4:13
Kevin Garnett defensive rebound.
14 - 11
4:01
Troy Hudson missed 22 ft jumper.
14 - 11
4:01
Carlos Boozer defensive rebound.
14 - 11
3:40
Carlos Boozer missed 21 ft jumper.
14 - 11
3:39
John Thomas defensive rebound.
14 - 11
3:31
Kevin Garnett made 16 ft two point shot. Assisted by Latrell Sprewell.
14 - 13
3:17
Mehmet Okur enters the game for Carlos Boozer.
14 - 13
3:12
Matt Harpring missed 14 ft jumper.
14 - 13
3:11
Jarron Collins offensive rebound.
14 - 13
3:00
Raul Lopez Turnover
14 - 13
2:46
Wally Szczerbiak missed 24 ft three point jumper.
14 - 13
2:44
Kevin Garnett offensive rebound.
14 - 13
2:36
John Thomas missed 6 ft hook shot.
14 - 13
2:35
Jarron Collins defensive rebound.
14 - 13
2:26
Raul Lopez made 22 ft jumper.
16 - 13
2:02
Wally Szczerbiak missed 22 ft jumper.
16 - 13
2:00
Raul Lopez defensive rebound.
16 - 13
1:46
John Thomas Personal Foul. His 1st Personal Foul.
16 - 13
1:46
Utah Full Timeout.
16 - 13
1:46
Eddie Griffin enters the game for Kevin Garnett.
16 - 13
1:37
Matt Harpring made 11 ft jumper. Assisted by Raul Lopez.
18 - 13
1:15
John Thomas Offensive Foul. His 3rd Personal Foul.
18 - 13
1:15
John Thomas Turnover
18 - 13
1:01
Mehmet Okur missed 12 ft jumper.
18 - 13
1:00
Eddie Griffin defensive rebound.
18 - 13
0:47
Latrell Sprewell's 10 ft jumper blocked by Raja Bell.
18 - 13
0:46
Jarron Collins defensive rebound.
18 - 13
0:43
Matt Harpring made layup. Assisted by Raul Lopez.
20 - 13
0:30
Troy Hudson missed 21 ft jumper.
20 - 13
0:29
Matt Harpring defensive rebound.
20 - 13
0:16
John Thomas Shooting Foul. His 3rd Personal Foul.
20 - 13
0:16
Mehmet Okur made Free Throw 1 of 2.
21 - 13
0:16
Fred Hoiberg enters the game for John Thomas.
21 - 13
0:16
Mehmet Okur made Free Throw 2 of 2.
22 - 13
0:00
Wally Szczerbiak missed 22 ft jumper.
22 - 13
0:00
Minnesota offensive rebound.
22 - 13
0:00
End of the 1st Quarter.
22 - 13

time
TEAM
PLAY
SCORE
12:00
Start of the 2nd Quarter.
22 - 13
11:42
Fred Hoiberg missed 24 ft three point jumper.
22 - 13
11:41
Michael Olowokandi offensive rebound.
22 - 13
11:38
Michael Olowokandi Offensive Foul. His 2nd Personal Foul.
22 - 13
11:38
Michael Olowokandi Turnover
22 - 13
11:26
Howard Eisley missed 18 ft jumper.
22 - 13
11:25
Mehmet Okur offensive rebound.
22 - 13
11:23
Mehmet Okur Traveling
22 - 13
11:08
Michael Olowokandi missed 7 ft jumper.
22 - 13
11:07
Matt Harpring defensive rebound.
22 - 13
10:53
Mehmet Okur Lost Ball. Stolen by Fred Hoiberg.
22 - 13
10:40
Jarron Collins Illegal Defense Foul. His 1st Personal Foul.
22 - 13
10:40
Sam Cassell enters the game for Troy Hudson.
22 - 13
10:40
Fred Hoiberg made Technical Free Throw.
22 - 14
10:40
Andrei Kirilenko enters the game for Jarron Collins.
22 - 14
10:30
Michael Olowokandi made 7 ft jumper. Assisted by Eddie Griffin.
22 - 16
10:11
Raja Bell missed 20 ft jumper.
22 - 16
10:11
Eddie Griffin defensive rebound.
22 - 16
10:00
Sam Cassell made 21 ft jumper. Assisted by Wally Szczerbiak.
22 - 18
9:38
Mehmet Okur made 15 ft jumper.
24 - 18
9:38
Michael Olowokandi Shooting Foul. His 3rd Personal Foul.
24 - 18
9:38
Mehmet Okur made Free Throw 1 of 1.
25 - 18
9:26
Michael Olowokandi's layup blocked by Mehmet Okur.
25 - 18
9:25
Minnesota offensive rebound.
25 - 18
9:14
Eddie Griffin's 7 ft jumper blocked by Mehmet Okur.
25 - 18
9:11
Andrei Kirilenko defensive rebound.
25 - 18
9:06
Eddie Griffin Shooting Foul. His 1st Personal Foul.
25 - 18
9:06
Andrei Kirilenko made Free Throw 1 of 2.
26 - 18
9:06
Andrei Kirilenko made Free Throw 2 of 2.
27 - 18
8:45
Fred Hoiberg made 24 ft three point jumper. Assisted by Sam Cassell.
27 - 21
8:29
Andrei Kirilenko made 20 ft jumper. Assisted by Raja Bell.
29 - 21
8:07
Eddie Griffin's layup blocked by Andrei Kirilenko.
29 - 21
8:04
Eddie Griffin offensive rebound.
29 - 21
8:03
Eddie Griffin made layup.
29 - 23
8:03
Sam Cassell made Technical Free Throw.
29 - 24
8:03
Full Timeout.
29 - 24
8:03
Kevin Garnett enters the game for Eddie Griffin.
29 - 24
7:48
Mehmet Okur made 14 ft jumper. Assisted by Raja Bell.
31 - 24
7:28
Sam Cassell Bad Pass. Stolen by Andrei Kirilenko.
31 - 24
7:24
Fred Hoiberg Shooting Foul. His 1st Personal Foul.
31 - 24
7:24
Carlos Boozer enters the game for Raja Bell.
31 - 24
7:24
Andrei Kirilenko made Free Throw 1 of 2.
32 - 24
7:24
Andrei Kirilenko made Free Throw 2 of 2.
33 - 24
7:15
Sam Cassell Bad Pass. Stolen by Carlos Boozer.
33 - 24
7:07
Kevin Garnett Personal Foul. His 1st Personal Foul.
33 - 24
7:03
Matt Harpring made 12 ft jumper. Assisted by Howard Eisley.
35 - 24
6:54
Minnesota Full Timeout.
35 - 24
6:54
Trenton Hassell enters the game for Fred Hoiberg.
35 - 24
6:50
Carlos Boozer Personal Foul. His 2nd Personal Foul.
35 - 24
6:43
Kevin Garnett's two point shot blocked by Andrei Kirilenko.
35 - 24
6:41
Minnesota offensive rebound.
35 - 24
6:33
Trenton Hassell missed 22 ft jumper.
35 - 24
6:31
Matt Harpring defensive rebound.
35 - 24
6:13
Howard Eisley missed 25 ft three point jumper.
35 - 24
6:11
Michael Olowokandi defensive rebound.
35 - 24
6:07
Sam Cassell missed 21 ft jumper.
35 - 24
6:05
Mehmet Okur defensive rebound.
35 - 24
5:56
Matt Harpring Bad Pass. Stolen by Kevin Garnett.
35 - 24
5:47
Kevin Garnett made jumper. Assisted by Sam Cassell.
35 - 26
5:28
Matt Harpring missed 20 ft jumper.
35 - 26
5:26
Kevin Garnett defensive rebound.
35 - 26
5:18
Sam Cassell made 19 ft jumper.
35 - 28
4:56
Matt Harpring made 15 ft jumper.
37 - 28
4:56
Wally Szczerbiak Shooting Foul. His 2nd Personal Foul.
37 - 28
4:56
Matt Harpring made Free Throw 1 of 1.
38 - 28
4:39
Michael Olowokandi missed 10 ft jumper.
38 - 28
4:35
Kevin Garnett offensive rebound.
38 - 28
4:35
Kevin Garnett missed tip shot.
38 - 28
4:33
Mehmet Okur defensive rebound.
38 - 28
4:28
Carlos Boozer missed dunk.
38 - 28
4:28
Andrei Kirilenko offensive rebound.
38 - 28
4:20
Howard Eisley made 17 ft jumper. Assisted by Carlos Boozer.
40 - 28
4:03
Mehmet Okur Shooting Foul. His 1st Personal Foul.
40 - 28
4:03
Wally Szczerbiak missed Free Throw 1 of 2.
40 - 28
4:03
Minnesota offensive rebound.
40 - 28
4:03
Eddie Griffin enters the game for Michael Olowokandi.
40 - 28
4:03
Wally Szczerbiak made Free Throw 2 of 2.
40 - 29
3:47
Mehmet Okur's layup blocked by Kevin Garnett.
40 - 29
3:47
Mehmet Okur made layup.
42 - 29
3:47
Kevin Garnett Illegal Defense
42 - 29
3:36
Sam Cassell made 22 ft jumper.
42 - 31
3:13
Matt Harpring missed 15 ft jumper.
42 - 31
3:11
Eddie Griffin defensive rebound.
42 - 31
3:02
Sam Cassell made 18 ft jumper.
42 - 33
2:42
Carlos Boozer made 14 ft jumper. Assisted by Howard Eisley.
44 - 33
2:30
Utah Full Timeout.
44 - 33
2:30
Latrell Sprewell enters the game for Wally Szczerbiak.
44 - 33
2:30
Raja Bell enters the game for Carlos Boozer.
44 - 33
2:15
Trenton Hassell missed 21 ft jumper.
44 - 33
2:14
Matt Harpring defensive rebound.
44 - 33
2:01
Matt Harpring's layup blocked by Eddie Griffin.
44 - 33
2:00
Latrell Sprewell defensive rebound.
44 - 33
1:39
Sam Cassell missed 26 ft three point jumper.
44 - 33
1:39
Mehmet Okur defensive rebound.
44 - 33
1:32
Sam Cassell Personal Foul. His 1st Personal Foul.
44 - 33
1:32
Raja Bell Turnover
44 - 33
1:32
Howard Eisley made Free Throw 1 of 2.
45 - 33
1:32
Howard Eisley missed Free Throw 2 of 2.
45 - 33
1:32
Kris Humphries enters the game for Andrei Kirilenko.
45 - 33
1:32
Wally Szczerbiak enters the game for Eddie Griffin.
45 - 33
1:32
Howard Eisley made Free Throw 2 of 2.
46 - 33
1:15
Latrell Sprewell made three point jumper. Assisted by Kevin Garnett.
46 - 36
0:49
Howard Eisley's 25 ft three point jumper blocked by Kevin Garnett.
46 - 36
0:46
Sam Cassell defensive rebound.
46 - 36
0:44
Sam Cassell Bad Pass. Stolen by Raja Bell.
46 - 36
0:38
Mehmet Okur missed 23 ft three point jumper.
46 - 36
0:37
Latrell Sprewell defensive rebound.
46 - 36
0:31
Latrell Sprewell missed 18 ft jumper.
46 - 36
0:30
Minnesota defensive rebound.
46 - 36
0:30
Anthony Carter enters the game for Sam Cassell.
46 - 36
0:08
Mehmet Okur Turnover
46 - 36
0:08
Minnesota 20 Sec. Timeout.
46 - 36
0:04
Howard Eisley Personal Foul. His 1st Personal Foul.
46 - 36
0:04
Anthony Carter missed Free Throw 1 of 2.
46 - 36
0:01
Wally Szczerbiak's 22 ft jumper blocked by Matt Harpring.
46 - 36
0:01
Mehmet Okur defensive rebound.
46 - 36
0:00
End of the 2nd Quarter.
46 - 36

time
TEAM
PLAY
SCORE
12:00
Start of the 3rd Quarter.
46 - 36
11:48
Kevin Garnett made layup. Assisted by Anthony Carter.
46 - 38
11:26
Anthony Carter Personal Foul. His 1st Personal Foul.
46 - 38
11:11
Gordan Giricek missed 25 ft three point jumper.
46 - 38
11:08
Utah offensive rebound.
46 - 38
11:07
Curtis Borchardt made layup. Assisted by Carlos Boozer.
48 - 38
11:07
Ervin Johnson Shooting Foul. His 2nd Personal Foul.
48 - 38
11:07
Curtis Borchardt made Free Throw 1 of 1.
49 - 38
10:49
Latrell Sprewell made 18 ft running jumper.
49 - 40
10:37
Andrei Kirilenko missed layup.
49 - 40
10:37
Ervin Johnson defensive rebound.
49 - 40
10:22
Gordan Giricek Shooting Foul. His 2nd Personal Foul.
49 - 40
10:22
Ervin Johnson missed Free Throw 1 of 2.
49 - 40
10:22
Minnesota offensive rebound.
49 - 40
10:22
Ervin Johnson missed Free Throw 2 of 2.
49 - 40
10:21
Curtis Borchardt defensive rebound.
49 - 40
10:04
Carlos Boozer missed 9 ft jumper.
49 - 40
10:03
Andrei Kirilenko offensive rebound.
49 - 40
10:03
Trenton Hassell Personal Foul. His 1st Personal Foul.
49 - 40
9:56
Gordan Giricek made 20 ft jumper. Assisted by Raul Lopez.
51 - 40
9:47
Carlos Boozer Personal Foul. His 3rd Personal Foul.
51 - 40
9:41
Latrell Sprewell missed 14 ft jumper.
51 - 40
9:38
Trenton Hassell offensive rebound.
51 - 40
9:33
Anthony Carter missed 20 ft jumper.
51 - 40
9:30
Carlos Boozer defensive rebound.
51 - 40
9:22
Curtis Borchardt missed jumper.
51 - 40
9:19
Kevin Garnett defensive rebound.
51 - 40
9:15
Latrell Sprewell missed 25 ft three point jumper.
51 - 40
9:12
Andrei Kirilenko defensive rebound.
51 - 40
8:53
Curtis Borchardt made slam dunk. Assisted by Andrei Kirilenko.
53 - 40
8:49
Minnesota Full Timeout.
53 - 40
8:49
Troy Hudson enters the game for Anthony Carter.
53 - 40
8:49
Eddie Griffin enters the game for Ervin Johnson.
53 - 40
8:45
Curtis Borchardt Personal Foul. His 2nd Personal Foul.
53 - 40
8:38
Curtis Borchardt Personal Foul. His 3rd Personal Foul.
53 - 40
8:38
Jarron Collins enters the game for Curtis Borchardt.
53 - 40
8:25
Troy Hudson missed 24 ft three point jumper.
53 - 40
8:22
Jarron Collins defensive rebound.
53 - 40
8:10
Troy Hudson Personal Foul. His 1st Personal Foul.
53 - 40
8:10
Gordan Giricek made Technical Free Throw.
54 - 40
8:00
Carlos Boozer made layup. Assisted by Raul Lopez.
56 - 40
7:41
Carlos Boozer Personal Foul. His 4th Personal Foul.
56 - 40
7:41
Eddie Griffin made Free Throw 1 of 2.
56 - 41
7:41
Mehmet Okur enters the game for Carlos Boozer.
56 - 41
7:41
Eddie Griffin made Free Throw 2 of 2.
56 - 42
7:35
Troy Hudson Personal Foul. His 2nd Personal Foul.
56 - 42
7:35
Raul Lopez made Free Throw 1 of 2.
57 - 42
7:35
Raul Lopez made Free Throw 2 of 2.
58 - 42
7:20
Latrell Sprewell made jumper.
58 - 44
7:03
Andrei Kirilenko made layup. Assisted by Mehmet Okur.
60 - 44
6:48
Wally Szczerbiak enters the game for Trenton Hassell.
60 - 44
6:48
Jumpball: Jarron Collins vs. Troy Hudson. Andrei Kirilenko gains possession.
60 - 44
6:48
Troy Hudson Lost Ball. Stolen by Jarron Collins.
60 - 44
6:35
Gordan Giricek's 18 ft jumper blocked by Latrell Sprewell.
60 - 44
6:33
Utah defensive rebound.
60 - 44
6:33
Andrei Kirilenko Loose Ball Foul. His 4th Personal Foul.
60 - 44
6:33
Kevin Garnett made Free Throw 1 of 2.
60 - 45
6:33
Kevin Garnett made Free Throw 2 of 2.
60 - 46
6:13
Gordan Giricek made 15 ft jumper. Assisted by Raul Lopez.
62 - 46
5:56
Latrell Sprewell missed 14 ft jumper.
62 - 46
5:54
Mehmet Okur defensive rebound.
62 - 46
5:41
Jarron Collins Bad Pass
62 - 46
5:41
Matt Harpring enters the game for Andrei Kirilenko.
62 - 46
5:30
Wally Szczerbiak made two point shot.
62 - 48
5:11
Matt Harpring made layup. Assisted by Jarron Collins.
64 - 48
4:56
Troy Hudson Offensive Foul. His 4th Personal Foul.
64 - 48
4:56
Troy Hudson Turnover
64 - 48
4:33
Raul Lopez missed 26 ft three point jumper.
64 - 48
4:31
Kevin Garnett defensive rebound.
64 - 48
4:18
Latrell Sprewell missed 23 ft three point jumper.
64 - 48
4:16
Gordan Giricek defensive rebound.
64 - 48
3:59
Mehmet Okur missed jumper.
64 - 48
3:58
Kevin Garnett defensive rebound.
64 - 48
3:58
Jarron Collins Loose Ball Foul. His 1st Personal Foul.
64 - 48
3:58
Fred Hoiberg enters the game for Latrell Sprewell.
64 - 48
3:58
Kevin Garnett made Free Throw 1 of 2.
64 - 49
3:58
Kevin Garnett made Free Throw 2 of 2.
64 - 50
3:43
Jarron Collins missed 19 ft jumper.
64 - 50
3:42
Fred Hoiberg defensive rebound.
64 - 50
3:30
Matt Harpring Shooting Foul. His 1st Personal Foul.
64 - 50
3:30
Wally Szczerbiak made Free Throw 1 of 2.
64 - 51
3:30
Wally Szczerbiak made Free Throw 2 of 2.
64 - 52
3:14
Gordan Giricek Bad Pass. Stolen by Kevin Garnett.
64 - 52
3:09
Kevin Garnett made driving layup. Assisted by Wally Szczerbiak.
64 - 54
2:49
Raul Lopez missed 21 ft jumper.
64 - 54
2:47
Utah defensive rebound.
64 - 54
2:47
Utah Full Timeout.
64 - 54
2:47
Curtis Borchardt enters the game for Jarron Collins.
64 - 54
2:40
Troy Hudson made 21 ft jumper. Assisted by Kevin Garnett.
64 - 56
2:21
Matt Harpring missed layup.
64 - 56
2:20
Troy Hudson defensive rebound.
64 - 56
2:14
Wally Szczerbiak made driving layup. Assisted by Troy Hudson.
64 - 58
1:50
Gordan Giricek missed 23 ft three point jumper.
64 - 58
1:47
Matt Harpring offensive rebound.
64 - 58
1:32
Matt Harpring missed 13 ft jumper.
64 - 58
1:31
Mehmet Okur offensive rebound.
66 - 58
1:31
Mehmet Okur made tip shot.
66 - 58
1:19
Matt Harpring Shooting Foul. His 2nd Personal Foul.
66 - 58
1:19
Raja Bell enters the game for Gordan Giricek.
66 - 58
1:19
Andrei Kirilenko enters the game for Matt Harpring.
66 - 58
1:19
Wally Szczerbiak missed Free Throw 1 of 2.
66 - 58
1:19
Minnesota offensive rebound.
66 - 58
1:19
Wally Szczerbiak made Free Throw 2 of 2.
66 - 59
1:05
Raul Lopez missed 22 ft jumper.
66 - 59
1:04
Andrei Kirilenko offensive rebound.
66 - 59
0:40
Andrei Kirilenko made 20 ft jumper. Assisted by Raul Lopez.
68 - 59
0:29
Troy Hudson made 25 ft three point jumper.
68 - 62
0:06
Raul Lopez missed 25 ft three point jumper.
68 - 62
0:04
Eddie Griffin defensive rebound.
68 - 62
0:00
Troy Hudson made 23 ft jumper.
68 - 64
0:00
End of the 3rd Quarter.
68 - 64

time
TEAM
PLAY
SCORE
12:00
Start of the 4th Quarter.
68 - 64
11:40
Carlos Boozer made jumper. Assisted by Howard Eisley.
70 - 64
11:29
Troy Hudson Turnover
70 - 64
11:15
Carlos Boozer Lost Ball. Stolen by Troy Hudson.
70 - 64
11:11
Howard Eisley Personal Foul. His 2nd Personal Foul.
70 - 64
11:02
Eddie Griffin made 24 ft three point jumper. Assisted by Troy Hudson.
70 - 67
10:45
Howard Eisley made driving layup.
72 - 67
10:45
Mehmet Okur offensive rebound.
72 - 67
10:30
Fred Hoiberg made 24 ft three point jumper. Assisted by Wally Szczerbiak.
72 - 70
10:17
Eddie Griffin Personal Foul. His 2nd Personal Foul.
72 - 70
10:04
Raja Bell's layup blocked by Eddie Griffin.
72 - 70
10:03
Utah offensive rebound.
72 - 70
10:00
Carlos Boozer Bad Pass. Stolen by John Thomas.
72 - 70
9:47
Raja Bell Shooting Foul. His 1st Personal Foul.
72 - 70
9:47
Wally Szczerbiak made Free Throw 1 of 2.
72 - 71
9:47
Wally Szczerbiak missed Free Throw 2 of 2.
72 - 71
9:45
Andrei Kirilenko defensive rebound.
72 - 71
9:45
John Thomas Loose Ball Foul. His 4th Personal Foul.
72 - 71
9:33
Carlos Boozer made layup. Assisted by Mehmet Okur.
74 - 71
9:22
Troy Hudson missed 25 ft three point jumper.
74 - 71
9:19
Mehmet Okur defensive rebound.
74 - 71
9:12
Carlos Boozer Bad Pass. Stolen by John Thomas.
74 - 71
9:11
Carlos Boozer Loose Ball Foul. His 5th Personal Foul.
74 - 71
9:11
Minnesota Full Timeout.
74 - 71
9:11
Matt Harpring enters the game for Carlos Boozer.
74 - 71
9:11
Kevin Garnett enters the game for John Thomas.
74 - 71
9:11
Sam Cassell enters the game for Troy Hudson.
74 - 71
8:52
Kevin Garnett made jumper. Assisted by Sam Cassell.
74 - 73
8:34
Howard Eisley missed 20 ft jumper.
74 - 73
8:33
Fred Hoiberg defensive rebound.
74 - 73
8:18
Kevin Garnett missed two point shot.
74 - 73
8:17
Raja Bell defensive rebound.
74 - 73
8:07
Mehmet Okur's layup blocked by Eddie Griffin.
74 - 73
8:07
Eddie Griffin defensive rebound.
74 - 73
8:02
Sam Cassell missed 19 ft jumper.
74 - 73
8:00
Kevin Garnett offensive rebound.
74 - 73
8:00
Andrei Kirilenko Shooting Foul. His 4th Personal Foul.
74 - 73
8:00
Kevin Garnett made Free Throw 1 of 2.
74 - 74
8:00
Curtis Borchardt enters the game for Mehmet Okur.
74 - 74
8:00
Kevin Garnett made Free Throw 2 of 2.
74 - 75
7:47
Howard Eisley Bad Pass. Stolen by Eddie Griffin.
74 - 75
7:31
Curtis Borchardt Shooting Foul. His 4th Personal Foul.
74 - 75
7:31
Kevin Garnett made Free Throw 1 of 2.
74 - 76
7:31
Raul Lopez enters the game for Howard Eisley.
74 - 76
7:31
Kevin Garnett made Free Throw 2 of 2.
74 - 77
7:20
Fred Hoiberg Personal Foul. His 2nd Personal Foul.
74 - 77
7:18
Wally Szczerbiak Personal Foul. His 2nd Personal Foul.
74 - 77
7:11
Andrei Kirilenko missed 22 ft jumper.
74 - 77
7:09
Matt Harpring offensive rebound.
74 - 77
7:00
Raul Lopez Bad Pass. Stolen by Eddie Griffin.
74 - 77
6:52
Sam Cassell missed 17 ft jumper.
74 - 77
6:50
Kevin Garnett offensive rebound.
74 - 77
6:46
Sam Cassell made 25 ft three point jumper. Assisted by Kevin Garnett.
74 - 80
6:41
Utah 20 Sec. Timeout.
74 - 80
6:41
Mehmet Okur enters the game for Curtis Borchardt.
74 - 80
6:37
Raja Bell's 20 ft jumper blocked by Fred Hoiberg.
74 - 80
6:35
Kevin Garnett defensive rebound.
74 - 80
6:22
Sam Cassell's 6 ft jumper blocked by Matt Harpring.
74 - 80
6:20
Matt Harpring defensive rebound.
74 - 80
6:13
Raja Bell made 23 ft three point jumper. Assisted by Andrei Kirilenko.
77 - 80
5:56
Mehmet Okur Shooting Foul. His 2nd Personal Foul.
77 - 80
5:56
Utah Full Timeout.
77 - 80
5:56
Full Timeout.
77 - 80
5:56
Kevin Garnett made Free Throw 1 of 2.
77 - 81
5:56
Kevin Garnett missed Free Throw 2 of 2.
77 - 81
5:54
Fred Hoiberg offensive rebound.
77 - 81
5:41
Minnesota 20 Sec. Timeout.
77 - 81
5:30
Sam Cassell missed 19 ft jumper.
77 - 81
5:28
Andrei Kirilenko defensive rebound.
77 - 81
5:13
Andrei Kirilenko made two point shot. Assisted by Mehmet Okur.
79 - 81
4:56
Kevin Garnett made 6 ft jumper.
79 - 83
4:28
Andrei Kirilenko made 21 ft jumper.
81 - 83
4:01
Kevin Garnett missed 20 ft jumper.
81 - 83
3:59
Andrei Kirilenko defensive rebound.
81 - 83
3:35
Andrei Kirilenko missed 25 ft three point jumper.
81 - 83
3:34
Fred Hoiberg defensive rebound.
81 - 83
3:24
Kevin Garnett Offensive Foul. His 3rd Personal Foul.
81 - 83
3:24
Kevin Garnett Turnover
81 - 83
3:11
Raja Bell missed 19 ft jumper.
81 - 83
3:09
Mehmet Okur offensive rebound.
81 - 83
3:05
Raja Bell made layup. Assisted by Mehmet Okur.
83 - 83
2:47
Kevin Garnett missed layup.
83 - 83
2:47
Kevin Garnett offensive rebound.
83 - 83
2:44
Kevin Garnett missed layup.
83 - 83
2:43
Mehmet Okur defensive rebound.
83 - 83
2:36
Raul Lopez made driving layup.
85 - 83
2:35
Minnesota Full Timeout.
85 - 83
2:25
Fred Hoiberg made 21 ft jumper. Assisted by Wally Szczerbiak.
85 - 85
2:08
Raul Lopez missed 21 ft jumper.
85 - 85
2:05
Kevin Garnett defensive rebound.
85 - 85
1:49
Wally Szczerbiak missed layup.
85 - 85
1:47
Eddie Griffin offensive rebound.
85 - 87
1:47
Eddie Griffin made two point shot.
85 - 87
1:34
Raja Bell missed 20 ft jumper.
85 - 87
1:32
Sam Cassell defensive rebound.
85 - 87
1:10
Kevin Garnett missed 21 ft jumper.
85 - 87
1:08
Matt Harpring defensive rebound.
85 - 87
0:54
Andrei Kirilenko missed layup.
85 - 87
0:53
Kevin Garnett defensive rebound.
85 - 87
0:32
Sam Cassell missed 25 ft three point jumper.
85 - 87
0:31
Raja Bell defensive rebound.
85 - 87
0:21
Raul Lopez Bad Pass. Stolen by Kevin Garnett.
85 - 87
0:16
Sam Cassell made layup. Assisted by Kevin Garnett.
85 - 89
0:15
Utah Full Timeout.
85 - 89
0:15
Trenton Hassell enters the game for Eddie Griffin.
85 - 89
0:08
Wally Szczerbiak Shooting Foul. His 3rd Personal Foul.
85 - 89
0:08
Raul Lopez missed Free Throw 1 of 2.
85 - 89
0:08
Utah offensive rebound.
85 - 89
0:08
Eddie Griffin enters the game for Trenton Hassell.
85 - 89
0:08
Raul Lopez made Free Throw 2 of 2.
86 - 89
0:08
Raja Bell Personal Foul. His 2nd Personal Foul.
86 - 89
0:08
Sam Cassell made Free Throw 1 of 2.
86 - 90
0:08
Trenton Hassell enters the game for Eddie Griffin.
86 - 90
0:08
Sam Cassell made Free Throw 2 of 2.
86 - 91
0:03
Raul Lopez made driving layup.
88 - 91
0:03
Raul Lopez Personal Foul. His 2nd Personal Foul.
88 - 91
0:03
Fred Hoiberg made Free Throw 1 of 2.
88 - 92
0:03
Fred Hoiberg made Free Throw 2 of 2.
88 - 93
0:03
Utah Full Timeout.
88 - 93
0:00
Raul Lopez made 24 ft three point jumper. Assisted by Mehmet Okur.
91 - 93
0:00
End of the 4th Quarter.
91 - 93
0:00
End Game
91 - 93
The Denver Nuggets selected Kentucky point guard Jamal Murray with the No. 7 overall pick of the 2016 NBA draft on Thursday night.

Amin Elhassan and Myron Medcalf break down how Jamaal Murray will fit with Emmanuel Mudiay in Denver.

The Pelicans select Buddy Hield from Oklahoma with the No. 6 pick in the NBA draft.
Regular Season Series
MIN wins series 3-1
2015-2016 Northwest Standings