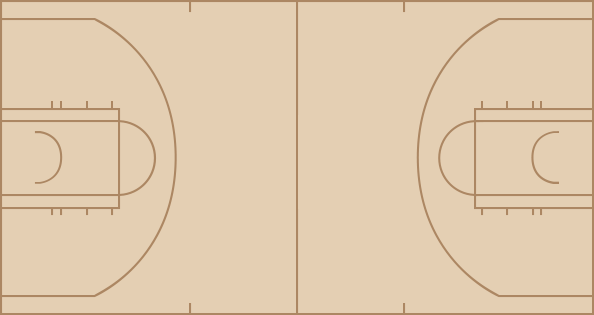 Raptors
time
TEAM
PLAY
SCORE
12:00
Start of the 1st Quarter.
0 - 0
12:00
Jumpball: Chris Bosh vs. Primoz Brezec. Morris Peterson gains possession.
0 - 0
11:37
Morris Peterson missed 18 ft jumper.
0 - 0
11:36
Kareem Rush defensive rebound.
0 - 0
11:27
Chris Bosh Shooting Foul. His 1st Personal Foul.
0 - 0
11:27
Primoz Brezec made Free Throw 1 of 2.
0 - 1
11:27
Primoz Brezec made Free Throw 2 of 2.
0 - 2
11:14
Chris Bosh made layup.
2 - 2
11:14
Primoz Brezec Shooting Foul. His 2nd Personal Foul.
2 - 2
11:14
Chris Bosh made Free Throw 1 of 1.
3 - 2
10:55
Jason Hart missed layup.
3 - 2
10:52
Emeka Okafor offensive rebound.
3 - 4
10:52
Emeka Okafor made dunk.
3 - 4
10:38
Morris Peterson missed layup.
3 - 4
10:37
Emeka Okafor defensive rebound.
3 - 4
10:23
Emeka Okafor missed 14 ft jumper.
3 - 4
10:22
Morris Peterson defensive rebound.
3 - 4
10:15
Jalen Rose made 21 ft jumper.
5 - 4
9:53
Primoz Brezec Traveling
5 - 4
9:37
Rafer Alston missed 18 ft jumper.
5 - 4
9:34
Jalen Rose offensive rebound.
5 - 4
9:29
Chris Bosh missed layup.
5 - 4
9:26
Emeka Okafor defensive rebound.
5 - 4
9:03
Primoz Brezec missed 9 ft two point shot.
5 - 4
8:59
Jalen Rose defensive rebound.
5 - 4
8:53
Jalen Rose made 25 ft three point jumper.
8 - 4
8:36
Gerald Wallace missed 18 ft jumper.
8 - 4
8:33
Chris Bosh defensive rebound.
8 - 4
8:26
Morris Peterson missed layup.
8 - 4
8:22
Emeka Okafor defensive rebound.
8 - 4
8:11
Jason Hart missed 20 ft jumper.
8 - 4
8:10
Jalen Rose defensive rebound.
8 - 4
8:06
Chris Bosh made dunk. Assisted by Jalen Rose.
10 - 4
8:03
Charlotte Full Timeout.
10 - 4
7:45
Kareem Rush made 18 ft jumper.
10 - 6
7:22
Rafael Araujo Lost Ball. Stolen by Primoz Brezec.
10 - 6
7:07
Emeka Okafor missed jumper.
10 - 6
7:05
Jalen Rose defensive rebound.
10 - 6
6:56
Rafael Araujo made layup. Assisted by Jalen Rose.
12 - 6
6:39
Gerald Wallace missed 20 ft jumper.
12 - 6
6:37
Rafael Araujo defensive rebound.
12 - 6
6:33
Chris Bosh's layup blocked by Gerald Wallace.
12 - 6
6:30
Jason Hart defensive rebound.
12 - 6
6:16
Kareem Rush made 19 ft jumper. Assisted by Primoz Brezec.
12 - 8
5:54
Rafer Alston missed 27 ft three point jumper.
12 - 8
5:52
Primoz Brezec defensive rebound.
12 - 8
5:37
Gerald Wallace missed 18 ft jumper.
12 - 8
5:35
Rafael Araujo defensive rebound.
12 - 8
5:30
Jalen Rose missed 26 ft three point jumper.
12 - 8
5:26
Gerald Wallace defensive rebound.
12 - 8
5:15
Emeka Okafor made dunk. Assisted by Primoz Brezec.
12 - 10
5:01
Morris Peterson missed 23 ft three point jumper.
12 - 10
5:00
Primoz Brezec defensive rebound.
12 - 10
4:47
Jason Hart missed 6 ft jumper.
12 - 10
4:43
Primoz Brezec offensive rebound.
12 - 12
4:43
Primoz Brezec made tip shot.
12 - 12
4:37
Morris Peterson missed 21 ft jumper.
12 - 12
4:35
Jalen Rose offensive rebound.
12 - 12
4:33
Primoz Brezec Shooting Foul. His 2nd Personal Foul.
12 - 12
4:33
Toronto Full Timeout.
12 - 12
4:33
Jason Kapono enters the game for Gerald Wallace.
12 - 12
4:33
Jamal Sampson enters the game for Primoz Brezec.
12 - 12
4:33
Steve Smith enters the game for Jason Hart.
12 - 12
4:33
Chris Bosh made Free Throw 1 of 2.
13 - 12
4:33
Chris Bosh made Free Throw 2 of 2.
14 - 12
4:22
Morris Peterson Personal Foul. His 1st Personal Foul.
14 - 12
4:22
Melvin Ely enters the game for Emeka Okafor.
14 - 12
4:11
Kareem Rush made 21 ft jumper. Assisted by Steve Smith.
14 - 14
3:49
Steve Smith Personal Foul. His 1st Personal Foul.
14 - 14
3:43
Jamal Sampson Illegal Defense Foul. His 1st Personal Foul.
14 - 14
3:43
Jalen Rose missed Technical Free Throw.
14 - 14
3:43
Toronto offensive rebound.
14 - 14
3:35
Rafer Alston missed 25 ft three point jumper.
14 - 14
3:32
Jason Kapono defensive rebound.
14 - 14
3:27
Rafael Araujo Personal Foul. His 1st Personal Foul.
14 - 14
3:27
Donyell Marshall enters the game for Rafael Araujo.
14 - 14
3:27
Keith Bogans enters the game for Kareem Rush.
14 - 14
3:23
Steve Smith Bad Pass. Stolen by Morris Peterson.
14 - 14
3:11
Rafer Alston missed layup.
14 - 14
3:10
Jamal Sampson defensive rebound.
14 - 14
3:08
Jamal Sampson Bad Pass. Stolen by Morris Peterson.
14 - 14
3:04
Morris Peterson missed 9 ft jumper.
14 - 14
2:58
Jamal Sampson defensive rebound.
14 - 14
2:49
Melvin Ely made 19 ft jumper. Assisted by Steve Smith.
14 - 16
2:25
Donyell Marshall made 24 ft three point jumper. Assisted by Rafer Alston.
17 - 16
2:11
Melvin Ely missed 18 ft jumper.
17 - 16
2:09
Donyell Marshall defensive rebound.
17 - 16
2:00
Chris Bosh missed jumper.
17 - 16
1:59
Jamal Sampson defensive rebound.
17 - 16
1:39
Keith Bogans missed 19 ft jumper.
17 - 16
1:37
Donyell Marshall defensive rebound.
17 - 16
1:30
Rafer Alston made 19 ft jumper. Assisted by Donyell Marshall.
19 - 16
1:06
Jason Kapono made layup. Assisted by Steve Smith.
19 - 18
0:49
Melvin Ely Shooting Foul. His 1st Personal Foul.
19 - 18
0:49
Lamond Murray enters the game for Morris Peterson.
19 - 18
0:49
Jalen Rose made Free Throw 1 of 2.
20 - 18
0:49
Jalen Rose missed Free Throw 2 of 2.
20 - 18
0:47
Melvin Ely defensive rebound.
20 - 18
0:36
Melvin Ely made dunk. Assisted by Steve Smith.
20 - 20
0:22
Donyell Marshall made two point shot.
22 - 20
0:07
Jamal Sampson made two point shot.
22 - 22
0:00
Donyell Marshall missed three point jumper.
22 - 22
0:00
Toronto offensive rebound.
22 - 22
0:00
End of the 1st Quarter.
22 - 22

time
TEAM
PLAY
SCORE
12:00
Start of the 2nd Quarter.
22 - 22
11:45
Jamal Sampson missed 19 ft jumper.
22 - 22
11:42
Eric Williams defensive rebound.
22 - 22
11:36
Chris Bosh missed 17 ft jumper.
22 - 22
11:33
Jamal Sampson defensive rebound.
22 - 22
11:22
Melvin Ely missed 6 ft hook shot.
22 - 22
11:18
Lamond Murray defensive rebound.
22 - 22
11:11
Eric Williams made layup.
24 - 22
10:52
Steve Smith made 19 ft jumper.
24 - 24
10:36
Lamond Murray made 19 ft jumper. Assisted by Milt Palacio.
26 - 24
10:21
Melvin Ely Bad Pass. Stolen by Eric Williams.
26 - 24
10:10
Chris Bosh made dunk. Assisted by Milt Palacio.
28 - 24
9:51
Chris Bosh Personal Foul. His 2nd Personal Foul.
28 - 24
9:51
Matt Bonner enters the game for Chris Bosh.
28 - 24
9:51
Kareem Rush enters the game for Jason Kapono.
28 - 24
9:51
Primoz Brezec enters the game for Steve Smith.
28 - 24
9:51
Jason Hart enters the game for Melvin Ely.
28 - 24
9:51
Gerald Wallace enters the game for Keith Bogans.
28 - 24
9:42
Kareem Rush missed 18 ft jumper.
28 - 24
9:41
Eric Williams defensive rebound.
28 - 24
9:33
Jamal Sampson Shooting Foul. His 1st Personal Foul.
28 - 24
9:33
Eric Williams missed Free Throw 1 of 2.
28 - 24
9:33
Toronto offensive rebound.
28 - 24
9:33
Emeka Okafor enters the game for Jamal Sampson.
28 - 24
9:33
Eric Williams made Free Throw 2 of 2.
29 - 24
9:23
Kareem Rush made 18 ft jumper. Assisted by Jason Hart.
29 - 26
9:07
Kareem Rush Personal Foul. His 1st Personal Foul.
29 - 26
9:00
Lamond Murray Traveling
29 - 26
8:44
Kareem Rush missed 7 ft jumper.
29 - 26
8:41
Primoz Brezec offensive rebound.
29 - 28
8:41
Primoz Brezec made layup.
29 - 28
8:25
Milt Palacio missed 18 ft jumper.
29 - 28
8:23
Toronto offensive rebound.
29 - 28
8:23
Official Timeout.
29 - 28
8:08
Donyell Marshall made layup. Assisted by Eric Williams.
31 - 28
7:43
Jason Hart made 7 ft jumper.
31 - 30
7:28
Matt Bonner made 19 ft jumper. Assisted by Milt Palacio.
33 - 30
7:09
Gerald Wallace missed 23 ft three point jumper.
33 - 30
7:07
Lamond Murray defensive rebound.
33 - 30
7:03
Kareem Rush Shooting Foul. His 2nd Personal Foul.
33 - 30
7:03
Lamond Murray made Free Throw 1 of 2.
34 - 30
7:03
Lamond Murray made Free Throw 2 of 2.
35 - 30
6:52
Kareem Rush made 19 ft jumper. Assisted by Jason Hart.
35 - 32
6:39
Gerald Wallace Shooting Foul. His 1st Personal Foul.
35 - 32
6:39
Milt Palacio made Free Throw 1 of 2.
36 - 32
6:39
Milt Palacio made Free Throw 2 of 2.
37 - 32
6:28
Kareem Rush Turnover
37 - 32
6:18
Donyell Marshall missed 25 ft three point jumper.
37 - 32
6:16
Toronto offensive rebound.
37 - 32
6:16
Emeka Okafor Loose Ball Foul. His 1st Personal Foul.
37 - 32
6:16
Eric Williams made Free Throw 1 of 2.
38 - 32
6:16
Melvin Ely enters the game for Emeka Okafor.
38 - 32
6:16
Eric Williams made Free Throw 2 of 2.
39 - 32
5:58
Melvin Ely missed 17 ft jumper.
39 - 32
5:56
Lamond Murray defensive rebound.
39 - 32
5:43
Donyell Marshall missed 25 ft three point jumper.
39 - 32
5:39
Primoz Brezec defensive rebound.
39 - 32
5:30
Jason Hart made driving layup.
39 - 34
5:30
Milt Palacio Shooting Foul. His 2nd Personal Foul.
39 - 34
5:30
Charlotte Full Timeout.
39 - 34
5:30
Jason Hart made Free Throw 1 of 1.
39 - 35
5:16
Donyell Marshall made layup. Assisted by Matt Bonner.
41 - 35
4:54
Melvin Ely made hook shot.
41 - 37
4:35
Lamond Murray made 21 ft jumper. Assisted by Milt Palacio.
43 - 37
4:13
Gerald Wallace missed 18 ft jumper.
43 - 37
4:11
Matt Bonner defensive rebound.
43 - 37
4:03
Donyell Marshall missed 25 ft three point jumper.
43 - 37
4:00
Melvin Ely defensive rebound.
43 - 37
3:57
Matt Bonner Personal Foul. His 1st Personal Foul.
43 - 37
3:57
Steve Smith enters the game for Gerald Wallace.
43 - 37
3:57
Jalen Rose enters the game for Lamond Murray.
43 - 37
3:57
Morris Peterson enters the game for Milt Palacio.
43 - 37
3:57
Rafer Alston enters the game for Eric Williams.
43 - 37
3:57
Chris Bosh enters the game for Donyell Marshall.
43 - 37
3:51
Matt Bonner Personal Foul. His 2nd Personal Foul.
43 - 37
3:51
Rafael Araujo enters the game for Matt Bonner.
43 - 37
3:47
Rafael Araujo Personal Foul. His 2nd Personal Foul.
43 - 37
3:47
Jason Hart made Free Throw 1 of 2.
43 - 38
3:47
Jamal Sampson enters the game for Primoz Brezec.
43 - 38
3:47
Jason Hart made Free Throw 2 of 2.
43 - 39
3:41
Jalen Rose Lost Ball. Stolen by Melvin Ely.
43 - 39
3:31
Kareem Rush missed 20 ft jumper.
43 - 39
3:29
Rafer Alston defensive rebound.
43 - 39
3:15
Jalen Rose's layup blocked by Steve Smith.
43 - 39
3:14
Jamal Sampson defensive rebound.
43 - 39
2:51
Kareem Rush missed layup.
43 - 39
2:48
Jamal Sampson offensive rebound.
43 - 41
2:48
Jamal Sampson made tip shot.
43 - 41
2:33
Chris Bosh missed 14 ft jumper.
43 - 41
2:31
Steve Smith defensive rebound.
43 - 41
2:25
Steve Smith made 25 ft three point jumper.
43 - 44
2:08
Rafael Araujo made dunk. Assisted by Chris Bosh.
45 - 44
1:59
Charlotte 20 Sec. Timeout.
45 - 44
1:59
Toronto Full Timeout.
45 - 44
1:59
Keith Bogans enters the game for Kareem Rush.
45 - 44
1:44
Melvin Ely Bad Pass
45 - 44
1:37
Jason Hart Personal Foul. His 1st Personal Foul.
45 - 44
1:37
Rafer Alston made Free Throw 1 of 2.
46 - 44
1:37
Rafer Alston made Free Throw 2 of 2.
47 - 44
1:24
Keith Bogans made 5 ft jumper.
47 - 46
1:05
Jamal Sampson Personal Foul. His 2nd Personal Foul.
47 - 46
1:05
Chris Bosh made Free Throw 1 of 2.
48 - 46
1:05
Chris Bosh made Free Throw 2 of 2.
49 - 46
0:44
Jamal Sampson's layup blocked by Rafael Araujo.
49 - 46
0:41
Chris Bosh defensive rebound.
49 - 46
0:38
Morris Peterson missed dunk.
49 - 46
0:38
Toronto defensive rebound.
49 - 46
0:38
Matt Bonner enters the game for Chris Bosh.
49 - 46
0:13
Jason Hart missed 20 ft jumper.
49 - 46
0:10
Jamal Sampson offensive rebound.
49 - 46
0:10
Jamal Sampson Turnover
49 - 46
0:10
Toronto 20 Sec. Timeout.
49 - 46
0:10
Donyell Marshall enters the game for Rafael Araujo.
49 - 46
0:10
Bernard Robinson Jr enters the game for Steve Smith.
49 - 46
0:09
Jalen Rose Bad Pass
49 - 46
0:09
Rafael Araujo enters the game for Matt Bonner.
49 - 46
0:09
Steve Smith enters the game for Jamal Sampson.
49 - 46
0:09
Jason Kapono enters the game for Melvin Ely.
49 - 46
0:03
Steve Smith missed layup.
49 - 46
0:02
Charlotte offensive rebound.
49 - 46
0:02
Donyell Marshall Loose Ball Foul. His 1st Personal Foul.
49 - 46
0:02
Steve Smith made Free Throw 1 of 2.
49 - 47
0:02
Chris Bosh enters the game for Morris Peterson.
49 - 47
0:02
Steve Smith made Free Throw 2 of 2.
49 - 48
0:00
End of the 2nd Quarter.
49 - 48

time
TEAM
PLAY
SCORE
12:00
Start of the 3rd Quarter.
49 - 48
11:42
Kareem Rush made 12 ft two point shot.
49 - 50
11:30
Rafael Araujo Offensive Foul. His 4th Personal Foul.
49 - 50
11:30
Rafael Araujo Turnover
49 - 50
11:11
Jason Hart missed jumper.
49 - 50
11:10
Primoz Brezec offensive rebound.
49 - 50
11:10
Primoz Brezec missed tip shot.
49 - 50
11:08
Morris Peterson defensive rebound.
49 - 50
11:02
Rafael Araujo missed 14 ft jumper.
49 - 50
11:00
Emeka Okafor defensive rebound.
49 - 50
10:48
Primoz Brezec made layup.
49 - 52
10:30
Jalen Rose made two point shot.
51 - 52
10:18
Jason Hart Bad Pass. Stolen by Jalen Rose.
51 - 52
10:14
Jalen Rose's layup blocked by Gerald Wallace.
51 - 52
10:14
Toronto offensive rebound.
51 - 52
10:14
Jamal Sampson enters the game for Primoz Brezec.
51 - 52
10:11
Chris Bosh missed 15 ft jumper.
51 - 52
10:10
Kareem Rush defensive rebound.
51 - 52
10:00
Emeka Okafor's 9 ft jumper blocked by Rafael Araujo.
51 - 52
9:57
Chris Bosh defensive rebound.
51 - 52
9:42
Jamal Sampson Shooting Foul. His 3rd Personal Foul.
51 - 52
9:42
Rafael Araujo made Free Throw 1 of 2.
52 - 52
9:42
Rafael Araujo made Free Throw 2 of 2.
53 - 52
9:30
Gerald Wallace made two point shot.
53 - 54
9:22
Jamal Sampson Personal Foul. His 4th Personal Foul.
53 - 54
9:22
Melvin Ely enters the game for Jamal Sampson.
53 - 54
9:17
Emeka Okafor Shooting Foul. His 2nd Personal Foul.
53 - 54
9:17
Chris Bosh missed Free Throw 1 of 2.
53 - 54
9:17
Toronto offensive rebound.
53 - 54
9:17
Chris Bosh made Free Throw 2 of 2.
54 - 54
8:57
Melvin Ely made layup. Assisted by Jason Hart.
54 - 56
8:37
Rafer Alston Bad Pass
54 - 56
8:22
Kareem Rush missed 22 ft jumper.
54 - 56
8:21
Jalen Rose defensive rebound.
54 - 56
8:14
Rafael Araujo made layup. Assisted by Jalen Rose.
56 - 56
7:54
Emeka Okafor Offensive Foul. His 4th Personal Foul.
56 - 56
7:54
Emeka Okafor Turnover
56 - 56
7:43
Rafer Alston missed driving layup.
56 - 56
7:41
Rafer Alston offensive rebound.
56 - 56
7:39
Rafer Alston missed layup.
56 - 56
7:39
Rafael Araujo offensive rebound.
58 - 56
7:39
Rafael Araujo made tip shot.
58 - 56
7:18
Melvin Ely made 7 ft hook shot. Assisted by Jason Hart.
58 - 58
7:01
Chris Bosh missed layup.
58 - 58
7:01
Gerald Wallace defensive rebound.
58 - 58
6:56
Emeka Okafor made dunk. Assisted by Gerald Wallace.
58 - 60
6:39
Morris Peterson's driving layup blocked by Gerald Wallace.
58 - 60
6:37
Gerald Wallace defensive rebound.
58 - 60
6:33
Rafer Alston Shooting Foul. His 1st Personal Foul.
58 - 60
6:33
Gerald Wallace made Free Throw 1 of 2.
58 - 61
6:33
Gerald Wallace made Free Throw 2 of 2.
58 - 62
6:22
Rafer Alston missed 17 ft jumper.
58 - 62
6:20
Melvin Ely defensive rebound.
58 - 62
6:01
Emeka Okafor missed 15 ft jumper.
58 - 62
6:01
Melvin Ely offensive rebound.
58 - 62
5:54
Charlotte Full Timeout.
58 - 62
5:39
Melvin Ely missed 4 ft hook shot.
58 - 62
5:37
Rafael Araujo defensive rebound.
58 - 62
5:31
Rafer Alston made layup.
60 - 62
5:11
Gerald Wallace missed 6 ft jumper.
60 - 62
5:09
Morris Peterson defensive rebound.
60 - 62
4:58
Rafael Araujo missed 18 ft jumper.
60 - 62
4:56
Emeka Okafor defensive rebound.
60 - 62
4:48
Rafael Araujo Personal Foul. His 4th Personal Foul.
60 - 62
4:48
Primoz Brezec enters the game for Emeka Okafor.
60 - 62
4:48
Keith Bogans enters the game for Kareem Rush.
60 - 62
4:48
Donyell Marshall enters the game for Rafael Araujo.
60 - 62
4:48
Lamond Murray enters the game for Morris Peterson.
60 - 62
4:41
Melvin Ely Bad Pass. Stolen by Donyell Marshall.
60 - 62
4:24
Rafer Alston made 24 ft three point jumper. Assisted by Chris Bosh.
63 - 62
4:05
Primoz Brezec missed jumper.
63 - 62
4:03
Rafer Alston defensive rebound.
63 - 62
3:59
Jalen Rose missed 16 ft jumper.
63 - 62
3:57
Primoz Brezec defensive rebound.
63 - 62
3:36
Melvin Ely missed 4 ft hook shot.
63 - 62
3:33
Donyell Marshall defensive rebound.
63 - 62
3:15
Donyell Marshall missed three point jumper.
63 - 62
3:13
Keith Bogans defensive rebound.
63 - 62
2:53
Jason Hart missed 19 ft jumper.
63 - 62
2:50
Chris Bosh defensive rebound.
63 - 62
2:46
Rafer Alston Turnover
63 - 62
2:46
Toronto Full Timeout.
63 - 62
2:46
Jason Kapono enters the game for Gerald Wallace.
63 - 62
2:46
Steve Smith enters the game for Jason Hart.
63 - 62
2:46
Emeka Okafor enters the game for Melvin Ely.
63 - 62
2:30
Emeka Okafor made 4 ft hook shot. Assisted by Keith Bogans.
63 - 64
2:14
Jalen Rose made layup.
65 - 64
2:14
Jason Kapono Shooting Foul. His 2nd Personal Foul.
65 - 64
2:14
Jalen Rose made Free Throw 1 of 1.
66 - 64
2:04
Rafer Alston Personal Foul. His 2nd Personal Foul.
66 - 64
1:51
Primoz Brezec made 14 ft jumper.
66 - 66
1:36
Rafer Alston made 21 ft jumper.
68 - 66
1:28
Lamond Murray Shooting Foul. His 1st Personal Foul.
68 - 66
1:28
Steve Smith made Free Throw 1 of 2.
68 - 67
1:28
Steve Smith made Free Throw 2 of 2.
68 - 68
1:09
Jalen Rose made 4 ft running jumper.
70 - 68
0:55
Keith Bogans missed 10 ft jumper.
70 - 68
0:53
Donyell Marshall defensive rebound.
70 - 68
0:47
Steve Smith Shooting Foul. His 2nd Personal Foul.
70 - 68
0:47
Chris Bosh made Free Throw 1 of 2.
71 - 68
0:47
Chris Bosh missed Free Throw 2 of 2.
71 - 68
0:45
Primoz Brezec defensive rebound.
71 - 68
0:37
Jason Kapono missed 20 ft jumper.
71 - 68
0:35
Emeka Okafor offensive rebound.
71 - 68
0:21
Steve Smith missed 25 ft three point jumper.
71 - 68
0:19
Donyell Marshall defensive rebound.
71 - 68
0:01
Rafer Alston missed 24 ft three point jumper.
71 - 68
0:00
Primoz Brezec defensive rebound.
71 - 68
0:00
End of the 3rd Quarter.
71 - 68

time
TEAM
PLAY
SCORE
12:00
Start of the 4th Quarter.
71 - 68
11:41
Jalen Rose missed 12 ft jumper.
71 - 68
11:40
Keith Bogans defensive rebound.
71 - 68
11:33
Kareem Rush made jumper.
71 - 70
11:18
Matt Bonner Offensive Foul. His 4th Personal Foul.
71 - 70
11:18
Matt Bonner Turnover
71 - 70
11:18
Eric Williams enters the game for Jalen Rose.
71 - 70
11:11
Kareem Rush made jumper.
71 - 72
10:49
Lamond Murray made 16 ft jumper.
73 - 72
10:36
Primoz Brezec made 19 ft jumper. Assisted by Kareem Rush.
73 - 74
10:22
Matt Bonner Offensive Foul. His 5th Personal Foul.
73 - 74
10:22
Matt Bonner Turnover
73 - 74
10:14
Jason Kapono made 21 ft jumper. Assisted by Keith Bogans.
73 - 76
9:57
Matt Bonner missed 21 ft jumper.
73 - 76
9:56
Emeka Okafor defensive rebound.
73 - 76
9:47
Emeka Okafor made dunk. Assisted by Keith Bogans.
73 - 78
9:44
Toronto Full Timeout.
73 - 78
9:44
Chris Bosh enters the game for Matt Bonner.
73 - 78
9:41
Kareem Rush Personal Foul. His 3rd Personal Foul.
73 - 78
9:32
Chris Bosh's layup blocked by Emeka Okafor.
73 - 78
9:27
Primoz Brezec defensive rebound.
73 - 78
9:21
Keith Bogans missed 20 ft jumper.
73 - 78
9:18
Chris Bosh defensive rebound.
73 - 78
9:11
Kareem Rush offensive rebound.
73 - 78
9:06
Milt Palacio missed layup.
73 - 78
9:03
Kareem Rush defensive rebound.
73 - 78
9:00
Keith Bogans's layup blocked by Chris Bosh.
73 - 78
8:56
Primoz Brezec offensive rebound.
73 - 80
8:56
Primoz Brezec made layup.
73 - 80
8:45
Eric Williams Offensive Foul. His 2nd Personal Foul.
73 - 80
8:45
Eric Williams Turnover
73 - 80
8:34
Keith Bogans's 12 ft jumper blocked by Chris Bosh.
73 - 80
8:34
Charlotte offensive rebound.
73 - 80
8:34
Donyell Marshall Loose Ball Foul. His 2nd Personal Foul.
73 - 80
8:32
Emeka Okafor made dunk. Assisted by Keith Bogans.
73 - 82
8:03
Shot Clock Violation
73 - 82
8:03
Rafer Alston enters the game for Lamond Murray.
73 - 82
8:03
Jalen Rose enters the game for Eric Williams.
73 - 82
7:50
Emeka Okafor missed running jumper.
73 - 82
7:50
Charlotte defensive rebound.
73 - 82
7:50
Jason Hart enters the game for Keith Bogans.
73 - 82
7:39
Jason Hart Personal Foul. His 2nd Personal Foul.
73 - 82
7:39
Gerald Wallace enters the game for Jason Kapono.
73 - 82
7:31
Chris Bosh's two point shot blocked by Emeka Okafor.
73 - 82
7:28
Jason Hart defensive rebound.
73 - 82
7:09
Primoz Brezec missed 16 ft jumper.
73 - 82
7:09
Charlotte defensive rebound.
73 - 82
7:09
Emeka Okafor Loose Ball Foul. His 4th Personal Foul.
73 - 82
7:09
Jamal Sampson enters the game for Emeka Okafor.
73 - 82
6:56
Rafer Alston made 18 ft jumper.
75 - 82
6:37
Kareem Rush missed 18 ft jumper.
75 - 82
6:35
Primoz Brezec offensive rebound.
75 - 84
6:35
Primoz Brezec made tip shot.
75 - 84
6:18
Donyell Marshall made two point shot. Assisted by Jalen Rose.
77 - 84
5:52
Jason Hart made 17 ft jumper. Assisted by Gerald Wallace.
77 - 86
5:31
Jamal Sampson Shooting Foul. His 5th Personal Foul.
77 - 86
5:31
Official Timeout.
77 - 86
5:31
Rafael Araujo enters the game for Donyell Marshall.
77 - 86
5:31
Chris Bosh made Free Throw 1 of 2.
78 - 86
5:31
Chris Bosh made Free Throw 2 of 2.
79 - 86
5:11
Jason Hart made 9 ft two point shot.
79 - 88
4:58
Primoz Brezec Shooting Foul. His 3rd Personal Foul.
79 - 88
4:58
Chris Bosh missed Free Throw 1 of 2.
79 - 88
4:58
Toronto offensive rebound.
79 - 88
4:58
Chris Bosh missed Free Throw 2 of 2.
79 - 88
4:56
Jason Hart defensive rebound.
79 - 88
4:50
Milt Palacio Personal Foul. His 2nd Personal Foul.
79 - 88
4:35
Kareem Rush's two point shot blocked by Chris Bosh.
79 - 88
4:35
Charlotte offensive rebound.
79 - 88
4:33
Shot Clock Violation
79 - 88
4:18
Chris Bosh made two point shot. Assisted by Jalen Rose.
81 - 88
4:18
Primoz Brezec Shooting Foul. His 5th Personal Foul.
81 - 88
4:18
Emeka Okafor enters the game for Primoz Brezec.
81 - 88
4:18
Chris Bosh made Free Throw 1 of 1.
82 - 88
4:05
Emeka Okafor Lost Ball. Stolen by Rafer Alston.
82 - 88
4:00
Rafer Alston's layup blocked by Jason Hart.
82 - 88
3:58
Gerald Wallace defensive rebound.
82 - 88
3:38
Jamal Sampson Traveling
82 - 88
3:25
Jalen Rose made 23 ft three point jumper. Assisted by Rafer Alston.
85 - 88
3:02
Kareem Rush made 23 ft three point jumper. Assisted by Gerald Wallace.
85 - 91
2:49
Rafer Alston made running jumper.
87 - 91
2:34
Kareem Rush missed 20 ft jumper.
87 - 91
2:32
Milt Palacio defensive rebound.
87 - 91
2:30
Jason Hart Shooting Foul. His 3rd Personal Foul.
87 - 91
2:30
Charlotte Full Timeout.
87 - 91
2:30
Primoz Brezec enters the game for Jamal Sampson.
87 - 91
2:30
Milt Palacio missed Free Throw 1 of 2.
87 - 91
2:30
Toronto offensive rebound.
87 - 91
2:30
Milt Palacio missed Free Throw 2 of 2.
87 - 91
2:29
Jason Hart defensive rebound.
87 - 91
2:14
Gerald Wallace's layup blocked by Chris Bosh.
87 - 91
2:14
Charlotte offensive rebound.
87 - 91
2:14
Emeka Okafor Turnover
87 - 91
1:59
Chris Bosh Bad Pass
87 - 91
1:45
Emeka Okafor made jumper. Assisted by Primoz Brezec.
87 - 93
1:32
Rafer Alston Turnover
87 - 93
1:15
Kareem Rush made 13 ft two point shot.
87 - 95
1:15
Toronto Full Timeout.
87 - 95
1:15
Lamond Murray enters the game for Rafael Araujo.
87 - 95
1:07
Rafer Alston made driving layup.
89 - 95
1:07
Gerald Wallace Shooting Foul. His 3rd Personal Foul.
89 - 95
1:07
Rafer Alston made Free Throw 1 of 1.
90 - 95
1:00
Charlotte 20 Sec. Timeout.
90 - 95
0:54
Chris Bosh Shooting Foul. His 3rd Personal Foul.
90 - 95
0:54
Primoz Brezec missed Free Throw 1 of 2.
90 - 95
0:54
Charlotte offensive rebound.
90 - 95
0:54
Primoz Brezec made Free Throw 2 of 2.
90 - 96
0:47
Jason Hart Shooting Foul. His 5th Personal Foul.
90 - 96
0:47
Rafer Alston made Free Throw 1 of 2.
91 - 96
0:47
Rafer Alston made Free Throw 2 of 2.
92 - 96
0:47
Charlotte Full Timeout.
92 - 96
0:47
Jason Kapono enters the game for Emeka Okafor.
92 - 96
0:39
Lamond Murray Personal Foul. His 2nd Personal Foul.
92 - 96
0:39
Gerald Wallace missed Free Throw 1 of 2.
92 - 96
0:39
Charlotte offensive rebound.
92 - 96
0:39
Emeka Okafor enters the game for Jason Kapono.
92 - 96
0:39
Keith Bogans enters the game for Primoz Brezec.
92 - 96
0:39
Gerald Wallace made Free Throw 2 of 2.
92 - 97
0:39
Matt Bonner enters the game for Milt Palacio.
92 - 97
0:39
Toronto Full Timeout.
92 - 97
0:31
Jalen Rose made 4 ft running jumper.
94 - 97
0:30
Jason Hart made Free Throw 2 of 2.
94 - 98
0:27
Jalen Rose Personal Foul. His 2nd Personal Foul.
94 - 97
0:27
Jason Hart made Free Throw 1 of 2.
94 - 99
0:27
Jason Hart made Free Throw 2 of 2.
95 - 99
0:16
Jalen Rose missed layup.
95 - 99
0:14
Emeka Okafor defensive rebound.
95 - 99
0:07
Matt Bonner offensive rebound.
95 - 99
0:03
Rafer Alston missed 25 ft three point jumper.
95 - 99
0:00
Jason Hart defensive rebound.
95 - 99
0:00
Chris Bosh Personal Foul. His 5th Personal Foul.
95 - 99
0:00
Chris Bosh Turnover
95 - 99
0:00
Jason Hart made Free Throw 1 of 2.
95 - 100
0:00
Jason Hart made Free Throw 2 of 2.
95 - 101
0:00
End of the 4th Quarter.
95 - 101
0:00
End of the 4th Quarter.
95 - 101
0:00
End Game
95 - 101
A person familiar with the situation says Washington Wizards forward Markieff Morris was detained at Philadelphia International Airport and then released.

The Rockets are closing in on bringing veteran Mike D'Antoni aboard as coach, a move that should boost their offense and could lead to better defense.

Court records in Los Angeles show Khloe Kardashian again filed for divorce from former NBA player Lamar Odom on Thursday, citing irreconcilable differences.
2015-2016 Atlantic Standings