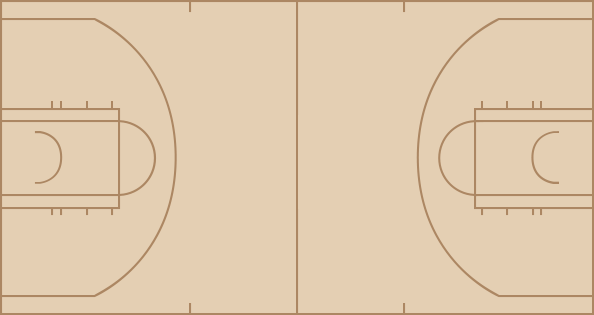 Suns
time
TEAM
PLAY
SCORE
12:00
Start of the 1st Quarter.
0 - 0
12:00
Jumpball: Amare Stoudemire vs. Kevin Garnett. Sam Cassell gains possession.
0 - 0
11:42
Wally Szczerbiak missed 23 ft jumper.
0 - 0
11:41
Minnesota defensive rebound.
0 - 0
11:26
Joe Johnson made 9 ft running jumper.
2 - 0
11:07
Trenton Hassell made 16 ft jumper. Assisted by Sam Cassell.
2 - 2
10:56
Amare Stoudemire missed 18 ft jumper.
2 - 2
10:55
Michael Olowokandi defensive rebound.
2 - 2
10:41
Sam Cassell missed 24 ft three point jumper.
2 - 2
10:41
Shawn Marion defensive rebound.
2 - 2
10:33
Shawn Marion missed 25 ft three point jumper.
2 - 2
10:30
Steve Nash offensive rebound.
2 - 2
10:26
Joe Johnson made 22 ft three point jumper. Assisted by Steve Nash.
5 - 2
10:06
Wally Szczerbiak missed 20 ft jumper.
5 - 2
10:03
Quentin Richardson defensive rebound.
5 - 2
9:56
Steve Nash missed 18 ft jumper.
5 - 2
9:56
Kevin Garnett defensive rebound.
5 - 2
9:45
Sam Cassell made 19 ft jumper.
5 - 4
9:32
Quentin Richardson made 24 ft three point jumper. Assisted by Joe Johnson.
8 - 4
9:23
Sam Cassell Bad Pass. Stolen by Shawn Marion.
8 - 4
9:19
Quentin Richardson Turnover
8 - 4
9:11
Kevin Garnett missed 12 ft jumper.
8 - 4
9:10
Amare Stoudemire defensive rebound.
8 - 4
9:03
Amare Stoudemire missed 19 ft jumper.
8 - 4
9:02
Kevin Garnett defensive rebound.
8 - 4
8:53
Sam Cassell missed 20 ft jumper.
8 - 4
8:52
Amare Stoudemire defensive rebound.
8 - 4
8:48
Shawn Marion made dunk. Assisted by Steve Nash.
10 - 4
8:26
Trenton Hassell made 18 ft jumper. Assisted by Kevin Garnett.
10 - 6
8:15
Steve Nash missed 18 ft jumper.
10 - 6
8:12
Michael Olowokandi defensive rebound.
10 - 6
8:03
Wally Szczerbiak missed 26 ft three point jumper.
10 - 6
8:03
Amare Stoudemire defensive rebound.
10 - 6
7:58
Quentin Richardson made dunk. Assisted by Joe Johnson.
12 - 6
7:58
Latrell Sprewell enters the game for Wally Szczerbiak.
12 - 6
7:58
Sam Cassell Shooting Foul. His 2nd Personal Foul.
12 - 6
7:58
Quentin Richardson made Free Throw 1 of 1.
13 - 6
7:33
Trenton Hassell made 20 ft jumper. Assisted by Latrell Sprewell.
13 - 8
7:16
Amare Stoudemire made slam dunk. Assisted by Steve Nash.
15 - 8
6:54
Michael Olowokandi missed 15 ft jumper.
15 - 8
6:52
Steve Nash defensive rebound.
15 - 8
6:45
Quentin Richardson missed 27 ft three point jumper.
15 - 8
6:43
Kevin Garnett defensive rebound.
15 - 8
6:26
Sam Cassell Bad Pass. Stolen by Joe Johnson.
15 - 8
6:22
Steve Nash made driving layup. Assisted by Joe Johnson.
17 - 8
6:20
Minnesota Full Timeout.
17 - 8
6:07
Trenton Hassell missed 21 ft jumper.
17 - 8
6:05
Amare Stoudemire defensive rebound.
17 - 8
5:58
Amare Stoudemire missed 20 ft jumper.
17 - 8
5:56
Sam Cassell defensive rebound.
17 - 8
5:41
Trenton Hassell Bad Pass. Stolen by Shawn Marion.
17 - 8
5:39
Steve Nash made layup. Assisted by Joe Johnson.
19 - 8
5:22
Latrell Sprewell made 20 ft jumper. Assisted by Sam Cassell.
19 - 10
5:05
Quentin Richardson made 25 ft three point jumper. Assisted by Amare Stoudemire.
22 - 10
4:48
Latrell Sprewell missed 16 ft jumper.
22 - 10
4:48
Minnesota offensive rebound.
22 - 10
4:48
Jim Jackson enters the game for Steve Nash.
22 - 10
4:48
Troy Hudson enters the game for Sam Cassell.
22 - 10
4:48
Wally Szczerbiak enters the game for Trenton Hassell.
22 - 10
4:43
Michael Olowokandi made layup. Assisted by Latrell Sprewell.
22 - 12
4:28
Michael Olowokandi Shooting Foul. His 1st Personal Foul.
22 - 12
4:28
Amare Stoudemire made Free Throw 1 of 2.
23 - 12
4:28
Amare Stoudemire missed Free Throw 2 of 2.
23 - 12
4:28
Kevin Garnett defensive rebound.
23 - 12
4:16
Kevin Garnett made 12 ft jumper. Assisted by Troy Hudson.
23 - 14
4:09
Amare Stoudemire Offensive Foul. His 2nd Personal Foul.
23 - 14
4:09
Amare Stoudemire Turnover
23 - 14
4:01
Jim Jackson Personal Foul. His 1st Personal Foul.
23 - 14
3:58
Shawn Marion Shooting Foul. His 1st Personal Foul.
23 - 14
3:58
Latrell Sprewell missed Free Throw 1 of 2.
23 - 14
3:58
Minnesota offensive rebound.
23 - 14
3:58
Steven Hunter enters the game for Shawn Marion.
23 - 14
3:58
Latrell Sprewell made Free Throw 2 of 2.
23 - 15
3:40
Joe Johnson Offensive Foul. His 2nd Personal Foul.
23 - 15
3:40
Joe Johnson Turnover
23 - 15
3:40
Eddie Griffin enters the game for Michael Olowokandi.
23 - 15
3:24
Troy Hudson missed 20 ft jumper.
23 - 15
3:23
Steven Hunter defensive rebound.
23 - 15
3:15
Amare Stoudemire made 9 ft two point shot.
25 - 15
2:57
Minnesota 20 Sec. Timeout.
25 - 15
2:57
Phoenix Full Timeout.
25 - 15
2:50
Latrell Sprewell made 16 ft jumper. Assisted by Kevin Garnett.
25 - 17
2:36
Jim Jackson made 20 ft jumper. Assisted by Joe Johnson.
27 - 17
2:19
Latrell Sprewell missed 15 ft jumper.
27 - 17
2:18
Quentin Richardson defensive rebound.
27 - 17
2:03
Amare Stoudemire missed 21 ft jumper.
27 - 17
2:02
Kevin Garnett defensive rebound.
27 - 17
1:49
Troy Hudson made 18 ft jumper. Assisted by Wally Szczerbiak.
27 - 19
1:30
Quentin Richardson missed 24 ft three point jumper.
27 - 19
1:28
Amare Stoudemire offensive rebound.
27 - 19
1:23
Steven Hunter missed 5 ft hook shot.
27 - 19
1:21
Phoenix defensive rebound.
27 - 19
1:21
Shawn Marion enters the game for Amare Stoudemire.
27 - 19
1:21
Steve Nash enters the game for Joe Johnson.
27 - 19
1:00
Latrell Sprewell missed 23 ft three point jumper.
27 - 19
0:59
Steven Hunter defensive rebound.
27 - 19
0:51
Steve Nash made driving layup.
29 - 19
0:30
Eddie Griffin missed 26 ft three point jumper.
29 - 19
0:29
Jim Jackson defensive rebound.
29 - 19
0:25
Jim Jackson Bad Pass. Stolen by Latrell Sprewell.
29 - 19
0:23
Latrell Sprewell made driving layup. Assisted by Kevin Garnett.
29 - 21
0:07
Troy Hudson Personal Foul. His 1st Personal Foul.
29 - 21
0:07
Anthony Carter enters the game for Troy Hudson.
29 - 21
0:07
Trenton Hassell enters the game for Eddie Griffin.
29 - 21
0:01
Shawn Marion made layup. Assisted by Steve Nash.
31 - 21
0:00
Kevin Garnett missed 55 ft three point jumper.
31 - 21
0:00
Minnesota offensive rebound.
31 - 21
0:00
End of the 1st Quarter.
31 - 21

time
TEAM
PLAY
SCORE
12:00
Start of the 2nd Quarter.
31 - 21
11:37
Shawn Marion missed 9 ft jumper.
31 - 21
11:36
Michael Olowokandi defensive rebound.
31 - 21
11:26
Michael Olowokandi Offensive Foul. His 3rd Personal Foul.
31 - 21
11:26
Michael Olowokandi Turnover
31 - 21
11:15
Jim Jackson missed three point jumper.
31 - 21
11:15
Michael Olowokandi defensive rebound.
31 - 21
11:07
Latrell Sprewell's layup blocked by Steven Hunter.
31 - 21
11:06
Michael Olowokandi offensive rebound.
31 - 21
11:04
Michael Olowokandi made dunk.
31 - 23
10:44
Jim Jackson made 19 ft jumper.
33 - 23
10:25
Troy Hudson Bad Pass
33 - 23
10:25
Amare Stoudemire enters the game for Steven Hunter.
33 - 23
10:25
Joe Johnson enters the game for Quentin Richardson.
33 - 23
10:14
Amare Stoudemire made 5 ft hook shot. Assisted by Shawn Marion.
35 - 23
9:59
Wally Szczerbiak made 24 ft three point jumper. Assisted by Troy Hudson.
35 - 26
9:52
Michael Olowokandi Personal Foul. His 4th Personal Foul.
35 - 26
9:52
Eddie Griffin enters the game for Michael Olowokandi.
35 - 26
9:37
Amare Stoudemire made slam dunk. Assisted by Steve Nash.
37 - 26
9:17
Wally Szczerbiak made 10 ft jumper. Assisted by Latrell Sprewell.
37 - 28
9:07
Steve Nash made 11 ft two point shot.
39 - 28
8:49
Troy Hudson made 25 ft three point jumper.
39 - 31
8:41
Steve Nash missed 11 ft jumper.
39 - 31
8:40
Phoenix defensive rebound.
39 - 31
8:40
Shawn Marion Loose Ball Foul. His 2nd Personal Foul.
39 - 31
8:40
Full Timeout.
39 - 31
8:30
Troy Hudson missed 24 ft three point jumper.
39 - 31
8:29
Minnesota offensive rebound.
39 - 31
8:29
Amare Stoudemire Loose Ball Foul. His 2nd Personal Foul.
39 - 31
8:18
Wally Szczerbiak made layup. Assisted by Eddie Griffin.
39 - 33
8:07
Joe Johnson missed 7 ft jumper.
39 - 33
8:04
Eddie Griffin defensive rebound.
39 - 33
7:58
Latrell Sprewell missed 19 ft jumper.
39 - 33
7:58
Shawn Marion defensive rebound.
39 - 33
7:52
Amare Stoudemire made slam dunk. Assisted by Steve Nash.
41 - 33
7:31
Troy Hudson Bad Pass. Stolen by Steve Nash.
41 - 33
7:24
Joe Johnson missed 22 ft three point jumper.
41 - 33
7:24
Amare Stoudemire offensive rebound.
41 - 33
7:22
Amare Stoudemire made layup.
43 - 33
7:11
Minnesota Full Timeout.
43 - 33
7:11
Sam Cassell enters the game for Troy Hudson.
43 - 33
7:11
Kevin Garnett enters the game for Eddie Griffin.
43 - 33
7:11
Quentin Richardson enters the game for Steve Nash.
43 - 33
7:01
Kevin Garnett made layup. Assisted by Sam Cassell.
43 - 35
6:46
Shawn Marion Lost Ball. Stolen by Fred Hoiberg.
43 - 35
6:35
Wally Szczerbiak made 23 ft jumper. Assisted by Latrell Sprewell.
43 - 37
6:13
Quentin Richardson missed 26 ft three point jumper.
43 - 37
6:11
Joe Johnson offensive rebound.
43 - 37
6:11
Sam Cassell Personal Foul. His 2nd Personal Foul.
43 - 37
6:11
Steve Nash enters the game for Joe Johnson.
43 - 37
6:11
Steven Hunter enters the game for Amare Stoudemire.
43 - 37
6:01
Steve Nash made 18 ft running jumper.
45 - 37
5:48
Wally Szczerbiak missed 22 ft jumper.
45 - 37
5:47
Jim Jackson defensive rebound.
45 - 37
5:43
Kevin Garnett Personal Foul. His 1st Personal Foul.
45 - 37
5:37
Shawn Marion's jumper blocked by Wally Szczerbiak.
45 - 37
5:35
Wally Szczerbiak defensive rebound.
45 - 37
5:28
Wally Szczerbiak missed 17 ft jumper.
45 - 37
5:26
Quentin Richardson defensive rebound.
45 - 37
5:18
Jim Jackson missed 23 ft three point jumper.
45 - 37
5:16
Steven Hunter offensive rebound.
45 - 37
5:13
Steve Nash missed 25 ft three point jumper.
45 - 37
5:11
Steven Hunter offensive rebound.
45 - 37
5:11
Steven Hunter Traveling
45 - 37
5:11
Trenton Hassell enters the game for Wally Szczerbiak.
45 - 37
4:56
Kevin Garnett made 13 ft jumper. Assisted by Sam Cassell.
45 - 39
4:43
Fred Hoiberg Personal Foul. His 1st Personal Foul.
45 - 39
4:43
Amare Stoudemire enters the game for Jim Jackson.
45 - 39
4:37
Steve Nash made 12 ft running jumper.
47 - 39
4:18
Trenton Hassell missed 20 ft jumper.
47 - 39
4:16
Minnesota offensive rebound.
47 - 39
4:11
Sam Cassell's 20 ft jumper blocked by Steven Hunter.
47 - 39
4:09
Quentin Richardson defensive rebound.
47 - 39
4:01
Amare Stoudemire made hook shot. Assisted by Steve Nash.
49 - 39
4:01
Kevin Garnett Illegal Defense
49 - 39
4:01
Trenton Hassell Shooting Foul. His 1st Personal Foul.
49 - 39
4:01
Troy Hudson enters the game for Sam Cassell.
49 - 39
4:01
Amare Stoudemire made Free Throw 1 of 1.
50 - 39
3:51
Steven Hunter Personal Foul. His 1st Personal Foul.
50 - 39
3:38
Trenton Hassell Turnover
50 - 39
3:31
Steven Hunter missed layup.
50 - 39
3:31
Kevin Garnett defensive rebound.
50 - 39
3:24
Troy Hudson made 20 ft jumper.
50 - 41
3:11
Trenton Hassell Shooting Foul. His 2nd Personal Foul.
50 - 41
3:11
Joe Johnson enters the game for Shawn Marion.
50 - 41
3:11
Steven Hunter missed Free Throw 1 of 2.
50 - 41
3:11
Phoenix offensive rebound.
50 - 41
3:11
John Thomas enters the game for Fred Hoiberg.
50 - 41
3:11
Steven Hunter missed Free Throw 2 of 2.
50 - 41
3:11
Kevin Garnett defensive rebound.
50 - 41
2:57
John Thomas's layup blocked by Joe Johnson.
50 - 41
2:56
Minnesota offensive rebound.
50 - 41
2:56
Phoenix Full Timeout.
50 - 41
2:50
Kevin Garnett missed 15 ft jumper.
50 - 41
2:47
Minnesota defensive rebound.
50 - 41
2:31
John Thomas Personal Foul. His 1st Personal Foul.
50 - 41
2:31
Steve Nash missed Free Throw 1 of 2.
50 - 41
2:31
Phoenix offensive rebound.
50 - 41
2:31
Steve Nash missed Free Throw 2 of 2.
50 - 41
2:31
Eddie Griffin enters the game for John Thomas.
50 - 41
2:31
Steve Nash made Free Throw 2 of 2.
51 - 41
2:15
Trenton Hassell made 15 ft jumper. Assisted by Troy Hudson.
51 - 43
2:05
Steve Nash missed 19 ft jumper.
51 - 43
2:04
Eddie Griffin defensive rebound.
51 - 43
2:03
Eddie Griffin Lost Ball. Stolen by Joe Johnson.
51 - 43
2:01
Joe Johnson made layup.
53 - 43
1:43
Eddie Griffin missed 25 ft three point jumper.
53 - 43
1:42
Steve Nash defensive rebound.
53 - 43
1:39
Eddie Griffin Shooting Foul. His 1st Personal Foul.
53 - 43
1:39
Amare Stoudemire missed Free Throw 1 of 2.
53 - 43
1:39
Phoenix offensive rebound.
53 - 43
1:39
Wally Szczerbiak enters the game for Trenton Hassell.
53 - 43
1:39
Amare Stoudemire made Free Throw 2 of 2.
54 - 43
1:30
Troy Hudson missed 6 ft jumper.
54 - 43
1:28
Steven Hunter defensive rebound.
54 - 43
1:19
Amare Stoudemire made 12 ft jumper. Assisted by Steven Hunter.
56 - 43
0:58
Kevin Garnett Turnover
56 - 43
0:58
Shawn Marion enters the game for Amare Stoudemire.
56 - 43
0:58
John Thomas enters the game for Eddie Griffin.
56 - 43
0:58
Anthony Carter enters the game for Troy Hudson.
56 - 43
0:41
Phoenix 20 Sec. Timeout.
56 - 43
0:37
Shawn Marion made layup. Assisted by Steve Nash.
58 - 43
0:29
Anthony Carter made driving layup.
58 - 45
0:07
Shawn Marion made 15 ft jumper.
60 - 45
0:03
Anthony Carter Offensive Foul. His 2nd Personal Foul.
60 - 45
0:03
Anthony Carter Turnover
60 - 45
0:01
Quentin Richardson missed 29 ft three point jumper.
60 - 45
0:00
Phoenix offensive rebound.
60 - 45
0:00
End of the 2nd Quarter.
60 - 45

time
TEAM
PLAY
SCORE
12:00
Start of the 3rd Quarter.
60 - 45
11:45
Shawn Marion made 25 ft three point jumper. Assisted by Steve Nash.
63 - 45
11:23
Michael Olowokandi Bad Pass
63 - 45
11:00
Shawn Marion made 13 ft jumper. Assisted by Joe Johnson.
65 - 45
10:45
Kevin Garnett missed 13 ft jumper.
65 - 45
10:45
Quentin Richardson defensive rebound.
65 - 45
10:29
Michael Olowokandi Shooting Foul. His 4th Personal Foul.
65 - 45
10:29
Quentin Richardson made Free Throw 1 of 2.
66 - 45
10:29
Quentin Richardson missed Free Throw 2 of 2.
66 - 45
10:29
Kevin Garnett defensive rebound.
66 - 45
10:07
Latrell Sprewell missed 23 ft three point jumper.
66 - 45
10:07
Jumpball: Amare Stoudemire vs. Michael Olowokandi. Troy Hudson gains possession.
66 - 45
10:07
Minnesota offensive rebound.
66 - 45
10:03
Troy Hudson missed 25 ft three point jumper.
66 - 45
10:02
Quentin Richardson defensive rebound.
66 - 45
9:41
Joe Johnson missed layup.
66 - 45
9:41
Phoenix offensive rebound.
66 - 45
9:38
Amare Stoudemire made layup. Assisted by Quentin Richardson.
68 - 45
9:37
Minnesota Full Timeout.
68 - 45
9:37
Wally Szczerbiak enters the game for Michael Olowokandi.
68 - 45
9:22
Kevin Garnett Bad Pass. Stolen by Joe Johnson.
68 - 45
9:15
Joe Johnson missed 26 ft three point jumper.
68 - 45
9:14
Shawn Marion offensive rebound.
68 - 45
9:08
Joe Johnson made 23 ft three point jumper. Assisted by Steve Nash.
71 - 45
8:44
Trenton Hassell made 21 ft jumper. Assisted by Wally Szczerbiak.
71 - 47
8:33
Steve Nash missed layup.
71 - 47
8:32
Kevin Garnett defensive rebound.
71 - 47
8:22
Kevin Garnett missed 19 ft jumper.
71 - 47
8:22
Amare Stoudemire defensive rebound.
71 - 47
8:03
Shawn Marion missed 17 ft jumper.
71 - 47
8:02
Kevin Garnett defensive rebound.
71 - 47
7:54
Steve Nash Personal Foul. His 1st Personal Foul.
71 - 47
7:48
Latrell Sprewell missed 19 ft jumper.
71 - 47
7:47
Kevin Garnett offensive rebound.
71 - 47
7:43
Trenton Hassell missed 21 ft jumper.
71 - 47
7:41
Minnesota defensive rebound.
71 - 47
7:31
Joe Johnson made layup. Assisted by Quentin Richardson.
73 - 47
7:13
Kevin Garnett made jumper. Assisted by Latrell Sprewell.
73 - 49
6:56
Amare Stoudemire missed 23 ft jumper.
73 - 49
6:54
Latrell Sprewell defensive rebound.
73 - 49
6:47
Trenton Hassell made driving dunk. Assisted by Wally Szczerbiak.
73 - 51
6:22
Joe Johnson missed 26 ft three point jumper.
73 - 51
6:20
Wally Szczerbiak defensive rebound.
73 - 51
6:09
Troy Hudson Bad Pass
73 - 51
6:09
Fred Hoiberg enters the game for Latrell Sprewell.
73 - 51
5:58
Steve Nash made driving layup.
75 - 51
5:46
Wally Szczerbiak missed 24 ft three point jumper.
75 - 51
5:43
Minnesota defensive rebound.
75 - 51
5:31
Shawn Marion made 27 ft three point jumper. Assisted by Steve Nash.
78 - 51
5:13
Fred Hoiberg missed 25 ft three point jumper.
78 - 51
5:11
Wally Szczerbiak offensive rebound.
78 - 51
5:05
Fred Hoiberg missed 25 ft three point jumper.
78 - 51
5:03
Quentin Richardson defensive rebound.
78 - 51
4:41
Shawn Marion made 24 ft three point jumper. Assisted by Quentin Richardson.
81 - 51
4:39
Minnesota Full Timeout.
81 - 51
4:39
Anthony Carter enters the game for Troy Hudson.
81 - 51
4:39
Jim Jackson enters the game for Steve Nash.
81 - 51
4:30
Anthony Carter made driving layup.
81 - 53
4:30
Shawn Marion Shooting Foul. His 4th Personal Foul.
81 - 53
4:30
Anthony Carter missed Free Throw 1 of 1.
81 - 53
4:28
Minnesota defensive rebound.
81 - 53
4:11
Kevin Garnett Personal Foul. His 2nd Personal Foul.
81 - 53
3:59
Quentin Richardson made 25 ft three pointer.
84 - 53
3:36
Anthony Carter missed 21 ft jumper.
84 - 53
3:36
Minnesota defensive rebound.
84 - 53
3:16
Kevin Garnett Shooting Foul. His 3rd Personal Foul.
84 - 53
3:16
Amare Stoudemire made Free Throw 1 of 2.
85 - 53
3:16
Amare Stoudemire made Free Throw 2 of 2.
86 - 53
3:03
Fred Hoiberg missed 20 ft jumper.
86 - 53
3:01
Joe Johnson defensive rebound.
86 - 53
2:53
Quentin Richardson made 25 ft three point jumper. Assisted by Joe Johnson.
89 - 53
2:38
Kevin Garnett made two point shot. Assisted by Fred Hoiberg.
89 - 55
2:27
Quentin Richardson Bad Pass. Stolen by Wally Szczerbiak.
89 - 55
2:17
Quentin Richardson Personal Foul. His 1st Personal Foul.
89 - 55
2:17
Steven Hunter enters the game for Amare Stoudemire.
89 - 55
2:11
Kevin Garnett missed jumper.
89 - 55
2:10
Shawn Marion defensive rebound.
89 - 55
1:47
Jim Jackson made 24 ft three point jumper. Assisted by Quentin Richardson.
92 - 55
1:32
Fred Hoiberg missed 26 ft three point jumper.
92 - 55
1:31
Joe Johnson defensive rebound.
92 - 55
1:24
Jim Jackson made 25 ft three point jumper. Assisted by Joe Johnson.
95 - 55
1:23
Minnesota 20 Sec. Timeout.
95 - 55
1:23
Eddie Griffin enters the game for Kevin Garnett.
95 - 55
1:23
Bo Outlaw enters the game for Shawn Marion.
95 - 55
1:01
Trenton Hassell made 21 ft jumper.
95 - 57
0:39
Quentin Richardson's layup blocked by Trenton Hassell.
95 - 57
0:38
Anthony Carter defensive rebound.
95 - 57
0:35
Fred Hoiberg made layup. Assisted by Anthony Carter.
95 - 59
0:35
Jim Jackson Shooting Foul. His 3rd Personal Foul.
95 - 59
0:35
Fred Hoiberg made Free Throw 1 of 1.
95 - 60
0:21
Joe Johnson missed 14 ft jumper.
95 - 60
0:20
Wally Szczerbiak defensive rebound.
95 - 60
0:12
Wally Szczerbiak's layup blocked by Bo Outlaw.
95 - 60
0:10
Joe Johnson defensive rebound.
95 - 60
0:01
Trenton Hassell Personal Foul. His 3rd Personal Foul.
95 - 60
0:00
End of the 3rd Quarter.
95 - 60

time
TEAM
PLAY
SCORE
12:00
Start of the 4th Quarter.
95 - 60
11:44
Latrell Sprewell's 17 ft jumper blocked by Jim Jackson.
95 - 60
11:42
Latrell Sprewell offensive rebound.
95 - 60
11:37
Troy Hudson made 21 ft jumper.
95 - 62
11:26
Eddie Griffin Shooting Foul. His 2nd Personal Foul.
95 - 62
11:26
Quentin Richardson missed Free Throw 1 of 2.
95 - 62
11:26
Phoenix offensive rebound.
95 - 62
11:26
Quentin Richardson made Free Throw 2 of 2.
96 - 62
11:15
Troy Hudson missed 7 ft jumper.
96 - 62
11:14
Minnesota defensive rebound.
96 - 62
10:57
Steven Hunter's layup blocked by Eddie Griffin.
96 - 62
10:56
Phoenix offensive rebound.
96 - 62
10:49
Quentin Richardson missed 27 ft three point jumper.
96 - 62
10:48
Steven Hunter offensive rebound.
96 - 62
10:33
Steven Hunter missed two point shot.
96 - 62
10:32
Joe Johnson offensive rebound.
96 - 62
10:32
Joe Johnson missed tip shot.
96 - 62
10:30
Troy Hudson defensive rebound.
96 - 62
10:15
Wally Szczerbiak made 19 ft jumper. Assisted by Troy Hudson.
96 - 64
10:04
Jim Jackson missed 14 ft jumper.
96 - 64
10:03
Steven Hunter offensive rebound.
96 - 64
10:03
Eddie Griffin Shooting Foul. His 3rd Personal Foul.
96 - 64
10:03
Kevin Garnett enters the game for Eddie Griffin.
96 - 64
10:03
Steven Hunter missed Free Throw 1 of 2.
96 - 64
10:03
Phoenix offensive rebound.
96 - 64
10:03
Steven Hunter missed Free Throw 2 of 2.
96 - 64
10:03
Kevin Garnett defensive rebound.
96 - 64
9:51
Kevin Garnett missed 16 ft jumper.
96 - 64
9:48
Latrell Sprewell offensive rebound.
96 - 64
9:41
Latrell Sprewell missed 25 ft three point jumper.
96 - 64
9:40
Joe Johnson defensive rebound.
96 - 64
9:22
Quentin Richardson missed 23 ft three point jumper.
96 - 64
9:21
Joe Johnson offensive rebound.
96 - 64
9:18
Joe Johnson missed 6 ft jumper.
96 - 64
9:15
Kevin Garnett defensive rebound.
96 - 64
9:02
Kevin Garnett Traveling
96 - 64
8:45
Joe Johnson missed 6 ft jumper.
96 - 64
8:45
Bo Outlaw offensive rebound.
96 - 64
8:45
Bo Outlaw missed tip shot.
96 - 64
8:42
Wally Szczerbiak defensive rebound.
96 - 64
8:37
Fred Hoiberg missed 25 ft three point jumper.
96 - 64
8:36
Quentin Richardson defensive rebound.
96 - 64
8:33
Quentin Richardson Bad Pass
96 - 64
8:33
Full Timeout.
96 - 64
8:33
Shawn Marion enters the game for Quentin Richardson.
96 - 64
8:19
Bo Outlaw Personal Foul. His 1st Personal Foul.
96 - 64
8:11
Troy Hudson made 21 ft two point shot.
96 - 66
7:52
Joe Johnson made 6 ft running jumper.
98 - 66
7:26
Kevin Garnett missed 6 ft two point shot.
98 - 66
7:24
Joe Johnson defensive rebound.
98 - 66
7:24
Joe Johnson Turnover
98 - 66
7:15
Troy Hudson missed 26 ft three point jumper.
98 - 66
7:13
Jim Jackson defensive rebound.
98 - 66
7:05
Joe Johnson Bad Pass. Stolen by Wally Szczerbiak.
98 - 66
6:56
Kevin Garnett made 19 ft jumper. Assisted by Latrell Sprewell.
98 - 68
6:41
Steven Hunter Offensive Foul. His 3rd Personal Foul.
98 - 68
6:41
Steven Hunter Turnover
98 - 68
6:41
Smush Parker enters the game for Joe Johnson.
98 - 68
6:33
Smush Parker Personal Foul. His 1st Personal Foul.
98 - 68
6:33
John Thomas enters the game for Kevin Garnett.
98 - 68
6:33
Jake Voskuhl enters the game for Steven Hunter.
98 - 68
6:26
Troy Hudson missed 16 ft jumper.
98 - 68
6:24
Bo Outlaw defensive rebound.
98 - 68
6:07
Jake Voskuhl Lost Ball. Stolen by Fred Hoiberg.
98 - 68
6:05
Latrell Sprewell Bad Pass. Stolen by Bo Outlaw.
98 - 68
5:58
Jim Jackson Bad Pass
98 - 68
5:58
Minnesota Full Timeout.
98 - 68
5:58
Anthony Carter enters the game for Latrell Sprewell.
98 - 68
5:58
Joe Johnson enters the game for Shawn Marion.
98 - 68
5:35
Fred Hoiberg missed 21 ft jumper.
98 - 68
5:35
Troy Hudson offensive rebound.
98 - 68
5:31
Troy Hudson missed 19 ft jumper.
98 - 68
5:30
Fred Hoiberg offensive rebound.
98 - 68
5:26
Fred Hoiberg missed 26 ft three point jumper.
98 - 68
5:26
Minnesota offensive rebound.
98 - 68
5:26
Jake Voskuhl Loose Ball Foul. His 1st Personal Foul.
98 - 68
5:11
Wally Szczerbiak made 24 ft three point jumper. Assisted by Fred Hoiberg.
98 - 71
4:52
Jim Jackson missed 25 ft three point jumper.
98 - 71
4:52
Jake Voskuhl offensive rebound.
100 - 71
4:52
Jake Voskuhl made tip shot.
100 - 71
4:33
Wally Szczerbiak made 20 ft jumper.
100 - 73
4:15
Jake Voskuhl missed 19 ft jumper.
100 - 73
4:13
Fred Hoiberg defensive rebound.
100 - 73
4:00
John Thomas missed 17 ft jumper.
100 - 73
3:59
Bo Outlaw defensive rebound.
100 - 73
3:41
Smush Parker made 23 ft jumper. Assisted by Jim Jackson.
102 - 73
3:21
Wally Szczerbiak missed 22 ft jumper.
102 - 73
3:20
Jim Jackson defensive rebound.
102 - 73
3:10
Joe Johnson missed three point jumper.
102 - 73
3:09
Anthony Carter defensive rebound.
102 - 73
3:04
Anthony Carter Turnover
102 - 73
3:04
Paul Shirley enters the game for Jim Jackson.
102 - 73
3:04
Eddie Griffin enters the game for Wally Szczerbiak.
102 - 73
2:53
Smush Parker made slam dunk. Assisted by Jake Voskuhl.
104 - 73
2:32
Jake Voskuhl Personal Foul. His 2nd Personal Foul.
104 - 73
2:32
Phoenix Full Timeout.
104 - 73
2:21
Fred Hoiberg made 13 ft running jumper. Assisted by Anthony Carter.
104 - 75
2:21
Bo Outlaw Shooting Foul. His 3rd Personal Foul.
104 - 75
2:21
Fred Hoiberg missed Free Throw 1 of 1.
104 - 75
2:21
Bo Outlaw defensive rebound.
104 - 75
2:08
Smush Parker missed 20 ft jumper.
104 - 75
2:05
Fred Hoiberg defensive rebound.
104 - 75
2:00
Troy Hudson missed two point shot.
104 - 75
1:59
Jake Voskuhl defensive rebound.
104 - 75
1:47
Smush Parker missed 23 ft three point jumper.
104 - 75
1:45
Eddie Griffin defensive rebound.
104 - 75
1:39
Anthony Carter made 19 ft jumper.
104 - 77
1:25
Jake Voskuhl missed 19 ft jumper.
104 - 77
1:24
Anthony Carter defensive rebound.
104 - 77
1:15
Anthony Carter Bad Pass
104 - 77
0:55
Bo Outlaw missed 11 ft jumper.
104 - 77
0:54
Jake Voskuhl offensive rebound.
106 - 77
0:54
Jake Voskuhl made two point shot.
106 - 77
0:51
Troy Hudson Bad Pass
106 - 77
0:41
Smush Parker made 9 ft running jumper.
108 - 77
0:25
Troy Hudson missed 25 ft three point jumper.
108 - 77
0:24
Anthony Carter offensive rebound.
108 - 77
0:16
Anthony Carter made two point shot. Assisted by Troy Hudson.
108 - 79
0:00
End of the 4th Quarter.
108 - 79
0:00
End Game
108 - 79
11-time All-Star Allen Iverson shares what the NBA Finals mean to him and more so what Tyronn Lue, LeBron James and the Cavaliers winning a championship means to the league.

The Kings have agreed to trade veteran guard Marco Belinelli to Charlotte for the No. 22 pick in Thursday's NBA draft, sources confirmed to ESPN.

Basketball Hall of Famer Allen Iverson remembers the stress he felt on draft night, what a No. 1 pick means to Philadelphia and shares some advice for potential No. 1 draft pick Ben Simmons.
Regular Season Series
PHX wins series 3-1
2015-2016 Pacific Standings
2015-2016 Northwest Standings